NIGERIA, JULY 2005, JOURNAL
Words seldom fail me. They do now. I also have pictures. They fail too. There is no way to show or tell what Laura and I have seen and heard and smelled and felt over the last three weeks. You can record sounds and sights, but you canít record smells. I kept a journal and took almost 800 pictures. So Iíll try.
Most of what I write now was written in real time. Sometimes I was too tired to make complete journal entries, so I made notes and finished them later. Some thoughts will be added as I write. Iíll put those in brackets. [Ö].
[I have never really been afraid before while doing Kingdom stuff. I was on this trip. I have never been so tired that I wondered if I was physically going to be are to keep going while doing Kingdom stuff. I got that tired on this trip. It was good for me it made me grow.]
JULY 9, 08:25, DIA
Well! Finally!
I stared planning this trip almost a year ago. As a small child, I worshiped at the Lawrence Avenue Church of Christ in Nashville, which began the Nigerian work in the 1950s. So Iíve been interested from a distance for a long time. I called Doug Wheeler last August. He put me in touch with Glen Boyd, who put me in touch with Dr. Henry Farrar. I was thinking about later. I still have one more year with the girls in school, embarrassing Liz at swim meets etc., so I was thinking about a year or so from now I would begin going this kind of thing. As it worked out, I can take off these three weeks and not miss much, so I will. I will meet Laura in Los Angles and we will fly to Paris where we will stay for two and one half days, then on to Nigeria.
When I told Laura I was going, her first words were, "I want to go."
"But Laura, what about your internship in Washington?"
"I want to go."
"Itís going to be hot and hard."
"I want to go."
I called Henry Farrar and asked if she could be useful. He assured me that she could. [And boy was she!]
Over the holidays, some relatives sort of tried to talk her out of it.
"No! Iím going to Africa with my dad to help people."
Sheís an angel, she is. Actually heaven would be lucky to have an angel as fine as she is.
It is almost insane how many people have people have helped in so many different ways. Money, prayers, pats on the back. Prayers and pats on the back are good things. Some people gave me more than they could afford. The people in Laramie donated about $1,300 of the about $8,000 total. I think that people are more generous when they can see that people they know are doing good things. So, do something, people will help.
I allowed a lot of extra time for security. I am taking a lot of supplies and drugs over with me. Many are controlled. So I wonder what is going to happen. I have a forty pounds carryon full of drugs. I also just put most of my money in one of those concealed body wallets that fits under your clothing. I feel like I am wearing a bra. It is uncomfortable. Henry said I should do it because there are robbers over there. I guess it is a blessing to have enough money that you need to hide it.
9:00 am
Not a peep. I made it through security with out any problem. But I am at the gate two and one half hours early.
Plane to L.A. is a 767. Seven passengers across. Two aisles. I am being very careful not to let my carry-on out of my sight.
I bought a color iPod with a 30 gig hard drive. So I can store pictures on it if the cards in my camera fill up. At four mega pixels, thatís about 14,000 pictures. I think that will be enough.
Oops! The brakes on the plane are broken. One hour delay, but no problem with connection. Since I change from United to Air France, I had to retrieve luggage. Go to a different terminal and pass security again. Again, not a peep. I met Laura at the International Terminal at LAX. I forget how pretty she is. .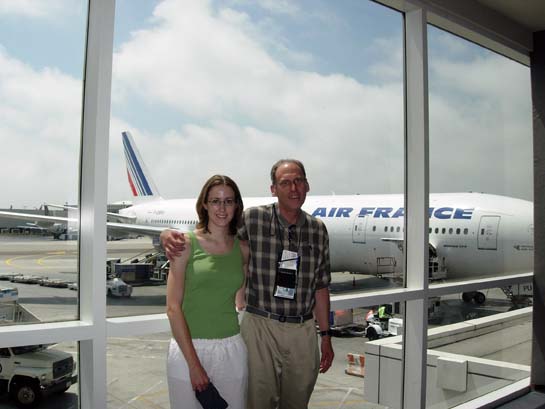 We took off for Paris about an hour late. Then after an hour in the air, they announced that we had to return to Los Angles for an "additional security check". It turned out that there was a bag on board that didnít belong to a passenger. It was an eighty-year-old man who didnít speak either English or French. He had been wandering around the airport. They put him on, refueled and we took off again. Flight was to be 10 Ĺ hours. Ended up being fourteen. Thatís a long time on an airplane. Laura contends that the passport and ID holder around my neck makes me look dorky, but I know it isnít so.
JULY 10-12
While we were in Parisí we did all the Paris things. Batobus on the Seine and stopped at all the major tourist things. Eiffel tower. Louvre. Orsay. Notre Dame. We ate typical French stuff: Snails, frog legs, cheese, crepes, pastries, coffee. At both sidewalk cafes and restaurants.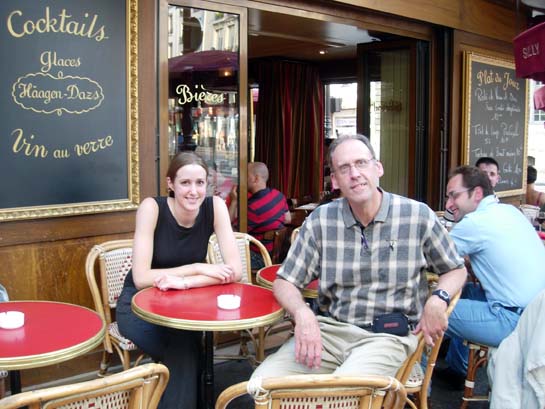 We had fun. The French eat late. Weíd go for dinner a 9:00 pm. And eat for two or three hours. They are all thin and they smoke all the time.] Up and down this street are shops. All sorts of shops. Cheese shops, pastry shops, flower shops, meat shops, wine shops, vegetable shops. [All this was about a different from Nigeria as anything could be.]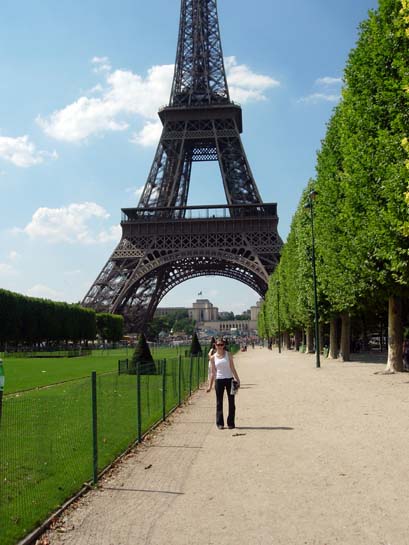 That's Laura with some sort of really tall thing back there behind her.