We're leaving Amboseli today to head in the direction of Ngorongoro Crater. It's a long trip and we won't make it all the way, as we plan to spend the night in Arusha. These are places I never knew existed, at least not by those names, and now that I've traveled through them I want to talk about the experience with everybody I know. This landscape and the magnificent animals that live here are just incredible.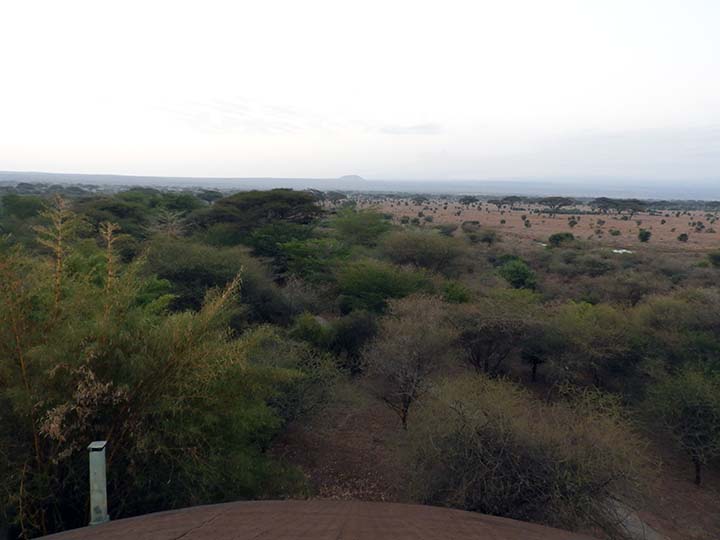 Early in the morning I took the circular stairway up to the roof overlook above the camp's restaurant.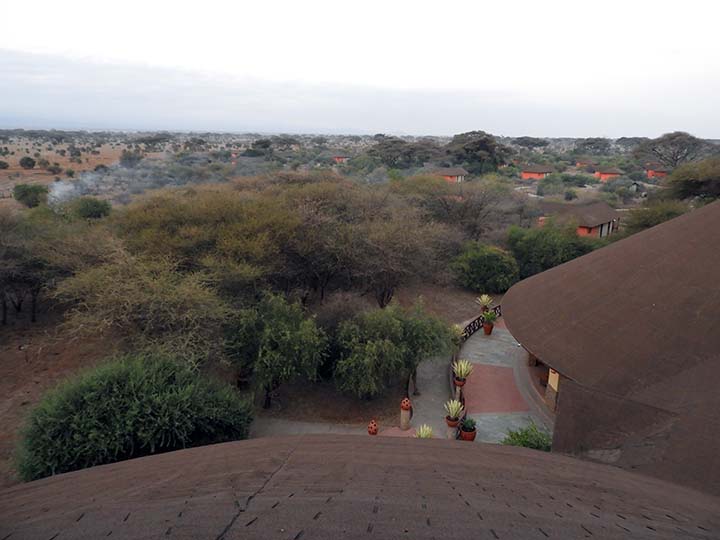 The camp is coming to life in the early morning light.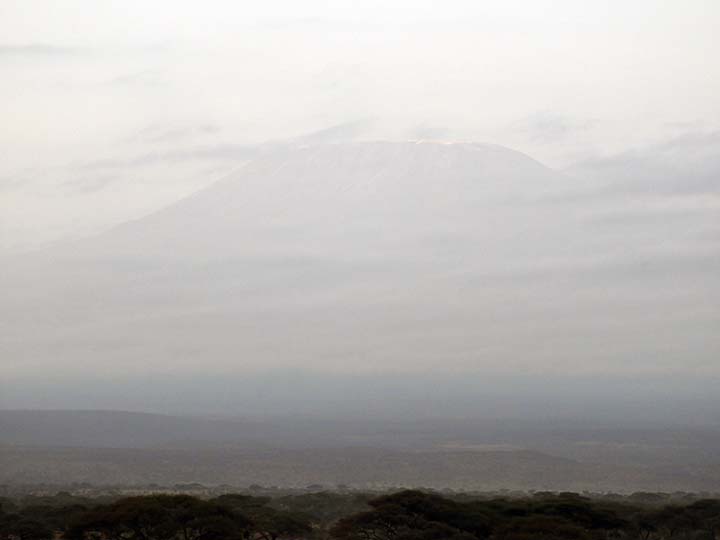 And that is Mt. Kilimanjaro. You have no idea how long it took me to realize that was a mountain and not just another cloud. Can you see it? Of course you can see it. It's a mountain, not a cloud!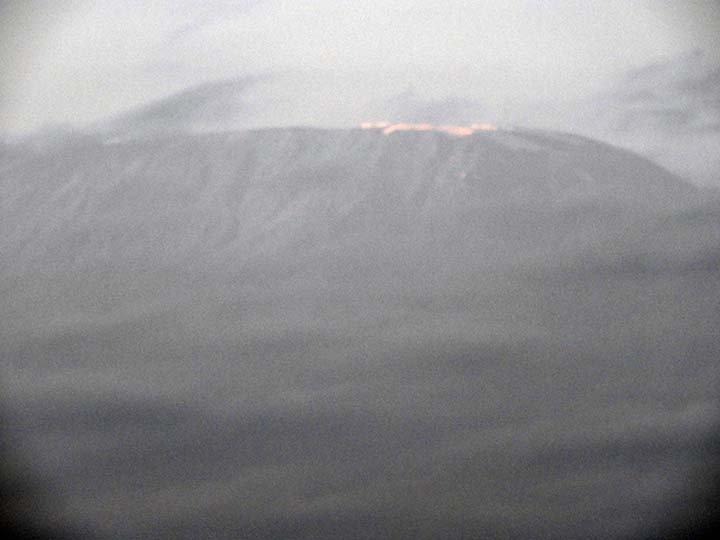 Does that help? It really is a mountain -- actually dormant volcano. And once again -- as everybody kept reminding us -- Tanzania may own it, but Kenya has the best view.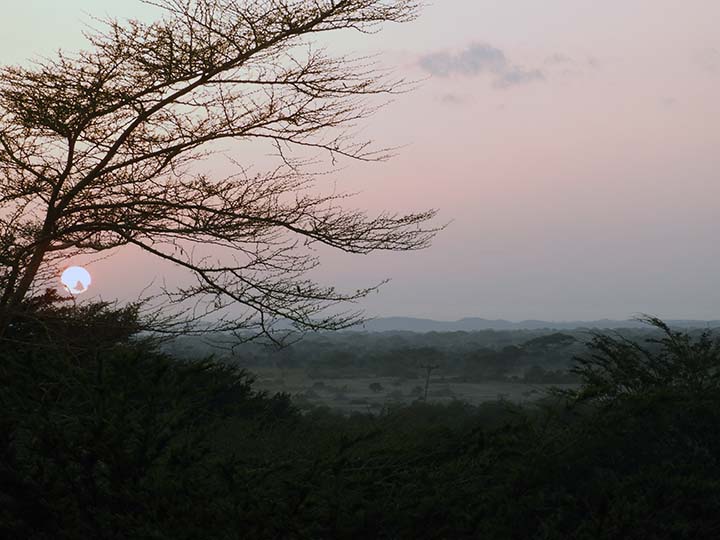 Sunrise!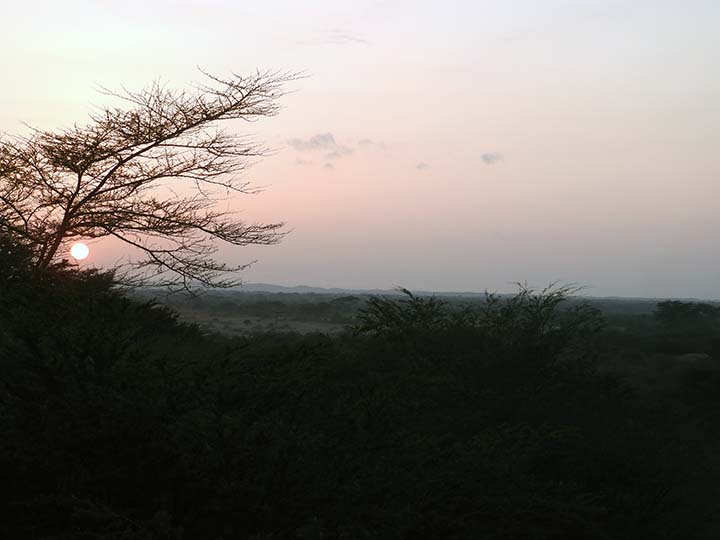 It looked even more dramatic in person.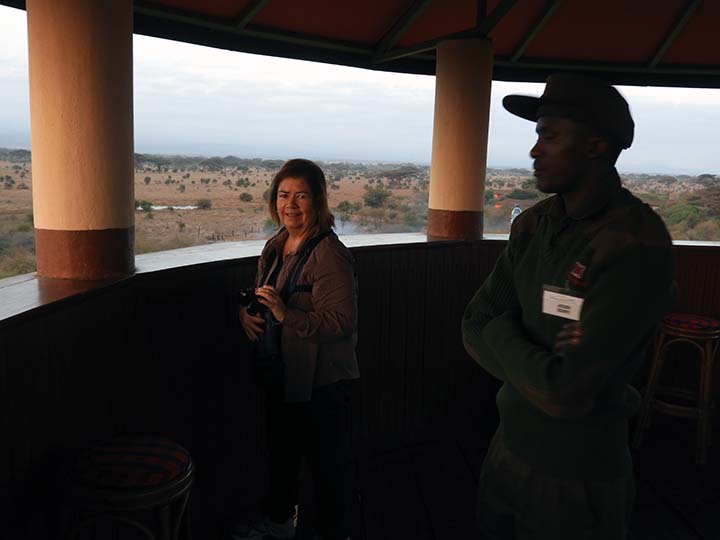 Mandy has come up to join me, and that guy is a naturalist employed by the camp. I wonder if he became convinced I was an idiot merely because took so long to realize Mt. Kilimanjaro wasn't a big cloud.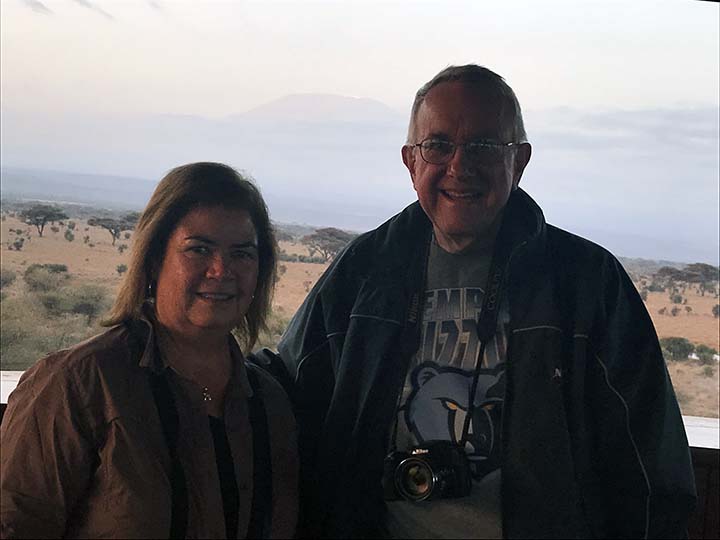 Mandy is friends with my friend Lowell whom I met on my Road Scholar trip to Ecuador and the Galapagos Islands in 2017. Now Mandy is my friend too.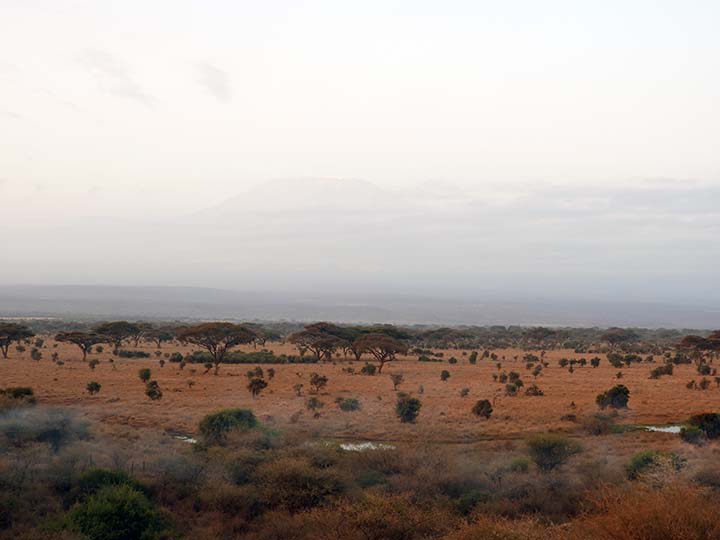 The animals are waking up out there.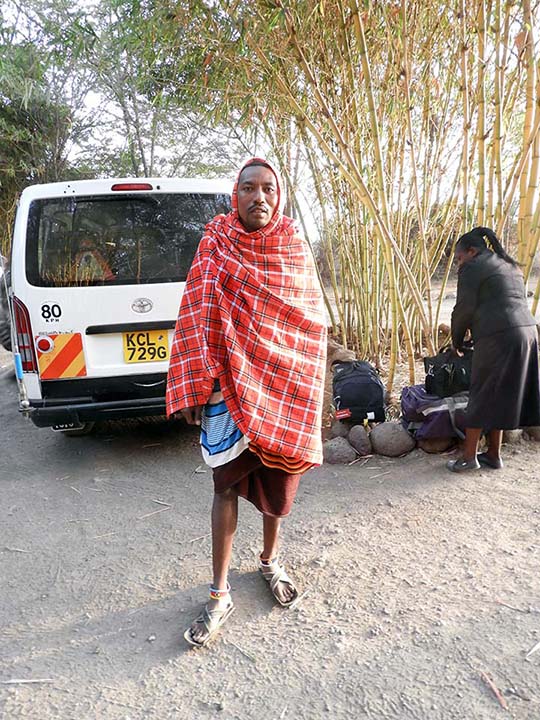 Our nature walk guide from yesterday has come to see us off. We asked whether the plaid had some significance -- like it might in Scotland -- but other than maybe making the wearer easy to see at a distance and also maybe looking scary to lions, the pattern itself is significant only because it looks nice. It's called shuka. Not all Maasai wear red, though. Some wear blue. Actually, they may wear other colors too.
Colors in Culture – The Colors of the Kenyan Maasai

The Maasai are a tribe of people who live in parts of Tanzania and Kenya and are known as tall and fierce warriors. They can be recognized by the special red cloth they wear which is called a Shuka. The Maasai Shuka has become their trademark and they wear it with utmost pride and elegance. Dominated by the color red, other primary colors used in different prints of the Shuka represent different aspects – or elements – of the Maasai culture.

RED is the most important color for the Maasai community. It represents cow blood – which the Maasai drink mixed with cattle milk for added nutrition, power and strength – especially in times of famine. It is also considered important for Maasai warriors to wear it as a way to protect themselves against wild animals. It is held as a sacred color, and is always the basic color of the Shuka, or blanket worn around the shoulders by both men and women.

The Maasai community believes that raising these cattle was a heaven-sent gift, and that the cattle were brought from the sky by God. Therefore, BLUE represents the sky that provides the water and rain for the cows which are an important source of food.

GREEN characterizes nourishment and production. It represents the land that provides food for the Maasai and their livestock. Green also represents the need to protect territory, and to be rooted in a place.

ORANGE represents hospitality, warmth, friendship & generosity. While YELLOW is symbolic with fertility and growth, it symbolizes the sun which sustains life by helping the grass grow which cattle eat. As in Western cultures, to the Maasai community yellow is considered to be a sign of happiness and prosperity – and sometimes a warning.

Your choice of color is significant to your surroundings and how you live your life IN those surroundings. And, you may require more than just one color – a color palette – for your home. The best color combinations can have a remarkable impact on how you feel, the value of your home, and even your health.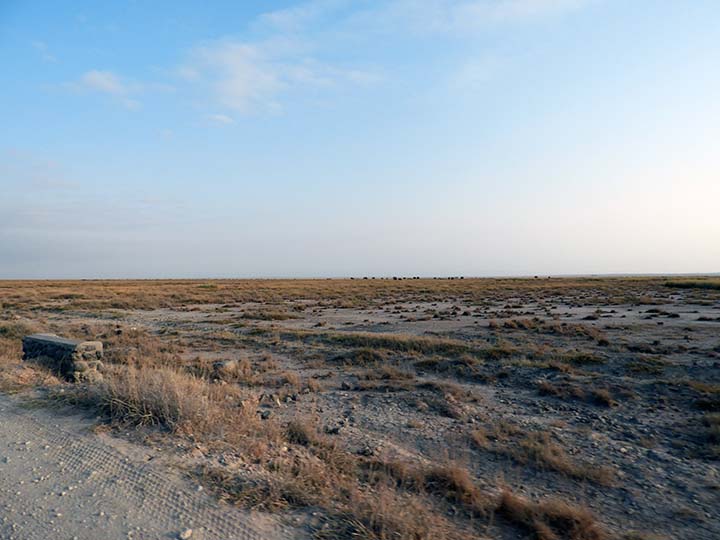 The name "Amboseli" comes from a Maasai word meaning "salty dust." This whole area is one big dried-up Pleistocene lake.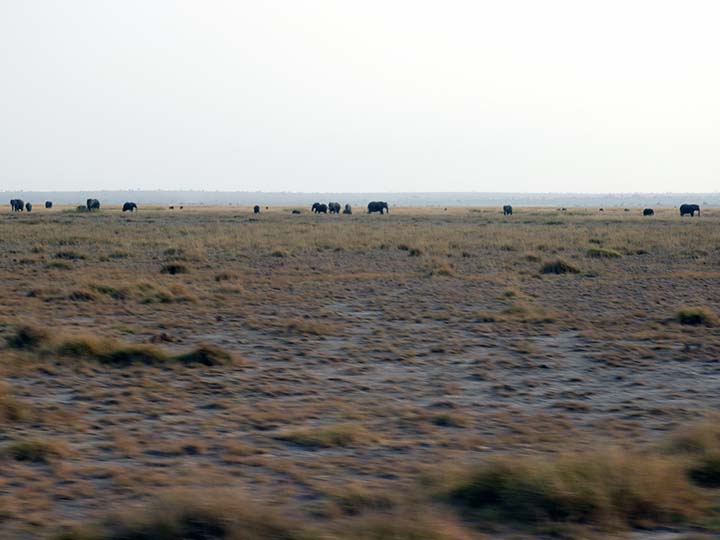 With elephants.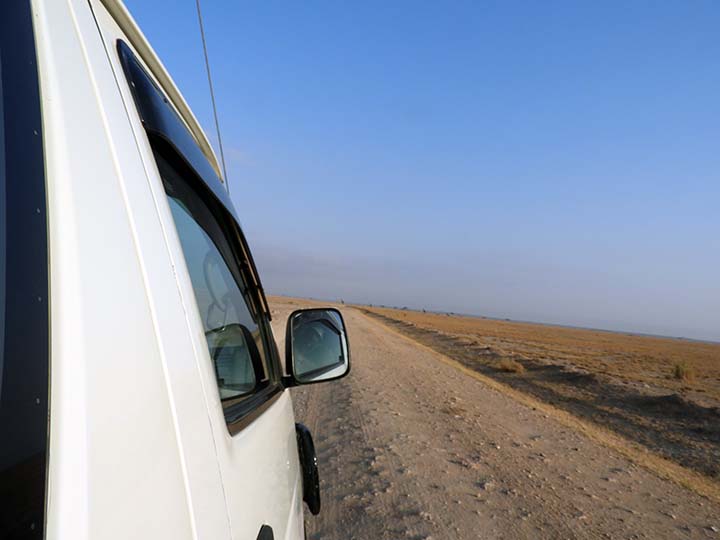 And giraffes!
Ever tried to outrun a giraffe?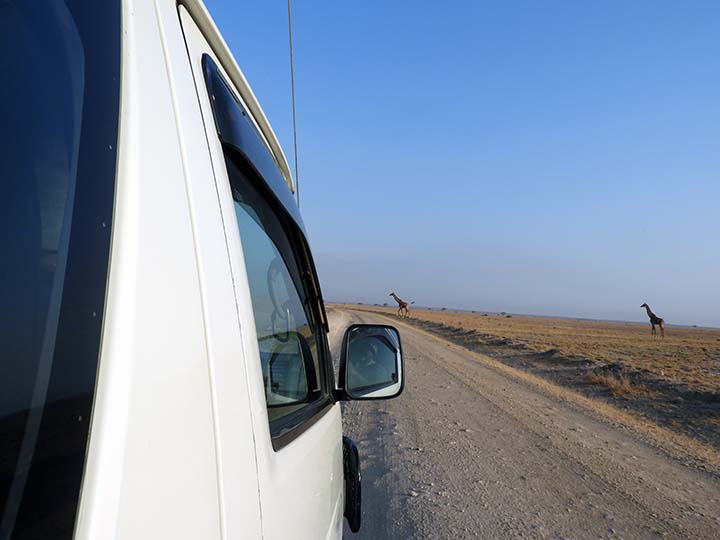 He just wanted to cross the road.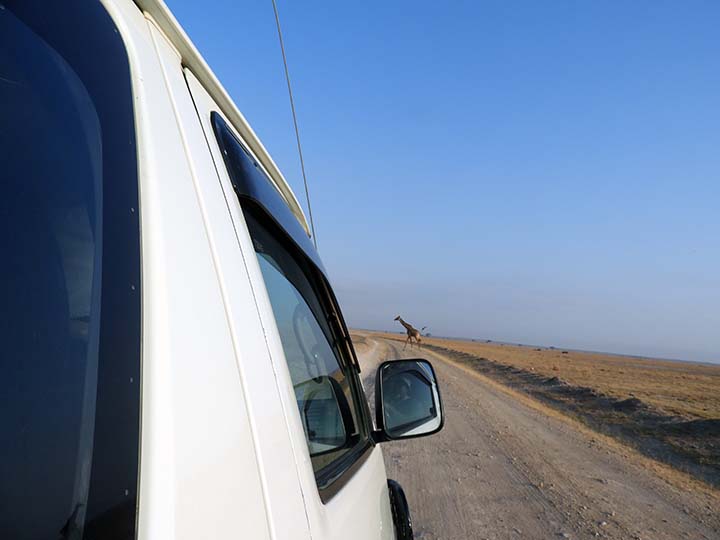 Sometimes you just gotta cross the road and it doesn't matter that what's on that side looks exactly what's on this side.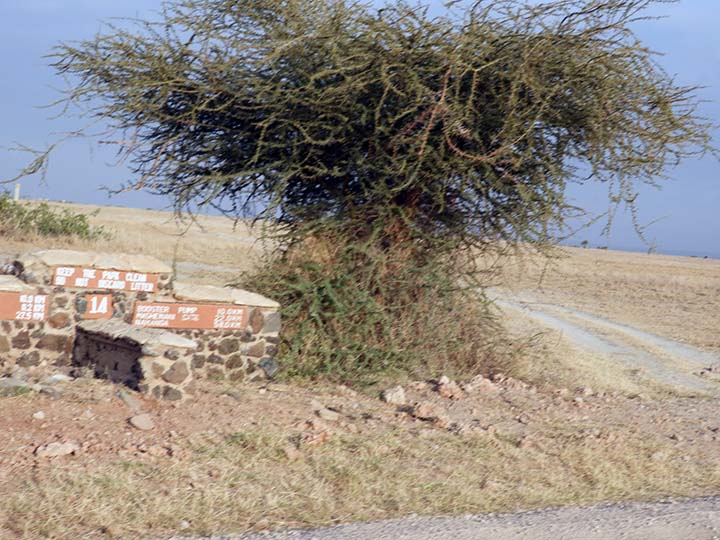 The Amboseli Park management has helpfully provided elaborate road signs out here in the middle of absolutely nowhere.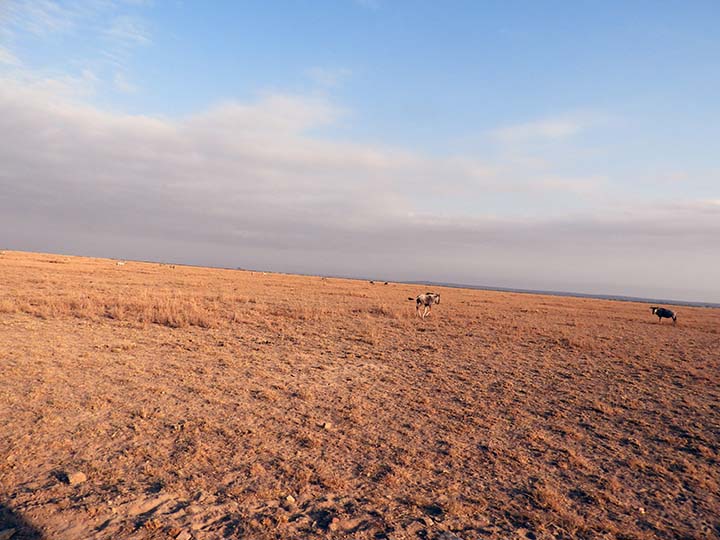 It's just one big flat prehistoric lake bed. With wildebeest.
See them out there? Look closer.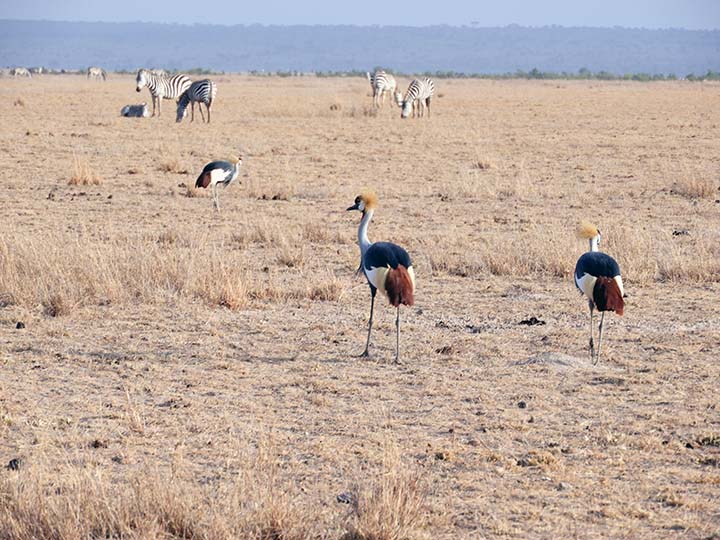 Fancy birds. Marsha? Gray crowned crane?
Ever tried to outrun an ostrich?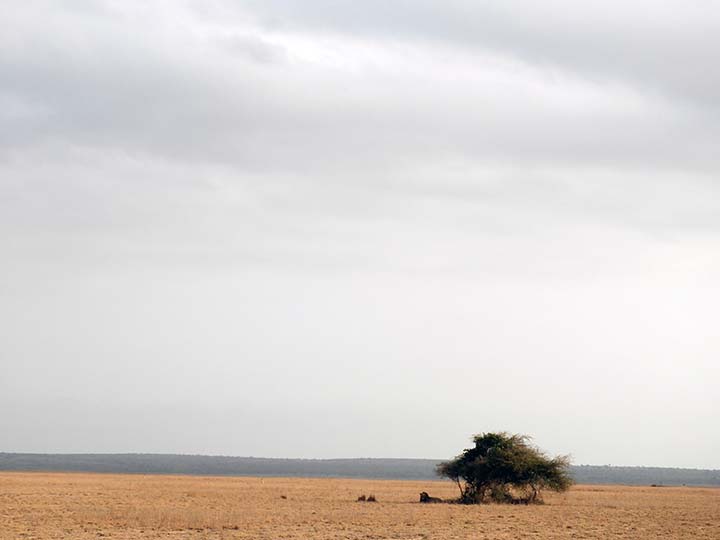 Wait ... who's that out there resting in the shade?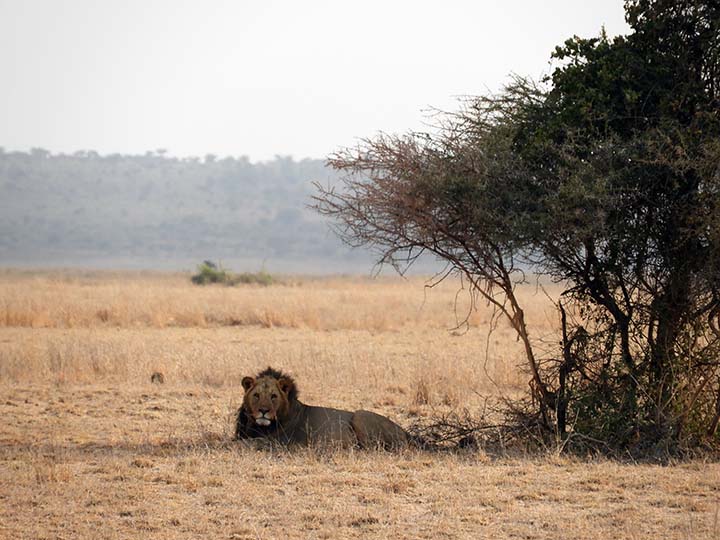 It's the king of beasts!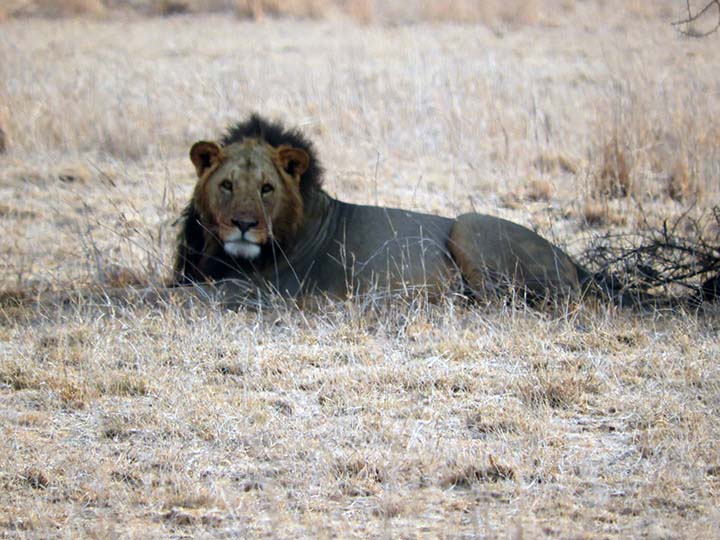 He's excited to see us.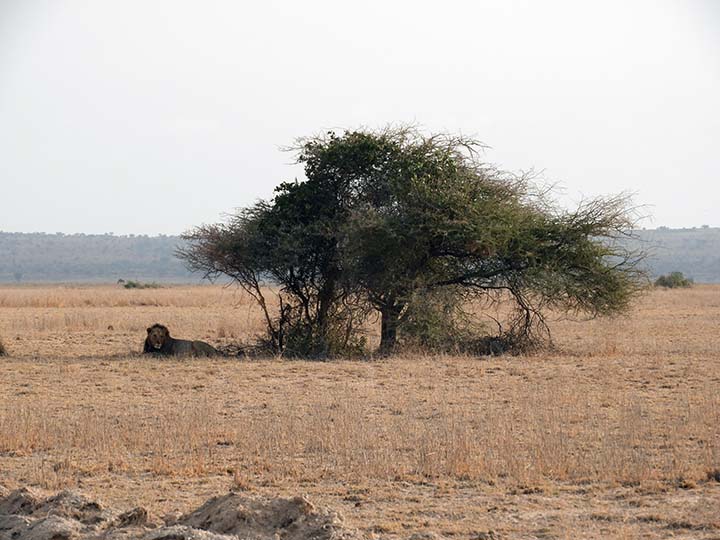 OK, we'll leave you alone.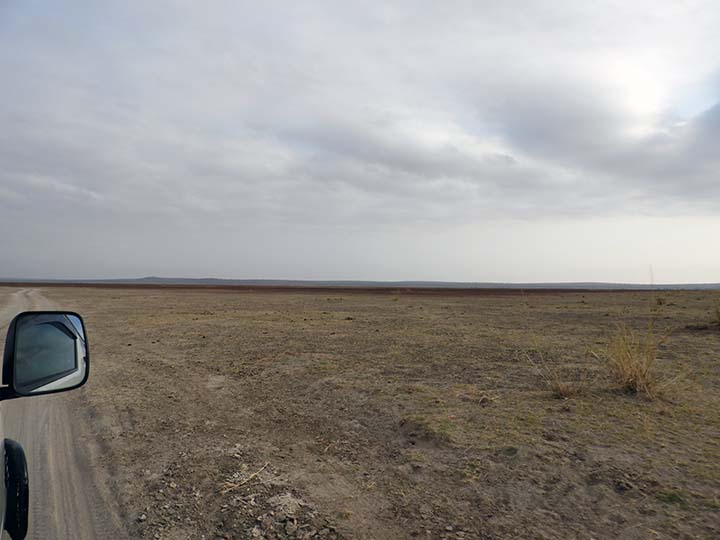 Have I mentioned this place is flat?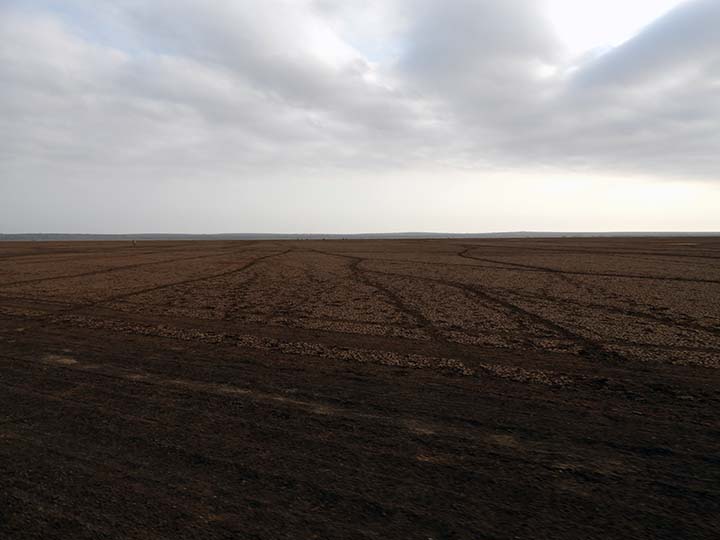 The animals leave trails.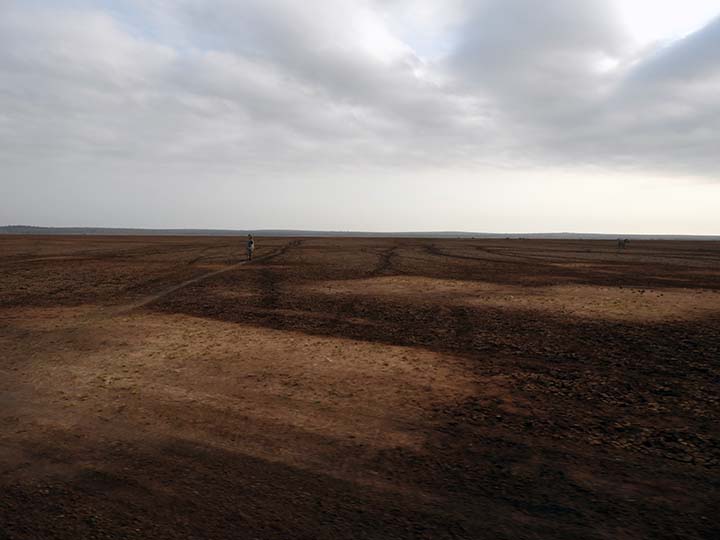 There's an animal following a trail now!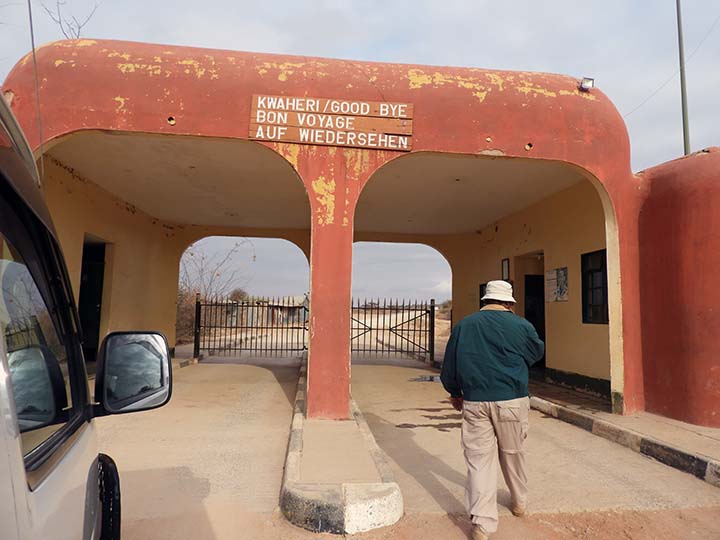 Goodbye Amboseli. You were a fascinating prehistoric dry lake bed.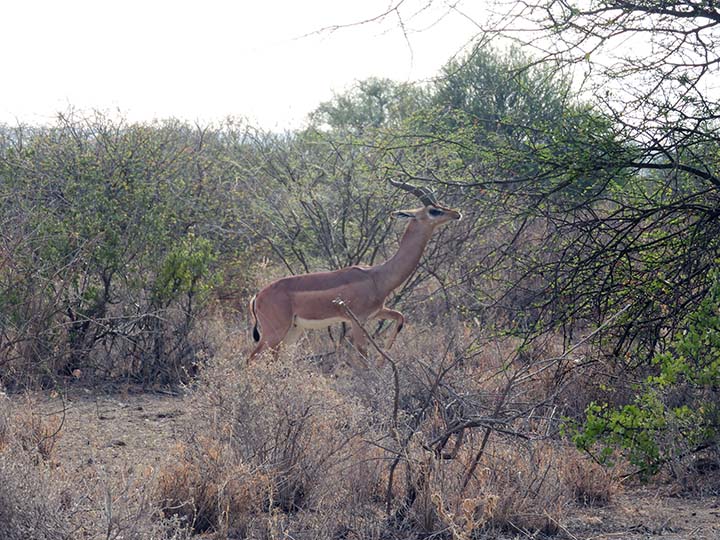 Looks like we're going to see animals outside the park too.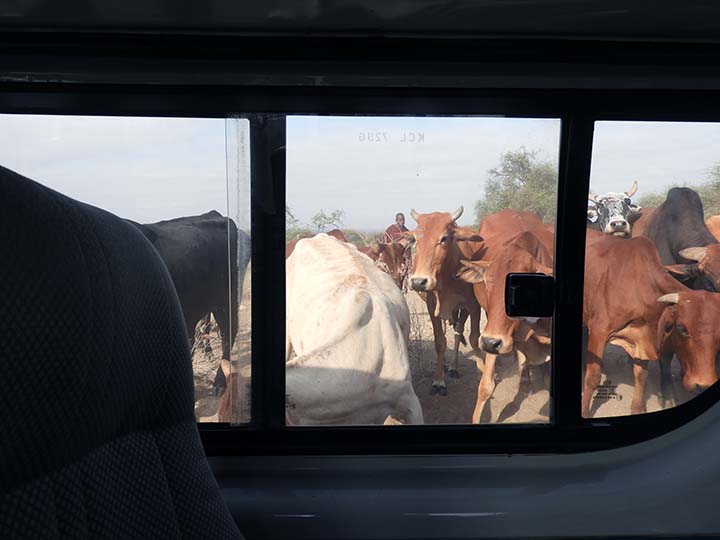 These guys look more familiar than Grant's gazelles.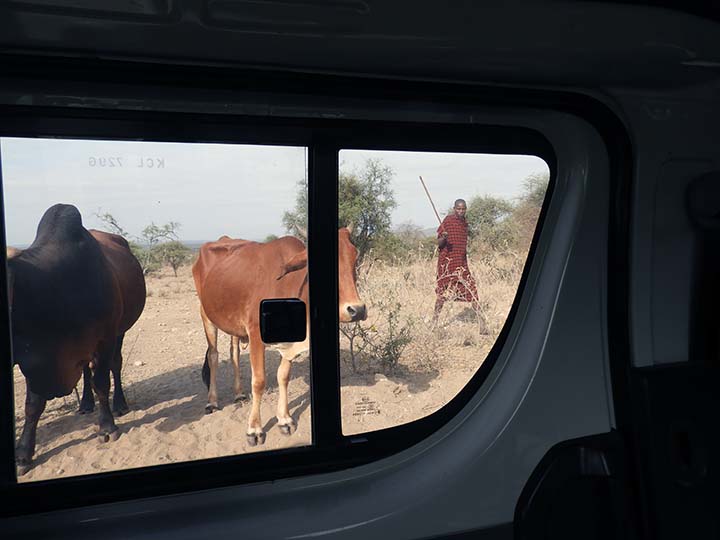 I'm not sure how softly they walk, but Maasai herdsmen always carry a big stick.
Potty break!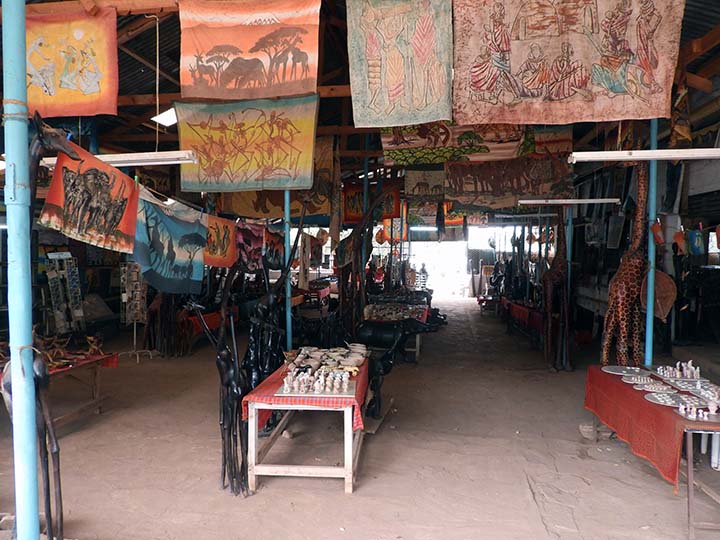 And a terrific souvenir shop.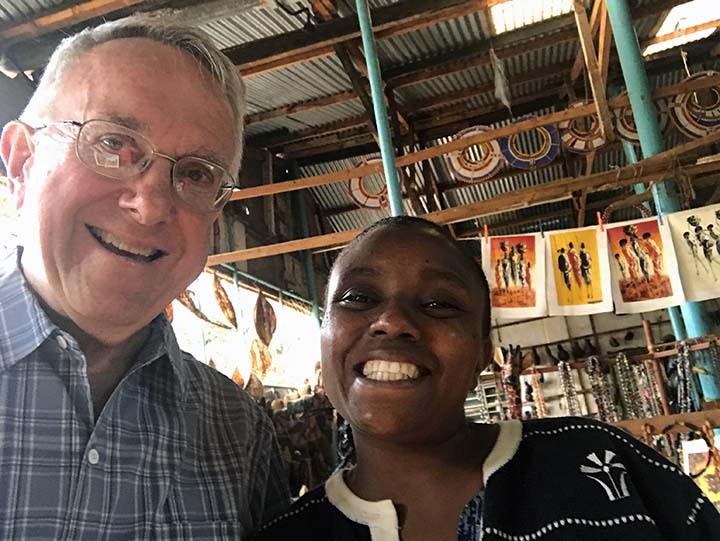 I made a new friend. This delightful lady was named Salome and she is a former school teacher just like me. She was smart -- a college graduate -- so very delightful, and eager to talk to me about her culture. The sad thing was that she'd quit her job as a school teacher because she could make more money selling trinkets at this souvenir shop. I could have spent the rest of the afternoon with her, but we had to move along.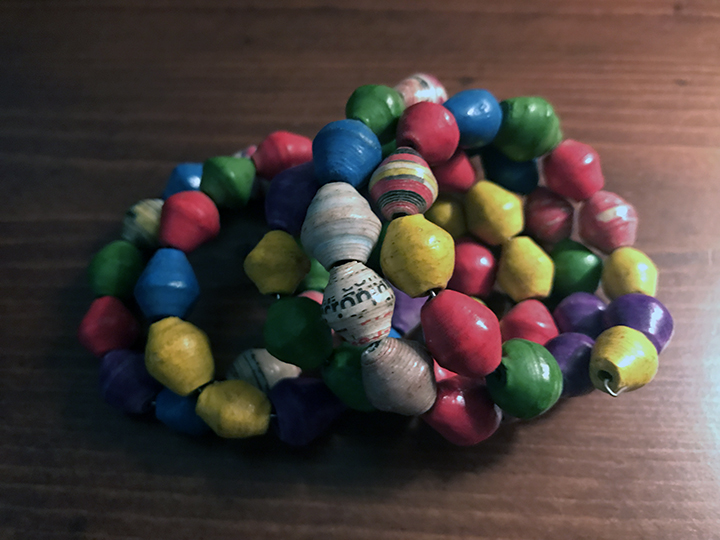 Salome was so nice I had to buy something from her. So I told her I needed a Christmas gift for my niece Cairo. ("Like the city in Egypt? Yep. Salome was impressed.) So she helped me pick out this bracelet. I hope Cairo will enjoy it, and I wonder if she'll spot this picture on my website before Christmas, which will spoil the surprise, but which will make me feel good knowing Cairo is actually reading my website. So, Cairo, send me an email if you spot this. I'll be waiting!
Follow-up: I got an email from Cairo on Nov. 23, 2019. I may have spoiled her Christmas present surprise, but at least I know she's reading my website! Yay!!!!!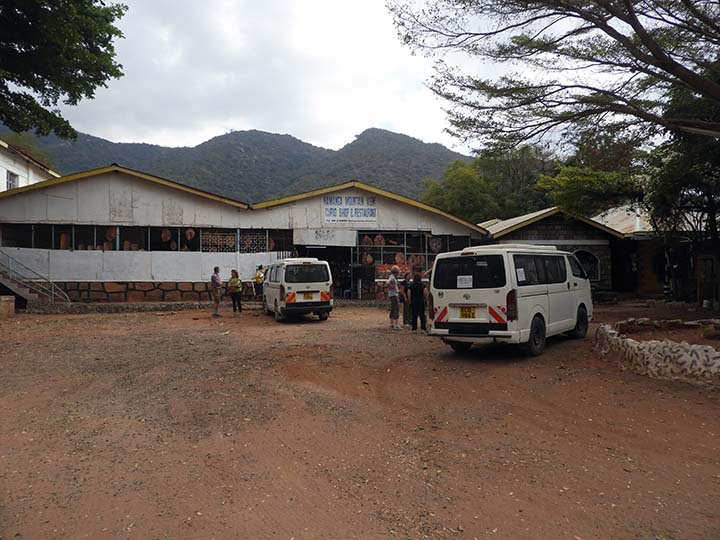 C'mon, Road Scholars. Let's see what life is like outside the park.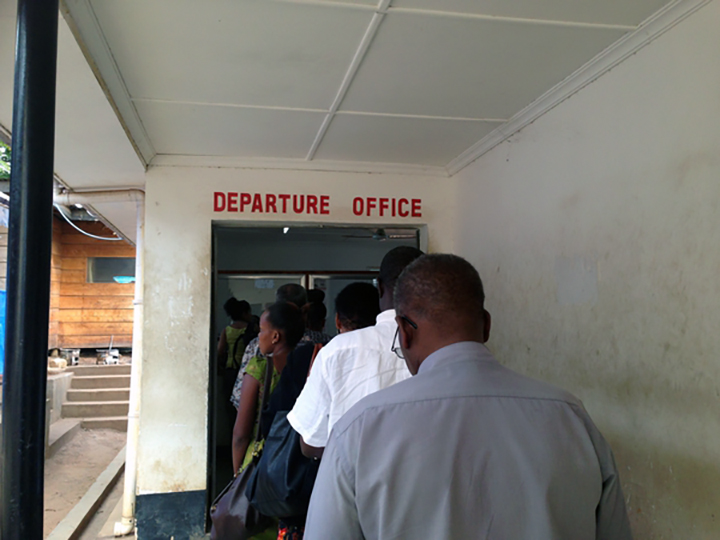 And it was along about here that we left Kenya and went through customs into Tanzania. I took no pictures of any of that because photography wasn't allowed. I have no idea why. But thanks to the internet and other tourists who didn't abide by the rules, I have some pictures.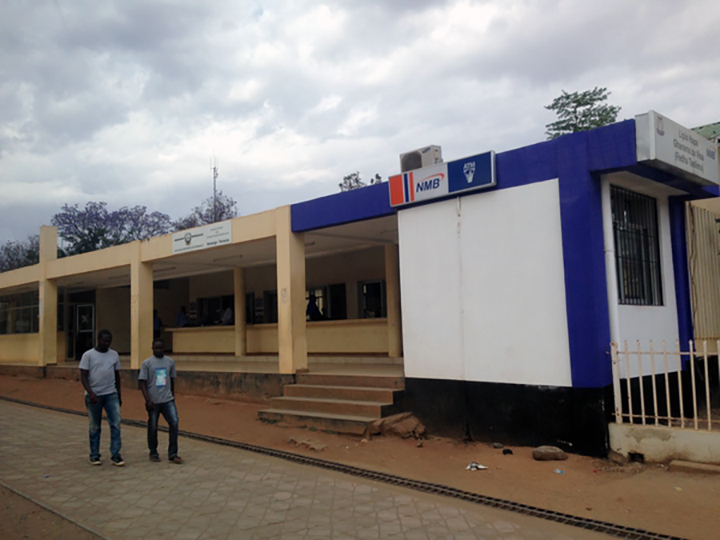 Why wouldn't they allow pictures of these lovely buildings? I have no idea. But whatever...pretty soon we were in Tanzania.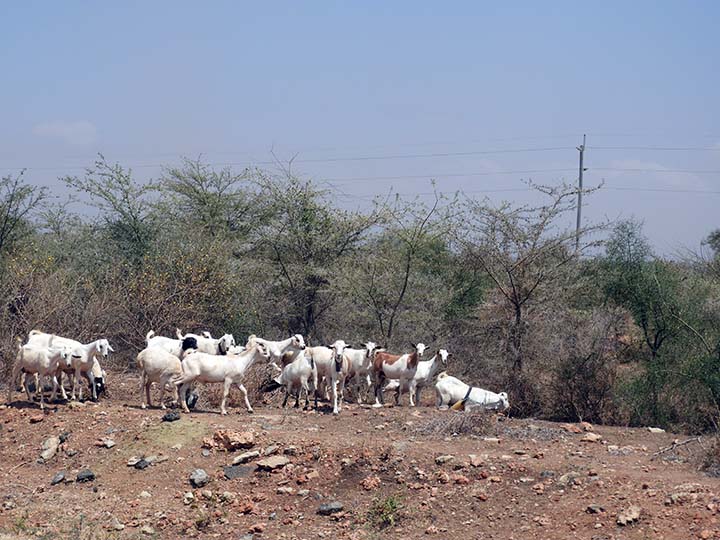 Tanzanian goats! I was expecting gazelles.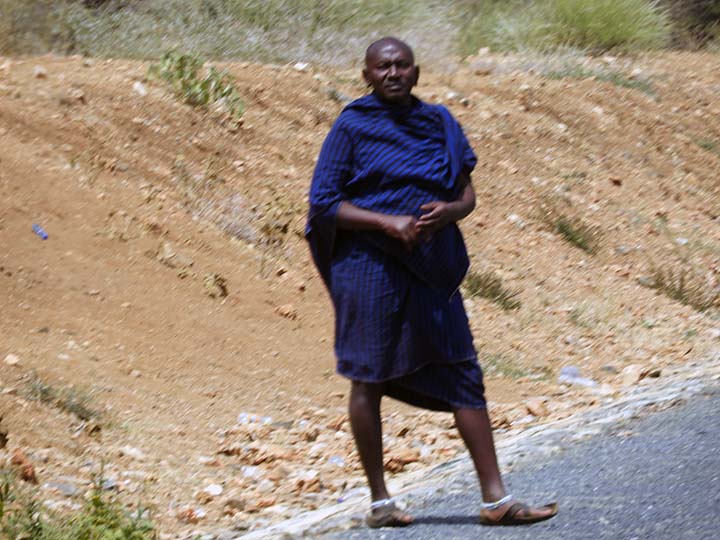 Blue! See? They don't all wear red. But where's the stick? There's something just wrong about this.
The preferred form of transportation is walking.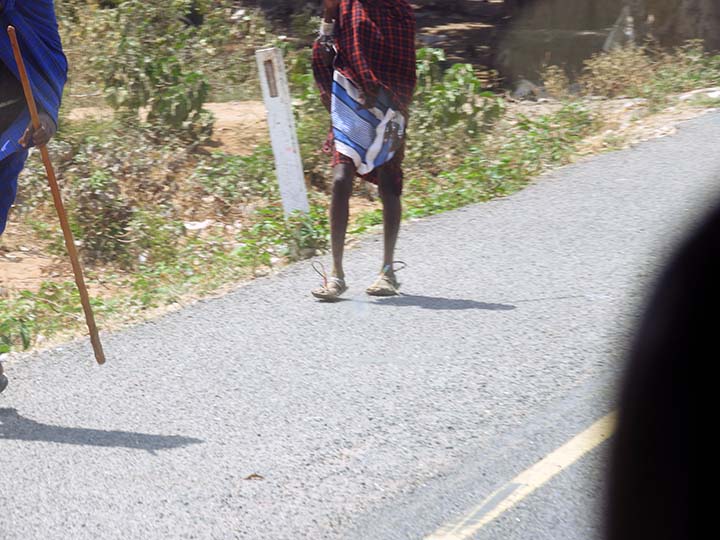 A stick. That's better.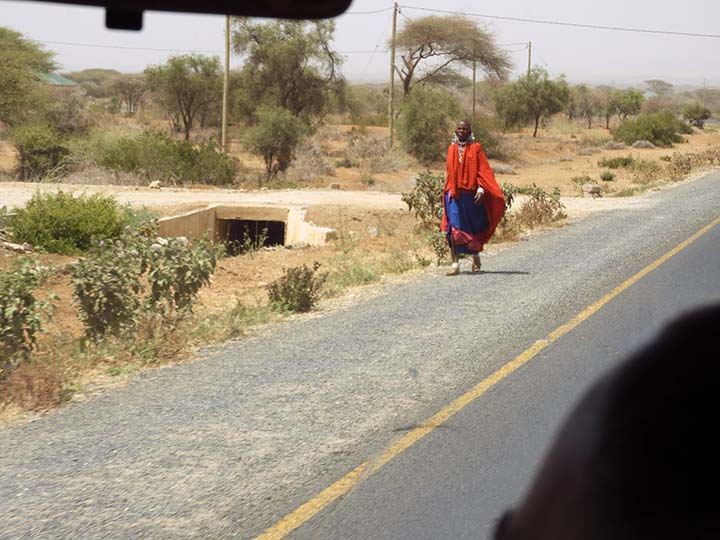 And stunning red.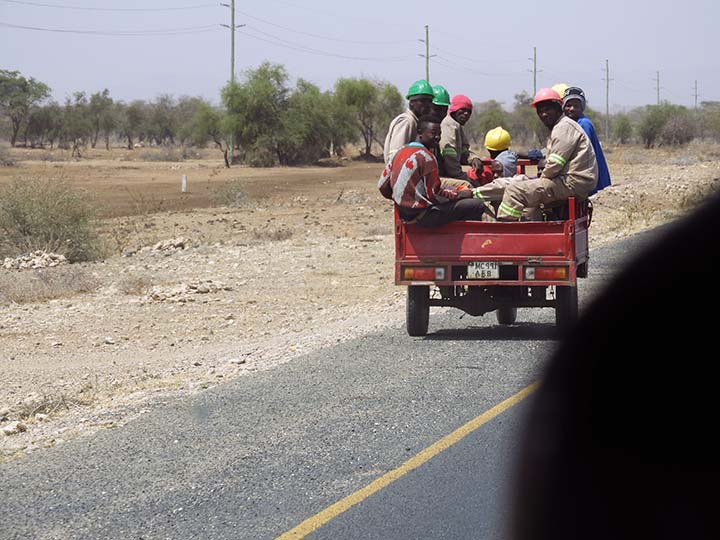 This is just not a bit traditional.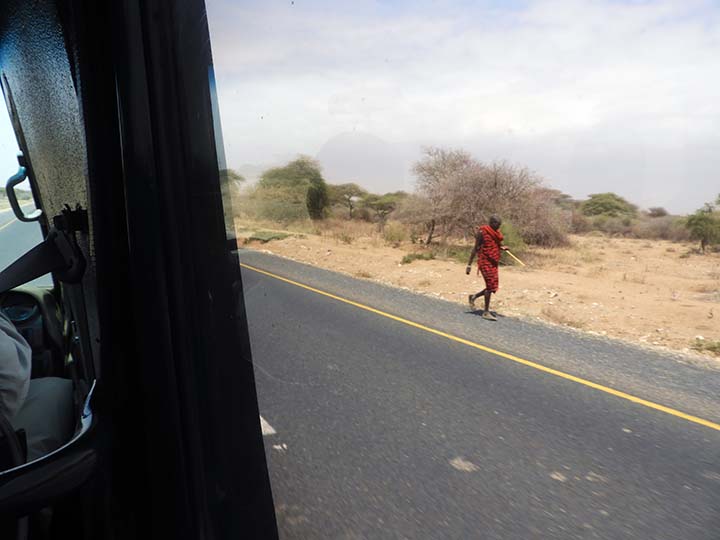 There we go.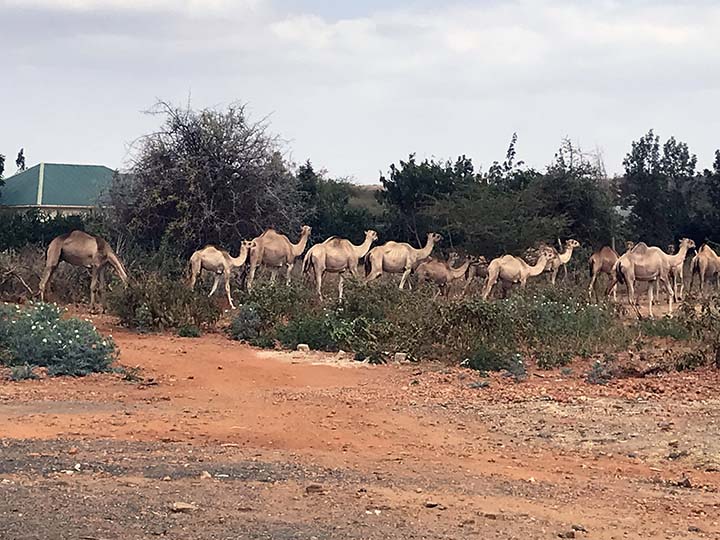 Camels? Seriously?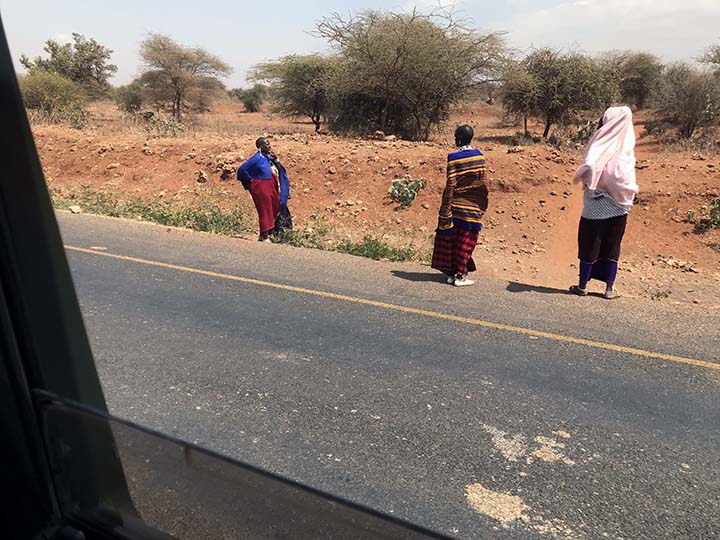 More traditional dress.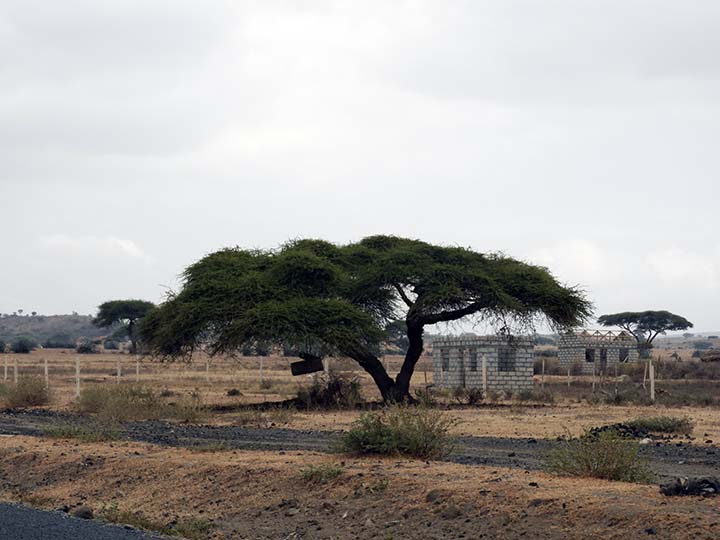 See that box hanging from the acacia tree? It's a beehive. I wanted to take some acacia honey home as a souvenir, but Kip said it's hard to find.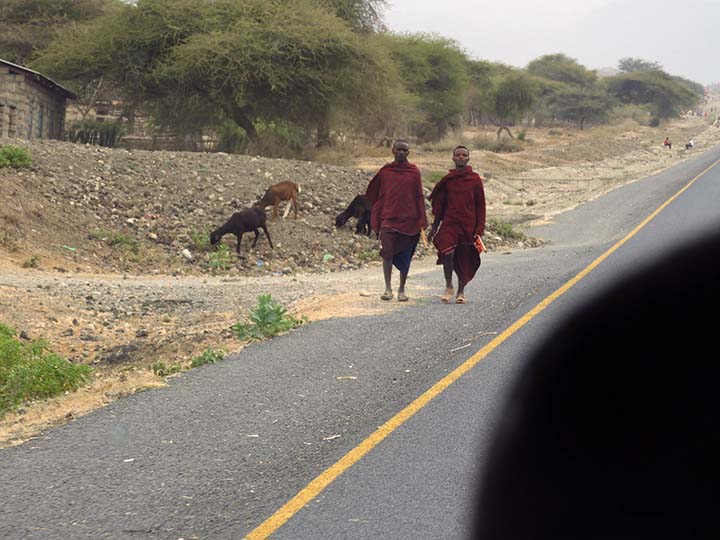 They have sticks. Look closely.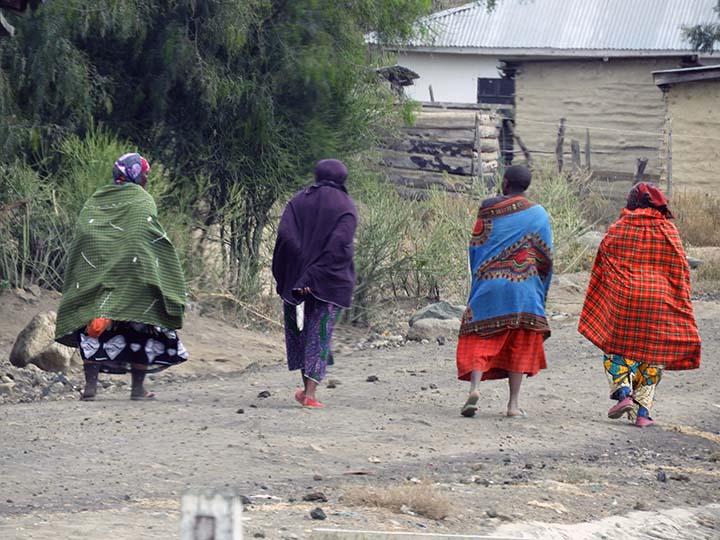 All sorts of colors.
I think we're approaching a goat market.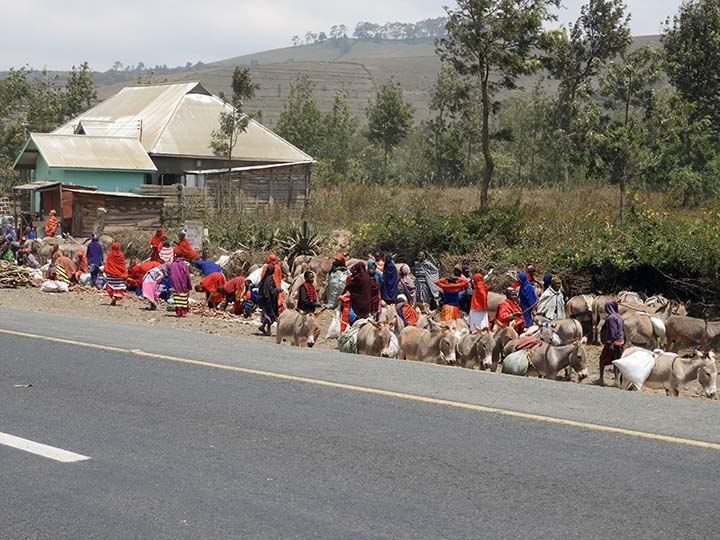 Yep.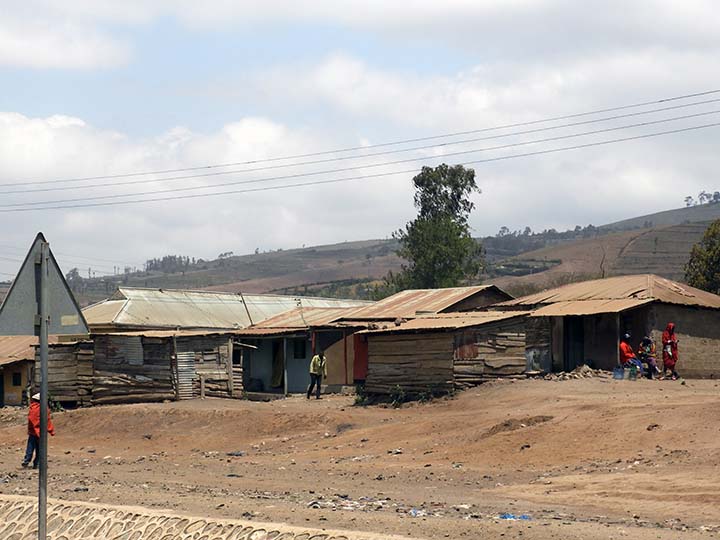 OK, maybe the accommodations aren't the finest in the world.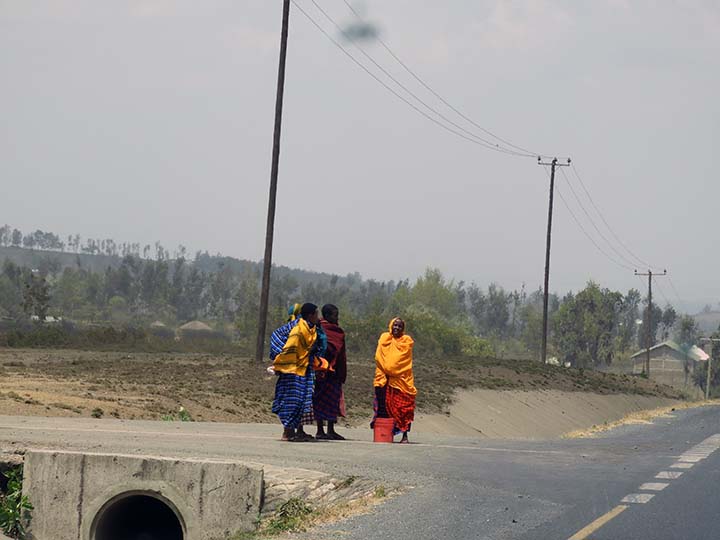 But people dress well.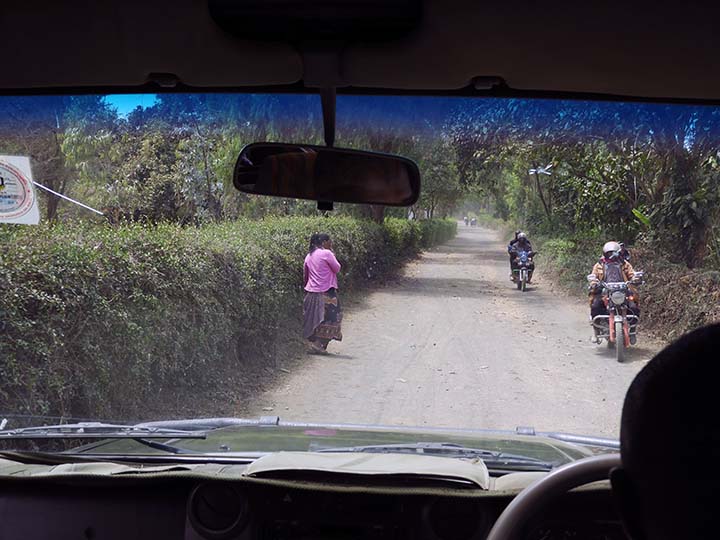 Kip says there's a school up this way. As most of us are former teachers, we're all in.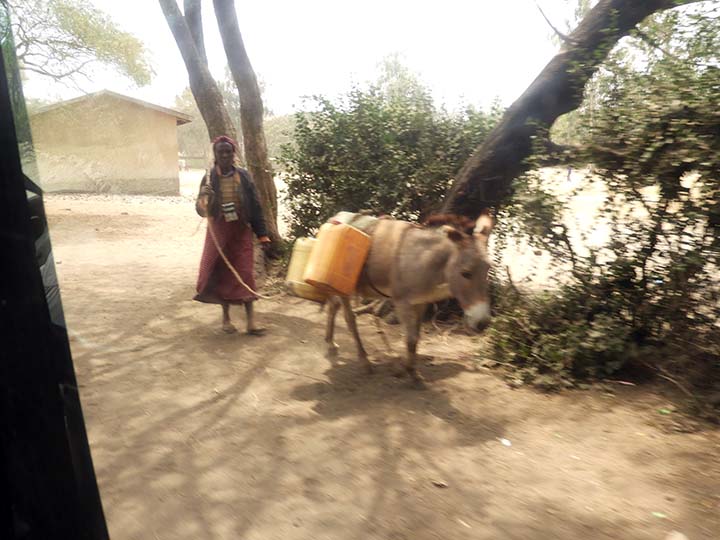 Beast of burden.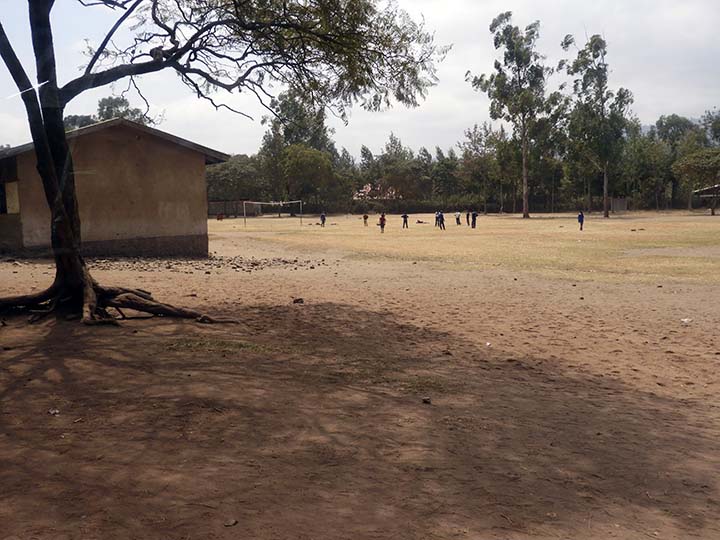 Look! The kids are playing soccer!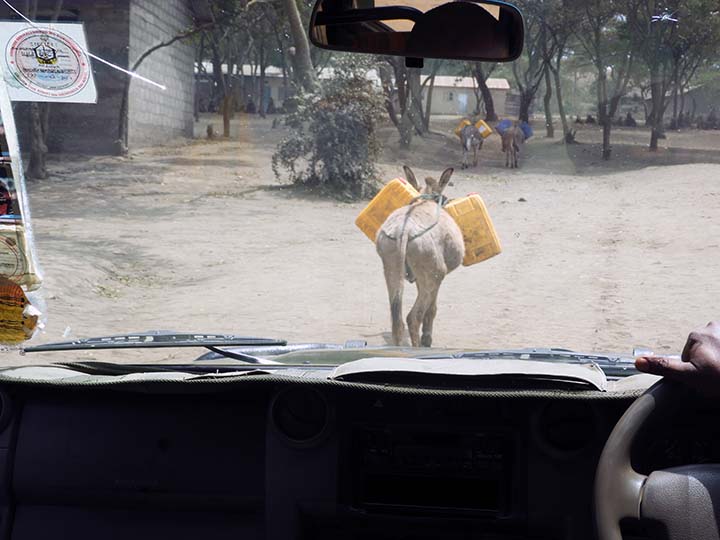 While this beast of burden finds his own way. He's done this so many times he needs no guidance.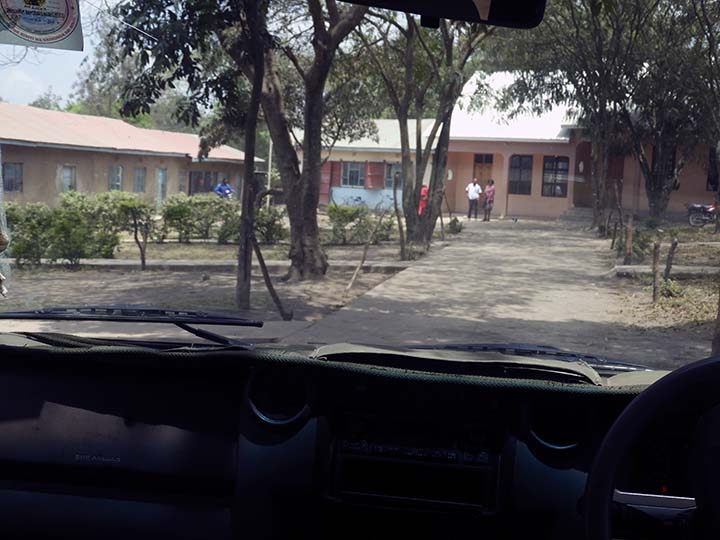 It's the Matím Primary School. I'd recognize a primary school anywhere.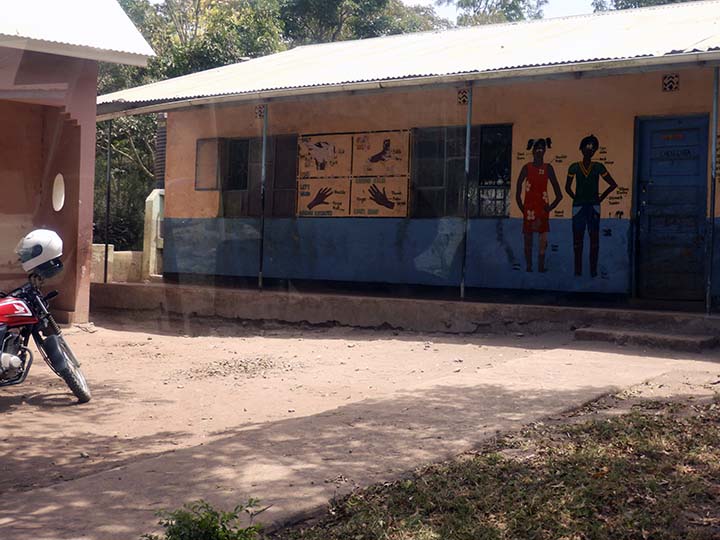 Learning aids everywhere you look.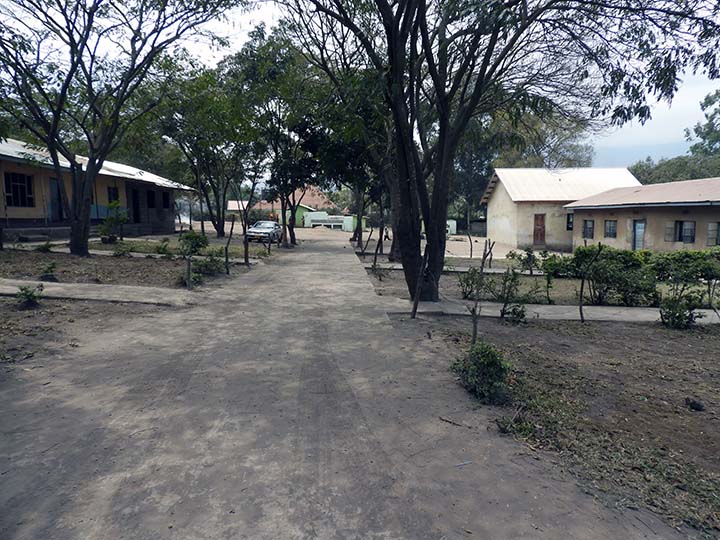 Nice campus.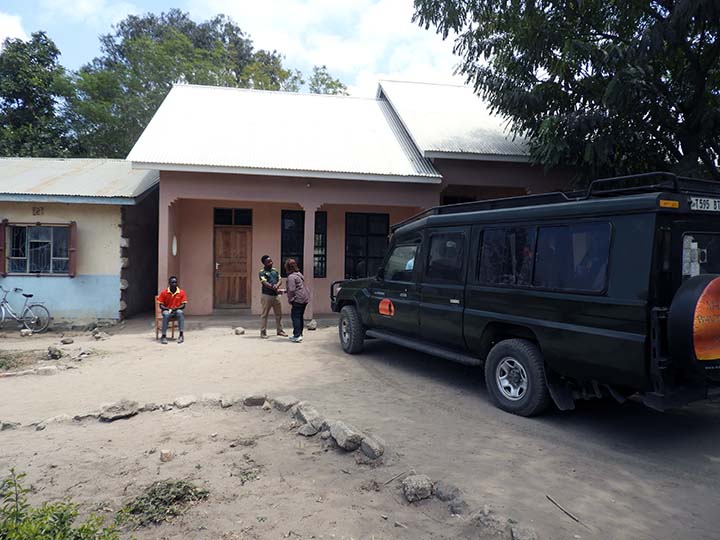 Mandy is being greeted.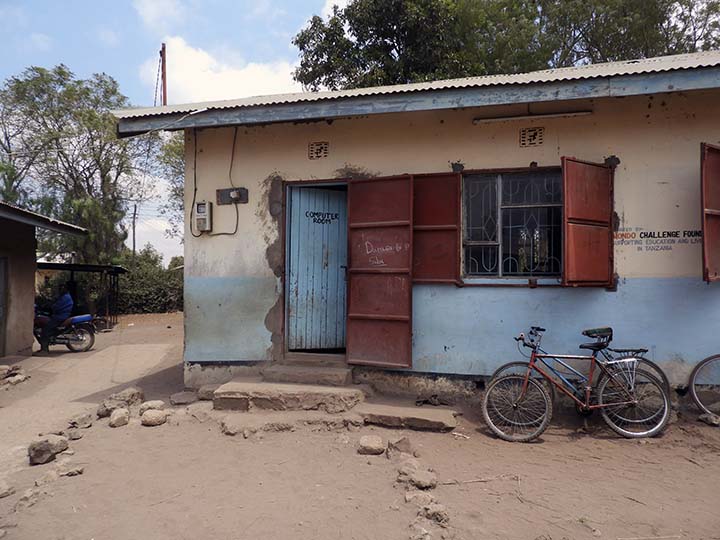 There's the computer lab.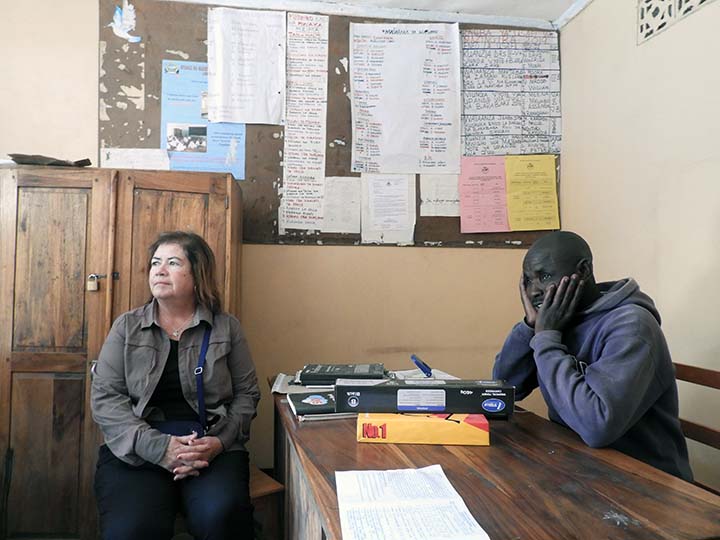 And here's the headmaster, Mr. Lang'o.
Mr. Lang'o is the headmaster and he gave us a very interesting briefing on the school system in Tanzania. They have a hard time hiring teachers, and it became obvious that the reason is that they don't pay them enough. Remember Salome? She's college-educated and she's selling trinkets.

Mr. Lang'o Says that in Tanzania teachers must have a passion for teaching and that is the reason they choose to teach. They can't be in it for the money. Where have I heard this before?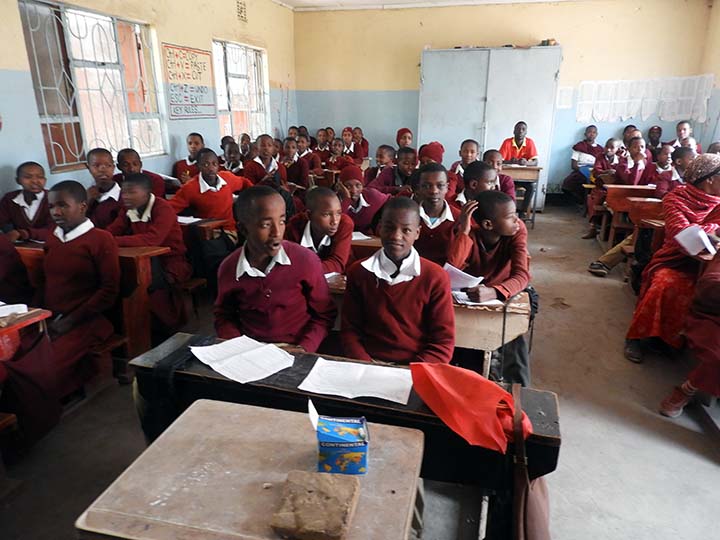 We visited a classroom of seventh graders who were staying late today to study for a big final examination. I think they were glad for our interruption.
What do you want to be when you grow up?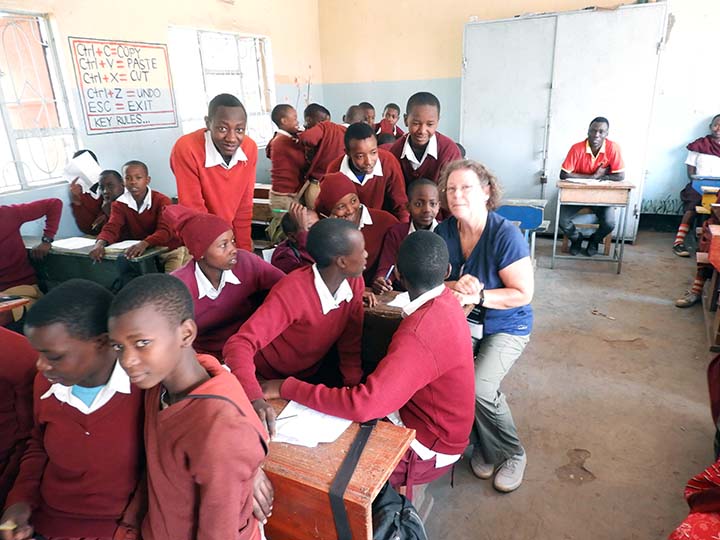 Some of the Road Scholars sat with the kids.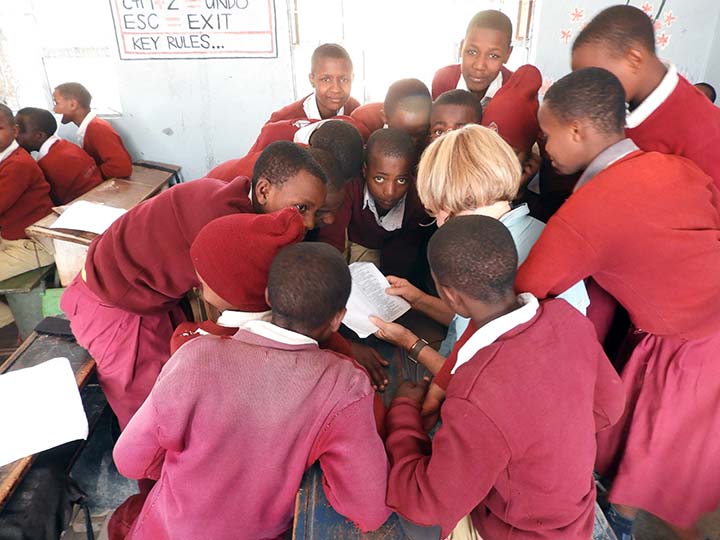 Everybody seemed to be having a good time, but I suspect communication was limited.
Then they sang for us. It was great! We learned later that the song was about Tanzanian national parks and how wonderful it is that visitors come here from all over the world.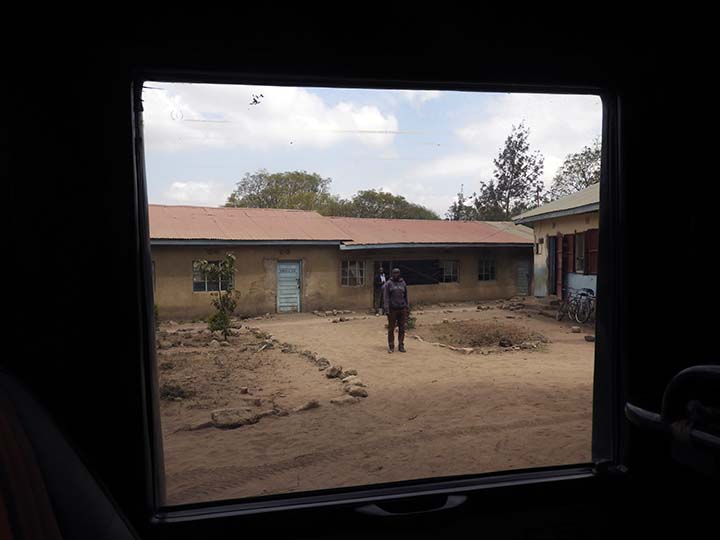 Bye Mr. Lang'o.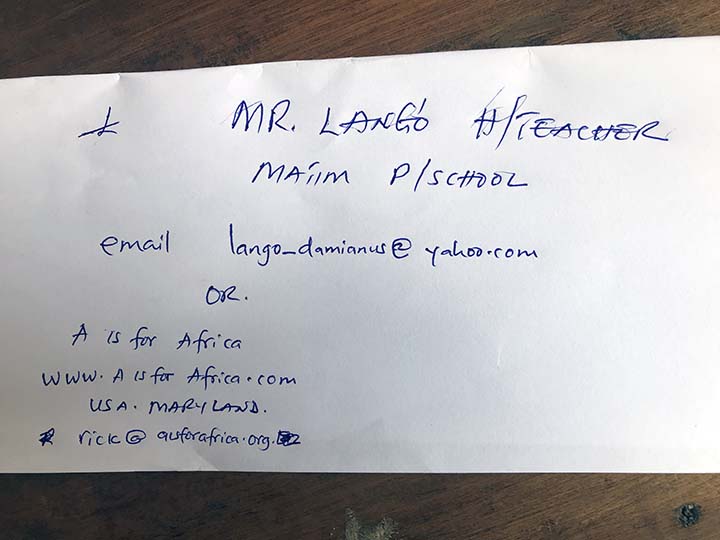 Here's the school's contact info if you'd like to provide support.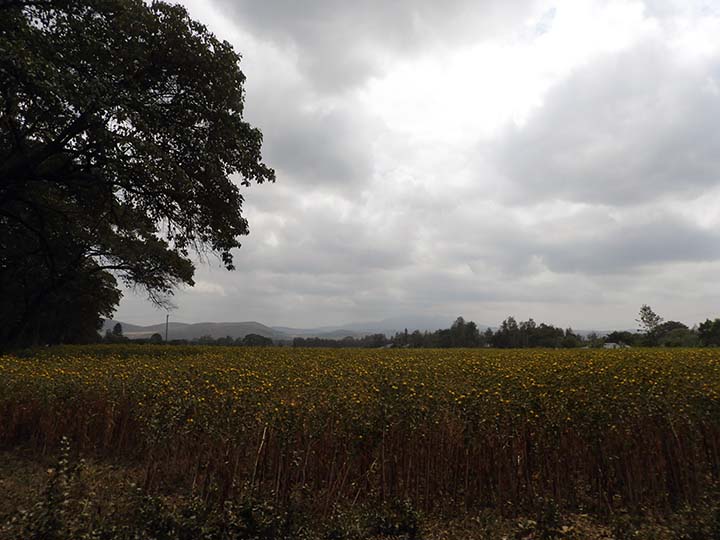 Now we're headed to a coffee plantation. But that's not coffee in the field.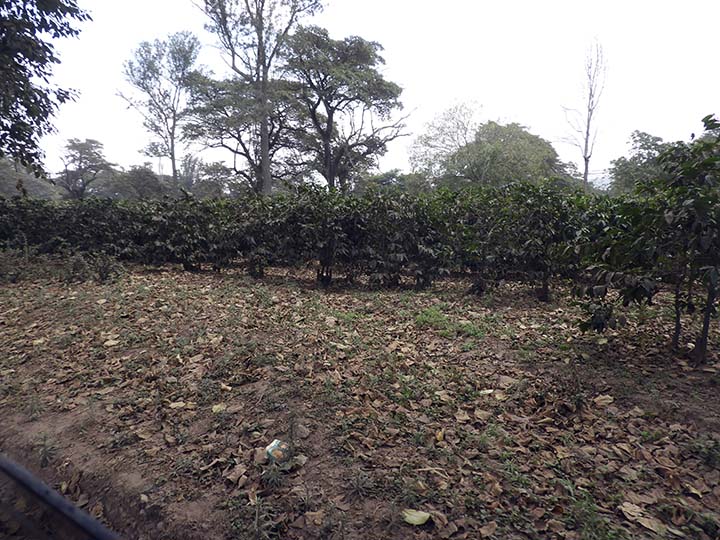 That's coffee.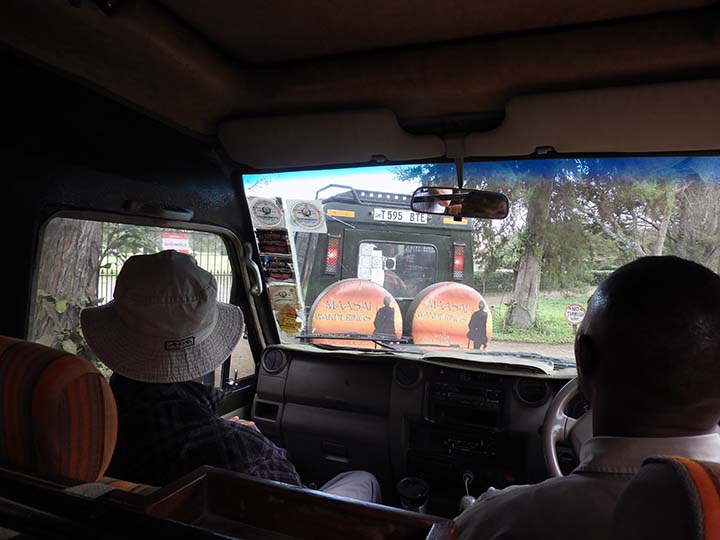 Nice things around here seem always to be behind protective fencing and guarded gates.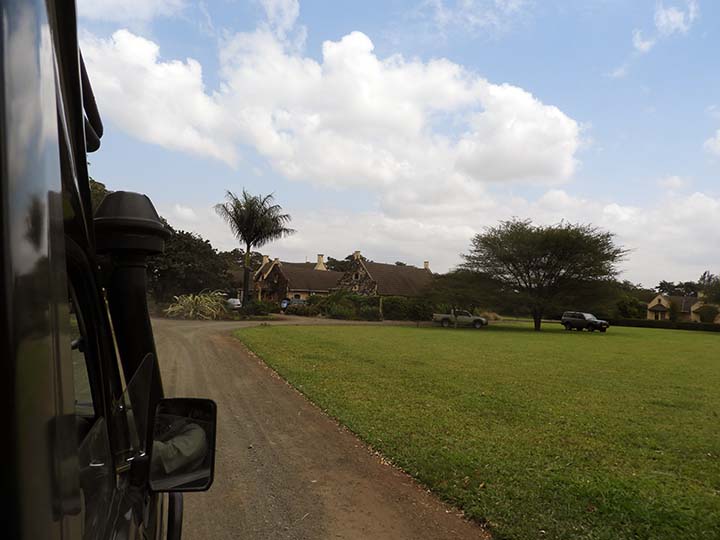 And this clearly is a nice place. It's the Kimemo Coffee Estate. "Set on a coffee farm at the base of Mount Meru, Kimemo is 15 minutes from Arusha, ideally close to the Arusha airport and Dodoma road for easy access to all parks and beach destinations."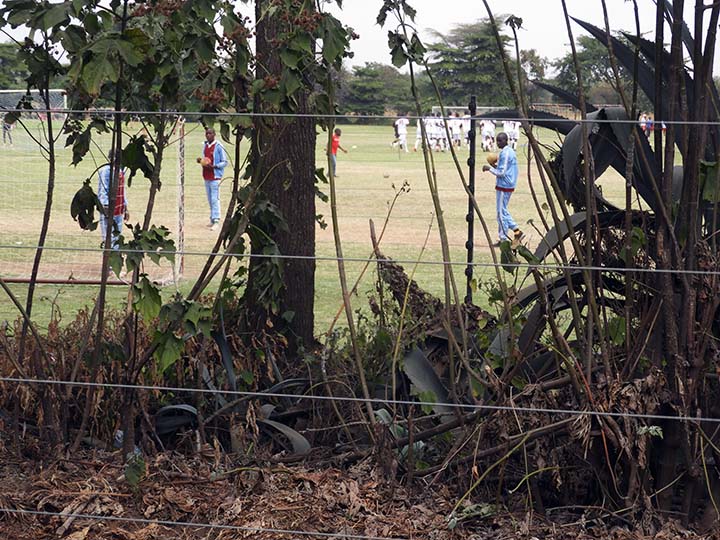 It's located next to a fancy prep school.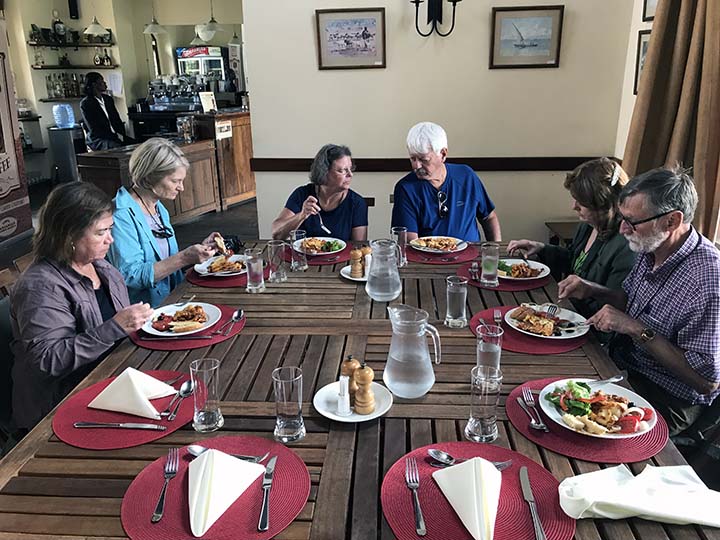 It serves a great lunch.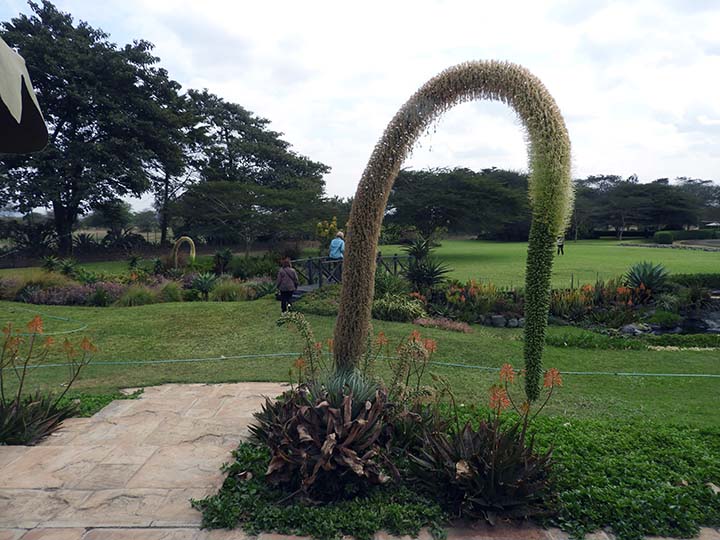 And it has lovely gardens.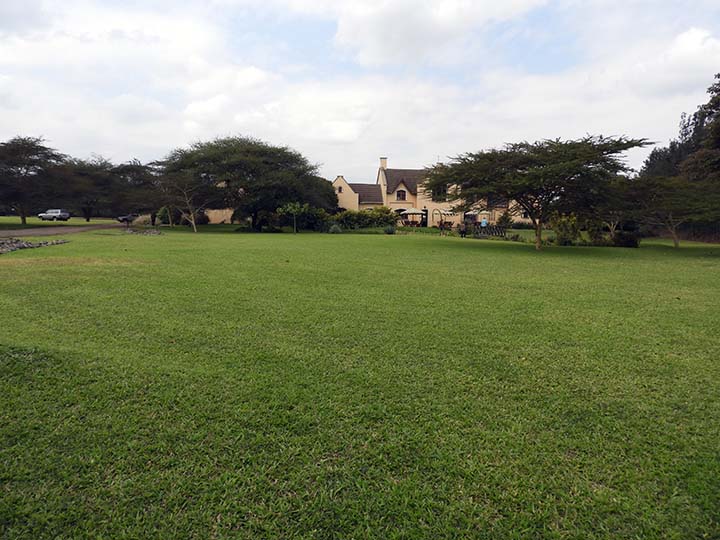 Nice place.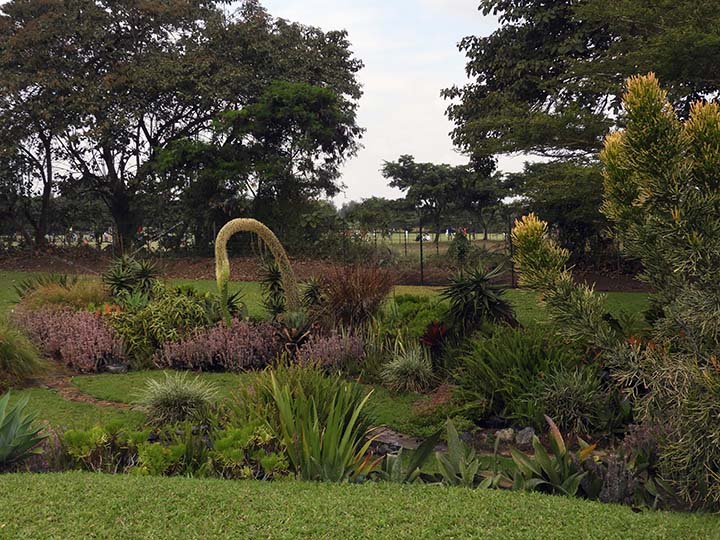 Beautiful gardens.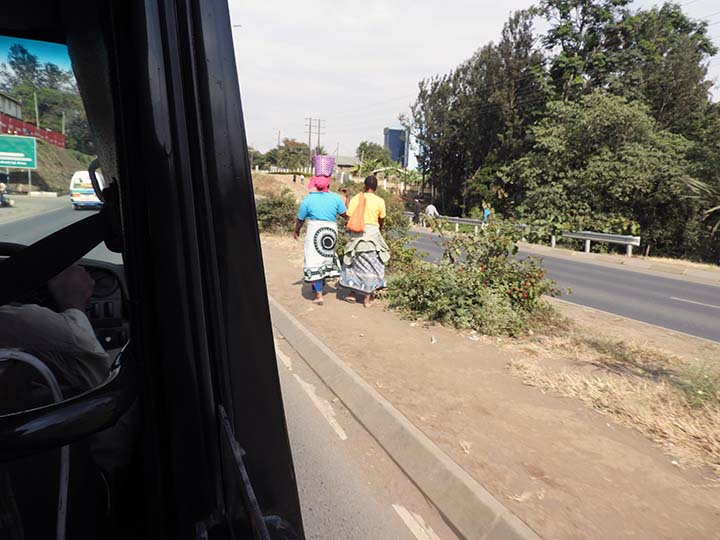 And sorta "apart" from normal life around here.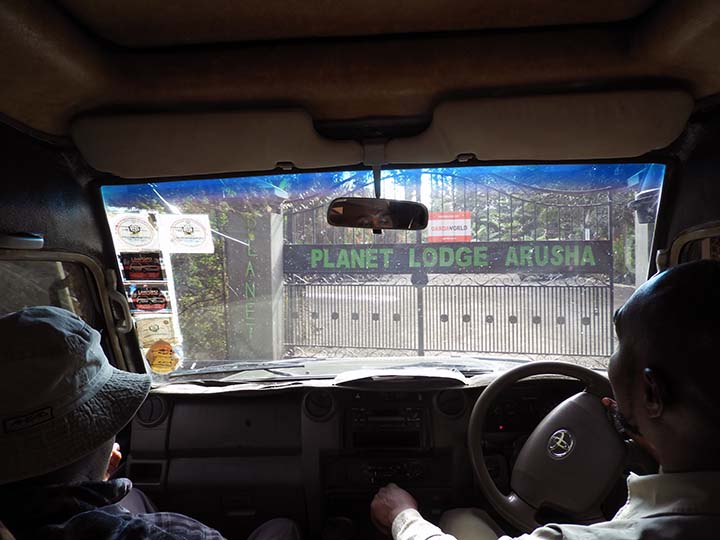 Let's check in to tonight's hotel. Planet Lodge Arusha. Beautiful place, and as I've pointed out, it's behind a big fence and guarded gate.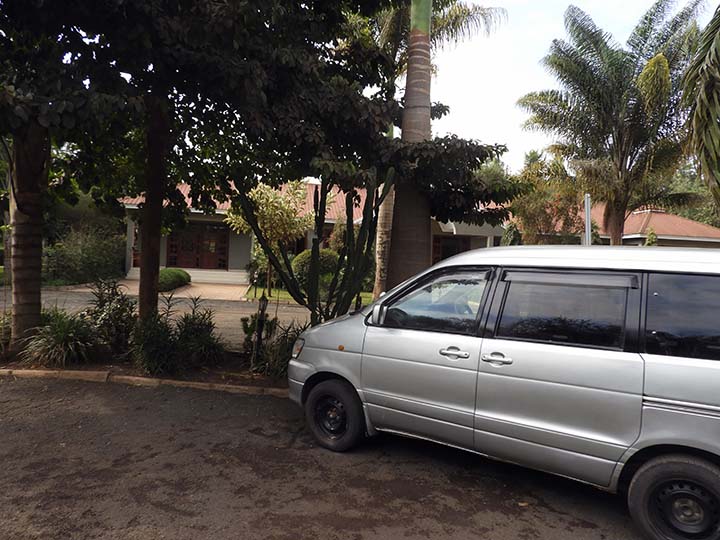 Nice grounds.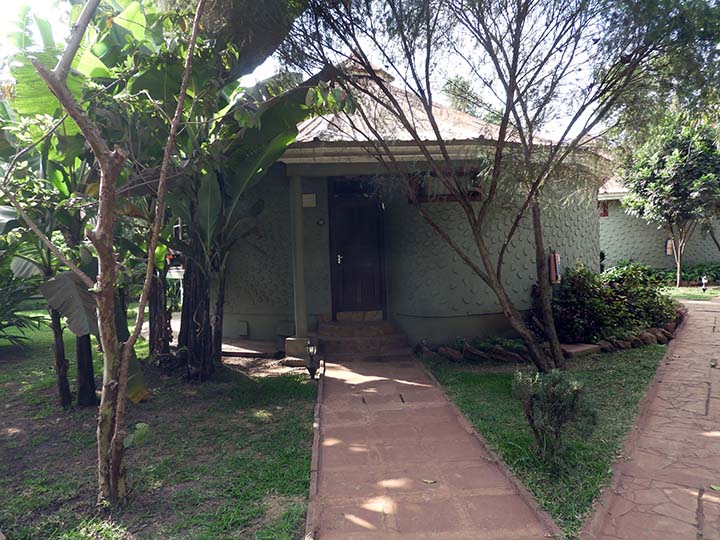 Neat cottage.
Nice room inside.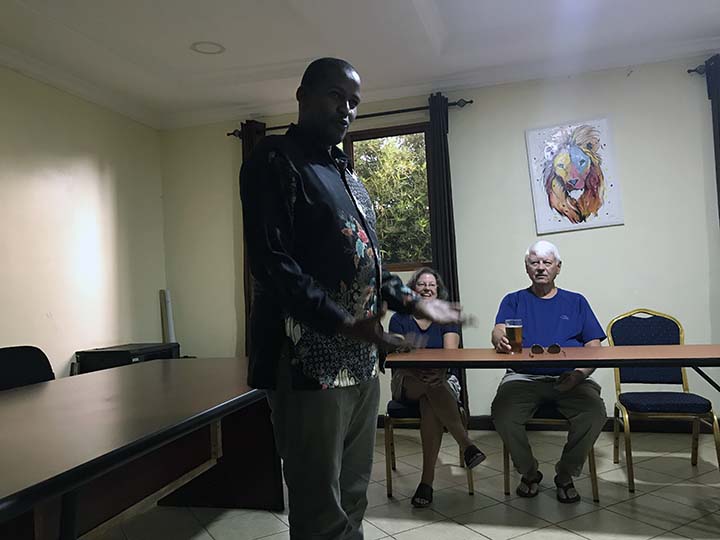 And to end the evening we received a presentation from Mr.Sirili Akko from the Tanzania Association of Tour Operators. He gave an outstanding talk on the history and culture of Tanzania.

I asked him why the old name of the country, Tanganyika had been changed to Tanzania. He explained that the name Tanzania is a blend of Tanganyika and Zanzibar and previously had no significance. It's a made-up name We learned that Tanzania has a long history with Zanzibar. You might want to click on that link and read about how one man once served simultaneously as president of one country and vice president of another. It's an interesting story.