We're up early this morning as we want to get down to the crater floor in time to see the animals at their most active. Bill didn't know he was in for a pleasant surprise later in the morning.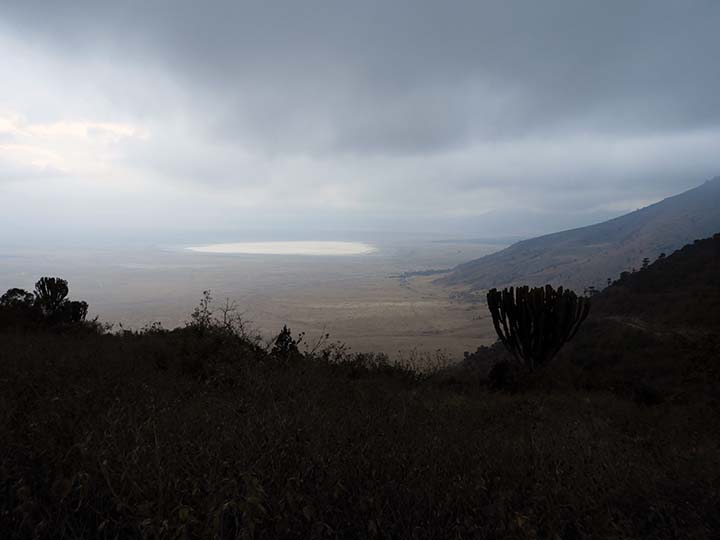 It's cloudy this morning. That's Lake Magadi out there.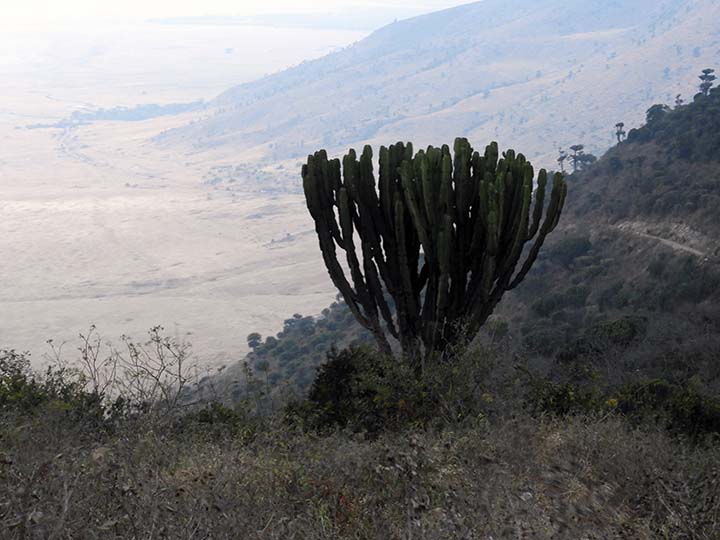 That's a euphorbia ingens, or candelabra tree. You can spot them all over the place around here.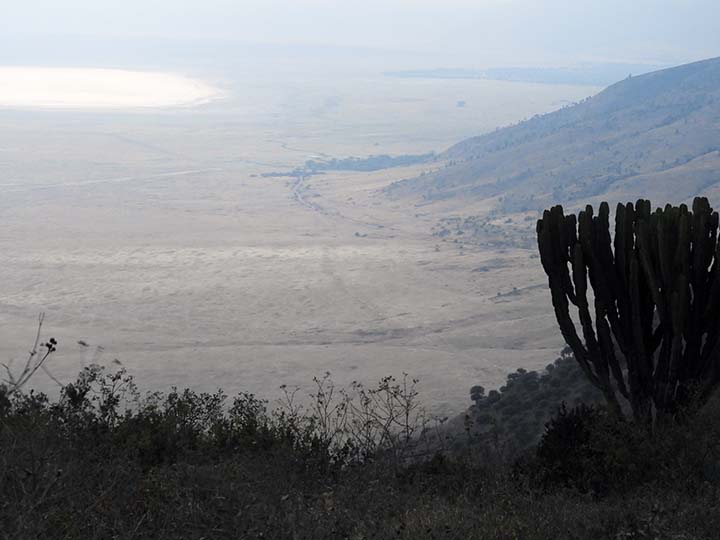 And that's another shot of the crater floor.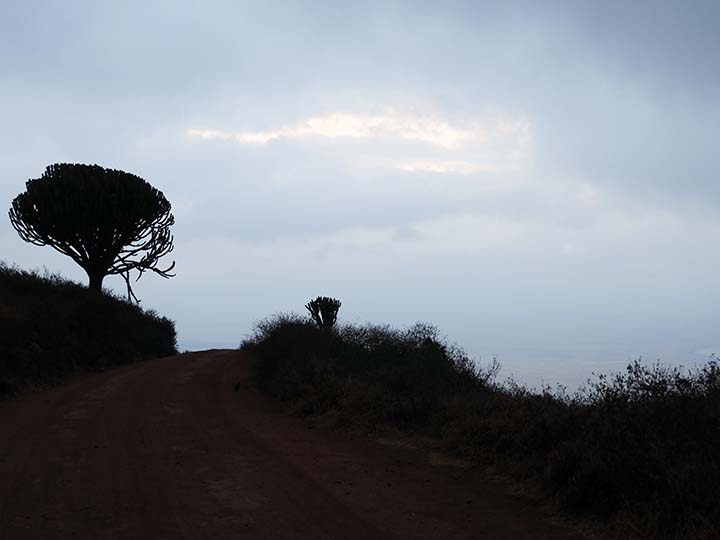 The floras around here are almost as exotic as the faunas.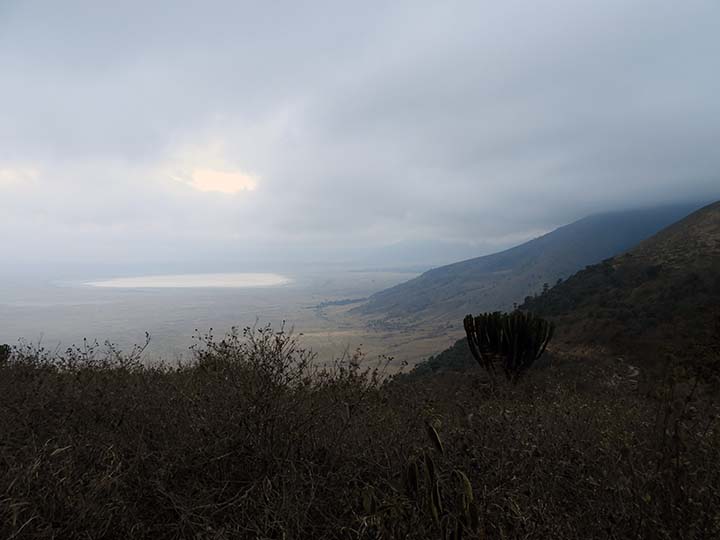 I can't stop taking pictures from this overlook.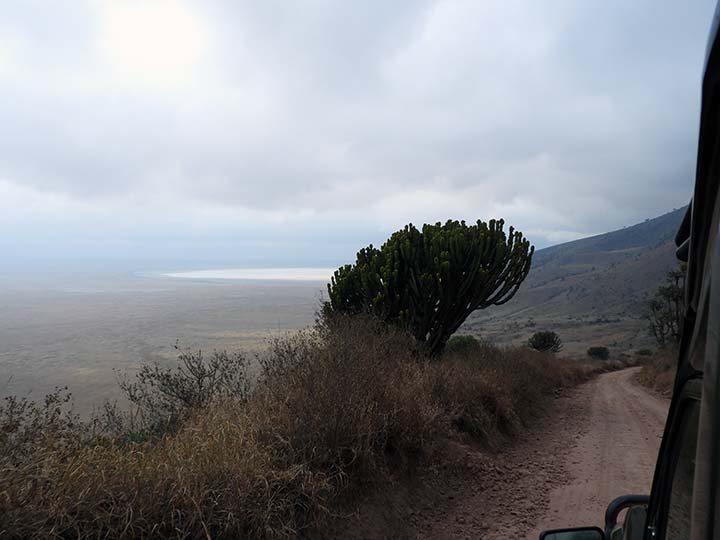 It was a fascinating drive.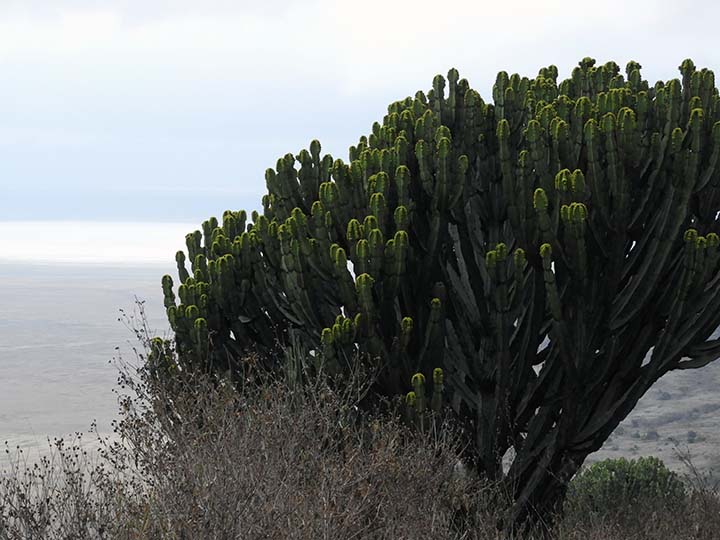 With pretty plants all around.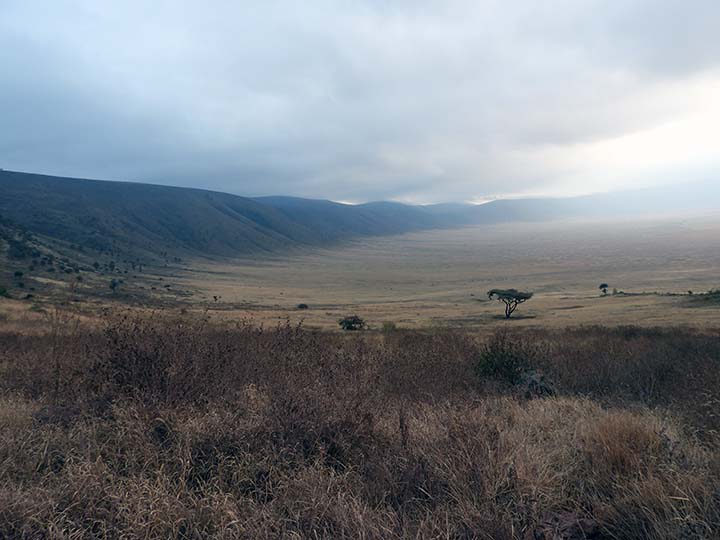 I think we're getting closer to the crater floor.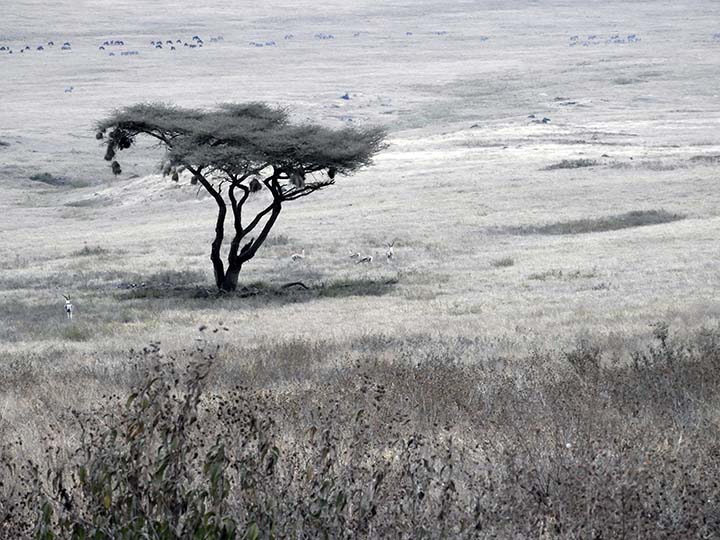 See the weaver bird nests hanging from the acacia tree?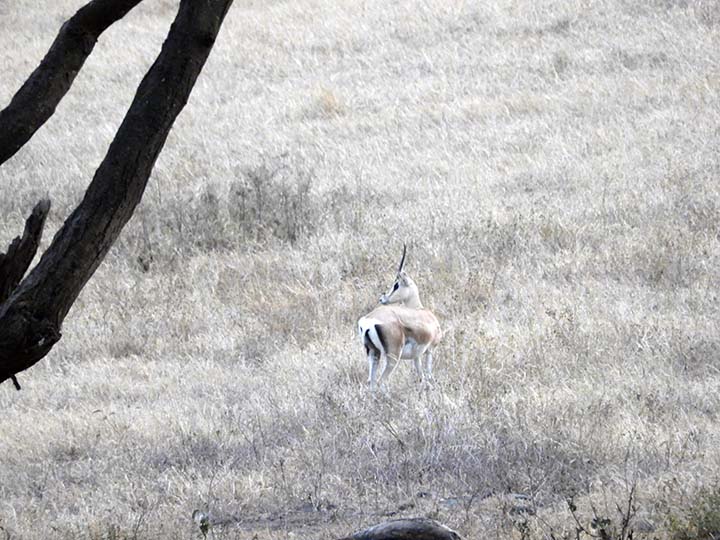 That Grant's gazelle does.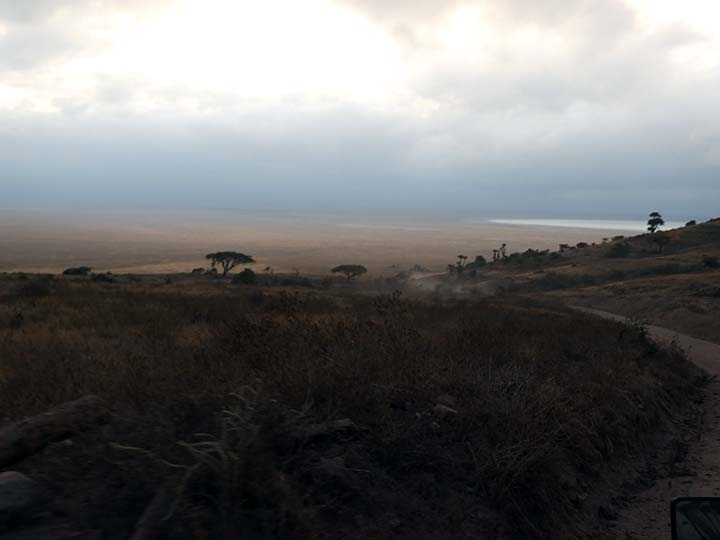 Almost down.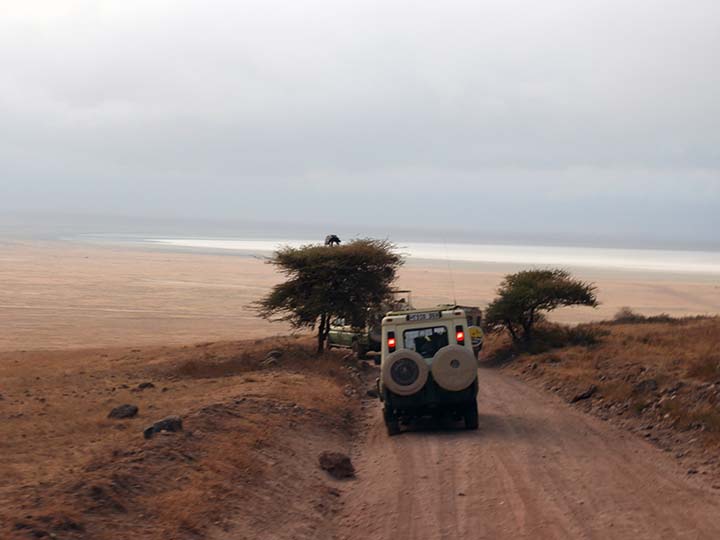 I think the vehicles up ahead have spotted something in that tree.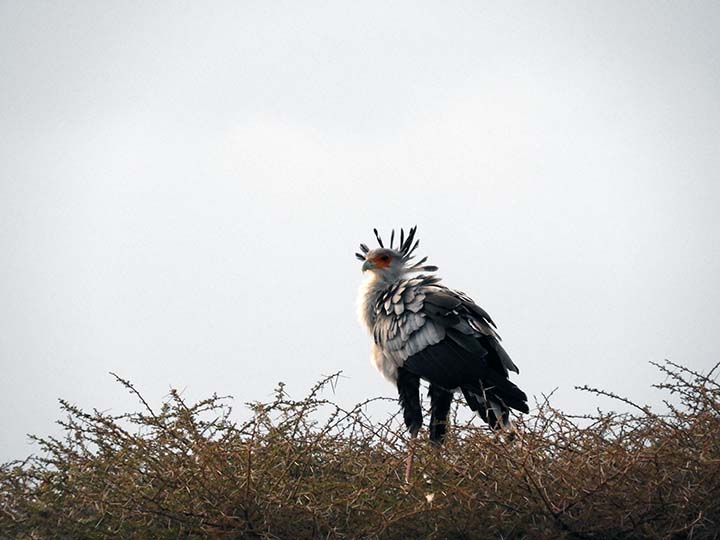 It's a secretary bird! Totally weird.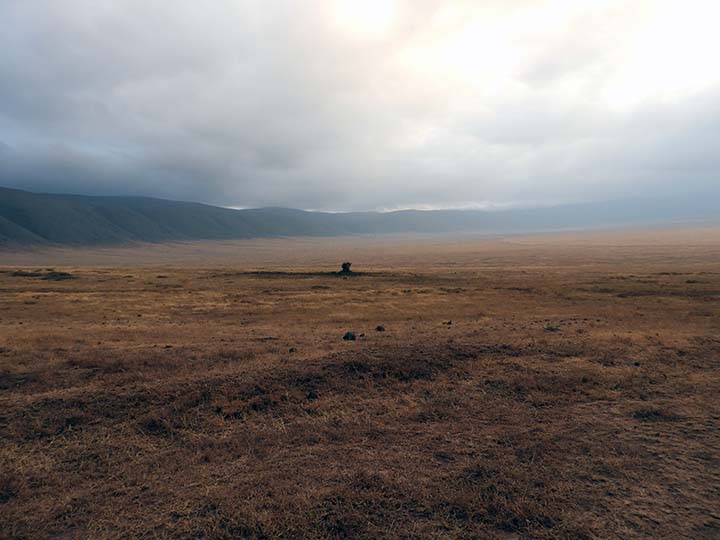 Now we're down in the crater.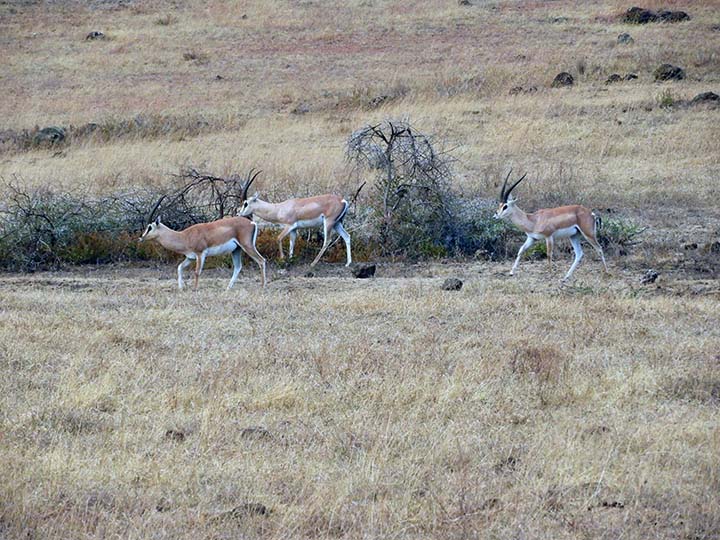 So are these Grant's gazelles.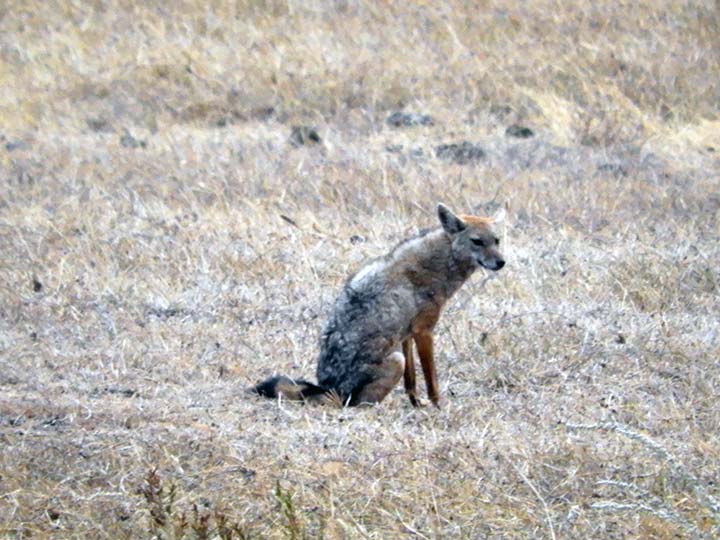 And this jackal.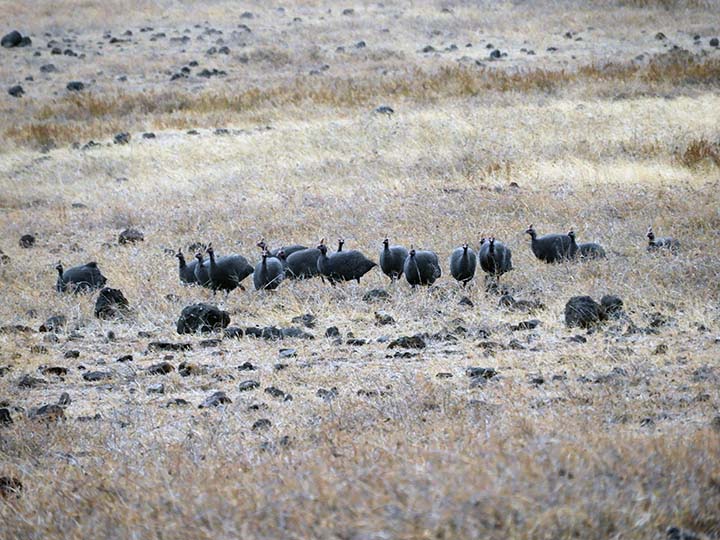 And these helmeted guinea fowl.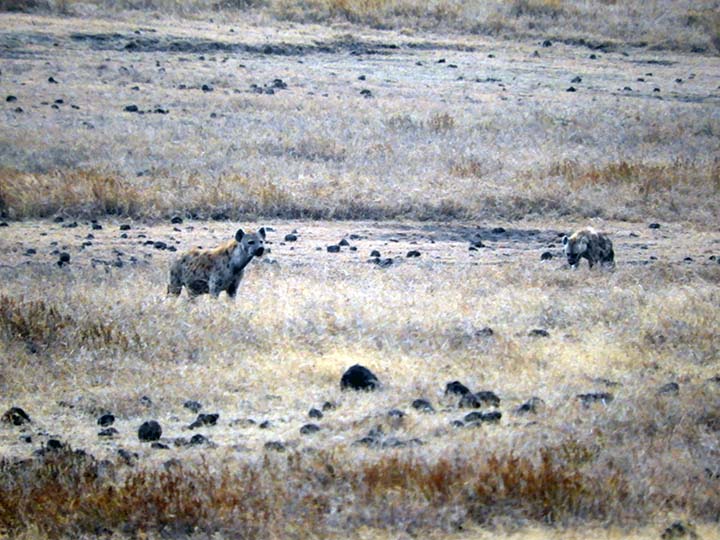 And these hyenas.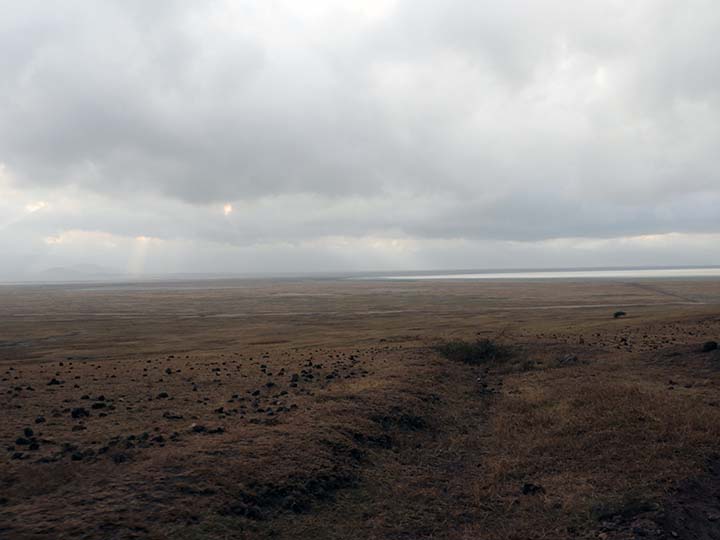 There's a lot of room for a lot of animals down here on the crater floor.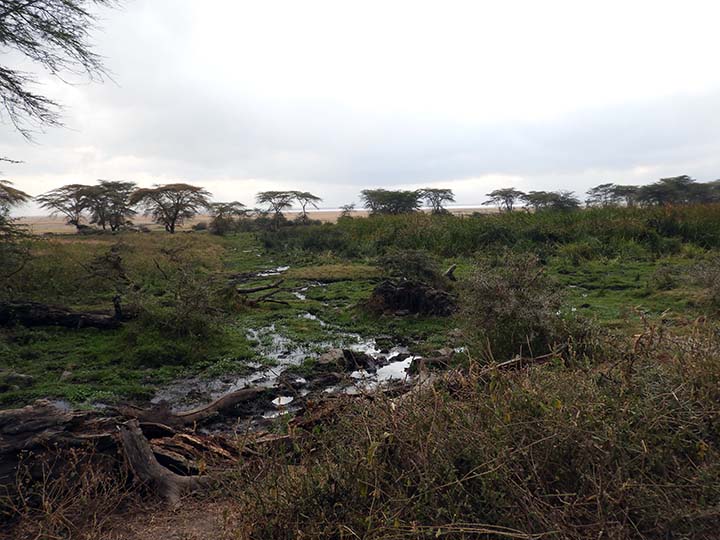 Wonder what we'll find in this swamp?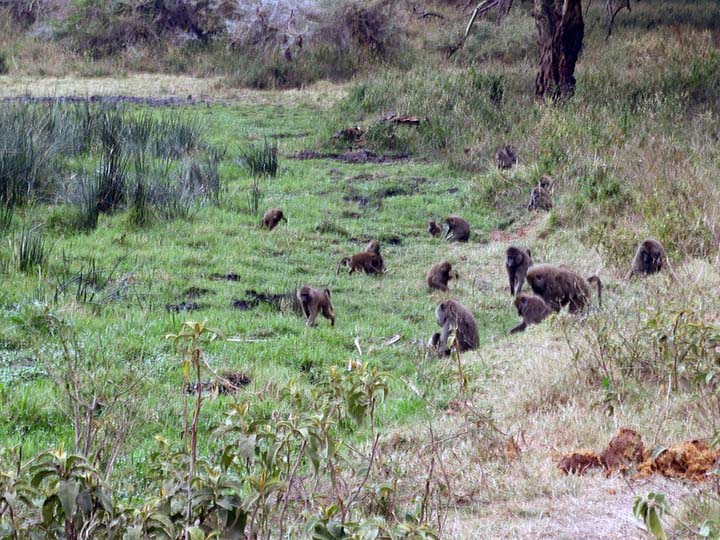 Baboons for sure, but that wasn't all. Here's what happened.
This morning at the hotel's breakfast buffet, appropriately dressed for cool temperatures in my Memphis Grizzlies sweatshirt, and just as I was spooning a big helping of scrambled eggs onto my plate, I was startled to hear a man's voice ask, "Are you from Memphis?"
"Why yes, I am," and we chatted and he was very gregarious and he informed me that there was a woman in his tour group who was also from Memphis and I should meet her, so I tried to find her and did locate her sister but the woman from Memphis hadn't come down for breakfast yet and we were leaving so...missed opportunity.
Then later in the morning during a potty break while we're marveling at all these baboons alongside other tour groups also taking potty breaks, there was the gregarious guy again and I asked him if the Memphis woman was around. "Well, yes, but no, she's visiting the toilet right now but I'm sure she'll show up pretty soon." So I went back to baboon watching.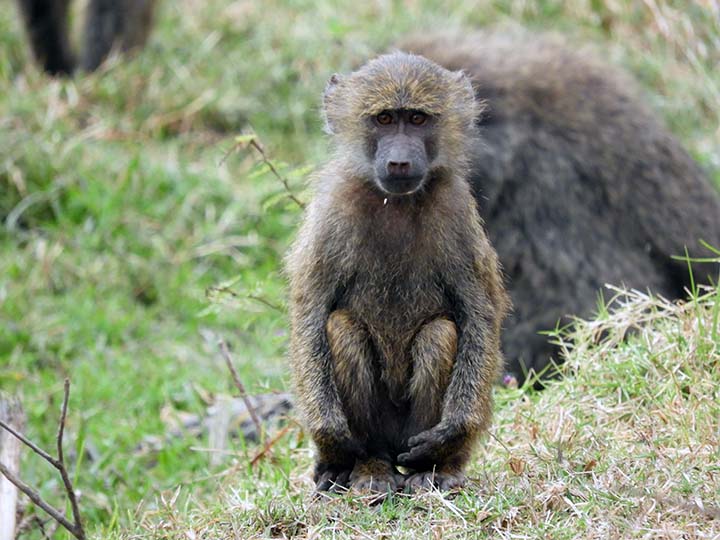 And being watched by baboons.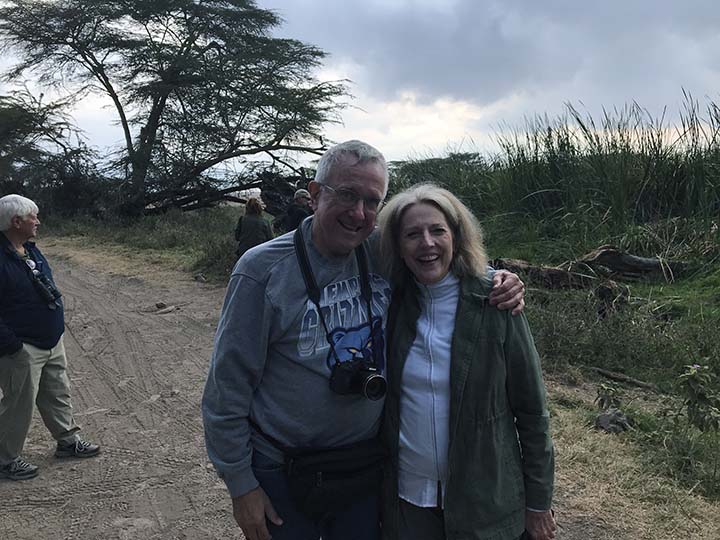 About then there went up a cry of, "Here she is; there he is" and I turned around and there was this nice lady and we shook hands and ... "Are you from Memphis?" "Why yes, I am, are you from Memphis?" "Why yes I am." And then we got straight to the classic are you from Memphis question, "Where'd you go to high school?"
And to my astonishment she said, "Whitehaven," and to her equal astonishment I replied, "Well I went to Whitehaven too!"
Of course at that point we cut straight to the second classic question: "What year did you graduate?" And she said '65, and I said, "Well I graduated in '65 too!"
Whoa!
But I didn't remember her and she didn't remember me and that's probably because yes, she did attend Whitehaven and she did graduate in '65 but her family had moved to Houston for her senior year so we didn't really graduate together. Still, there we are, standing in the caldera of an ancient extinct volcano in the wilds of East Africa miles from civilization and two Whitehaven kids run into each other. Amazing.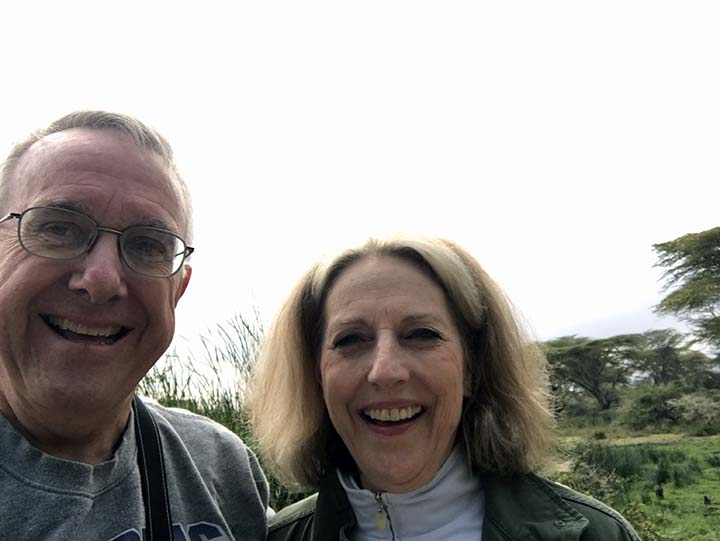 Naturally I put the story with pictures on my nightly Facebook summary of the trip, which to my embarrassment I shouldn't have done without permission because she is sensitive about appearing on Facebook and I hate that I goofed up, but it's done and there you are. Still, just in case she's also sensitive about appearing on my website, I'll avoid identifying her by name. Let's just call her JC. She was a delightful person and I'll marvel for the rest of my life that we ran into each other in such an unlikely location.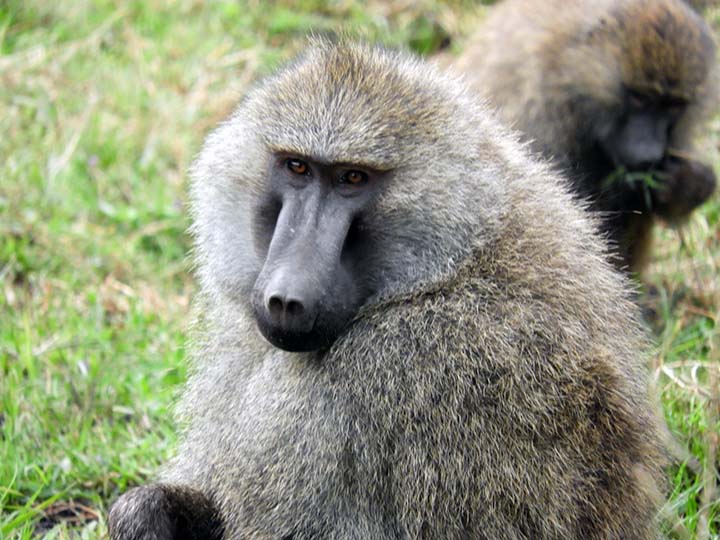 The baboons weren't impressed, though.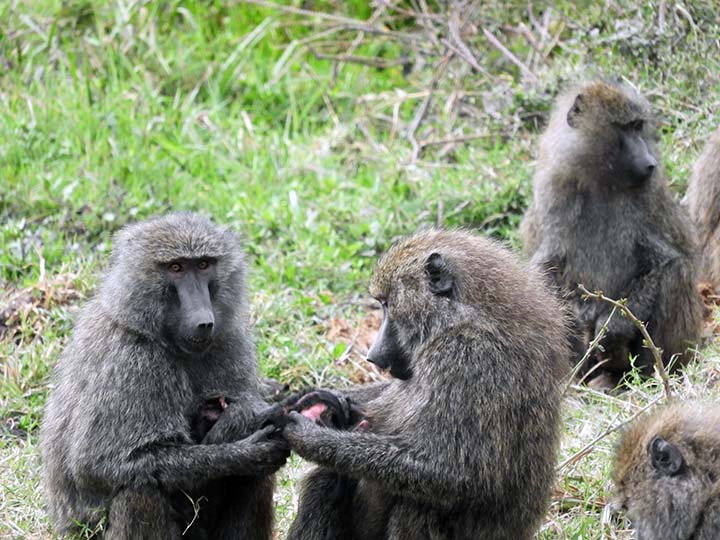 They just played with their baboon babies.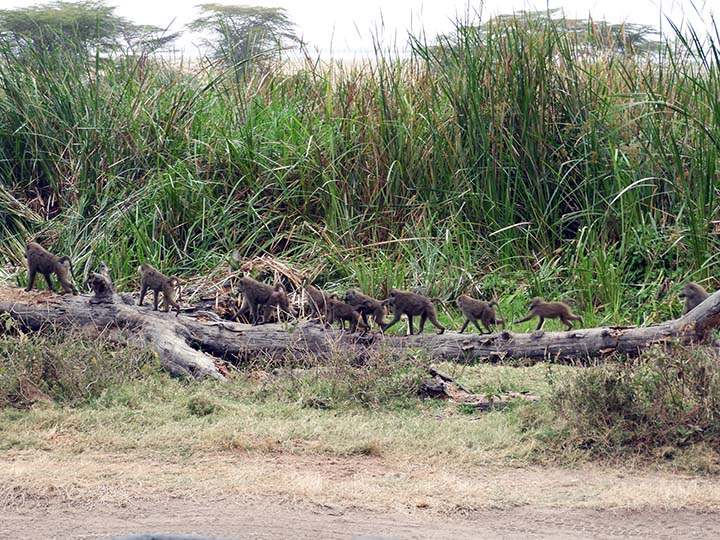 And then they left and so did we.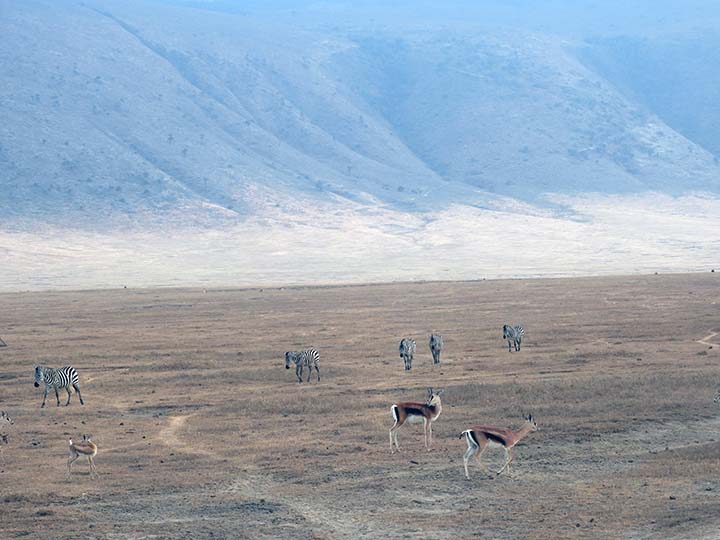 The zebras and gazelles weren't really impressed by the dramatic scenery.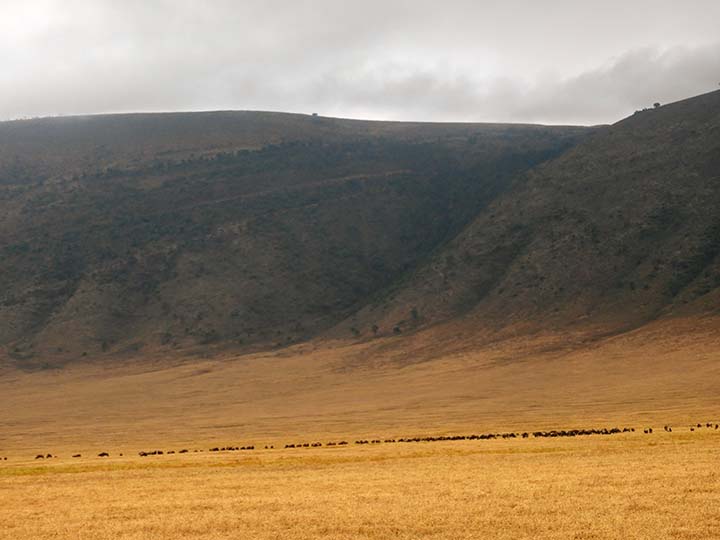 But I was.
Mr. Hyena is looking a bit scruffy this morning.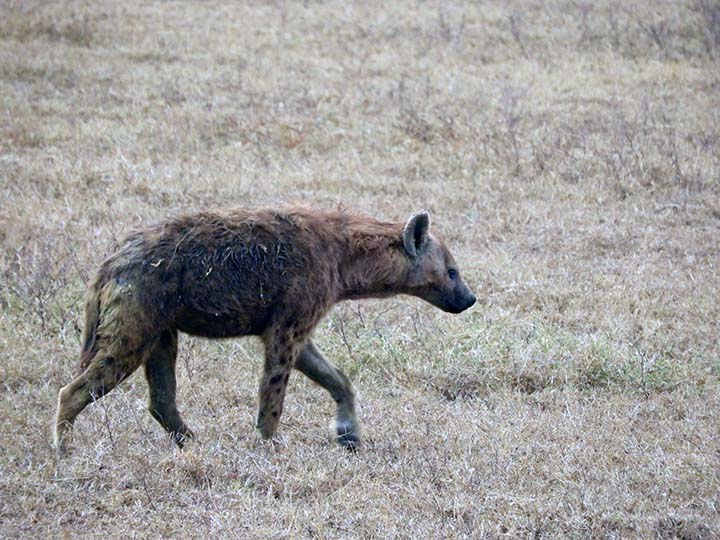 And not very friendly. He's wandering away.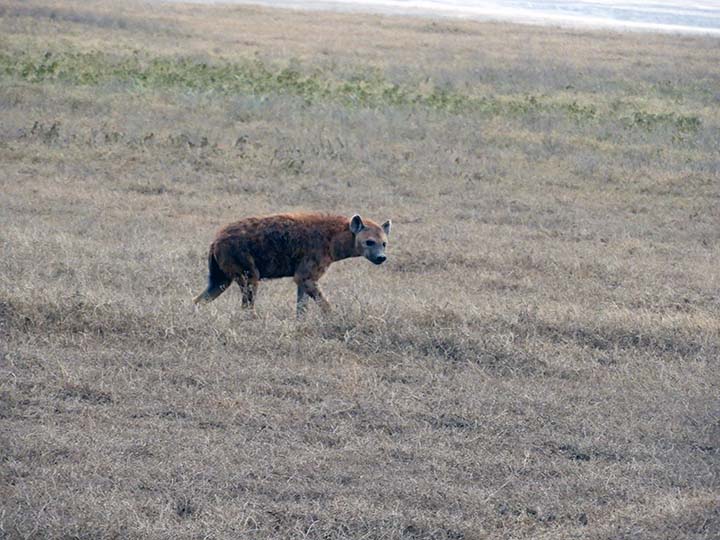 Begone, tourists!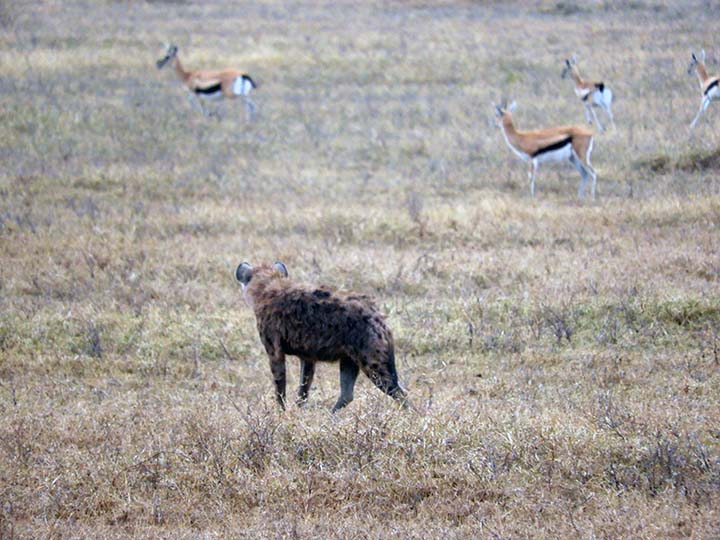 I suspect he's thinking about lunch. (Yes, hyenas do prey on gazelles.)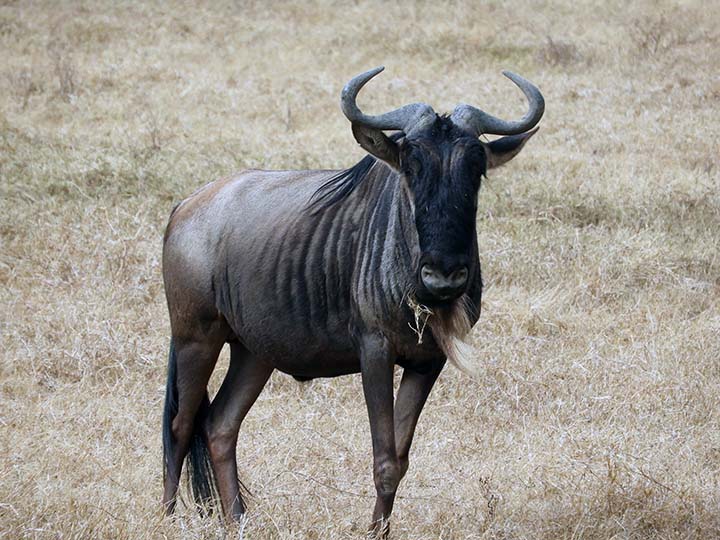 Mr. Wildebeest, on the other hand, seems happy to pose for tourist cameras.
A coy turn of the head.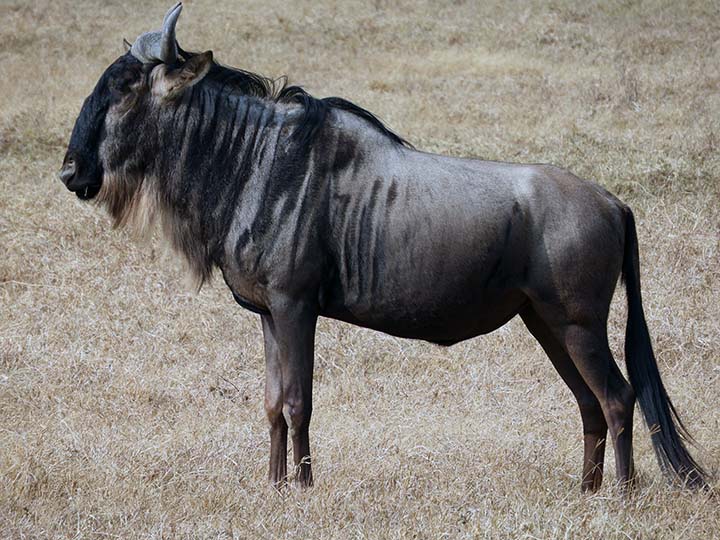 A full profile.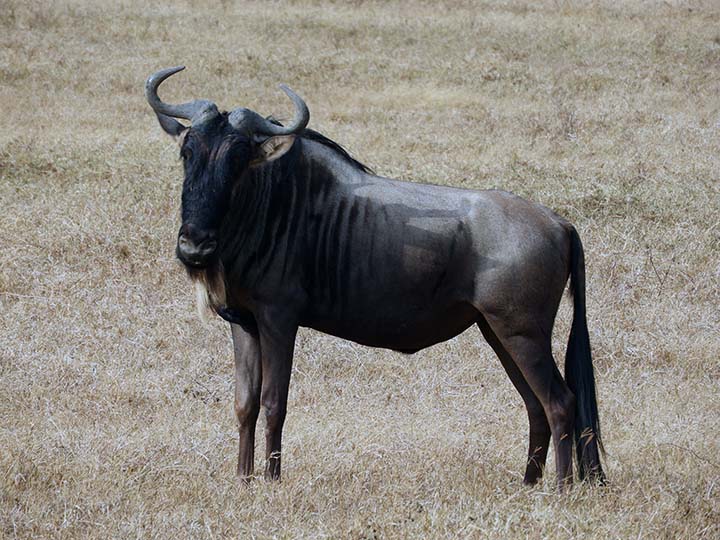 And a parting pose. I think he thinks he's handsome.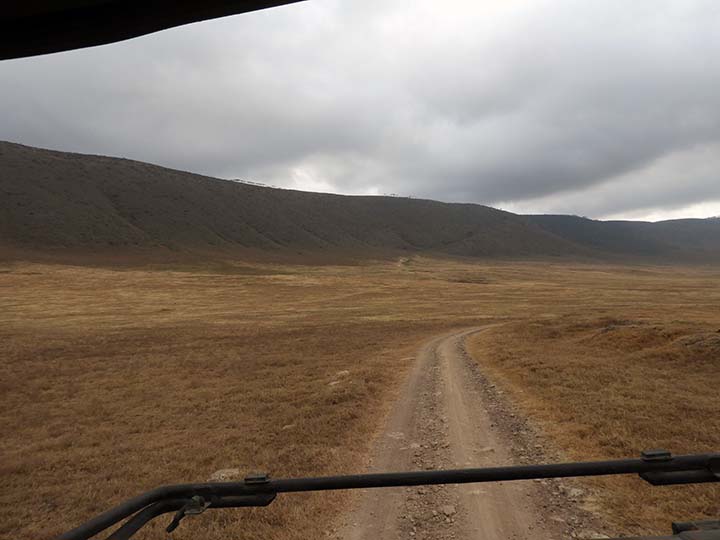 It's a long and winding road as we search for more animals.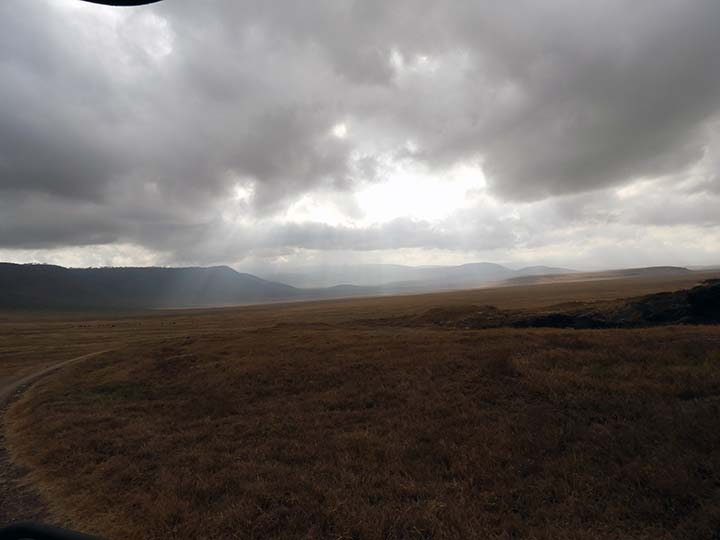 It's not raining, but the sky still looks dramatic.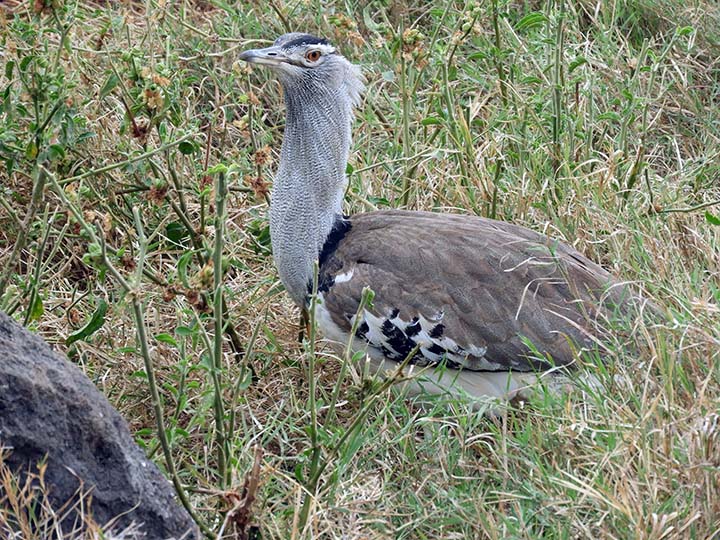 It's a kori bustard.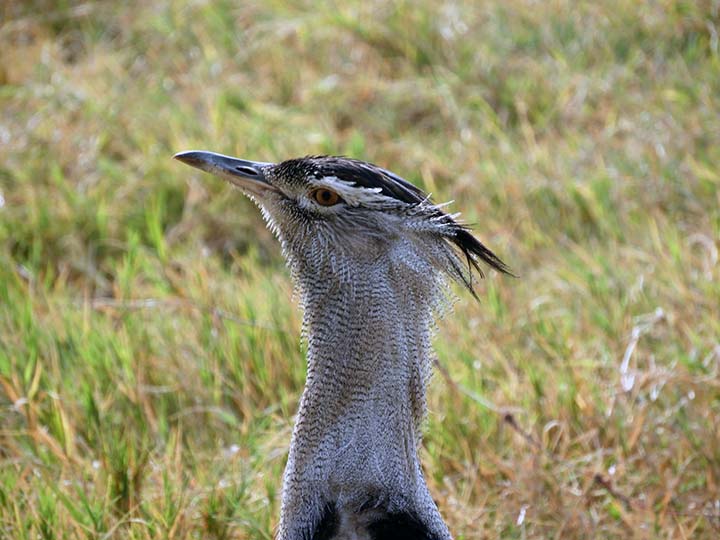 Be careful how you pronounce his name.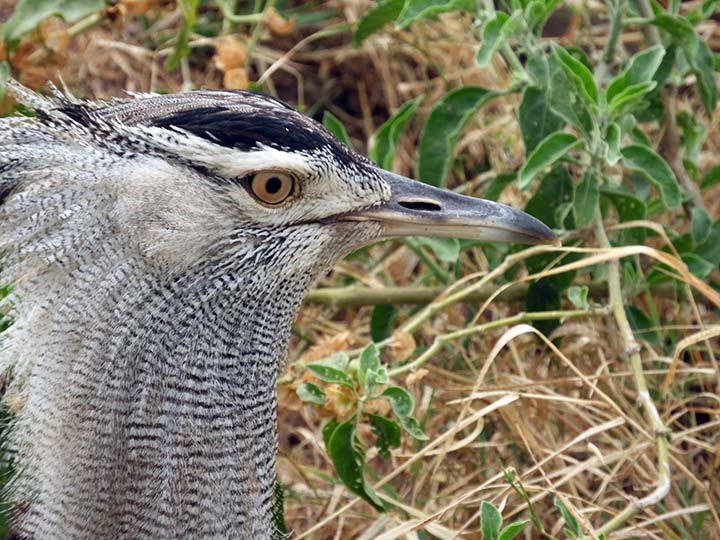 He's very sensitive.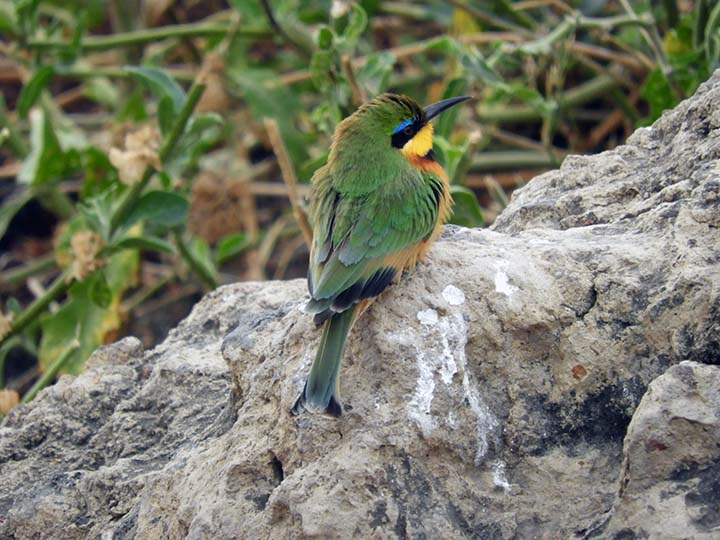 This is a cinnamon chested bee eater bird. Thanks, Google Images.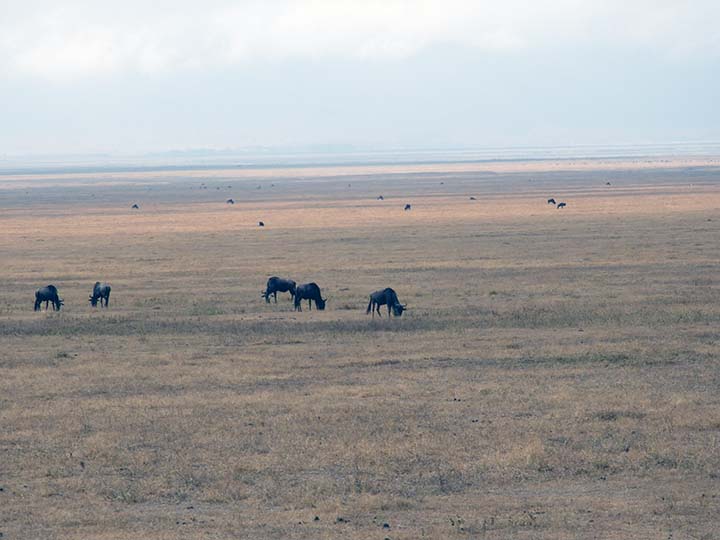 In Wyoming it's antelope. In Africa it's Wildebeest.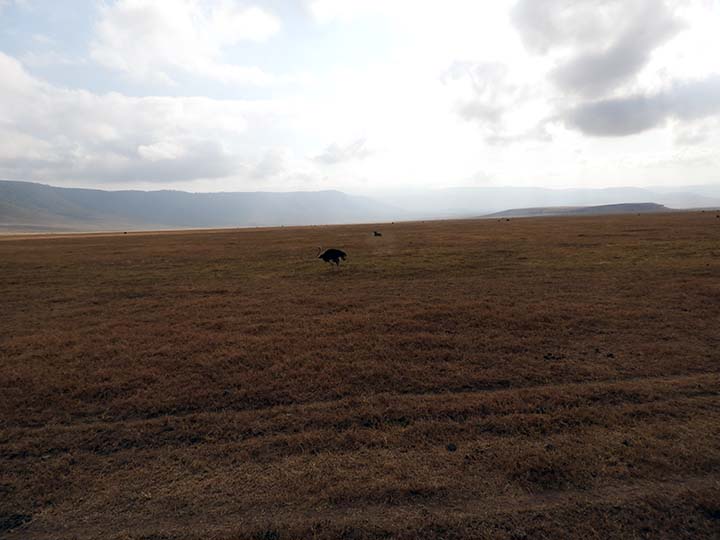 That's an ostrich out there.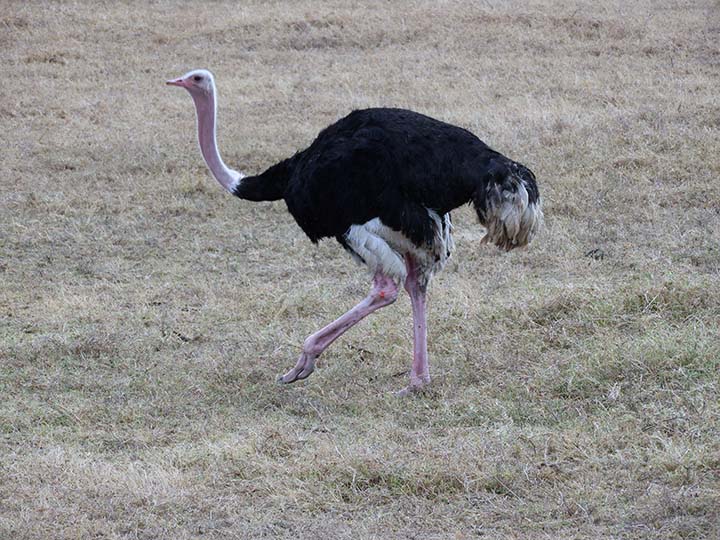 See? Told you.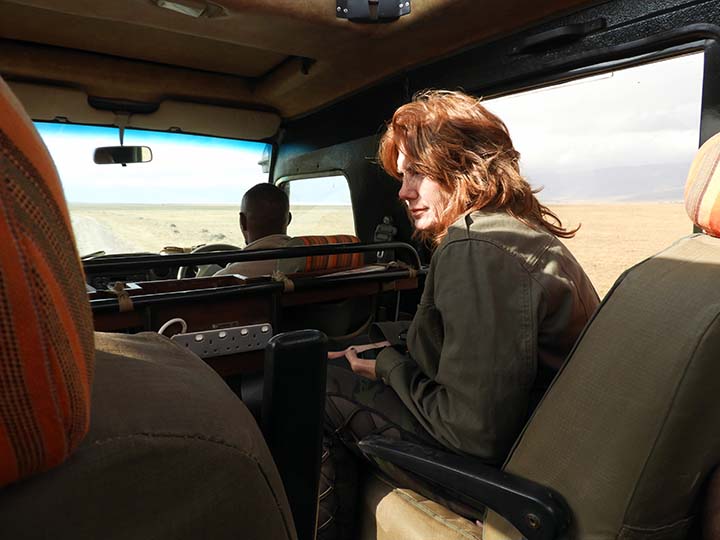 Kathy is always prepared with her camera with a telephoto lens the size of a cannon. She got some great pictures.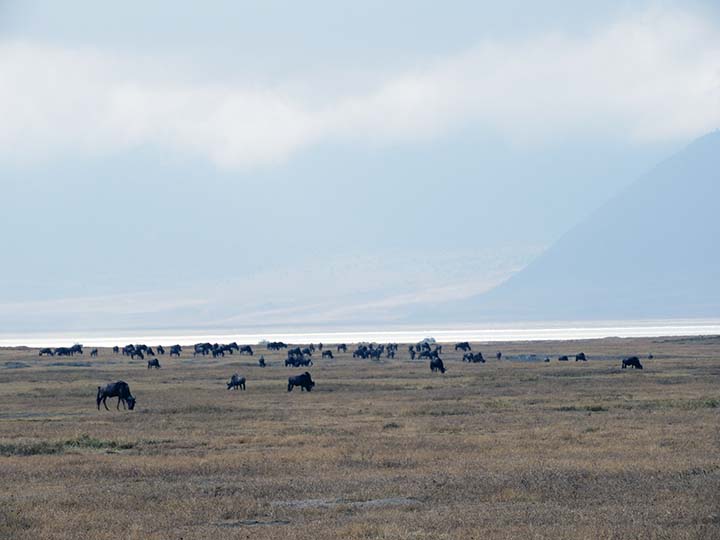 Just look at the wildebeest herd.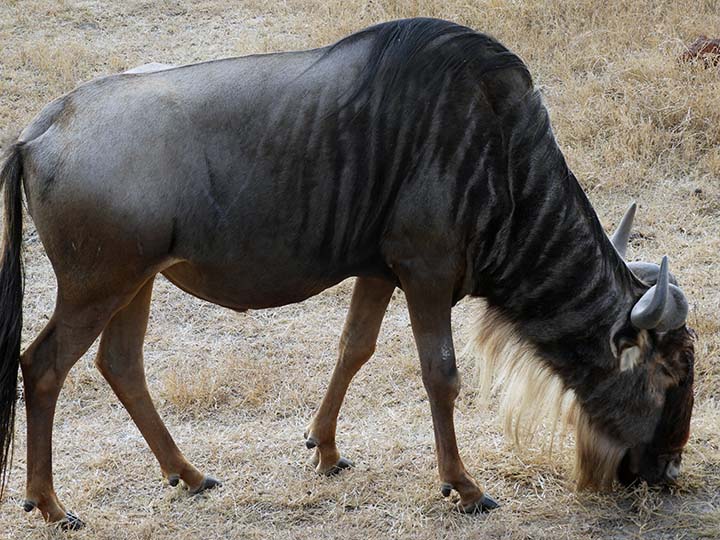 Munching and migrating.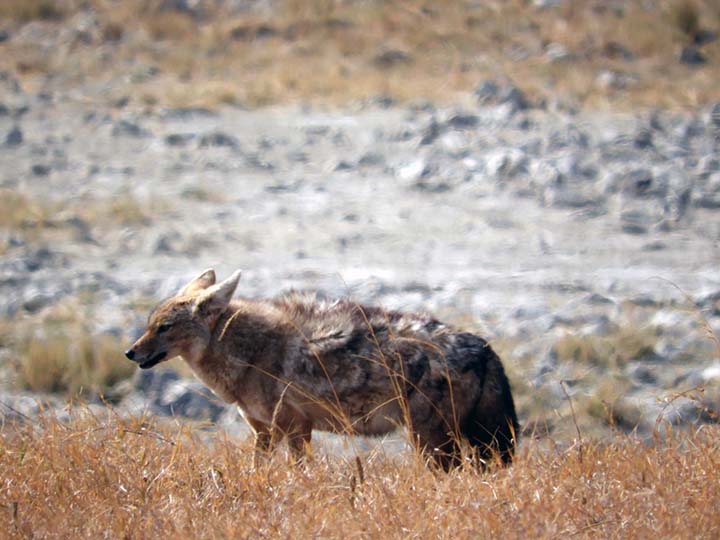 Jackal.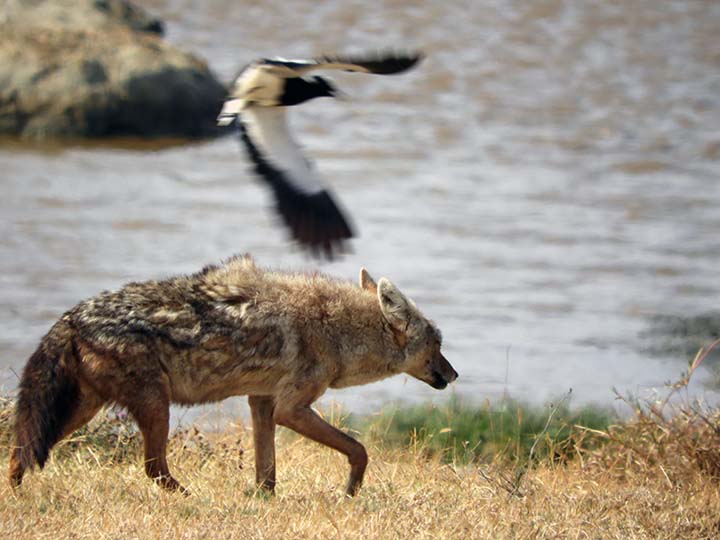 Nice shot, Mr. Photographer.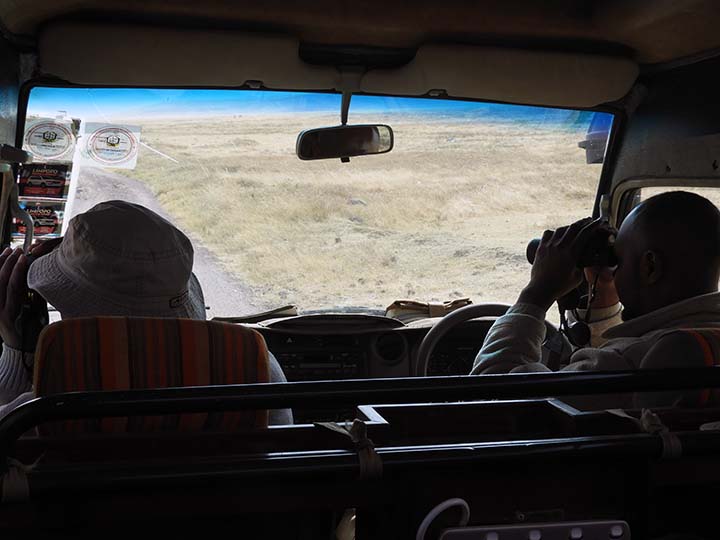 Kip on the left and Moody on the right were always vigilant in looking out for wildlife we could enjoy. Without them this trip could've been a bust, but they had eyes like eagles. "Look, over there, a lion!" "What? Where? I don't see anything." "See the bush? See the tree behind it? Look to the right of the tree." "Oh! Now I see it!"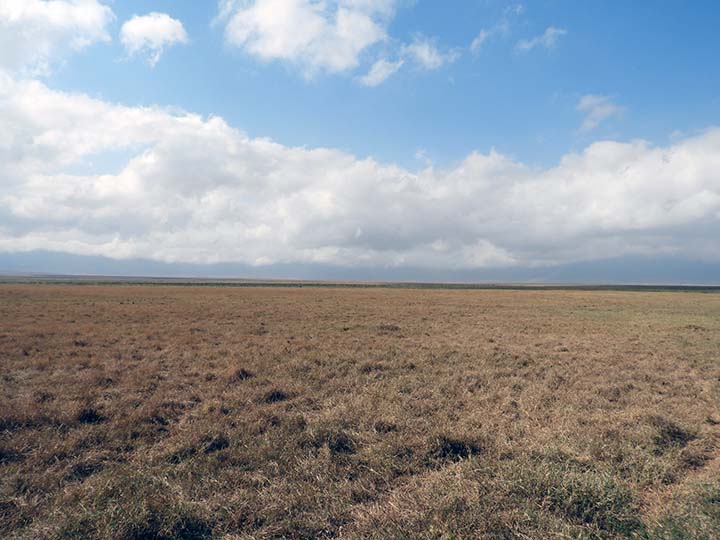 Without them, this is what we'd have seen.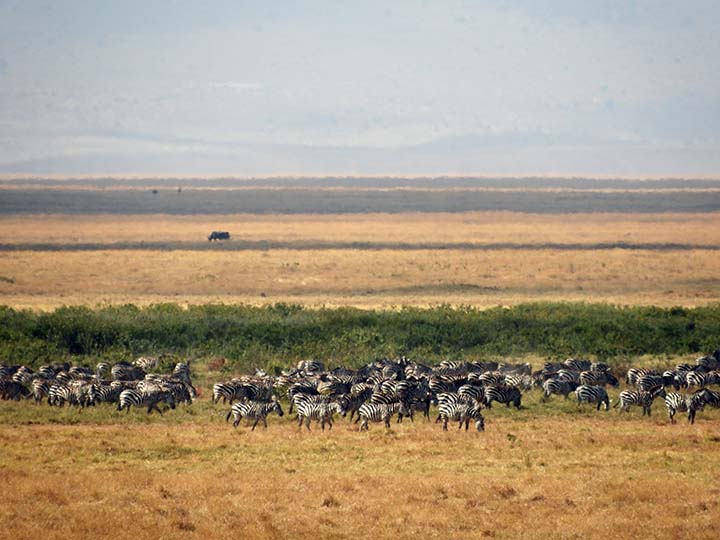 OK, yeah, we probably could've spotted entire herds. But still.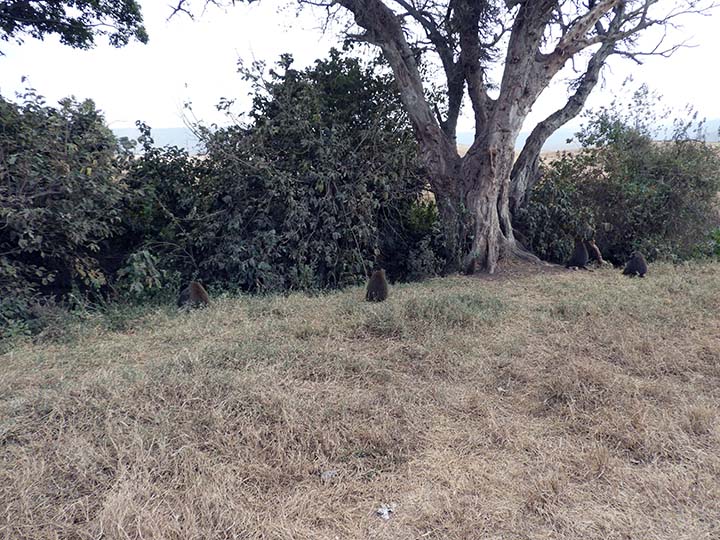 What's this? Some baboons seem awfully interested in that tree.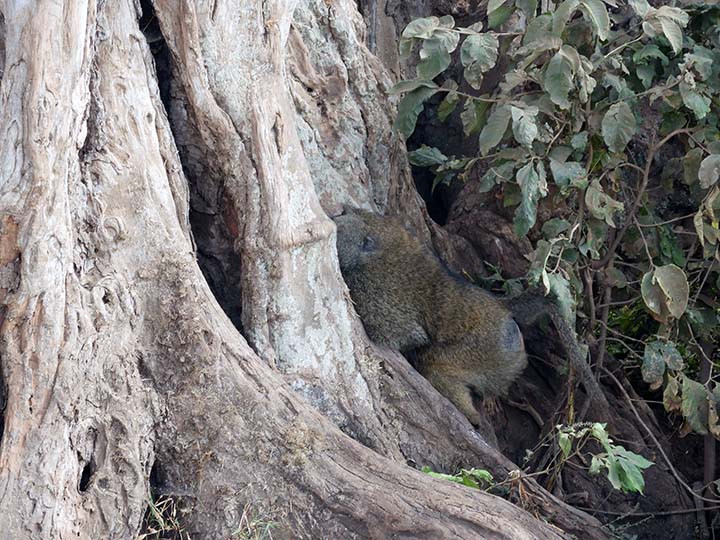 There's honey inside!
You just stick in your hand and pull it out and lick your fingers. Yum! And try not to get stung.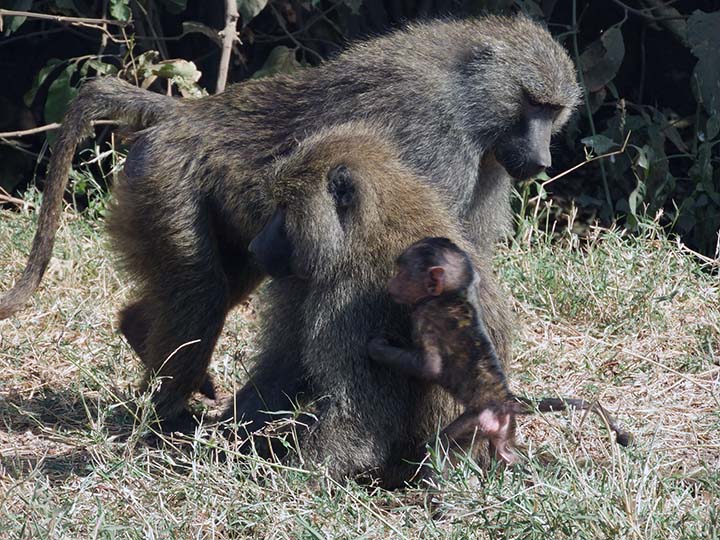 Aw, a baby.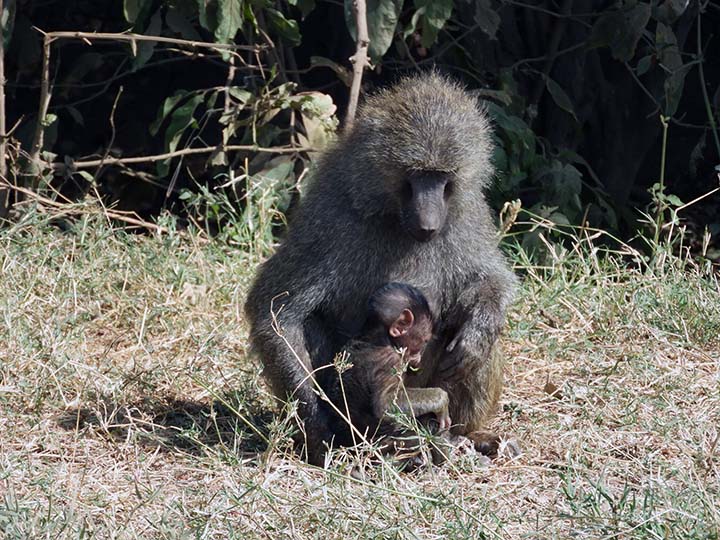 Let mommy kiss that bee sting boo boo.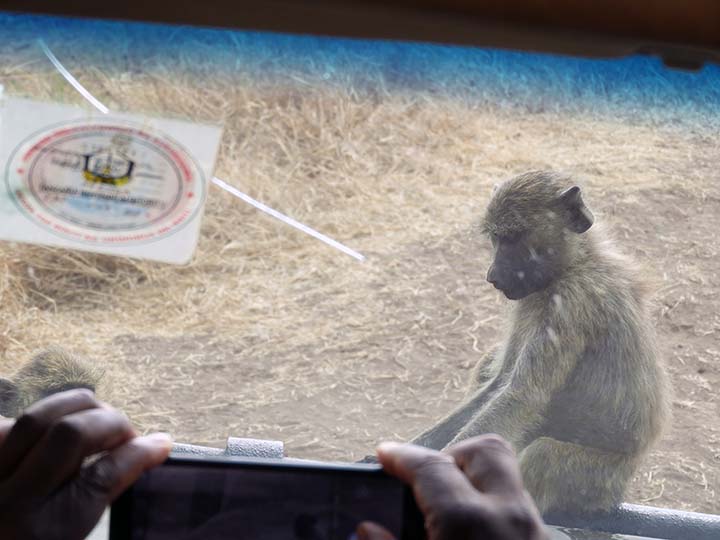 Some of the baboons were friendly. This one paid us a close-up visit.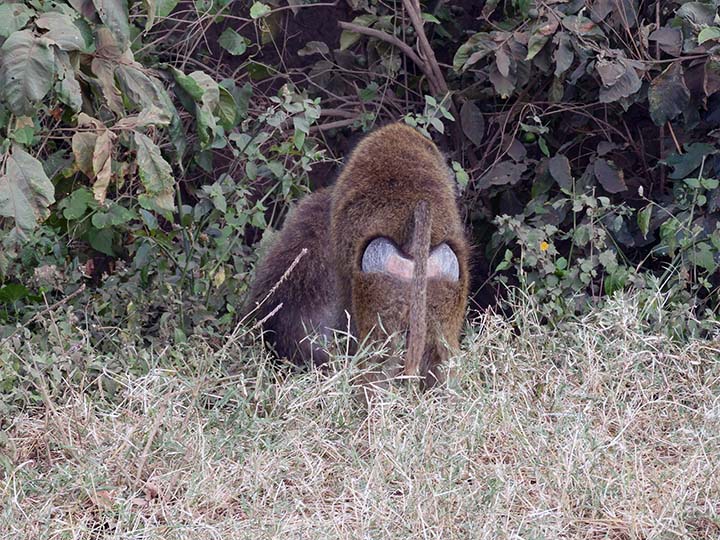 This one was more rude.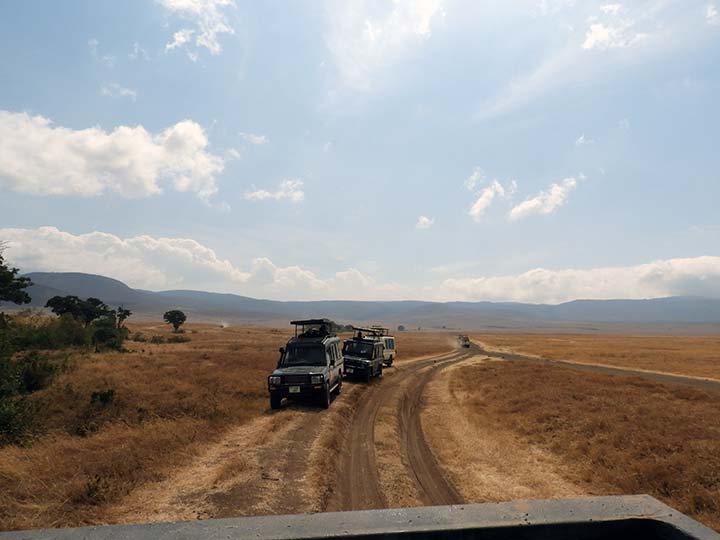 Wonder what those jeeps have spotted?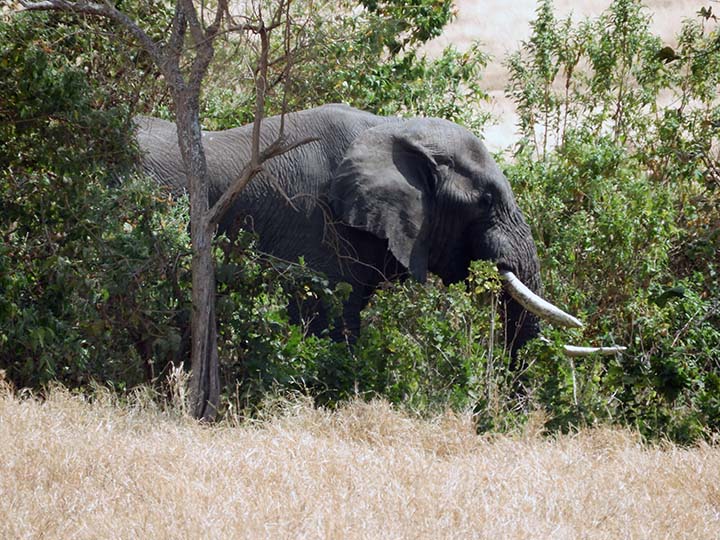 Elephants!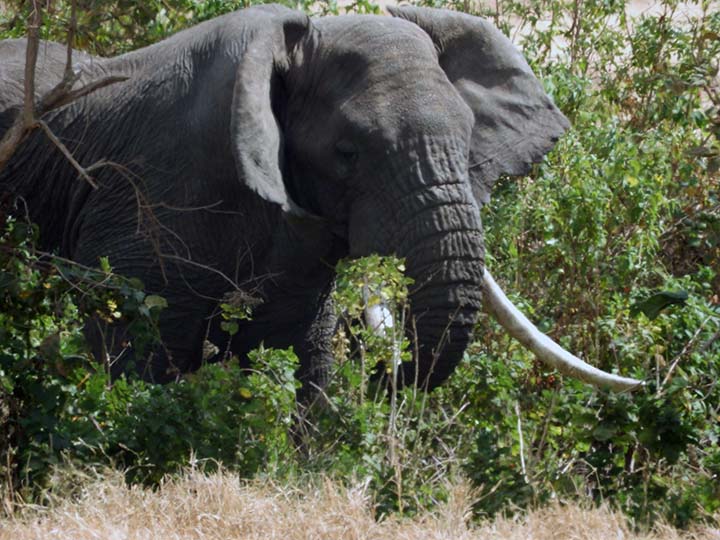 Big ones.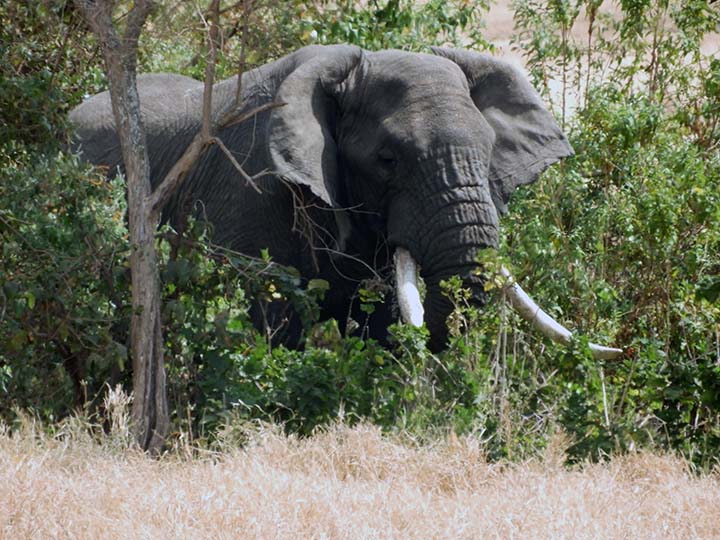 Let's not get too close.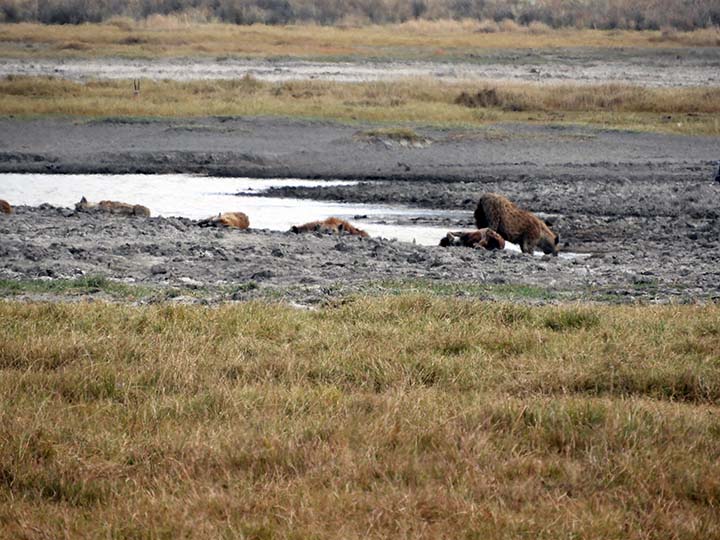 Instead, let's go down to the watering hole.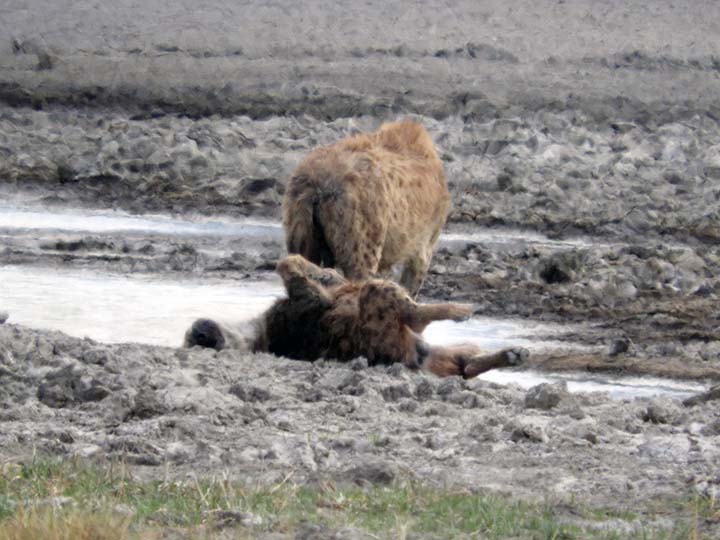 Hyenas like to roll in the mud as much as the next guy.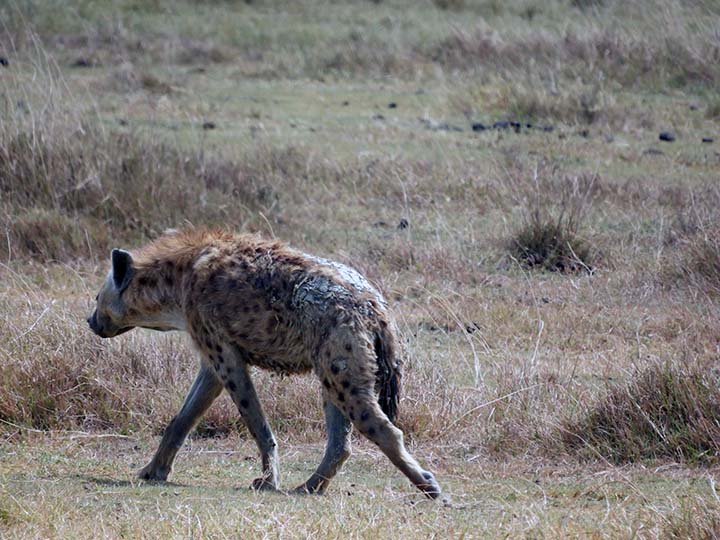 Leaves them looking a little grungy, though.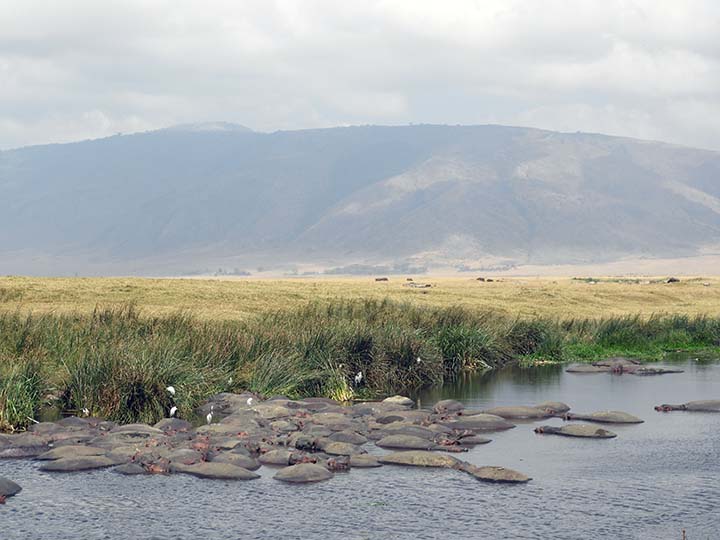 Here's a popular swimmin' hole. Looks like some big flat rocks to dive off of.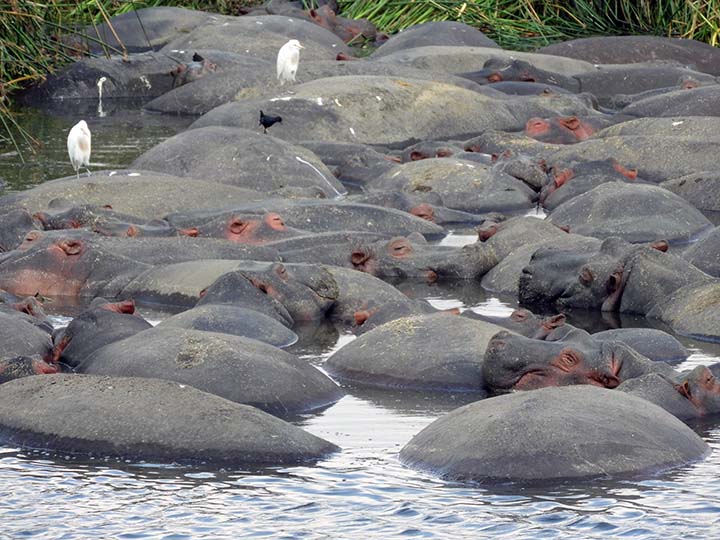 Wait, no, those rocks have eyes.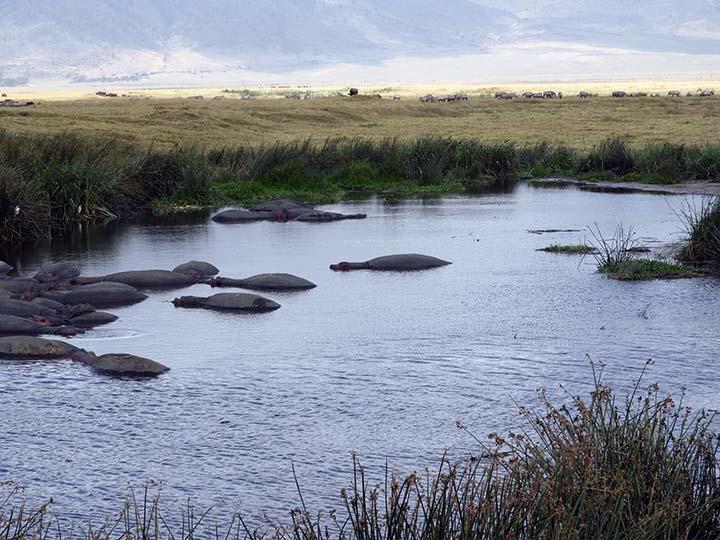 Hippos!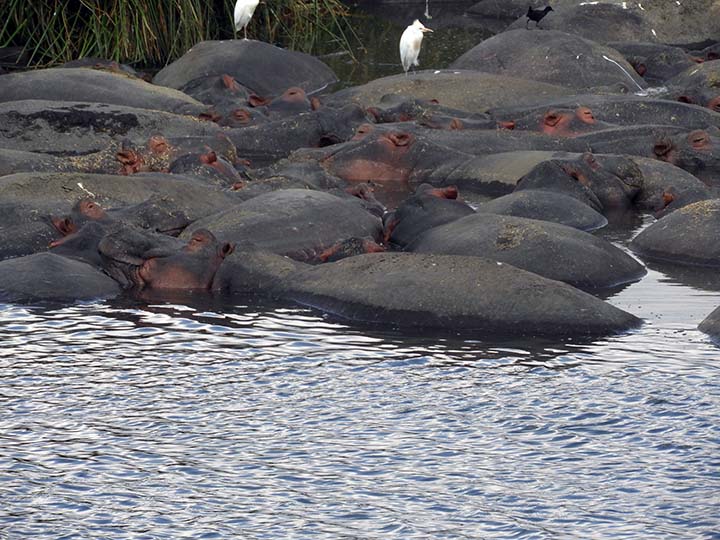 A close-knit group.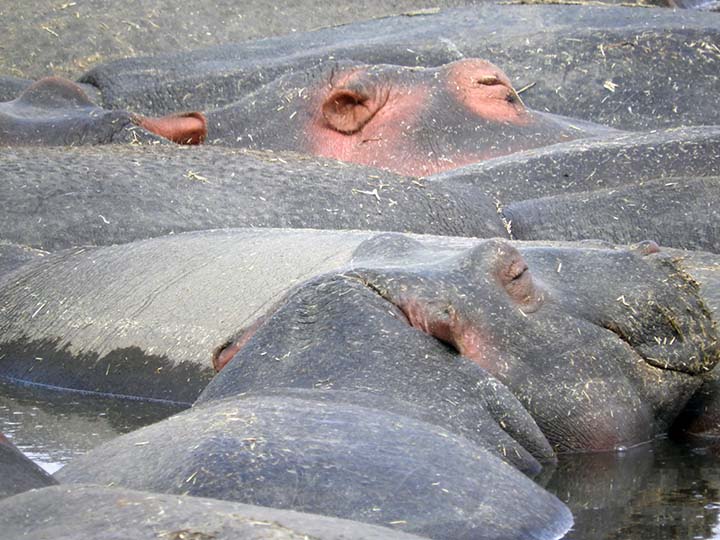 And they're watching us.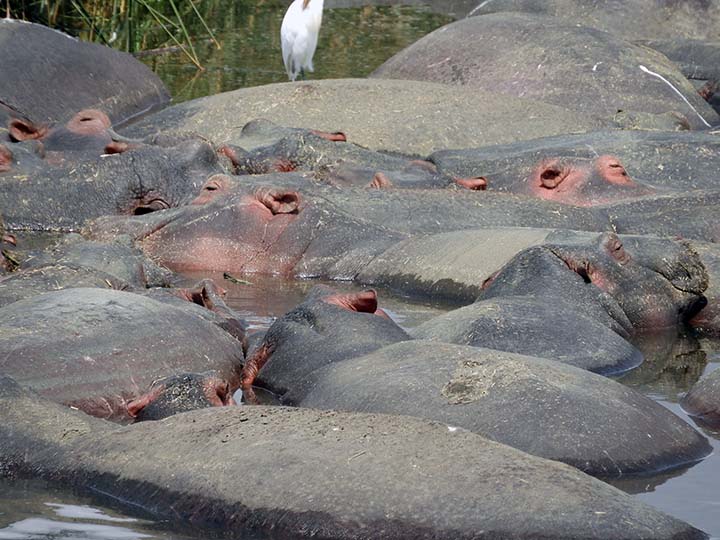 It's kinda hard to figure out which body part is which.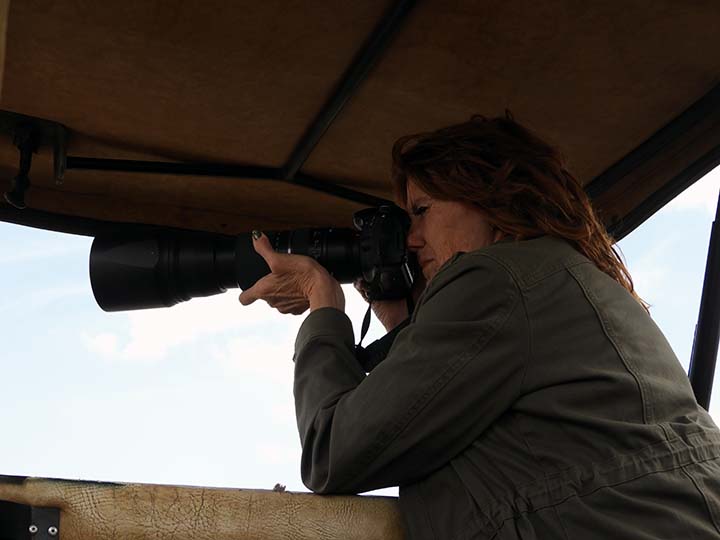 Kathy zeroes in on the hippos.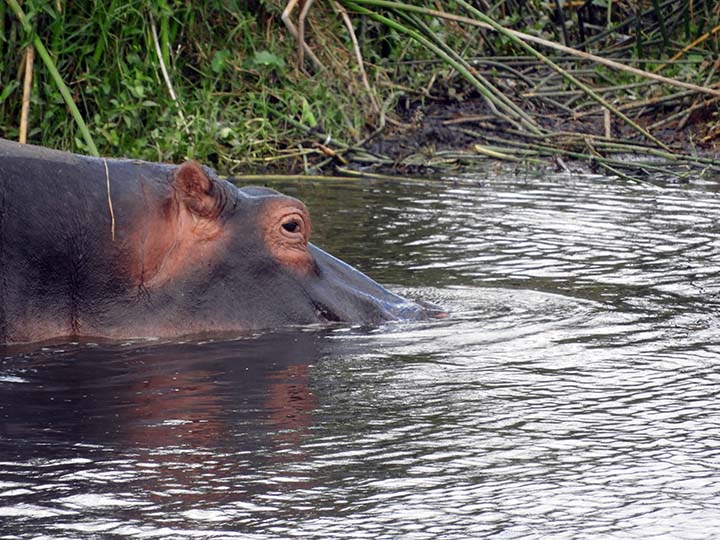 We're hoping to catch one yawning.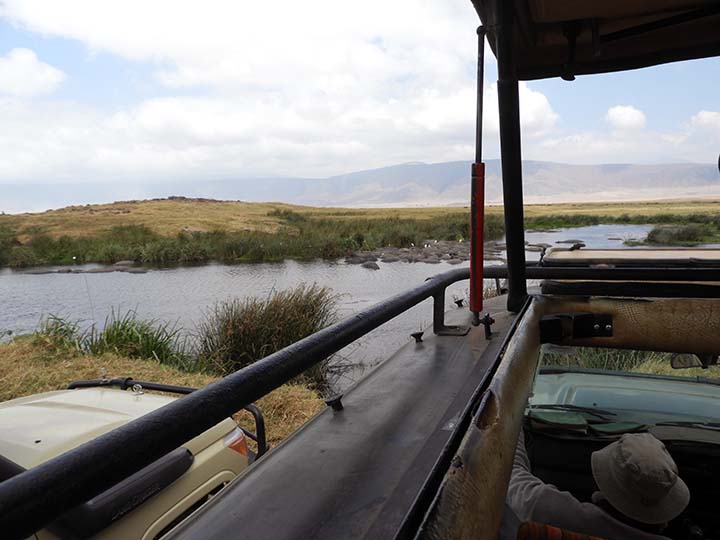 You'd think one of them would show his big mouth just once.
They don't move very fast.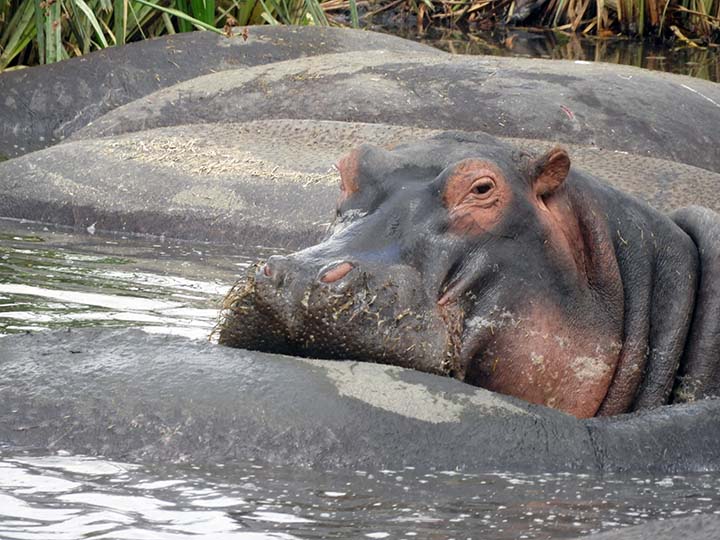 Wait, look! This one looks like he's about to perform.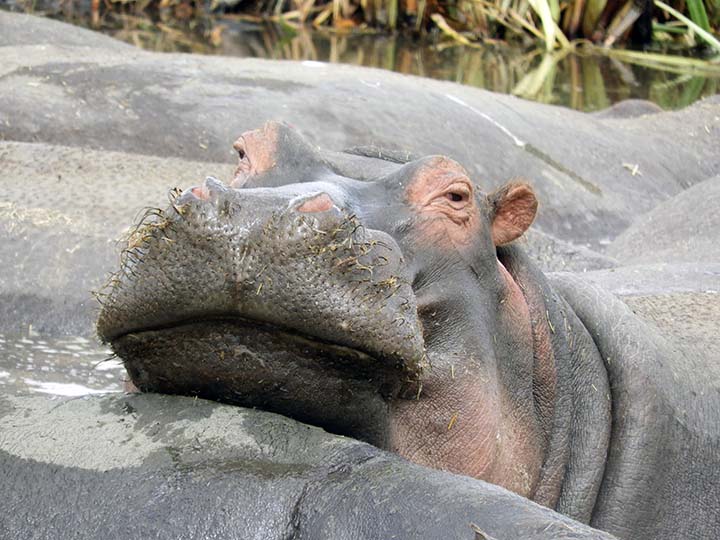 C'mon buddy...say cheese.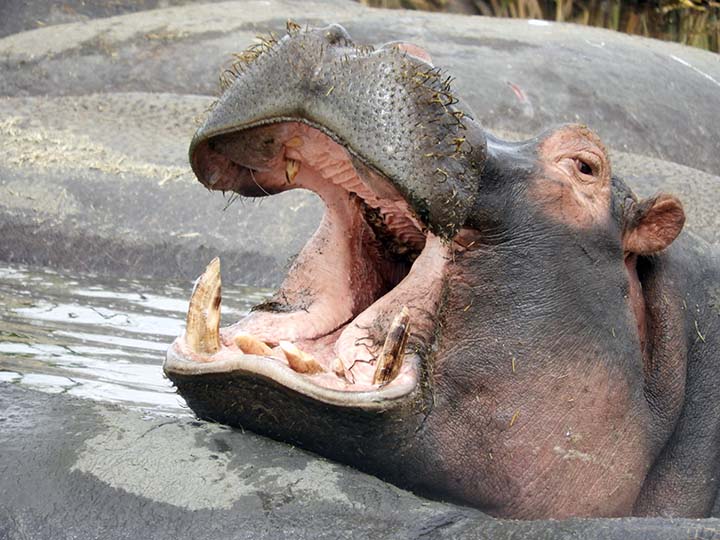 There you go! A big hippopotamus smile for the camera.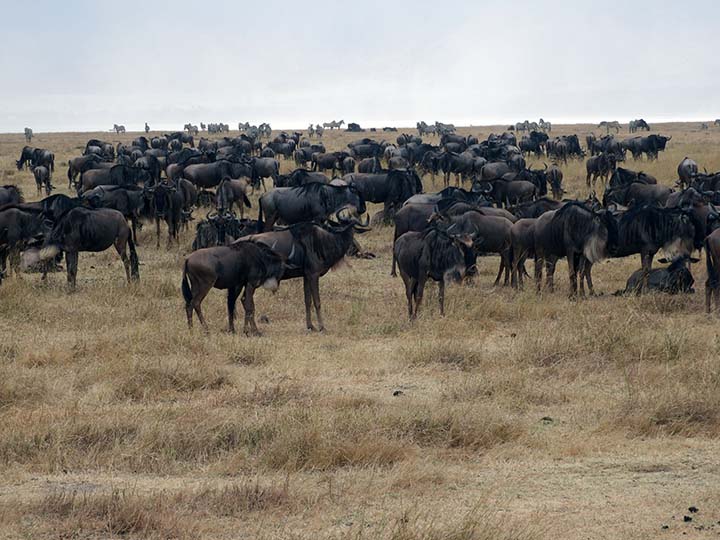 If there's one thing the Serengeti's got it's plenty of wildebeest. It must be what the bison herds used to look like in the American West.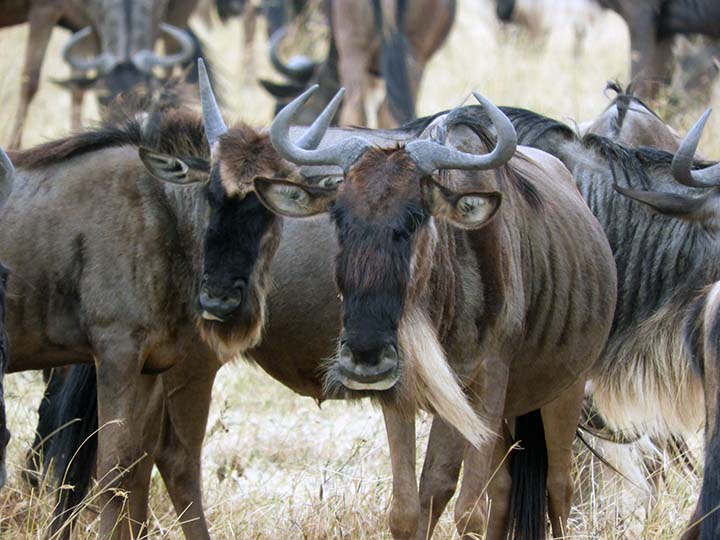 They're not pretty. There, I said it.
They just want to be left to graze and migrate in peace.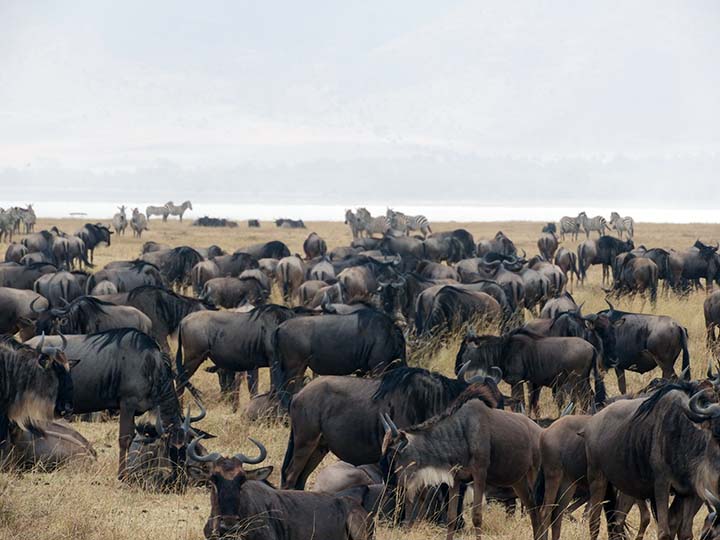 There are plenty of them.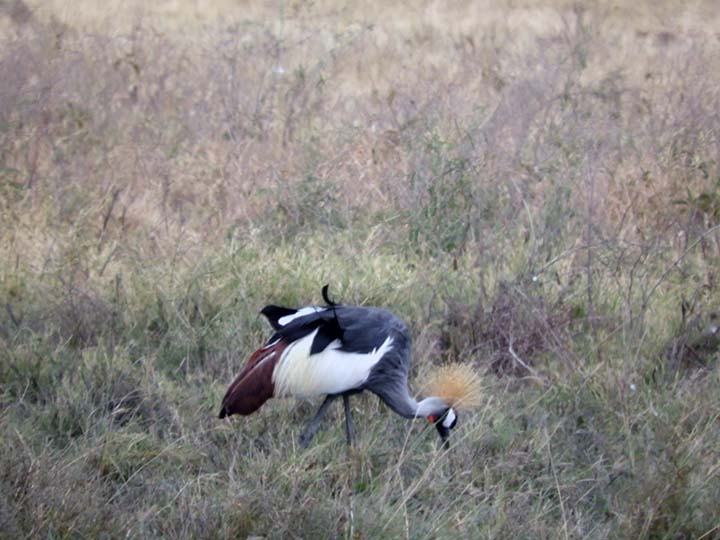 That is a gray-crowned crane. Thanks Google images.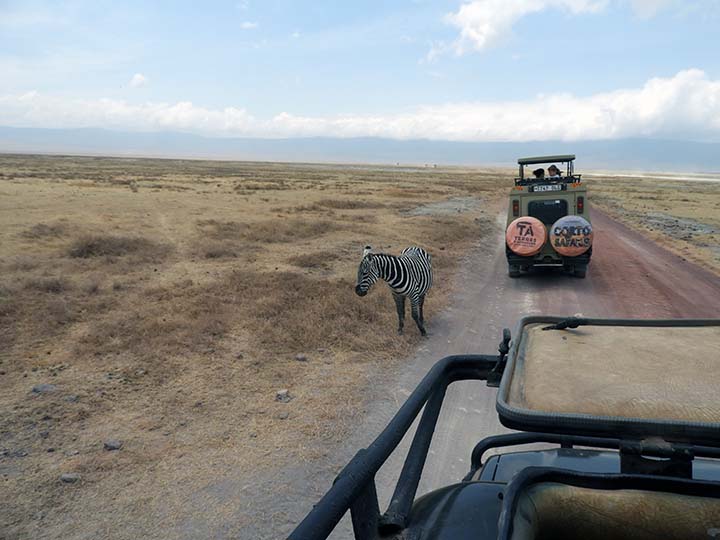 Another zebra crossing.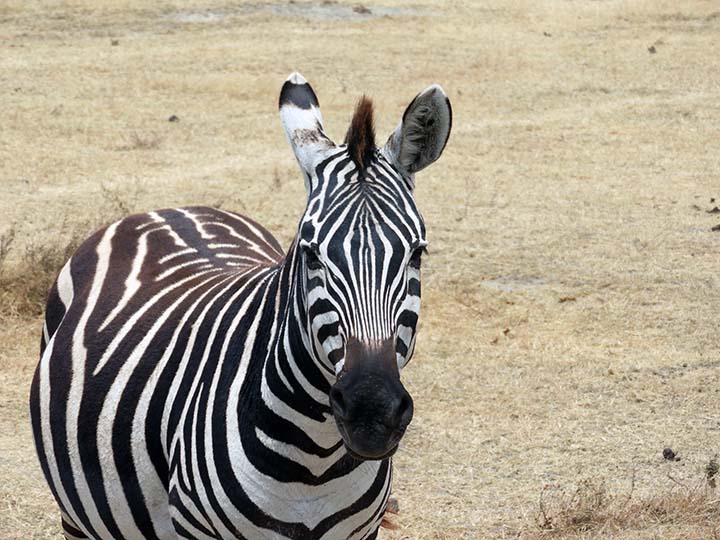 Hi tourist. Want to see my best side?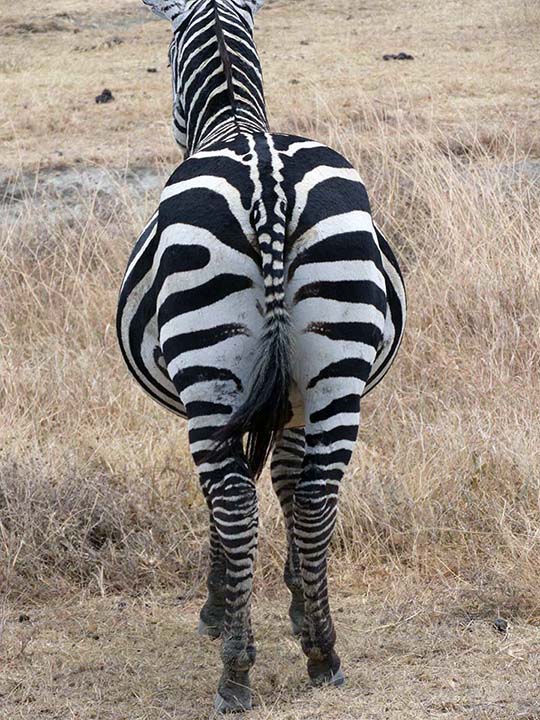 There you go.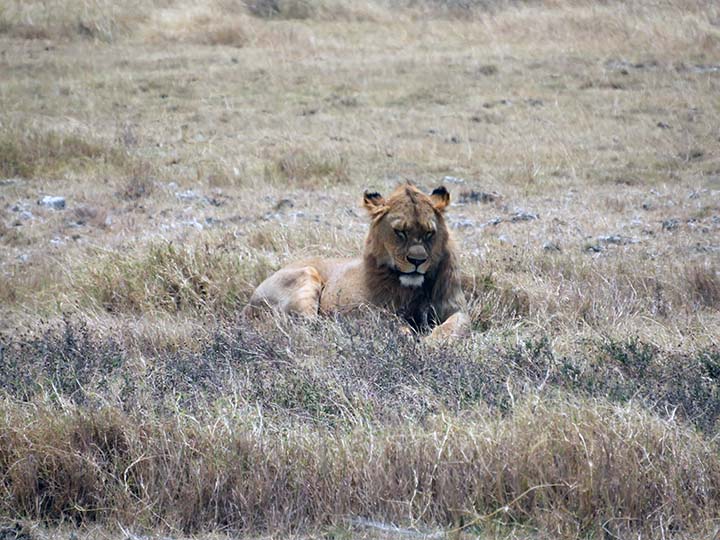 Just relaxing in the sun.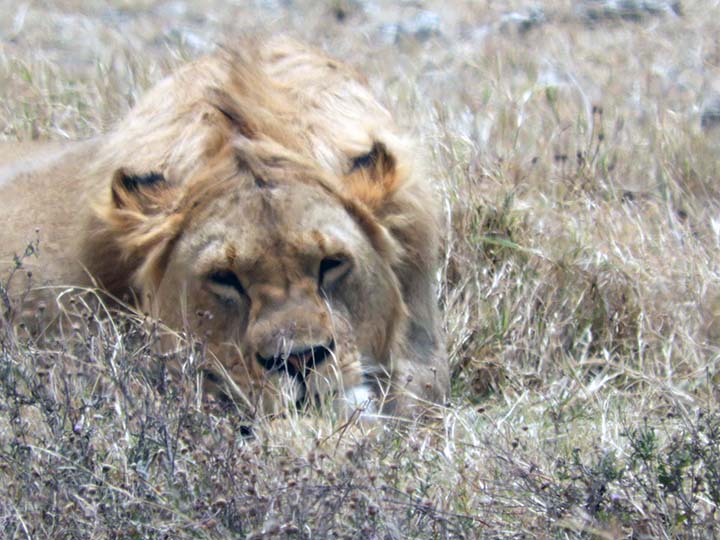 Thinking about her next meal?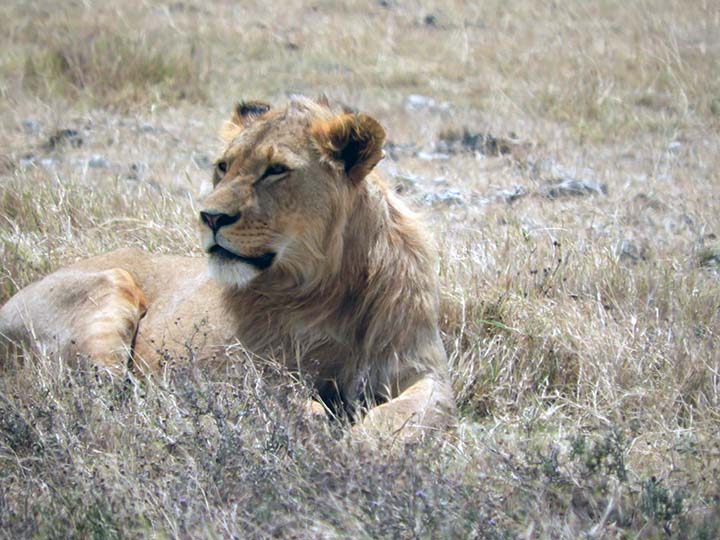 A nice fresh cape buffalo would be yummy.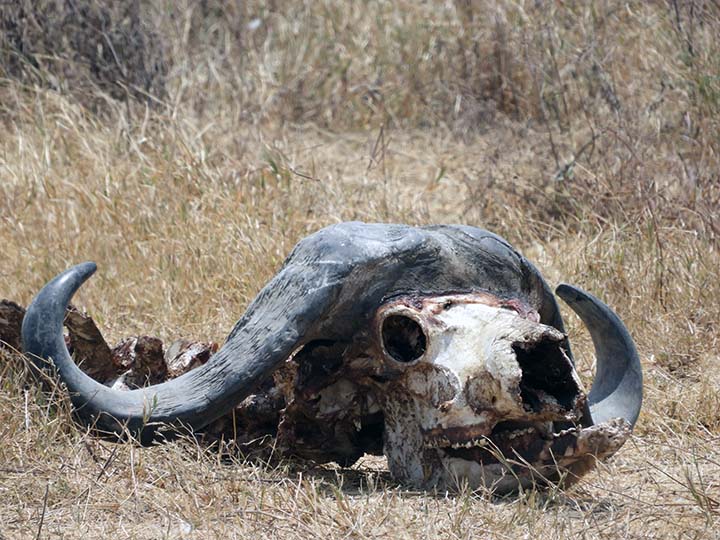 Cuz this one's pretty used up.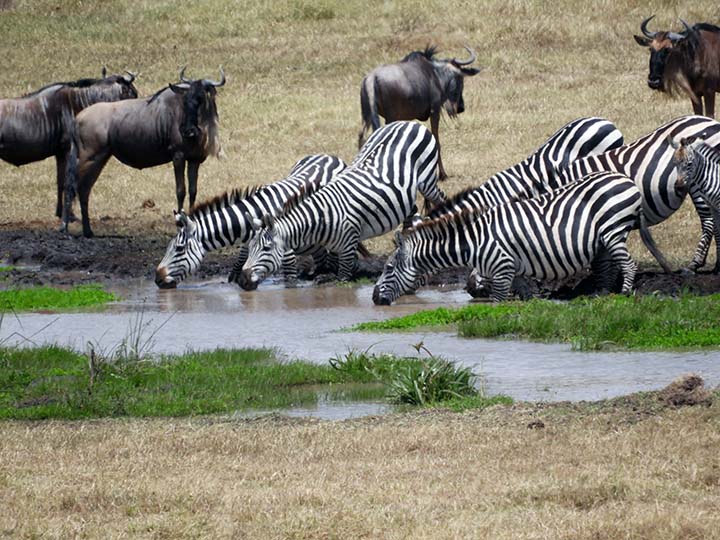 Thirsty zebras.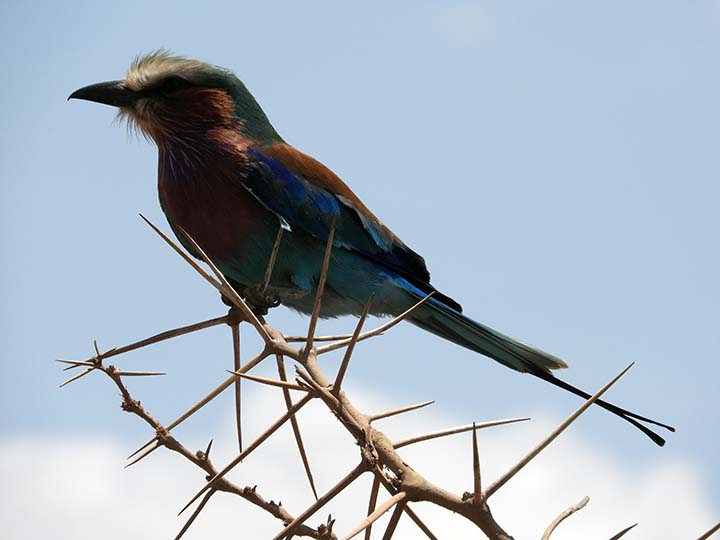 This, I do believe, is a lilac breasted roller.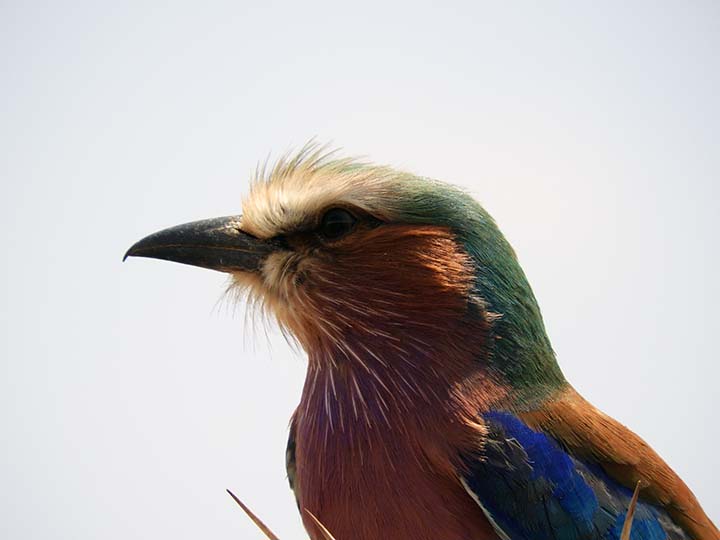 He doesn't have the distinctive eyes of the superb starling, so he can't be one of those.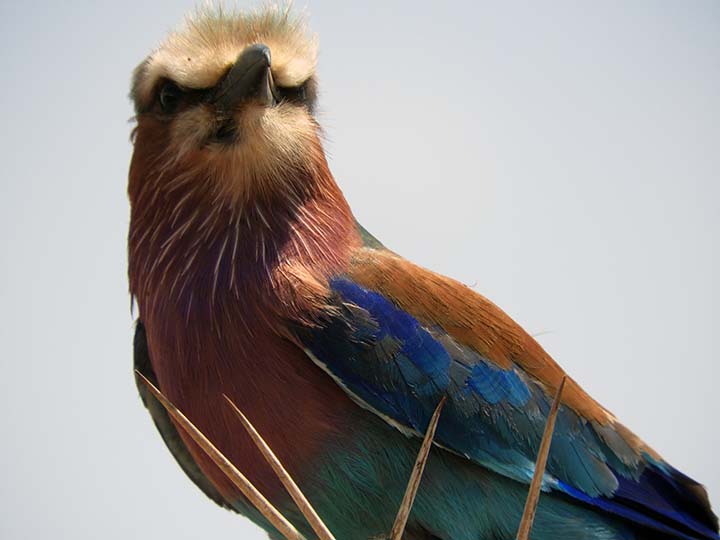 Nope, I'm going with lilac breasted roller cuz that's the closest thing I can find in Google images. Pretty bird whatever its name is.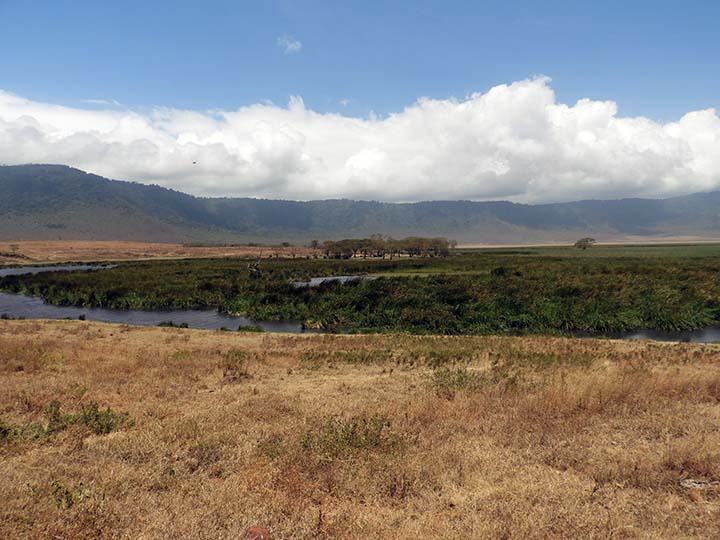 Ah...a big old watering hole.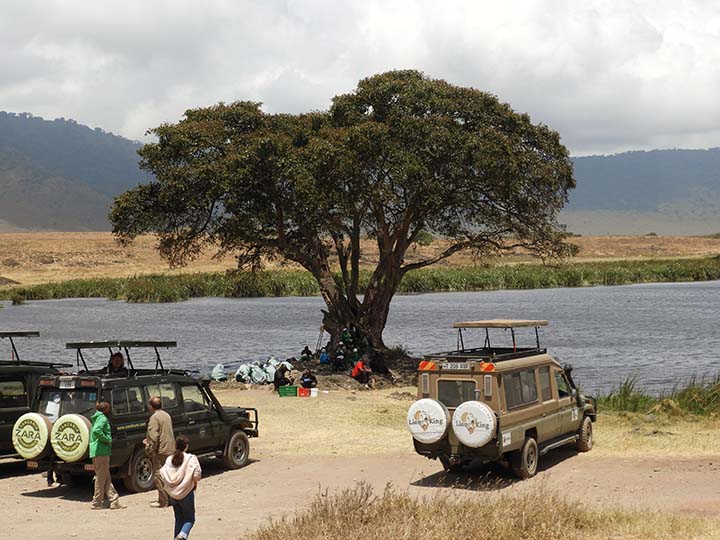 A fine spot for animals, and there are nice toilets for the tourists too.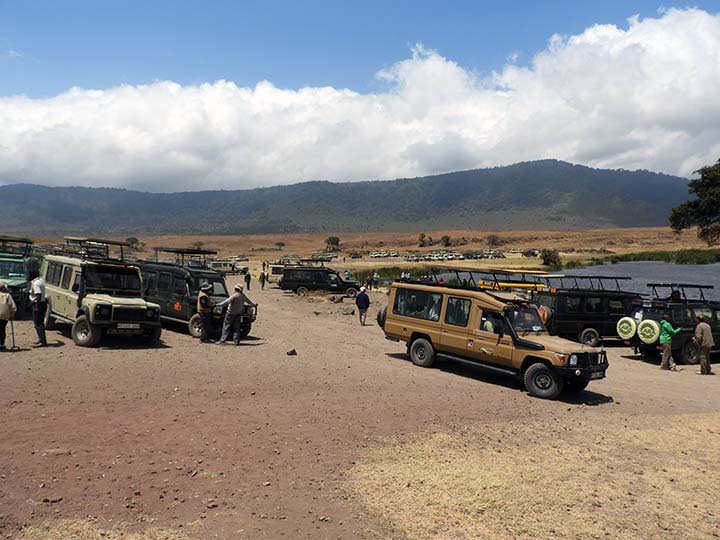 So everybody comes here.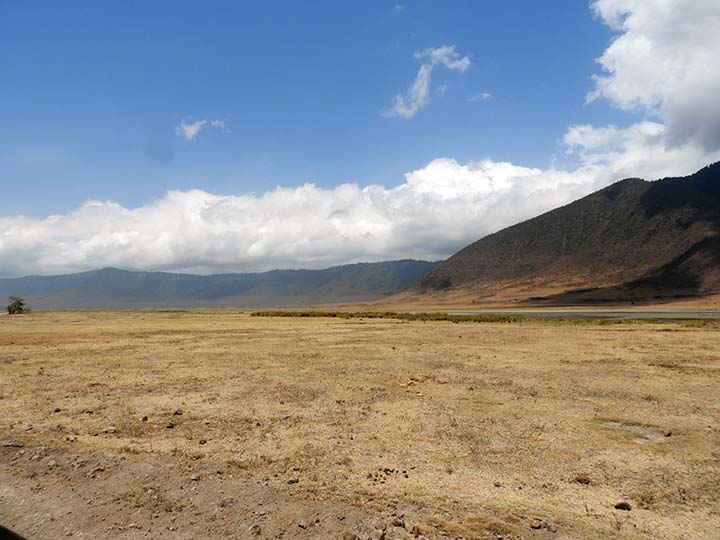 If for nothing more than to enjoy the view.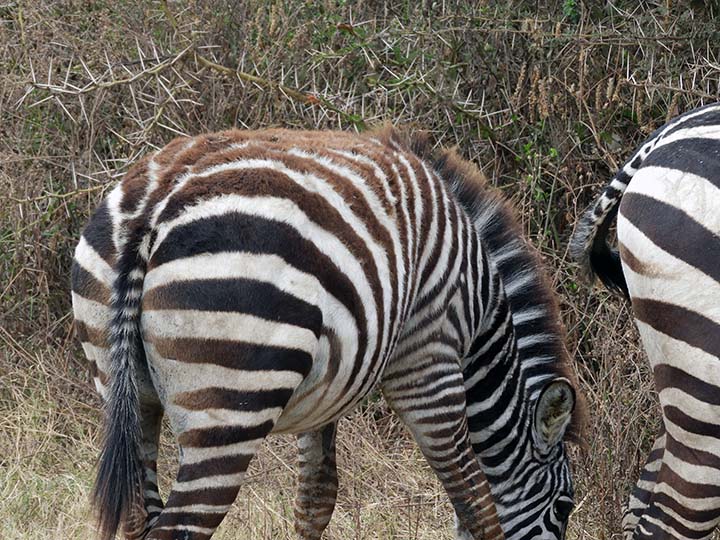 I thought zebras were black and white.
But no, especially among the young there's a lot of brown in there.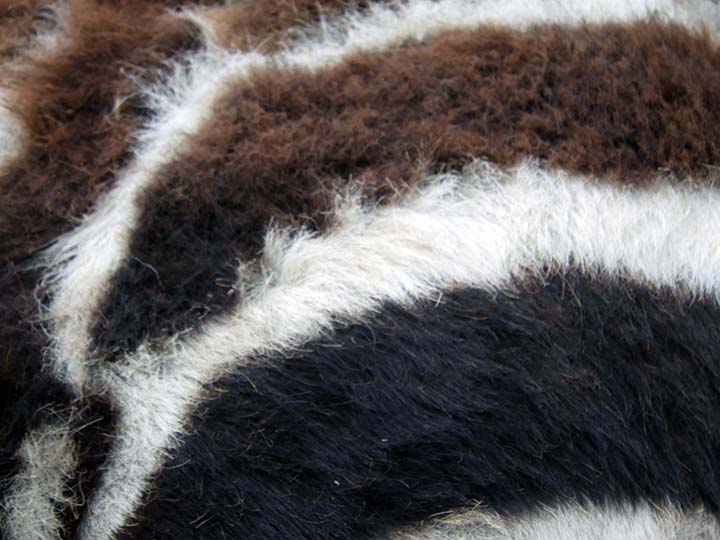 See the brown?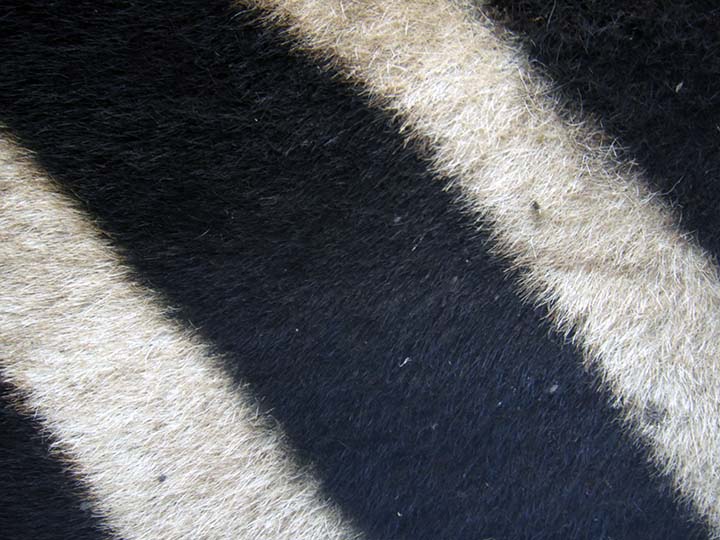 And the black and white?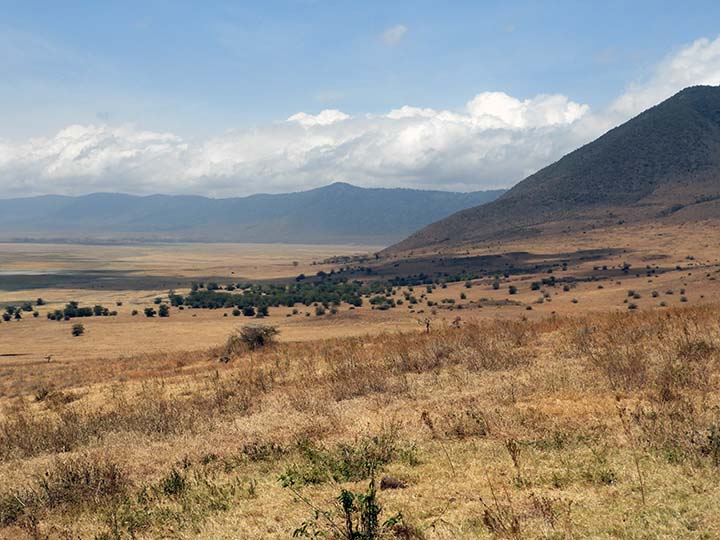 We've had a great day in Ngorongoro crater, but now it's time to head home.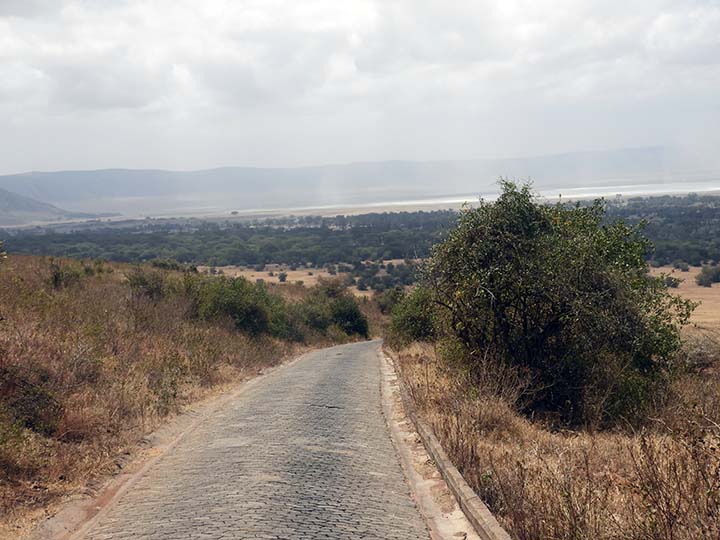 Back up to the crater rim.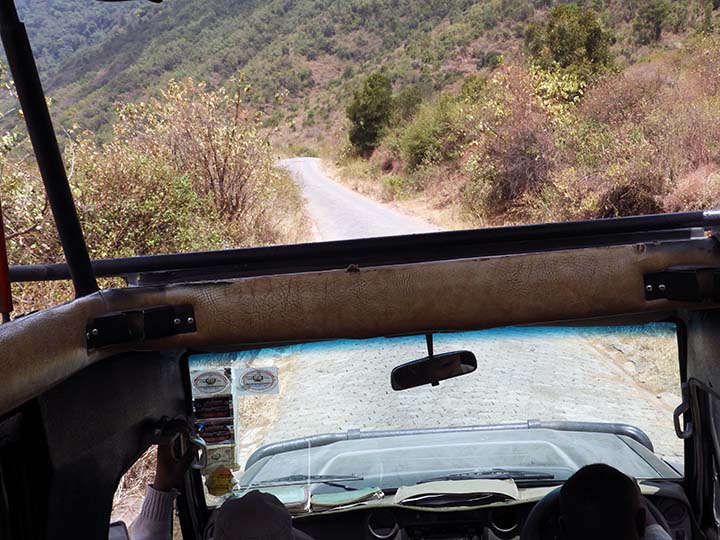 On an actual paved road. Incredible!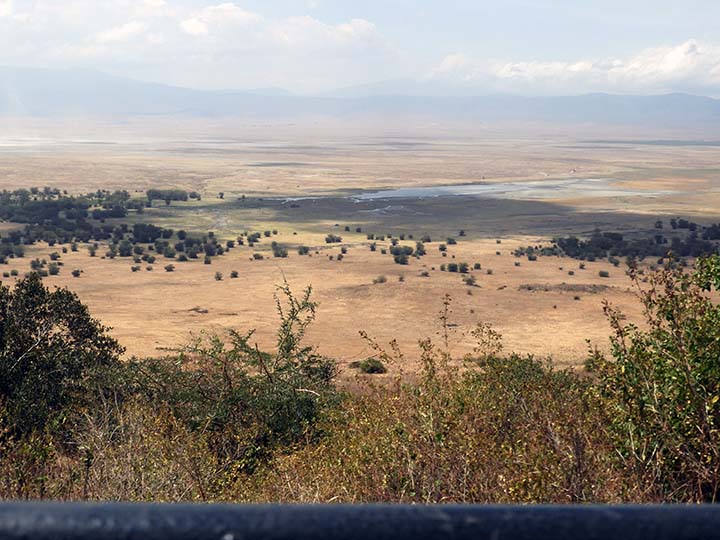 The view is just as impressive as it was this morning as we descended.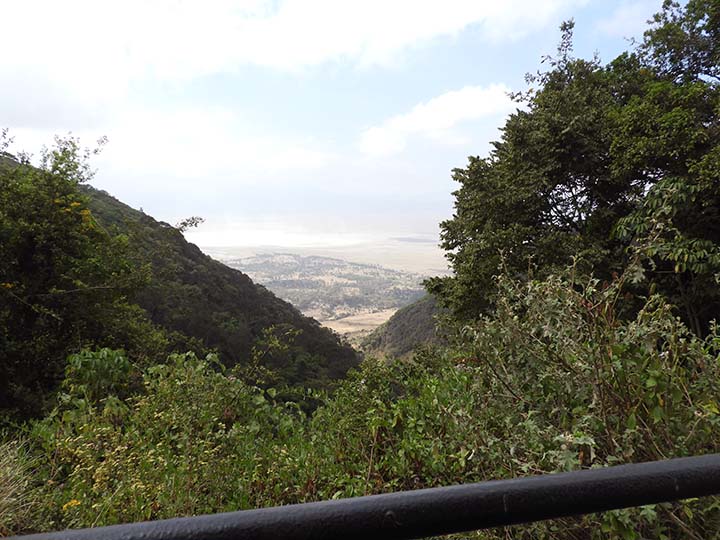 There are a lot of animals out there trying to eat each other.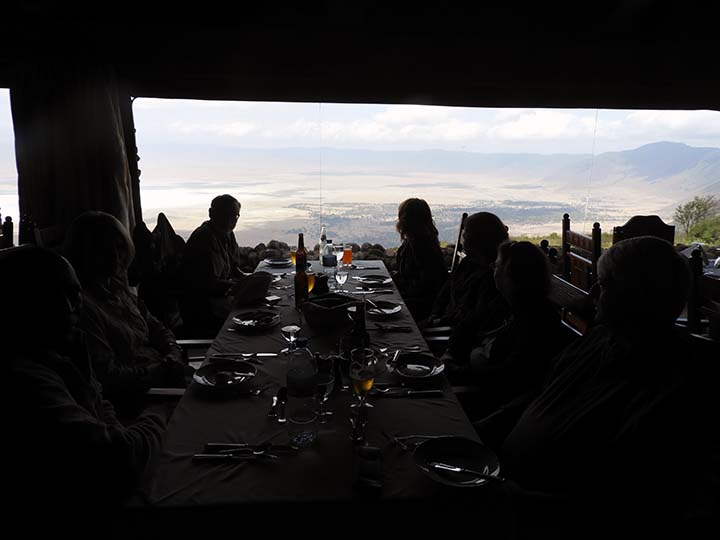 We're more civilized.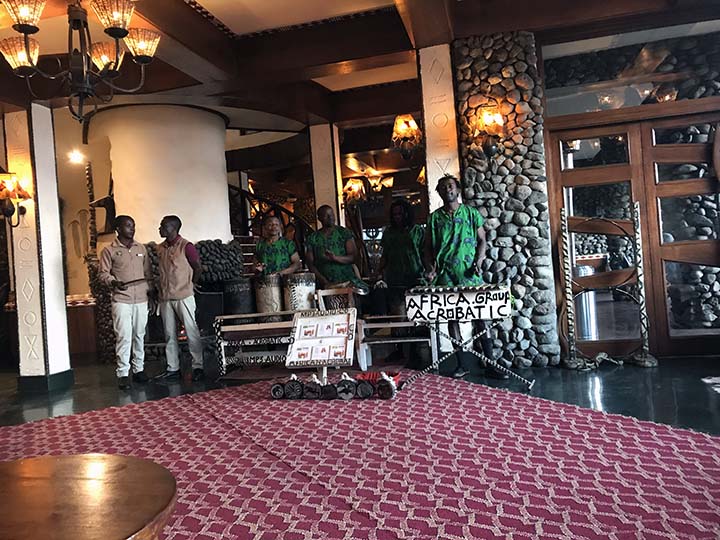 But wait! The day's not yet over!
We have acrobats for our pre-dinner entertainment!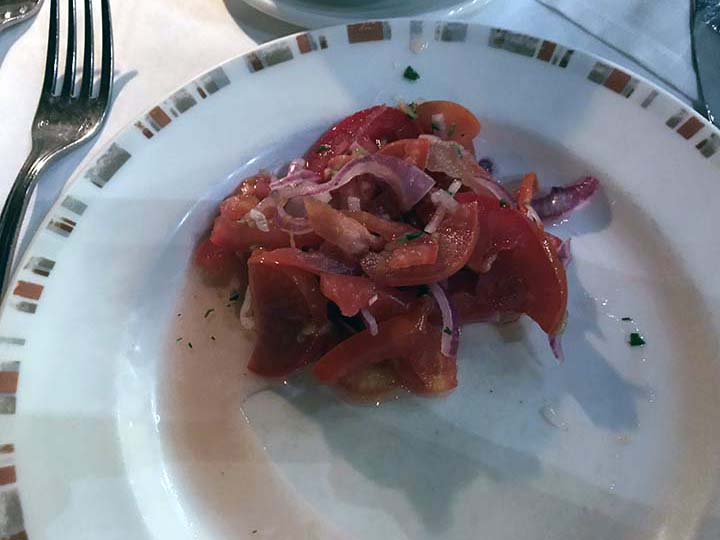 We encountered lots of tasty dishes in the various buffets at our hotels, but my favorite turned out to be kachumbari. I'd never heard of it, but now I think I'll try to make it part of my repertoire.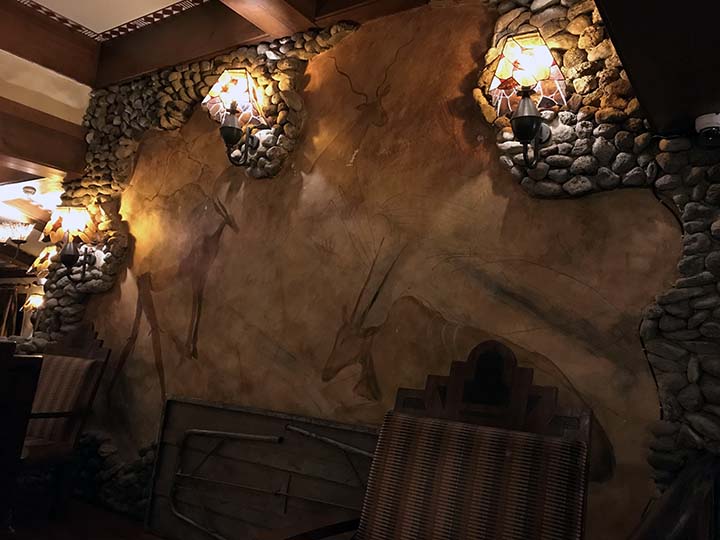 I snapped this picture as I was trudging wearily back to my room after a long safari and a big meal. I wanted to remember just how lovely this hotel was, how beautifully decorated -- here with primitive wall paintings. Serena Lodge. Try to stay there if you're ever in the neighborhood.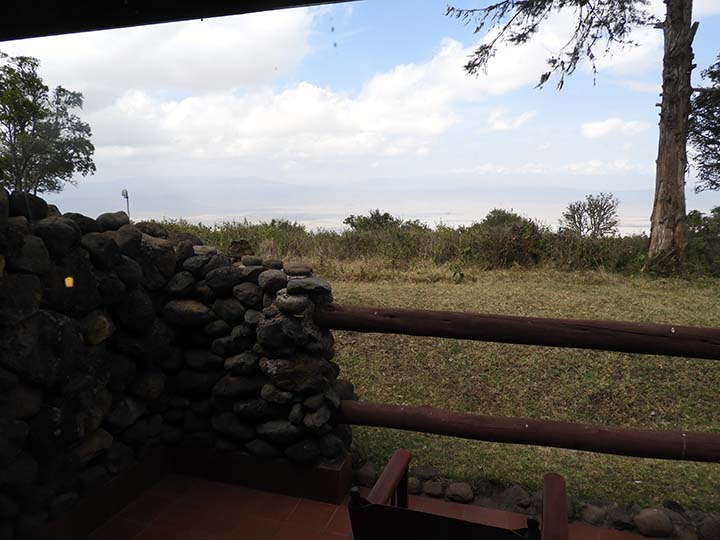 That's the view from my bedroom. Really nice place.