Oh no! Today we're headed back to the big city, Nairobi. This great trip is almost over! How can that be possible? We haven't seen half the wildebeest yet!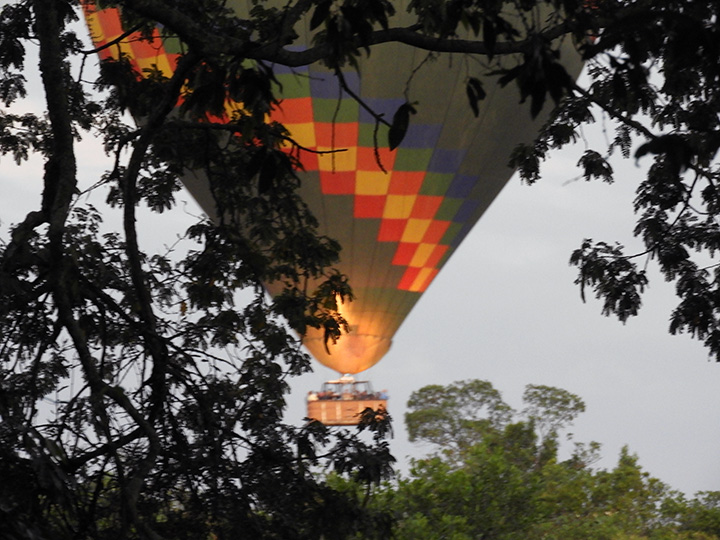 Remember how our balloon cruised past my tent yesterday? Well, just as I was tying my shoes this morning I heard a loud whoosh, so I unzipped my front door flap, grabbed my camera, and wow, just look at the view from my front porch! It's a gondola full of hot air tourists.
There they go, and I'll bet there's a Champagne breakfast in their future.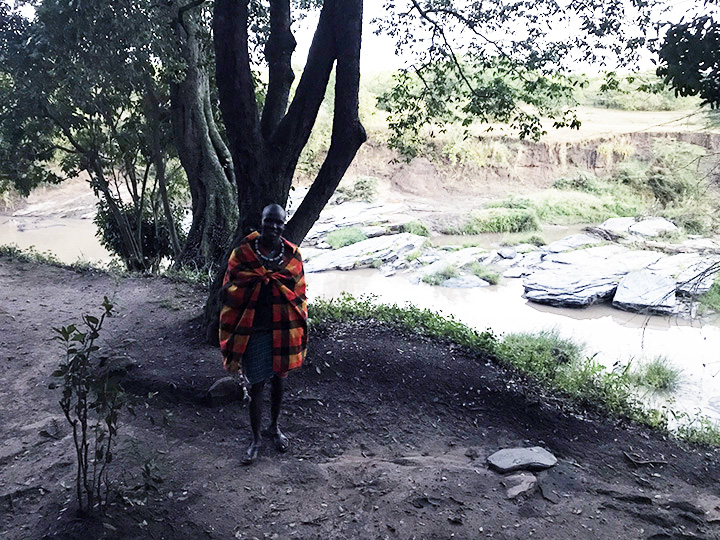 The night watchman is still on his rounds.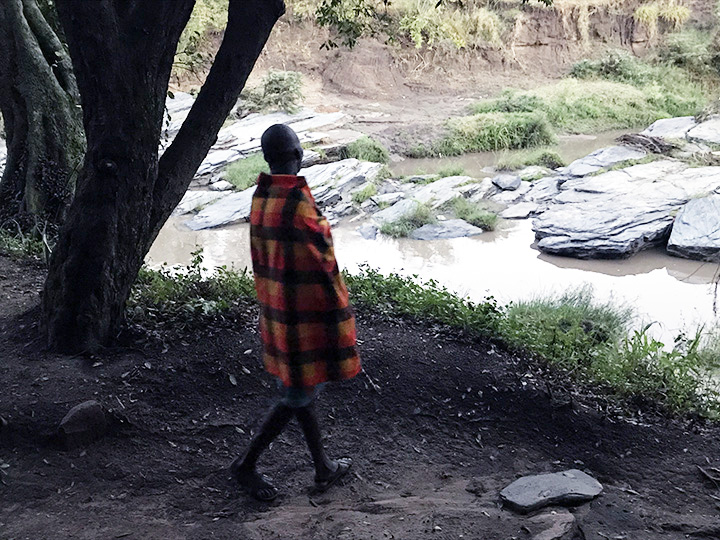 No worries about renegade crocodiles when this guy's on duty.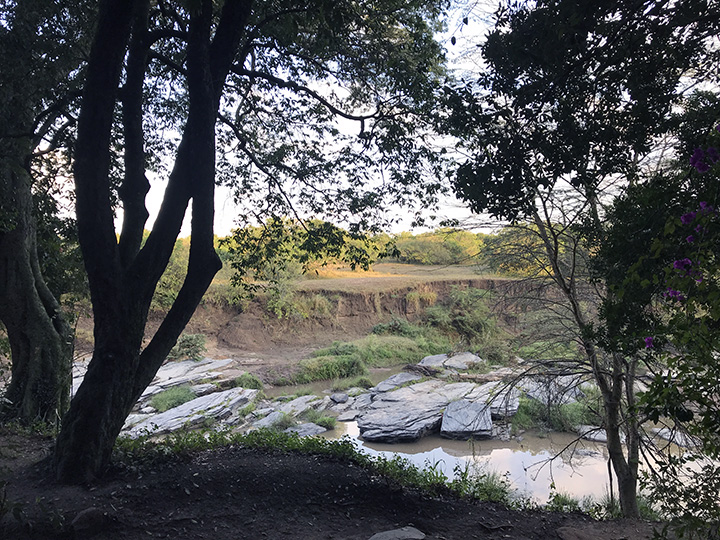 Just quiet and peaceful here.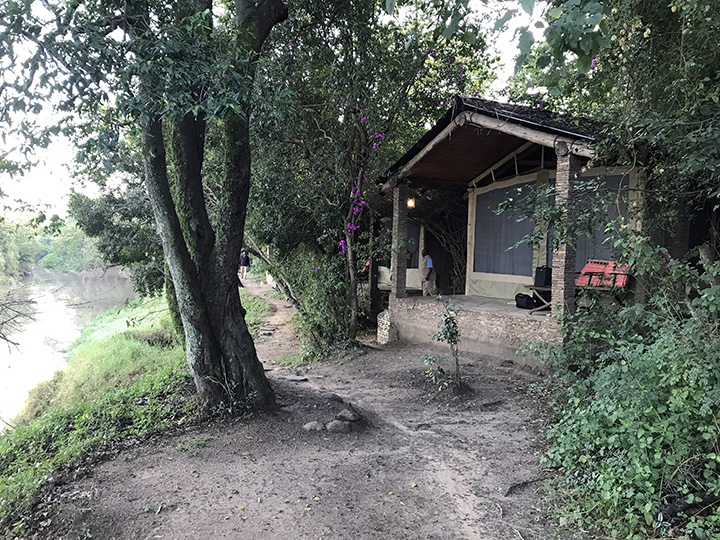 A real garden spot.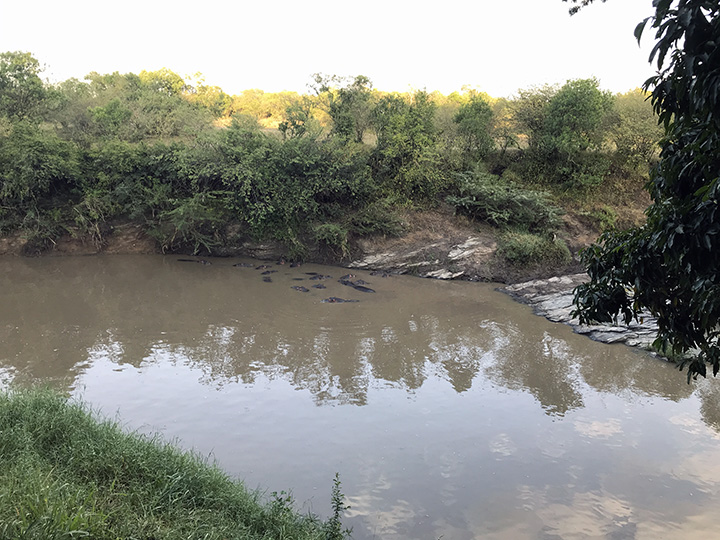 If you don't mind a few hippo grunts now and then.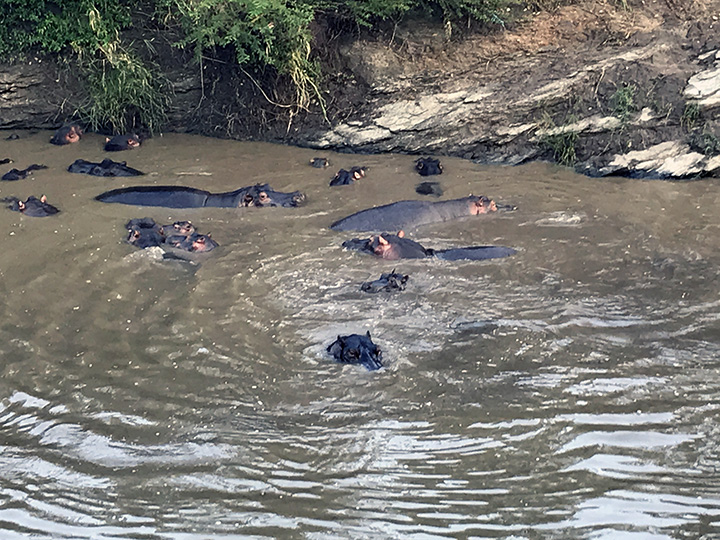 Yes, they grunt.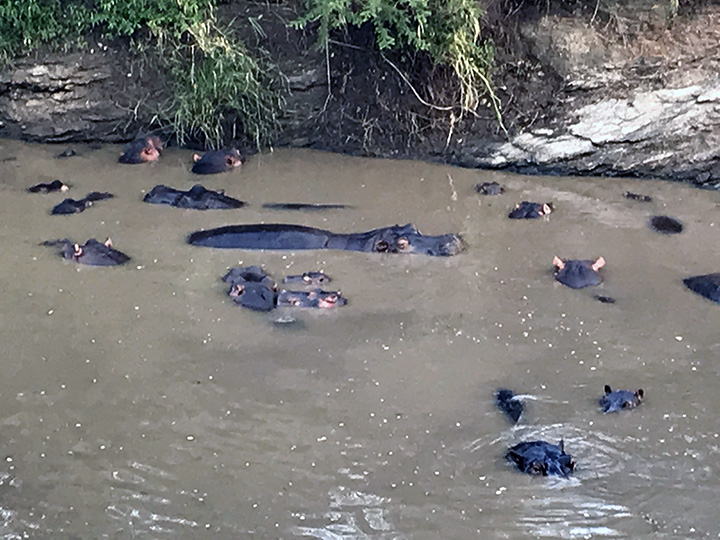 But they're peaceful critters as long as you don't get too close and discover why they're the African animal deadliest to humans.
I'll just stay up here on the bank and watch.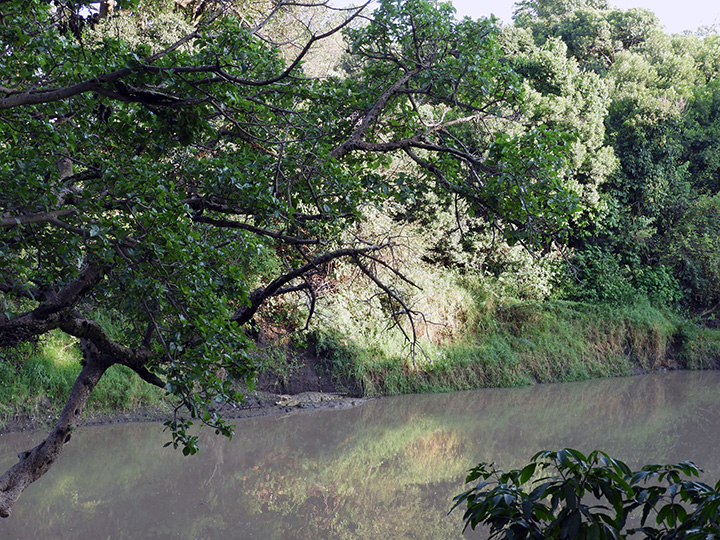 I think that crocodile is just getting up.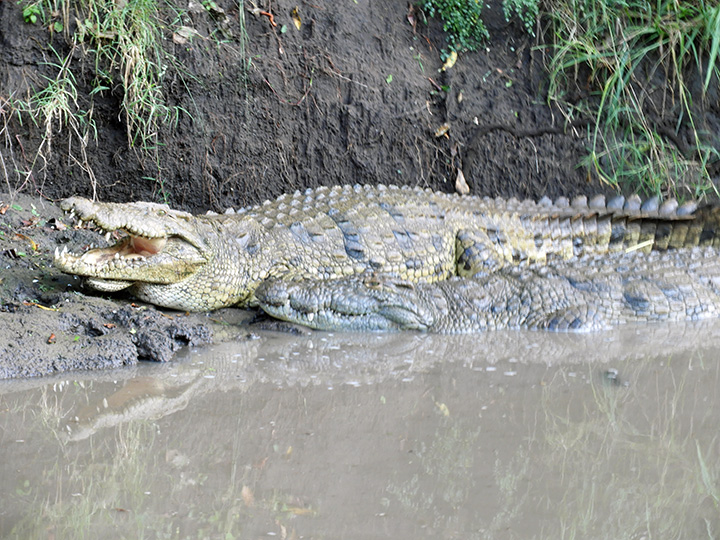 He's still yawning.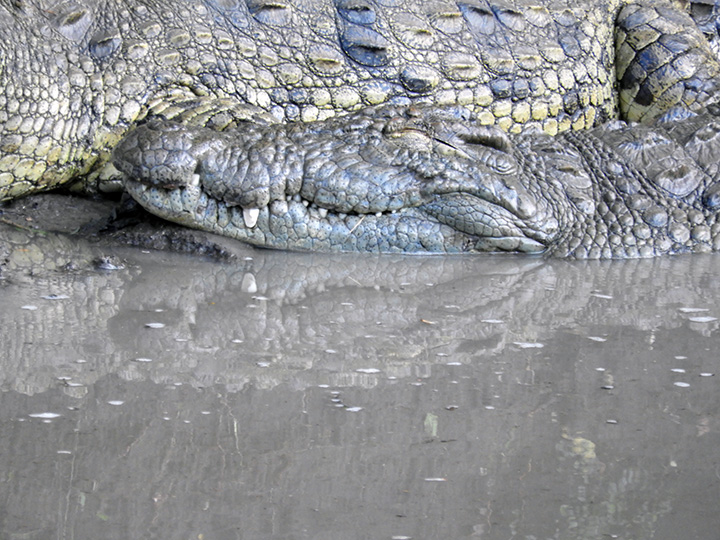 I think warthogs aren't this ugly.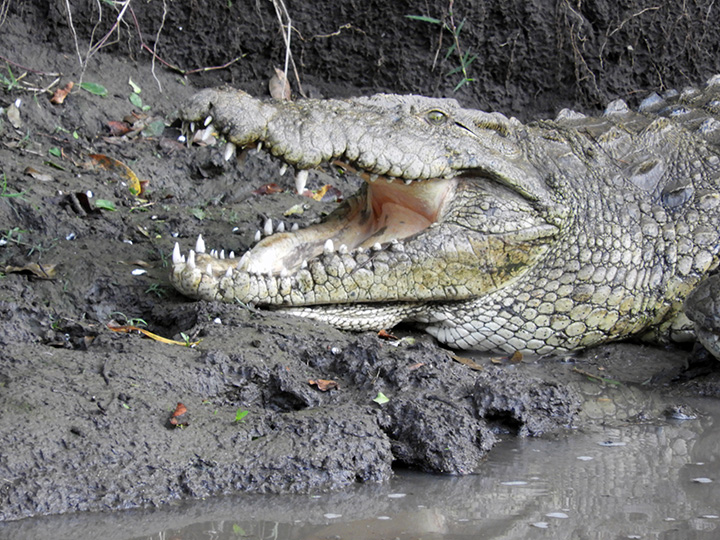 Even a smile doesn't help.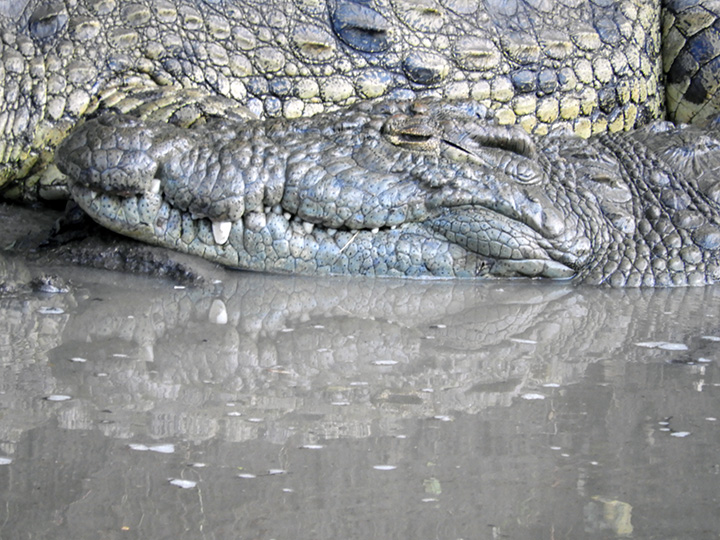 Yes, I'm talking about you.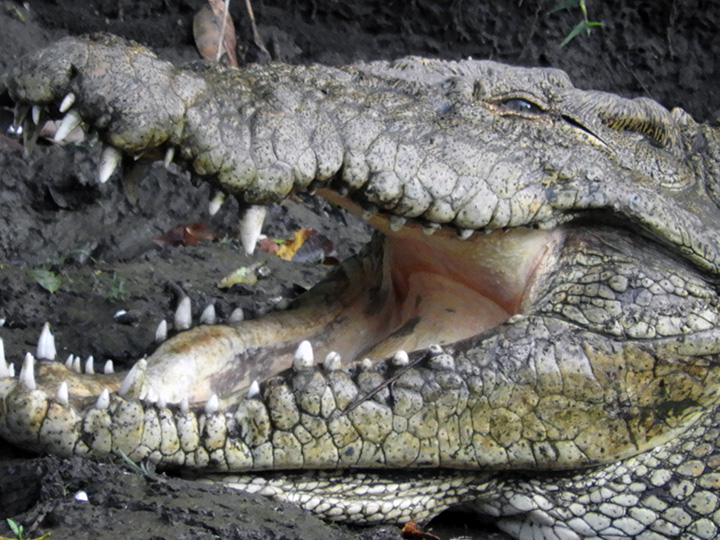 Are you laughing at me?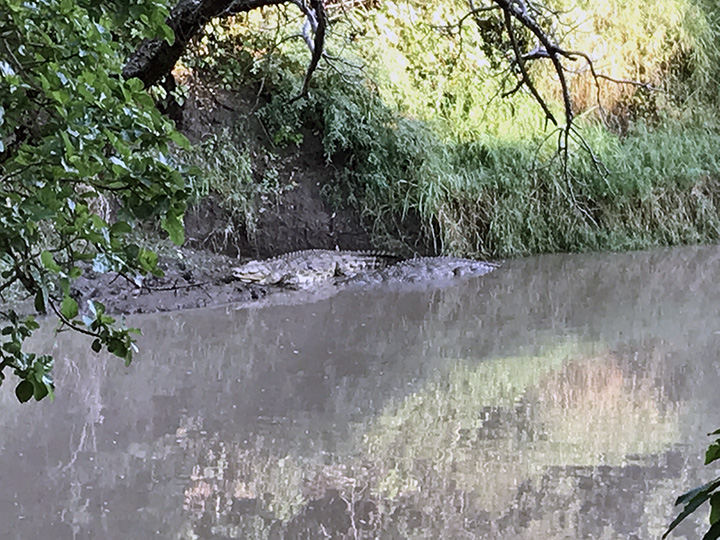 That was rude.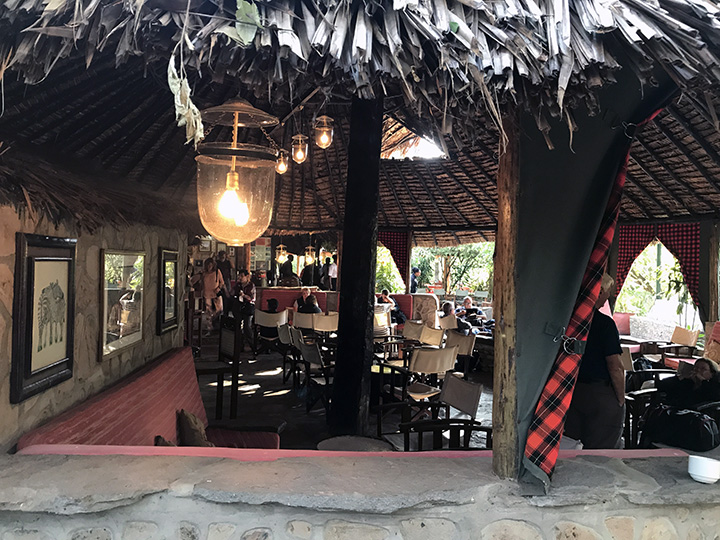 Time for breakfast.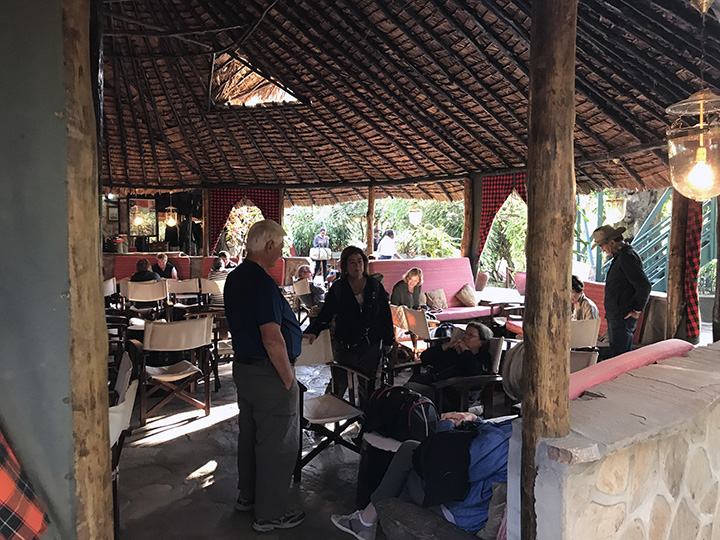 The Road Scholars are gathering.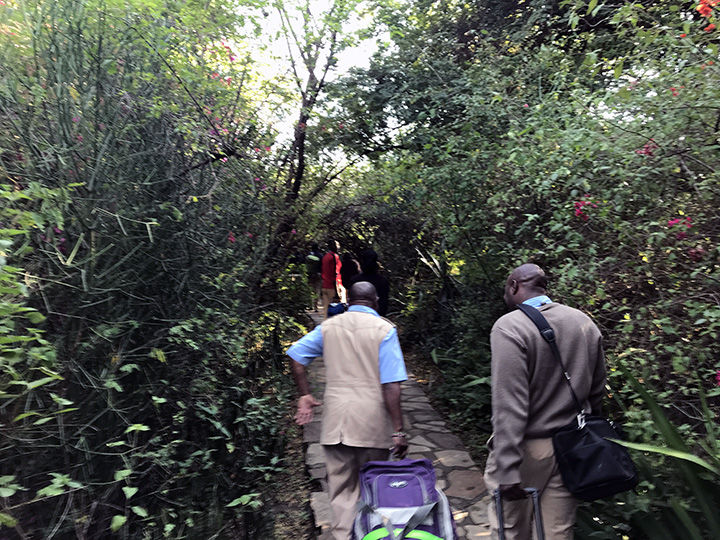 And now they're headed off for their final experience in the Maasai Mara.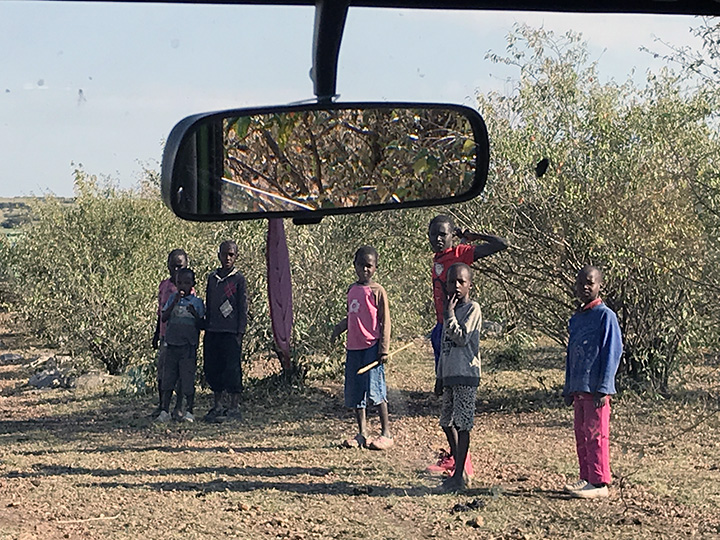 They're going to meet the natives.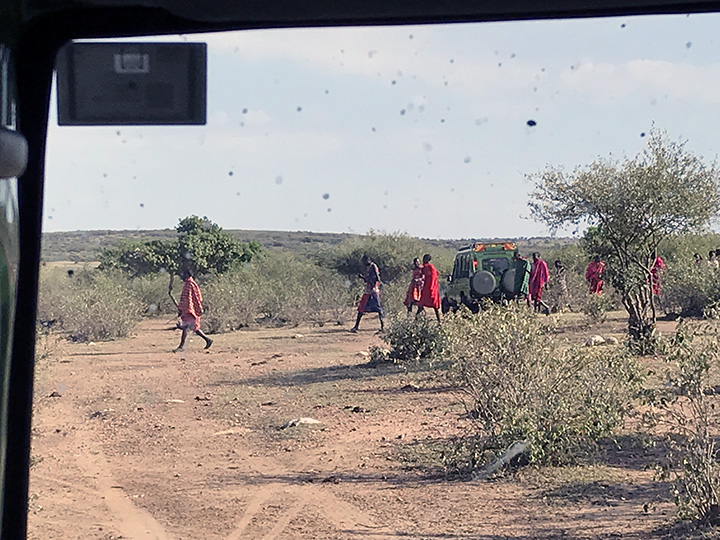 We've arrived at an actual Maasai village.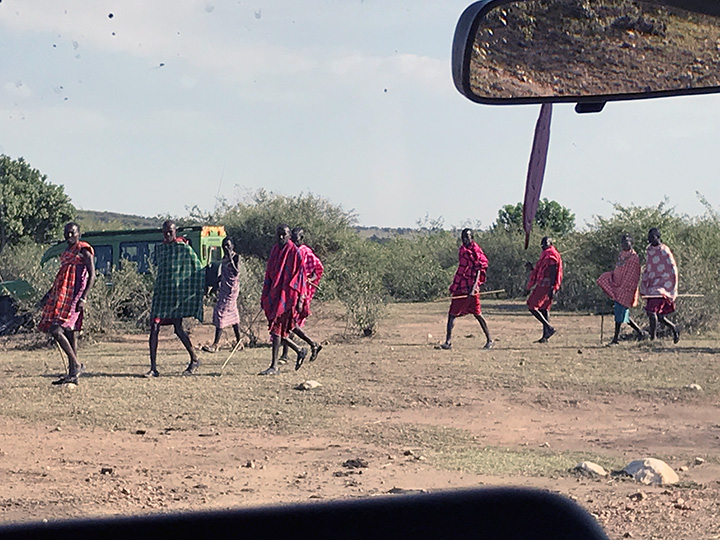 And they are expecting us.
Now this is one terrific welcoming committee.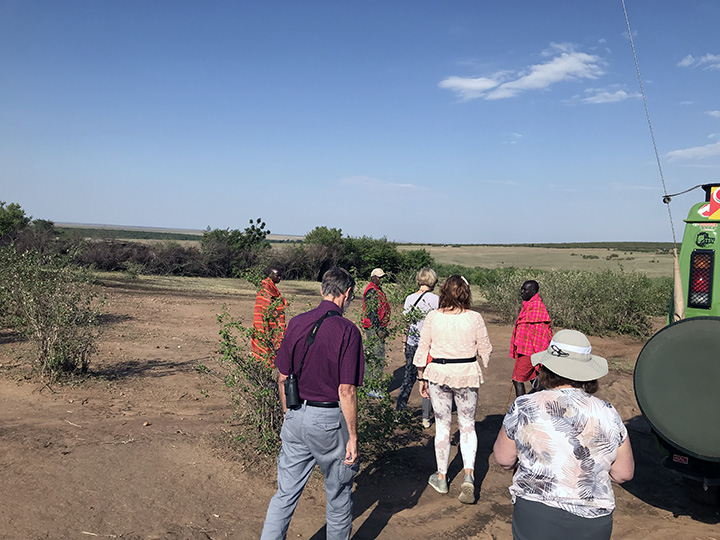 We meet a couple of tribal leaders.
The fellow on the left is a really big shot. Son of the chief, as I recall. I didn't catch his name but his friend was John. Maybe one of my fellow Road Scholars will read this and help me out. We are about to learn much from them about the Maasai way of life. The Tanzanian and Kenyan governments have instituted programs to encourage the Maasai to abandon their traditional lifestyle, but the people have continued their age-old customs. Many Maasai tribes throughout Tanzania and Kenya welcome visits to their towns and villages to experience their culture, traditions, and lifestyle, in return for a fee. Thanks for paying the cover charge, Road Scholar.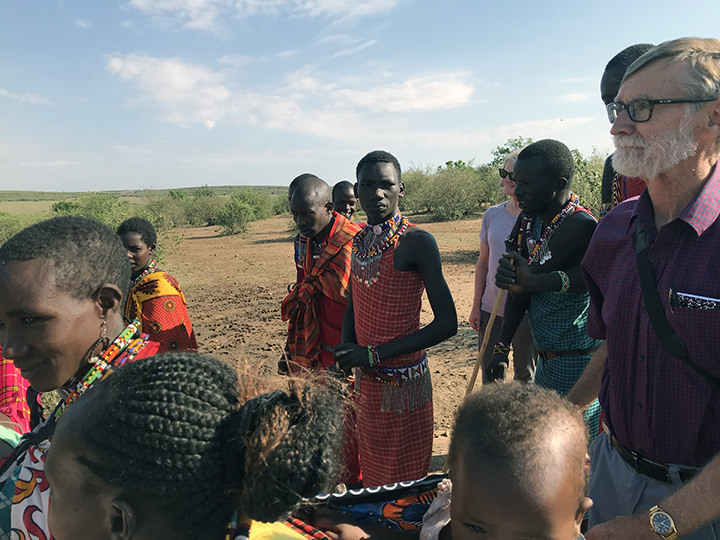 This is great.
Everybody is happy to see us.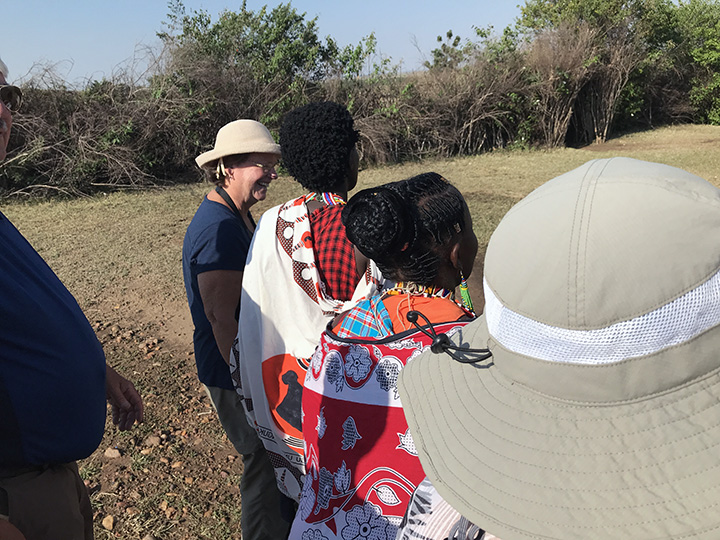 And we are happy to see them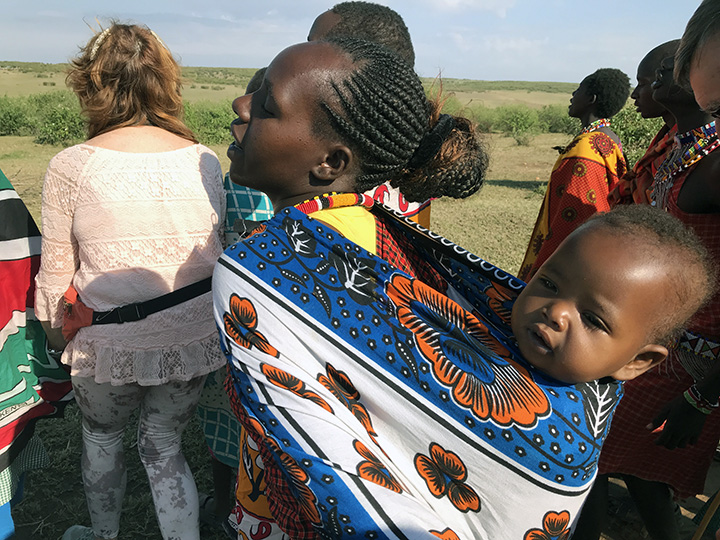 Nice ride you got there, buddy.
Let's all dance!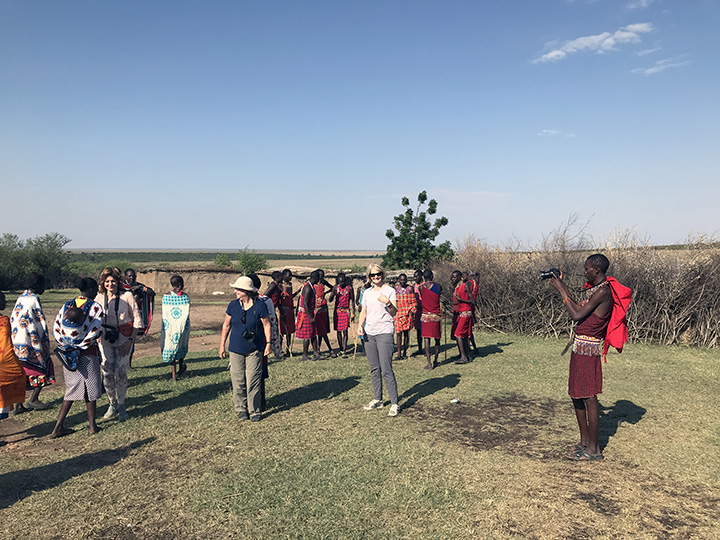 Wait a minute...is he shooting pictures of the tourists? Never did figure that one out.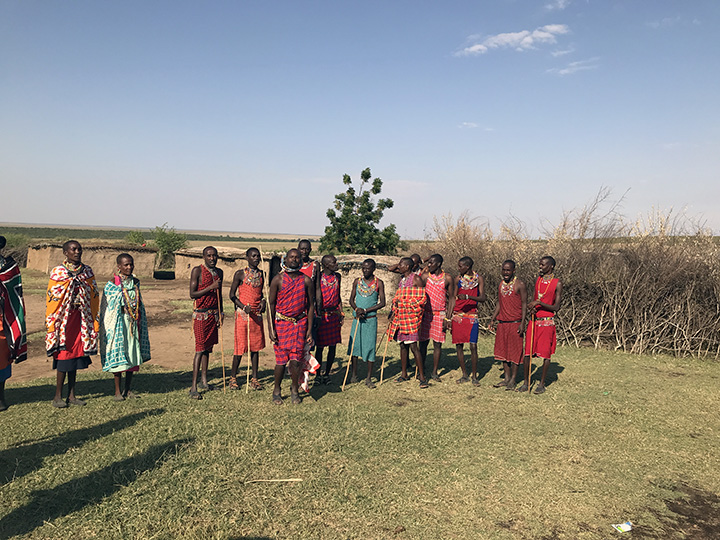 I think we're about to see a performance.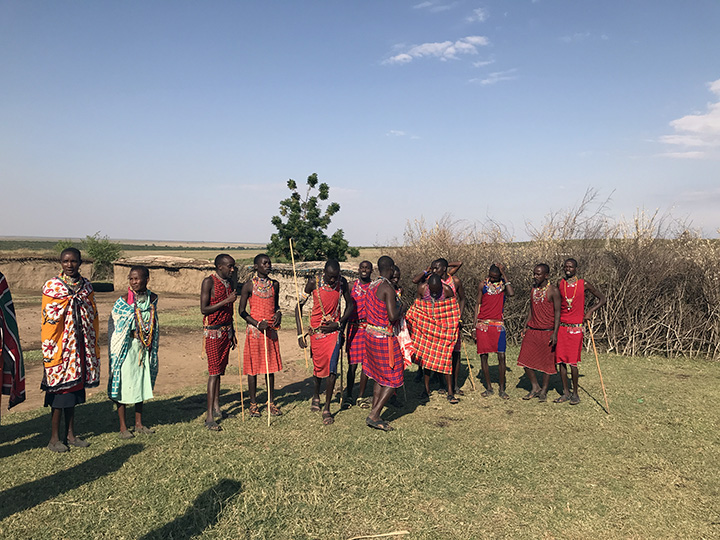 Traditional Maasai dances involve lots of jumping by the men.
And lots of neck-shaking by the women.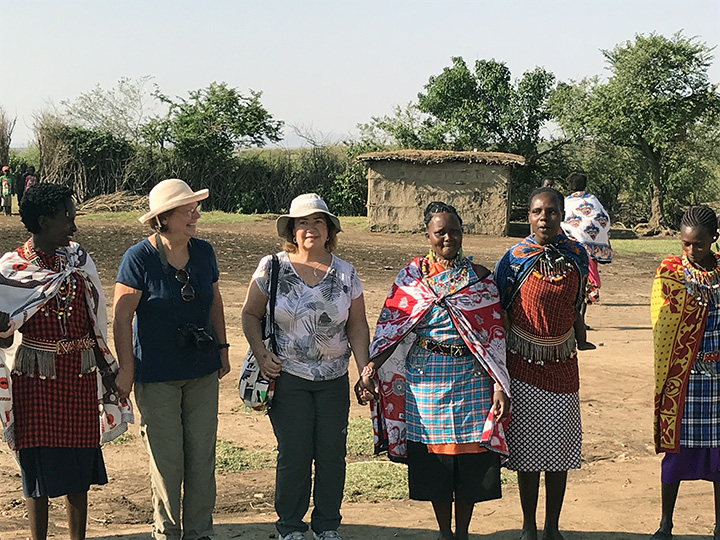 Donna and Mandy are getting into this.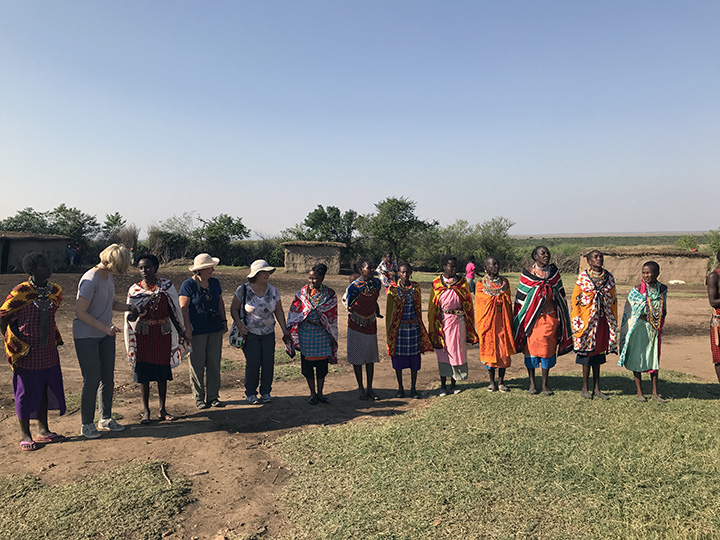 At least they don't have to jump.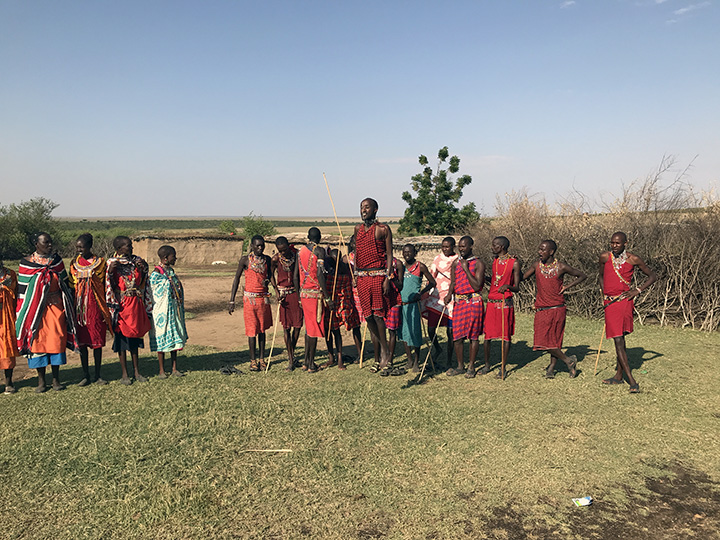 But the guys do.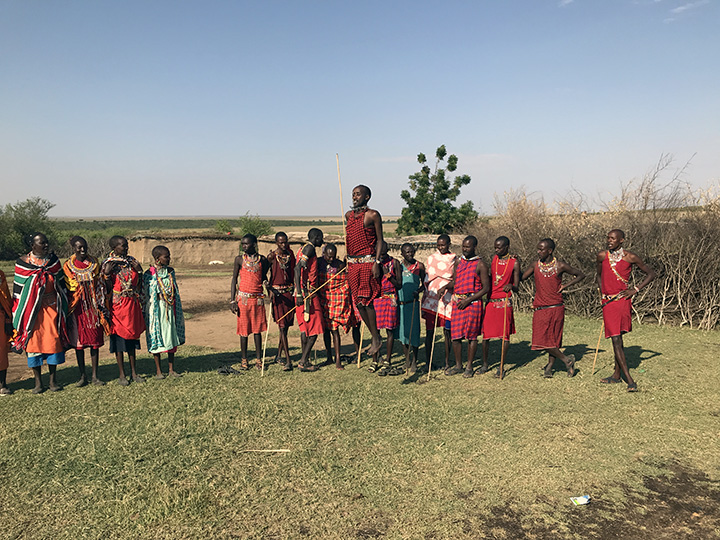 And they're good at it.
Just watch this.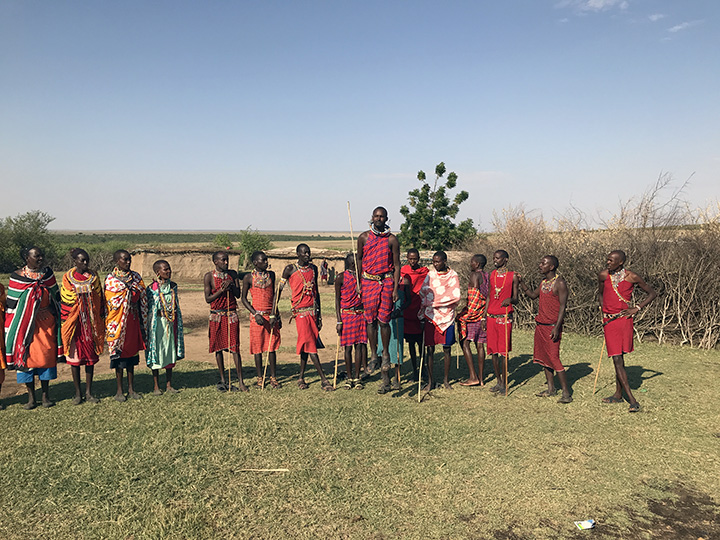 I will practice this when I get home.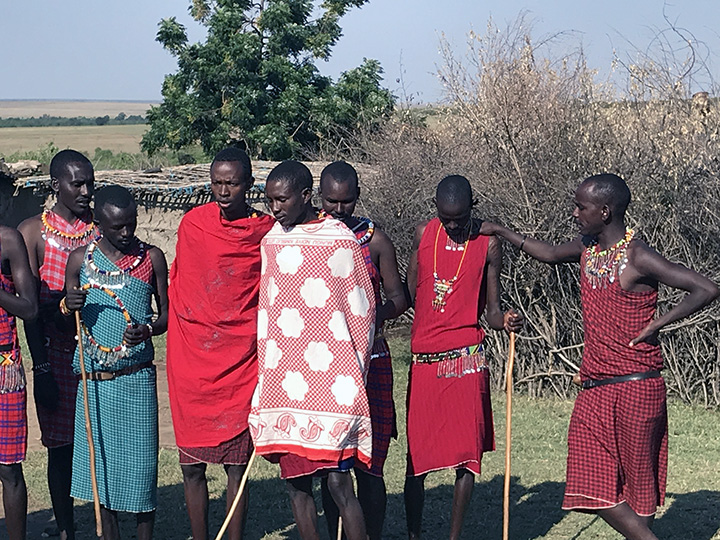 All the men have a stick.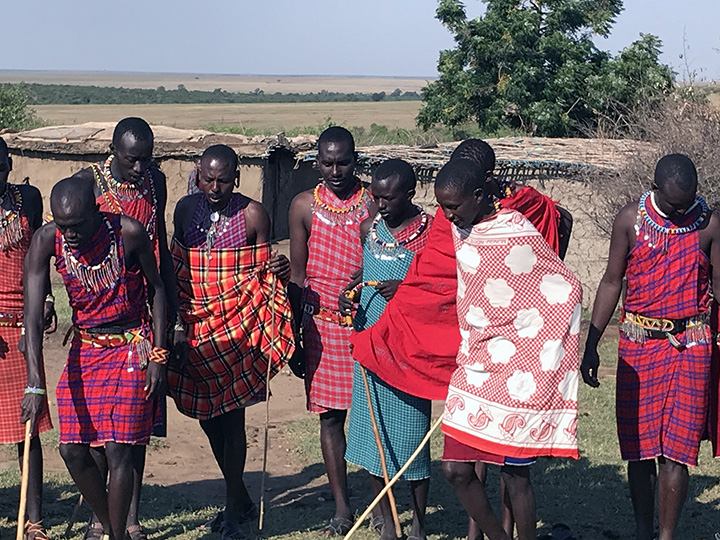 They wouldn't be caught without one.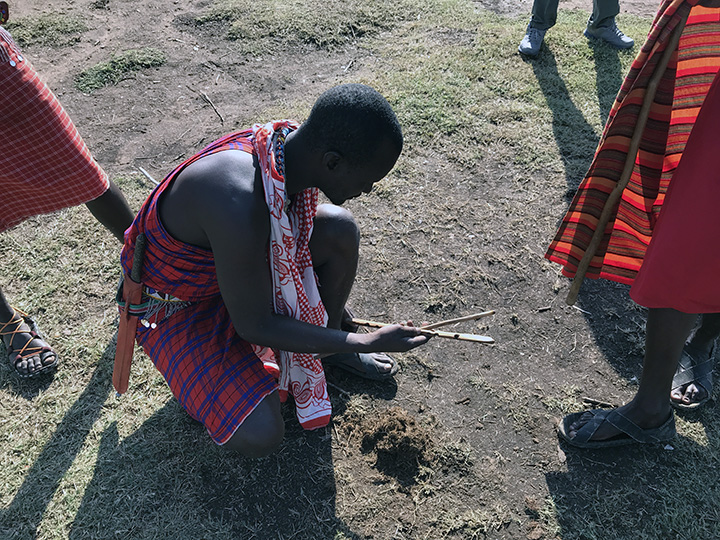 And now we're going to learn how to start a fire.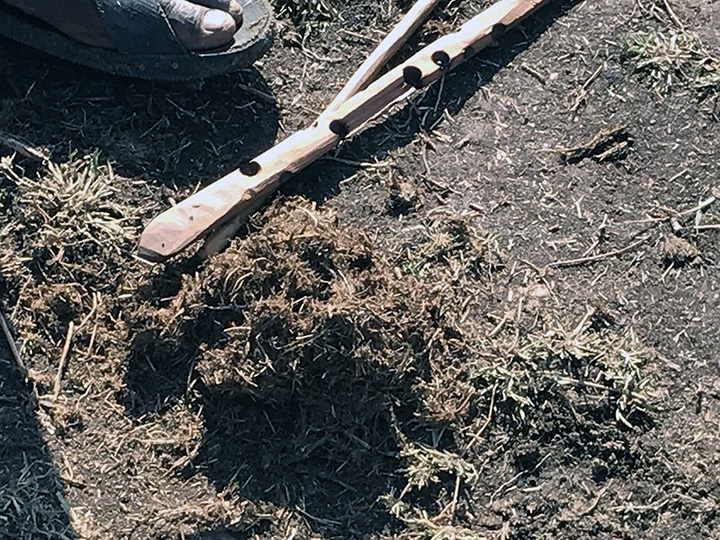 First make a pile of dried elephant poop. Cow poop will do too.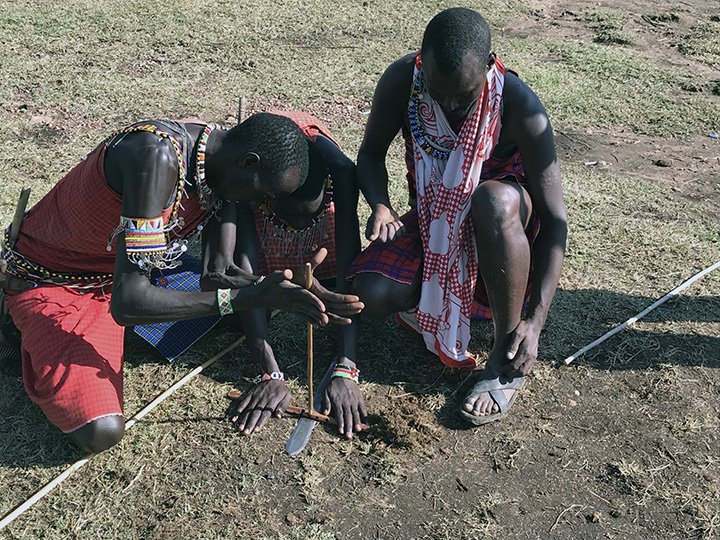 And get some friction going.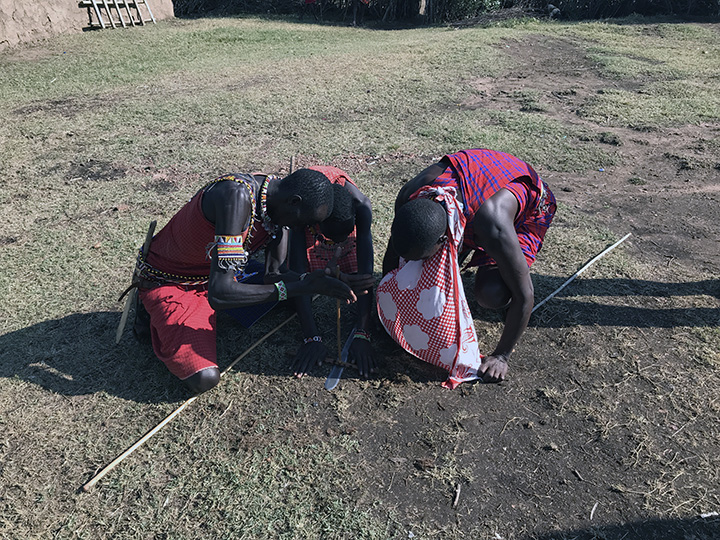 And puff on it.
Just watch it on video. A little friction and a little puffing and ... we have ignition!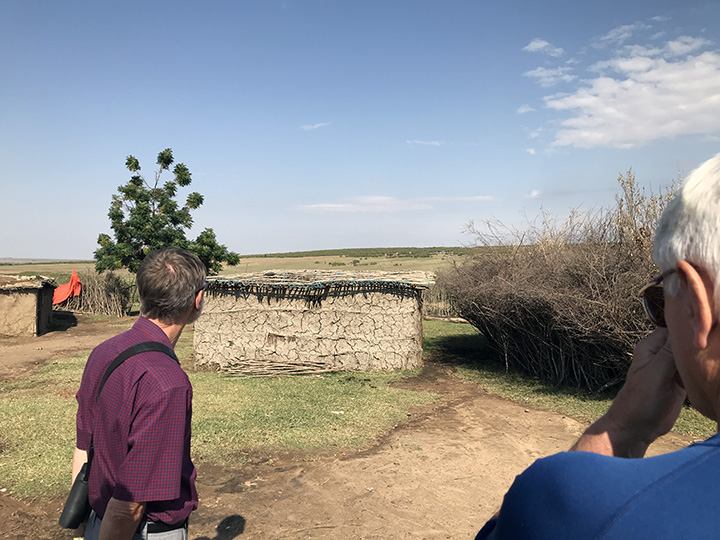 We've been invited into some homes.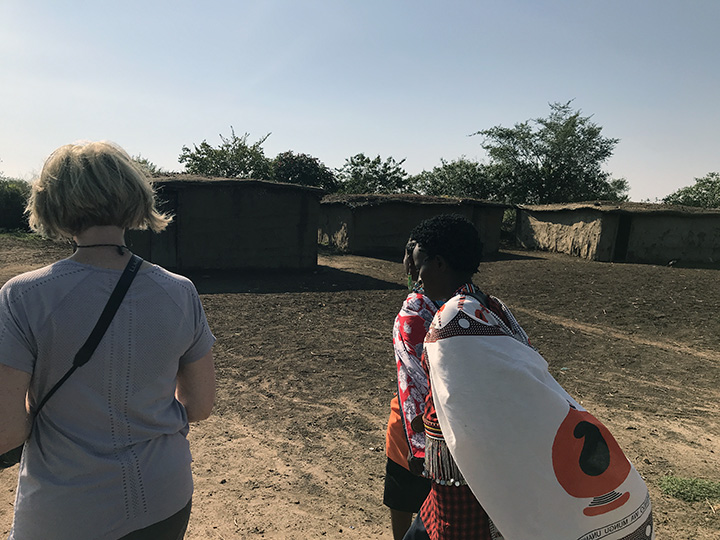 The traditional Maasai village is called a Manyatta and consists of a number of small huts made with elephant dung and topped with thatched roofs. I'll follow Marsha and one of our new friends into one of them.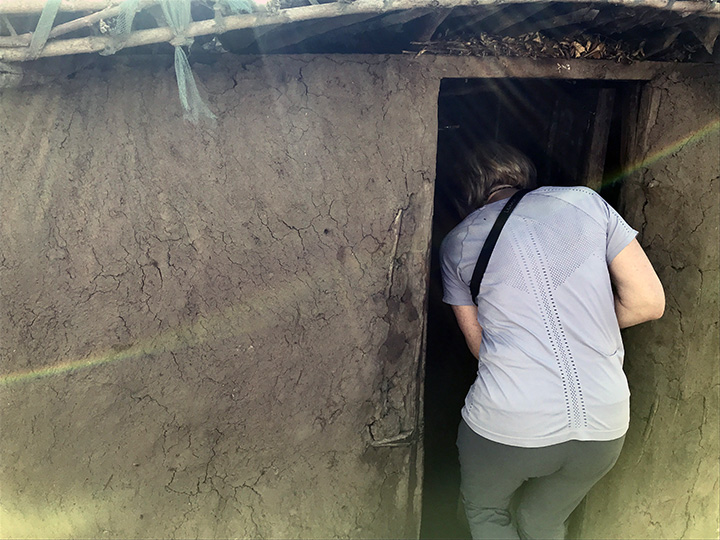 Maasai men are generally tall but the doorways are short. That's because the women build the houses and they get to make the doors any size they want.
Here's what it looks like inside.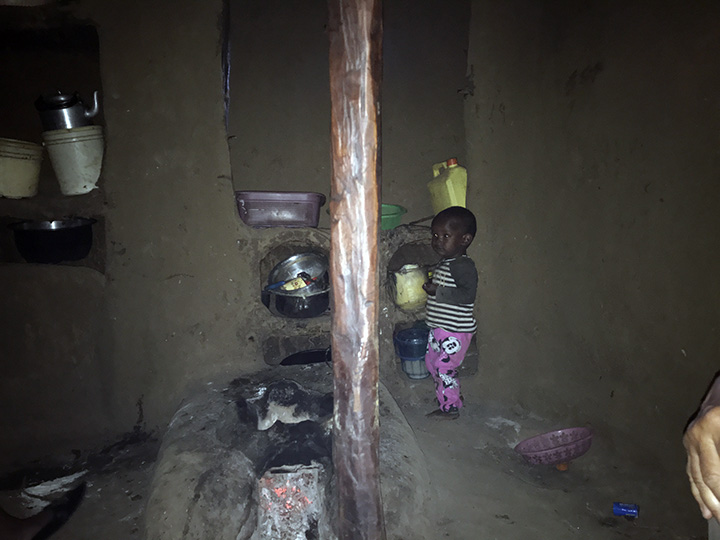 This little guy was not a bit happy with all the tourist visitors.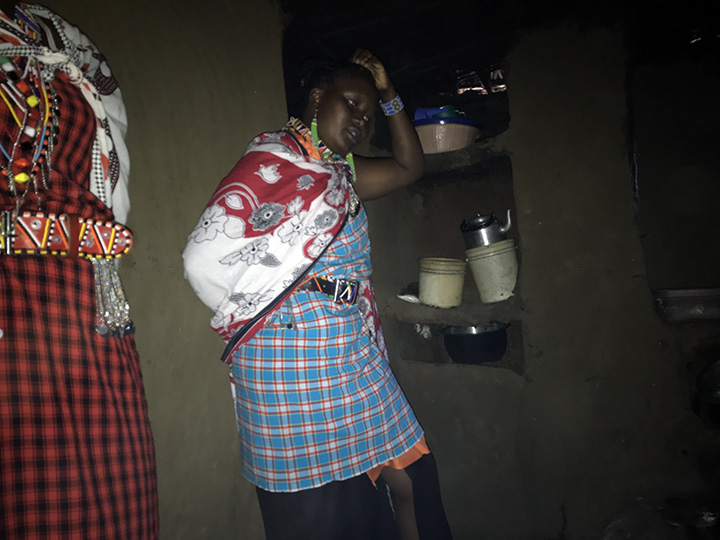 We were given a very nice presentation on what it's like to live in houses like this.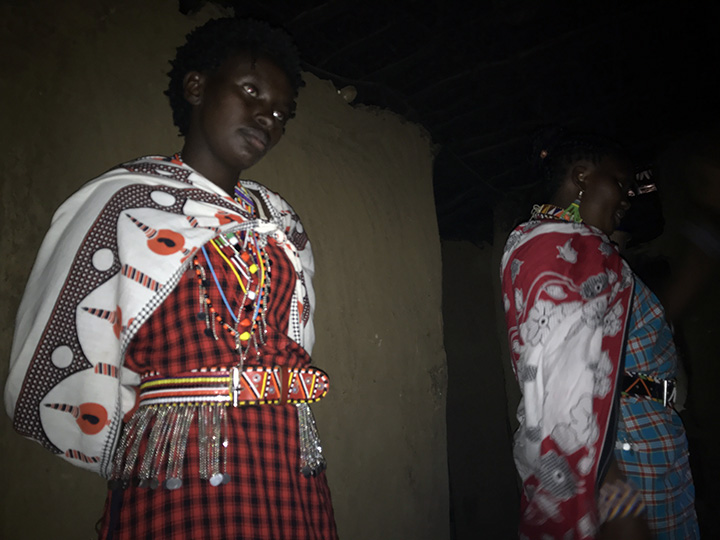 I guess it was rude of me to surprise our hosts with flash photography, but I really wanted to remember this amazing experience.
And in case you're wondering...no, an elephant dung hut doesn't smell like elephant dung inside. It smells like smoke from a fireplace burning elephant dung. Big difference.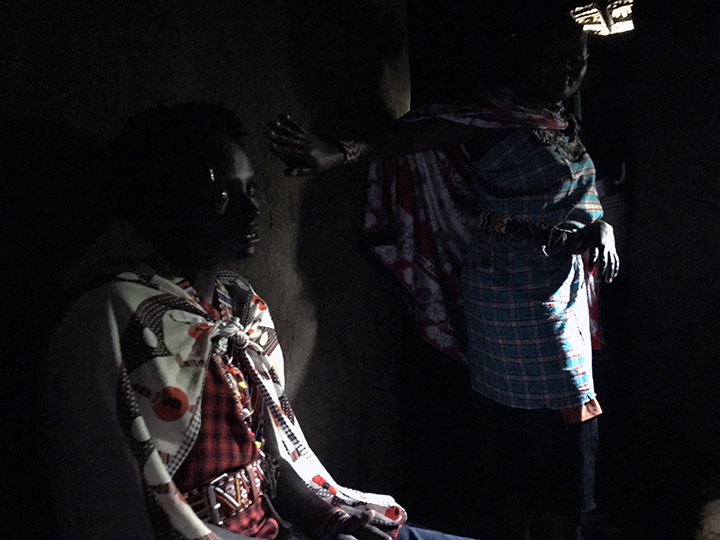 Shoulda used a flash.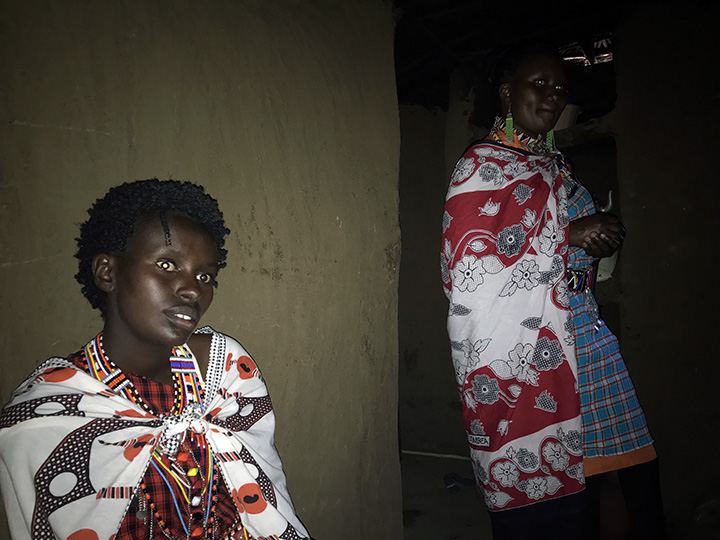 There, that's better.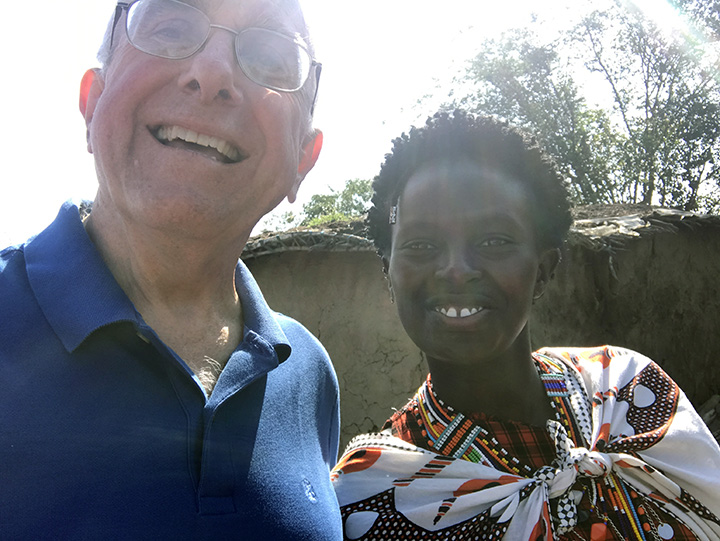 This is my new friend Elizabeth. She wondered where my wife was and I told her I didn't have one. She looked disappointed, so I asked if she would like to come to America and be my wife. She laughed and said she thought I was maybe too... (She raised her hand up high.) I said, "old?" She just laughed.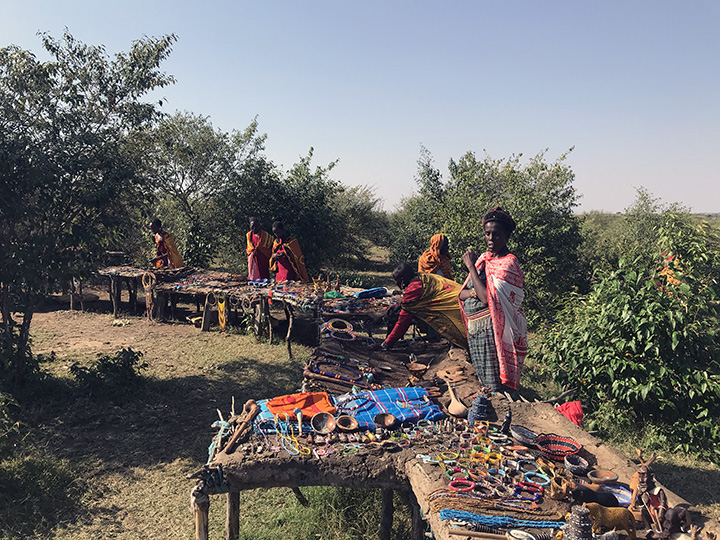 The whole village had set up a market for the Road Scholars and for other tourists who would be stopping by today.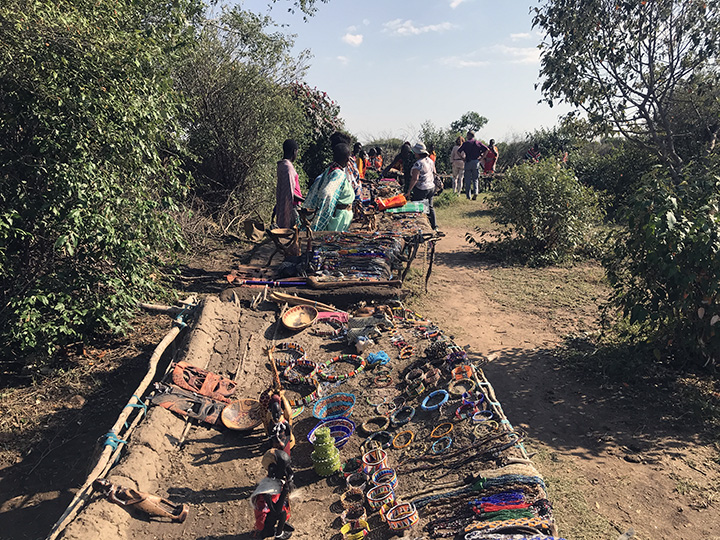 We walked all around and admired everything but being careful not to admire any single thing too much because that would initiate a hard sell. But the Road Scholars were easy marks; I think we dropped a good bit of cash here.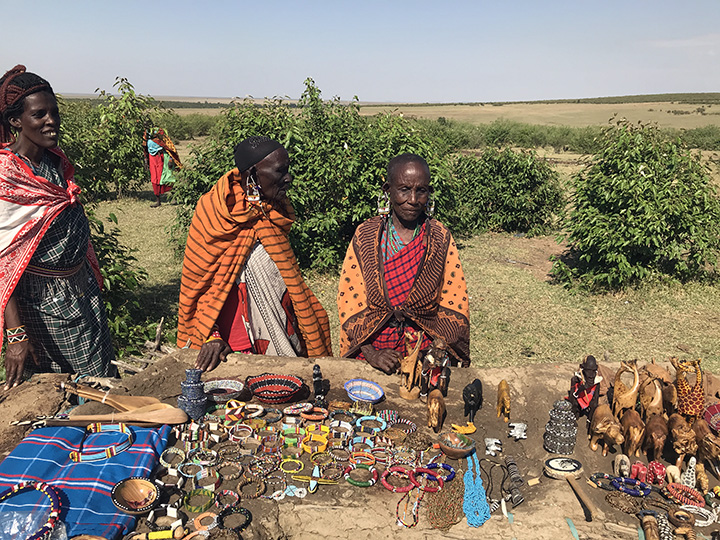 That nice lady sold me a club.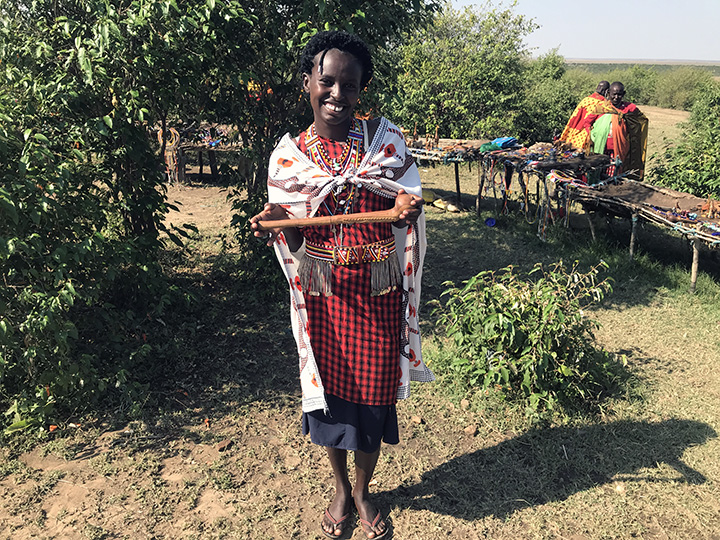 And Elizabeth posed with it for me.
This nice young man explained what it's used for. Basically he's saying that when you wear one in your belt it means you are the big shot, the one everybody has to listen to.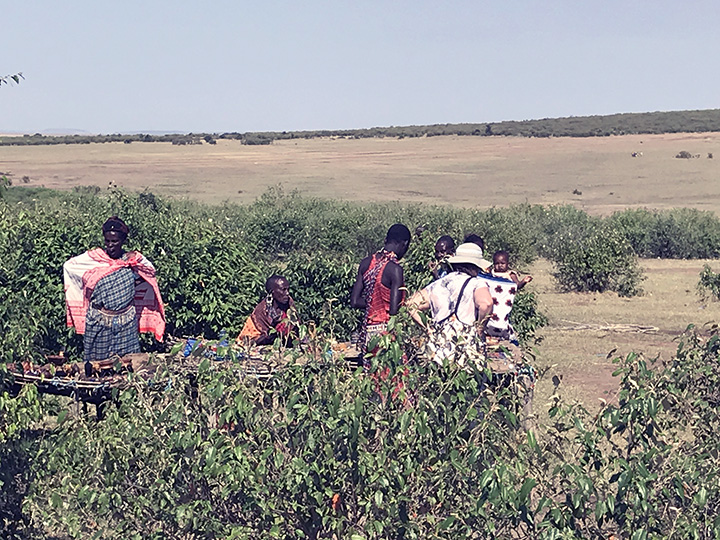 It's almost time to go. I think Donna is considering a last minute purchase.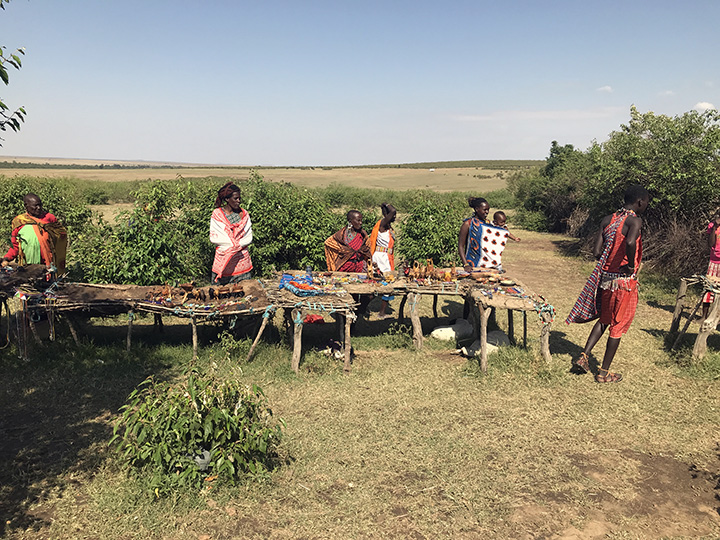 We may have spent big, but we still left lots on the table.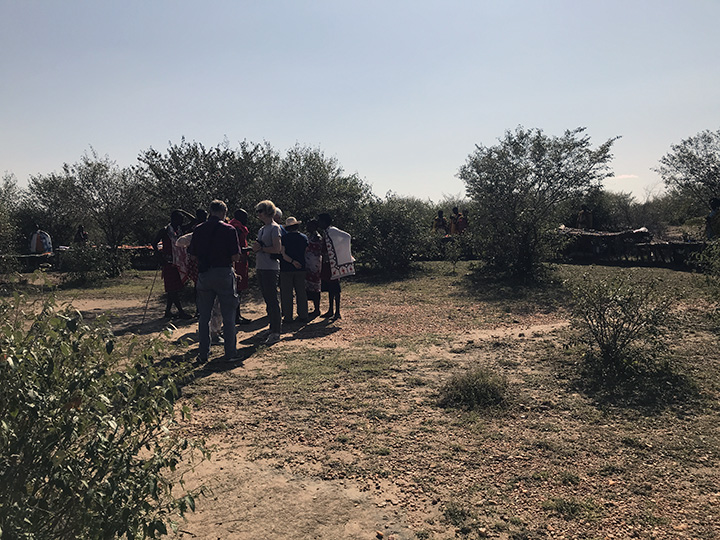 But sadly, we must say goodbye.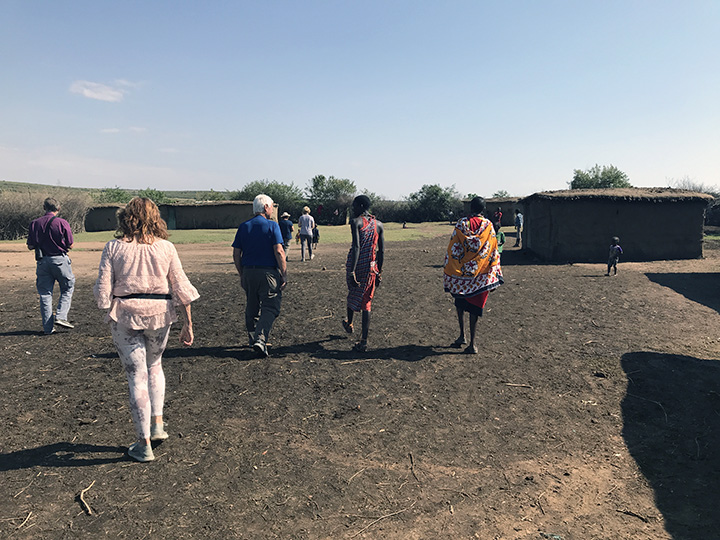 It's been fascinating. Who knows when we'll ever again visit in huts made from elephant poop?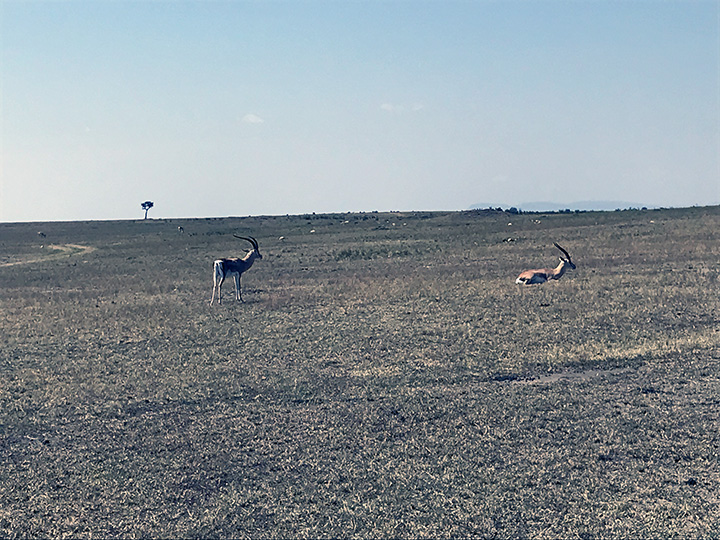 There are gazelles in Africa. Who knew?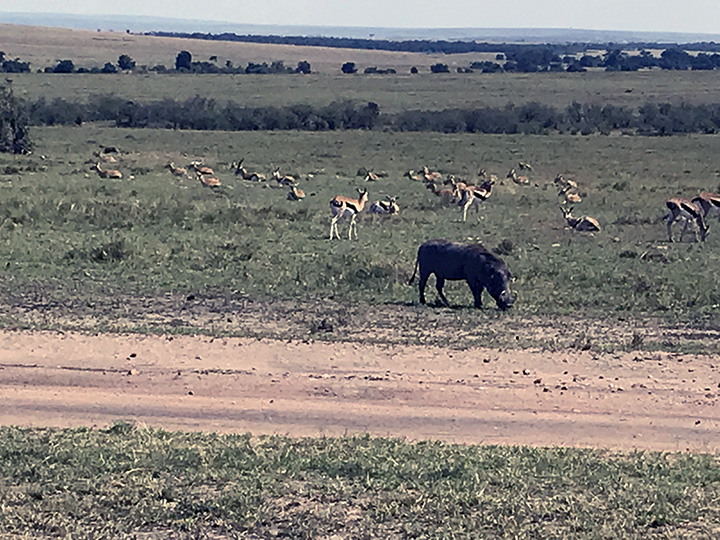 Lots of 'em. And warthogs too.
It's been great, Serengeti Plain, but we must be on our way.
Here's where we catch a plane to Nairobi.
This is where we arrived at Fig Tree Camp.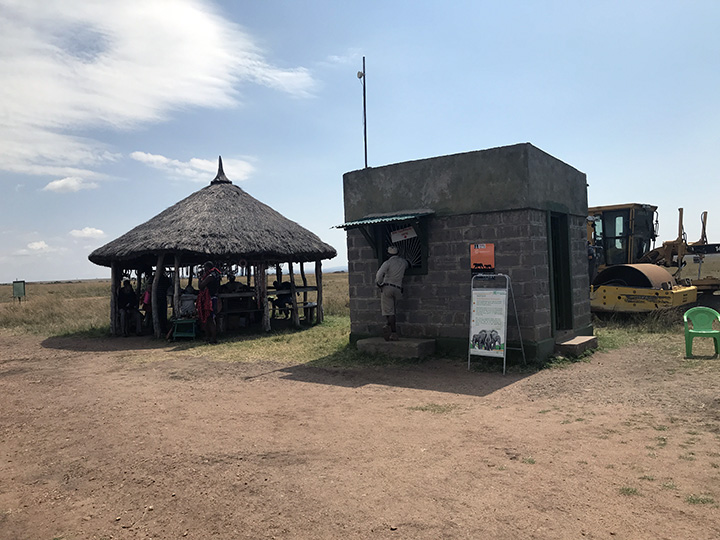 Not much has changed in the past few days.
There's a nice restroom.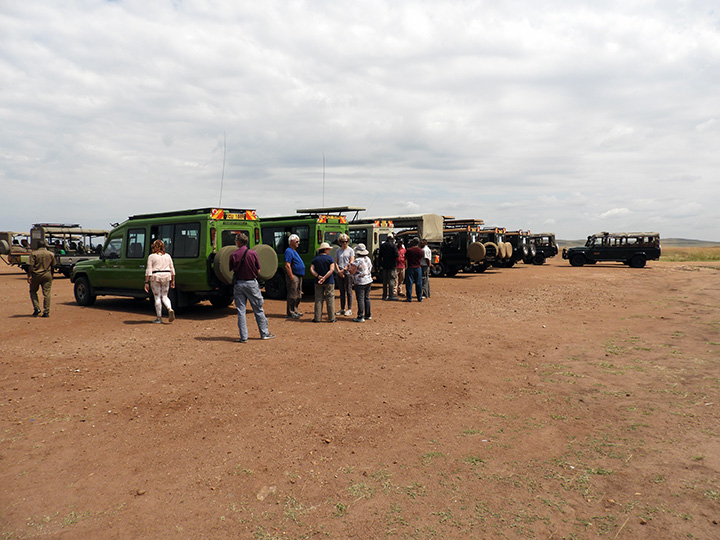 And lotsa tourists waiting to leave.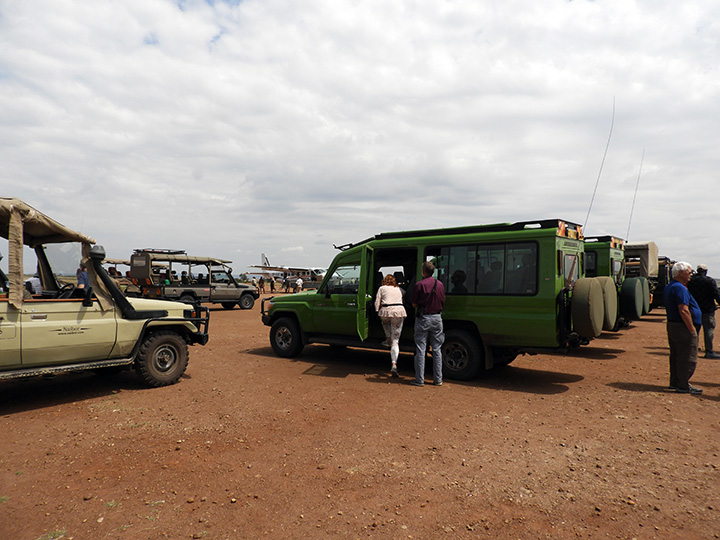 Kathy and Myras are unloading their stuff.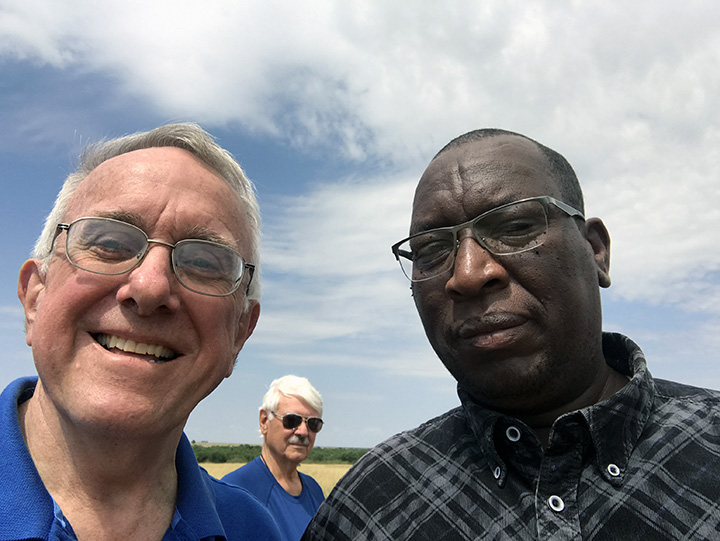 Bill poses with Kip while Jim photobombs.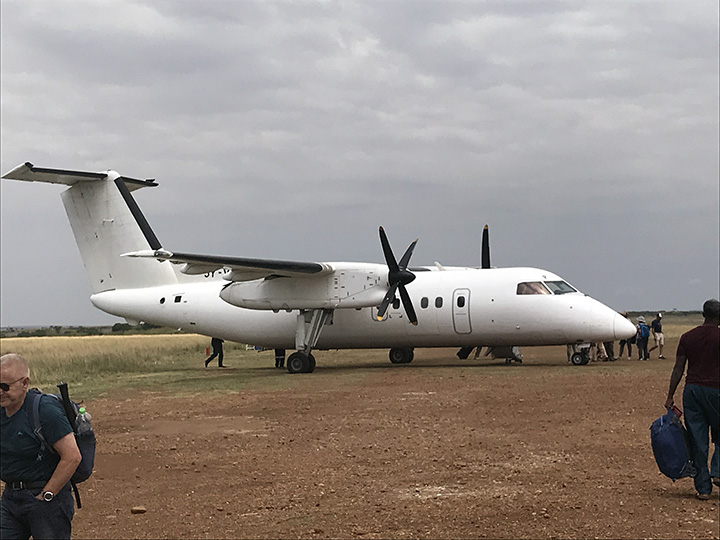 Our airship. Everybody wanted to get on and in fact, as the Road Scholars were boarding we got stopped on the ... jet bridge. Turns out about 20 other tourists had boarded the wrong aircraft and we had to wait for them to come off and retrieve the luggage they'd already placed in the baggage compartment. Not much homeland security at this airport.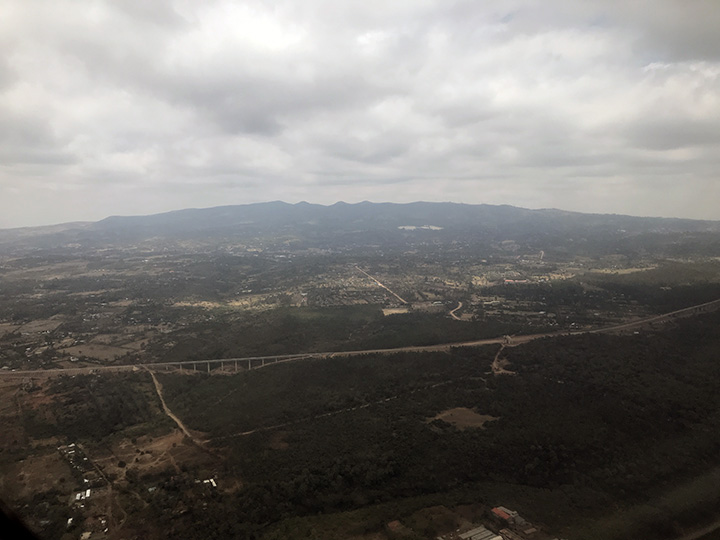 But eventually we got airborne. That's a high speed rail line down there. In some ways Kenya is outpacing the good old USA.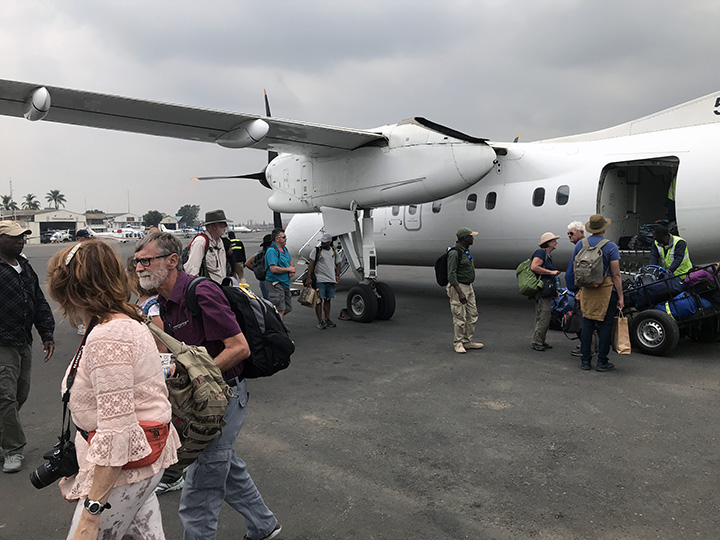 We've arrived in Nairobi. The big game safari is over, done, complete, now a fond memory. Sigh. But there still will be interesting things to do in the big city.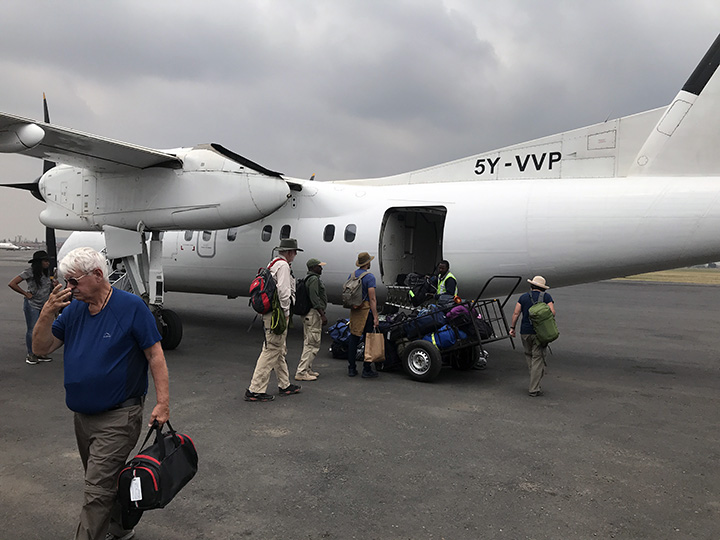 Self service baggage handling.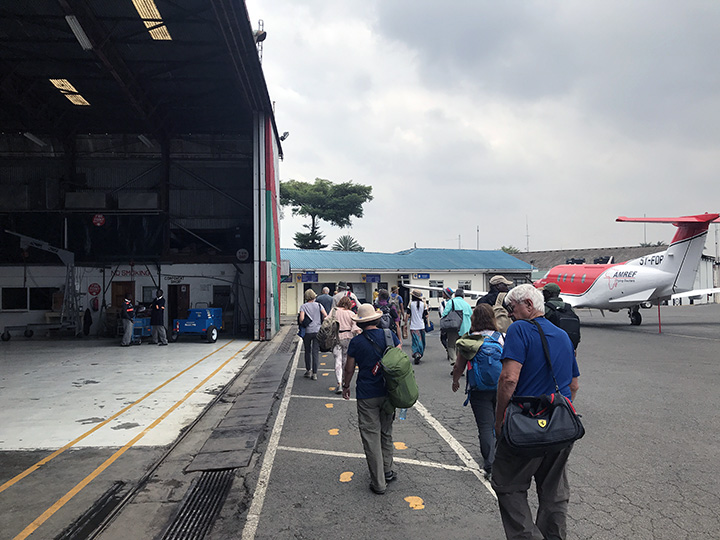 C'mon tourists, follow the painted footsteps and try not to walk into a spinning propeller.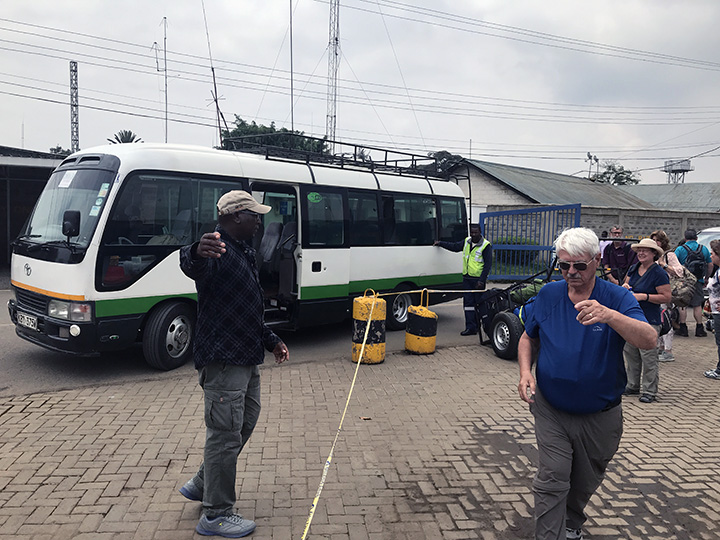 Kip rounds up the Road Scholars.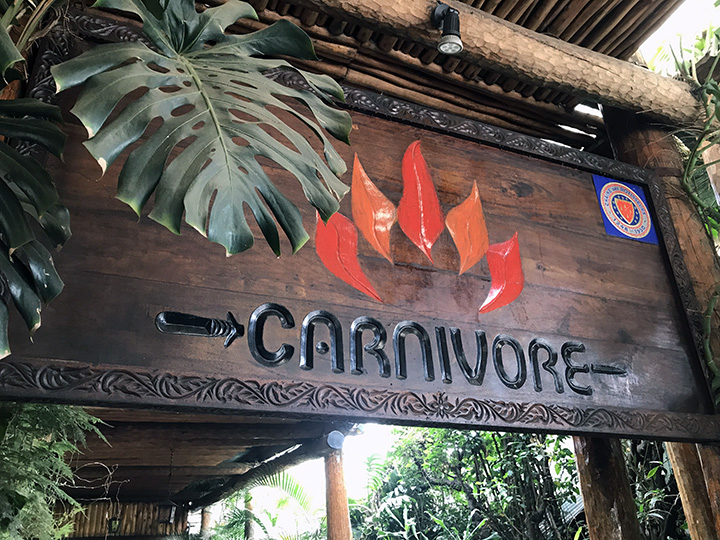 And takes us to lunch at the world famous Carnivore restaurant. No kidding, it really is world famous.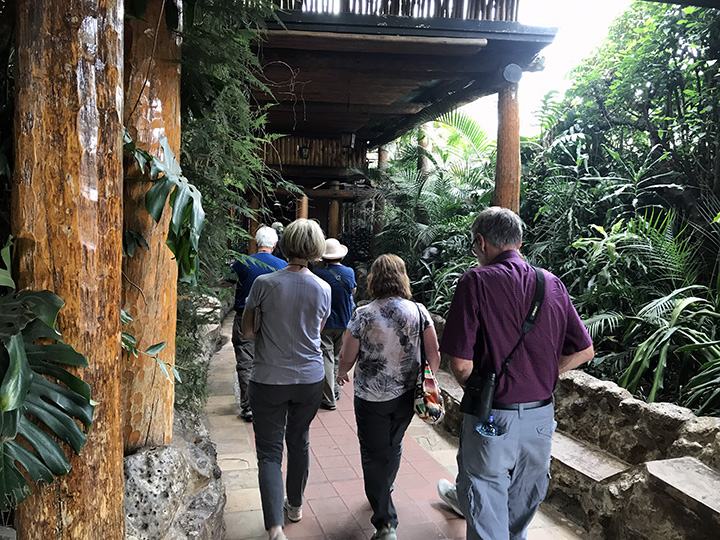 It's one of those all-you-can-eat meat places, like Texas De Brazil here in Memphis. Until pretty recently Carnivore served wild game such as elephant and Cape buffalo. But the government has cracked down on poaching in the Maasai Mara, so now they serve slightly less exotic fare.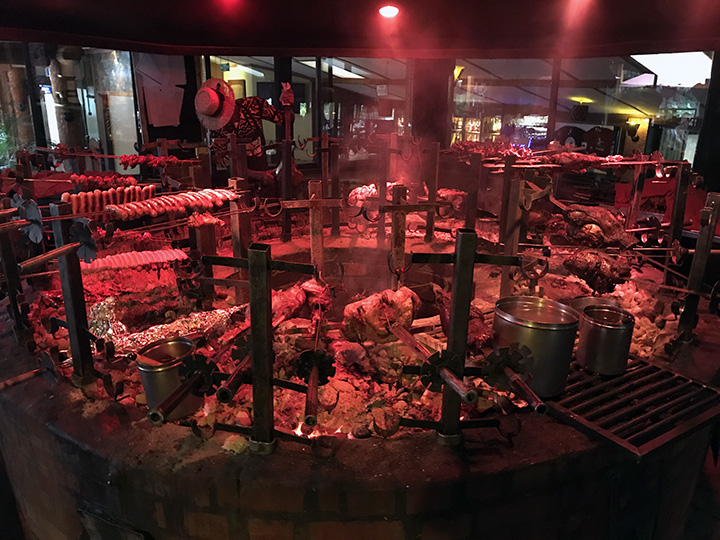 And plenty of it. Did I mention this is a meat restaurant?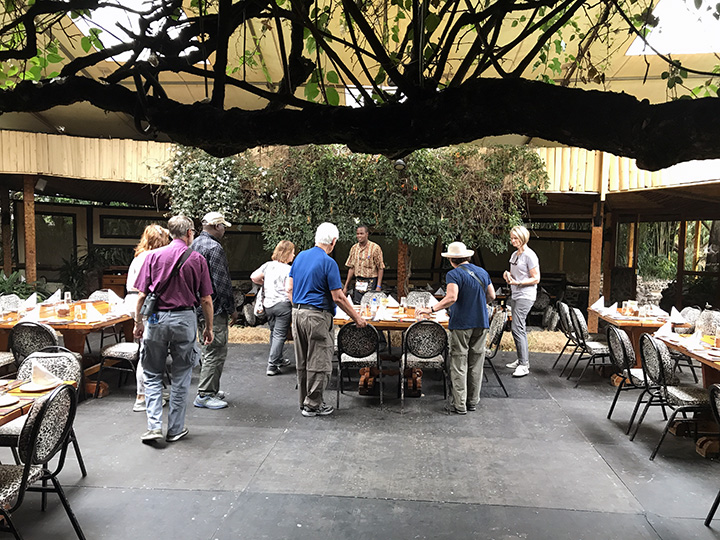 There's an outdoor dining area.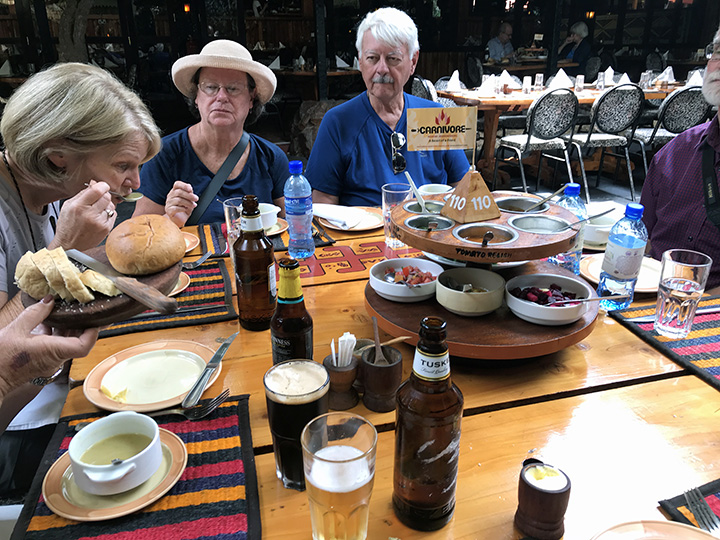 See that flag on the condiment carousel? As long as it's raised, the waiters will keep coming by the table to carve meat for the diners.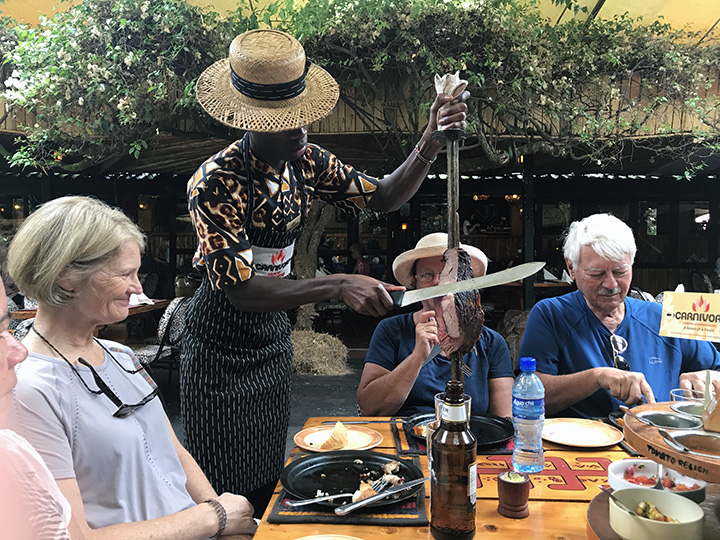 Like that. How about a little leg of ostrich, Marsha?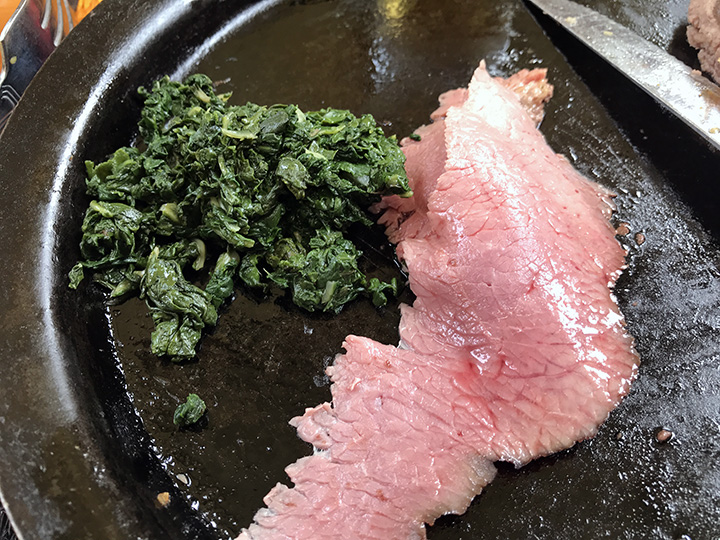 Looks good, right? The kale is not important...just look at that ostrich.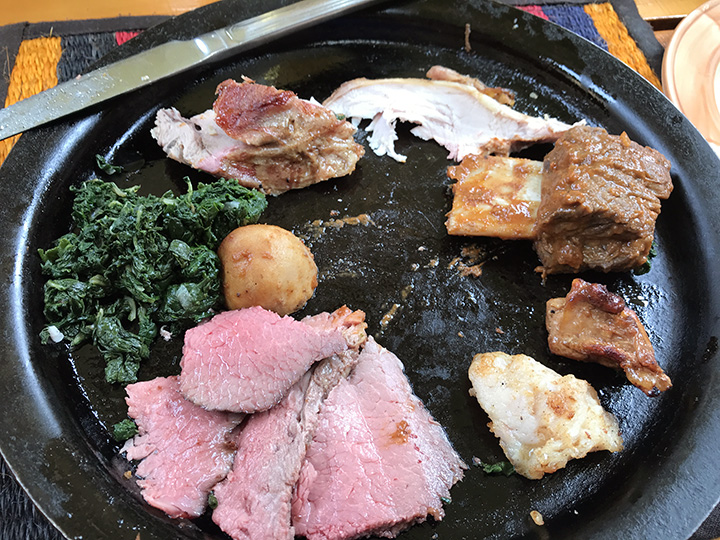 Here's my full plate. Starting at the top, above the kale, we have pork, turkey, beef rib, rabbit, crocodile, ostrich, and ox ball. Don't ask silly questions, you heard what I said: it's an ox ball. Somehow I thought it should be bigger. Anyway, it had an oddly metallic overtone and was soft but not mushy, sorta the consistency of a dumpling, and ... well I took only one small bite. But when dining at Carnivore you gotta taste ox ball just once, don't you?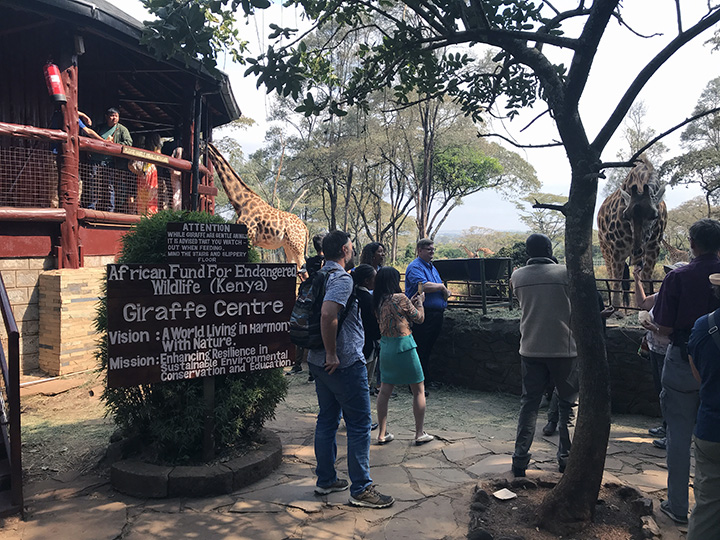 Our final tourist stop of the day is the Giraffe Centre, where I expect we'll see some giraffes much closer up than the ones out there in the wild.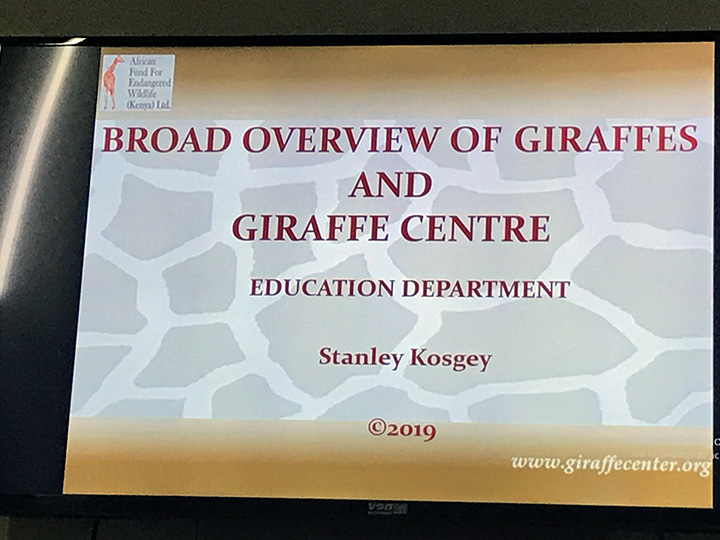 But this is a Road Scholar tour, so first let's have an informative lecture.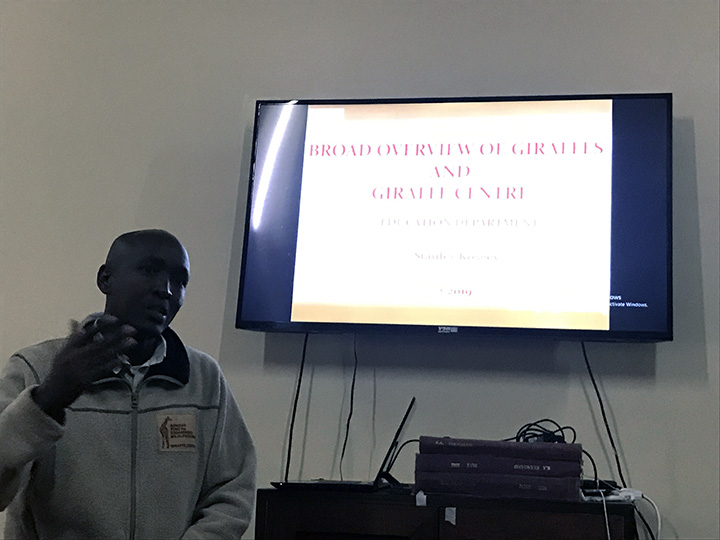 This may not have been the best lecture of the tour, or maybe I was just getting tired, but still I love this stuff. The lectures are a big part of what makes Road Scholar tours special. Wouldn't miss one for anything, even if I'm just getting tired.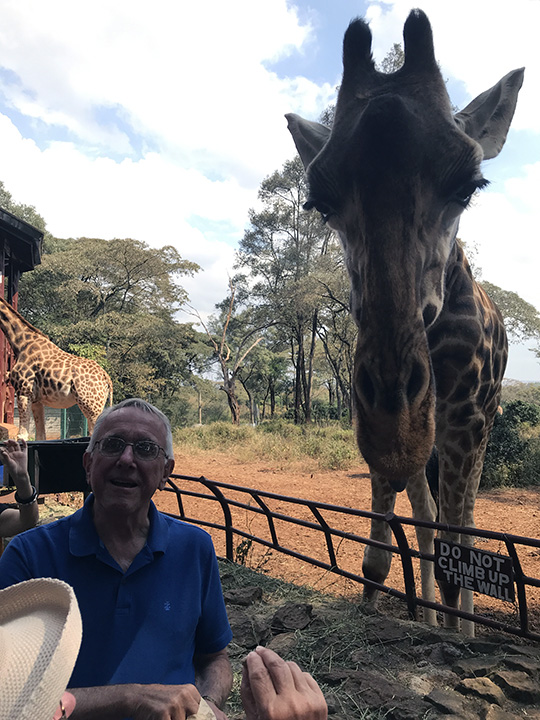 Look behind you, Bill.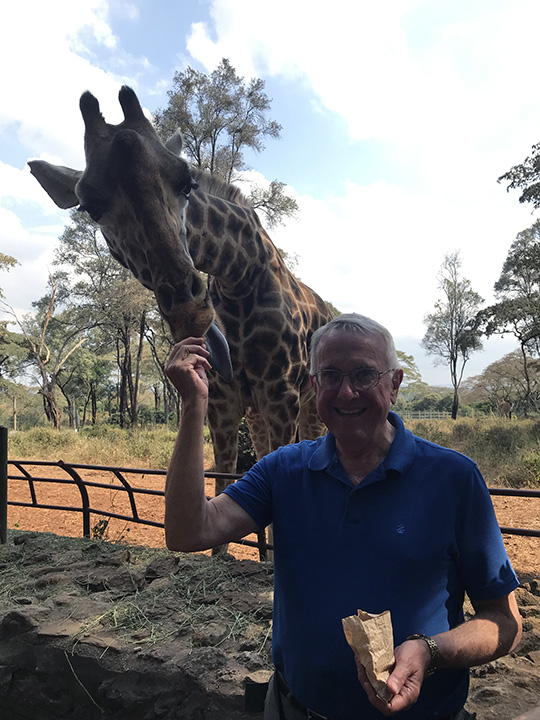 You have a new friend.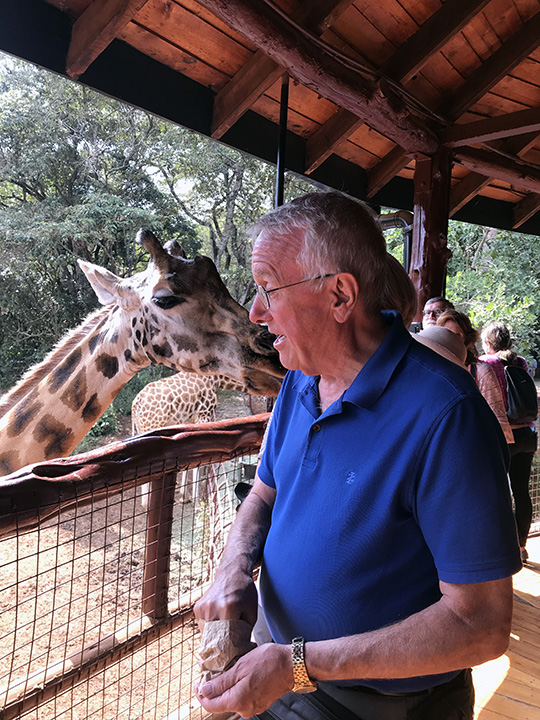 And he will be your friend forever as long as you don't run out of giraffe feed.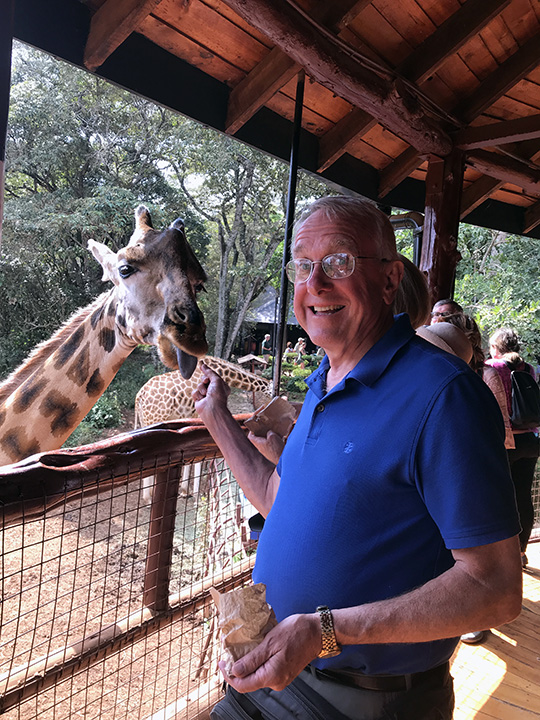 He's got one long sticky tongue.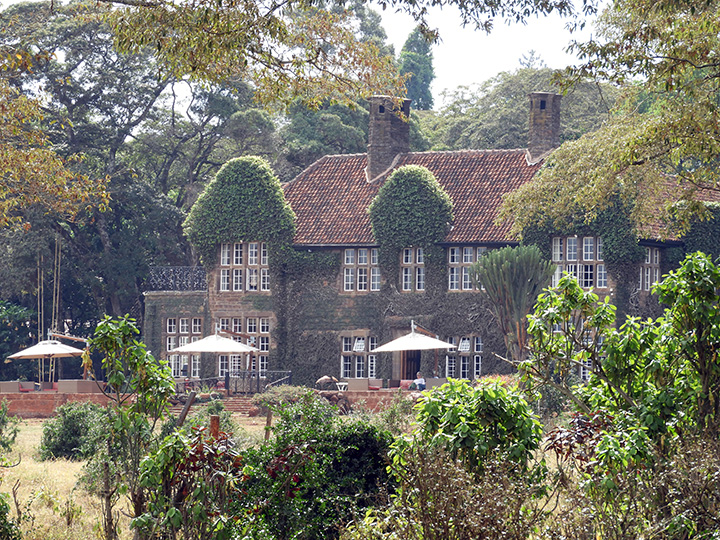 There's a nice house over there.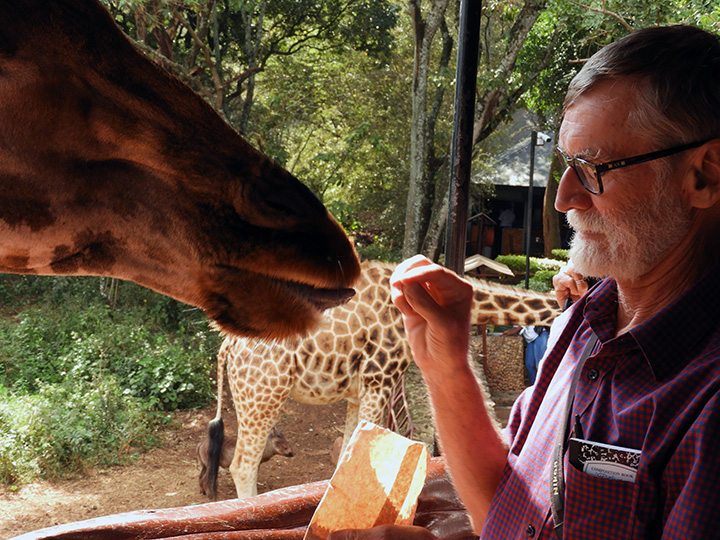 And over here, Myras feeds a giraffe.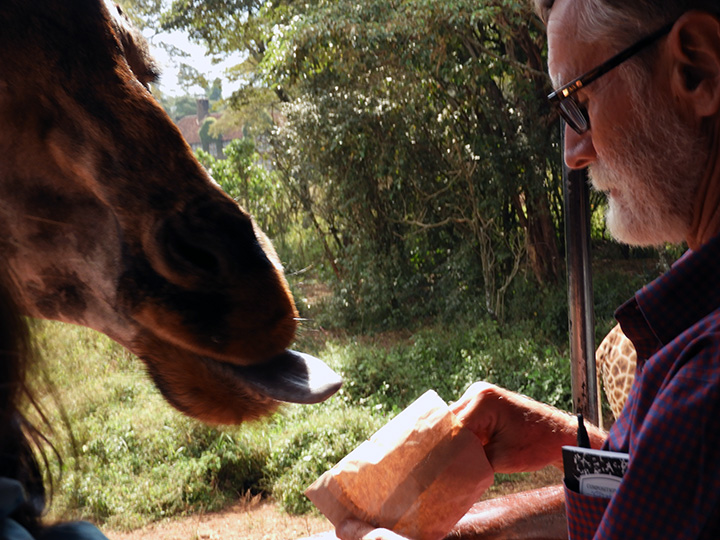 Careful Myras...I think he wants to lick up the whole bag at once.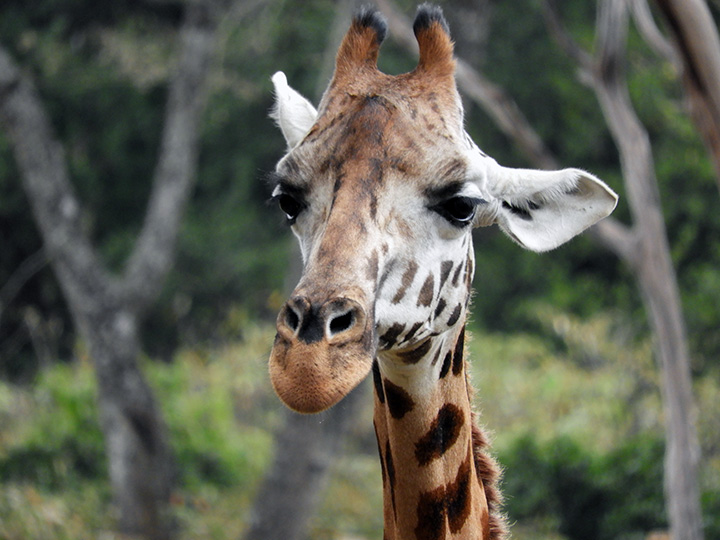 Cute little feller, isn't he?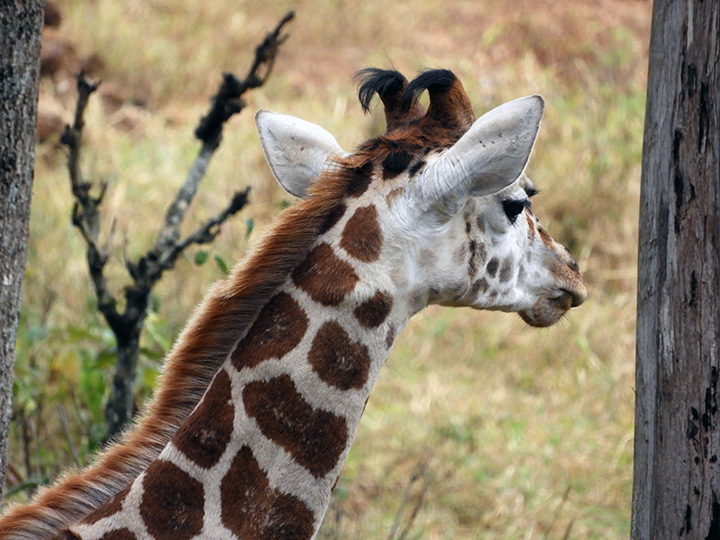 Just a baby.
More little ones.
Notice how giraffes walk, alternating from both left legs to both right legs. Not at all how most other four-legged creatures do it.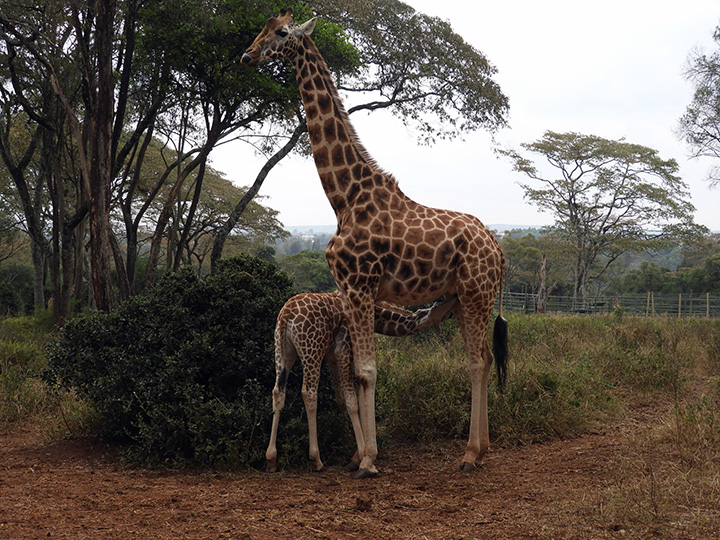 Baby is having dinner.
See all the action.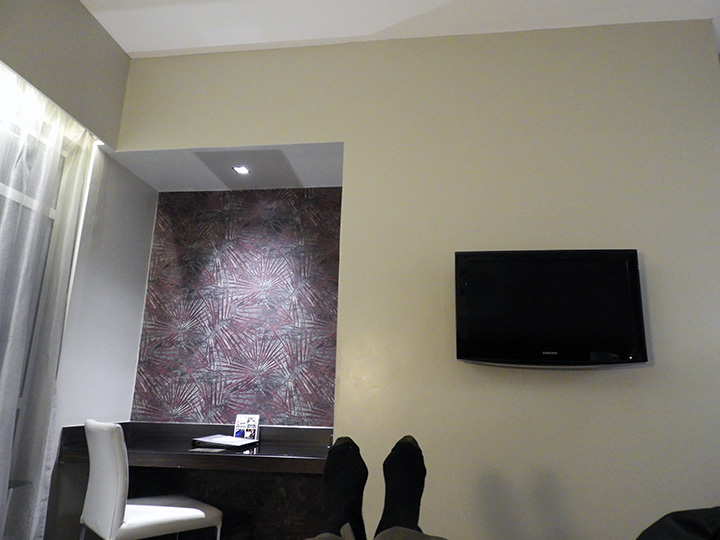 Ahhh. Back at the Eka Hotel where we started. Leaving tomorrow. Can't believe it's almost over, but boy it's been a great trip.