Next morning at breakfast I got to meet all the other Road Scholars on this trip. On my past two Road Scholar adventures I've been one of the few single travelers in the groups, but this time every one of us was traveling alone. Probably had something to do with the fact that there was no single-supplement charge this time.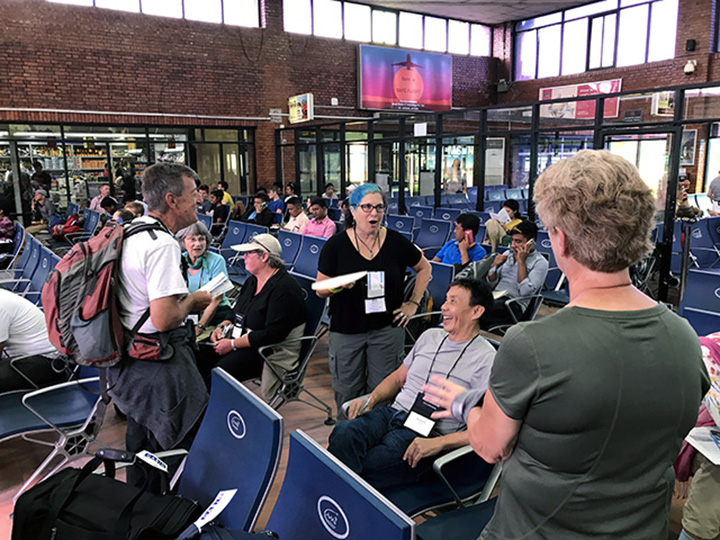 We've taken the Road Scholar bus to the airport and now we're all getting to know each other. That's Wayne with the backpack, Charlotte in the only outfit she'll have until her bag shows up in a few days, Sharon in the hat, Nina with the blue hair, Dennis with the big grin and that's the back of Jean's head. There were eight of us -- only Leslie and I are missing from this pic.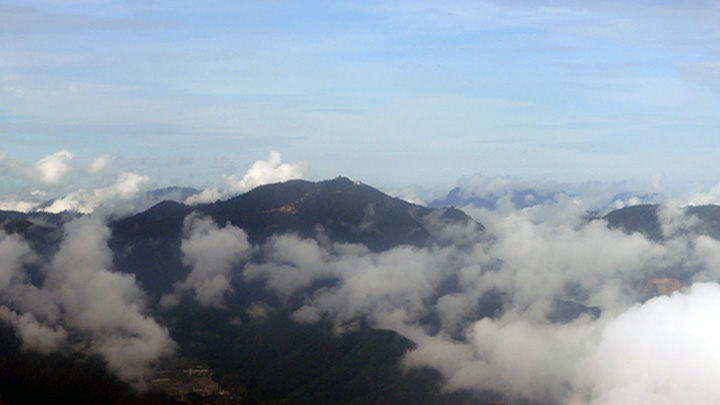 Much too late I discovered the fun on the flight from Kathmandu, Nepal to Paro, Bhutan is to sit on the left side of the airplane and take pictures of Mt. Everest. I asked, I begged, I pleaded, but I was stuck with a seat on the right side of the plane. See that mountain? It's pretty, but it's not Mt. Everest. I plan to get to the airport early enough to select the seat I want on the way back.
I'd read the Paro Airport landing approach through a mountain pass was...exciting...but it all seemed safe and normal to me.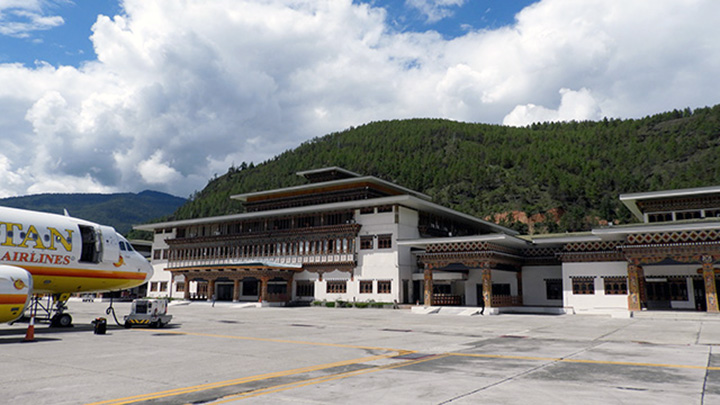 The Paro airport isn't big -- just one runway -- but it's very nice. There are several airports in Bhutan, but this is the only one that serves international flights.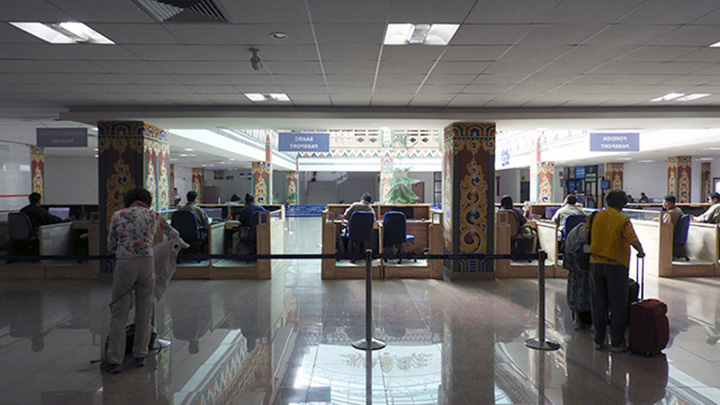 See? Very nice, and not a bit crowded.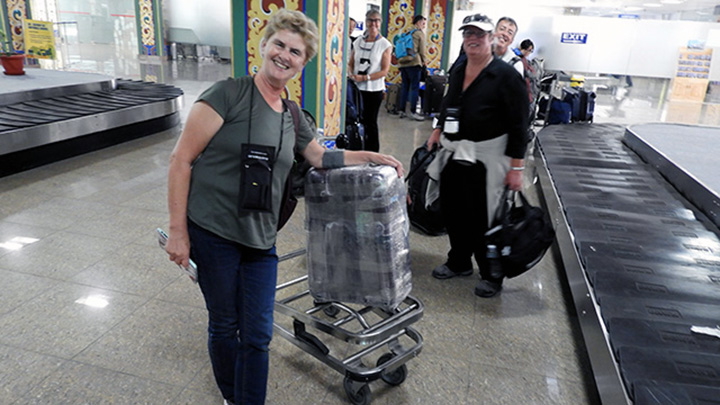 Jean's posing with her bag which had arrived busted to pieces last night in Kathmandu. The nice people at the airport helped her by sealing it hermetically in Saran Wrap. Nothing could fall out, but when the time came to change clothes Jean had an awful time getting into it. A new bag was in her future.
Now we're meeting our guide for the next two weeks in Bhutan. What a gracious host he appears to be! I think the women are enjoying this.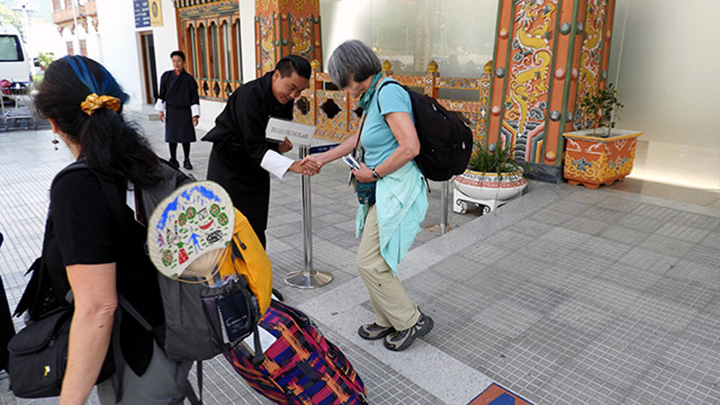 His name is Tshittim Jamtsho, but you can call him "Tim." And that other guy in formal attire is our bus driver, Sonam. Both terrific people whom we would come to respect and admire in the coming days.
Tim demonstrates the Bhutanese welcome custom with silk scarves called khadas.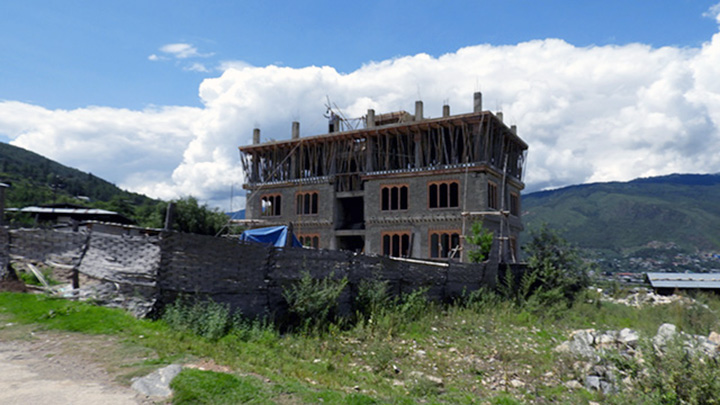 Among my first impressions was the fact that there's currently lots of construction going on in Bhutan. Certainly here in Paro, anyway.
First views of Bhutan from the bus. This is going to be interesting.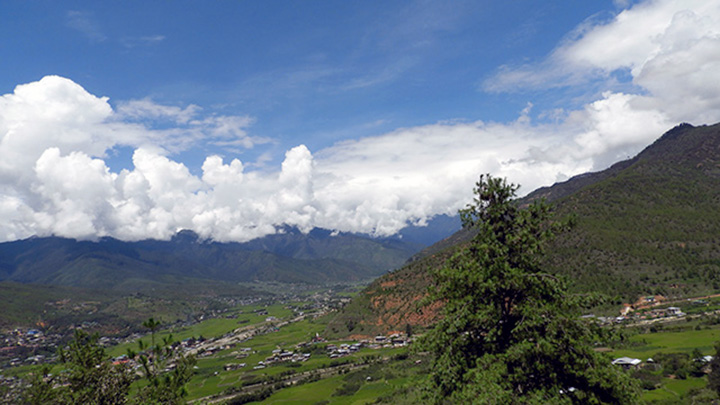 Already the scenery is spectacular.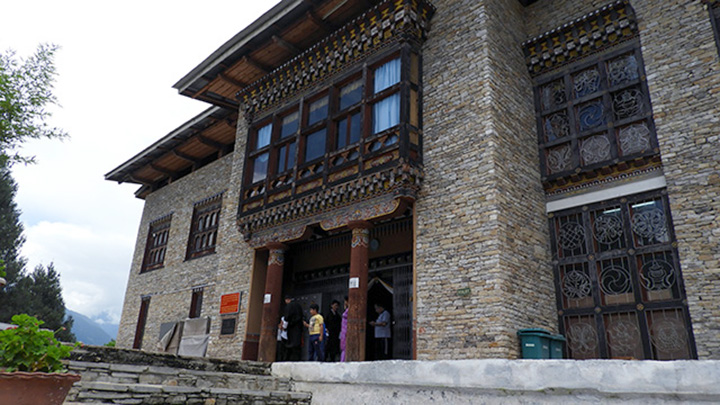 We've driven up to the National Museum of Bhutan. Nice place, but we couldn't take pictures inside. That became an unfortunate recurring theme of the trip. We visited so many amazing places where cameras were forbidden.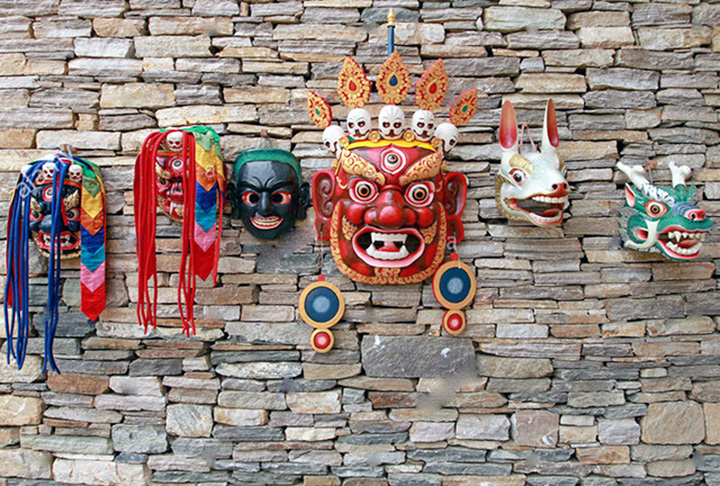 Not to worry, though...the internet will help me populate this website with images I couldn't collect in my own. This illustrates the museum's impressive collection of masks used in special celebrations throughout the country.
The view outside the museum was very nice, and at least nobody cared if I took pictures of that.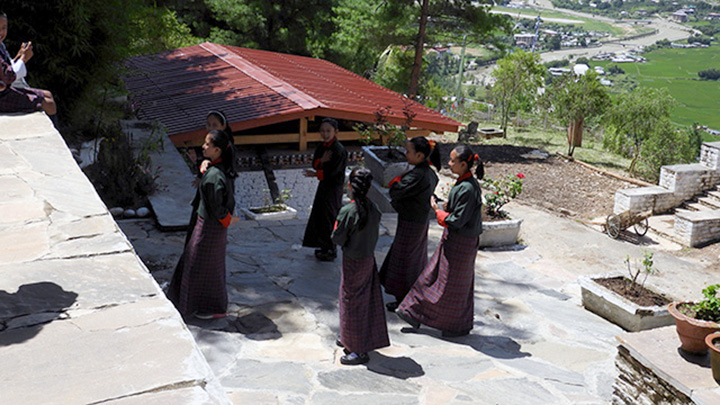 Some girls were practicing a dance.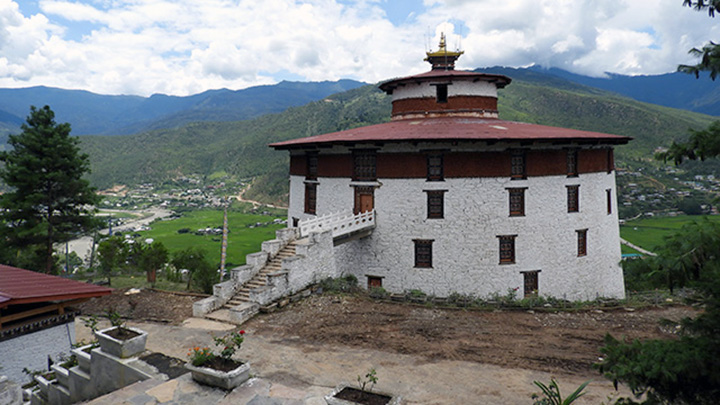 And over there is Ta Dzong, a former watchtower which used to be Bhutan's National Museum, at least until an earthquake struck in 2011. Now it's just sitting there, waiting for reconstruction to be completed. Built in 1641 it once guarded the Paro Dzong on the hillside below. A "dzong," just so you know, is a fortress. This is the first of many we'll see.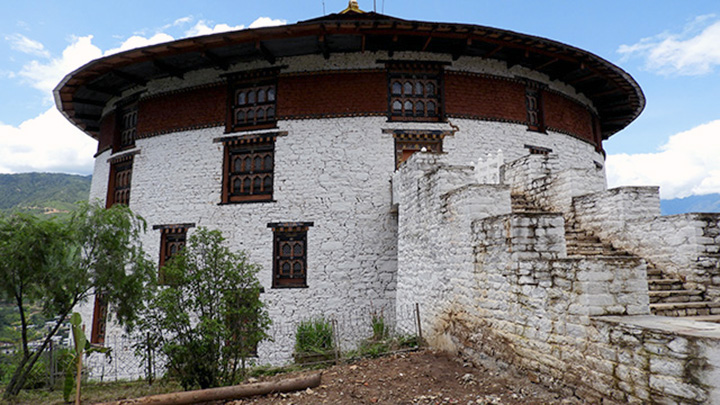 From this angle it's hard to see where the earthquake did any damage.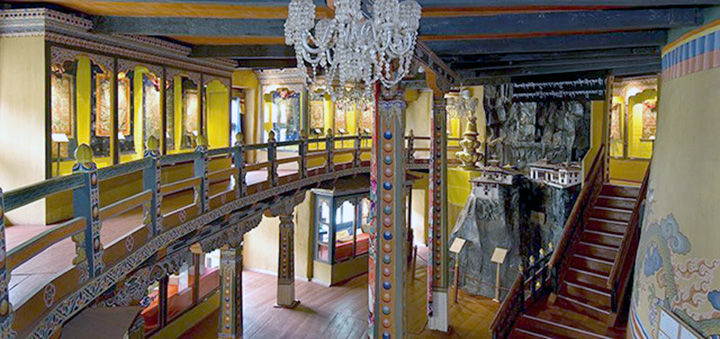 Here's something we didn't see -- the inside of the watchtower when it was the museum before the earthquake. I'd heard it was a nice museum and it looks like it really was. I grabbed this pic off the internet.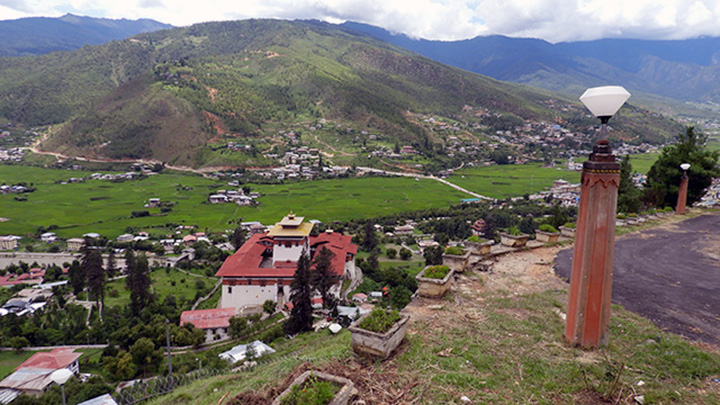 The view from up here is still pretty impressive.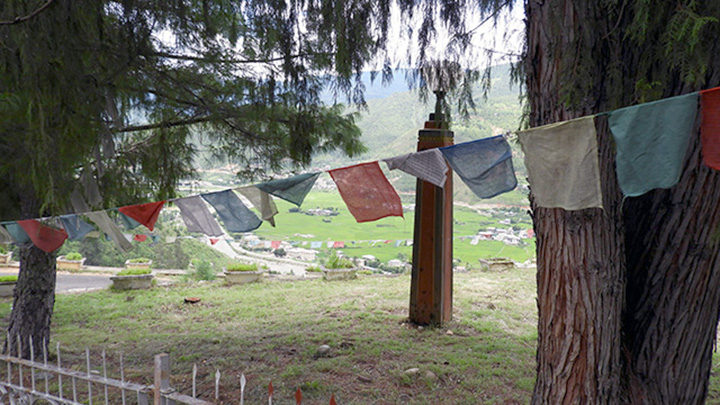 No, that's not the laundry. Those are prayer flags and we're going to see them strung up all over Bhutan. They're printed with various kinds of prayers for peace, compassion, strength and wisdom, and it's believed that as the wind blows through them the prayers float upward into the sky and spread everywhere through all of us.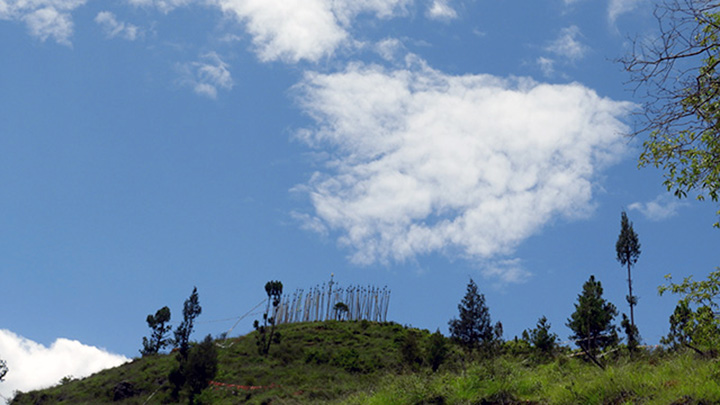 There's another set of prayer flags. Tim says when we see a group of white ones on poles like these, (yes, they're white, can't you tell?) they commemorate the life of someone who has recently died.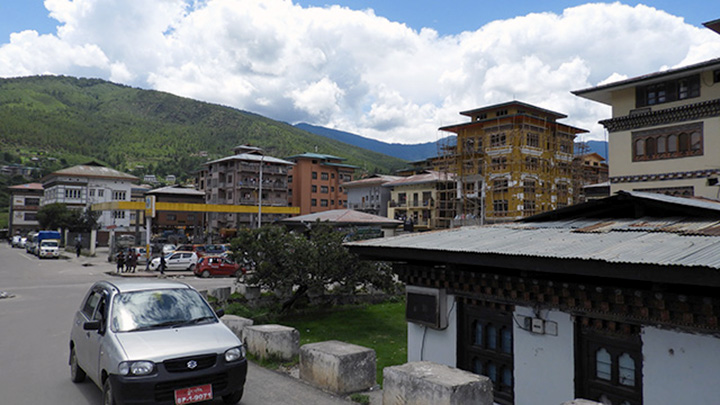 I believe that's a public plaza over there...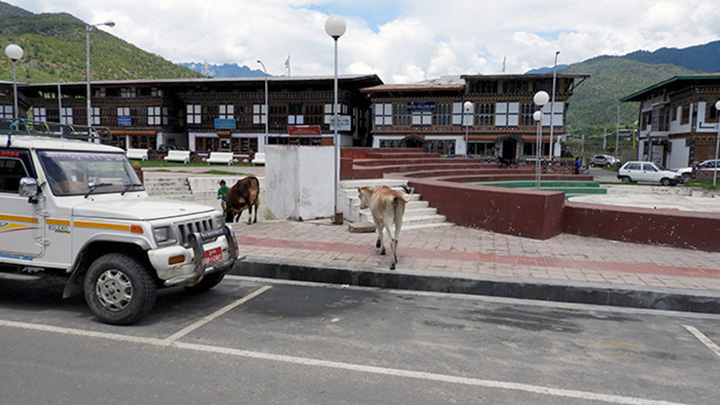 ...where there are ... cows? Turns out they graze freely pretty much everywhere around here, finding grass wherever they can, but it's not like India where cows are sacred and protected. Nope, the Buddhists in Bhutan are happy to eat meat like beef and pork and chicken -- but they draw the line at killing any sentient being -- certainly not cattle, swine and poultry. So...while Muslims wouldn't touch a pig, they're happy to slaughter cattle for the Buddhists, and while Hindus wouldn't harm a cow, they've no problem with killing pigs for the Buddhists. So with different specialty butcher shops to serve Buddhist needs, everybody's happy, except maybe for the cows, pigs and chickens.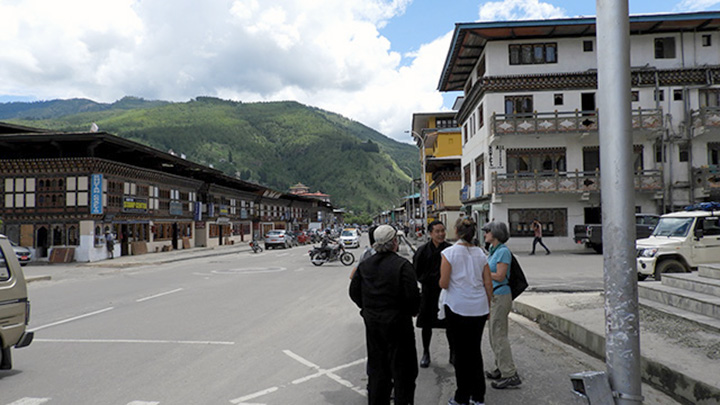 Tim is taking us to a restaurant for lunch.
Ah, good. A souvenir shop. Bhutan has learned how to take care of its tourists.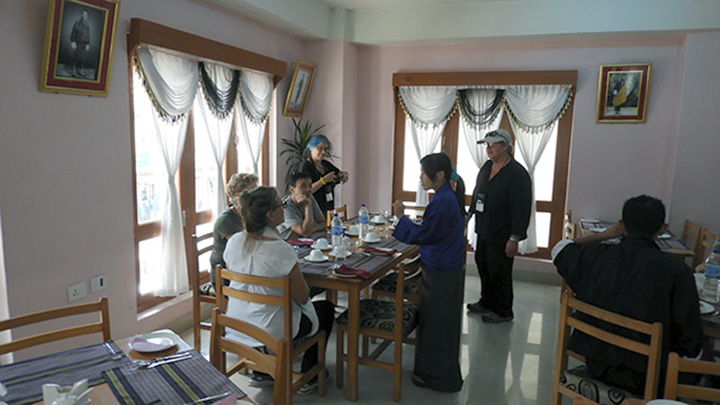 Our first real Bhutanese meal. Charlie warned me I wouldn't like the food, so I have my fingers crossed.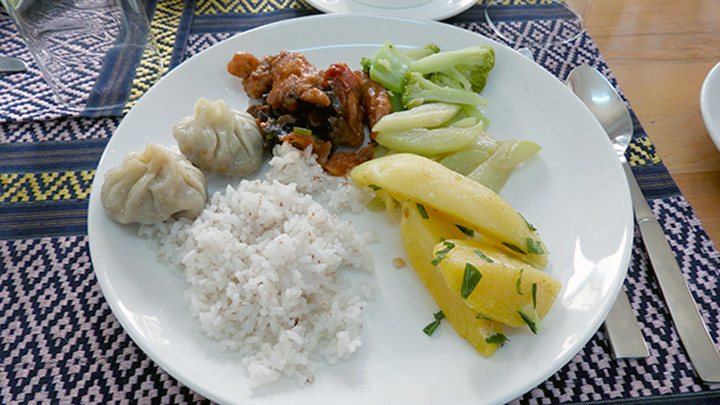 Potatoes: fine. Rice: tastes just like rice. Broccoli: if I must. Spicy chicken: chewy but fine. Those sliced things above the potatoes were referred to as "pumpkin." Apparently any squash in Bhutan is "pumpkin" in English. It was good, but it didn't taste like pumpkin pie. And those dumplings are called "momo." From Wikipedia: Momo is a type of South Asian dumpling; native to Tibet, Bhutan, Nepal, North Indian region of Ladakh, Northeast Indian regions of Sikkim, Assam, and Arunachal Pradesh, and Darjeeling, West Bengal, India. It is similar to Chinese baozi and jiaozi, Mongolian buuz, Japanese gyoza and Korean mandu. And they tasted ... fine I guess. Do you think there's enough starch in this meal? Whatever, Charlie, I pronounced this lunch good. And to get this out of the way now, while eating three square meals a day on the Road Scholar diet plan (please pass the carbohydrates) I gained 10 pounds on the trip.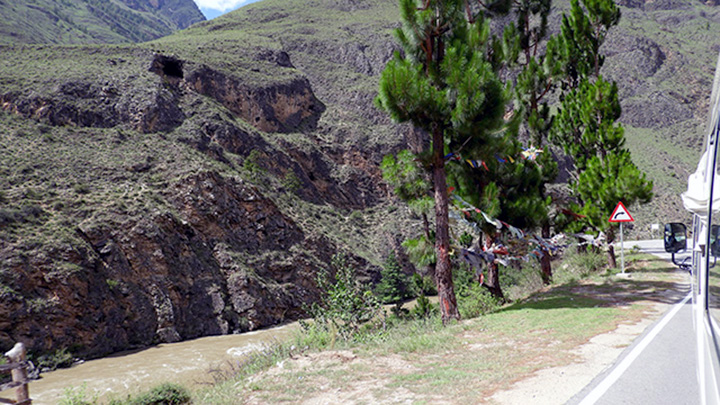 Bill, quick, snap a picture of those prayer flags! They may be the last you'll see on this trip! (Yeah, right.)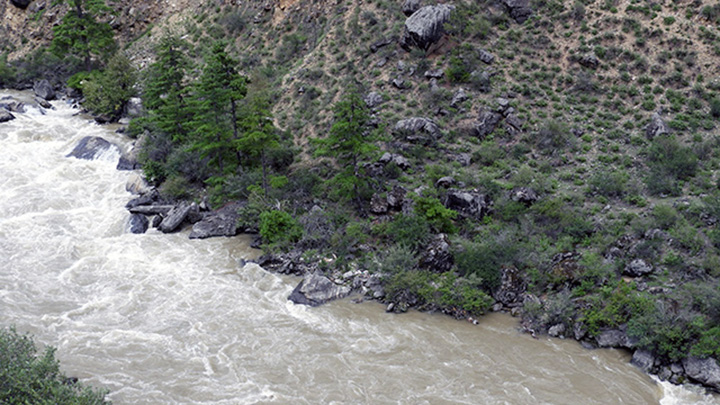 This isn't just a picture of a pretty mountain stream. I think there's something down there on that rock.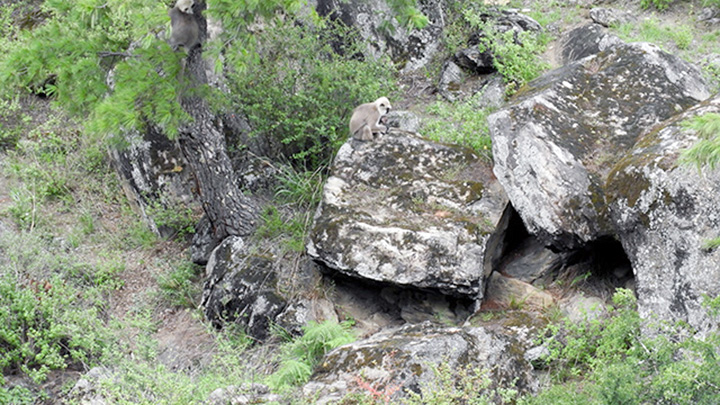 Using the zoom lens...see it now?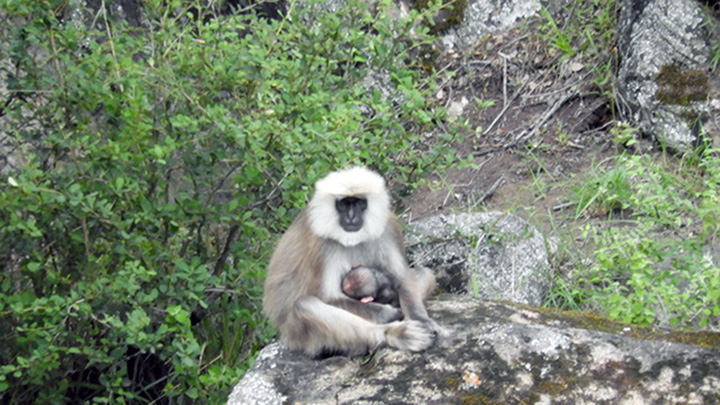 They have monkeys in Bhutan!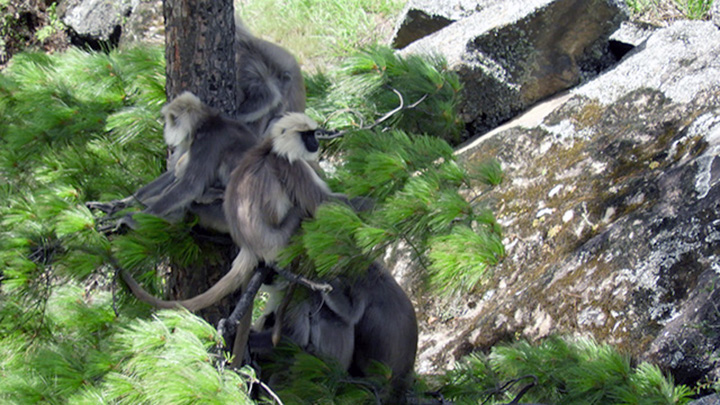 Bunches of them.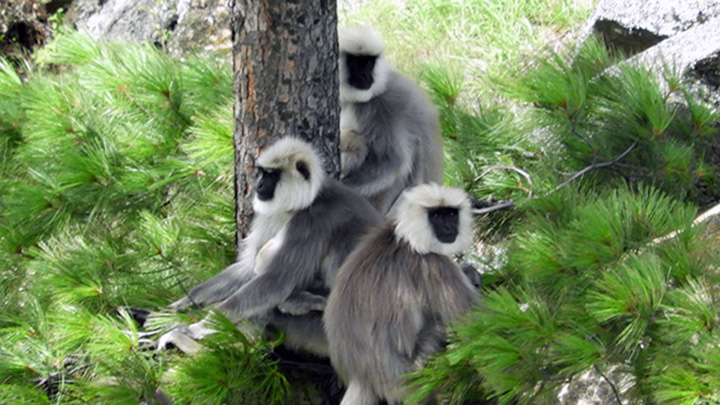 Tim says they are "gray langurs."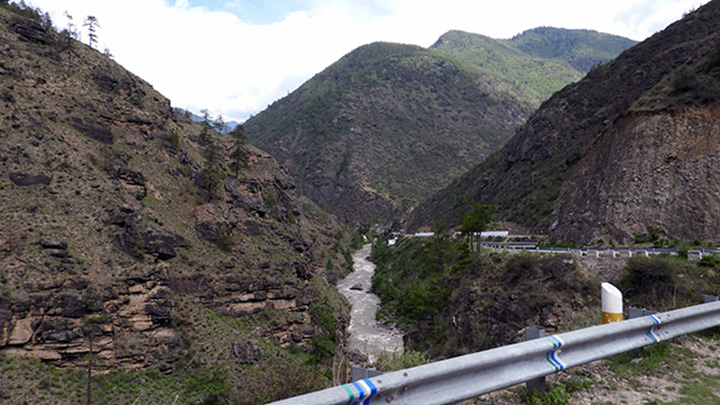 Every time I'd see a pretty scene I'd snap a picture. I discarded, literally, over a thousand of them when choosing pictures for this website. But there were plenty left over, so get used to them.
Wait a minute...what're those little things scattered among the rocks?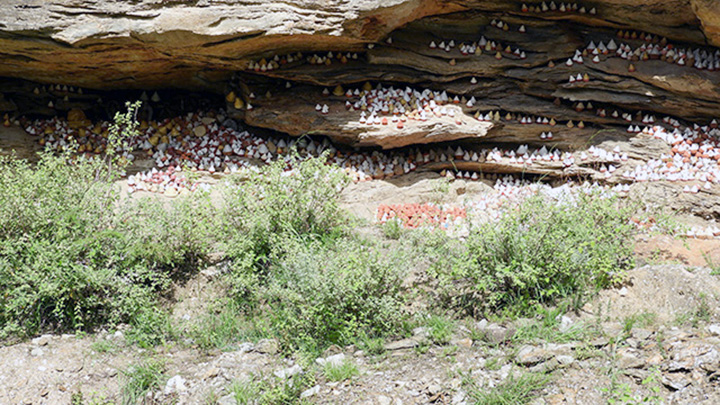 They look like cupcakes.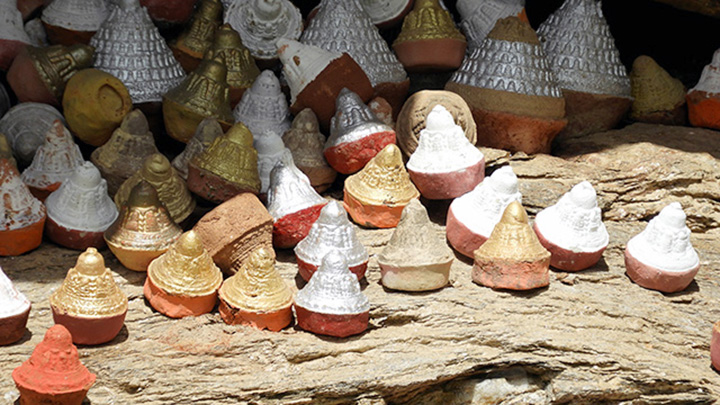 In fact, that's what Tim called them. But surely they're not edible?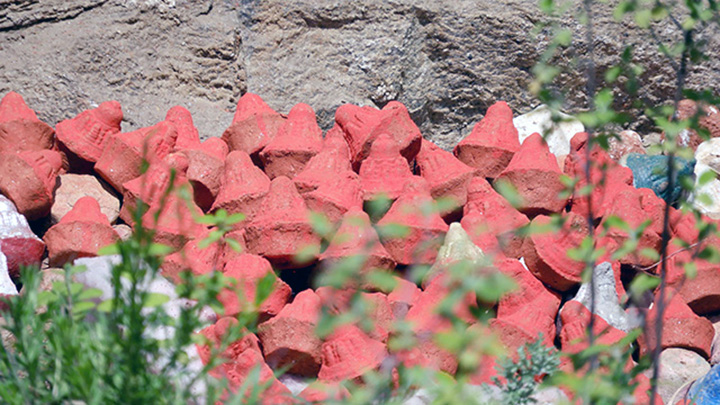 Oh, no, they're not edible. They're properly called "tsa tsas" and they're made of molded clay mixed with the funeral pyre ashes of a beloved relative. Usually they're painted white, but sometimes gold or red or blue or whatever color grandma liked best, I guess.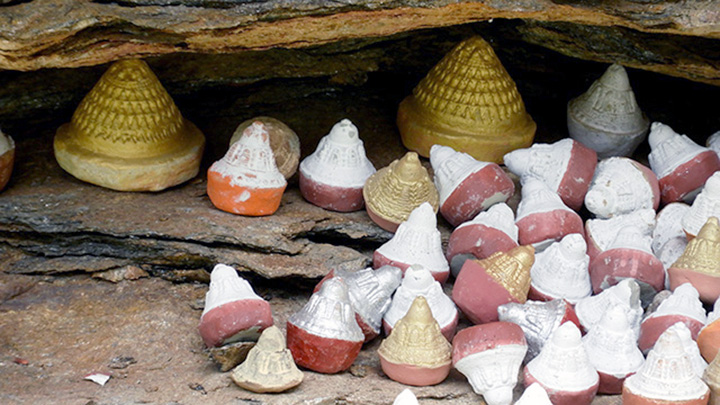 And they're left in a sheltered place, but still out in the open so that over the years they will deteriorate and the deceased person's ashes will become one with nature again. Nice, huh?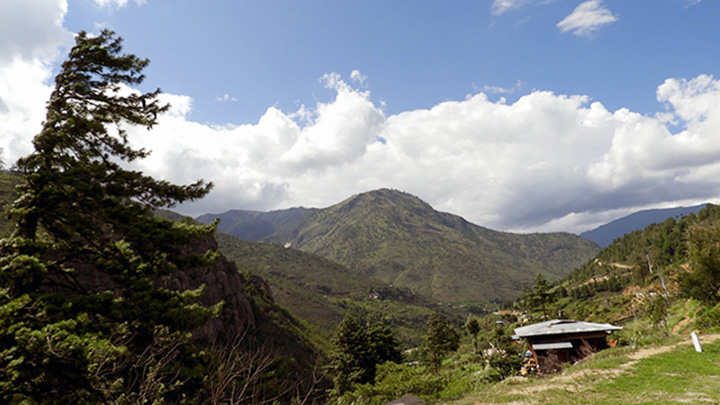 Another pretty scene. I warned you.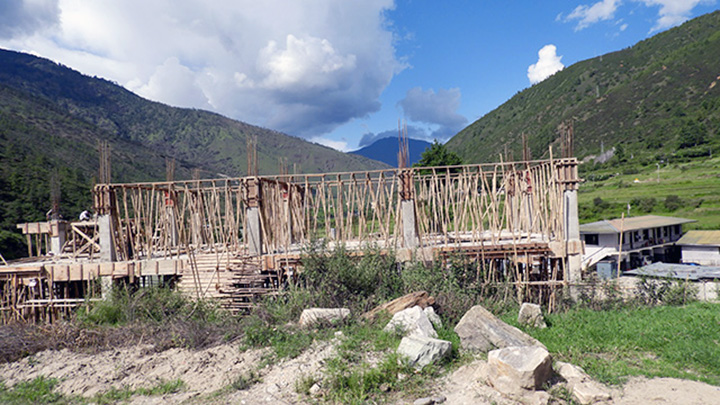 New construction in Bhutan requires lots of bamboo.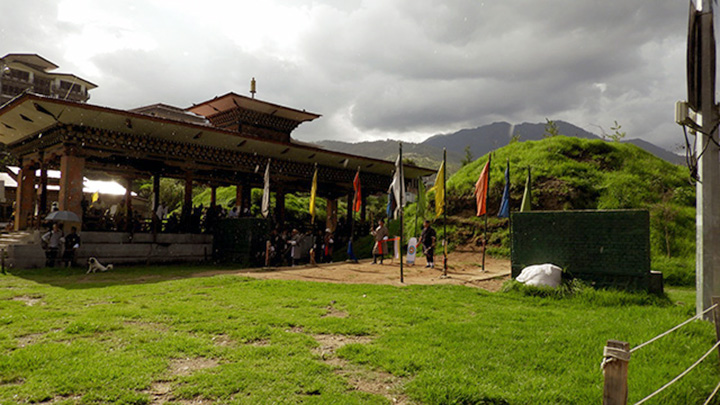 Tim has stopped the bus at an archery tournament.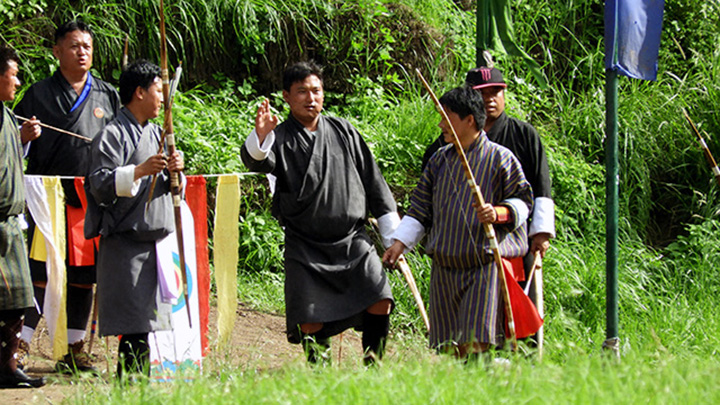 Archery is the national sport of Bhutan.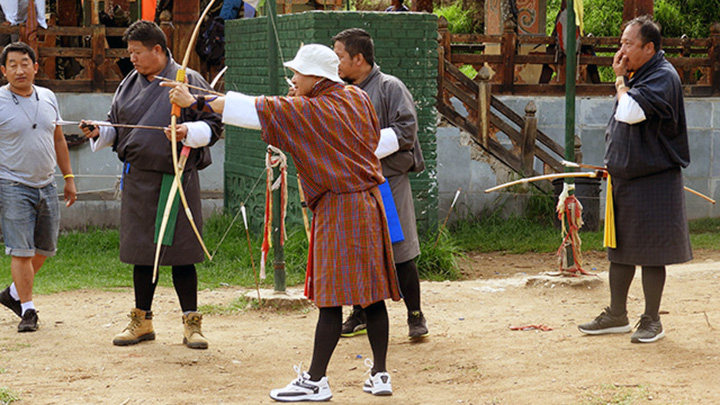 And these guys are just participating in a friendly archery match at a local park. The arrows are made of bamboo.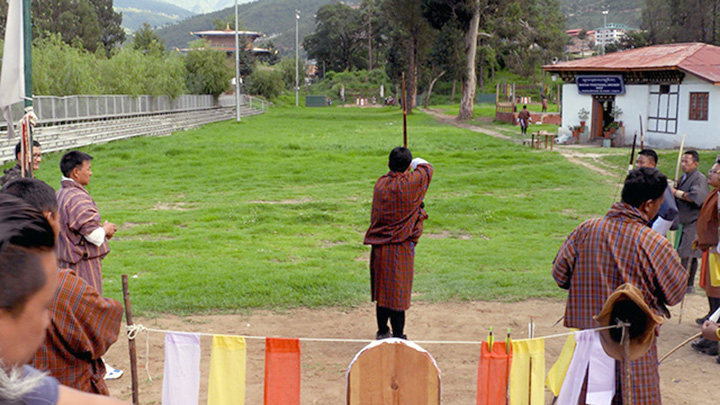 It's a long way down there to the target.
They take this game very seriously.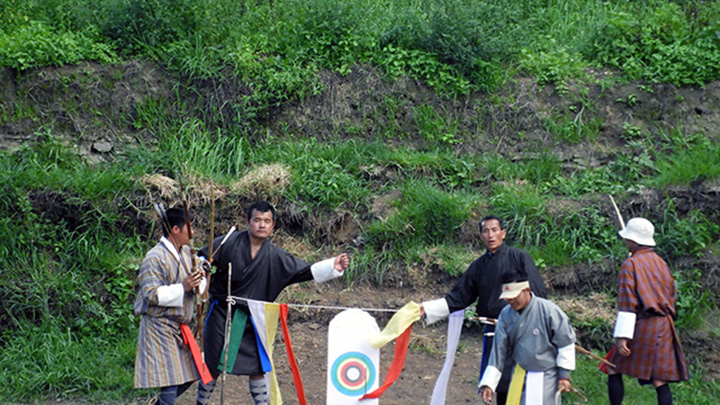 And they seem to have no fear of standing where the arrows fly. Tim says when you're right next to the target it's easy to see the arrows coming and you just step out of the way if one's coming toward you.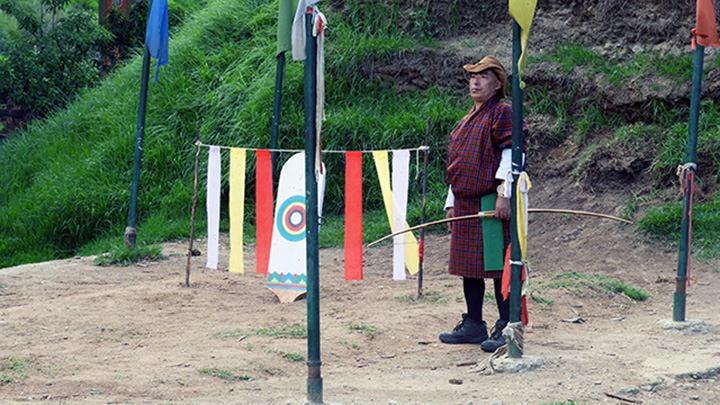 See, this guy isn't worried. Actually, Tim confided that they always choose the guy they like the least to be the spotter.
For a fuller explanation of Bhutan's national obsession with archery, here's a short video I found on YouTube.
But there's one aspect of all this that the YouTube video doesn't explore. Here, let Tim explain the booby prize.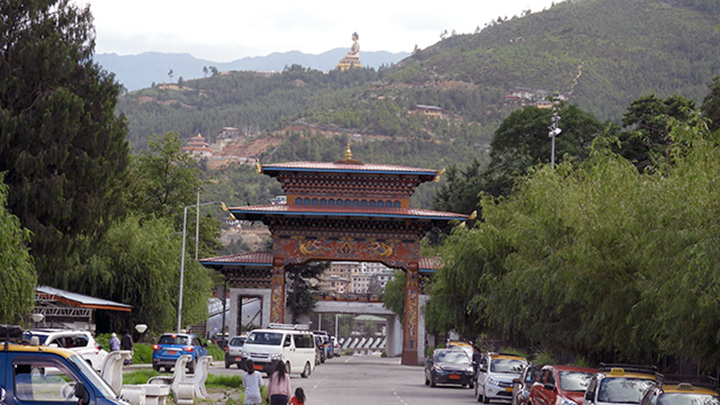 Golly that's a big statue up there on that hill. I suspect we'll get to see it up close eventually.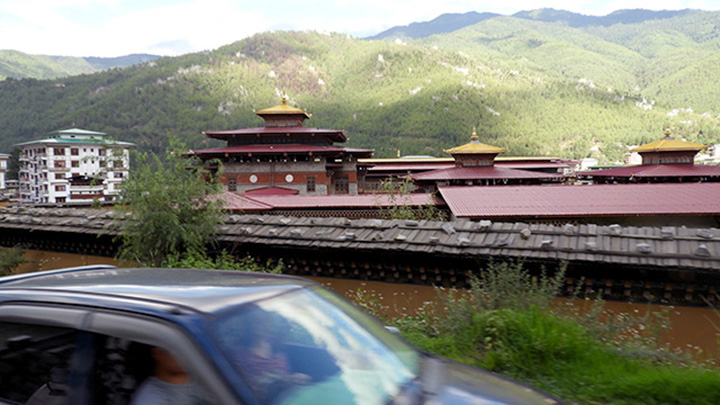 Tim says that big building with the red roof is Bhutan's Supreme Court.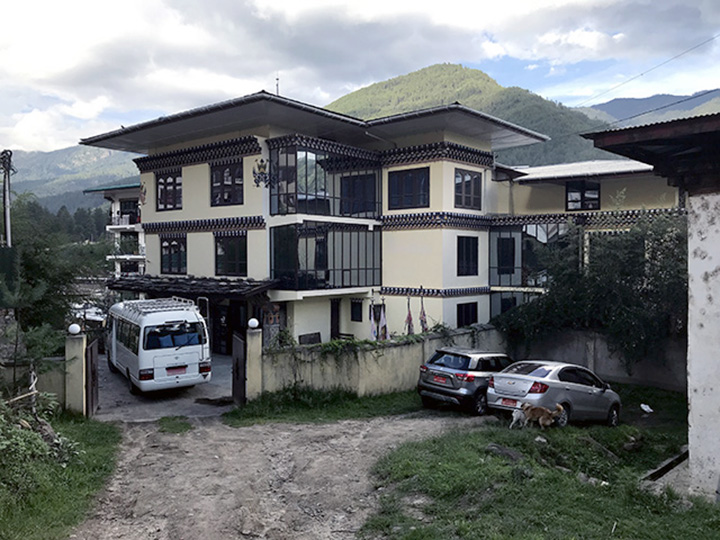 We've arrived at the wonderful Pamtsho Hotel, where every stay is unique.
Not big, but nice.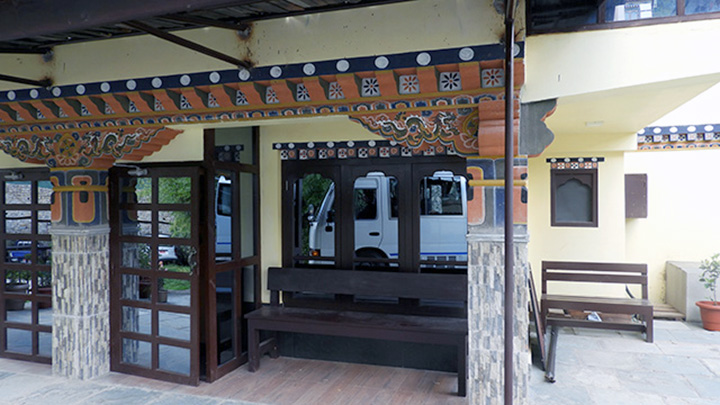 Colorfully decorated.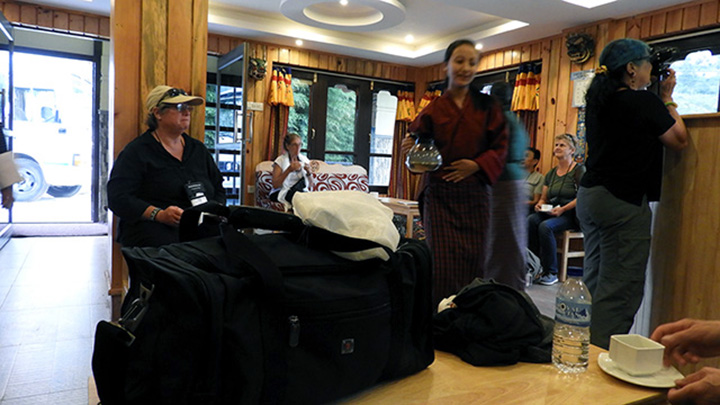 And they served us tea while we waited for our room keys. I think I'll like this place.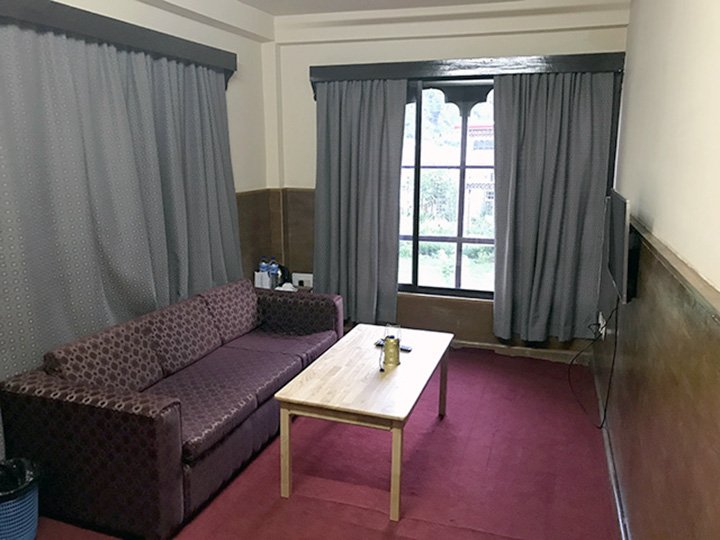 The rooms were arranged in suites with two separate rooms and a common area. This is the sitting room I shared with Jean.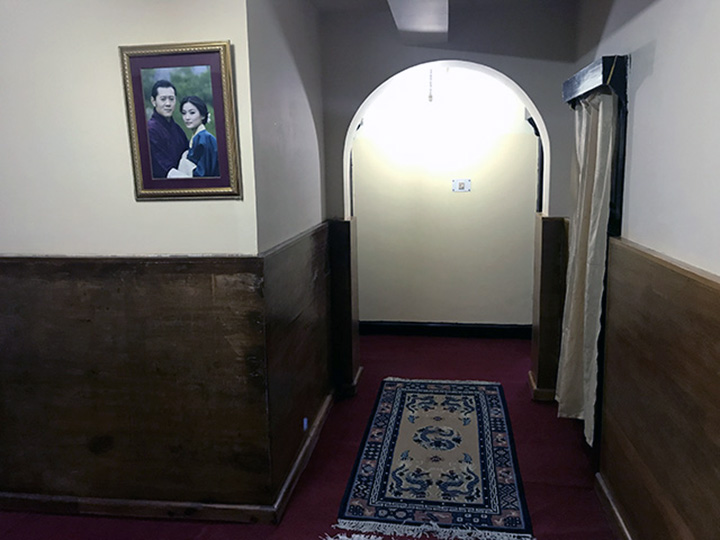 Our rooms were on opposite sides of the hallway through that arch. The King and Queen of Bhutan keep watch.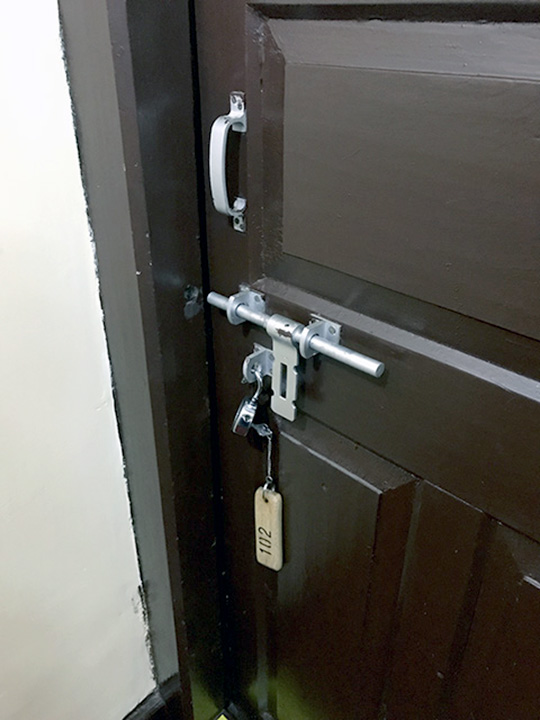 But I never did figure out why I needed a massive padlock mechanism on the outside of the door to my room. Sure hope Jean doesn't lock me inside.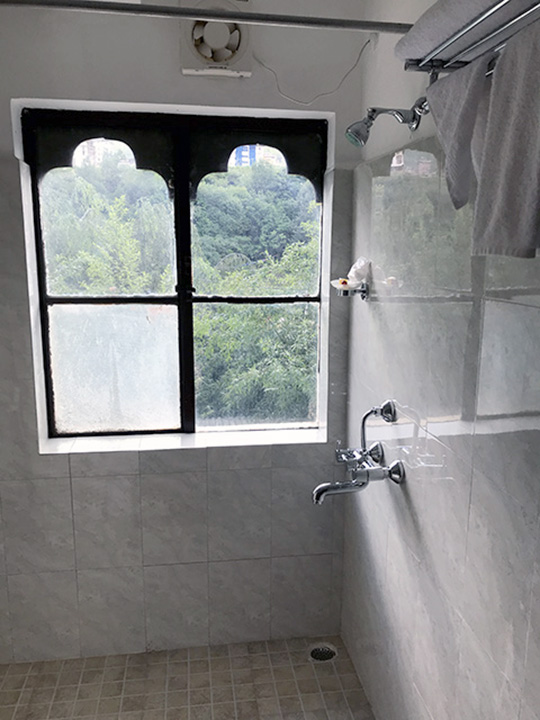 There was a nice shower that included a fancy bathtub spigot. But there was no bathtub. I dunno, I just dunno.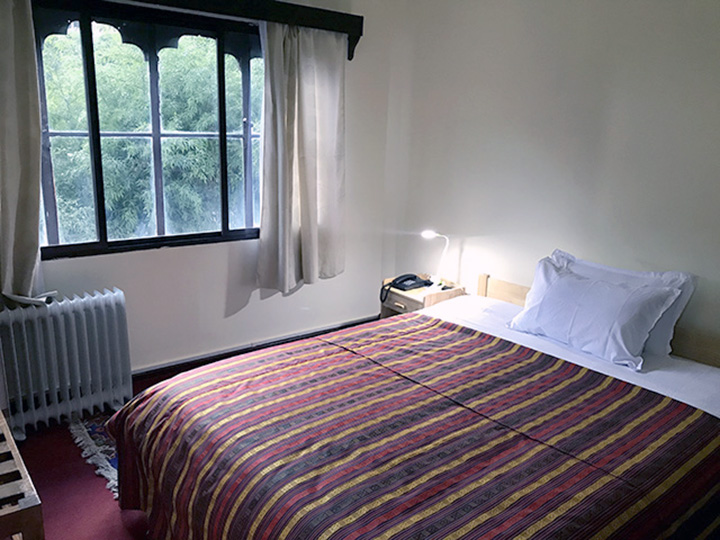 Nice bed though.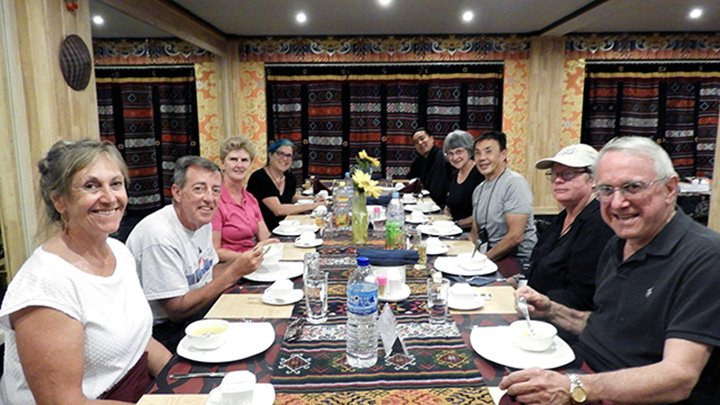 And here we are, all the Road Scholars plus Tim back there on the end. Starting on the left we have: Leslie, Wayne, Jean, Nina, Tim, Charlotte Dennis, Sharon and Bill, who's getting ready to chow down and start gaining that 10 lbs.