OK, that's enough big city. Today we'll depart Thimphu and head into the hinterlands.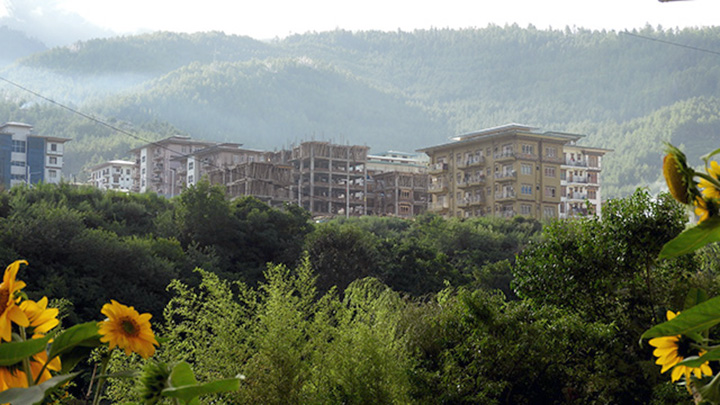 Lots of construction going on around here. Apparently much of it is funded by foreign investment, but there are laws governing that -- laws that prevent outsiders from taking over the country. Foreigners can invest in real estate here only if they funnel the money through Bhutanese citizens. Or so I understand.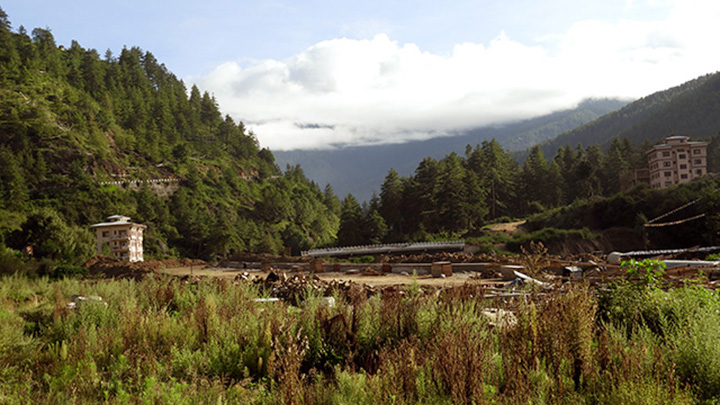 The beautiful scenery never grew old and I took lots of pictures. So get used to it. This was the view from the hotel. Note the road construction in the foreground. Thimphu is booming.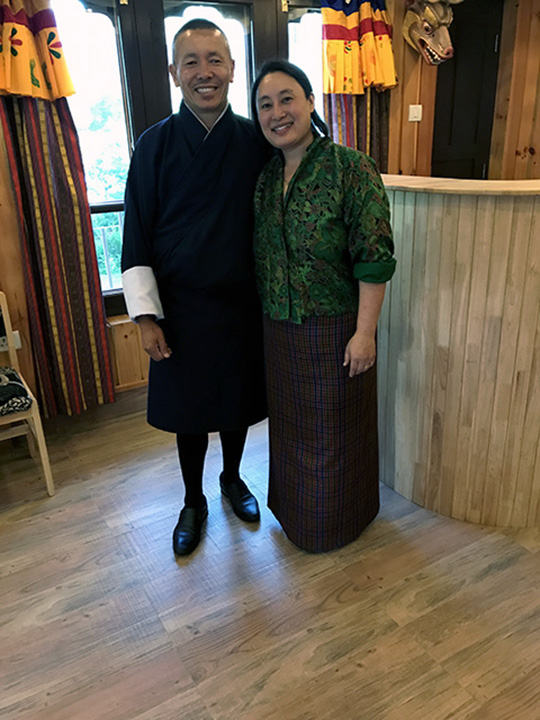 We hate to say goodbye to the nice proprietors of the Pamtsho Hotel, but it's time to hit the road.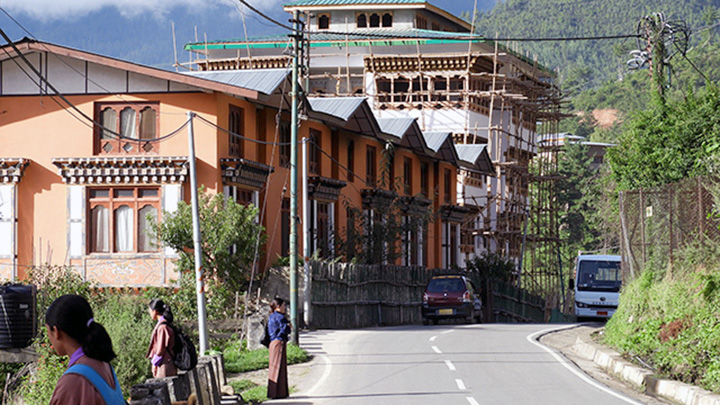 And what's the first thing we see? More construction.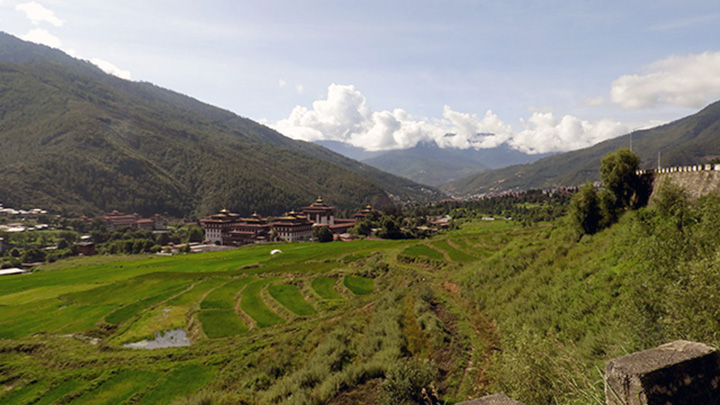 Pretty views, too.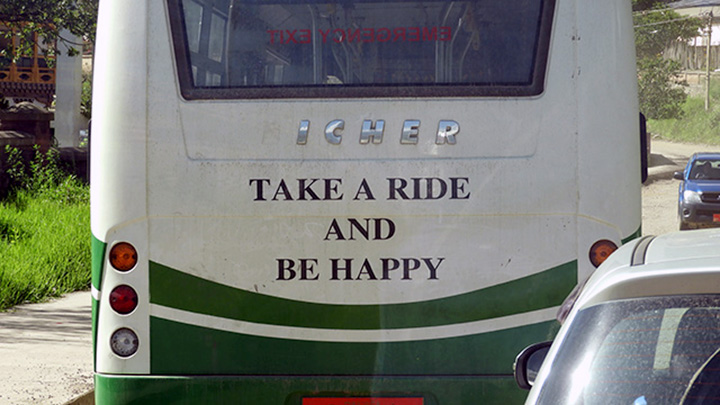 Excellent advice.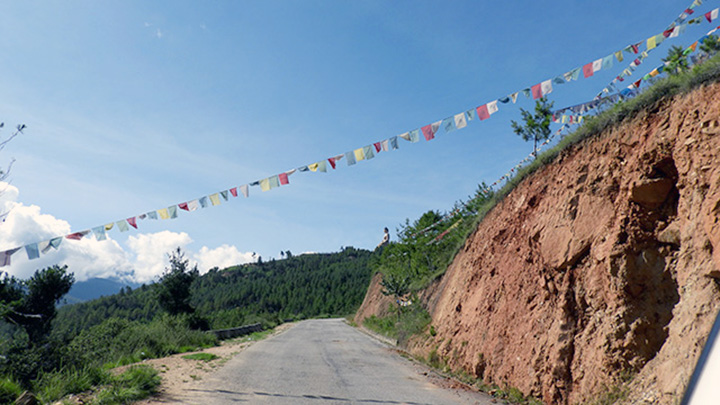 Say, what's that up there on the hill?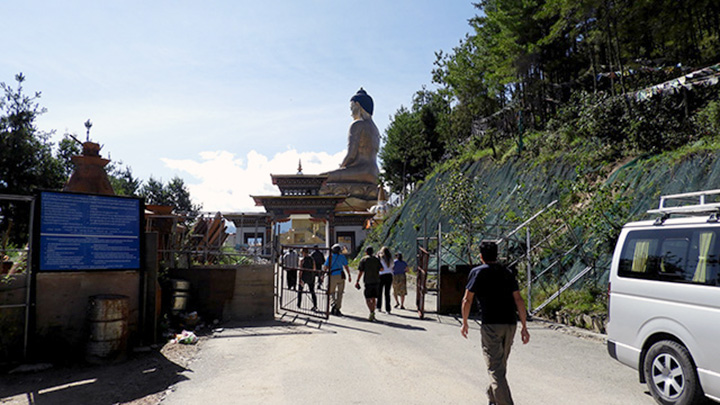 It's the Buddha Dordenma, one of the largest statues of Buddha in the world.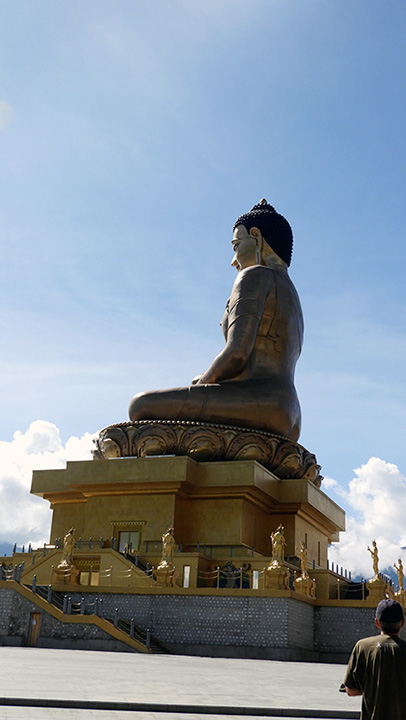 Told you it's big.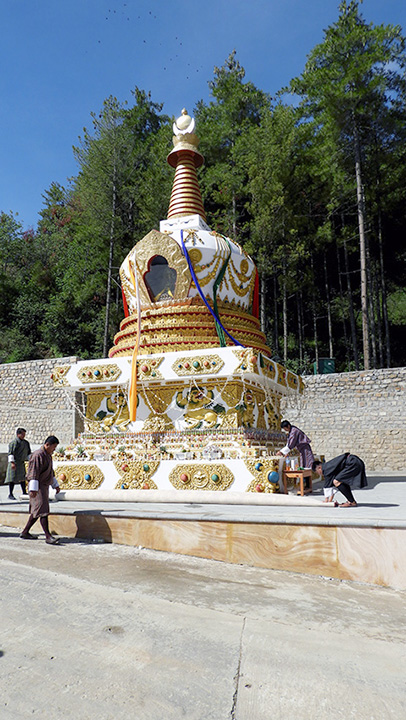 Looks like we've missed a ceremony. A big shot lama has just dedicated this stupa.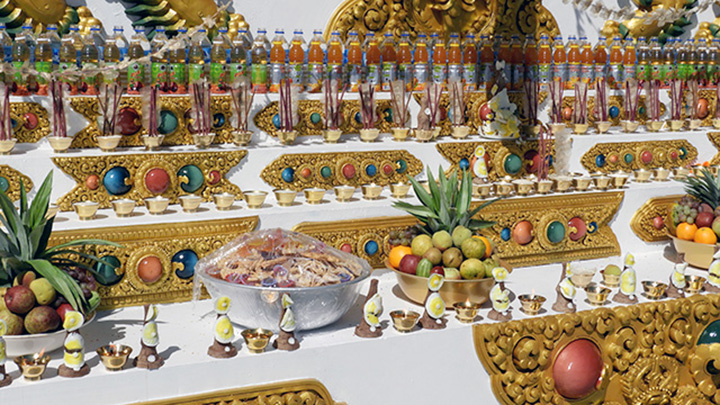 Dedications involve lots of food.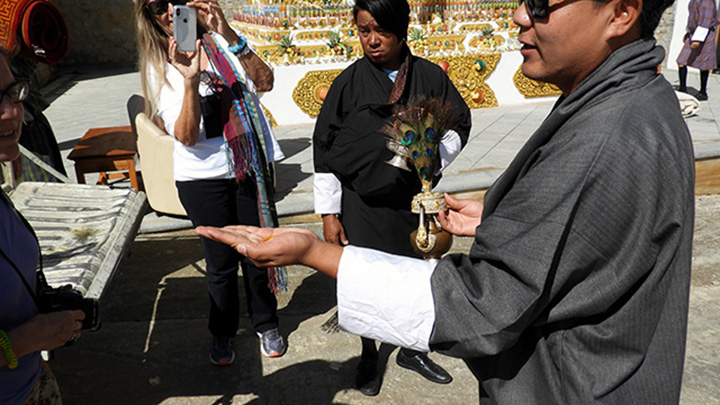 Tim demonstrates how to use the saffron water in that little pitcher. First you pour some into your palm and then you sip it (not you, Road Scholars, the water may not be pure enough for your tender tummies) and then you rub the rest in your hair. I'm not making this up.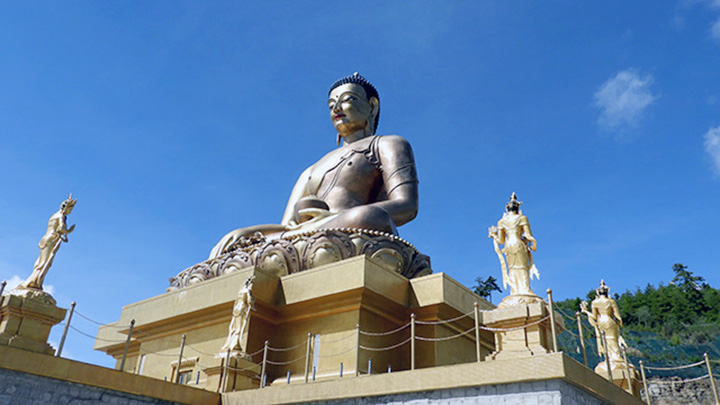 Still big.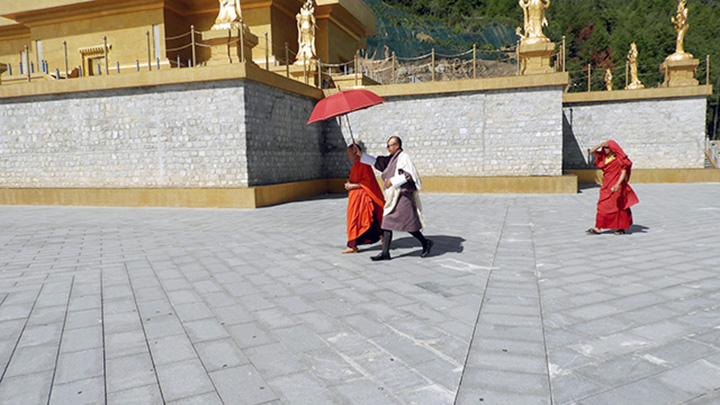 That's the big shot lama under the umbrella.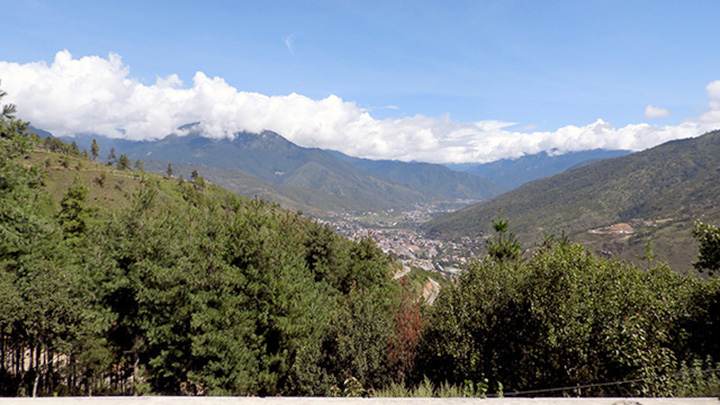 And that's the view of Thimphu from up here.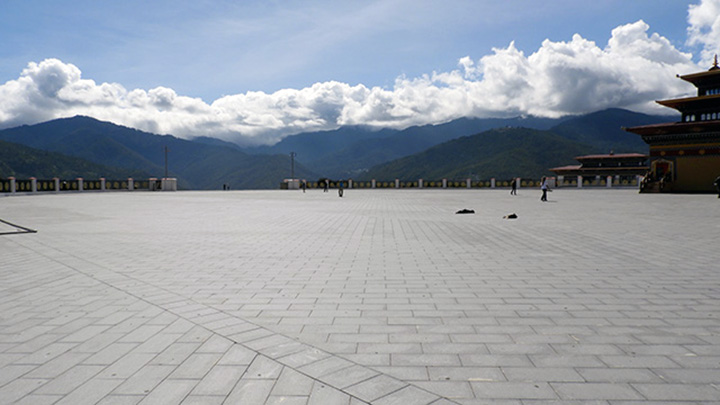 The plaza is sufficiently spacious, I think.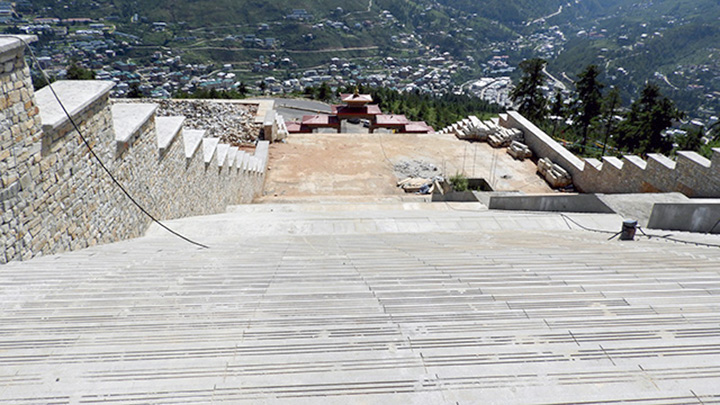 What do you want to bet there are 108 steps?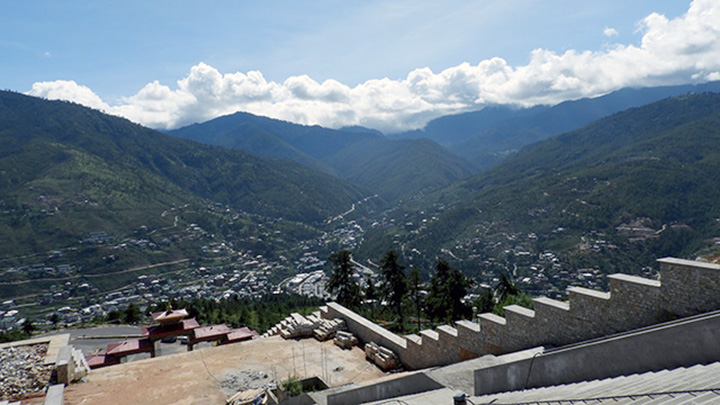 I'm glad we didn't have to climb the steps, but the view would have been worth it.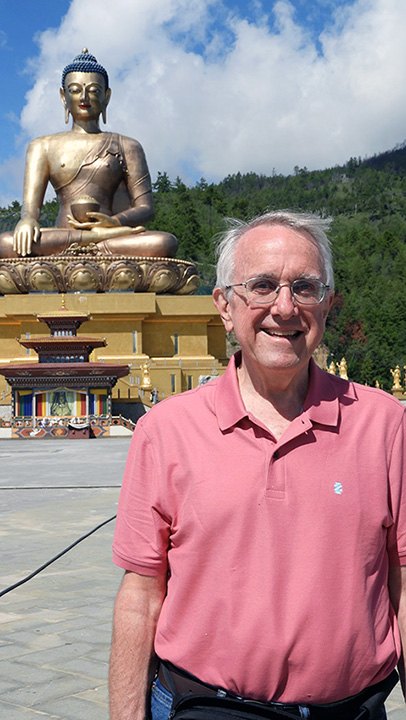 Bill has a new big friend.
Nice.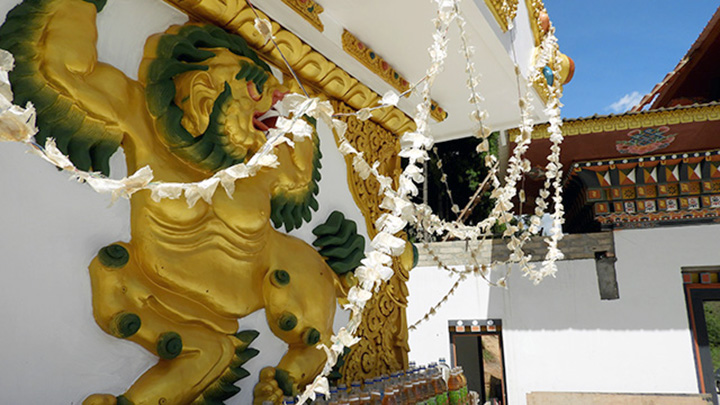 Remember the pretty seeds in the midnight horror pod? This is how you decorate with them.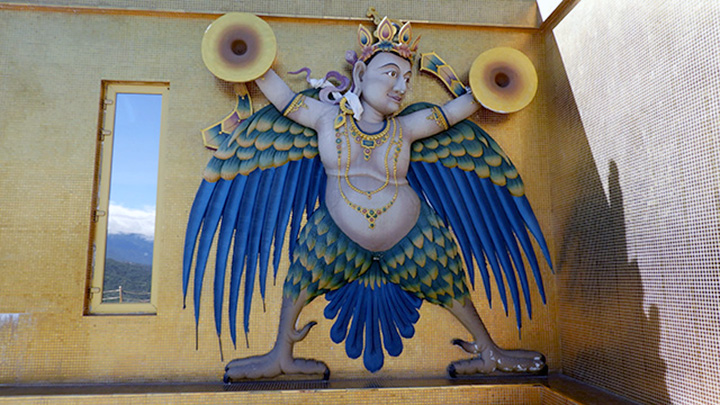 There are impressive decorations on the outside.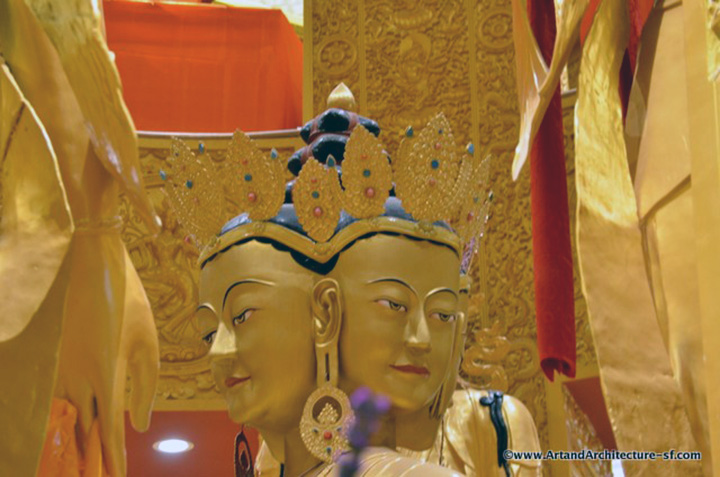 And while we weren't allowed to take pictures on the inside, don't worry. Google Images is helping to fill in the blanks. Some Buddhas have more than one face, the better to keep an eye on things.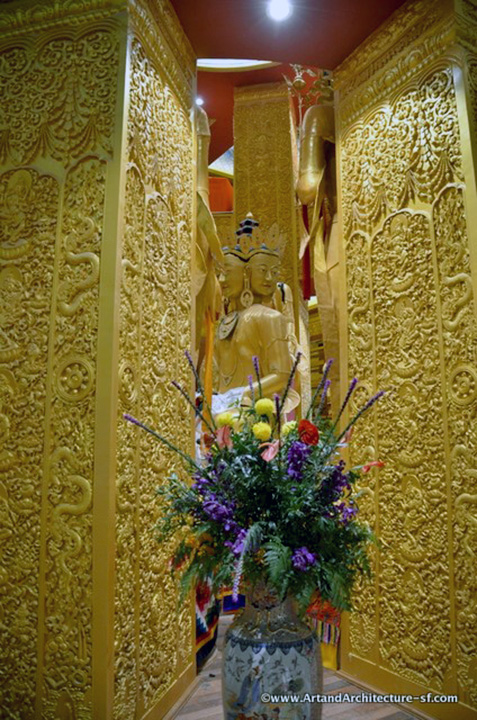 There's gold everywhere. Gold paint, anyway.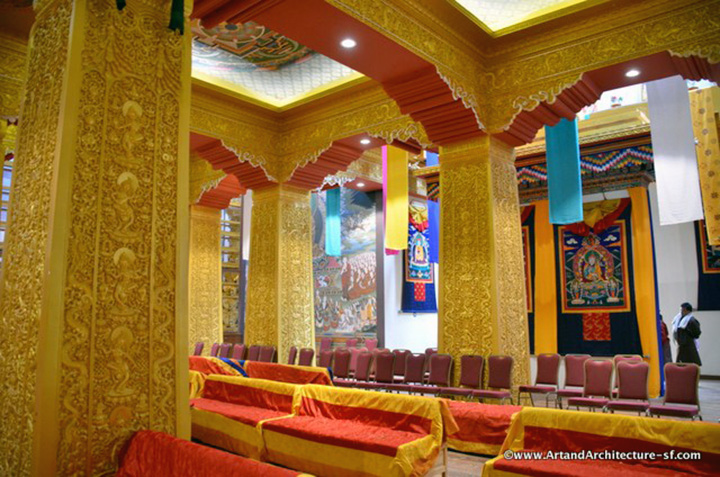 It's all so very tastefully decorated.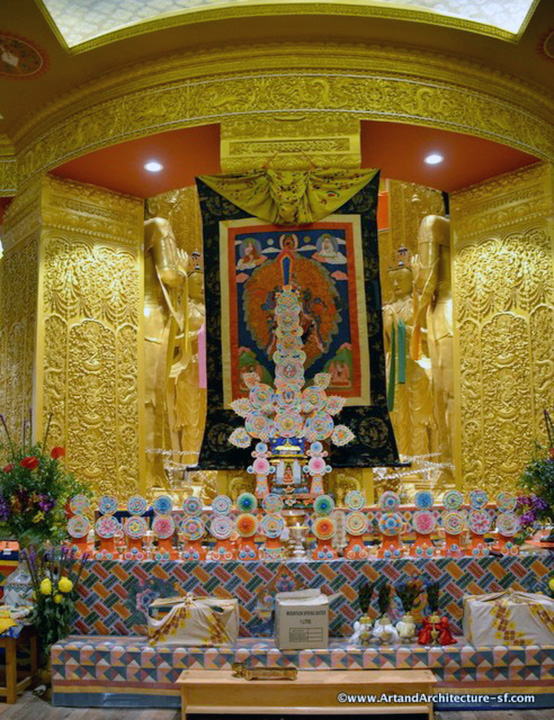 Those pretty round decorations are sculpted from butter. Well, that's what Tim said.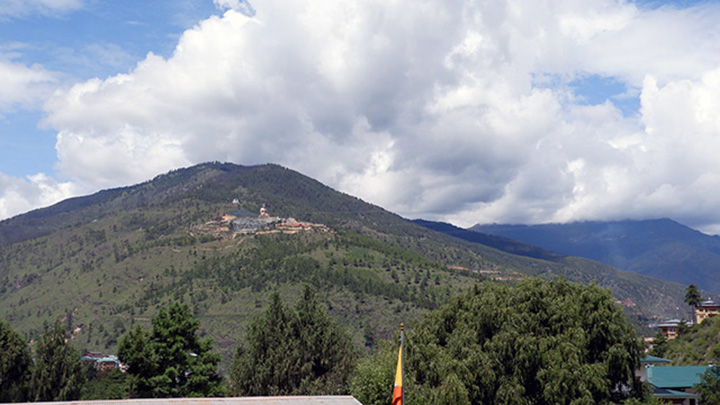 Now we're driving out of town. Bye big Buddha.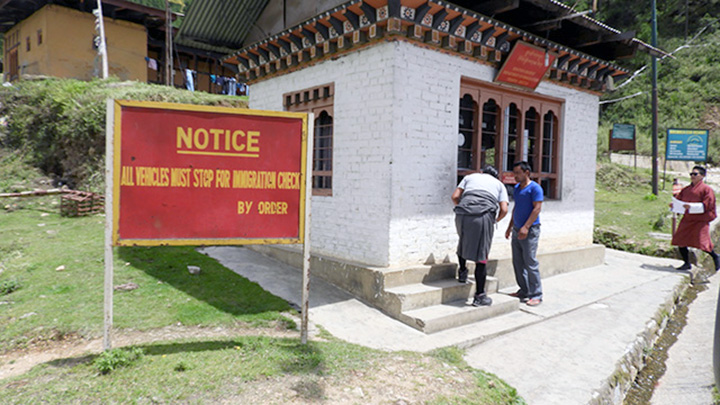 We obeyed all the laws.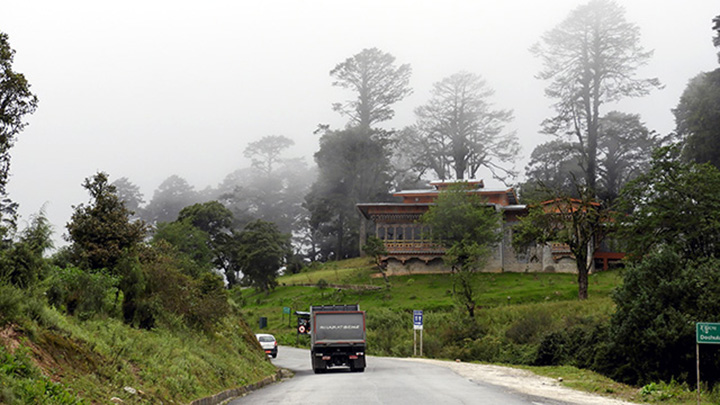 And then we drove up high into the mountains. We're approaching Dochula Pass.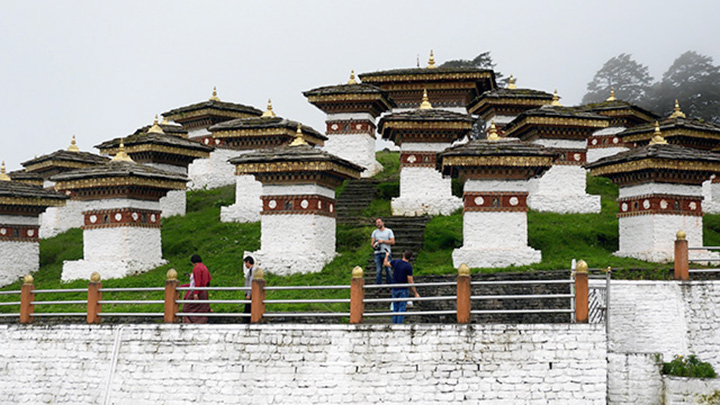 You like stupas? Dochula Pass has plenty. How many total? Go on, guess.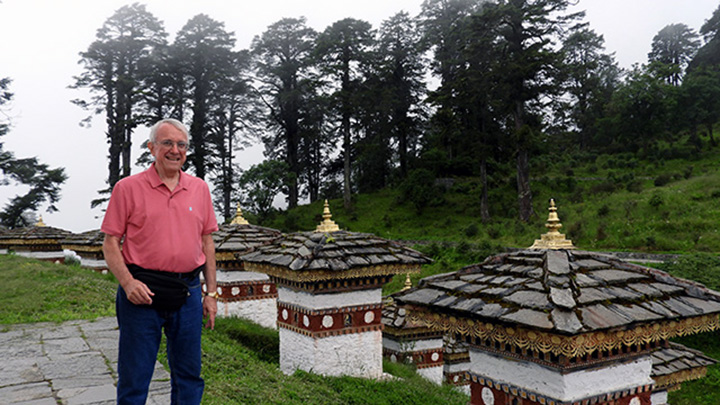 Yep, 108.
Nothing much is free around her, apparently. But I never saw a ticket booth, so I'm not sure how the money was collected.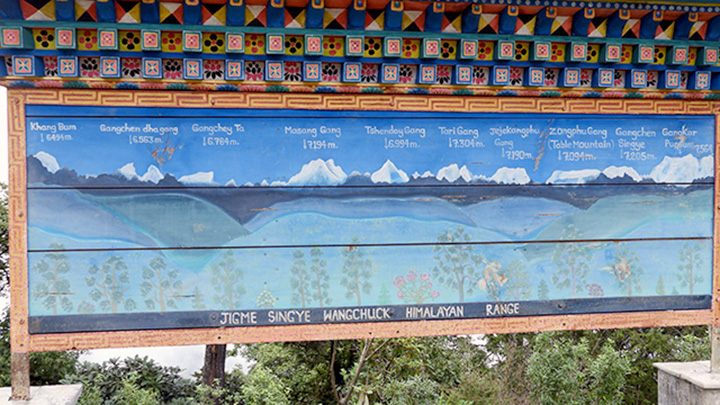 There are great views up here.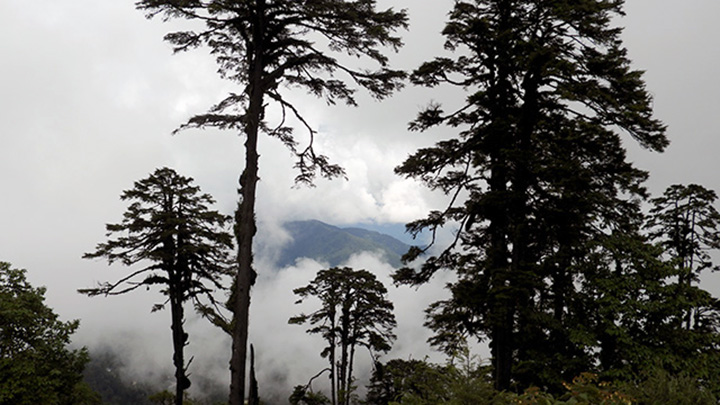 On clear days.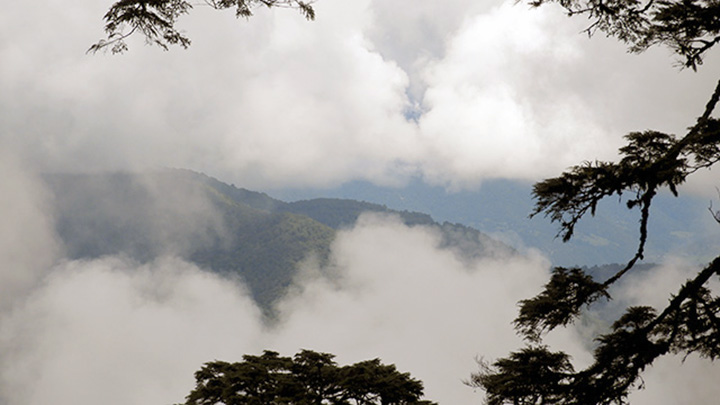 Which this wasn't.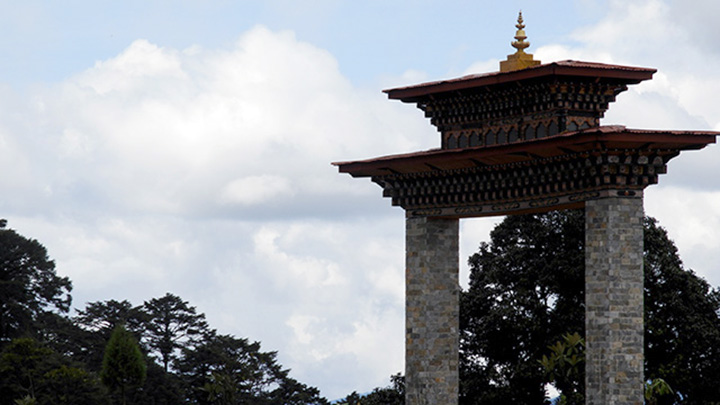 There was blue sky if you looked for it and used your imagination.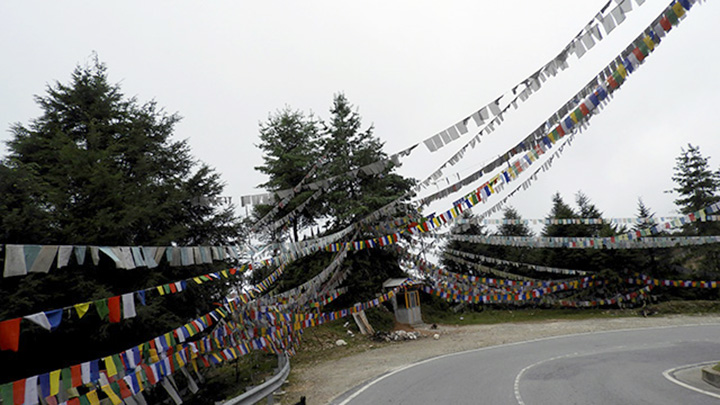 The nice breeze kept the prayers flowing
Those clever Bhutanese have even figured out how to harness streams to keep the prayers going day and night.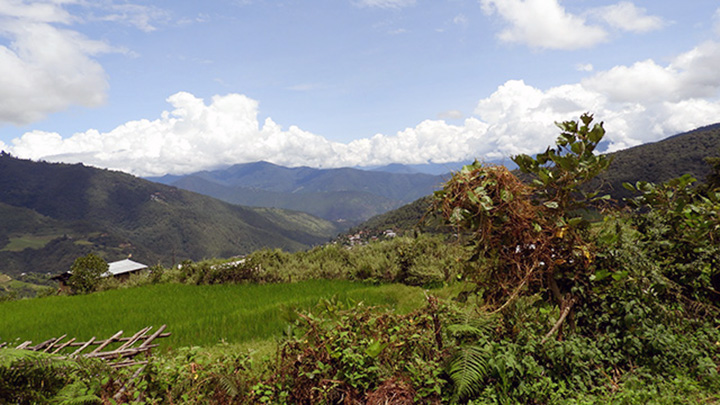 That's a pretty scene.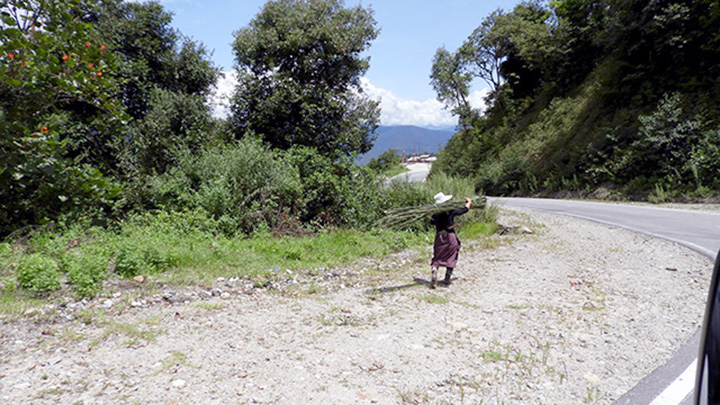 The most common mode of transportation in Bhutan appears to remain foot power.
That's a pretty scene, don't you think?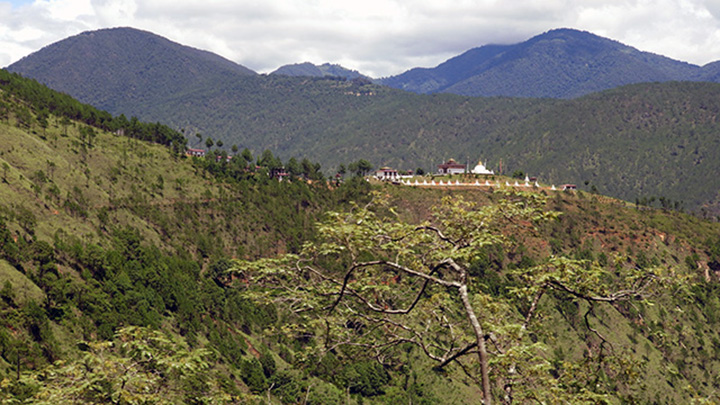 Looks like a fancy stupa over there.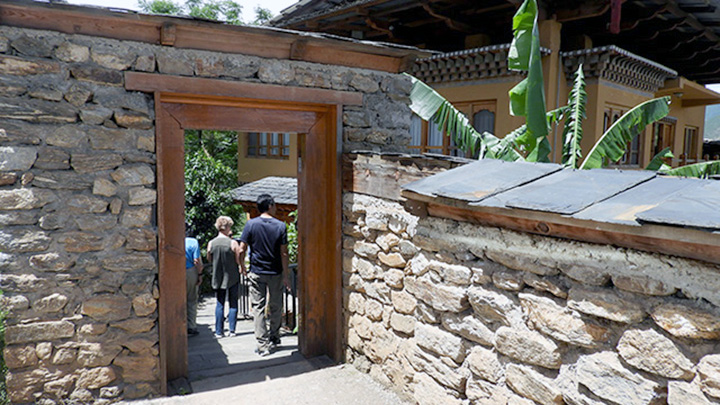 Let's have lunch. Sure hope this restaurant has a nice view.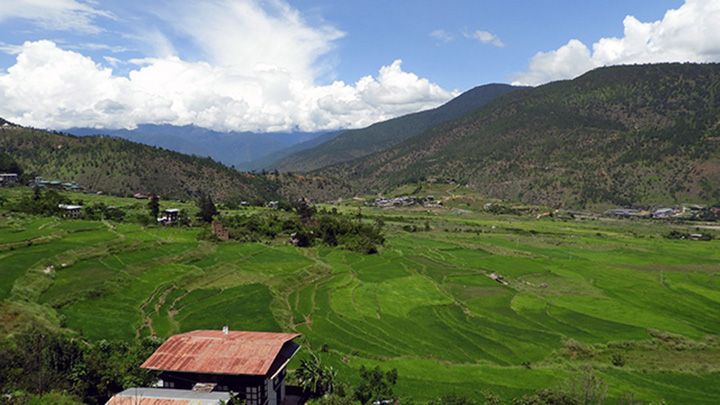 Of course.
These rice fields deserve some video.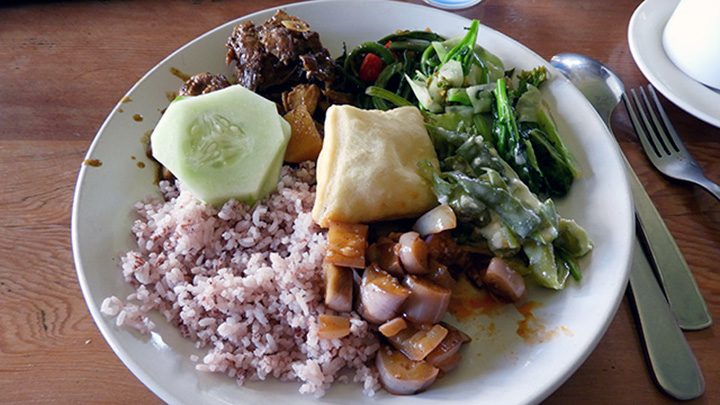 Speaking of rice, we had the local red variety with practically every meal. And see that green stuff with the cheesy sauce over there on the right side of the plate? That's ema datshi, the national dish of Bhutan. Hot, hot chilies with cheese. Good stuff. But tread easy.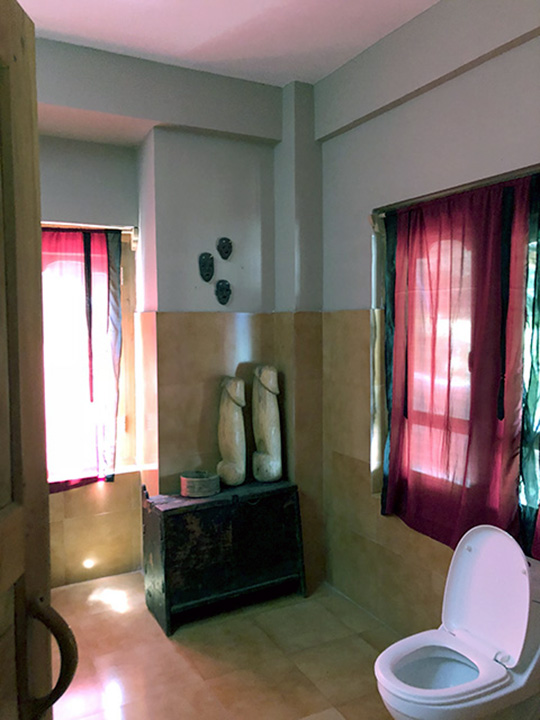 This is the restaurant's restroom. You like the decor? Well, prepare yourself as there'll be more.
I need to tell you how I got this picture. There I was, busily checking email on my iPhone while I had the restaurant's WiFi connection, when suddenly this pic appeared as an "air drop" from Leslie. I looked up and saw Leslie and Jean giggling over their iPhones. They didn't realize that when Leslie had tried to send the pic to Jean it had landed on my iPhone instead.
"Leslie, what are you doing?"
All innocent -- "Nothing, nothing at all. Why do you ask?"
"Well look at what has just popped up on my phone!"
There was much laughter and now I'm so glad I have this pic I probably wouldn't have snapped on my own. Probably.
But I did snap this picture of one of the decorations that hung from all four corners of the restaurant's roof. Tim said they're known as the "Flaming Thunderbolt of Infinite Wisdom." I am not making this up.
This is the magnificent fortress of Wangdi Dzong.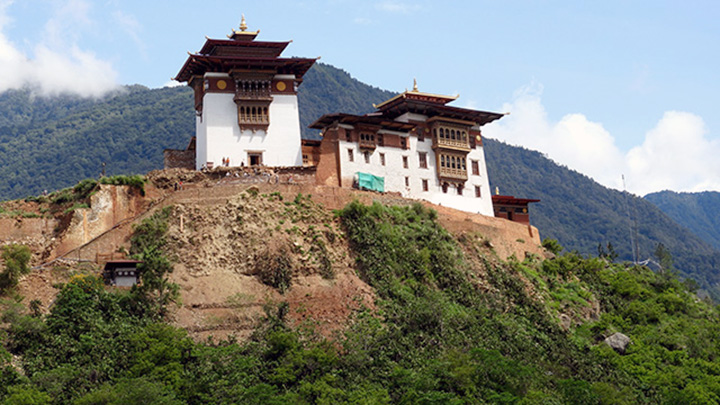 It was destroyed by fire in 2012, but it's being rebuilt bigger and better than before.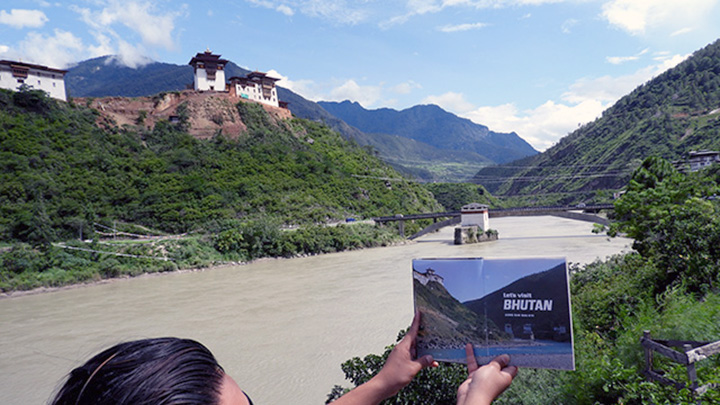 Tim holds up a picture book so we can compare the view to what it looked like before the fire.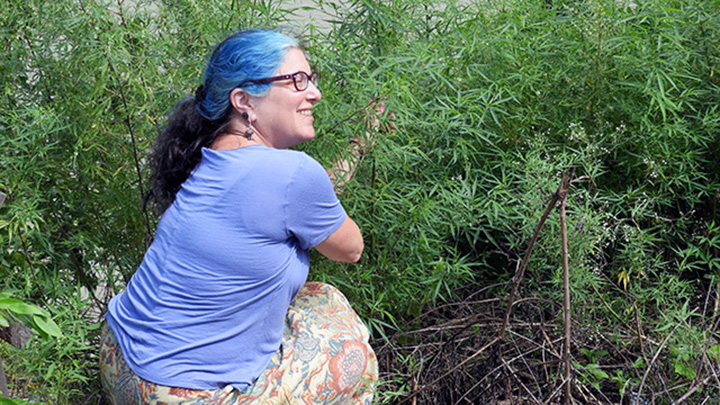 Nina has found some weeds by the side of the road. Apparently cannabis grows wild everywhere around here and the cattle just love it.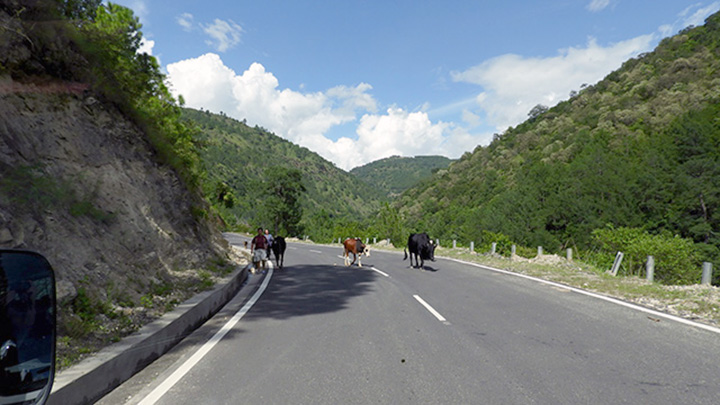 Contented cows.
Just look at those terraced rice fields.
There's really only one main highway through the mountains of Bhutan, though Tim insisted there were two. When you're going this way it's Highway One, and when you're going the other way it's Highway Two. Very funny, Tim.
Sometimes the road was first class.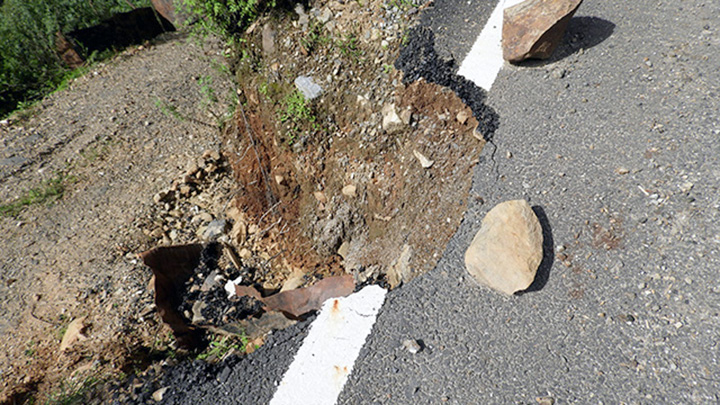 But sometimes it appeared there might be problems developing.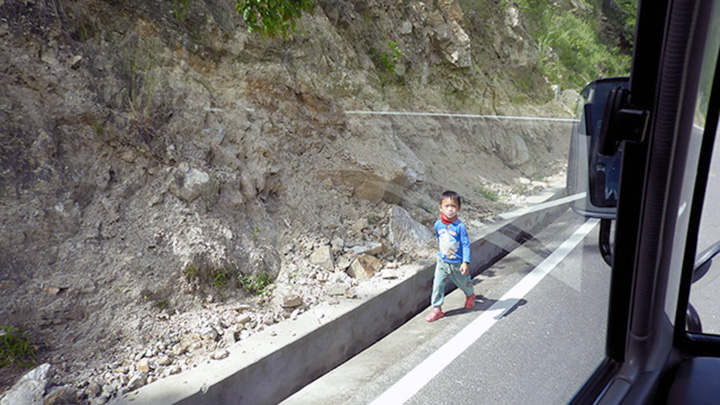 Hey buddy!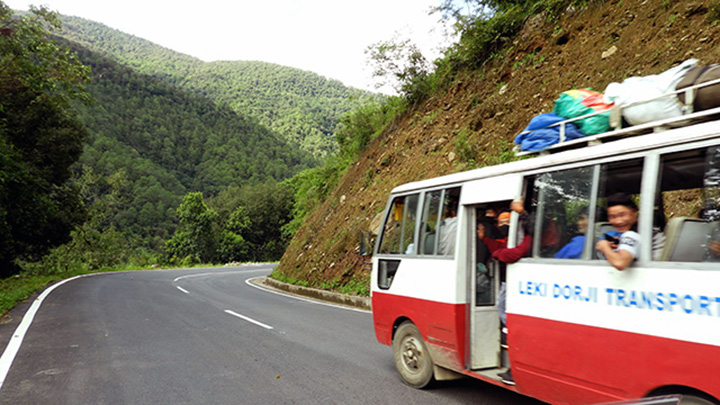 We are passed on a curve by a bus full of passengers who seem happy in spite of possible oncoming traffic. Have you noticed that in Bhutan you drive on the left like the British?
That's a pretty scene.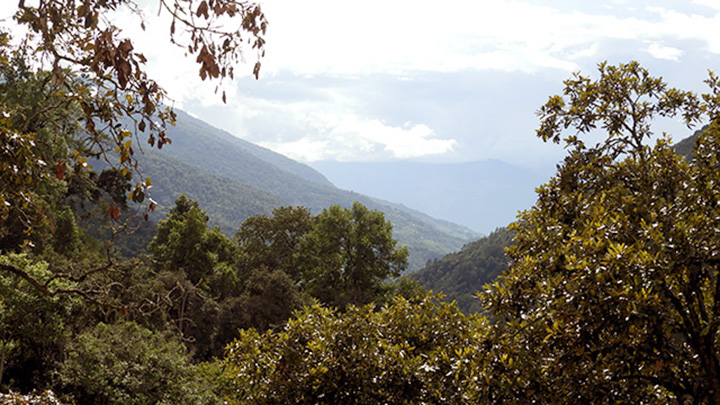 And so's that. Told you to get used to it.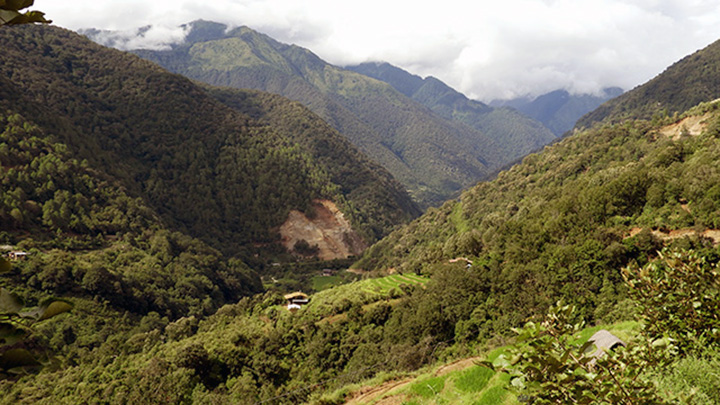 I found this kind of shot irresistible.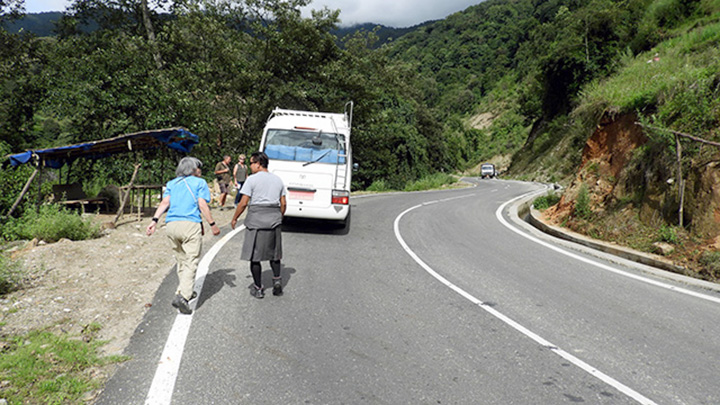 Tim has thoughtfully stopped the bus to give us a chance to get out and take a short walk to stretch our legs.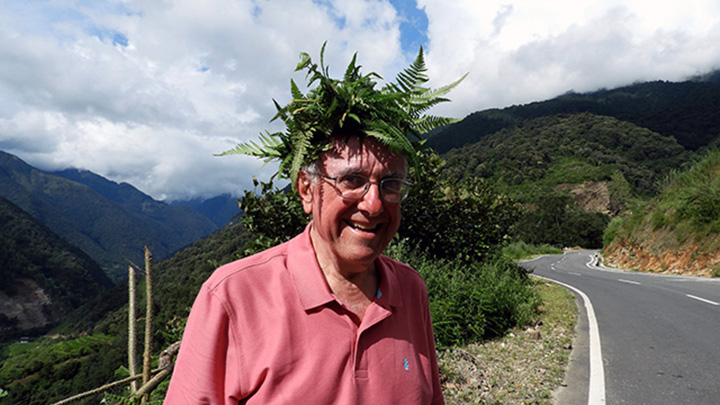 The sun was hot and I mentioned I wished I'd put some sunscreen on my head, so Tim whipped out his pocket knife, cut a few ferns, and soon I was wearing a hat just like a local farmer would wear. Snazzy!
OK, now the quality of the road is beginning to seem a bit...questionable. I wonder if it can get any worse?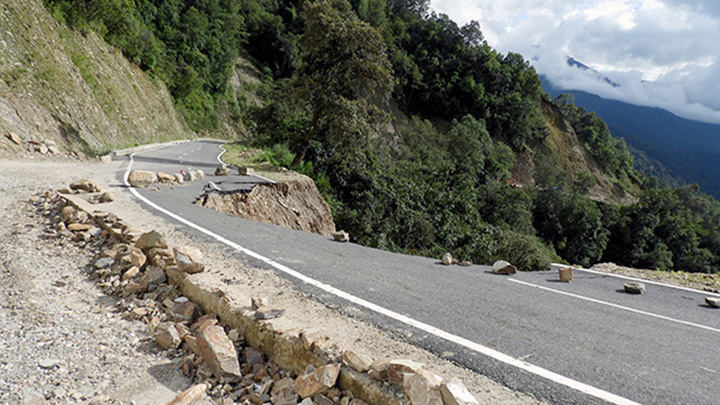 Hard to imagine, but let's see...
Apparently travel in Bhutan is not for the faint of heart.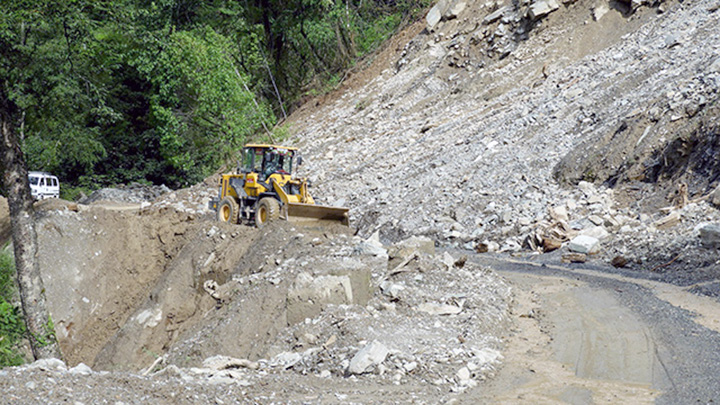 At least they're working on maintenance.
Sure there's room to squeeze by.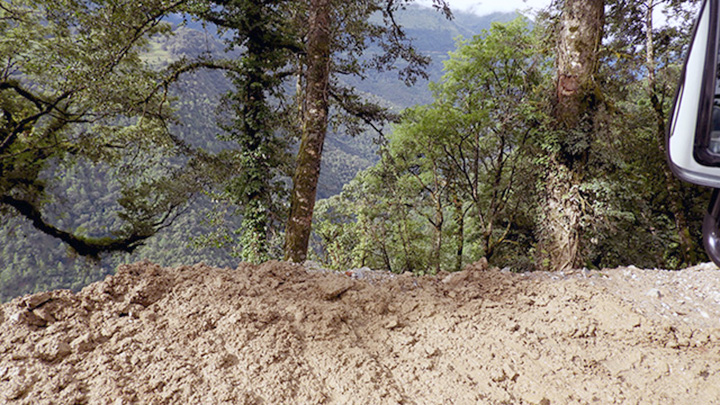 The edge isn't so close.
Not really.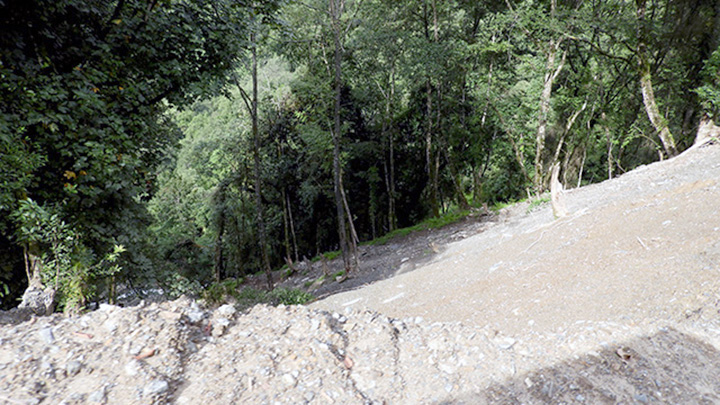 Though it does seem the drop is a bit steep.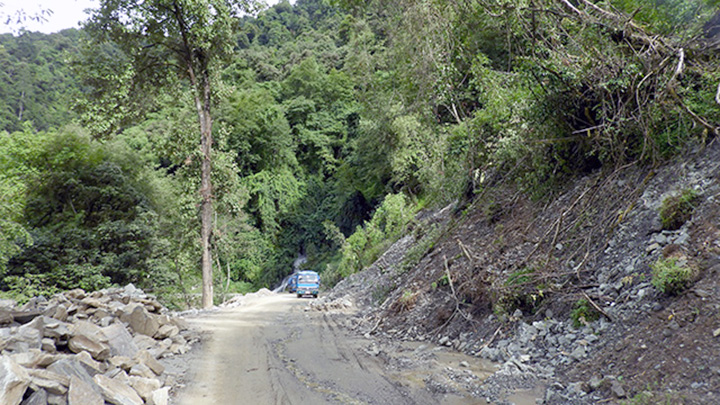 Whew, made it. For now.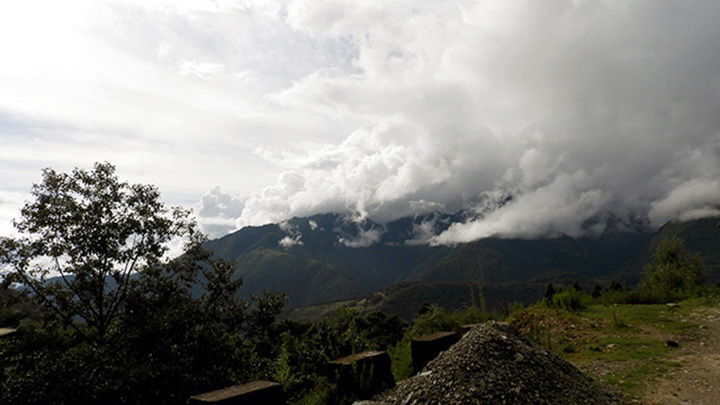 At least the view is spectacular.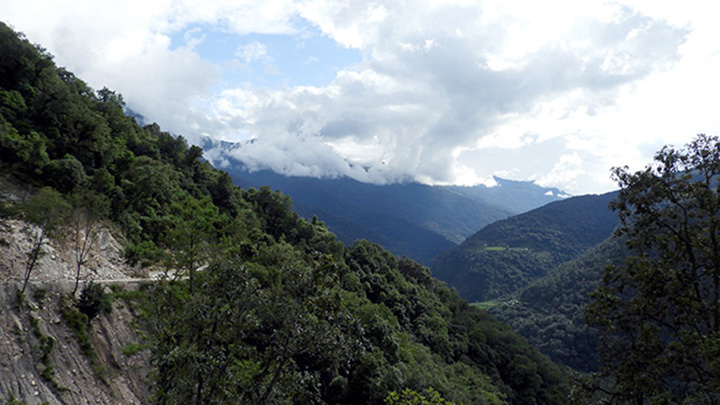 See?
And there are waterfalls!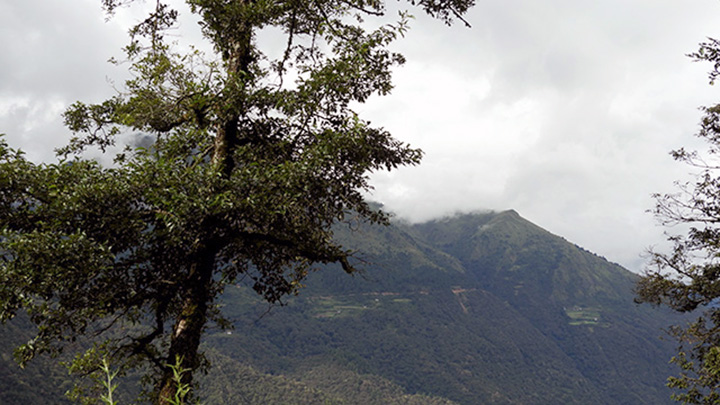 It's hard to fret about plunging off the side of a mountain when you're distracted by views like this.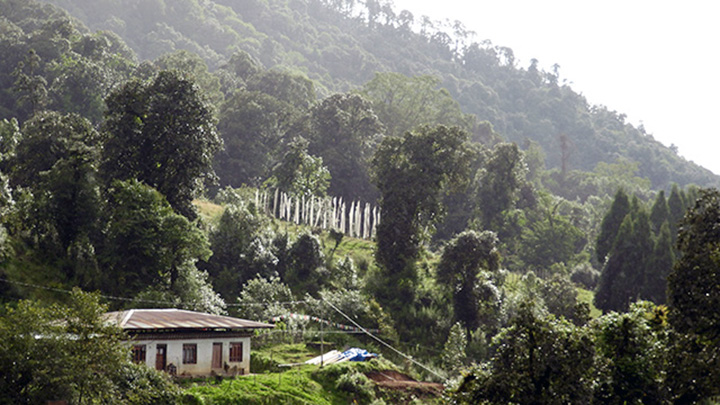 Of course stands of prayer flags like this are always around to remind us somebody has died.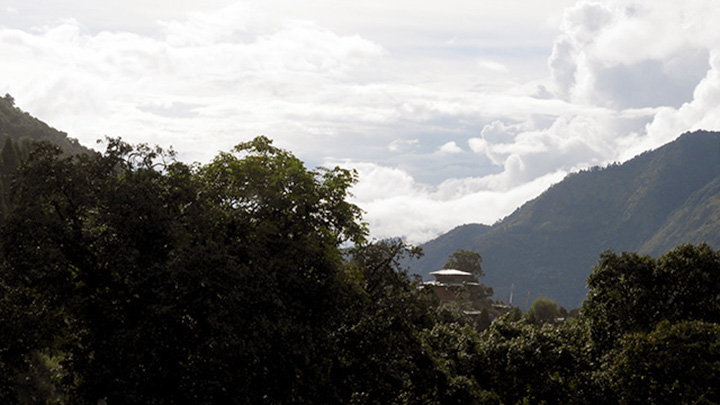 We need to stop for a break.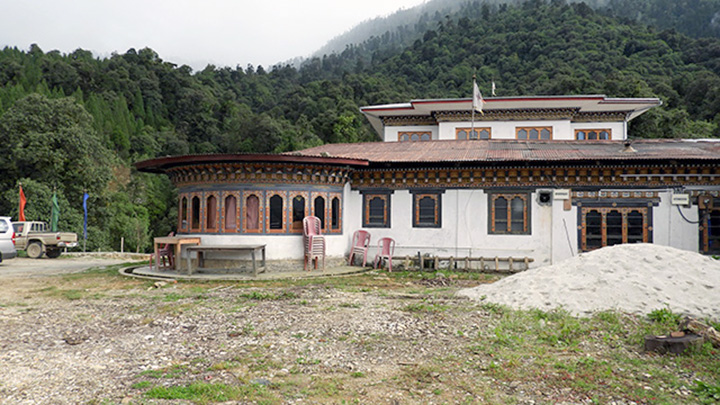 Here's a nice roadside restaurant.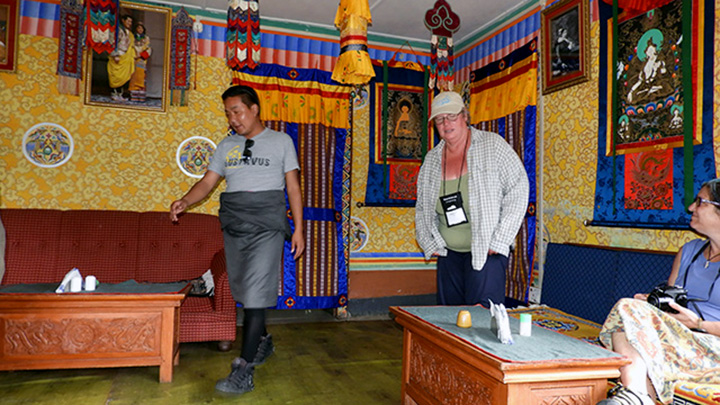 At first we were going to sit inside.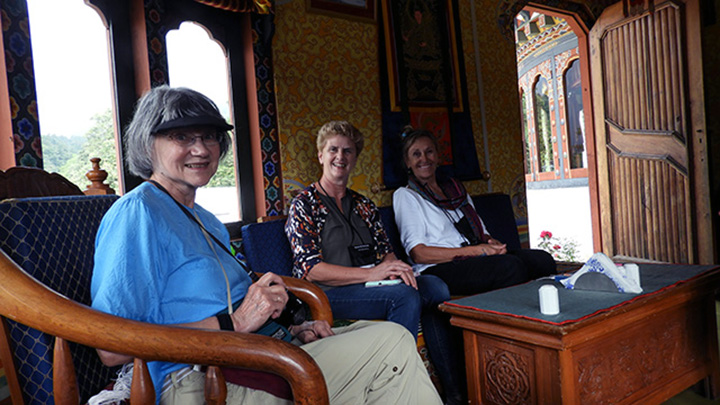 They had a nice sitting room.
But the view outside was spectacular and the weather was cooperating, so let's have tea on stumps.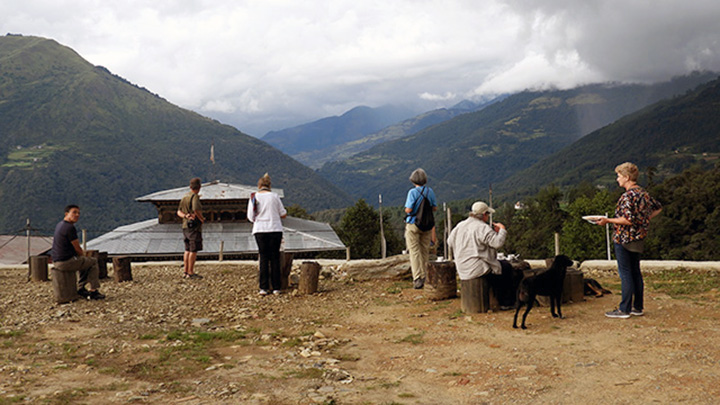 Told you it was a nice view.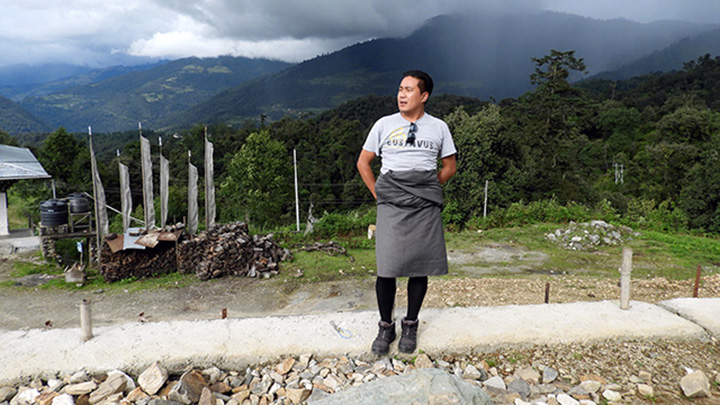 Tim is the master of all he surveys.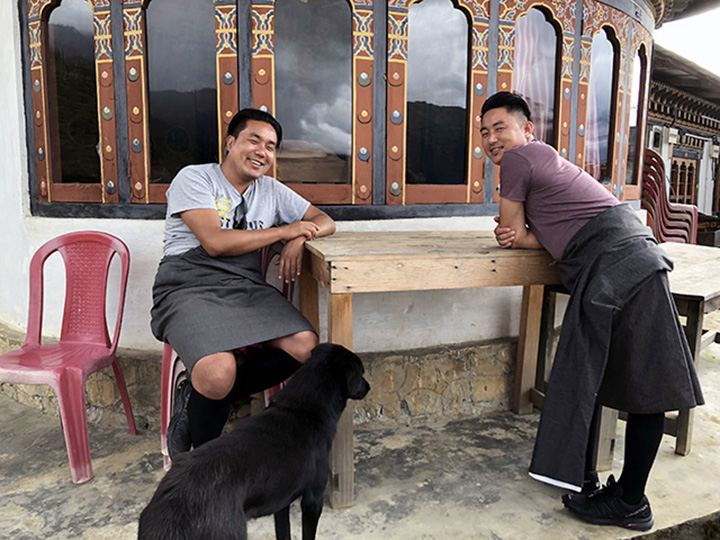 He and Sonam the driver are just outstanding hosts and guides.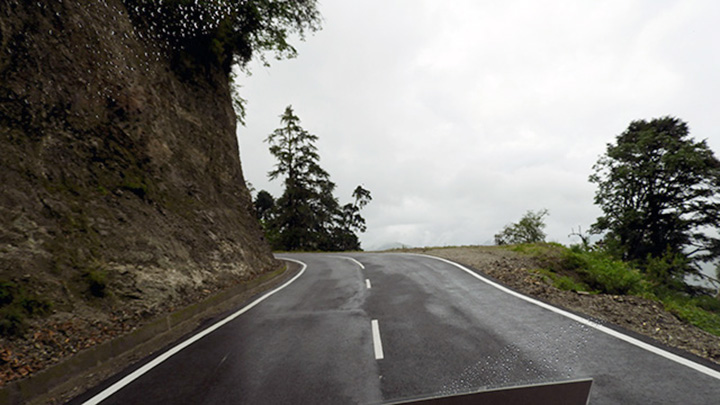 Back on the road, which isn't falling off the side of the mountain for a change.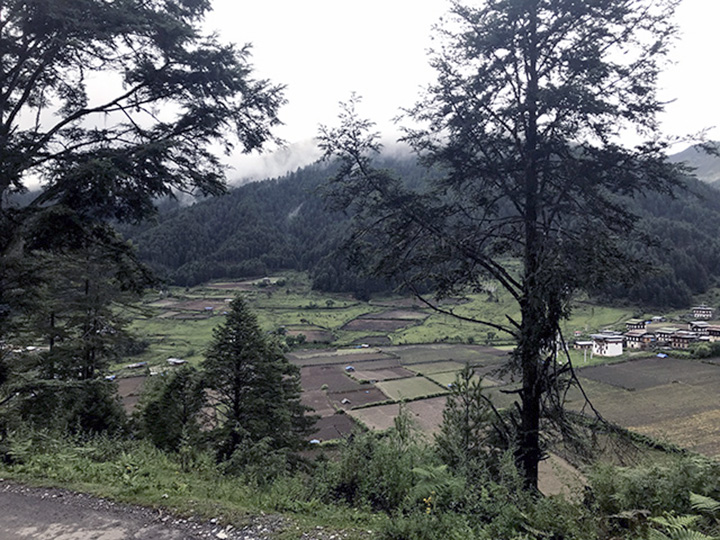 Now we're arriving at out destination for the day: Phobjikha Valley.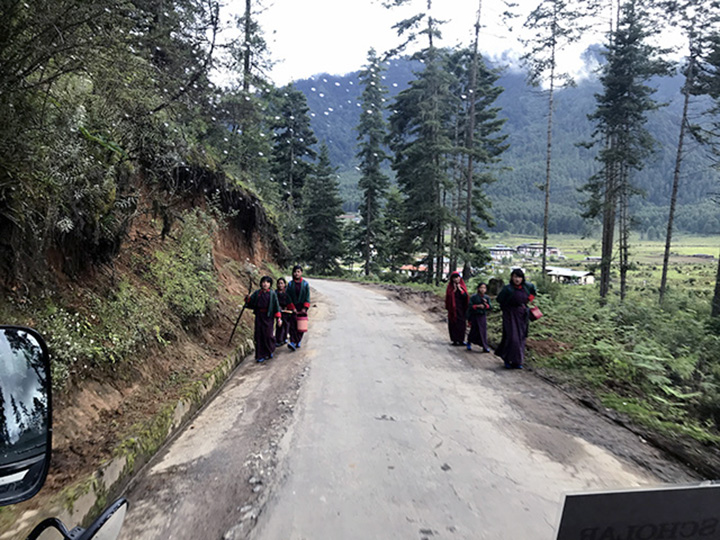 The locals are just delighted to see another busload of tourists.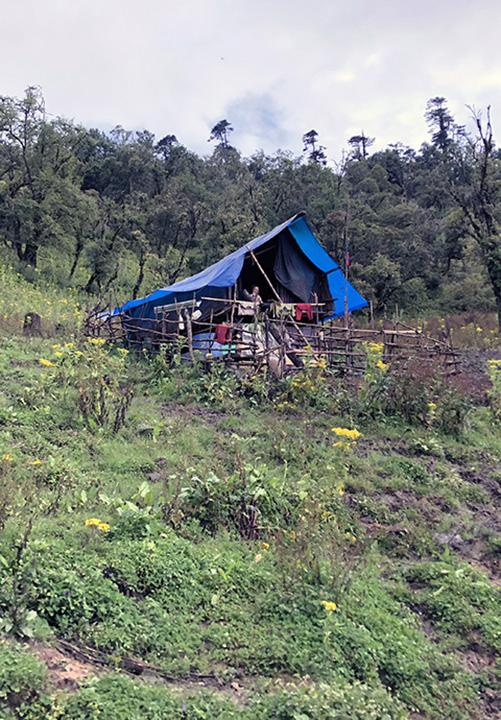 The temporary residence of some cattle herders.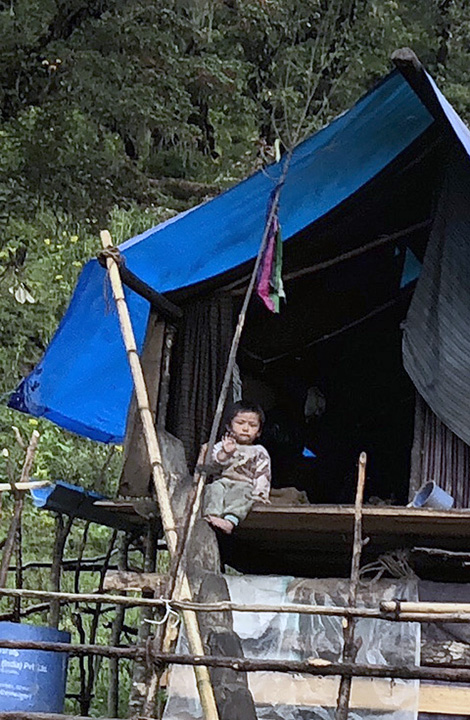 We are greeted by a very young cattle herder.
And here we are at our home for the next couple of nights, the Dewachen Hotel & Spa.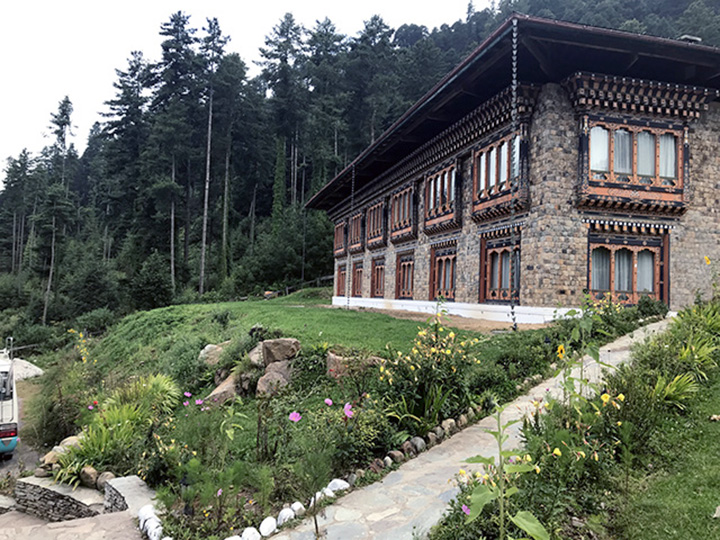 Beautiful place.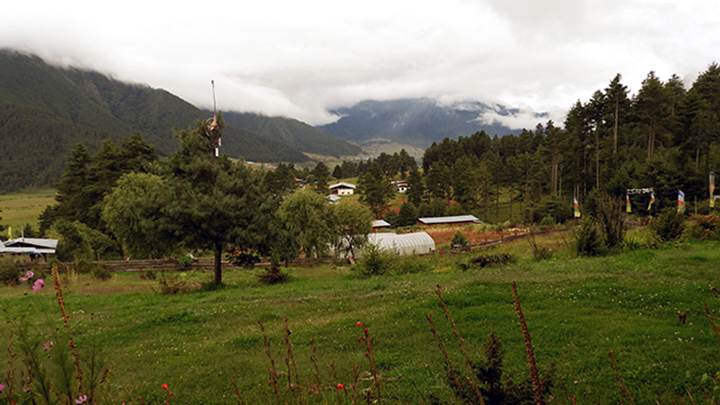 View from my room.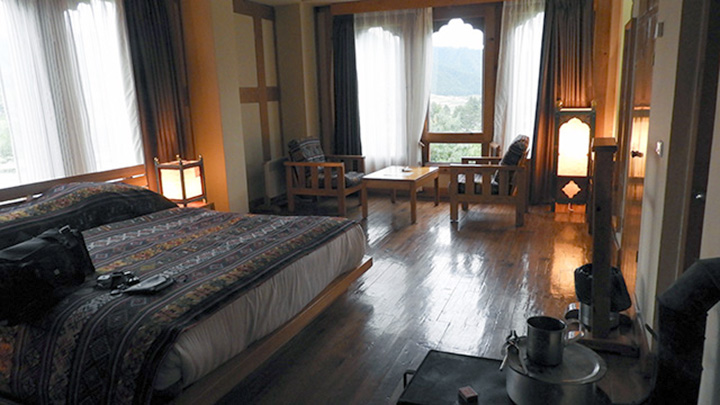 My room. Wow.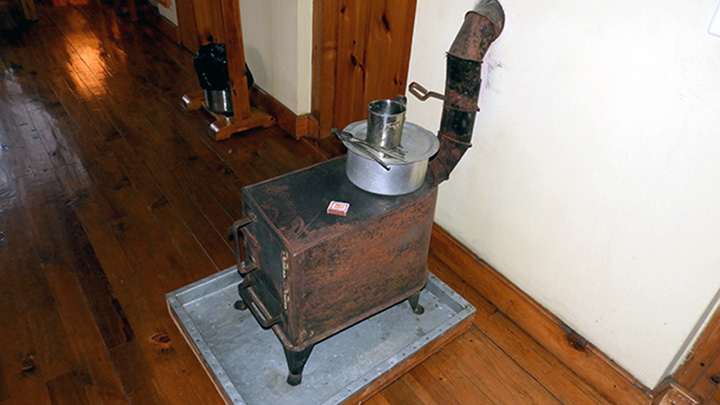 Guess I won't get cold. Actually I didn't need heat at all; the August temperatures for the entire trip were just about perfect.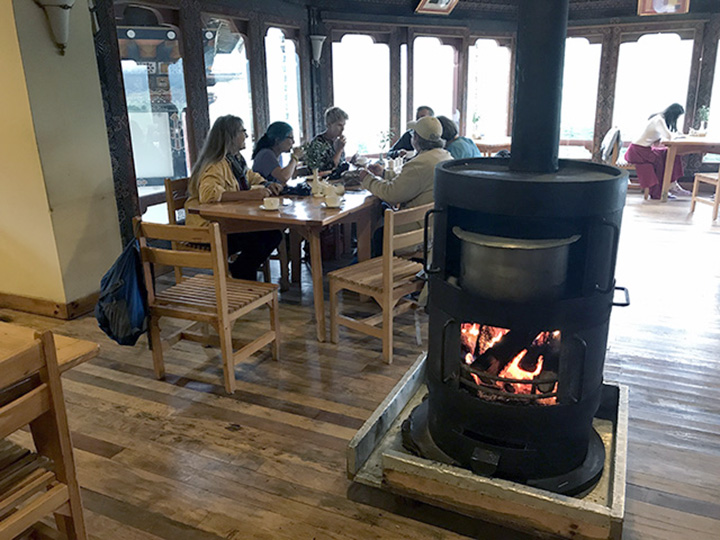 In fact, the fire in the fireplace at dinner looked great, but it was too hot, and everybody angled to get as far from it as possible.