Maybe today we'll learn what's behind all those...explicit...images we've been seeing.
Trongsa Dzong is impressive in the morning mist.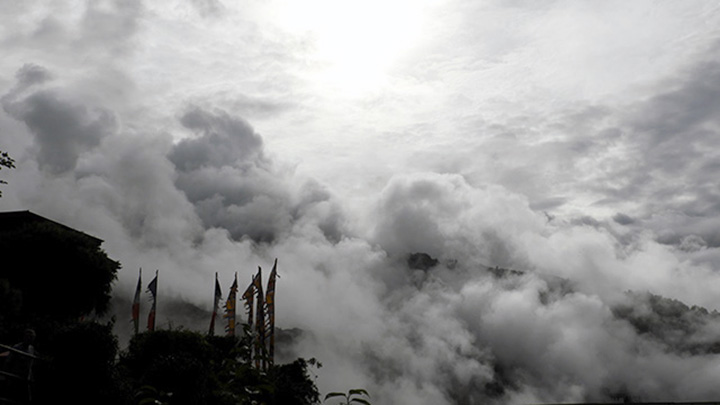 Pretty much everything is impressive in the morning mist.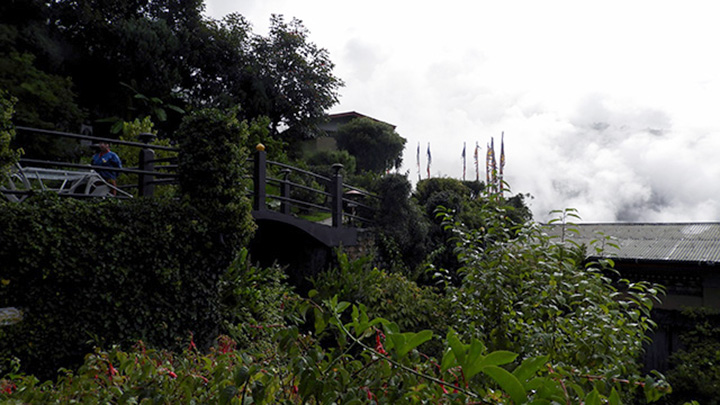 See?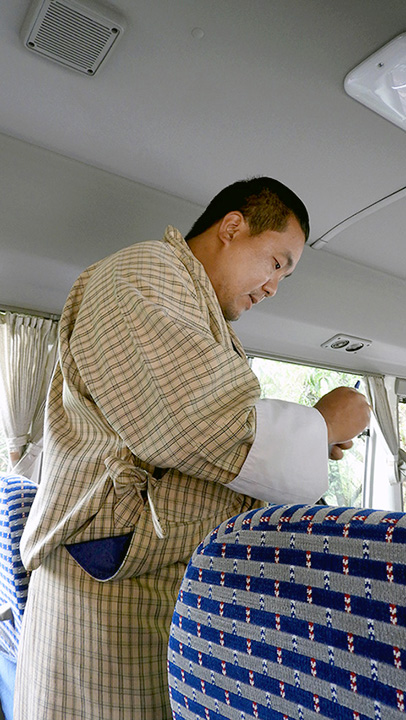 Tim is wearing a special gho today. His wife wove that fabric by hand. I don't know about you, but I'm absolutely impressed.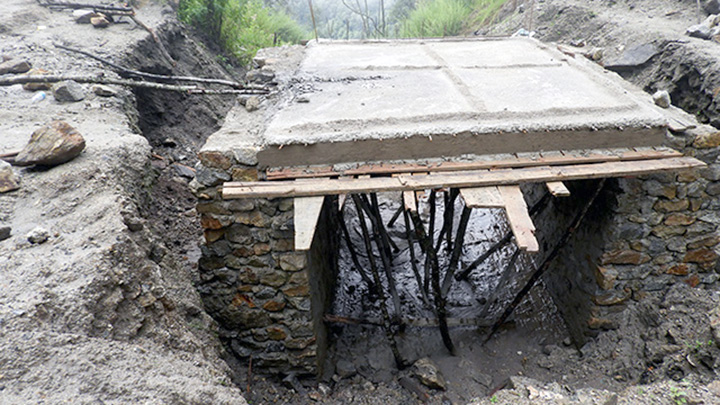 I'm less impressed with some of the road construction techniques around here. But hey, whatever works.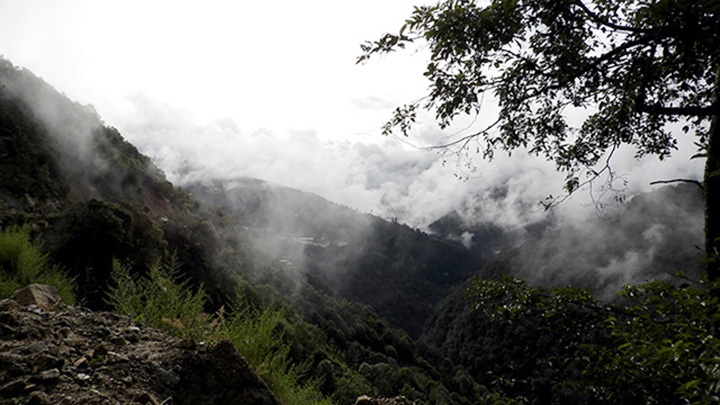 More morning mist.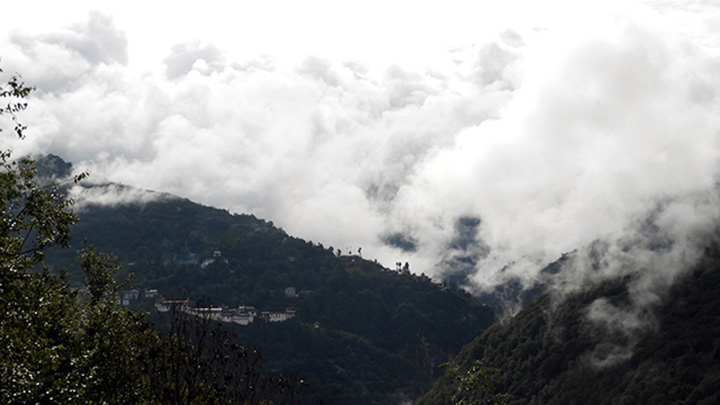 Still more.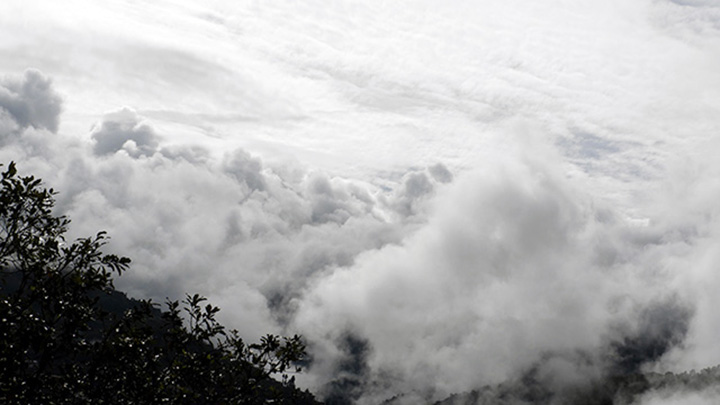 It's a very misty morning.
Ah, things are clearing off.
Just in time to notice the condition of the road.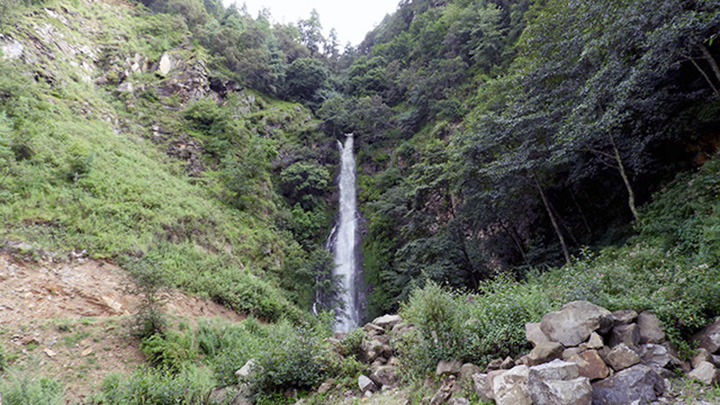 At least there are waterfalls.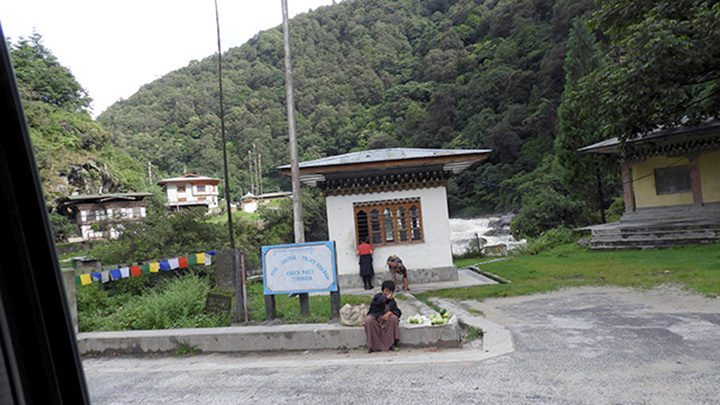 As I've already observed, there's only one main road through Bhutan. We've traveled Highway One and now we're on Highway Two -- going the other way. So we've been here before. In fact, that lady was here before, selling cucumbers from the curb.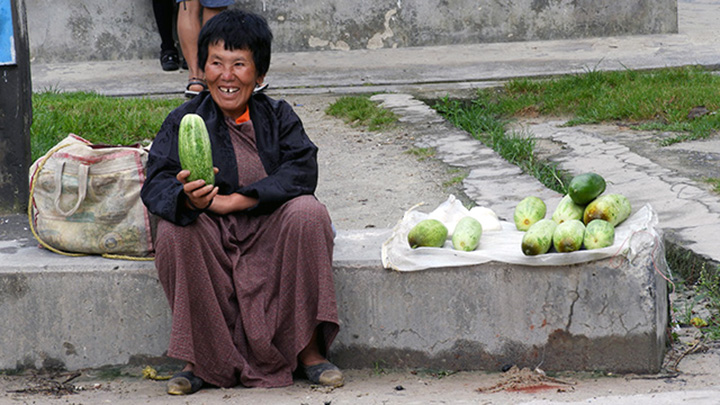 She's happy because this time Tim has bought a cucumber to share on the bus. Mmmm...fresh local produce.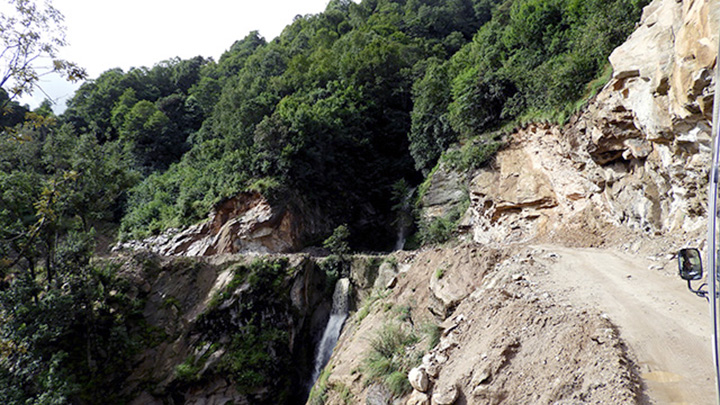 We're going to be happy to see the last of this road. Soon. I hope.
Road? We don't need no stinkin' road.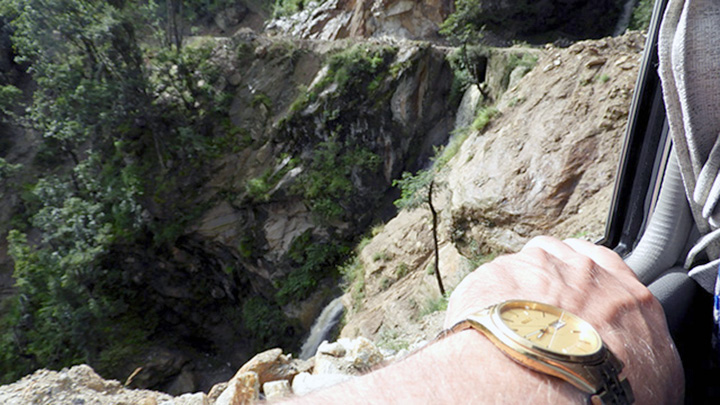 Do my knuckles look white? No, they do not look white.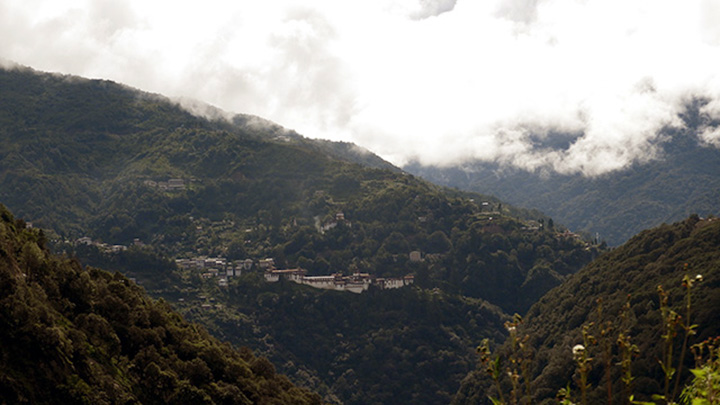 Just keep your eyes on the pretty scenery.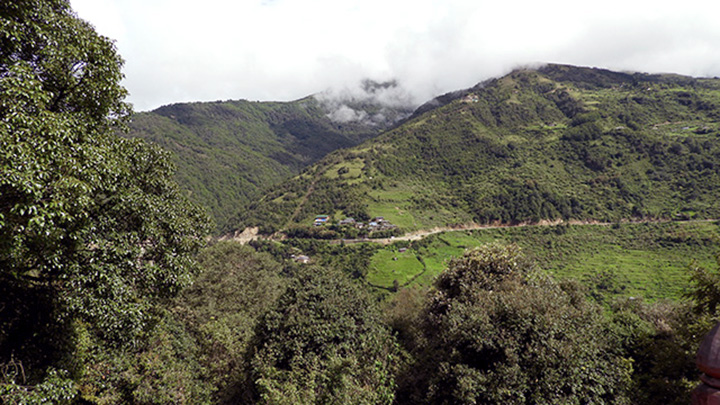 Say, isn't that our hotel over there?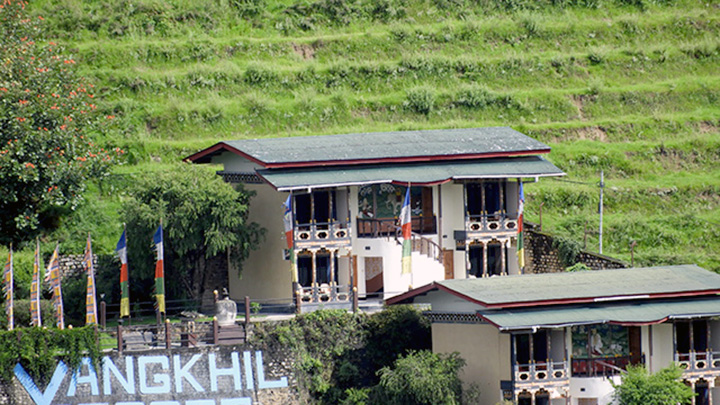 Sure is. In fact, that's my room up there on the top left. Thanks, telephoto lens.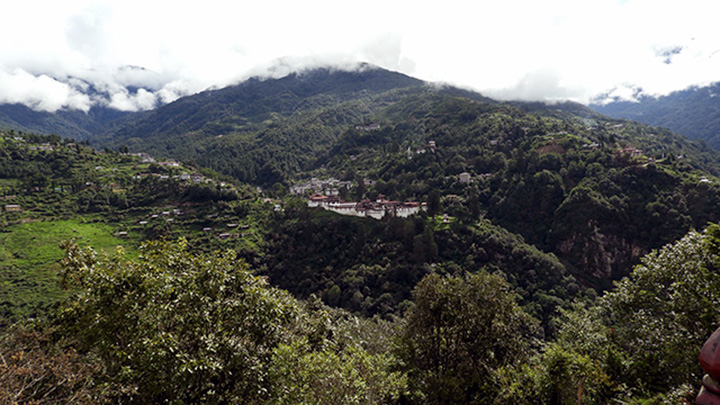 And there's Trongsa Dzong.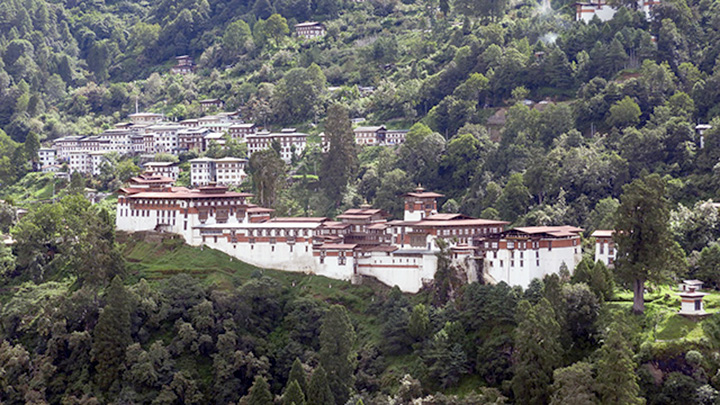 And there it is again with the telephoto lens.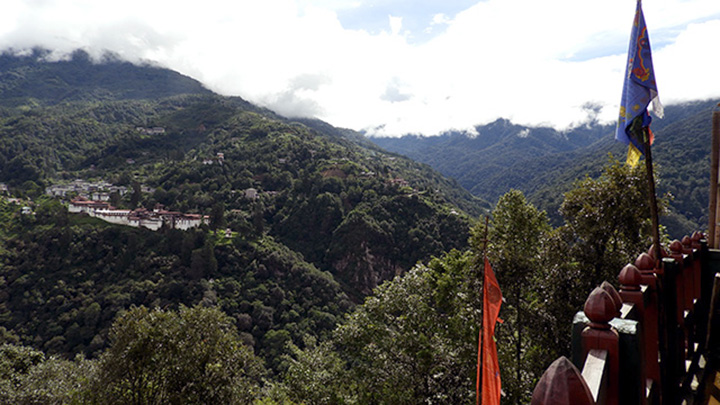 And now we've stopped at that overlook place again.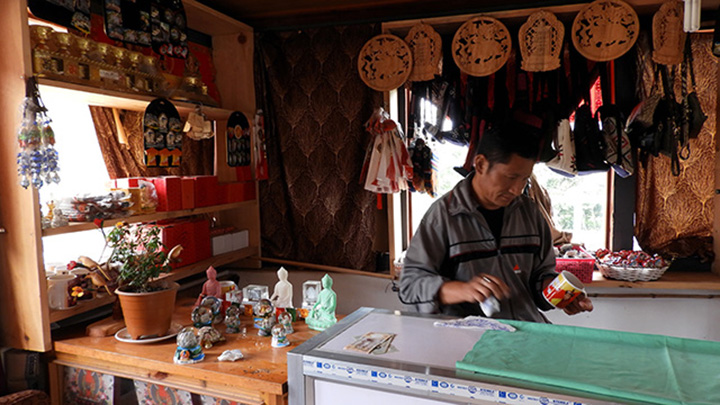 This time I'm getting a souvenir -- a coffee cup with the flag and the King of Bhutan on it so I can remember this day when I'm having my morning coffee back in Memphis. Sure wish it were a bigger cup because I'll bet when I think back on this road I'll want more coffee.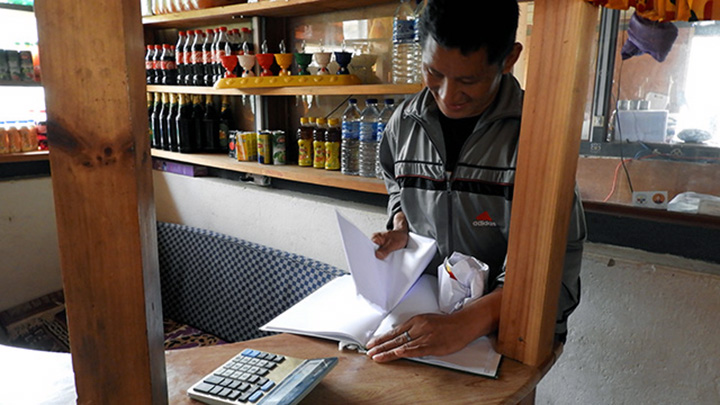 If was nice of him to wrap the cup in protective paper. To bad he had to tear it out of his ledger. Something tells me he doesn't sell too many coffee cups.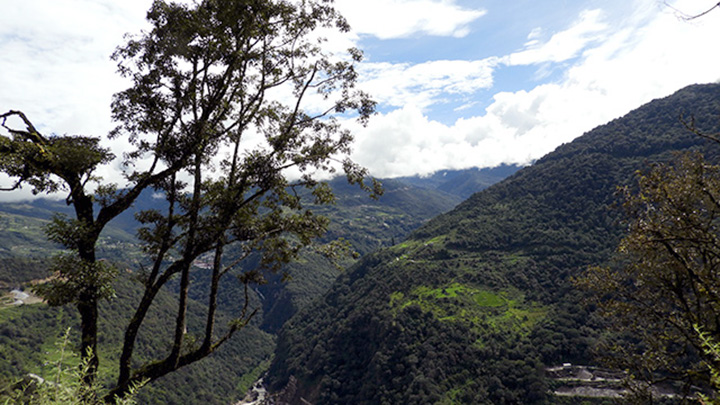 The view is still pretty.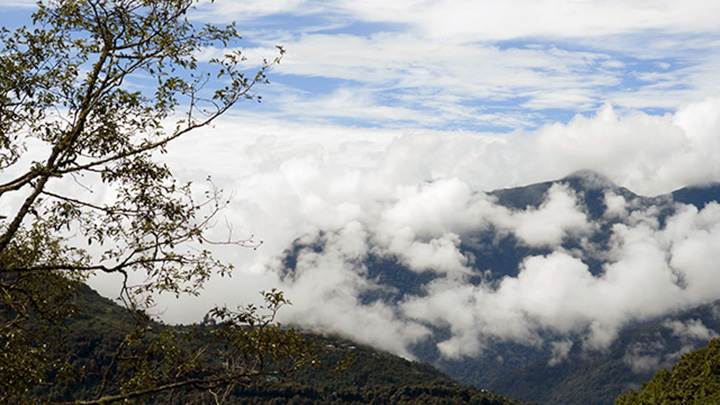 The clouds are still misty.
And it's still a bad idea to look down.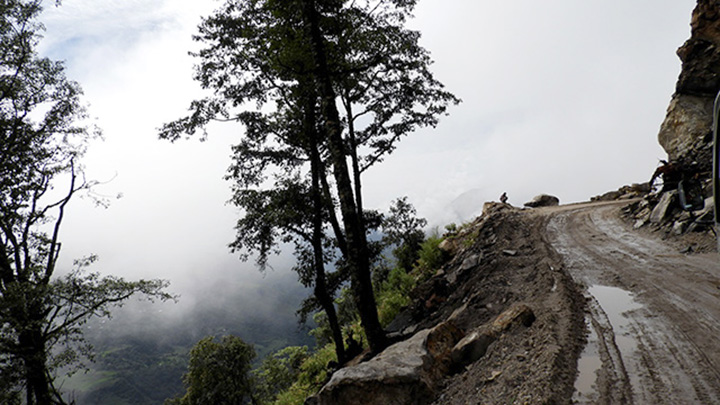 Seriously, don't.
I warned you.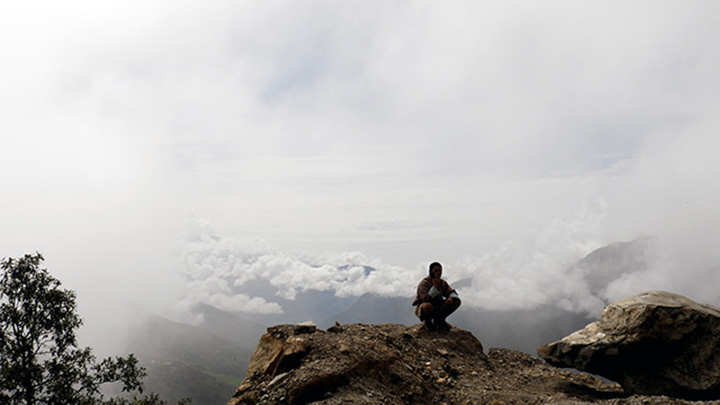 Isn't that a great picture? A lonely man meditating on a mountaintop. Wait...he's talking on his cell phone. Guess the reception is good up here.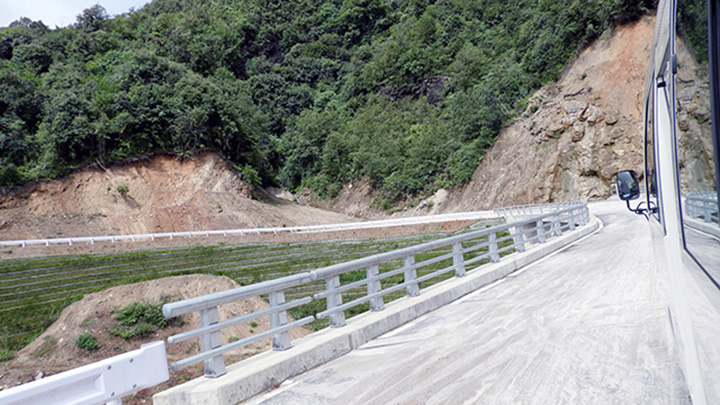 More Japanese bridge.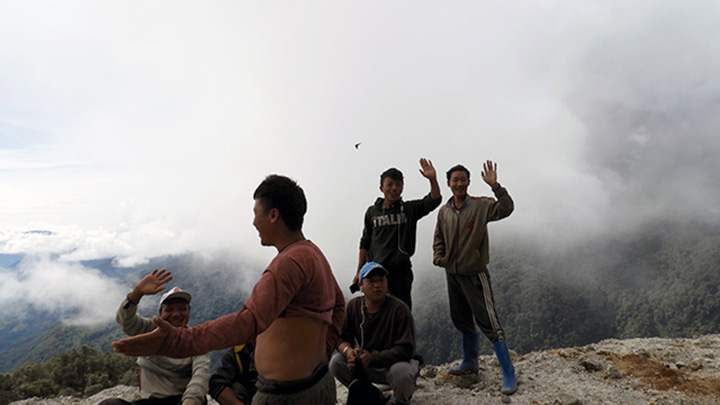 More friendly natives.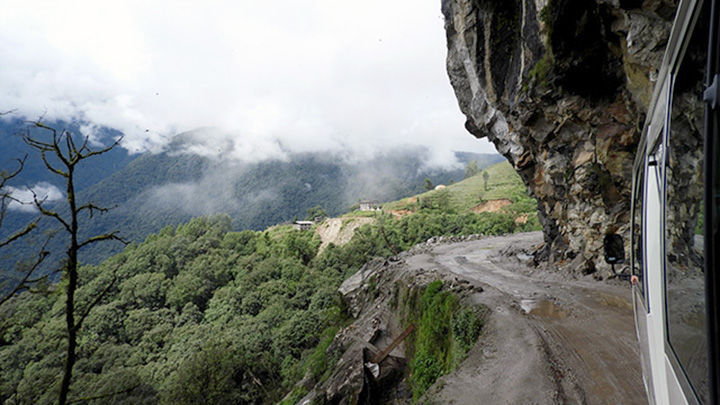 More narrow road.
Maybe we can squeeze by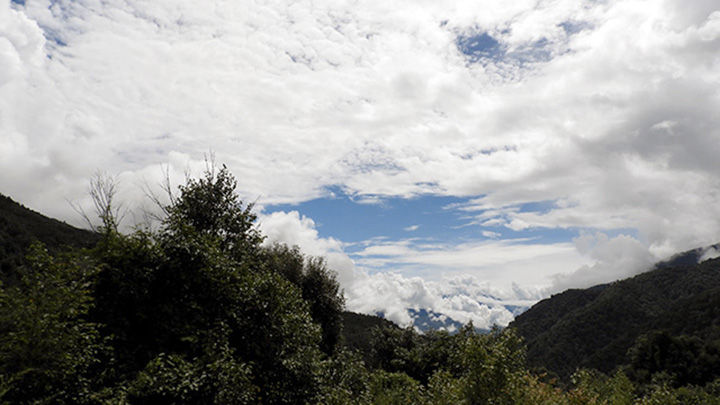 Made it.
Look! Indians!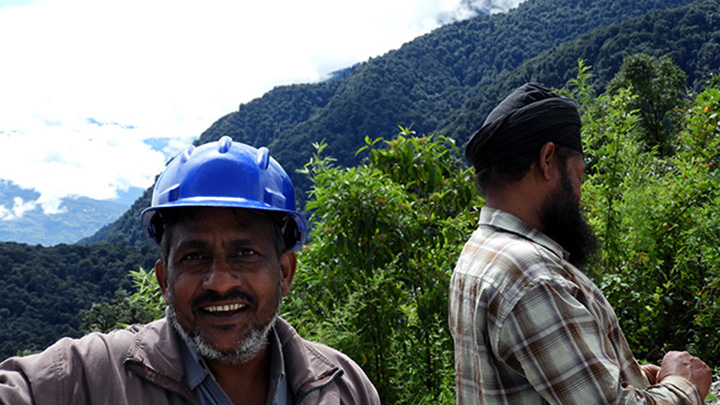 They're from a friendly tribe, I think.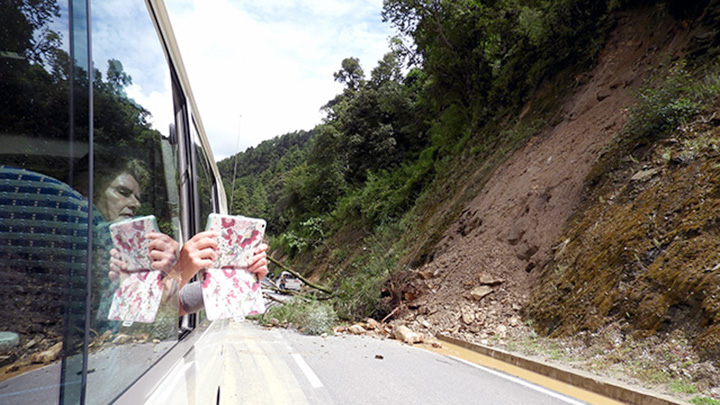 Jean is shooting video.
Let's all shoot video!
Rather, let's all stop. What's going on here?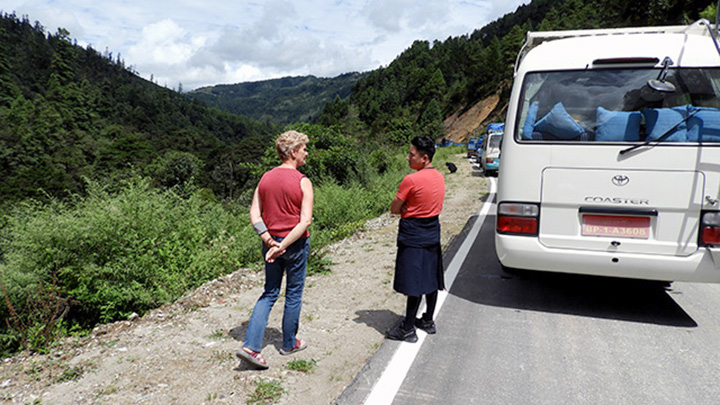 Traffic has come to a standstill and Jean discusses the situation with Sonam.
Let's see what's blocking the road.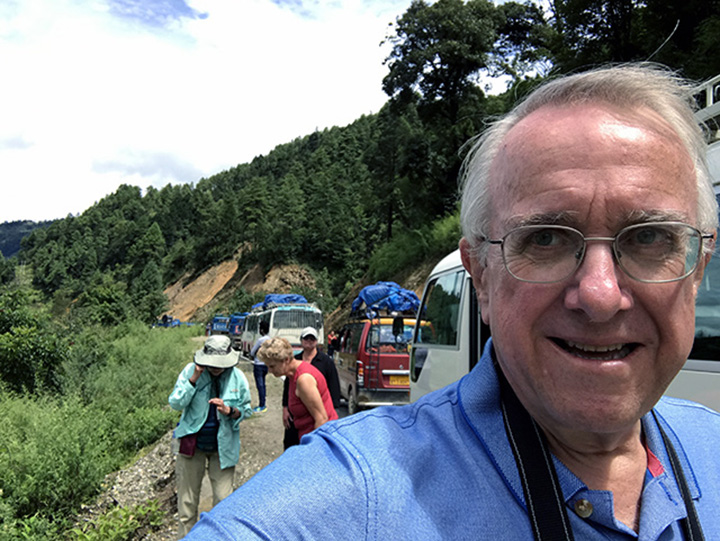 Bill's happy to wait. No point in trying to clear that until the bulldozer arrives.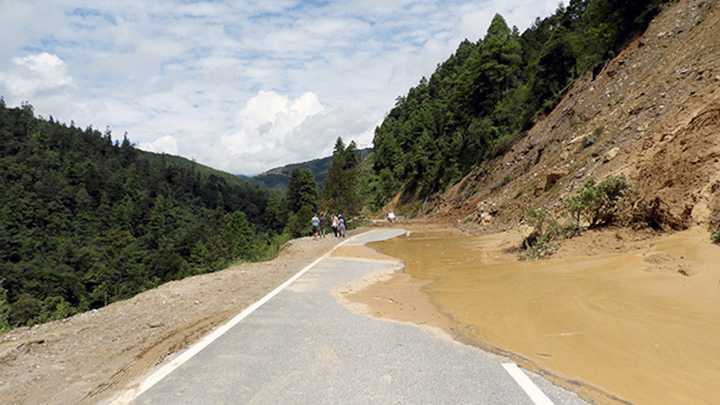 It is a big mess.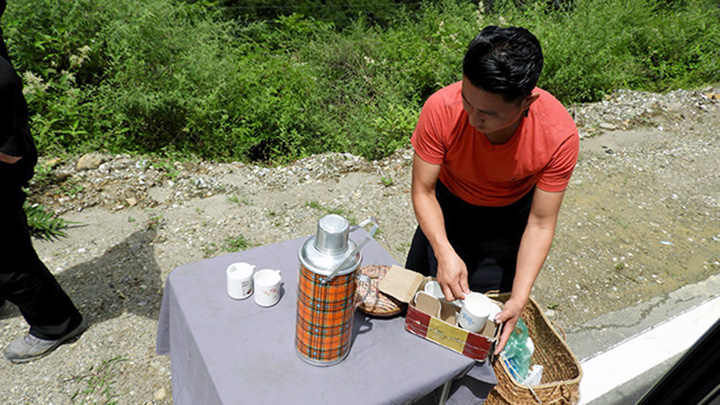 So let's have a picnic!
Bill wants to picnic right where he's sitting.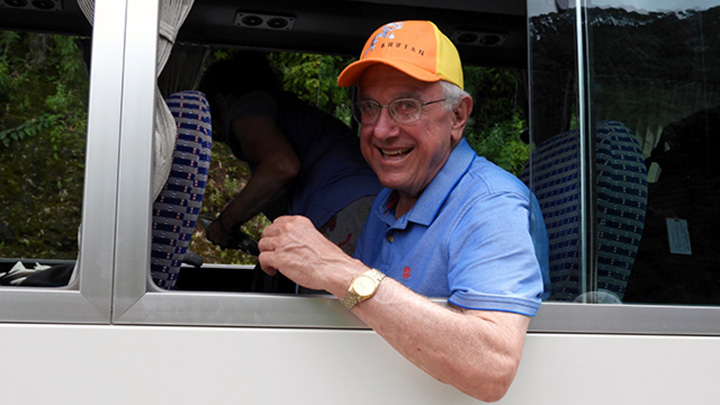 And so he does.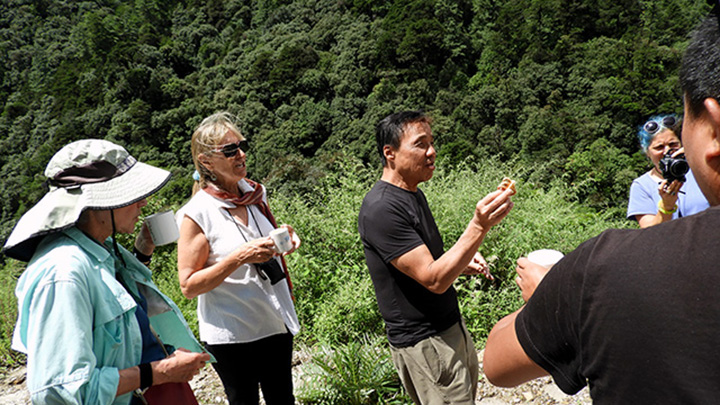 While everybody else munches on Sonam's wife's pastries again. What were they called? Khapsey.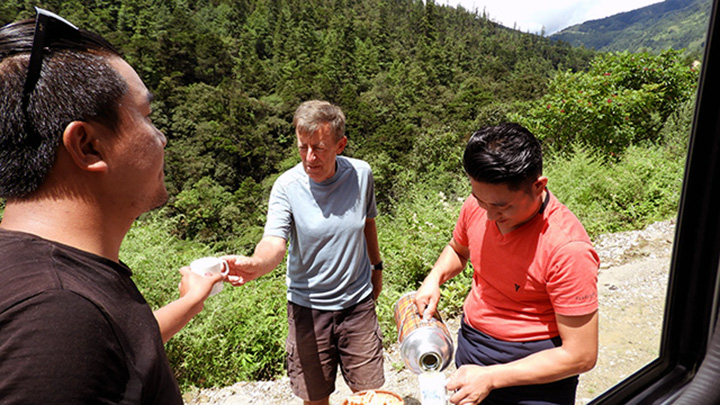 Hot tea and cookies. Mmmmm. Thanks, Sonam.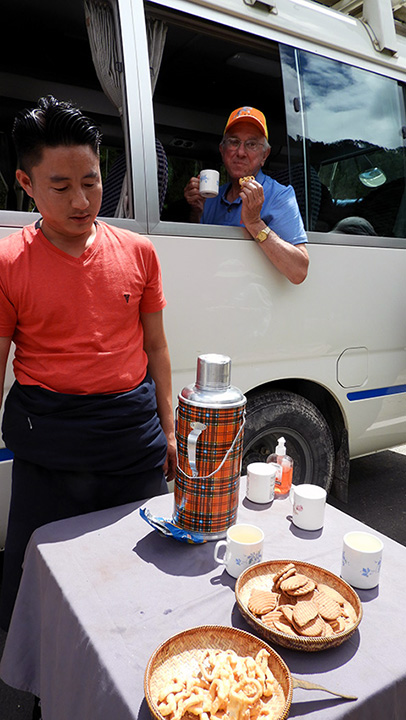 Could there possibly be a better way to wait for a landslide to be cleared?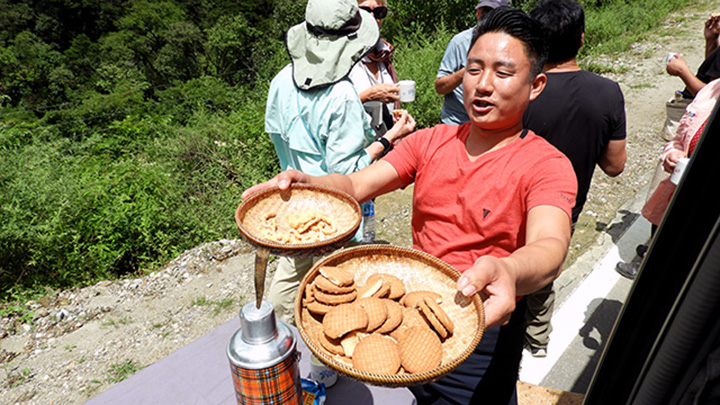 Another? I couldn't. Oh, well, maybe just one.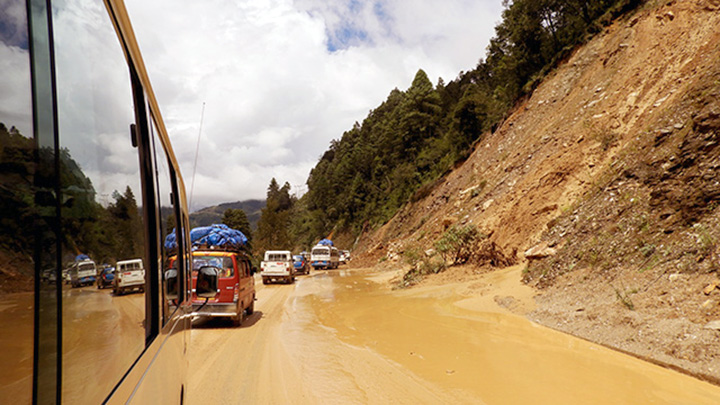 Ah, moving again. It turns out my old nodding friend from DC, the guy who was next in line to the throne back in 2008 but isn't now because the king and queen have had a baby, was stuck on the other side of the landslide. No wonder the bulldozer arrived in record time.
Let's not stop here. The landslide may not be quite finished yet.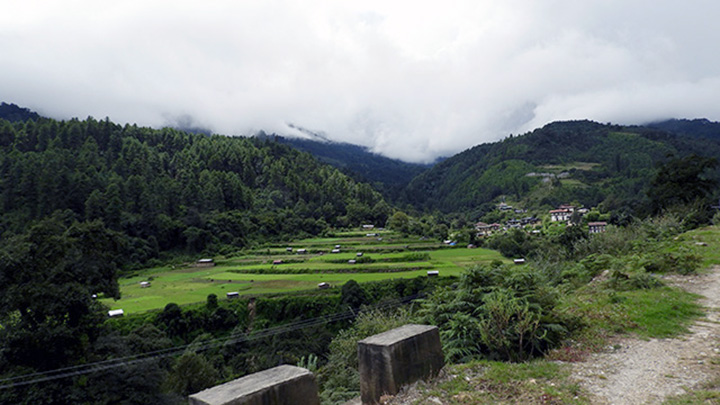 Out of danger and into the pretty countryside again.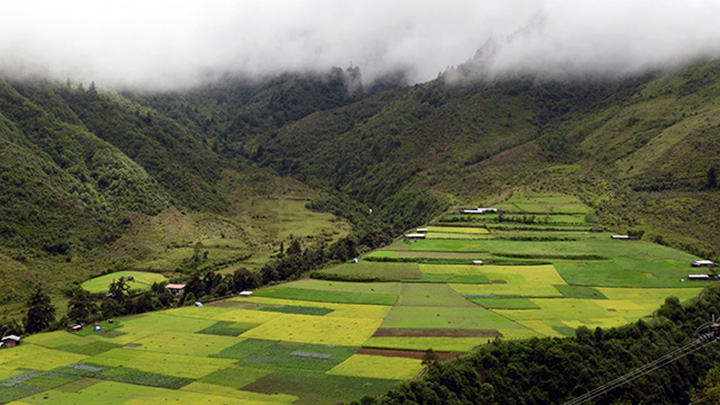 Sure hope the bad roads are behind us for good.
Wait, there's a muddy road ahead.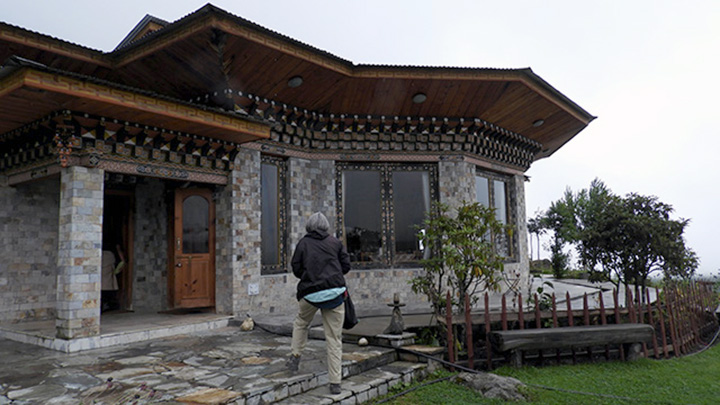 Great. Lunch at last. We're late and the nice people here were getting worried about us.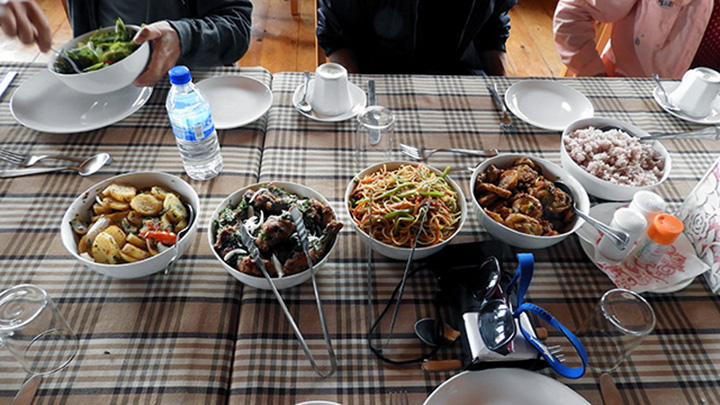 The food was delicious.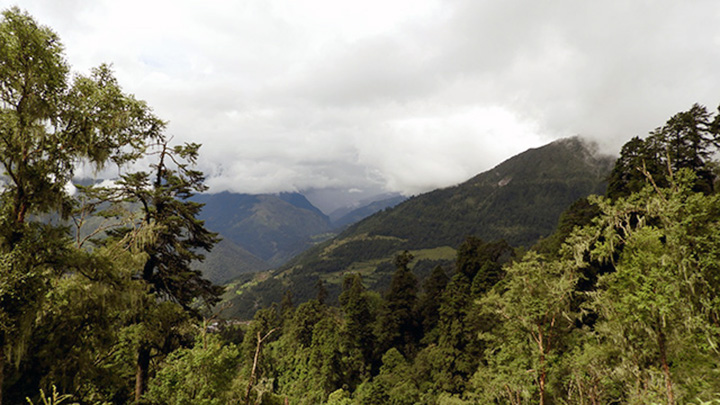 And the view was...yawn...very nice.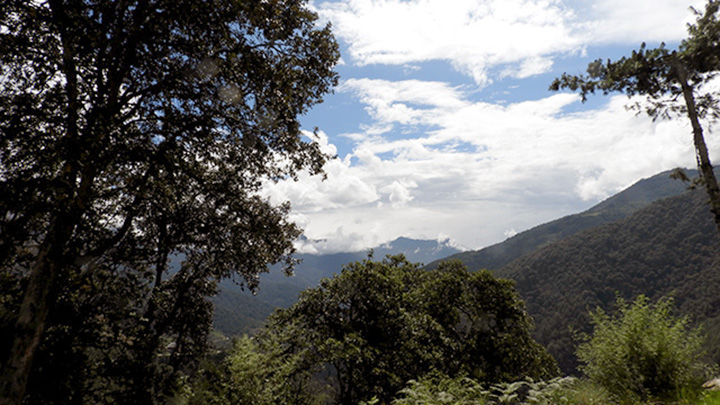 Are you getting tired of seeing these? I'm not.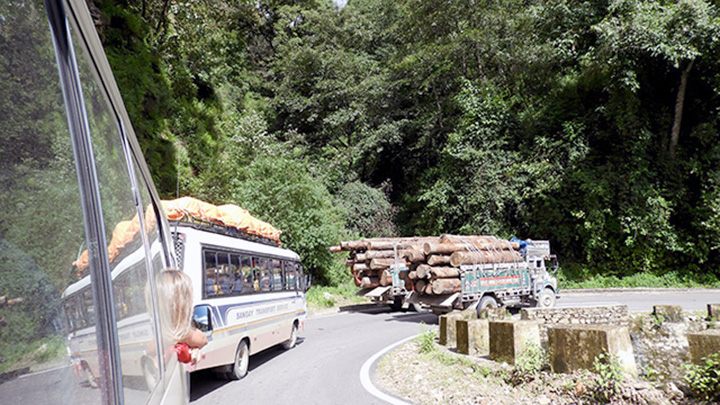 Let's everybody pass on the curve.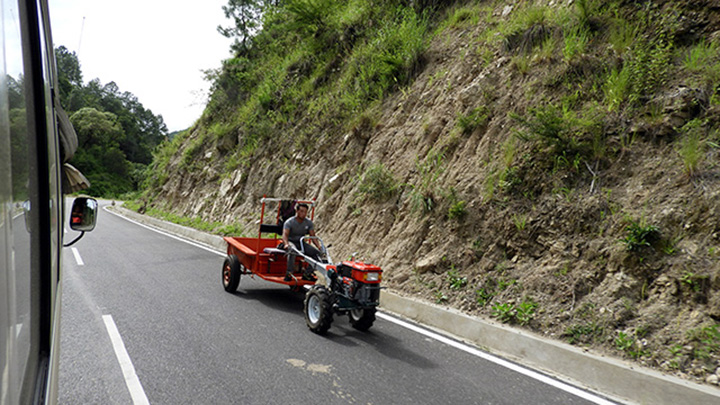 That strange contraption is a tiller attached to a trailer. It's common to see them used for transportation around here.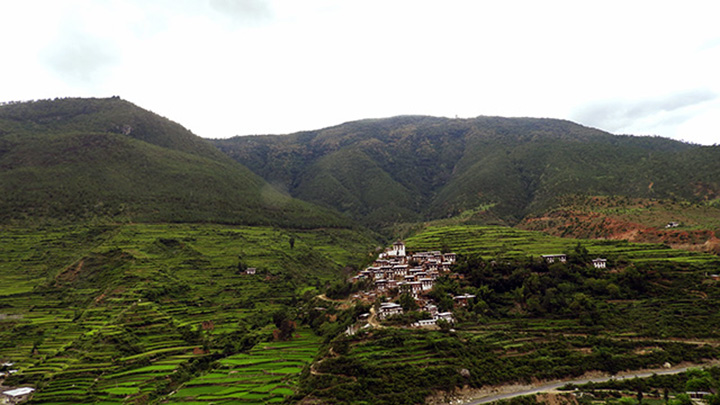 Nearing civilization.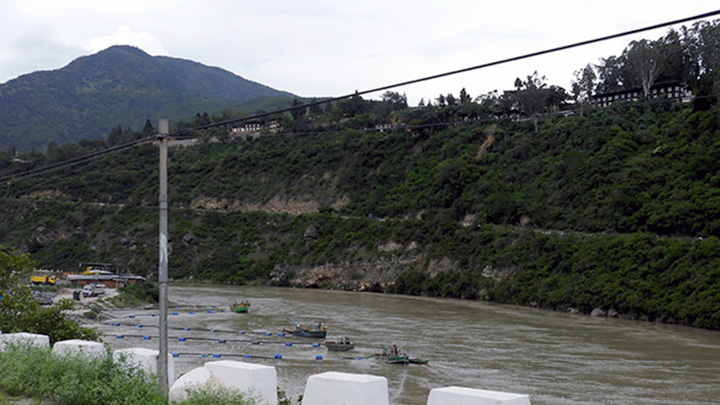 Because there are few navigable waterways in Bhutan, there's only a handful of boats in the country. And there they are.
We're arriving in the Wangdue Phodrang district and we're going to stop in a village called Lobesa.
Yes, I said Wangdue. Stop giggling.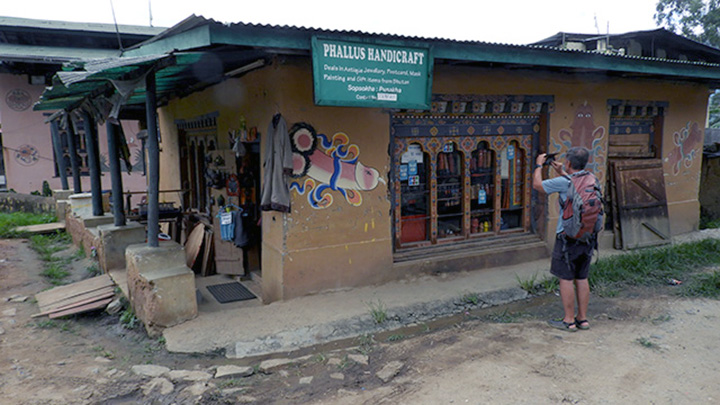 We've got to figure this out.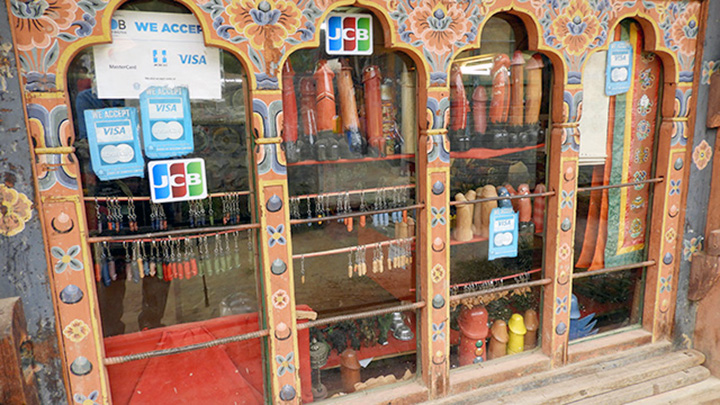 I mean, why? Just why?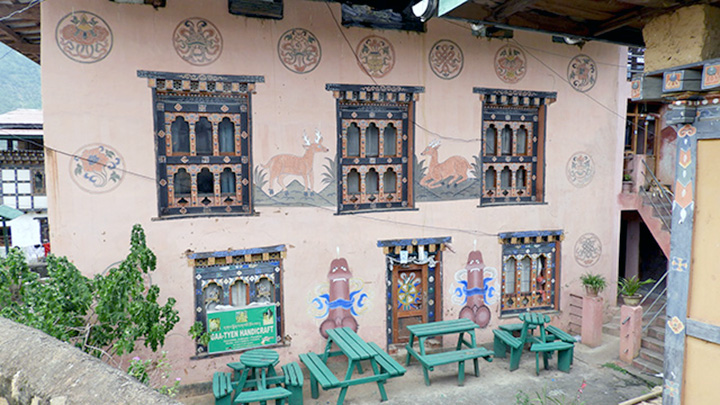 They're everywhere around here.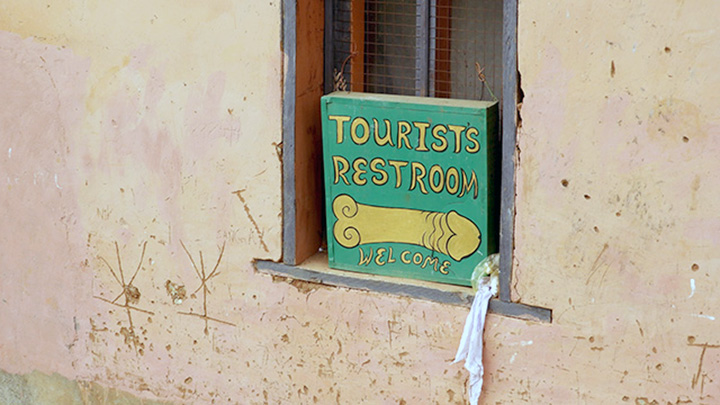 Strangest arrow I've ever seen.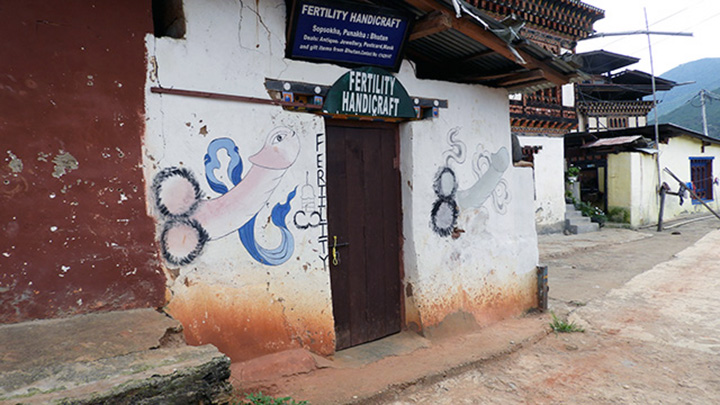 Fertility handicraft. Maybe that's a clue.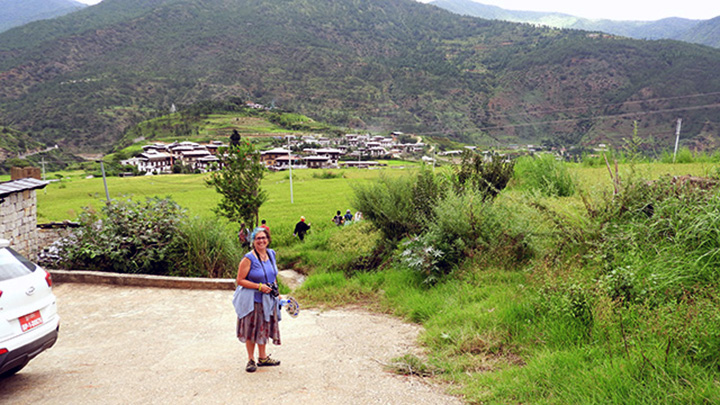 Nina says let's go on a hike.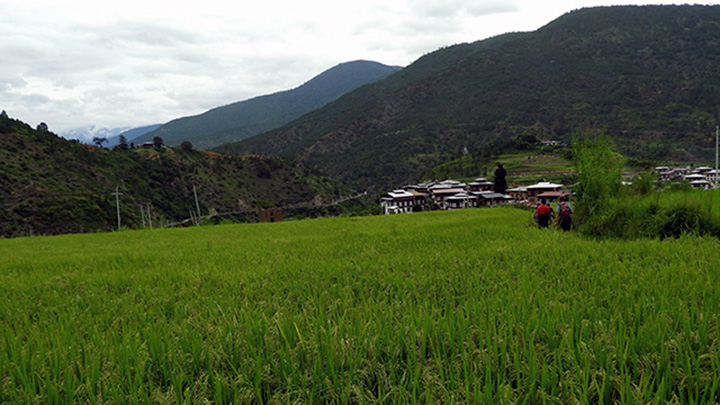 So off we go through the rice fields.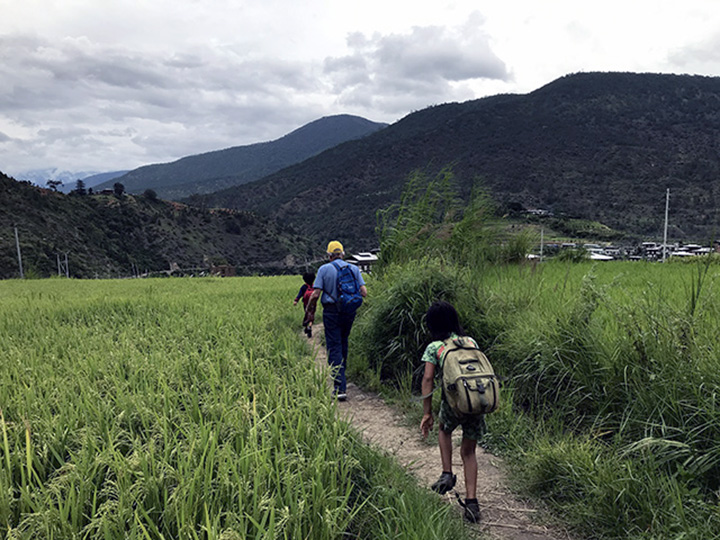 Stay on the path Bill. If your foot slips off you'll get a muddy foot. And don't be intimidated by the kids. They've had practice at this.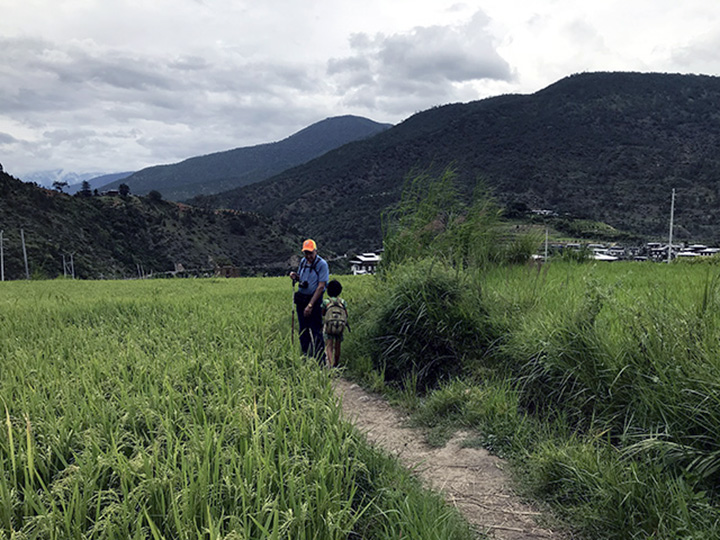 Outta my way, tourist.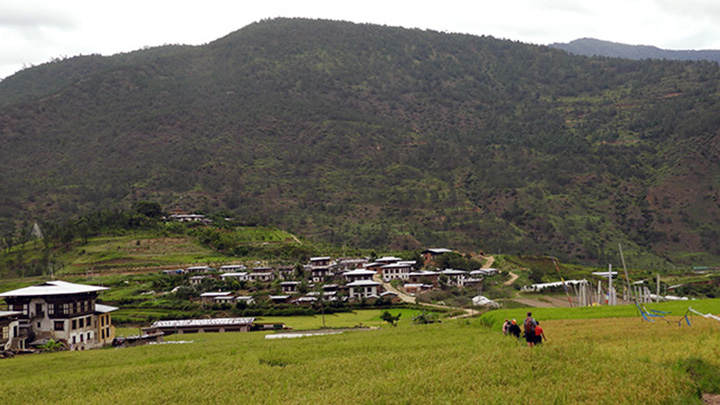 There's a temple just beyond that settlement.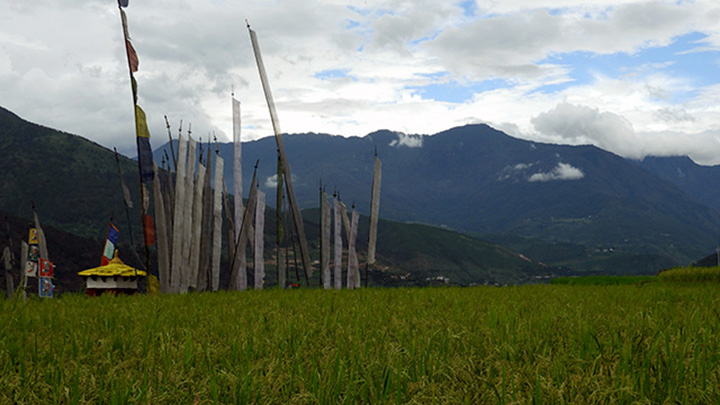 But first we have to get to the town.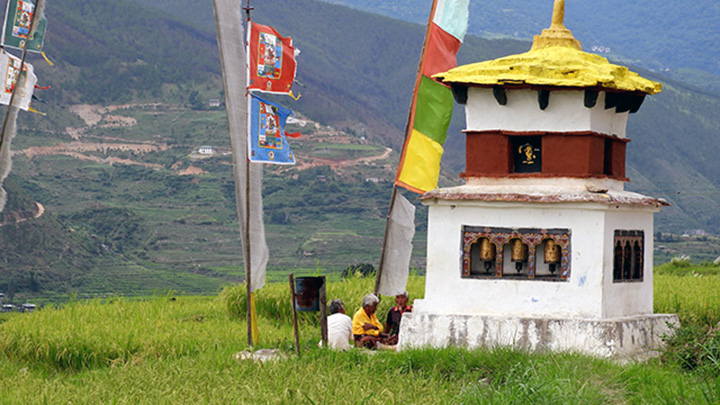 It's a stupa. With prayer wheels.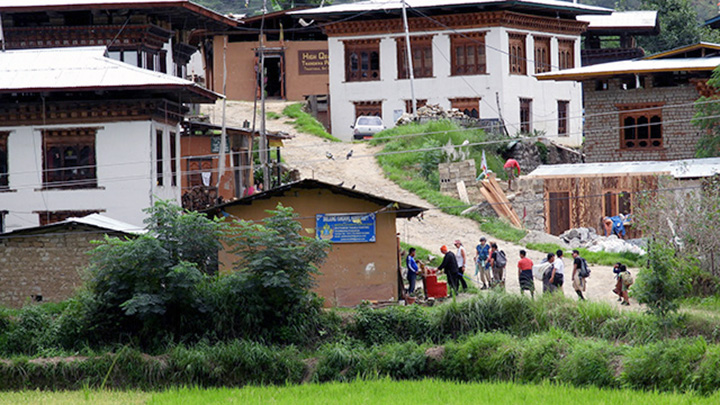 It's a tourist trap.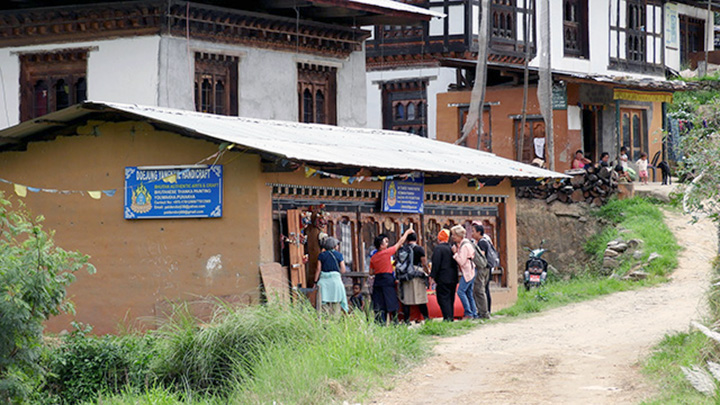 The Road Scholars seem interested in something.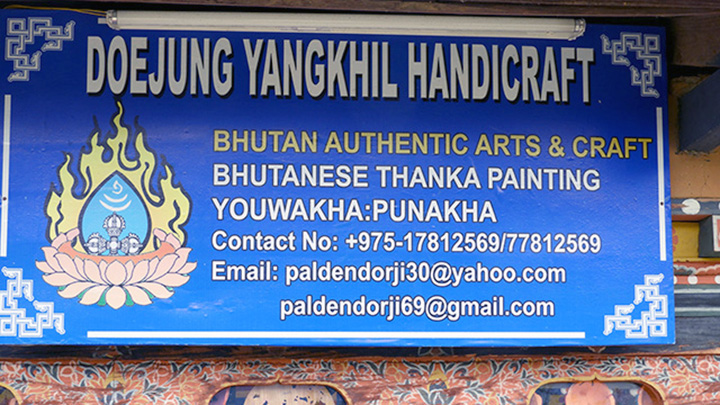 Handicrafts? Art?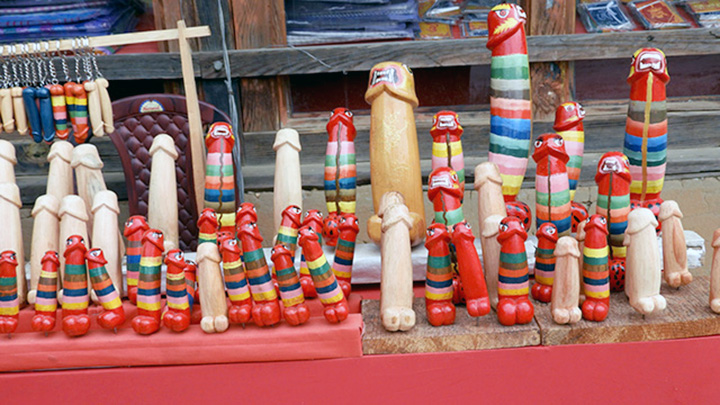 Yeah, right. OK, what's going on in this place? Turns out we've almost arrived at a monastery built in honor of Lama Drupka Kunley, the "Divine Madman" or "Mad Saint" whose bizarre and shocking teachings were very popular around these parts in the 15th-16th century. The explicit paintings we've been seeing on the walls of houses and buildings throughout Bhutan, though embarrassing to many, are taken as a matter of course in this society and they are credited as Kunley's creations. Traditionally, symbols of an erect penis in Bhutan have been intended to drive away the evil eye and malicious gossip. Also, Kunley's monastery is noted for bestowing fertility upon couples who come here from all over the world hoping to conceive a baby.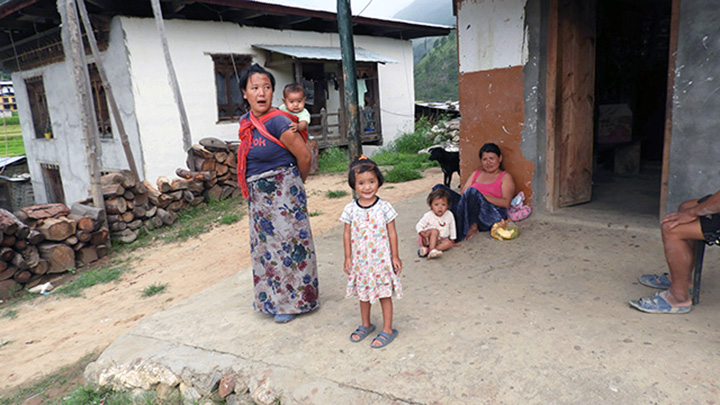 It must work.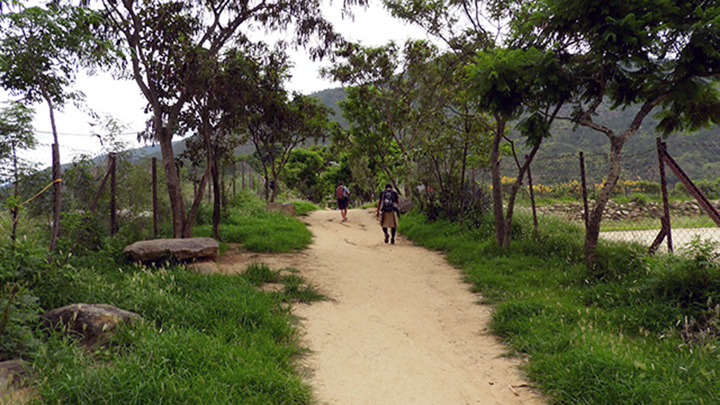 So let's go see the monastery.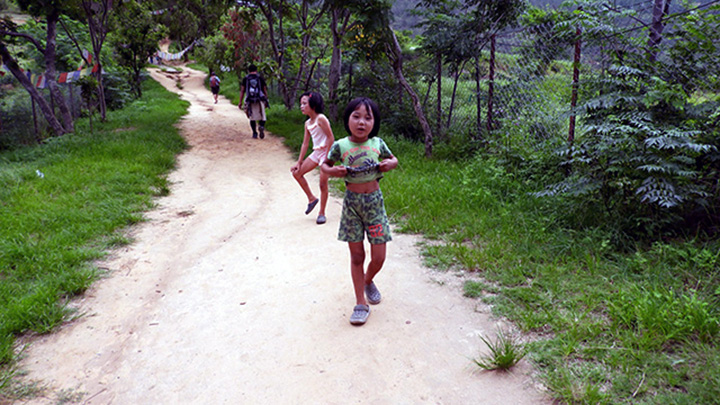 But first let's meet a couple of kids.
I'm a little slow but I soon began to realize they would want to be paid for this. Trouble was, I didn't have the right change in nu. Maybe next trip, girls. Sorry.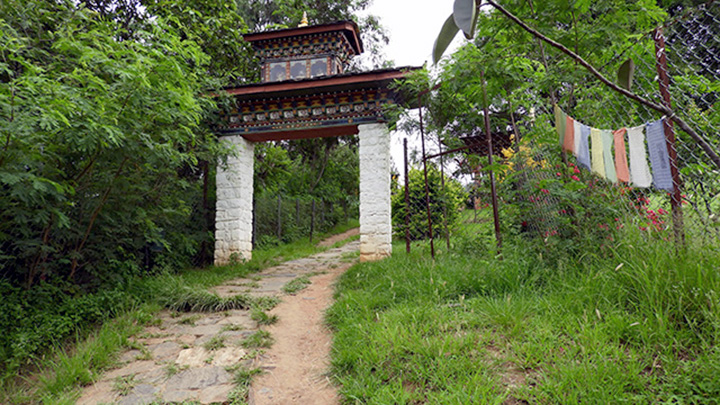 The Chimi Lhakhang Monastery should be right up there.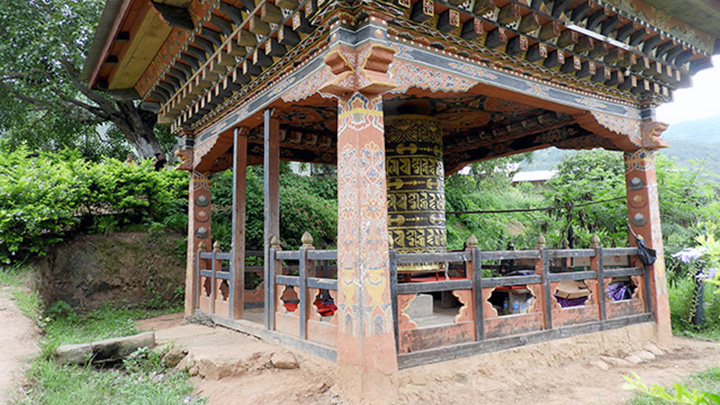 Just past this giant prayer wheel.
Here we go. Again, no pictures inside, but this time there was some interesting activity outdoors.
Here's what it sounded like. Plug your ears.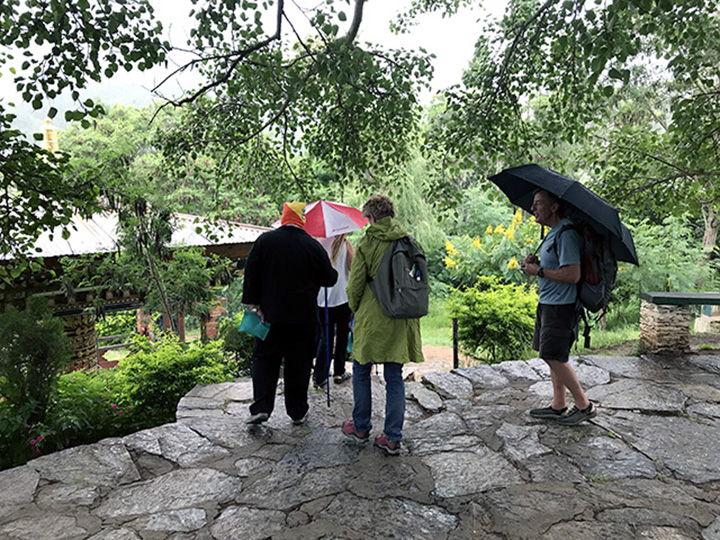 A little drizzle again.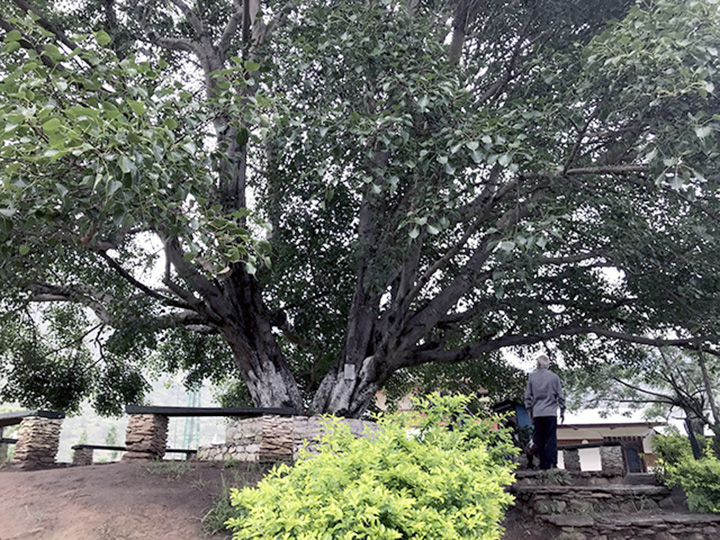 That's a big old tree. They said somebody once meditated under it. Guru Rinpoche, maybe? Lama Drupka Kunley? I don't remember.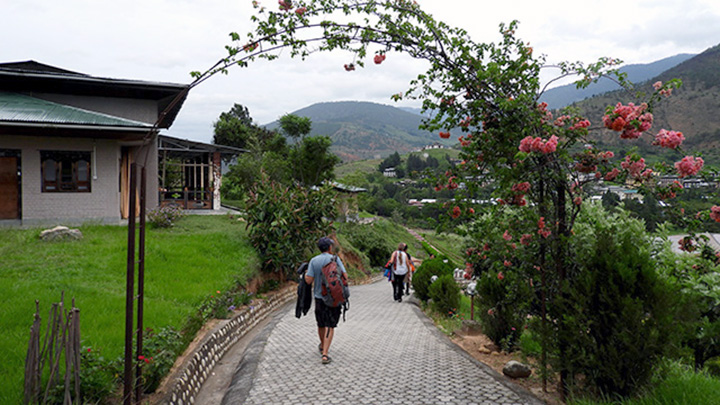 I'm just glad to get to our hotel for the evening.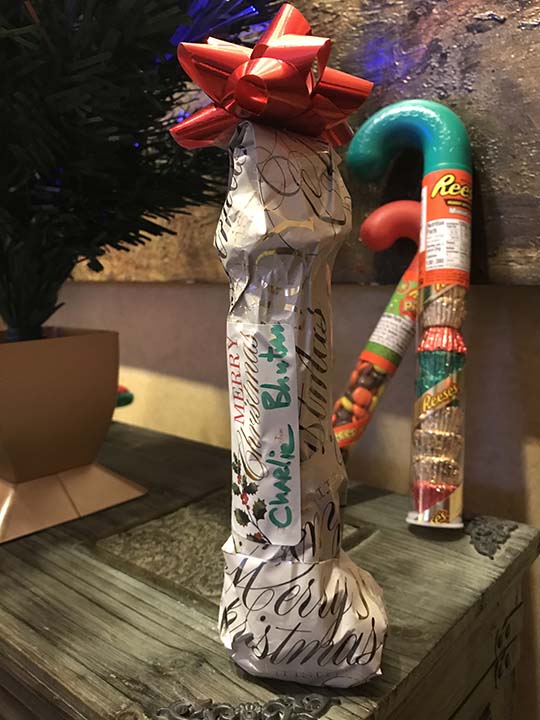 One last photo to help illustrate this very interesting day -- added to the website December 24, 2018.
Merry Christmas to my brother-in-law, Charlie!