Just when I feel like I'm beginning to learn my way around the city, today was our last day in Vienna — and it was a good one.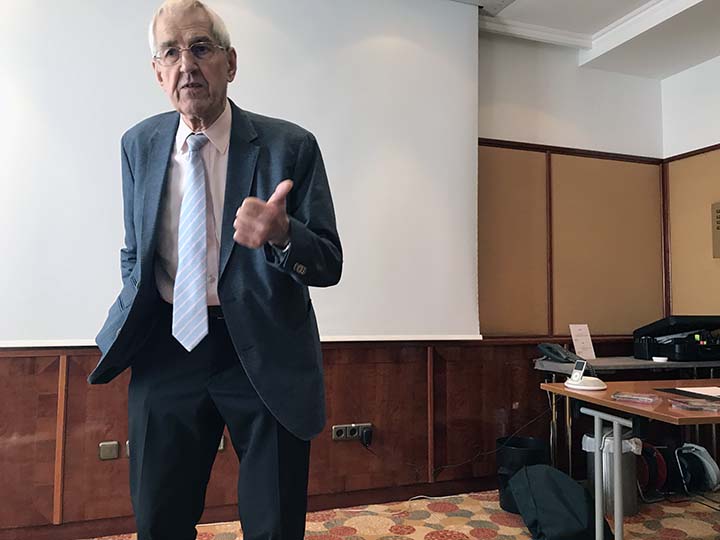 This is Eddy Kudlak, our morning lecturer. He is a retired violinist with the Vienna Philharmonic Orchestra. You know, that classical music show that's on PBS every New Year's Day. We have had many fine presentations, but I think this was my favorite. See that little iPod sitting on the table behind him? He played short selections of various classical pieces to illustrate his presentation. "Does everybody here know this?" < Plays the Blue Danube; Everybody says "the Blue Danube."> He smiles. "Well if you didn't know that, what are you even doing here?"
Here's Eddie's YouTube video in which he tells about himself and his work.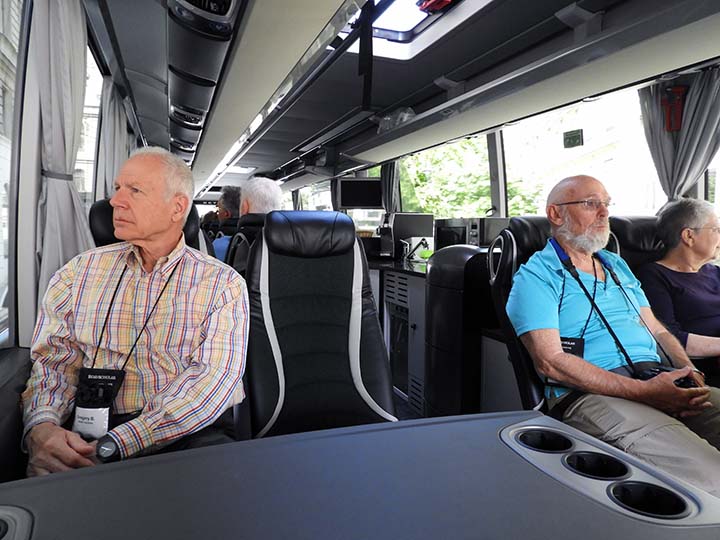 Our bus this morning was pretty fancy. We had a little kitchen sink and tables that of course we never had a chance or a reason to use.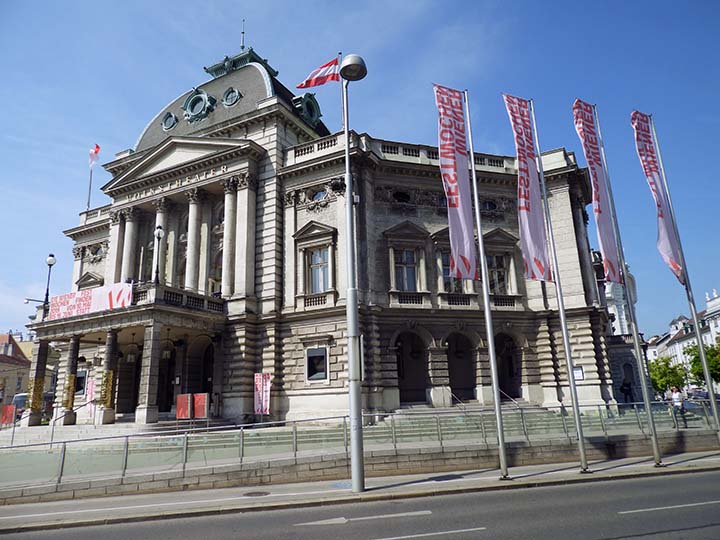 I'm not sure what the fancy building is, but the signs are advertising the Wiener Festwochen, and annual arts festival.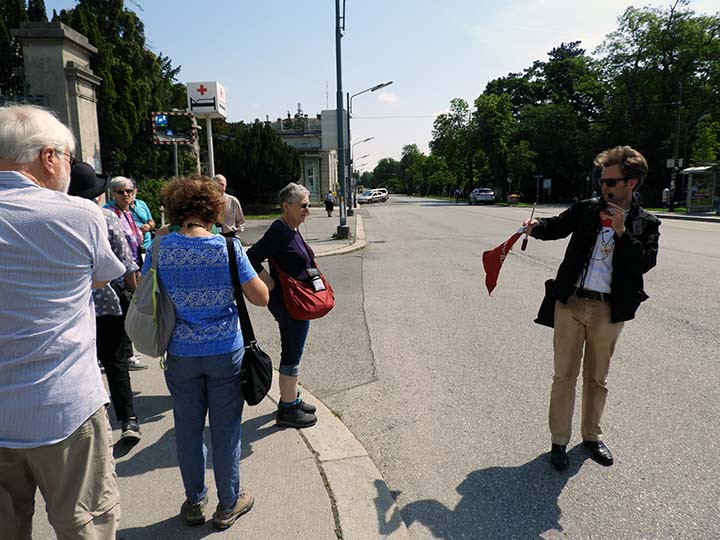 Lucas leads the way.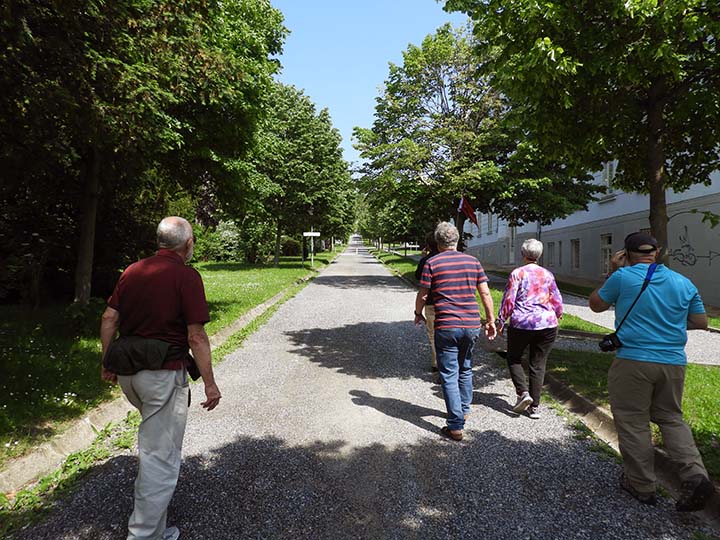 We had quite an uphill climb ahead of us. A couple of people took a taxi to the top, but the rest of us forged ahead. We are on the grounds of Steinhof Hospital. It was originally a psychiatric hospital and center for pulmonology when it was established in 1907. The hospital lies in the 14th district of Vienna, Penzing, and was built according to the plans of architect Otto Wagner. The building is made up of 60 pavilions that were designed by Carlo von Boog.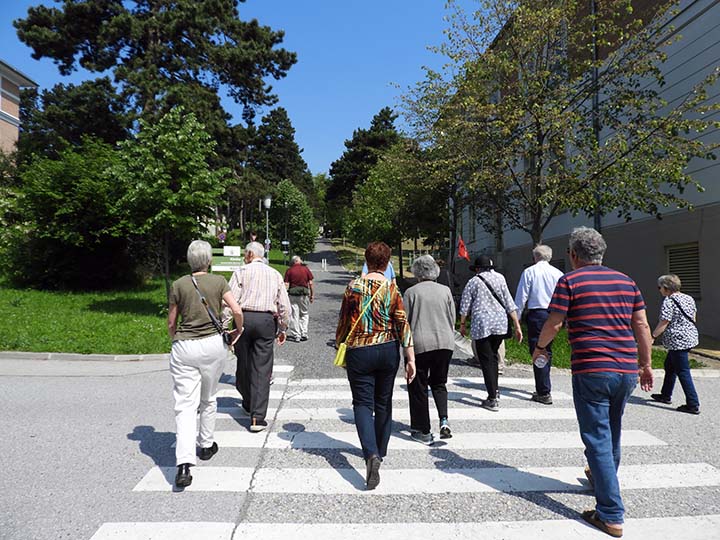 Stay in the crosswalk, Road Scholars.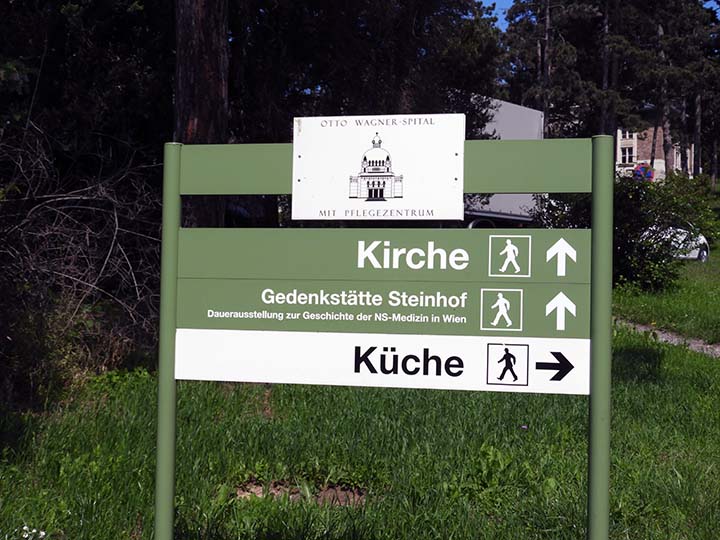 A beautiful art nouveau catholic church, the Kirche am Steinhof, is located at the center of the compound.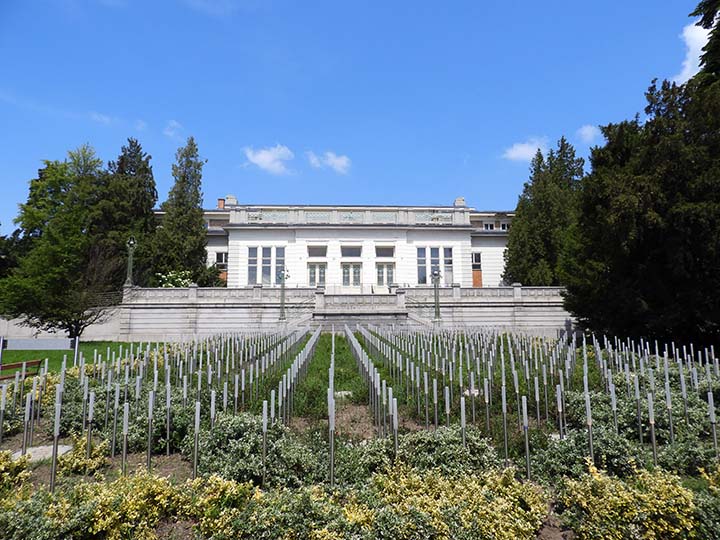 During the Second World War, 789 children were tortured and murdered in the Children's Ward of the hospital. This is their memorial.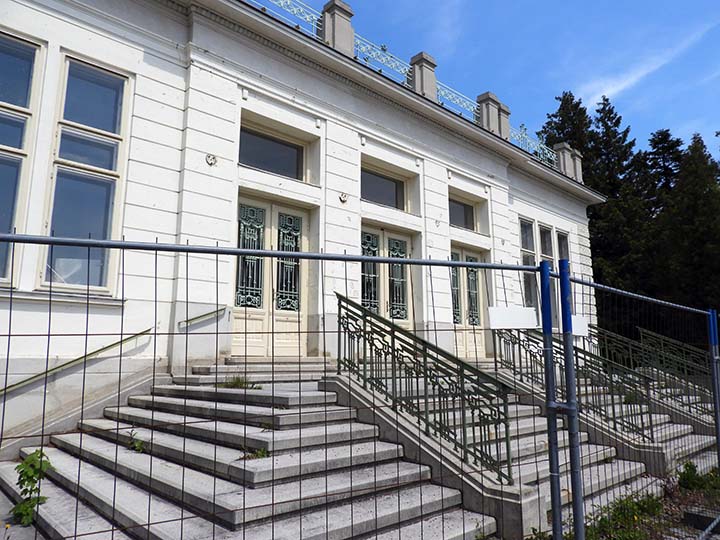 Terrible things were done inside, but it's all locked up now.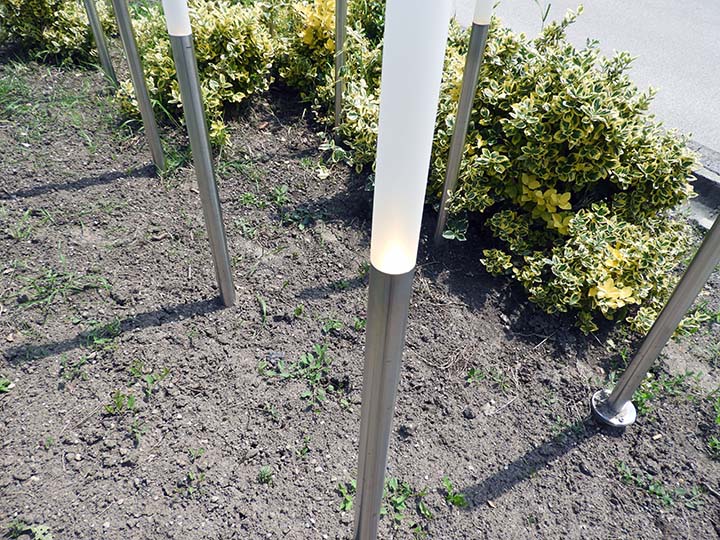 There's a light like this for every victim.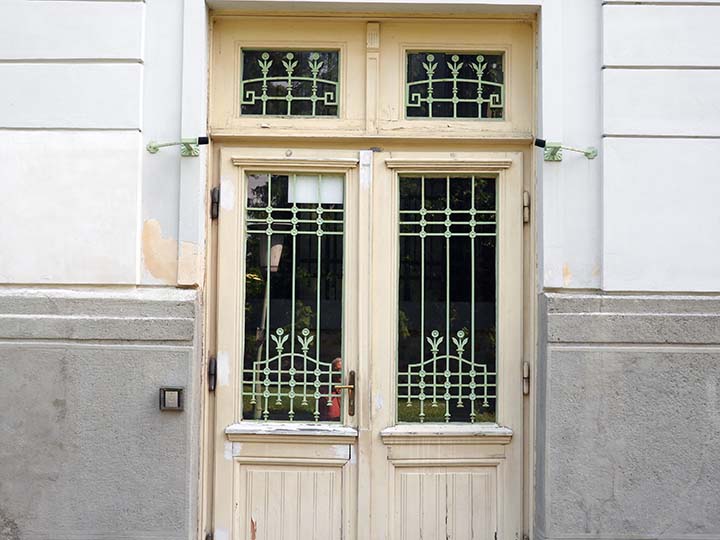 Shudder.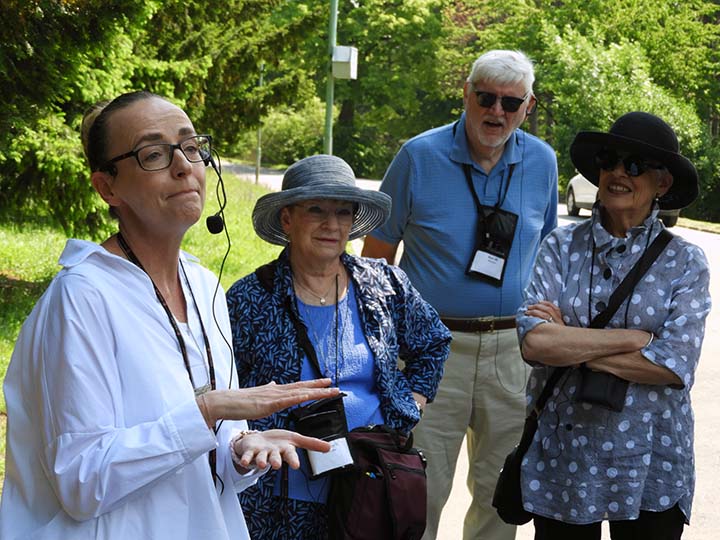 Our guide is full of fascinating information about the place. The Road Scholars hang onto her every word.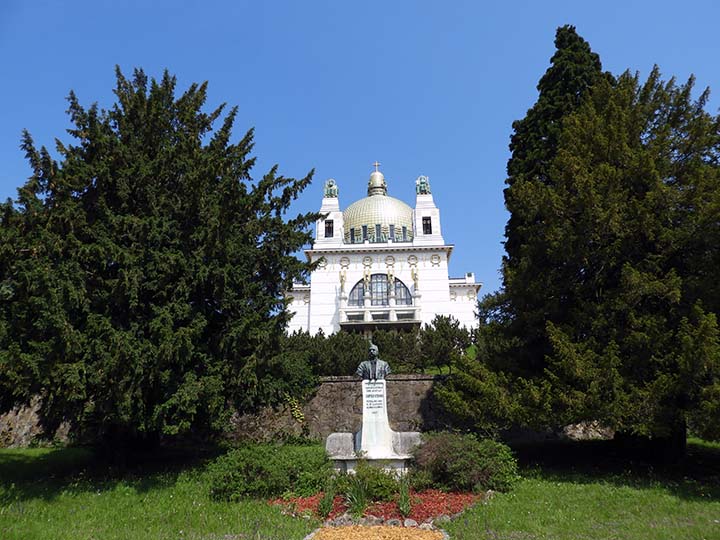 That's where we're going, an art nouveau style Catholic church called Kirche am Steinhof. Looks like it's a long way up there.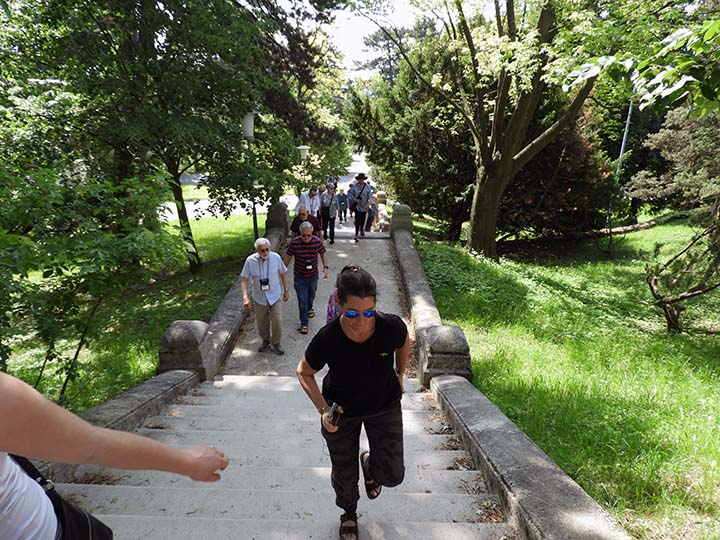 The Road Scholars never falter.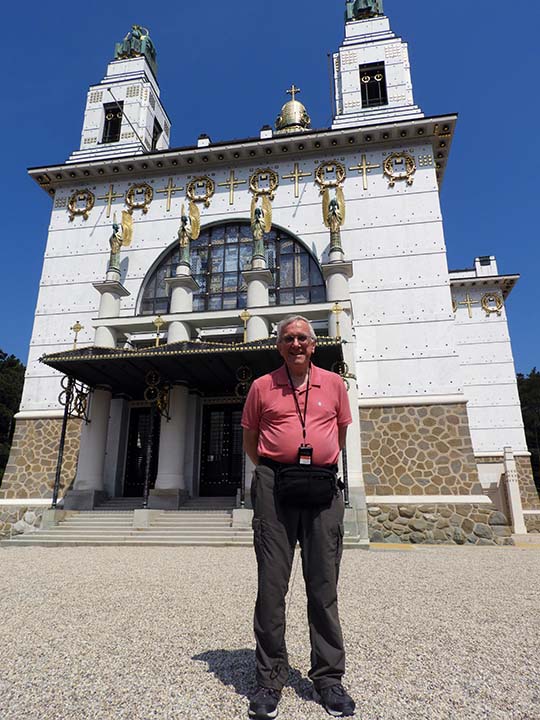 Does he look like he's out of breath? No, he does not.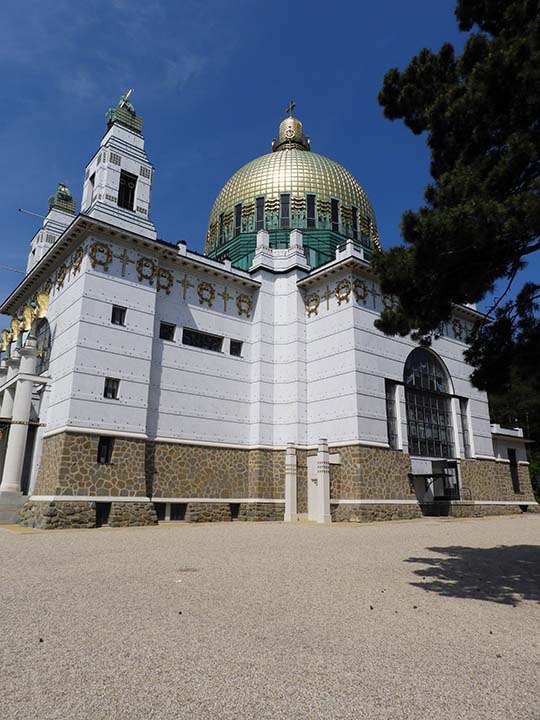 Nice dome.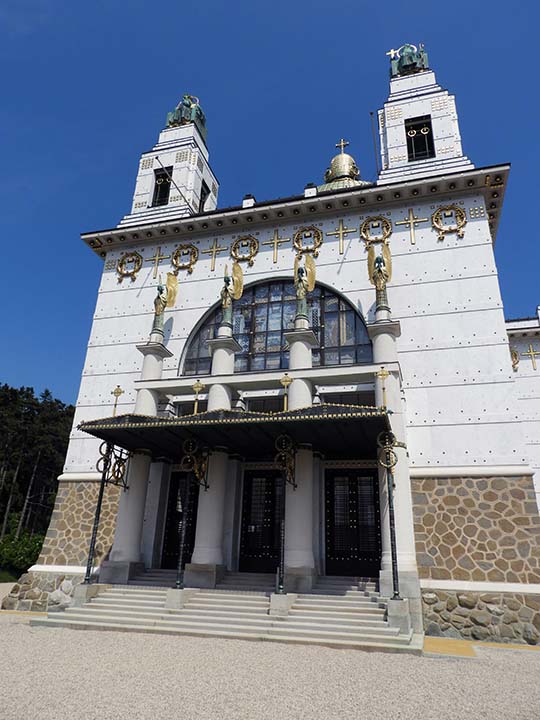 The architect Otto Wagner had a huge influence on architecture all over the city of Vienna around the turn of the previous century. His usual style was art nouveau, and those wreathes are his trademark. You can find them all over Vienna. He was hugely influential but he never could get a Royal commission from the Habsburgs, and apparently that bothered him a lot.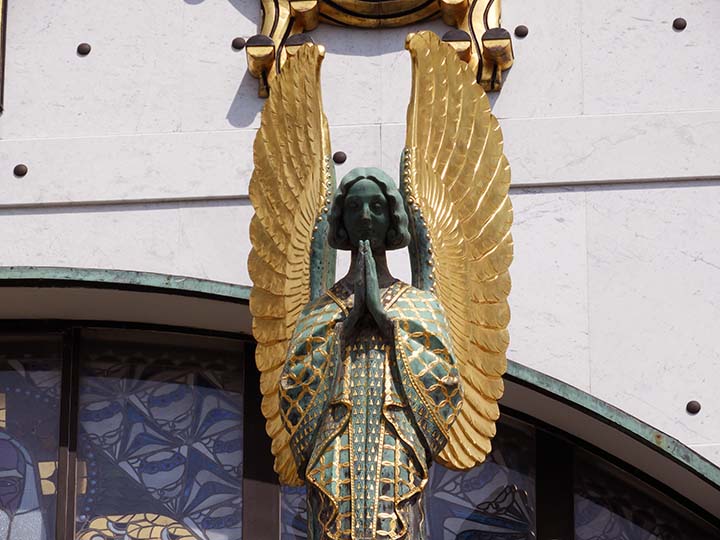 The art nouveau angels are beautiful.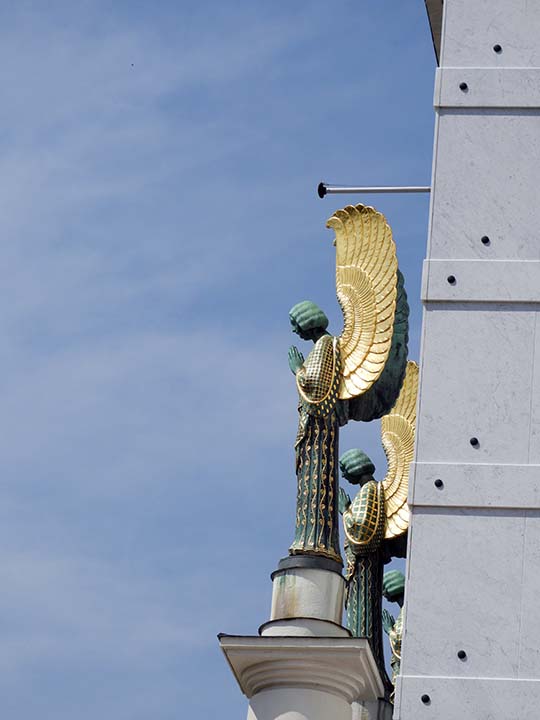 When viewed from this angle too.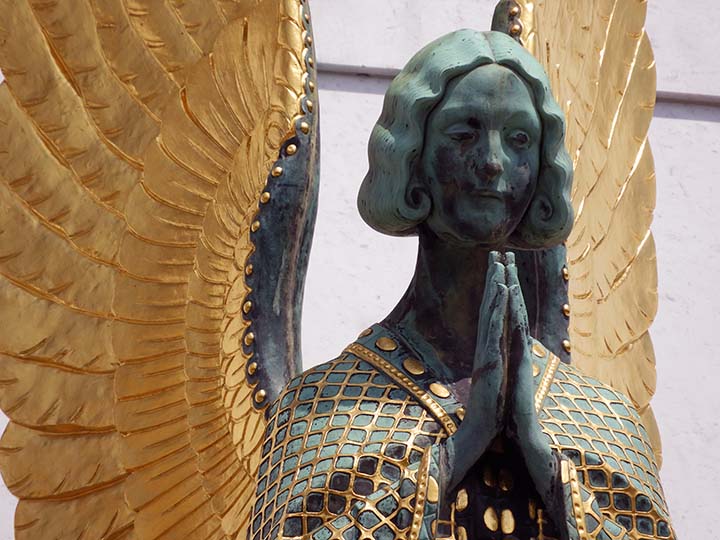 The head of one of the angels is lower than the others because it got damaged during restoration.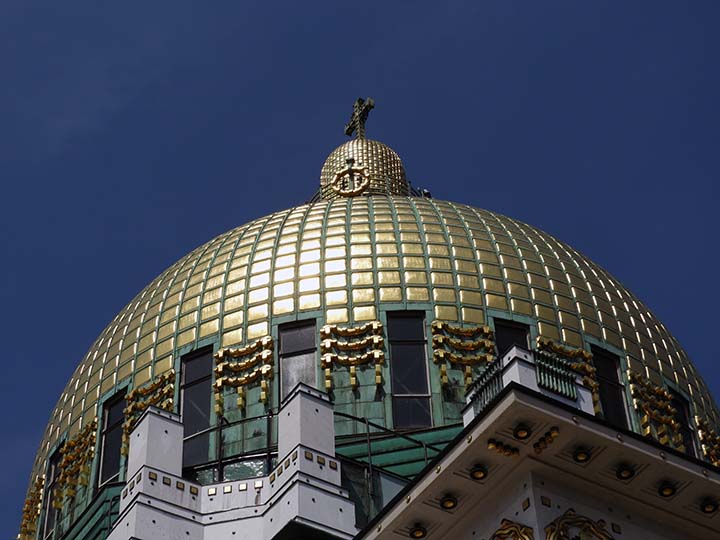 The dome is covered in gold leaf.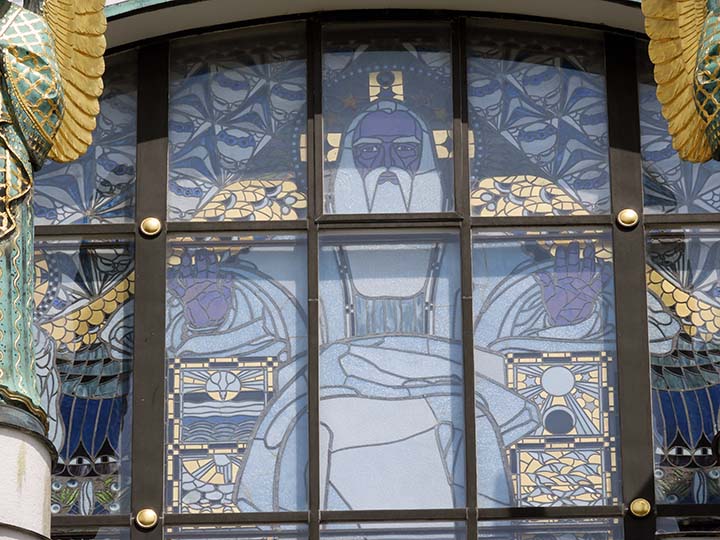 The church features some fabulous stained glass windows by artist Koloman Moser. This one, oddly, appears never to be seen illuminated from behind. It's blocked by a giant organ inside. It depicts God creating the heavens and the earth.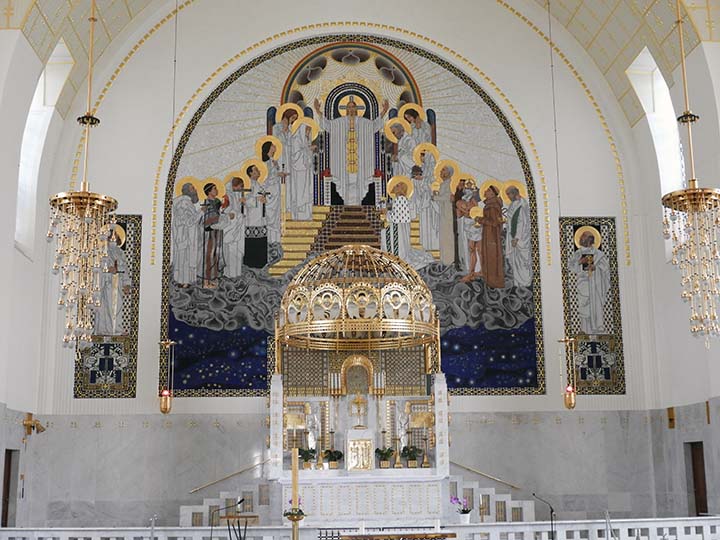 The inside is beautiful.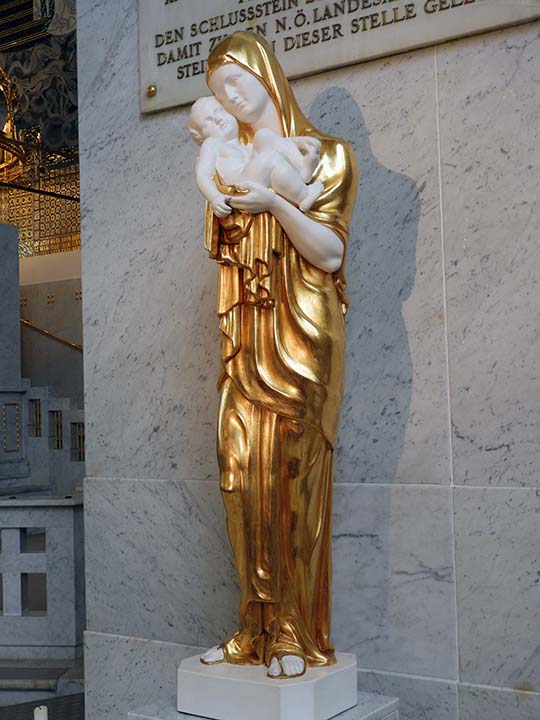 I think this lady in gold is Mary.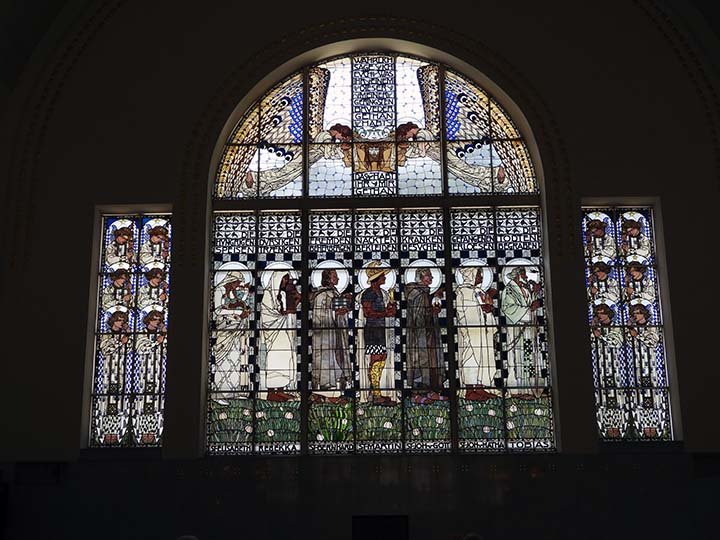 That is one of the Moser stained glass windows.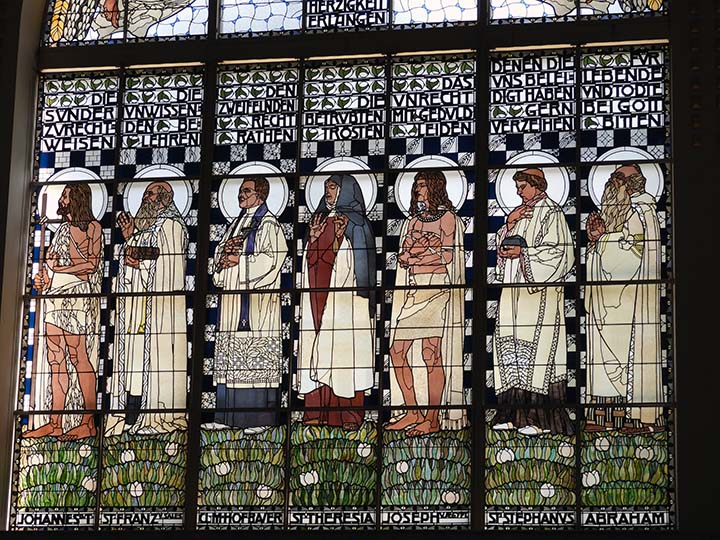 And that is another. They are stunning.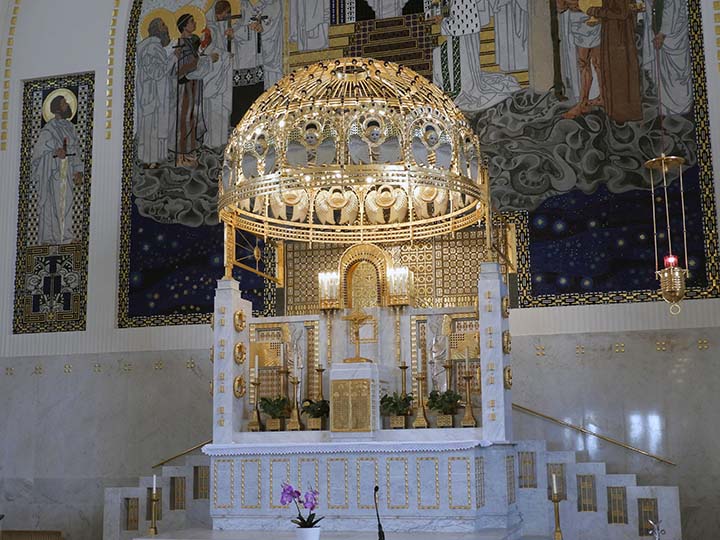 Fancy altar.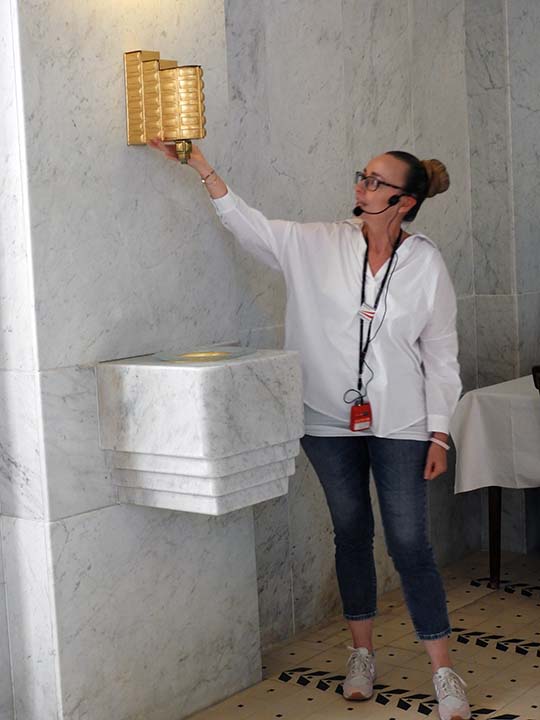 Holy water dispenser.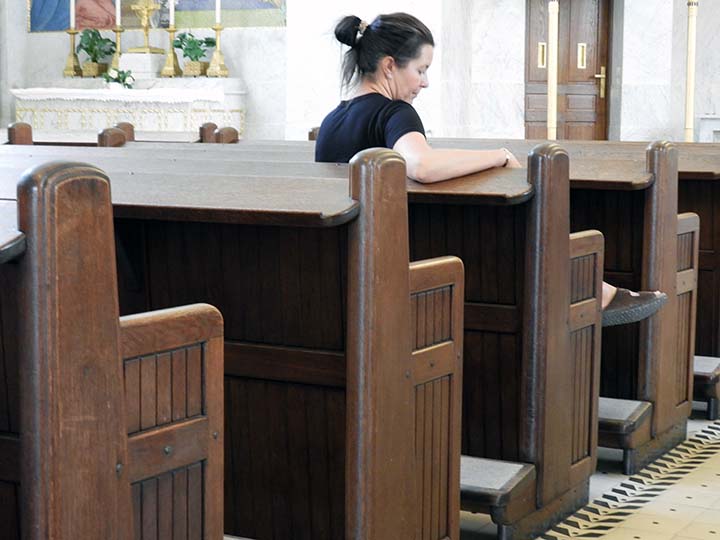 The edges of the pews are rounded because all the parishioners were mental patients. You didn't want them bumping into anything Sharp.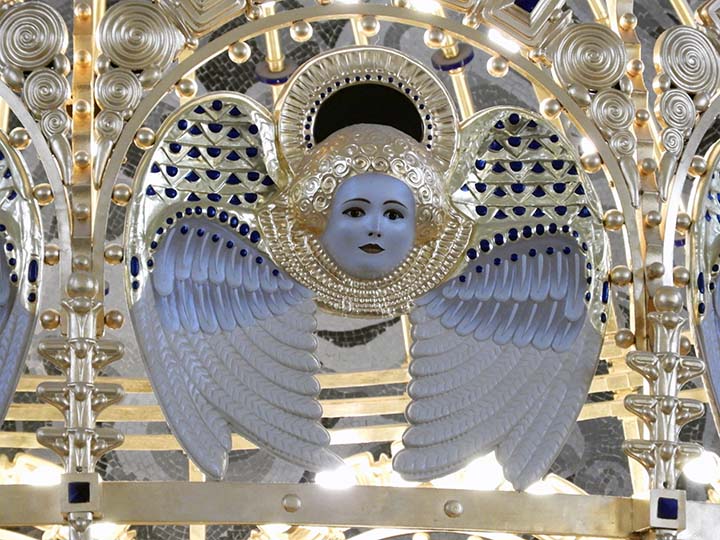 That's a detail from the canopy over the altar.
The confessional has no doors or curtains because you have to keep your eye on the mental patients.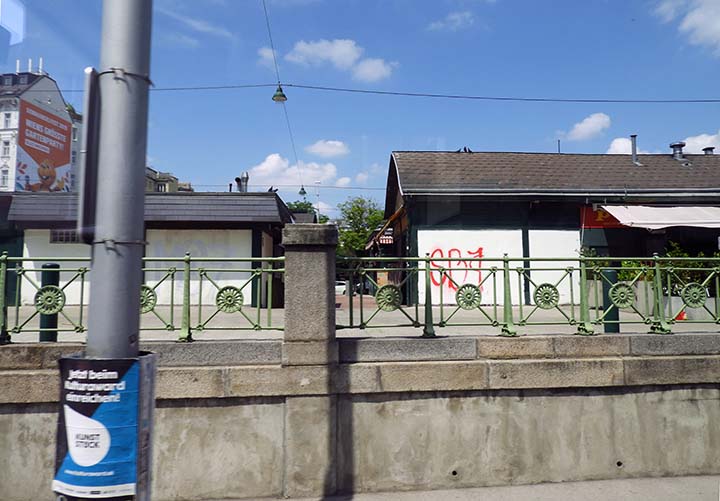 As we are driving back into town, we spot a railway station designed by Otto Wagner.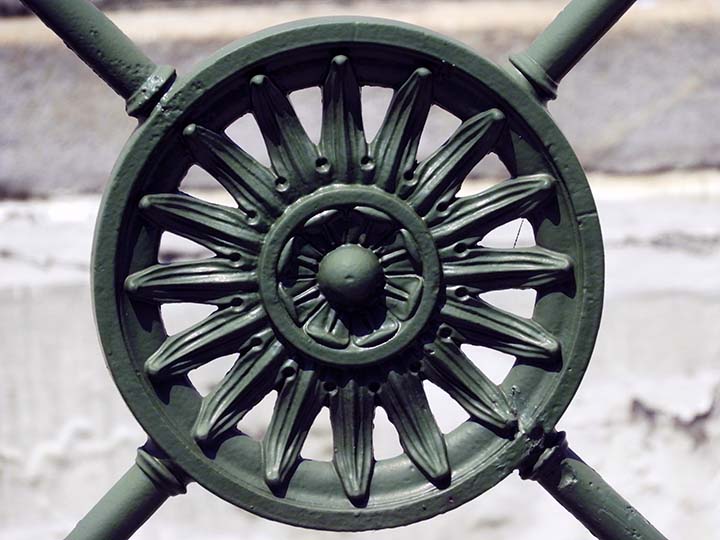 One of his art nouveau patterns in the railing along the tracks.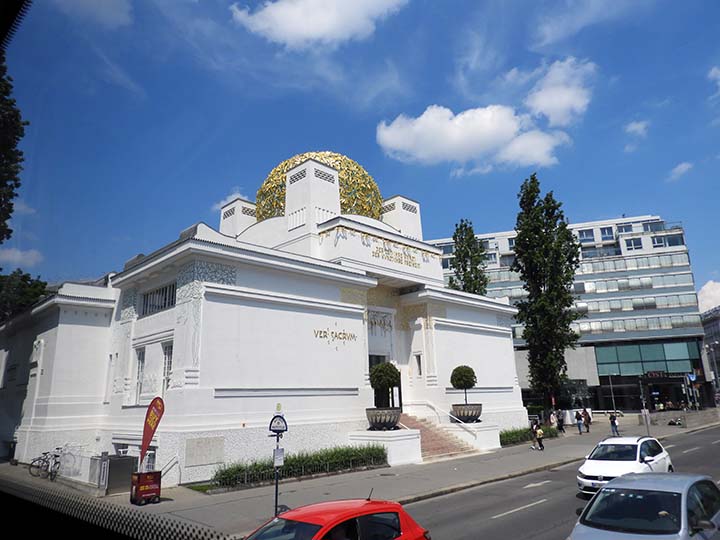 This is the Secession Building, a strikingly beautiful art gallery.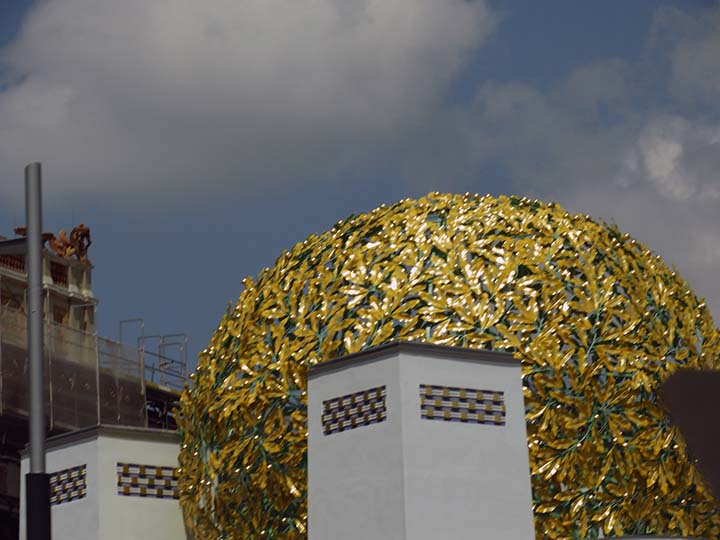 With quite a dome.
That tourist is starting to look pooped. But in fact he's having a great time.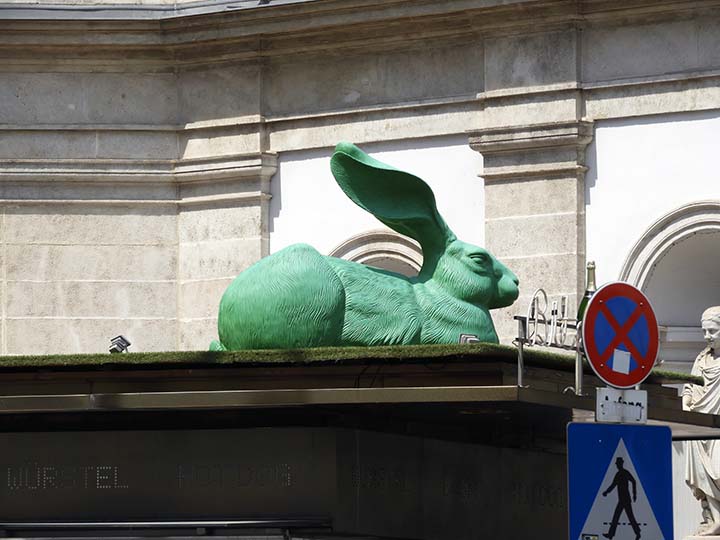 We found rabbits around town, an art installation inspired by an Albrecht Dürer drawing. This rabbit is guarding the state opera house.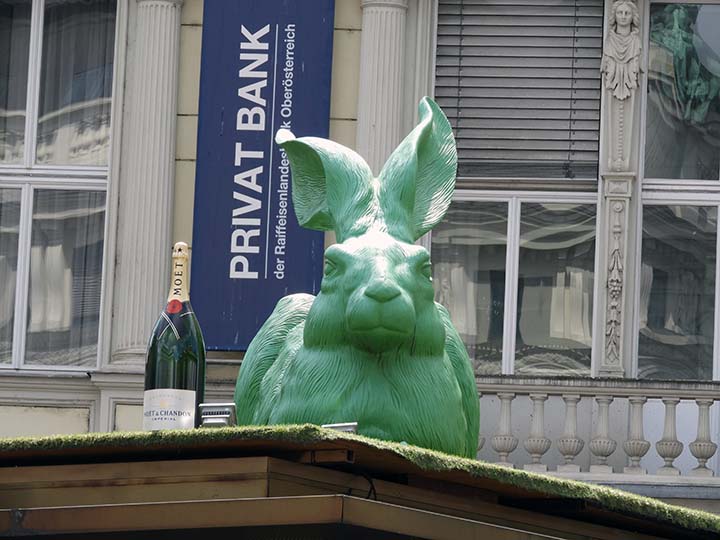 And celebrating with Champagne.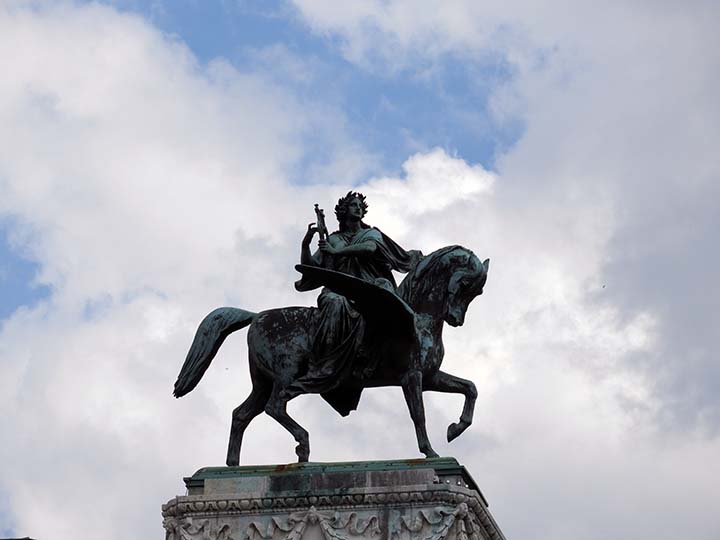 The name of that statue is Erato and Harmony. I know because I found it on the internet.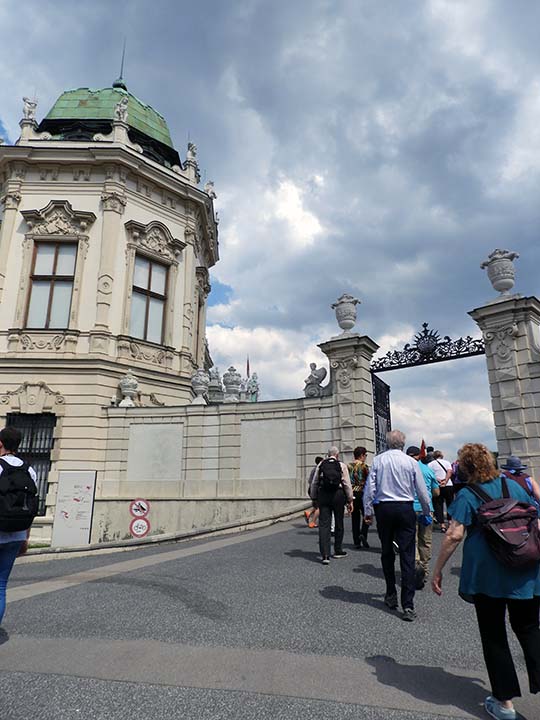 Now let's go look at some art.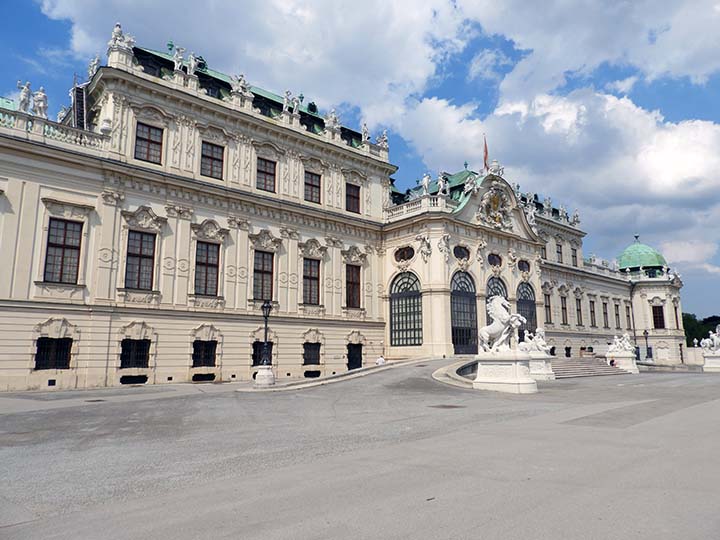 The Belvedere is a historic building complex in Vienna, Austria, consisting of two Baroque palaces (the Upper and Lower Belvedere), the Orangery, and the Palace Stables. The buildings are set in a Baroque park landscape in the third district of the city, on the south-eastern edge of its centre. It houses the Belvedere museum.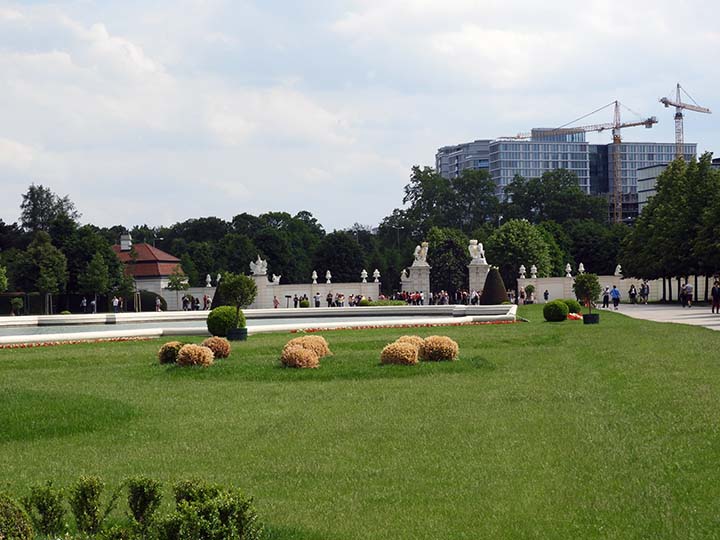 The grounds are set on a gentle gradient and include decorative tiered fountains and cascades, Baroque sculptures, and majestic wrought iron gates. The Baroque palace complex was built as a summer residence for Prince Eugene of Savoy.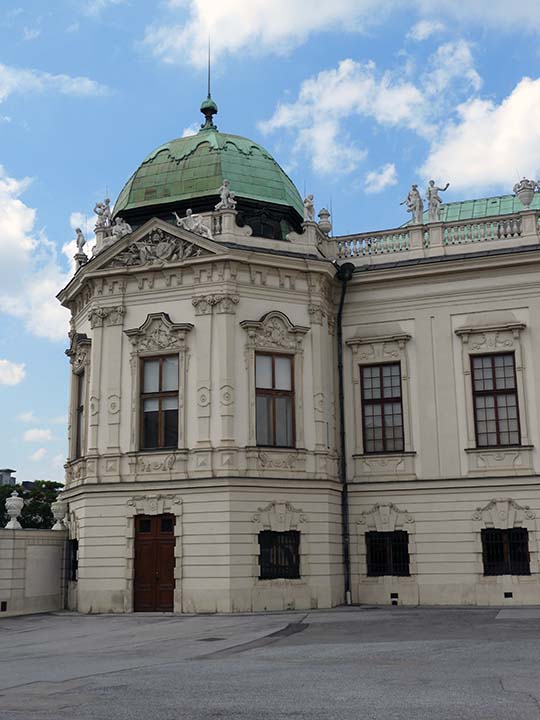 Wherever you look, it's big and impressive.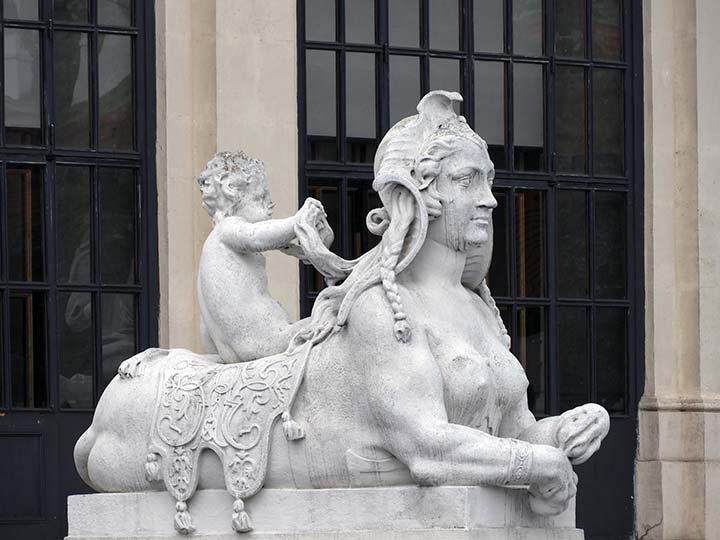 Prince Eugene had some pretty amazing sculptures like this sphinx.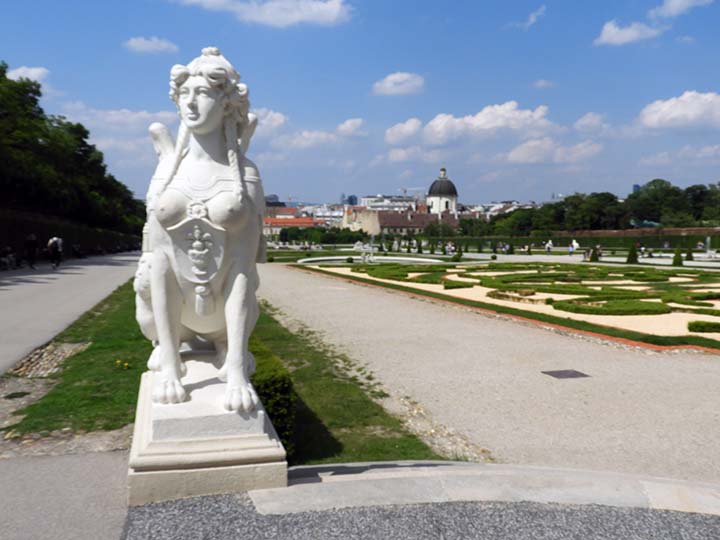 They guarded his garden.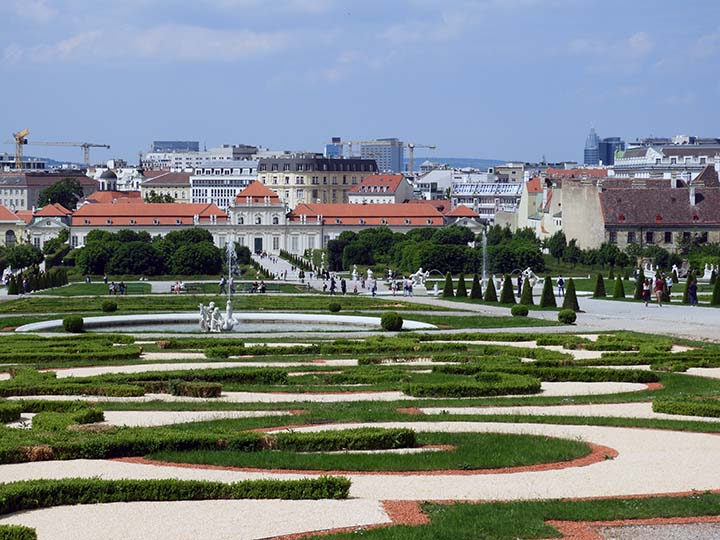 And a nice garden it is.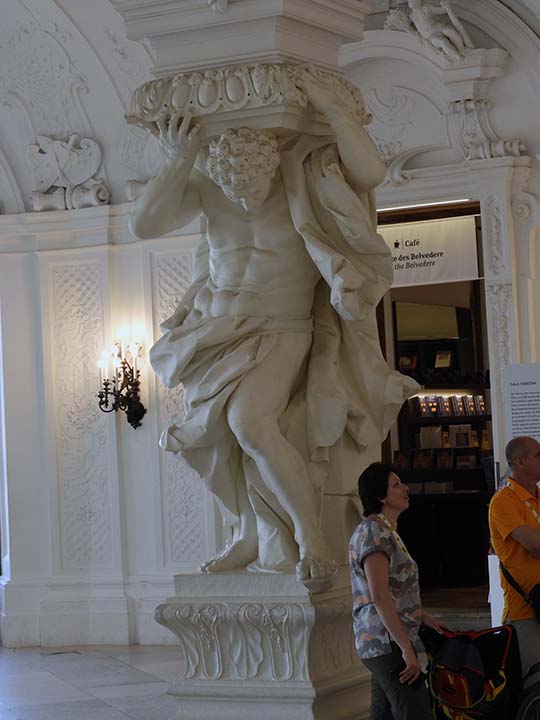 Some really big guys are holding the palace steady.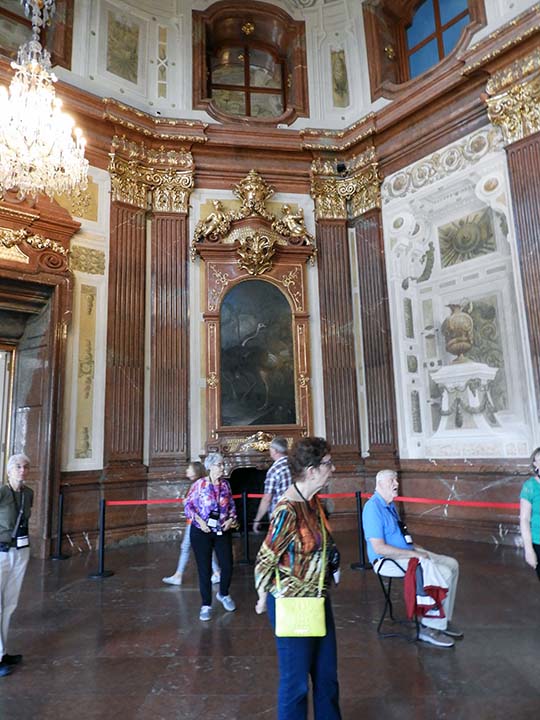 I'm beginning to learn not to be surprised when I walk into a Central European palace and encounter a lavishly decorated room.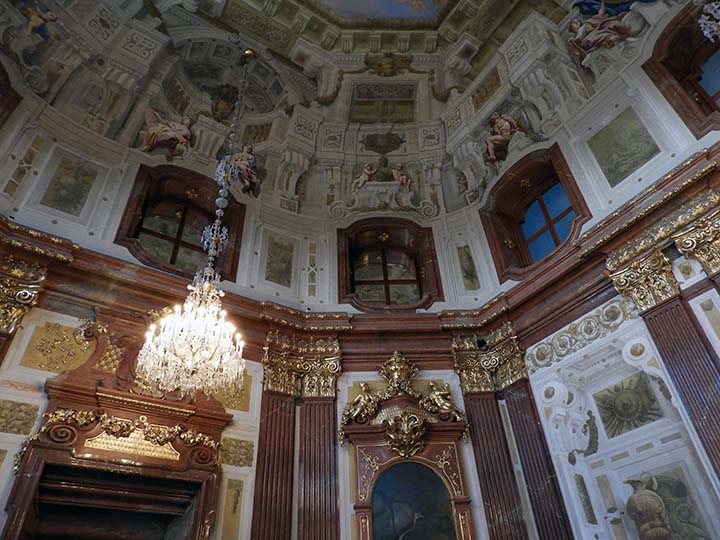 Another really big palace with really big rooms. This one is now an art museum.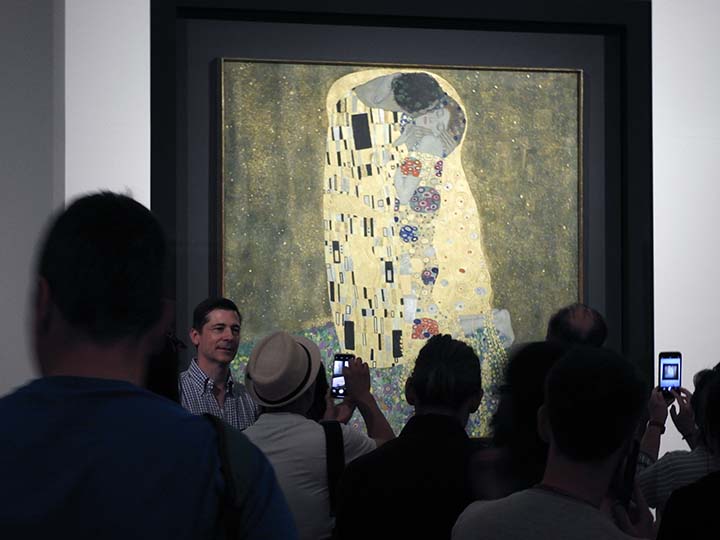 Its prized possession is "The Kiss" by Gustav Klimt.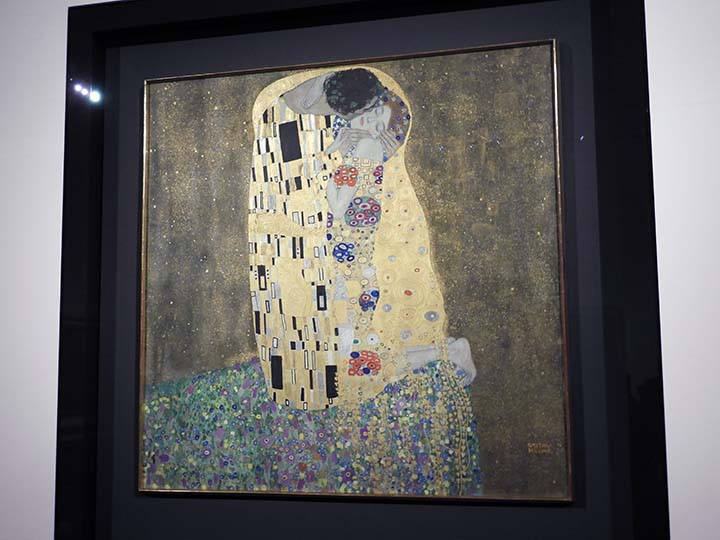 It's beautiful and even though it never moved, I just kept taking pictures.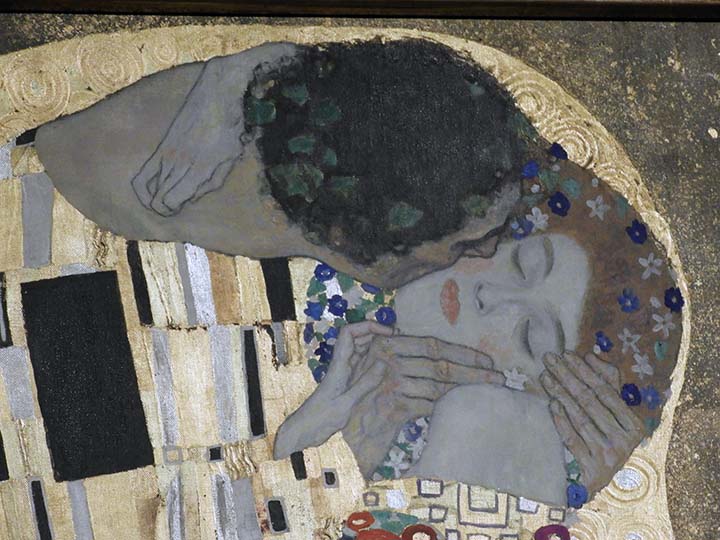 It's interesting to gaze at it and try to figure out what is really going on here. Is she enjoying the kiss? Is she pushing him away?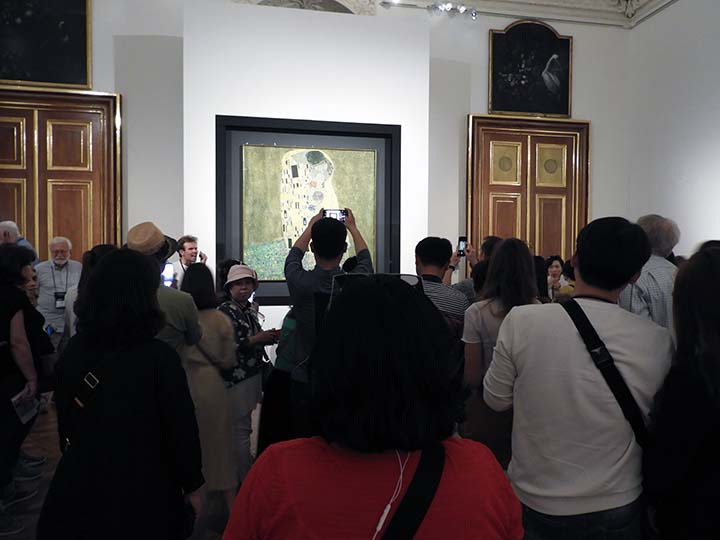 Lots of people come here to see this. Do you remember the movie WOMAN IN GOLD from 2015? It's a true-ish story of how a Jewish woman in America went to court to force the Austrian government to return from this museum a Gustav Klimt portrait the Nazis had stolen from her family. Lucas went on at length about how it was all a lie, that the Austrian government wanted to give back the painting all along. That was Lucas's story, anyway.
Bill! Stop that! Stupid tourist.
There was a Monet.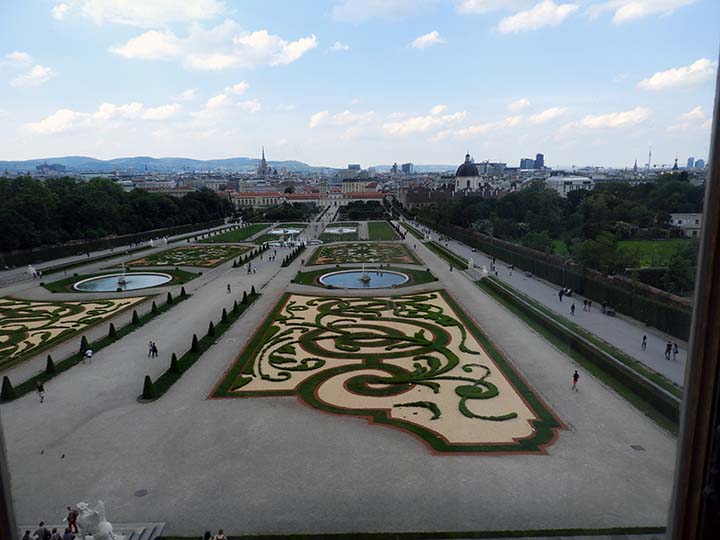 The gardens look even more impressive from the upper floors.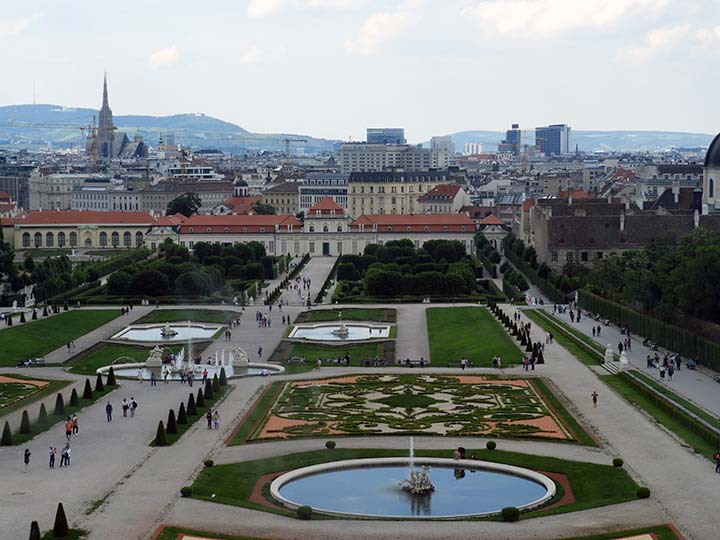 Nice view.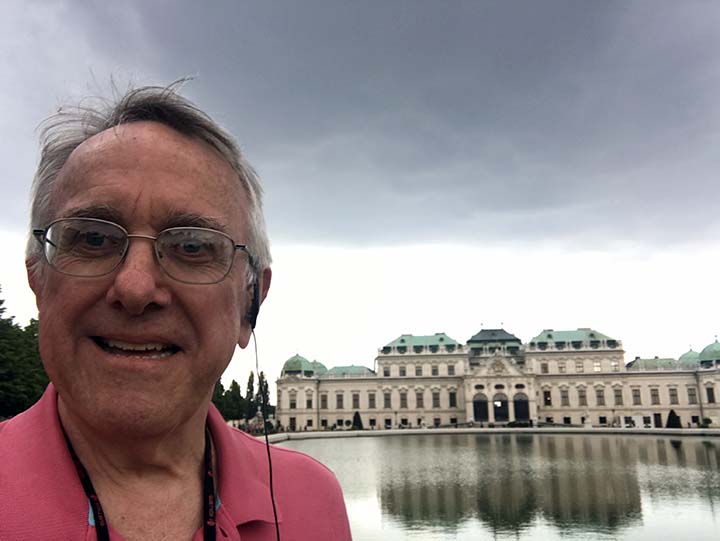 This tourist was definitely impressed.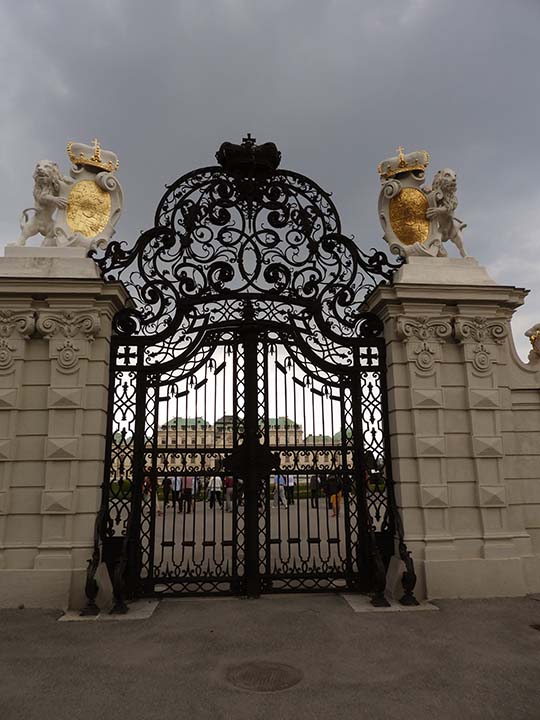 Bye Belvedere.
Some of the Road Scholars got stopped by a traffic light on the other side of the tracks. Smile everybody!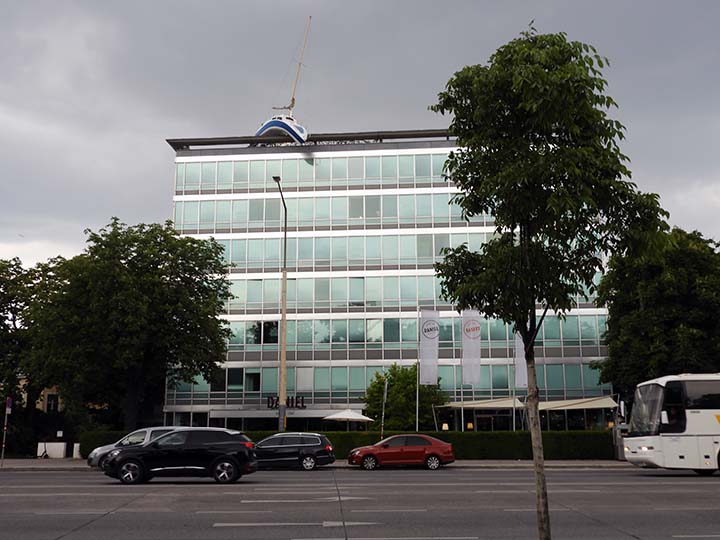 What's that up there on top of that office building?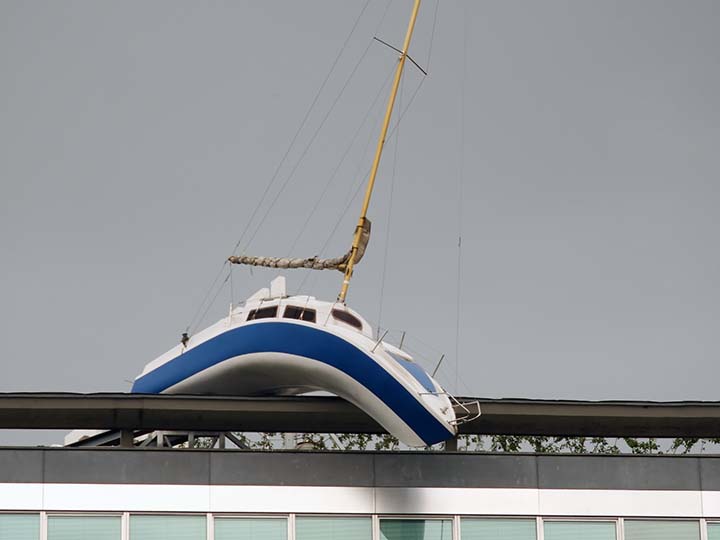 A yacht has melted. Lucas didn't know what it was. Said it was just "modern art."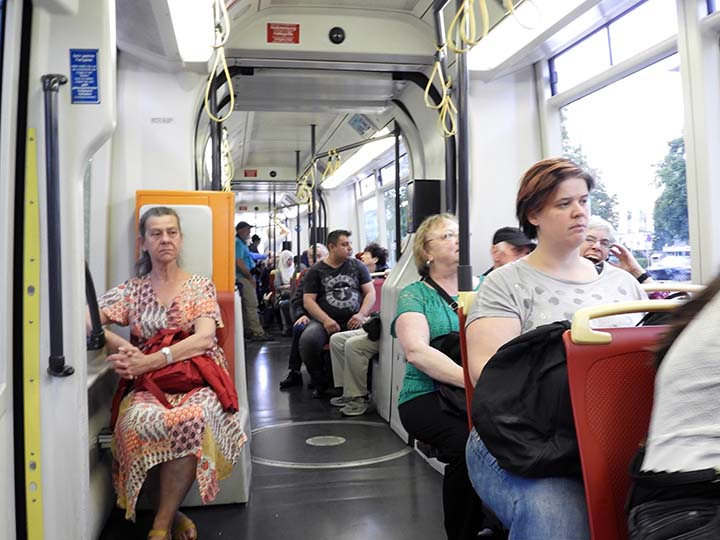 Let's ride back to the hotel.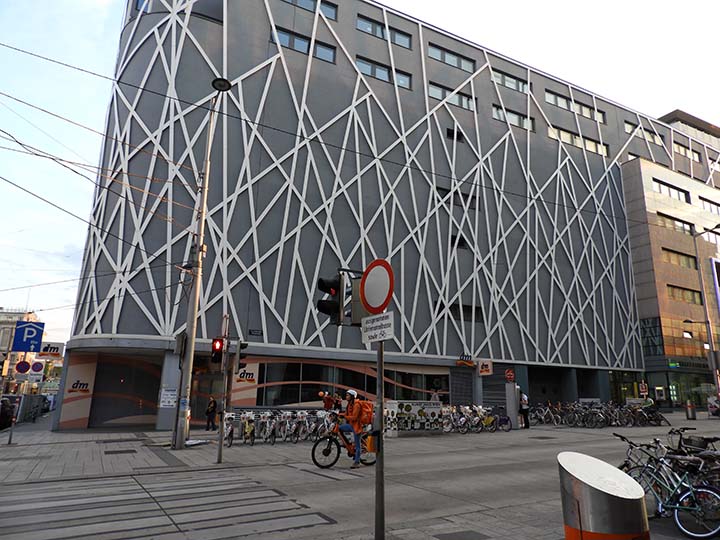 This interesting building was at the subway stop nearest the hotel and we walked by it several times. So I took a picture.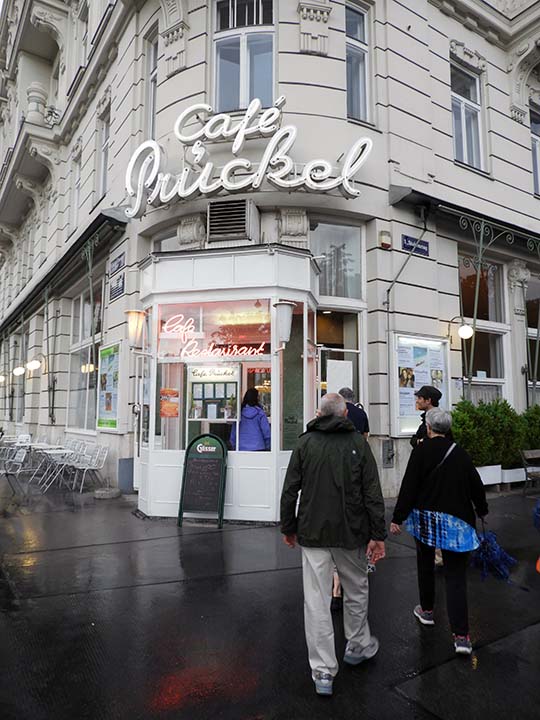 Dinner time.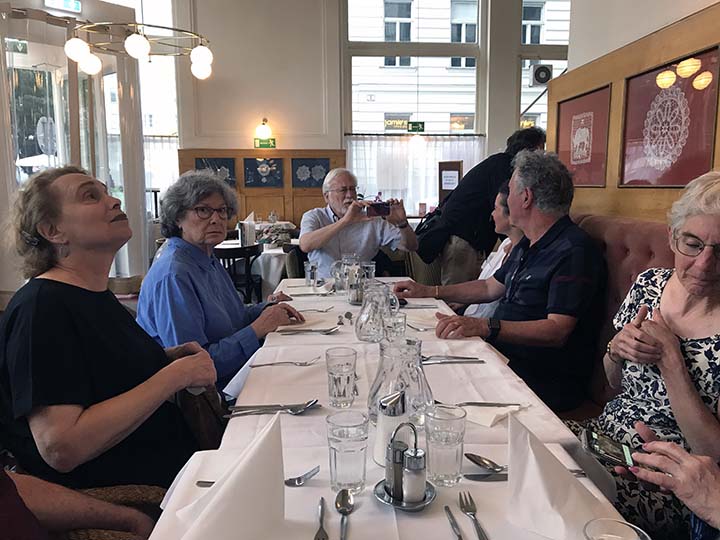 The road scholars are getting ready to chow down one last time in Vienna.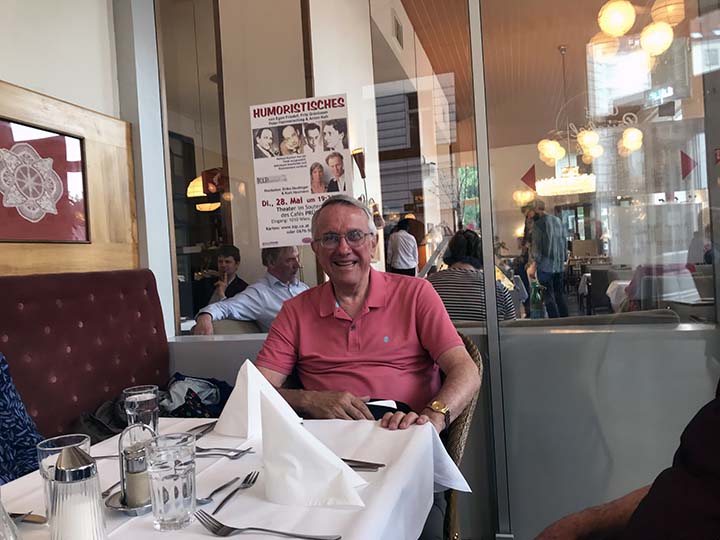 Sandy was very nice to offer to take a picture of me with my camera. She made everybody else at the table move back so I could have the picture all to myself. I do look like I belong at the head of the table, don't I?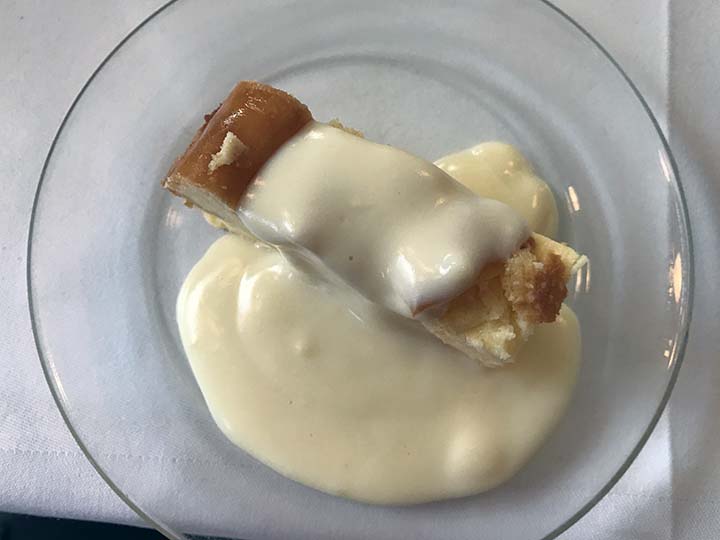 My waistline expanded on this trip.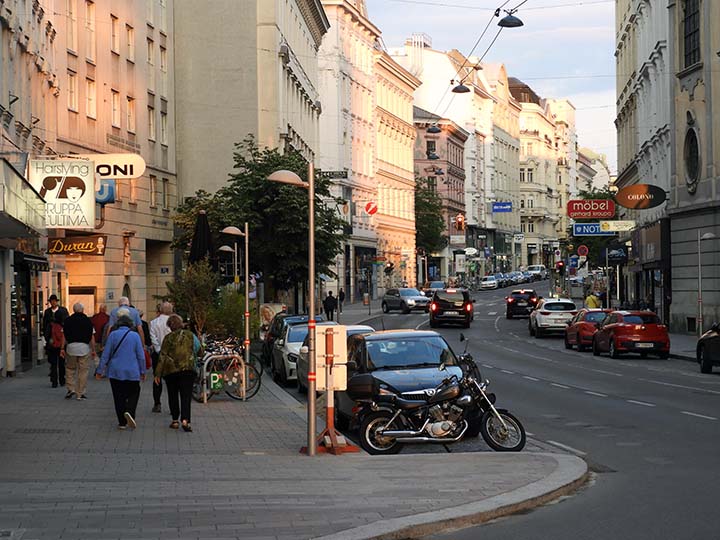 It was rainy when we arrived at the restaurant, but when we came out the sun was shining at the end of a beautiful day.