If a fairytale city were to come to life, it would be Prague, Czech Republic. What a beautiful place. Too bad it rained all day. But we persevered.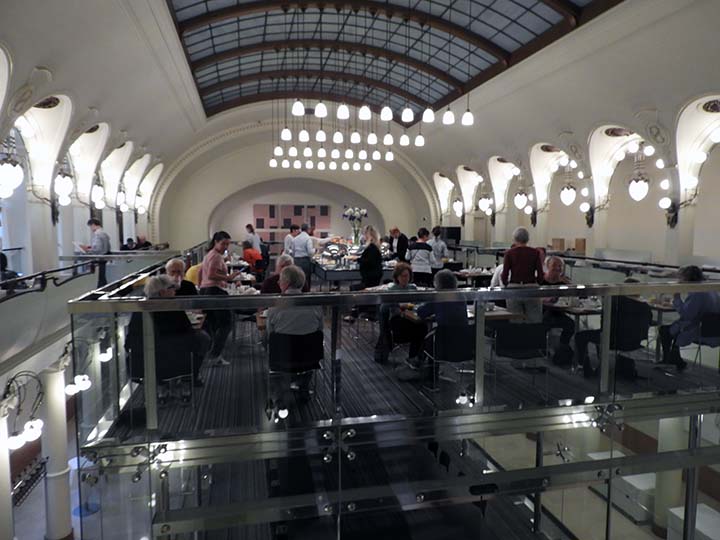 This is really a fancy hotel. Our breakfast area sits on top of our conference area from yesterday. Itís like being in a fishbowl out there.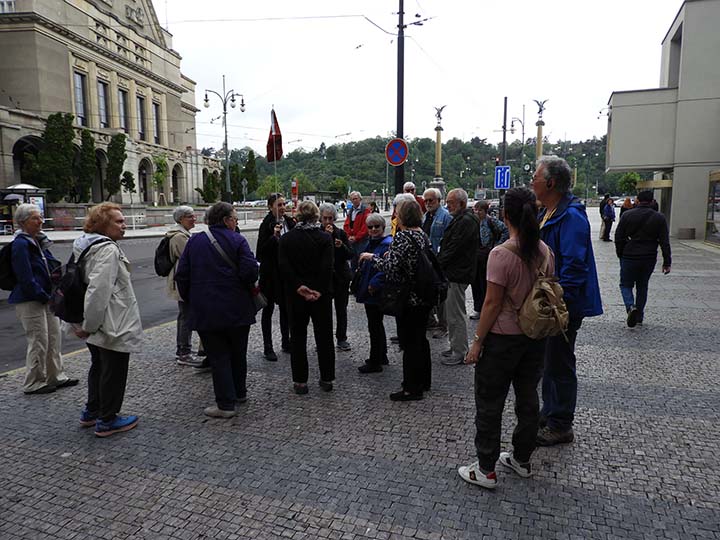 The rain hasnít really started yet, but we all know itís coming. Weíre getting ready to head toward the old Jewish quarter of Prague.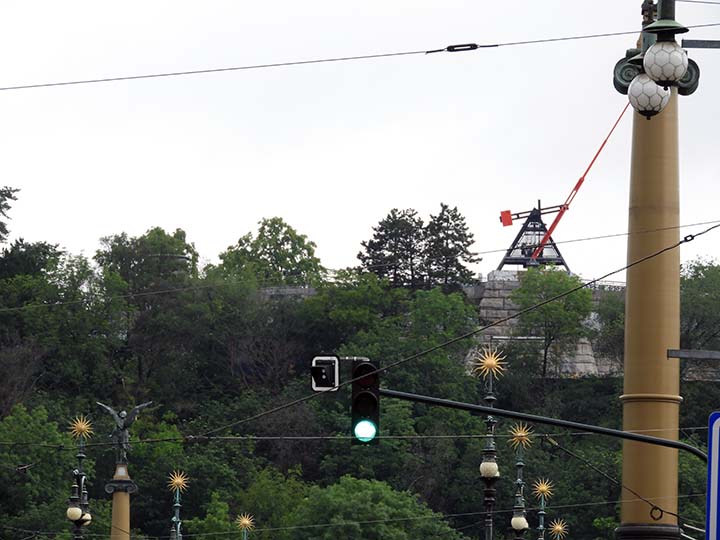 That pyramid thing up there on the hill is supposed to be some kind of giant metronome.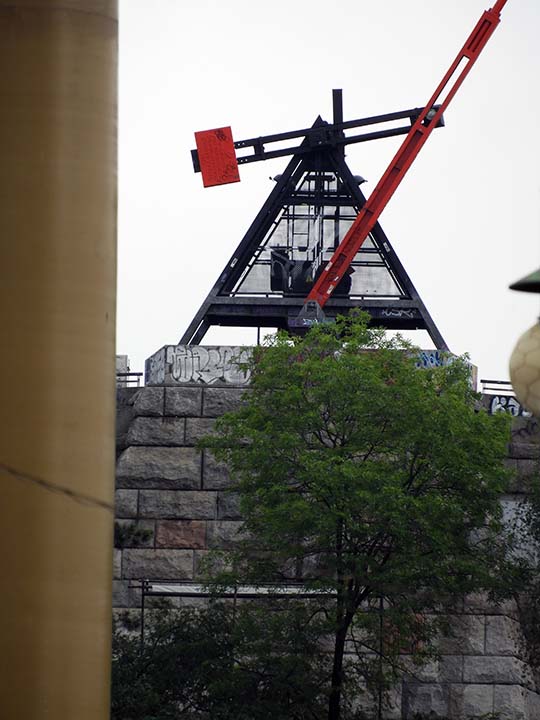 Misha says it is standing on the base of what used to be the largest statue of Stalin in the world. She says the metronome is supposed to move, but itís broken.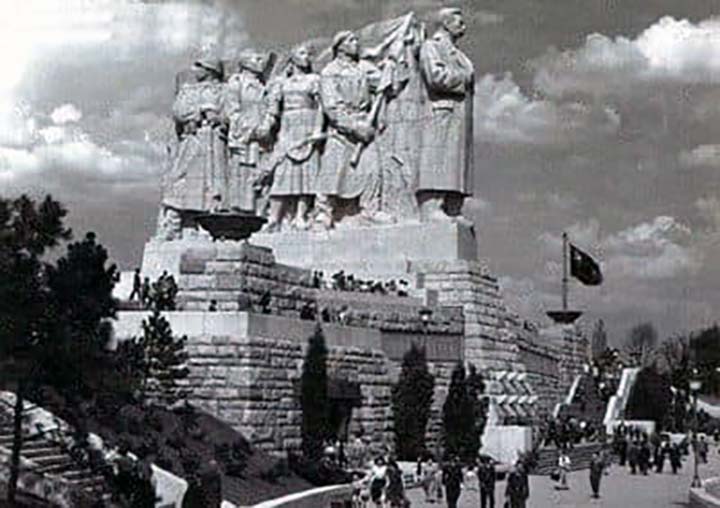 Thatís what it looked like when a destitute Prague received the ďgiftď of the statue in 1955. Misha says the joke was that everybody thought it looked like a monument to people standing in line for meat. (She says that even in the worst times somehow Prague seemed always to have enough bread, but they really missed their meat.)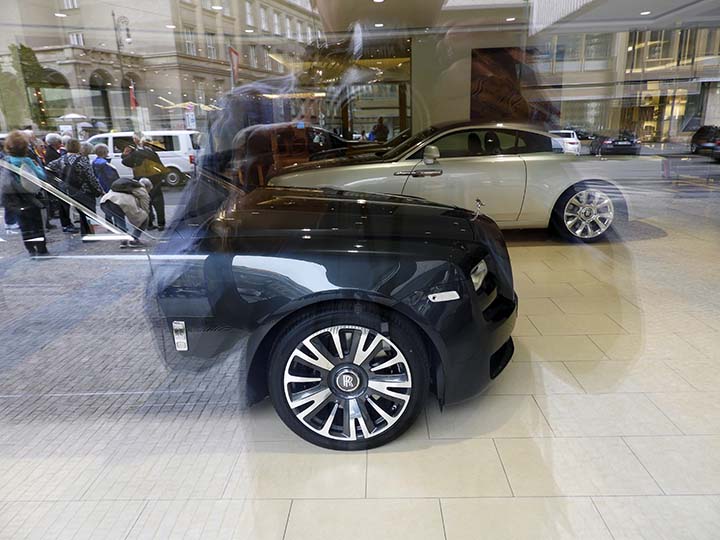 Central Europe has embraced capitalism. We were gathered outside a Rolls Royce showroom.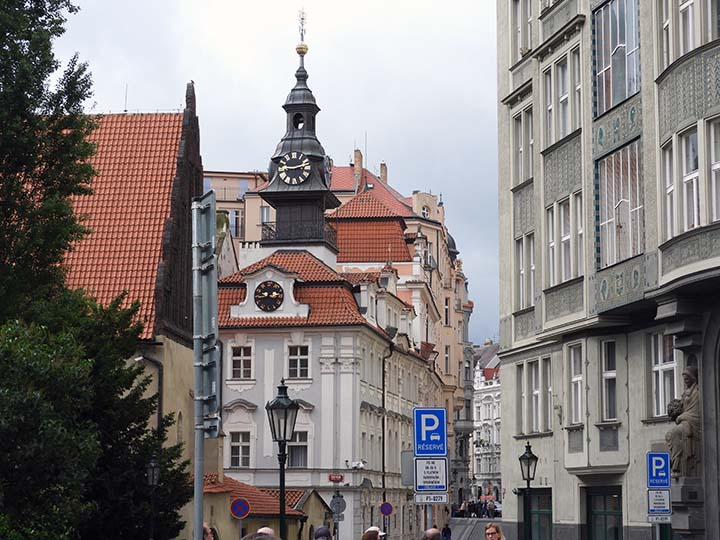 Letís walk into the Jewish quarter.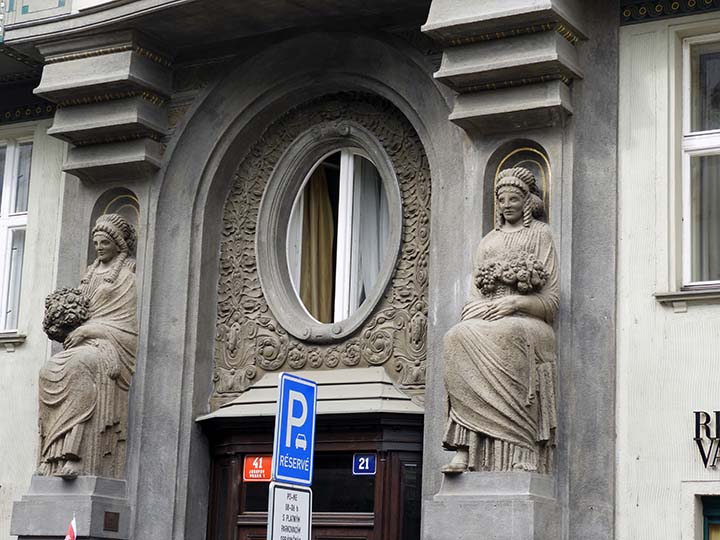 Statuary everywhere.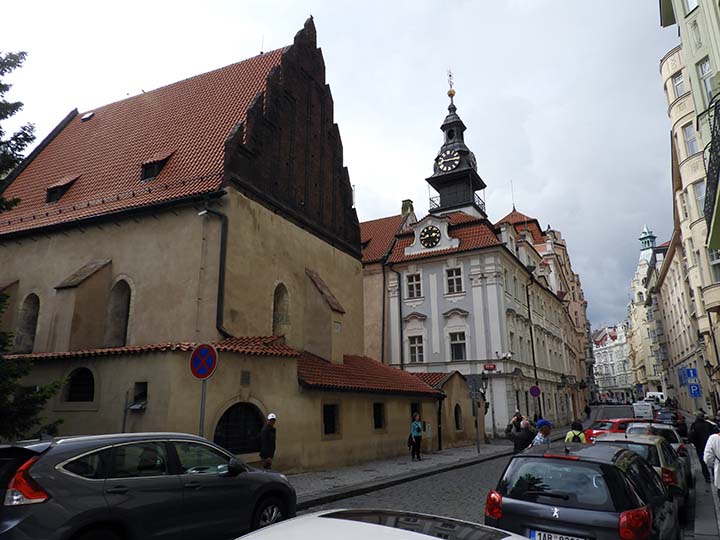 This is the Old New Synagogue. It was originally called the New or Great Synagogue and later, when newer synagogues were built in the 16th century, it became known as the Old-New Synagogue. Completed in 1270 in gothic style, it was one of Prague's first gothic buildings. They won't let you go in the attic though. The golem is up there.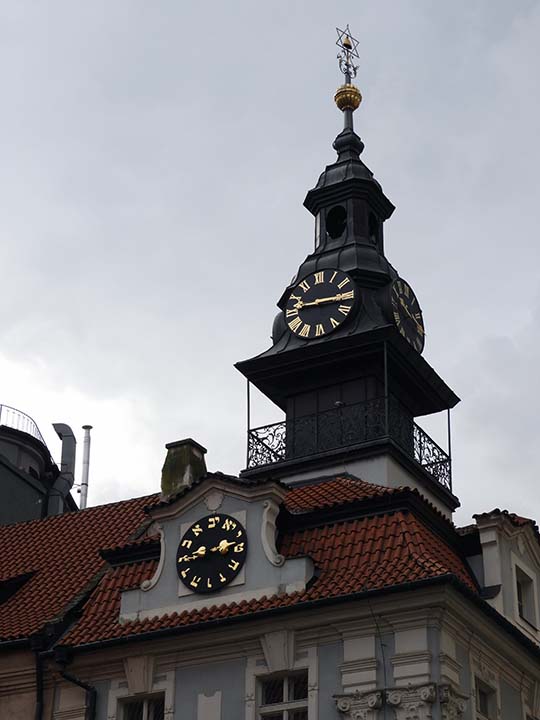 Thatís a clock with Roman numerals, and another clock with Hebrew numerals. Franz Kafka wrote about seeing them from a coffee shop.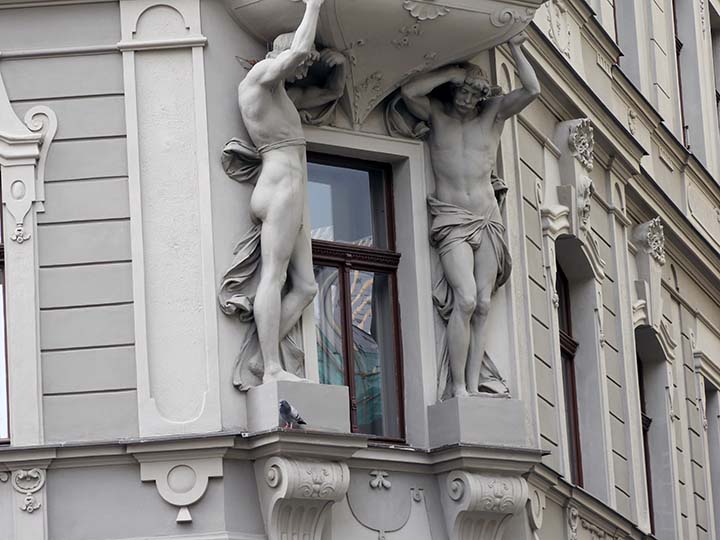 See? Statues. These are doing the heavy lifting.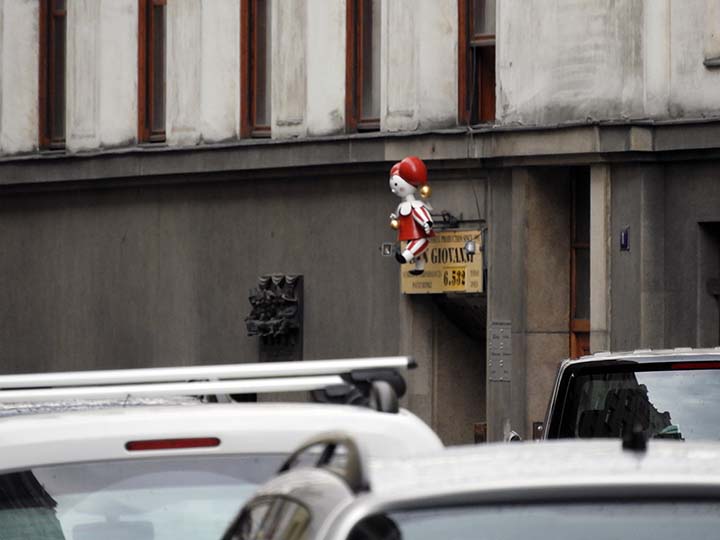 Telephoto shot of a marionette performance venue we'll visit later.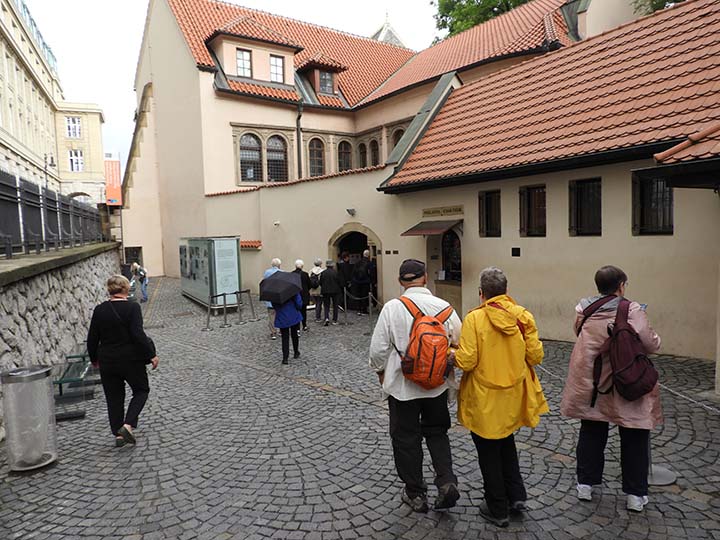 The Pinkas Synagogue is the second oldest surviving synagogue in Prague.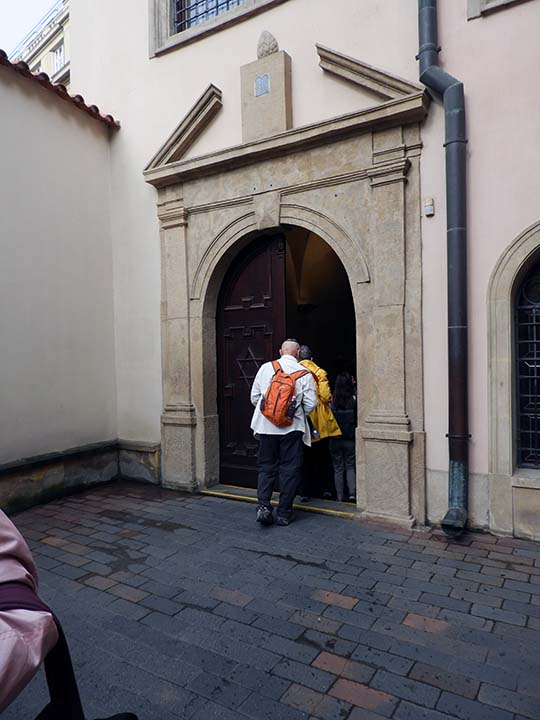 Today, the synagogue is administered by the Jewish Museum in Prague and commemorates about 78,000 Czech Jewish victims of the Holocaust.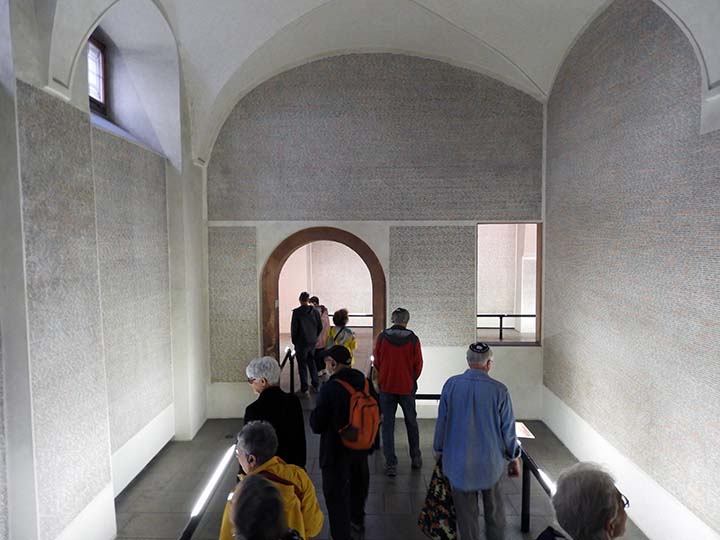 Look at the walls.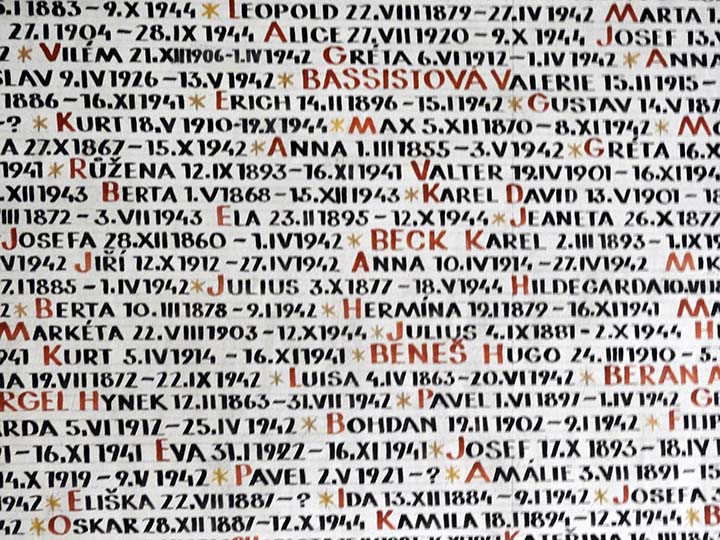 They're covered with the names of Jewish citizens of Prague murdered by the Nazis and they go on seemingly forever.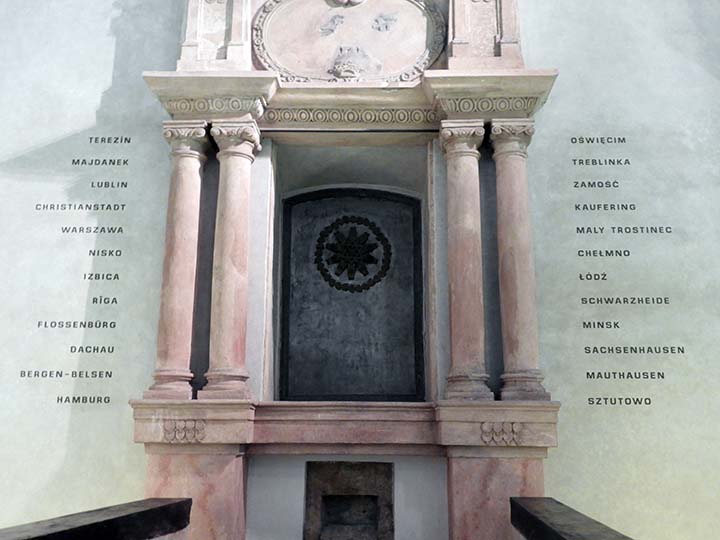 Memorial to those exterminated in Nazi death camps.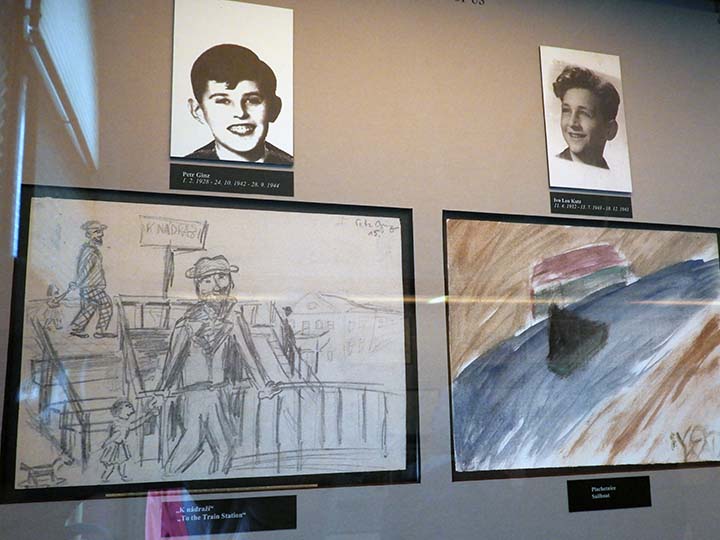 Drawings by children who were sent to die.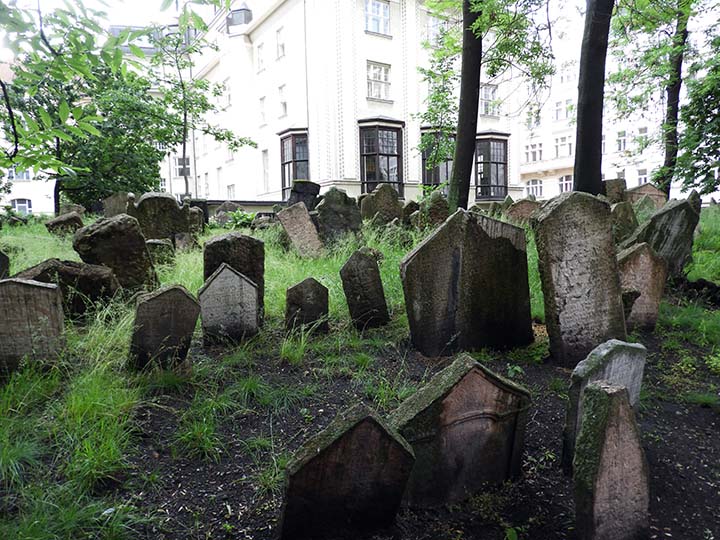 The Old Jewish Cemetery, one of the oldest Jewish cemeteries in Europe, (the oldest is in Worms from the 11th century) opened in 1439 and closed in 1787. The cemetery is located on a small plot of land between the Pinkas Synagogue and the Klausen Synagogue. During the four hundred plus years that the cemetery was active, about 200,000 Jewish people from the ghetto were buried there.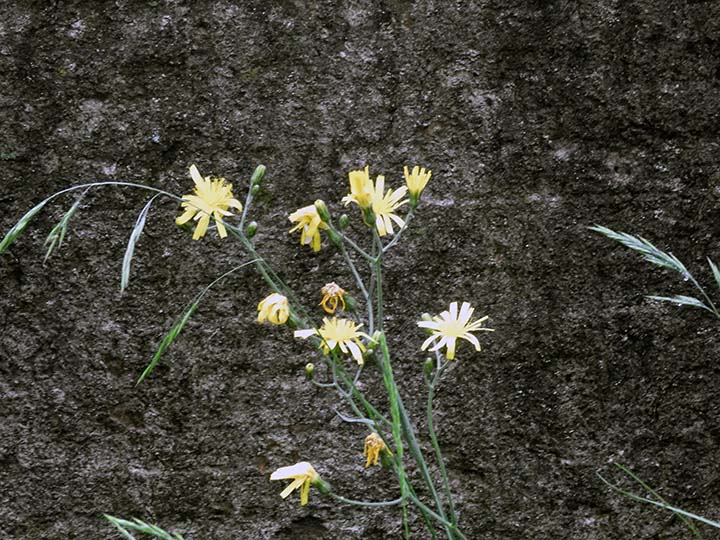 Because the cemetery was only capable of holding around ten percent of the number of Jews buried there, the graves spanned about twelve tombs deep. The most famous tomb belongs to Rabbi Loew, who was born in 1525 and died in 1609. Loew is thought to be the creator of the Golem, an artificial man made out of clay. The ďGolemĒ was brought to life by placing a tablet with Hebrew inscription in its mouth. I mention this only because itís a spooky cemetery weíre looking at here.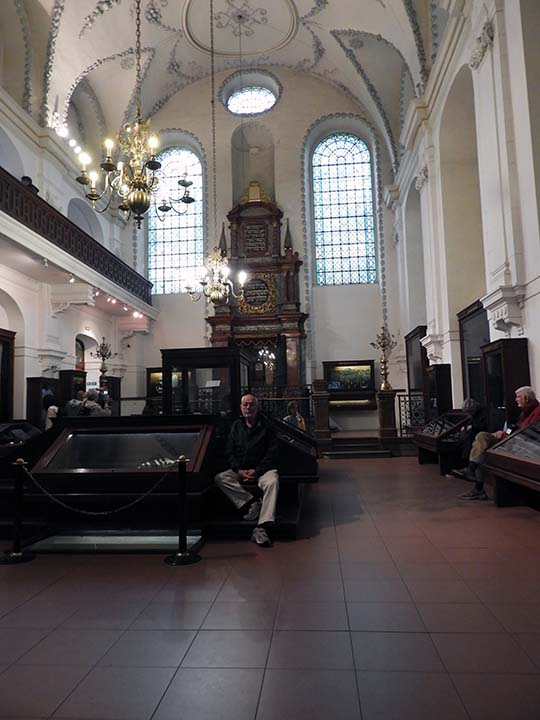 The Jewish Museum in Prague is a museum of Jewish heritage in the Czech Republic and one of the most visited museums in Prague.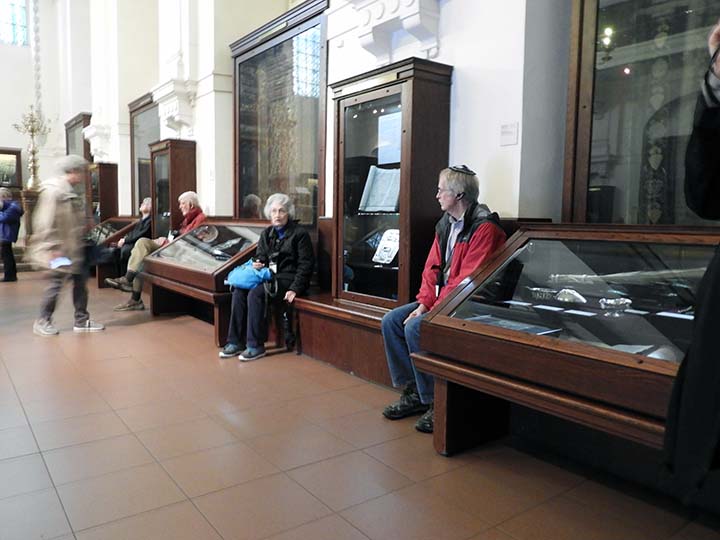 Pooped? Road Scholars? Not a chance.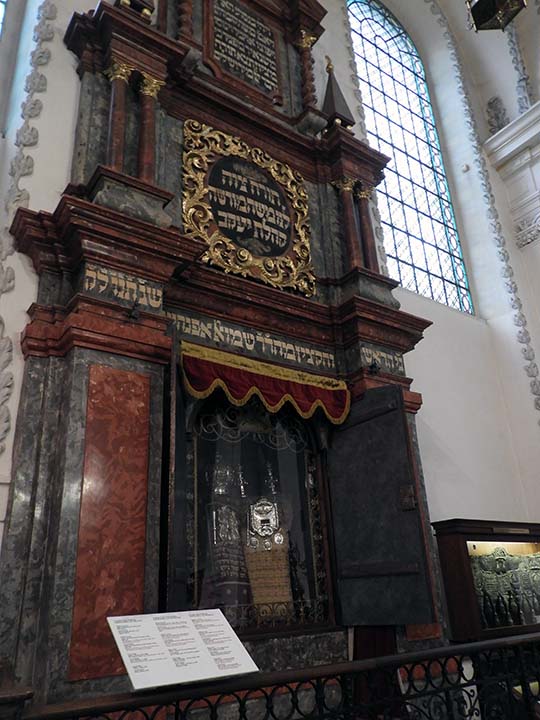 Its collection of Judaica is one of the largest in the world, about 40,000 objects, 100,000 books, and a copious archive of Czech and Moravian Jewish community histories.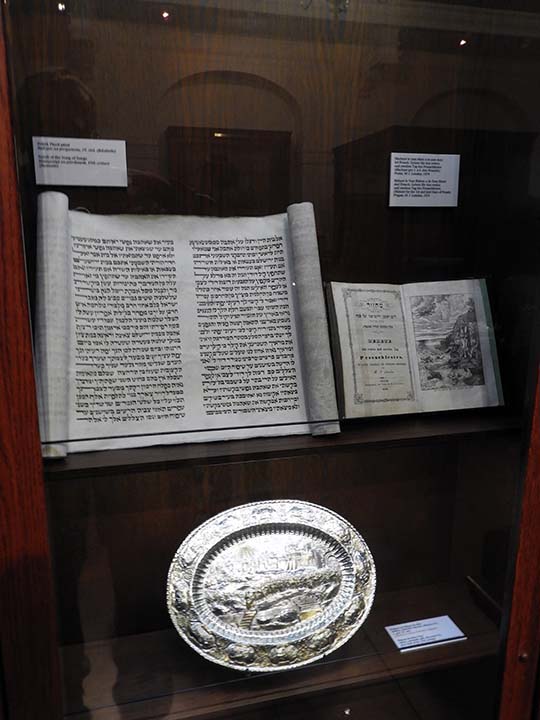 More artifacts.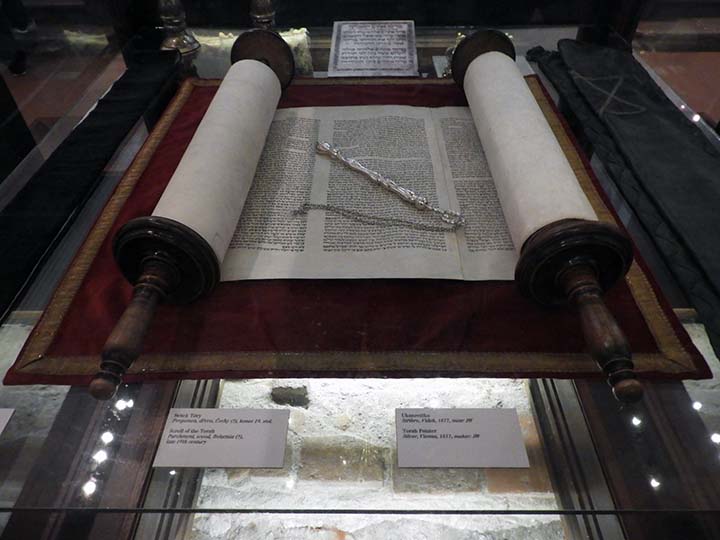 An old torah.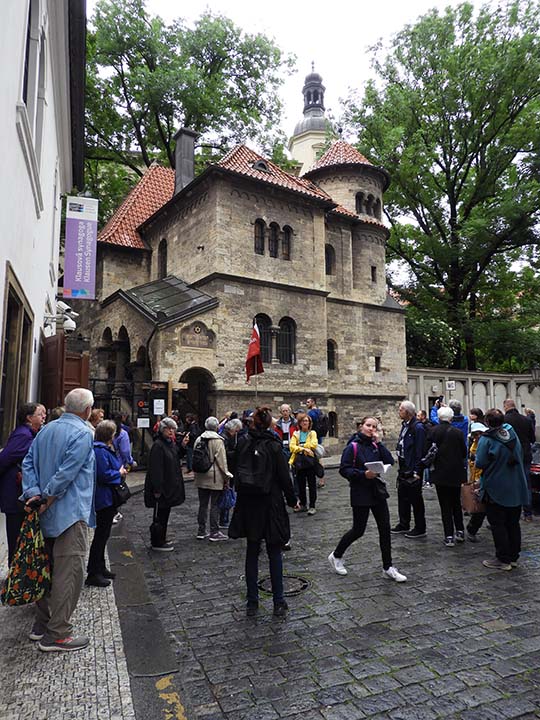 Lots of tourists come to remember.
There's even a souvenir shop. Just look at all the golems.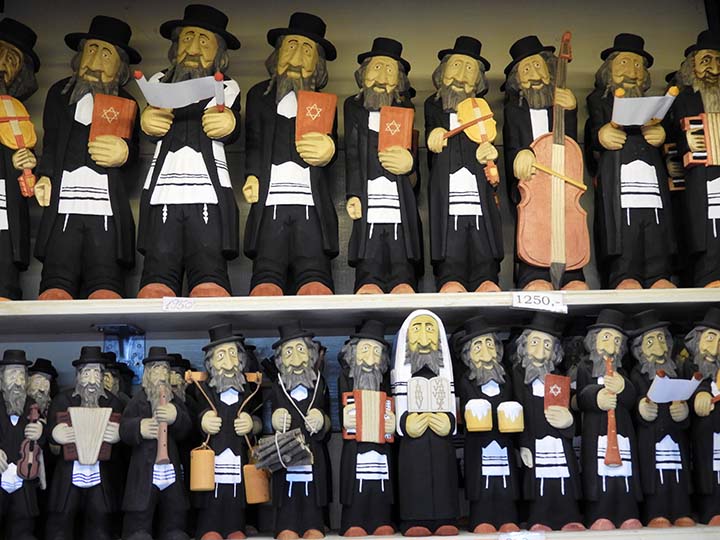 And the rabbis. Lots of rabbis.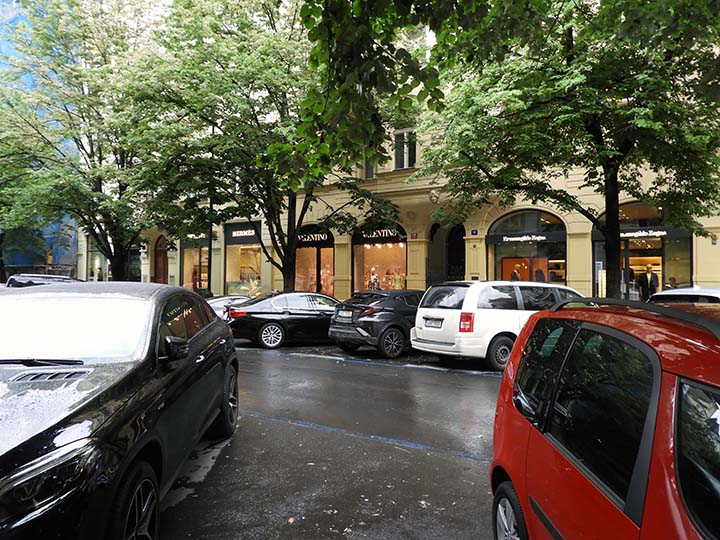 Lots of high-end shops in the former Jewish quarter.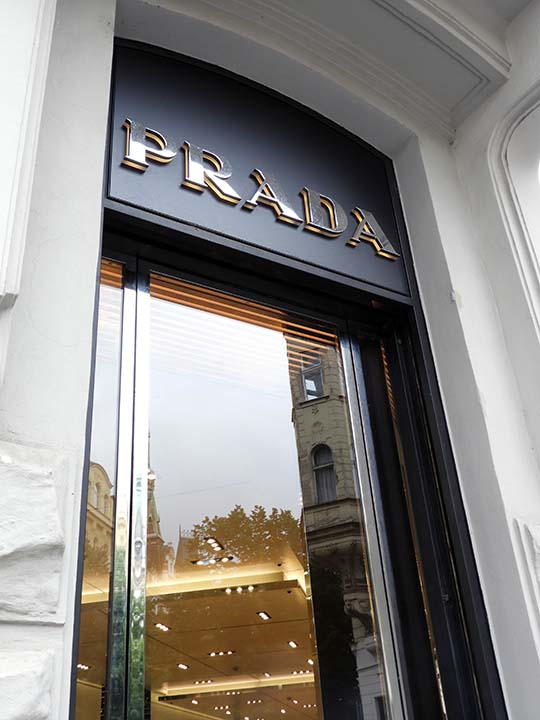 See?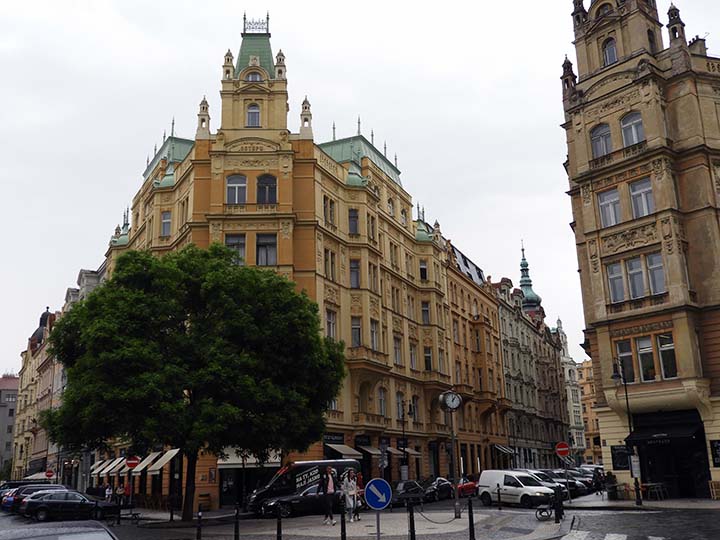 The architecture is impressive.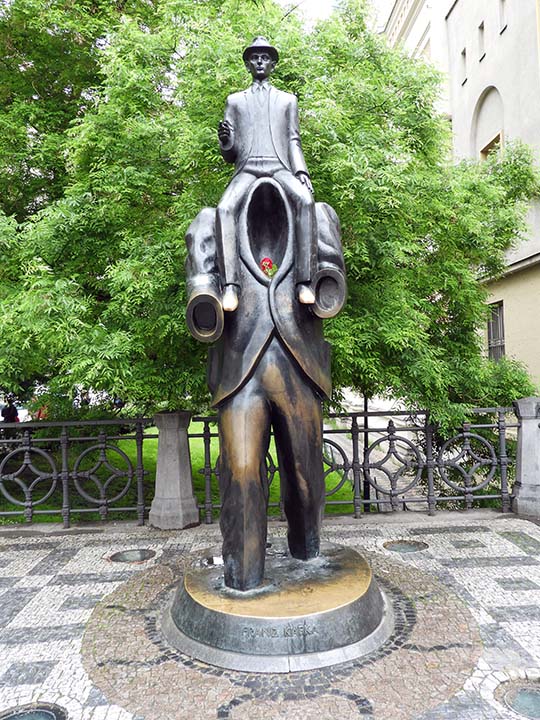 But some of the street art? Thatís a statue near KafkaĎs house. I donít know; you explain it.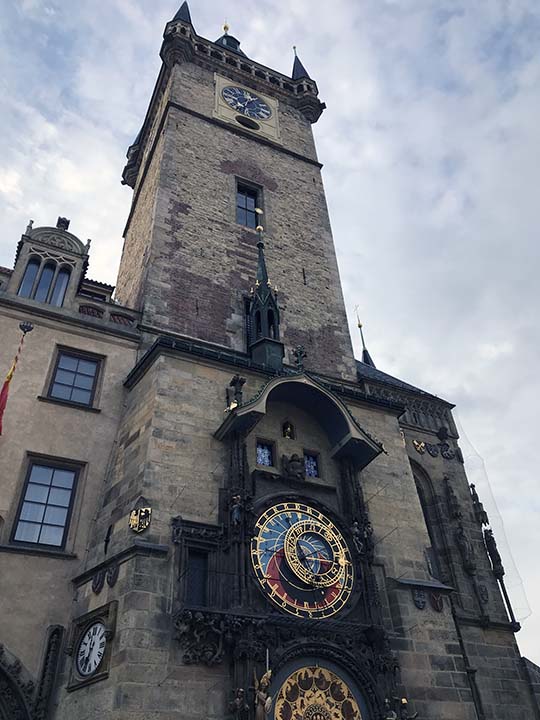 The Prague Astronomical Clock is a medieval astronomical clock. The clock was first installed in 1410, making it the third-oldest astronomical clock in the world and the oldest one still operating. I'll put video of it doing its thing in tomorrow's pictures.
Occasionally we had nice weather, but drizzle was a common occurrence.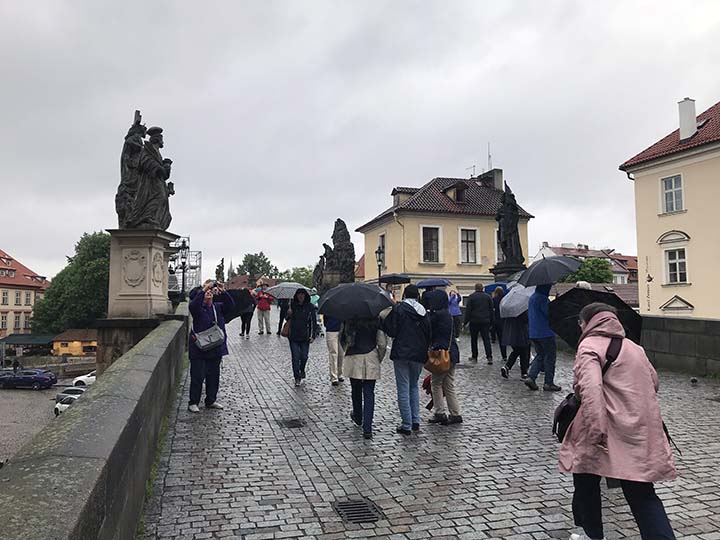 So let's go for a walk in the drizzle.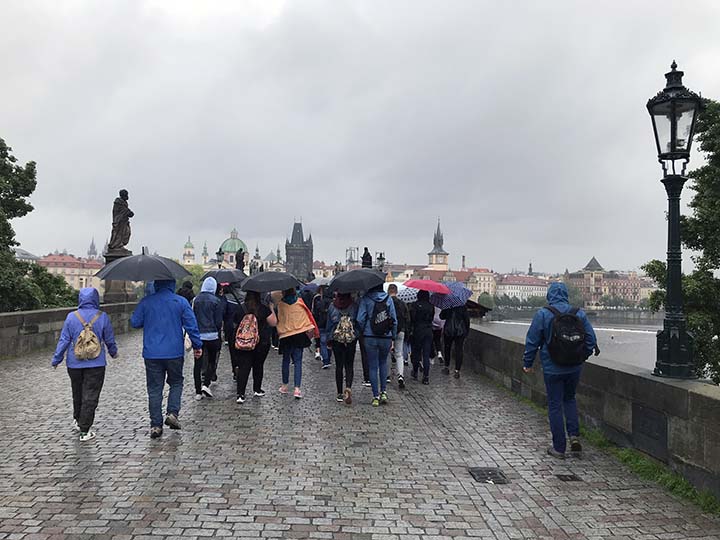 Charles Bridge is a historic bridge that crosses the Vltava river in Prague, Czech Republic. Its construction started in 1357 under the auspices of King Charles IV, and finished in the beginning of the 15th century. This new bridge was originally called Stone Bridge (Kamennż most) or Prague Bridge (Praěskż most) but has been "Charles Bridge" since 1870. As the only means of crossing the river Vltava (Moldau) until 1841, Charles Bridge was the most important connection between Prague Castle and the city's Old Town and adjacent areas. This "solid-land" connection made Prague important as a trade route between Eastern and Western Europe.

Watch out for slippery cobblestones, gang!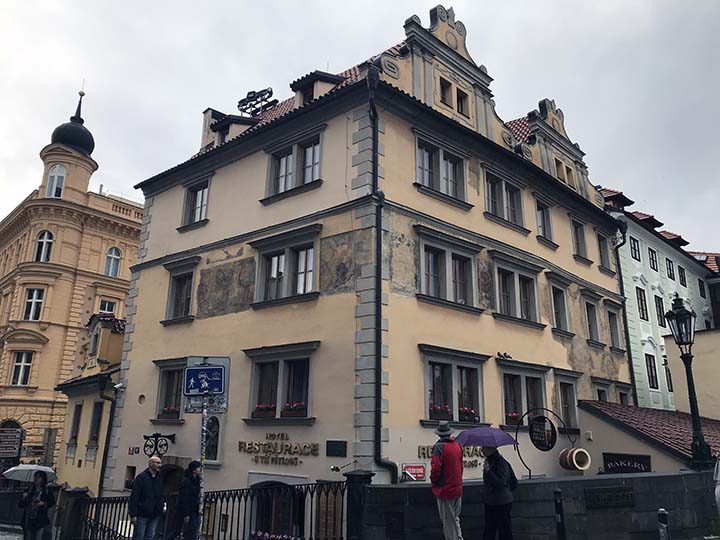 There's a nice restaurant.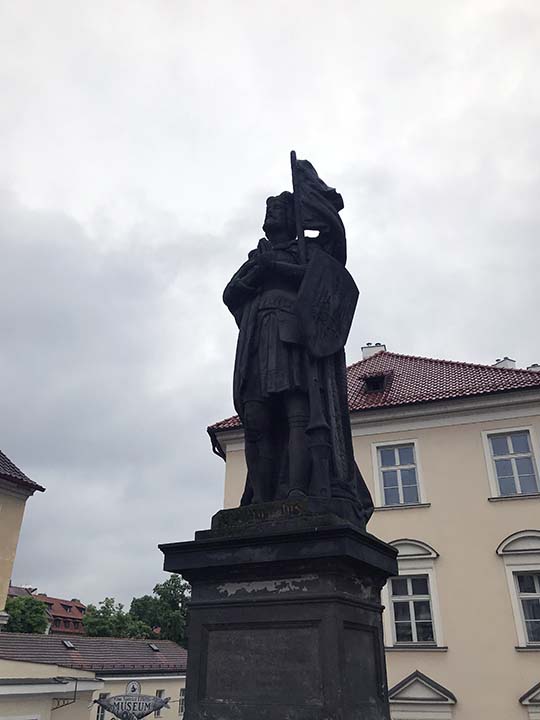 There's a nice statue.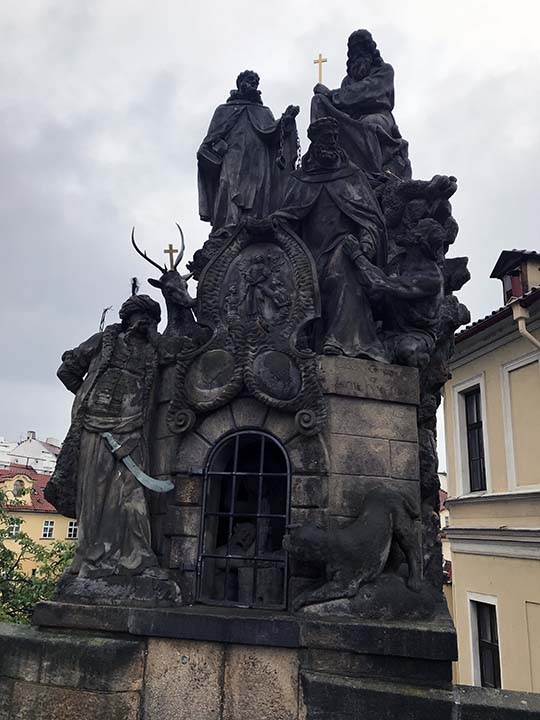 There's a nice jail. Wait, what?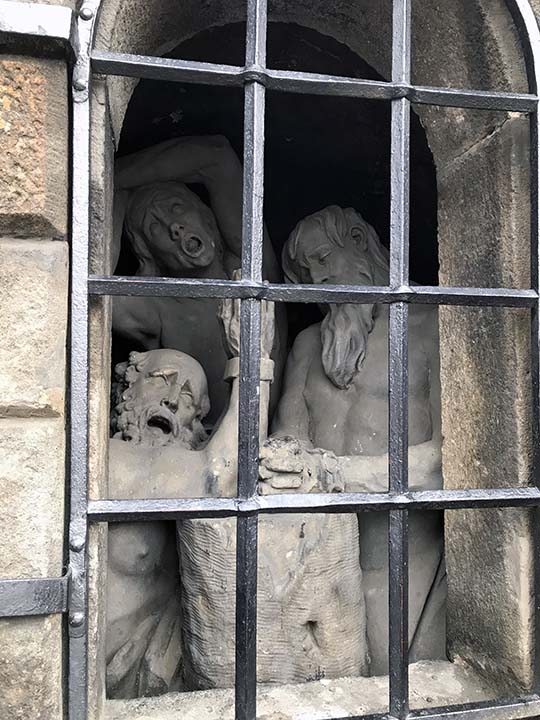 This is the Statuary of St. John of Matha, St. Felix of Valois and St. Ivan.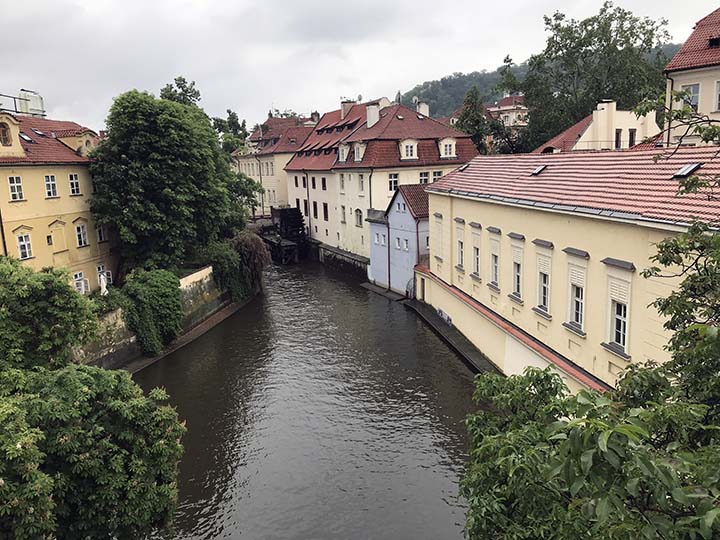 Pretty canal.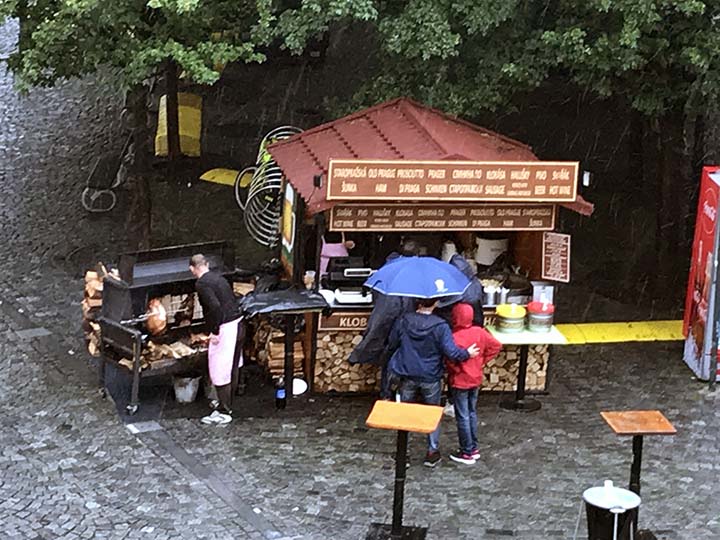 Mmm, street food.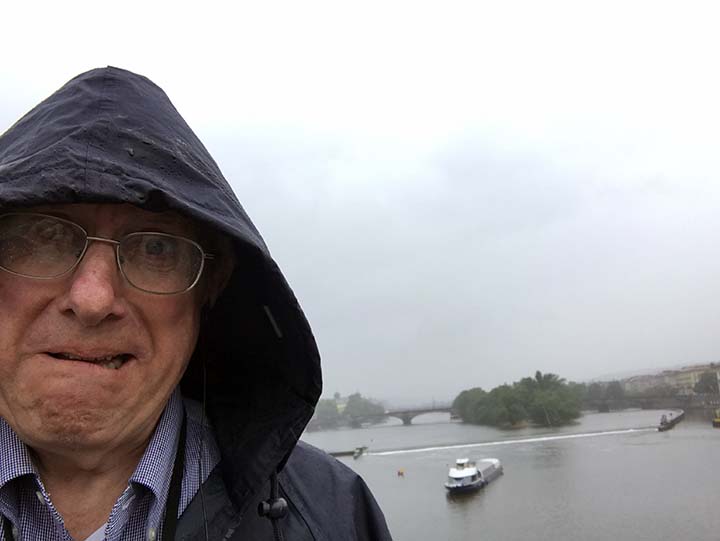 It sure is a messy day.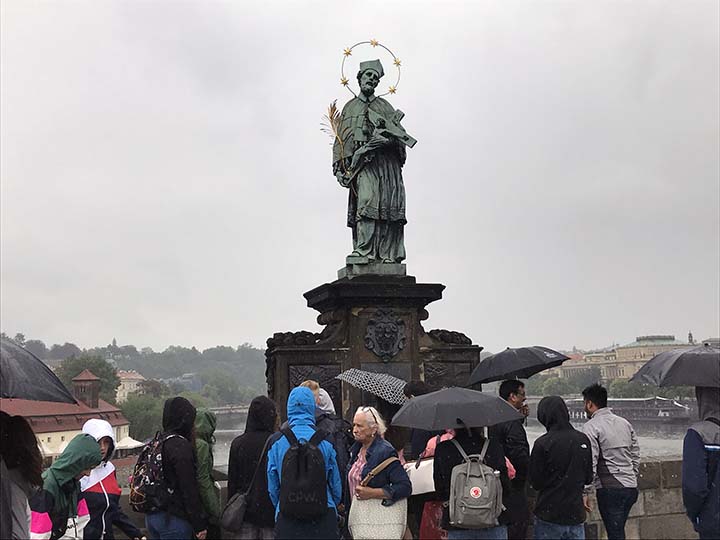 But St. Stephen and his halo are watching over us.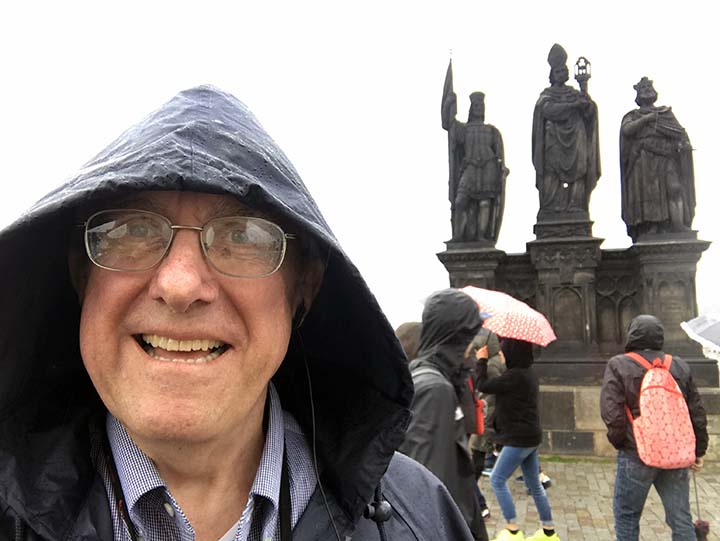 So Bill's happy.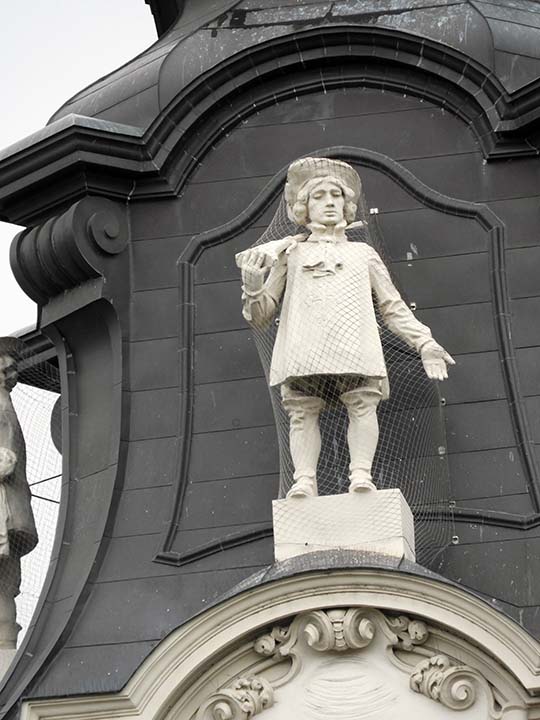 Who is this guy? I've seen him before (some character dressed like him) in storybooks. But where? He's always a background figure, somebody observing the main character, the king or whatever. I dunno. But I'll keep thinking.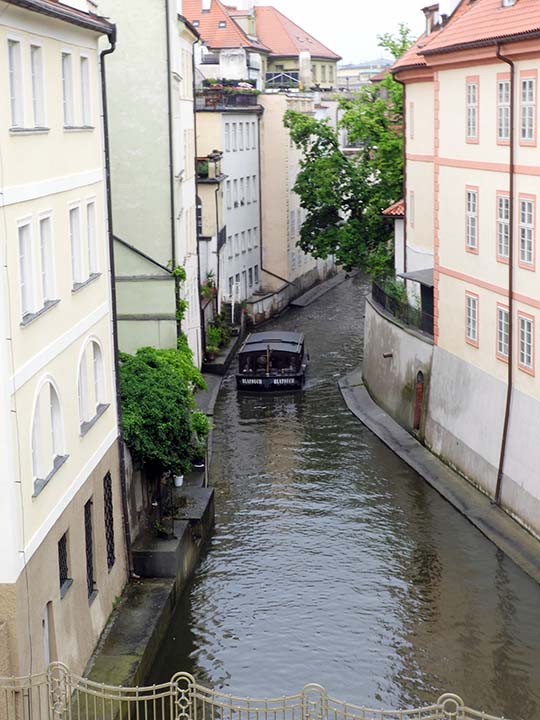 More pretty canal.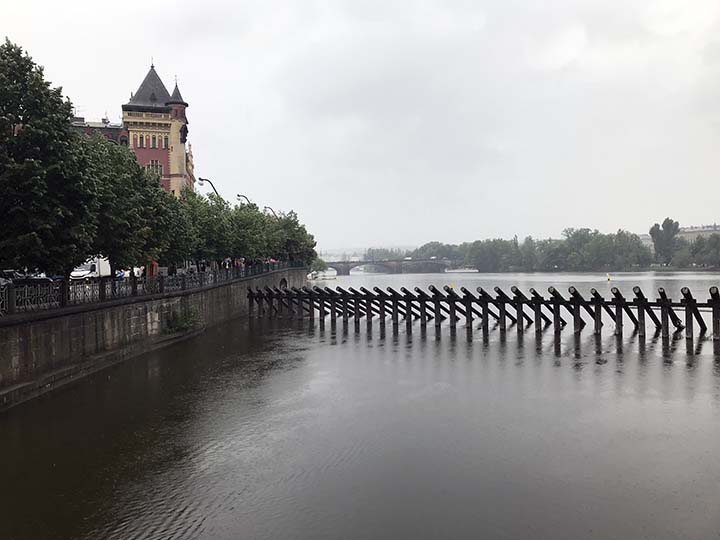 Letís go hear a lecture on Central European composers.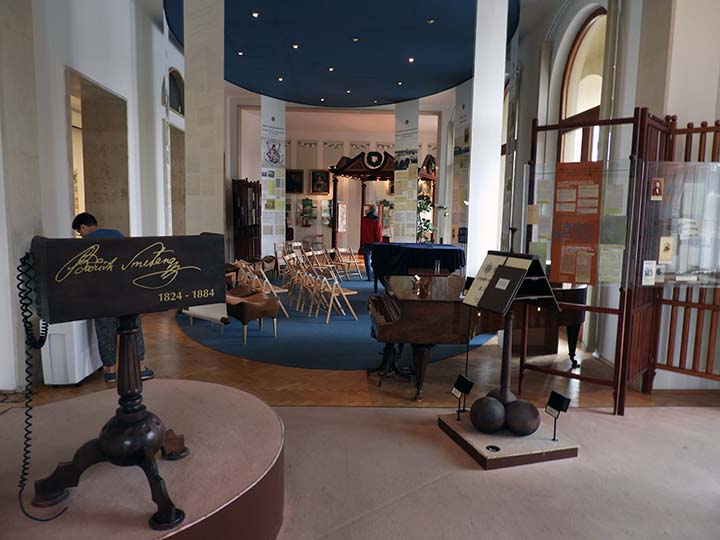 The Bedřich Smetana Museum is dedicated to the life and works of the famous Czech composer. It is situated in the centre of Prague in a small block of buildings right next to Charles Bridge on the right bank of the river Vltava in the Old Town.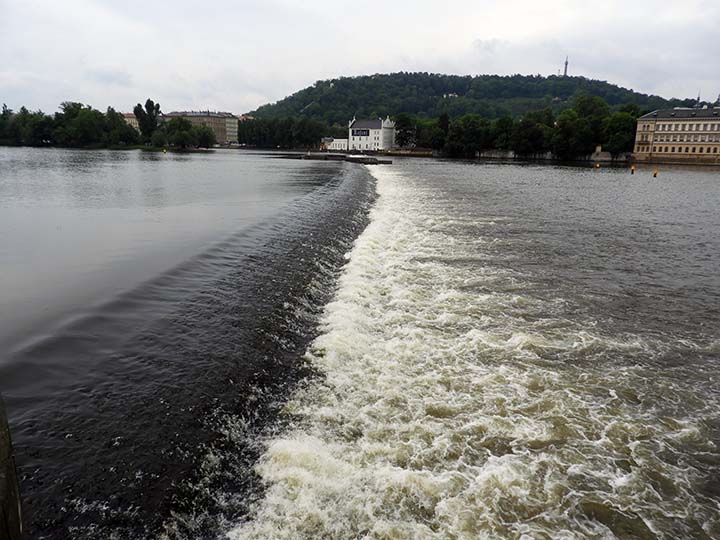 That's the river Vltava, or, in German, Moldau. ďThe MoldauĒ is a symphonic poem by Bohemian composer Bedřich Smetana that evokes the flow of the Vltava Riveróor, in German, the Moldauófrom its source in the mountains of the Bohemian Forest, through the Czech countryside, to the city of Prague. It's a gorgeous symphony.
You can listen to it here, if you like.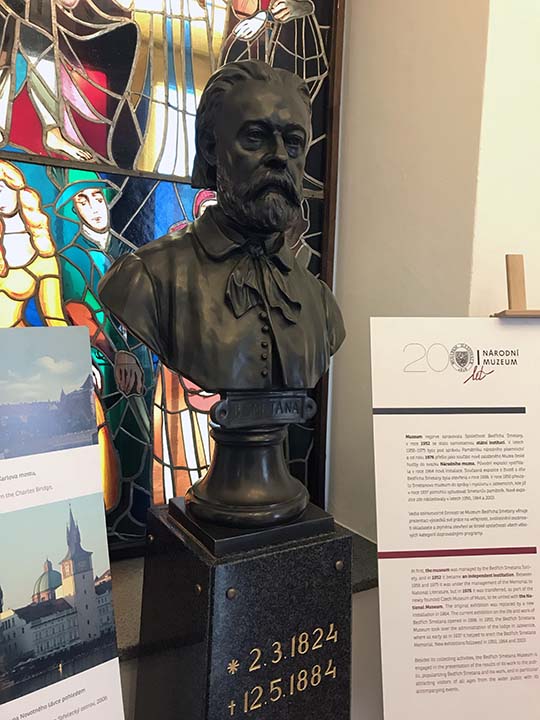 That's Smetana.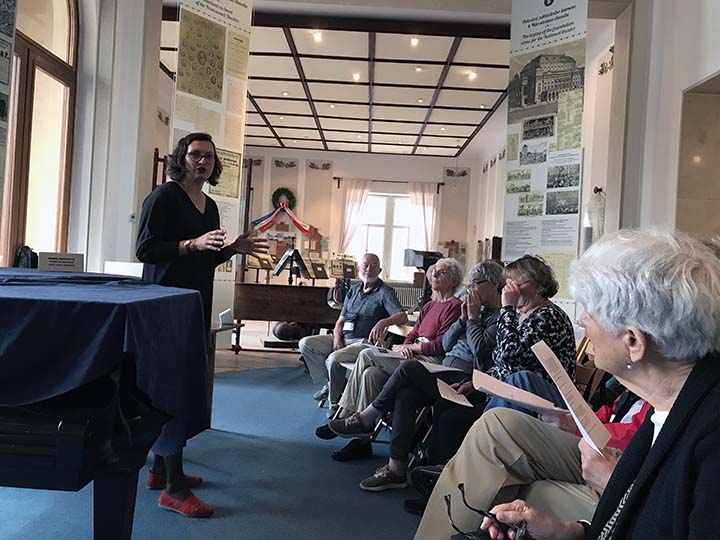 I was so looking forward to this, to hearing the Moldau while the actual river flowed by outside. But we sat for two hours listening that woman talk about Smetana, and she never once played a note of the Moldau
How many of us have our eyes open? See if you can find somebody. This really was the only disappointment of the trip.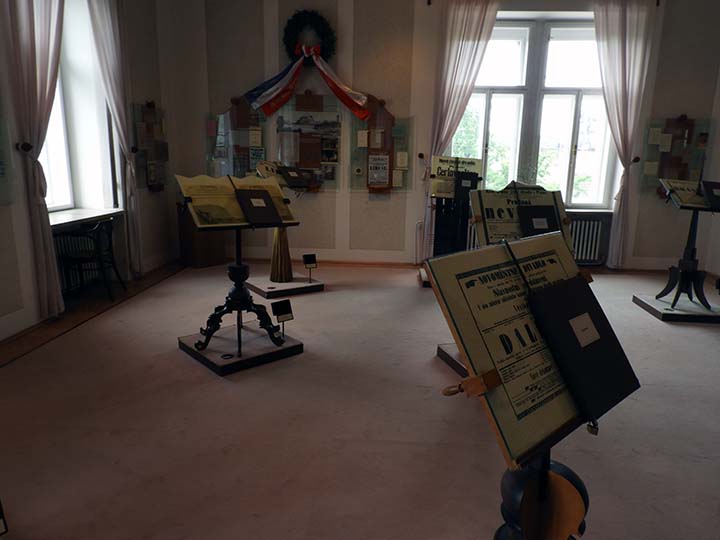 There was a nice display of artifacts related to Hungarian composers, though.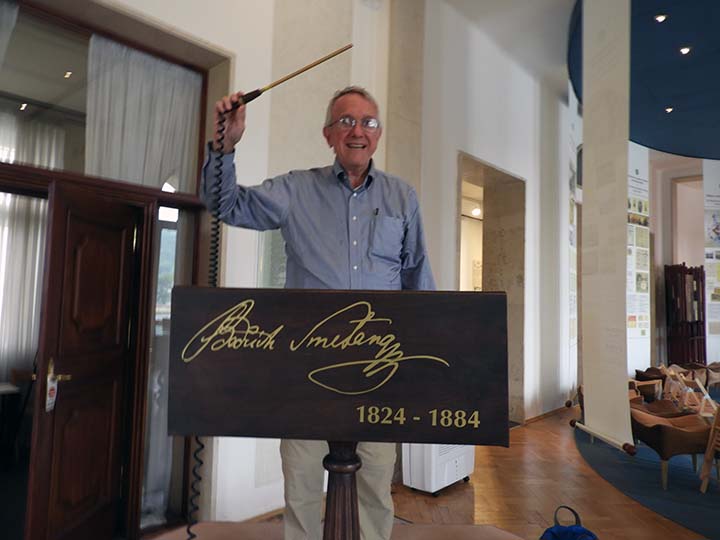 Had to have a little fun before we left.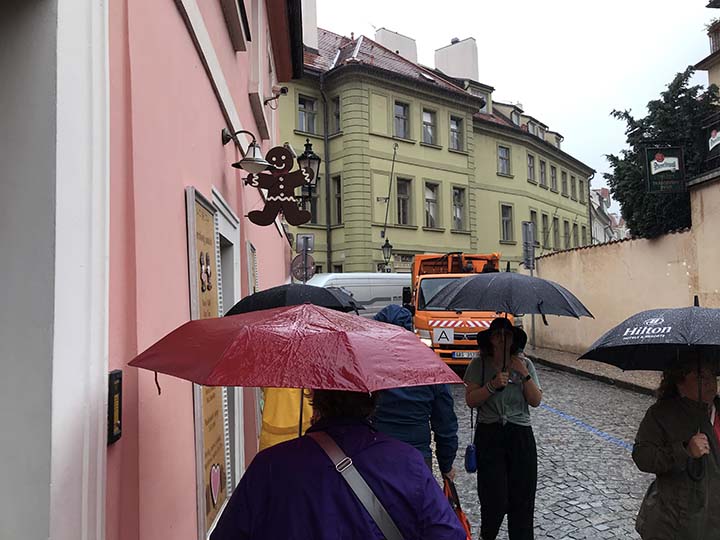 Will the drizzle never stop today?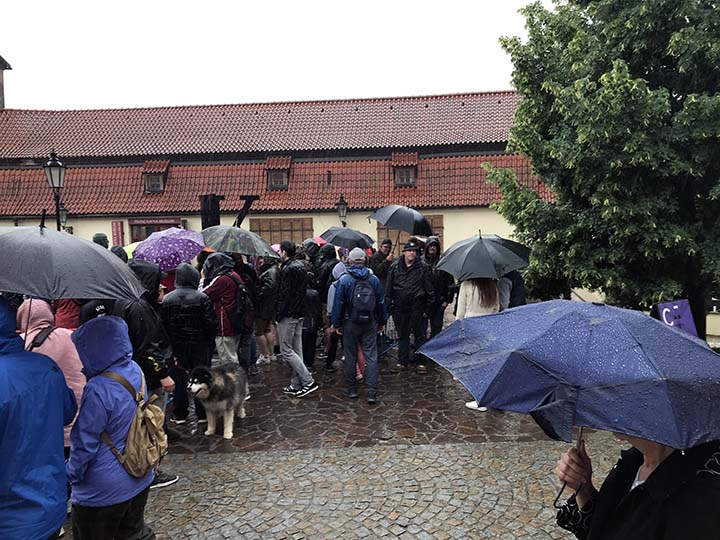 It's a wet crowd gathered in the courtyard of the Kafka museum. I think I'll come back some other less drizzly day.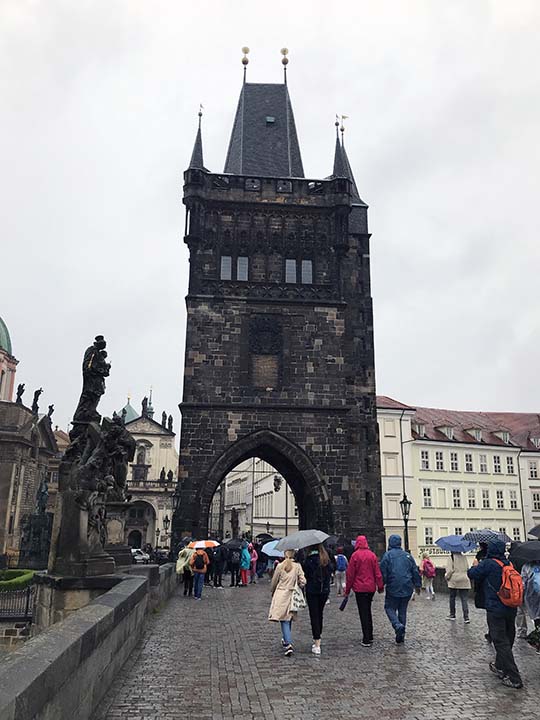 I went back to my hotel room for a little while to wait out the rain, and then I struck out on my own. I wanted to get a bite to eat before going to a marionette show tonight.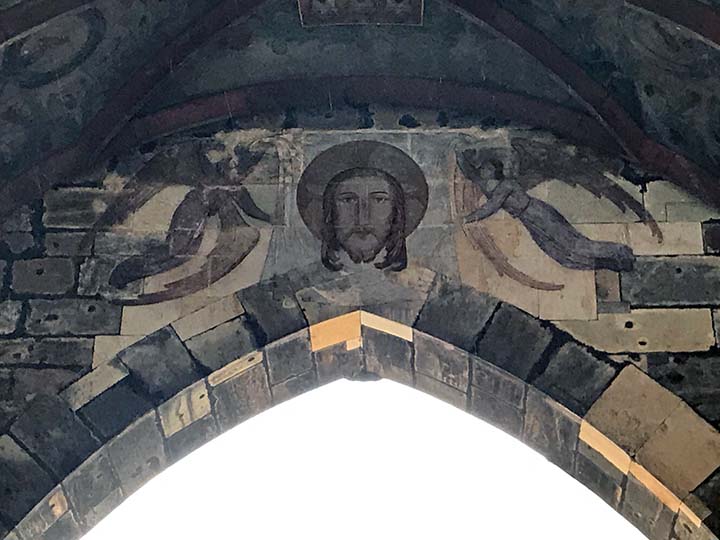 Decorations in the Powder Gate.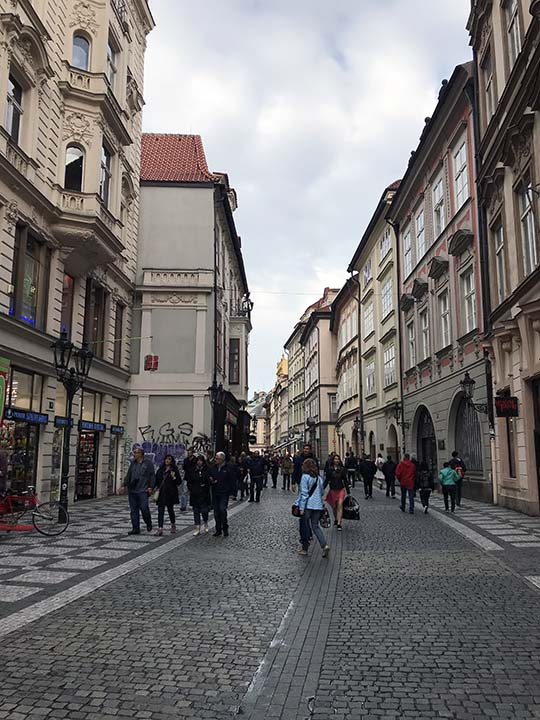 At least it's no longer drizzly.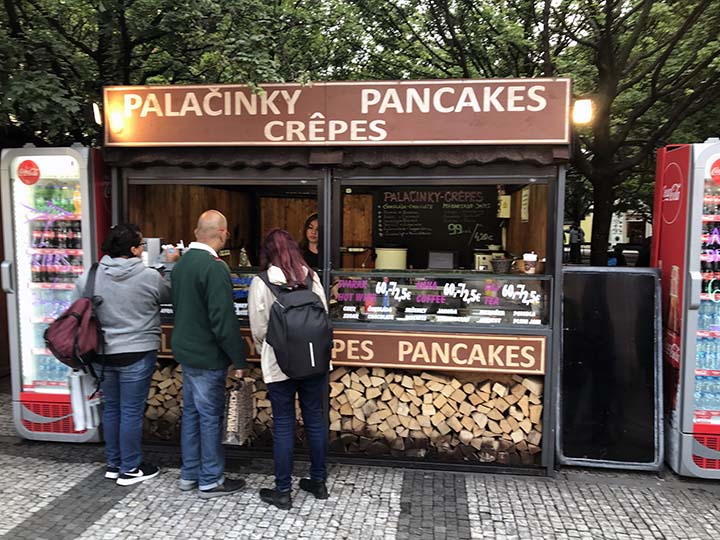 Mmmm...more street food.

All this looks good. The food stalls are along the edge of the square. I had a small bowl of that potato gnocchi/bacon/sauerkraut concoction. Itís called ďhaluskyĒ and it was pretty good.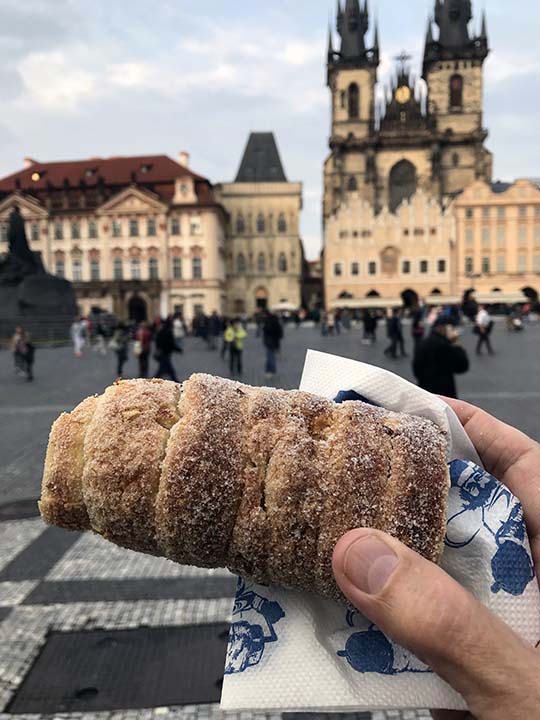 For dessert I had some Trdelnik. Whatís that? Itís a pastry they sell to tourists, claiming itís an old Czech tradition, but it really isnít. Itís good though. To make them, thick dough coated in sugar is wrapped around a thick pole which is rotated slowly over a fire until the sugar caramelizes over the outside to a golden-brown color.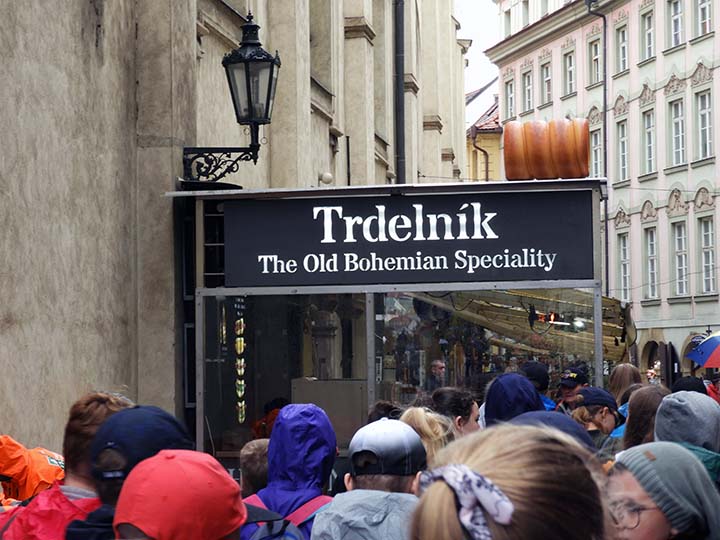 Misa says calling it an "old Bohemian specialty is nonsense. It's just something cooked up for the tourists.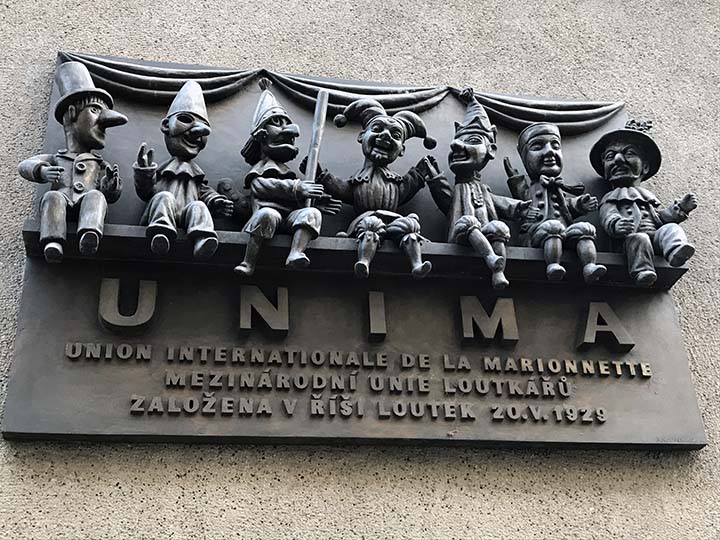 Itís nearing 8 oíclock and itís time for a Mozart opera: Don Giovanni performed by marionettes. Misha assured me that attending a performance is a very Czech thing to do.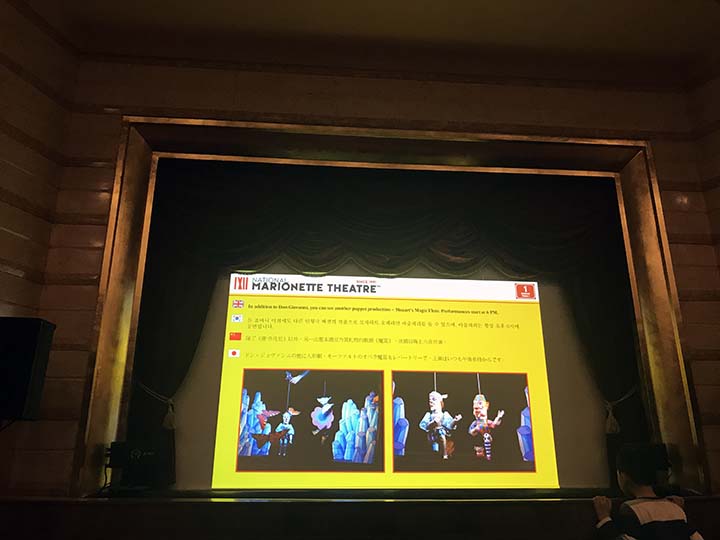 When in Prague, do the Czech thing.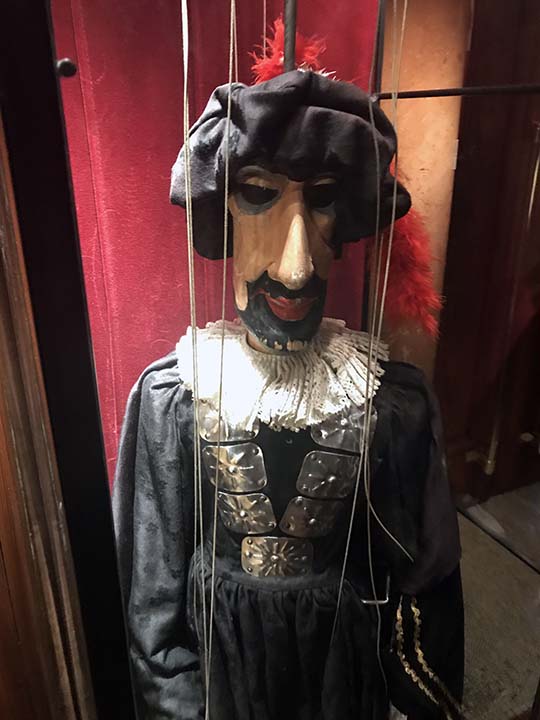 I think Mozart never intended Don Giovanni to be a slapstick comedy, but that's what we got tonight.
Don and his sidekicks.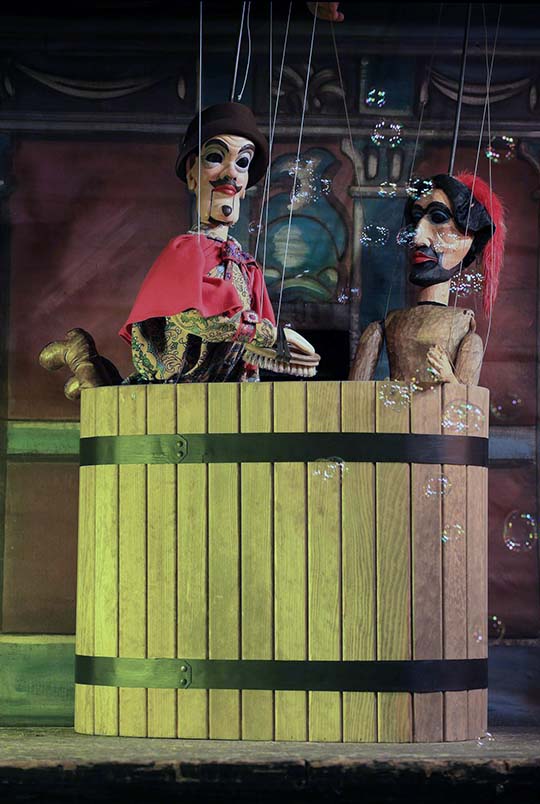 This is a scene from the show. Donít ask me to explain.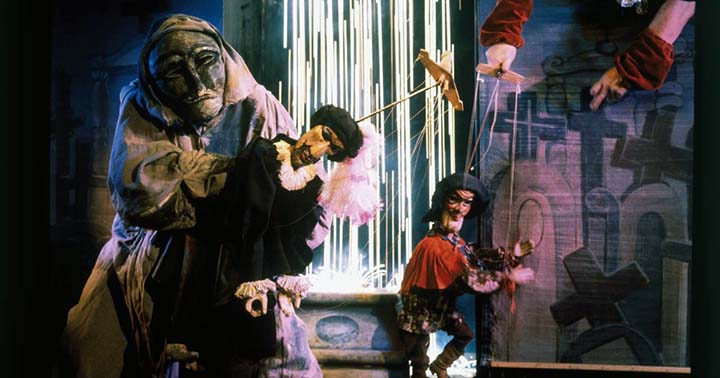 Lots of laughs and a monster at the end. What more could you ask for?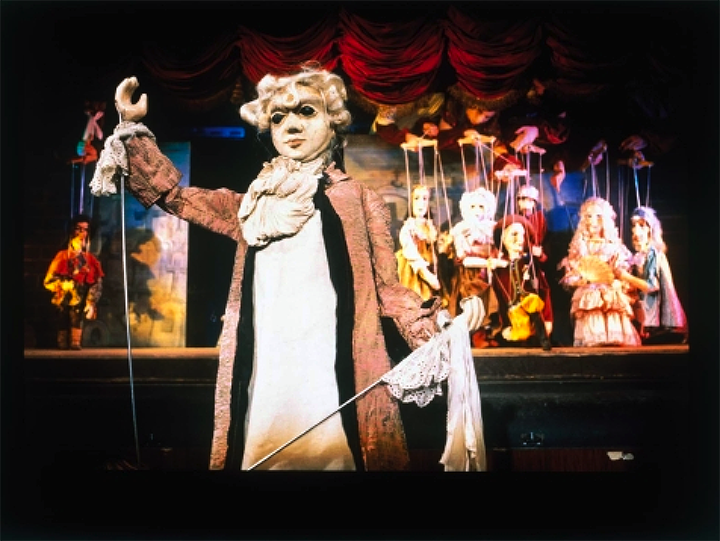 It was great that Mozart himself led the production. It was very well done and quite funny at times. A fine way to end the day.