Can it possibly be the final day of the trip? I have had a fabulous time, met some fantastic people, learned a lot, walked a lot, ate a lot, but yes, now I'm ready to go home. Central Europe is beautiful, despite having an unfortunate history of wars, genocides, displacements of entire populations, and more wars.
I think the general consensus among the Road Scholars on this trip has been that of the cities we visited, Prague is our favorite mainly because of its fairytale appearance. I had understood on some level all my life that there was a rich European culture hidden behind the Iron Curtain, but I had no idea of the extent of it until I saw it for myself. Music, art, architecture, scholarship, cuisine ... all here, so very refined, and flourishing under democracy after the fall of communism. It seems that today, for once in history, it's good to be a Central European. Now let's have a look at how we spent our final day in Prague.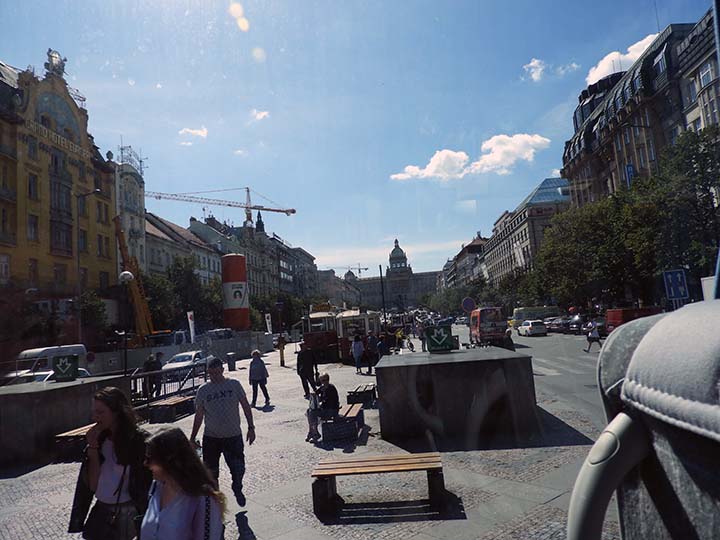 We are headed to a monastery, and on our way we are taking a side tour around parts of Prague we haven't seen before. This is Wenceslas Square, site of the Czech Velvet Revolution in 1989 that overthrew the communists. Misha was one of the demonstrators, and you could sense the pride in her voice as she told about the great spirit of hope that filled the people who were crowding the Square.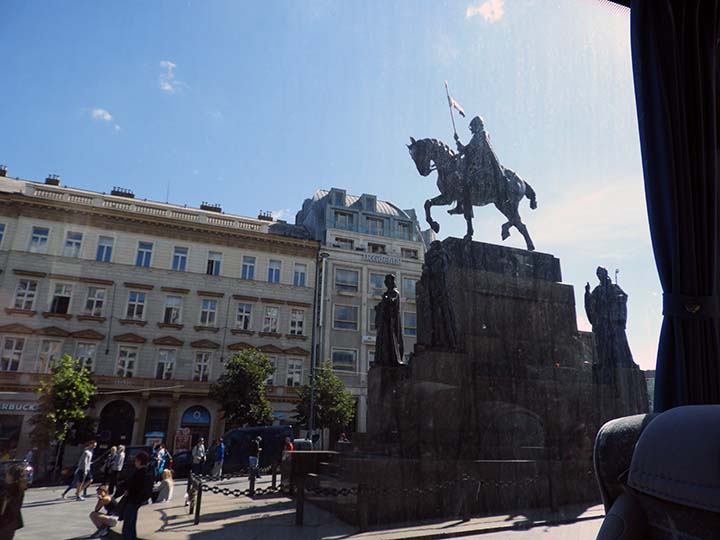 You have heard of Good King Wenceslas? Well there he is on a horse.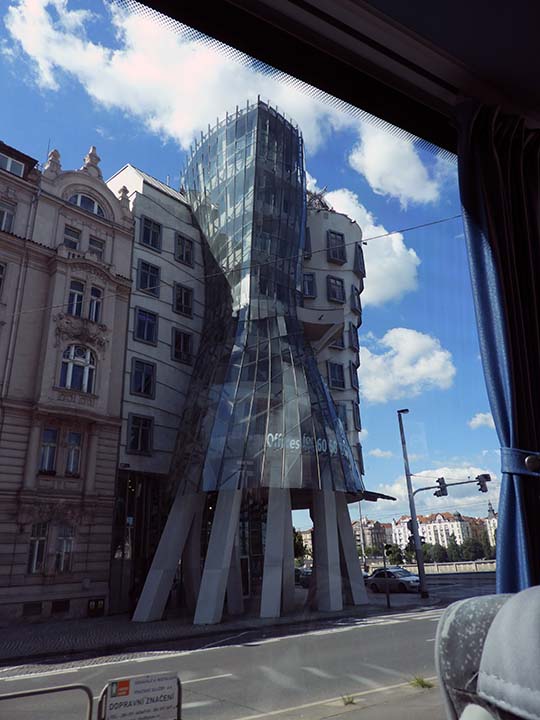 Remember this from last night? It's the building known as Fred and Ginger because it looks like a dancing couple.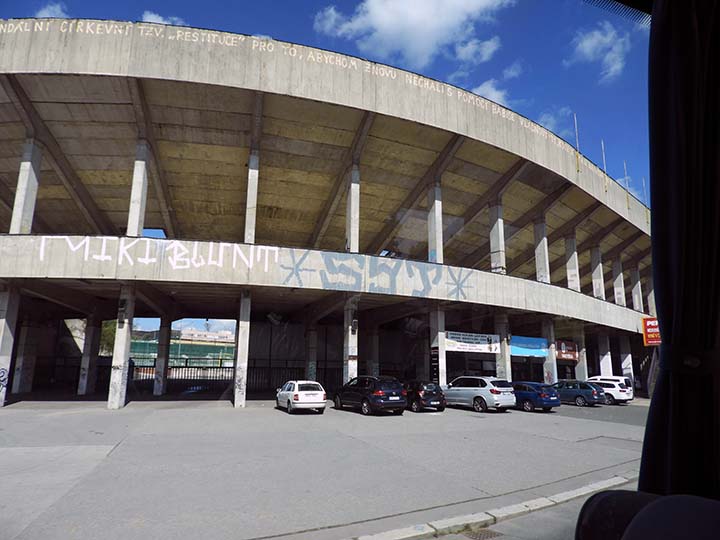 Prague is the site of the largest stadium in the world.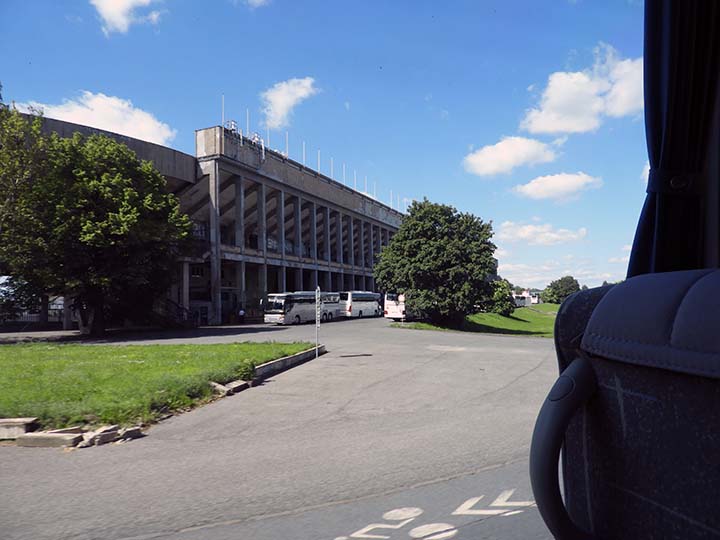 The Great Strahov Stadium is located in the Strahov district of Prague, Czech Republic. It was the largest stadium in the world and is the second largest sports facility worldwide after the Indianapolis Motor Speedway, seating around 220,000. It was built by the communists and it is still being used, though it looks like it is falling apart.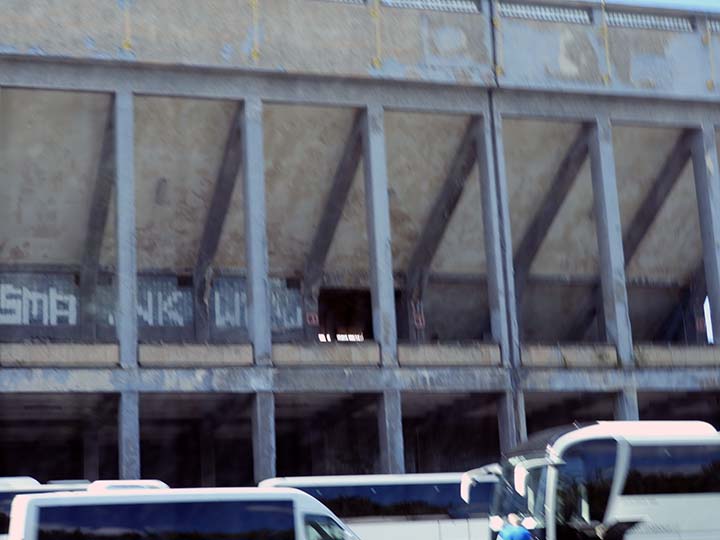 Probably because it is.
Now we have arrived on the grounds of the Strahov Monastery. It is a Premonstratensian abbey founded in 1143 by Jindřich Zdík, Bishop John of Prague, and Vladislaus II, Duke of Bohemia.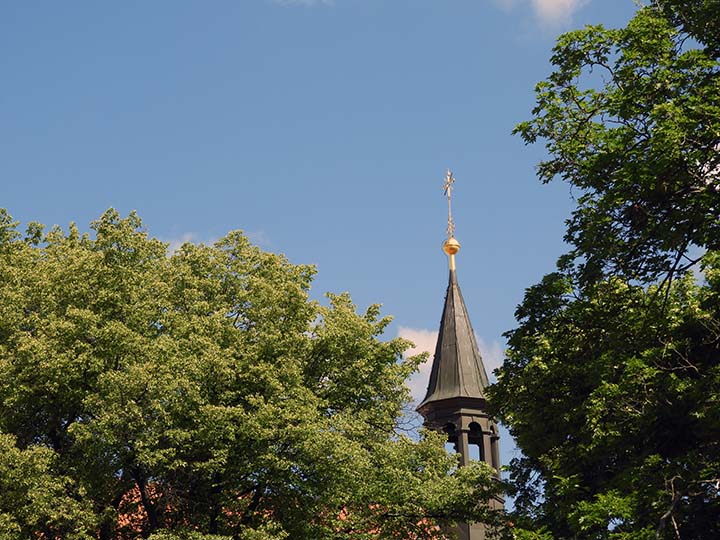 I took this picture only because of the stunning blue sky. It had been a while since we'd seen much other than clouds. The picture is just a pale imitation of what I saw that day.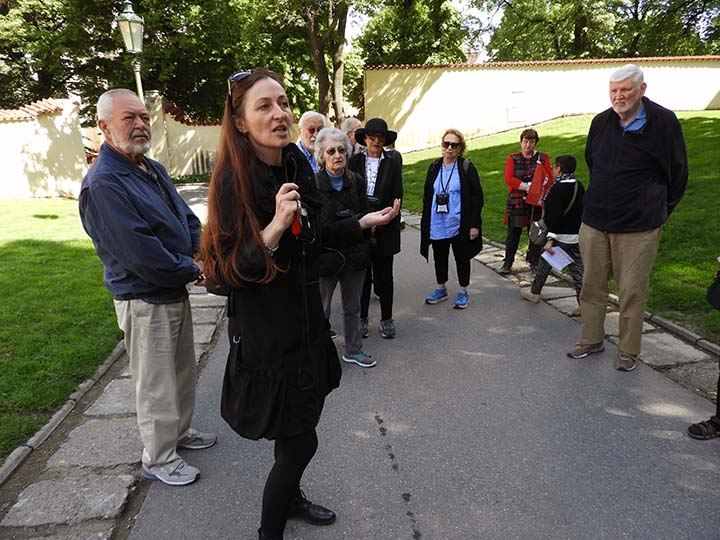 Misa keeps us informed and interested.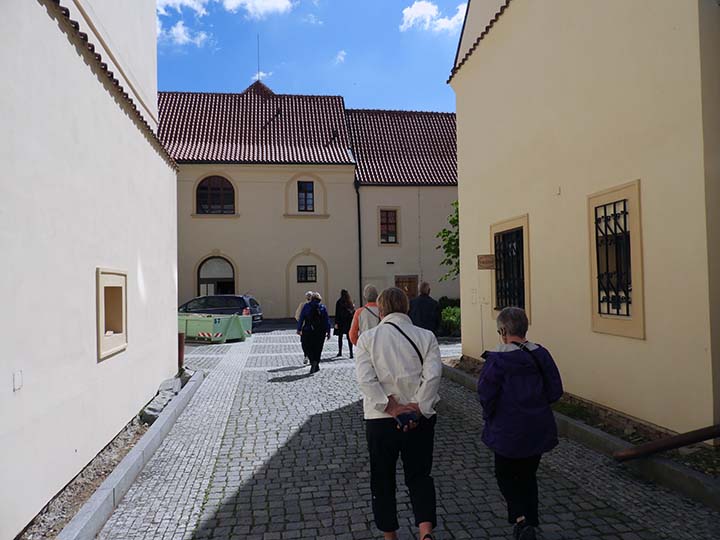 I wonder what's so special about this place that we have driven all the way out here to see it?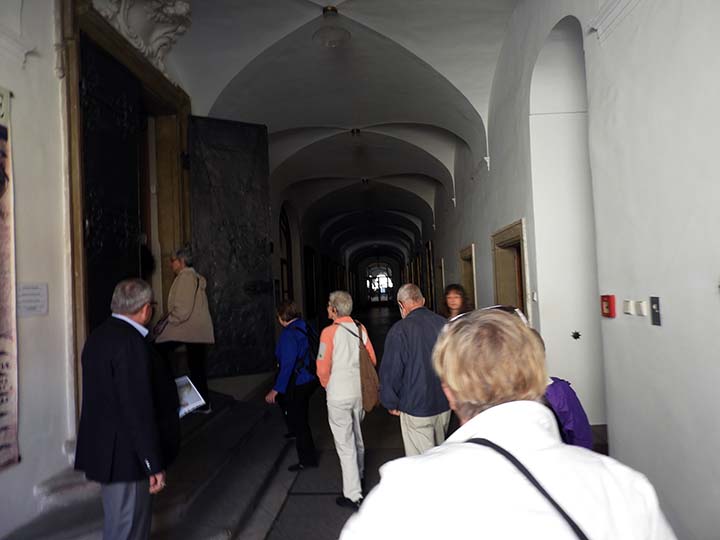 Guess we'll see when we go through that door.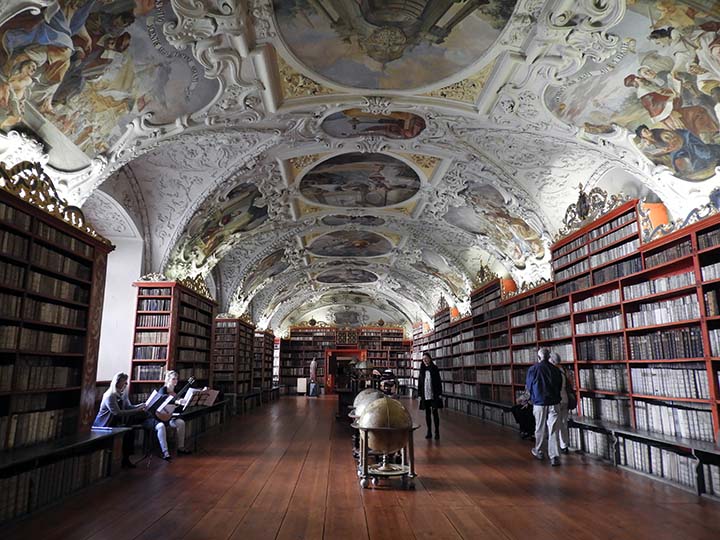 Holy cow! This is called the Theological Hall.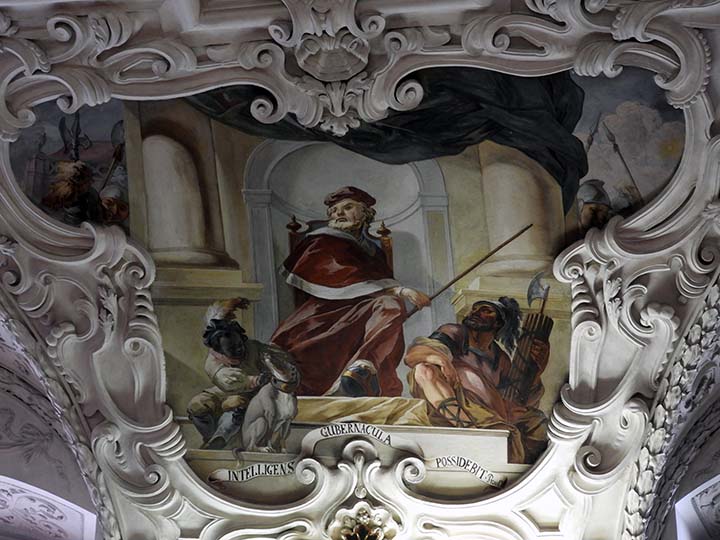 Of all the impressive rooms we've visited on this trip, I do believe this one, on the final day, takes the blue ribbon.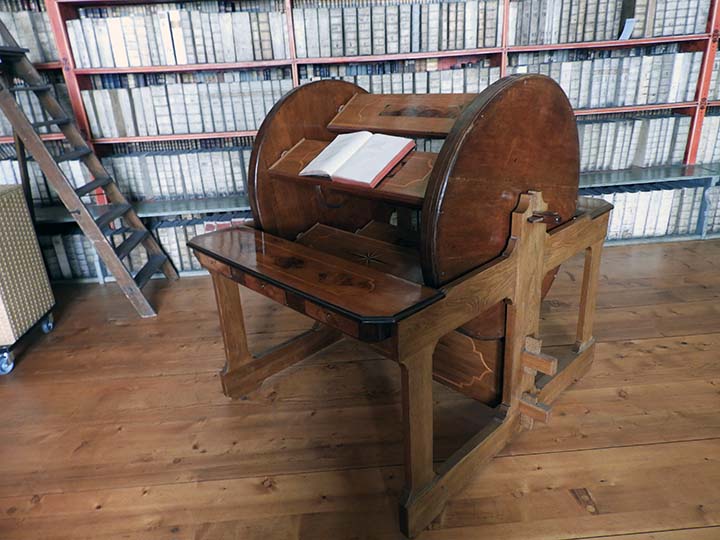 It's a mechanism for keeping all your books in one place and rotating among them depending on which one you want to read. Sort of a medieval Kindle.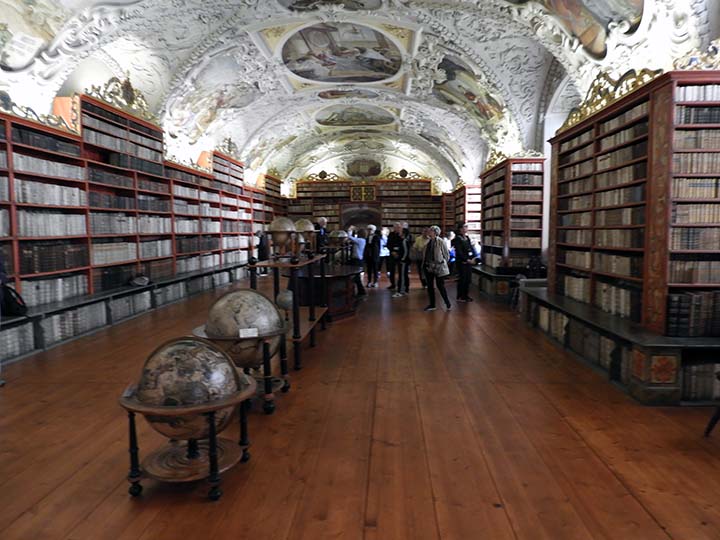 In 1670 Jeroným Hirnheim, a philosopher and theologian, became the abbot of Strahov. His greatest work, which has survived to the present day, was the building of a new library in the so-called Theological Hall, completed in 1679.
After boggling our eyes for a bit, we sat down for a lovely concert.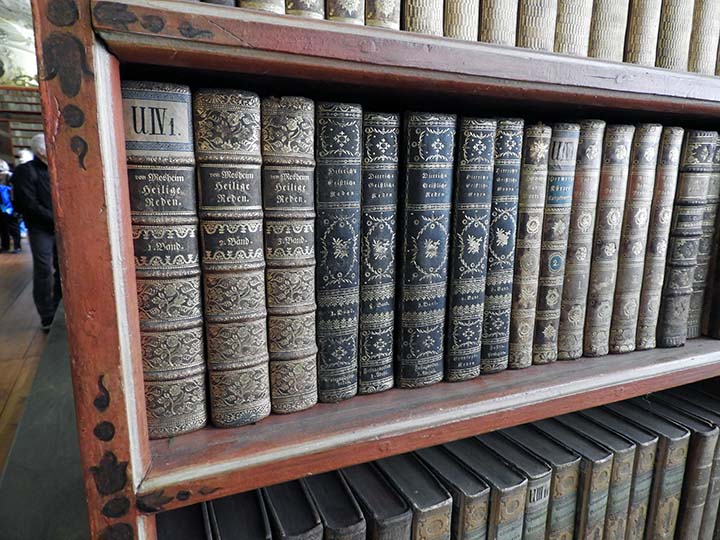 In 1950, the library was incorporated into the Memorial of National Literature. Following the events of 1989 the library was, along with the monastery, returned to the Premonstratensians. Within the library, a reading room is also open. The Strahov Library contains over 200,000 volumes, including over 3,000 manuscripts and 1,500 first prints stored in a special depository.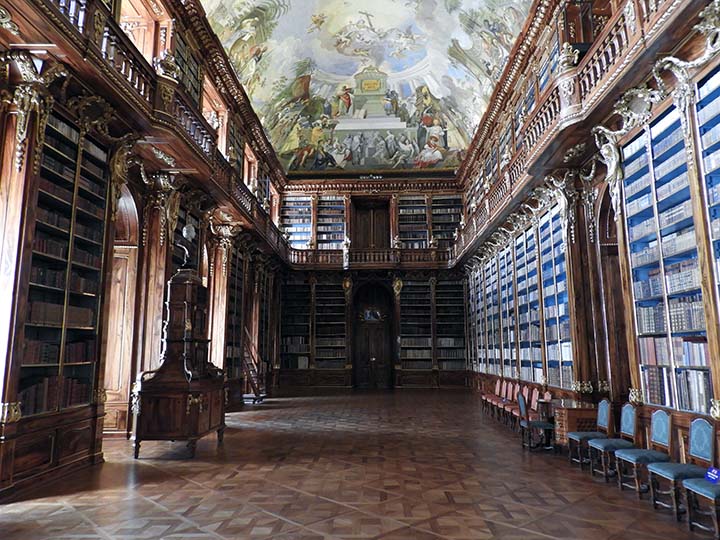 But wait, there's more. In 1779 Václav Mayer occupied the abbot's throne and was the last to carry out great building activities. His most outstanding work was the building of the new library, now in Classical style. Today it is called the Philosophical Hall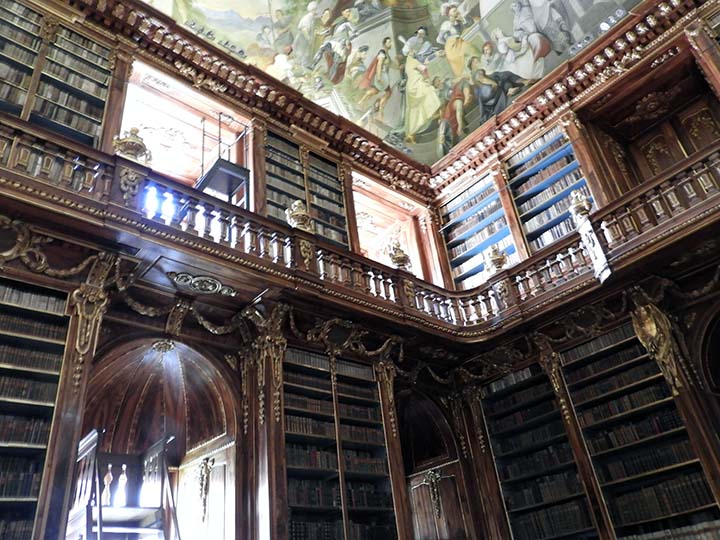 Are there really more things in heaven and earth, Horatio, than are dreamt of in your Philosophical Hall?
That's a fancy desk.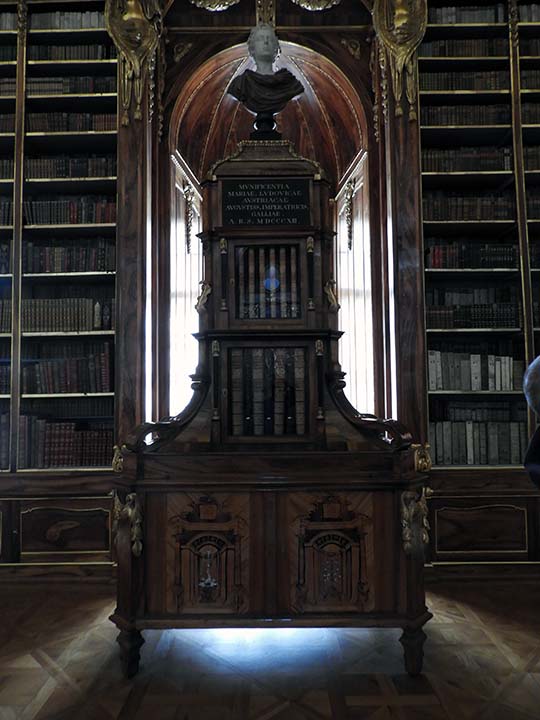 That's an even fancier cabinet.
Paintings cover the walls and ceilings.
What medieval library would be complete without a secret door?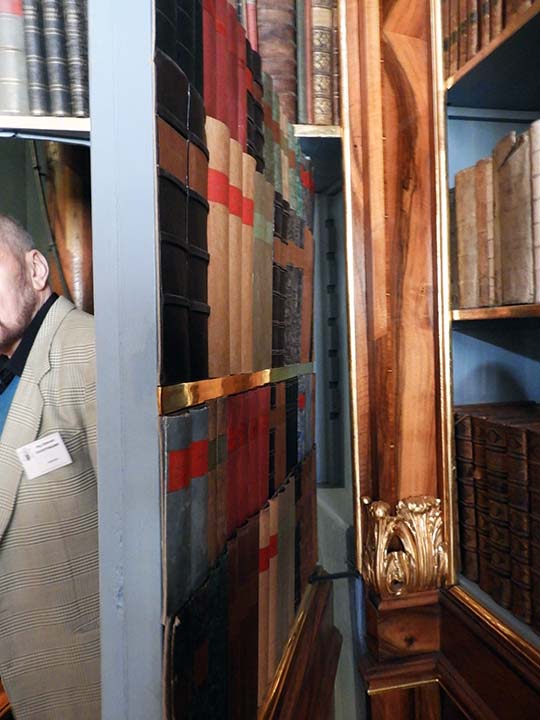 SPOILER ALERT -- those are fake books.
\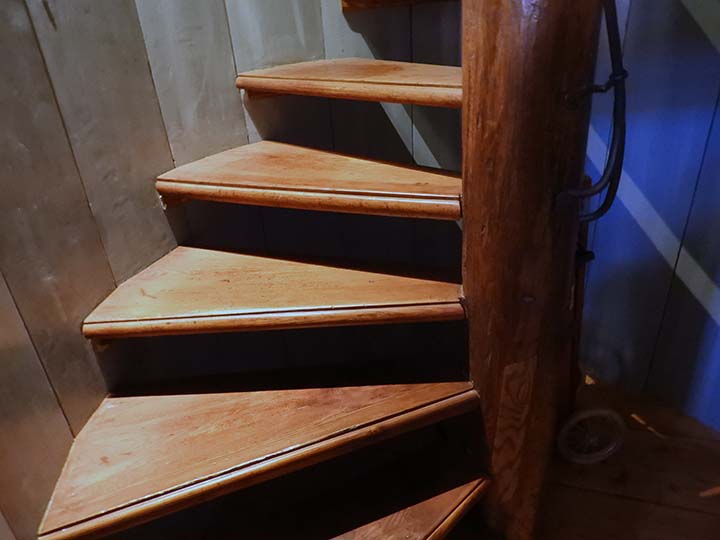 There's even a hidden spiral staircase.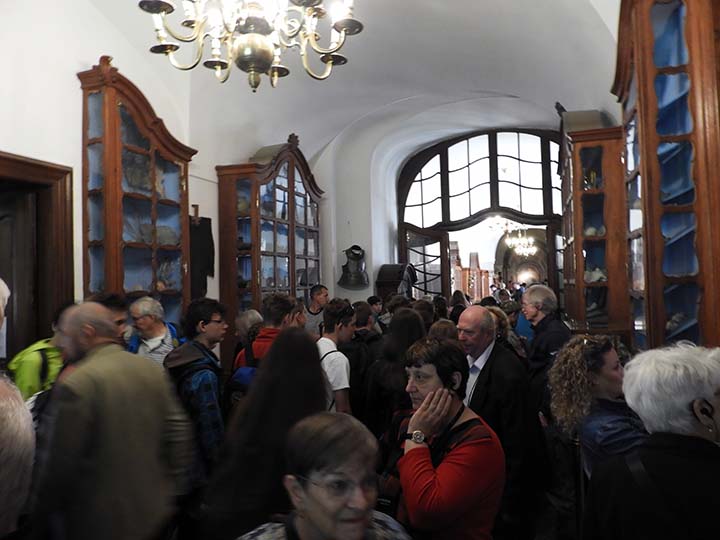 The Road Scholars have had a special tour. Now we're mingling with the masses of high schoolers who've come to see old books.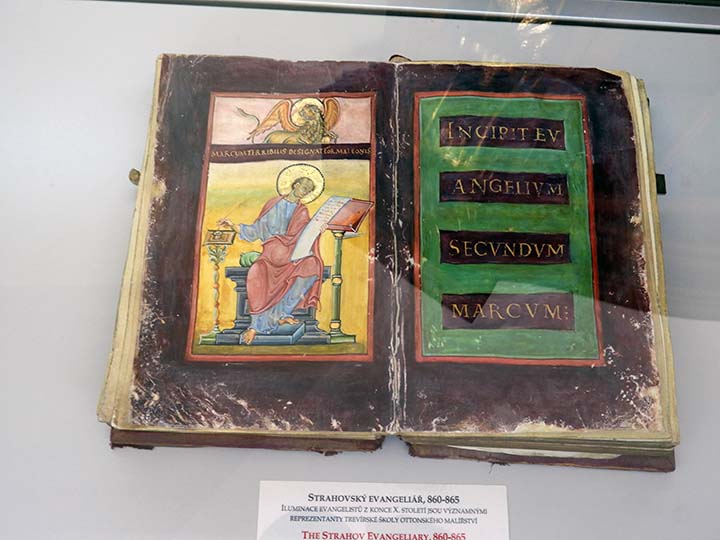 This copy of the Bible was written in 860-865. Now that's an old book. The monastery has numerous old and very interesting items in its collection.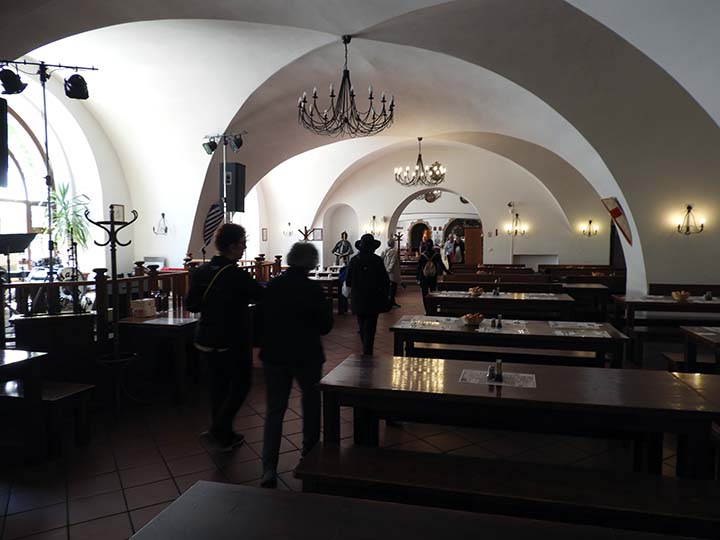 But we are hungry, so let's eat at a restaurant connected to the monastery.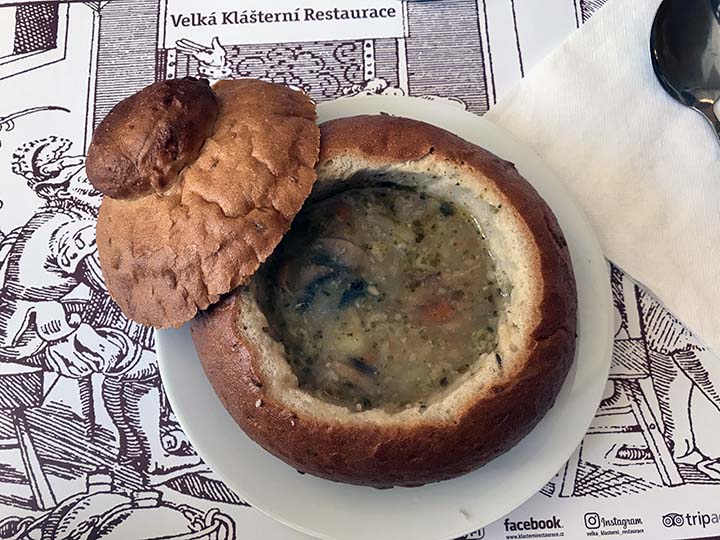 Soup in a bowl of bread. Nice.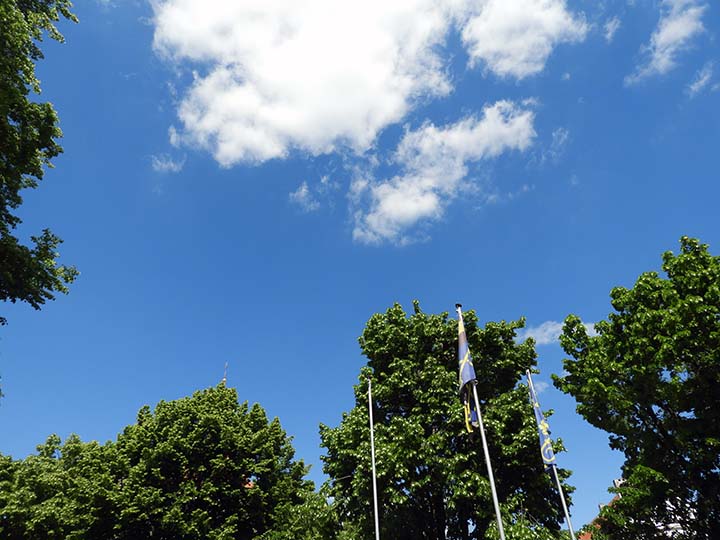 That sky was just so blue....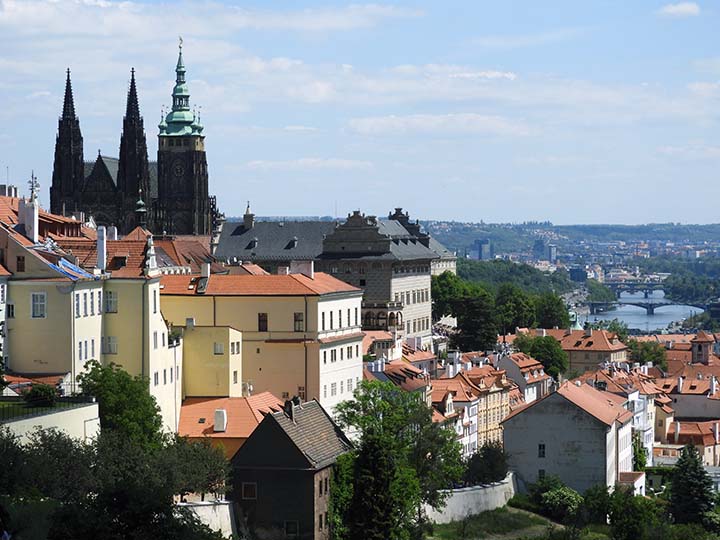 Now let's go out and do a little sightseeing. Nice view from up here.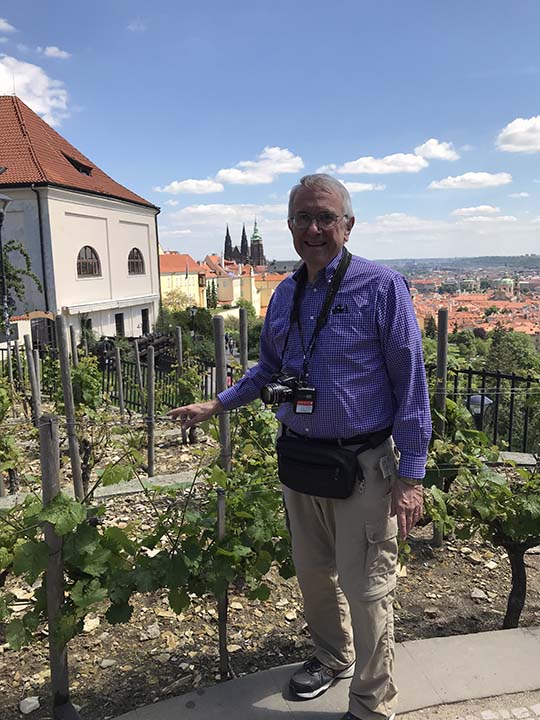 Bill's certainly impressed.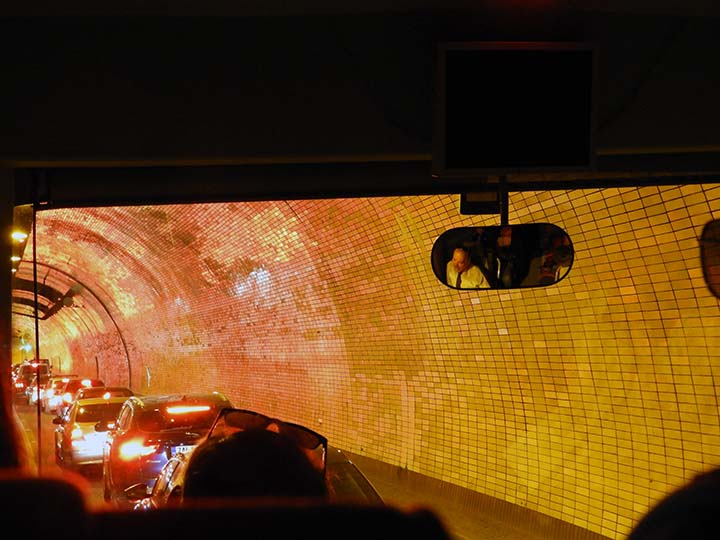 Headed back to the hotel we got stuck in a tunnel.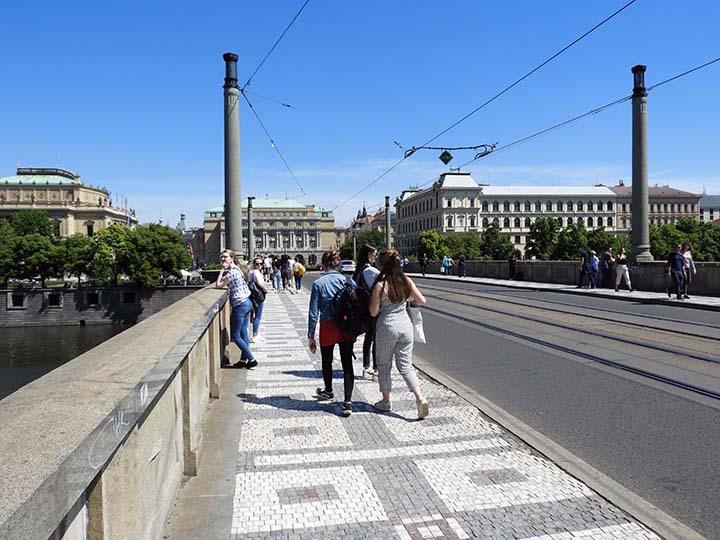 But not for long. Soon Bill has freshened up at the hotel, strapped on his camera, and headed out for a final sightseeing jaunt in Prague. He's even splurged and turned on his iPhone data so he can use GPS to find his way around. There's one thing he really does want to revisit, just to prove his eyes weren't deceiving him. First we cross this bridge ...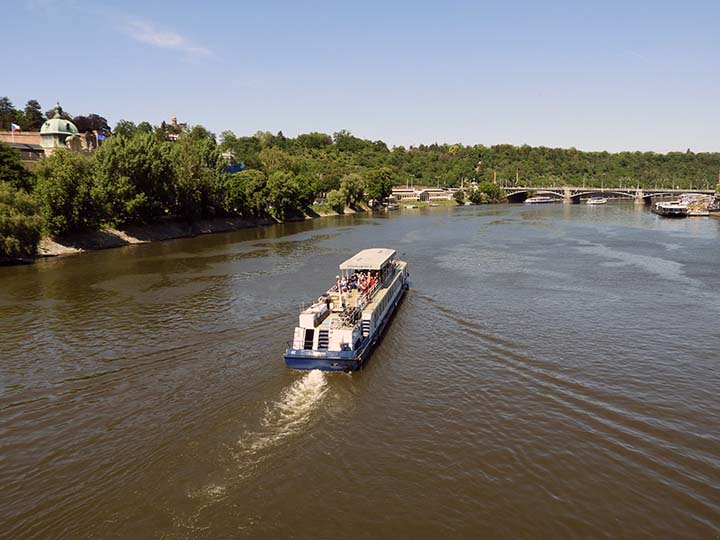 And gaze down at the tourists on the Moldau.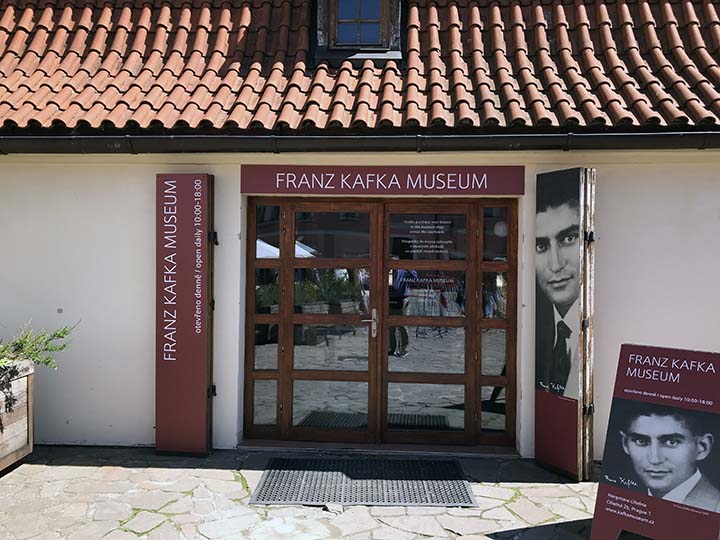 And then we arrive at the Franz Kafka Museum. Why this museum?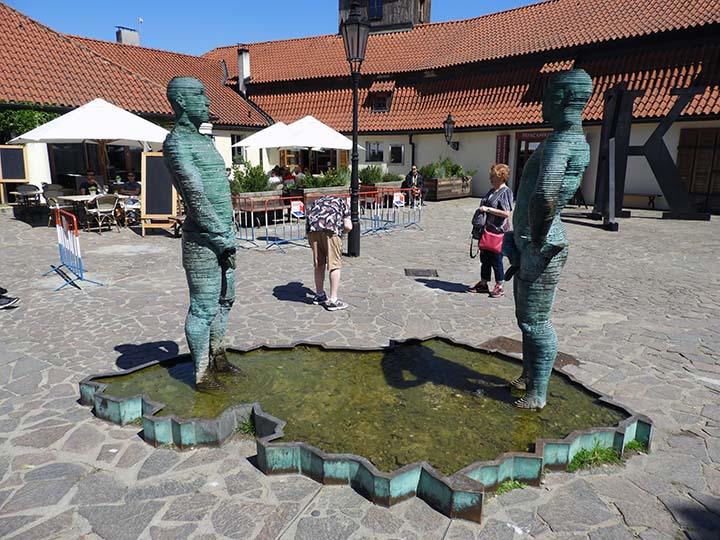 Because I still didn't believe I saw what I thought I saw yesterday. But yep, that's what I saw. Can you believe it either? You got to ask, why? So I Googled: "Piss" is an outdoor 2004 sculpture and fountain by Czech artist David Černý, installed outside the Franz Kafka Museum in Malá Strana, Prague, Czech Republic.

The fountain's basin is made of bronze and shaped like the Czech Republic. Standing in the fountain, opposite one another, are mechanical statues of men, standing 6 ft 11 in tall with bronze penises, urinating. Visitors to the area can command the men to write messages into the water via SMS.
Want to see them move? You sure?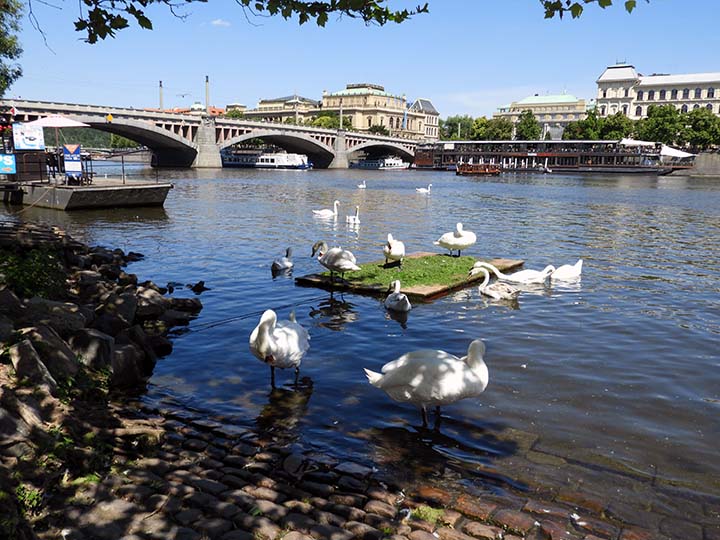 Having seen enough of that, while walking back to the hotel I encountered some swans.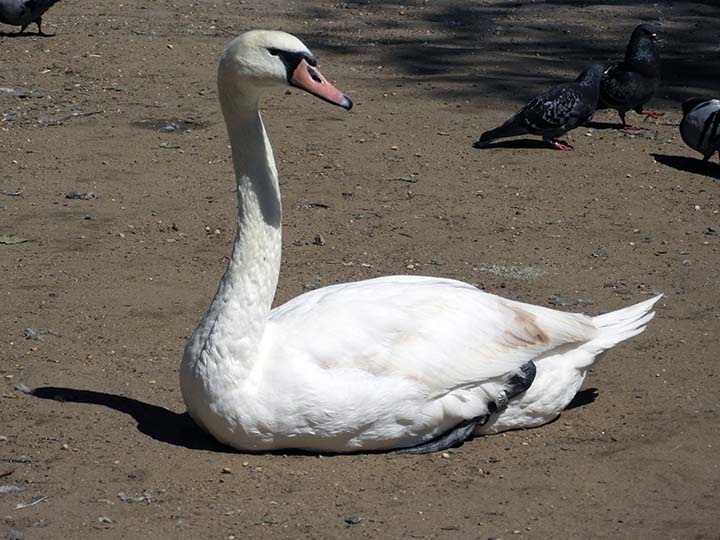 You can't fool me, pretty boy. I know you were once an ugly duckling.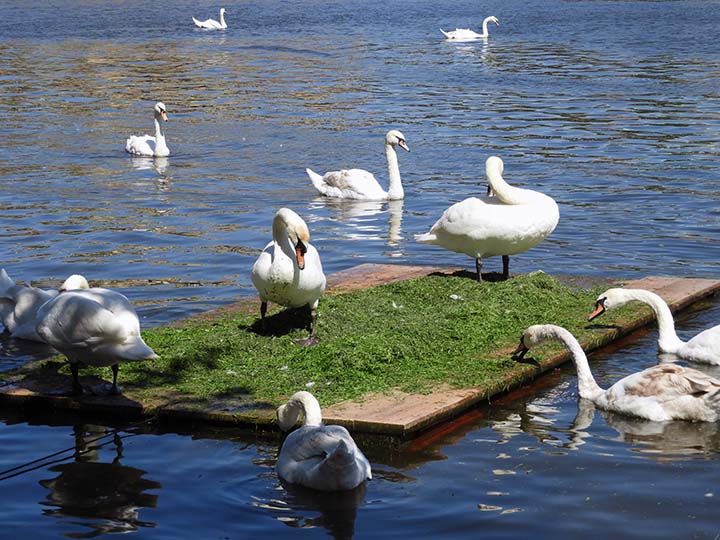 Remember that guy in the white hat and blue blazer last night? Well, here we are again.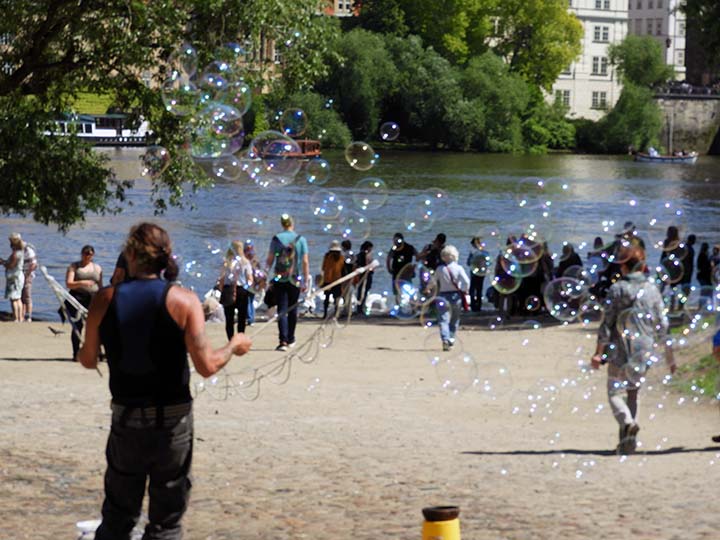 What would a Prague tourist walk be without bubbles?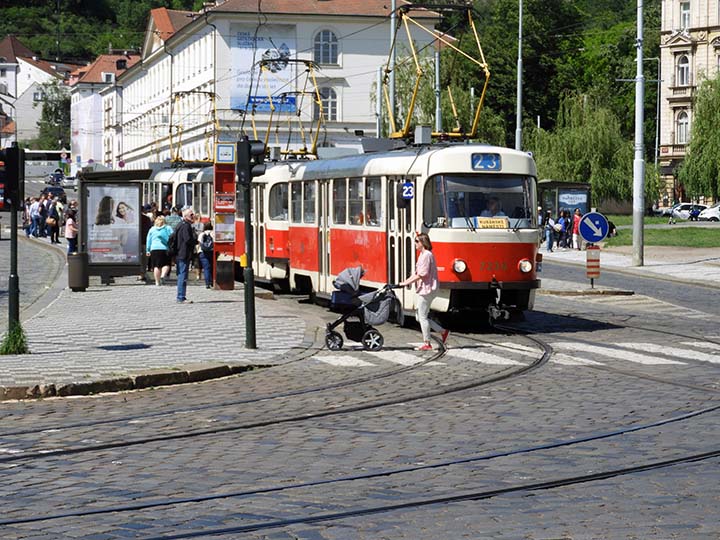 Public transportation.
Prague is beautiful, absolutely enchanting.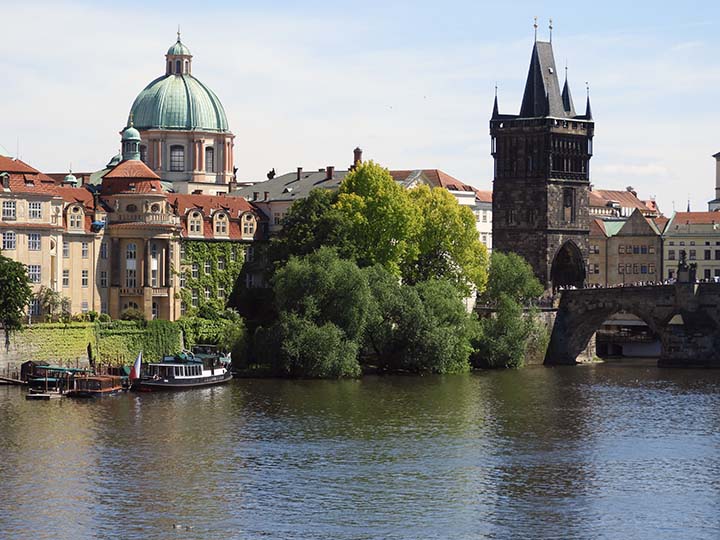 In this light even the Powder Tower doesn't look so forbidding.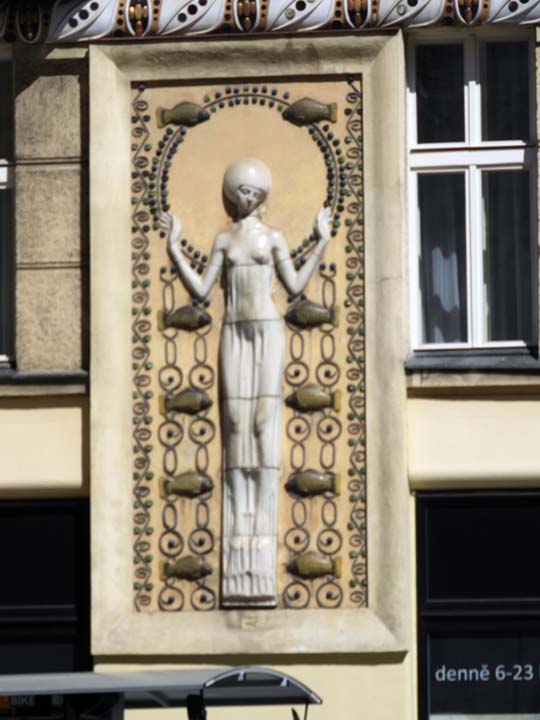 A little art deco.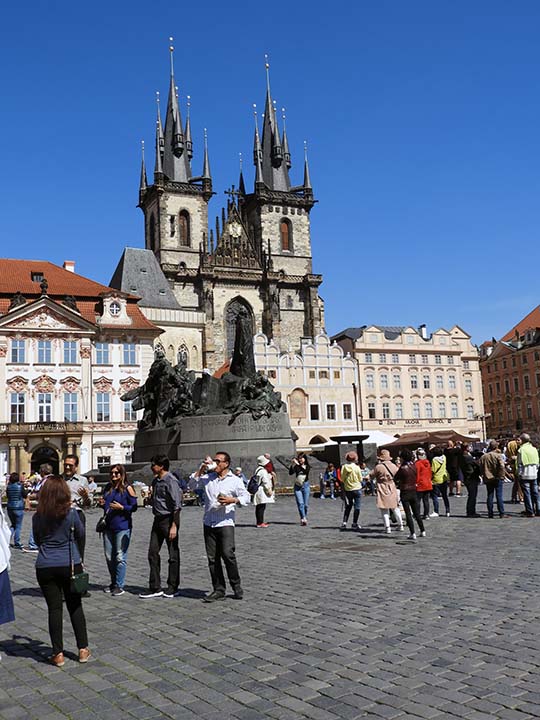 Back on the square, this time in bright sunlight.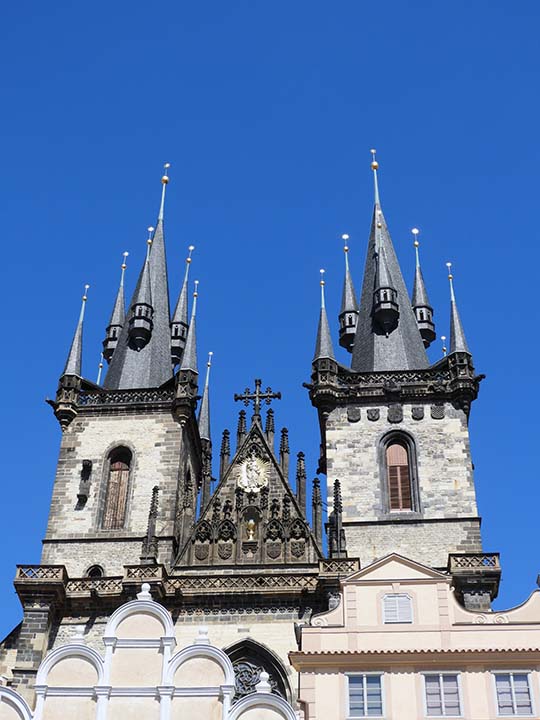 Church of Our Lady Before Tyn, and that sky....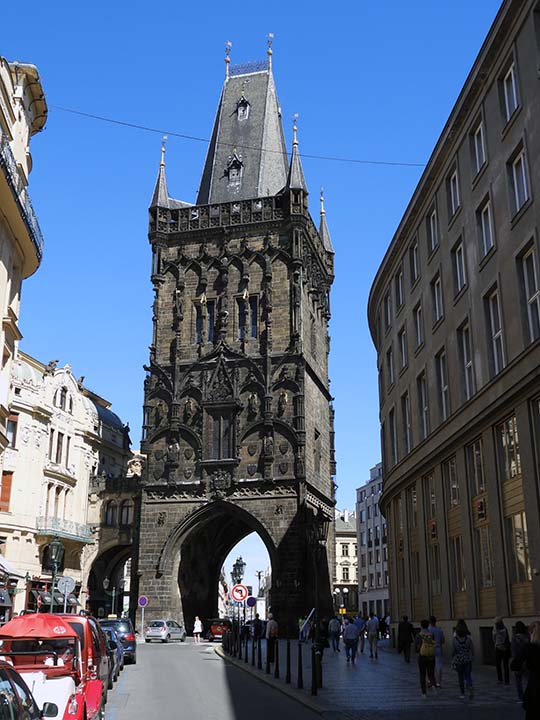 The Powder Tower and that sky....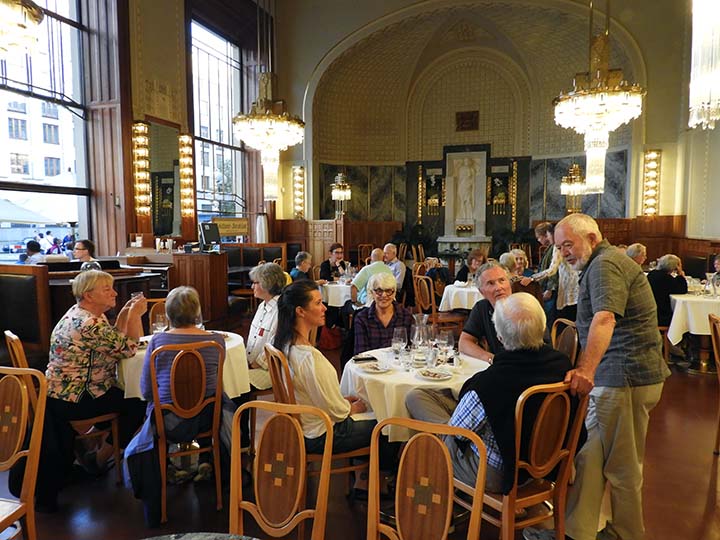 And now it's time for our farewell dinner.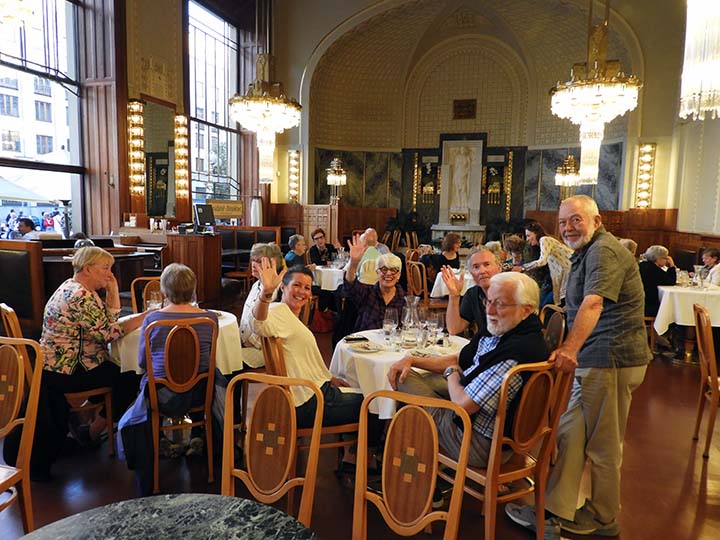 So long, everybody....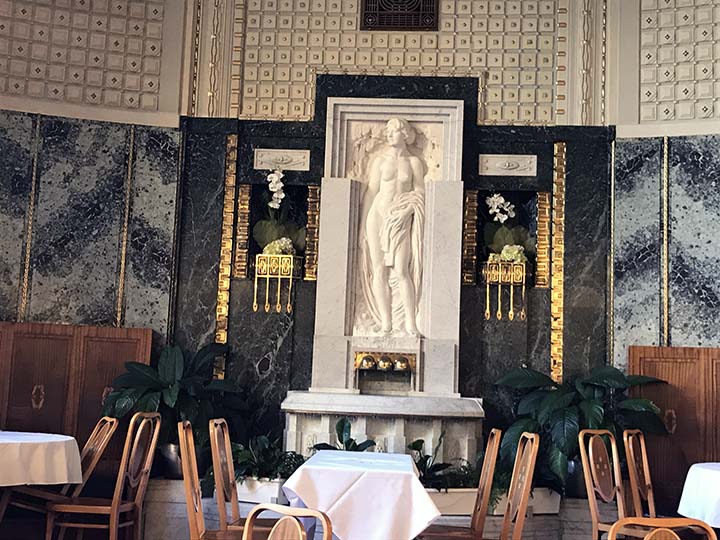 Art deco everywhere. The food was good, the company was great, the sad goodbyes were sincere. Now back to the hotel to set the alarm for 3:30 AM so I can get to the airport in time for my 6:50 AM flight to Brussels, then on to Chicago, then home to Memphis. I am ready to be there.
The final picture of the trip, taken about 4:00 a.m. at the Prague airport. It's an advertisement I'd been seeing all over the Czech Republic but never could get a good shot. BillA. How many times have I ended a note or an email with BillA? I was famous over there!