Up bright and early and hey, the Hacienda Cusin is still gorgeous.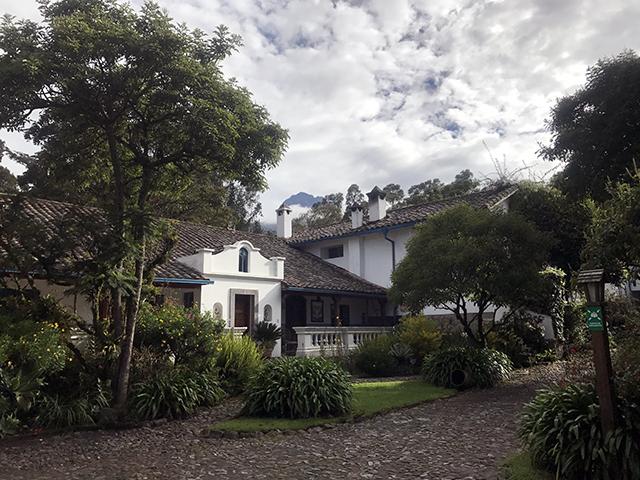 Pretty from this angle.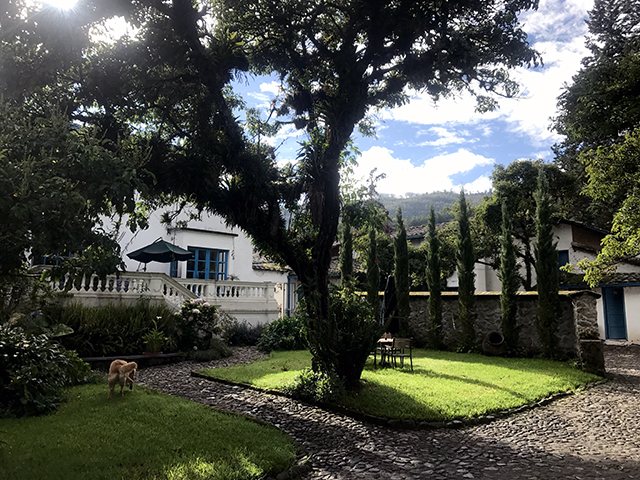 Pretty from that angle.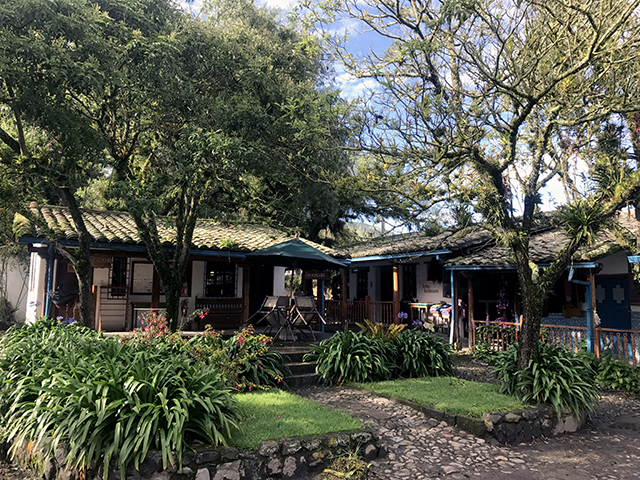 Nice place.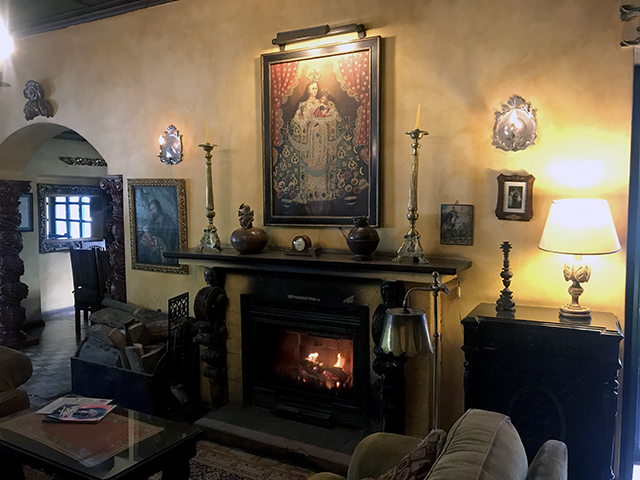 Servants keep a roaring fire in the great room fireplace.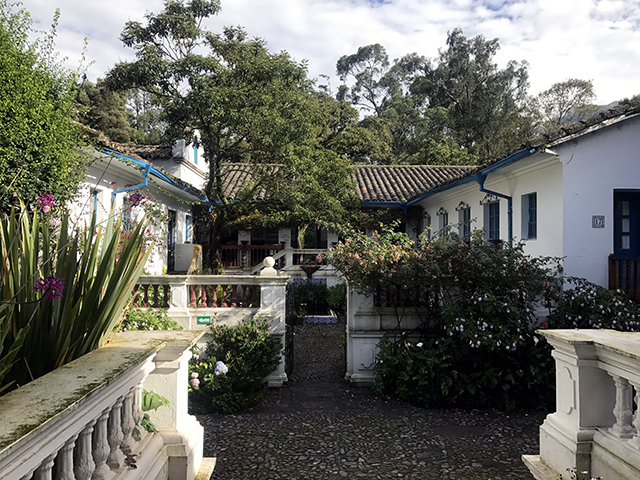 I could certainly get accustomed to living here. Now let's go exploring.
Otavalo, capital of Otavalo Canton, has a population largely made up of the Otavalo indigenous group. It is located in Imbabura Province of Ecuador. According to the 2010 census, the town has 39,354 inhabitants[1] and has an elevation of 2,532 metres (8,307 ft).[2] It is surrounded by the peaks of Imbabura (4,630 metres (15,190 ft)), Cotacachi (4,995 metres (16,388 ft)), and Mojanda volcanoes. Gustavo Pareja is the current mayor of Otavalo. He was elected in February 2014.
The indigenous Otavaleņos are famous for weaving textiles, usually made of wool (that is sometimes as black as a raven), which are sold at the famous Saturday market. Although the largest market is on Saturday, there is a very wide range of wares available throughout the week in the Plaza de los Ponchos, and the many local shops. The shops sell textiles such as handmade blankets, tablecloths, and much more.
The Otavalo market consists of mushroom-shaped concrete umbrellas with benches. The market was designed and built in 1970 by Dutch architect Tonny Zwollo.[3]
During the market's peak, almost one third of the town becomes full of stalls selling textiles, tagua nut jewelry, musical instruments, dream catchers, leather goods, fake shrunken heads, indigenous costumes, hand-painted platters and trays, purses, clothing, spices, raw foods and spools of wool. As the city has become more of a tourist attraction, many of the goods sold in the markets are mass-produced in nearby factories and sold in the market by middle-men. More artisan products can be purchased in neighboring communities or at the Museo Viviente Otavalango.
Otavalo was an area made up principally of farming communities due to the rich volcanic soils in this area, but with the growth of tourism, the town has begun to focus more on the making of handicrafts which have made the Saturday market a popular stop with visitors to Ecuador. Tourism has become the town's main industry and as a result there are many more hotels, hostels, and tour operators than other similarly sized Ecuadorian towns, such as nearby Cayambe. Further, Otavaleņo (people from Otavalo) have had notable success selling their goods abroad.
The market used to be open for business on Saturdays only, but now it doesn't matter when you come, there's always something for sale.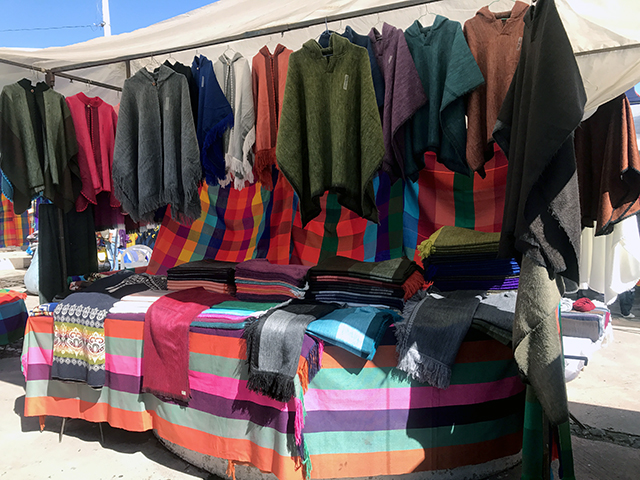 Like colorful textiles.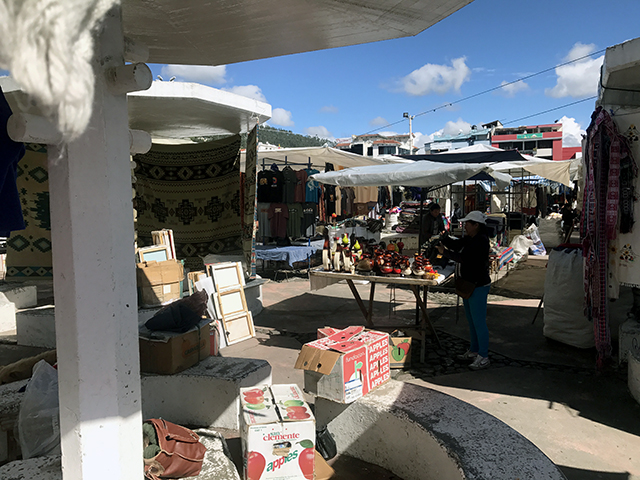 Stalls everywhere.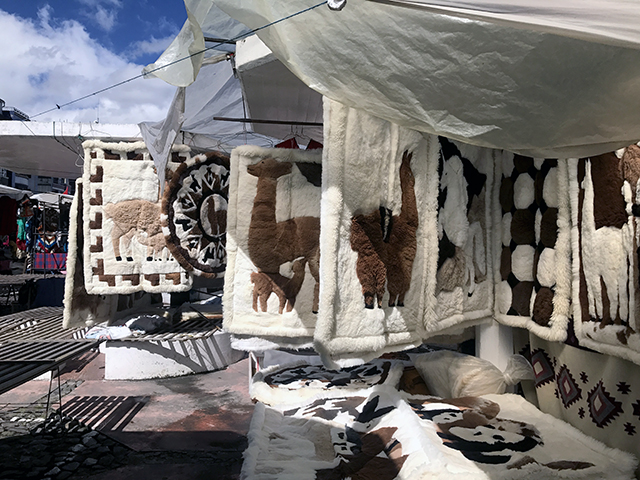 Woolen things. Are those rugs? Wall hangings? Whatever, I bought a nice sweater for $19.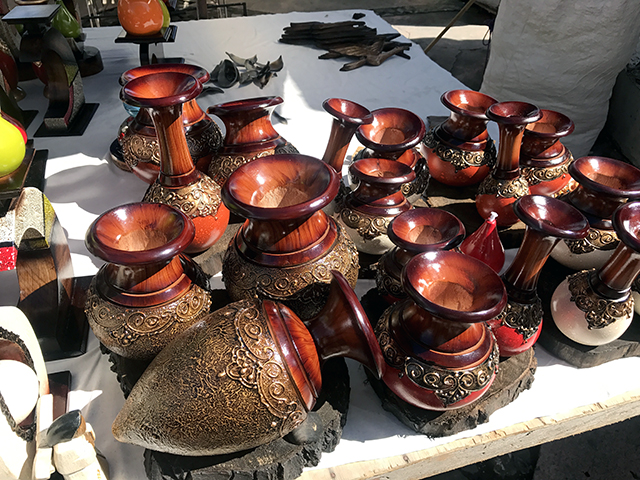 The pots were pretty but I didn't need a pretty pot.
Marco was safe, dependable, courteous.
And as he was navigating the streets we discovered you have to be careful driving around here. Don't want to ruin mama goose's day.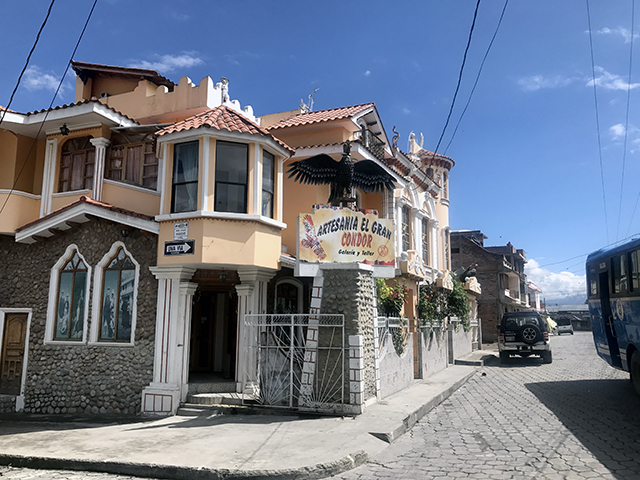 A different part of town, away from the mobs at the market. I thought the Condor Store was pretty impressive, but we didn't go in.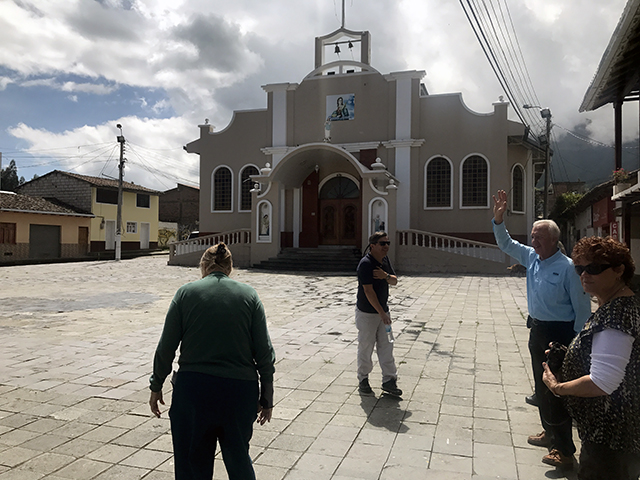 Instead, we walked across this square ...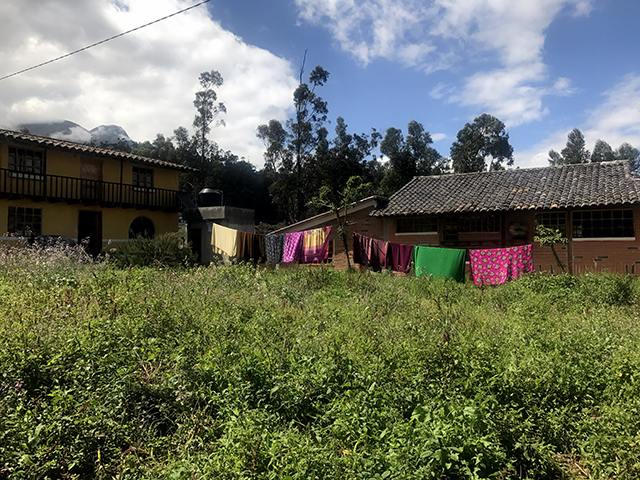 And behind some houses ...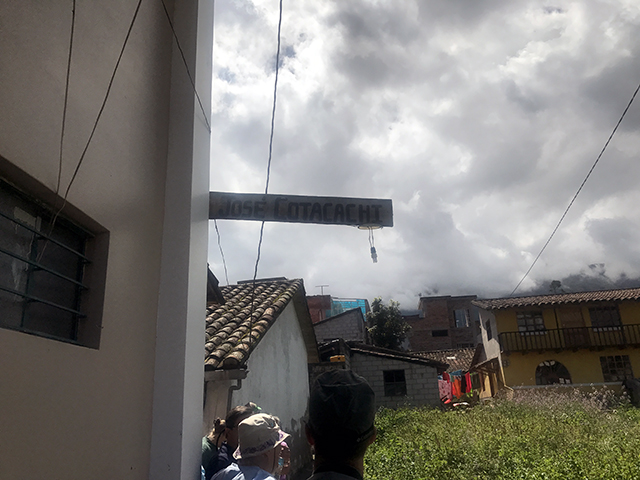 To the shop of master weaver, Jose Cotacachi.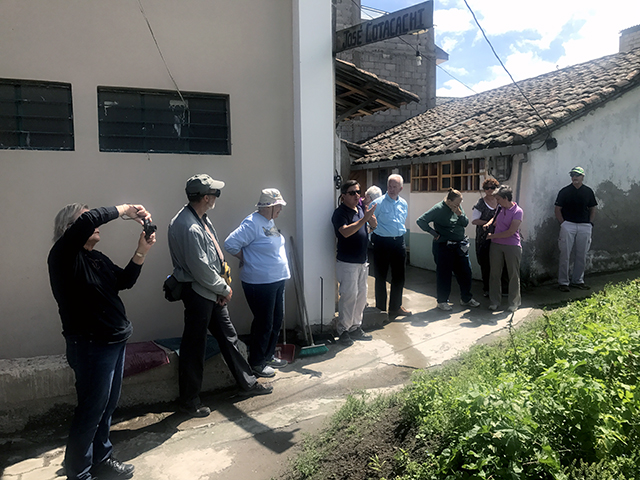 Now we're going to learn how authentic Otavalo textiles are produced.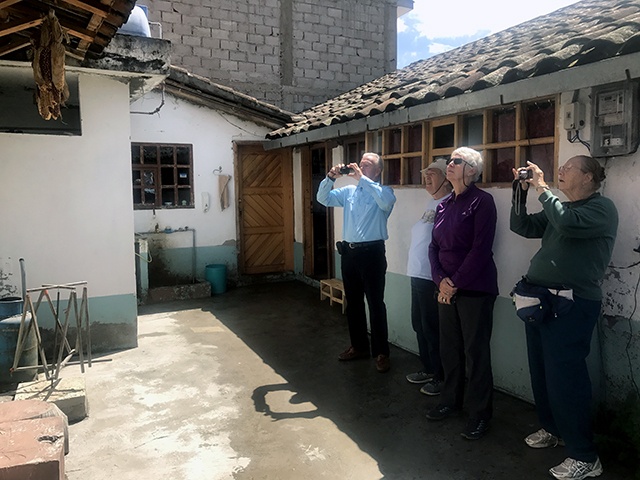 First the tourists take pictures.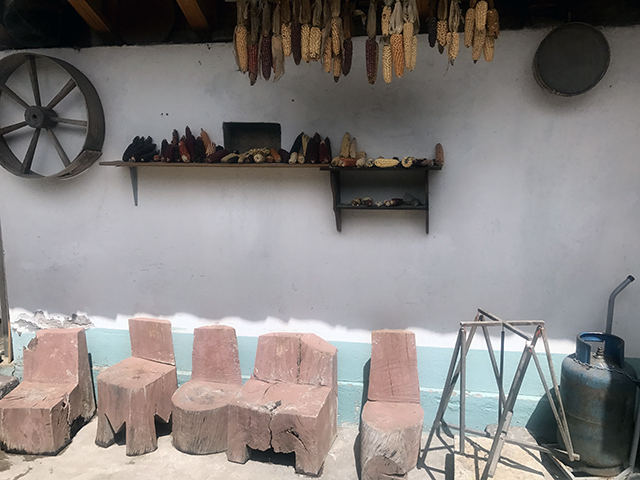 Of this stuff.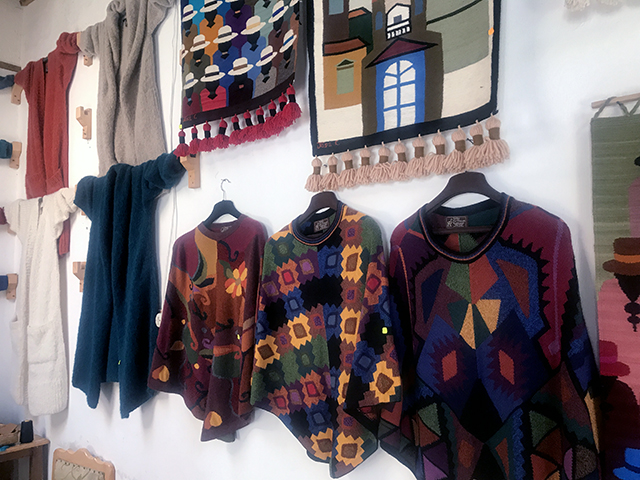 And then we go inside.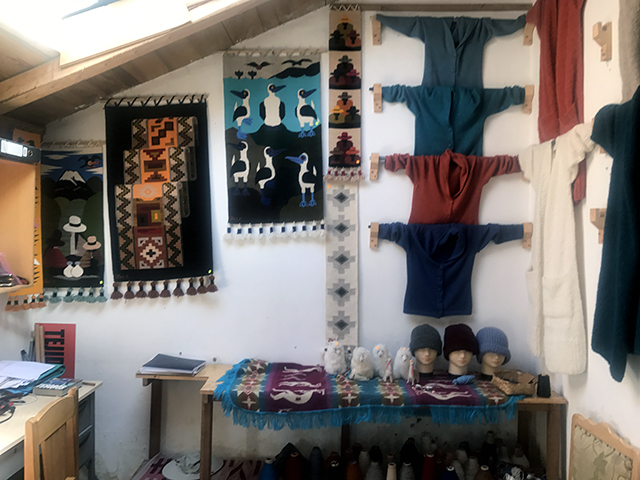 Already I'm wondering if I'm actually going to buy something. Look at those blue footed boobies over there. Would they look good on my wall at home? Nah.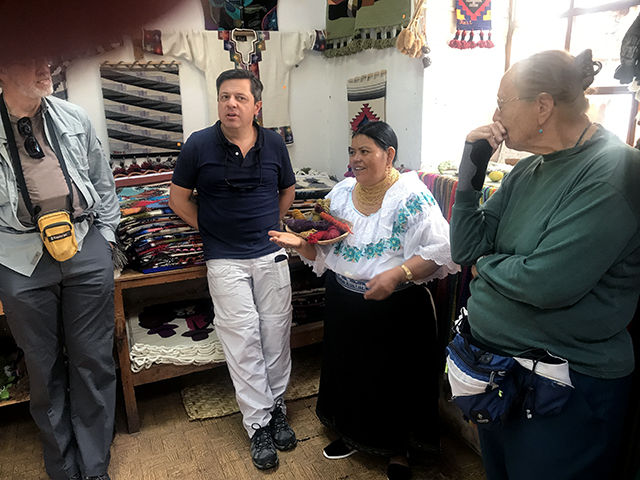 This nice lady is going to show us how to dye yarn the old fashioned way.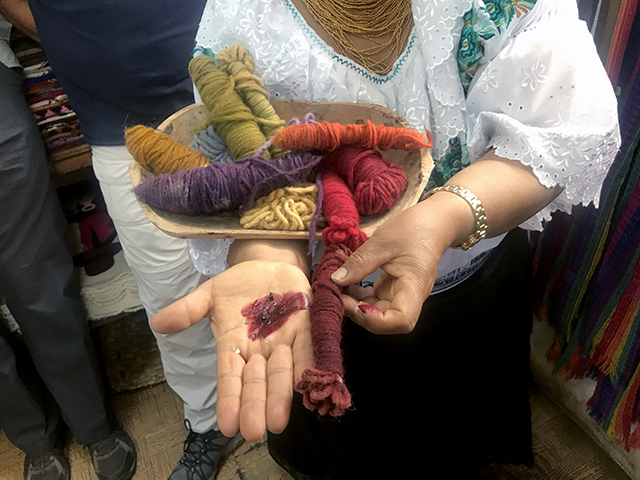 I do believe she broke open some seeds to get the red coloring. Maybe it was kiwicha? It certainly wasn't some bug. Maybe our biologist Connie paid better attention than I did. I hope so, because I wish I'd been able to follow exactly what this lady was showing us.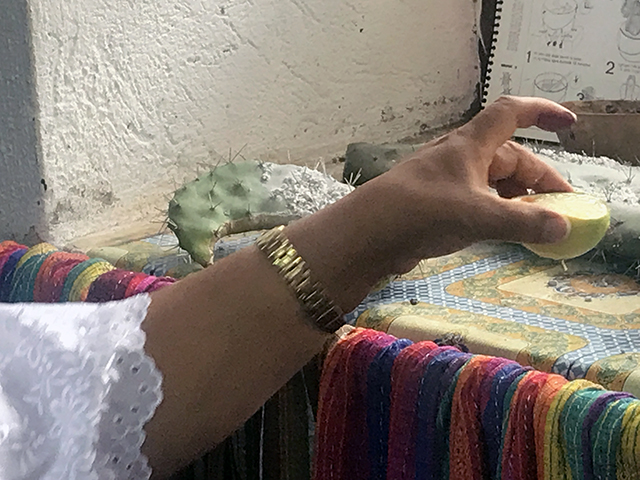 I do know she demonstrated how you could mix other things with the red dye to get different colors.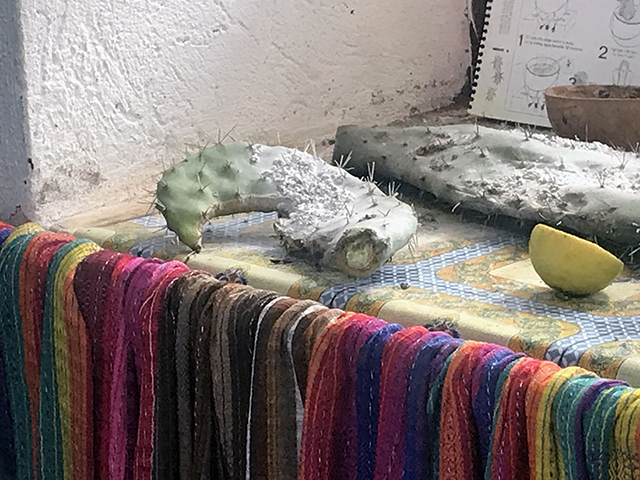 Mixing cactus juice made a difference. And ash.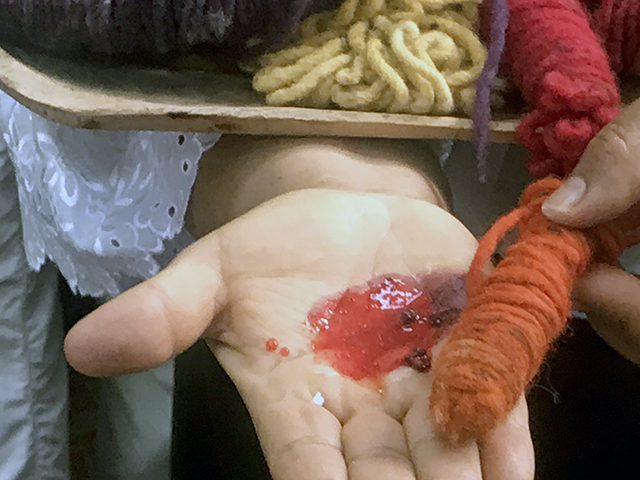 You could get all kinds of colors.
See?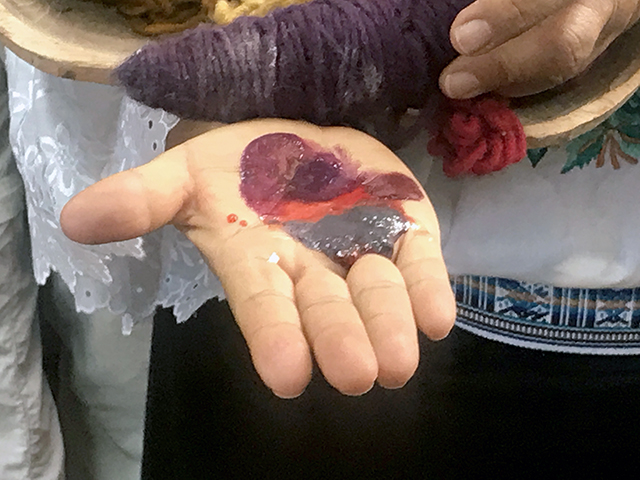 Nice.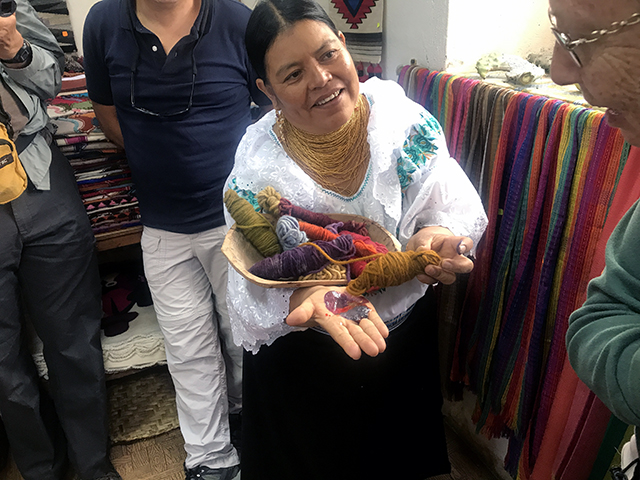 And then I guess you wash your hands.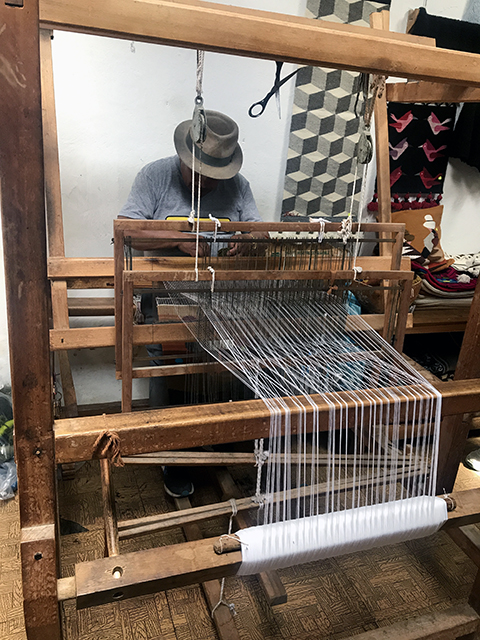 This guy is weaving the modern way.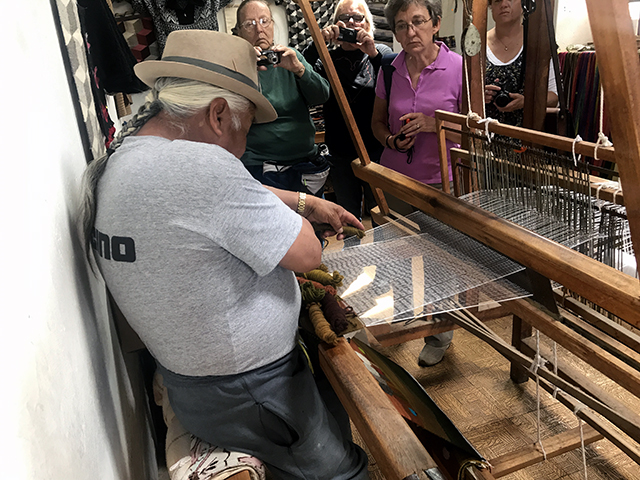 With a fancy loom.
No problems here.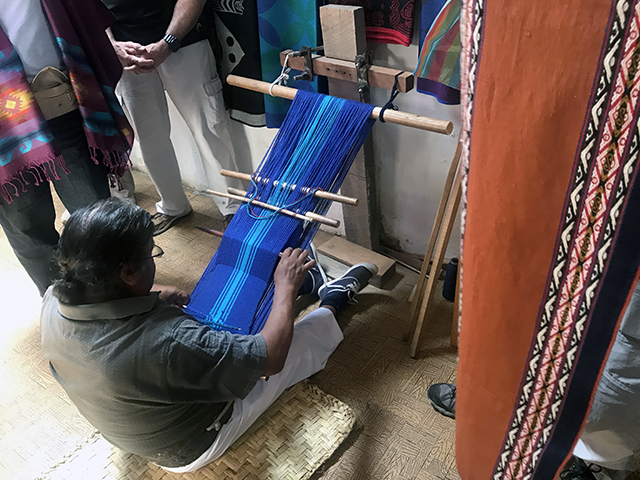 But this guy can weave the old fashioned way for only about 20 minutes at a time before his back gives out. Look at that brace he's wearing on his back.
Have a look at how he does it.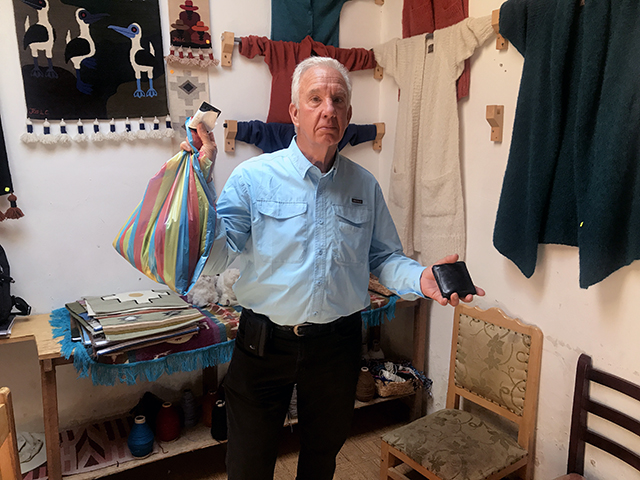 David swore he wasn't going to spend any money here. Then Pauline changed his mind. The bag is full, the wallet is empty.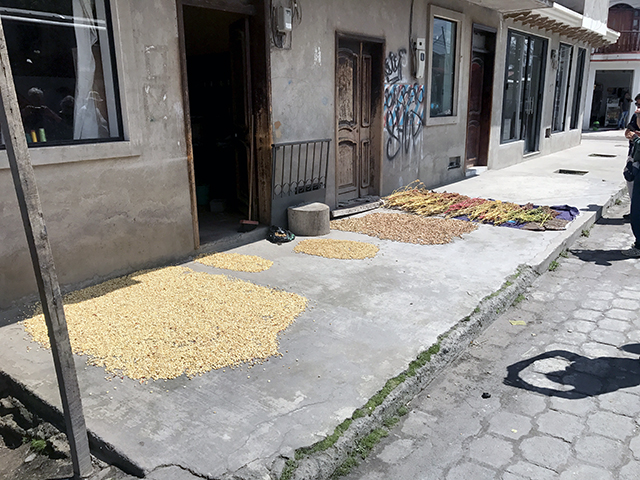 Grain drying the old fashioned way, right out on the sidewalk.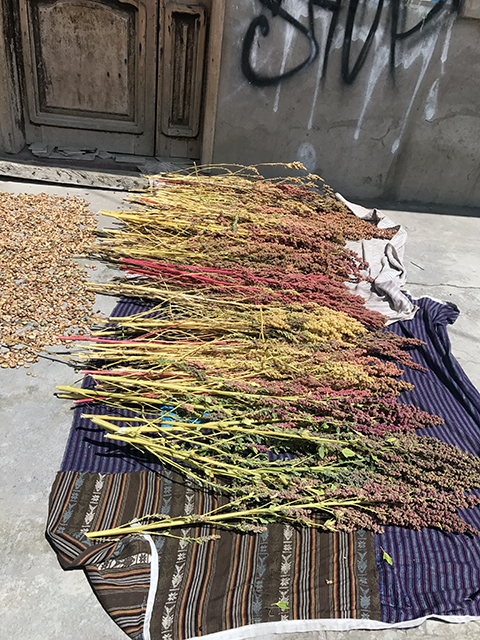 It's just not something I see every day.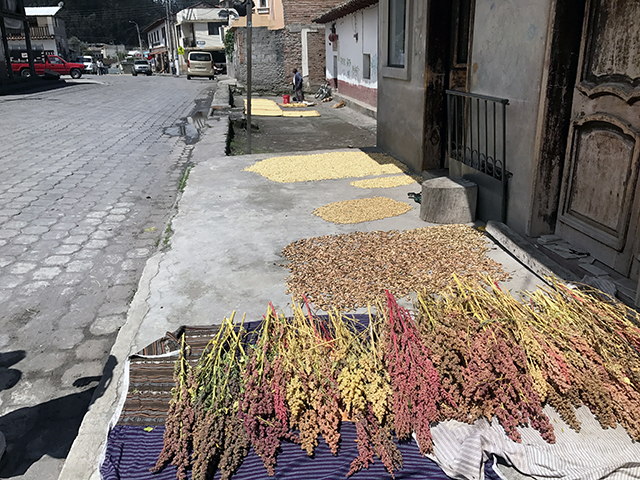 And it's colorful, so I took pictures.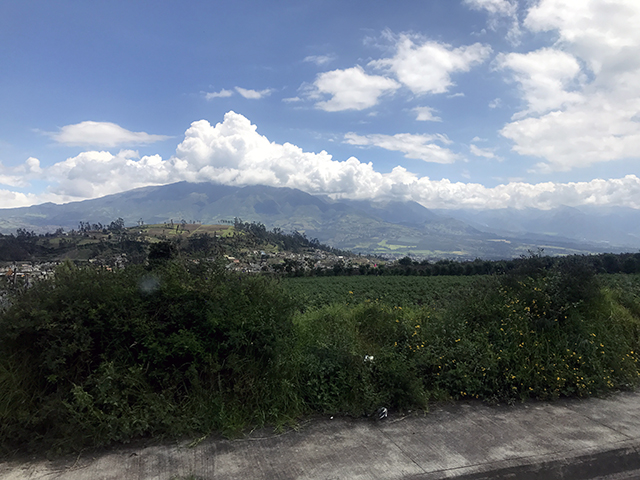 And if you think I got carried away there, wait'll later when you see all the pics I couldn't stop shooting from the moving bus.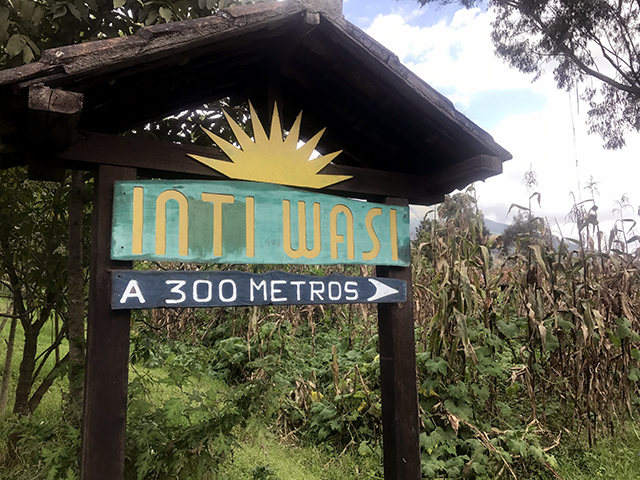 Now let's go have lunch at a special place called Inti-Wasi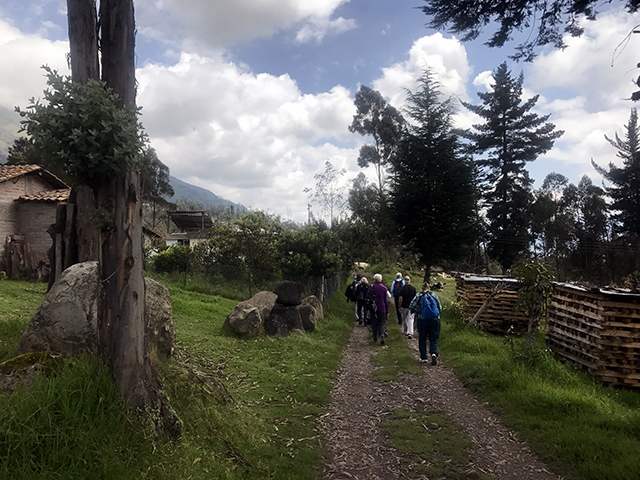 It's just up this hill.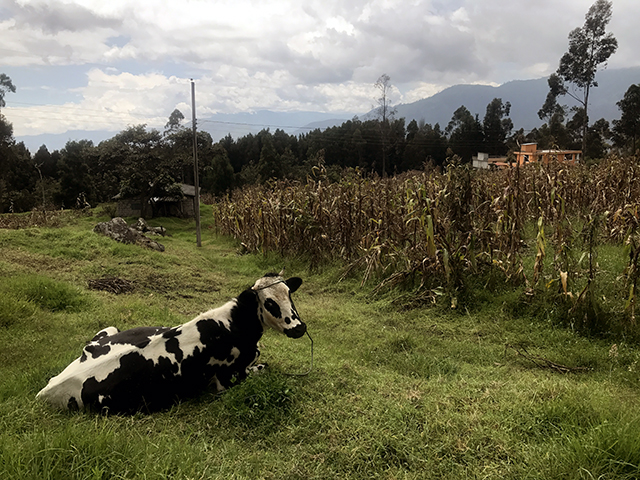 Past the cow.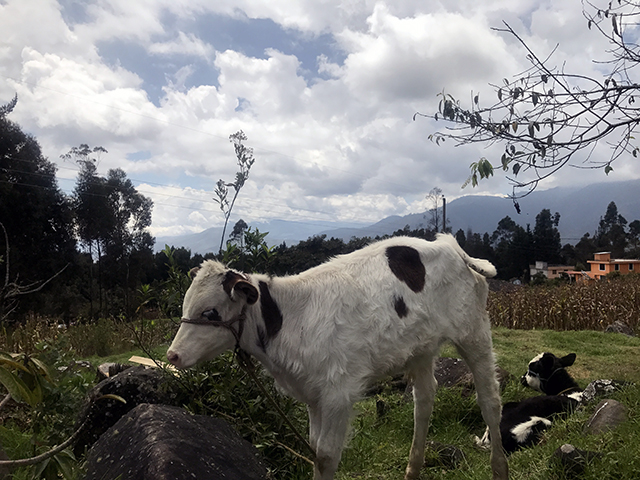 Past the steer.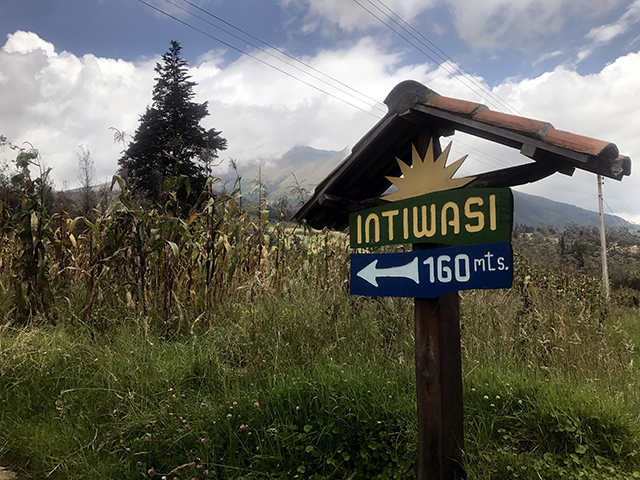 Wait, seriously, it's just up this hill.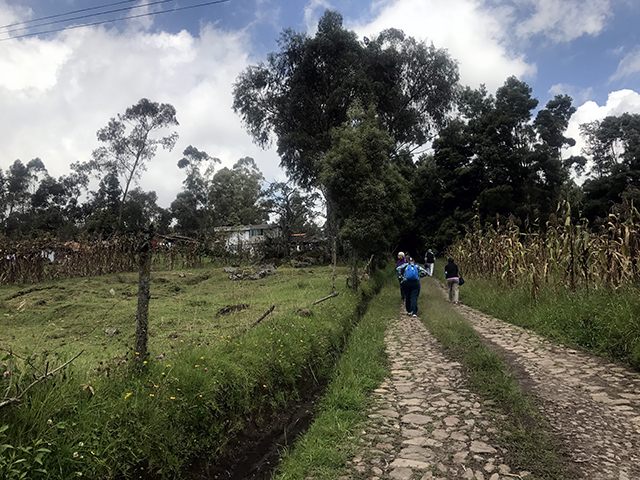 This place had better be special.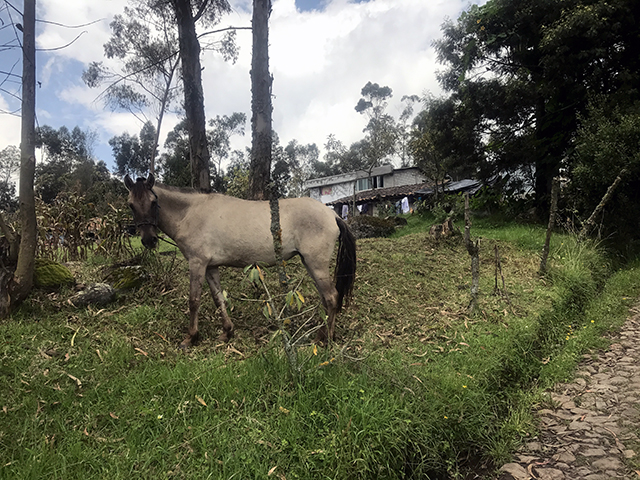 OK, just one more farm animal and ...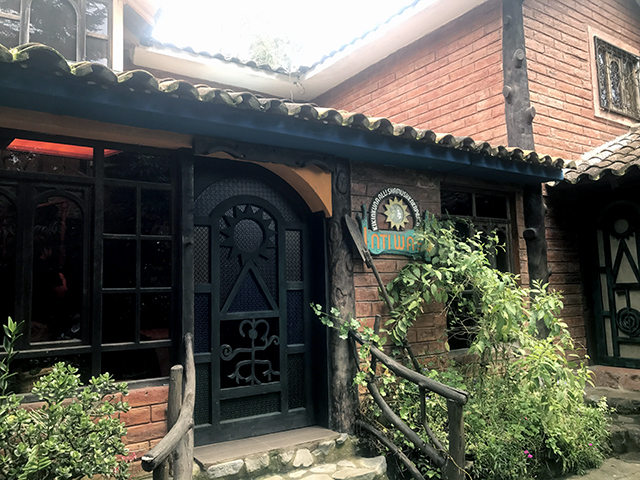 We're here.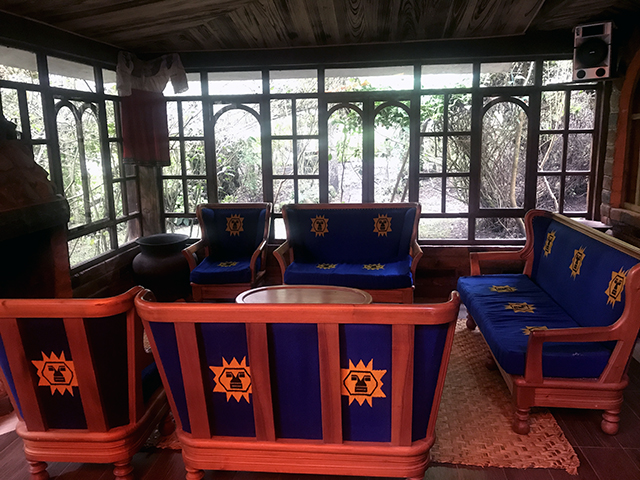 Very nice place. It's a family-run lodge in which visitors are treated to experiences related the indigenous people of the region.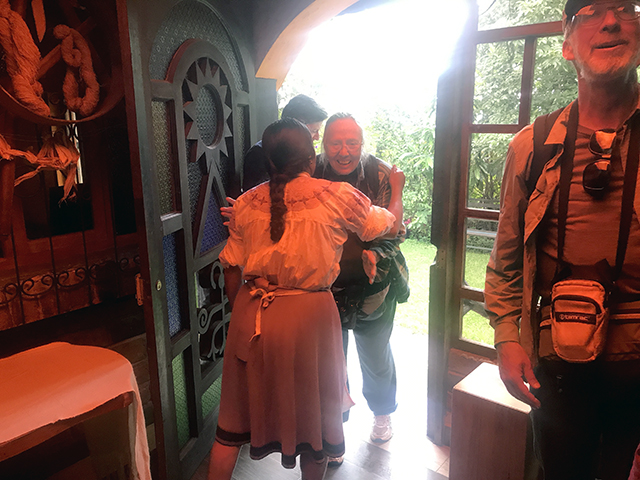 Connie's getting a warm greeting.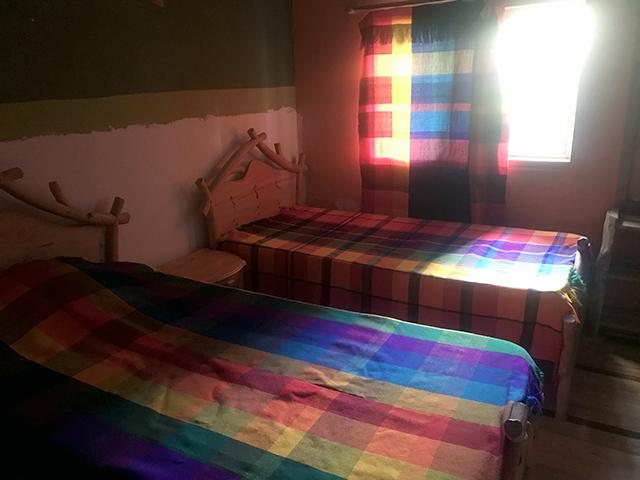 The rooms are nice. Colorful, too.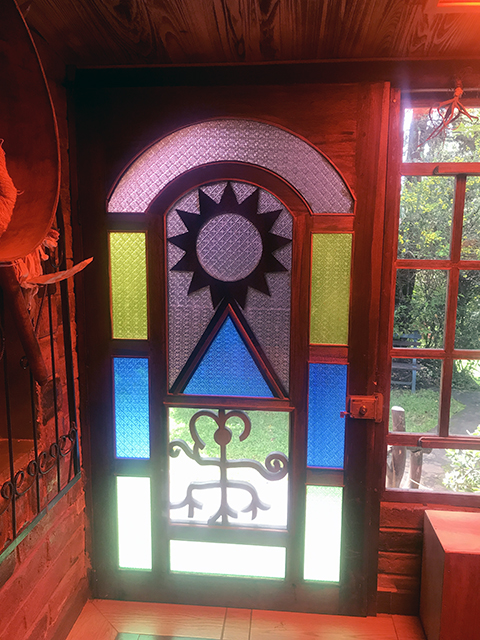 In fact, the whole place is colorful. Even the sunlight that's filtered through the colored glass in the ceiling, turning everything red.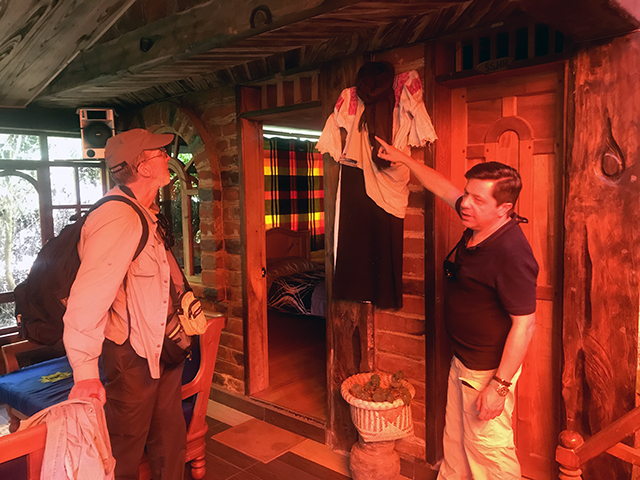 Eduardo tells Ken about native dress for women.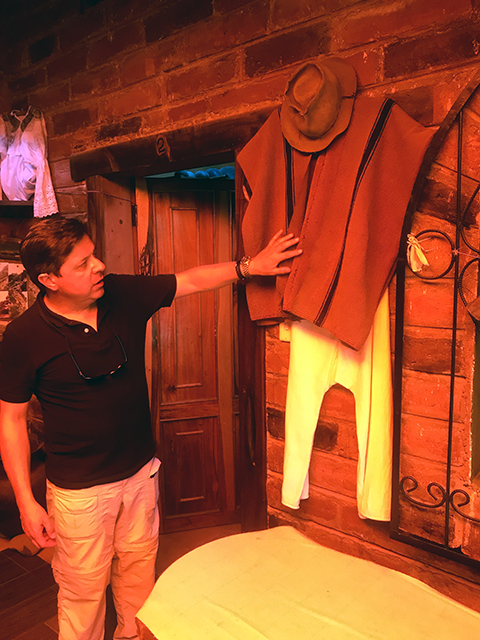 Men, too.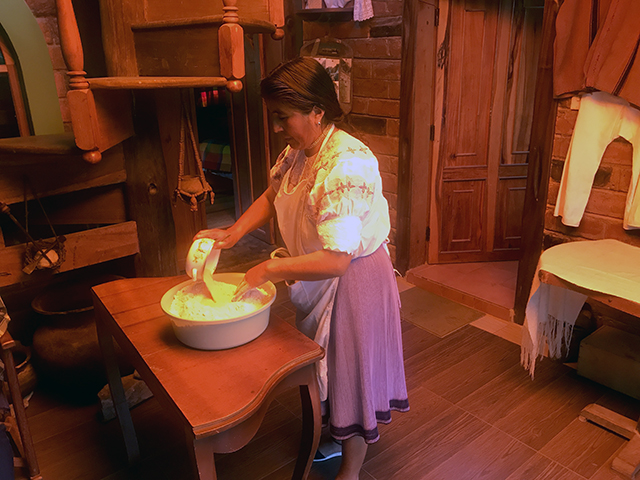 It's getting close to lunch. Time to make bread.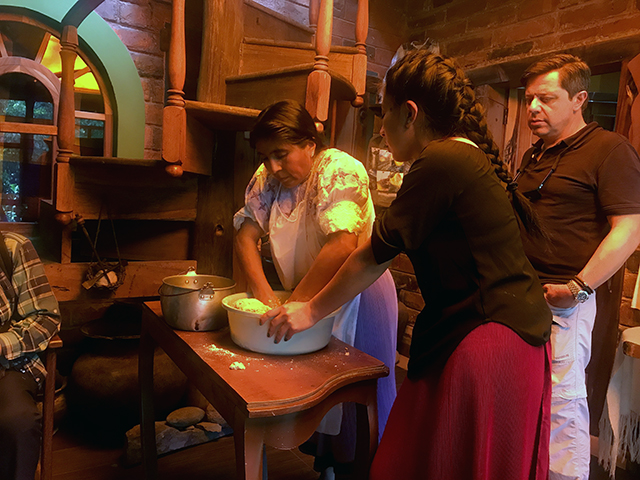 The daughter of our hostess helps out. But that water in the pot is so hot it'll kill the yeast. Mom keeps sending her back to the kitchen to cool it down.
That's better. Now who will help knead the dough?
Of course.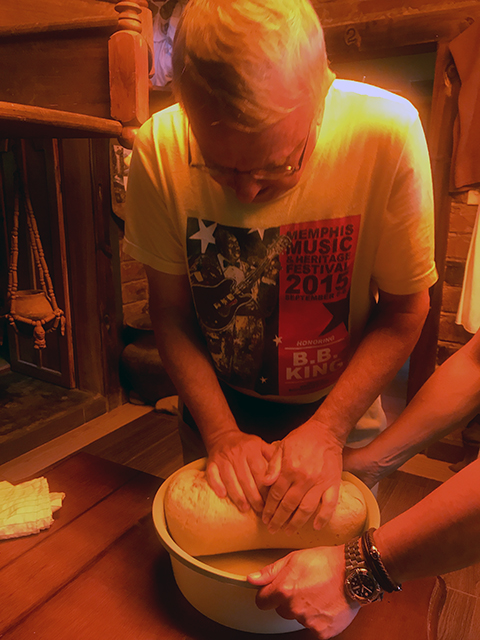 Bill has actually had plenty of experience with this over the years.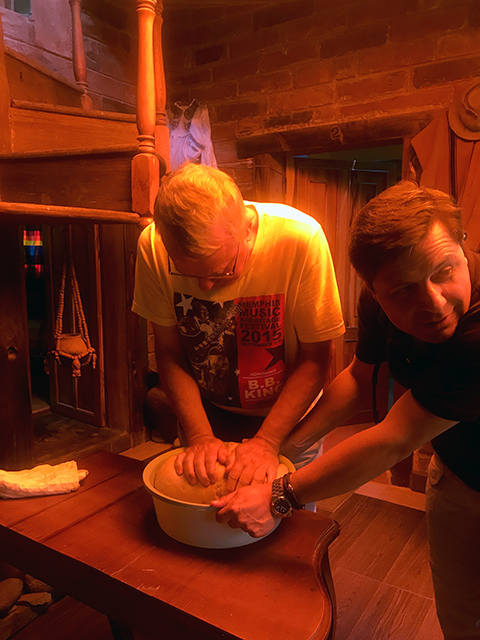 It's got to form blisters. Bill is being so energetic, Eduardo has to hold the pot down. Why can't we do this on the table top? Not indigenous enough?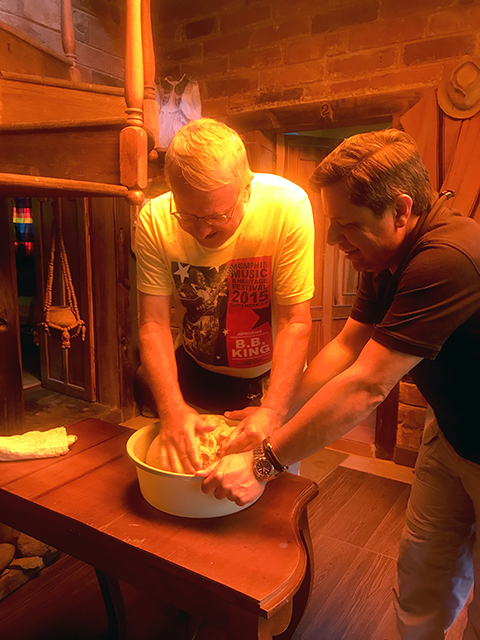 Blisters, Bill.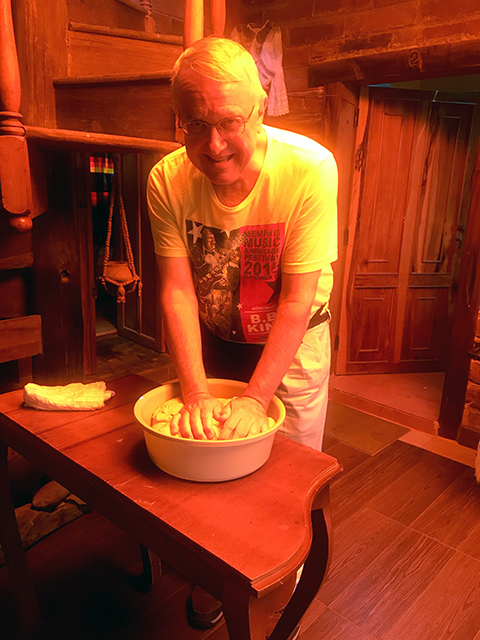 Stop grinning at the camera and work that dough.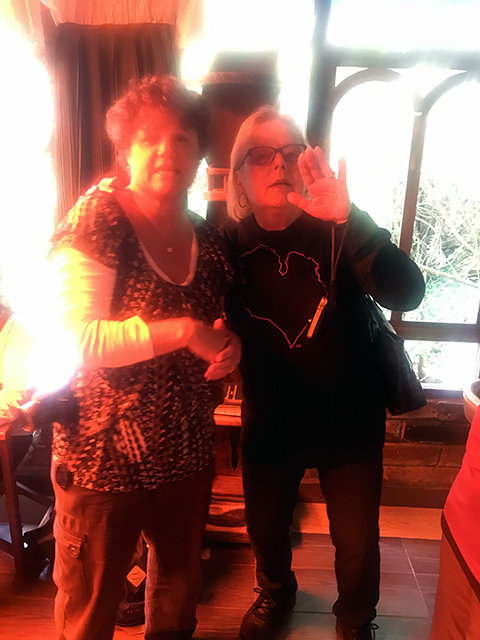 CJ and Pauline are having a good time.
Now just for fun I've played around a bit with something I found on my iPhone. See, there's this iPhone setting that allows you to take artsy-fartsy photos that actually move slightly. Still photos with motion, kinda like those paintings on the walls at Hogwarts. If you've got an iPhone, you've probably already given it a try. It's amazing at first but gets old fast. I like my pictures to hold still. Anyway, when I went through the photos on the phone I discovered that at Inti Wasi I'd inadvertently set the camera to take these moving still photos, and I found there was a very short video associated with every picture. So, as I said, just for fun, I've strung all the short videos together. Is this great, or what?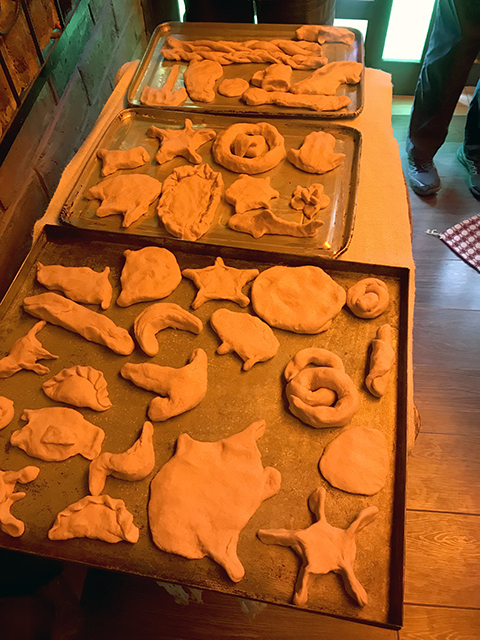 Apparently it's also a tradition to mold the dough into fancy shapes. What do you think of the Road Scholars' artistic abilities? Pretty fancy, huh?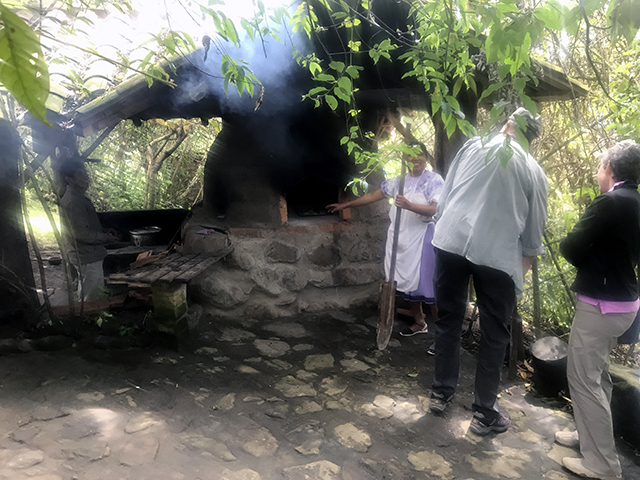 Now to bake the bread.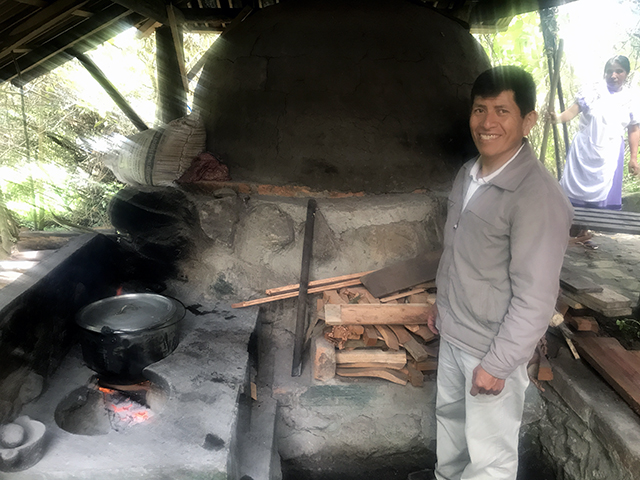 And make soup.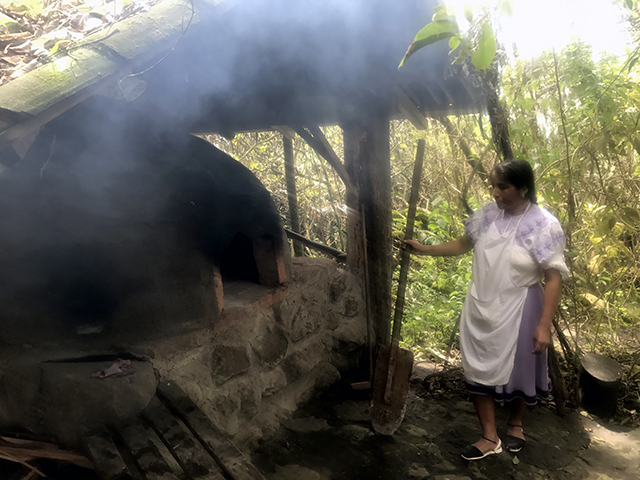 It's a smoky way to cook.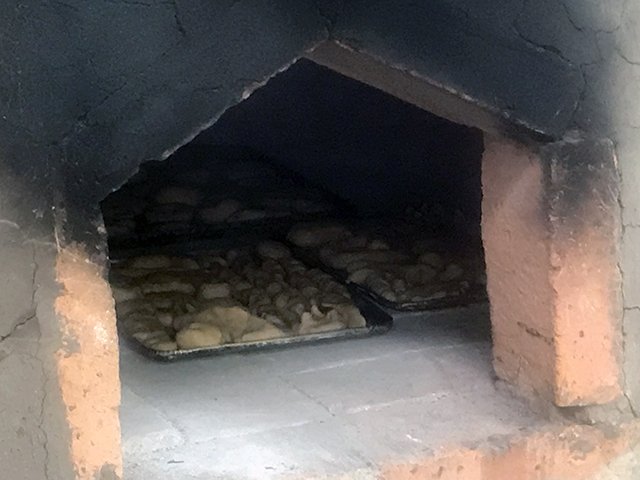 But the bread is going to be delicious.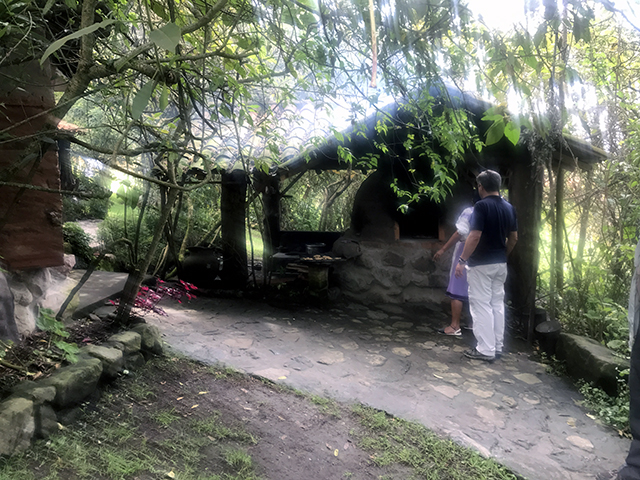 All we have to do is wait.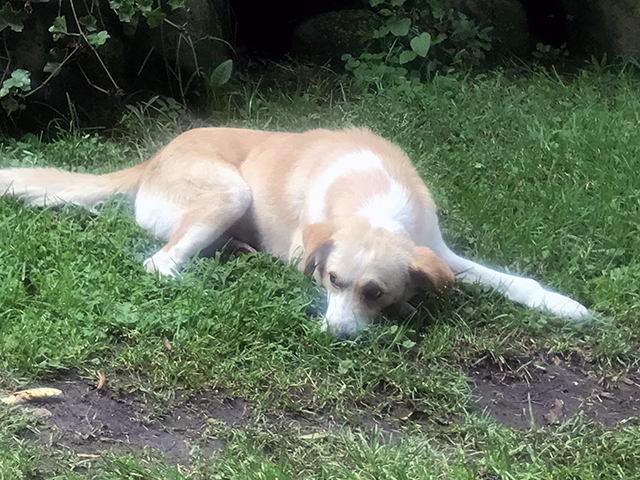 The family dog is bored.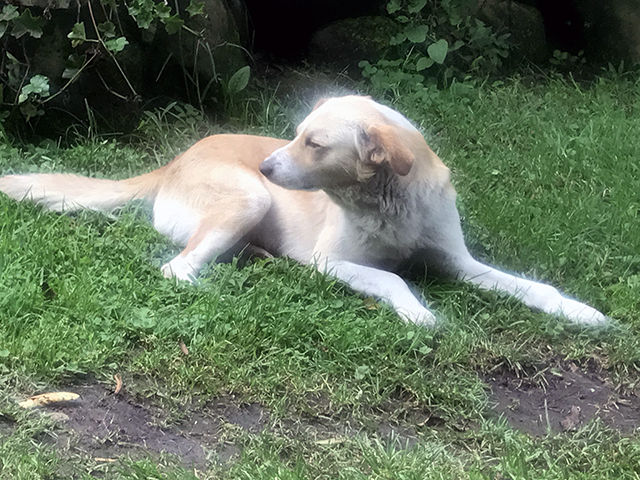 Hey, do I smell bread baking?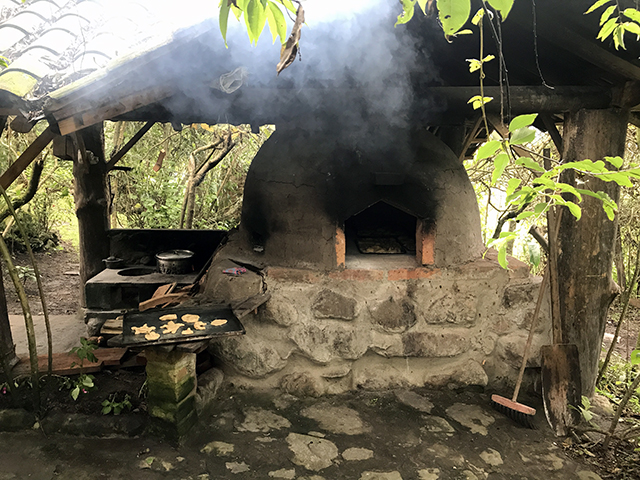 Did I mention this is an open flame oven?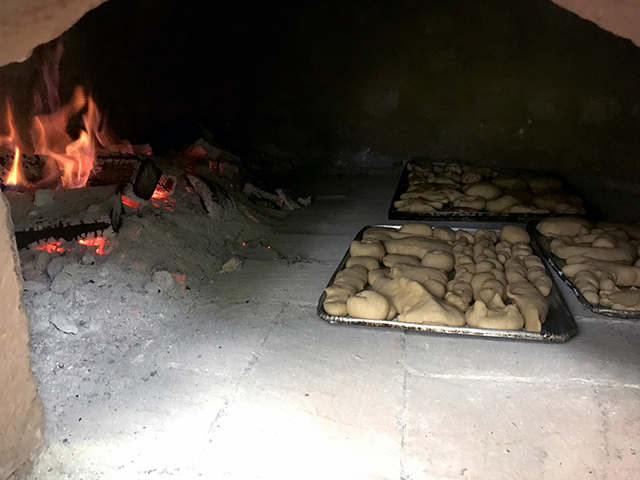 See? And just look at that bread rising.
We wait.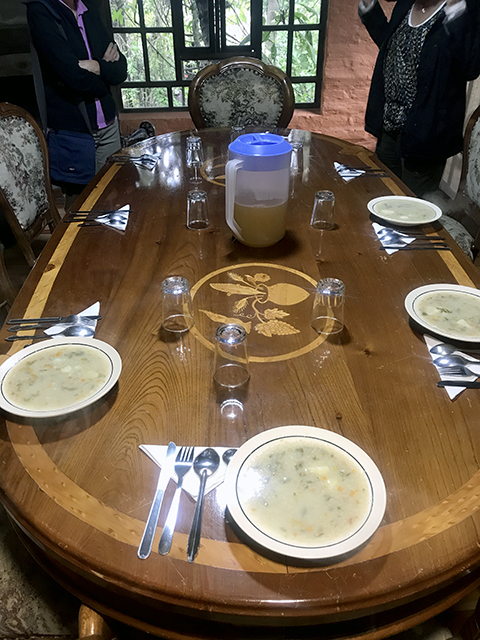 And now lunch. The potato quinoa soup was delicious.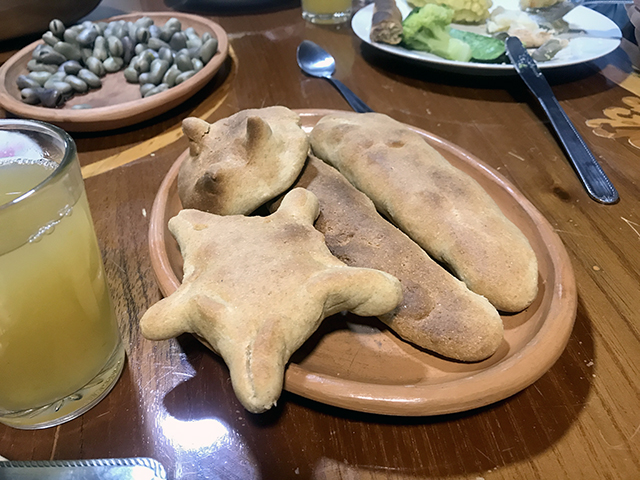 And the fancy bread: magnifico! We made it ourselves, you know.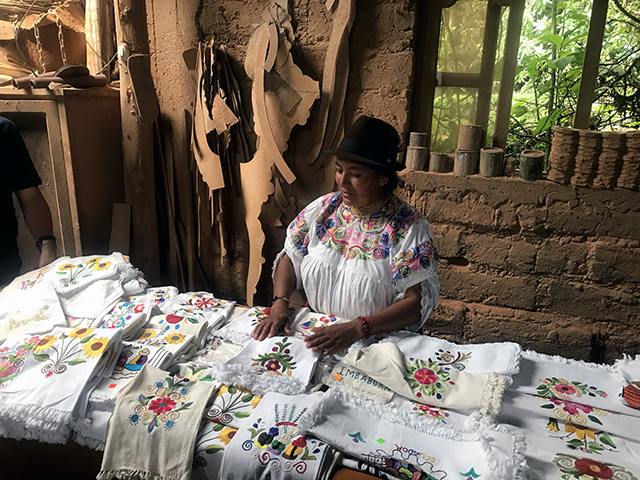 The linens were pretty but not my style.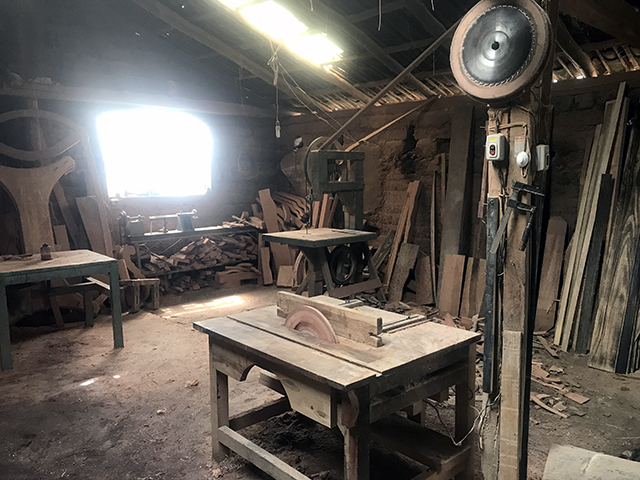 I liked the family's woodworking shop, though.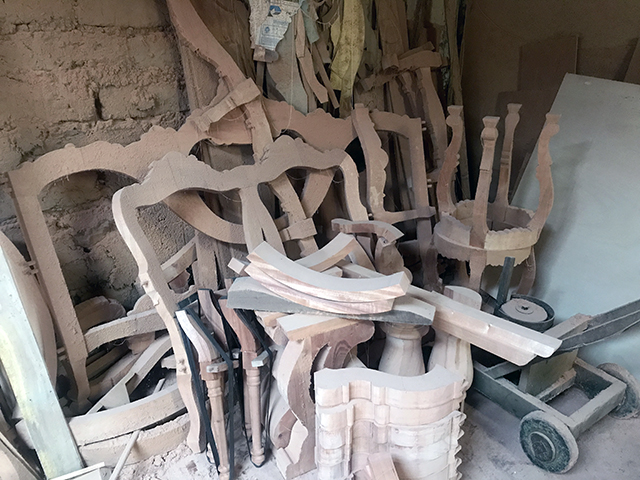 My Dad would have loved this.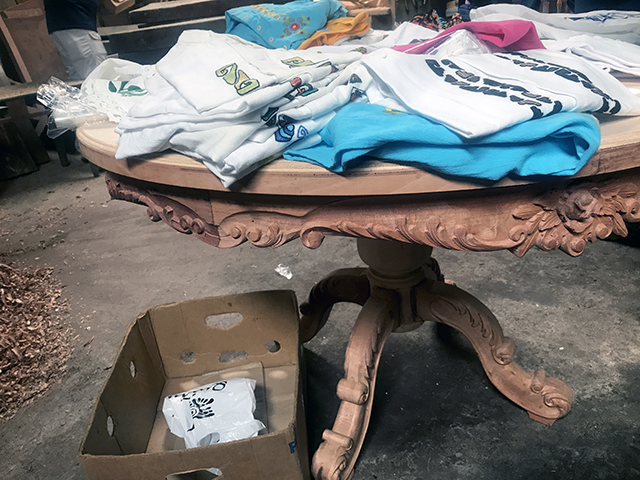 Look at the fancy table the guy made.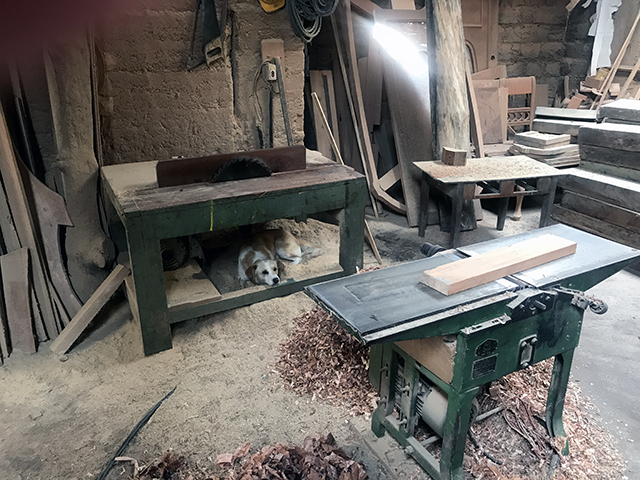 The dog just wonders when the tourists will leave.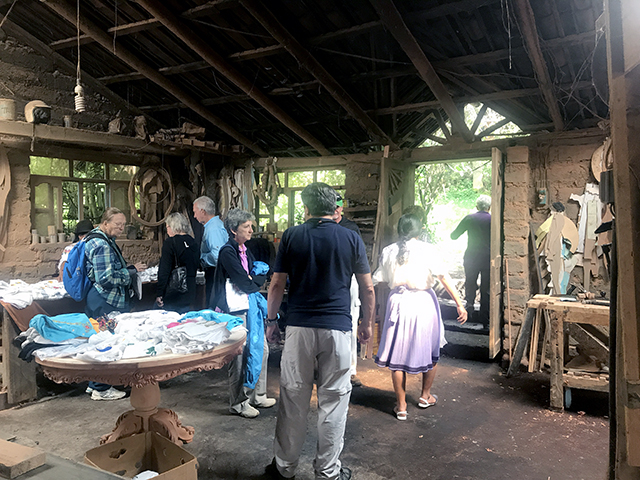 We get the hint and off we go to the garden.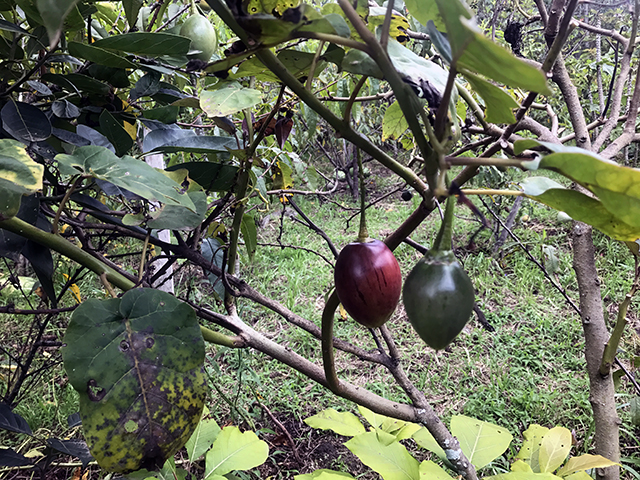 Tree tomatoes on the vine. I mean, the branch.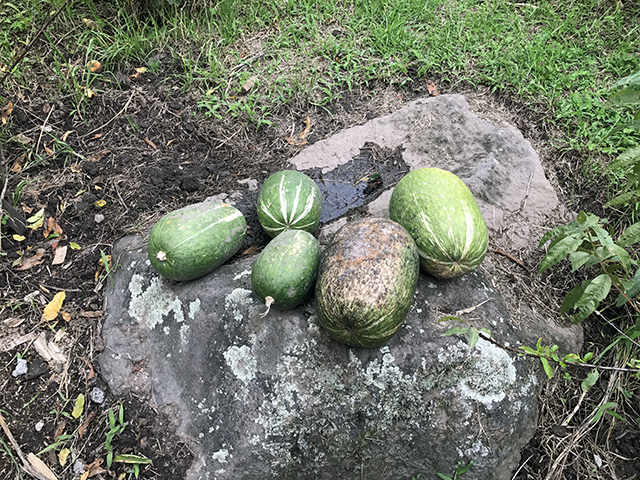 Gourds, I think, maybe.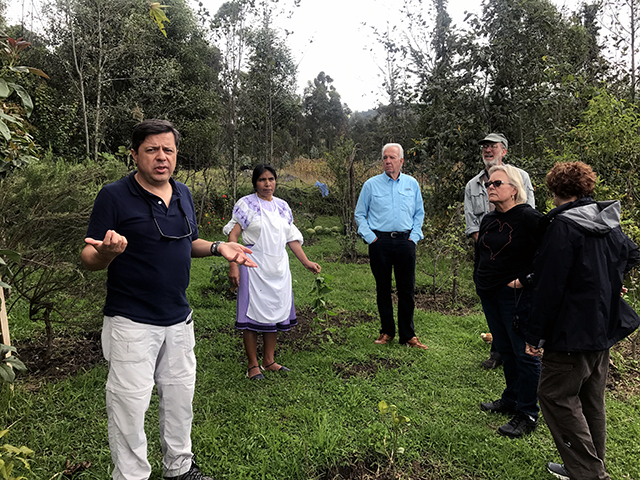 And now for something truly strange. Eduardo is explaining a traditional Andean method of "refreshing" oneself. It's "stimulating!" he says. See that green branch the woman is holding. That's nettles. Yep, nettles. And he's going to let her whip him with the branch. Apparently this is a practice known as urtication. I know, because I Googled it.
"Flogging with nettles, is the process of deliberately applying stinging nettles to the skin in order to provoke inflammation. An agent thus used is known as a rubefacient (something that causes redness). This is done as a folk remedy for treatment of rheumatism."
But Eduardo, won't it hurt?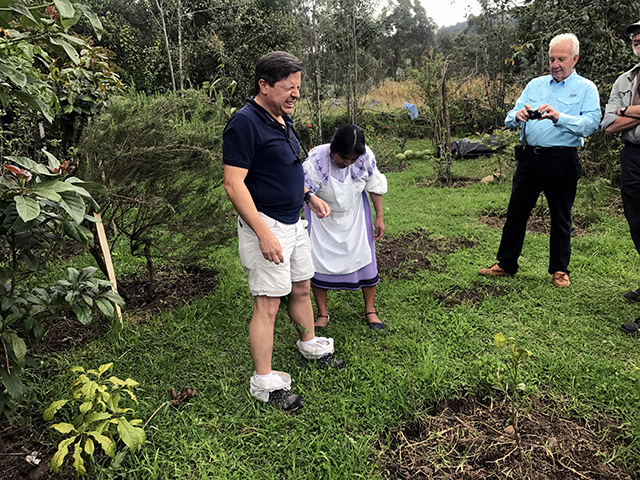 Oh it's very painful!
But it will feel so much better when she stops. I think this is an Ecuadoran custom I can live without experiencing. Poor Eduardo. The things he does for his Road Scholars.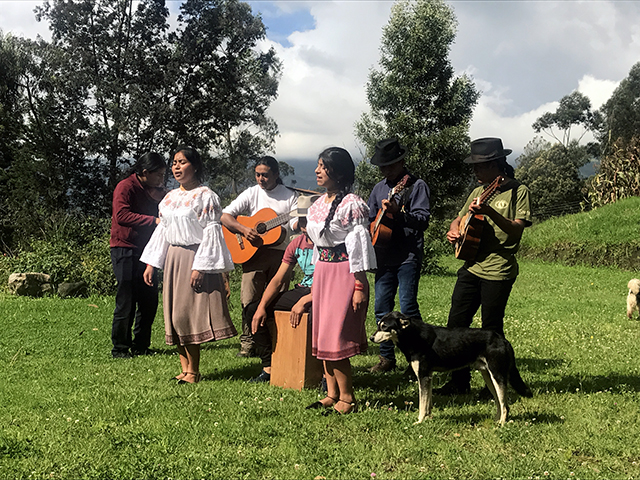 Now some young people from the local area have arrived to entertain us with indigenous music.
The traditional high-pitched singing style sounds Asian to me. Stick around for the end of the video, or maybe fast-forward a bit, as you'll surely want to see the Road Scholars getting into the act. I actually got up and danced, something I have adamantly refused to do practically my entire life. I blame it on being lightheaded from the altitude.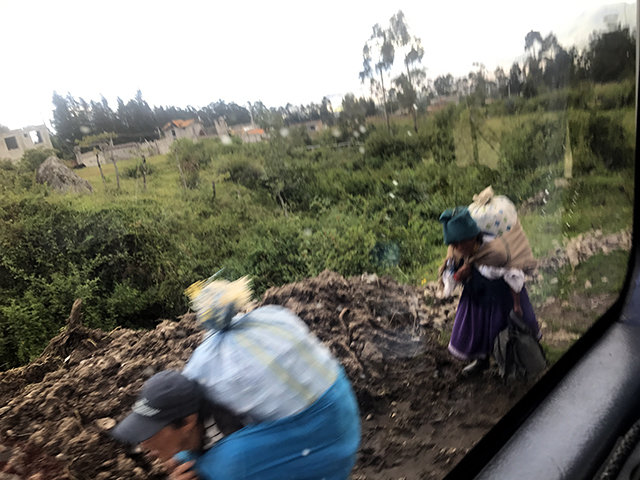 Now back on the road and I'm trying to snap just one decent picture of the people carrying loads the traditional way. It wasn't that the Incans didn't invent the wheel, it's just that wheels weren't worth much in the rocky mountainous terrain. If you wanted to take something somewhere you didn't use a cart -- you used your back. We kept passing people at high speed and I never did get a picture that wasn't blurry. This was about the best I ever came up with.
But I could get pretty pictures of mountains from the moving bus.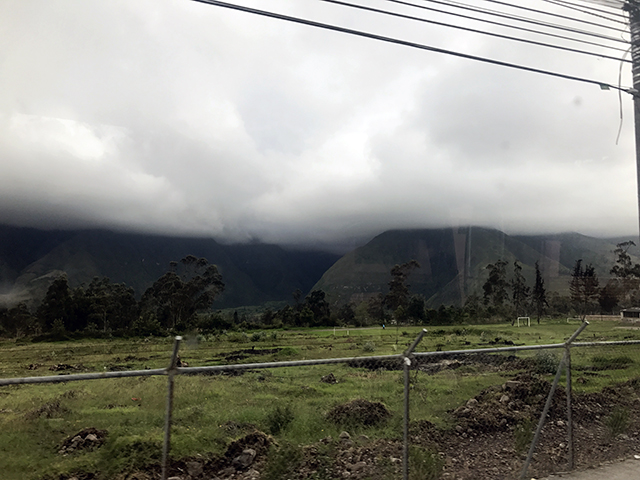 So I snapped.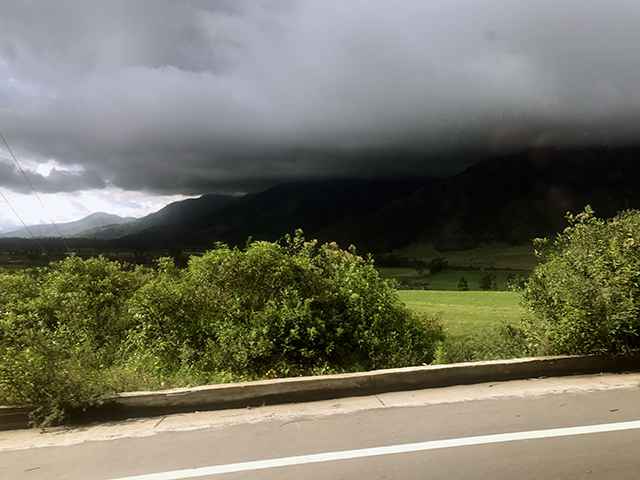 And snapped.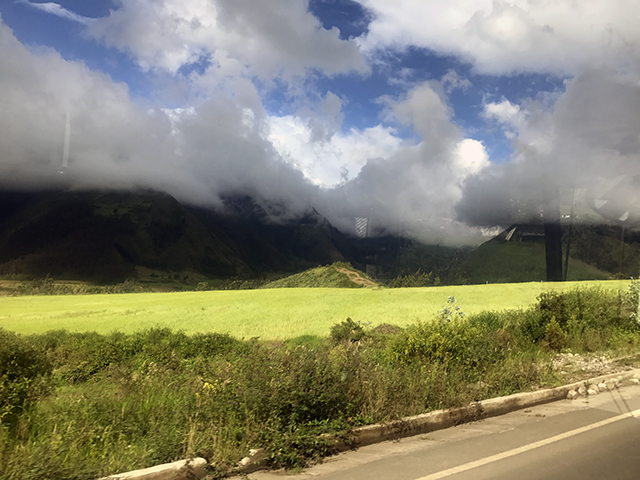 I snapped every time I saw something pretty.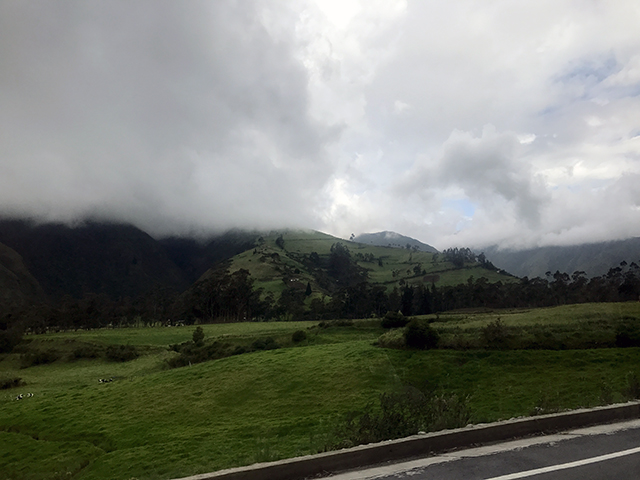 And I kept seeing pretty stuff.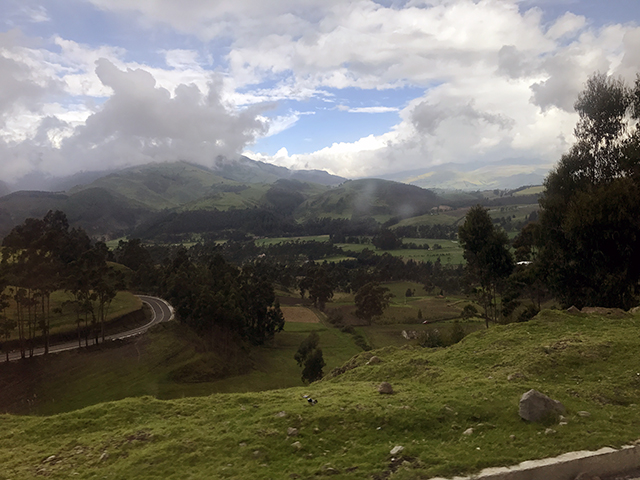 Endlessly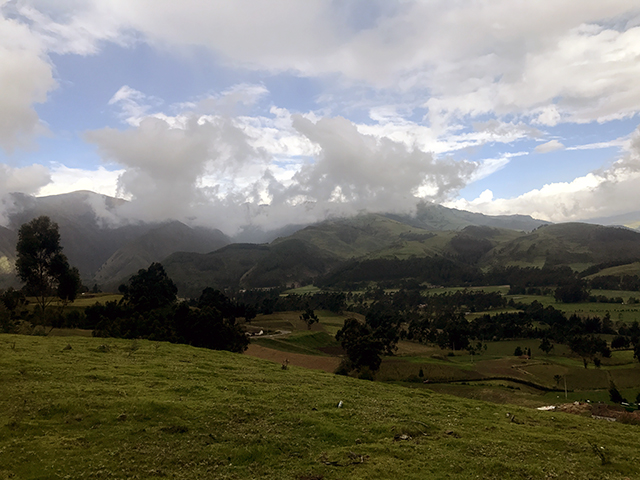 I'm not ashamed. This drive was gorgeous.
For part of the way we drove on the Pan American Highway. Never let it be said that Ecuadorian street vendors are not industrious.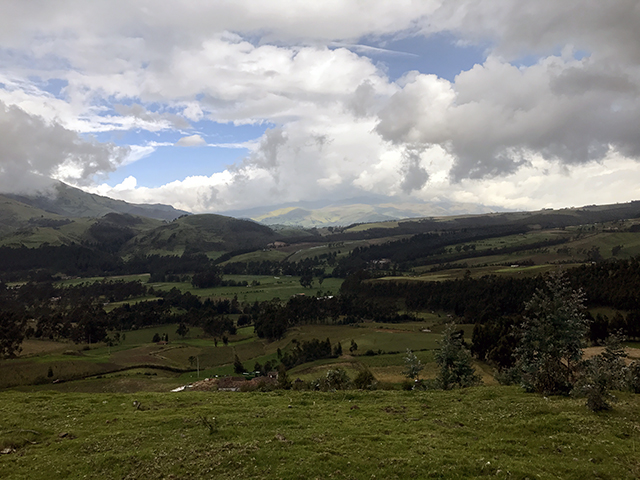 Look, it's a pretty scene.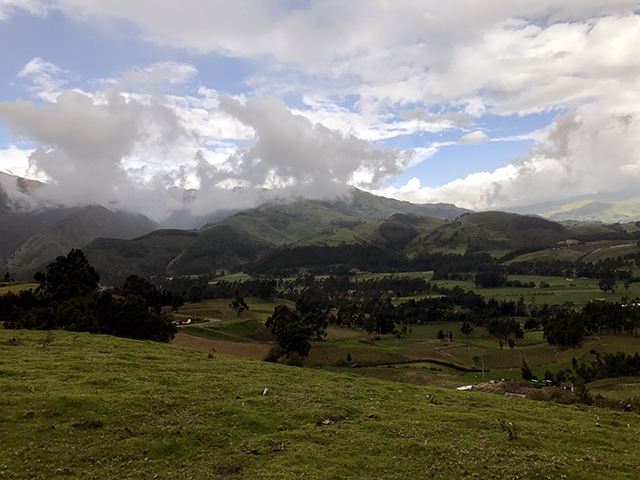 And I like pretty scenes.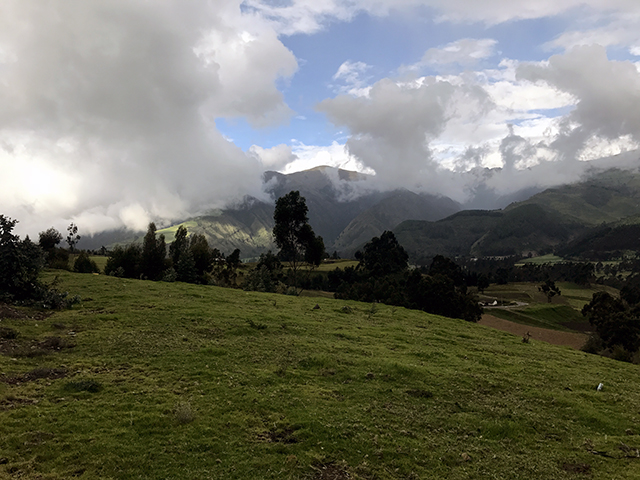 So I kept snapping pictures of the Andes and the sky and the clouds and the grass and anything else that looked pretty.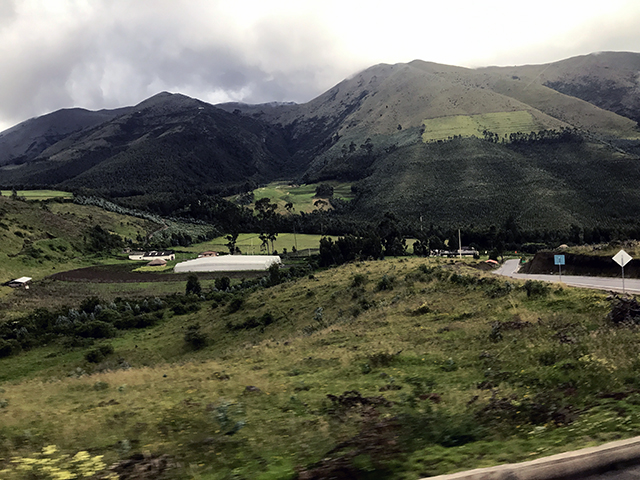 It all looked pretty.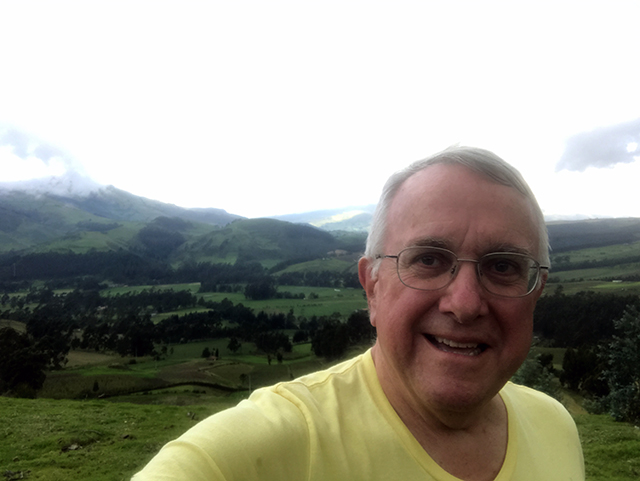 And it made me happy.
Now back to the Hacienda Cusin for dinner and a good night's rest with my hot water bottle.