Quito, formally San Francisco de Quito, is the capital city of Ecuador, and at an elevation of 2,850 metres (9,350 ft) above sea level, it is the highest official capital city in the world and the one which is closest to the equator. It is located in the Guayllabamba river basin, on the eastern slopes of Pichincha, an active stratovolcano in the Andes mountains. With a population of 2,671,191 according to the last census (2014), Quito is the second most populous city in Ecuador, after Guayaquil. It is also the capital of the Pichincha province and the seat of the Metropolitan District of Quito. The canton recorded a population of 2,239,191 residents in the 2010 national census. In 2008, the city was designated as the headquarters of the Union of South American Nations.[3]
The historic center of Quito has one of the largest, least-altered and best-preserved historic centers in the Americas. Quito and Kraków, Poland, were the first World Cultural Heritage Sites declared by UNESCO, in 1978. The central square of Quito is located about 25 kilometres (16 mi) south of the equator; the city itself extends to within about 1 kilometre (0.62 mi) of zero latitude. A monument and museum marking the general location of the equator is known locally as la mitad del mundo (the middle of the world), to avoid confusion, as the word ecuador is Spanish for equator.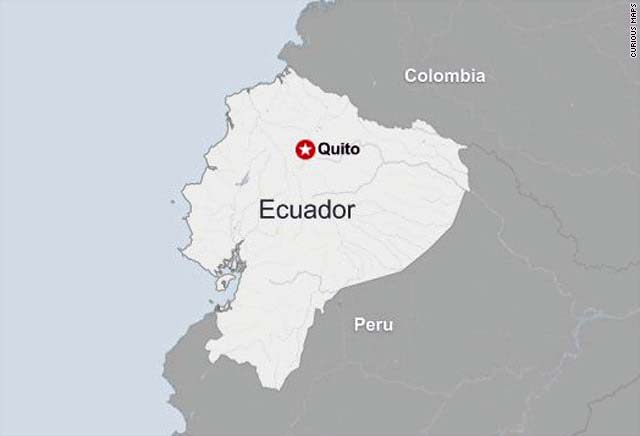 Almost everybody arrived at the Quito airport late last night, and after a long bus ride from the airport a good distance beyond the outskirts of the city to the hotel basically downtown, we didn't have time to do much but find our rooms and go to bed. Now this morning, the adventure begins.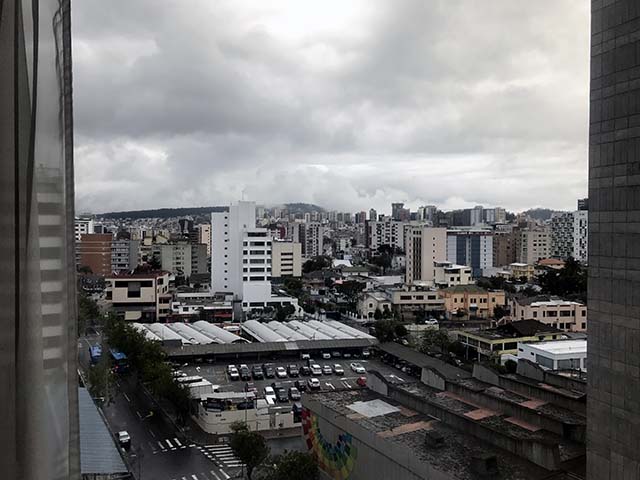 Here's the view from my hotel room in Quito.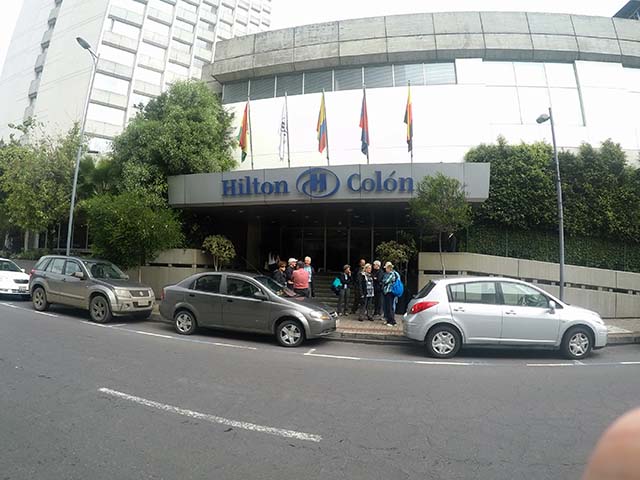 Here we are getting to know each other, waiting for our bus.
It was a very nice bus, actually, with plenty of room for 10 passengers to have seats all to themselves if that's what they wanted. We'd get to know this bus very well. There's Eduardo giving us an overview of the city. We're on our way to a park overlooking Quito in an area called Itchimbía.
Itchimbía is a hill in Quito, Pichincha Province, Ecuador. It is surrounded to the east by Machángara River, a river that originates in the southern part of the city of Quito. Itchimbía is on the eastern/northeastern border of the center (downtown) of the city of Quito and the southeast border of the northern part.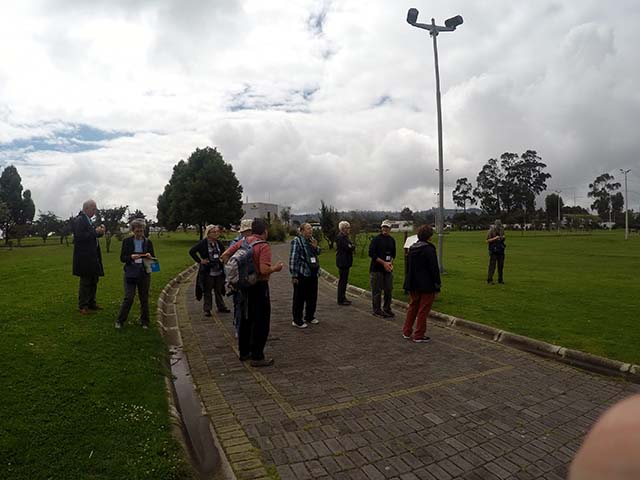 On the hill there is a park known as Parque Itchimbía or Parque del Itchimbía, which was previously owned by the municipality but is now run by a private environmentalist corporation known as Consorcio Ciudad-Ecogestión.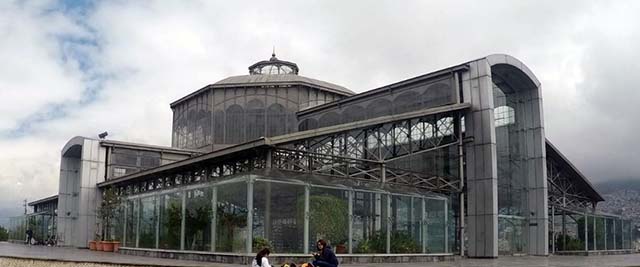 The park includes a glass house atop the hill which serves as an exhibition center, conference room and museum and is known as es:Centro Cultural Itchimbía. The exhibition center is owned by Centro Cultural Metropolitano de Quito.

I wanted a picture of me with the Quito sign and Pauline graciously agreed to take it but I was just getting a handle on how to use the GoPro camera and we ended up shooting video instead of a still shot. Oh well, this is funnier.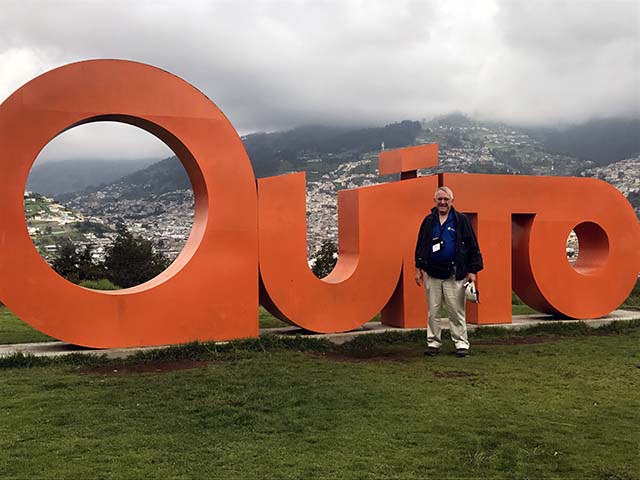 And this is more what we were going for.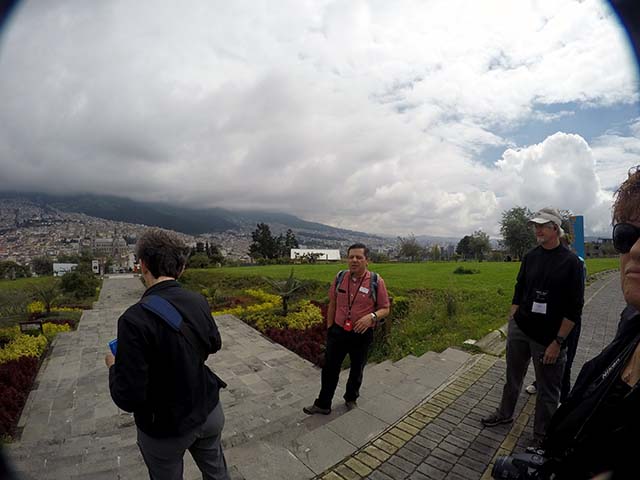 Towards the west Itchimbía is connected to the hill of San Juan neighborhood, a neighborhood between central and northern Quito. Just west of the Itchimbía hill lies La Alameda, one of the largest parks inside the city of Quito, and in which there is an old astronomical observatory simply known as Observatorio Astronómico de Quito (OAQ). The observatory is nowadays owned by Escuela Politécnica Nacional (EPN).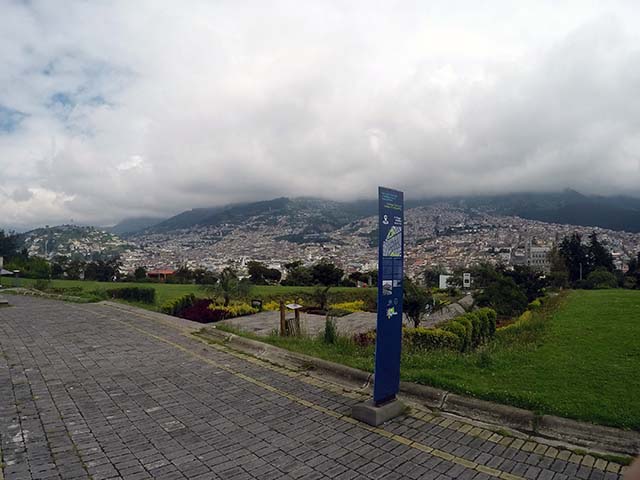 The hill and some of its surrounding neighborhoods form a municipal administrative parish (cabildo) of the city of Quito.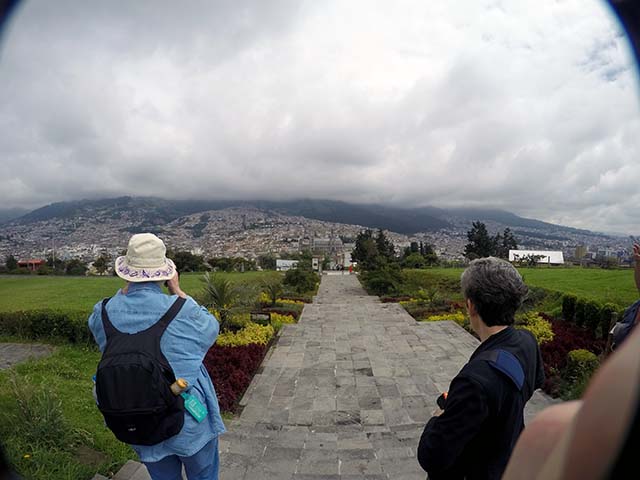 On the southwest there is also the Iglesía de San Blas, one of the better known historical churches of the center of Quito. To the south there is a creek that runs across the center of the city and whose water flows into Machángara River.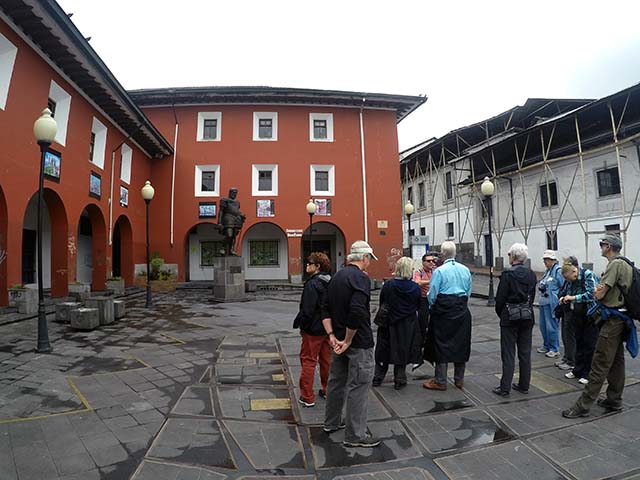 Now Eduardo is showing us around some of the historical areas of Old Quito. That statue depicts some conquistador. He had a scowling face.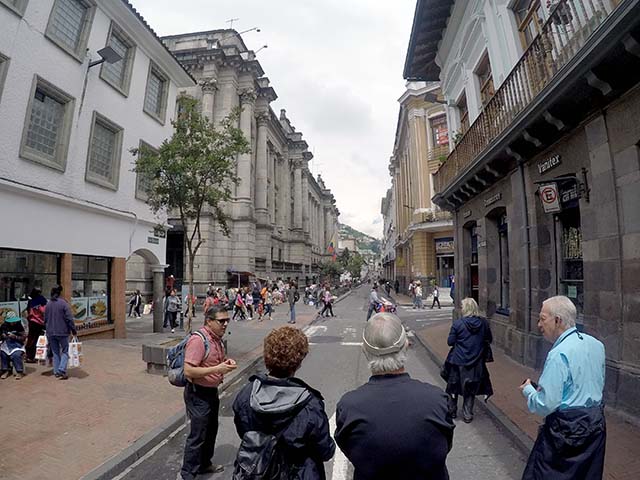 Now lets go look at life on the streets of downtown Quito on a Sunday morning.
These dancers were colorful and fun to watch, but Eduardo just grumbled that they weren't Ecuadorian. "They're Peruvian! They shouldn't be here!"
It's a stainless steel public potty. We learned early on it's best to carry a supply of toilet paper with you at all times when traveling in Ecuador because there's no guarantee that when you find a place to go you'll always find, um, supplementary materials.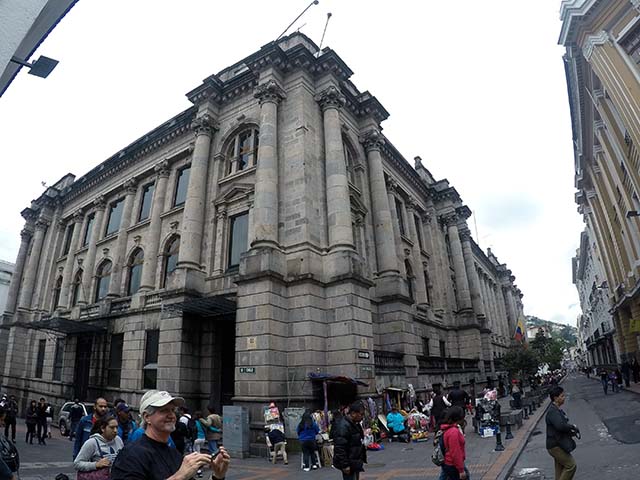 This was a public building pockmarked with bullet holes from the "troubles" about 15 years ago. No problems now, though. Ecuador is one big happy country.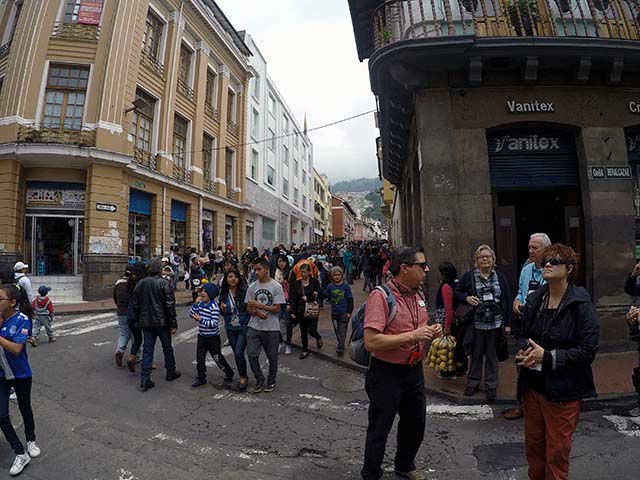 Eduardo explains something to CJ.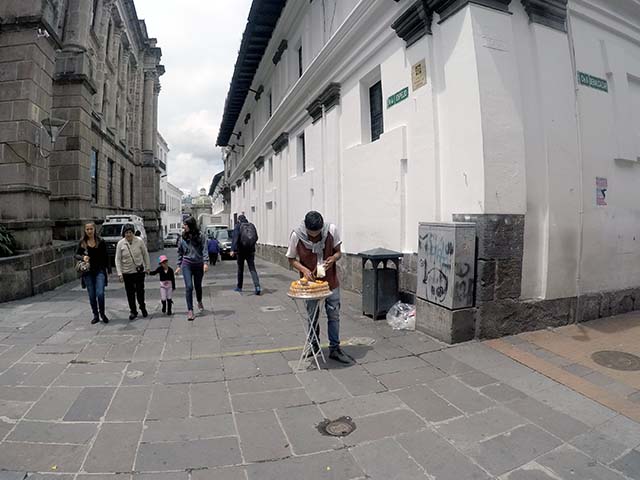 Just a little food stand. There will be more, and bigger, later.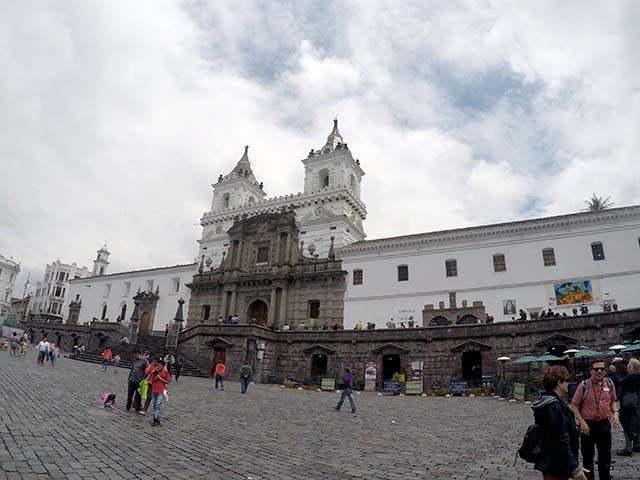 The Church and Monastery of St. Francis, commonly known as el San Francisco, is a 16th-century Roman Catholic complex in Quito, Ecuador. It fronts onto its namesake Plaza de San Francisco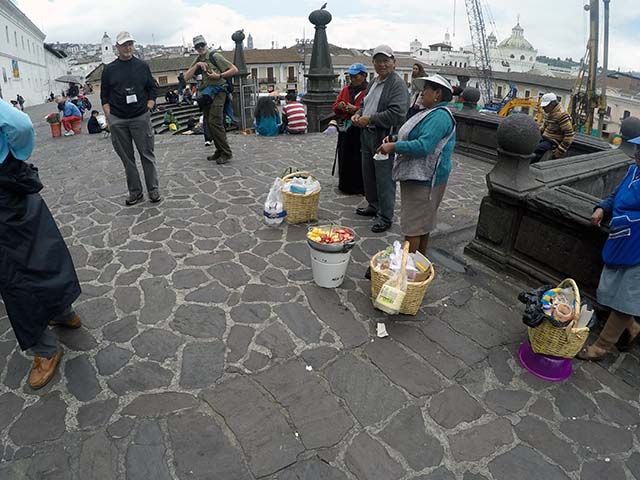 Food for sale, right outside.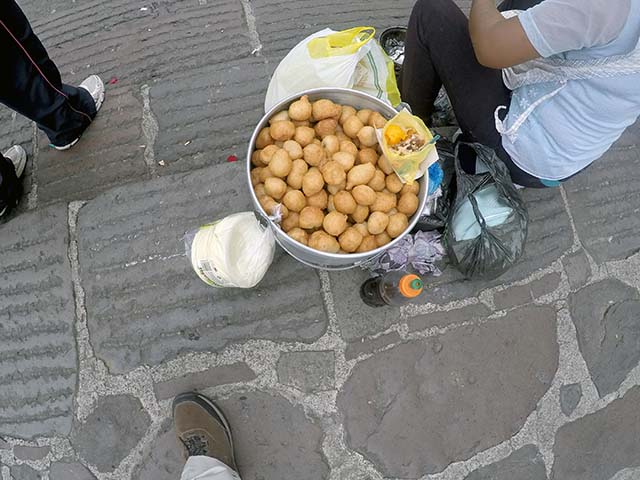 That's, um, food for sale. Potatoes, maybe? Ecuadorians like their potatoes.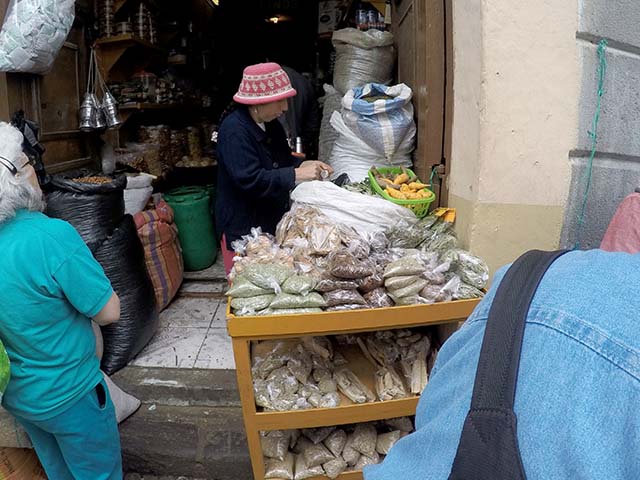 Mmmm...spices.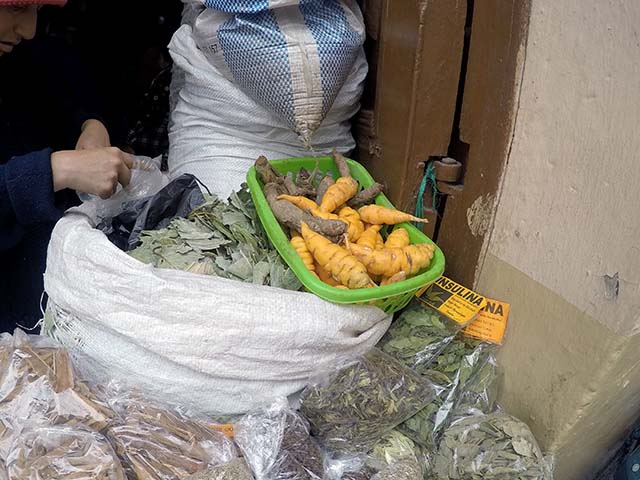 More food and spices.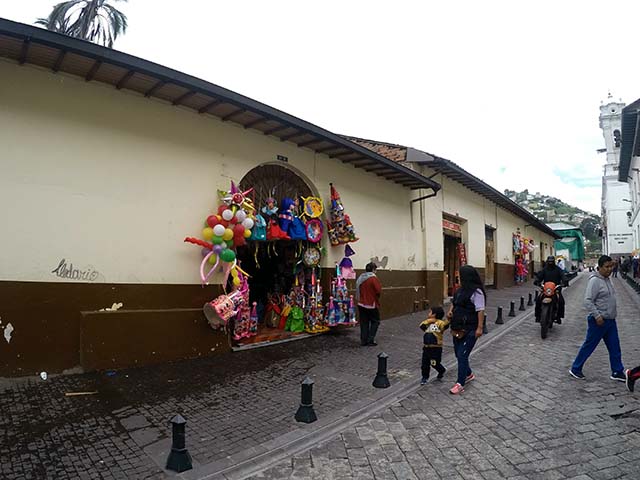 Here's a colorful shop. If you'd needed anything shiny and related to the Disney movie FROZEN, you could have found it here.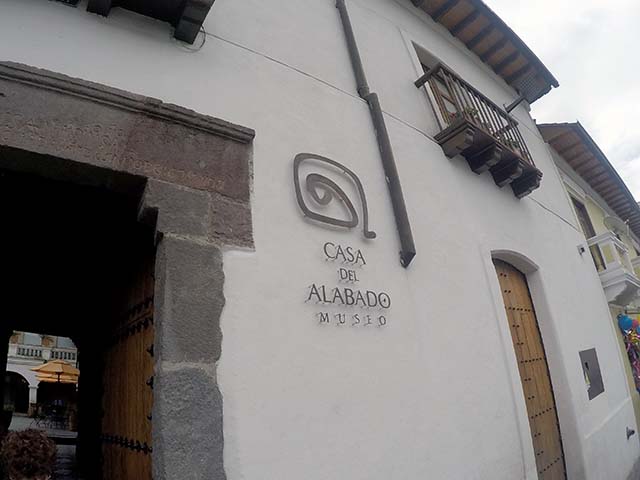 Now we've arrived at a museum and a chance to sit down.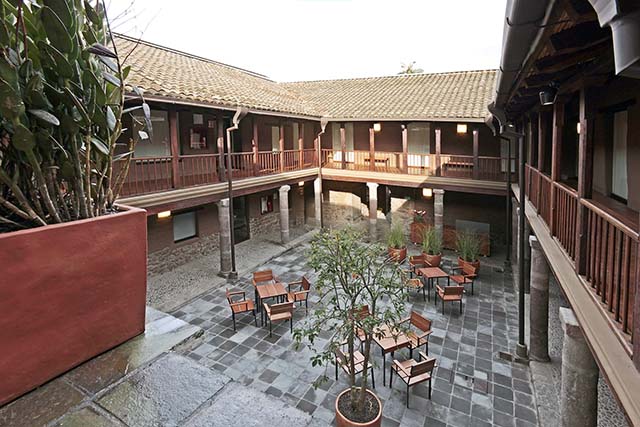 Casa del Alabado is a Precolumbian Art Museum located in the historic downtown area of Quito, Ecuador. The museum is located in a colonial house built in the 17th century during the Spanish Colony. It houses a collection of over 5,000 archaeological pieces, 500 of which are on permanent display.
Casa del Alabado is unique in the sense that its display is organized thematically, not chronologically. The aim of the museum is to treat objects as works of art rather than archaeological remnants. The display is distributed along 8 rooms with 8 different themes, which serve as representations of cultural aspects of ancient Ecuadorian cultures: their cosmology, their relationship with their ancestors, their religious ideas and rituals, and their relationship with their environment.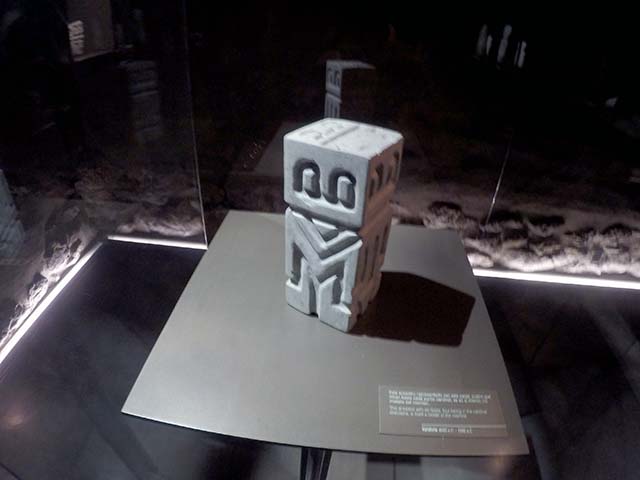 I snapped lots of pictures of the exhibition pieces.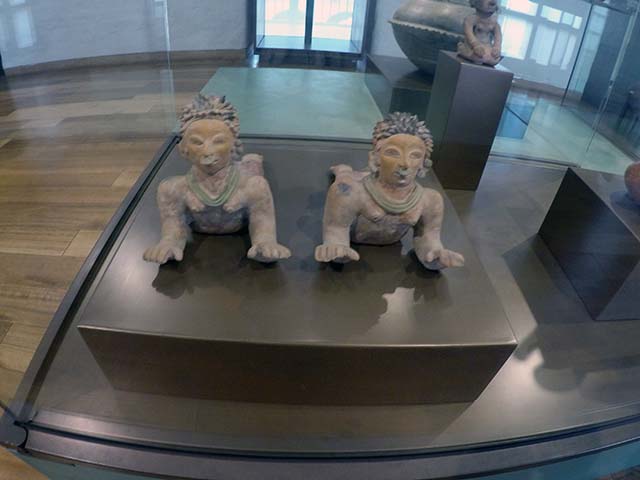 These are some of the ones I found most interesting.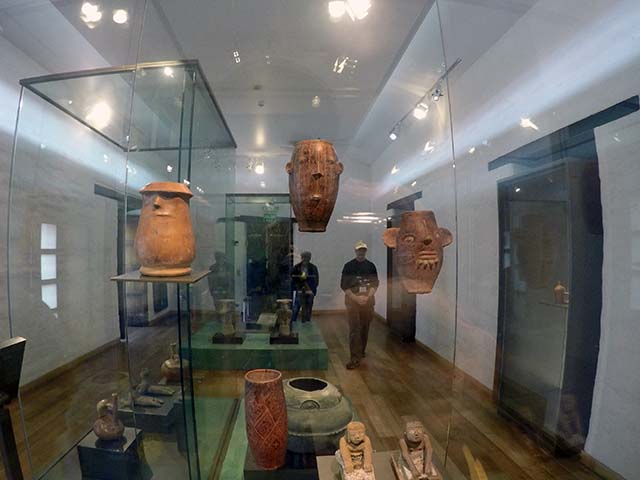 There were lots of pieces, some quite beautiful.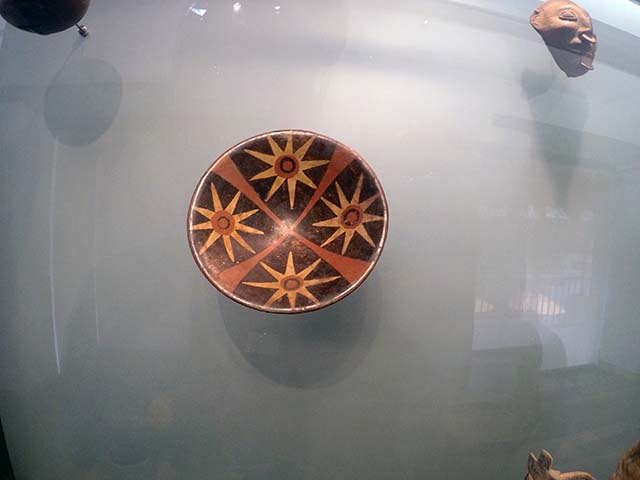 See?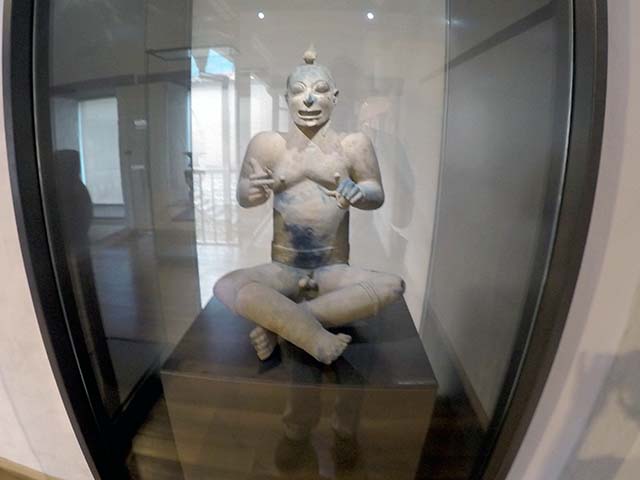 This guy seems happy.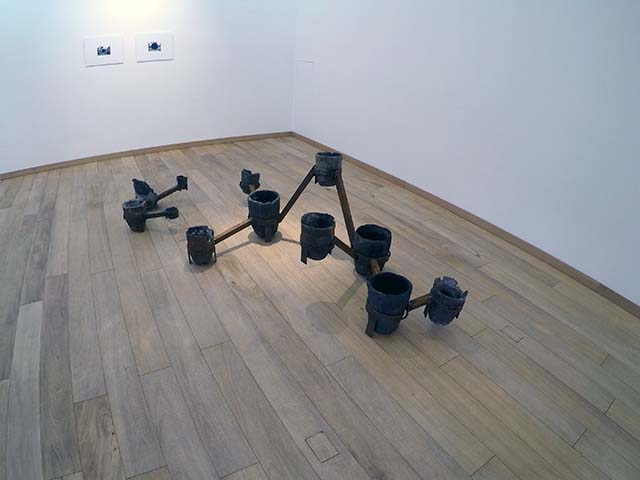 These pots were used for melting gold.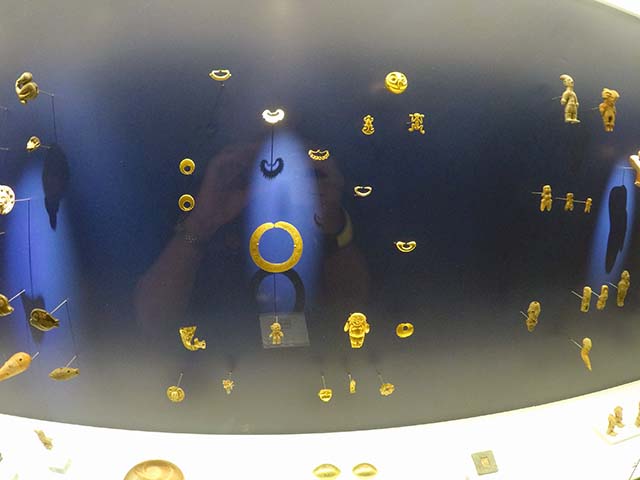 And there was a good bit of gold on display, pieces the conquistadors didn't get their hands on.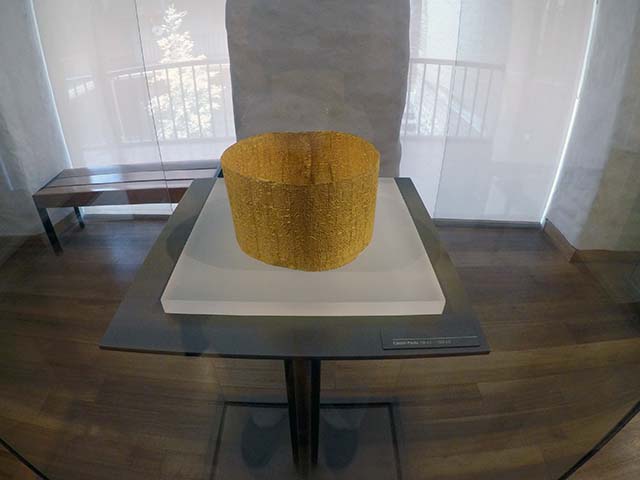 This golden crown was exquisite.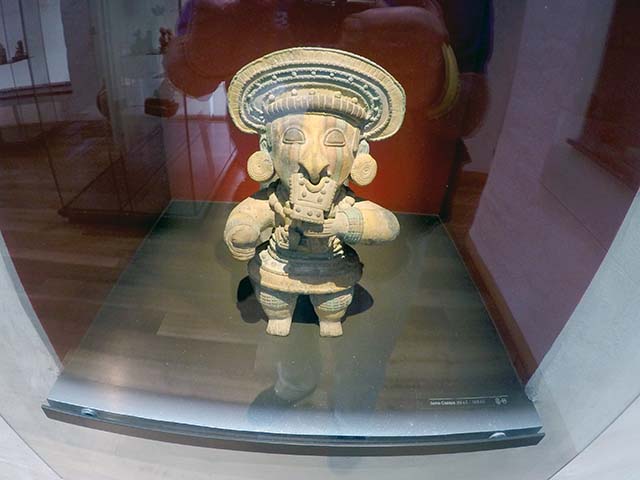 And this little guy made me laugh.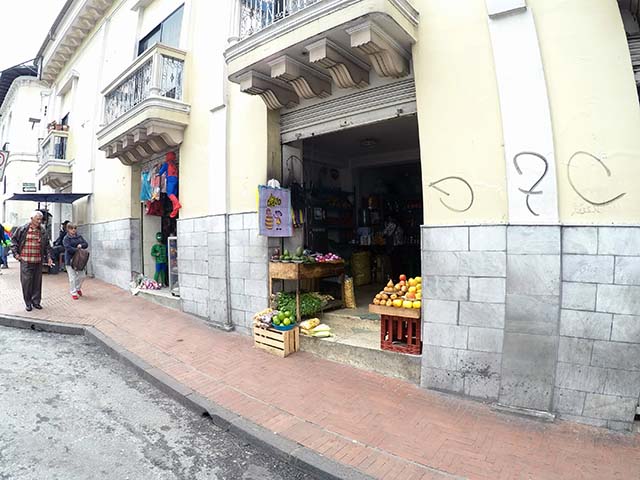 Now back on the street.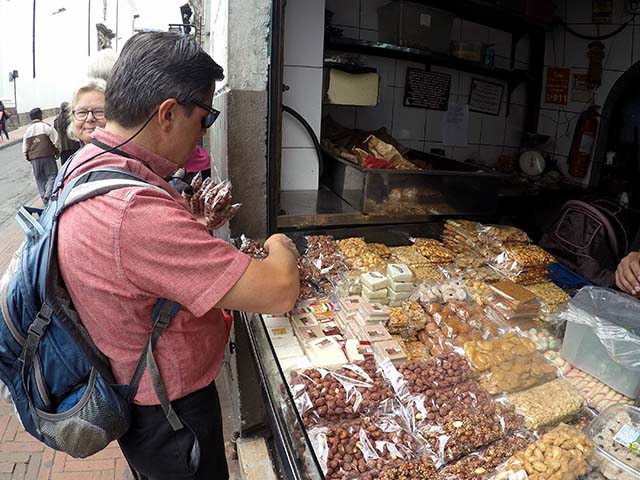 Eduardo is buying us a treat. He may have thought he was picking up something unusual, but those candied peanuts were just like the stuff people make at Christmas back home. Very good, though.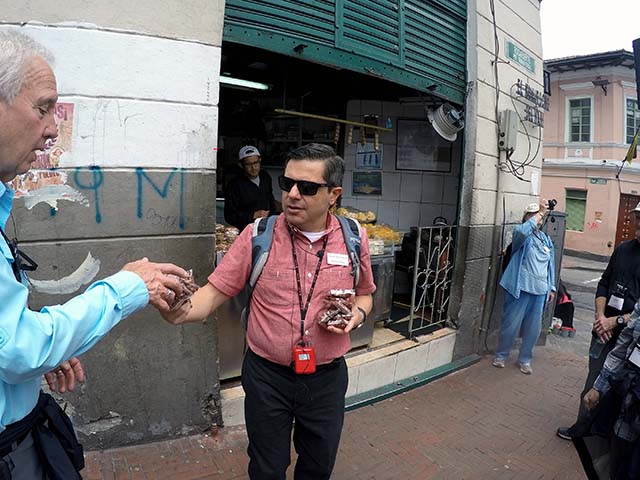 Here, David, they're tasty and they're not good for you.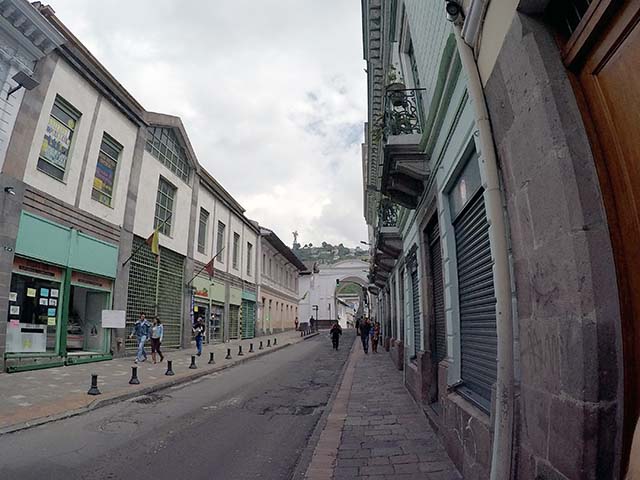 The GoPro sometimes bent things. I'm glad I didn't try to use it for the entire trip.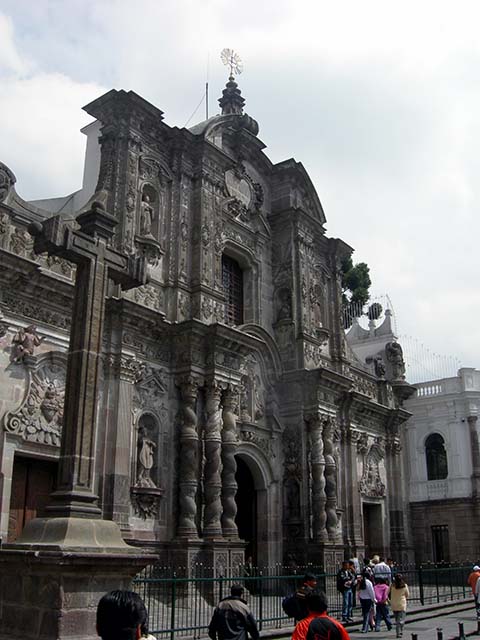 The Church of the Society of Jesus (Spanish: La Iglesia de la Compañía de Jesús), known colloquially as la Compañía, is a Jesuit church in Quito, Ecuador. — la Compañía is one of the most significant works of Spanish Baroque architecture in South America.
But they won't let you take pictures inside, so I stole these off the internet.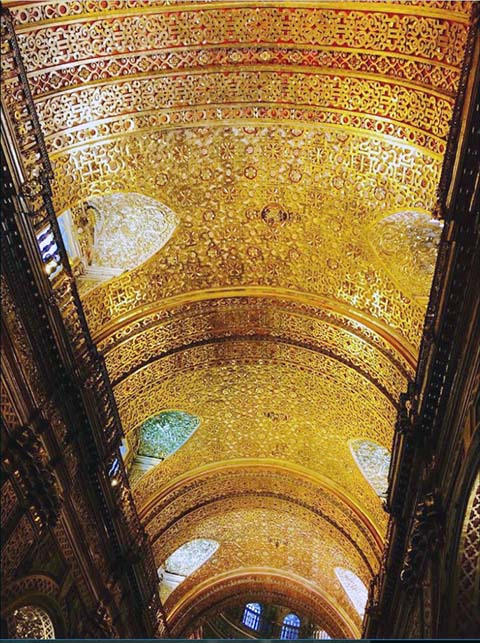 It is among the best-known churches in Quito because of its large central nave, which is profusely decorated with gold leaf, gilded plaster and wood carvings. Inspired by two Roman Jesuit churches — the Chiesa del Gesù (1580) and the Chiesa di Sant'Ignazio di Loyola (1650)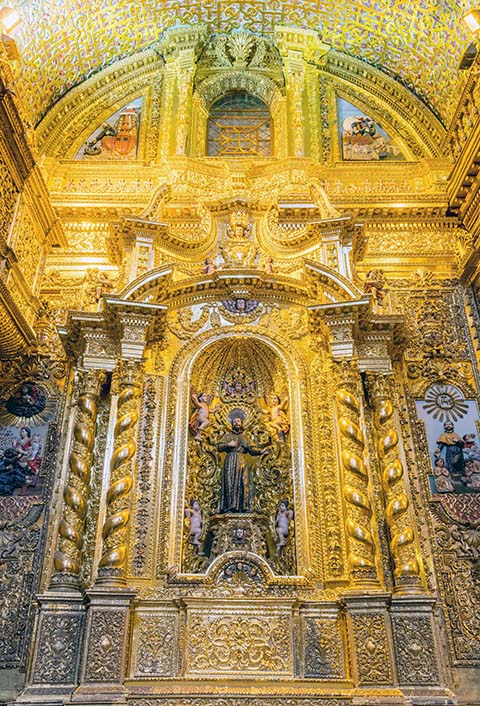 It is Quito's most ornate church and (according to some observers) the country's most beautiful.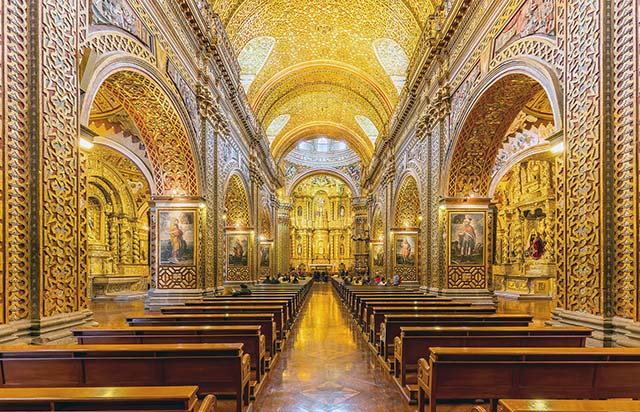 Looks nice enough to me.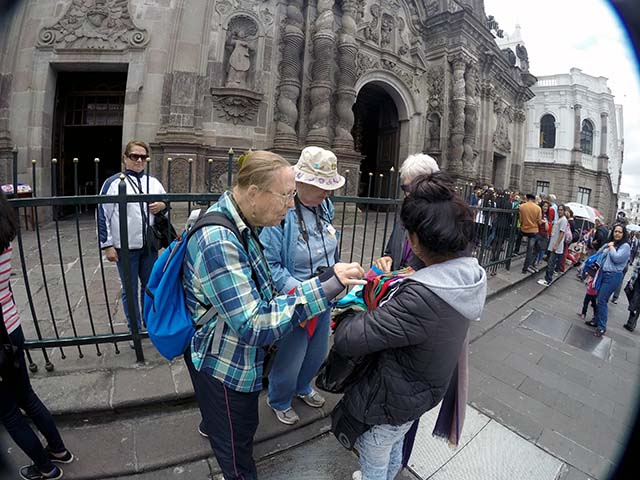 Connie and Marilyn have found some pretty textiles.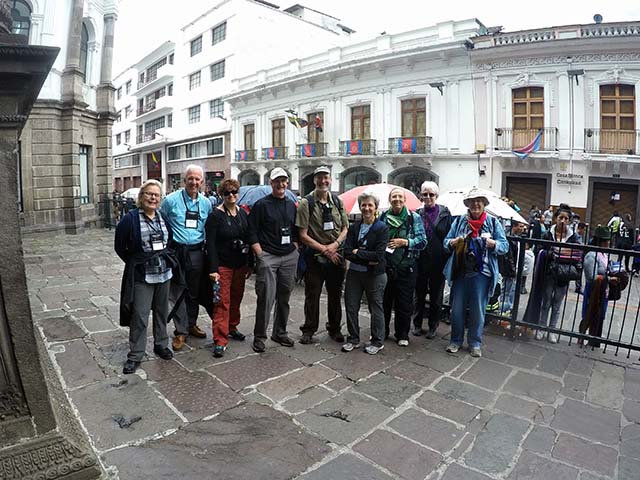 Here are all the Road Scholars but me. Well, somebody had to take a picture.
Let's see what we can find to buy on the street, and at the end of the video we'll go inside for lunch.
It was a fine lunch, but I have to admit the serving of ice cream for dessert was the more memorable experience.
We're still walking...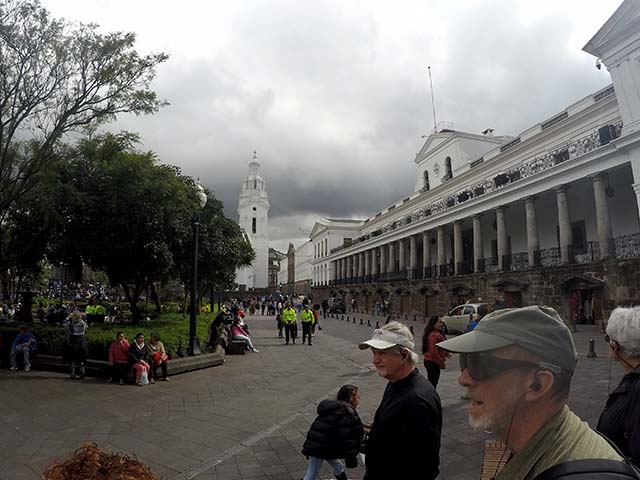 That's the presidential palace over there.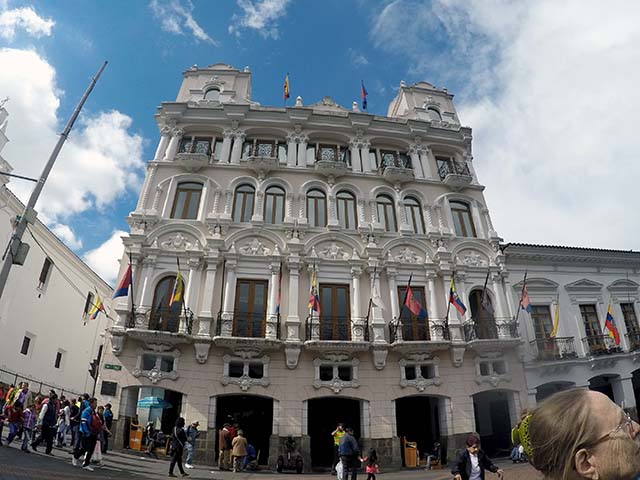 And that's a building with flags.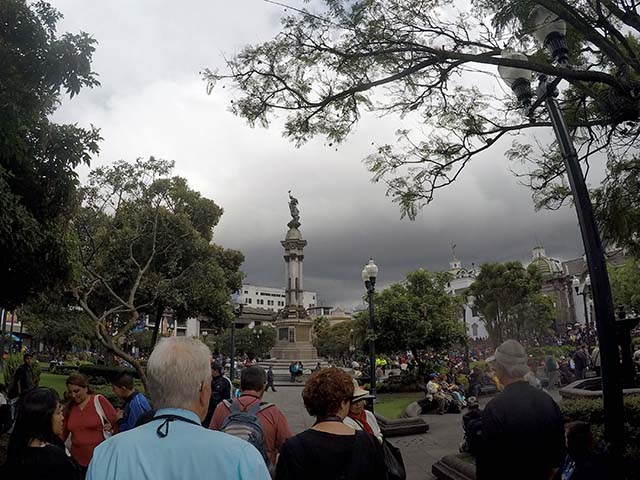 And that's a monument. Isn't it about time to head back to the hotel?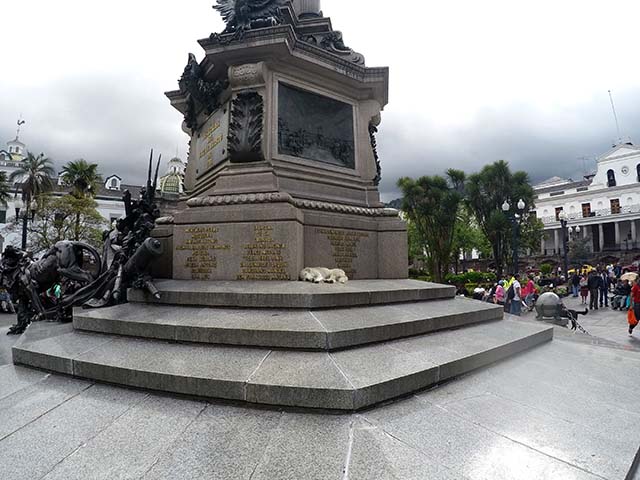 Looks like I'm not the only one tired this afternoon.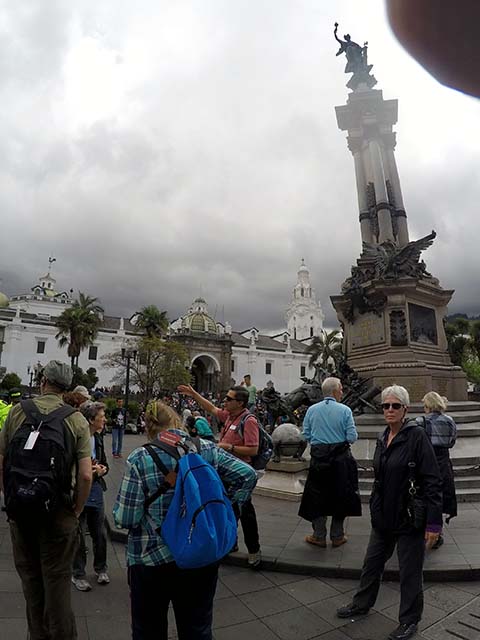 OK, Eduardo, let's wrap this up.
Time to get back to a comfy bed for a little rest before....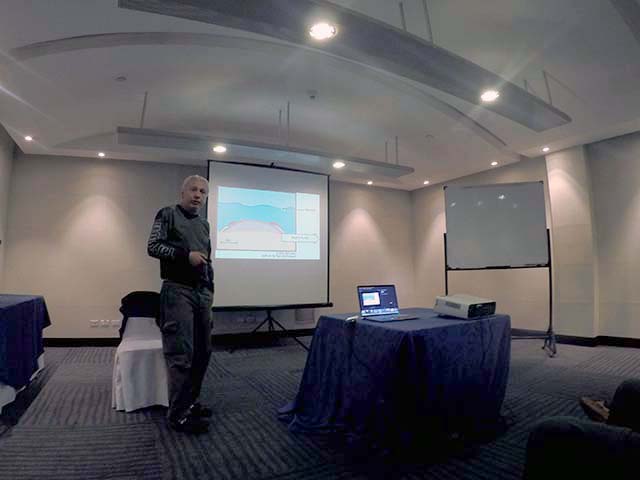 ... our educational lecture of the evening.
This is Dr. Theofilos Toulkeridis, a full time professor at the University of the Armed Forces ESPE in Sangolqui, and a highly-regarded geologist. His research in Ecuador is mainly focused upon volcanoes in the Subandean basin, the volcanic Cordilleras of the "Sierra," and the Galapagos Islands. He told us all about the molten rocks that would be under our feet during the trip and impressed us with the likelihood that all of Ecuador could blow up at any second. Fascinating guy, and funny, too. It was a very interesting presentation, to say the least.