We had a look at the weather forecast this morning and decided our best chance to stay dry would be to go to London. So thatís what we did.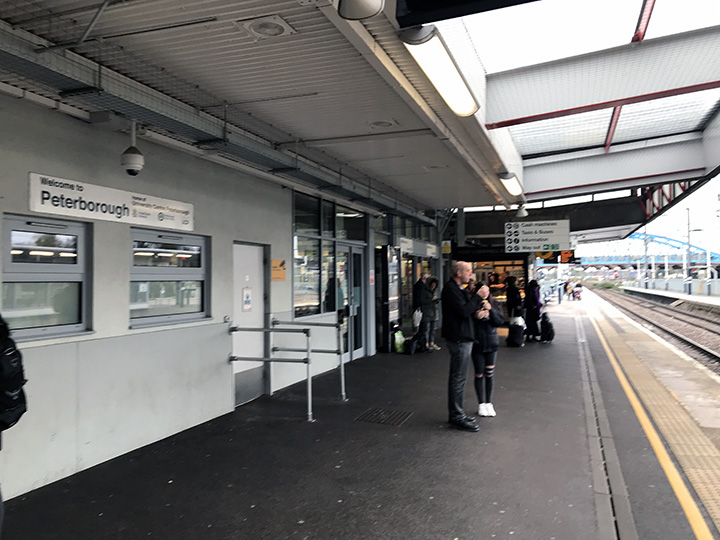 We bought tickets at Peterborough Station for the train ride to Londonís Kings Cross Station. It took about an hour and 20 minutes to get there. Thatís about 3x better than I could do if I were driving.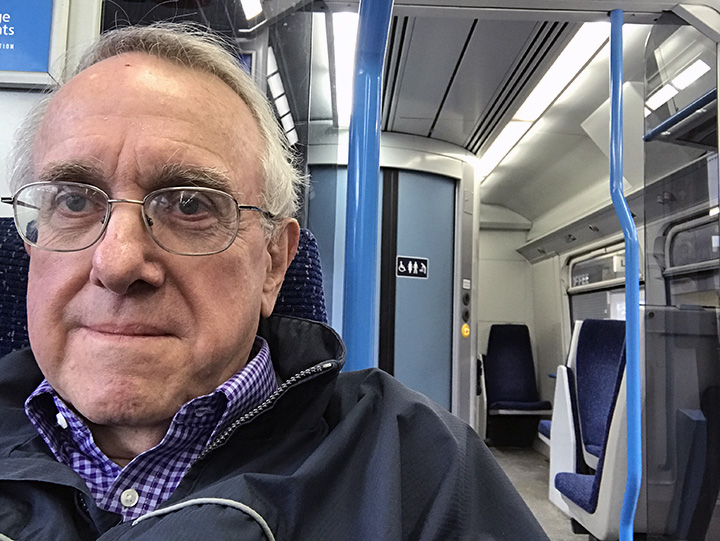 I like not driving.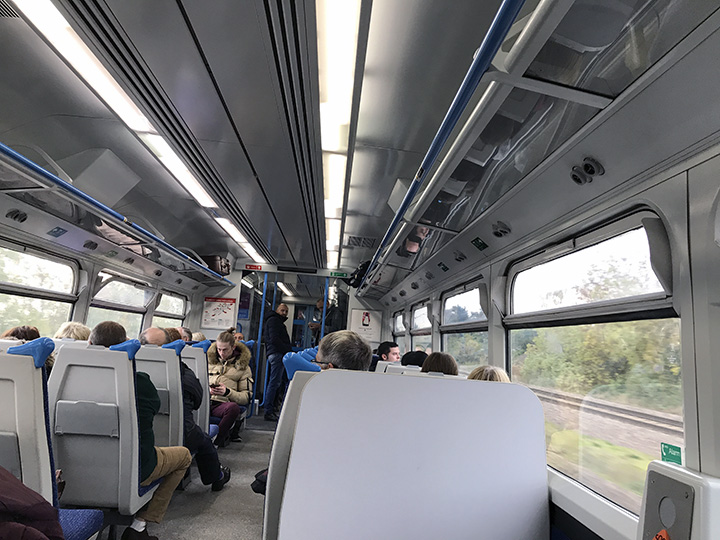 I like the train ride, too. Quiet, smooth, like Acela only maybe not quite as expensive.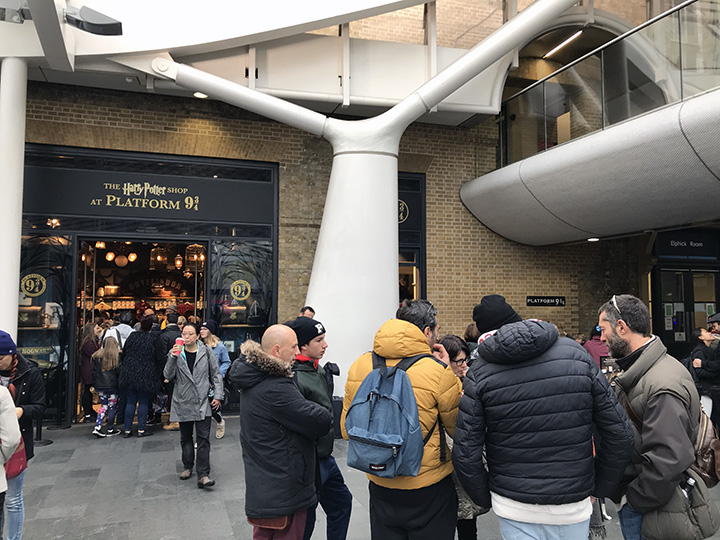 Ah...King's Cross Station in London. Say, isn't that the station where Harry Potter catches the Hogwarts Express on Platform 9 3/4? I do believe it is.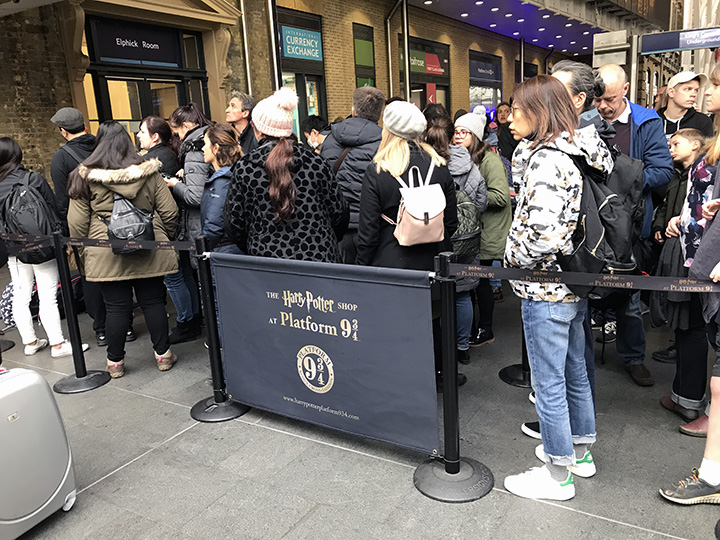 In fact, about a gazillion Harry Potter fans have shown up at Platform 9 3/4 this morning to line up and get their pictures taken at the spot where Hogwarts students magically pass through a brick wall on their way to the train.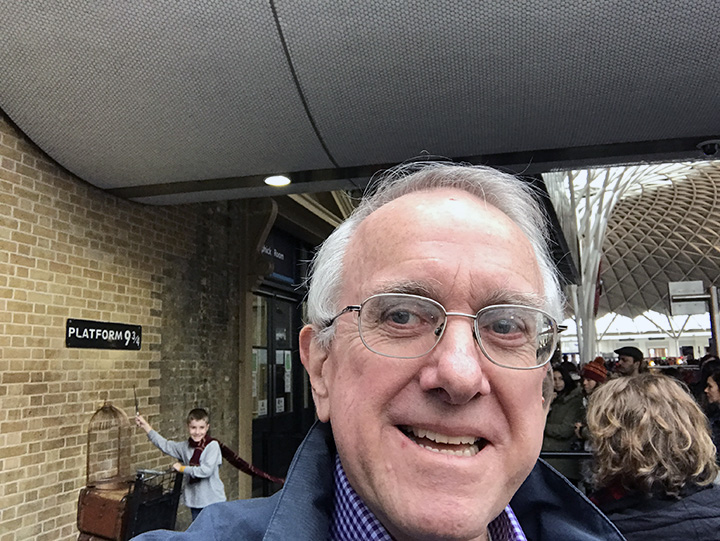 See? There's a kid who's shoved his luggage cart halfway through the wall right now! London is just full of surprises.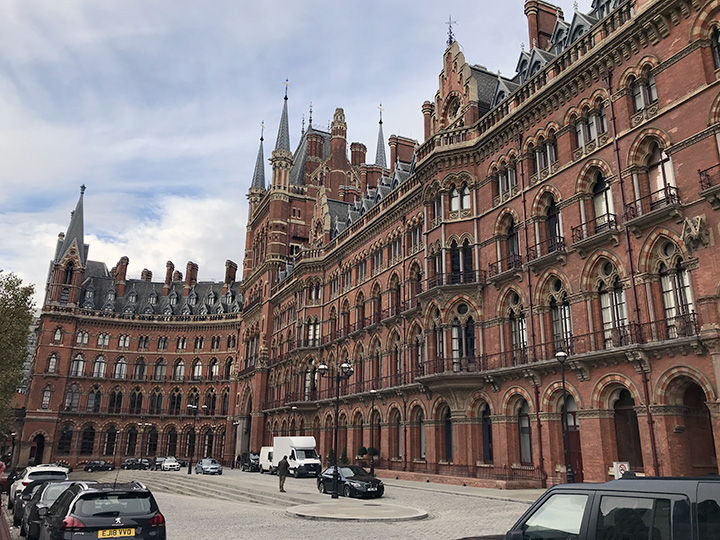 King's Cross Station is nice, but St. Pancras Station across the street is fancier.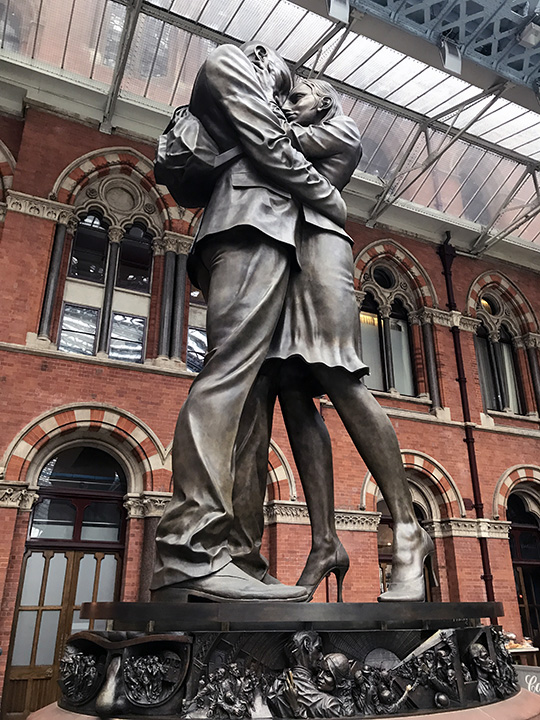 The Meeting Place is a 9-metre (30 ft) high, 20-tonne bronze statue that stands at the south end of the upper level of St Pancras railway station. Designed by British artist Paul Day and revealed in 2007, it is intended to evoke the romance of travel through the depiction of a couple locked in an amorous embrace. The statue, which stands in the Eurostar terminal, is reported to have cost £1 million and was installed as the centrepiece of the refurbished station. The work, commissioned by London and Continental Railways, is modelled on the sculptor and his wife.

Apparently the statue is not beloved by Londoners. The sculpture received a poor critical reception, being cited by Antony Gormley as "a very good example of the crap out there", comparing it to other examples of public art in the UK, and later referred to as a "terrible, schmaltzy, sentimental piece of kitsch" by Tim Marlow of the Royal Academy of Arts. Jeremy Deller dismissed it as "barely a work of art".

I didn't much like it either, but there it is. Nice heels, lady.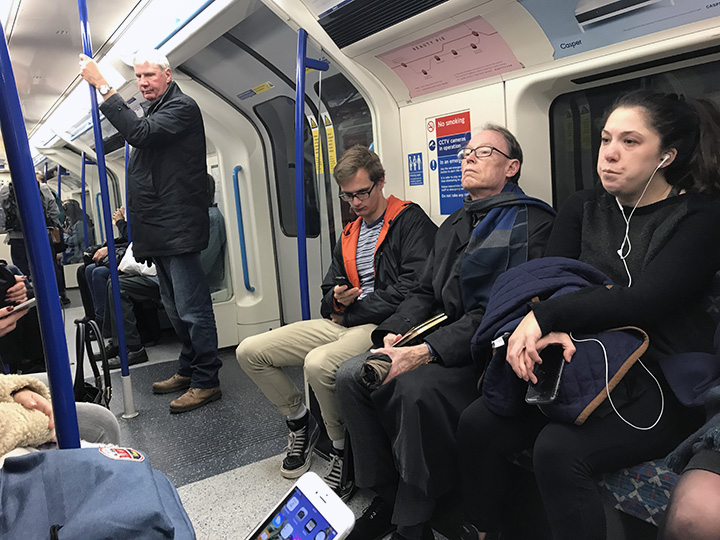 Let's take the tube to Westminster!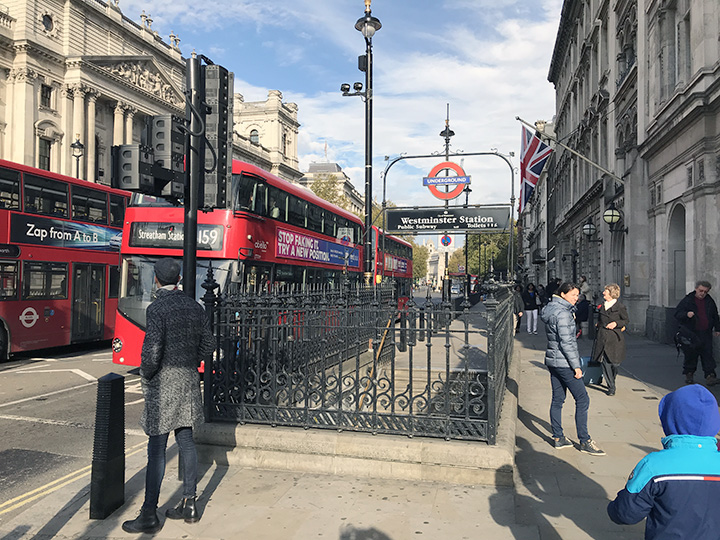 You know...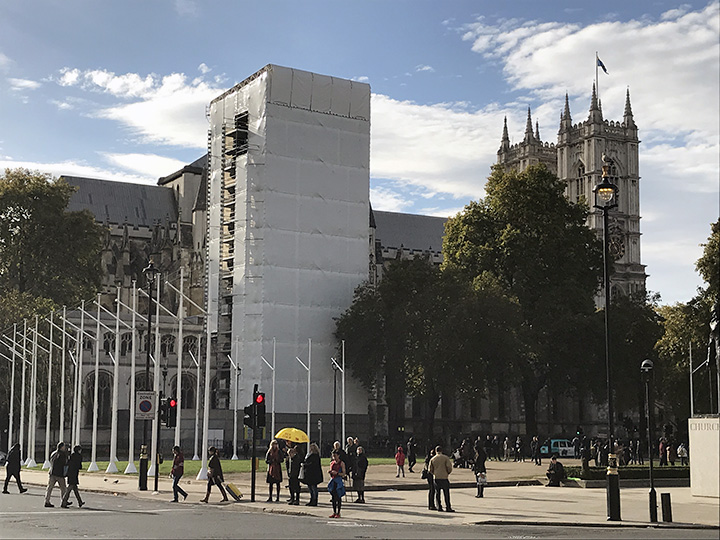 Westminster Abbey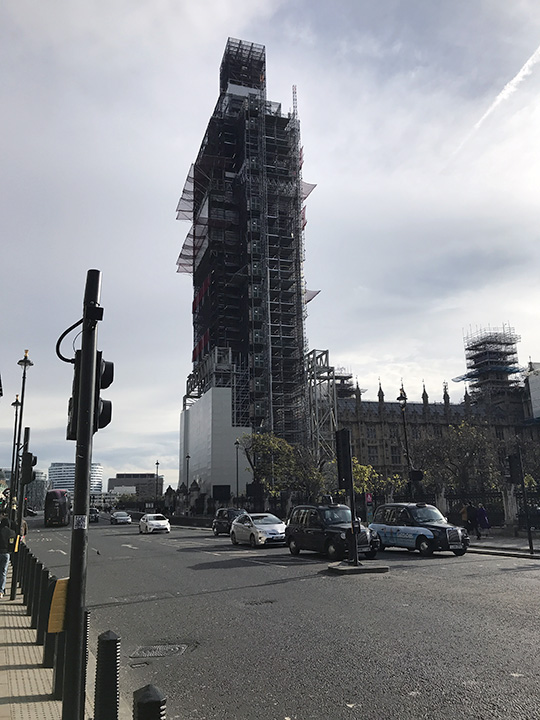 The tow'r of Big Ben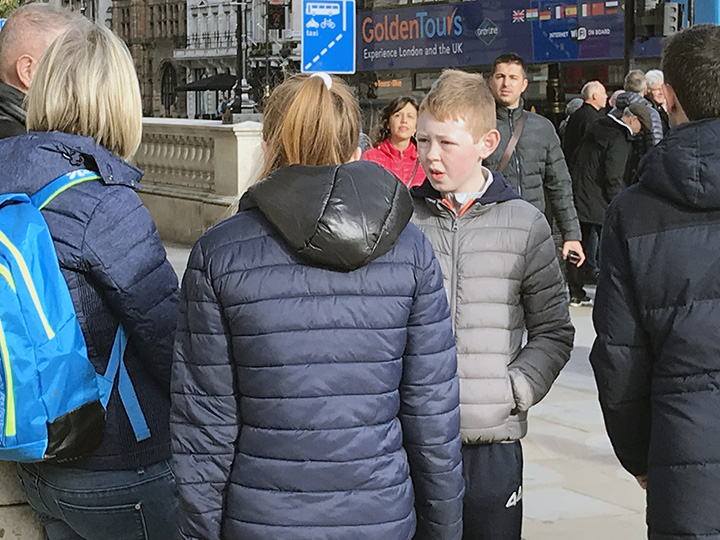 The rosy red cheeks of the little children?
Looks like most of the famous sights at Westminster are hiding behind scaffolding this trip. Oh well.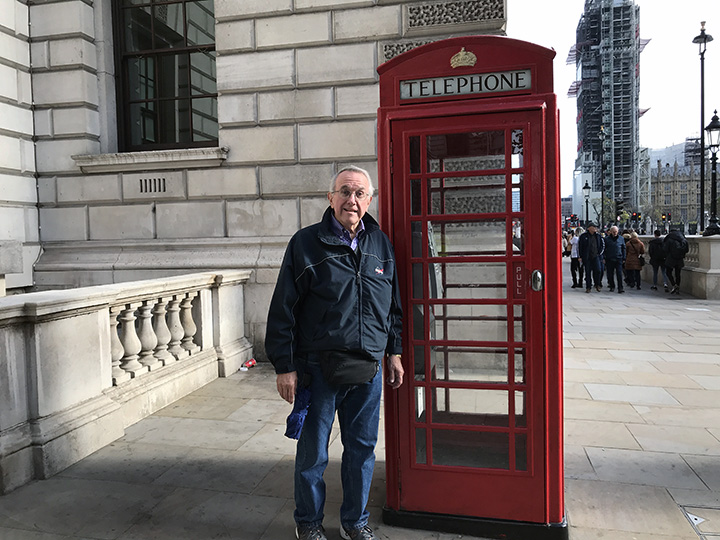 Bill called the Queen to complain.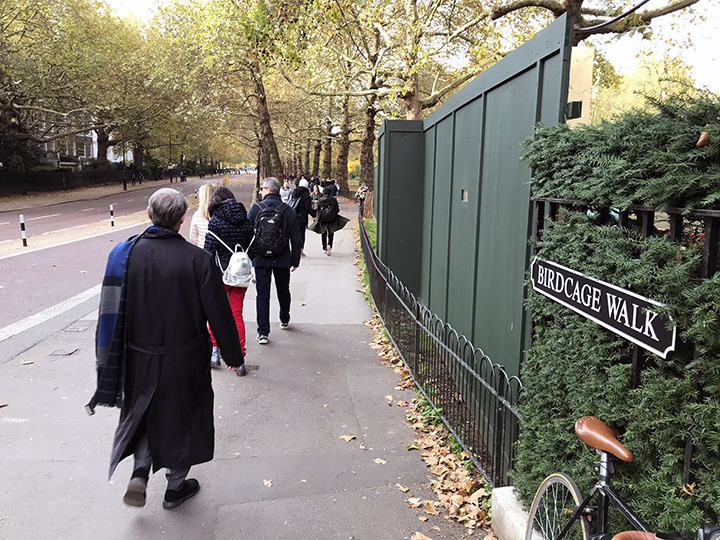 And then we went off on a walk.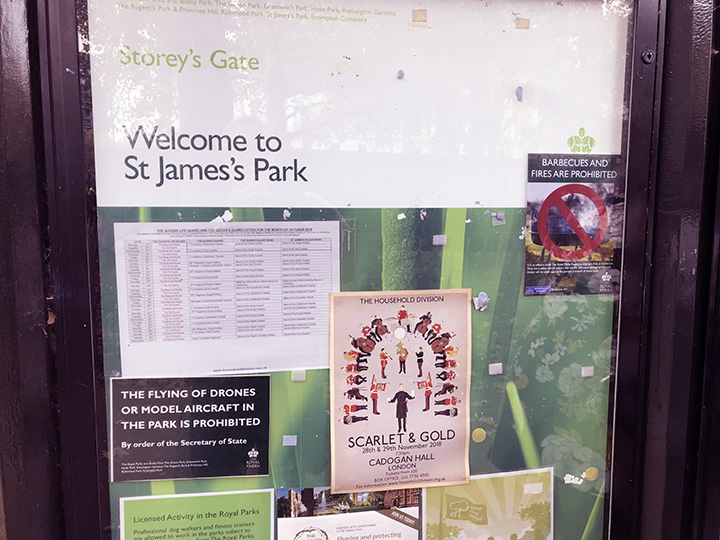 To St. James Park.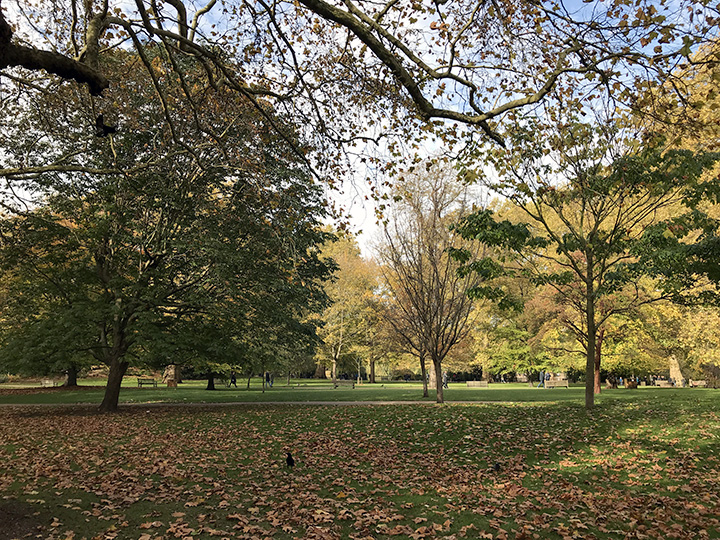 Very nice.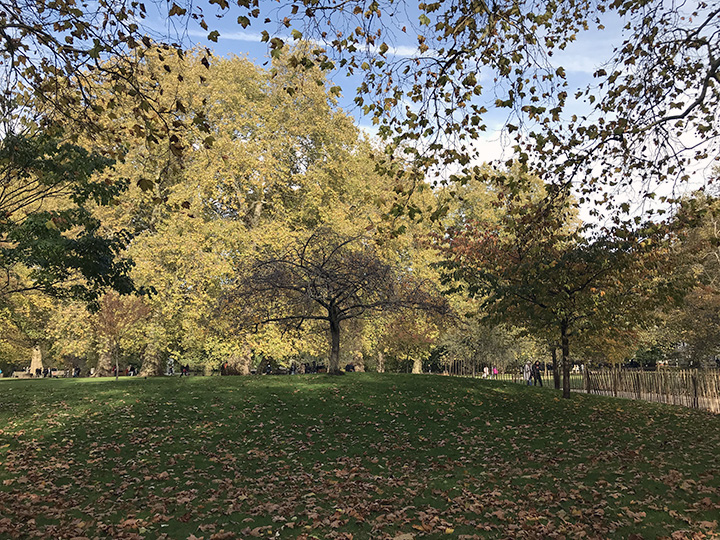 Great fall colors.
It's like we have the place to ourselves.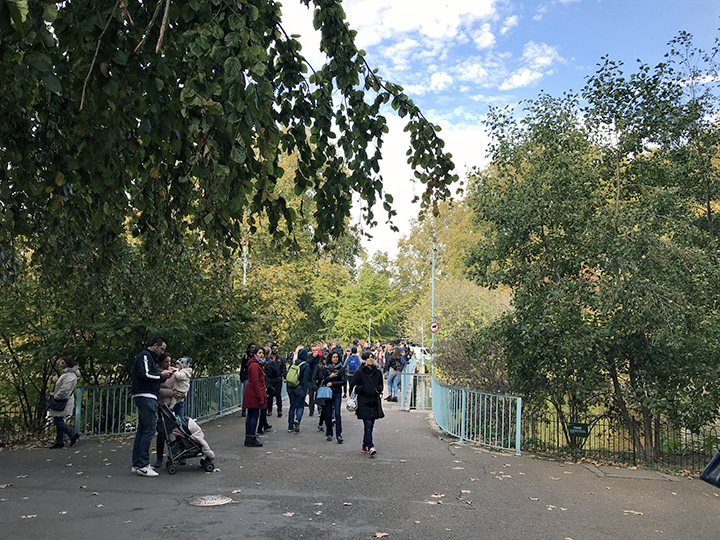 Along with half of London, also out for a nice walk in the park.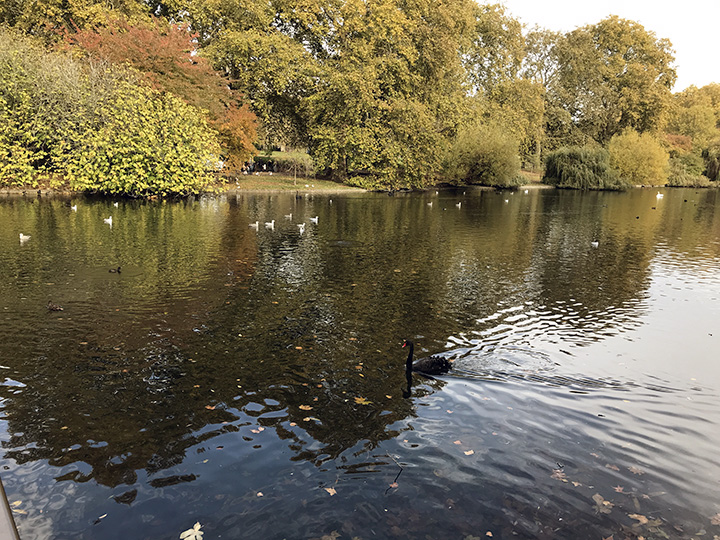 There are waterfowl.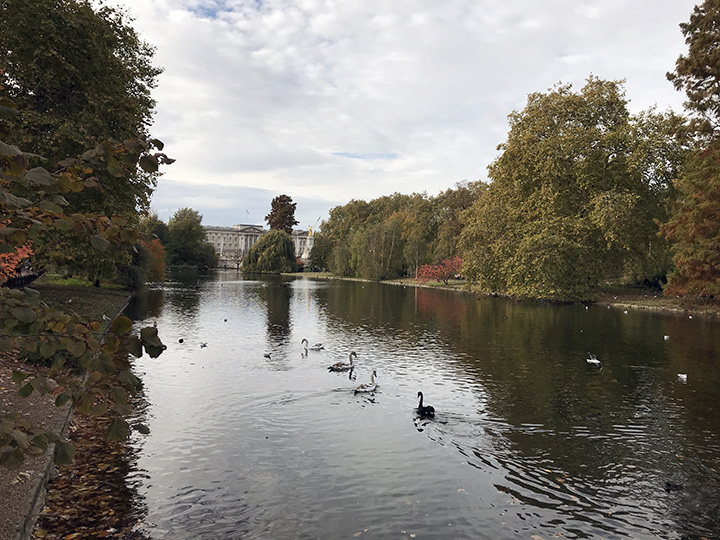 Swans, even.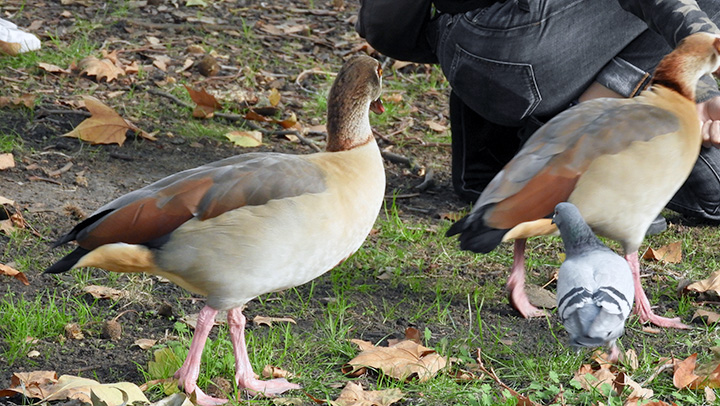 And fancy geese.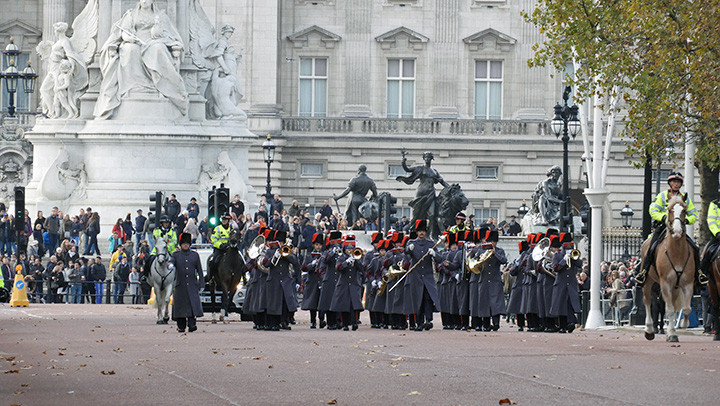 Hey, look! It's the tail end of the changing of the guard ceremony at Buckingham Palace!
They play a pretty tune while they march.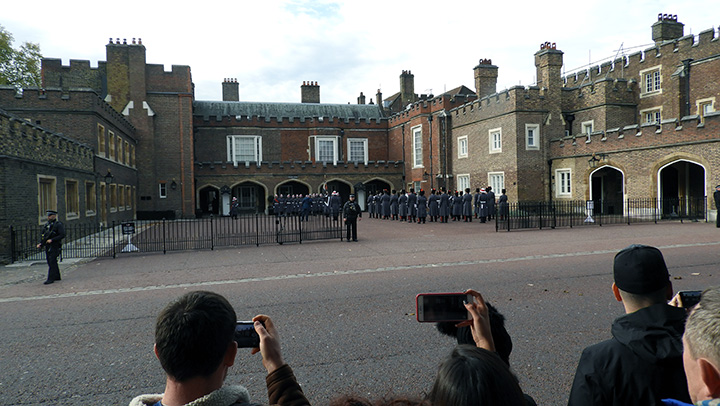 And they do a final ceremony when they arrive back at their barracks. But I have a question: Why aren't they wearing those big fancy bearskin hats? Can the Queen be guarded by men without bearskin piled high on their heads?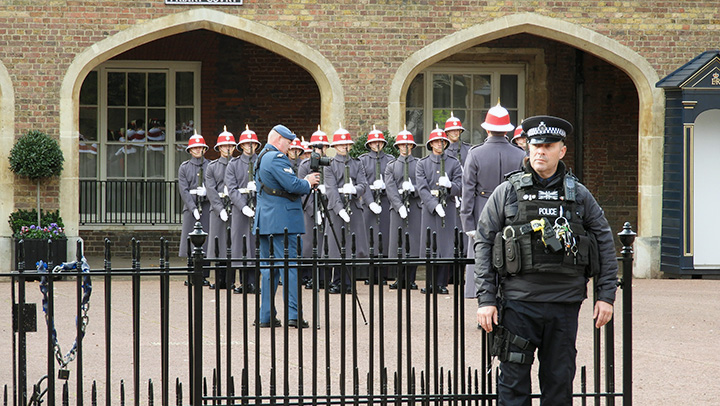 I mean, just look at those things. Who are those guards?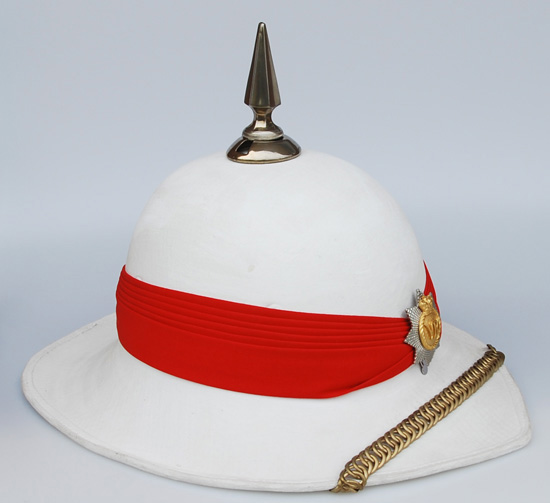 They're Canadian! Of course! They don't need no stinkin' bearskins. They're wearing the modern Wolseley helmet of the Royal Canadian Regiment. The white full dress Wolseley helmet features a cloth puggaree and metal fittings, including brass spike and chinchain, along with metal slider badge. However, the shell of the helmet is as noted a molded fiberglass material. And now you know.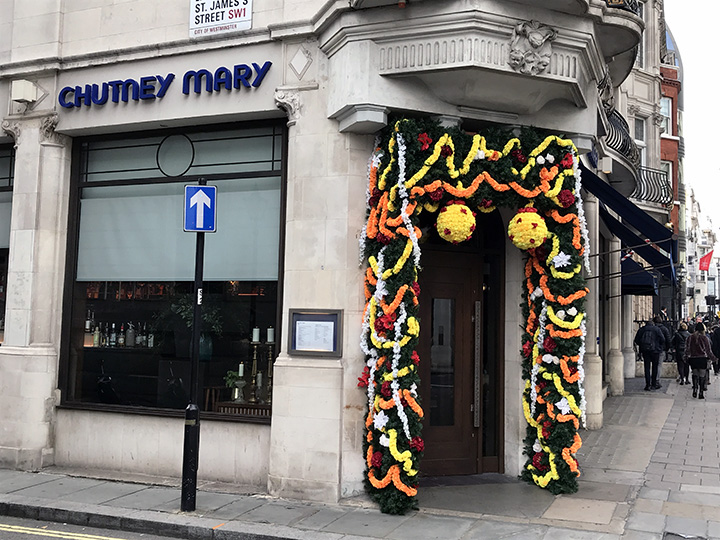 Let's eat. Leon told me Chutney Mary served him the best meal he's ever eaten when he and Caroline were here a few years back. I politely didn't remind him of the Cajun seafood gumbo at my place. Or the soft shell crabs, spot, blue, and flounder on the beach at Cape Hatteras. He's getting old...memory shot...so sad.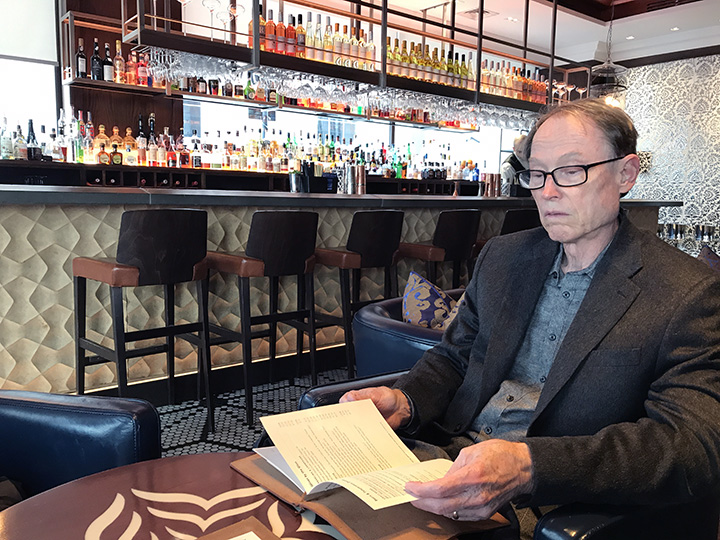 Don peruses Chutney Mary's menu.
I have to admit the food was good. This is "Bombay Kejriwal with Green Chilli, not for the faint hearted -- fried eggs and cheddar on toast." It was indeed spicy, but I thought it was great.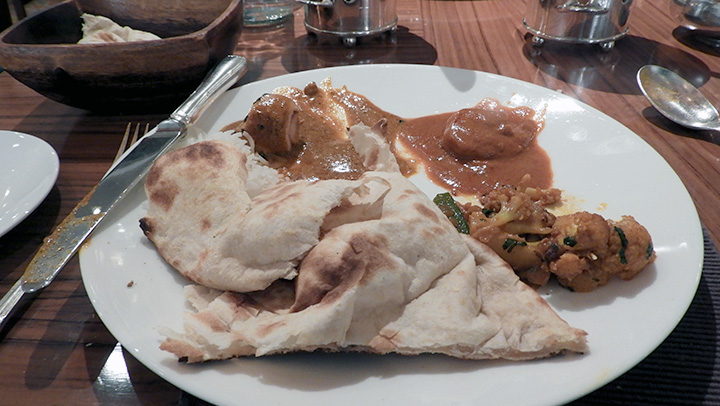 The butter chicken back there behind the naan may now be one of my most favorite dishes. I must try it more often at other restaurants. Or maybe make it at home....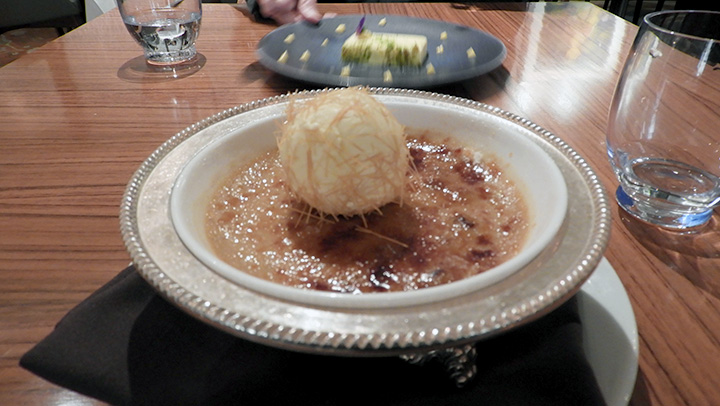 This is payasam brulee: seviyam (sweet vermicelli) with toasted coconut ice cream. It was good enough. But that's an awfully hairy ball of ice cream.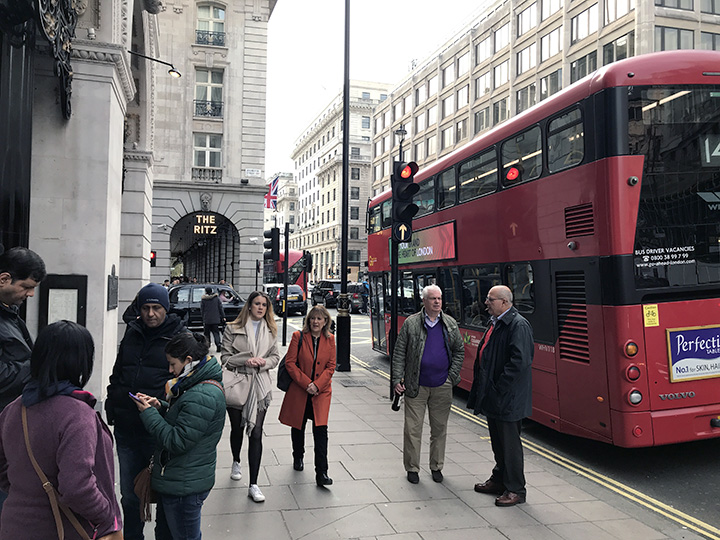 We walked past the Ritz.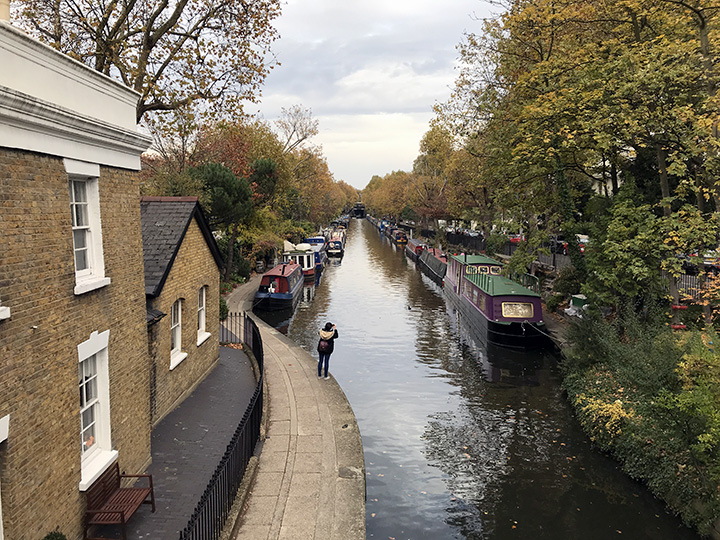 And made our way via underground to Little Venice. It's a beautiful spot in London that most tourists never think about visiting. I've been here before, and we've come back so I can show Don the walk along the Regent's Canal.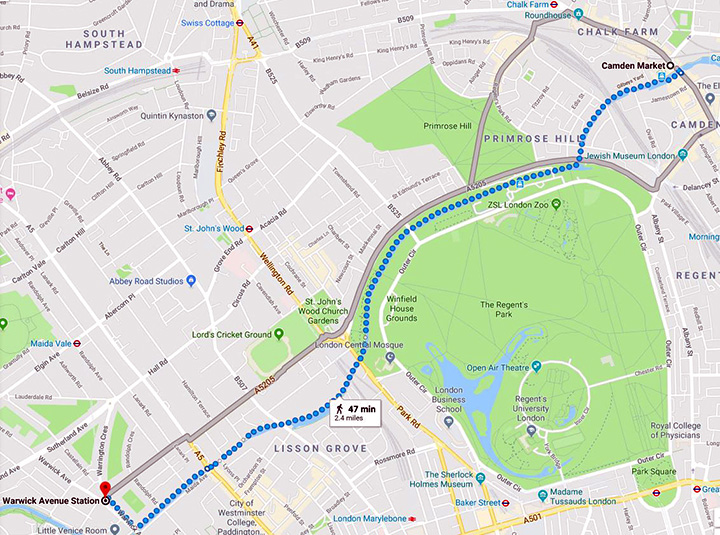 Here's our route -- just 2.4 miles.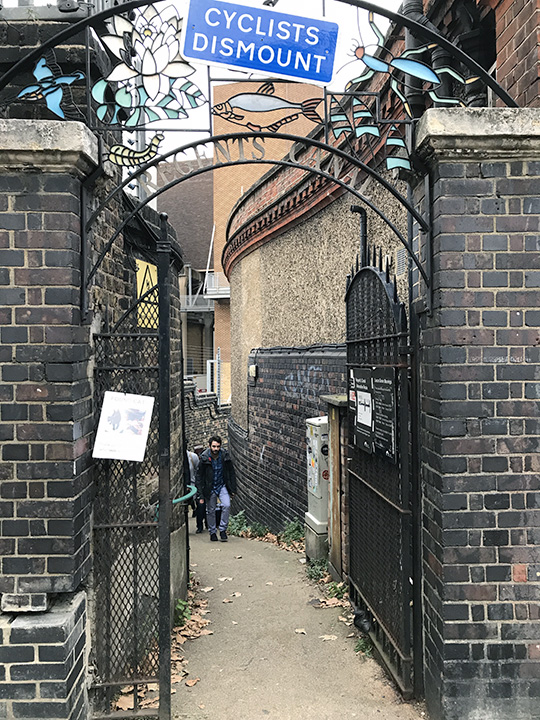 Let's go down and see.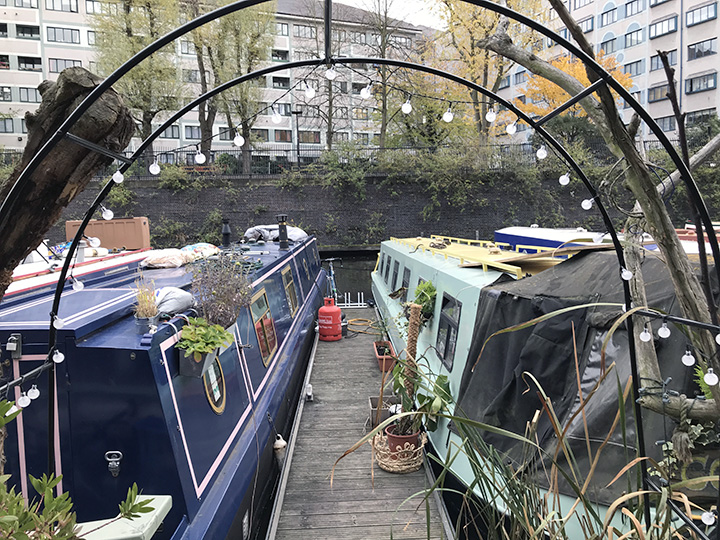 They're called "narrowboats" and people really do live on them.
Nothing like a little Paul McCartney to set the tone of today's walk.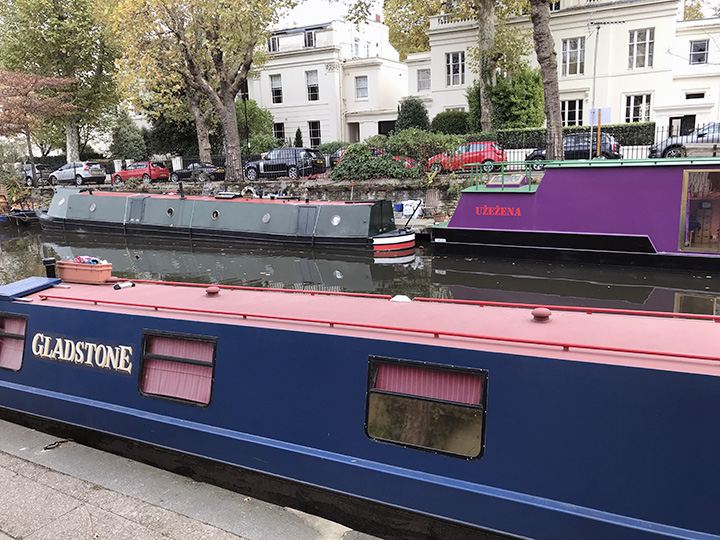 They are pretty...or maybe a little gaudy...but charming.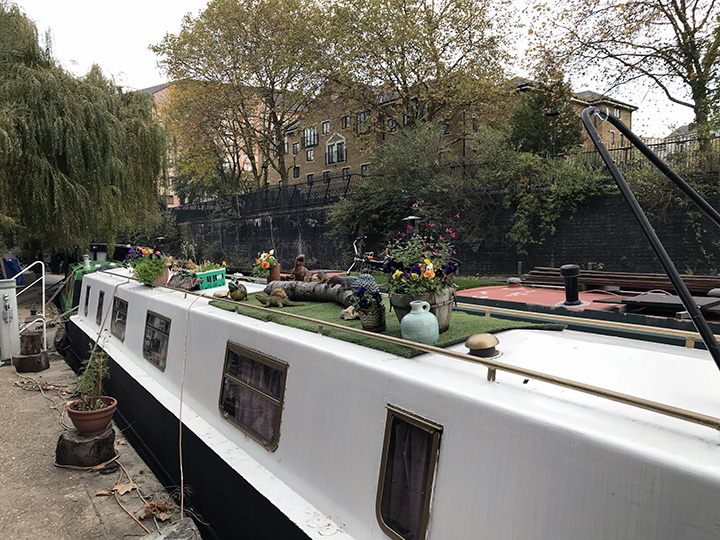 And there are decorations.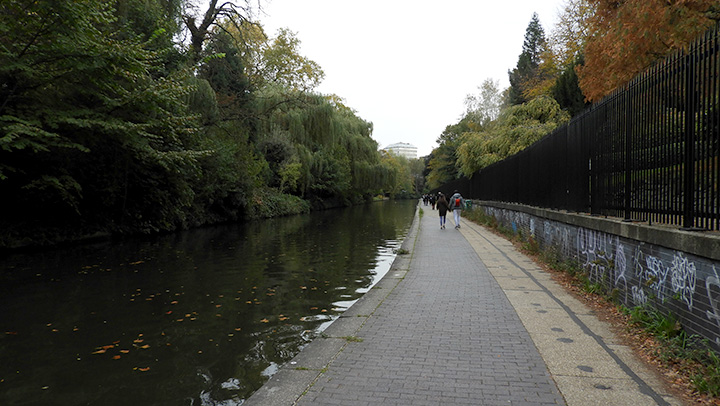 Now let's walk to Camden Town and take in the sights along the way.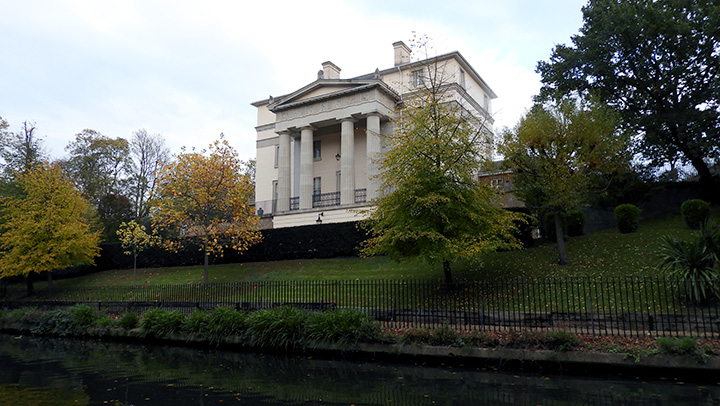 I'd live there.
Here comes a motorboat.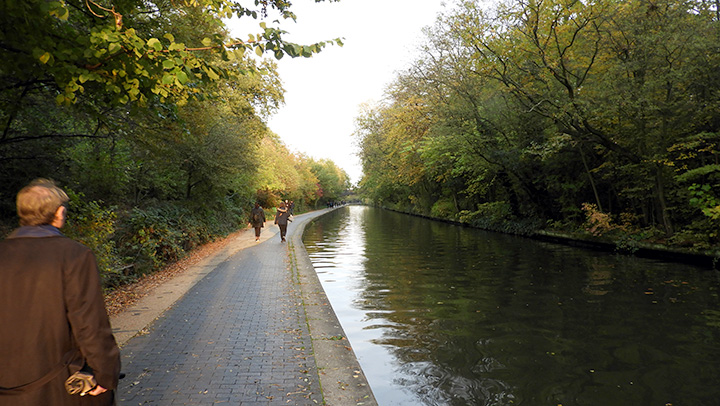 Don's enjoying the walk.
Here comes a tour boat!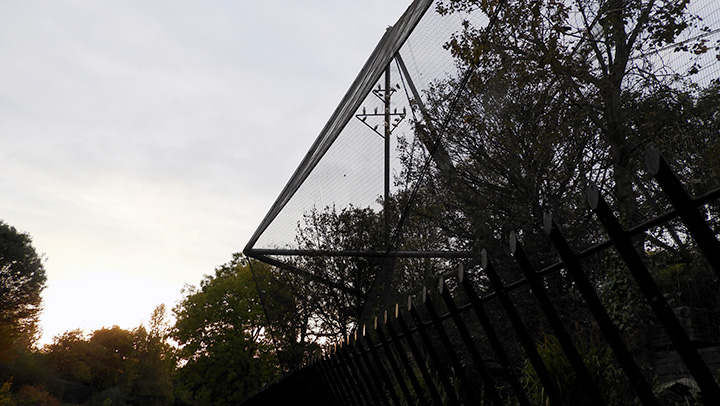 The canal passes through the middle of the London Zoo, but it's cut off from the exhibits.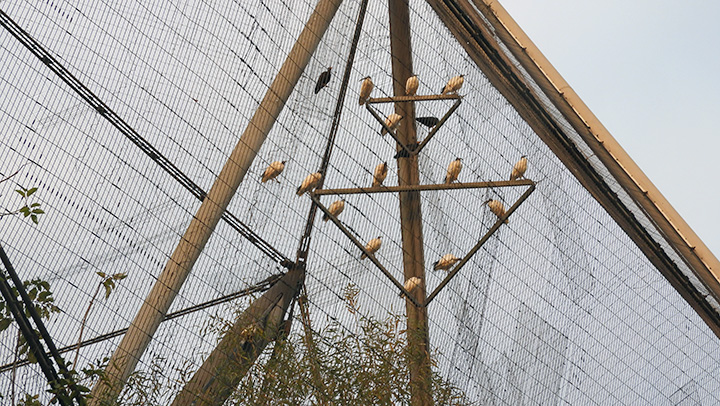 The best we can do is look up through a really big birdcage.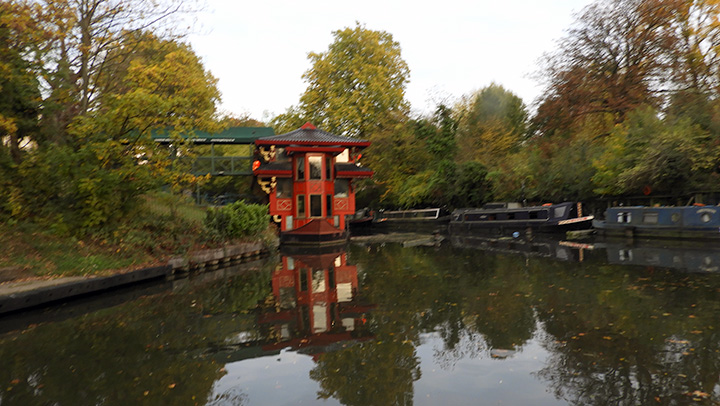 There's a Chinese restaurant right on the canal.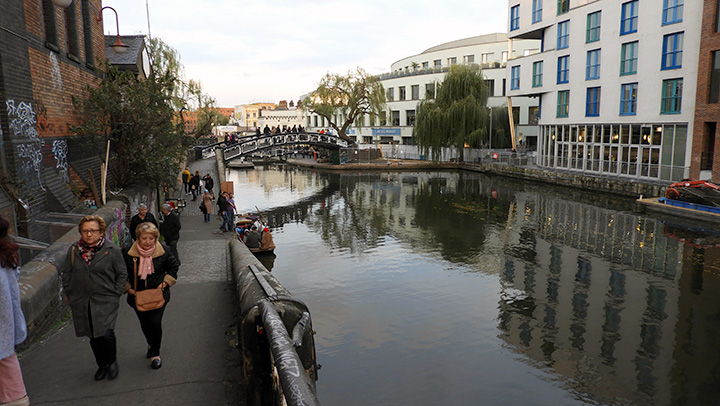 And now we're arriving in Camden Town, the terminus of our afternoon walk.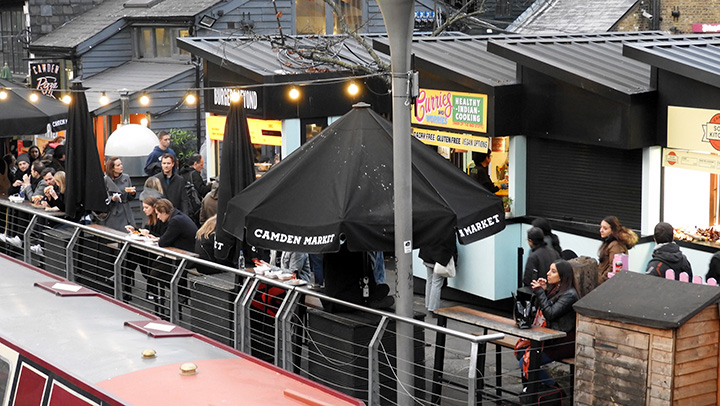 It's become a gathering place for the young and hip, neither of which I am.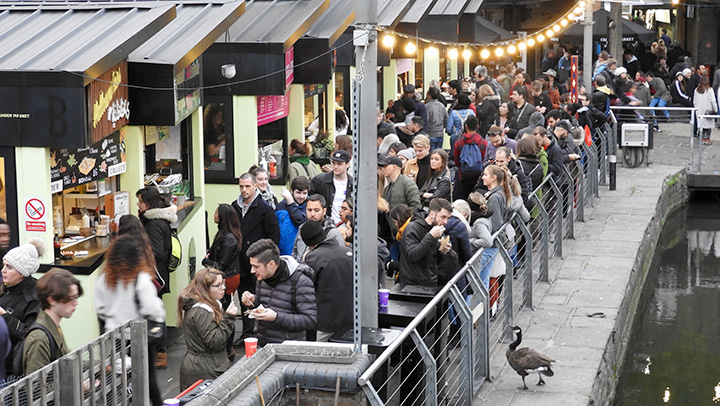 So we'll just take in the view from a bridge and keep afternoon walking.
The canal has locks.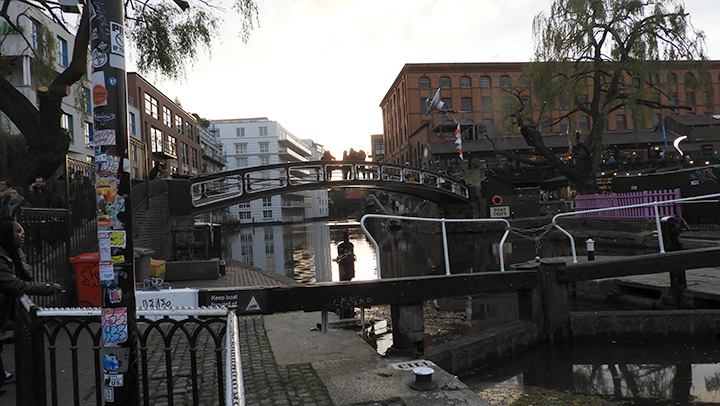 And bridges.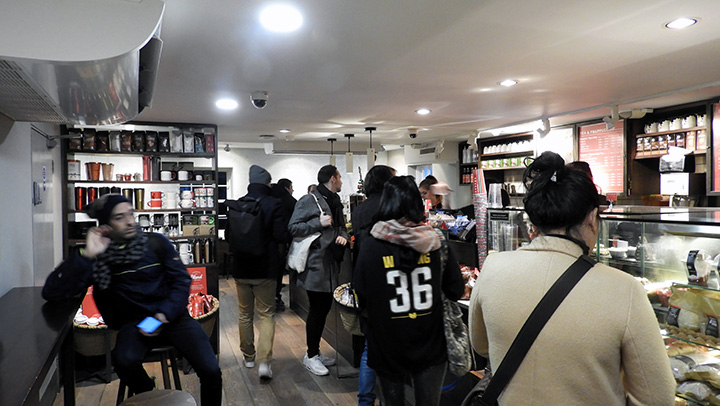 And Starbucks!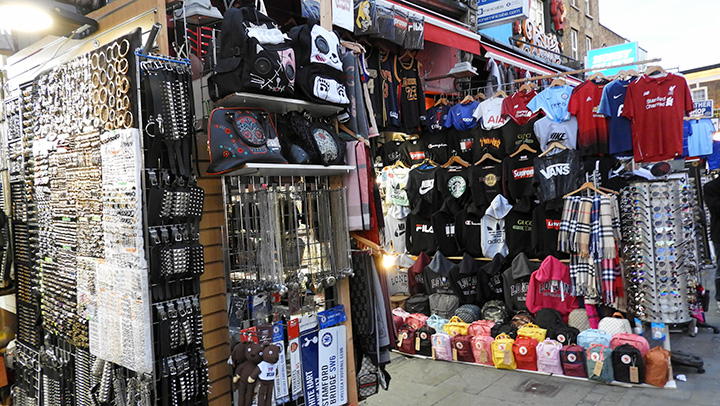 Need a T-shirt? Camden Town has you covered.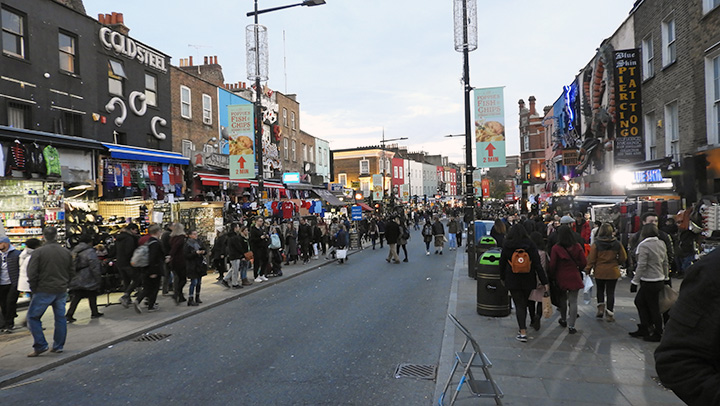 Lots of young people love it here. But it's getting late and it's time to head back to King's Cross to catch a train home to Peterborough.