Bill and Don flew out of Dulles Airport around 3:30 on Thursday afternoon, and when they arrived in Dehli the time was almost midnight Friday -- which means it was about noon, Friday, back at Dulles. Yes, there was about a 12-hour difference, and I say "about" because the difference is really closer to eleven hours and 30 minutes. Yep, one of the time zones we crossed throws a half hour into the calculation. But I have to say, as far as jet lag goes, it was easier for me to adjust to a 12-hour difference than to the usual 6-hour difference when traveling to Europe. I mean, when we got there it was bedtime and we were tired -- so we slept well and woke up refreshed the next morning. At first I found myself getting very weary around 6:00 in the evenings, but that feeling soon passed. Coming home has turned out to be a different story, though. It has taken me almost two weeks to stop waking up at 4:00 every morning.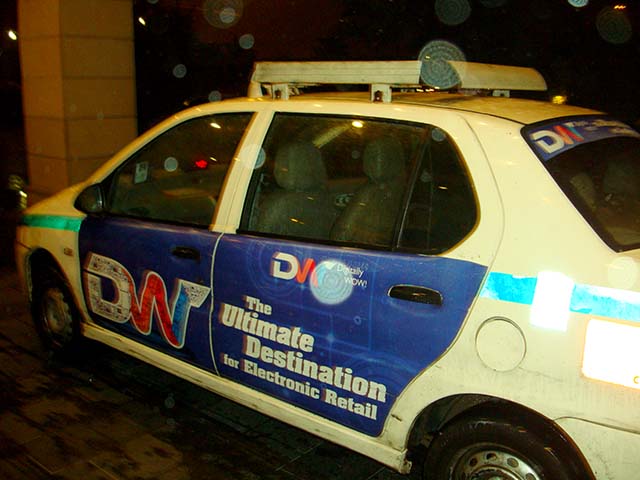 Because we arrived so late Friday night and because there were just two of us, Gate 1 Travel sent a nice young man to meet us at the airport and escort us to our hotel. Here's the taxi we used. Nice enough, and the horn worked very well as we darted from lane to lane through heavy traffic, dodging potholes and major puddles resulting from a heavy rain, unusual for this time of year in Delhi.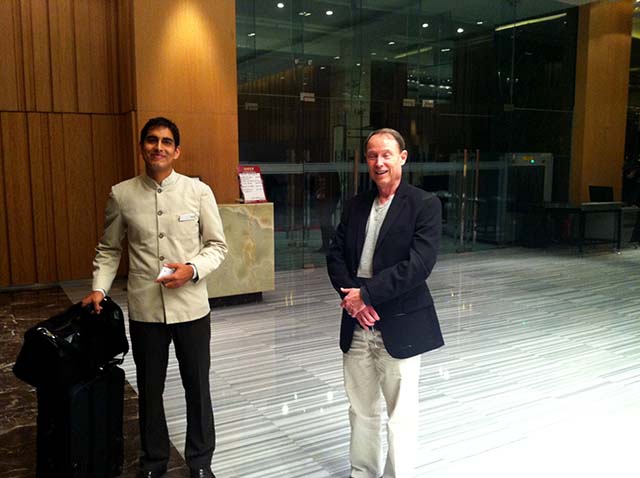 Don wasn't carrying an internet-capable device, so Wendy made me promise to send her a note as soon as we arrived safely in Delhi. So as soon as I logged into WiFi with my iPhone, I sent her this pic of the bellman taking Don to his room.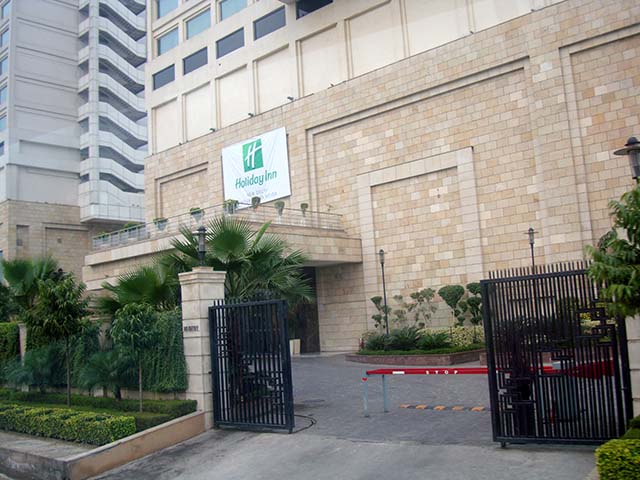 We stayed at the Holiday Inn, which up until a few weeks earlier had been the Hilton. Very nice place, actually. Note the security gate at the entrance. Every one of our hotels had heavy security, which has become de rigueur across India since the Mumbai terrorist attacks in 2008. We didn't go to Mumbai.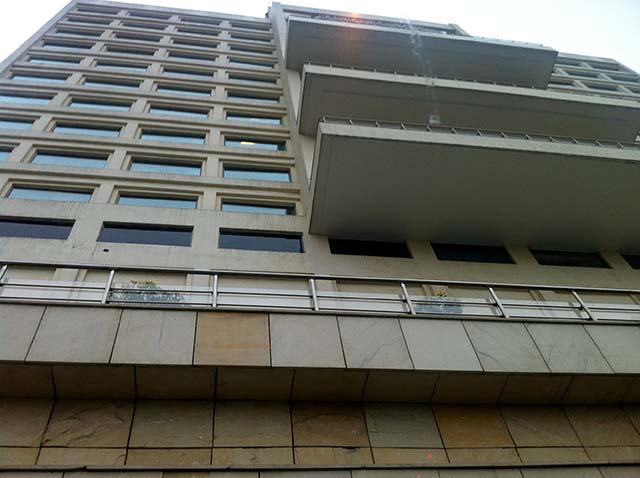 It was a big place.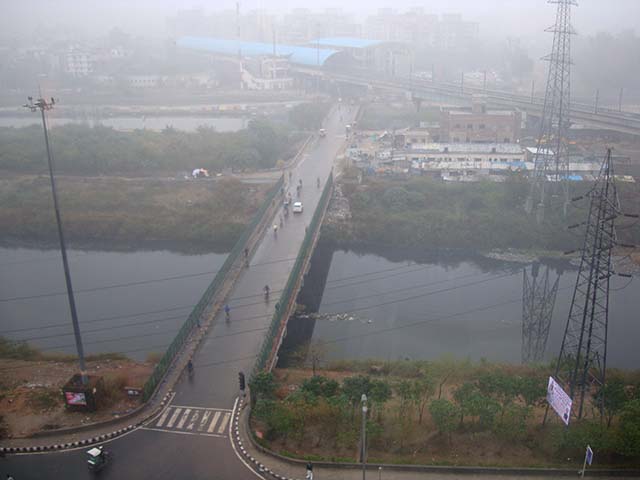 Here's the view from my window on a cool, foggy Saturday morning.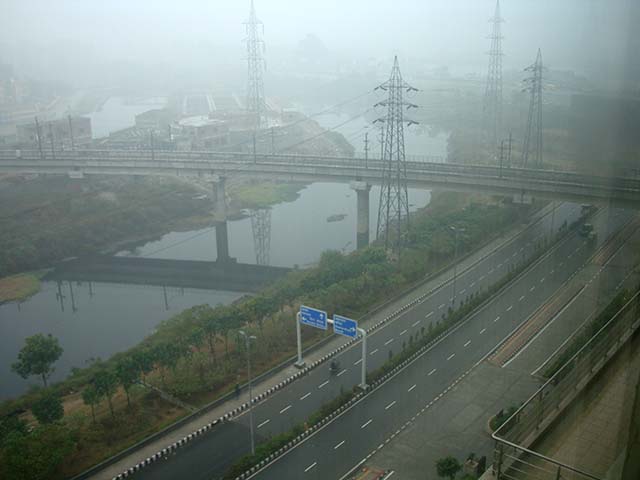 Can you see the cows walking along the riverbank?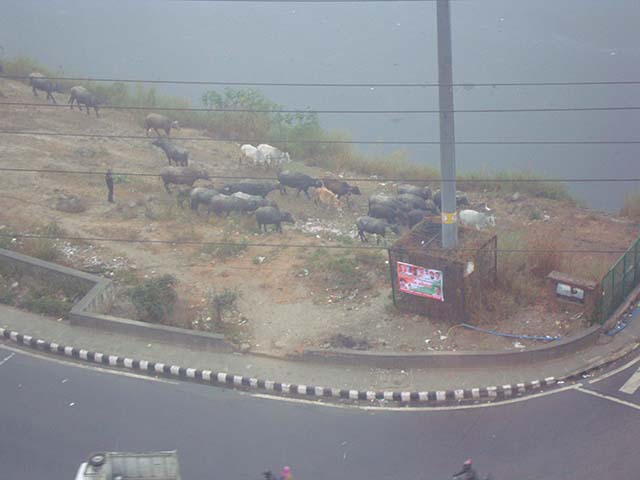 OK, here's a closer look.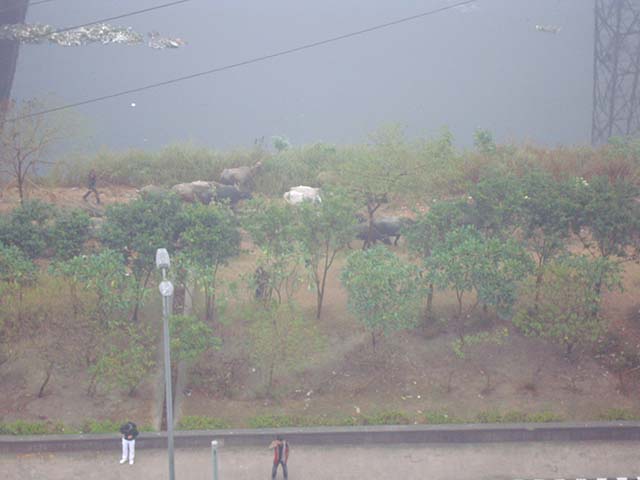 Ride 'em in, head 'em up, move 'em out...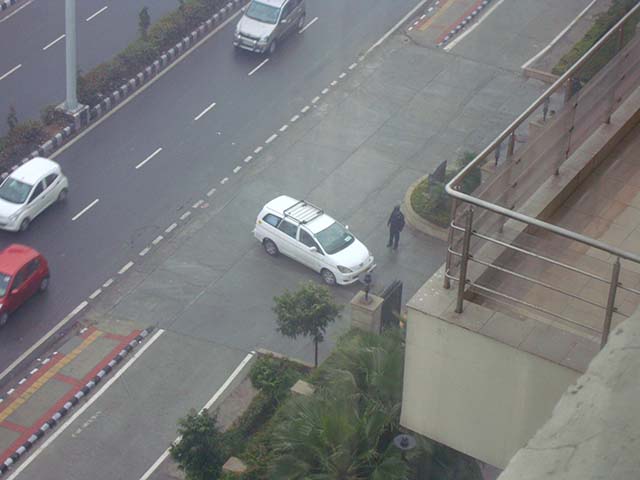 Passing through security at the hotel.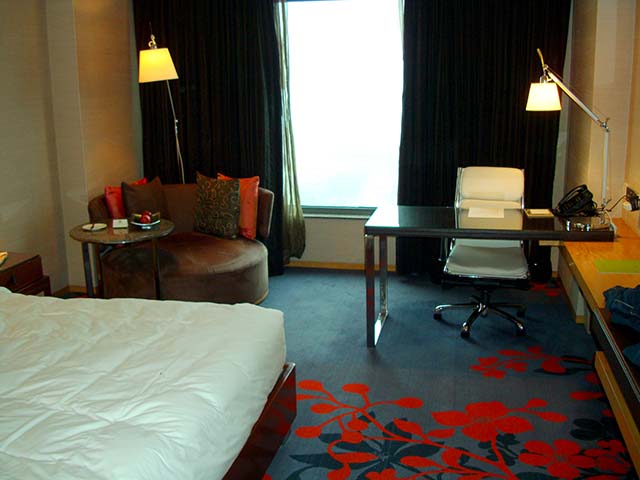 Nice, huh?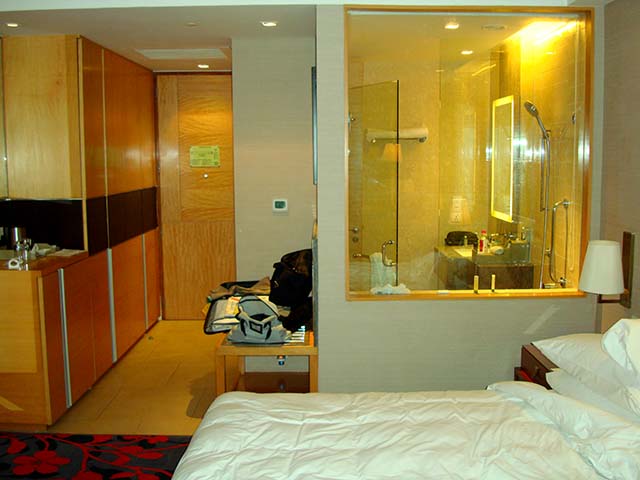 I liked it, but I kinda wondered about that glass bathroom wall that looks right through the shower and over to the toilet. I sure am glad I'm not sharing this room with anybody. I mean, even for married couples this could get downright weird, don't you think?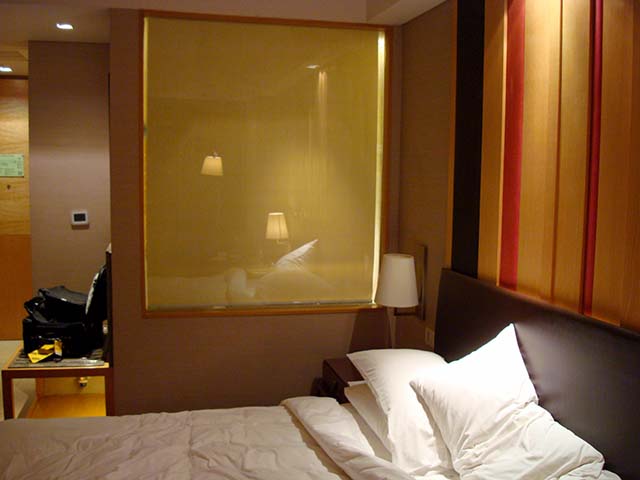 Ah. The morning I left I discovered the cleverly concealed privacy curtain. Now I feel better.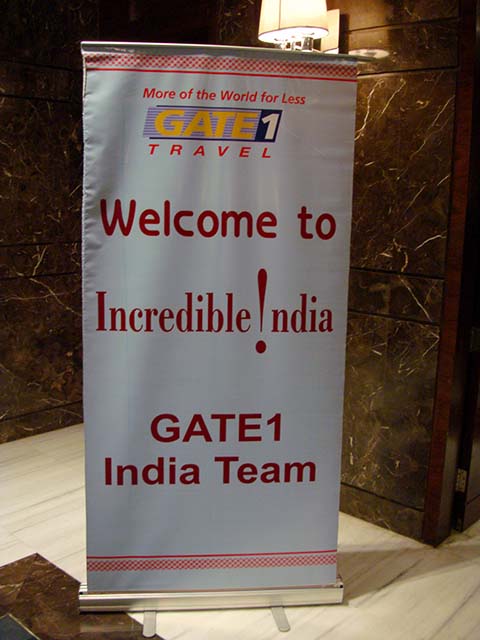 On our second night at the hotel all members of the Gate 1 tour had a group meeting at the hotel next door to the Holiday Inn.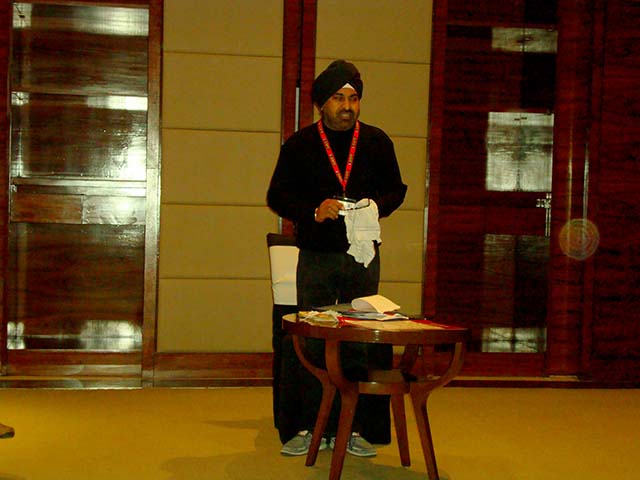 We were greeted by our friendly guide for the entire trip, Davinder Singh.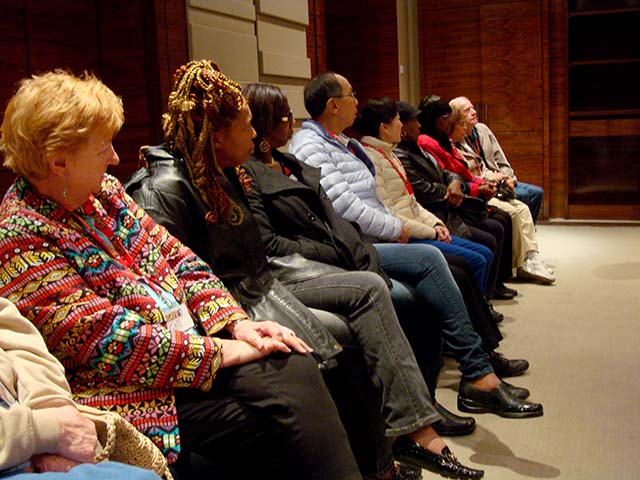 And here we are, hanging onto his every word.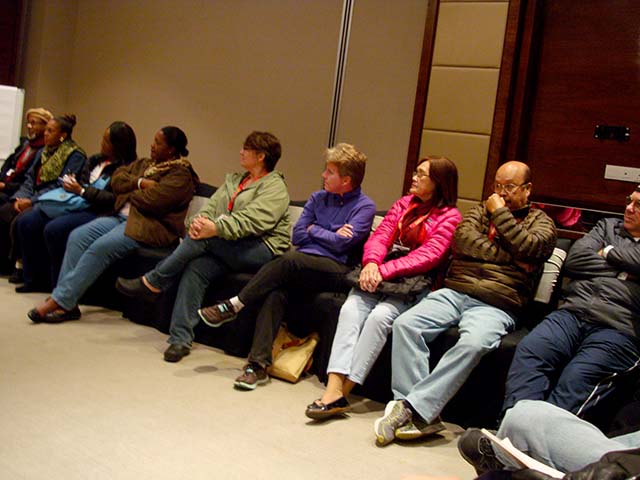 The other side of the room was listening too. Davinder was making this sound like a terrific trip, and he wasn't exaggerating.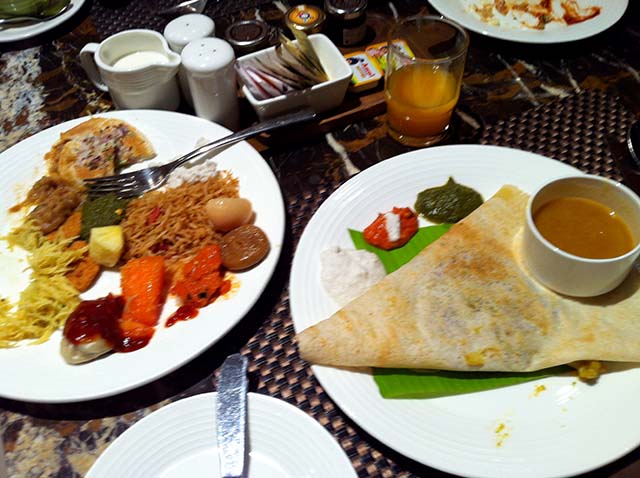 Our meals throughout the trip were quite good -- better than any food I've ever had on bus tours of foreign places, and I've been on a few.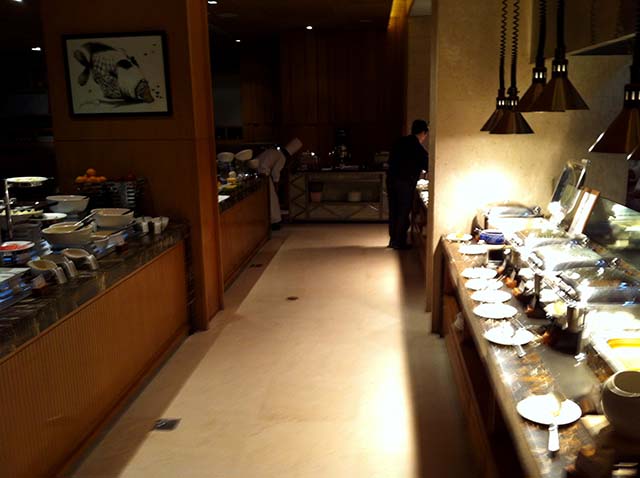 Look at the size of this spread!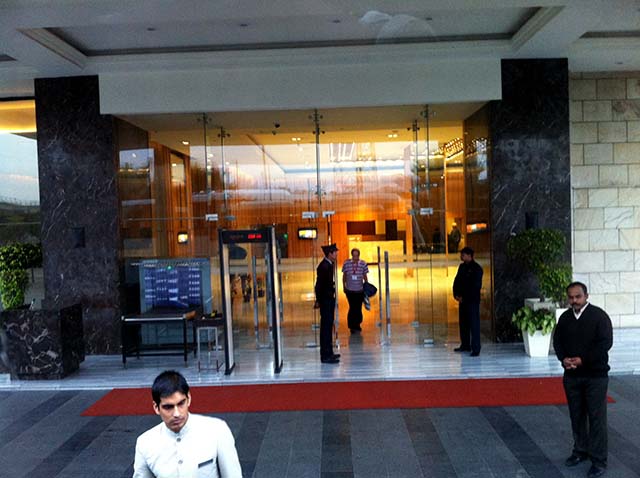 Now let's leave the hotel and see India.