We didnít accomplish everything on our schedule for today, and we couldnít spend a full allotment of time doing the things we did get to do. It all started with a flight delay at the Luxor airport, which made us about an hour and a half late getting into Cairo. And then when we finally did arrive we discovered Putin is in town for a conference and major roads have been closed. So we started the day behind schedule, and never really caught up. We didnít make it to the Cairo Citadel, but Rafik has promised we will work it in tomorrow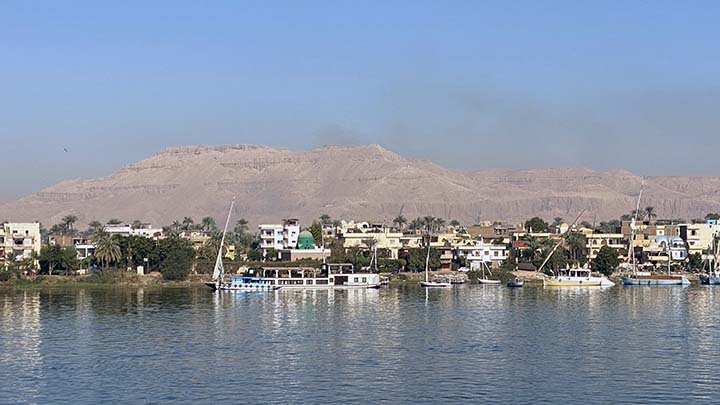 Last view of the Nile from the top deck of our spiffy boat.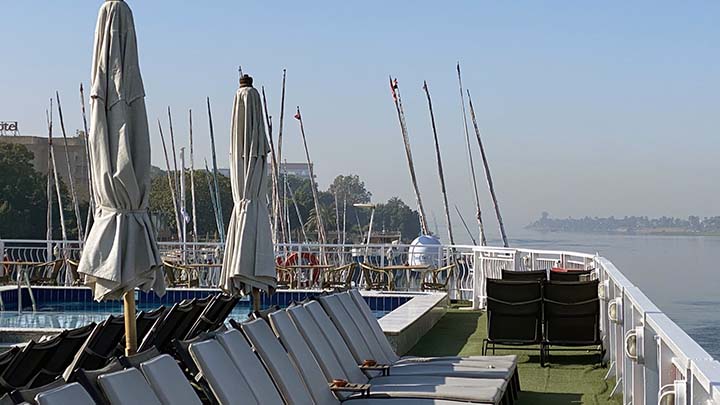 Last view this way from the top deck of our spiffy boat.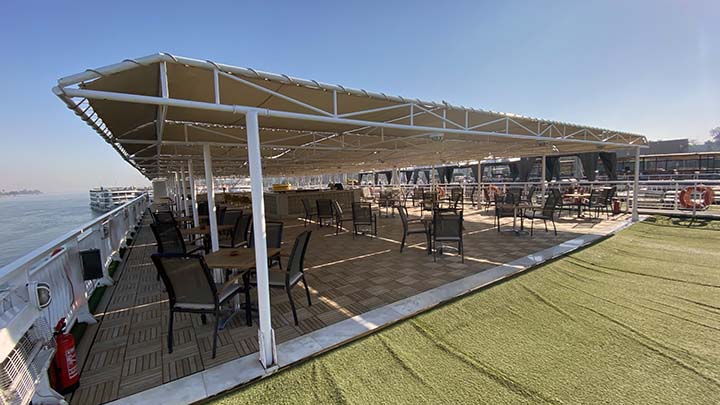 Last view that way from the top deck of our spiffy boat.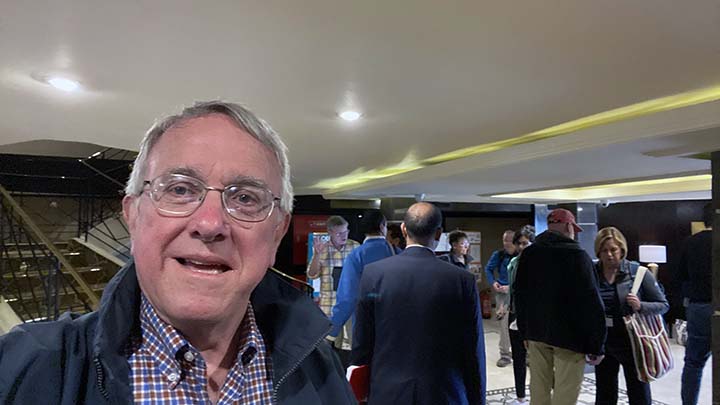 The tourist takes one last look around the spiffy boat.
And now we have arrived at the Luxor airport for our flight to Cairo. The tourist almost created an international incident. Some local cut in front of him in line and he protested and suddenly security descended from everywhere and they fussed at the guy and he fussed back and it was all in Arabic or maybe ancient Egyptian for all the tourist knew. Tempers flared and the tourist tried to look innocent and it all got sorted out pretty much the tourist thought and soon he was off to wait and wait and wait at his gate for the flight to Cairo.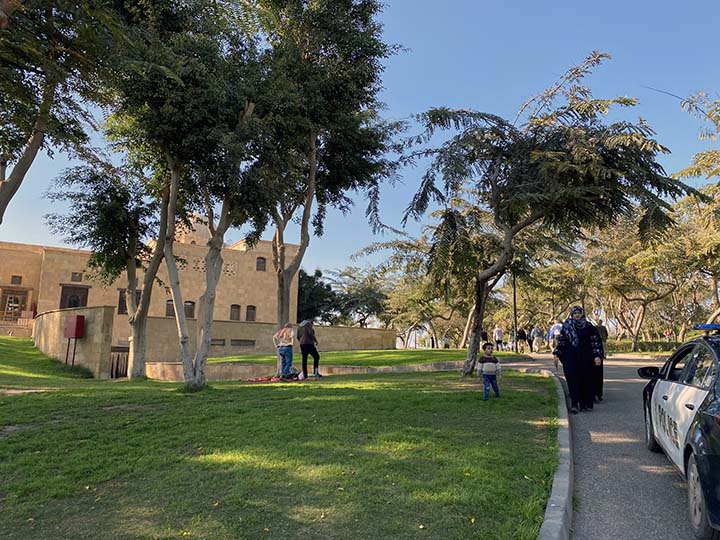 And when we finally arrived at the Cairo airport we waited and waited for Putin to get to wherever he was going and then we got into traffic and waited and waited until finally we arrived at Al Azhar Park, a lovely oasis in the middle of the big dirty city.
It's not at all an old park. It was a gift to the city from Aga Khan IV in 1984, prompted by the view from his hotel window which was nothing more than mounds of garbage, wreckage and ruins amassed over 500 years. It's an interesting story and you can read all about it here: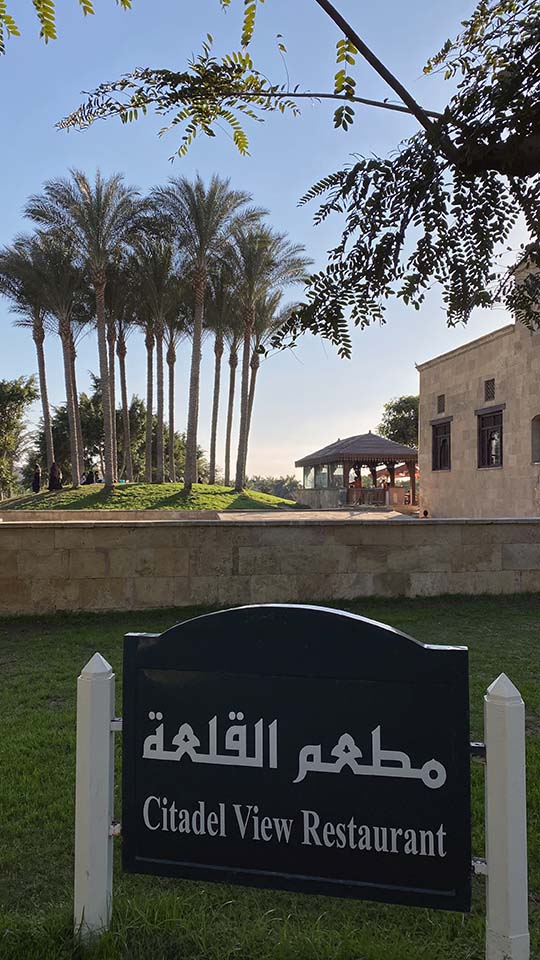 And now it's about 3:00 PM and we are about to have a very late lunch in the Citadel View Restaurant.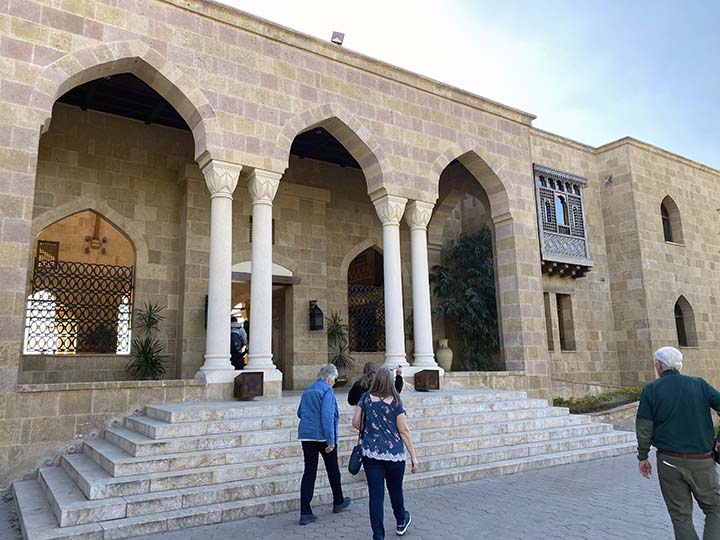 It gets mixed reviews, but the Road Scholars really did enjoy their meal.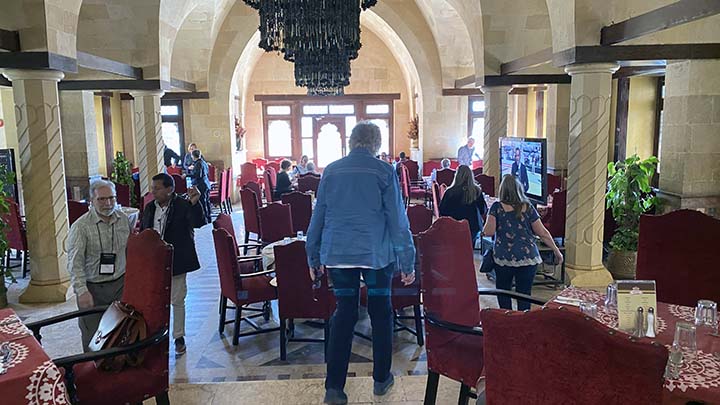 It's a beautiful place.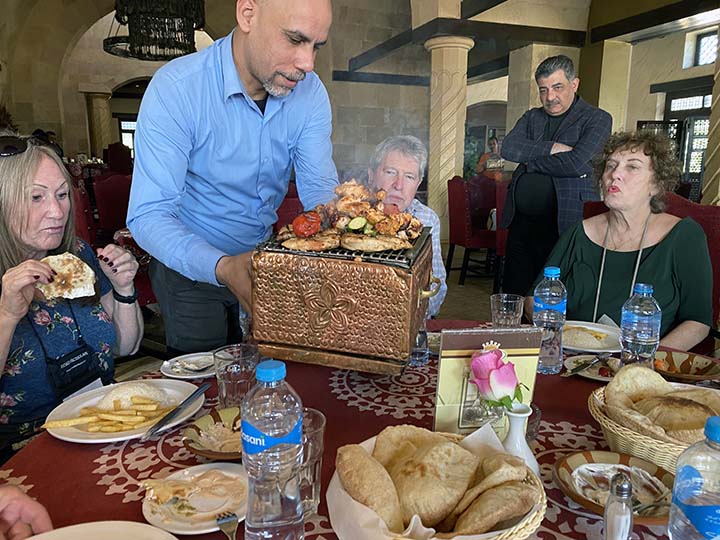 He is serving us a big pile of skewered chicken and lamb and vegetables on a table top grill filled with hot charcoal.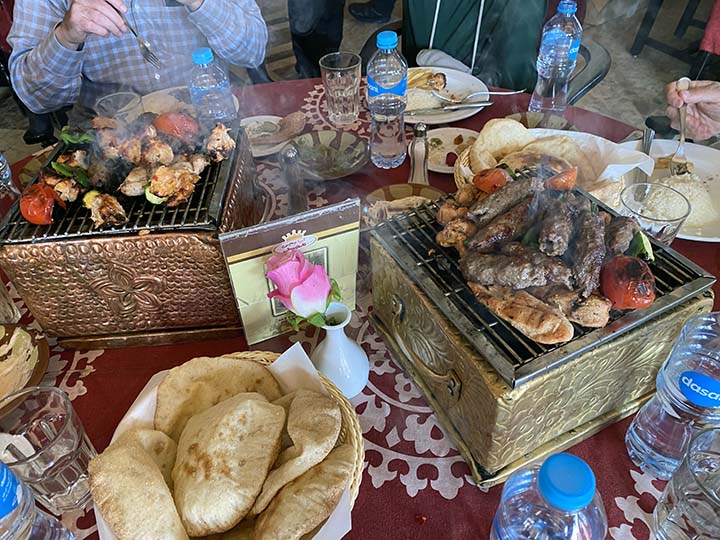 Delish.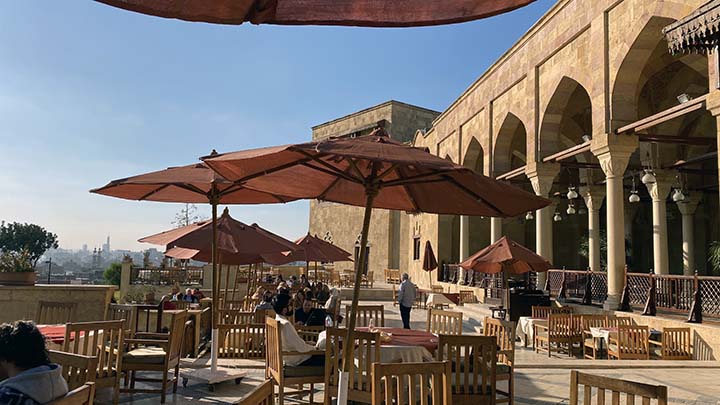 The outdoor dining area is lovely.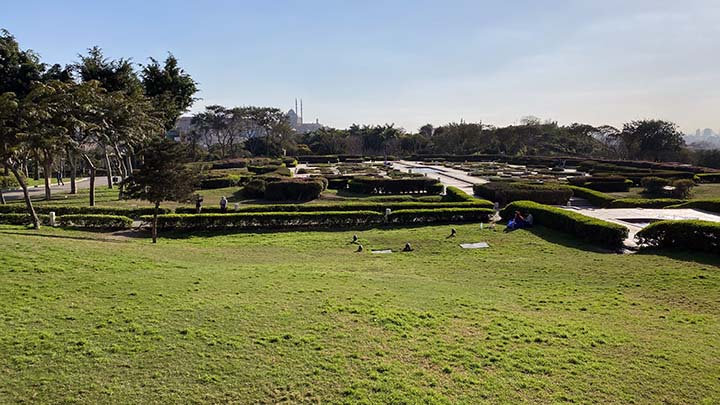 So are the grounds.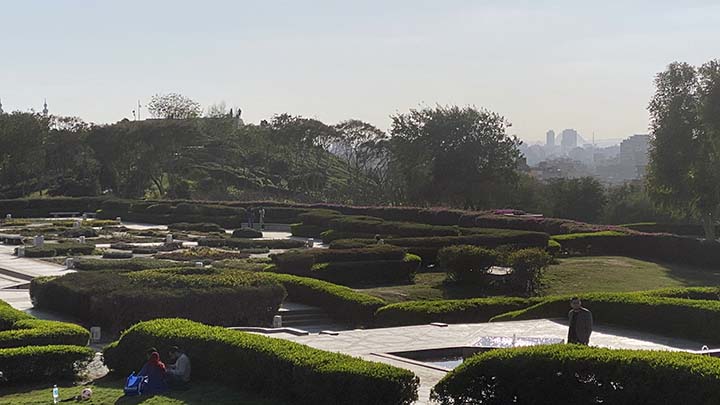 I mean, when the Aga Khan gives a dump a makeover he does it up right.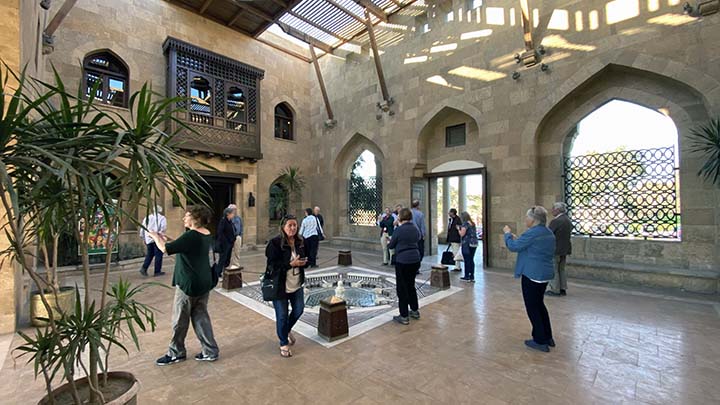 Time to take a few pictures before we leave.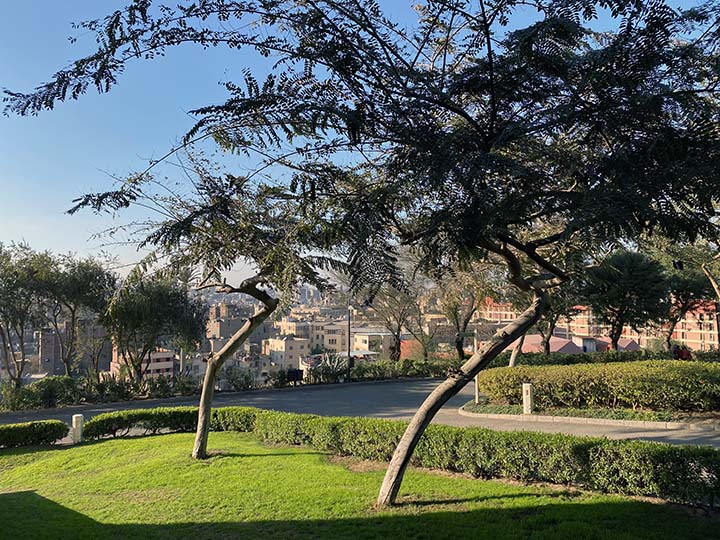 The wind blowed 'em over and they growed that way. (It's an old family joke; don't ask.)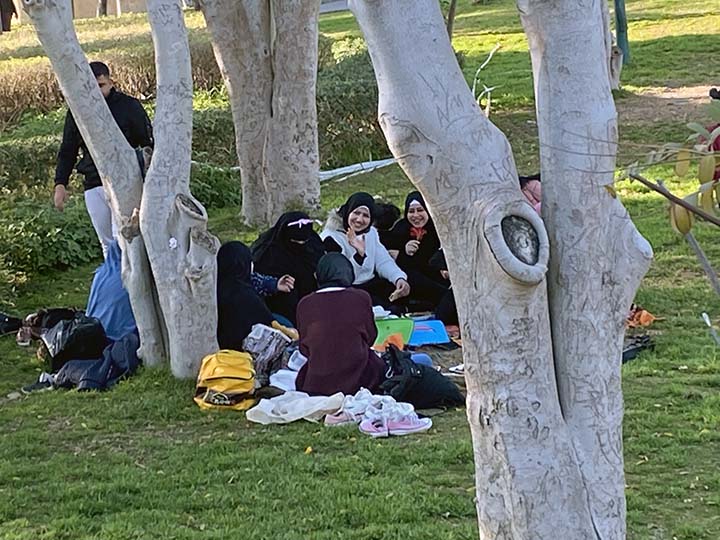 The grounds of the city park were filled with family groups picnicking and laughing and having a wonderful time on a beautiful day. That's exactly what city parks are for.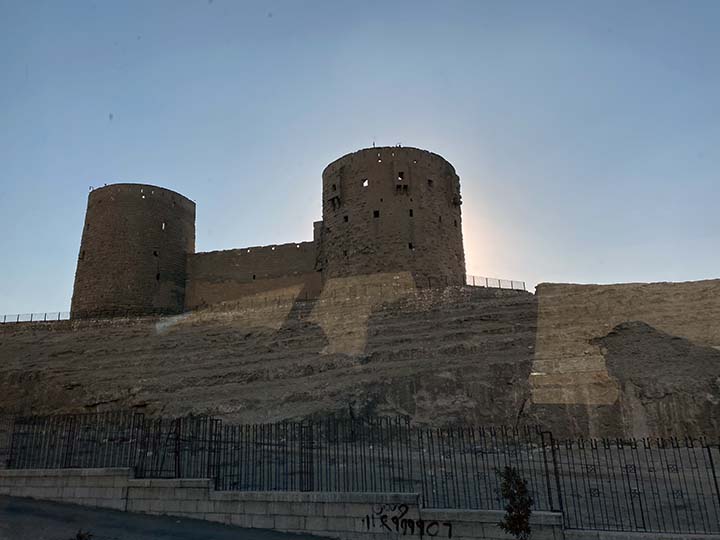 And speaking of a Citadel view, there it is. It's so late in the afternoon we don't have time to tour it today, so we'll walk through Old Cairo instead. Tomorrow morning we'll visit the Citadel.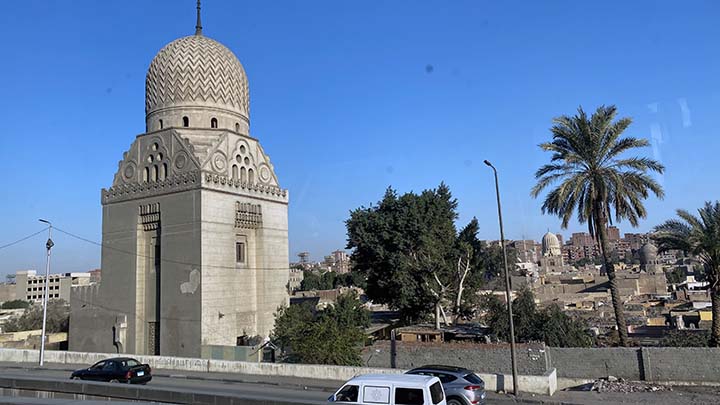 There are interesting sights in Cairo.
And crowded streets where it's hard to park a bus.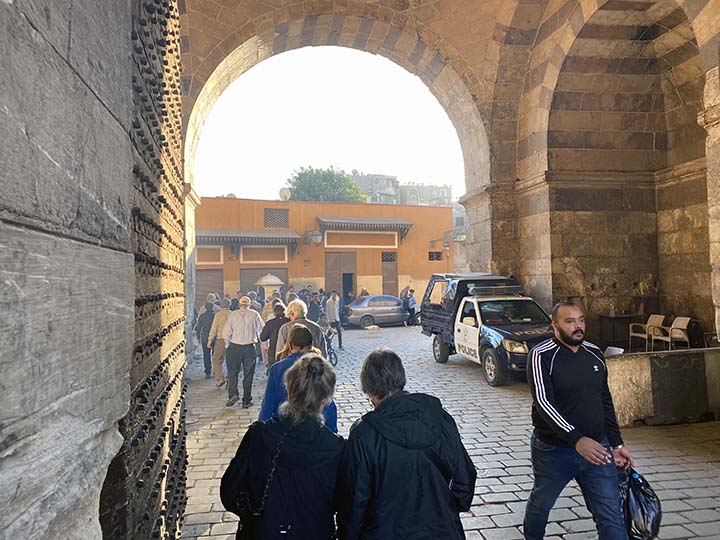 The Road Scholars are off on another adventure.
And this time there are more trinkets. But no time to shop! Too bad, because the tourist wanted to take one of those big brass thingys home with him. In the overhead, maybe.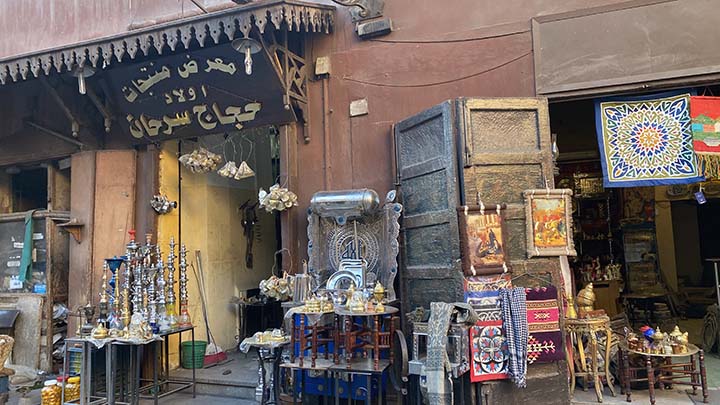 Trinkets, trinkets.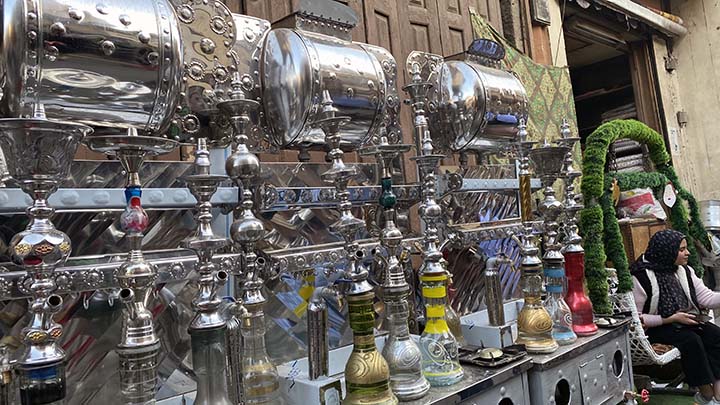 Cairo's got trinkets.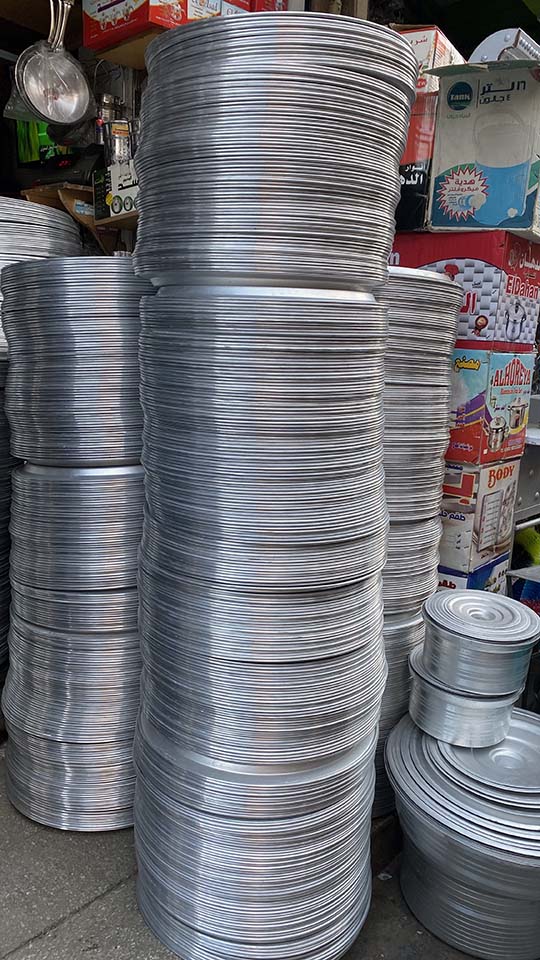 And aluminum plates. Need an aluminum plate? Go to Cairo.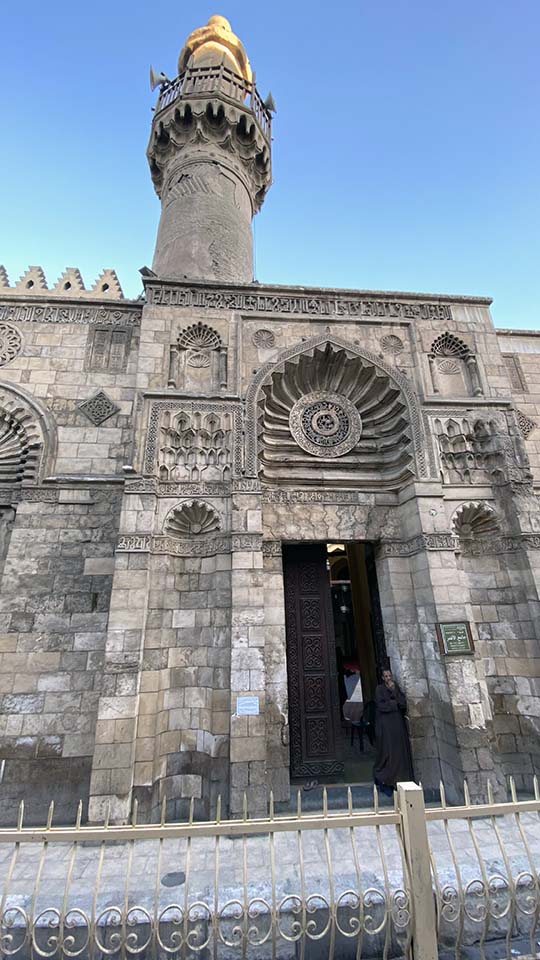 There's a mosque.
There's corn on the cob.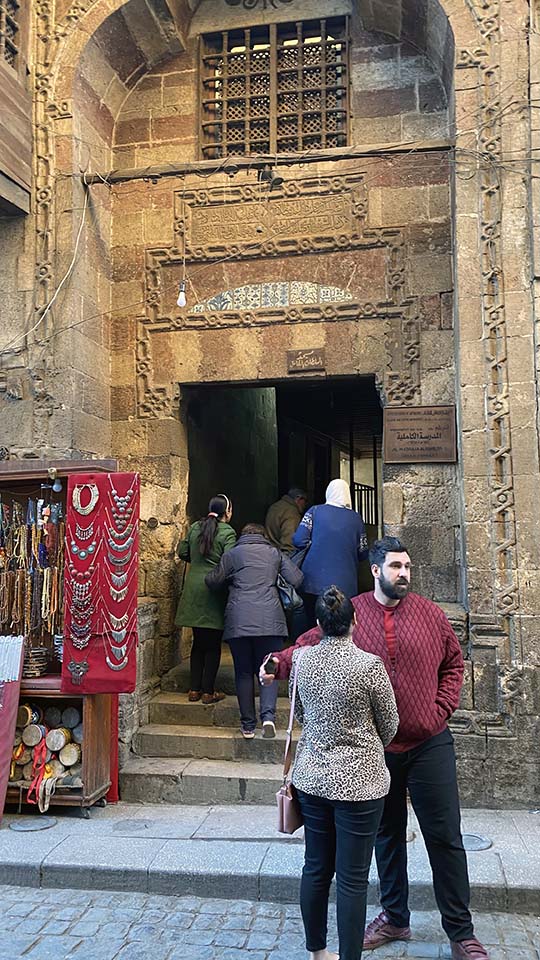 And there's...something...in there.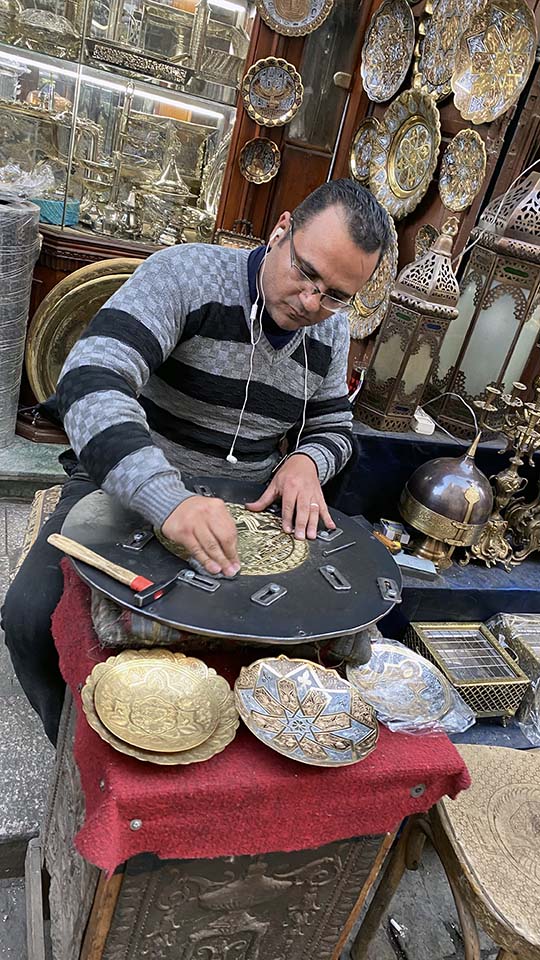 Ah, a man making trinkets.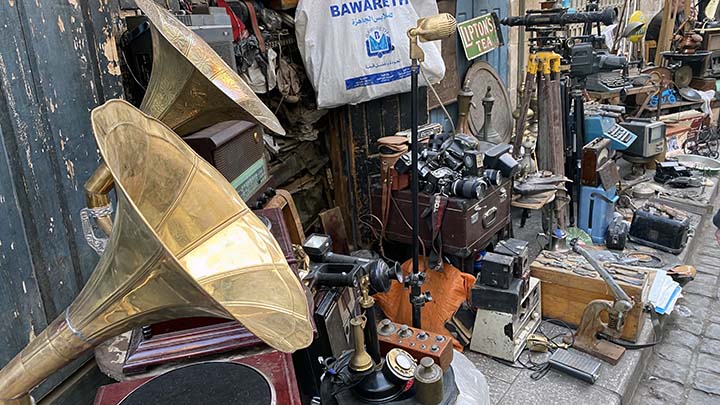 These are antique trinkets.
Just any old trinket for sale that you can imagine.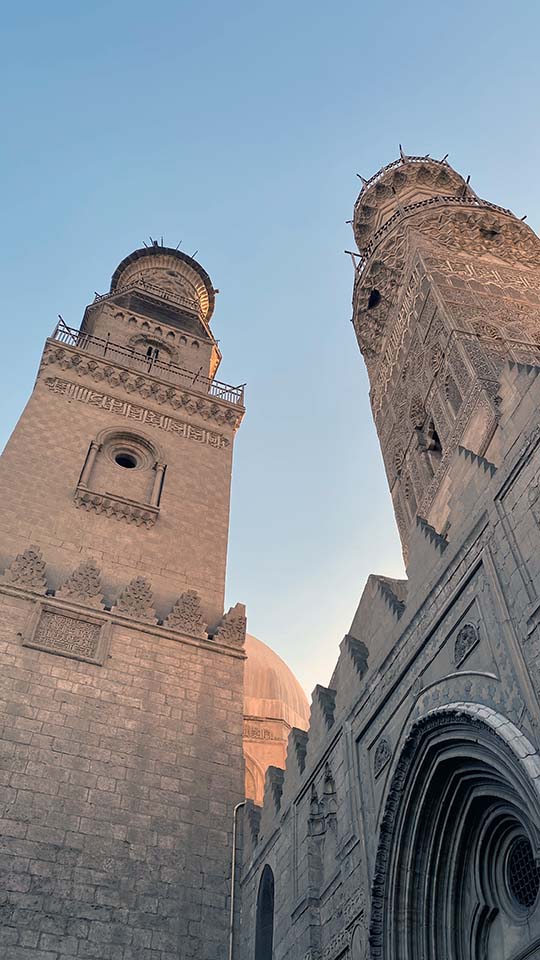 Lovely architecture.
At a time of day when the light is lovely too.
Rafik explains it all.
Sights and sounds on the streets of Old Cairo. Try not to get run over.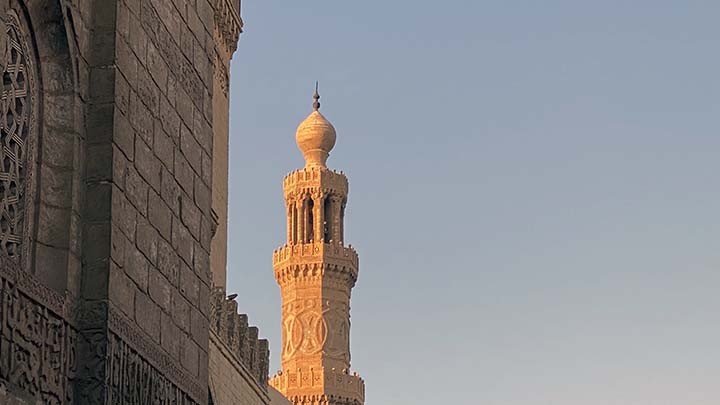 Oooh, pretty.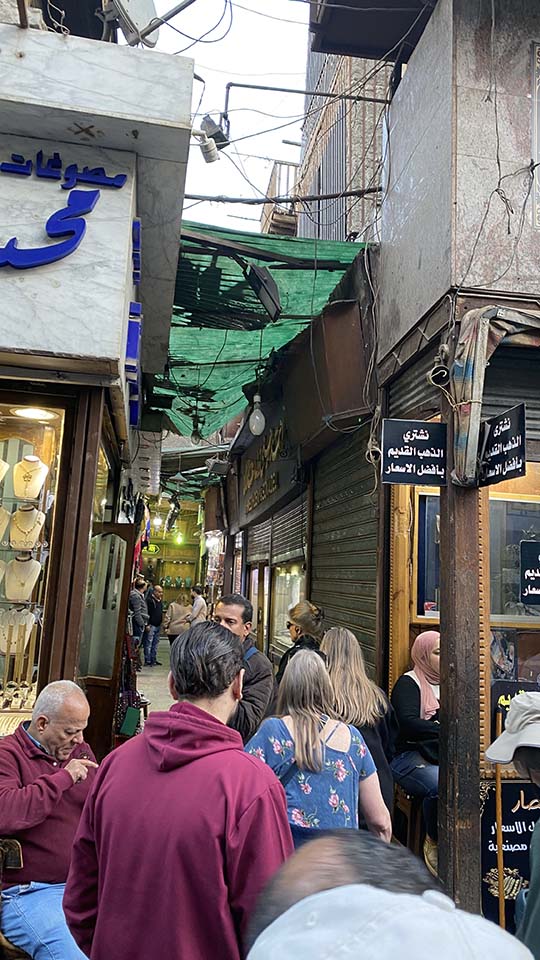 And crowded.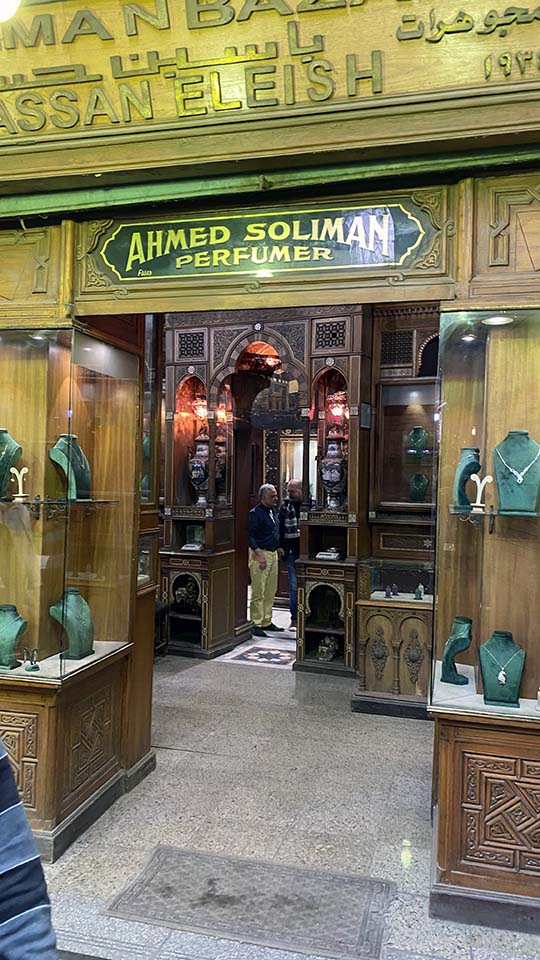 Some of it even smelled good.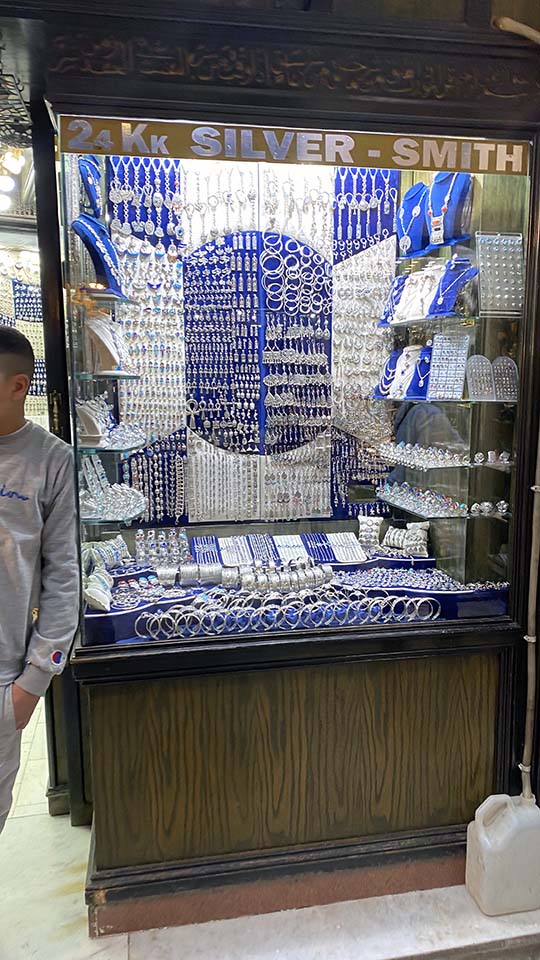 Silver trinkets.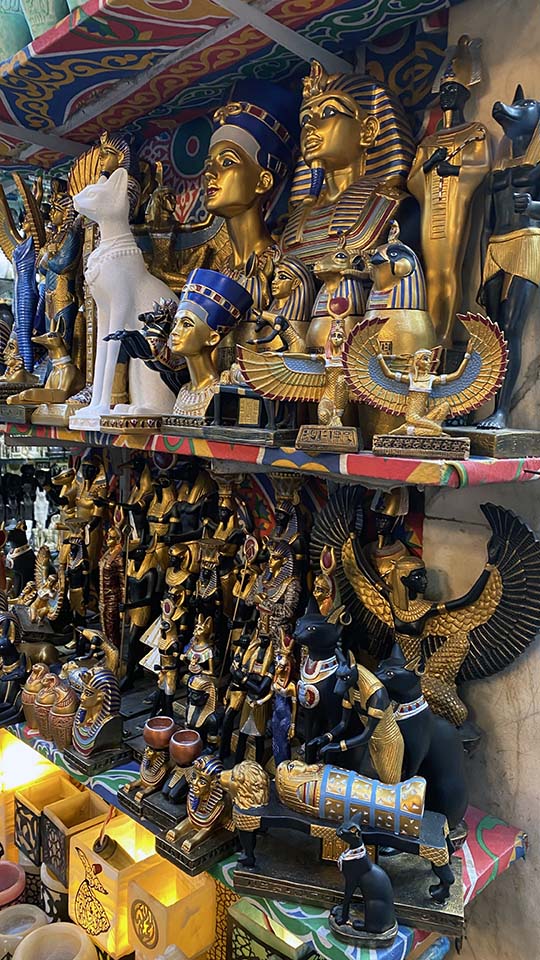 Golden-ish trinkets.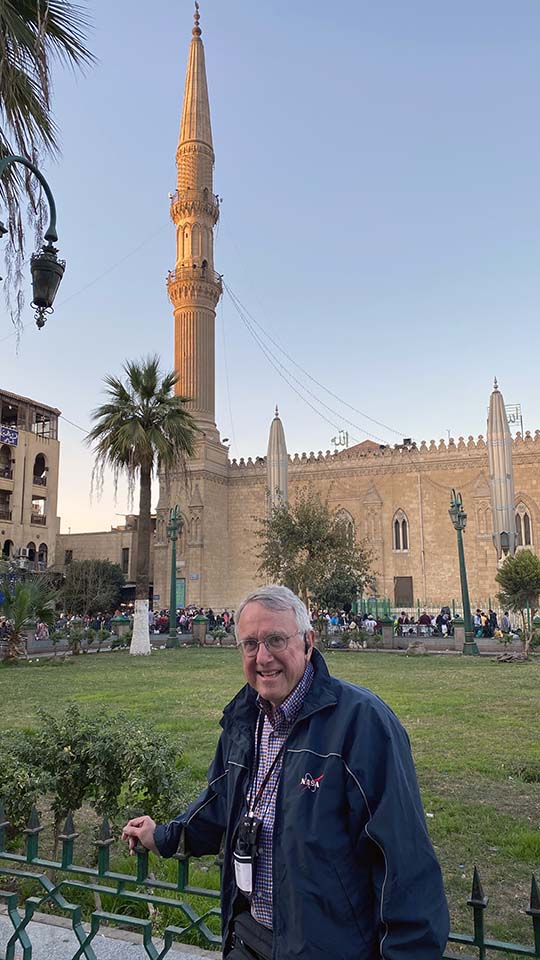 The tourist loves this kind of thing -- wandering in a strange city, seeing strange sights, smelling strange smells, hearing strange music.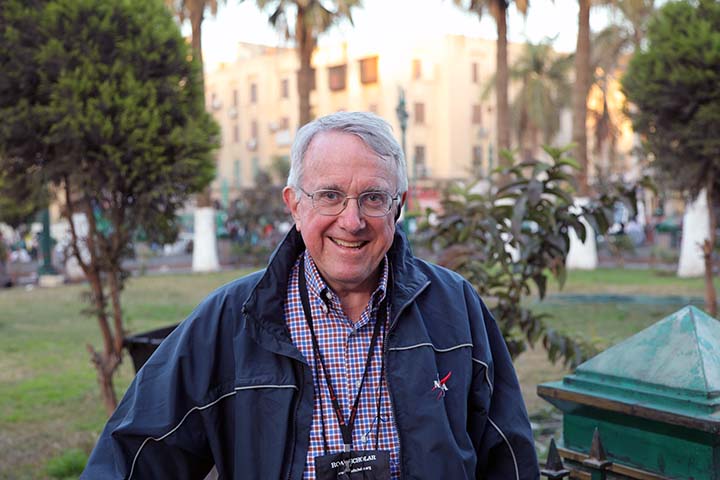 Well after some delays, he certainly got what he wanted today. Looks happy, doesn't he? Well he was.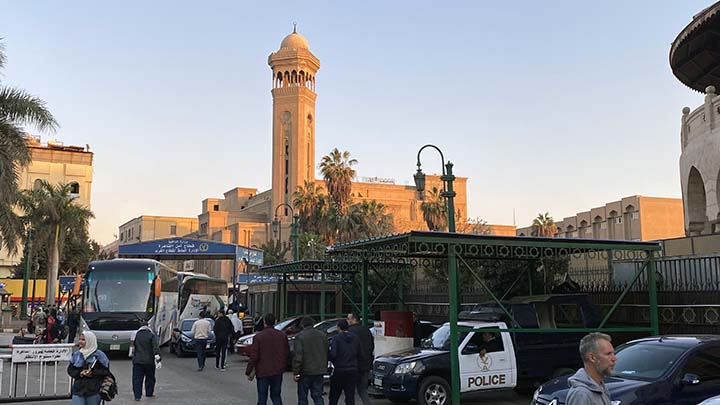 Back on the bus.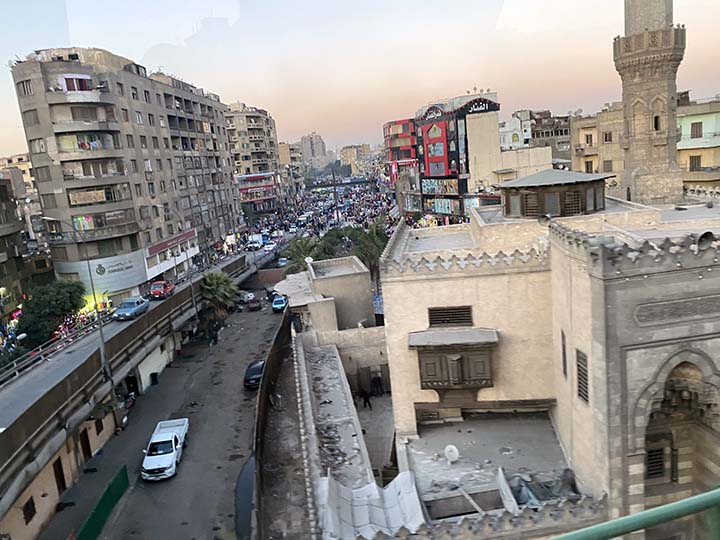 Driving through Cairo.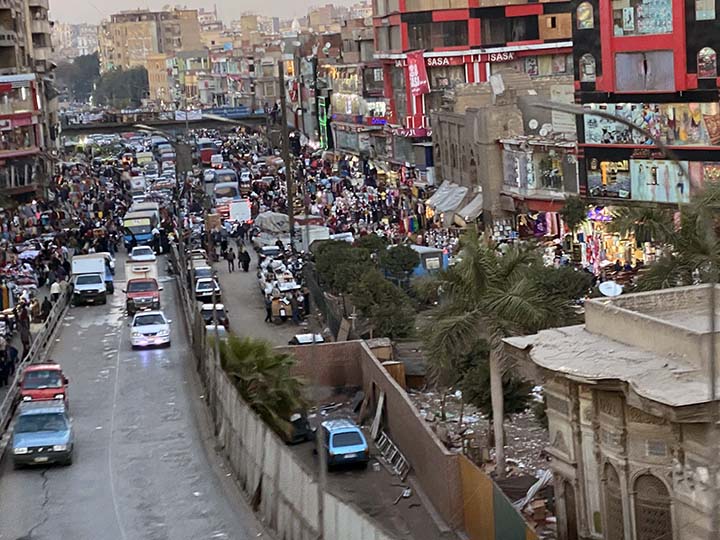 This is not a beautiful city.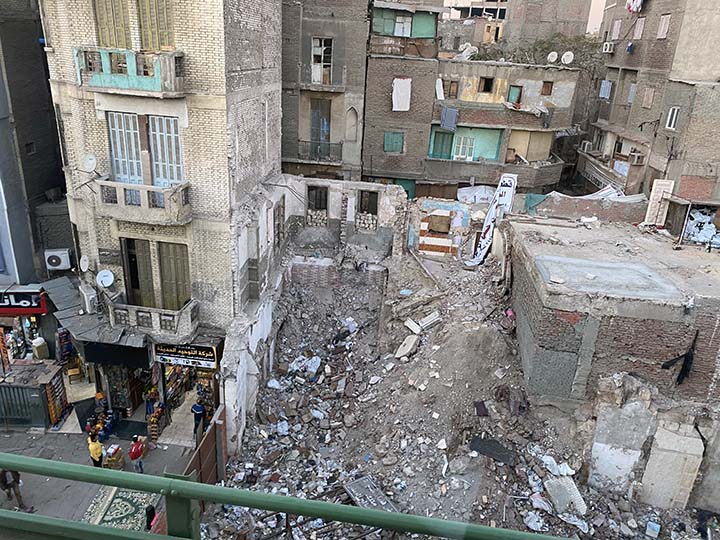 No offense, Rafik, but Cairo is a big mess.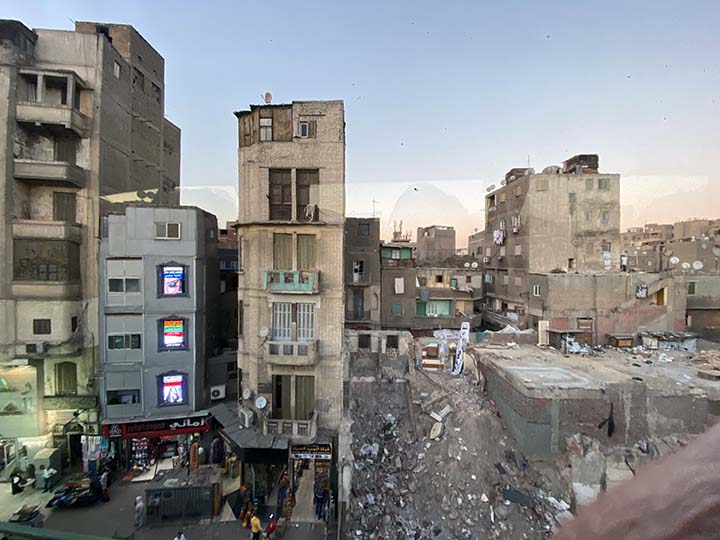 If I never come here again that will be fine with me.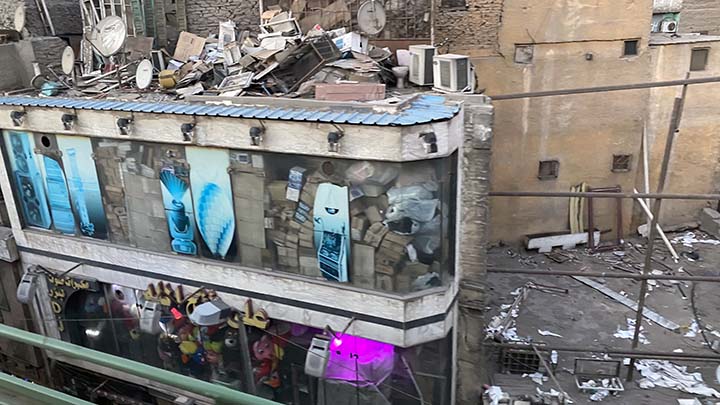 I mean, sure, I'm glad I'm having this experience.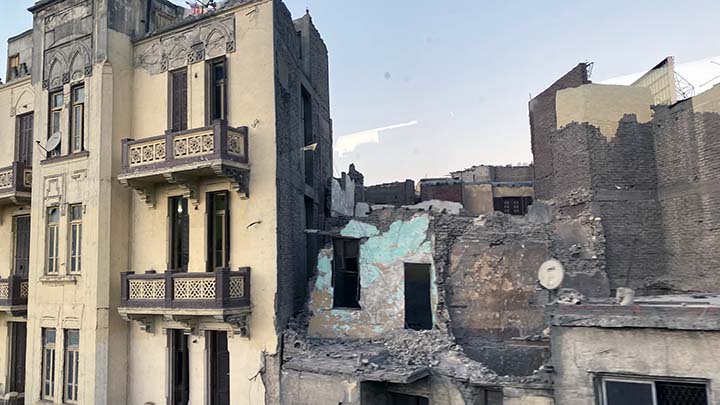 But just look....
Sprawling, messy, crowded...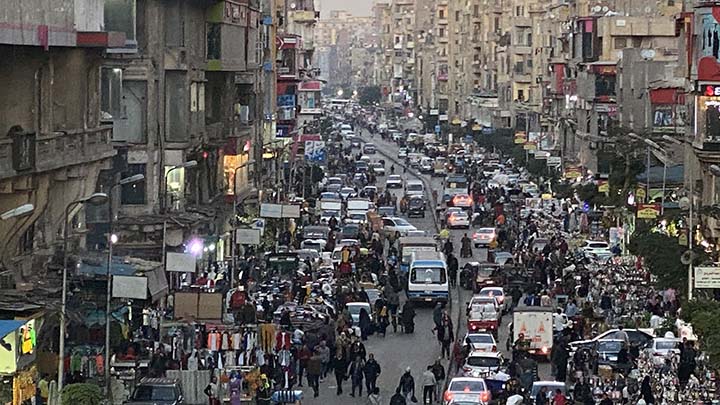 Did I mention crowded?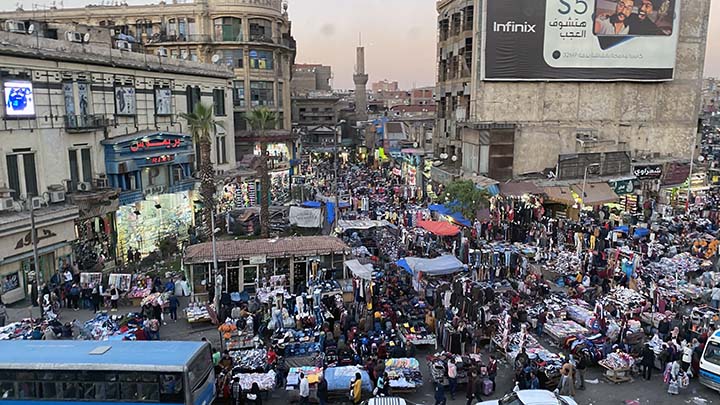 How does anybody get from over here to over there in this city?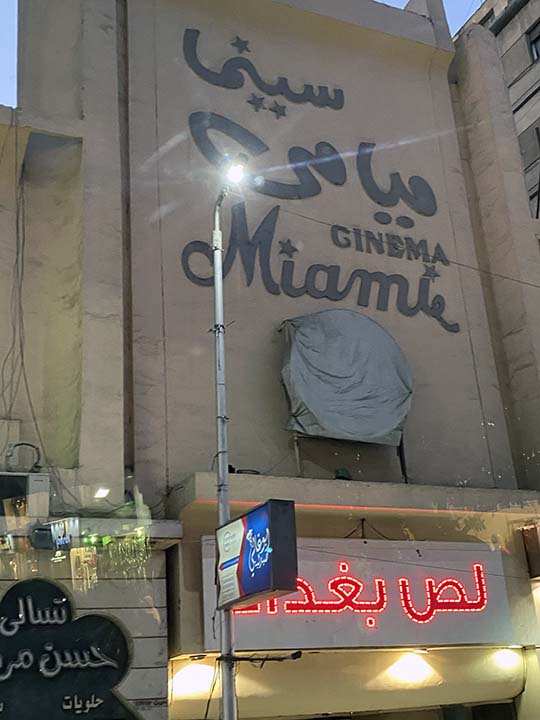 Look! We have an exotic, foreign-sounding Grauman's Egyptian Theater in LA, and they have an exotic, foreign-sounding Miami theater in Cairo.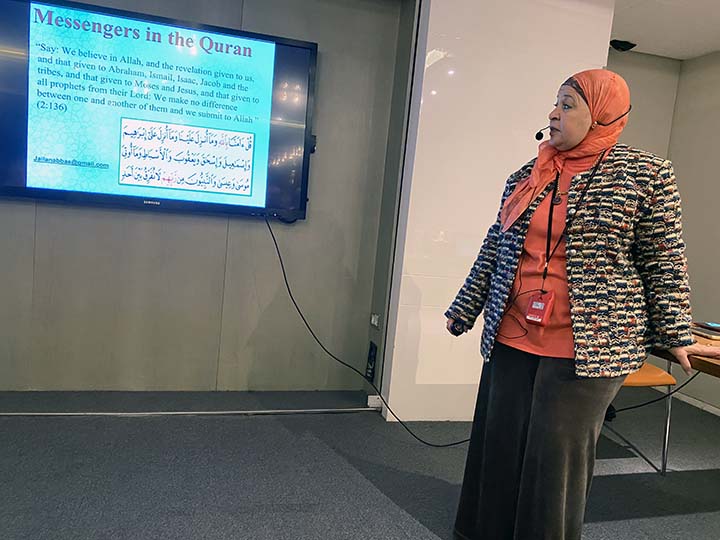 Our speaker this evening was Dr. Jailan Abbas, Education consultant, lecturer and author. Her subject was Islam and she made a very interesting presentation.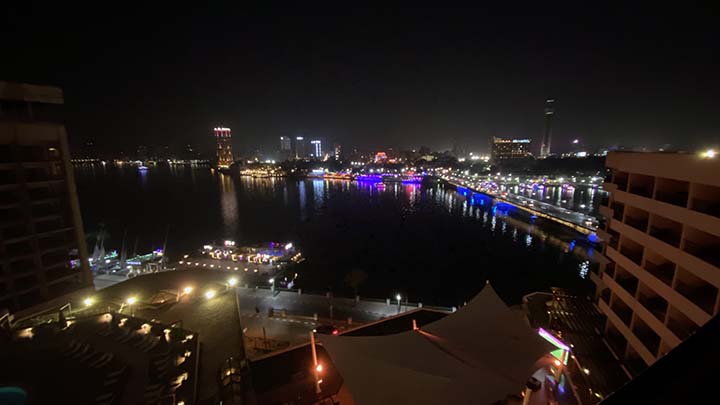 Hereís the view from my balcony at the hotel. Thatís the Nile. People who have rooms on the other side of the hotel can see Tahir Square.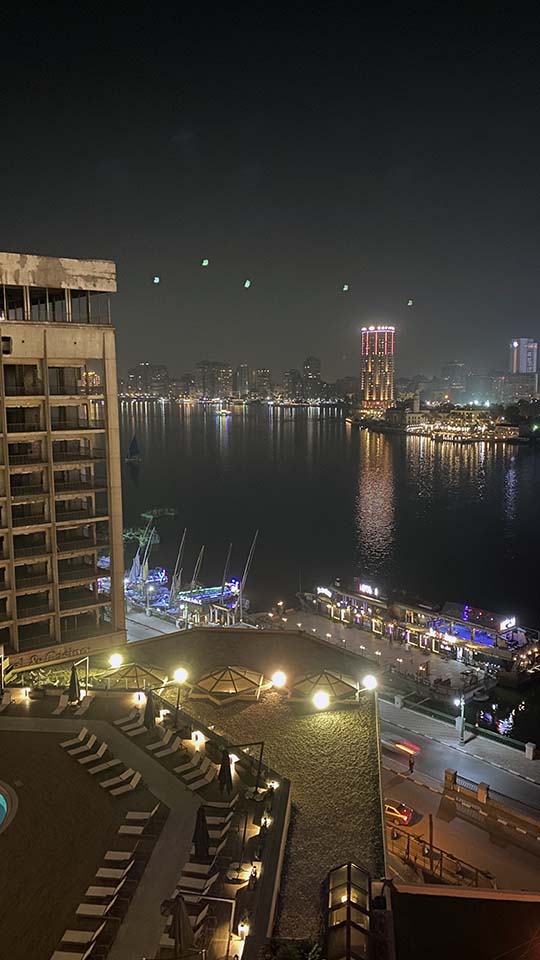 Good night, Cairo.