I always like to do something special on my decade birthdays. Well, on the 10th I only pinned the tail on the donkey, and on the 20th I was merely taking finals, I think. But on the 30th I was in Ft. Lauderdale, and on the 40th I was in London, and on the 50th I rented an apartment in DC (I was living in Alabama at the time) and invited friends to visit all week.
And now the 60th.
On Friday morning, May 11, 2007, at 10:00 a.m., I left Union Station in DC with two good friends, Peg and Patty, and we rode the Acela Express to New York City. We went straight to our hotel, the Waldorf Astoria, where a nice receptionist, upon learning it was my birthday, upgraded me to a suite with a big living room and a fireplace and a big bedroom and a walk-in closet and, well, it was pretty much what you'd expect at the Waldorf.
My sister Cindy joined us a little while after we arrived, and we took a cab to the Metropolitan Museum of Art and toured the new Louis Comfort Tiffany exhibit. (Some of his stuff looks like it belongs in a horror movie, but most of it is just beautiful.)
Then we went back to the hotel and dressed for the opera. We saw The Barber of Seville at the Met, (it was mostly wonderful and very funny, though I wish it had ended about 30 minutes before it did), and then we returned to the hotel where we were joined by friends Greg and Tammy from Alabama and finished the day in the suite with two bottles of Dom Perignon Champagne and some wonderful chocolates and cakes we'd bought at some specialty shops.
On Saturday morning we went to Dean and DeLuca and Zabar's and stocked up on cheeses and breads and olives and prosciutto and pastrami and oh, just a wide assortment of really good things to eat, and took them back to the suite and had a feast.
Then we took cabs to see a matinee of The Lion King which was beautiful to look at but really more suited to kiddies, I think.
Then we went back to the hotel and changed for dinner at Fleur de Sel, a nice little French restaurant recommended to me personally by the editor of the New York Times website food section. It was a great dinner, though a bit pricey. Frog legs and snails and soft-shell crabs and venison and squab and on and on and on for eight courses. Yum.
Then back to the hotel for a bit more Champagne before crashing.
The next morning we took the the leftovers to Central Park and had a picnic by a duck pond and then headed back to DC on the Acela. It was all just fantastic.
Now I have ten years to plan for the 70th.
Peg and Patty riding backwards on the Acela to New York.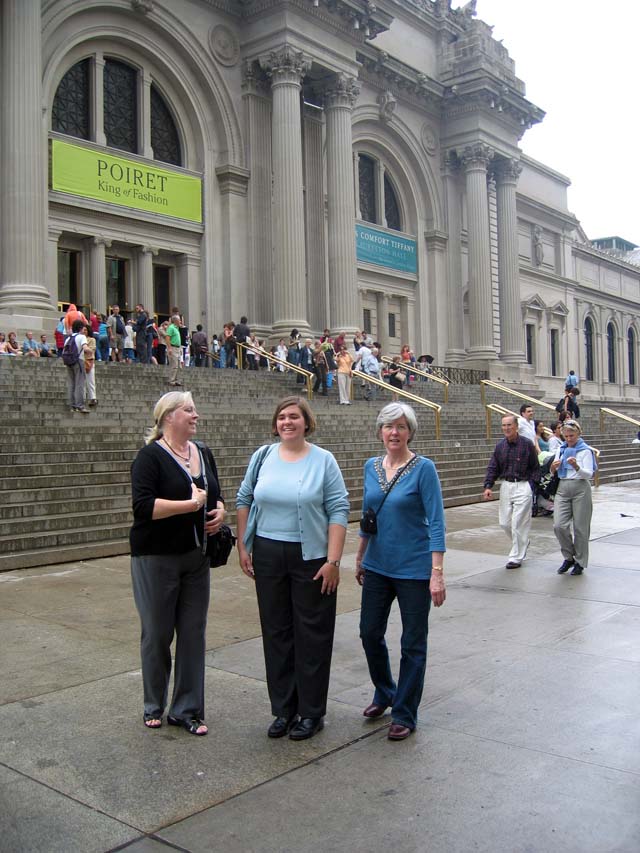 Peg and Patty and Cindy at the Metropolitan Museum of Art.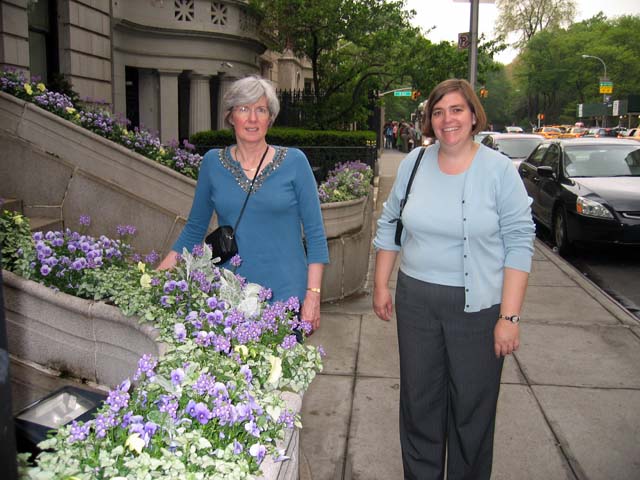 Cindy and Patty and some pretty flowers.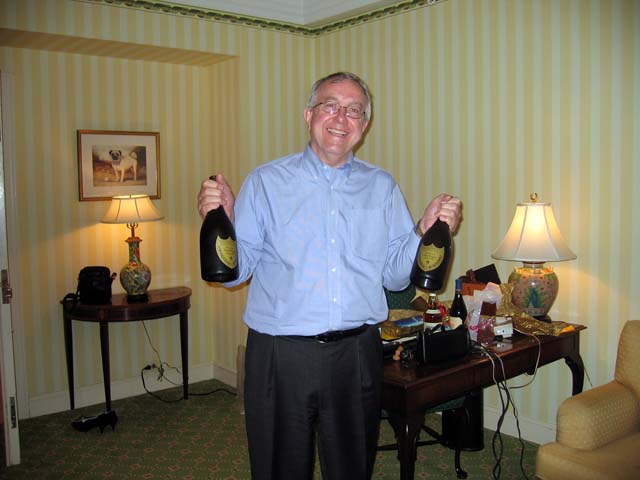 Well, there were six of us, so two bottles seemed appropriate.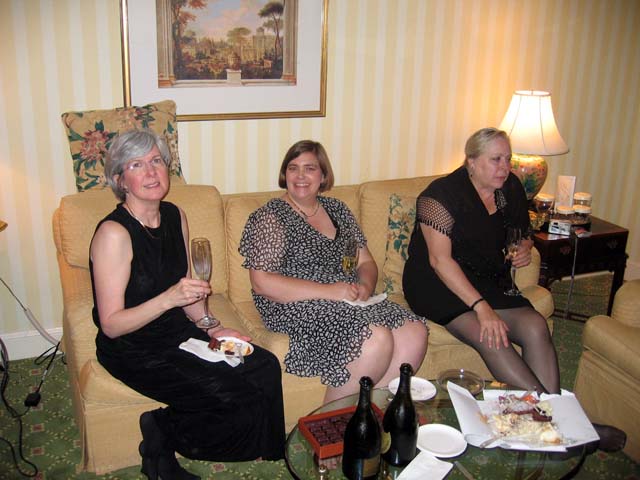 Dom Perignon and fancy cakes and chocolates. Mmmm. Perk up, there, Peg.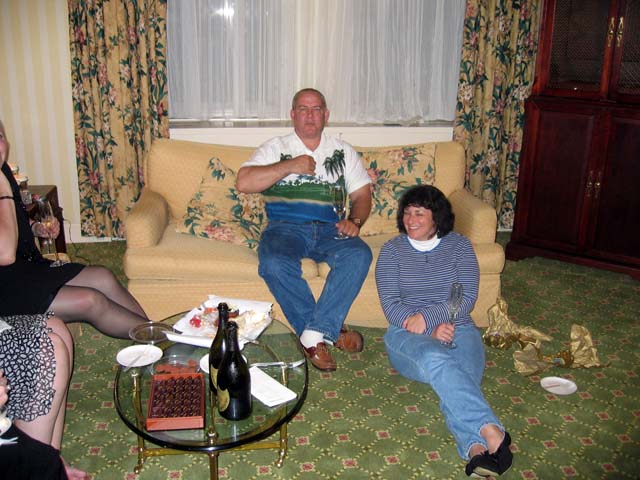 Greg and Tammy were glad we invited Dom Perignon.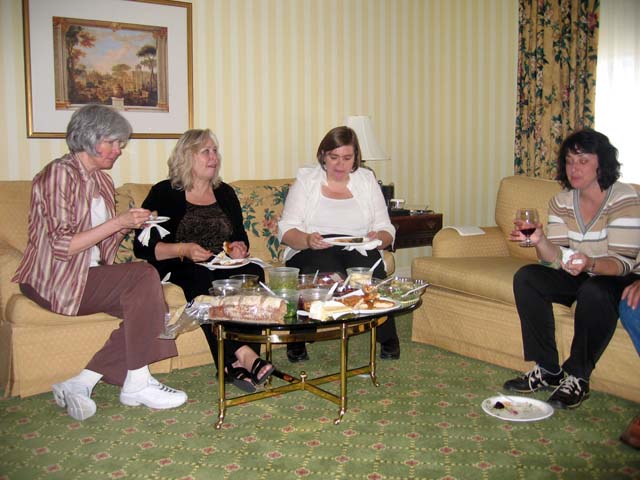 Mmmm, just back from Zabar's and chowing down.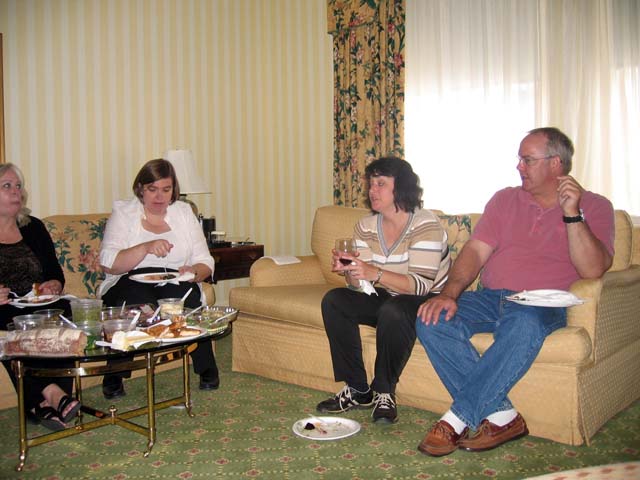 Tammy warned me that she wanted to approve all these pictures before I put them online.
I don't know what her problem is. She always looks good in any picture.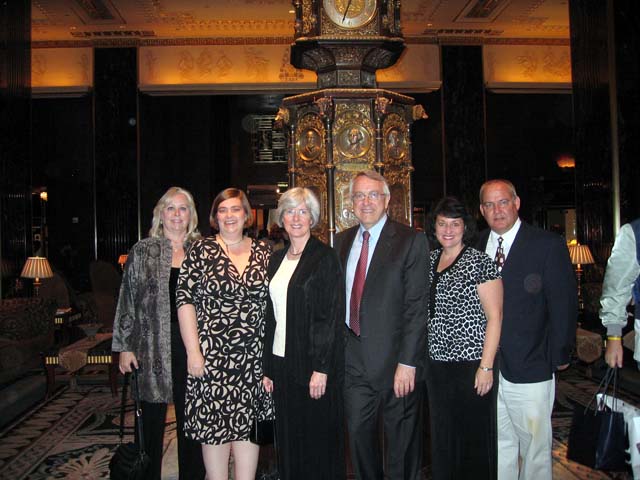 On our way to a fancy French restaurant. Don't we look good?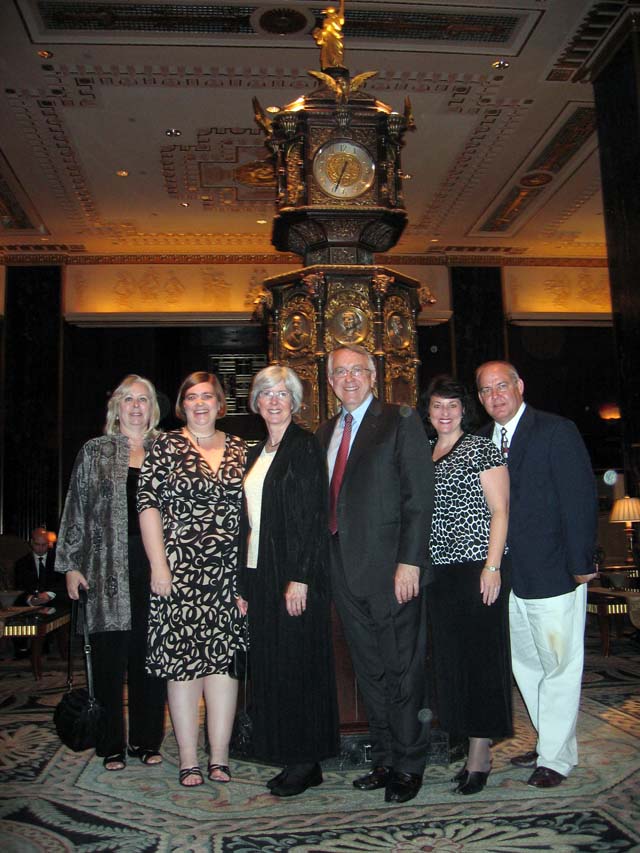 The fancy clock is the centerpiece of the Waldorf Astoria's lobby.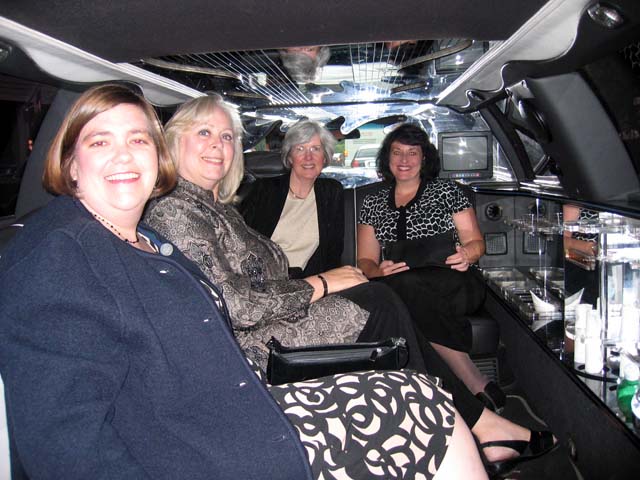 We took a limo to the restaurant.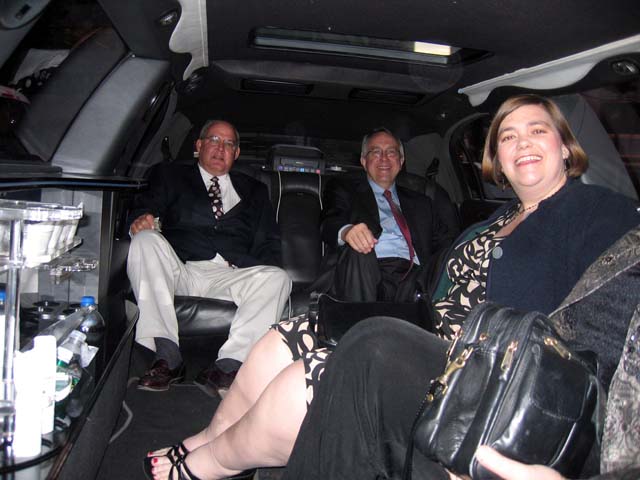 Definitely traveling in style.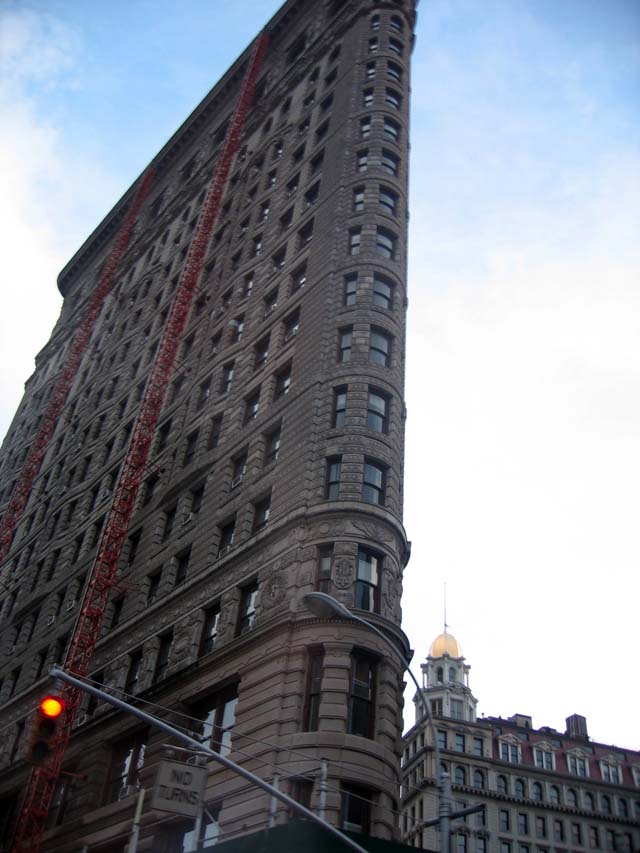 Greg had mentioned the Flatiron Building earlier in the day, and as we were headed
for the restaurant I looked out of the limo window, and there it was!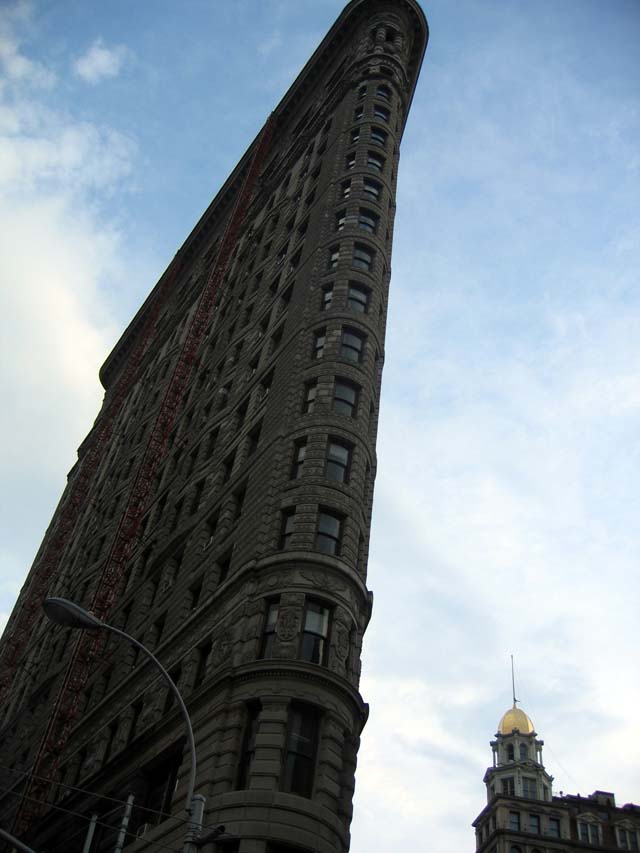 An odd-looking building, isn't it?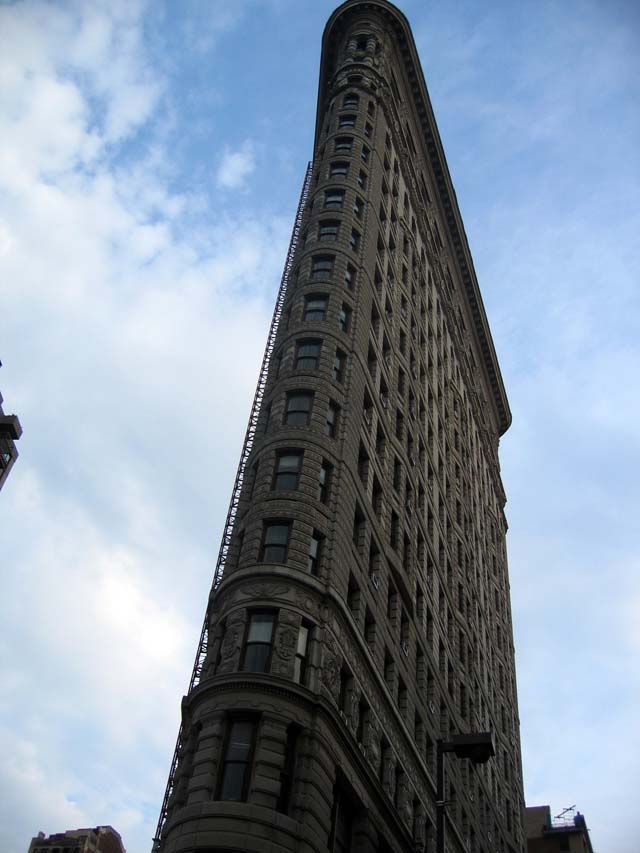 I wonder if you have to walk into your office sideways?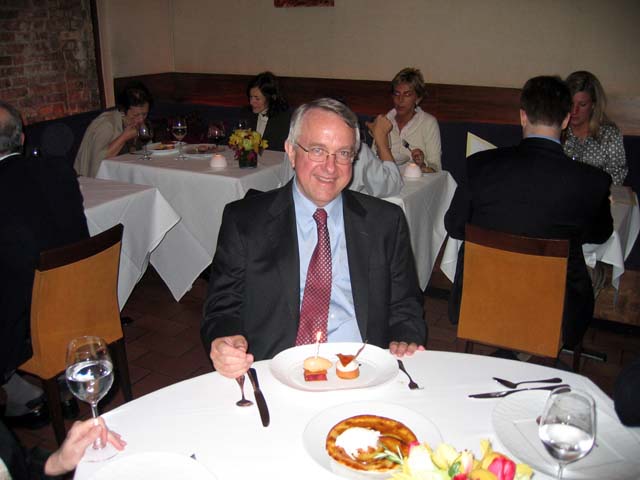 The birthday boy gets a candle on his fancy French dessert.
Tammy's eyes have a special glow.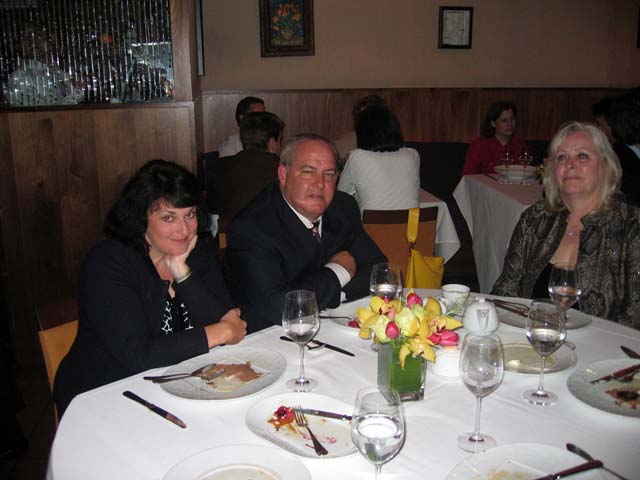 Everybody's wondering where they put all that good food.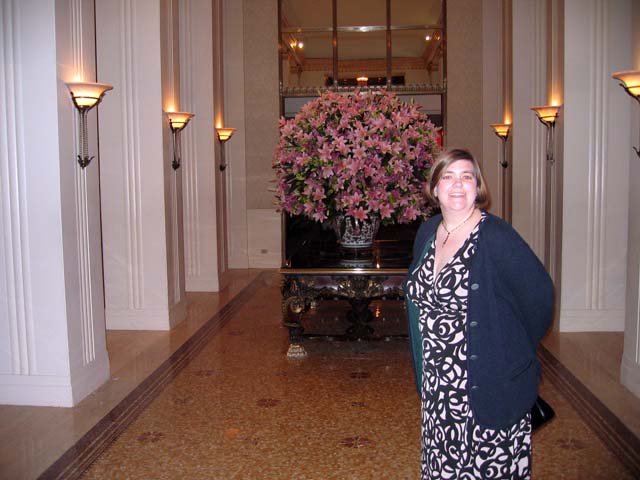 Pretty flowers and pretty Patty.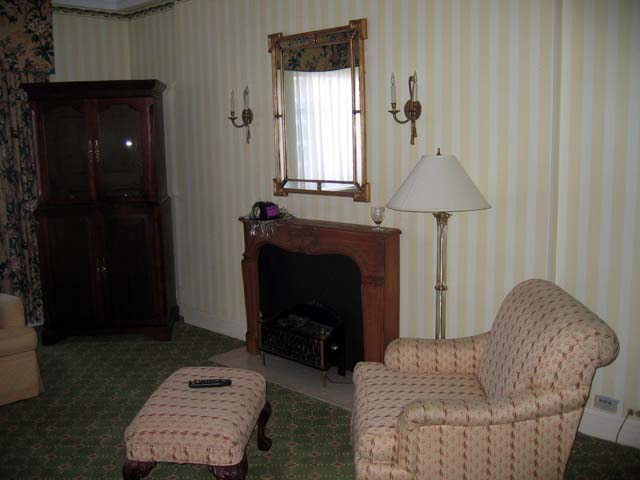 Here are some photos of our suite at the Waldorf.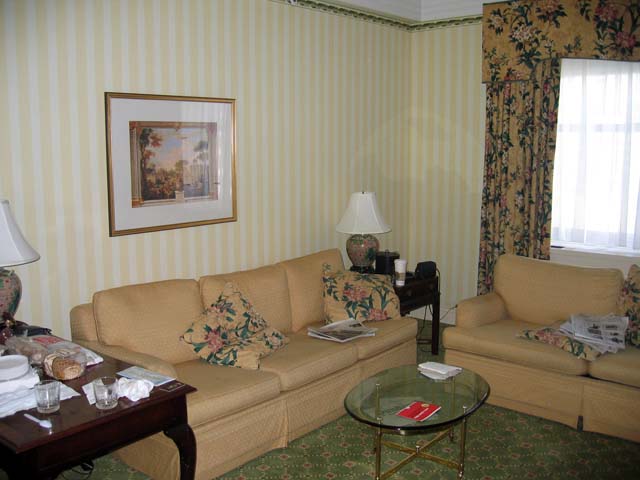 Nice, huh?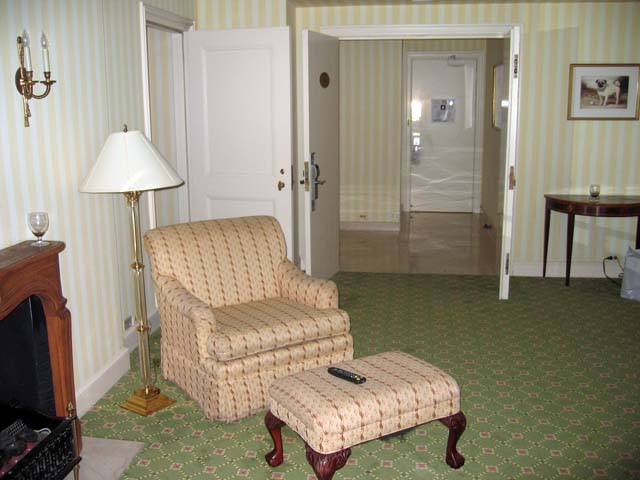 It came equipped with an easy chair by the fire.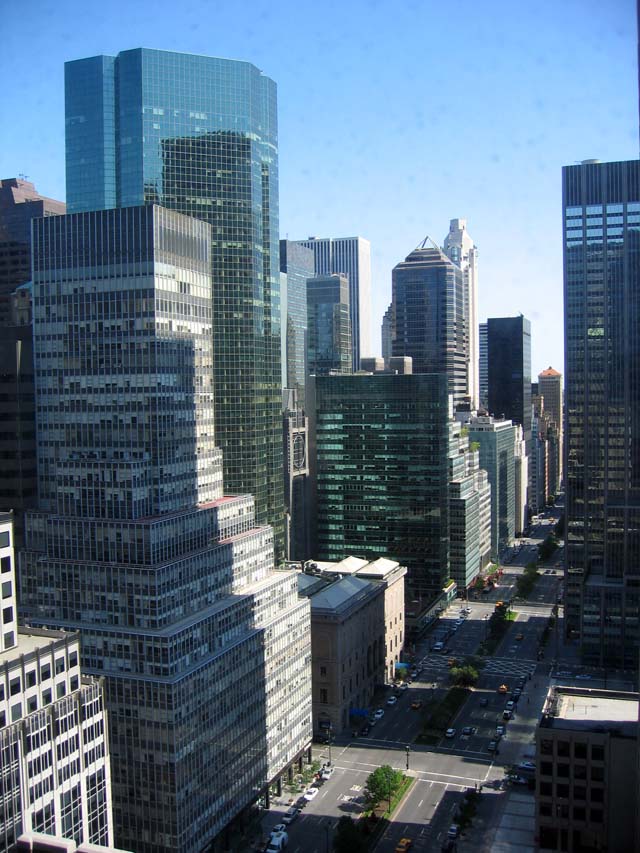 And it had a nice view, too.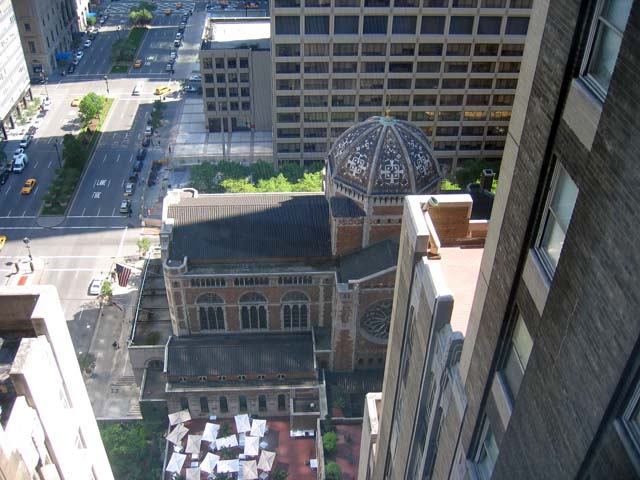 That's St. Bartholomew's Church.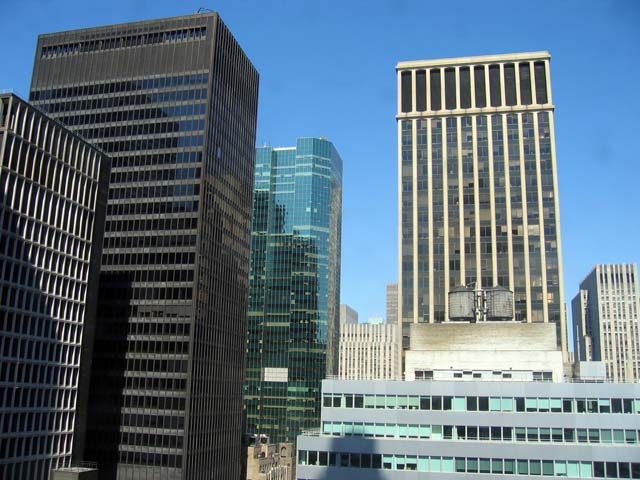 Those buildings are what they call skyscrapers, I think.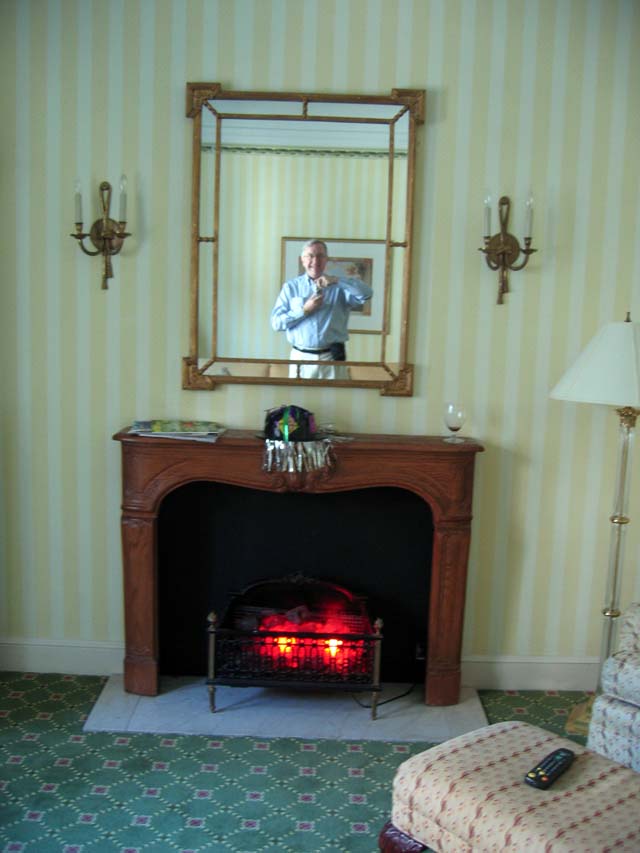 Bill and a roaring fire. Oh, OK, that's just two red light bulbs under some phony
baloney coals. But it looks good in the picture, doesn't it?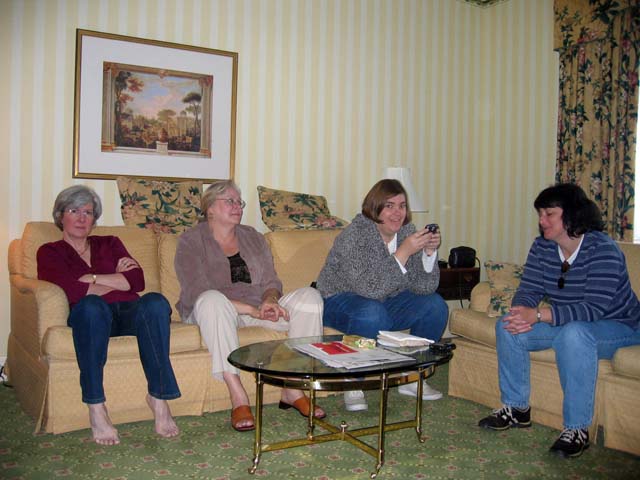 We'll be leaving soon.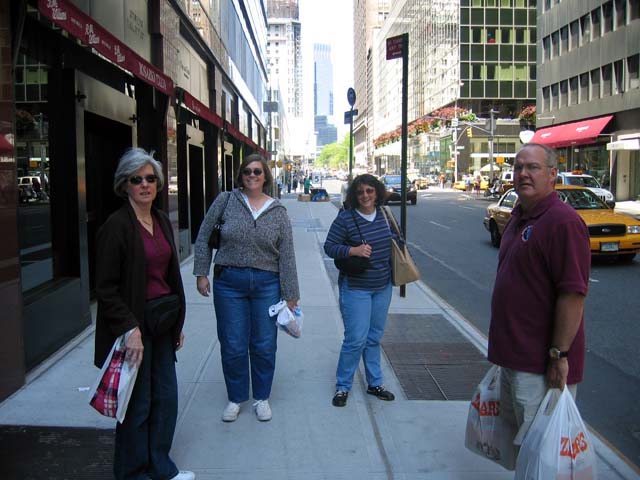 But first a picnic in the park.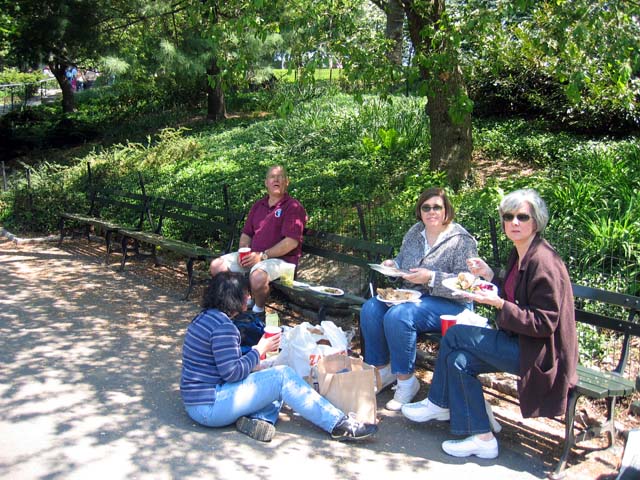 Here we are beside a duck pond chowing down one last time before we go back
to the real world.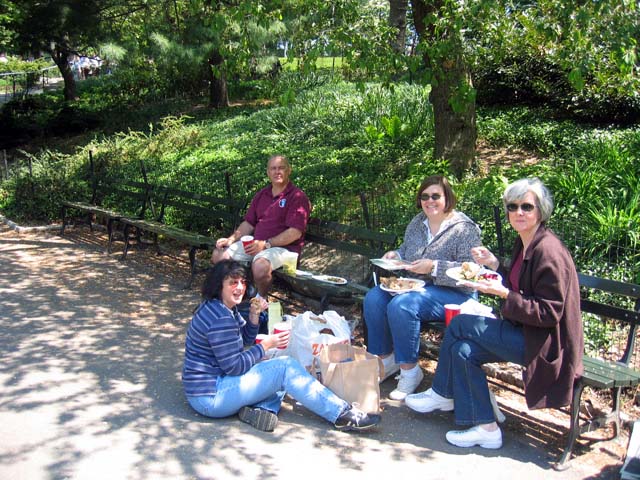 Mmmm. Zabar's olives and beets and pastrami and cheese and bread and
eggplant and tuna and more olives and all in all it was just delicious.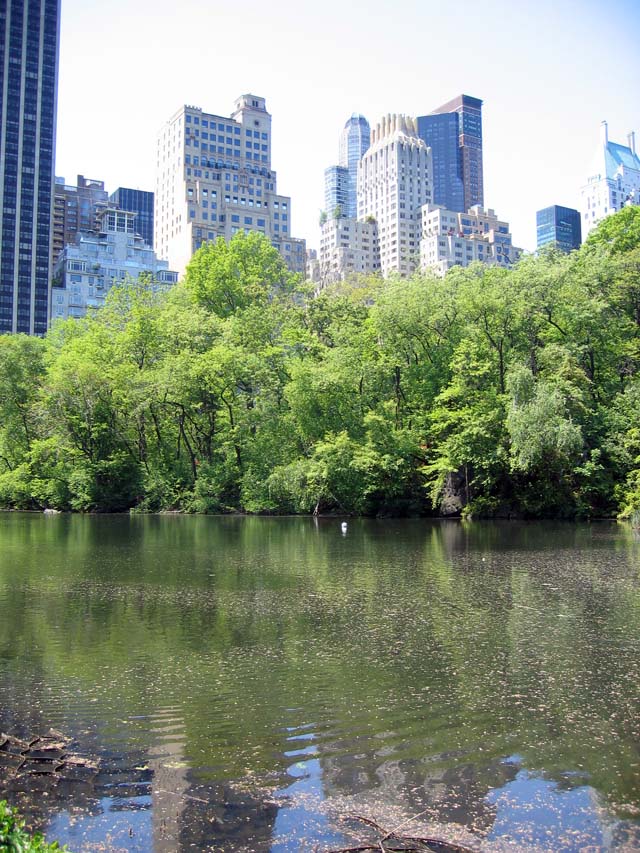 The view was pretty nice too.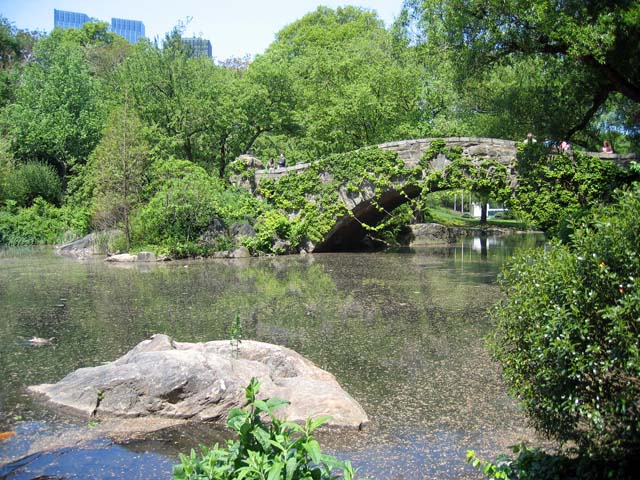 The trees were shedding something. Whatever it was kept falling in our food,
but we just brushed it aside and kept chowing down.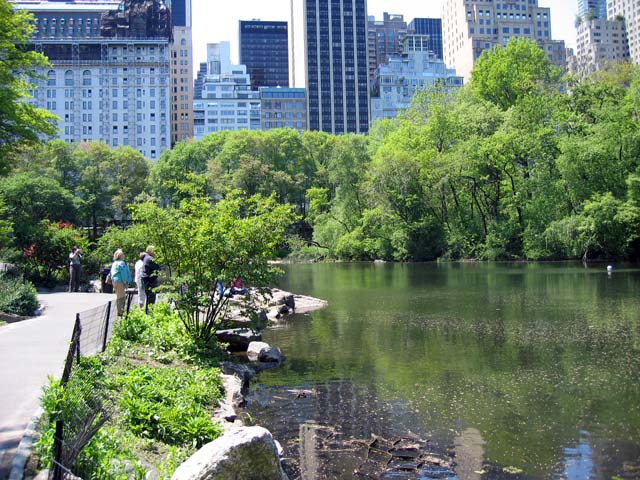 I wonder what the view is like from up there in one of those buildings?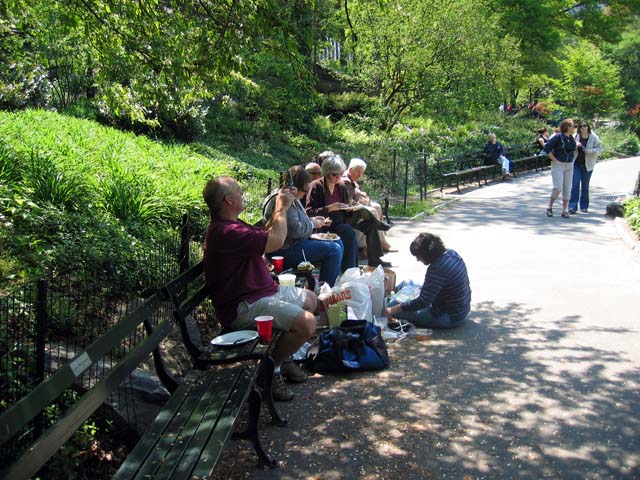 Greg snaps a picture of the ducks.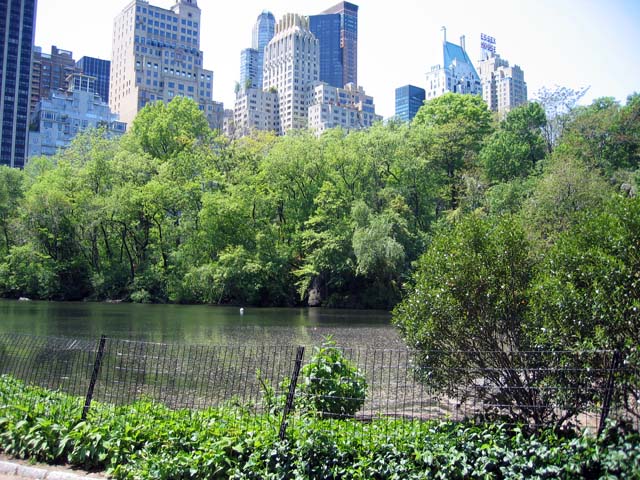 Well, there really were ducks out there somewhere.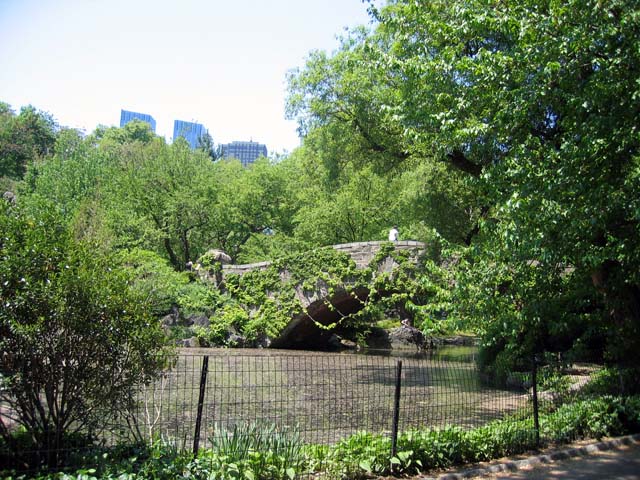 Seriously. There were ducks.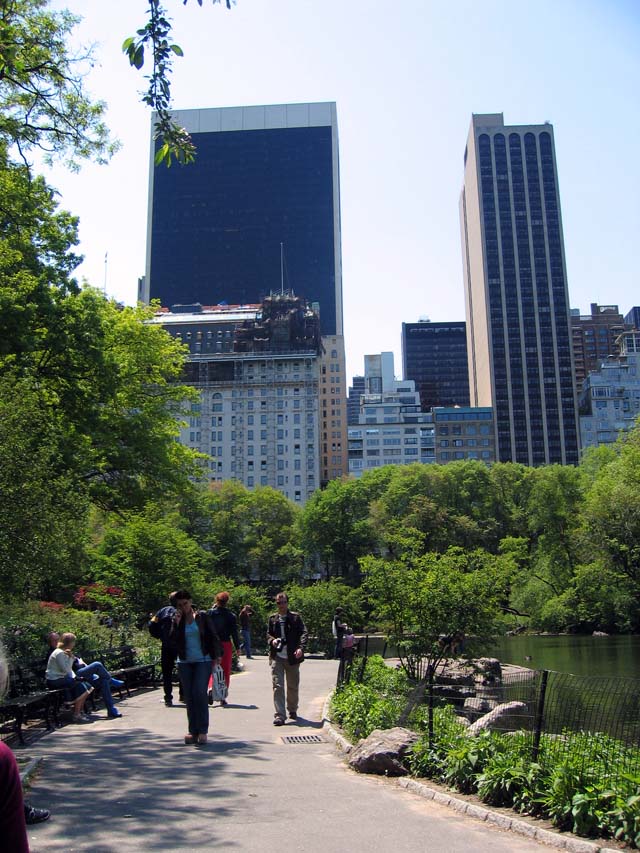 The park was busy this morning.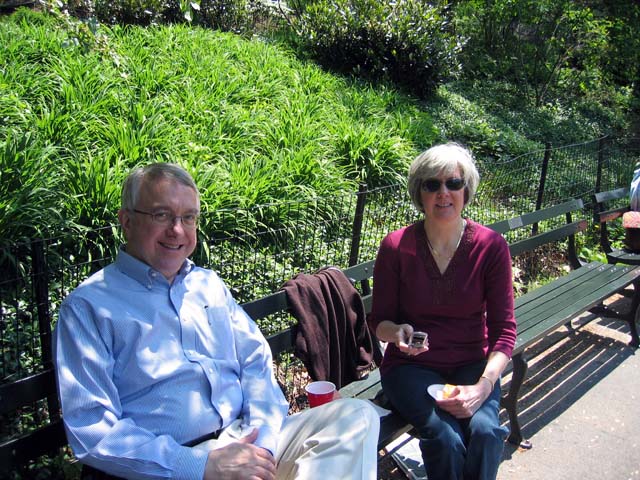 Bill looks like he's had enough to eat for the weekend.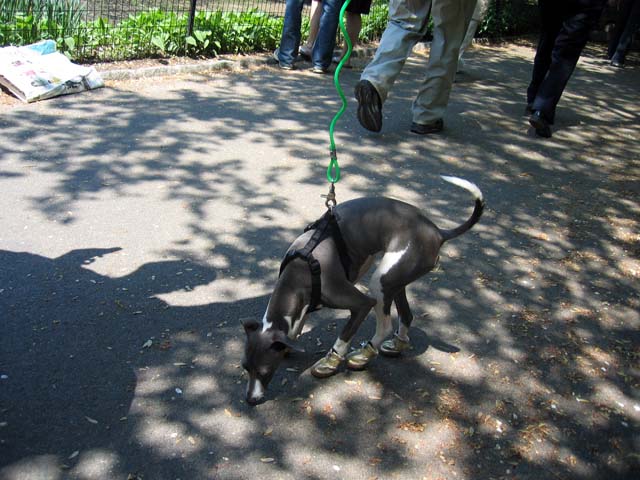 Hey look, it's a dog with golden slippers.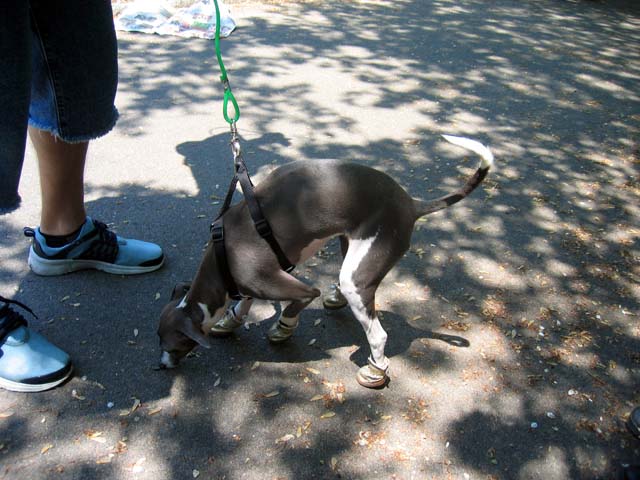 He wouldn't pose properly.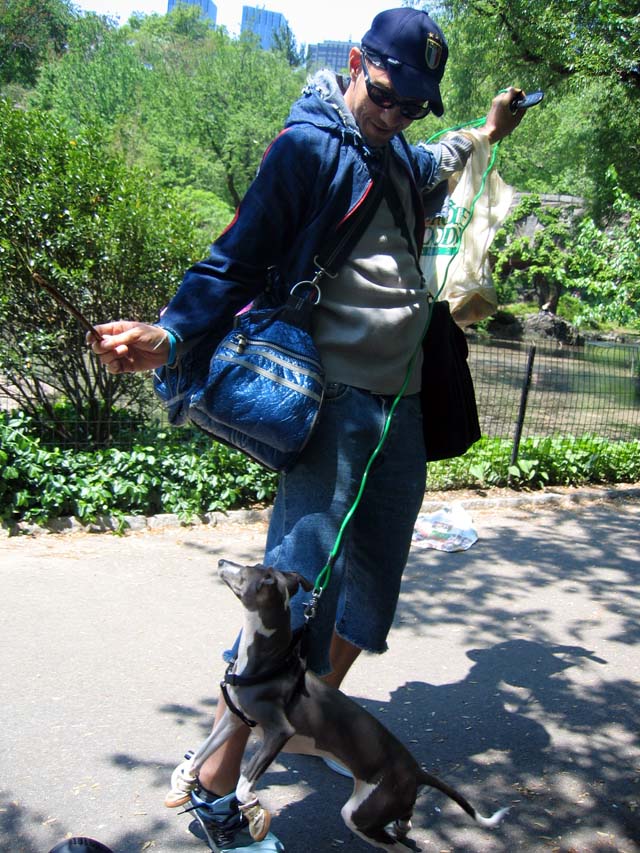 His owner tried to make him turn around for the camera.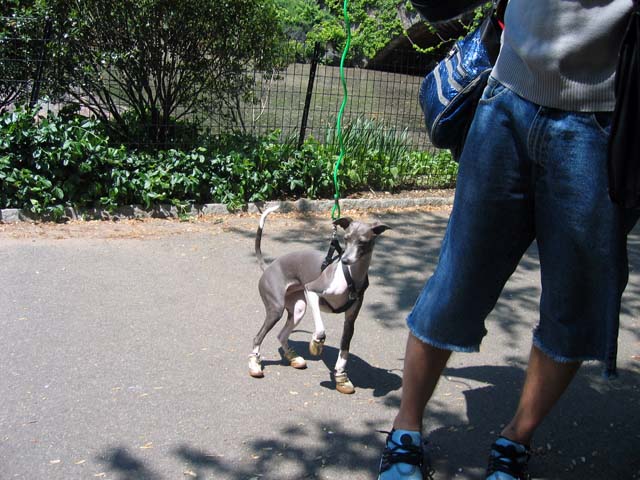 OK, finally, a head-on shot.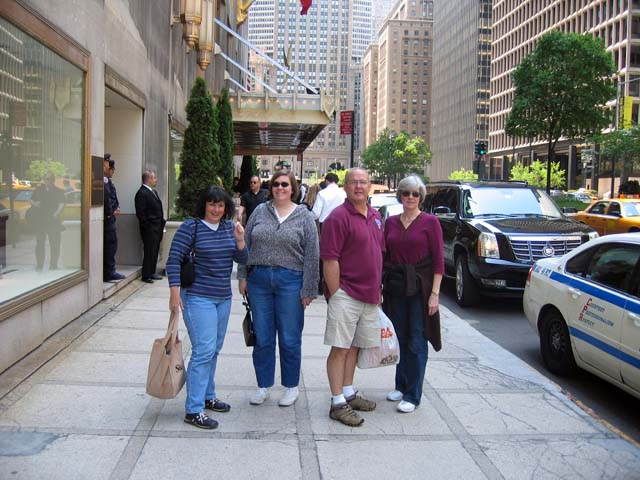 Headed back into the Waldorf to pack up and leave. It was about here that
Greg spotted Barbara Eden from "I Dream of Jeannie." She didn't look quite the same.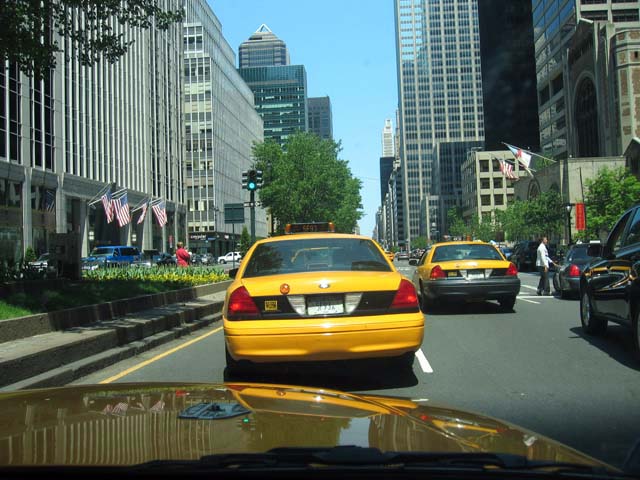 That's Cindy headed off to the Newark Airport while the rest of us head for
Penn Station.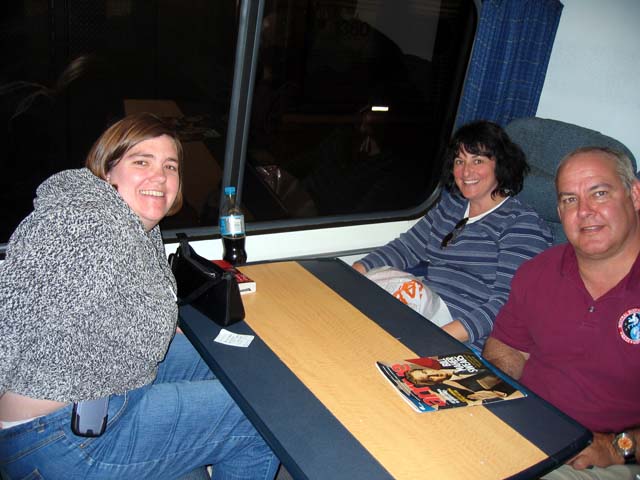 Last photo of the trip. We're tired, but we had a fine time, even if one of
us did turn 60 years old on the trip.