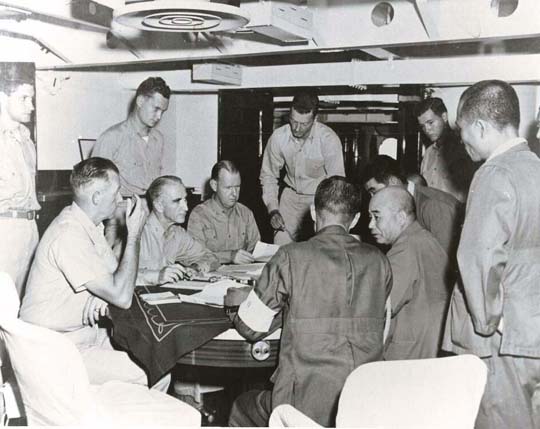 ... Standing to the right of the porthole is Lt. Commander R.C. Jenkins, Senior Aviator on the Santa Fe, and flag staff Aviation Officer of Cruiser Division 13, Admiral Deyo's command. ComCruDiv13 was designated as Task Force 55 at the time of this mission: implementing the Surrender and Occupation of Western Japan.
In connection with the above mission, my father took many aerial photos of over Western Japan, in particular the atomic bomb damage to Nagasaki and Hiroshima, as well as extensive conventional BDAs of Japanese cities and bases including Tokyo, Sasebo, Kure and Yokosuka, while piloting the Santa Fe's new SC-1 Seahawk floatplanes on numerous observation flights.
Many were also taken with his personal Leica, and I have copies of all of these. He was a pretty avid photographer, as well as an accomplished artist. He eventually put together a very detailed book recording his personal war history, including many photos, letters and documents from that time, as well has his recollections and illustrations when he completed the book (approx 150 pages in all) about a dozen years ago.
(He only published 4 copies for his 4 kids, but mine was lost in a bad house fire; and thus my present efforts to replace it with my own research to create the PowerPoint. This past week, my brother and his family were visiting, and he brought along his copy of another book my father had made about his teens and twenties, which also included his war years in the Navy, but not his detailed color illustrations)..
Of particular note in these works are his photos and color illustrations of the very rare SC-1 Seahawk aircraft, a high performance float-fighter plane. He was detached to Alameda to pick them up for deployment aboard Santa Fe during her repairs at San Pedro in July 1945, so unfortunately they arrived in the fleet rather late to see any action. If you read the after action report of the Zero shoot-down written by Lt. Hendershott (my father's predecessor as Santa Fe's Senior Aviator in July 1944) the Seahawk would have been just what the doctor ordered (per his conclusion, item 6)!.
As it was, the Santa Fe was lucky to get the Seahawks to replace the Kingfishers at all, as few cruisers or even the battleships got them until 1946. Santa Fe got hers thanks to her July 1945 repair deployment to San Pedro, necessitated by the damage she incurred while coming alongside to assist the Franklin. Her port side catapult and one of her older OS2Us (as you might well imagine from the photographs where both are clearly visible) were torn off by Franklin's flight deck, when Santa Fe came close aboard to fight Franklin's fires and take of her crew.
Beefed up anti-aircraft emplacements, in sponsons cantilevered outboard of the hull aft, were also added during that repair (your father might remember this, as it appeared he manned that battle station), which made a distinctive change in appearance from the stern quarter ,as you can see in the photo below.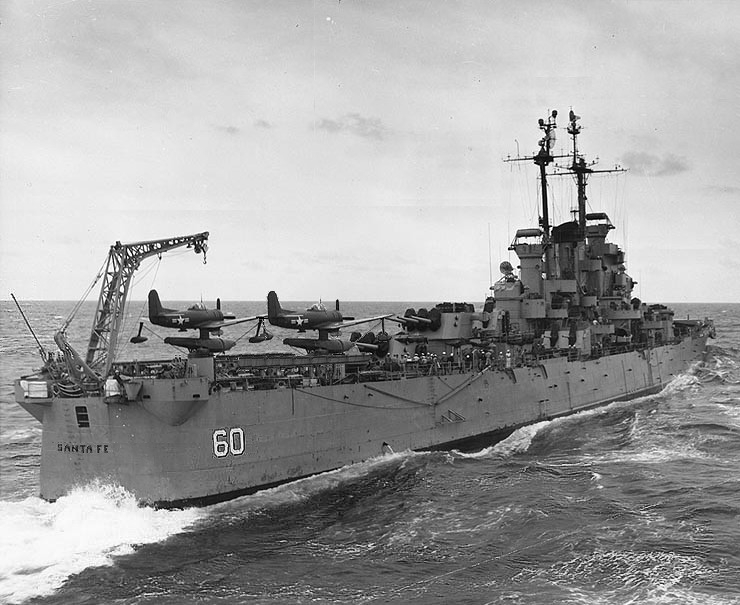 Any Santa Fe mystery or undated photos you have with the sponsons or the SC-1Seahawks in them vs. the OS2U Kingfishers provide a great pre- vs. post- July 1945 time-hack.
Below are some of my own basic illustrations of both airplanes.. if anyone can offer me advice on the exact/correct detailed markings for Santa Fe's own aircraft, I would very much appreciate any help I can get (Dad, my greatest resource, passed away 10 years ago).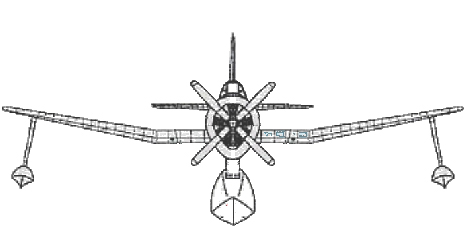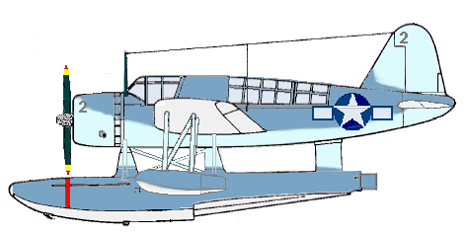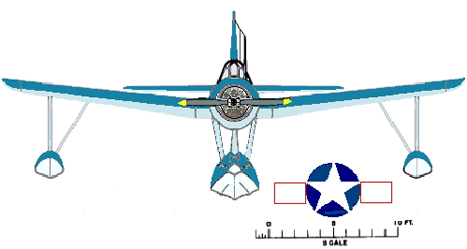 My father's color drawings are mainly in pencil or watercolors of the Seahawk, which was his personal favorite (it was single seat, radar equipped, the main float doubled as a bomb bay, it was armed with wing cannons and had a rate of climb faster than the Hellcat fighter!), and depict catapult launching, and a series on cast recovery landing procedures to bring them back aboard. He also did oil paintings of both Santa Fe and Northhampton, which I believe my brother has. .
The originals are all what I'd call professional quality (he also was in charge of the photographers mates aboard her previous ship, the Northampton CA-26, from 1940 through her sinking in late 1942). Unfortunately the Xerox reproductions in his book may not reproduce as well again, and it would take some time to dig up all the originals between my three siblings and I. But I expect we can find many of them. I already has a 11 x 14 set of him in the SC-1 launching, landing, and coming back aboard, as well as group photos of Santa Fe's aviation division.
I would really appreciate it if you could point me in the right direction for any good resources for photos and other material on Santa Fe, or of his shipmates that might remember my father, and perhaps we can continue to exchange some more pictures and info .
I hope to here back from you
Peter C. Jenkins, Maplewood NJ
P.S. The aviator who was killed while serving with Santa Fe was not Navy, but 1st Lt. John Williams, USMC, from the 28th Battalion, 5th Marine Division. It was Feb 19 1945 in flight over Iwo Jima on a spotting mission to direct the ship's gunfire for the shore bombardment. He was not a regular member of the ship's V Division, and not even a pilot, but on TDY as liaison/spotter for his 28th Marines, who were landing on the beachhead (at the foot of MT. Suribachi) for which Santa Fe was providing Naval Gunfire Support during the Iwo Jima invasion.
Although Santa Fe's Kingfishers were subjected to heavy AA fire from Iwo during these flights (flying relatively low and slow to provide accurate, close-in support of the Marines on the ground), LT. Williams was the only casualty in this or any other air or surface engagements during the ship's extensive combat history. As his acting CO, my father presided over his burial as sea... conducted from just forward of that ill fated port catapult again...
(My father was awarded the Air Medal for combat in that engagement).
May 18, 2010
BILL –
THIS IS SOMETHING I HAVE WANTED TO DO FOR SOME TIME, AND WITH ANOTHER MEMORIAL DAY COMING UP THIS WEEKEND, I DON'T WANT ANOTHER YEAR TO GO BY BEFORE GETTING IT DONE.
THIS IS MY FATHER'S STORY OF MARINE LIEUTENANT JOHN D. WILLIAMS, WHO WAS ATTACHED TO SANTA FE 'S AVIATION UNIT ON TEMPORARY DUTY DURING THE IWO JIMA LANDINGS IN FEBRURARY 1945. LT. WILLIAMS DIED FROM WOUNDS IN ACTION FLYING IN ONE OF SANTA FE 'S PLANES OVER IWO JIMA WHILE SPOTTING FOR SANTA FE 'S GUNFIRE IN SUPPORT OF HIS UNIT, THE 28TH BATALLION OF THE 5TH MARINE DIVISION, WHICH WAS TASKED WITH THE ASSAULT MOUNT SURIBACHI , AND WHICH EVENTUALLY RAISED THE AMERICAN FLAG ON IT'S PEAK.
LT. WILLIAMS WAS BURIED AT SEA, AND AS SANTA FE 'S SENIOR AVIATOR IT WAS MY FATHER DUTY TO BE HIS CHIEF PALLBEARER FOR THIE BURIAL SERVICE. THIS IS THAT STORY.
(ENSURE SAFE DELIVERY I WILL SEND THE FILES IN ".TIF" FORMAT IN 4 PARTS… THEY ARE SCANNED FROM PAGES FROM THE THE BOOK MY FATHER PUT TOGETHER FOR OUR FAMILY HISTORY WHICH COVERED HIS NAVAL SERVICE FROM 1940 THROUGH 1945… MY APOLOGIES IF THE SCANS ARE POOR/ LARGE IN SIZE… I IF NEED BE, I WILL TRY TO REDO THEM AGAIN… BUT WANTED TO GET THIS TO YOU IN TIME FOR MAMORIAL DAY, WHICH SEEMS AN APPROPRIATE OCCASION FOR THIS STORY TO BE SHARED…)
PETER C. JENKINS