At the beginning there is a portrait of the group. Now I would like to introduce us all individually. We only knew each other for a few days, but I have a special spot in my heart for us all. We really did struggle. When you struggle like that you get close. You often hear people say when they do noble things that they are the ones who are most blessed. I feel that way about the Nigeria trip. It was a life changing experience. Every time I turn a little knob and clean, safe water comes out at exactly the temperature I want, I feel blessed. When I open the refrigerator and a little light pops on to show me all of my nutritious and safe food, I feel blessed. When I flush and "Big Stinky" just goes away and a little vent fan in the ceiling pulls the smell out, I feel blessed. When the operating rooms here are so cold I have to put on a jacket, I feel blessed. When I recall the sad, helpless eyes a mother whose baby is dying in her arms for lack of the simplest care, I feel blessed to have three grown angels for children. I even feel good for sick people here when I think of poor people who can't even find a soft spot to lie as they die.
I'm sad to think that I'll probably never see any of the group again.
Laura and I became a lot closer because we were there.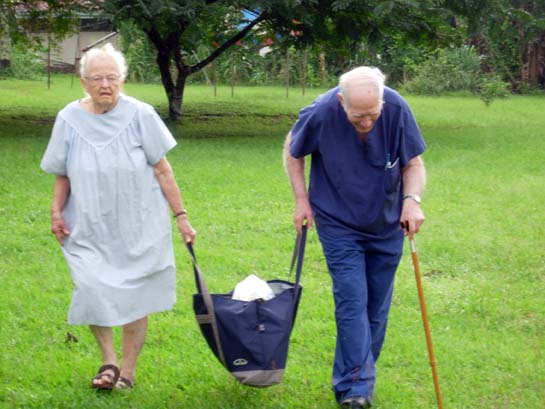 Henry and Grace hobbling down to the van with his supplies for the hospital for the day. They've been doing that together in Nigeria since the mid 1960s. They are old and close to their reward. I think there is a little piece of the thousands of souls they will be taking with them in that little bag.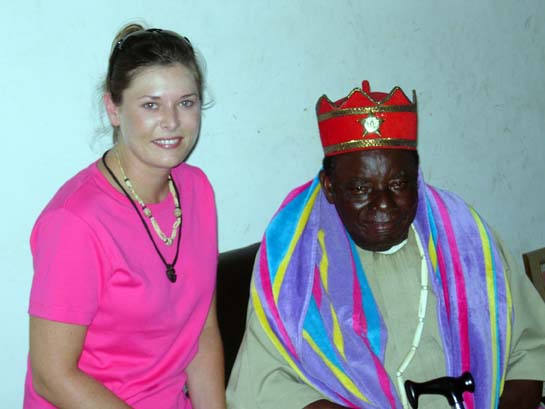 This is Debra with a local King (more about him later). She is a newly trained nurse in Searcy, Arkansas. She is way more skillful that you would expect for her experience. Notice that she is in the background in many of the pictures. That's because she was always busy doing what ever needed to be done. She also likes backgammon, so Laura had some one to play with.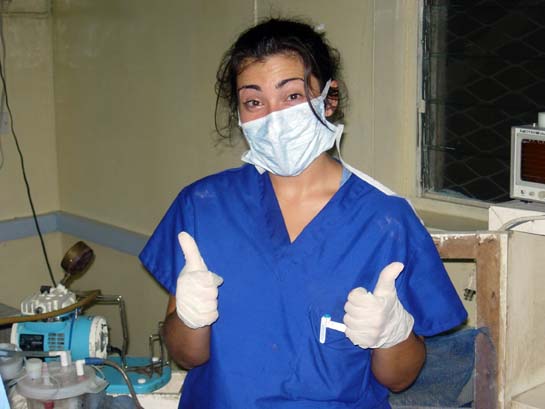 Michelle. Even with half her face behind a mask, you see how enthusiastic she is. She is a first year nursing student at Staten Island, New York. She is a baseball fan and like the Yankees. Not much clinical experience, but she made up for that with her willingness to do anything and her heart as big as Africa.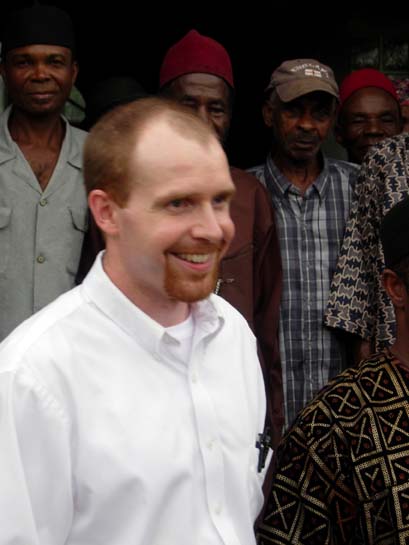 Bob. He is a third year family practice resident physician in South Carolina. I think he talked the officials at his training program into accepting this trip as part of his surgical training. He had one of those little blackberries or palm pilots or what ever it is. He would look up doses of drugs that I hadn't used for a long time on it for me. He was very helpful in sharing his knowledge with the younger people. He was a good teacher for them.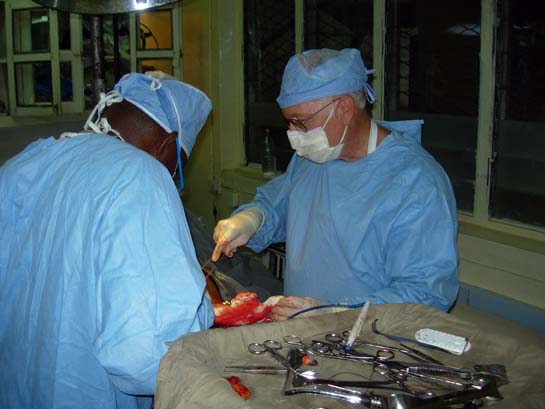 Don. He lives in Brentwood, Tennessee. I think this was his seventh trip to Nigeria. He worships at the West End congregation in Nashville. They support Bob and Annette Whitaker. They have lived there twenty-one years. Don has no medical background. He comes to repair all the things that are always falling apart. In the evenings, when his "Mr. Fix It" duties were over, he enjoyed coming to the hospital to help. He drove the van to shuttle us from the residence and the hospital. He brought a whole suitcase full of teddy bears to give to the children on our last day.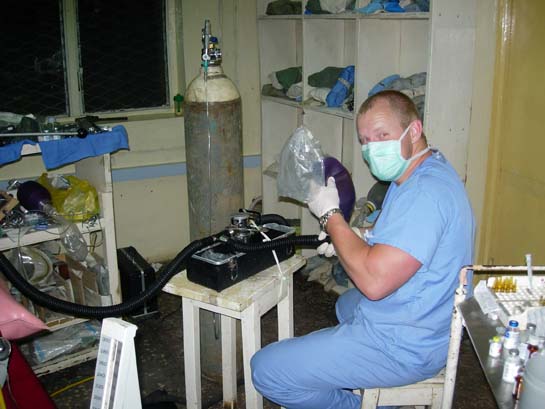 Jeramie. He is a premed student at Abilene Christian University. He is trained as an emergency medical technician, so he would help by starting the intravenous lines before surgery. He is as strong as an ox. His big muscles came in handy to move and transfer patients.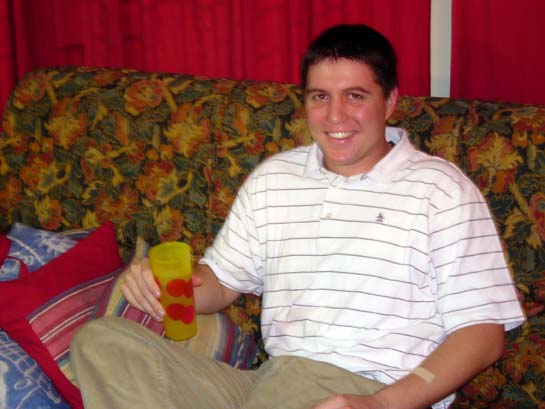 J.C.. He is also a premed student at Abilene Christian. He helped in many ways. He transferred patients and did what ever was needed in the operating room. He caught malaria while we were there and missed a day or so of work, but recovered and did fine.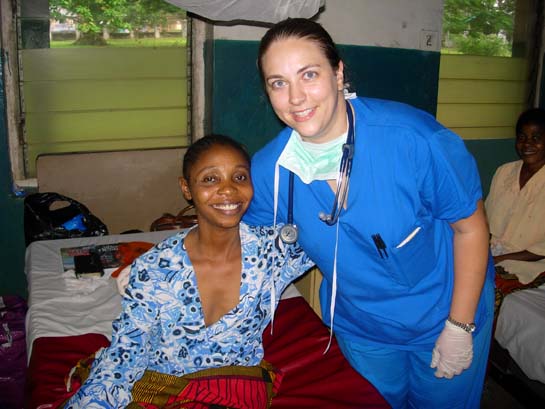 Lenorah. She is starting her second year of medical school in Arizona. She is very thoughtful and helped in keeping things organized. She spent a lot of time on the wards making sure the patients were taken care of properly before and after their surgery. She brought lots of medicine and supplies for us to use and to leave for the hospital.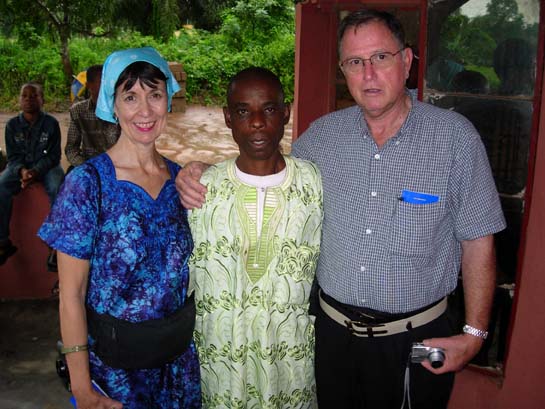 Here are A. D. and Sharron with Ruben, our driver. A.D. is a recently retired chest and vascular surgeon. He is still very skillful. He did many of the more difficult cases. Sharron came to help with testing and clerical work at the school. This is their second trip to Nigeria. They have also traveled to parts of the old Soviet Union and New Guinea for mission work. They live in Texarkana, Arkansas.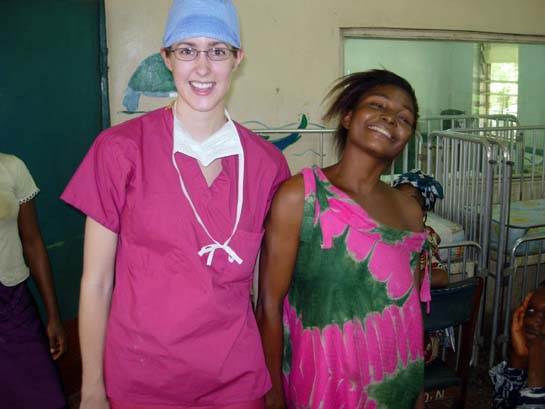 Laura. She is a premed student at Pepperdine. She divided her time between the wards and clinics and the operating room. She was very helpful in many ways. She was willing to do almost anything. She was real happy to get to assist in surgery and learn how to sew and help close wounds. She's also my daughter. She's pretty ain't she.
"Salt of the Earth" people all!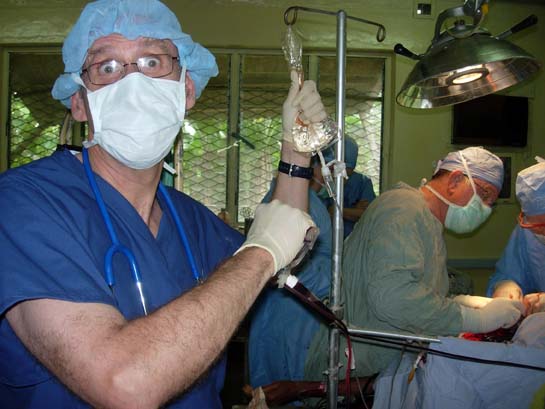 Oh, yeah, that's me -- Al. I'm squeezing some blood and fluid into a bleeding patient. I pass gas in Laramie, Wyoming.