It's bright and early the next morning and we're about to be on our way. I'll introduce my fellow tourists later.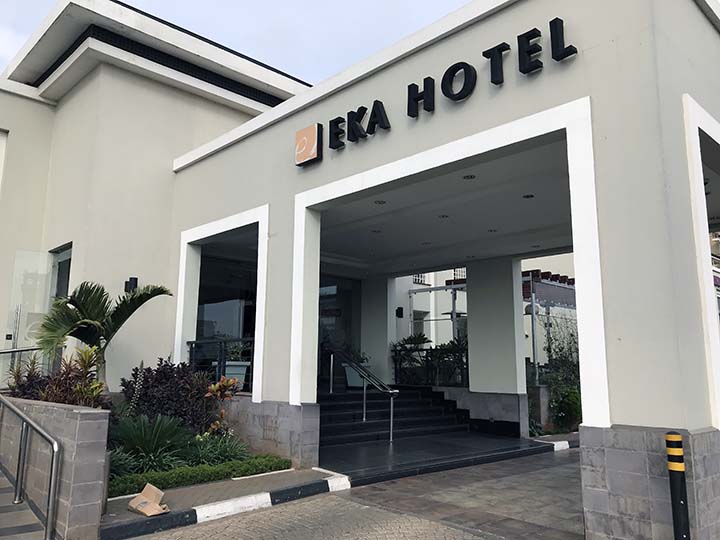 The Eka is a nice hotel located not too far from the airport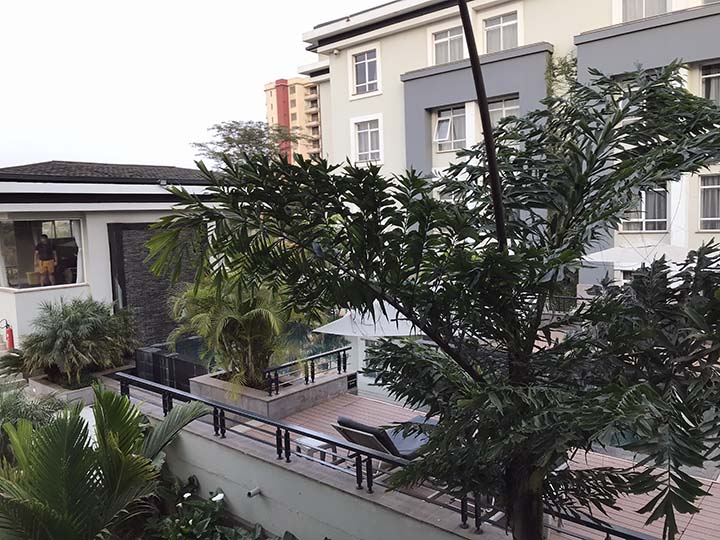 There's a courtyard with a pool that looked inviting, but there was no time for any of that.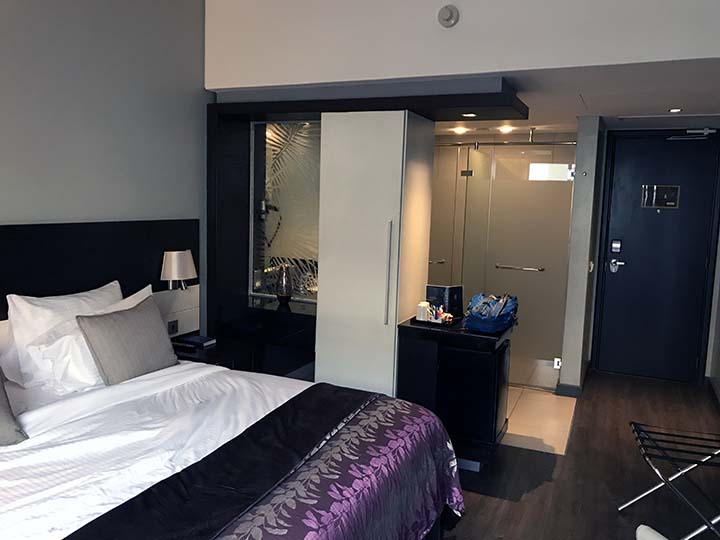 The bed hardly looks slept in.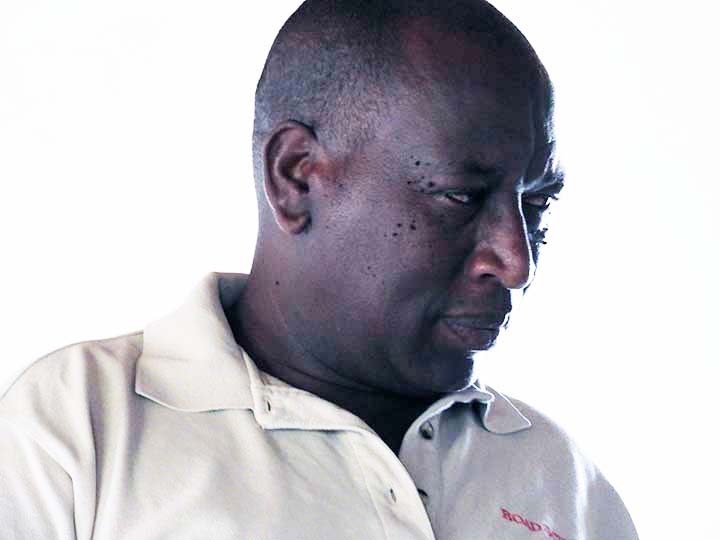 Here's our fearless leader for the trip, James Kiptoo. I've learned he became a Scout leader when he was growing up and he developed an interest in camping and nature. In college he joined various wildlife clubs, including Nature Kenya, and began studying more about nature and animals. And now, as a self-employed tour guide, he escorts a wide range of groups into the African wilderness.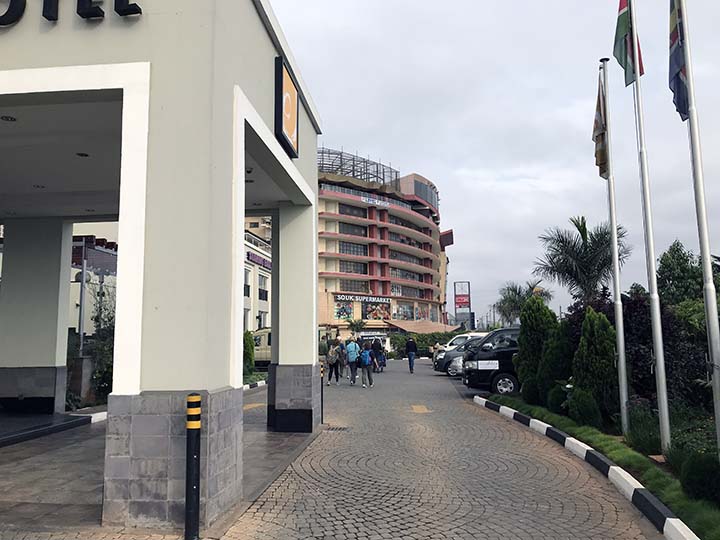 We're boarding our vehicles. There were supposed to be nine of us on the tour but two never showed up and we never learned exactly why. So we traveled in two vehicles throughout the trip, four in one and three in the other. Myras, Kathy and I were the group of three; Jim, Donna, Marsha and Mandy were in the other.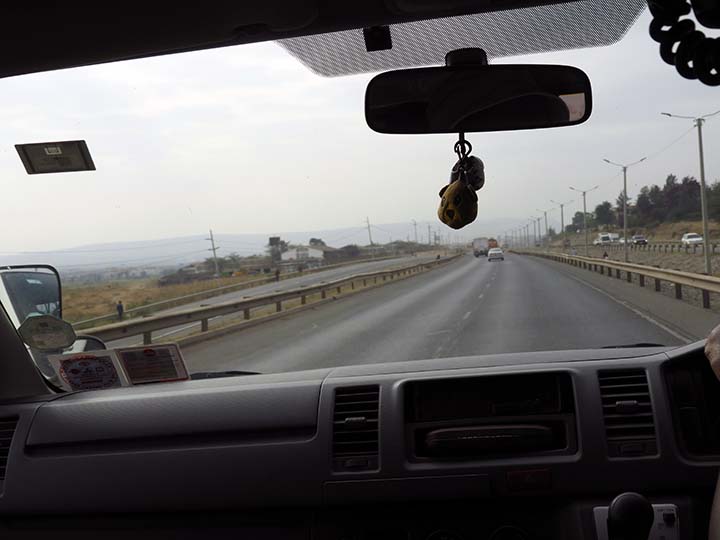 The drive from Nairobi to the Amboseli National Park took over four hours and was not a bit of fun.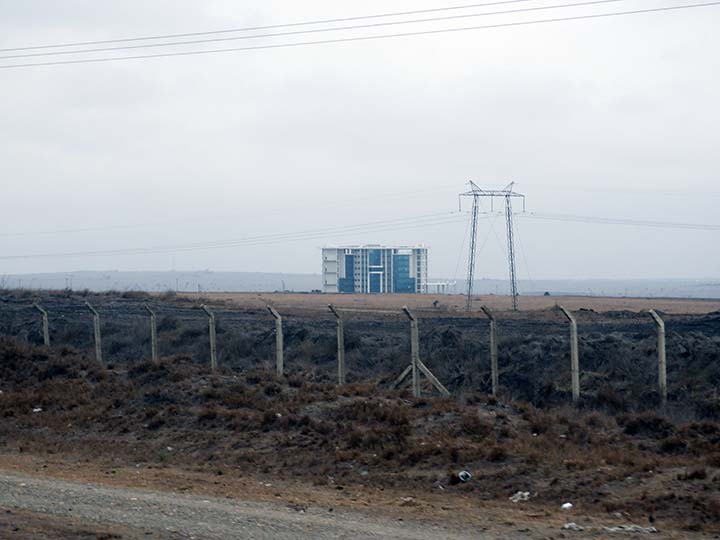 The road was flat and the scenery was boring, though punctuated occasionally with odd sights like this high rise in the middle of nowhere. Apparently the Kenyan government is developing a Silicon Valley high tech center out here. Wonder what it'll look like around here in a few years?
It looks like this right now.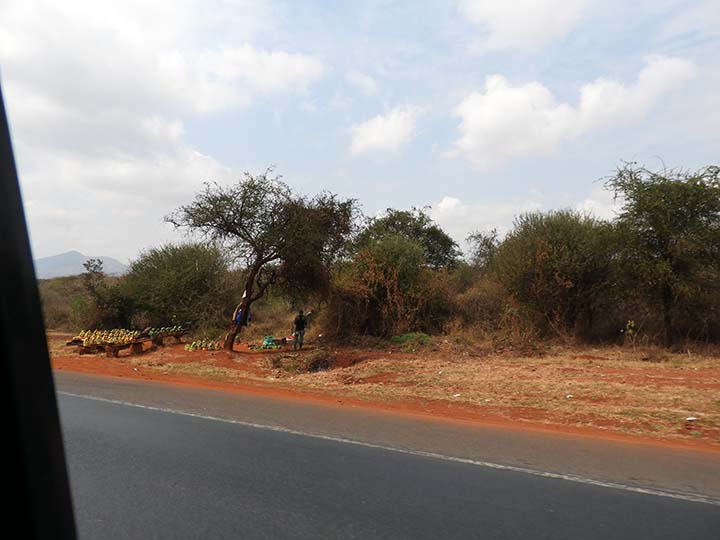 Hey, look! An open air market! That's exciting!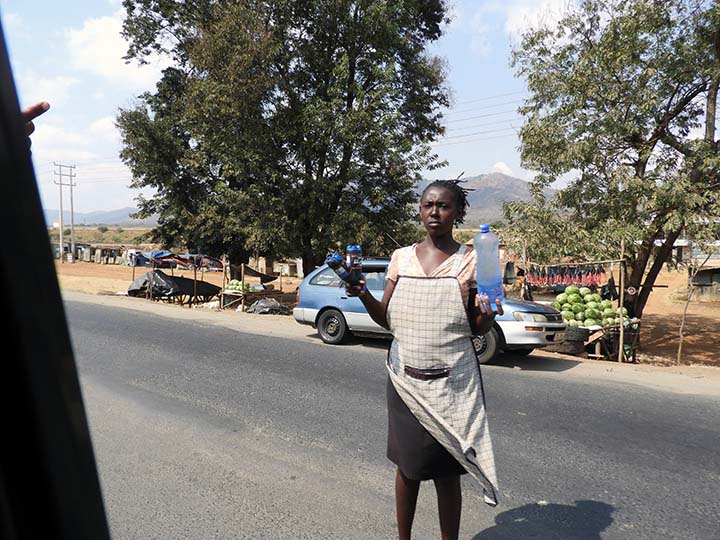 Thanks, no, we have water.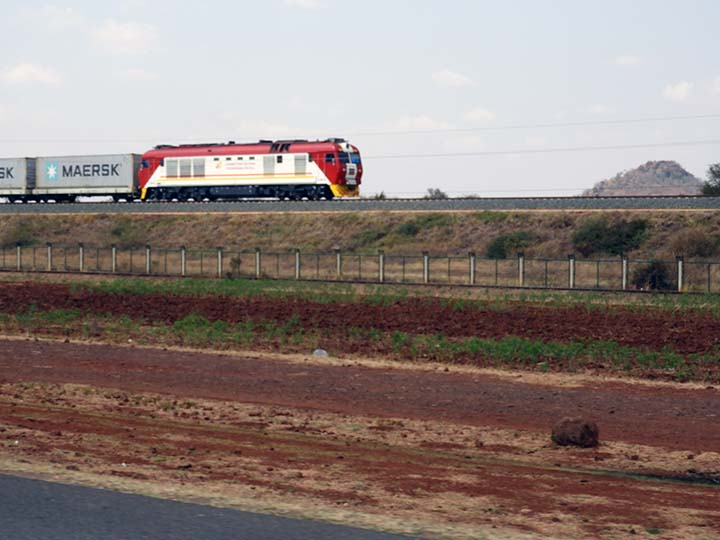 Oh boy, a train! The excitement builds.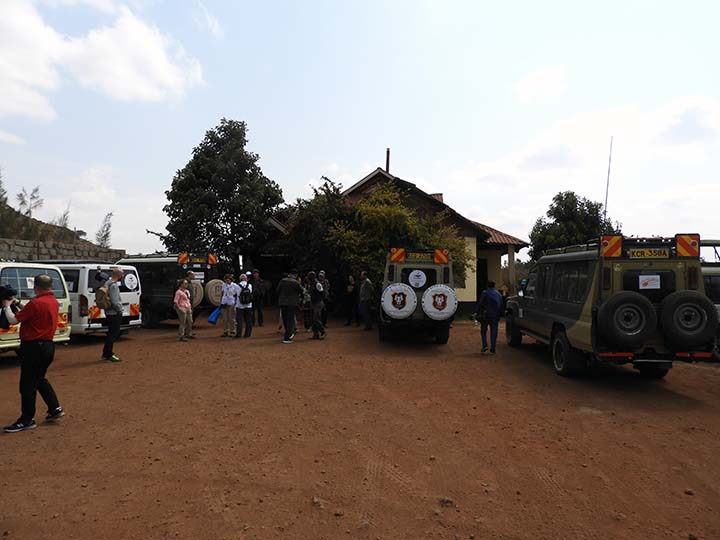 Potty break!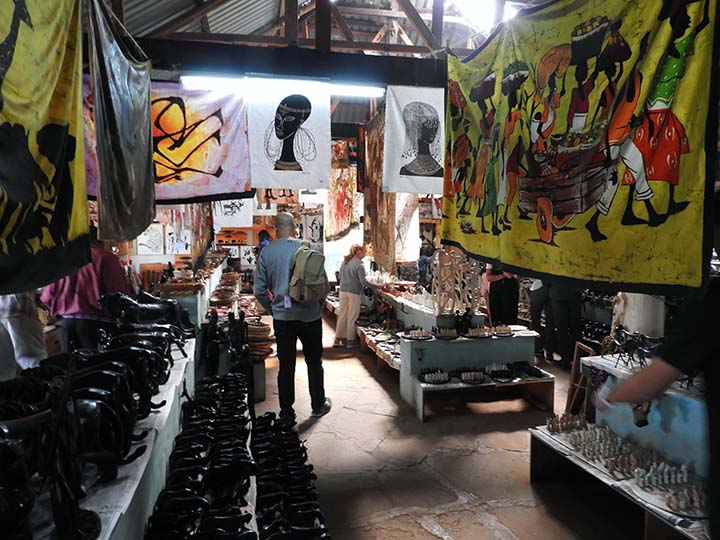 Interesting, but it's entirely too soon in the trip to think about acquiring trinkets.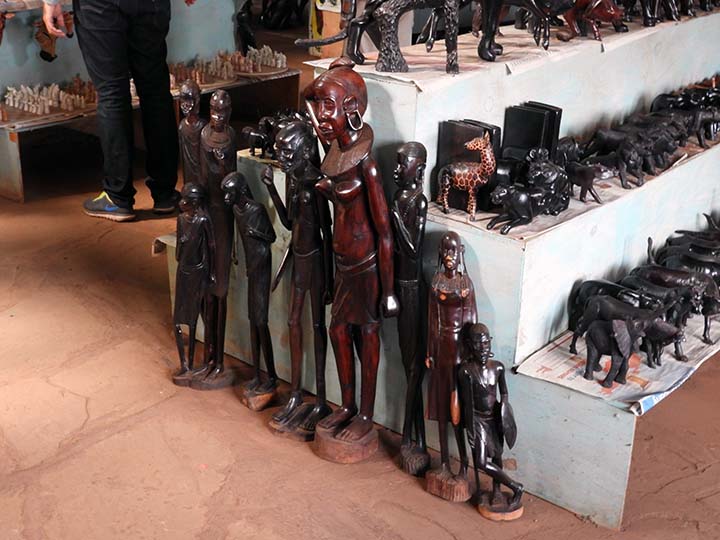 Even though some of the trinkets look interesting.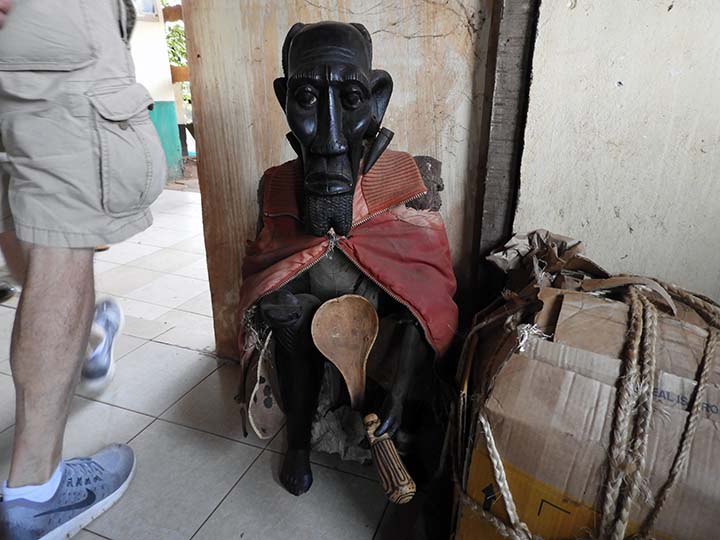 Especially this guy.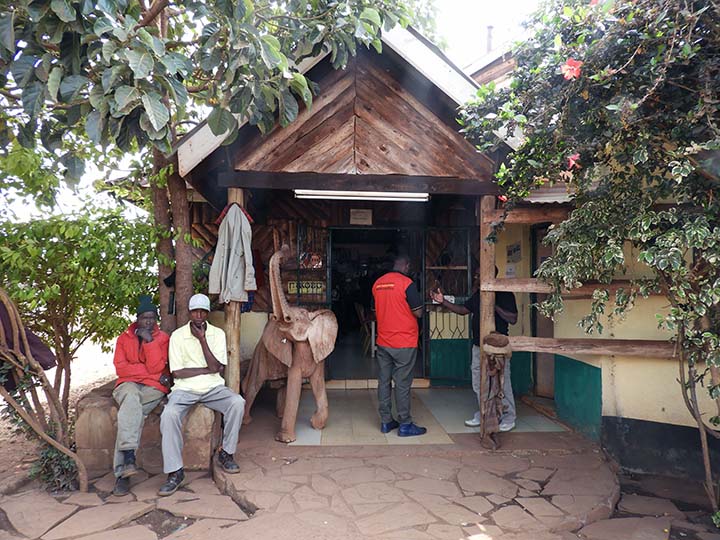 But no...we'll just use the facilities and be on our way.
Supermarket!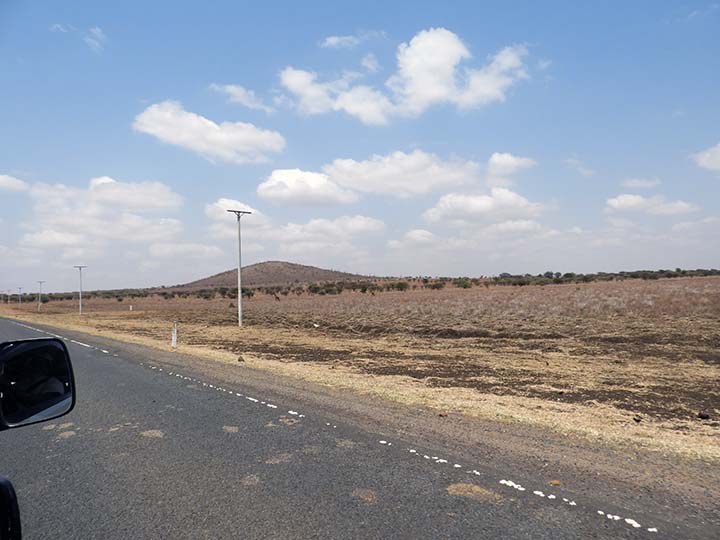 And more Kenyan countryside.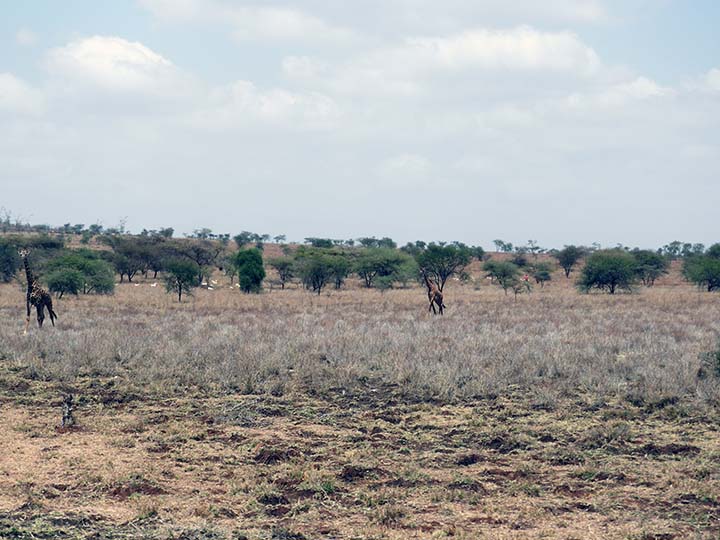 Wait! Look! Those aren't cows!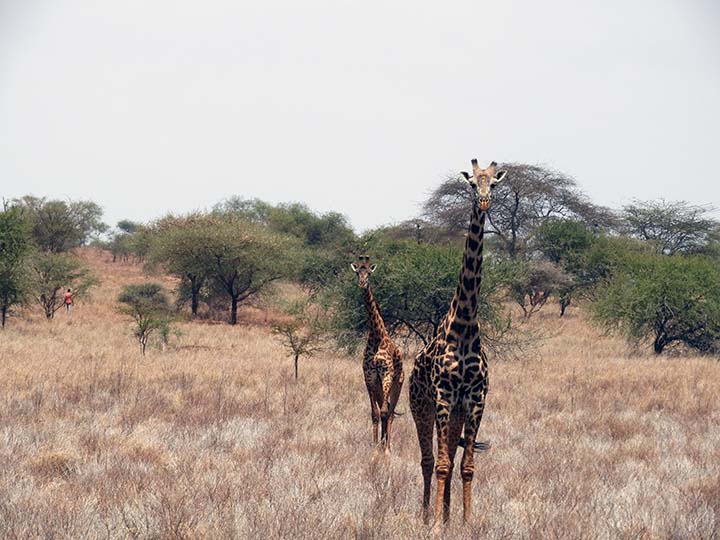 We're really in Africa!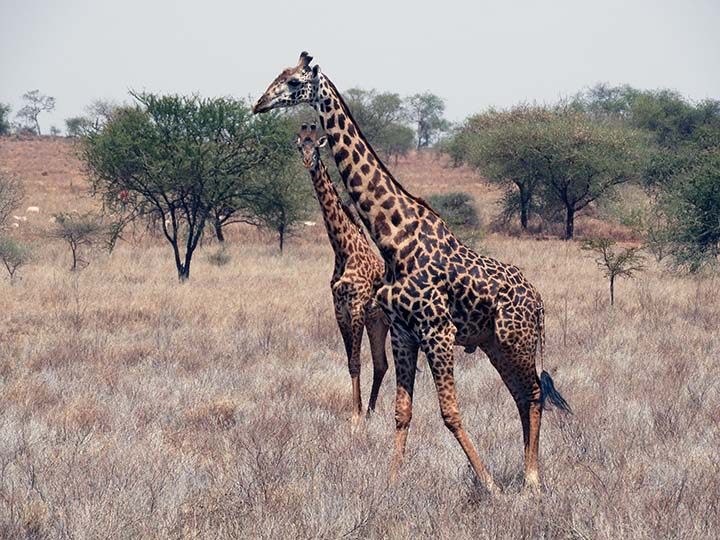 It's just like driving on a lonesome highway in Wyoming when you look over yonder and spot an antelope. But these ain't antelope!
Poor giraffes don't know what to make of all these tourists stopping to take pictures. They just want to cross the road.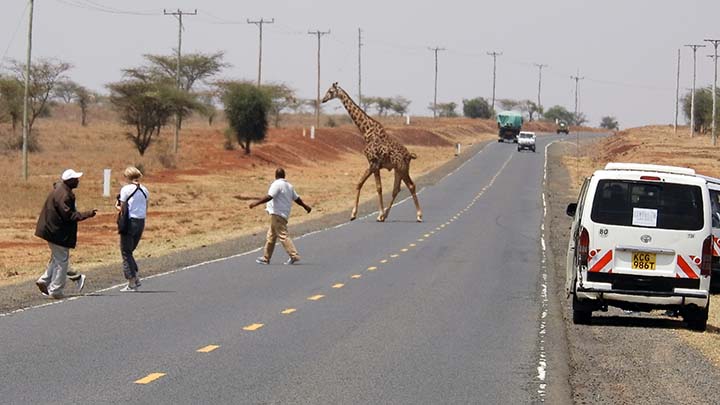 And cross the road is exactly what they do.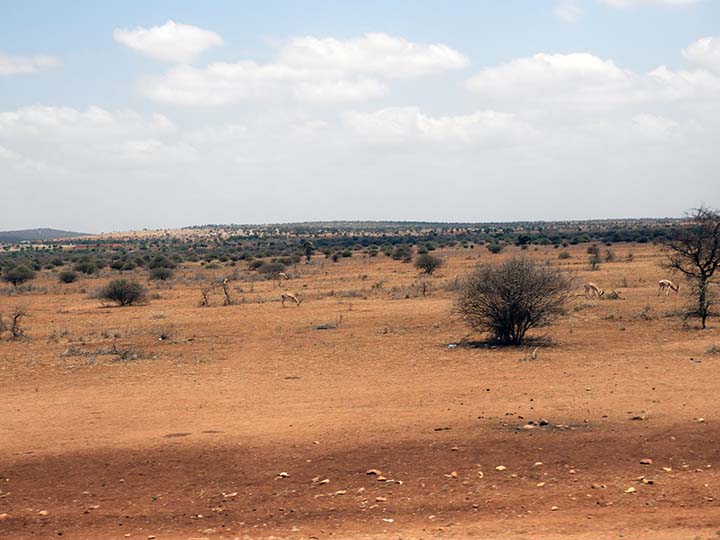 I see gazelles.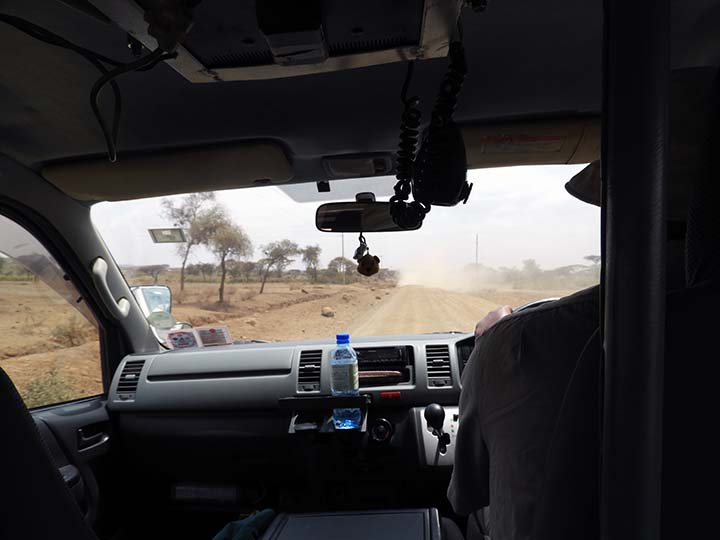 And now that long, boring highway has given way to the kind of road we're going to encounter often over the next couple of weeks. Kip has encouraged us to think of the experience as a free massage.
Well, if this is how it is to be, then this is how it is to be. A little more vibration on my lower back, please. Ahhhh.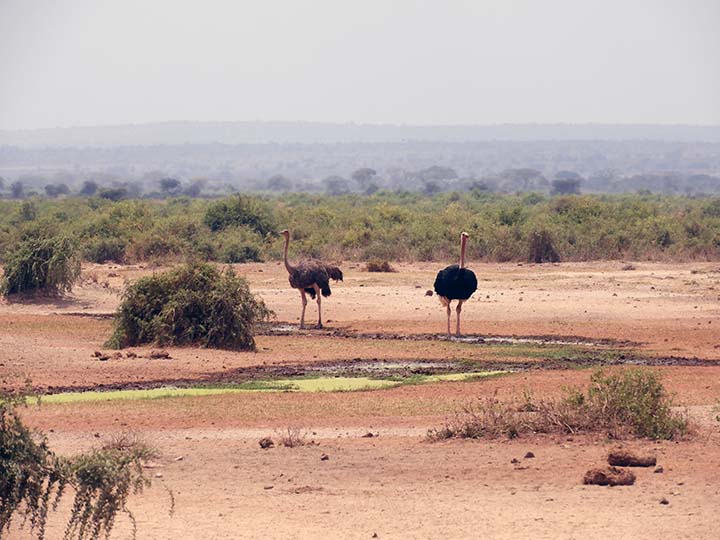 Look! Ostriches!
And pretty birds. I wonder if we'll see any more pretty birds on this trip? I wonder. These are superb starlings. See, Marsha? I did pay attention.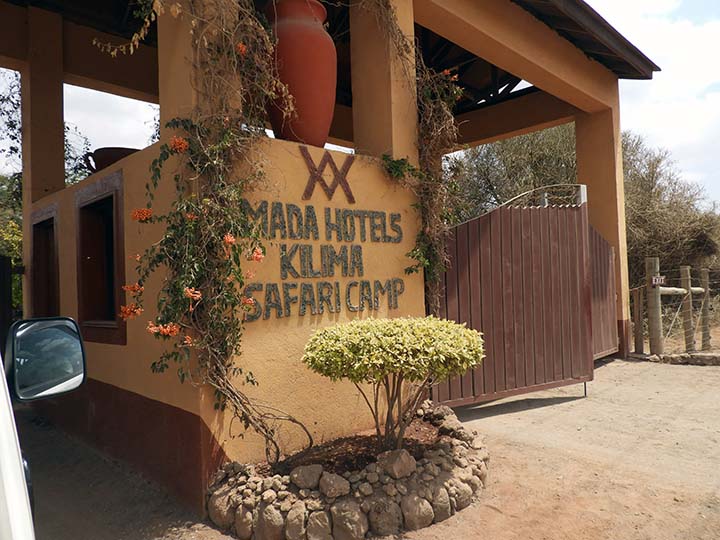 Whew. That's about enough of that rough, dusty road. We've arrived at our home tents for the next couple of nights. Kilima Safari Camp.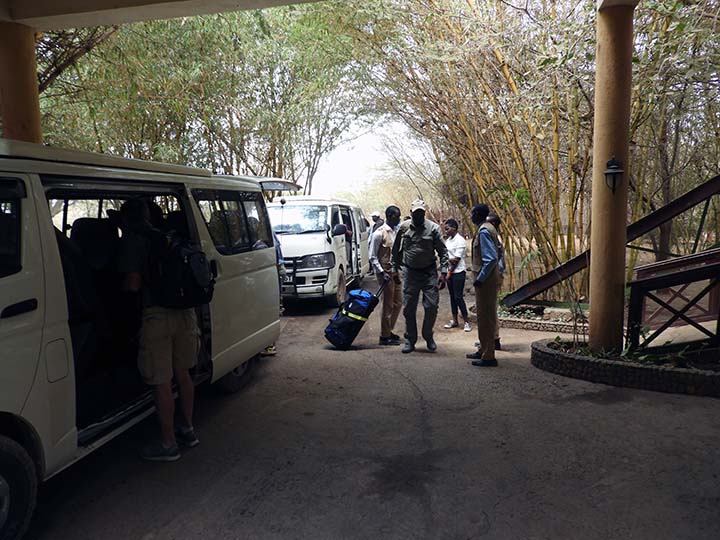 It's a first-class place. We're each given a soft, damp face towel to wipe away the dusty road.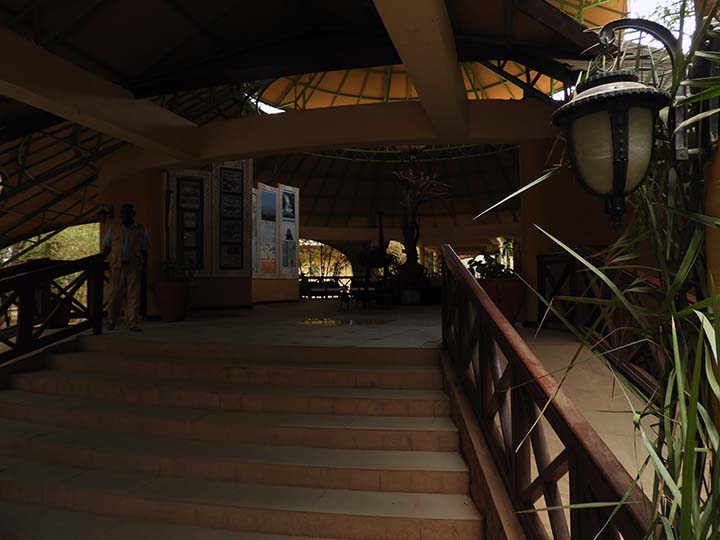 And up there's the lobby.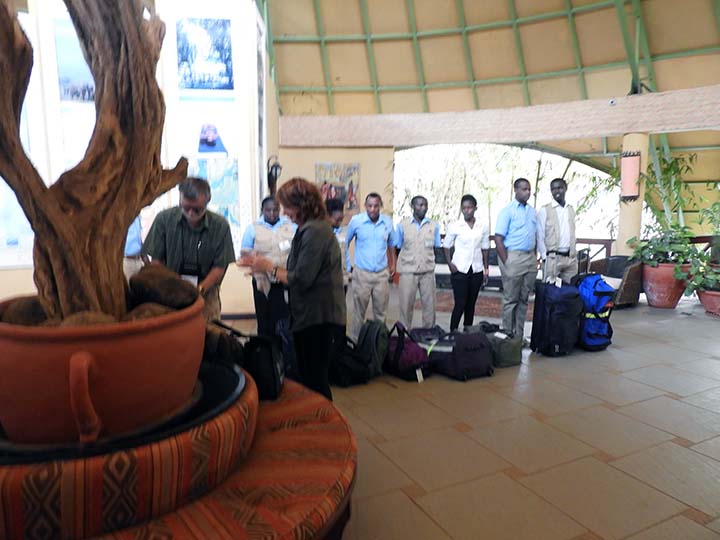 The porters are helping with our luggage.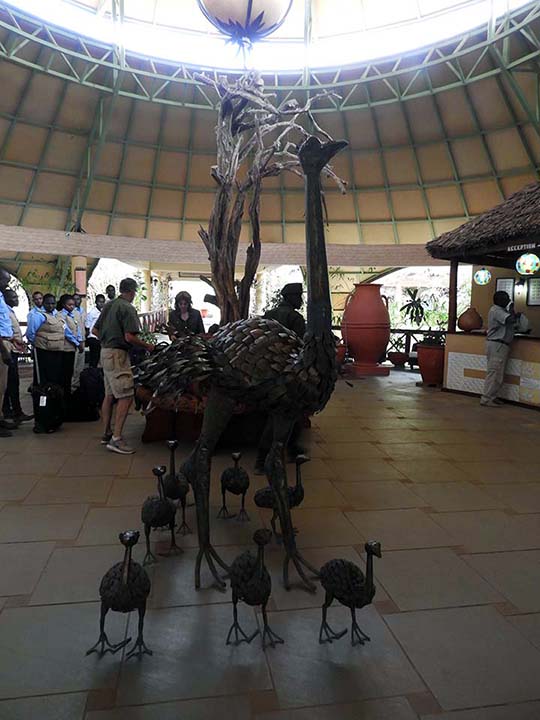 Mama metal ostrich and her metal babies are welcoming us. I backed into one of the little ones and made a racket.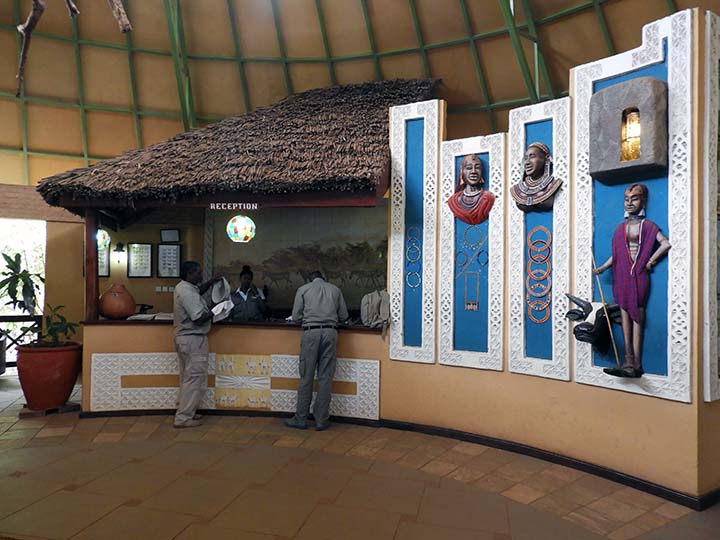 But no problem. Kip is signing us in.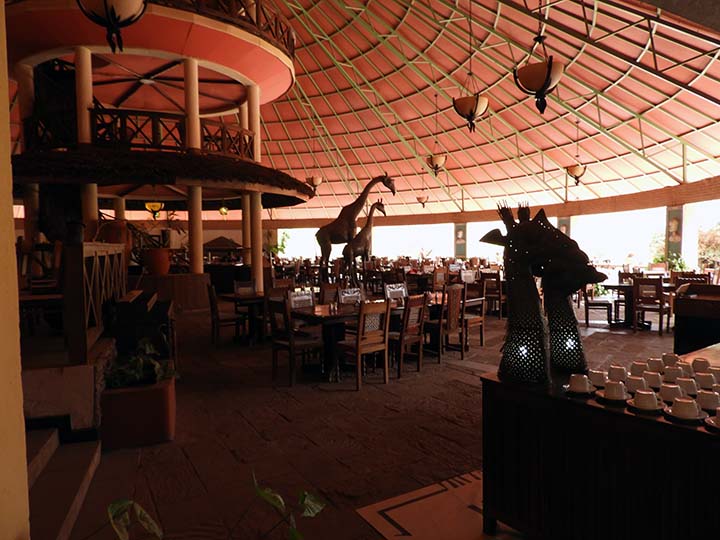 Ooh, nice restaurant.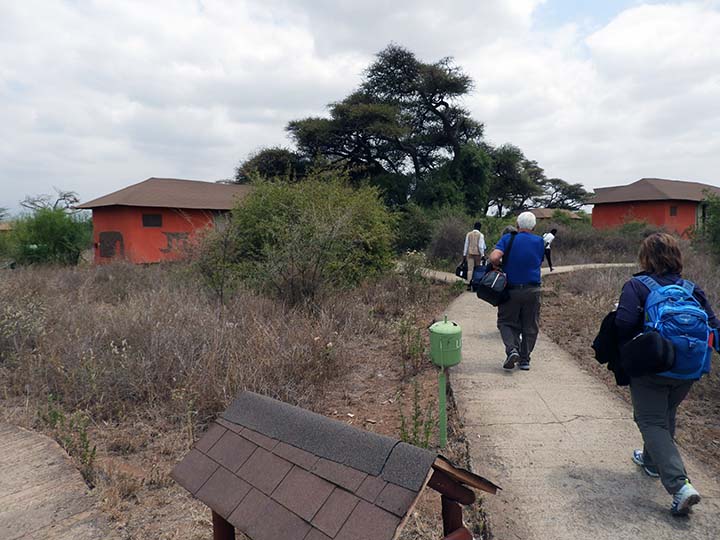 Let's go to our tents and get ready for our afternoon safari. Yes, those are tents. Really. Well, they have canvas walls so that makes them tents, right?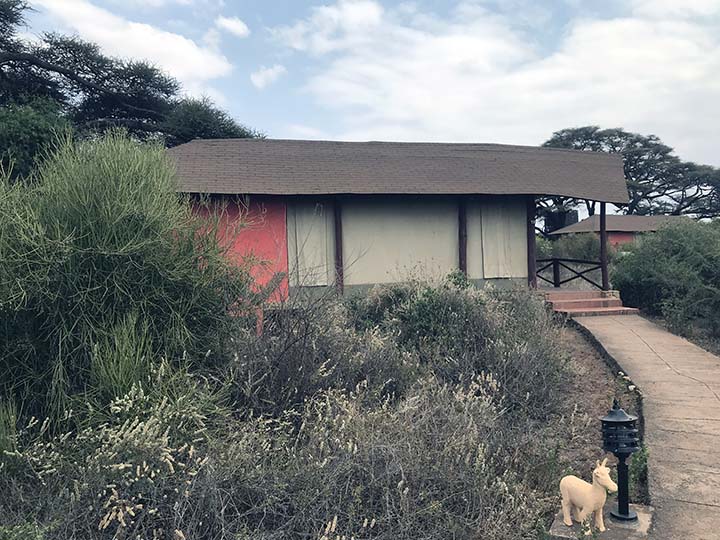 You were looking for tent poles? How 20th century.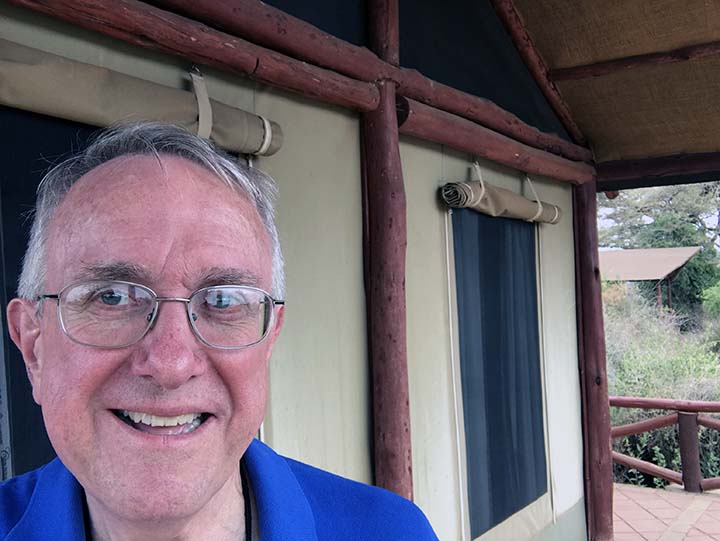 Bill knew he would be sleeping in a tent. Does he look relieved at the sight of this one? You decide.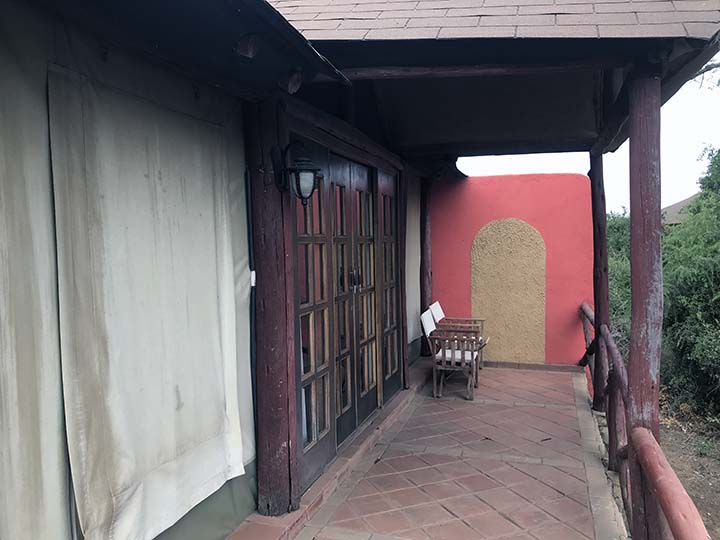 He never did quite master the art of locking that sliding door, but otherwise this place was just about perfect.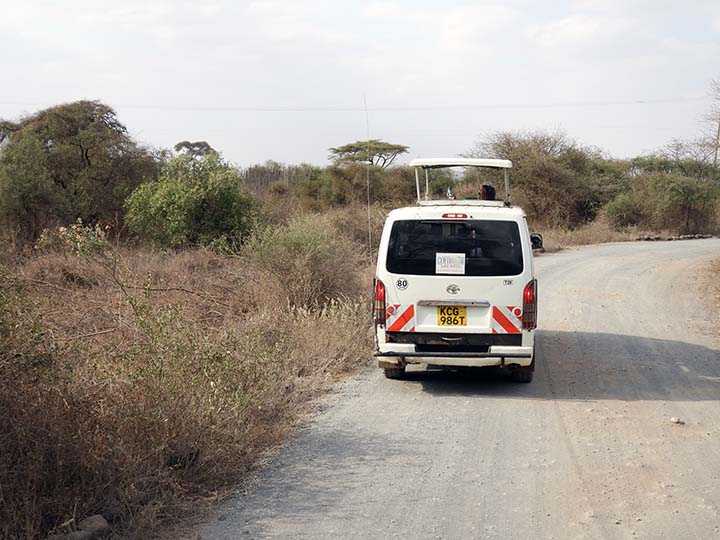 Let's go find some animals.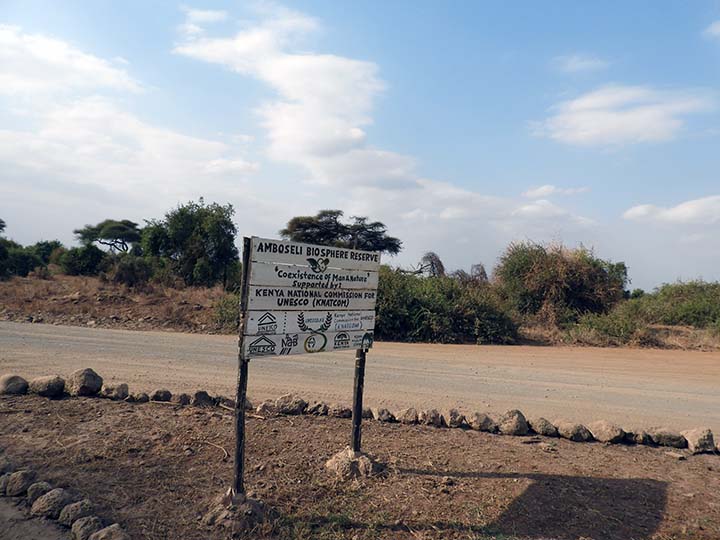 The Amboseli Biosphere Reserve, or Amboseli National Park, formerly Maasai Amboseli Game Reserve, is a national park in Kajiado County, Kenya. The park is 151 sq miles in size at the core of a3,100 sq mi ecosystem that spreads across the Kenya-Tanzania border. The local people are mainly Maasai, but people from other parts of the country have settled there attracted by the successful tourist-driven economy and intensive agriculture along the system of swamps that makes this low-rainfall area, average 14 in, one of the best wildlife-viewing experiences in the world with 400 species of birds including water birds like pelicans, kingfishers, crakes, hamerkop and 47 raptor species. About 150 mi southeast of Nairobi, Amboseli National Park is the second-most popular national park in Kenya after Maasai Mara National Reserve. It is famous for being the best place in the world to get close to free-ranging elephants.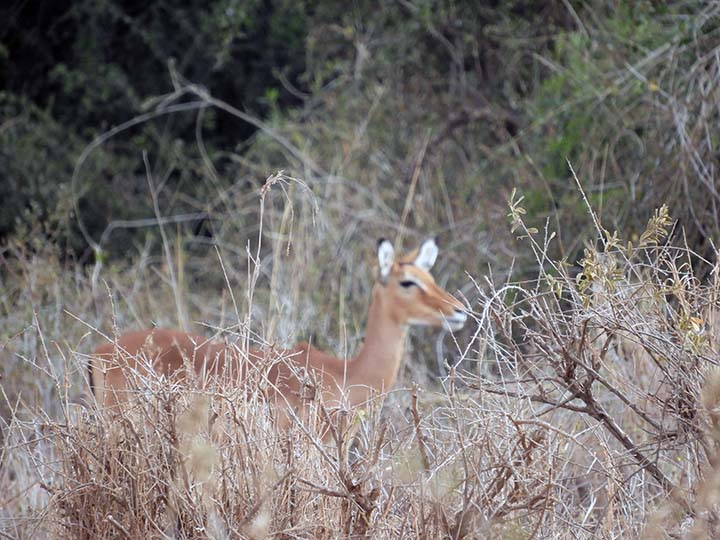 I believe that is a young impala. It's certainly not a dik dik.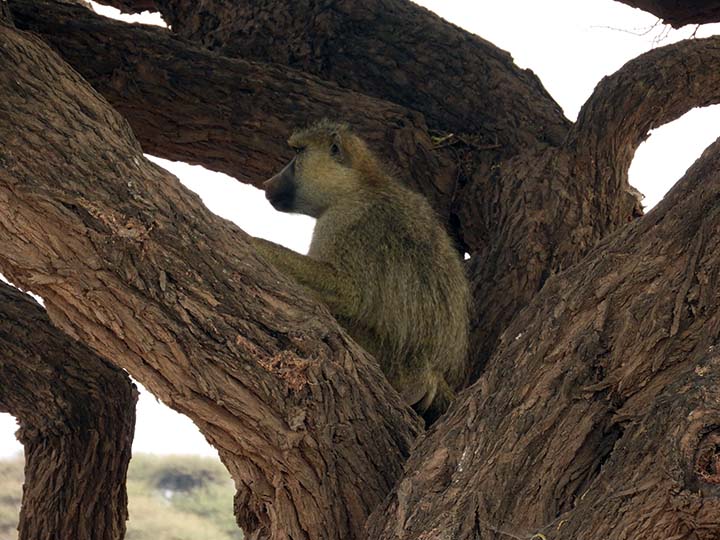 That, on the other hand, is definitely a baboon.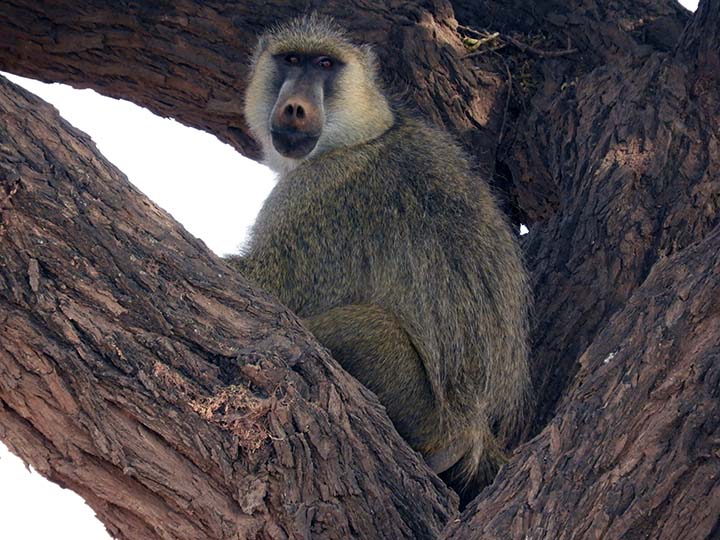 And he's proud of it.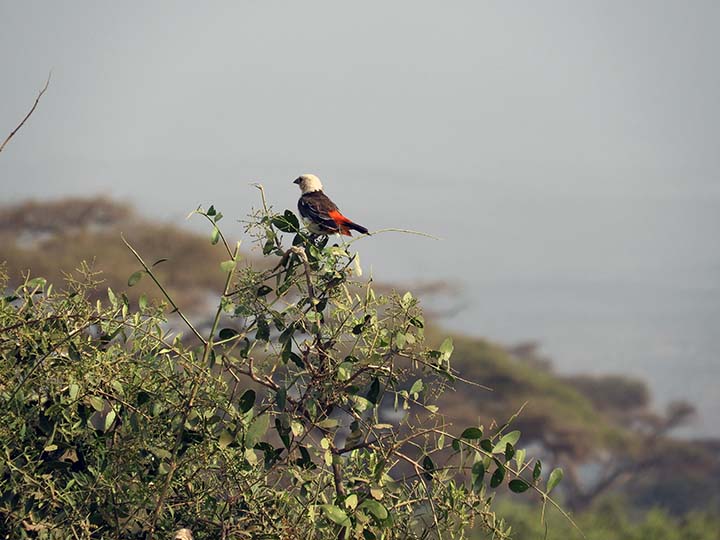 Marsha was our resident bird expert, along with Kip, and I hope when she goes through these pictures she'll help me identify what I took pictures of. That is a bird with a red tail and a white head. Could it be a white-headed buffalo weaver? Perusing Google images makes me think it is.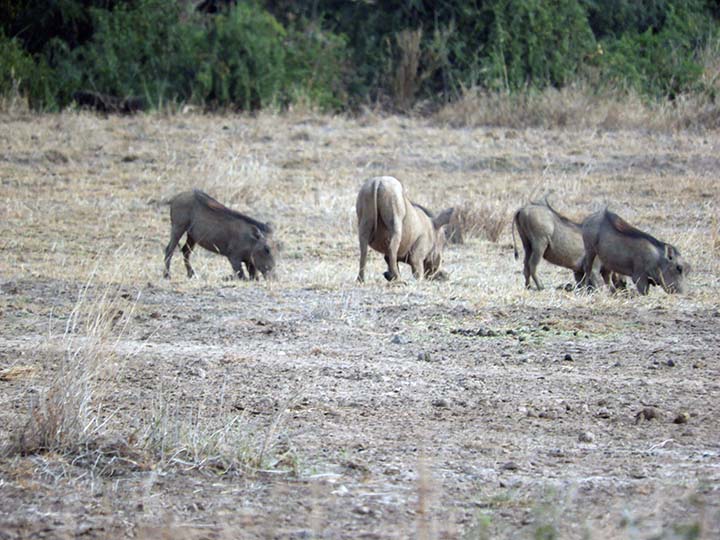 See how the warthogs have to kneel to get their mouths low enough to graze? Whoever created these ugly beasts must have been having a bad day.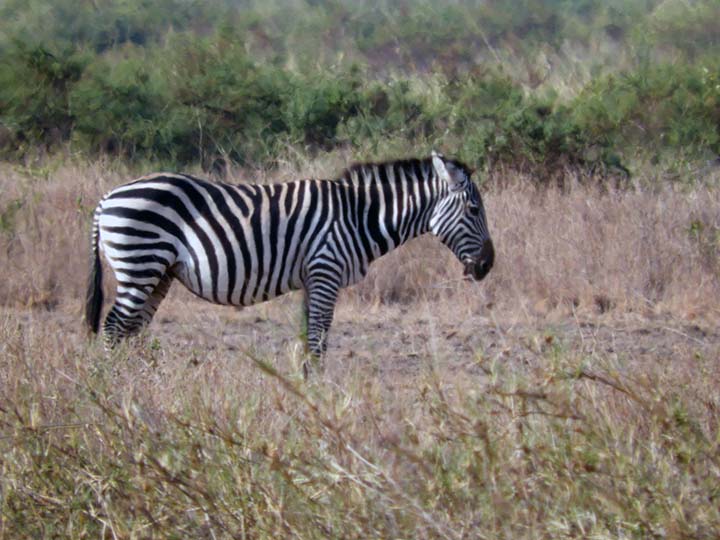 We'll be seeing zebras everywhere this trip.
See what I mean?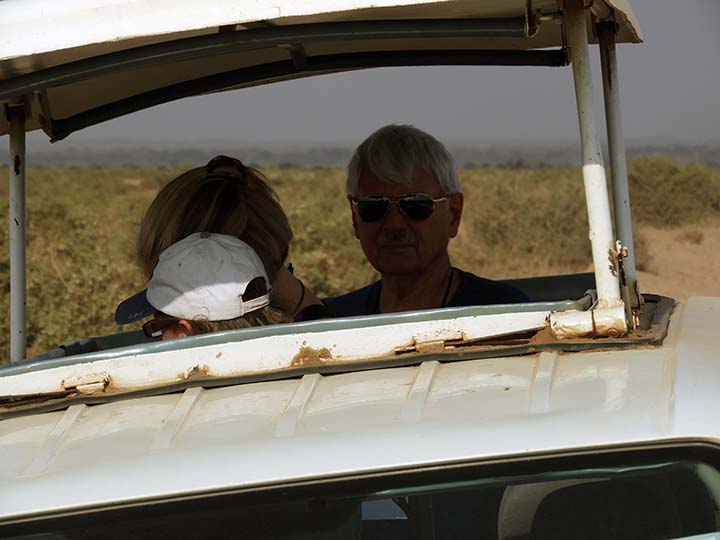 Jim has taken command of his group's vehicle. He is master of all he surveys.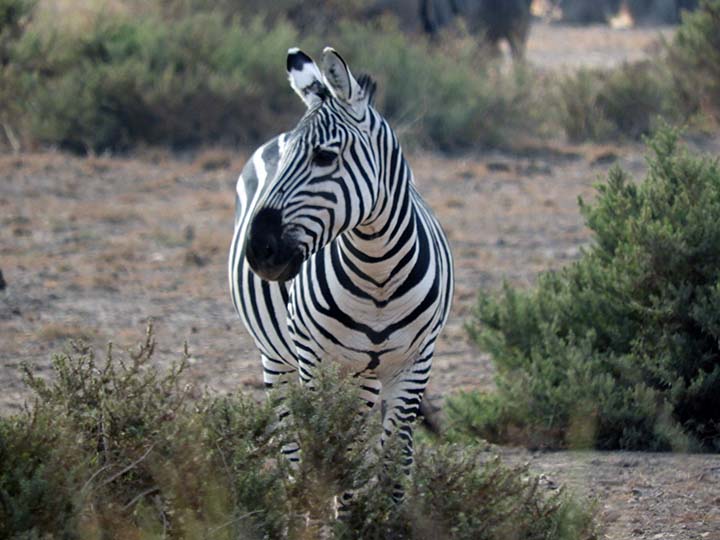 Same goes for this guy.
Wildebeest! (The plural form of wildebeest is wildebeest. I looked it up, but I bet you gnu it already.)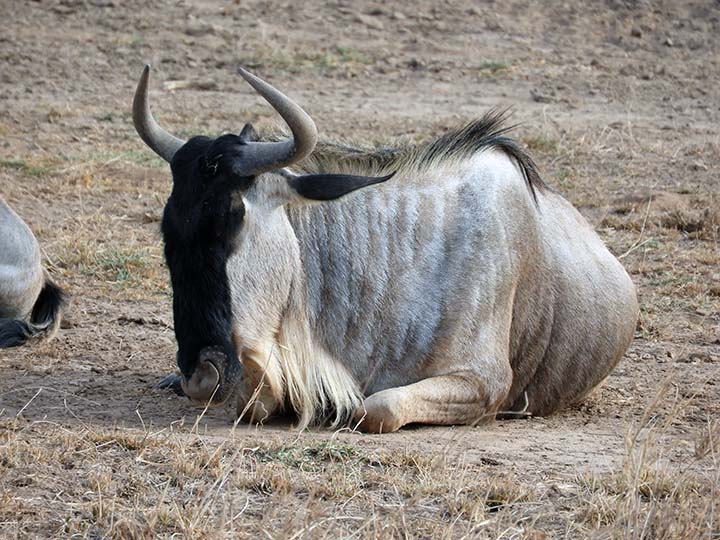 You can read all about them in Wikipedia.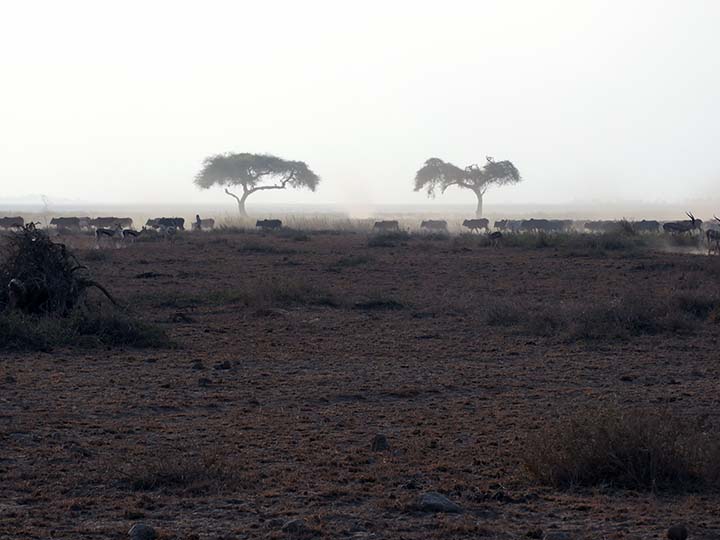 Believe it or not, this is an unusual sight here. Those are Maasai tribesmen herding their cattle. Normally they're not allowed in the national park, but allowances are made during the dry season.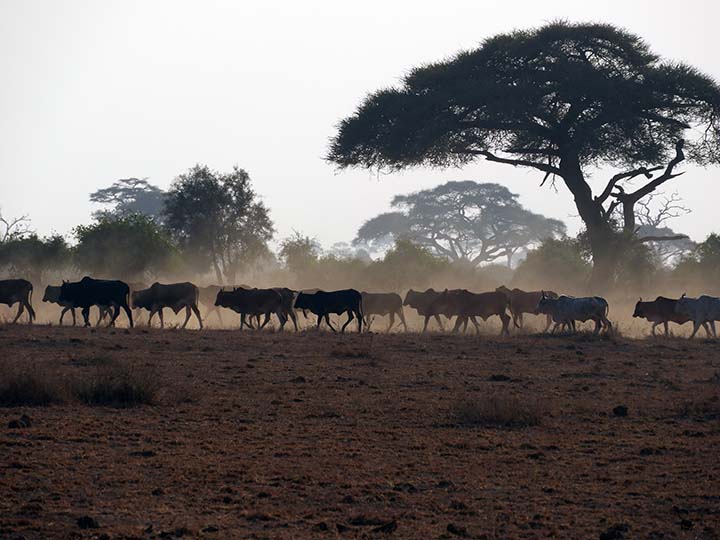 Get along little dogie.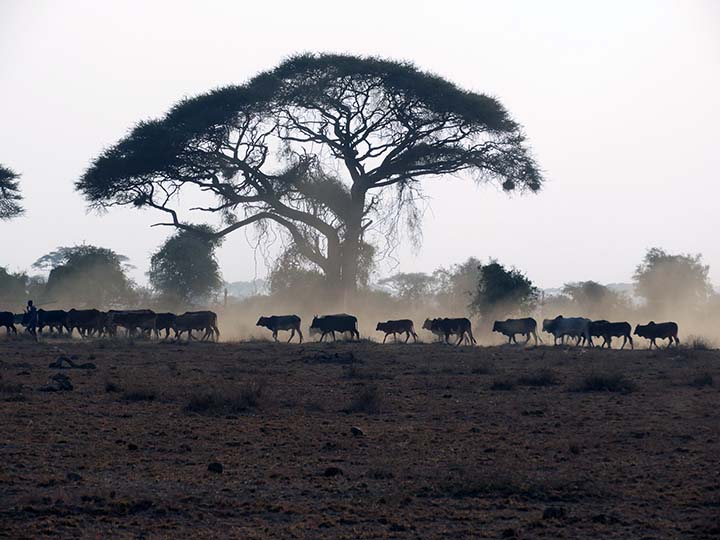 The cattle look familiar, but not so much the acacia trees.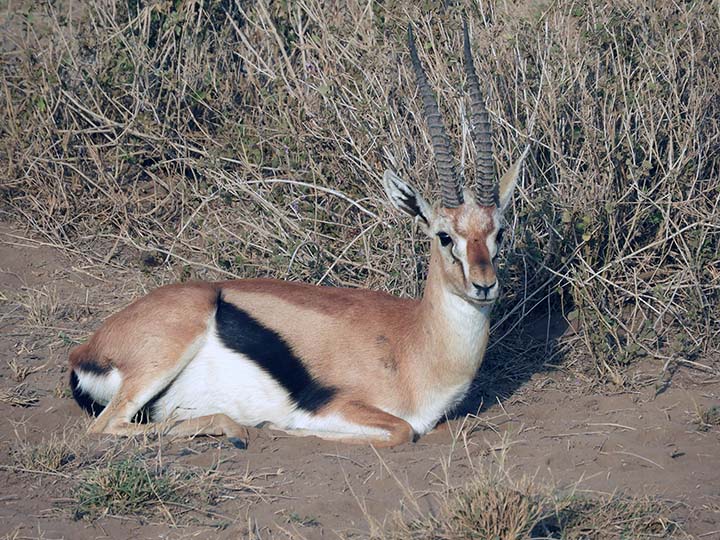 That is a Thompson gazelle. I became a gazelle expert on this trip. Show me a gazelle and I'll name it for you.
Sometimes they ignore us and sometimes they scatter at the sight of our vehicle.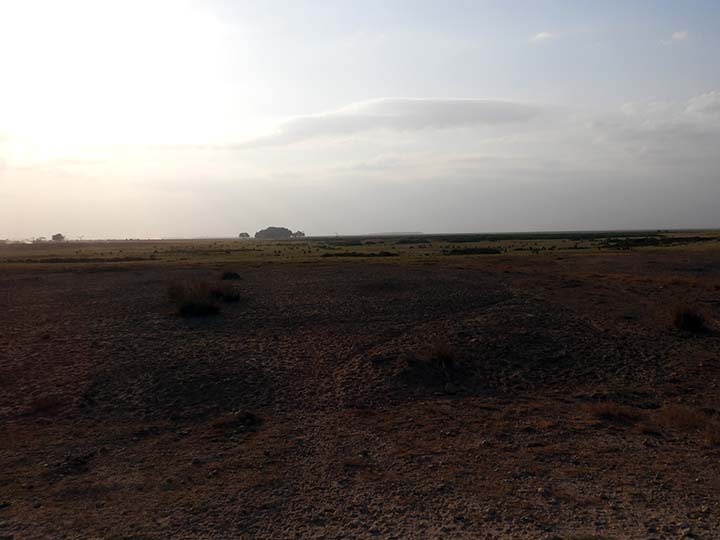 It's starting to get late.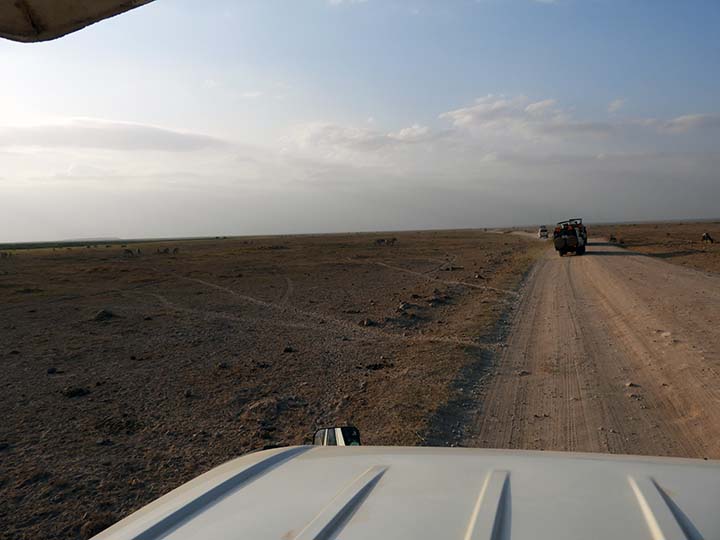 Maybe we'd better start heading back.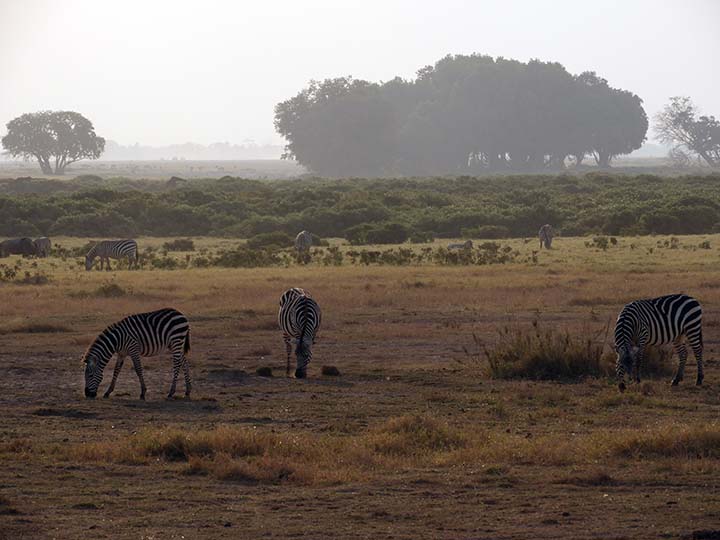 Wait, I think I see zebras.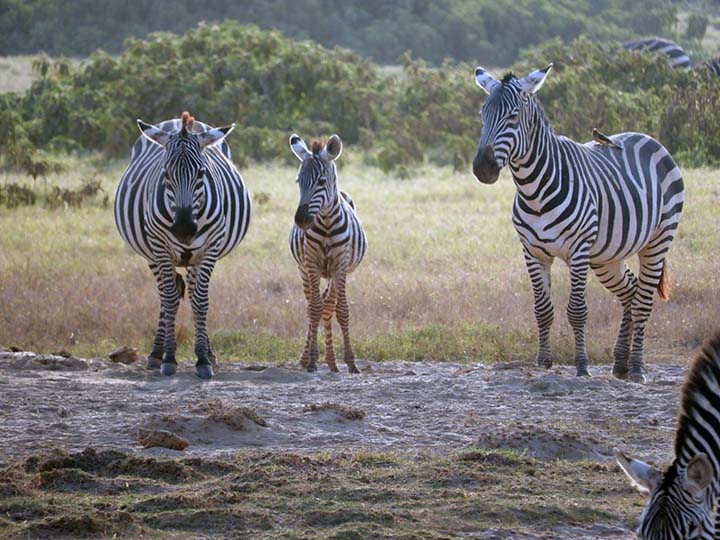 Yep. Pretty things, aren't they?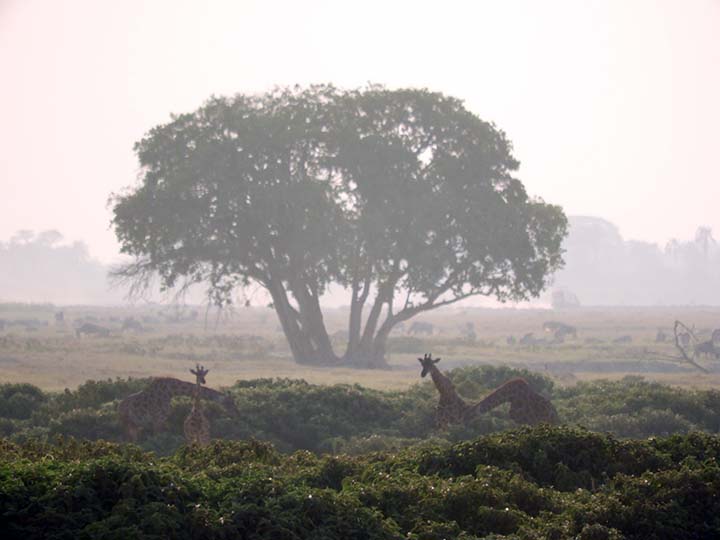 Stop again! Giraffes!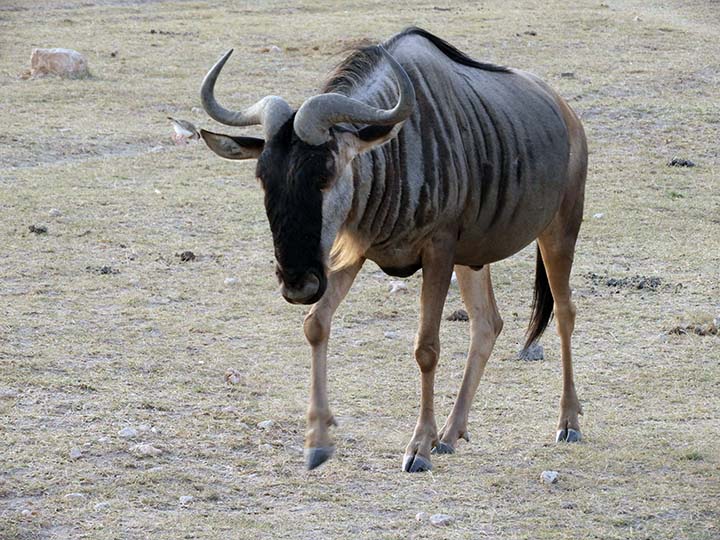 And wildebeest!
And elephants!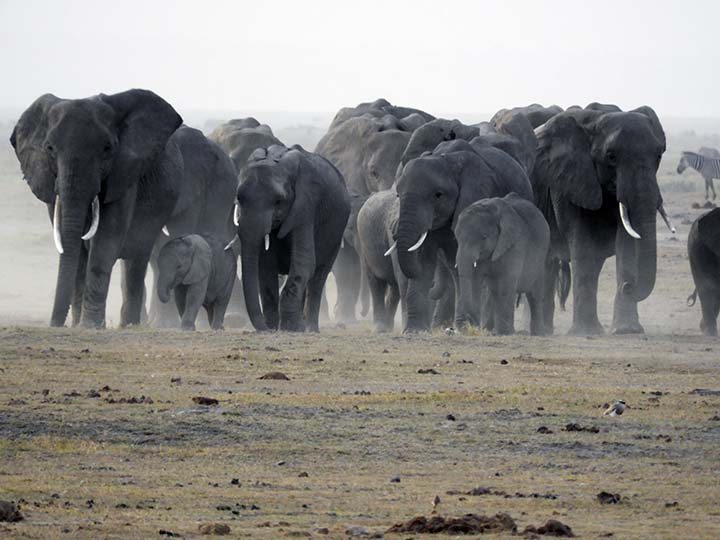 Lots of elephants.
Big ones and little ones.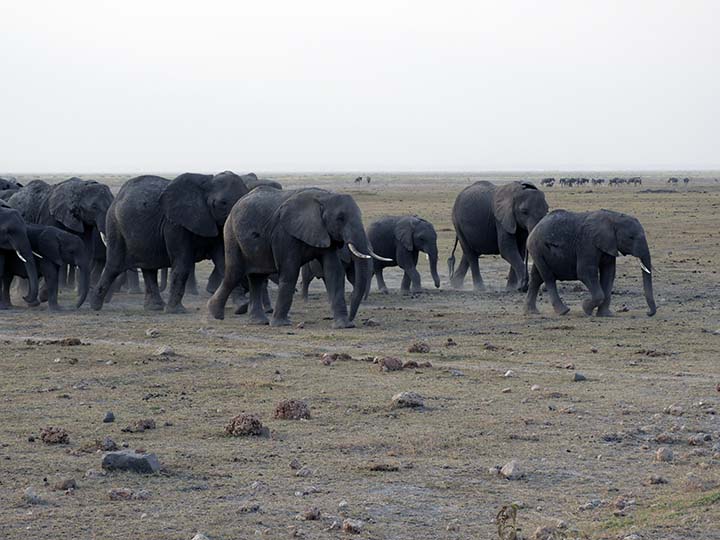 And they're coming over here!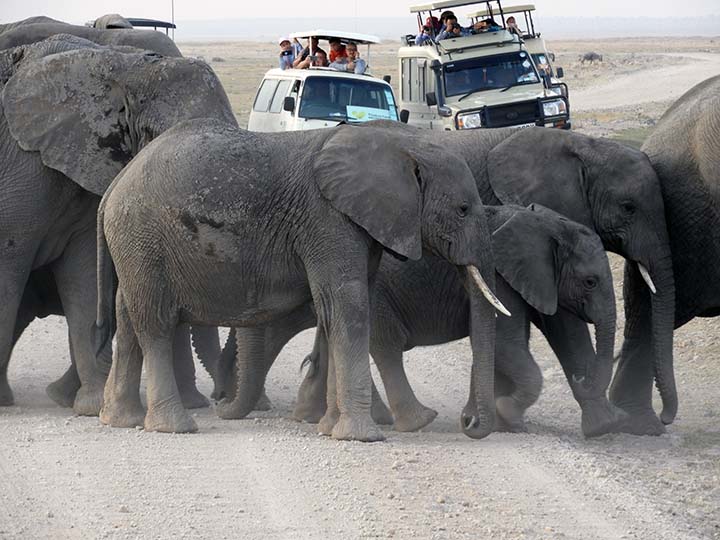 You don't want to get in their way when they want to cross the road.
Just stay back and admire.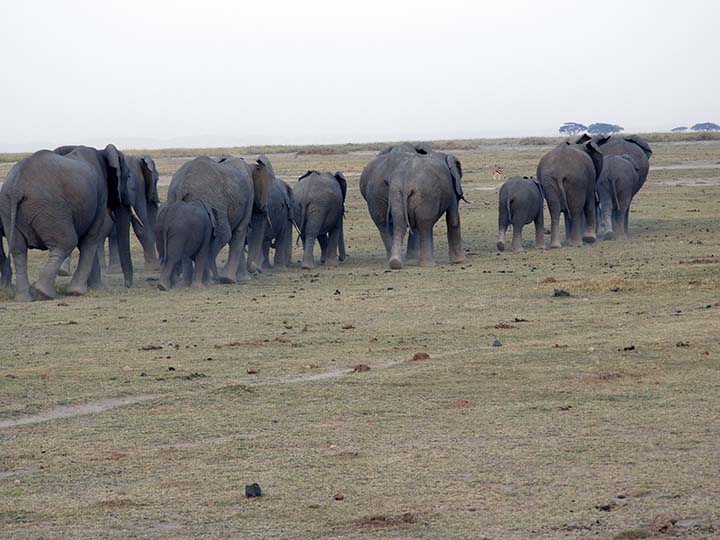 And let them go their own way.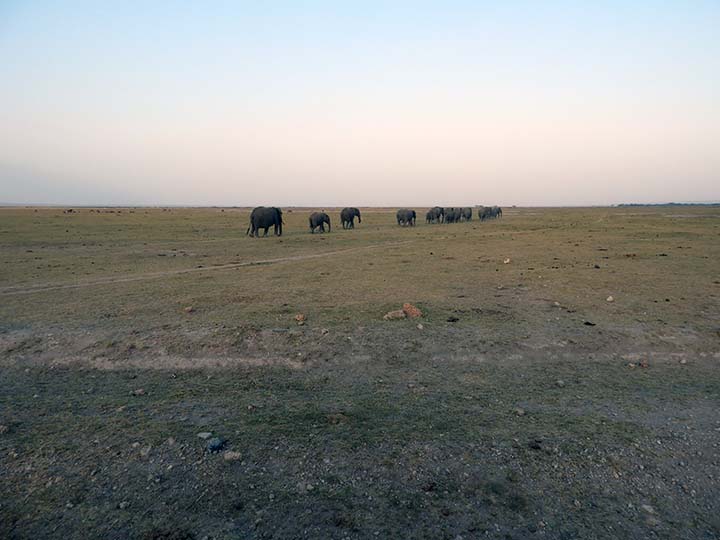 Off into the sunset. Kip says they're headed away from the wetlands to an area that will be warmer tonight. They'll come back tomorrow.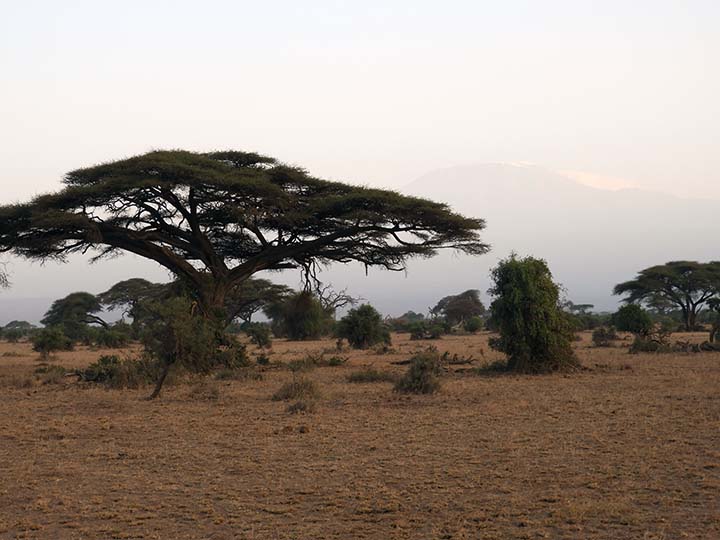 Things are getting quiet out here on the savannah.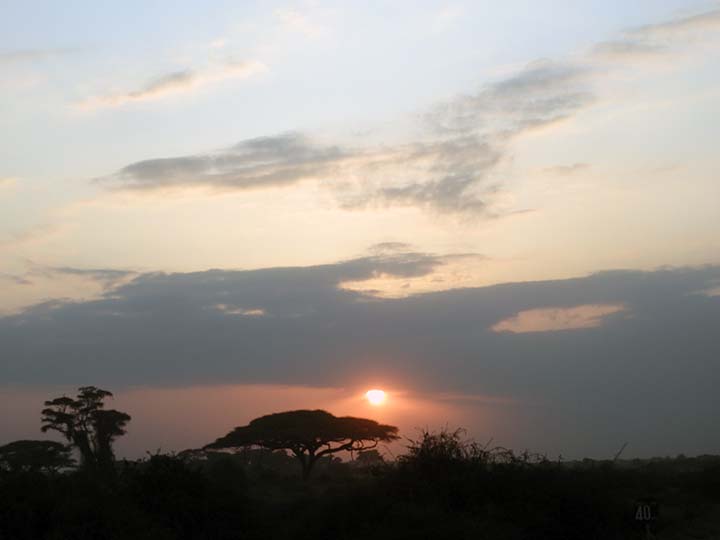 Sun's going down.
The lights are on in the tents.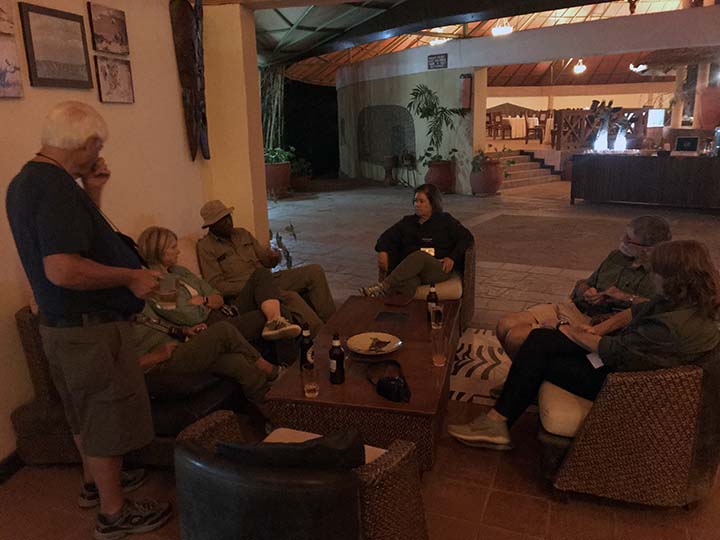 The Road Scholars are relaxing after a long fascinating day. That's Jim on the left with Donna hidden behind him, then Marsha and Kip, Mandy, and Myras and Kathy on the right. With this crew along I know I'm going to have a great time.
But now it's bed time. I love the idea of sleeping under mosquito netting, even though I haven't yet seen even a single mosquito. Do I really need those malaria pills? Best to be safe, I guess.