After leaving Ford's, we drove past a few locations in downtown DC where Booth conspired with others to assassinate key members of the government in an attempt to take revenge for the defeat of the Confederacy. We saw where conspirator Lewis Powell lived (now a Gordon Biersch brewpub) and we even drove through Chinatown to see the boarding house where the conspiracy was hatched.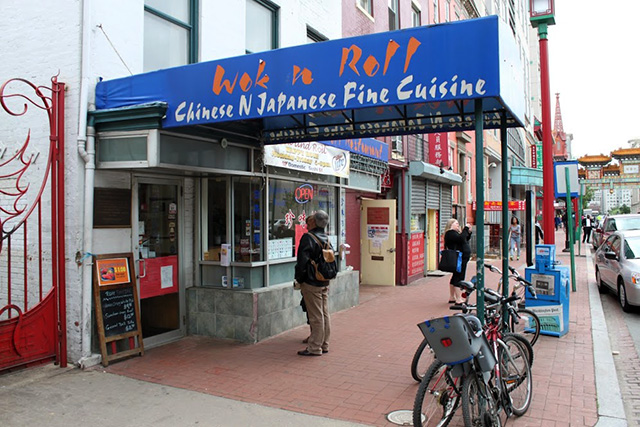 Yep, there it is: Mary Surratt's boarding house, right up there on H St. about three blocks from my condo. I think the tourists are looking at the menu. They ought to be reading that bronze historical marker just to the right of the red gate. This is an historical building! And can I have eggroll with that?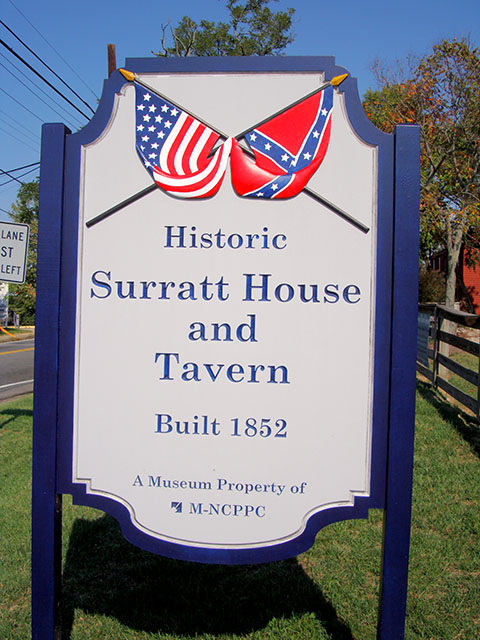 Now we're on the road. The first key stop is Surratt's Tavern in Surrattsville (now Clinton), MD.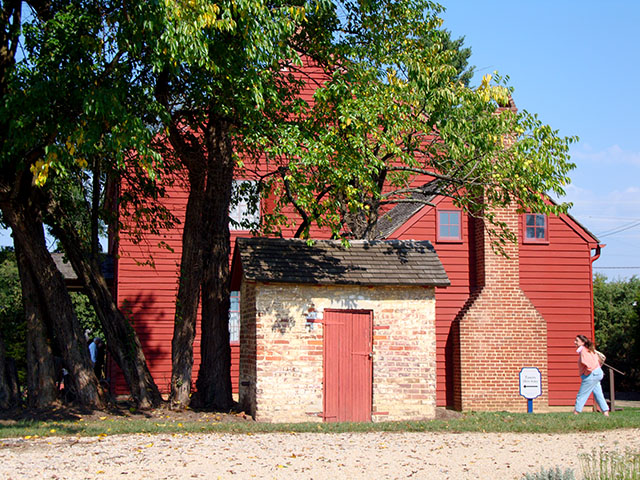 John and Mary Surratt built this place in 1852 and it became a way-station for travelers as well as the town post office. Probably because John tended to drink the tavern's profits, Mary generally stayed at the couple's farm with their kids.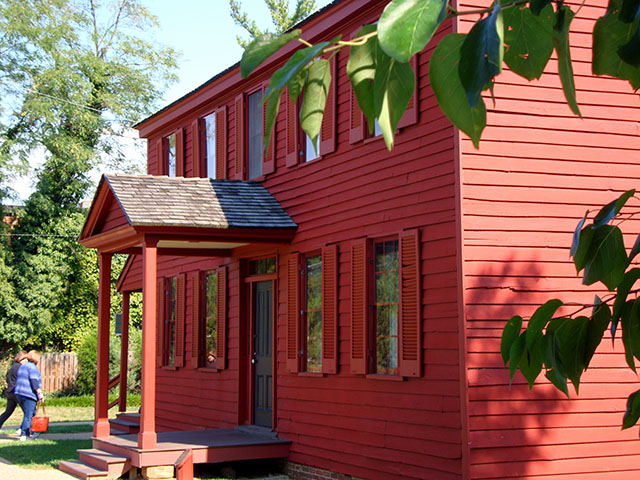 When John died of a stroke in 1862, Mary turned over the operation of the tavern to a tenant and moved to a townhome she owned in DC. That's where she met John Wilkes Booth and the other conspirators.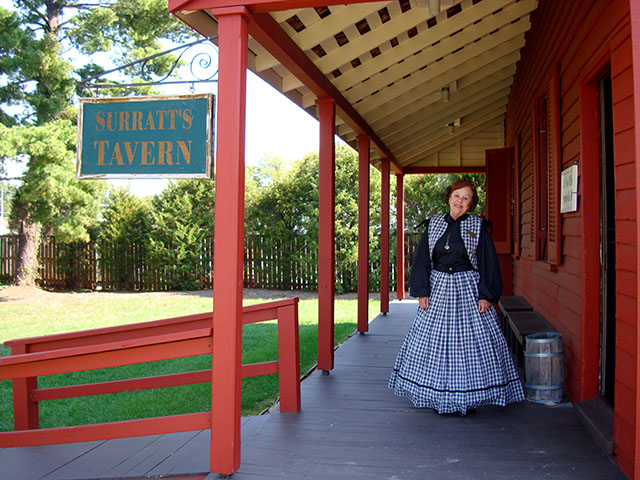 She looks sweet, doesn't she? But treachery lurks behind that smile. See, in preparation for the assassination, John Surratt, Jr. (Mary's son) along with George Azterodt and David Herold hid two Spencer carbines along with ammunition and other supplies between some wall studs in the tavern attic. Later, Mary drove her buggy from DC down to the tavern to tell her tenant to have those "shootin' irons" ready for quick pick-up. And indeed, John Wilkes Booth and David Herold did stop by to pick up the weapons as they fled Washington after the assassination.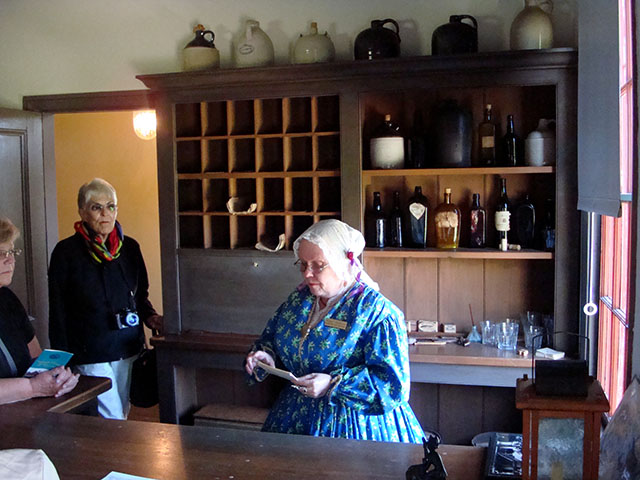 Here's the bar where between drinks, John Surratt passed customers' US Mail out that window.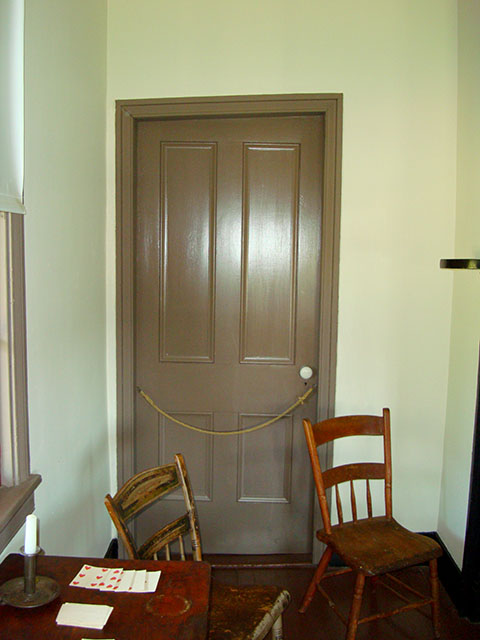 Take a good look at that door. It's original. Apparently when it was purchased it had a crazy shape, so the carpenters just put up a frame to fit.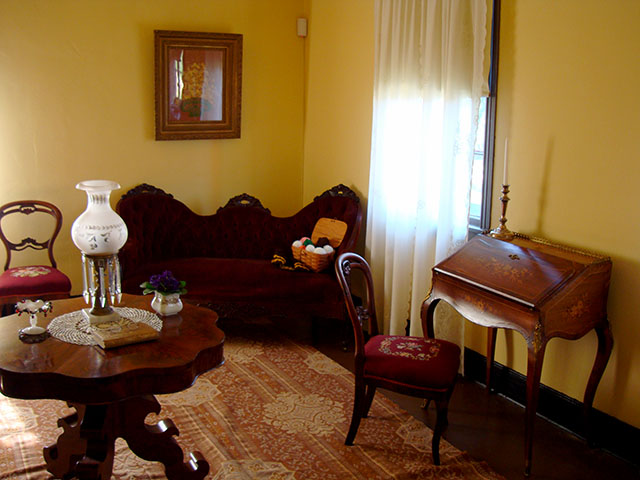 Here's the parlor. There were strict customs in those days that prevented ladies from mixing with men at taverns. So if a lady came by, this is where she rested.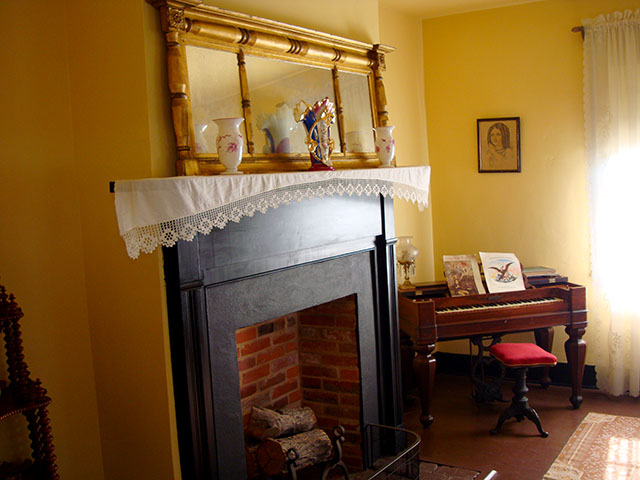 Nice place. That mirror wasn't there for guests to admire their pretty faces; it was there to reflect candlelight in the days before electric light bulbs.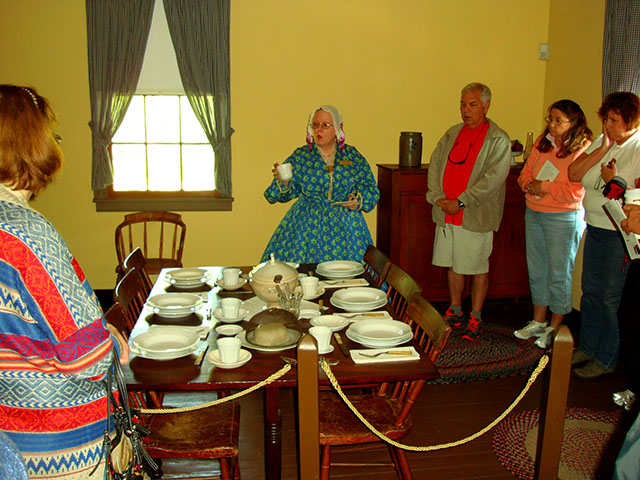 This is where the men ate.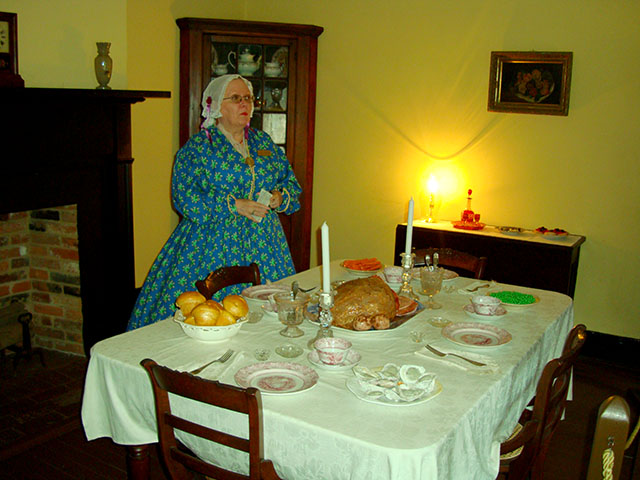 And this is where the ladies ate. Much nicer, don't you think?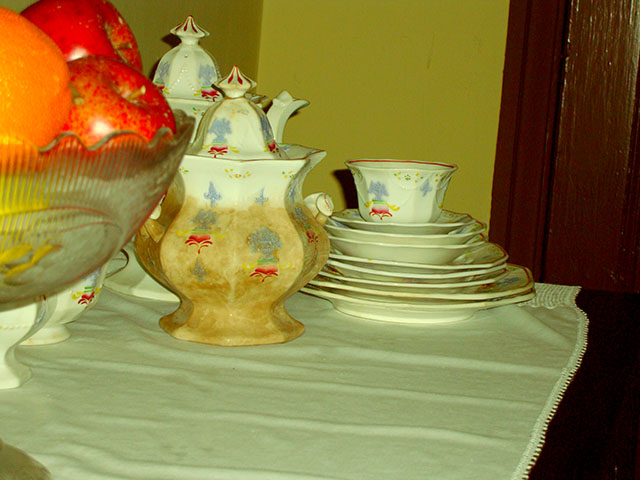 Just look at that that sugar bowl. White sugar was considered special and was reserved for special guests. Otherwise, raw brown sugar was used. The lower portion of the bowl is stained by brown sugar that has leached through the porcelain.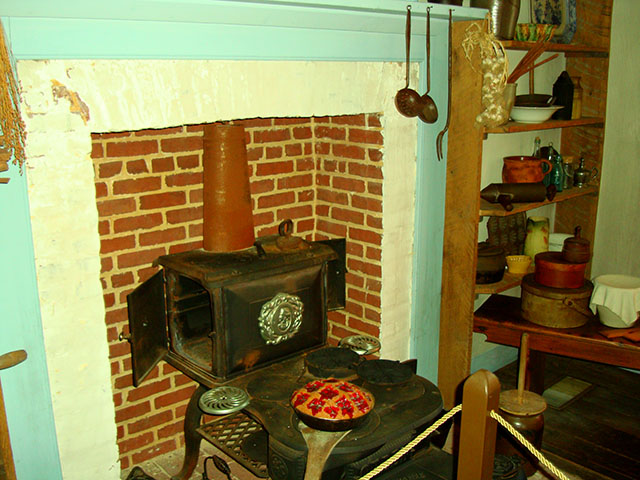 Mmmmm...cherry pie on the menu tonight!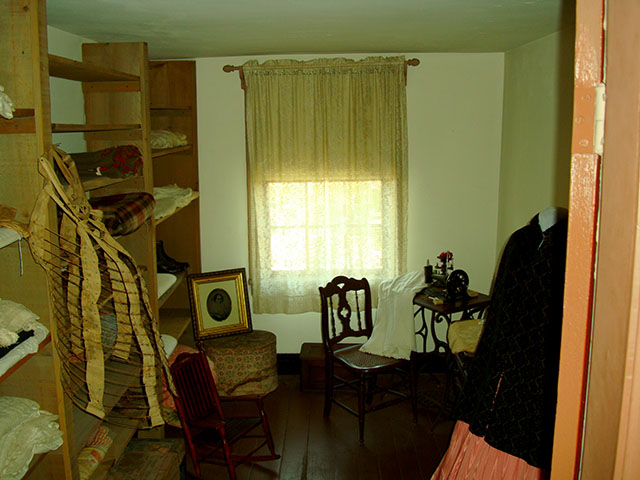 That's a vintage Singer sewing machine over there.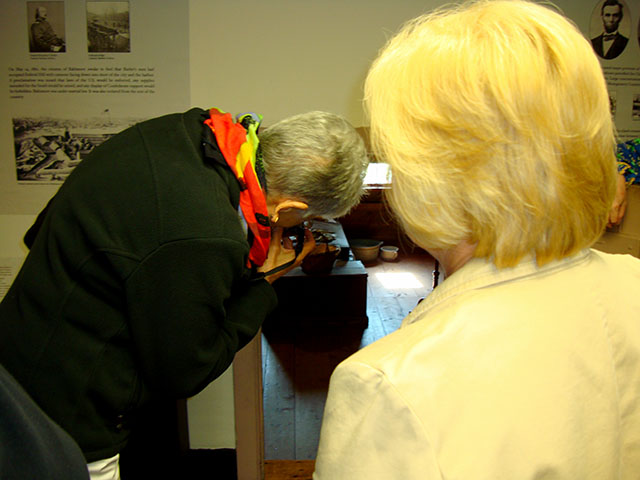 And down through that small door is the part of the attic where the weapons were hidden.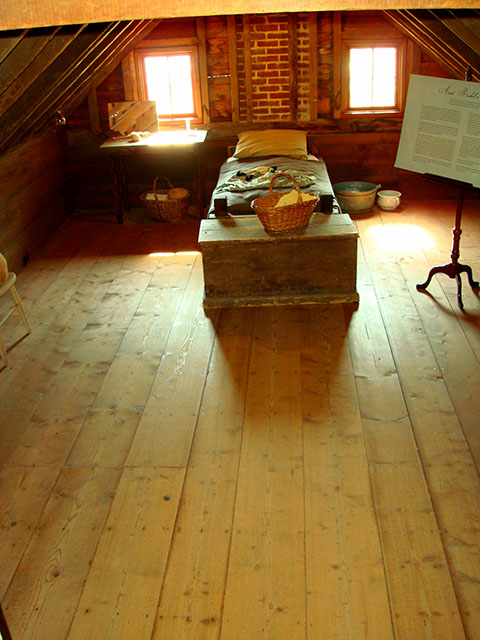 So who slept here? Possibly a slave.
Everybody wants to get a look through the little door.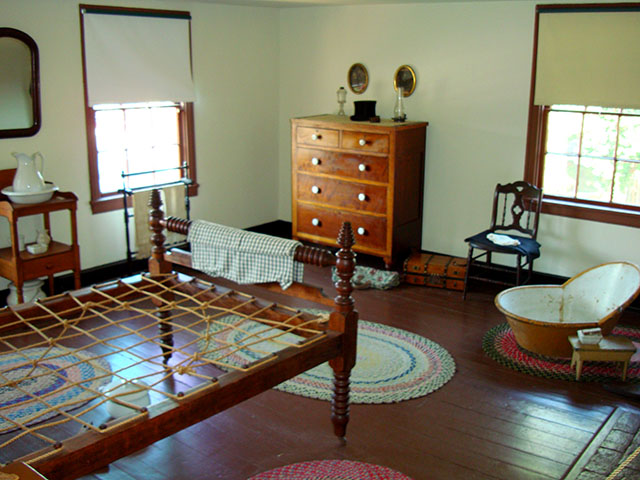 And here's a bedroom with a bed frame all ready for a nice feather mattress.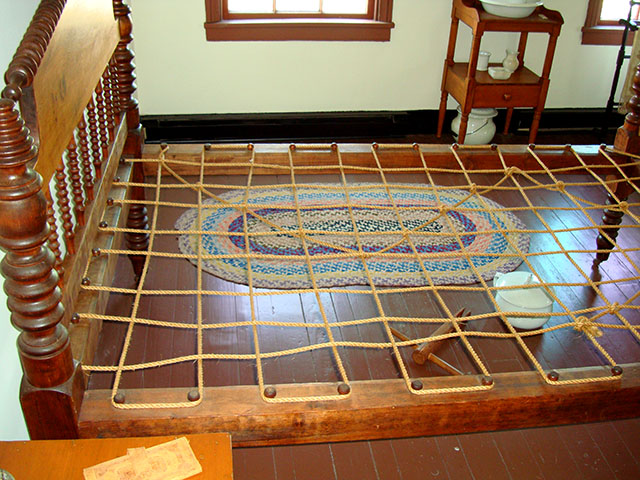 I dunno. I think I'd prefer box springs.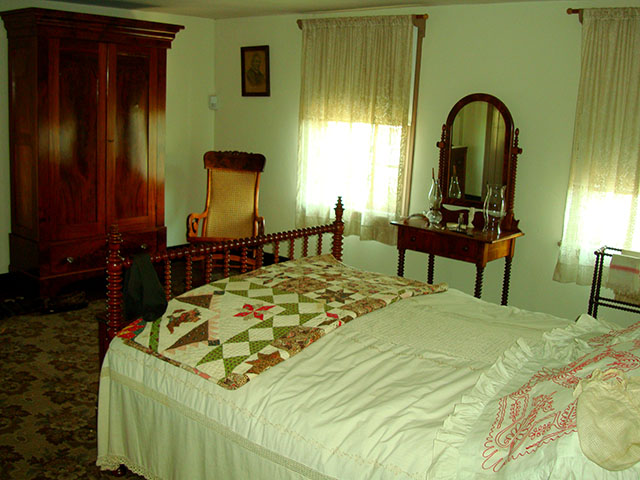 Ladies could sleep in this room. Husbands and wives didn't share a room. Why, you ask? Well, just suppose an extra traveler were to arrive late at night and the innkeeper needed a place to put him. With hubby in a room by himself, the innkeeper could just wake him up and tell him to move over -- another guest had arrived.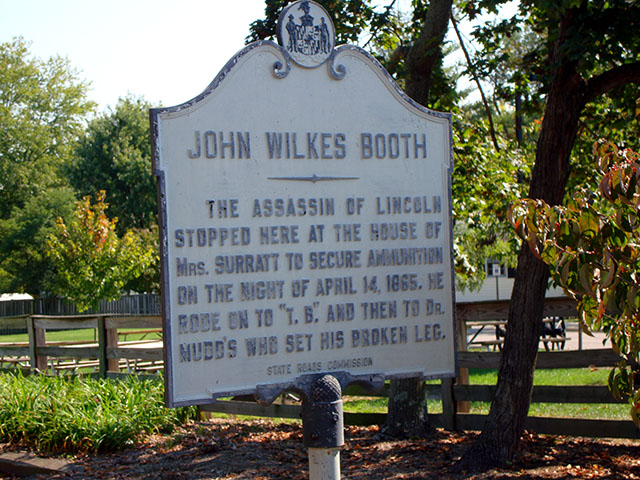 John Wilkes Booth did indeed stop here.