It was only a few weeks before the trip that I realized I would be in Budapest Hungary when the final episode of Game of Thrones aired. Oh dear, what to do?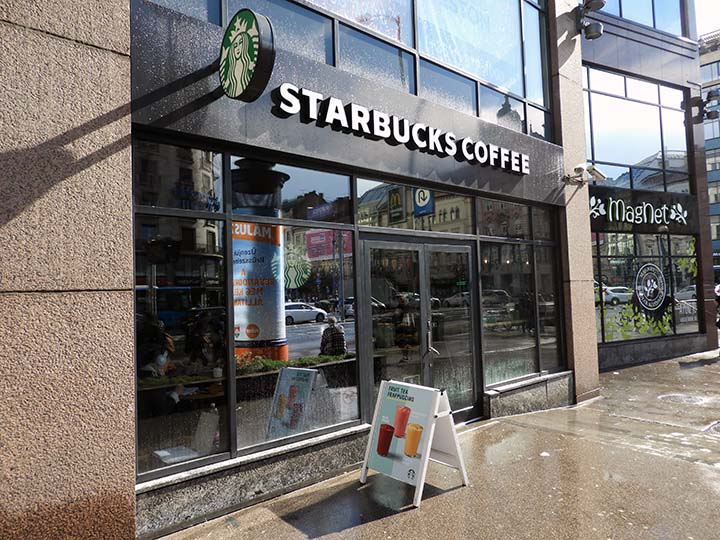 No problem, really. I just installed some software on my Android tablet — VPN — that would make HBOGo think I was still at home and not wandering around Europe where HBOGo isn't supposed to work. All I had to do was get over to Starbucks down the street and around the corner when it opened that morning at 7 o'clock to take advantage of their fast Wi-Fi connection, (our hotel's was too slow.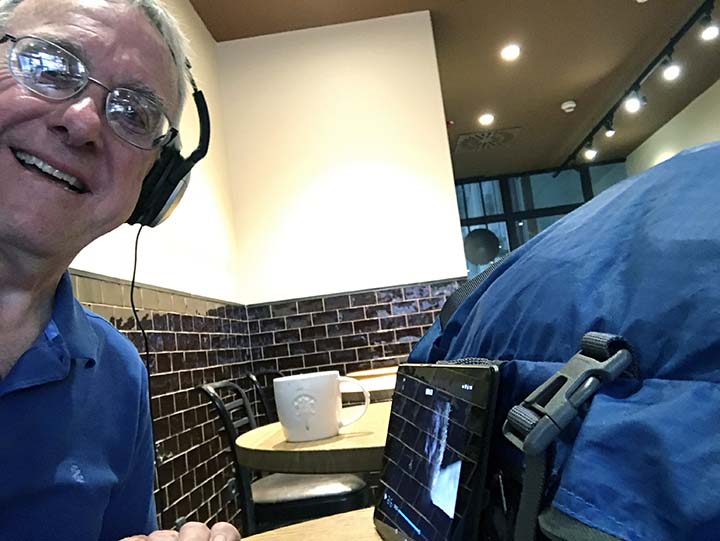 I got to see who lived and who died and how it all turned out in the end. Yay!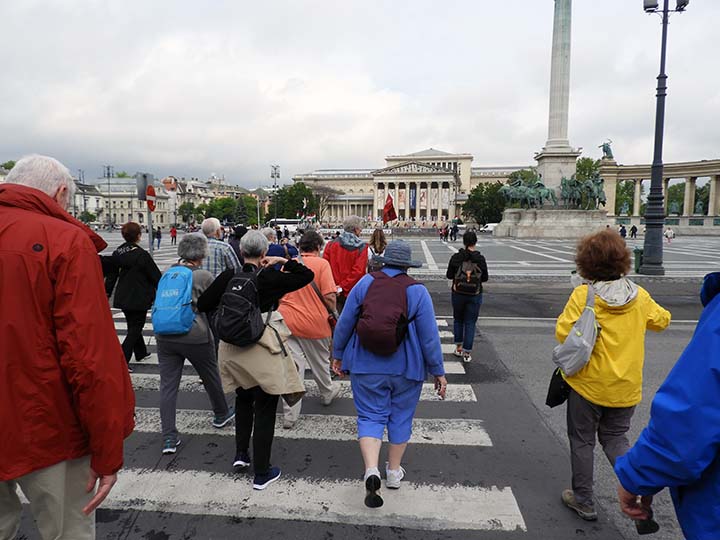 With the fate of Westeros out of the way it was time to explore Budapest and learn some Hungarian history. Our local guide is named Zsuzsa -- see her up there in the front holding the red flag? -- and even though she hasn't once said "dahling," she still sounds exactly like Zsa Zsa Gabor. And she is a terrific guide.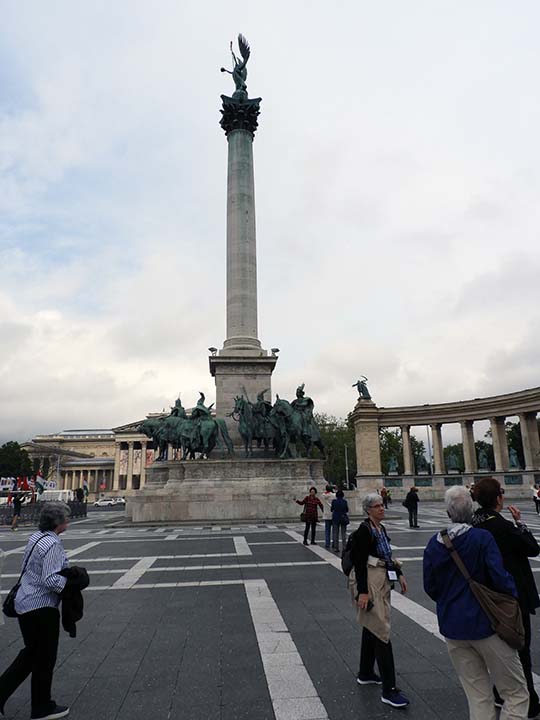 First stop is Heroes Square. Hősök tere is one of the major squares in Budapest, Hungary, noted for its iconic statue complex featuring the Seven chieftains of the Magyars and other important Hungarian national leaders.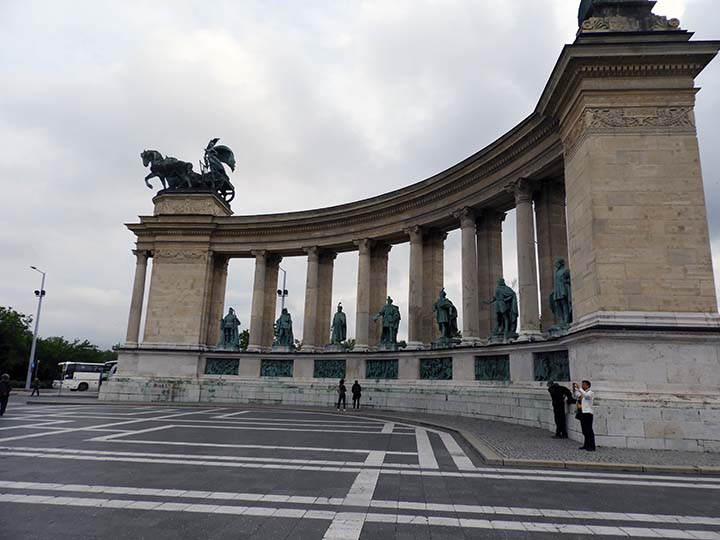 There are lots of heroes in Heroes Square. Let's look at a few.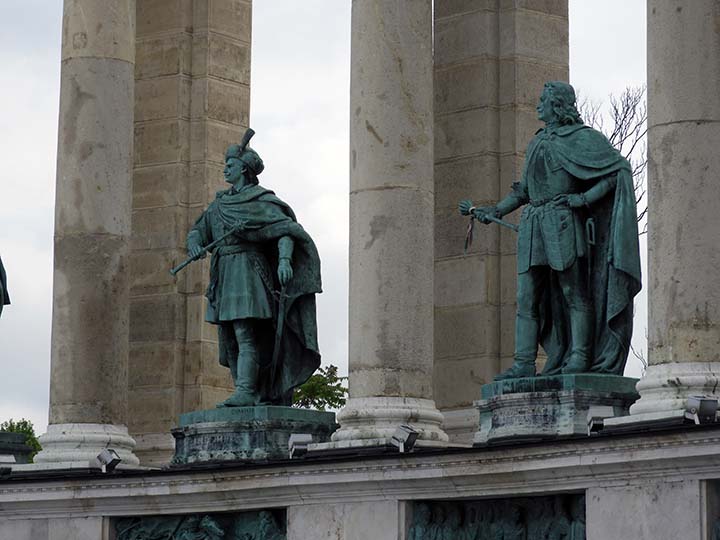 That's King Coloman on the left -- he prohibited the burning of witches -- and there's King Andrew II on the right, about to lead a crusade to the Holy Land. I know this because I looked up their pictures on Wikipedia.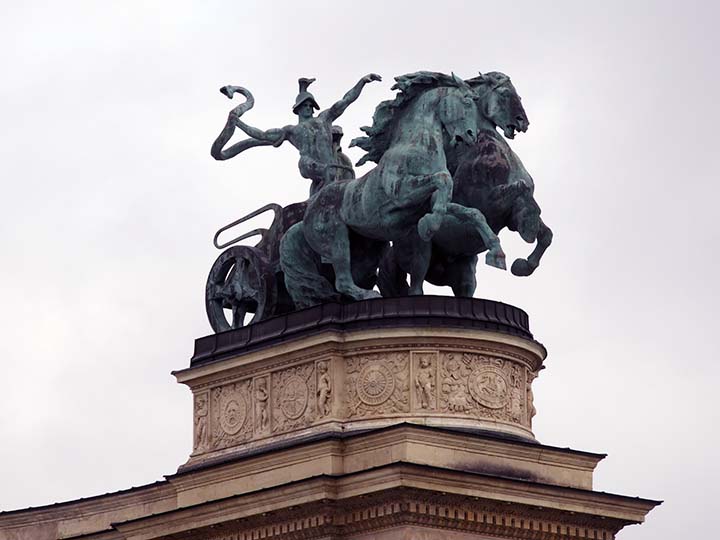 That's a Man with a Snake, the symbol of War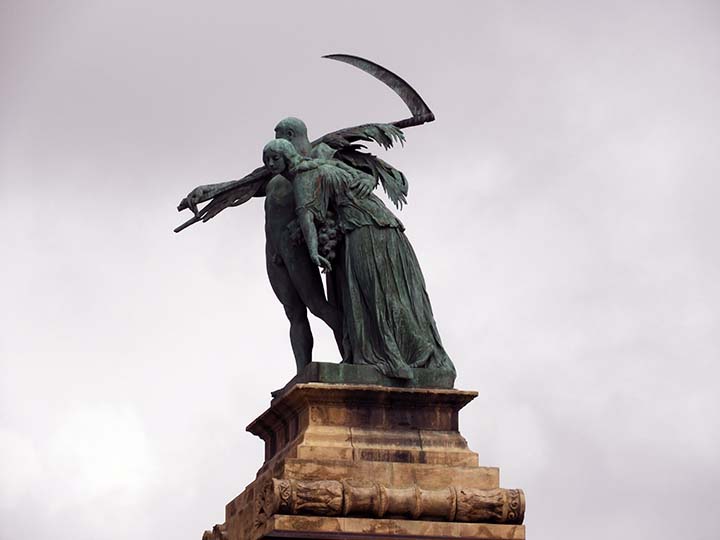 And that's the couple of Labor and Wealth. These statues are big on symbolism.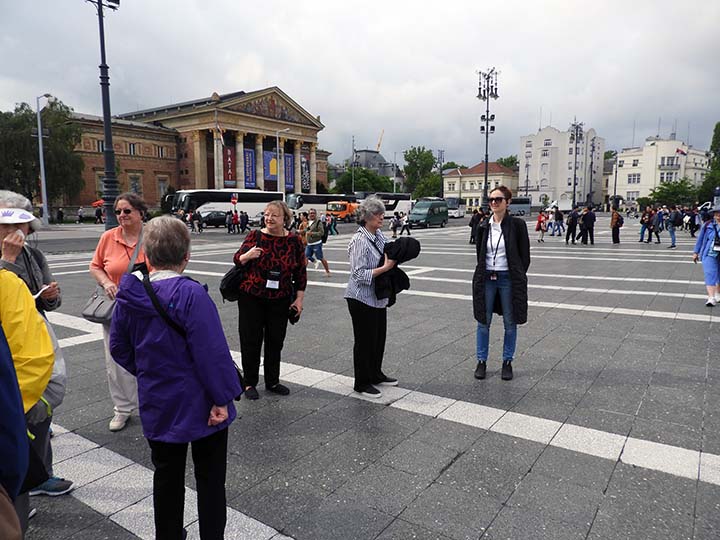 The Road Scholars are taking it all in.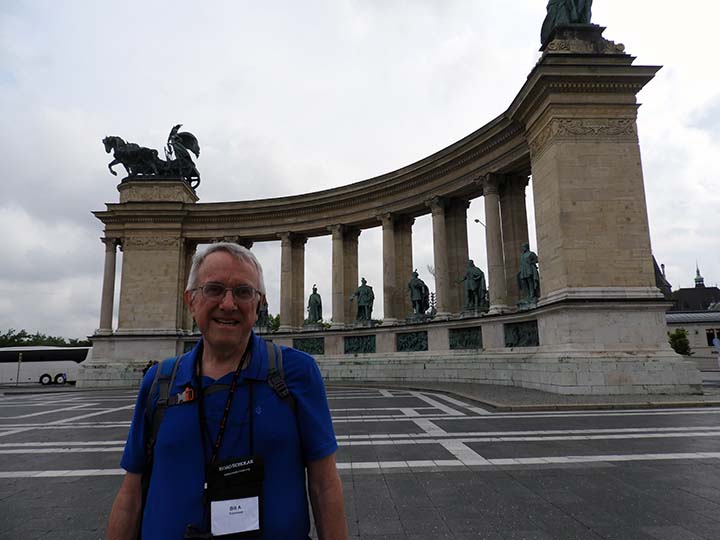 This one especially.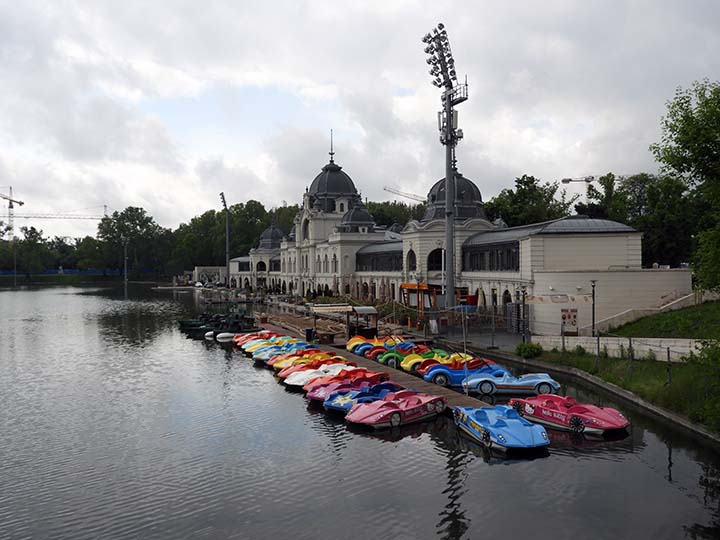 Fanciest paddleboat house I've ever seen.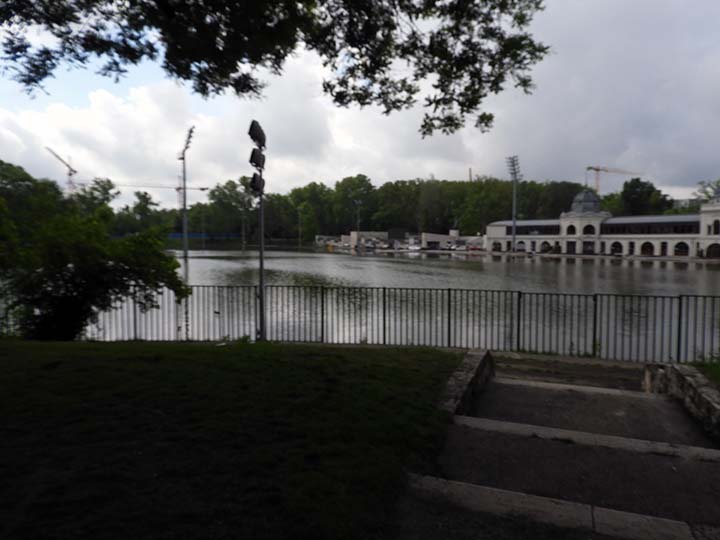 The area was developed for recreation just over 100 years ago.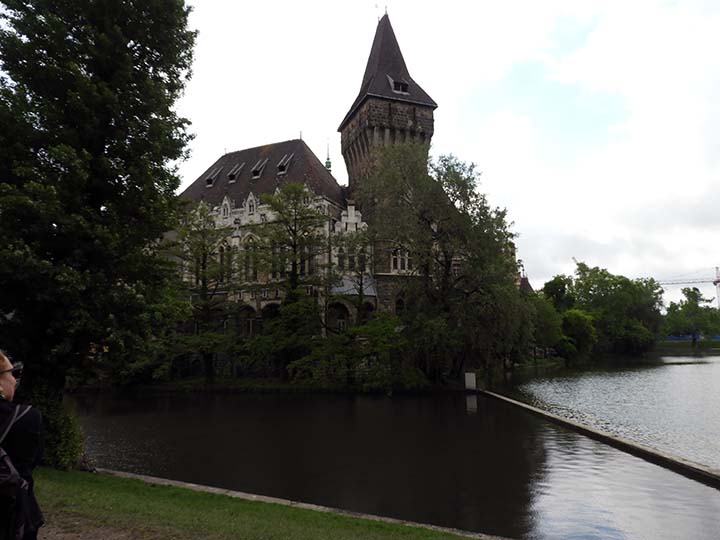 Vajdahunyad Castle was originally constructed to be a temporary timber structure for Hungary's 1896 millennial celebrations – a large-scale festivity that commemorated the 1,000th anniversary of the Magyars' arrival in Hungary.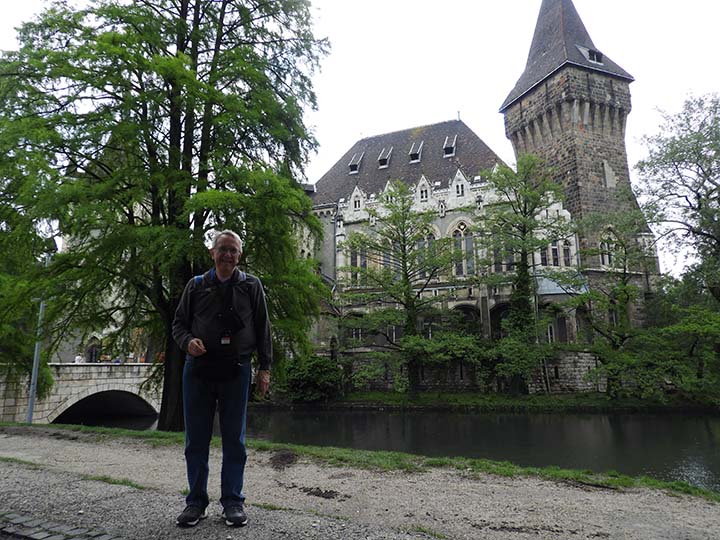 He's enjoying this.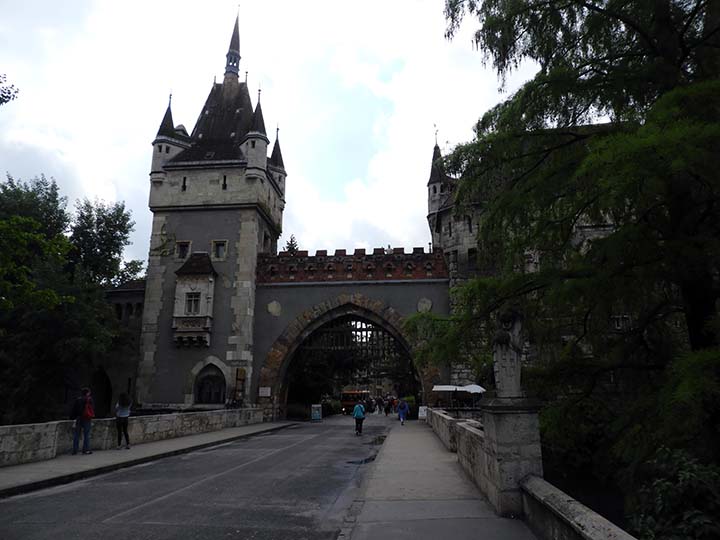 Vajdahunyad Castle was slated for demolition soon after the festivities concluded, but the palace ended up being so popular that the monument was reconstructed with hard stone to become an enduring establishment, and by 1907 the show chateau was the permanent home of the Museum of Hungarian Agriculture; today it still serves this purpose.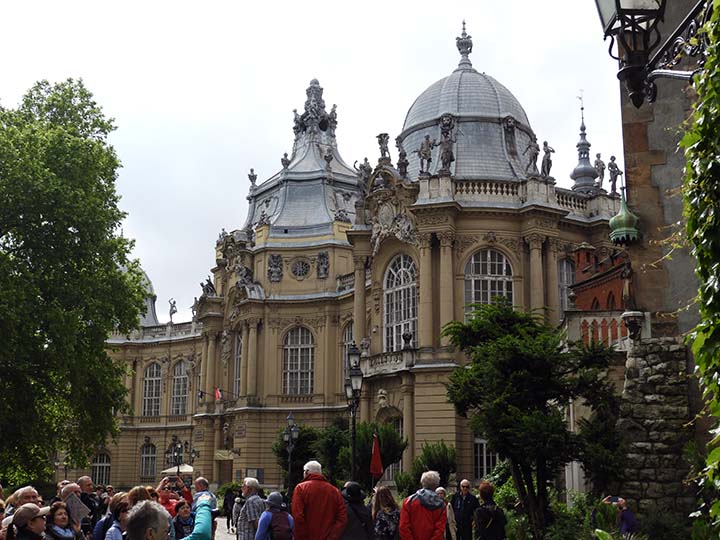 It's like a fairytale castle.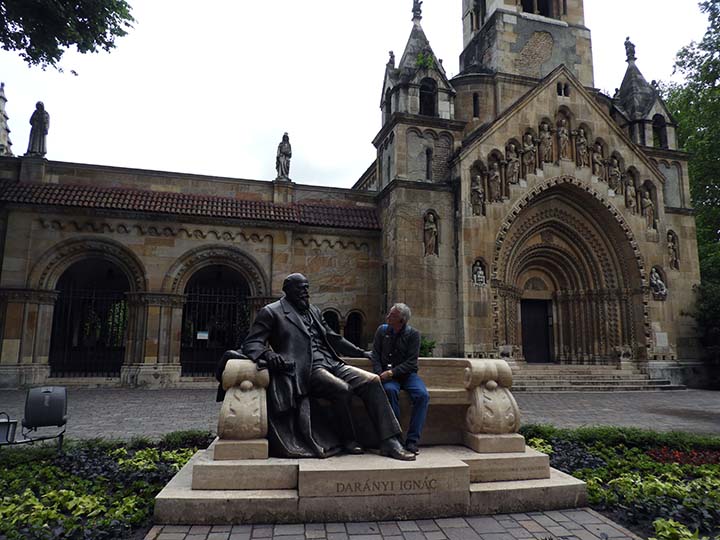 Let's see if this gentleman can give us a little background on the place.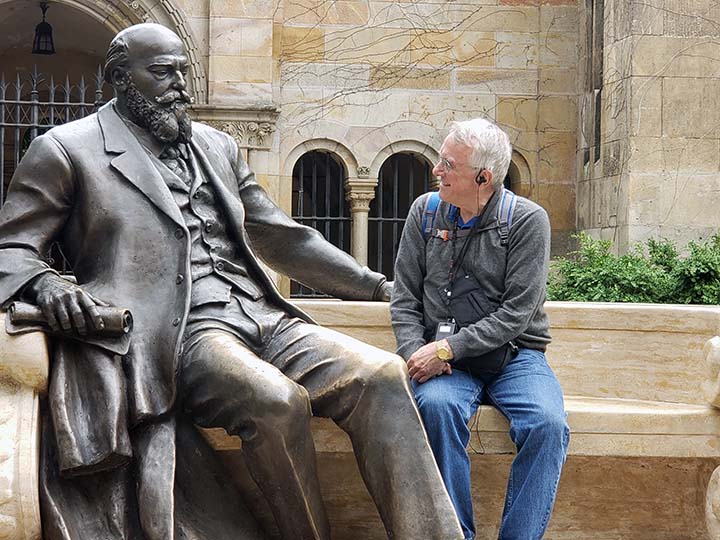 According to Wikipedia, Ignác Darányi de Pusztaszentgyörgy et Tetétlen (15 January 1849 – 27 April 1927) was a Hungarian politician, who served as Minister of Agriculture twice: between 1895–1903 and 1906–1910. He was a supporter of Gyula Andrássy the Younger. And he's just a delightful conversationalist.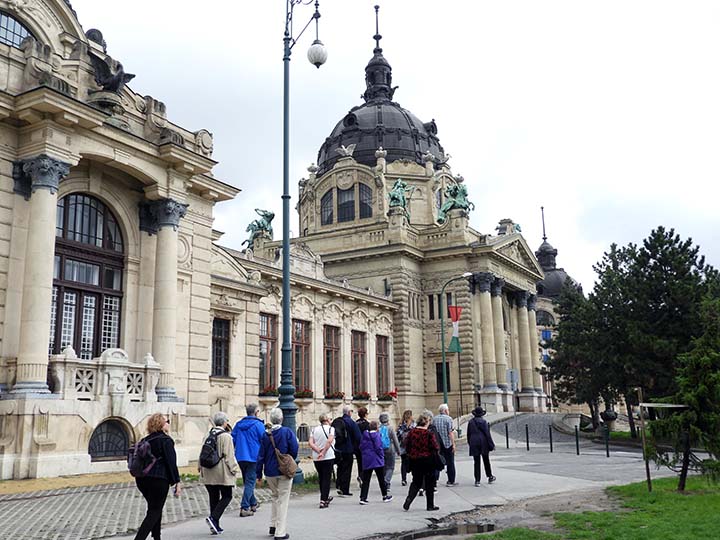 Everything is so ornate. Like this public bath. The Széchenyi Medicinal Bath in Budapest is the largest medicinal bath in Europe. Its water is supplied by two thermal springs, their temperature is 74 °C and 77 °C. Components of the thermal water include sulfate, calcium, magnesium, bicarbonate and a significant amount of metaboric acid and fluoride.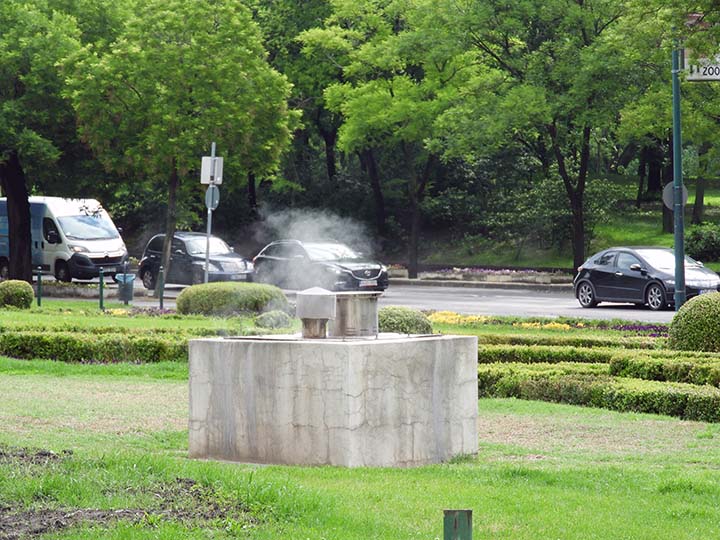 That's some thermal spring steam.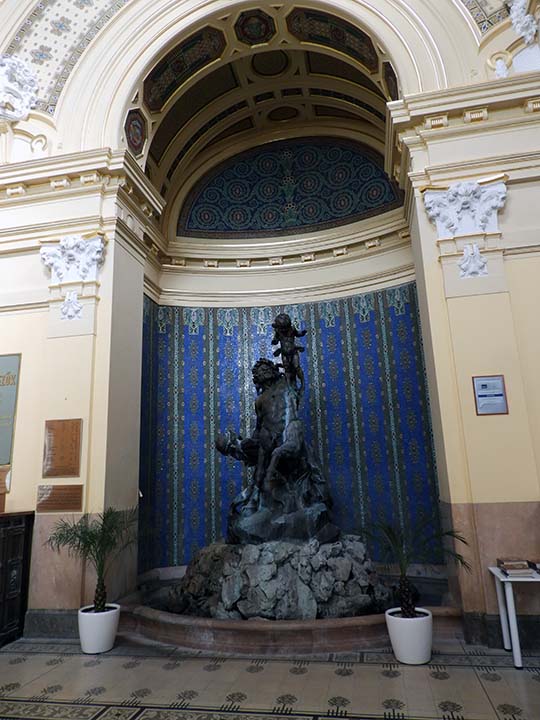 It's very fancy inside, too.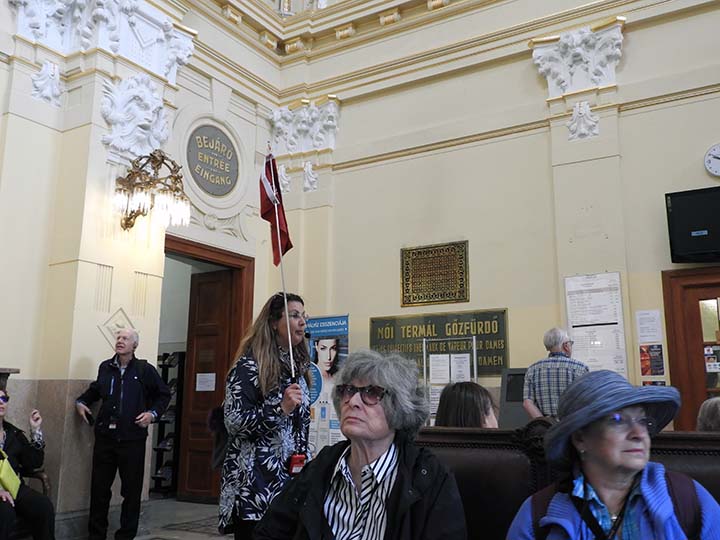 Zsuzsa tells us all about it.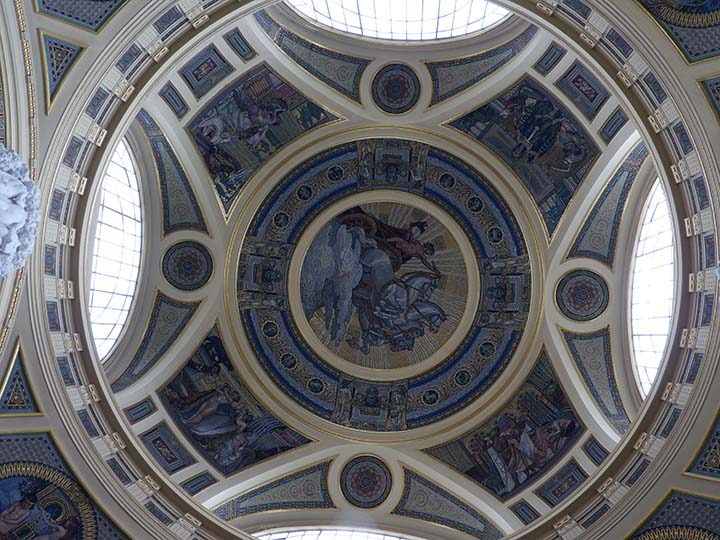 I took a picture of the fancy ceiling.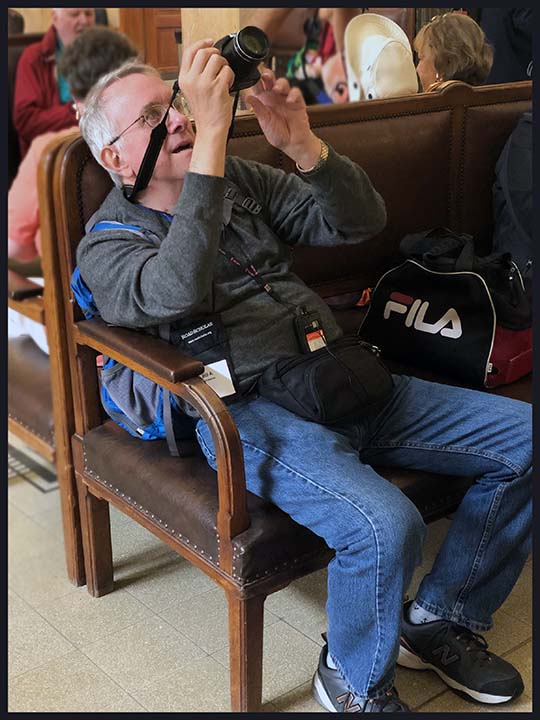 And Rachel took a picture of me taking a picture of the fancy ceiling.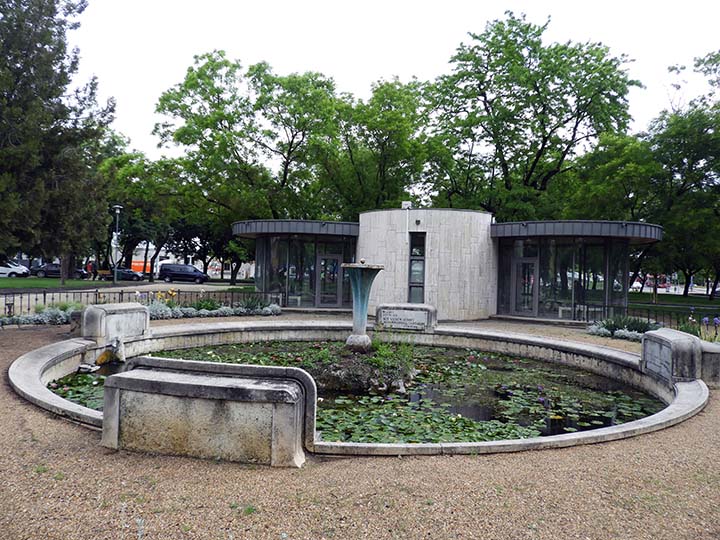 There was a lily pond outside.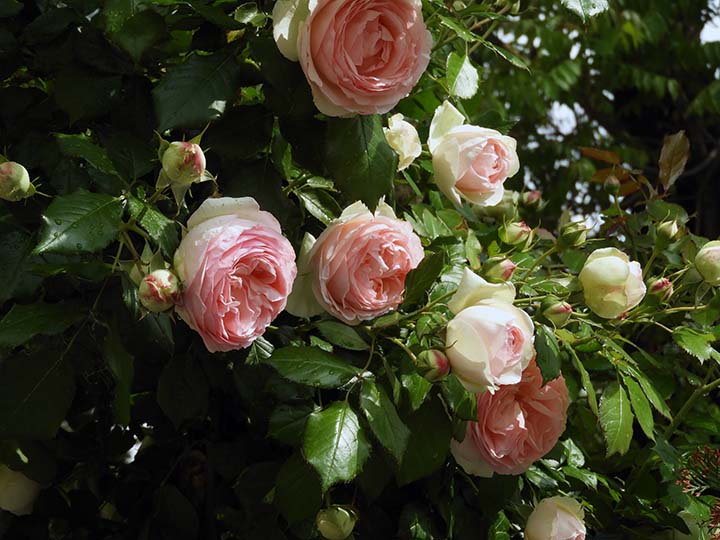 And pretty roses.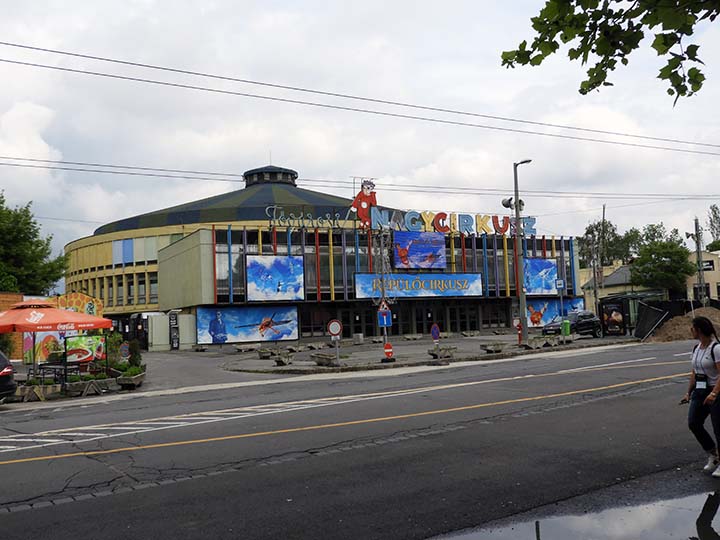 We walked by a permanent circus installation. The Capital Circus of Budapest (Hungarian: Fővárosi Nagycirkusz) is a circus building located in Budapest, Hungary. It originally opened in 1889, although it has changed locations since then. Its current building opened in 1971 and is the only stone circus in Central Europe. It seats 1450 people, and features animal, clown, and artistic performing acts. The building is in Városliget city park, near by are the Budapest Zoo, the Budapest Amusement park, Vajdahunyad Castle and the Széchenyi thermal bath.
Wikipedia was right: there's a zoo nearby too. The Budapest Zoo and Botanical Garden celebrated its 150th anniversary in 2016.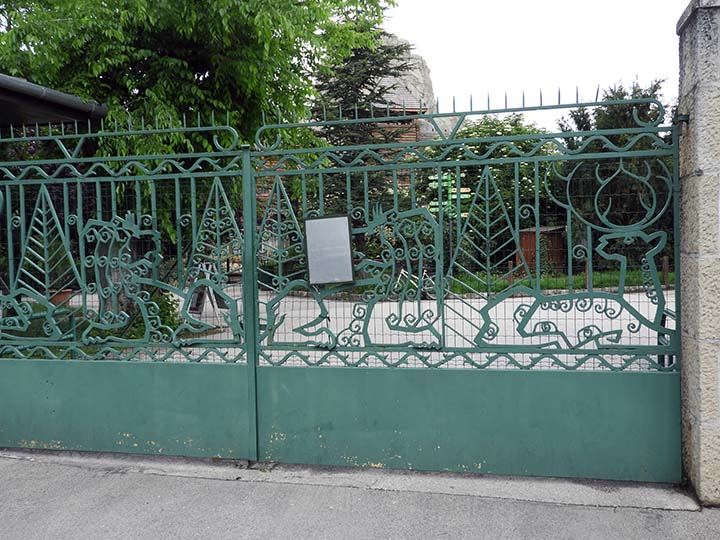 We even saw some animals on the gate.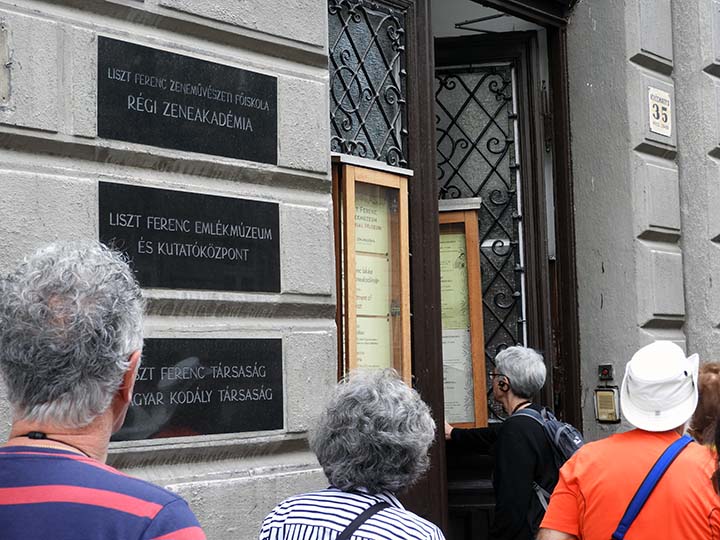 But who cares about dirty animals? We're here for some high class culture.
Franz Liszt. That's more like it.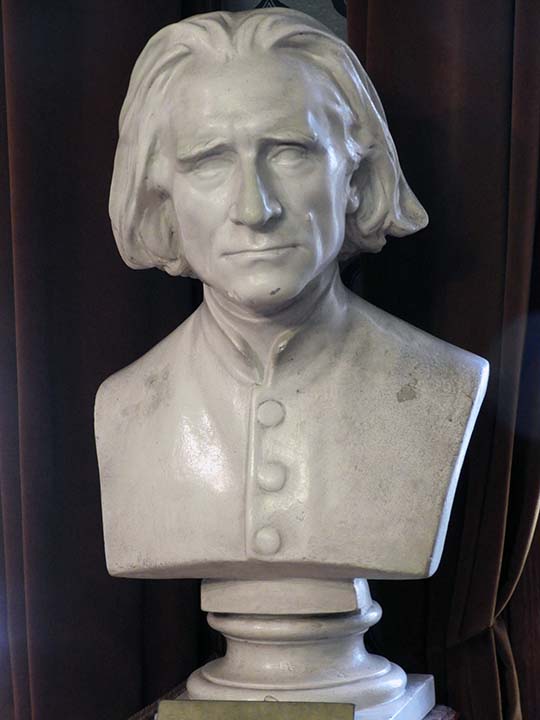 Franz Liszt (22 October 1811 – 31 July 1886) was a Hungarian composer, virtuoso pianist, conductor, music teacher, arranger, and organist of the Romantic era. He was also a writer, a philanthropist, a Hungarian nationalist and a Franciscan tertiary.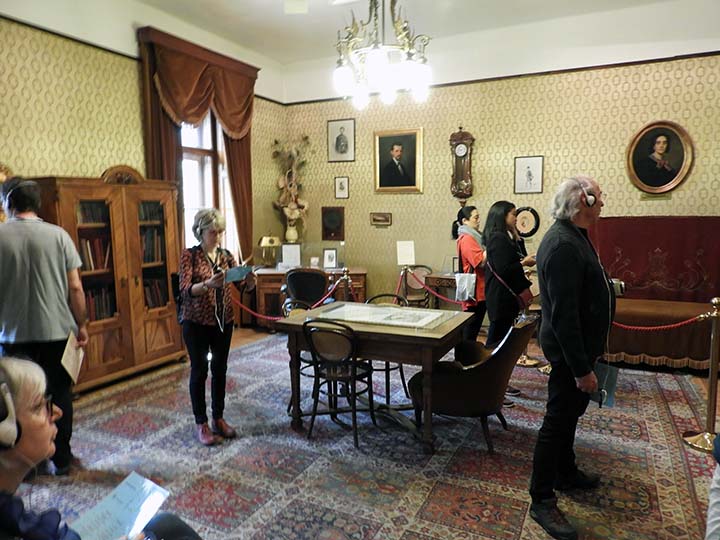 Liszt gained renown in Europe during the early nineteenth century for his prodigious virtuosic skill as a pianist. He was a friend, musical promoter and benefactor to many composers of his time, including Frédéric Chopin, Richard Wagner, Hector Berlioz, Robert Schumann, Camille Saint-Saëns, Edvard Grieg, Ole Bull, Joachim Raff, Mikhail Glinka, and Alexander Borodin.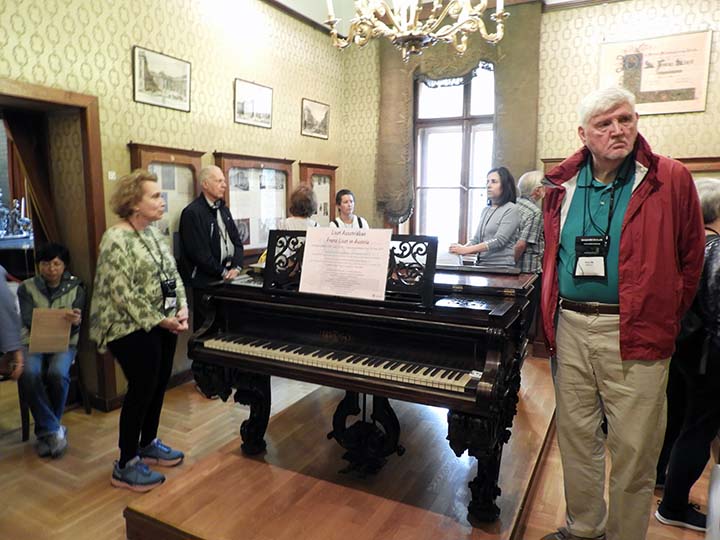 That's his favorite piano. I think.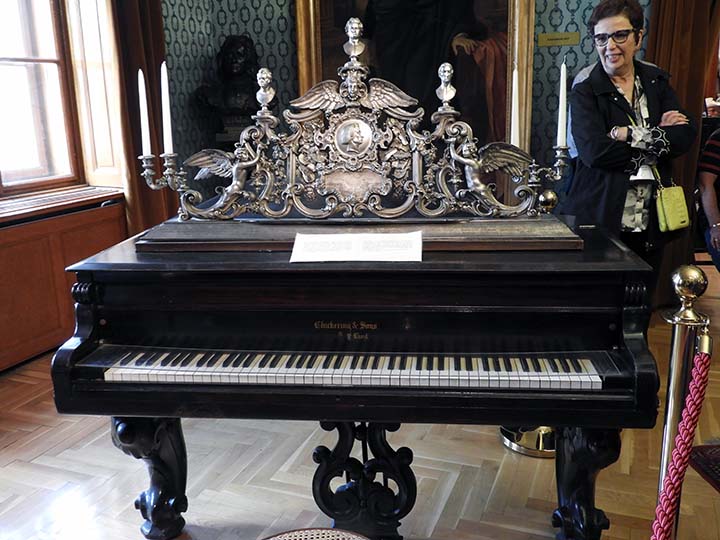 Or maybe that's his favorite. It's certainly his fanciest.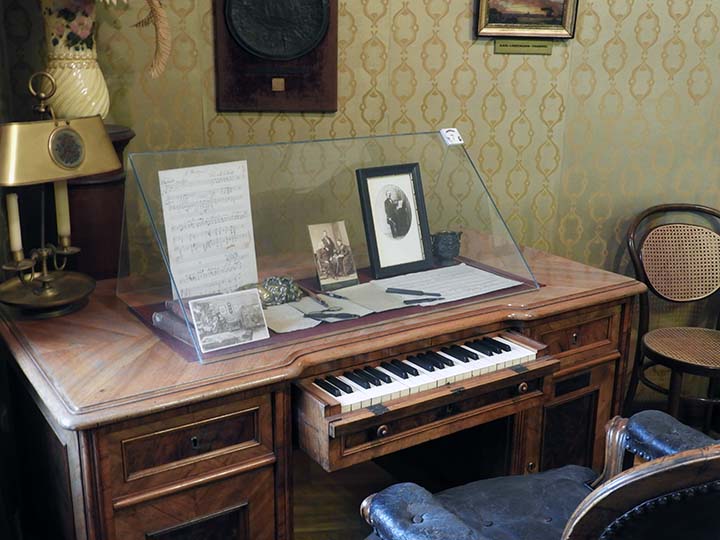 That's his composing piano. That I remember for sure.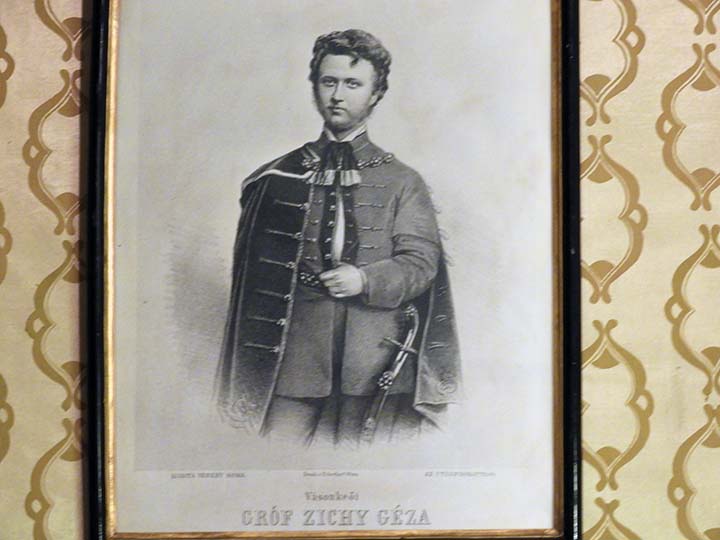 That's his friend Géza Zichy (23 July 1849 – 14 January 1924) who was a Hungarian composer and was also renowned as the world's first professional one-armed pianist. Zichy lost his right arm in a hunting accident at age 14 or 15. Still determined to become a pianist, he persevered by writing and performing piano music for the left hand. In 1873 he began six years of study with Franz Liszt. He also studied under Robert Volkmann. In spite of his limitations, Zichy had a successful career as both a concert pianist and a composer for the next 40 years. He gave entire concerts playing music only for the left hand, the proceeds of which he gave to charity as he was independently wealthy. He was known for his artistic sensitivity as well as dexterous playing and had several admirers; including Franz Liszt who wrote glowing reviews of his performances in letters to friends. The Viennese critic Eduard Hanslick, who pulled no punches, said Zichy's playing was "the greatest marvel of modern times on the piano".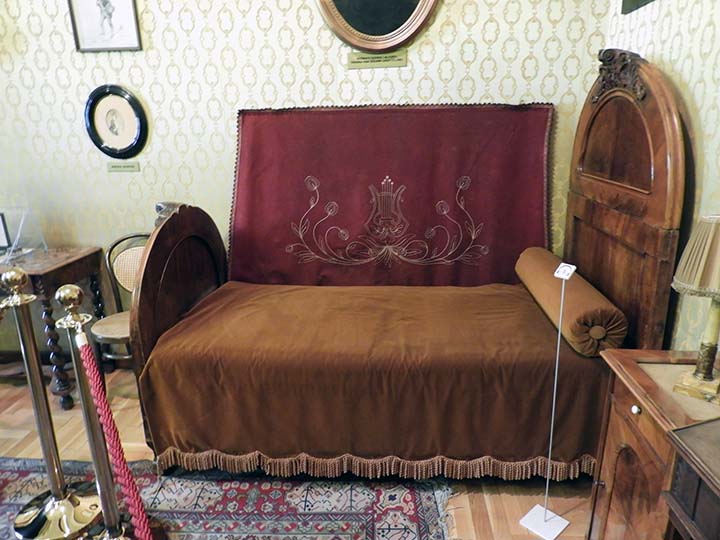 That's his bed. Kinda small if you ask me.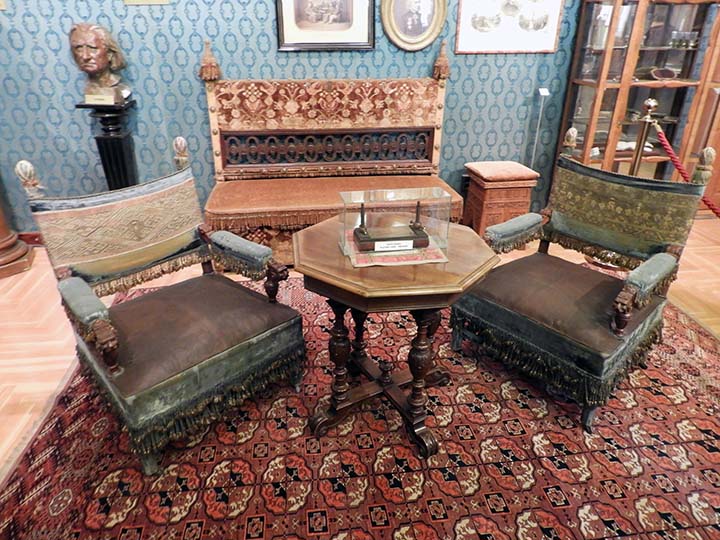 And those are his ratty old chairs.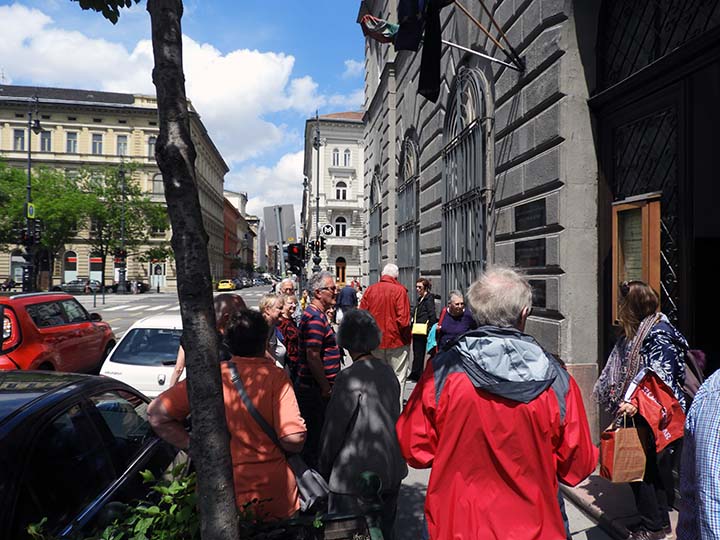 That's enough culture for one morning.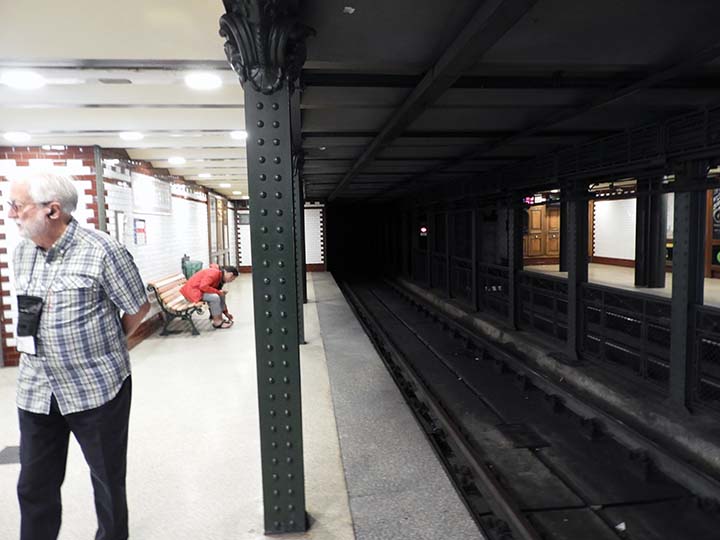 Let's go somewhere on the subway.
Subway Arrives
Let's go see where the Communists did their dirty work.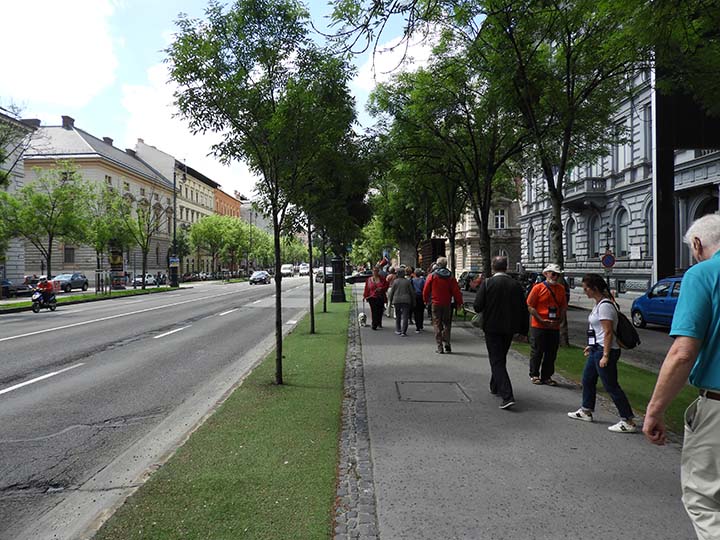 It's right down here.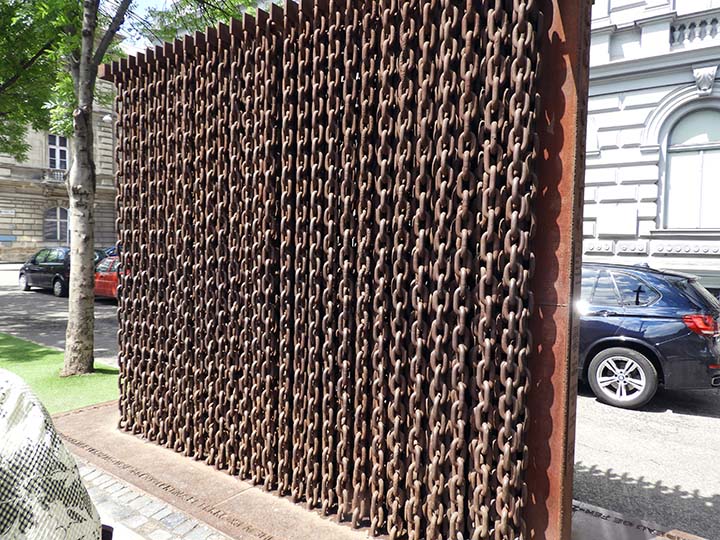 Behind the iron curtain.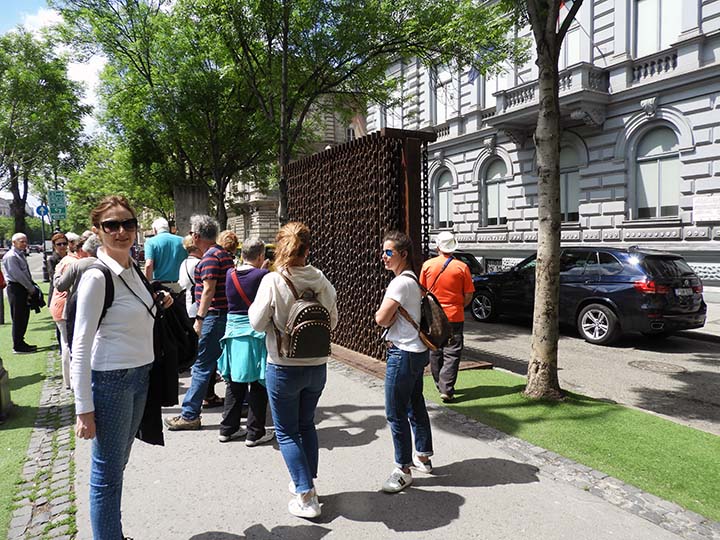 Seriously, that's it. A sculpture that embodies the iron curtain Hungary used to be behind.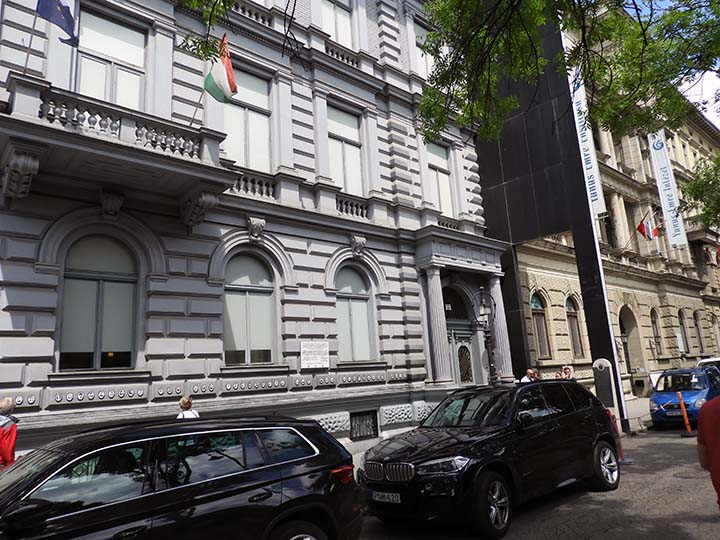 It sits outside the House of Terror. It's now a museum that contains exhibits related to the fascist and communist regimes in 20th-century Hungary and it's also a memorial to the victims of these regimes, including those detained, interrogated, tortured or killed in the building.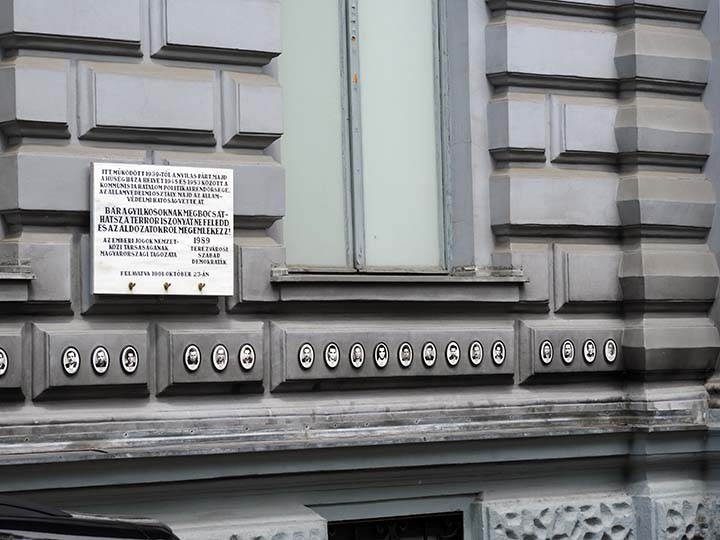 The museum has placed images of the building's victims on an outside wall.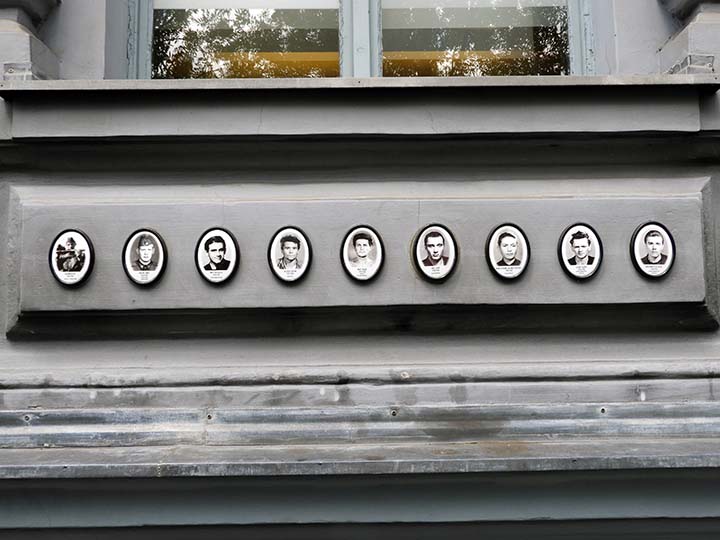 With regard to communism and fascism, the exhibition contains material on the nation's relationships to Nazi Germany and the Soviet Union. It also contains exhibits related to Hungarian organizations such as the fascist Arrow Cross Party and the communist ÁVH (which was similar to the Soviet Union KGB secret police).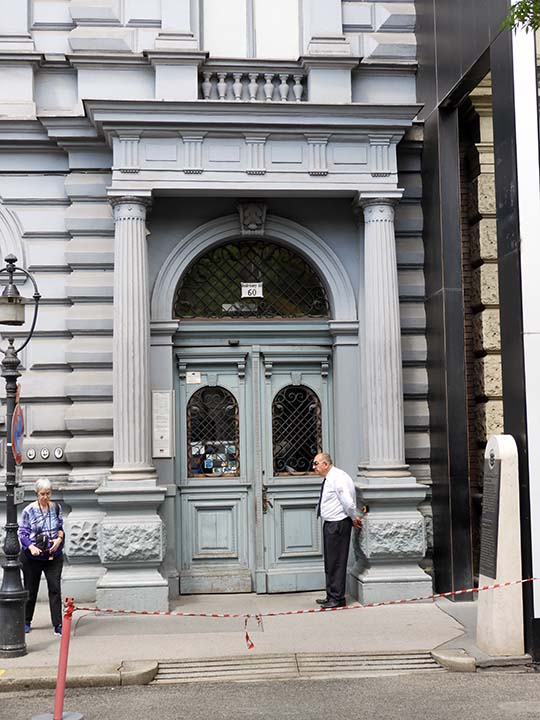 Part of the exhibition takes visitors to the basement, where they can see examples of the cells that the ÁVH used to break the will of their prisoners. We didn't go inside.
It's hard to tell from here, but if you're flying over the building and you look down it's easy to see the word "TERROR."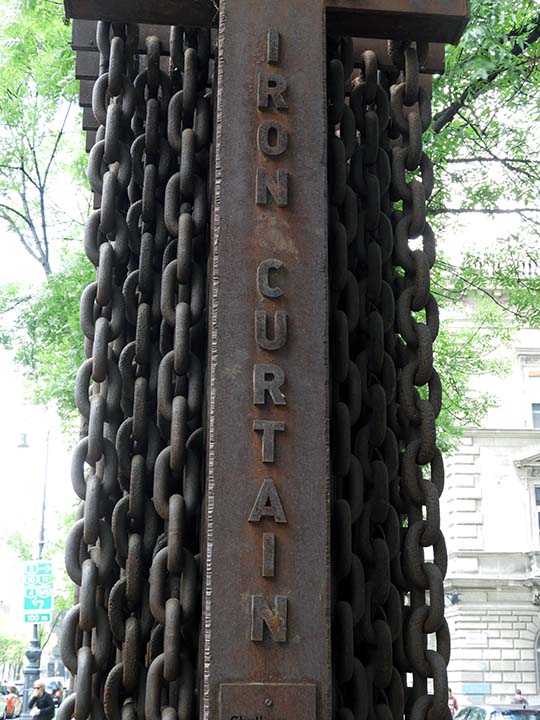 See? Iron curtain. Told you.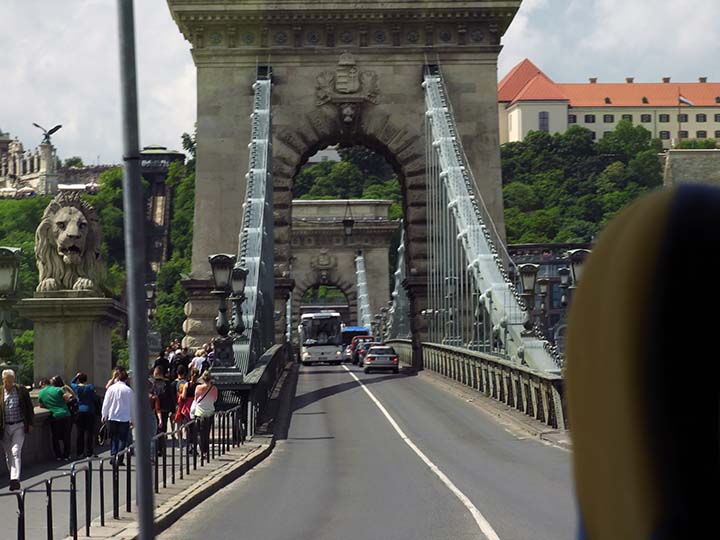 We've been spending all day in Pest. Buda is across that bridge. Get it? Budapest. The Széchenyi Chain Bridge is a suspension bridge that spans the River Danube between Buda and Pest, the western and eastern sides of Budapest, the capital of Hungary. Designed by the English engineer William Tierney Clark and built by the Scottish engineer Adam Clark, it was the first permanent bridge across the Danube in Hungary. It was opened in 1849.
Müpa Budapest (between 2005 and 2015 Palace of Arts) is a building in Ferencváros, Budapest, Hungary, officially opened in March 2005. It is located near Rákóczi Bridge and was designed by Zoboky, Demeter and Partners Architectural Office. The National Theatre, which opened in 2002, is located next to it.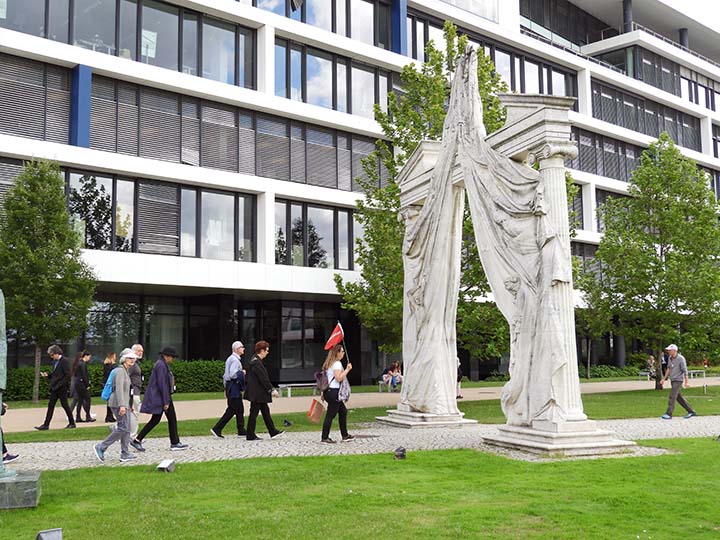 There's an impressive sculpture garden out front. The curtain has parted so Zsuzsa can lead us through.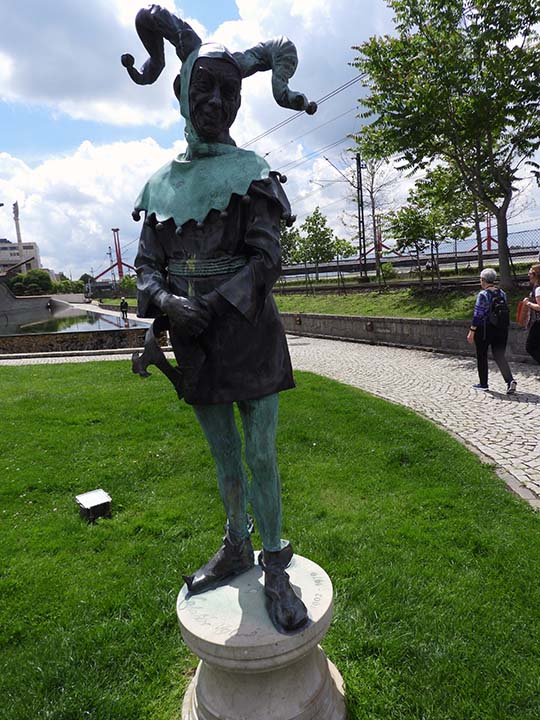 There are numerous sculptures representing famous characters from the stage. That's Rigoletto. I think.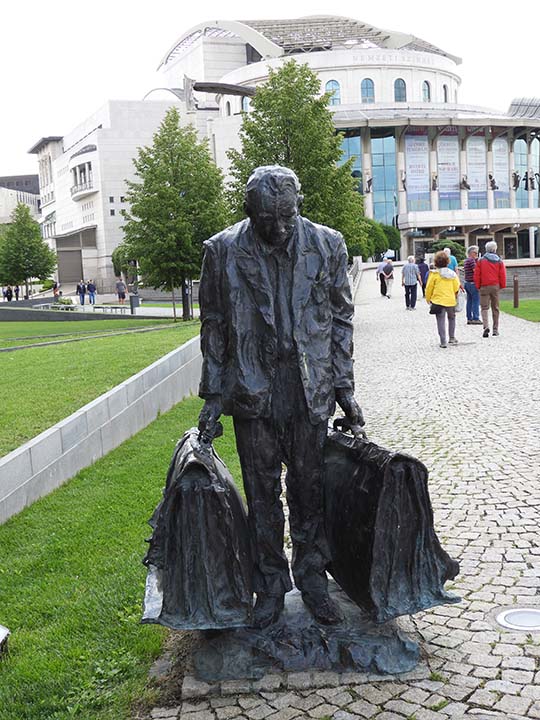 That's definitely I'm pretty sure Willy Loman from DEATH OF A SALESMAN.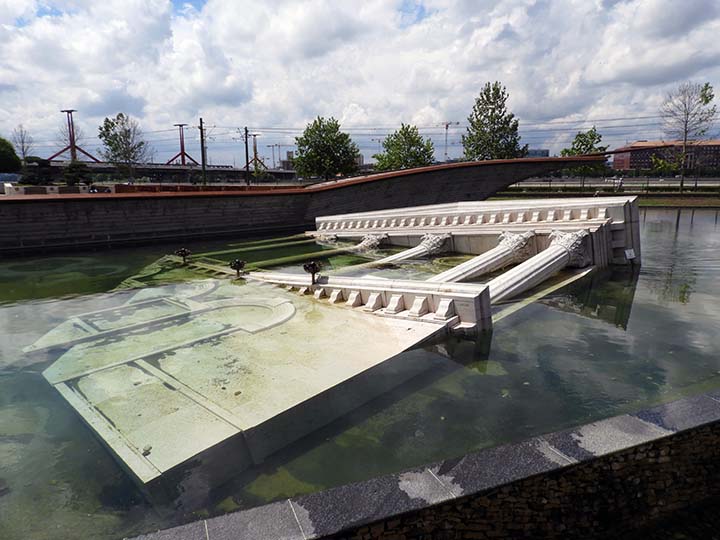 The sculpture garden and fountain incorporate the facade of Budapest's old performing arts center. It's all very dramatic.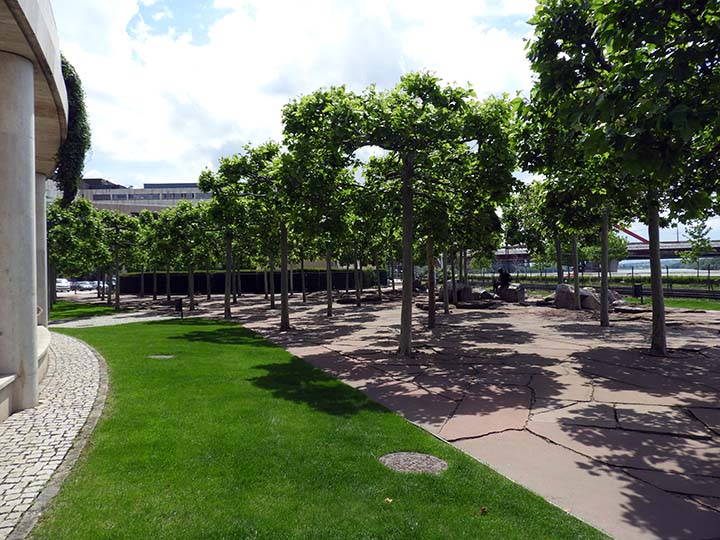 It was touching to hear Zsuzsa talk about how thrilled everyone was when this park opened. With the communists in charge it had been a long time since there had been a beautiful new park in the city. Speaking of parks, I learned that across the river there is a park dedicated to Elvis Presley. Turns out back in 1956 when he was on the Ed Sullivan show and the Russians were invading this place, he expressed support for freedom in Hungary. I didn't know that. Did you know that?
As a proud Memphian I wish we could have visited Elvis Presley Park, but since we didn't get to see it then, let's have a look now.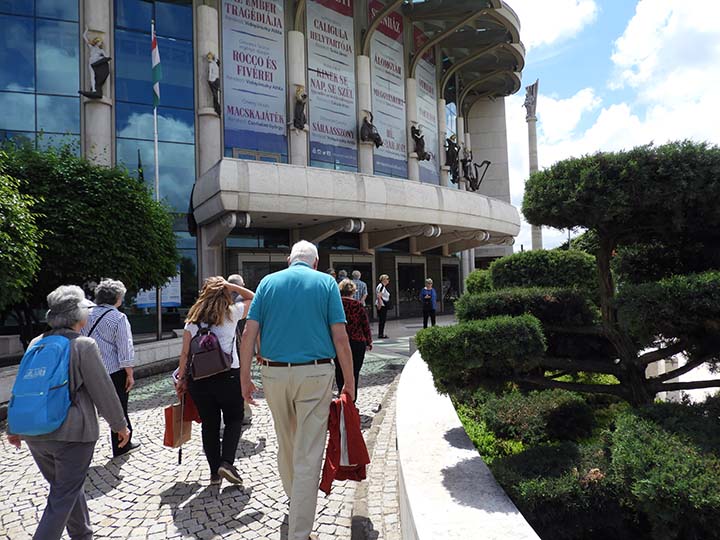 Back to reality. Let's go inside for lunch.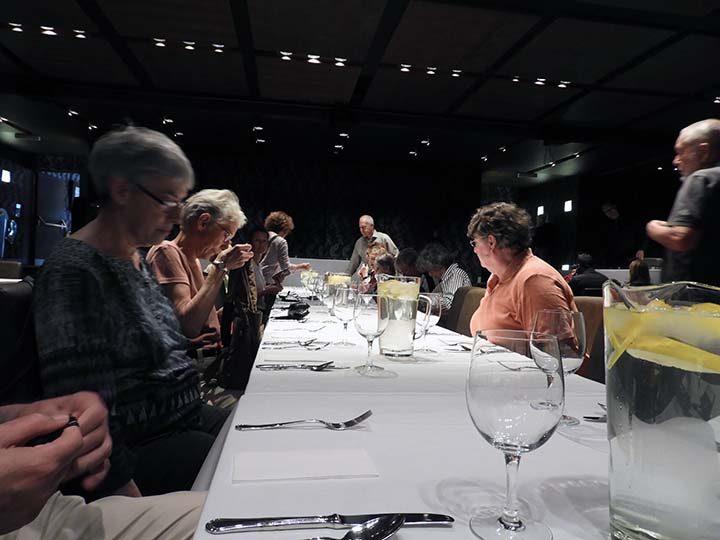 It was a very nice lunch, but the most memorable thing about this occasion was...
...the sparkly clean toilet.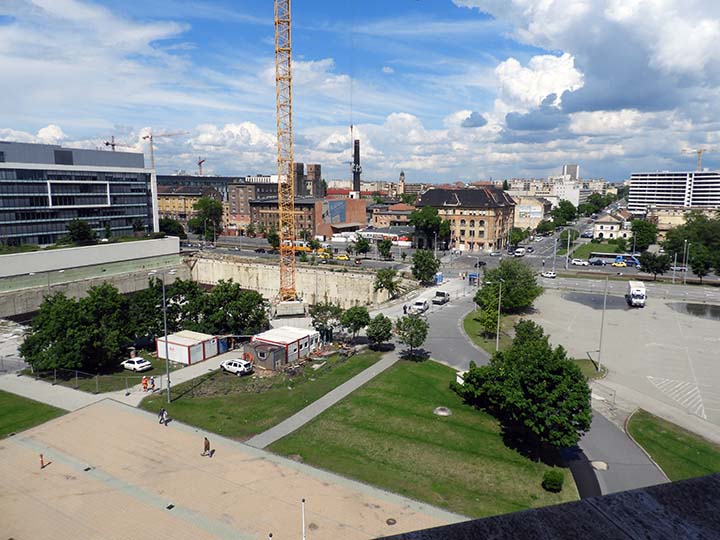 Let's see the city from the roof.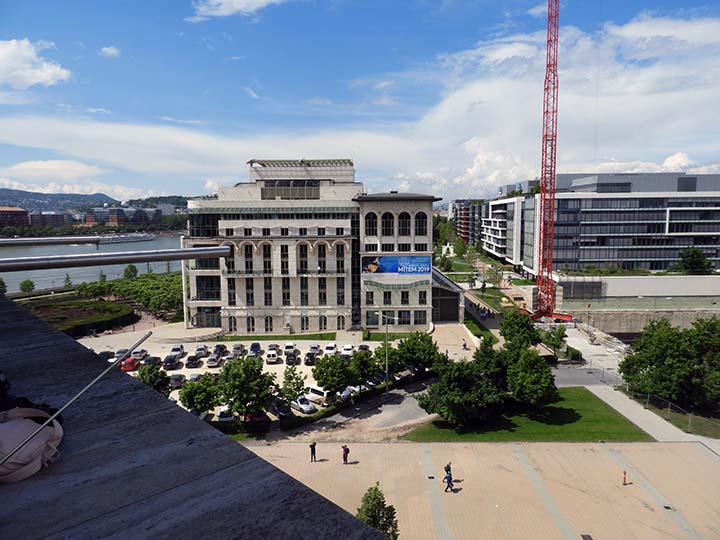 It seemed everywhere we looked in Budapest we saw construction cranes and restoration projects. But when someone commented to one of our lecturers on the apparent vitality of the city, the very idea was immediately dismissed. Seems many of the natives are dismayed by what they see as lethargy in Hungarian society and young people long to move somewhere else.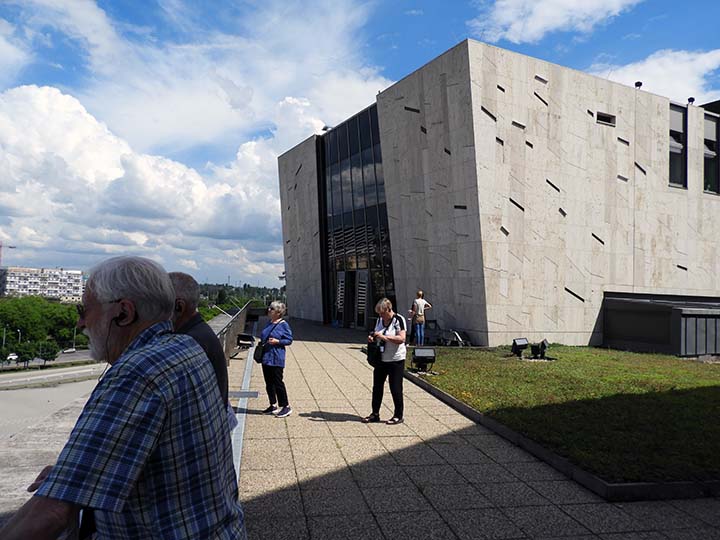 Looks fine to me, though.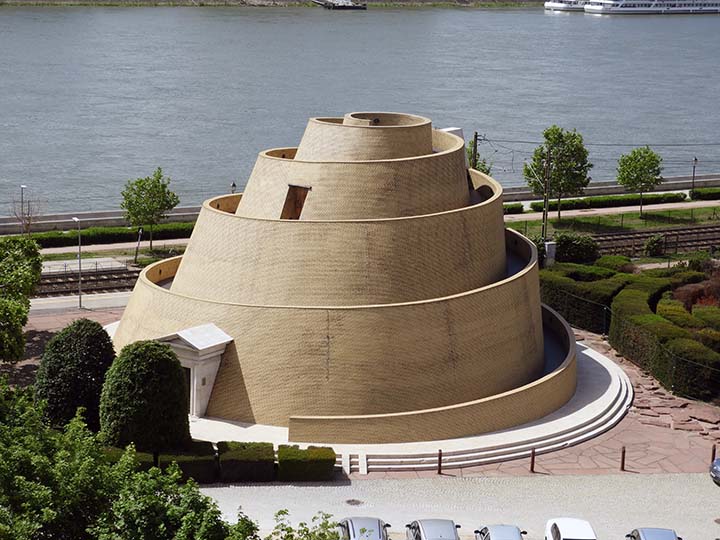 It's a ziggurat! Actually it's A free look-out tower in front of the Palace of Arts, next to the National Theater, with an exhibition room inside. Nice, but maybe a little odd.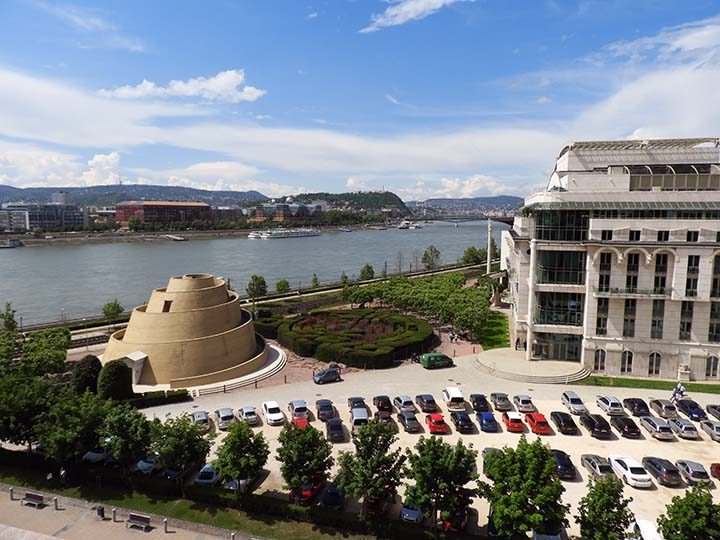 There's a hedge maze too.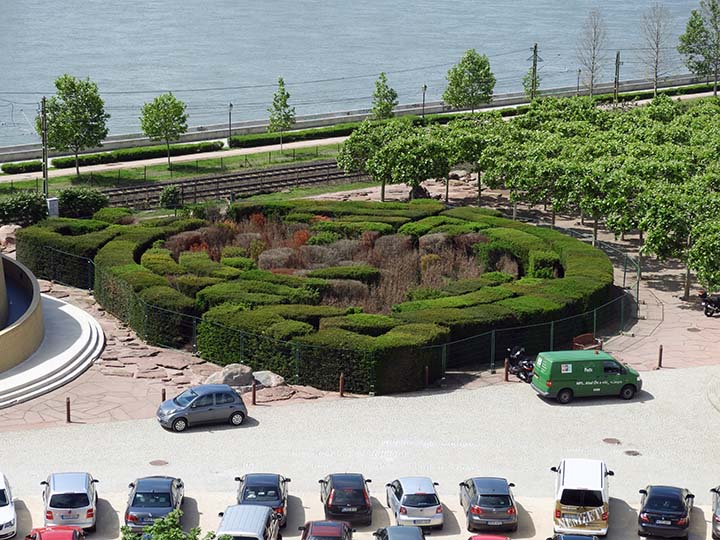 Somebody needs to water the hedge.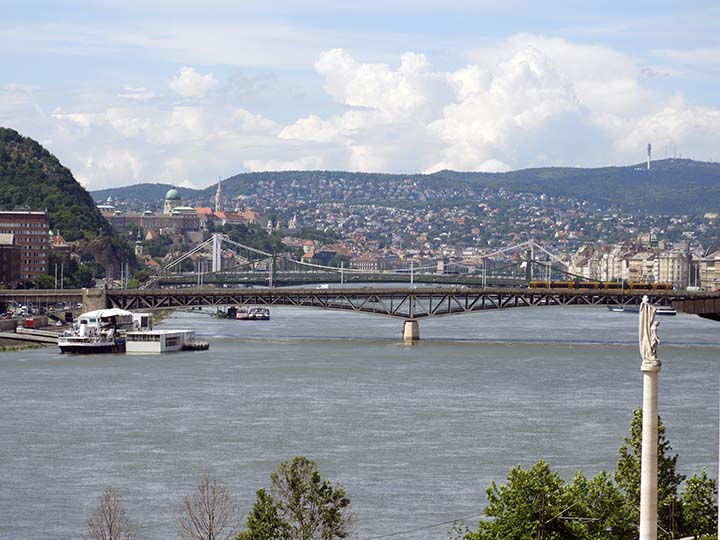 There's the Chain Bridge that connects Buda and Pest.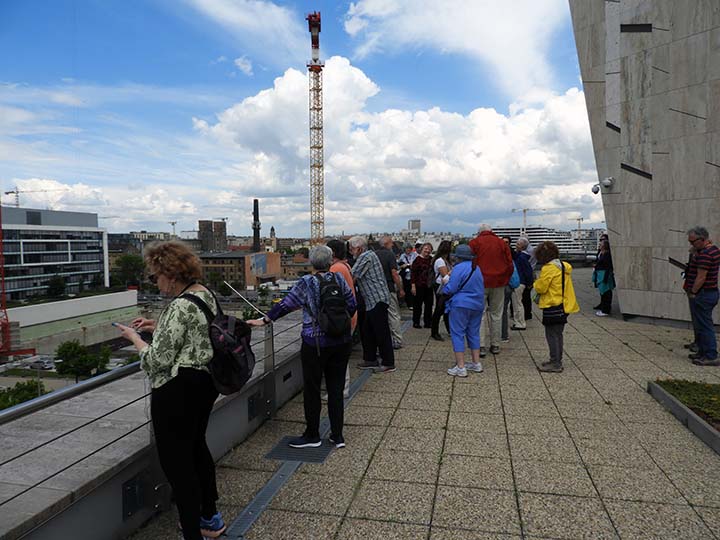 The Road Scholars are taking it all in.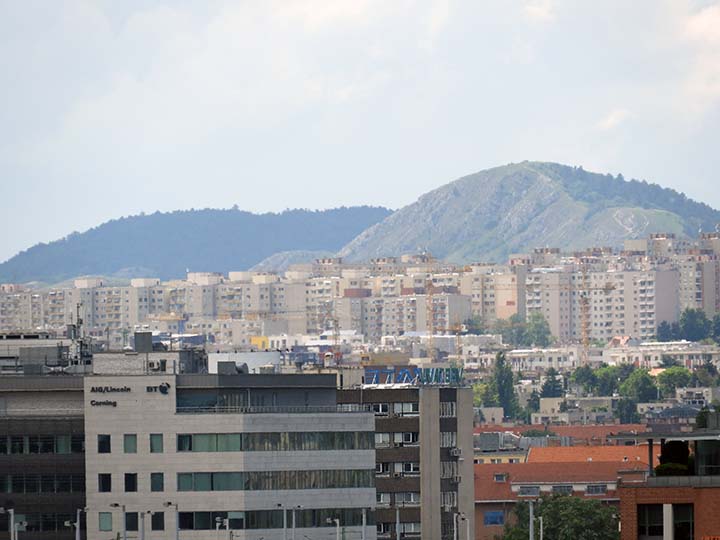 Way over there across the river is a legacy of communist rule. Everyone hates this big block of apartments, But they are so massive it would be too much trouble to tear them down. They are on the Buda side of the Danube River. We are standing on the Pest side. It's all one city, but the two sides apparently are very competitive. And just so you know, it's pronounced "Pesht."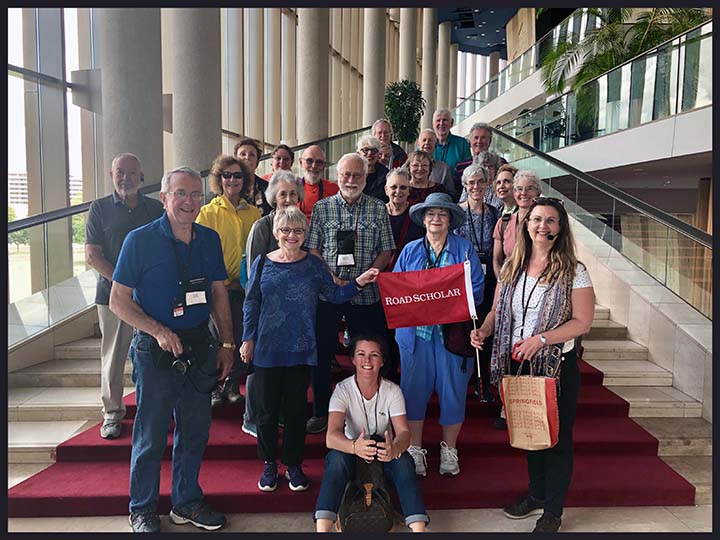 The grand staircase seemed a perfect place for this grand group photo.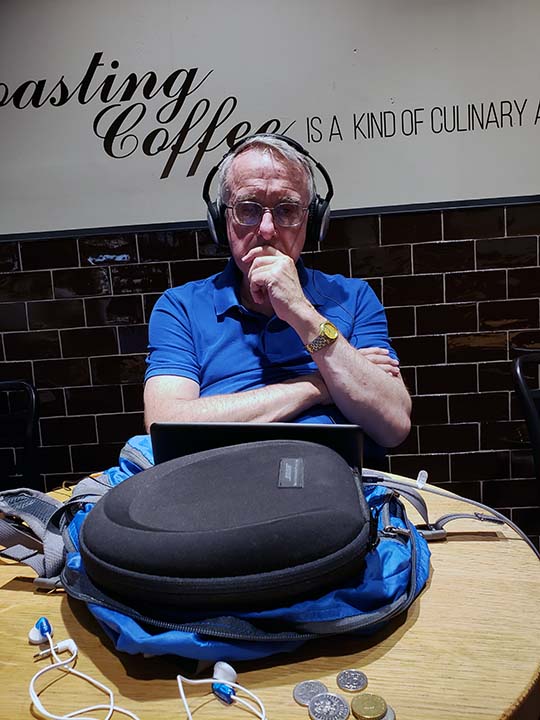 When we returned to the hotel, Bill headed straight back to Starbucks. He hadn't quite finished watching the final episode of Game of Thrones this morning when he had to take a break to tour the city. He'd seen the rather abrupt climax but he hadn't had time to see the denouement. Do you think they all lived happily ever after? Look at his face. And don't worry Rachel and Morris, he won't tell you what happened, not even now, not ever, nyah.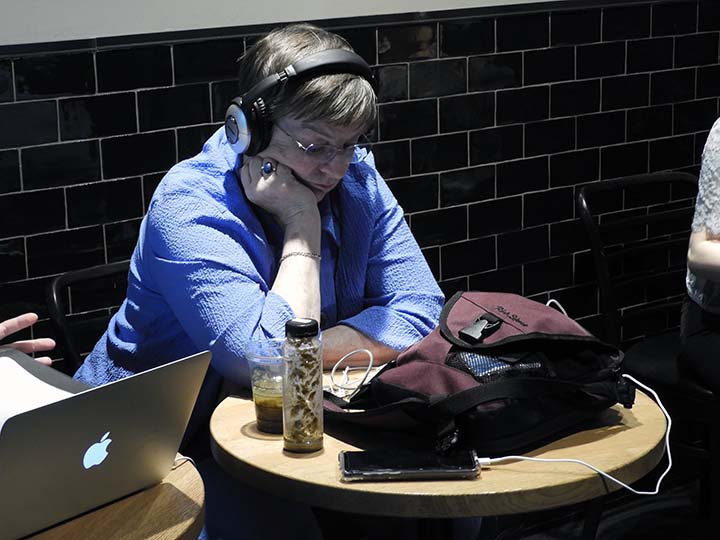 Sarajane watched it all too.
While Bill was busy was inside Starbucks watching Game of Thrones, winter actually came to Budapest outside.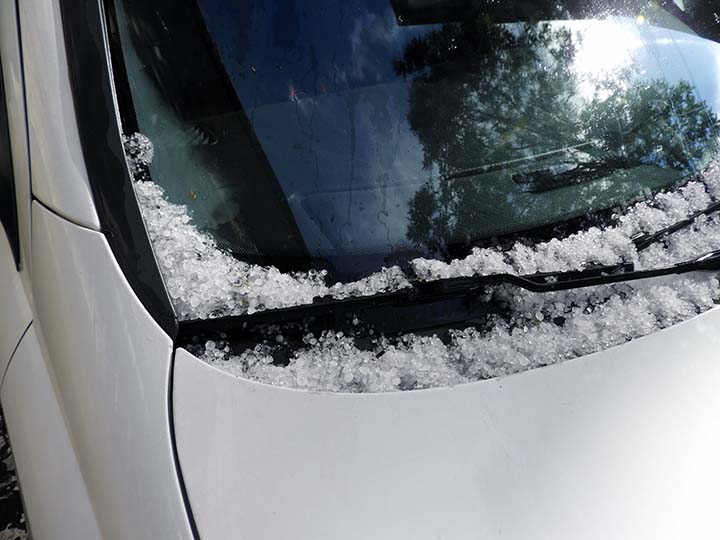 Well, a summer hailstorm came, anyway.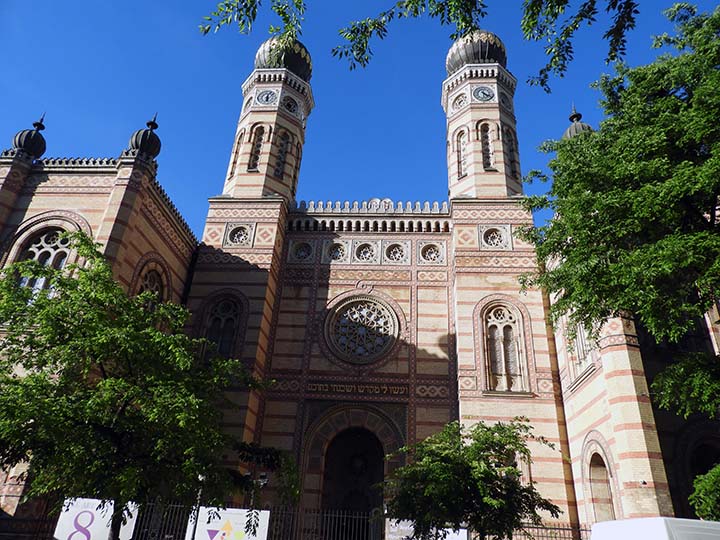 The Dohány Street Synagogue, also known as the Great Synagogue or Tabakgasse Synagogue, is a historical building in Erzsébetváros, the 7th district of Budapest, Hungary. It is the largest synagogue in Europe, seating 3,000 people and is a centre of Neolog Judaism.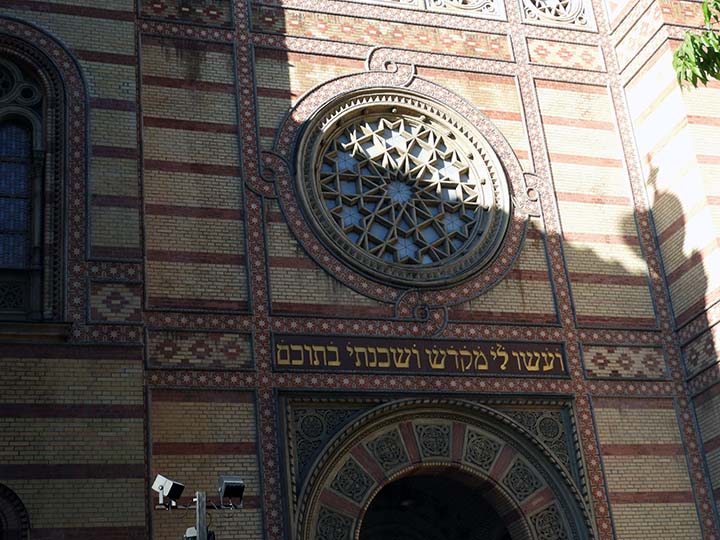 The synagogue was built between 1854 and 1859 in the Moorish Revival style, with the decoration based chiefly on Islamic models from North Africa and medieval Spain (the Alhambra). The synagogue's Viennese architect, Ludwig Förster, believed that no distinctively Jewish architecture could be identified, and thus chose "architectural forms that have been used by oriental ethnic groups that are related to the Israelite people, and in particular the Arabs". The interior design is partly by Frigyes Feszl.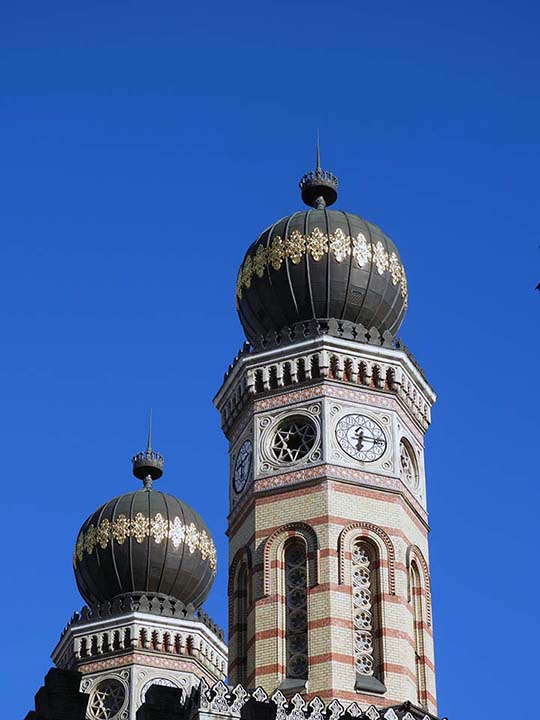 The Dohány Street Synagogue complex consists of the Great Synagogue, the Heroes' Temple, the graveyard, the Memorial and the Jewish Museum, which was built on the site on which Theodor Herzl's house of birth stood. Dohány Street itself, a leafy street in the city center, carries strong Holocaust connotations as it constituted the border of the Budapest Ghetto.
The Raoul Wallenberg Emlékpark (memory park) in the rear courtyard holds the Memorial of the Hungarian Jewish Martyrs — at least 400,000 Hungarian Jews were murdered by the Nazis.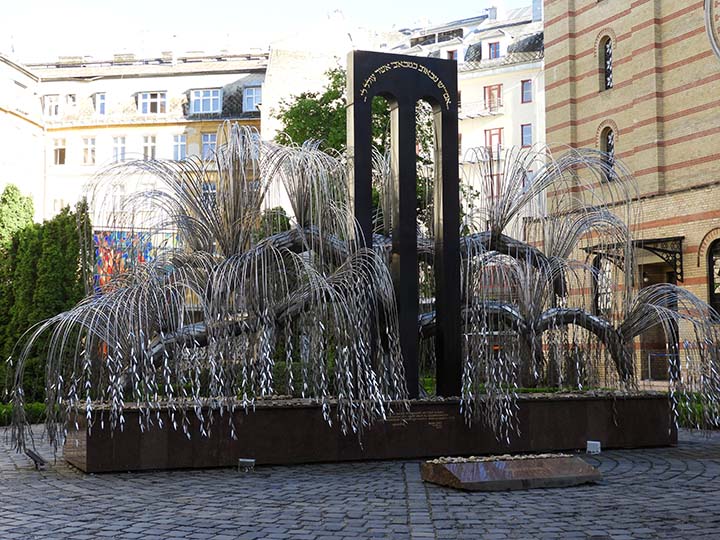 Made by Imre Varga, it resembles a weeping willow whose leaves bear inscriptions with the names of victims.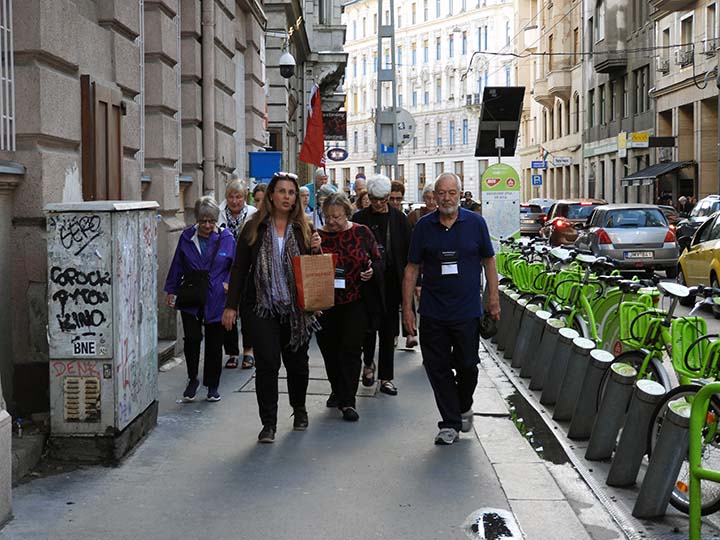 Let's go for a walk.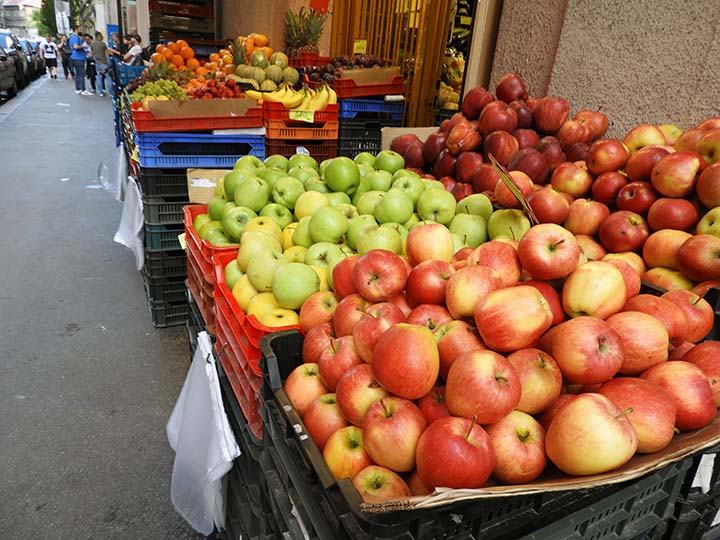 Mmmmm.
We're headed for Szimpla Kert, the city's most famous ruin bar.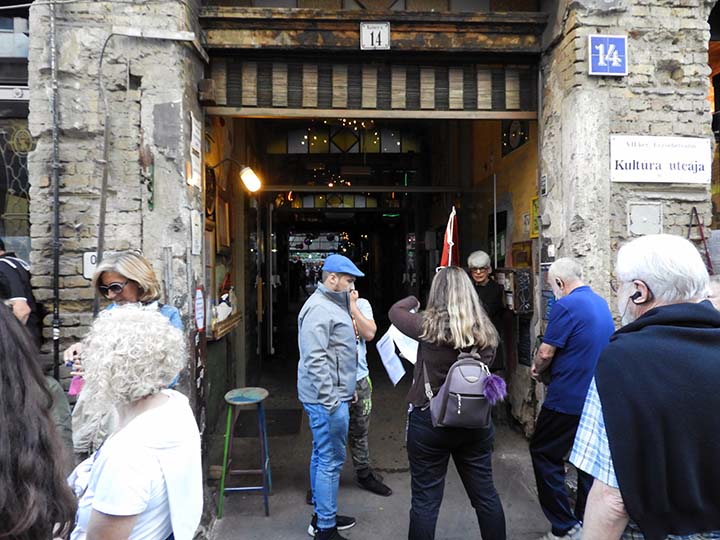 What exactly is a "ruin bar," you ask?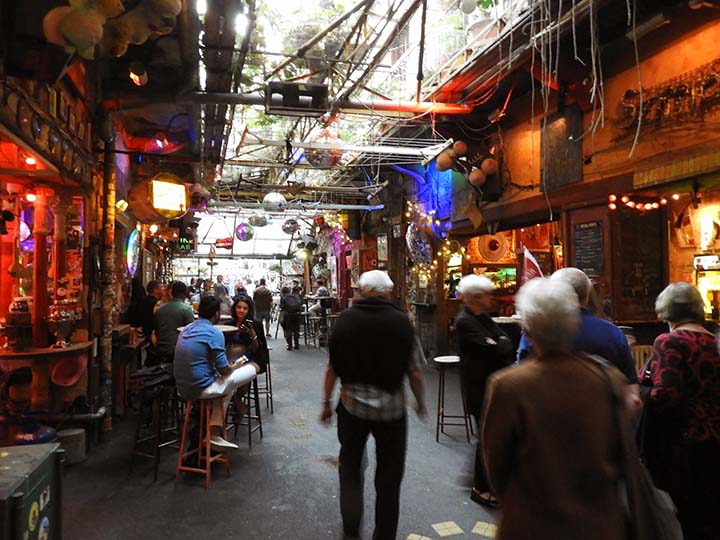 It started around 2001, so the story goes, with a bunch of young men looking for cheap places to drink. From their thirst and shallow pockets, some of the most lively and stylish places to drink in Budapest were born -- the so-called ruin bars. Derelict buildings and unused outdoor spaces have been transformed into friendly, pleasingly chaotic bars where you can still get a large beer for less than $2.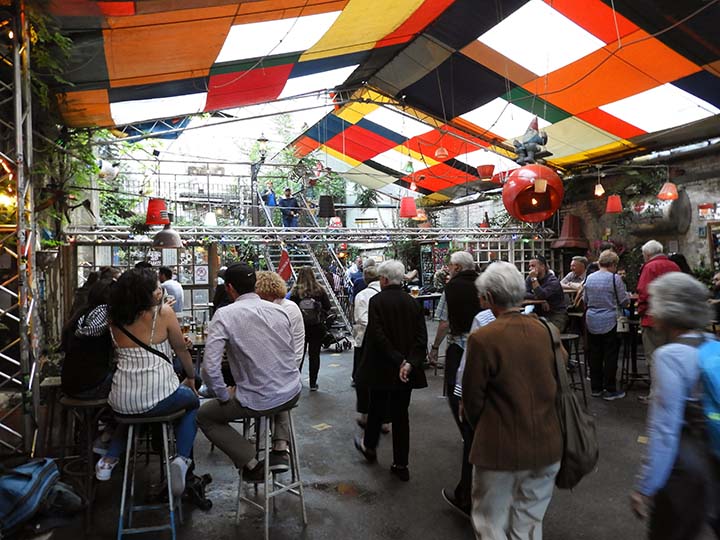 Szimpla Kert was the first ruin bar and remains iconic, it moved around before settling into its home in the Jewish Quarter of Budapest's 7th district in 2004.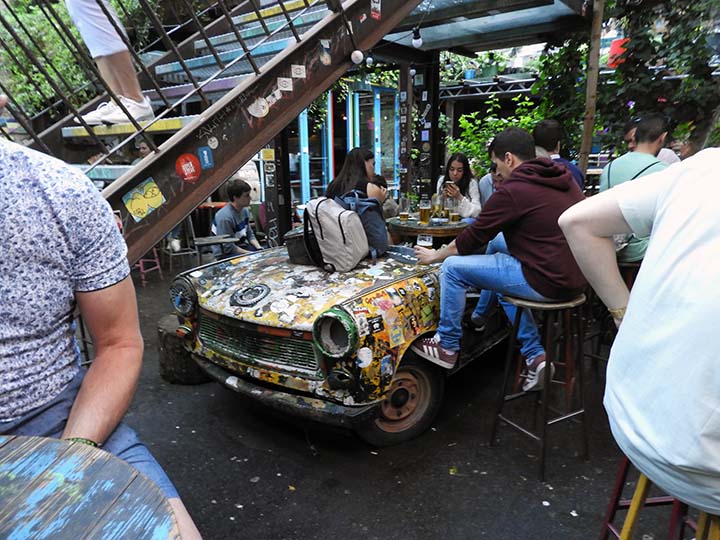 Unlike other ruin pubs, Szimpla Kert has an old Trabant car in the garden that doubles as a table and chairs. Cigarette smoke takes up the place of the exhaust fumes and the ambience harks back to an era when the bloc was under communist times.
Szimpla Kert hosts a regular farmers' market and flea market, while live music and film screenings are also a regular feature.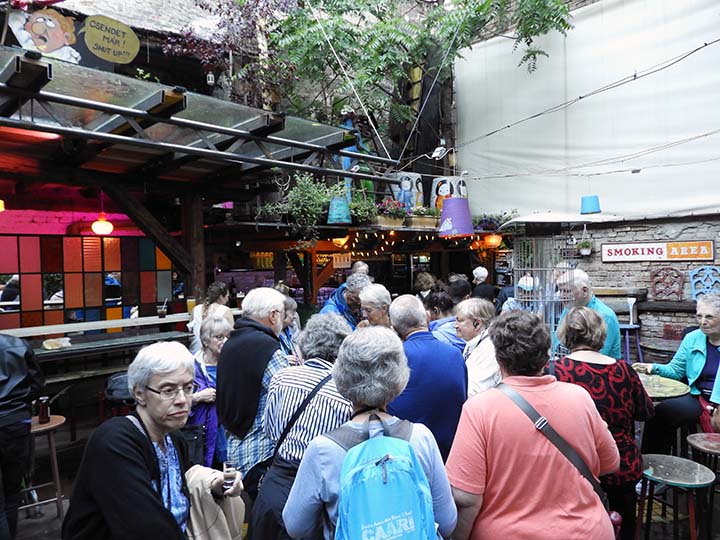 Szimpla Kert has classic ruin pub traits: willfully mismatched furniture that's seen better days, artwork that some annoying customers have a habit of taking home without and a garden where you can catch the sun during the summer months.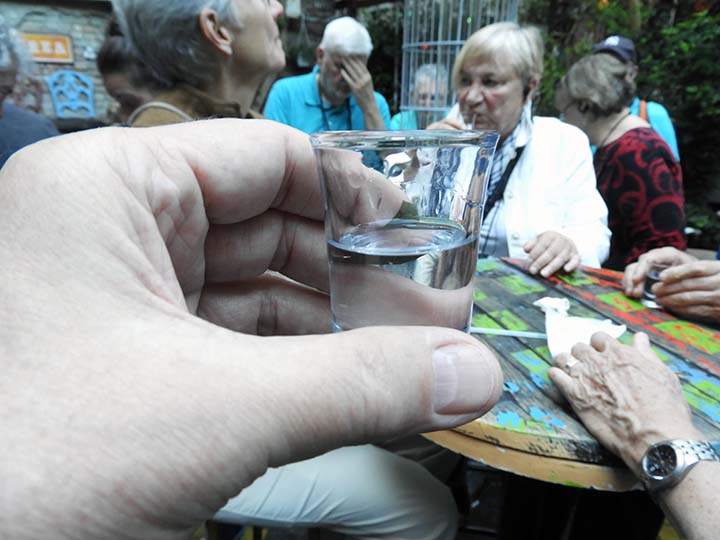 Zsuzsa insisted we try some Pálinka, a traditional fruit brandy in Central Europe with origins in Transylvania, known under several names, and invented in the Middle Ages. While pálinka may be made of any locally grown fruit, the most common ones are plums, apricots, apples, pears, and cherries. It tasted ... strong.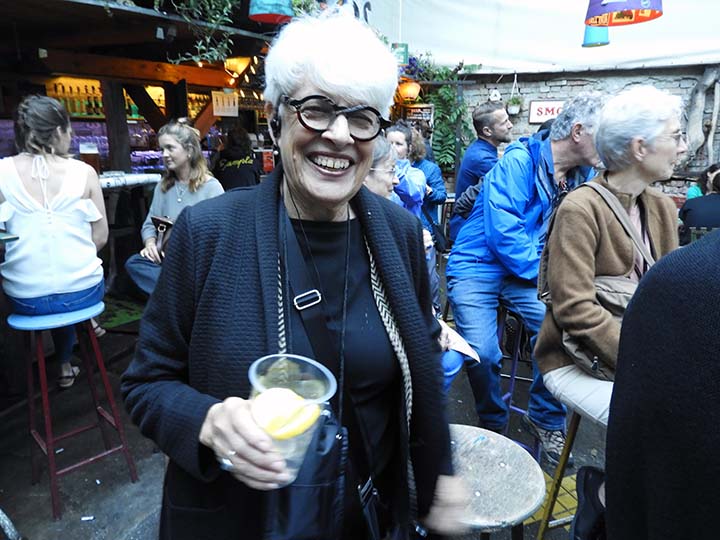 Ellen is having a good time.
Zsuzsa is too.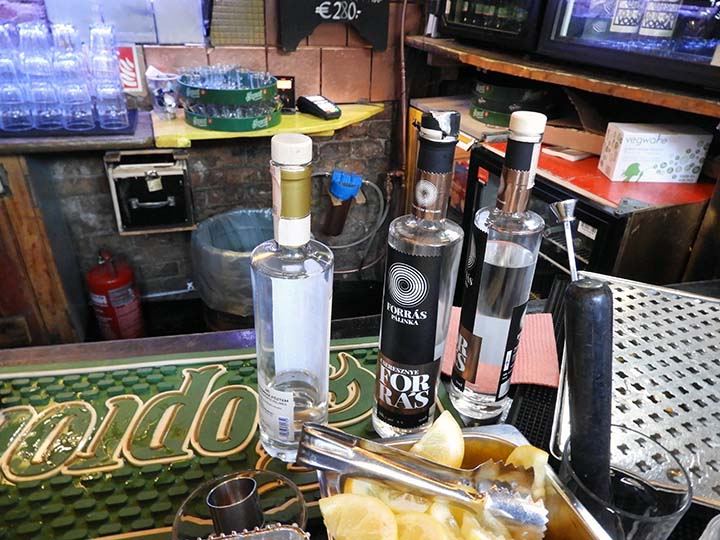 Palinka.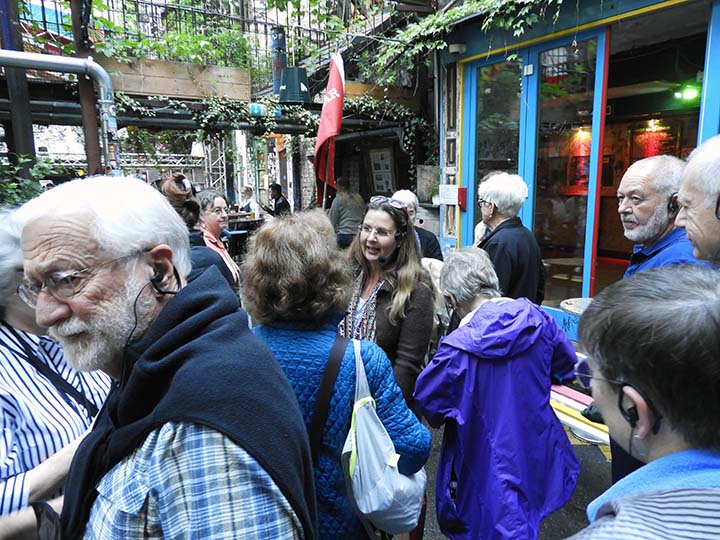 Palinka or not, we all had a fine time at the ruin bar.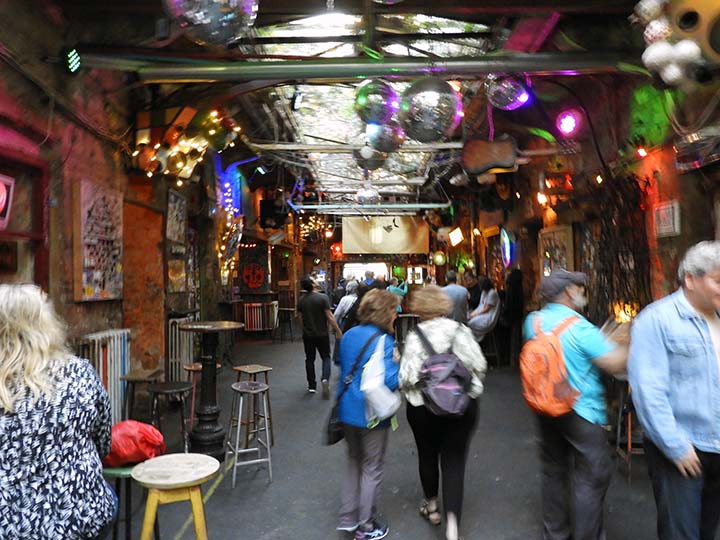 But all good things come to an end.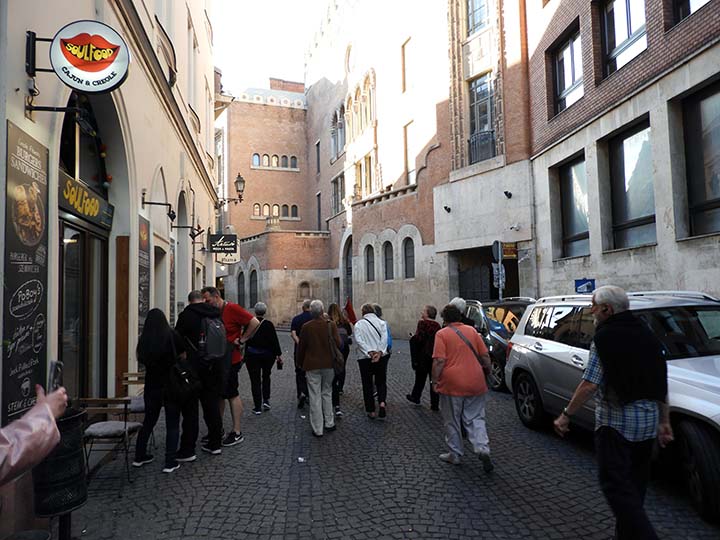 Besides, it's dinner time.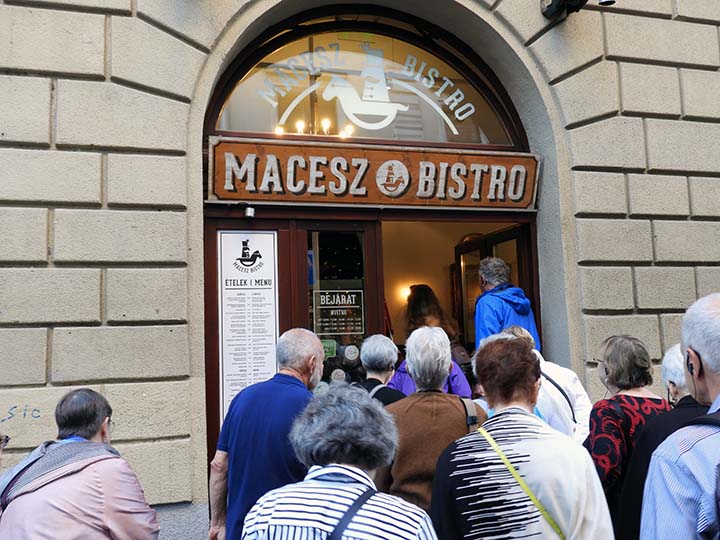 Here's our restaurant.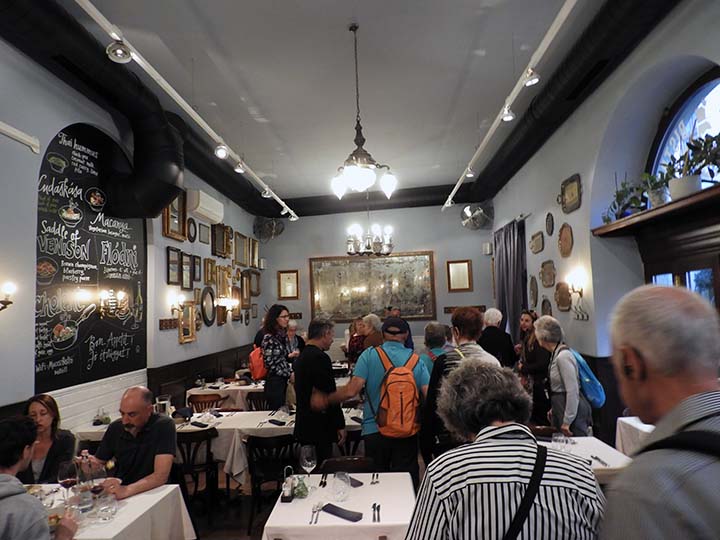 Nice place.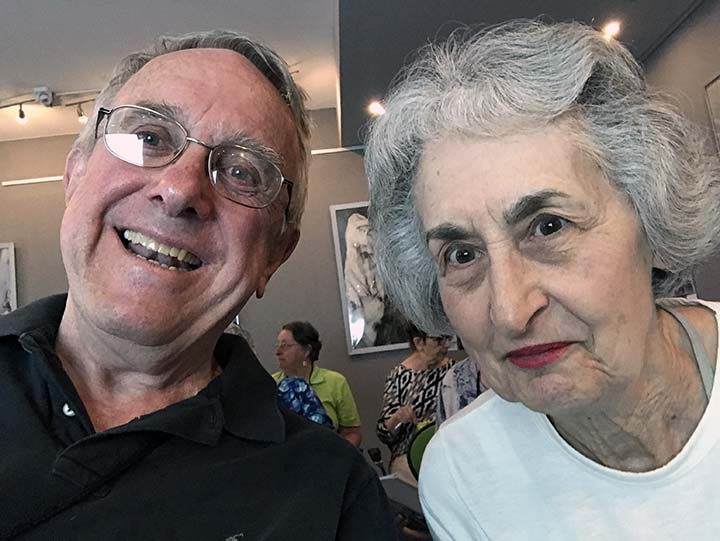 Elaine says she doesn't look good in pictures but I think she's wrong.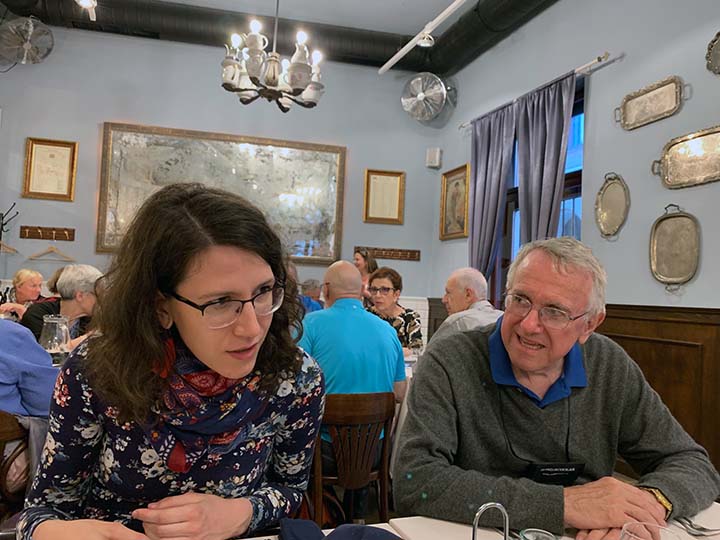 Road Scholar often arranges for its tour groups to meet and chat with locals. This nice young lady, a grad student, made a very interesting dinner companion.