Today was our last day in Budapest and it rained, and it rained, and it rained. It never rained very hard, really. No more hail storms anyway. But it was dreary and cool. Still, we saw a lot and had a great time.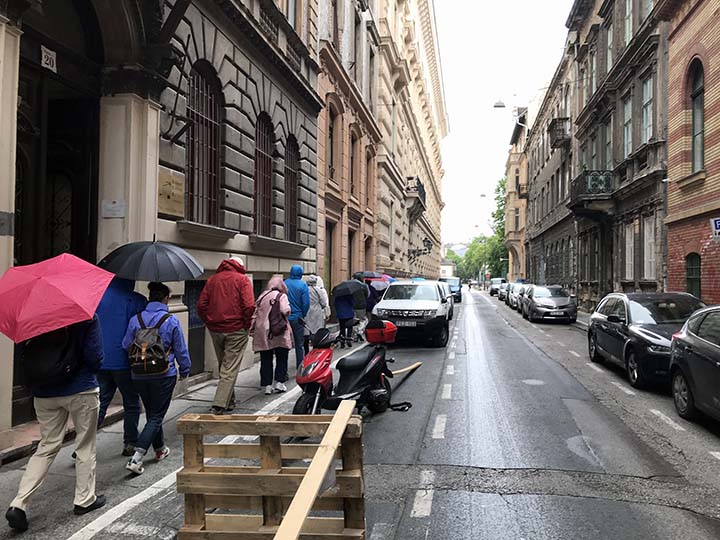 See? I told you it was rainy today.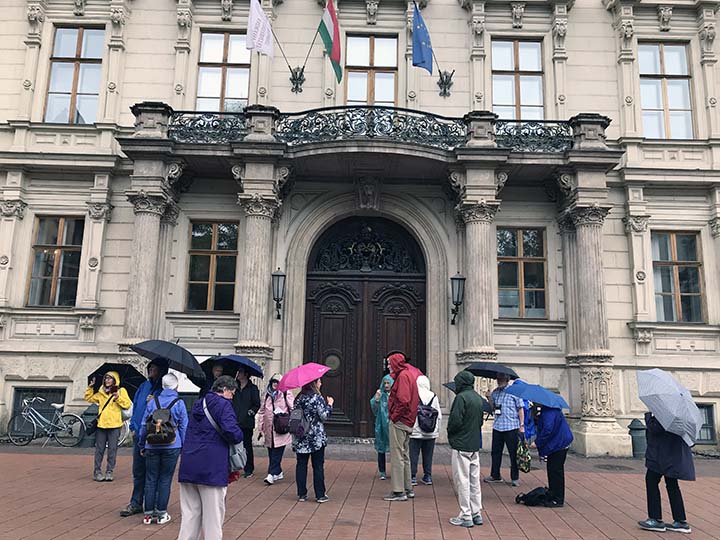 We came across a university as we were walking along. Turns out many old buildings like this that sat unused or even in ruins during the Communist days are now being renovated for re-use.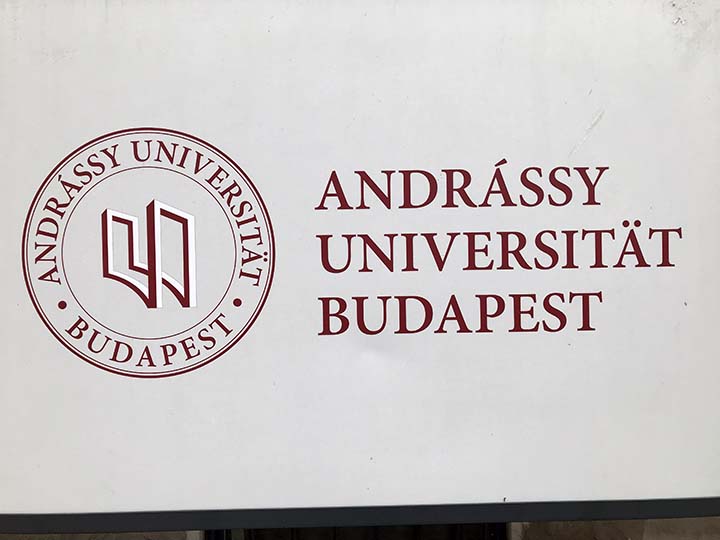 So now this place is a university.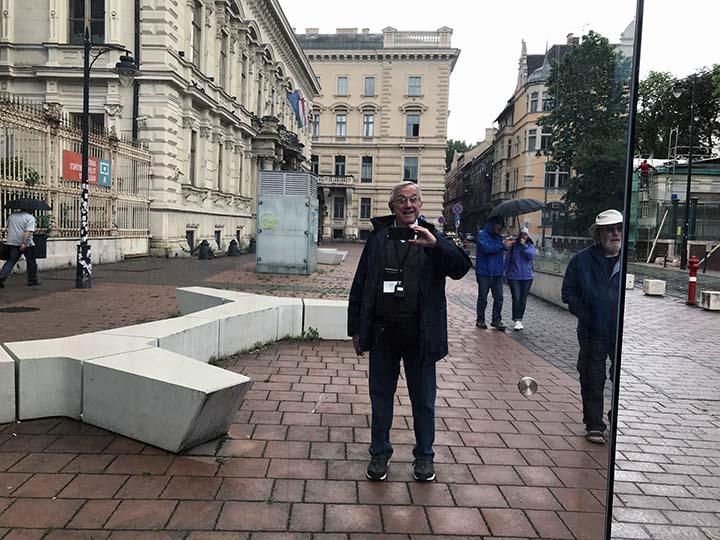 Bill is taking a seriously weird selfie in some sort of reflective surface.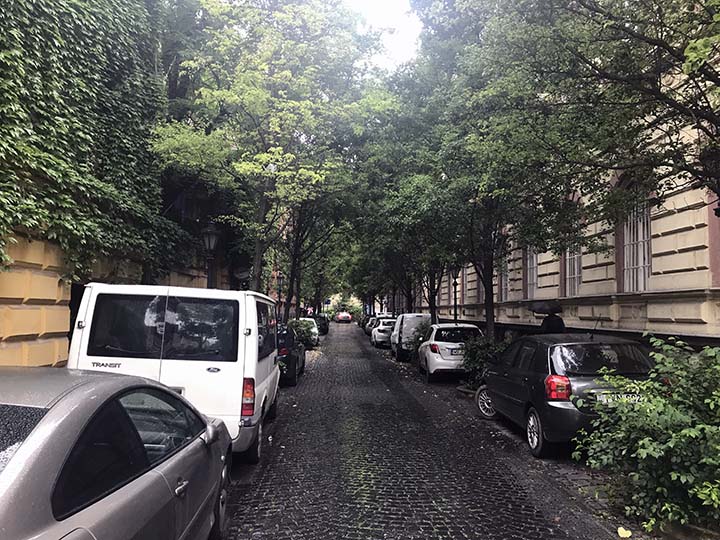 Rainy but still lovely here.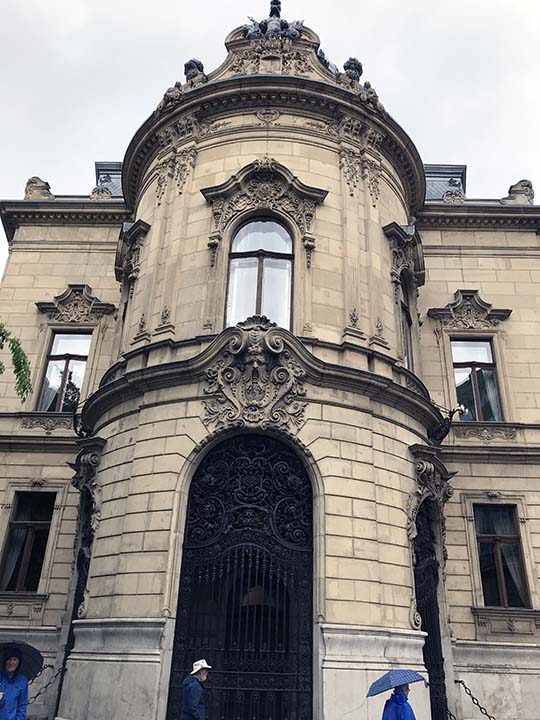 Our first major stop of the day was the local library. The Metropolitan Ervin Szabó Library's main branch is housed in the 19th-century neo-baroque Wenckheim Palace.
And it is a fabulous place.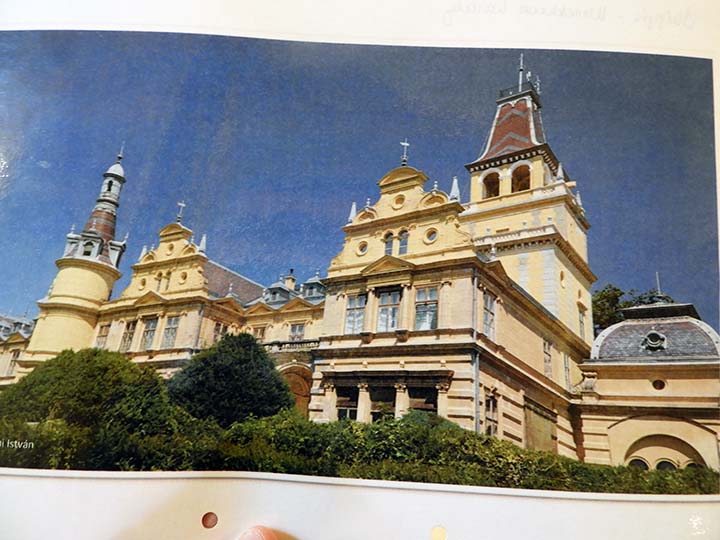 Here's the picture postcard view. The family that built the house consisted of rich landowners. And now you can come here to study.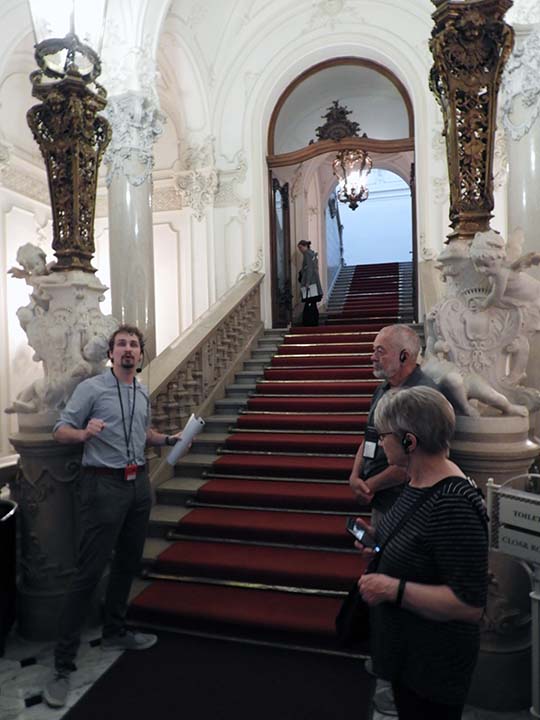 This guy is a librarian who served as our guide.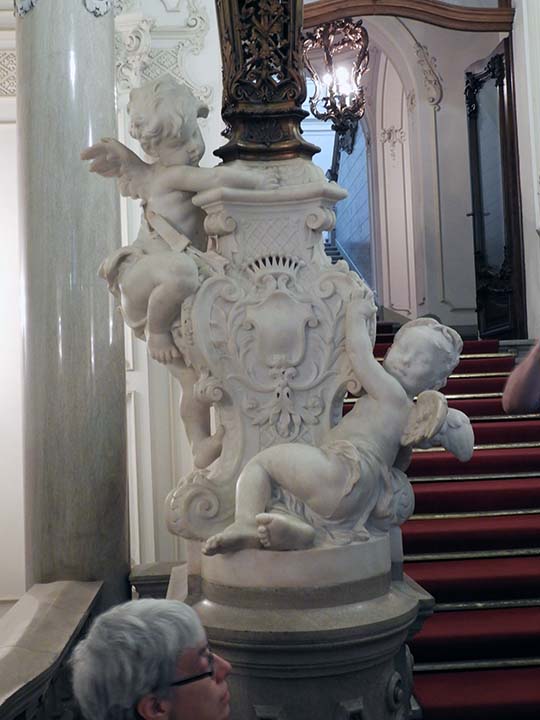 These cherubs decorate a stairway.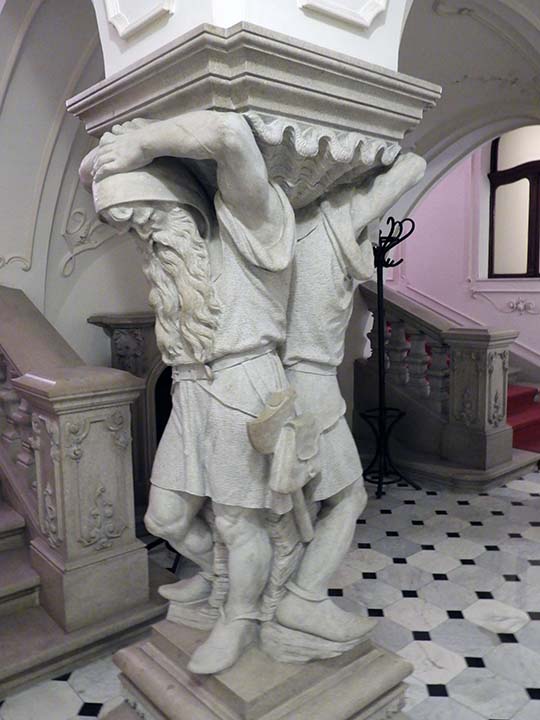 And down in the basement, some dwarves are holding the building up.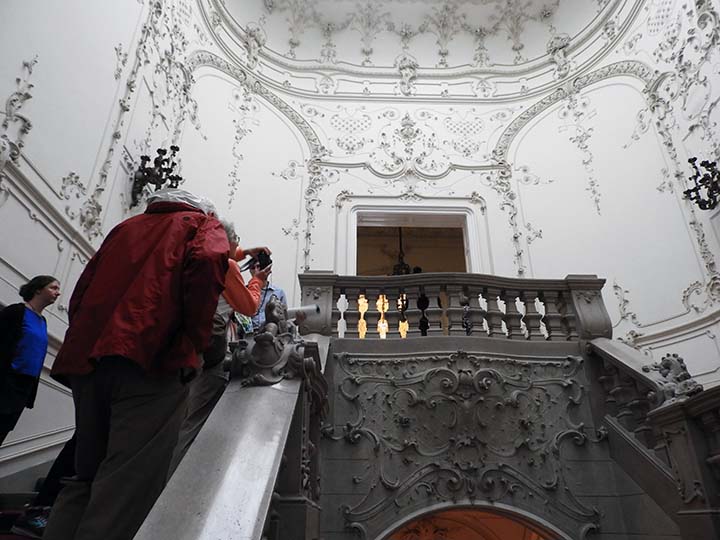 Up we go.
Wenckheim Palace/Library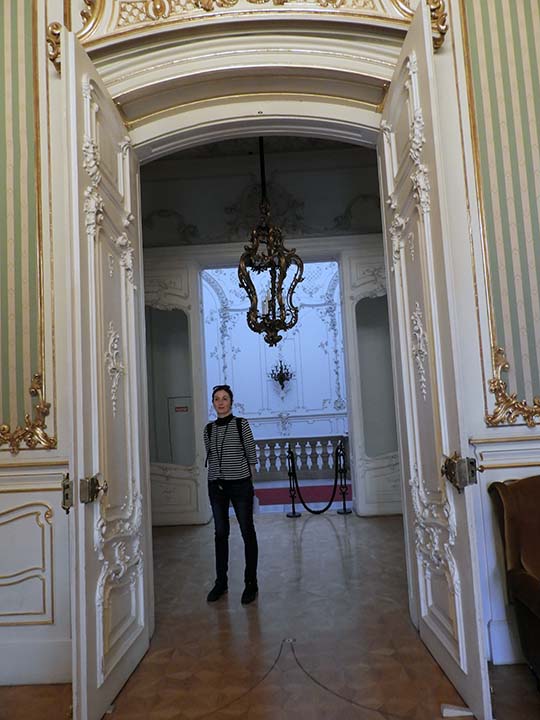 Misa has the bearing of an aristocrat, don't you think?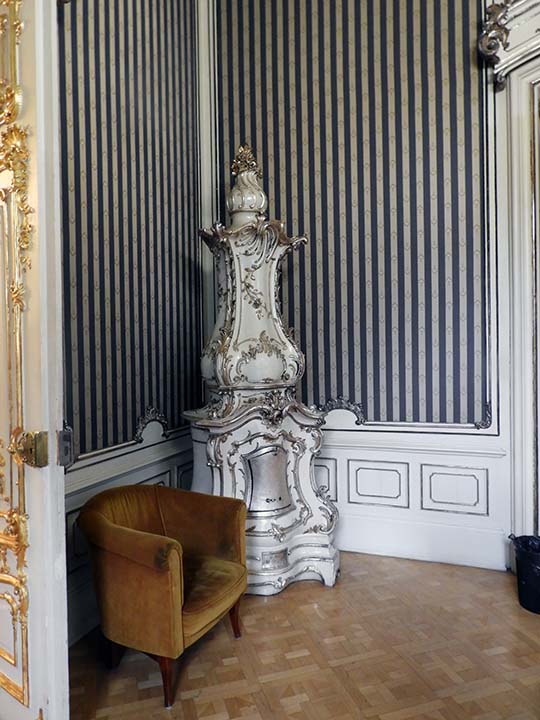 That is a coal burning heater. Yes, it really is.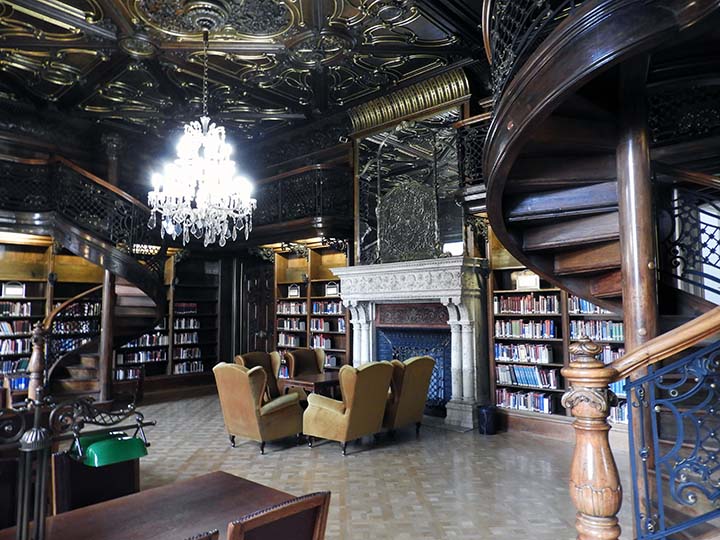 Cozy, no?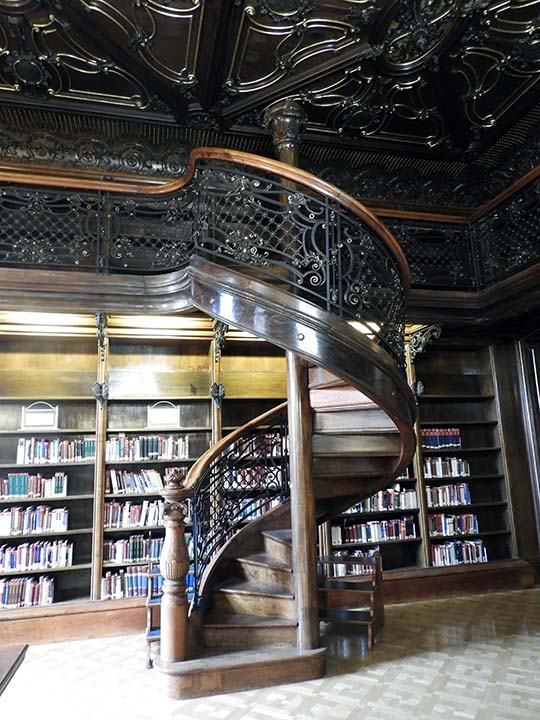 Fancy, too.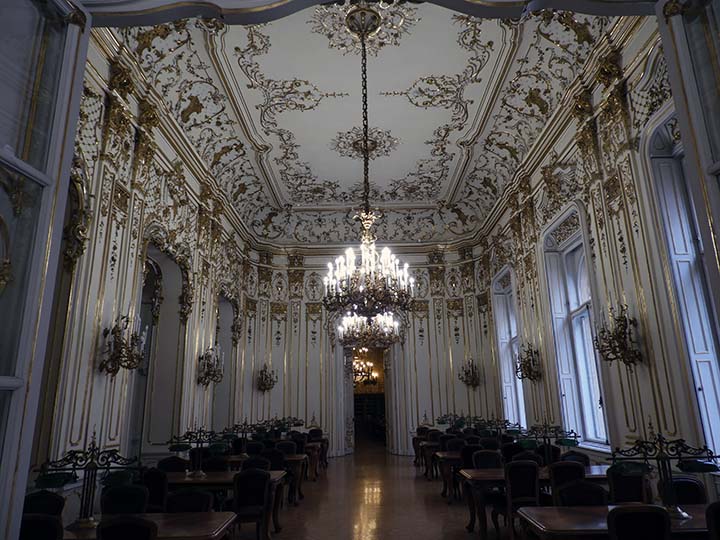 And altogether magnificent.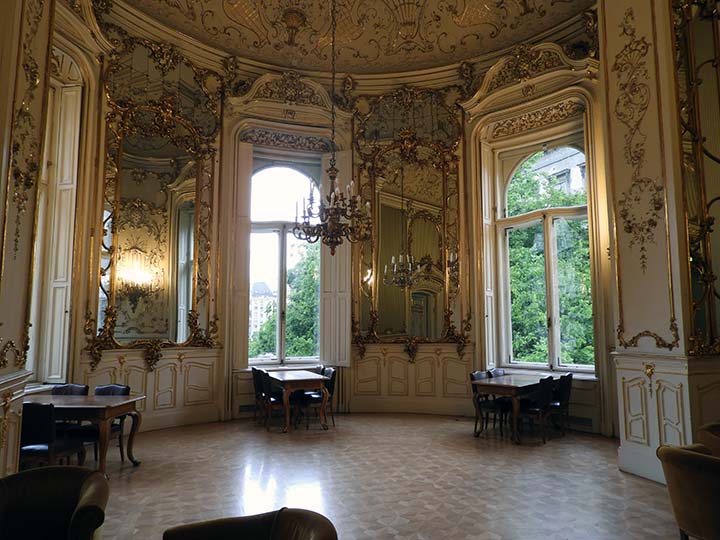 Could you live in a place like this? Are you sure?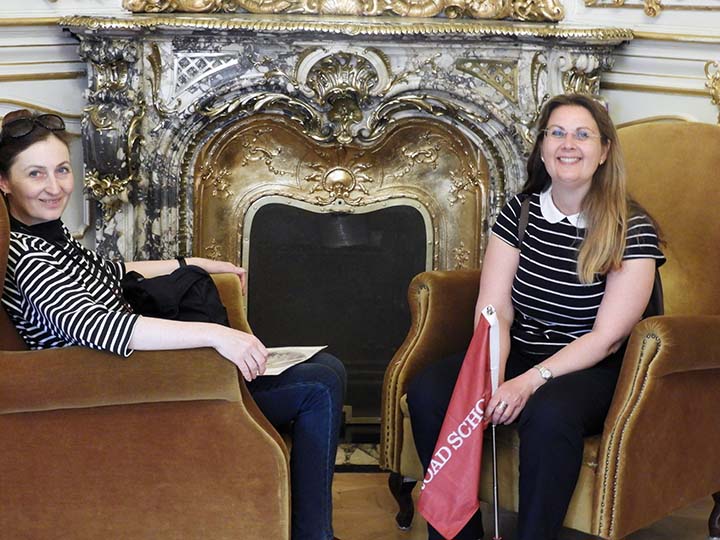 Misa and Zsuzsa were my two favorite guides of the trip. Of any trip, maybe. This picture makes me want to blow kisses.
If I would have to dress like this, the question is settled. I wouldn't want to live here.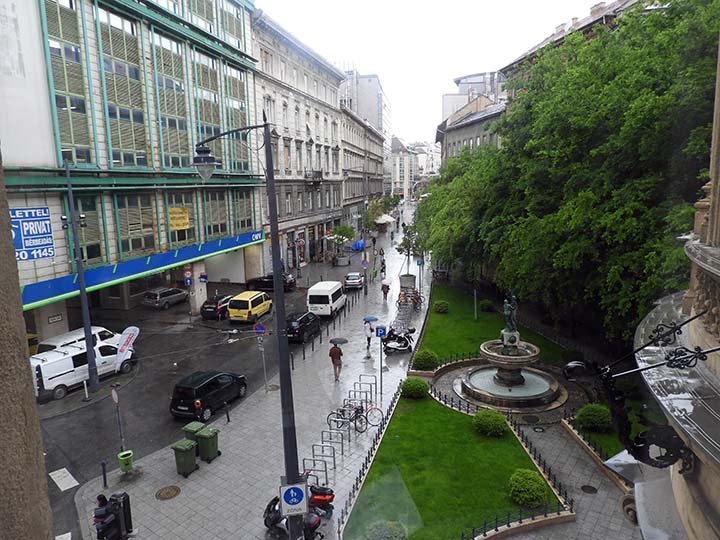 Peeking through a window I could see it was still rainy outside.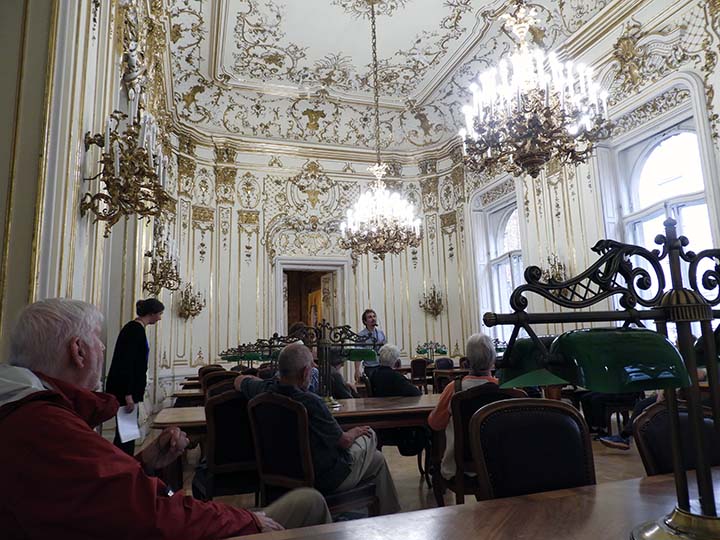 Our librarian guide is giving us some history of the place.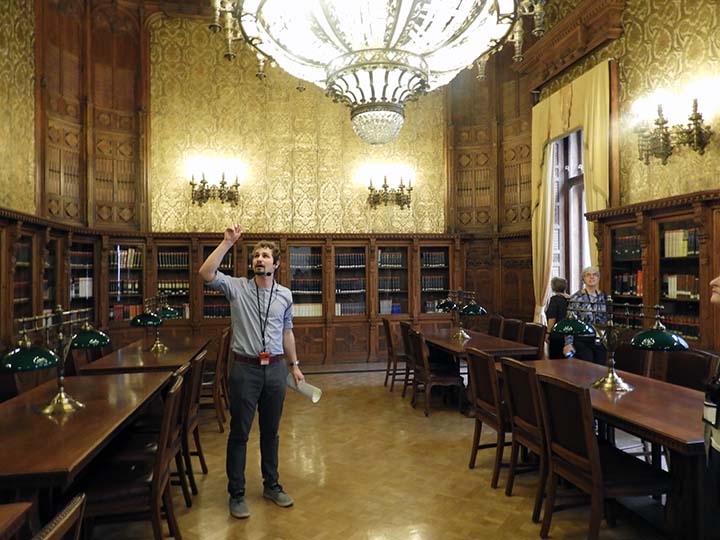 The chandeliers, the gilded wallpaper...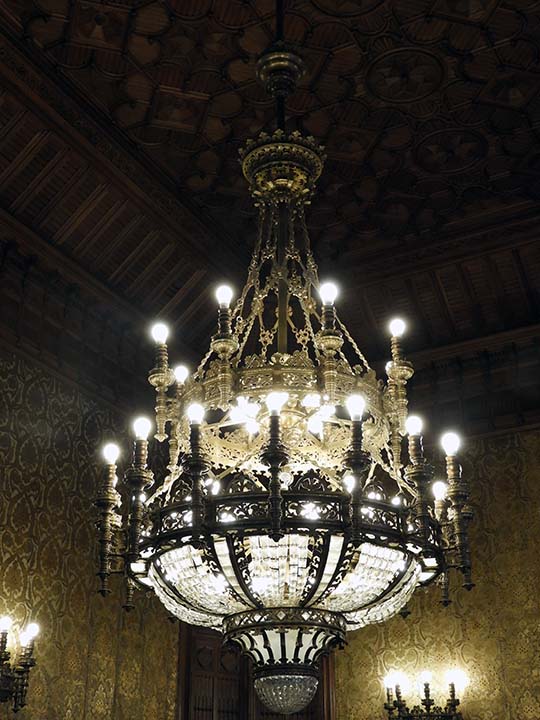 After this I'm embarrassed to look at the light fixture over my dining room table.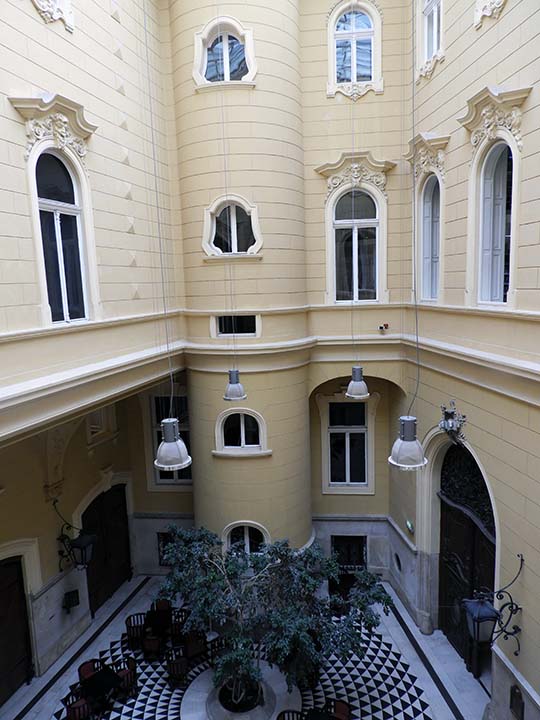 Interior courtyard.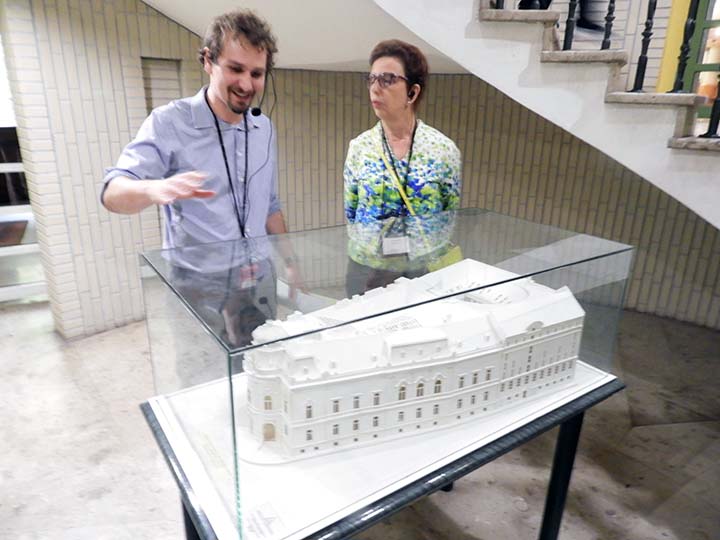 Scale model of the place.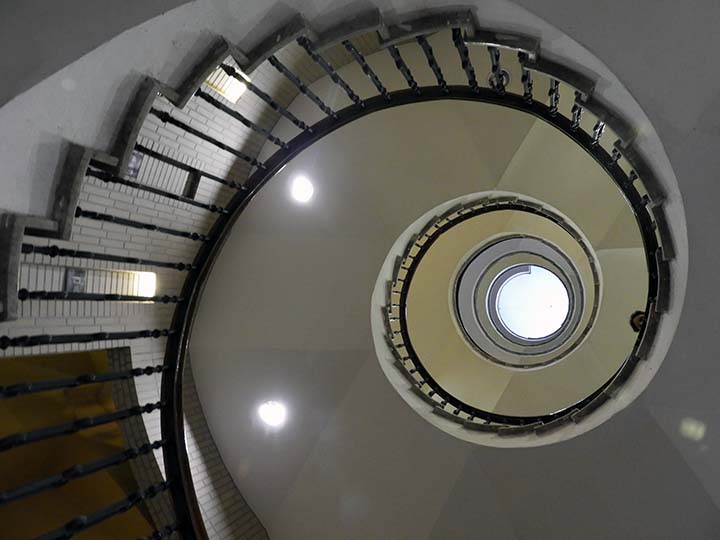 That is what is called a spiral staircase.
Our guide showed us some of the library's collection of rare books from the 15th and 16th centuries.
This is a book of, according to our guide, some not very good poetry.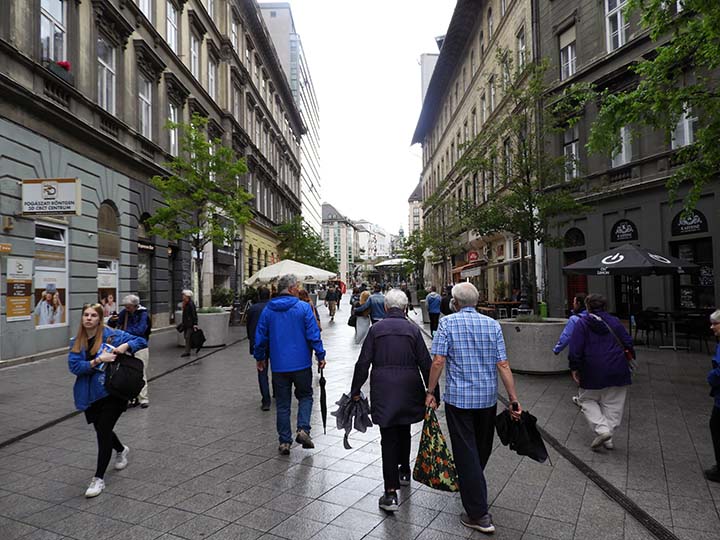 Enough of that. Let's see more of Budapest.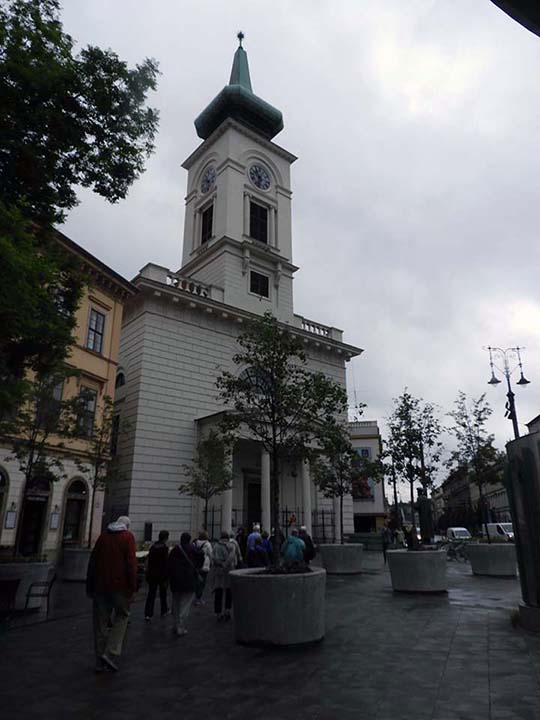 This is the Lutheran Church of Budapest.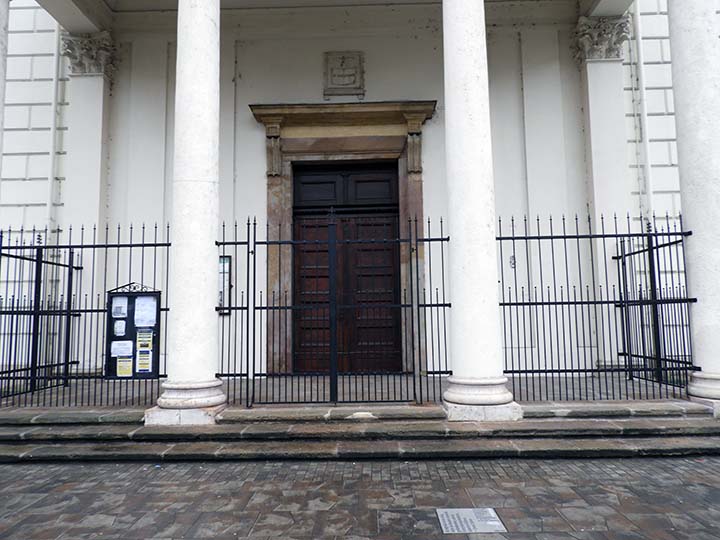 Most of the church was destroyed by a bomb detonation during the Siege of Budapest in 1945. Only the outer walls escaped destruction. The altar, the benches and the organ were all lost.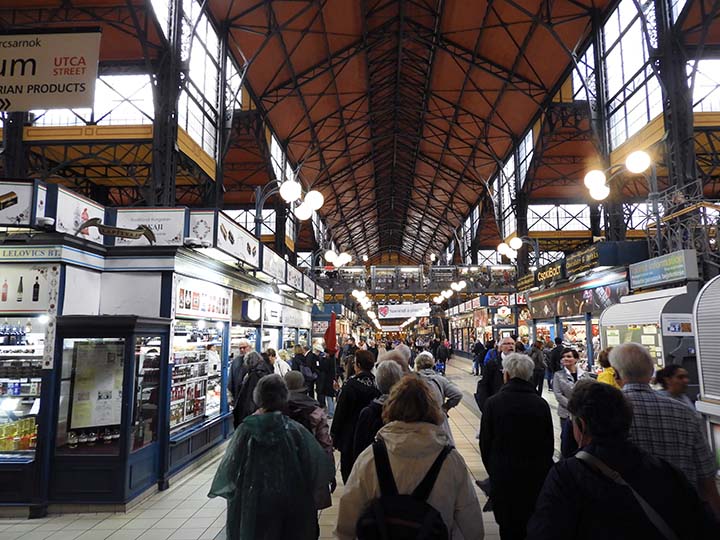 We stopped by a large enclosed market.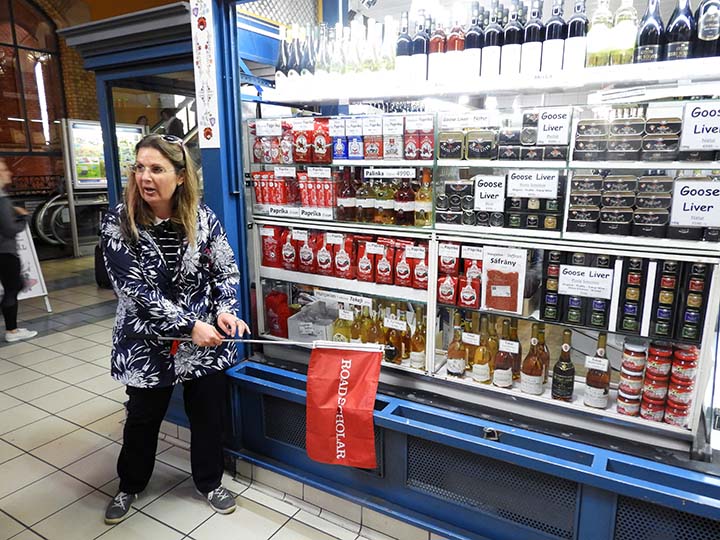 Zsuzsa told us about Hungarian delicacies.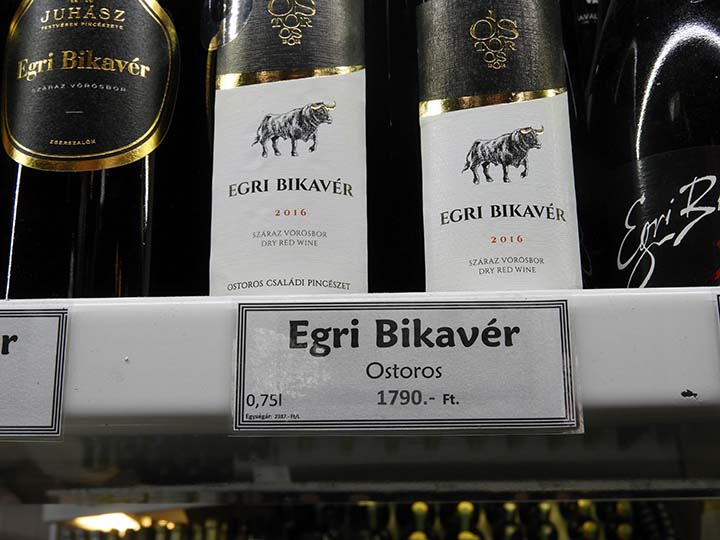 The wine is called "bull's blood." Must be a red.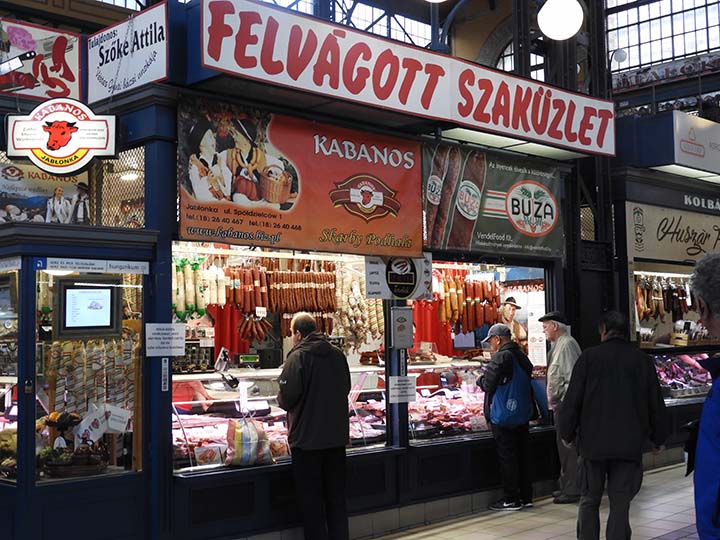 If ever you need some felvagott szakuzlet, this is the place to come. It means "chopped meat."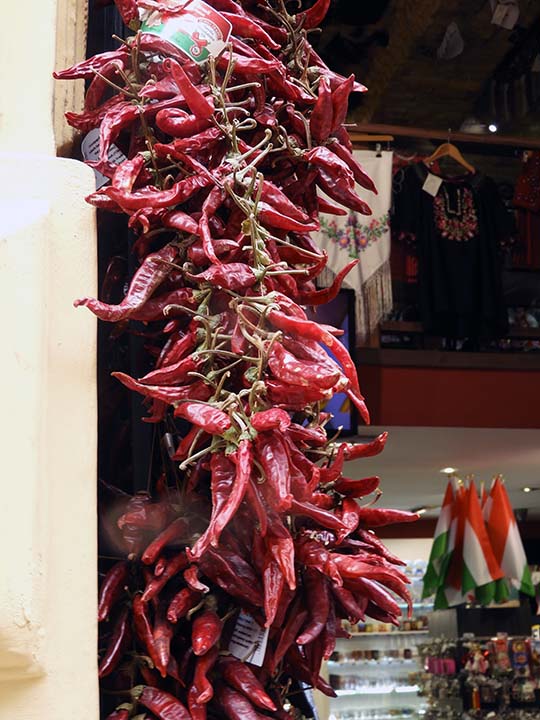 These are the peppers that ground up become paprika.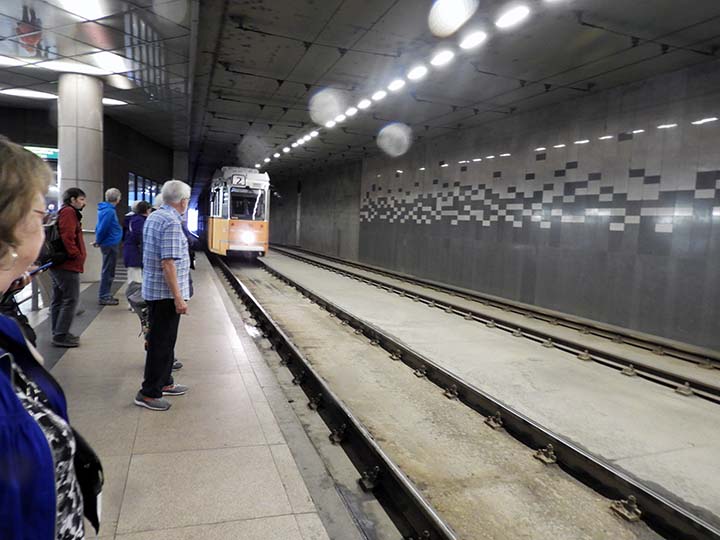 Let's go see the Hungarian Parliament.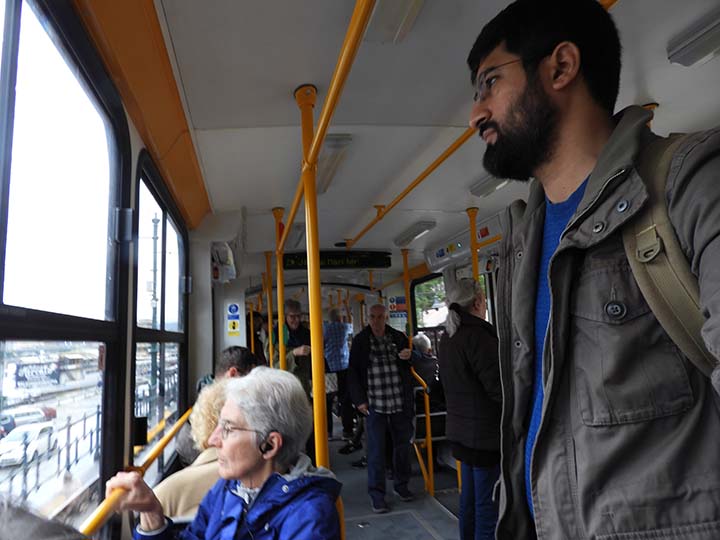 We'll get a nice tour of the city along the way.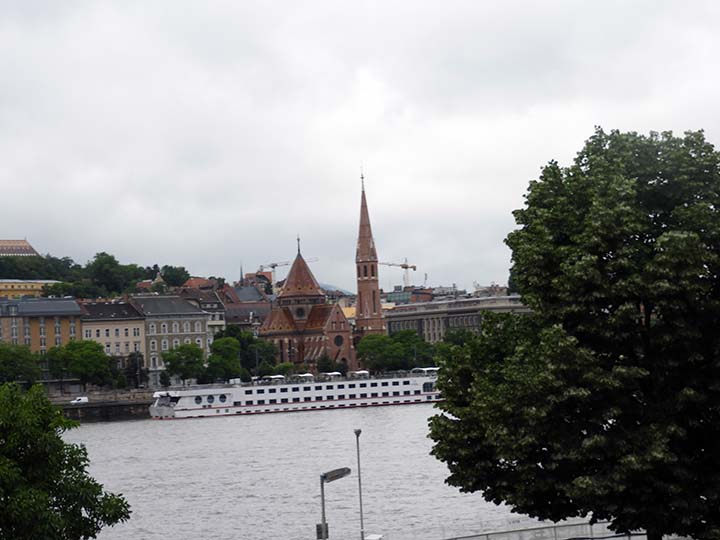 That's Budapest's Calvinist Church.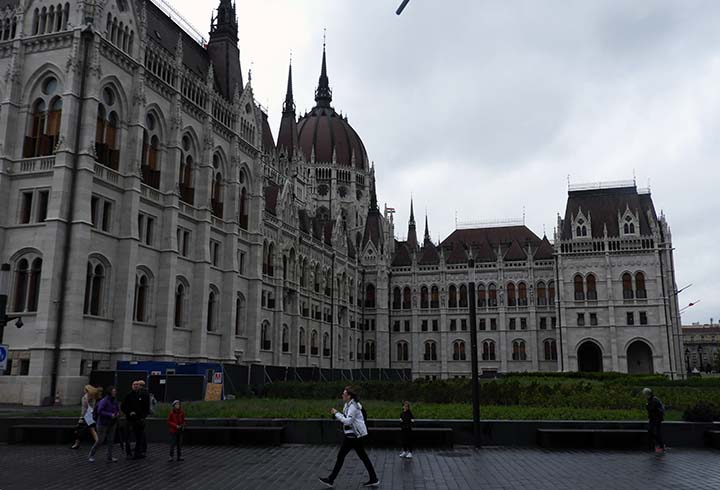 And that's Hungary's Parliament building. Nice view from the train.
See? We're on a train.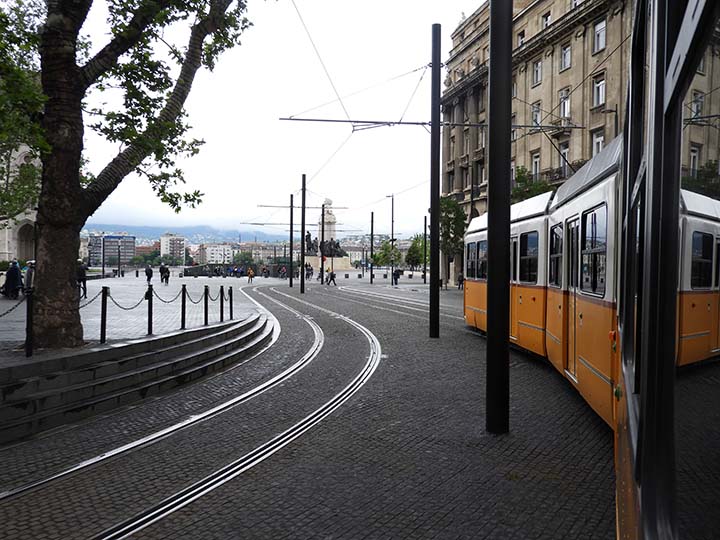 And there's more of the train.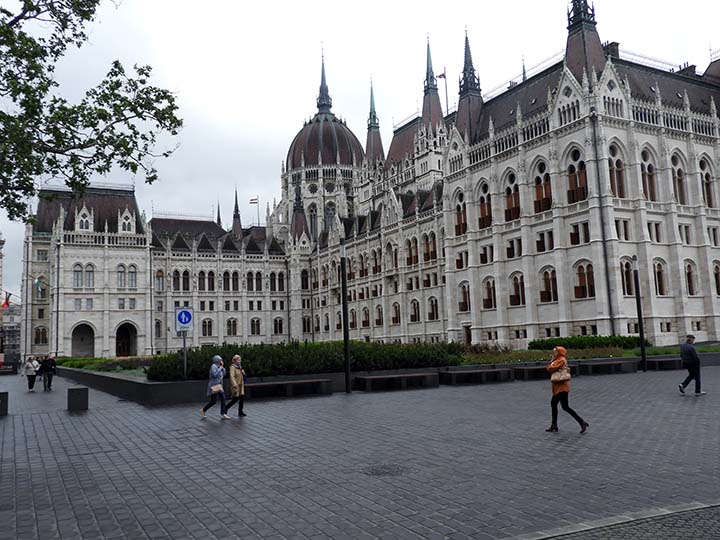 And we rode to Kossuth Square, site of the Hungarian parliament.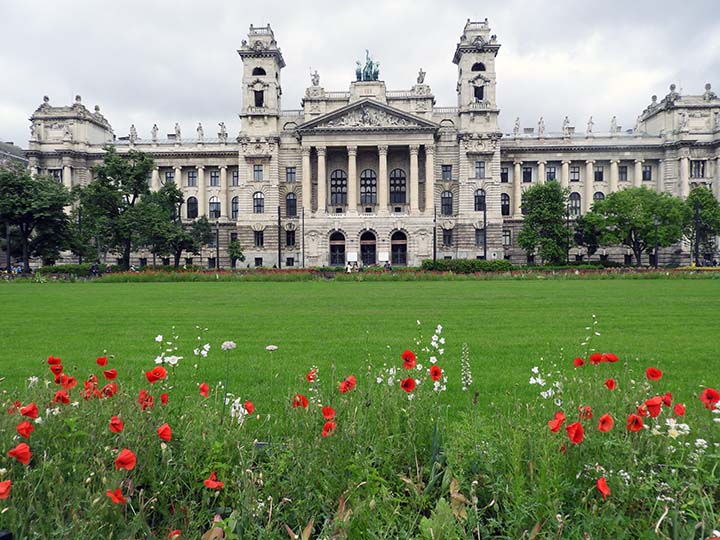 That, apparently, is Budapest's Museum of Ethnography. It was founded as the Ethnographic Department of the Hungarian National Museum in 1872. It formally split from the National Museum in 1947 but moved to its building in Kossuth Square, opposite the Parliament building, only in 1973. The grand building in which the Museum of Ethnography is now housed was originally built for the Ministry of Justice. The museum houses a collection of Hungarian folk objects from the 19th century. The collection includes pieces from everyday Hungarian life from before World War II, including pottery, costumes, boats, and furniture. Many of the objects are from Upper Hungary and Transylvania. Also featured in the museum are scenes from everyday Hungarian life around 1900. These include a model of a kitchen and a model of a church.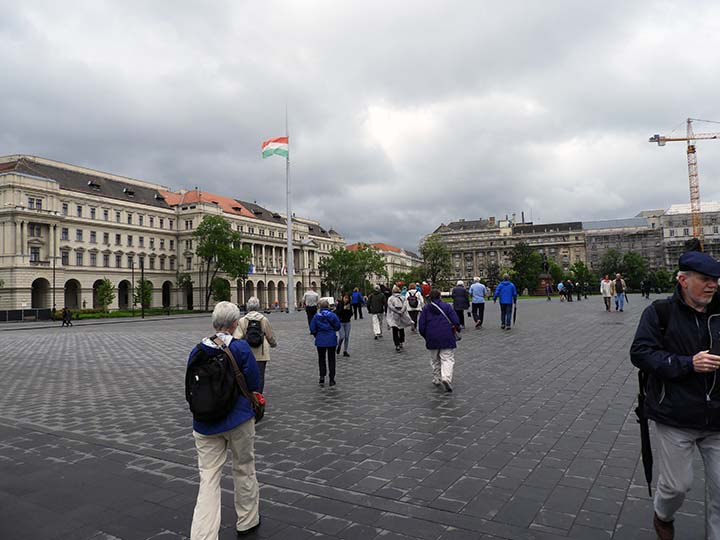 Let's see more of the square.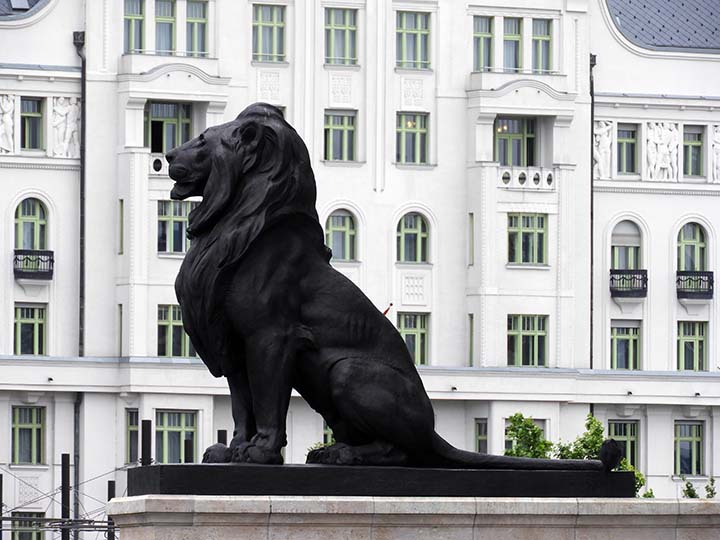 This guy has seen a lot.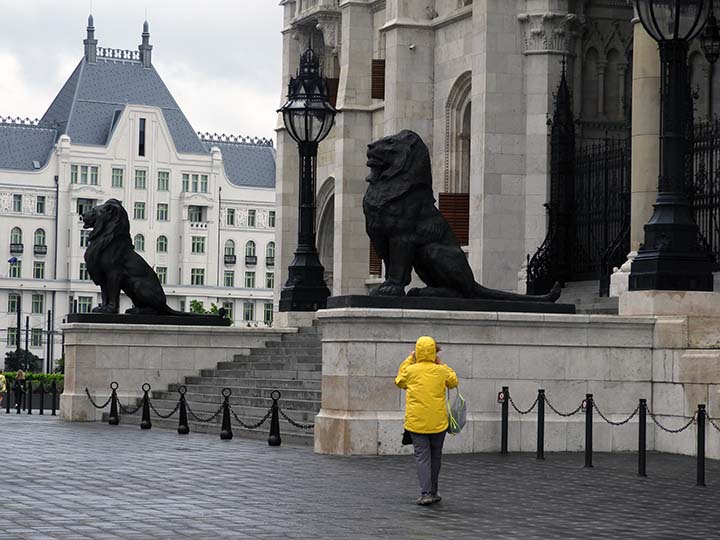 This is where the Russian tanks came to put down the Hungarian revolution of 1956.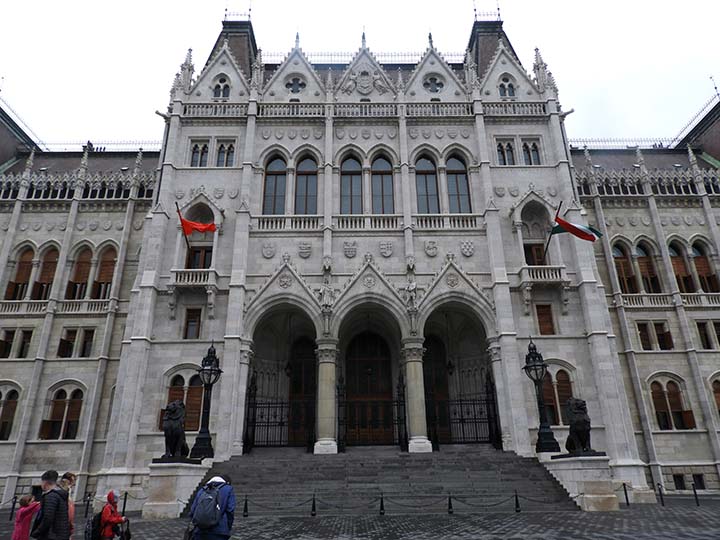 Tanks with guns were lined up right out here, at the bottom of the steps of the Hungarian parliament.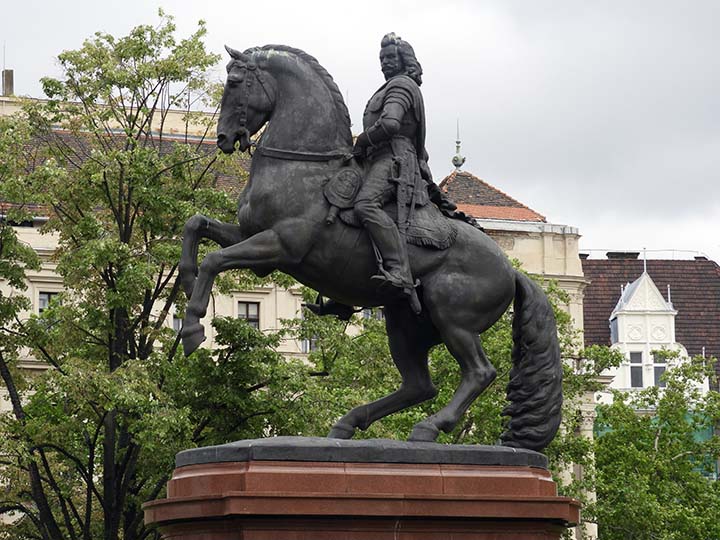 That, if you're curious, is the Equestrian statue of Francis II Rákóczi (1937) by János Pásztor. And now you know.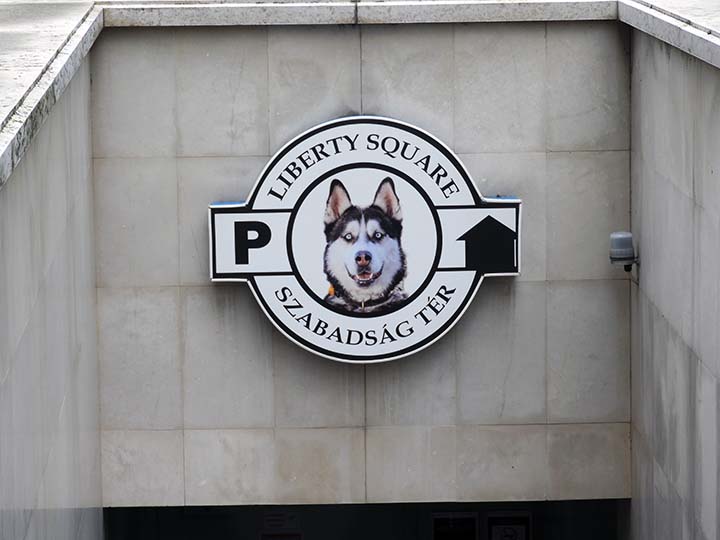 Let's walk around Liberty Square.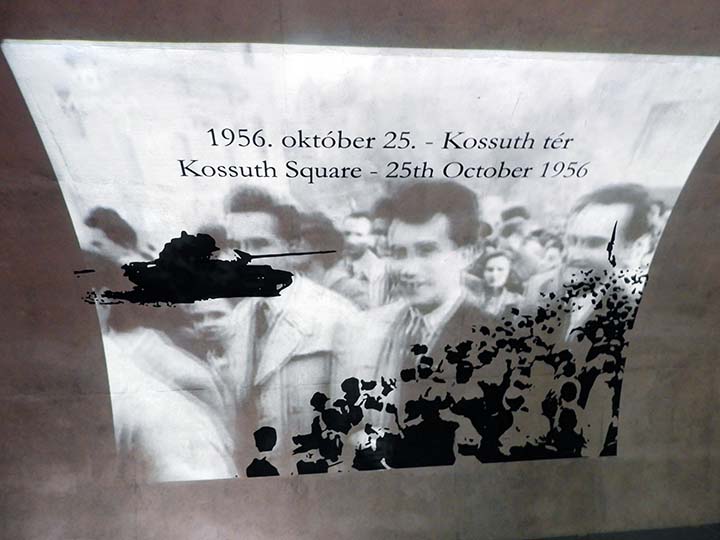 There's a visitor center to help people remember the 1956 struggle to escape the yoke of Russian communism.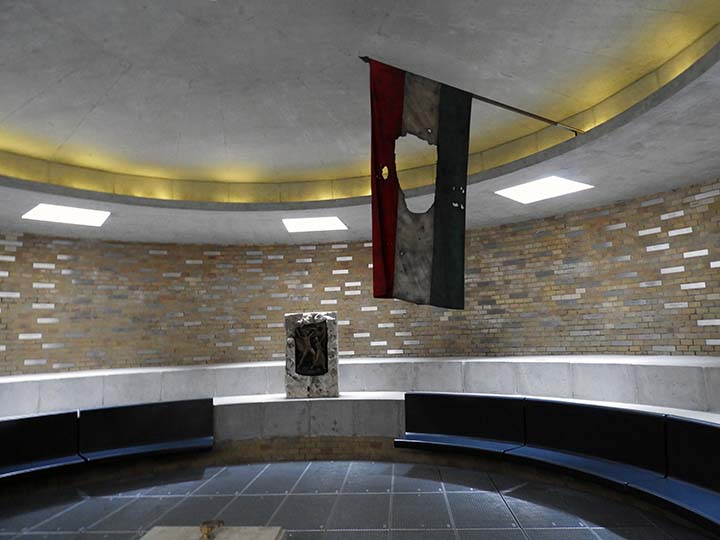 A flag preserved from the uprising that was put down with violence by the Soviet Union.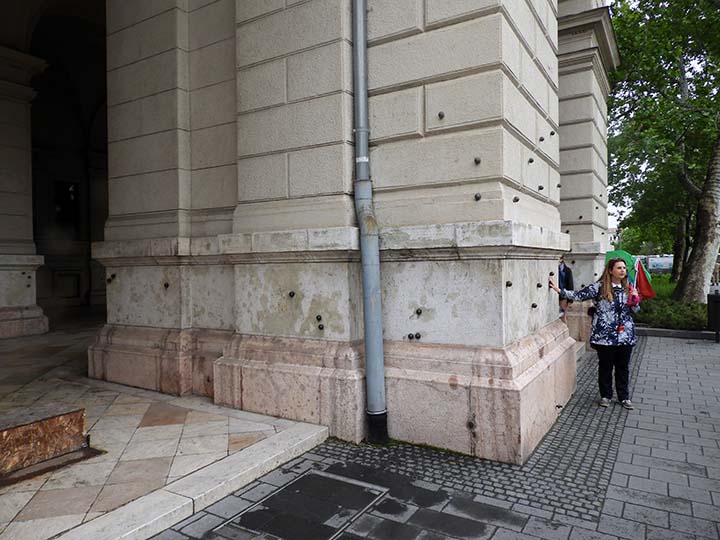 All the bullet holes are marked with a little steel balls, just so nobody forgets.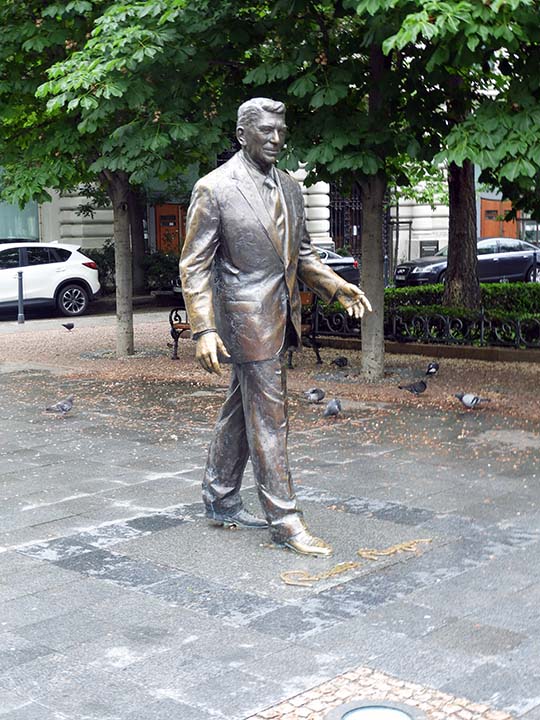 Whatever we may think of our own presidents, it's interesting to see them through the eyes of people who live under governments much more oppressive than our own.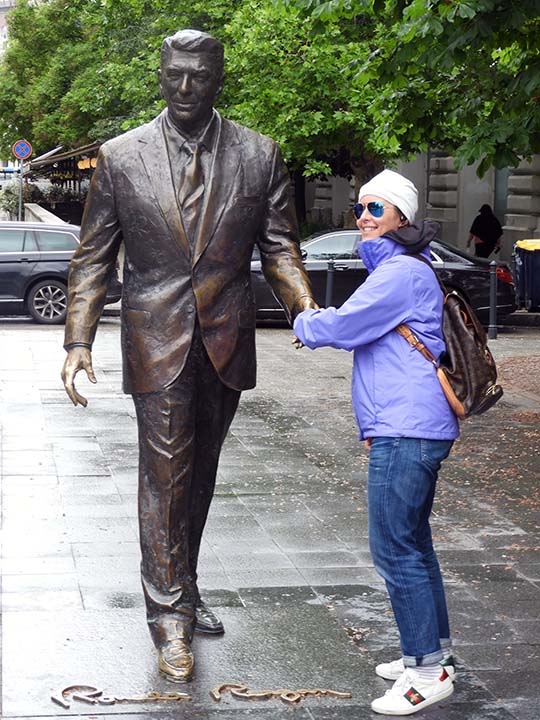 Rachel is shaking hands with Ronald Reagan. They love him here. They have not forgotten, "Mr. Gorbachev, tear down that wall."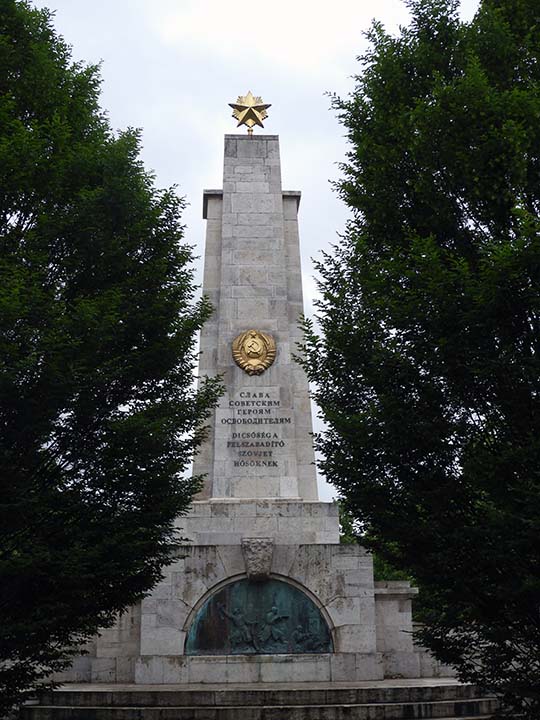 Despite the retreat of the Communists here, there are still reminders. This is the WWII memorial to the Soviet Red Army, in Freedom Square.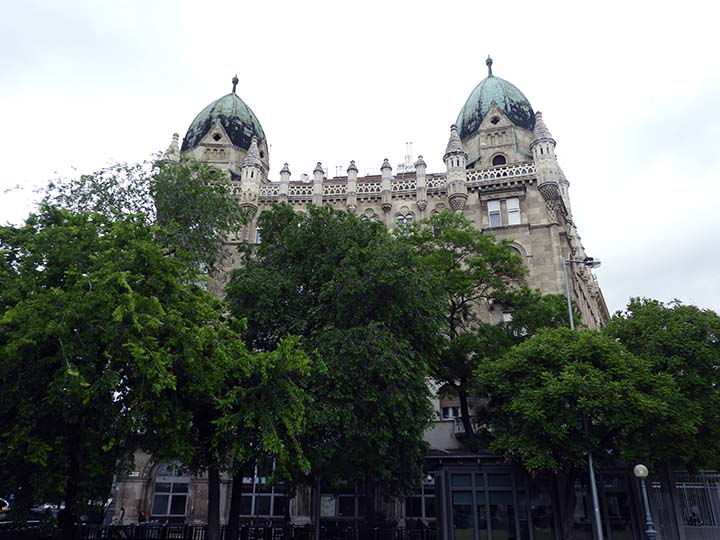 That's a bank. But it's impressive, so here it is.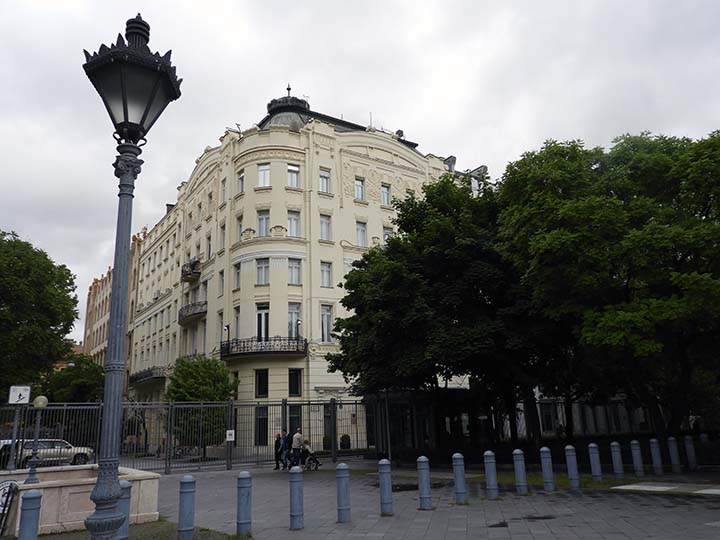 That's the American Embassy. It's impressive too.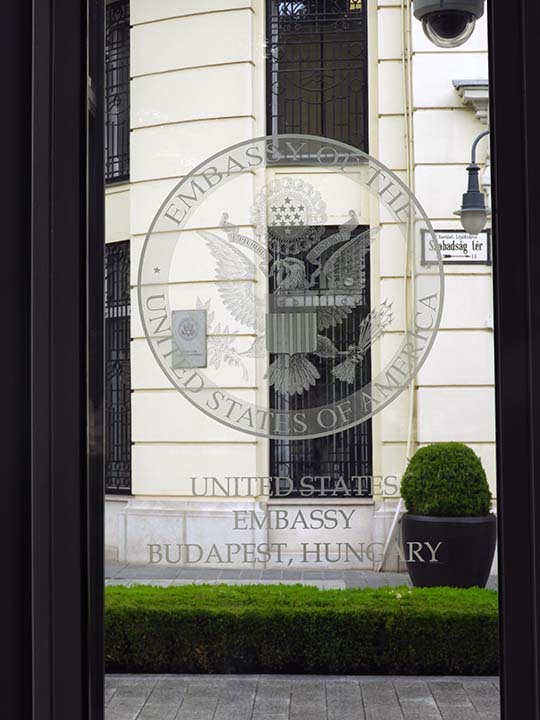 When I took this picture, a guard came out and told me I can't take pictures. What's the matter with those Americans anyway?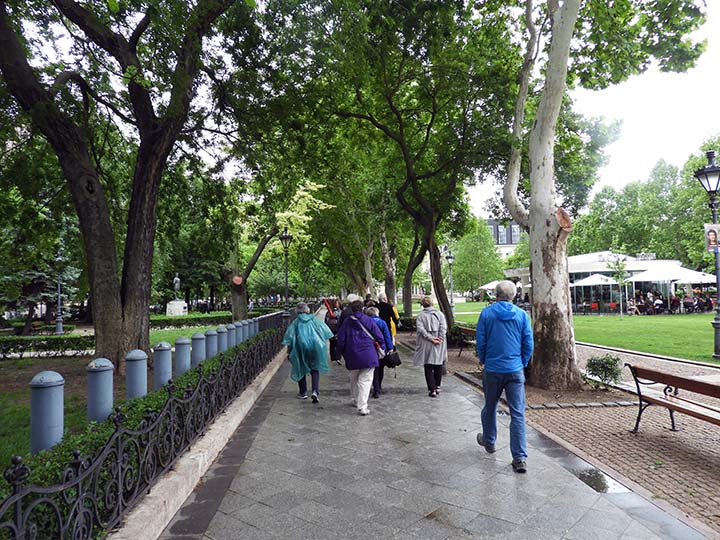 If I can't take a picture of my own embassy, I'm leaving.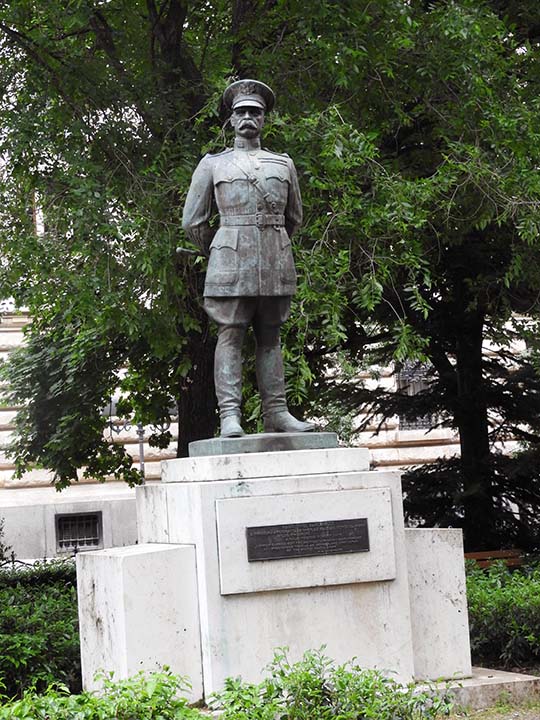 General Pershing? Nope. Looks like him, but it's really WWI US Army Brigadier General Harry Hill Bandholtz, holding his famous riding crop. The statue was made by Hungarian sculptor Miklós Ligeti in 1936 to honor the General's stand for the people of Hungary. According to legend on the night of October 5, 1919 General Bandholtz while only armed with a riding crop, beat off Romanian thieves as they tried to loot and pillage the Hungarian National Museum in Budapest. The inscription on the statues base, are in the General's own words "I simply carried out the instructions of my government, as I understood them, as an officer and a gentleman of the United States Army."
The statue was damage during WWII. The communist government repaired it and moved it in 1949 to the statue bone yard, until in 1989 just a few days before the visit of President Bush it was re-placed in Liberty Square (Szabadság tér) at its original location with a new inscription on the back that reads: "General Harry Hill Bandholtz, head of the American Military Mission, who on October 5, 1919 blocked the removal of the treasures of the National Museum to Romania".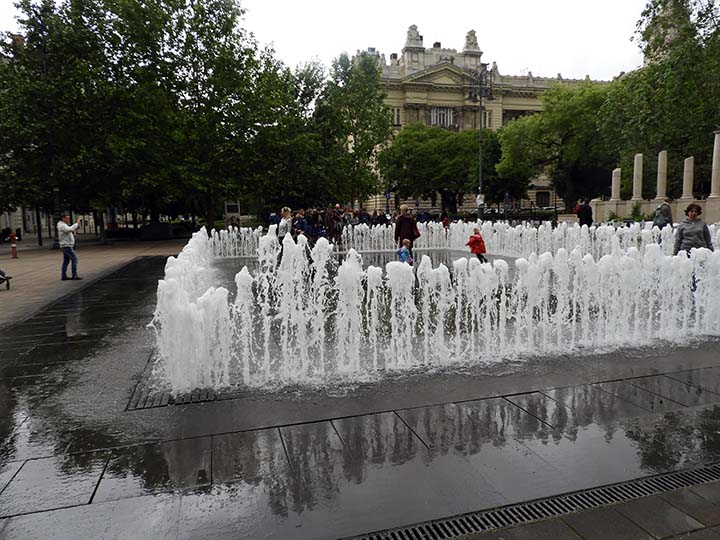 That's a great fountain. The way this fountain works is, you walk up to the water and the fountain senses your presence and stops flowing. When you walk through, the water shoots up behind you. But, don't try to do things too fast.

Here's Sarajane demonstrating how it works.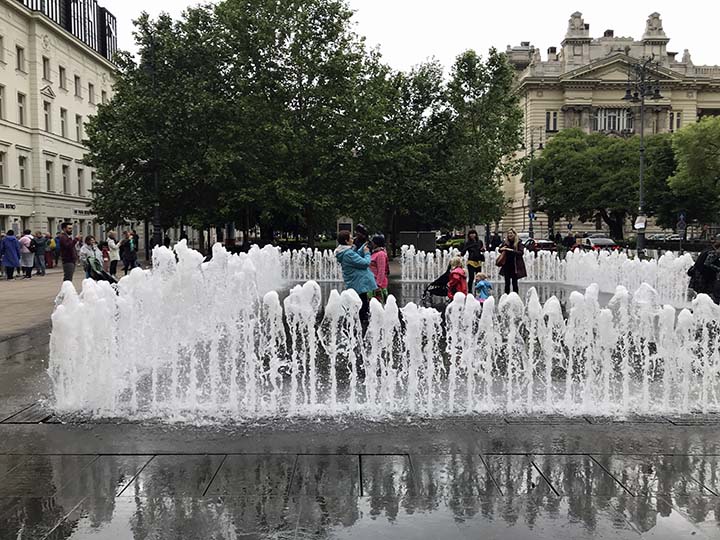 Simple, right?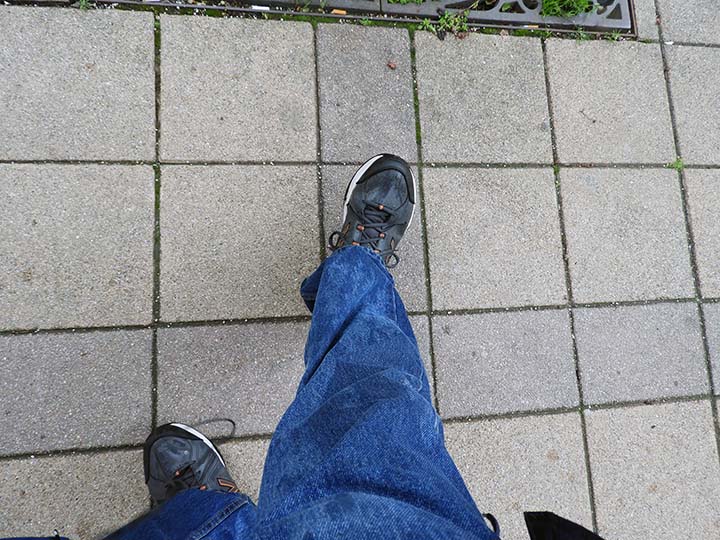 Here are my soaked pants and sneakers after I turned too fast.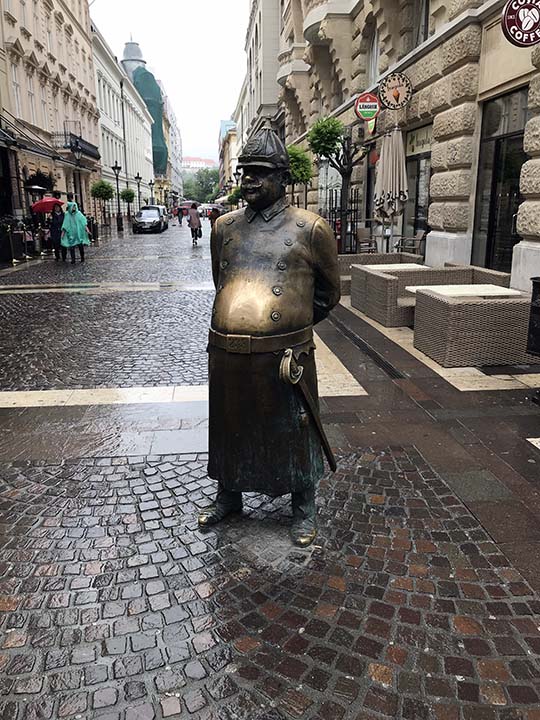 Remember how the horse's balls were rubbed? This guy is popular too. He represents police officers from long ago.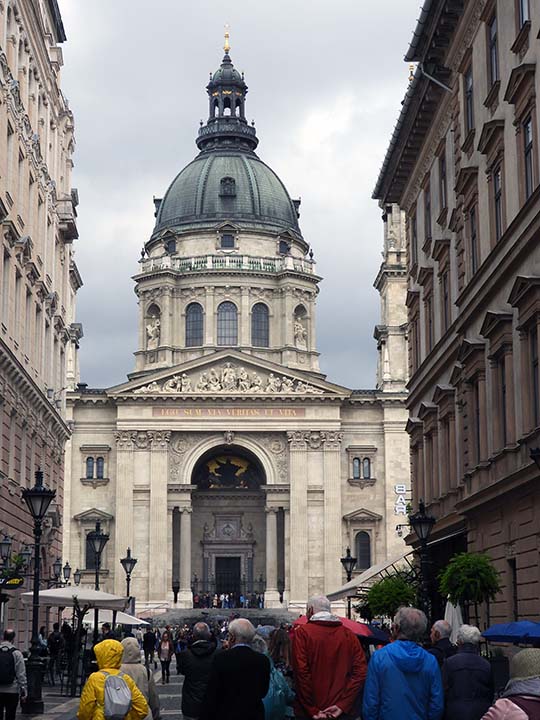 We stopped by the Basilica of St. Stephen where I went to the concert last night.

The basilica has bells.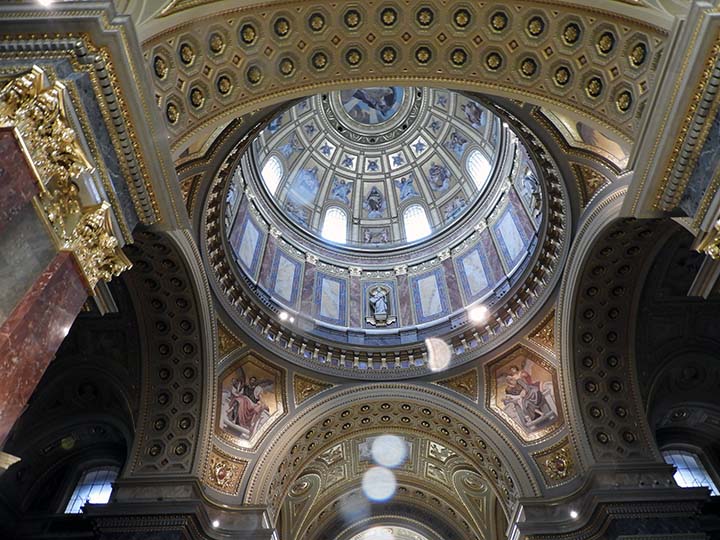 And it's big inside.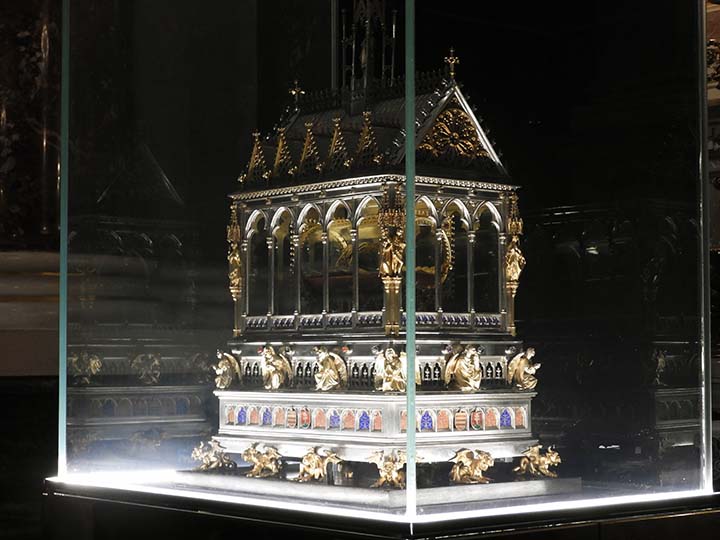 Can you guess what's in the fancy case? I mean, reliquary?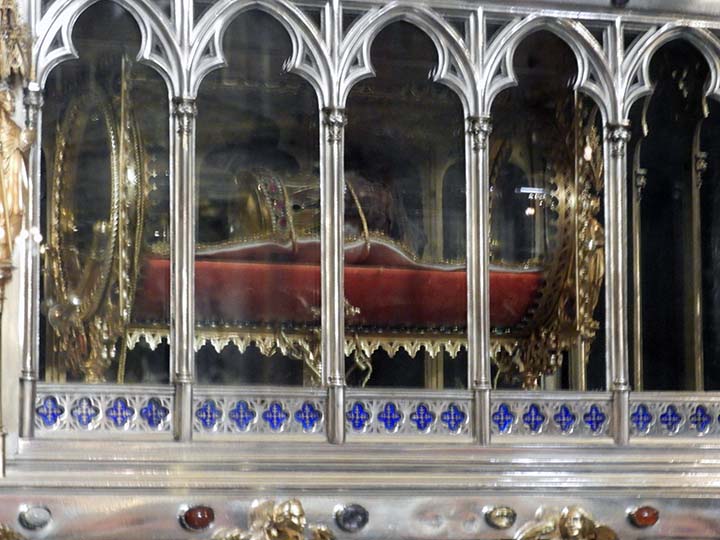 It's a HAND!
Stephen's intact dexter, or right hand (Hungarian: Szent Jobb), became the subject of a cult. A cleric named Mercurius stole it, but it was discovered on 30 May 1084 in Bihar County. The theft of sacred relics, or furta sacra, had by that time become a popular topic of saints' biographies. Bishop Hartvic described the discovery of Stephen's right hand in accordance with this tradition, referring to adventures and visions. An abbey erected in Bihar County (now Sâniob, Romania) was named after and dedicated to the veneration of the Holy Dexter.
Why is it, brothers, that his other limbs having become disjointed and, his flesh having been reduced to dust, wholly separated, only the right hand, its skin and sinews adhering to the bones, preserved the beauty of wholeness? I surmise that the inscrutability of divine judgment sought to proclaim by the extraordinary nature of this fact nothing less than that the work of love and alms surpasses the measure of all other virtues. ... The right hand of the blessed man was deservedly exempt from putrefaction, because always reflourishing from the flower of kindness it was never empty from giving gifts to nourish the poor. — Hartvic, Life of King Stephen of Hungary
The Holy Dexter was kept for centuries in the Szentjobb Abbey, except during the Mongol invasion of 1241 and 1242, when it was transferred to Ragusa (now Dubrovnik, Croatia). The relic was then taken to Székesfehérvár around 1420. Following the Ottoman occupation of the central territories of the Kingdom of Hungary in the mid-16th century, it was guarded in many places, including Bosnia, Ragusa and Vienna. It was returned to Hungary in 1771, when Queen Maria Theresa donated it to the cloister of the Sisters of Loreto in Buda. It was kept in Buda Castle's St. Sigismund Chapel between around 1900 and 1944, in a cave near Salzburg in 1944 and 1945, and again by the Sisters of Loreto in Buda, between 1945 and 1950. Finally, since 1950, the Holy Dexter has been in St. Stephen's Basilica in Budapest. An annual procession celebrating the relic was instituted in 1938, and continued until 1950, when the procession was forbidden by the Communist government. It was resumed in 1988.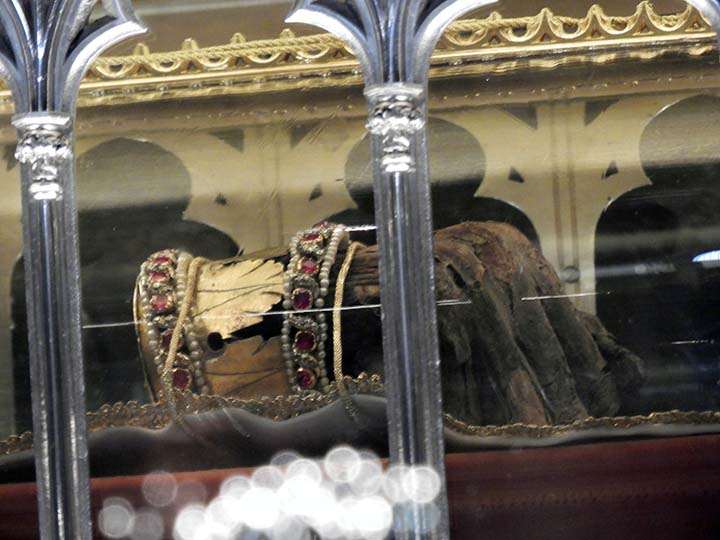 They can claim it didn't putrefy all they like but it doesn't look too healthy to me.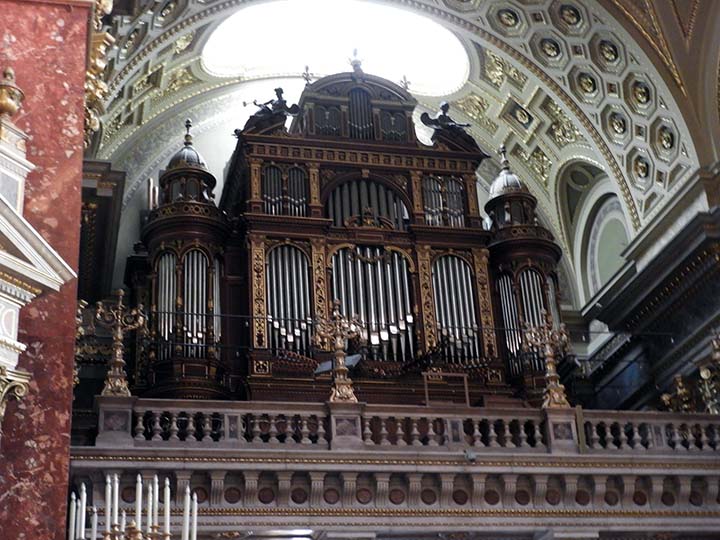 Remember that organ from the video clip last night?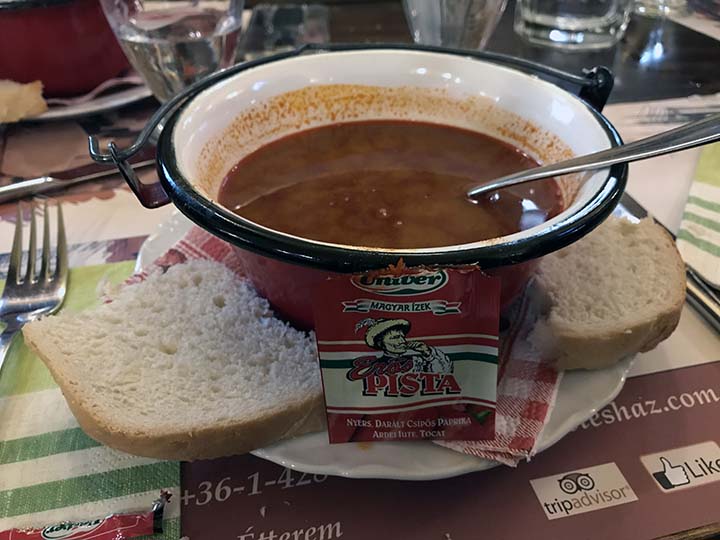 Did gazing on St. Stephen's hand make you hungry? Great, because it's time for some Hungarian goulash. That little packet leaning up against the bowl is full of a red paste called "strong Stephen." It adds a little punch to the paprika. And it is very good.

It just so happens that Zsuzsa offered her very own family recipe for the Best Goulash. She says it's famous. Want me to share?
---
The Best Gulyás (Goulash) Soup Recipe
For 4 people
Ingredients:
3 tablespoons oil or lard
5 large onions, diced
2˝ teaspoons salt
2˝ liters (2˝ quarts) water, plus a few extra spoonfuls
3 tablespoons Hungarian paprika (sweet)
˝ teaspoon black pepper
1 tablespoon caraway seeds
1˝ kg (3Ľ lbs) beef, chopped into bite-sized pieces
2 cloves of garlic, chopped
5 medium carrots, sliced into bite-sized rounds
2 medium parsnip, sliced into bite-sized rounds
2 large potatoes, cubed
2 tomatoes, diced
Csipetke (pinched pasta), optional
Instructions:
Heat the oil or lard in a large pot (preferably a Dutch oven). Add the onions along with a few spoonfuls of water (so they don't brown) and a pinch of the salt. Cook slowly over very low heat for about 15 to 20 minutes, or until the onions are clear and glassy.
Remove from the heat and add the paprika, pepper, and caraway seeds. Stir quickly to combine and add a tiny bit of water (to prevent the paprika from burning).
Add the meat and garlic and cook over high heat, stirring, until the meat is slightly browned (about ten minutes). Turn the heat down to low, add a few spoonfuls of water, and cook for about 15 more minutes, until the meat is nearly cooked through.
Add the water and keep cooking, over low heat, for at least an hour, or until the meat is cooked and nearly tender enough to serve. This could take hours, depending on the cut of beef you used.
When the meat is nearly done, add the tomatoes, carrots, parsnips, and potatoes and cook for about 15 more minutes, or until they are tender (being careful not to overcook them). Taste the soup and add more salt and pepper, if needed.
If you are using csipetke or another kind of small pasta, add it to the soup before serving. You can serve this soup with hot pepper or hot pepper paste.
Sprinkle some marjoram on top just before serving.
---
And there you have it. Bill has made it and it is delicious! Thanks, Zsuzsa!
Our restaurant for lunch specializes not in goulash, but in apple strudel And they gave us a lesson in how to make it. You have to get the dough just right.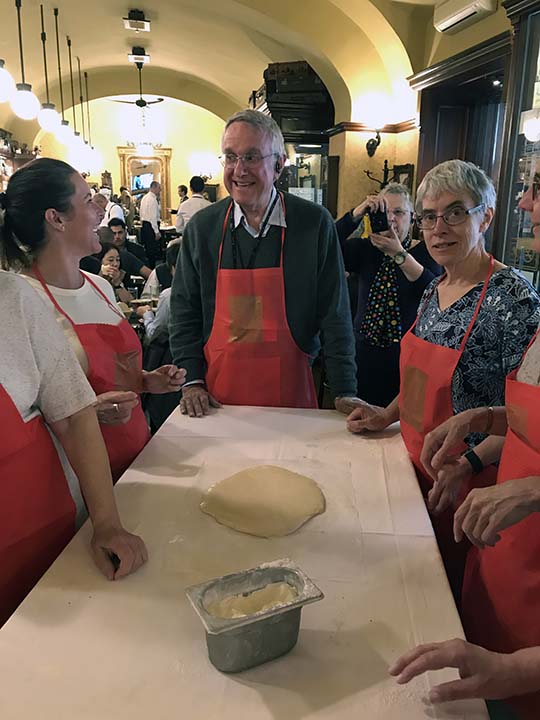 Bill is ready to give it a try.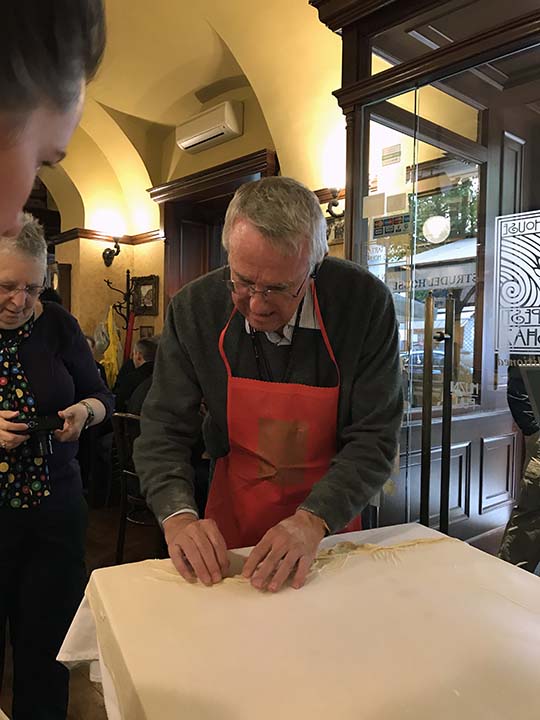 Careful does it.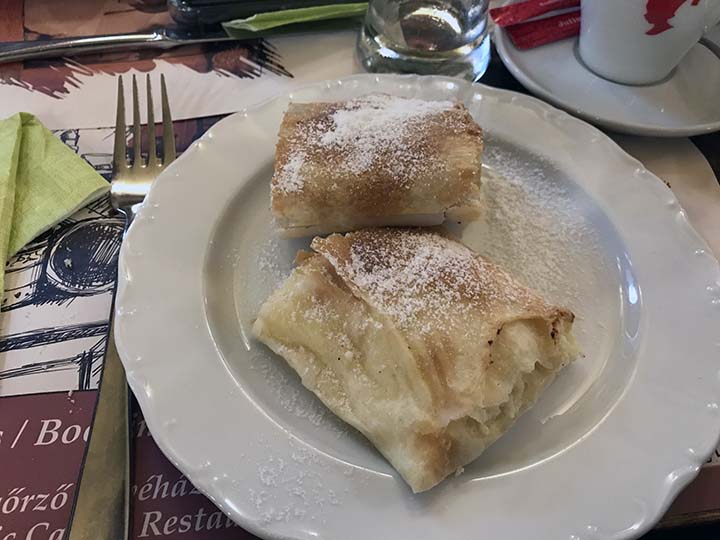 Voila! Perfect strudel. If only Bill hadn't punctured his dough with big holes his apple strudel would have looked just like this. Maybe.
Misa is having as much fun as the Road Scholars!
You've heard of the London Eye? This is the Budapest Eye.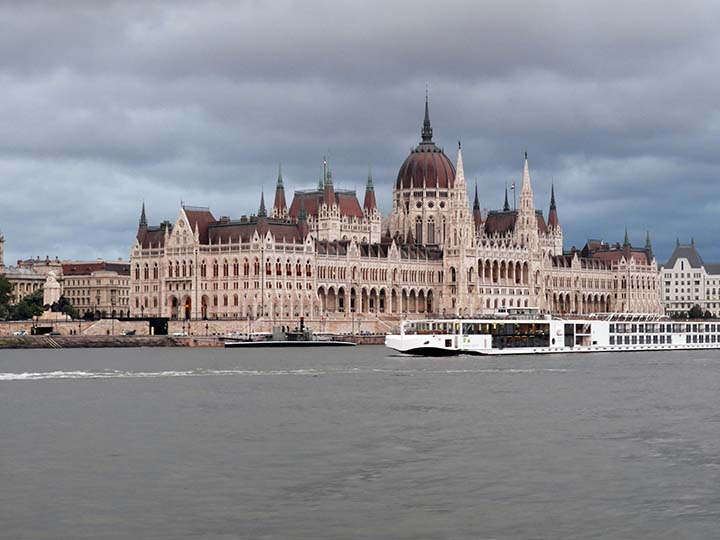 For dinner we went on a boat ride up and down the Danube.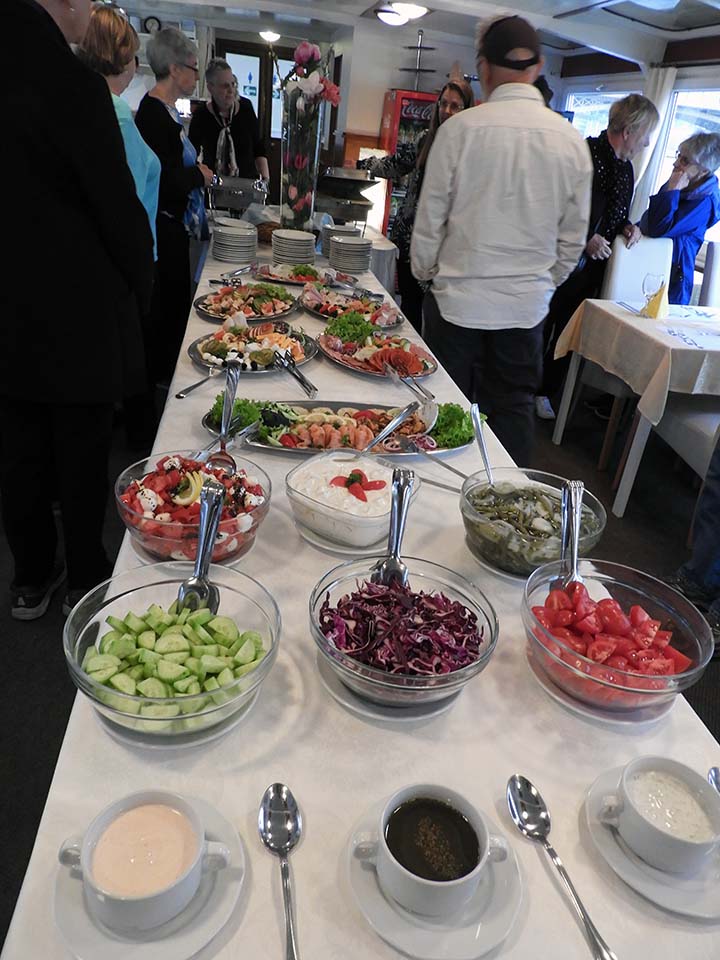 They put on quite a spread.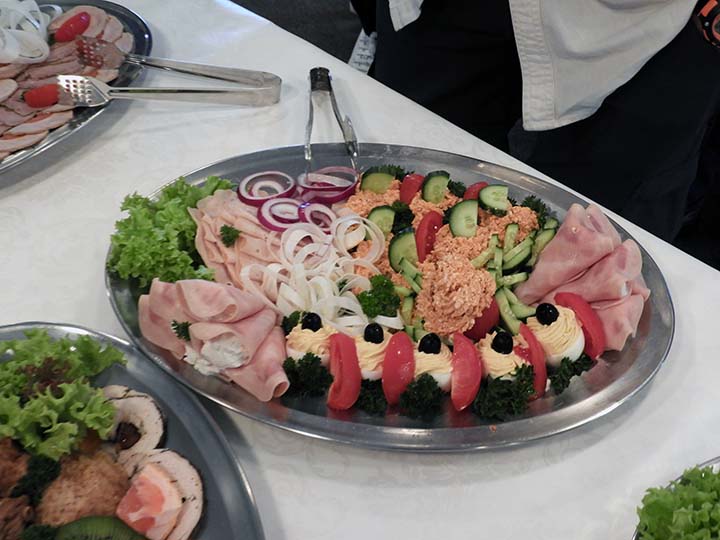 Nice, right?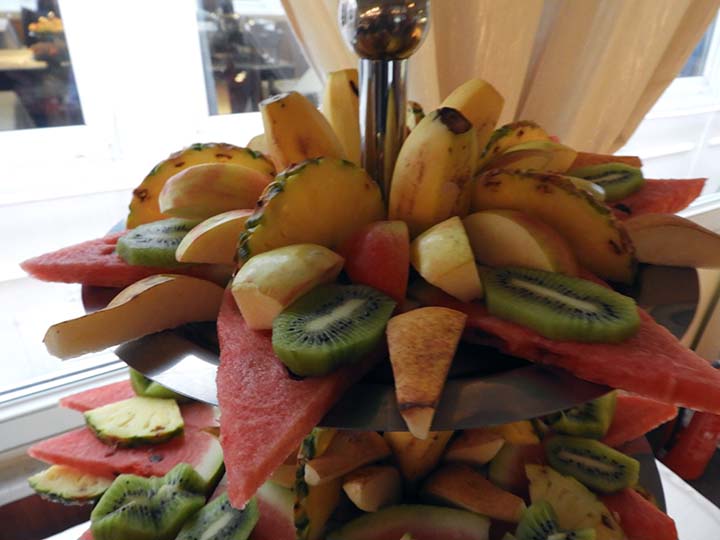 Very artistic presentation.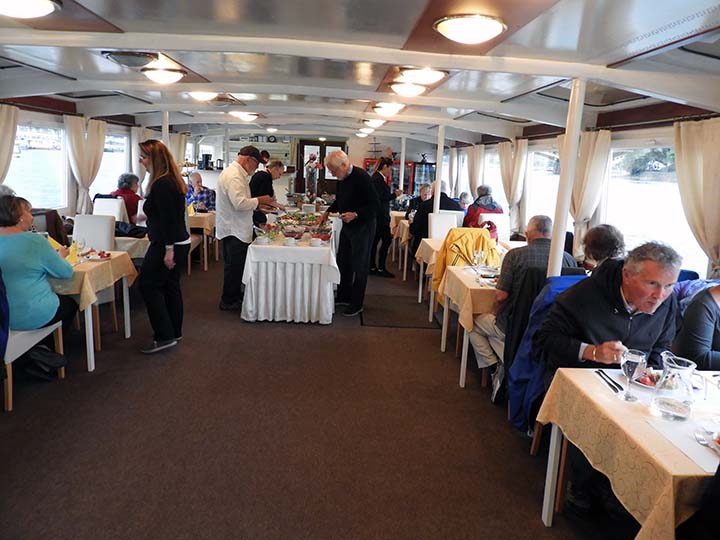 The Road Scholars loved it.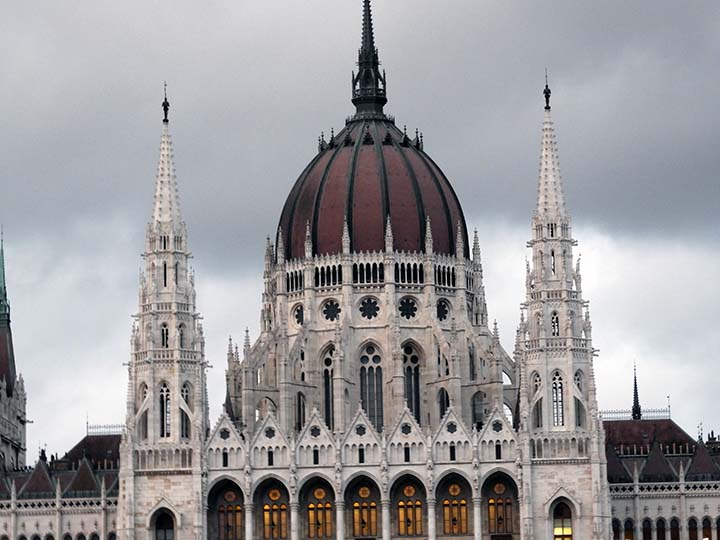 And we got some great views of the city from the boat. This is a view of parliament we haven't seen before.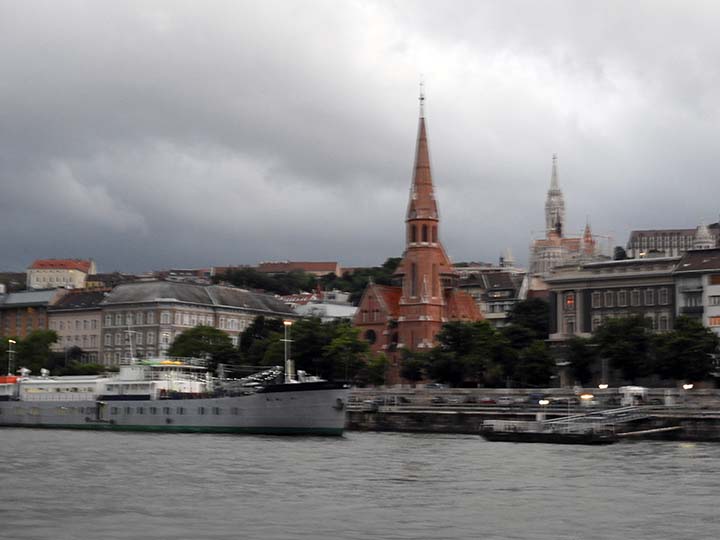 Most impressive.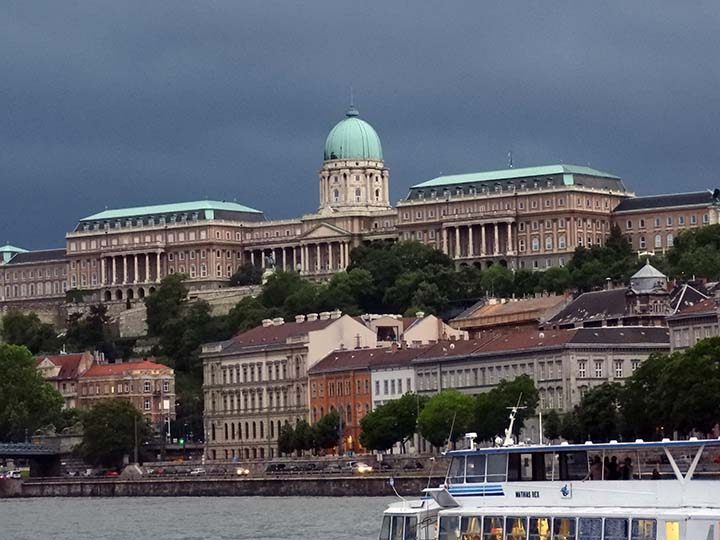 Buda Castle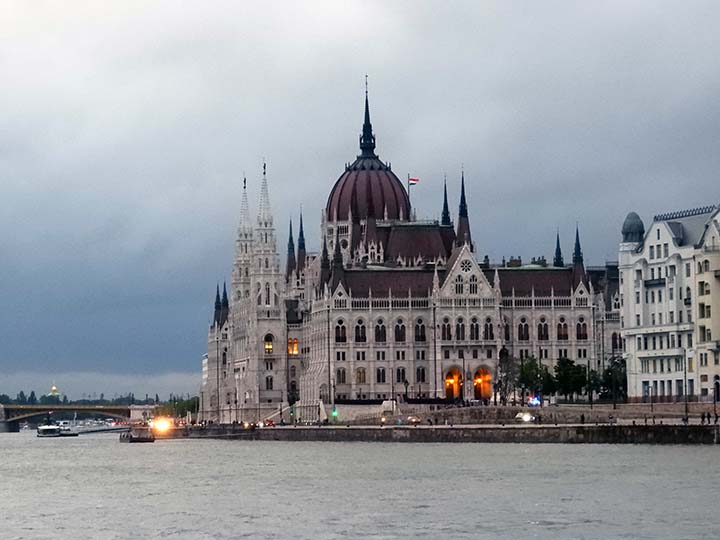 Parliament again.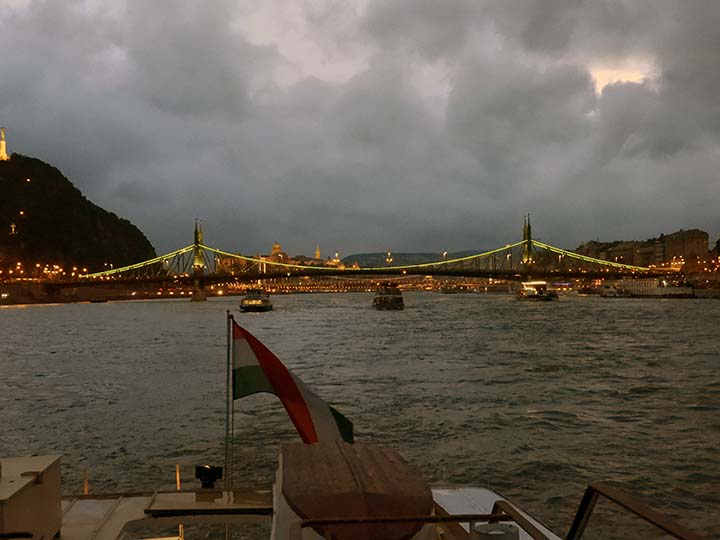 I think the clouds improve the shot.
Listen to that melody.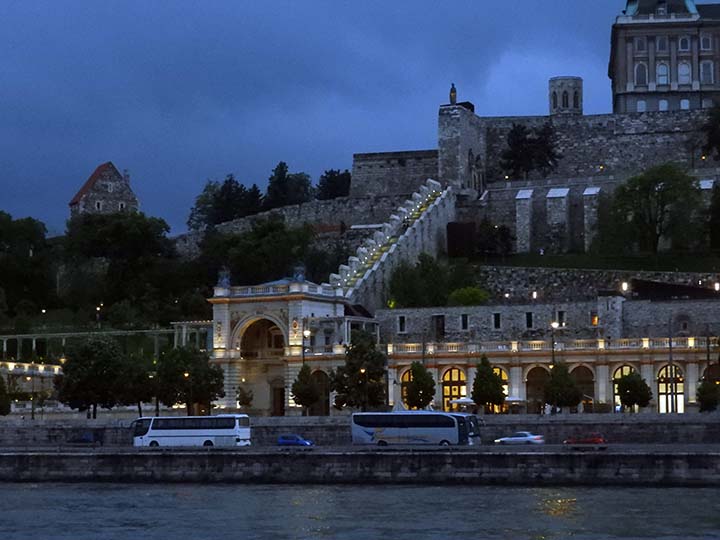 Things got even prettier as the sun went down.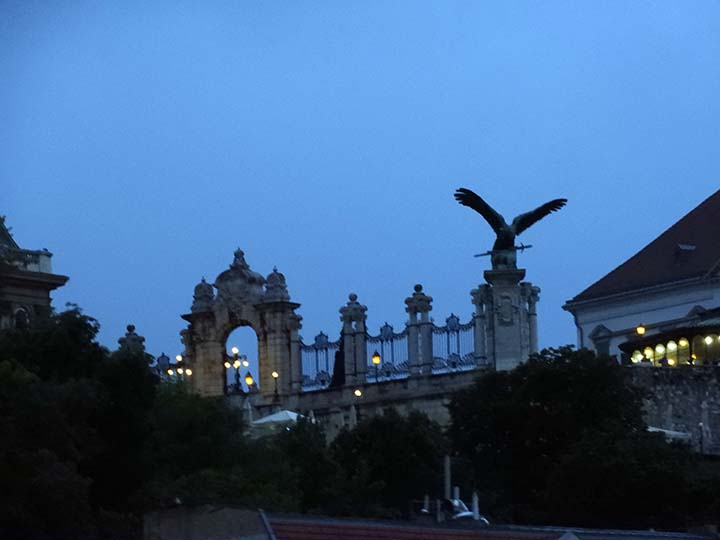 Buda Castle looks magical at dusk.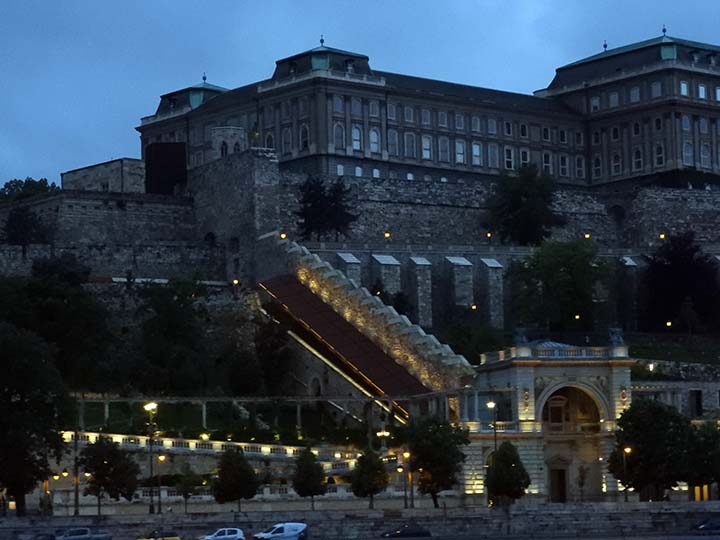 I rode that escalator.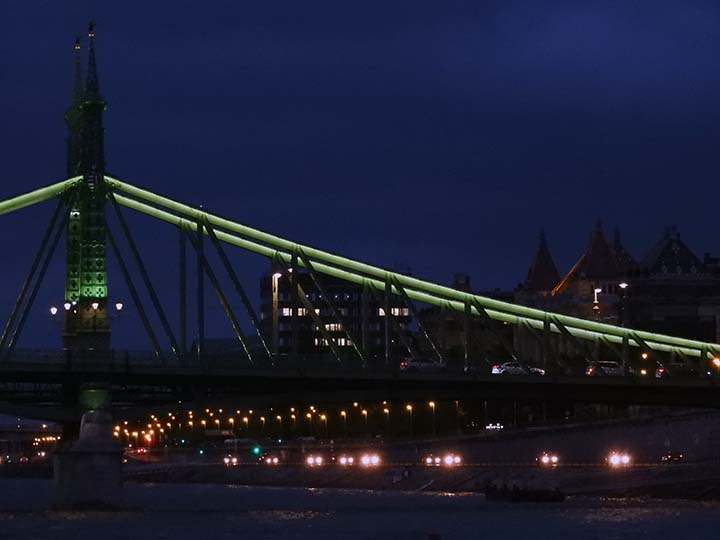 They've lit the bridge green.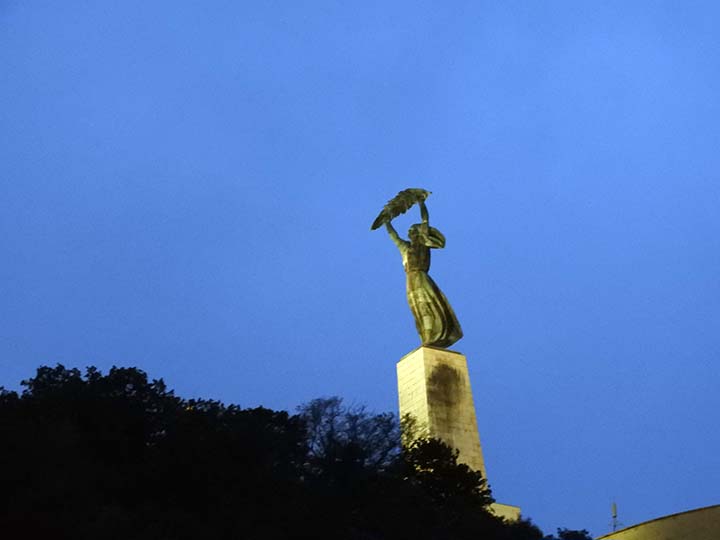 Monuments all around.
Evening boat rides like this are popular in Budapest, and it's easy to see why.
It's Budapest's Statue of Liberty
It was a little nippy on the upper deck, but that didn't prevent the Road Scholars from coming up for a beautiful view of the city.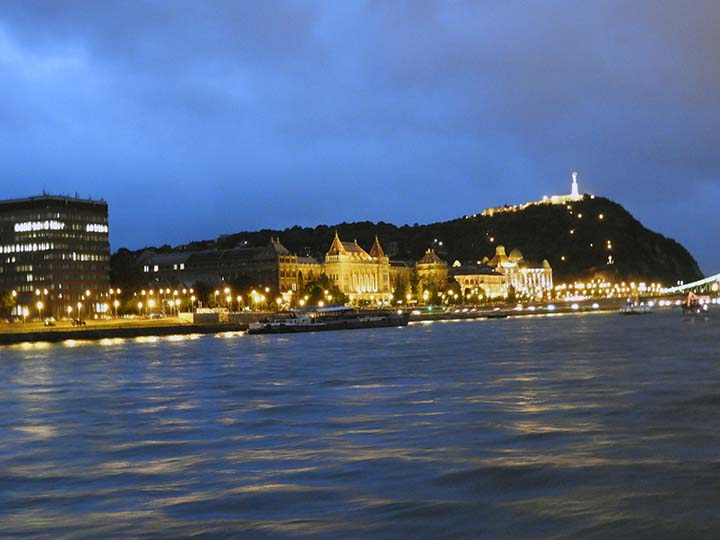 That Liberty Monument is visible from all over the city.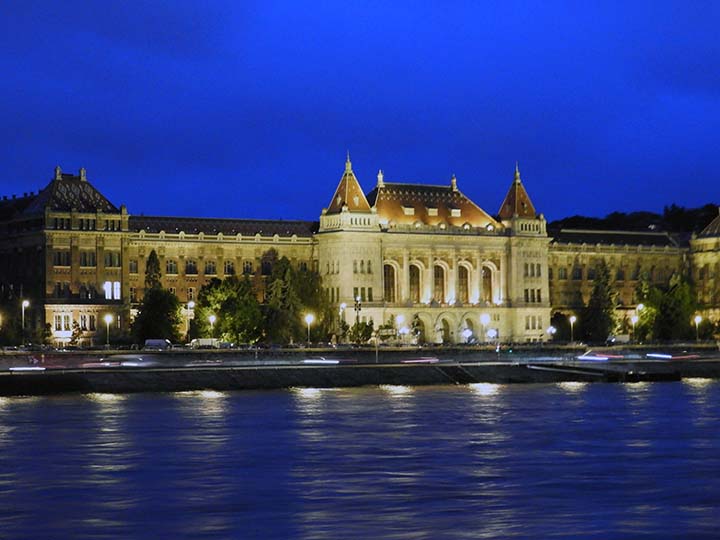 That, believe it or not, is Budapest University of Technology and Economics.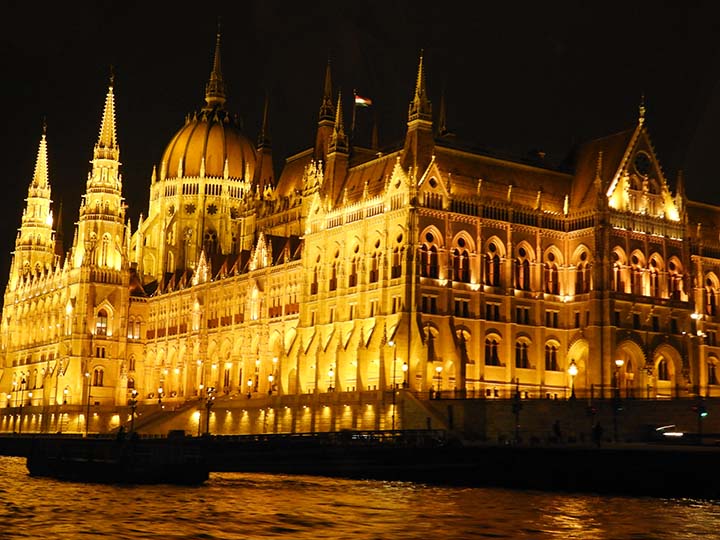 Whoa! Look at Parliament after dark!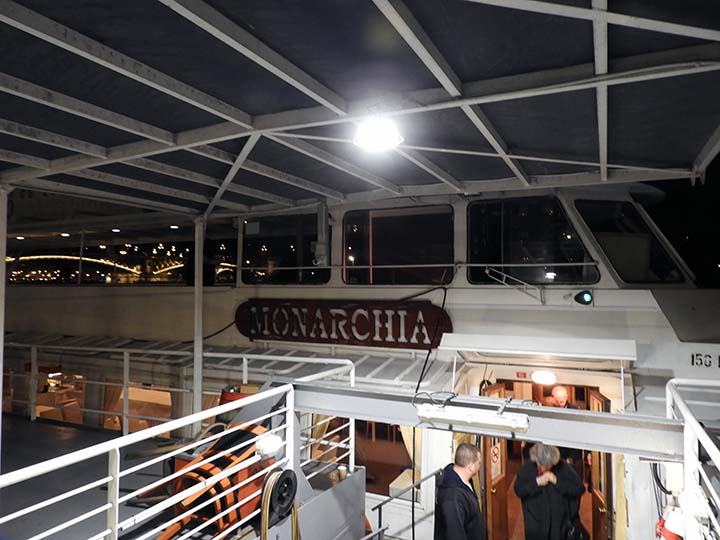 Well that was fun.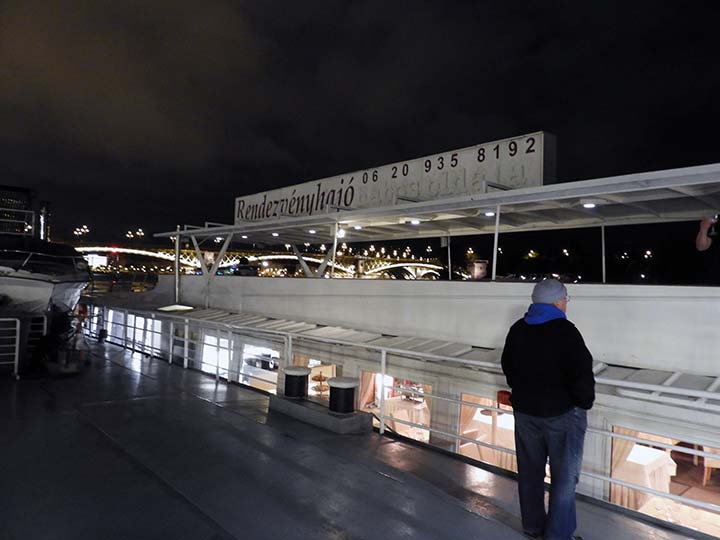 Our boat is docked and we are headed back to the hotel to get packed and ready to leave Budapest tomorrow morning. This is one very beautiful city.