Todayís drive didnít take as long as the trip from Krakůw to Budapest. We left our hotel about 8:30 this morning, and we were having lunch in Vienna a little after noon.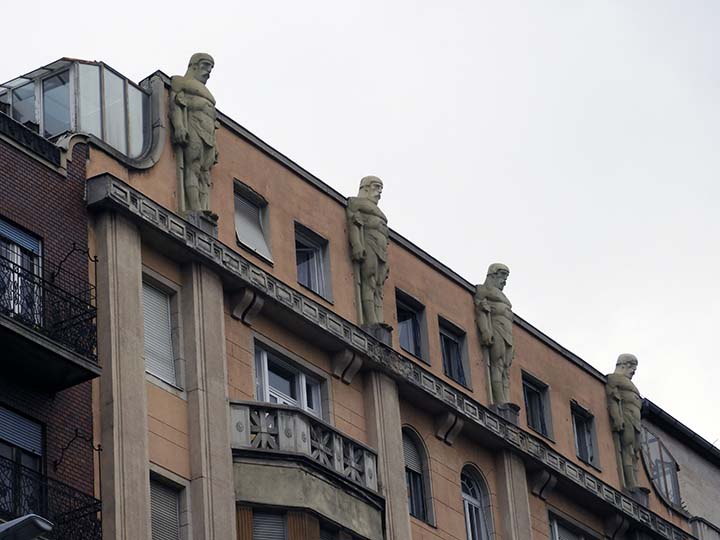 Remember, wherever you go in Budapest, stone statues may be watching you.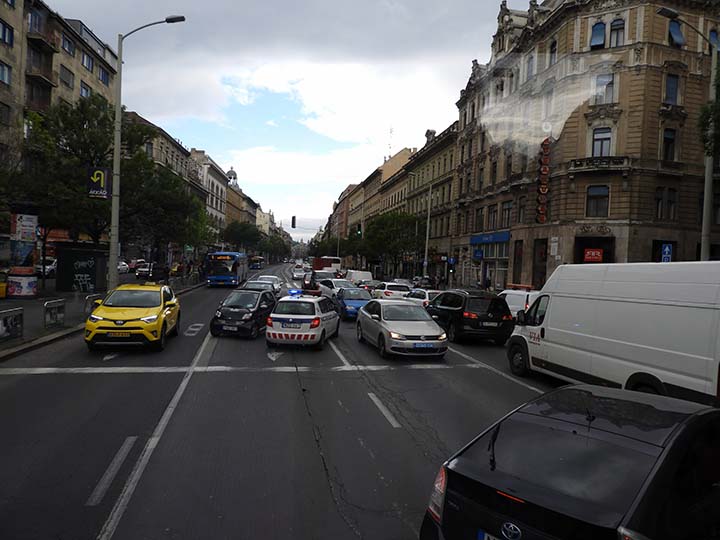 Just getting out of Budapest was a real adventure. There had been an accident on a bridge, and traffic was backed up in most directions. I was sitting on the left side of the bus when I snapped this. And there I sat looking at oncoming traffic. But that wasnít even the most interesting part. See that police car carving his own lane through oncoming traffic? It was amazing. And nobody got killed. In fact, our bus driver knew what he was doing and even though we held up those cars for a little while, pretty soon we barged our way through the traffic going the other direction and into a lane reserved for buses and off we went.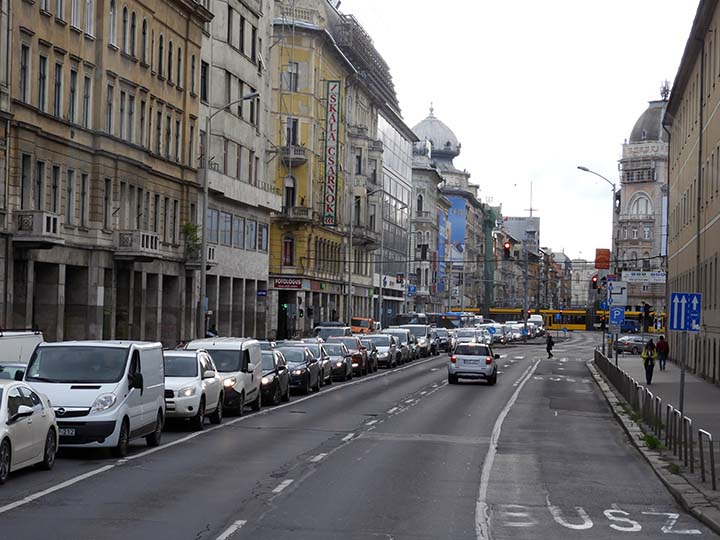 We're free!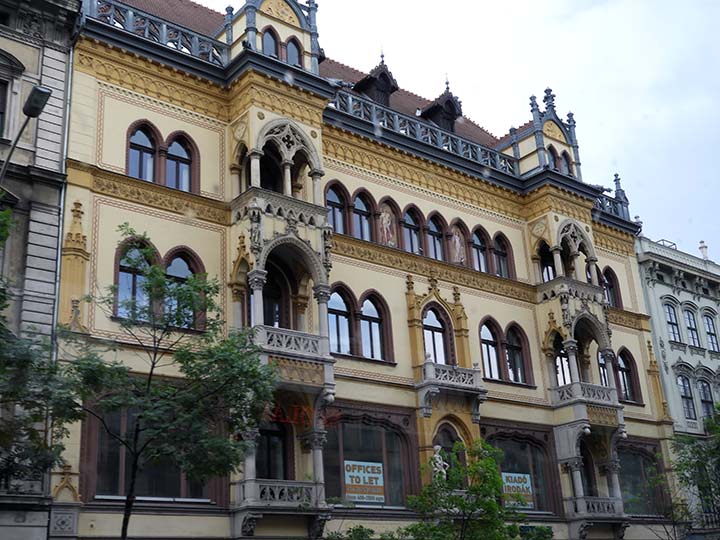 Nice place. Not sure what it was, but it sure was pretty.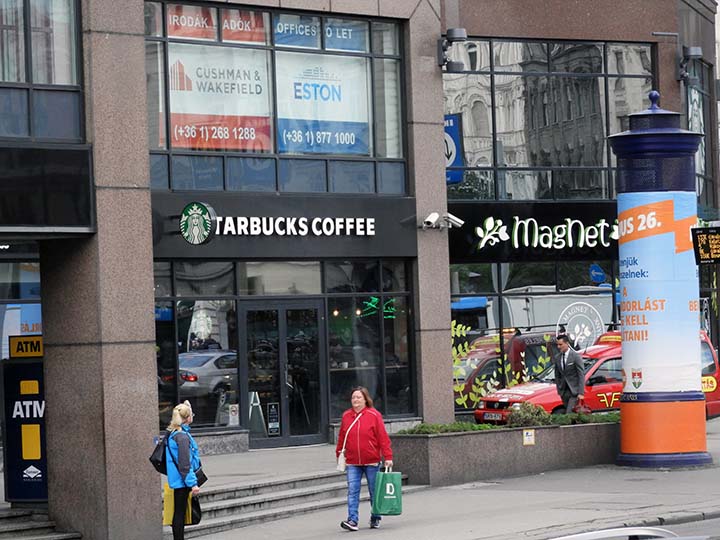 Bye Starbucks.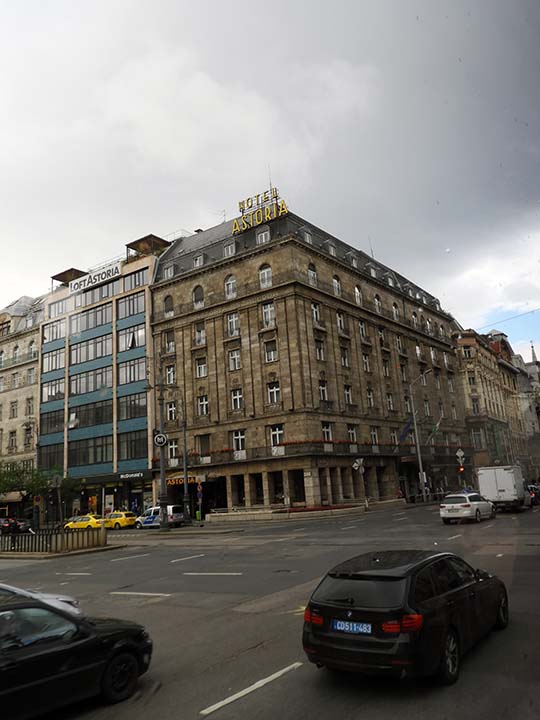 By Hotel Astoria. When I'd see you I'd know I'd found my way home.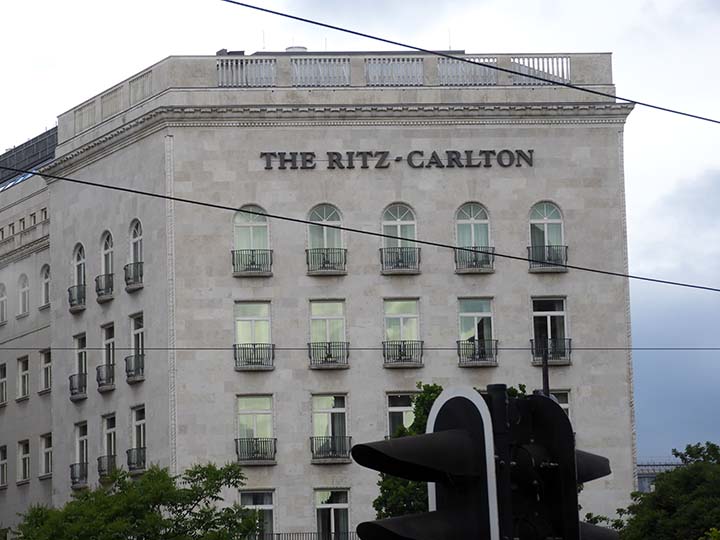 Our hotel was nice, but next time maybe I'll stay here.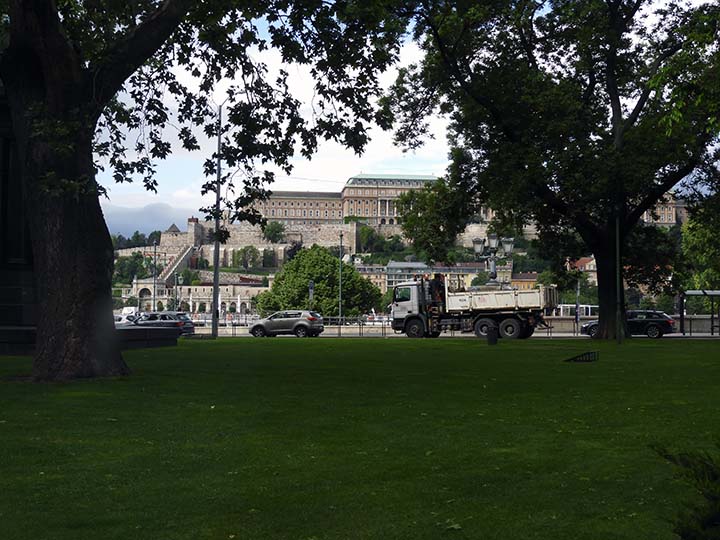 Bye castle.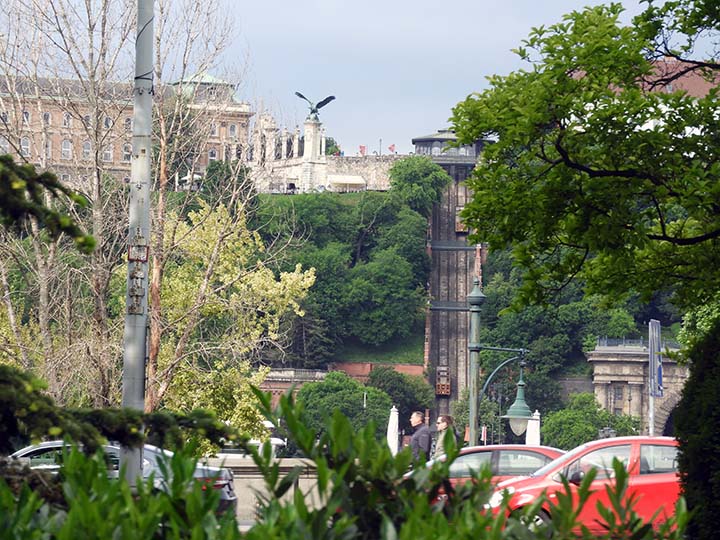 There's a funicular at the Castle. We never rode it.
Bye park groundskeepers. Why did I take your picture? Just hoping to remember scenes from our drive out of town.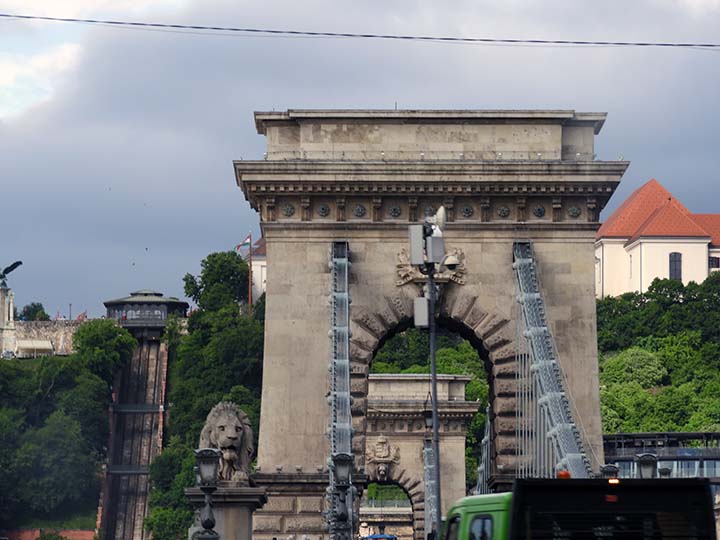 The Chain Bridge is impressive.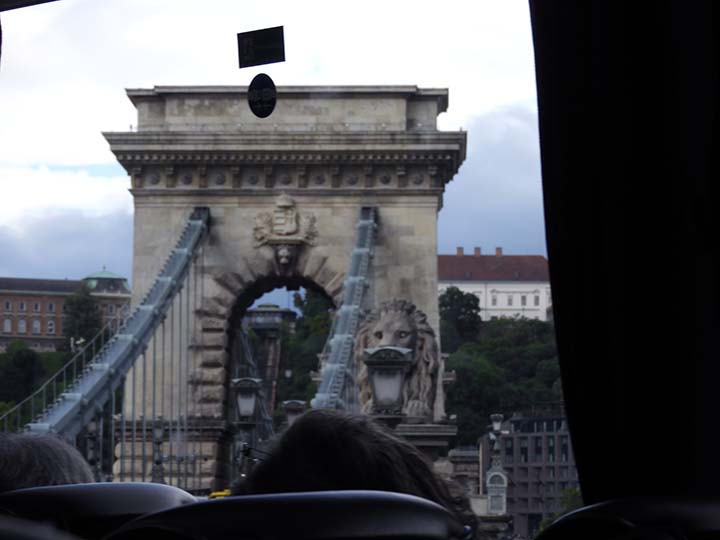 So I'll take another picture.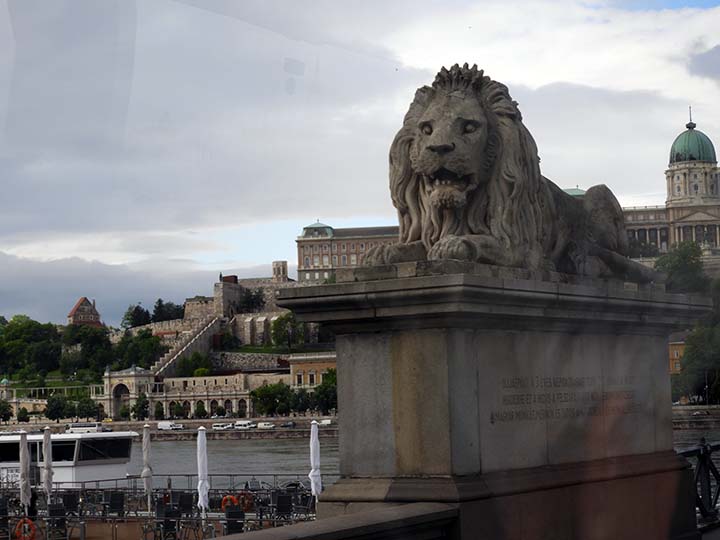 Smile, lion.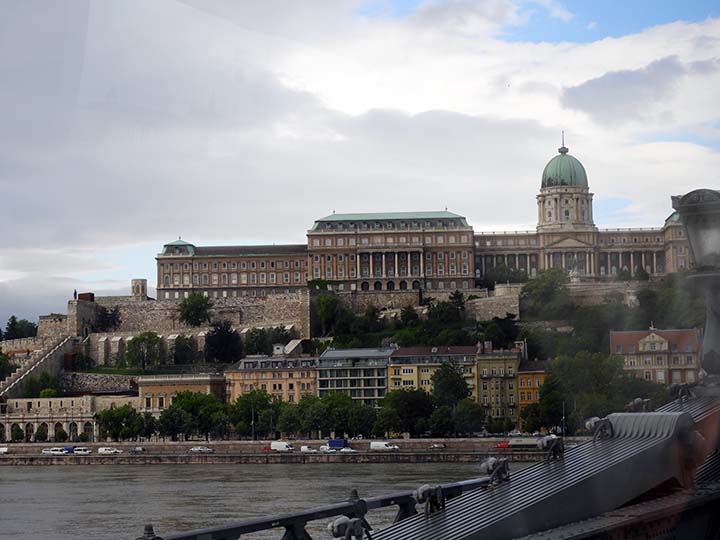 We got to see the palace one last time.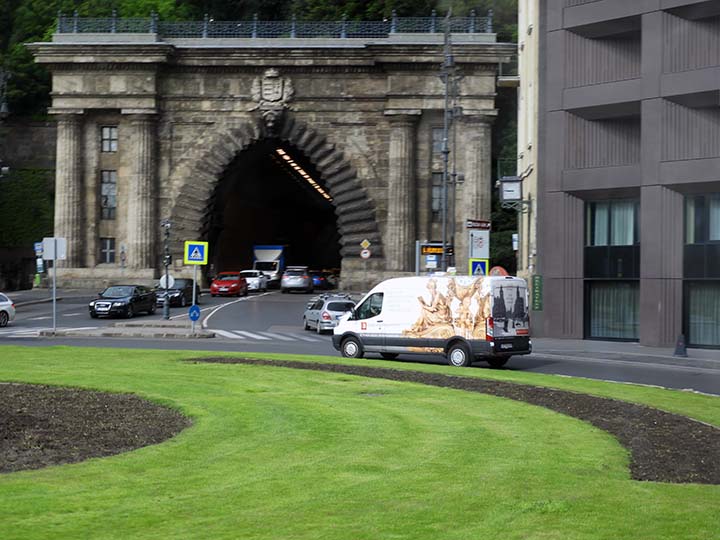 And we headed toward a tunnel.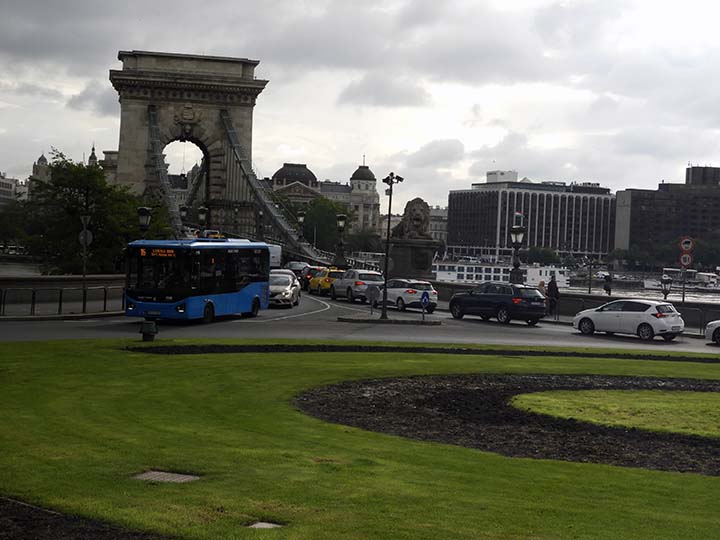 One last shot of the Chain Bridge.
Finally we were out in the countryside which, itís true, as somebody said in a comment the other day, could be anywhere America.
It was a gray day and kind of chilly. We stopped at a roadside rest stop.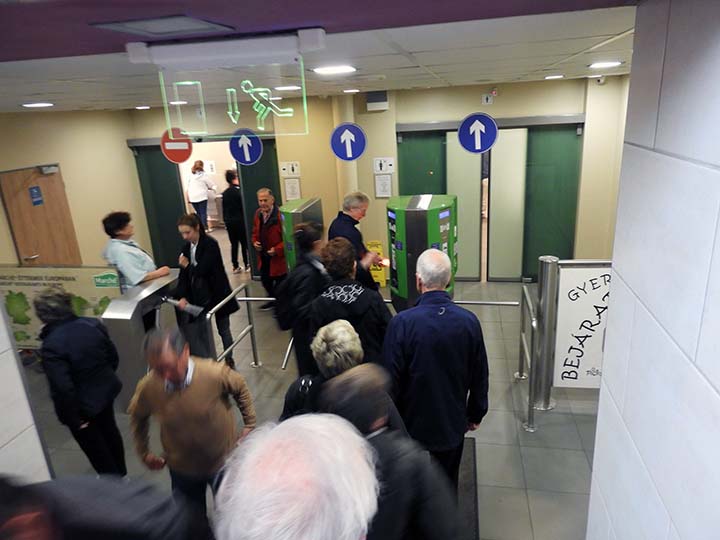 It cost 100 Florins to pee in this place that attracts massive numbers of tourist buses. Theyíve got the bathroom tollbooth running smoothly.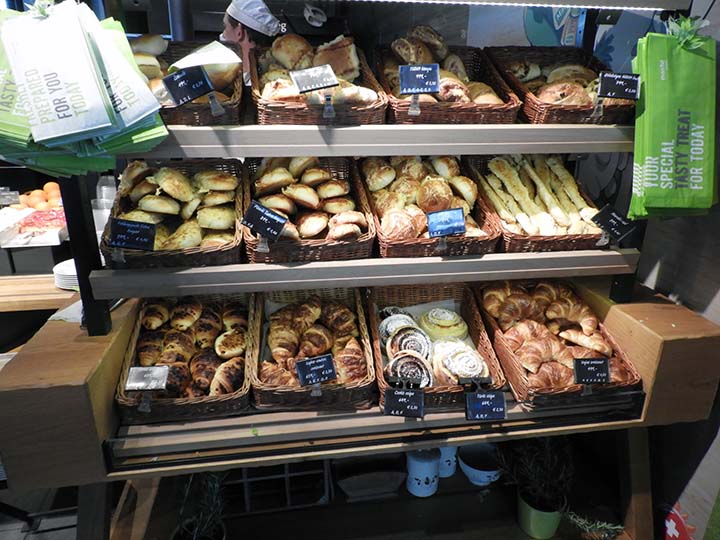 And I have never in my life seen the sort of spread they put on in this gas station.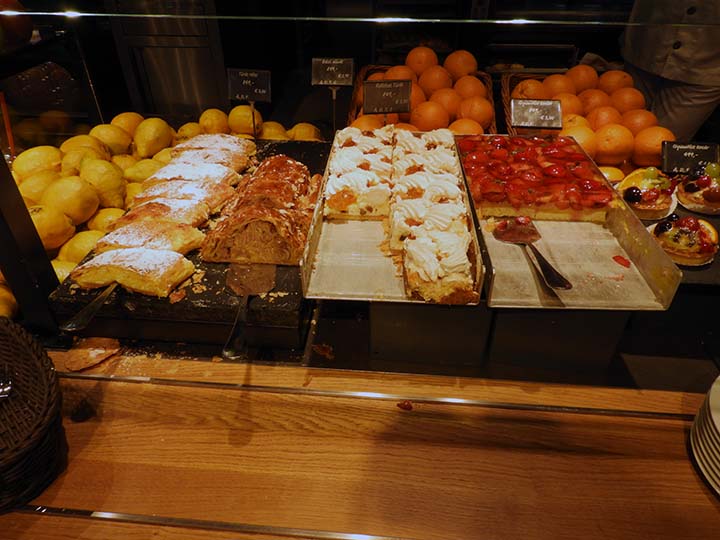 This is only a small portion of the desserts on offer. Look good, donít they?
There were lots of windmills.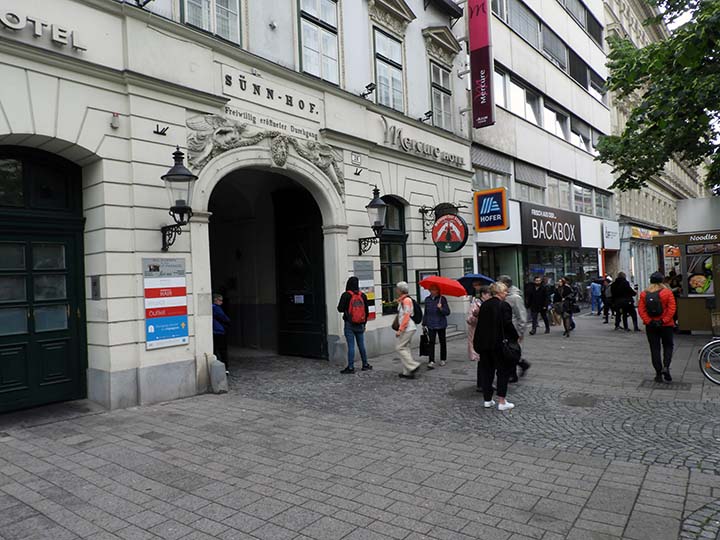 And about an hour and a half later, we arrived at our hotel in the heart of Vienna.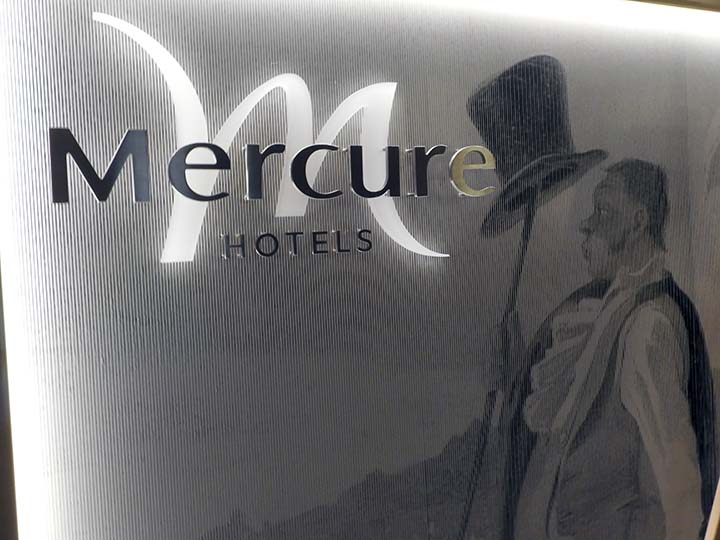 Itís called the Mercure.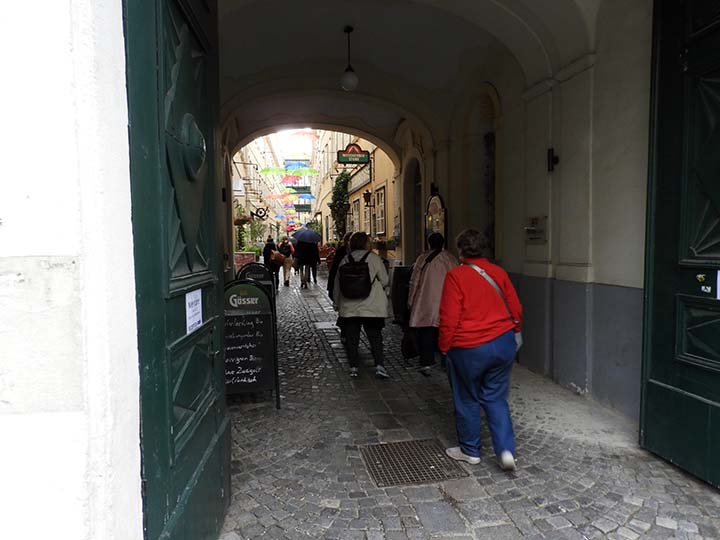 And to get there you have to navigate an alleyway filled with flying umbrellas.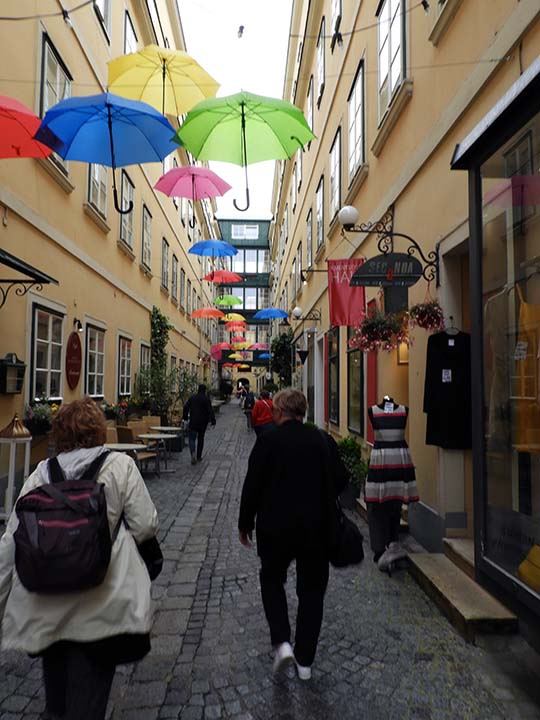 Looks whimsical. Kind of nice.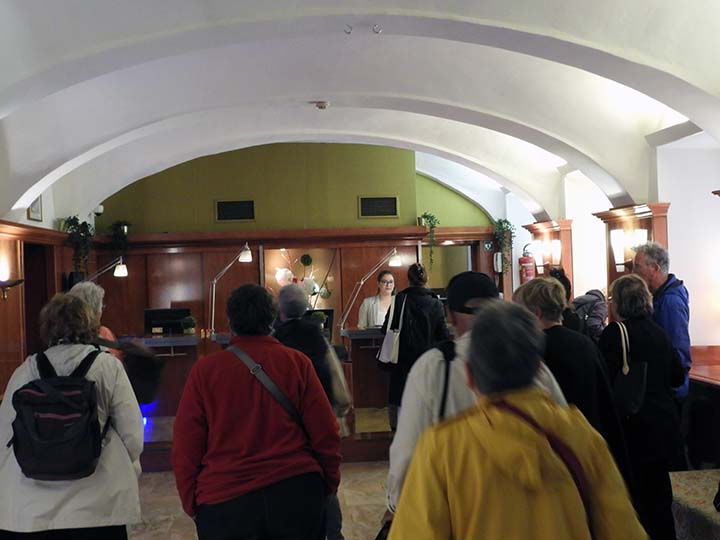 The Road Scholars are assigned their rooms.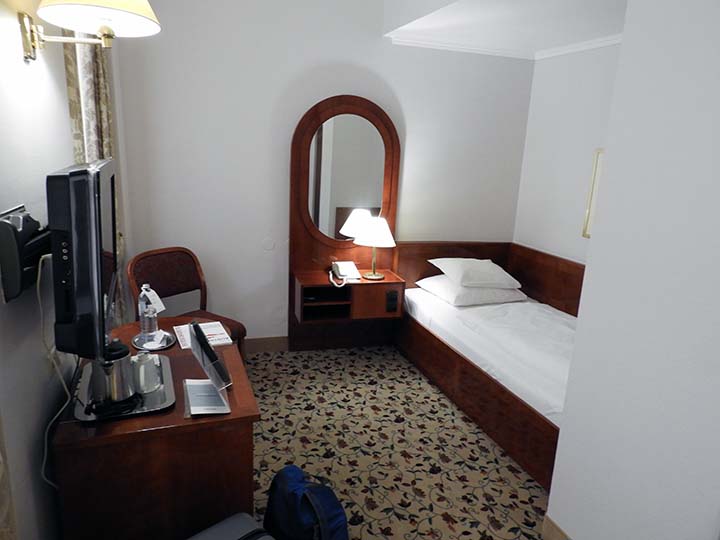 And this is mine. Small, but nice.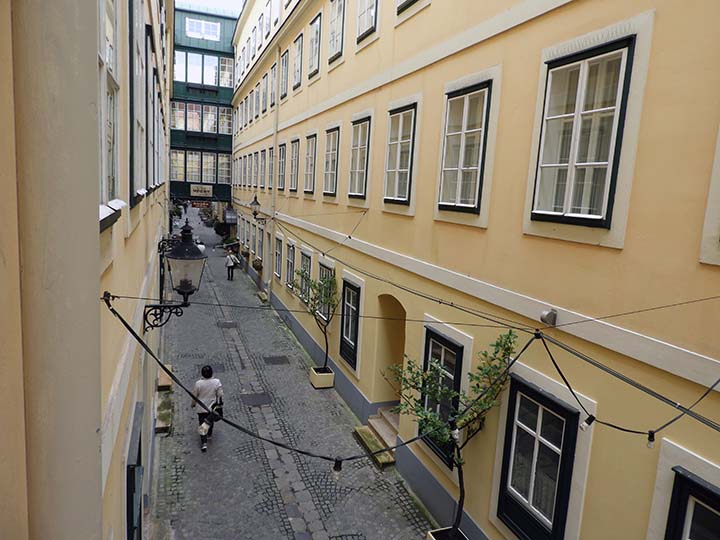 And this is the view from my window.

Misa was our guide for the whole trip, but in each city we had local guides who specialized. This is Lucas. He will be our Vienna guide for the next three days.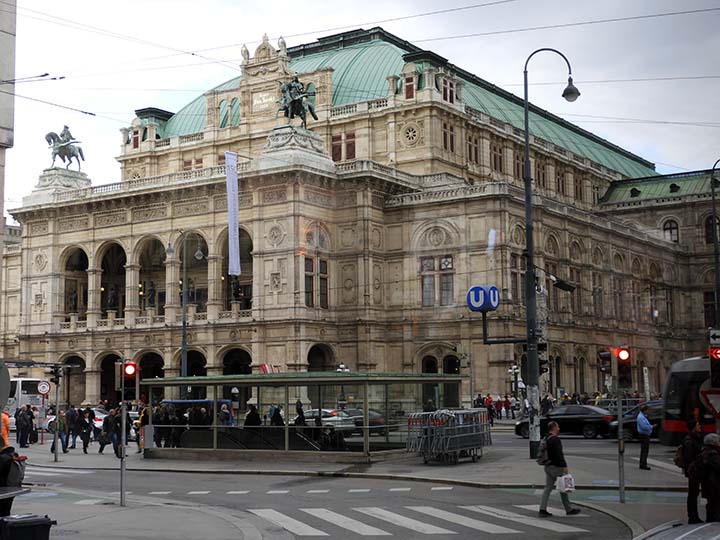 Lucas took us on a bus ride all around Viennaís ďring roadď so we could get a feel for the city. That is the state opera house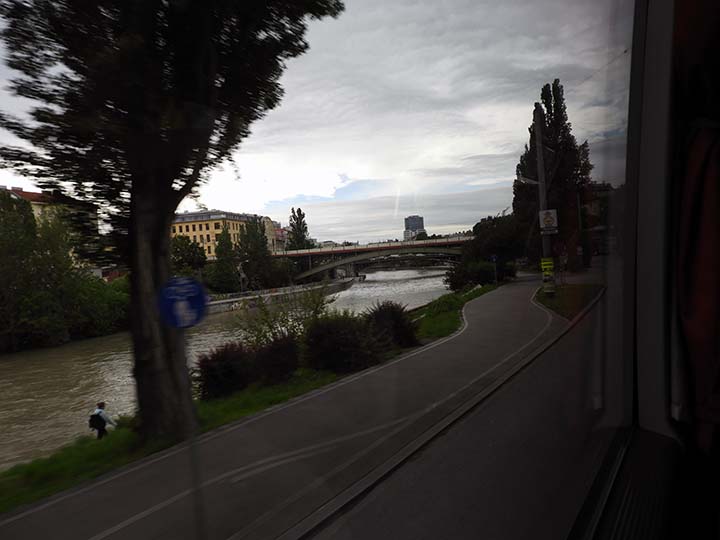 We left the Danube in Budapest, and now we have found it again in Vienna.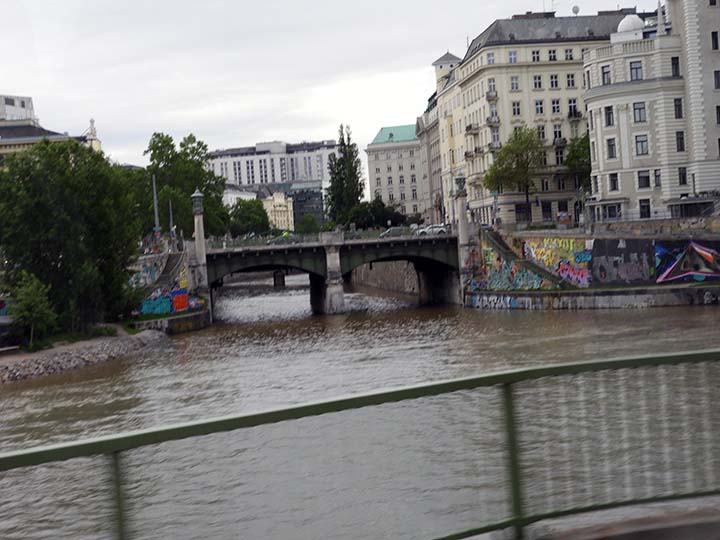 The Danube splits as it passes through Vienna. This is one branch.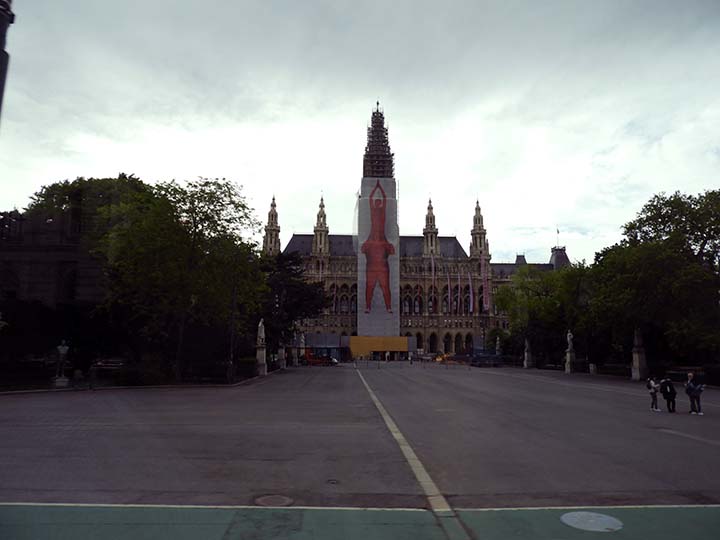 Whatever that is, it must be undergoing restoration.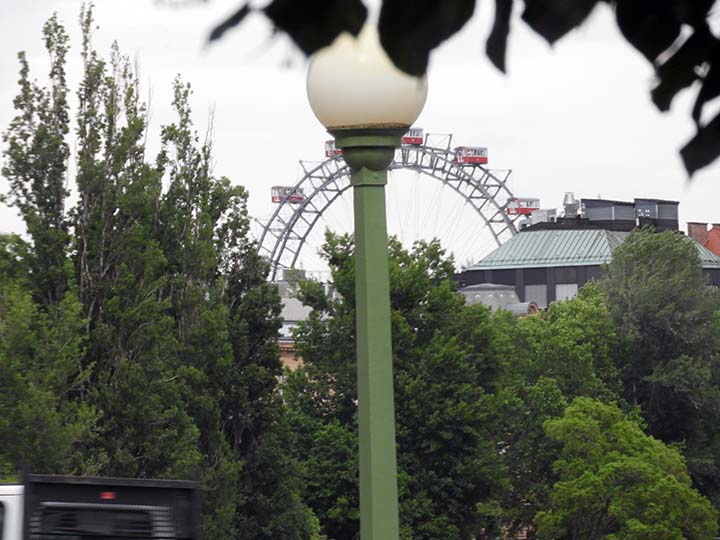 Oh! Oh! Look! Now I know what that is! Itís the famous old Weiner Riesenrad, the Ferris wheel featured in the movie THE THIRD MAN.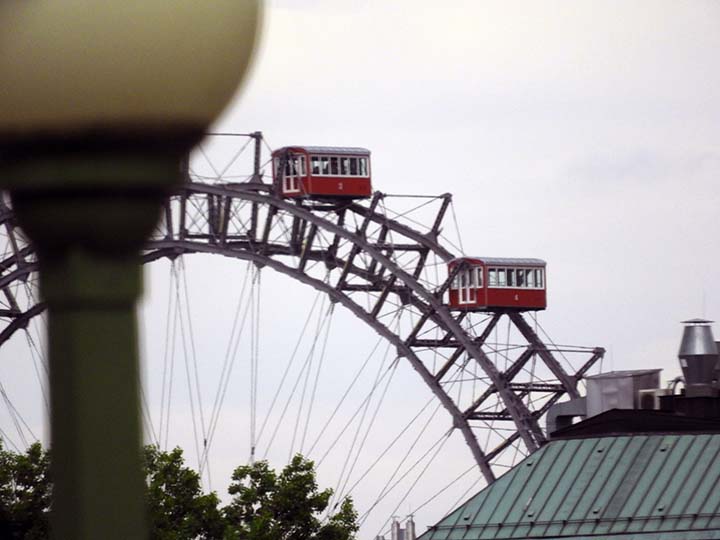 Iíve got to ride it. It will have to be Saturday. I want to look down at all the dots and contemplate the Borgias, the Renaissance, Switzerland, and cuckoo clocks. Itís a great movie.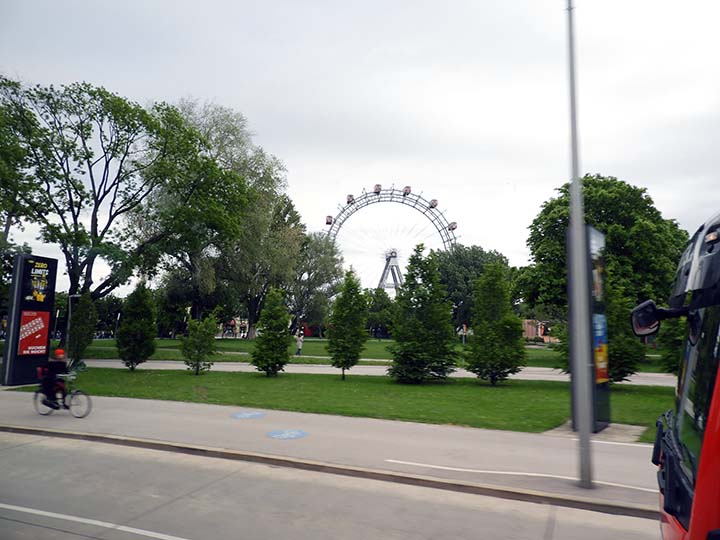 Beautiful!
And just look what a telephoto lens can do.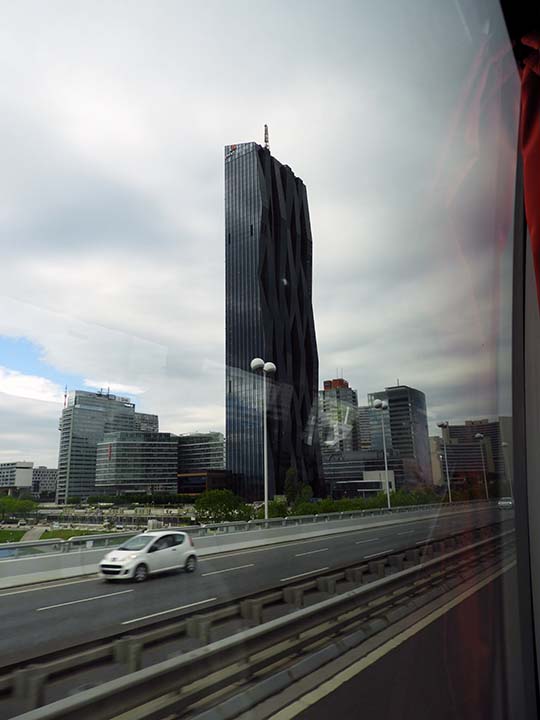 We have found some wild and crazy architecture.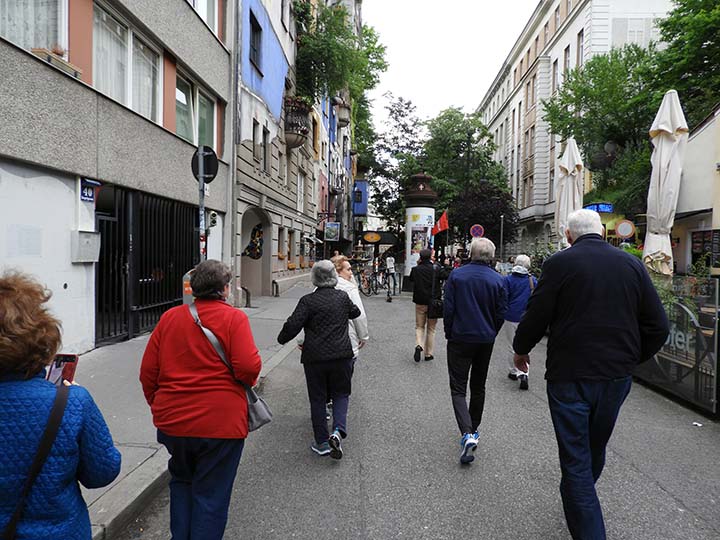 Donít believe me? Follow the Road Scholars down this alley.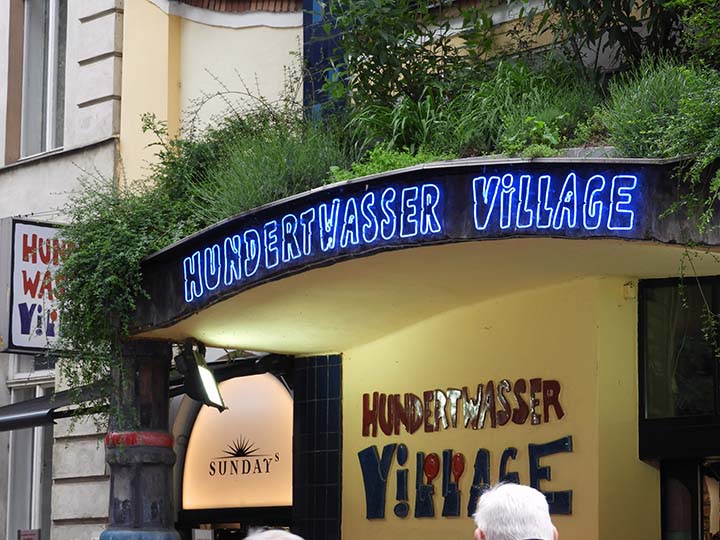 Friedrich Stowasser (December 15, 1928 Ė February 19, 2000), better known by his pseudonym Friedensreich Regentag Dunkelbunt Hundertwasser, was an Austrian-born New Zealand artist and architect who also worked in the field of environmental protection.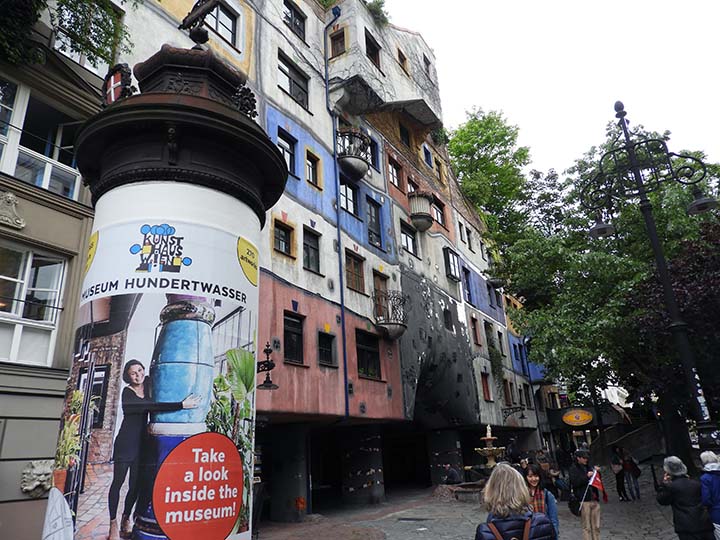 Hundertwasser stood out as an opponent of "a straight line" and any standardization, expressing this concept in the field of building design.
His work is...unusual.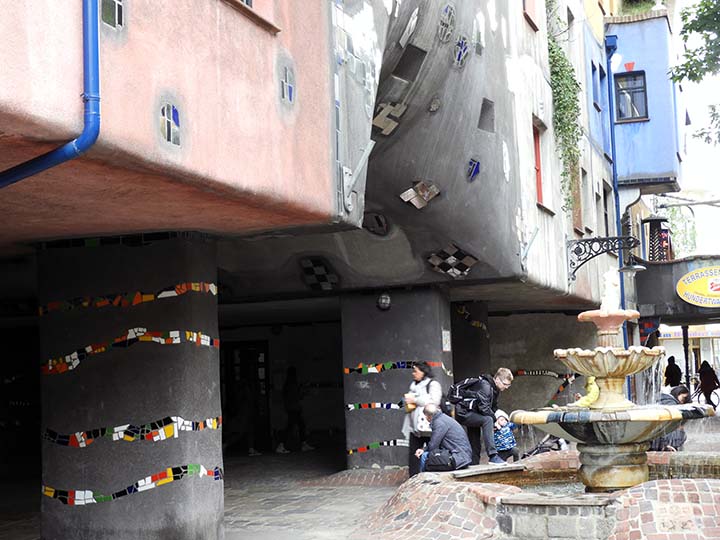 His best known work is the Hundertwasserhaus, which has become a notable place of interest in the Austrian capital, characterized by imaginative vitality and uniqueness.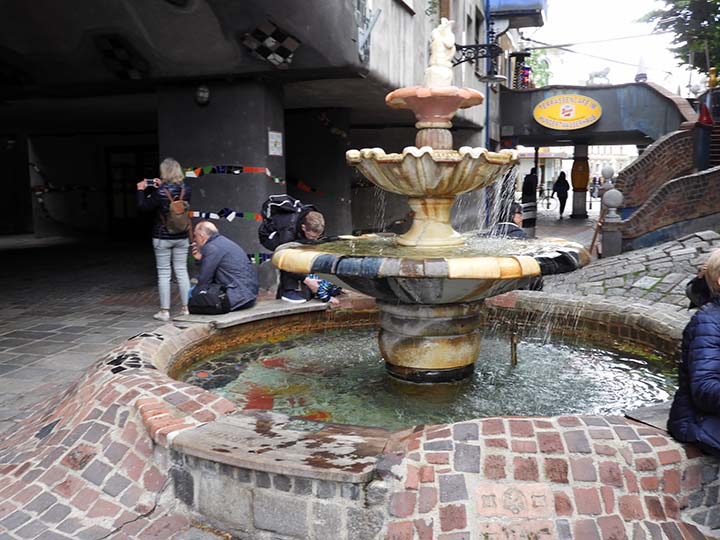 The fountain is...um...whimsical.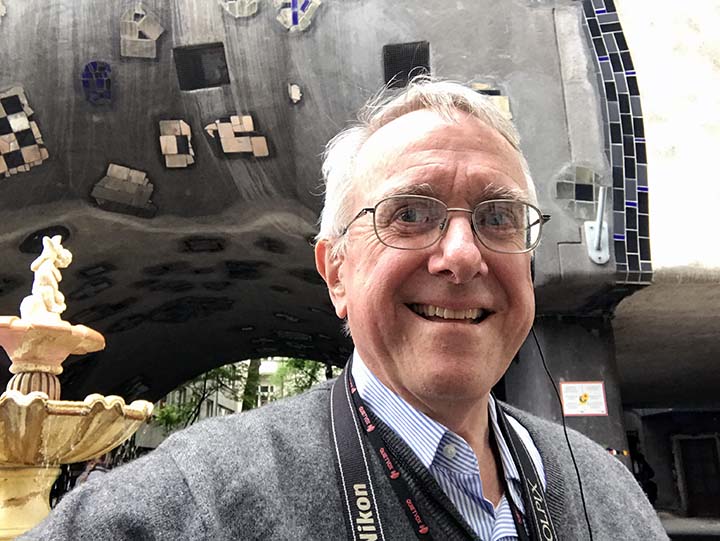 This tourist has no idea what to make of the Hundertwasserhaus.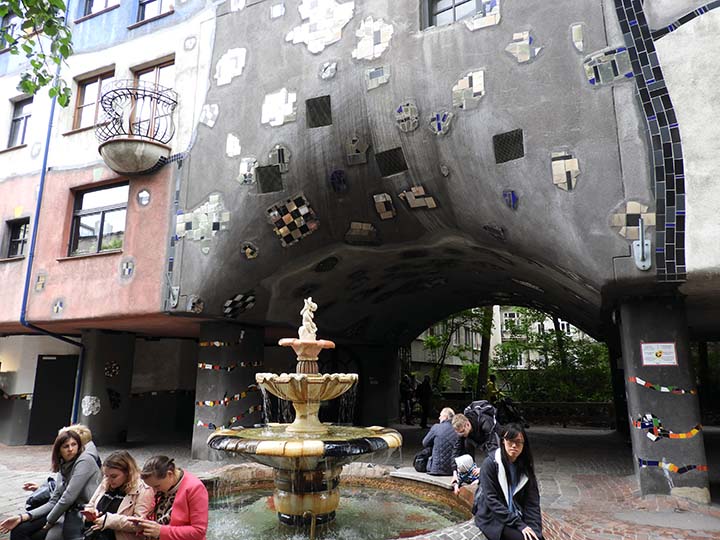 But he does appreciate whimsy, so...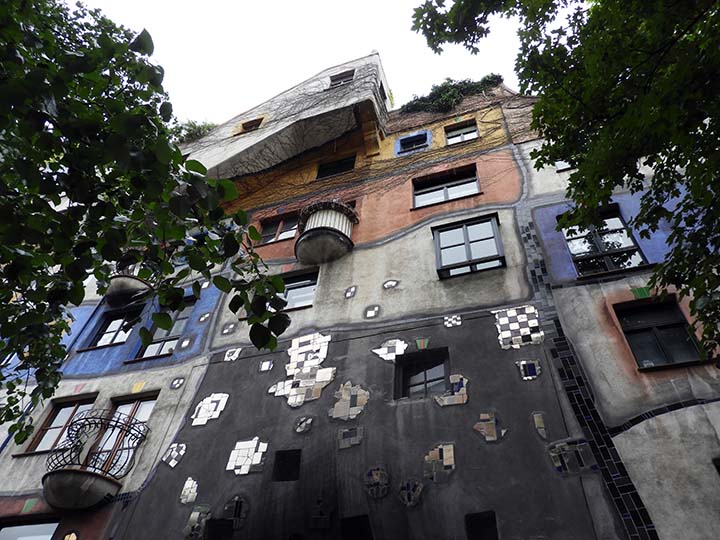 Within the house there are 53 apartments, four offices, 16 private terraces and three communal terraces, and a total of 250 trees and bushes.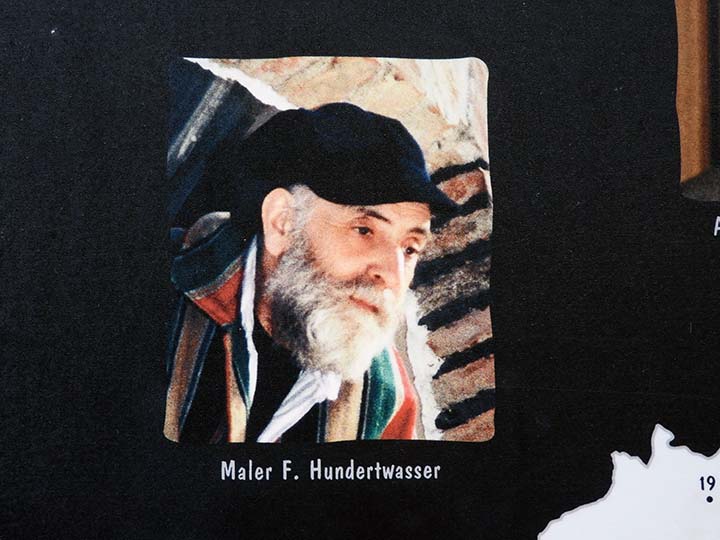 That's Herr Whimsy.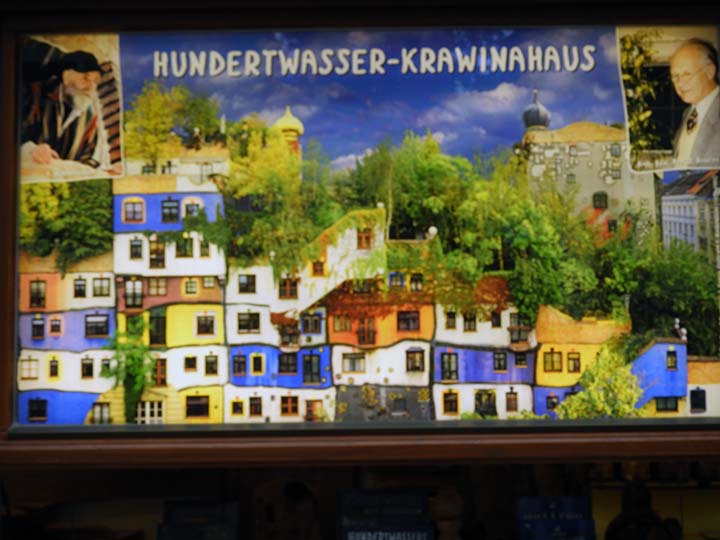 And that's what the whole thing looks like if you can stand back from it far enough, which you can't.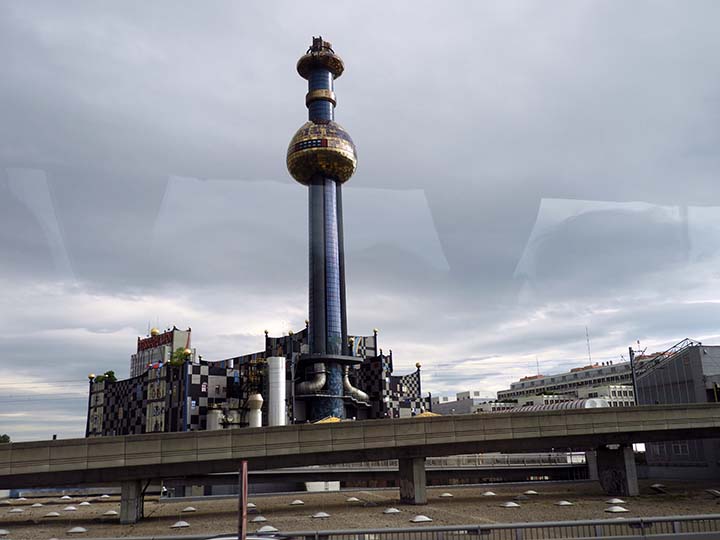 Hundertwasser also designed Viennaís waste disposal plant. The Spittelau incinerator has been one of the city's eye-catching landmarks since it was rebuilt in 1989; it even features on tourist postcards. That is the plantís smokestack.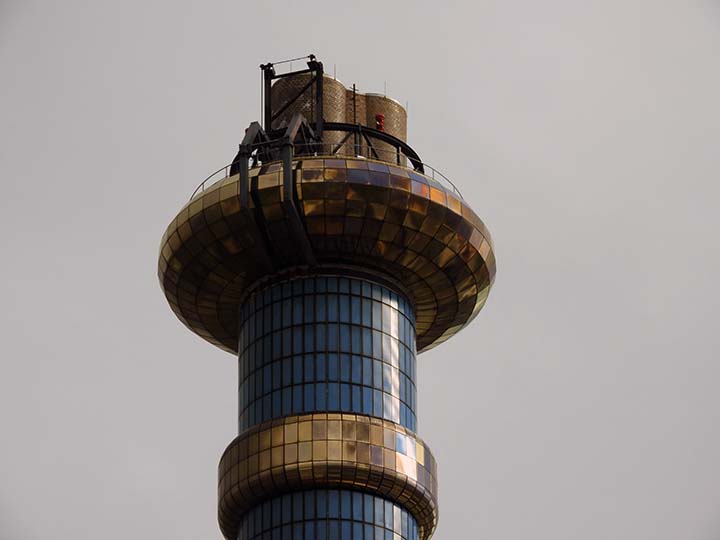 I didn't know smokestacks could be whimsical.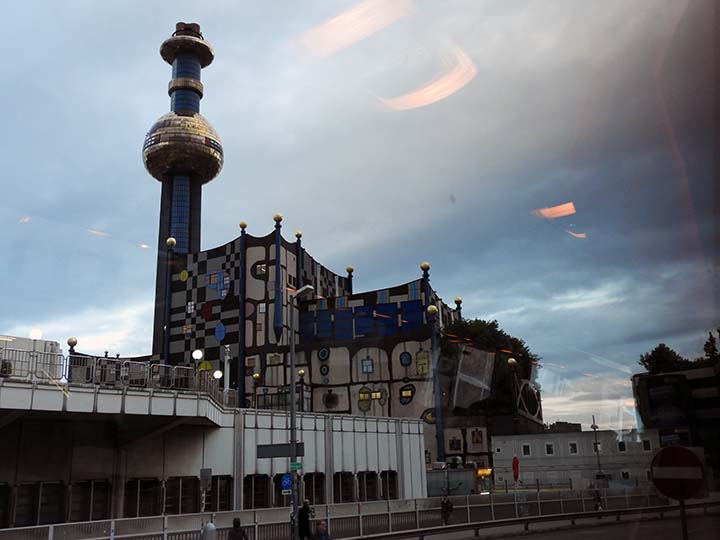 Would you want Hundertwasser to design your house? Not me.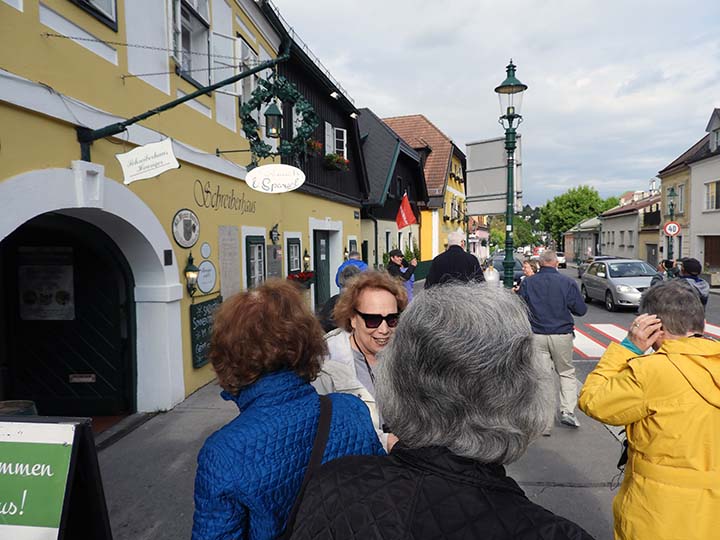 After a brief return to the hotel to freshen up for dinner, we have taken a bus ride to the little town of Neustift in the Vienna Woods region. We will be dining in a Heurigen, a traditional wine tavern.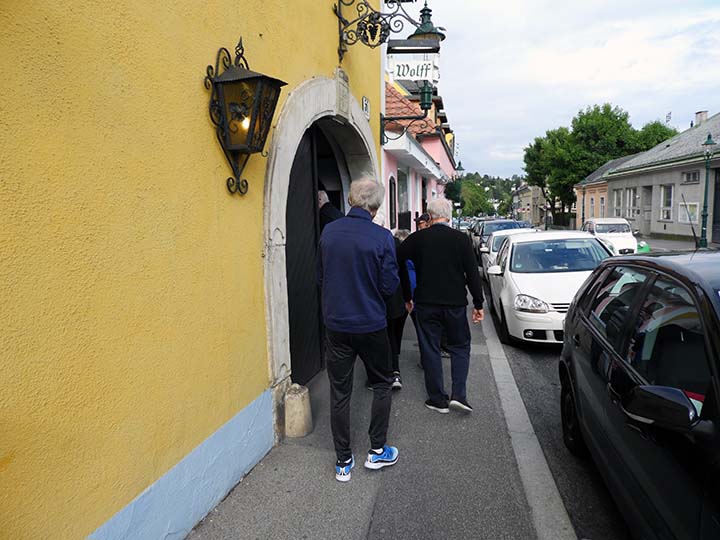 Dinner's right this way.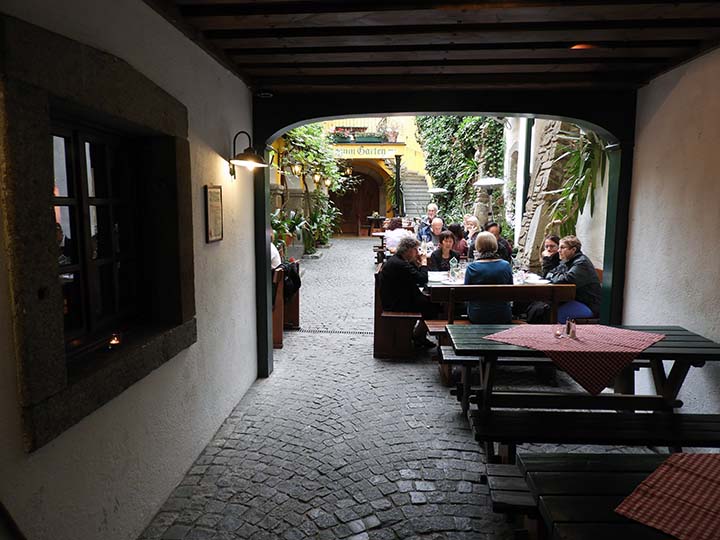 Looks cozy inside.
And the food is delicious.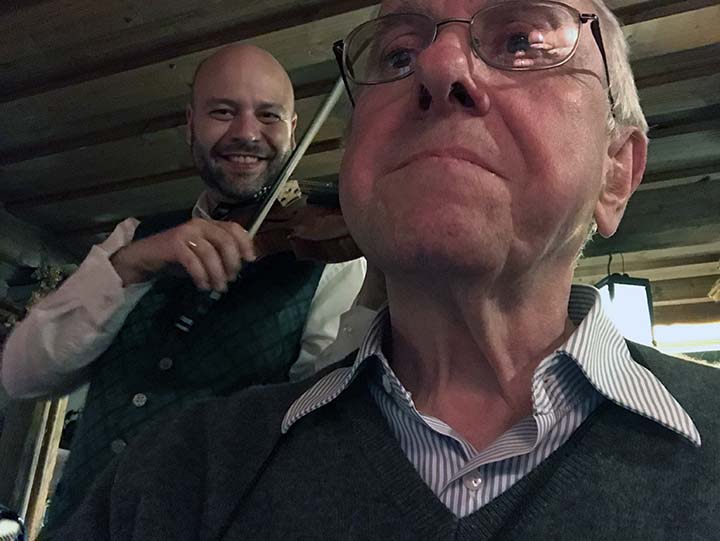 He's smiling, but he never has liked being serenaded when he's trying to enjoy dinner.
Still, the entertainment is lots of fun.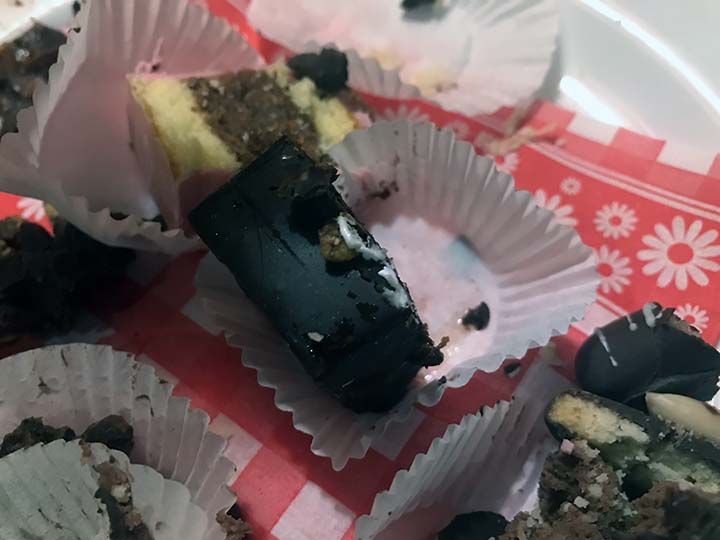 Great desserts, too Greg, Grace, Rebecca and Bill were at one table. Rebecca did a great job of carving up the various pastries we received for dessert so that everybody could get a taste.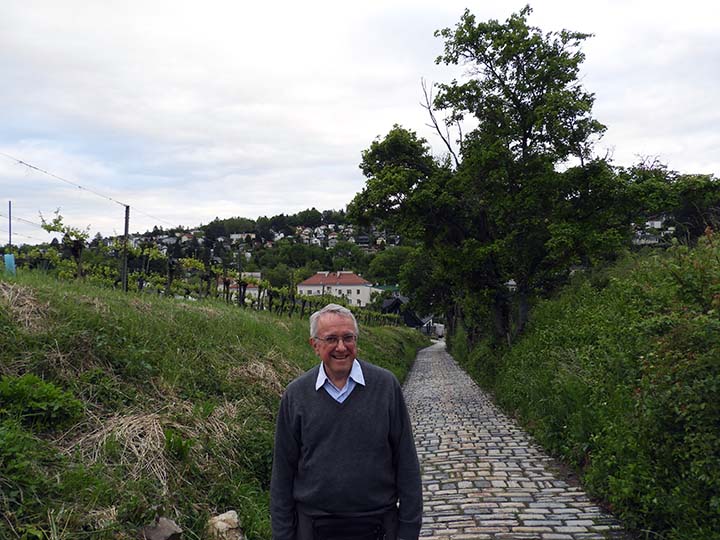 Just this once Road Scholar miscalculated how much time our group would like to spend at dinner. We were full and we were tired and we wanted to go back to our hotel rooms. Trouble is, the bus wasnít due to pick us up until 8 oíclock, but by 7:30 we were all ready to go. Bill, for one, decided to go exploring. It was a pleasant evening, and he ran into some other Road Scholars who had the same idea.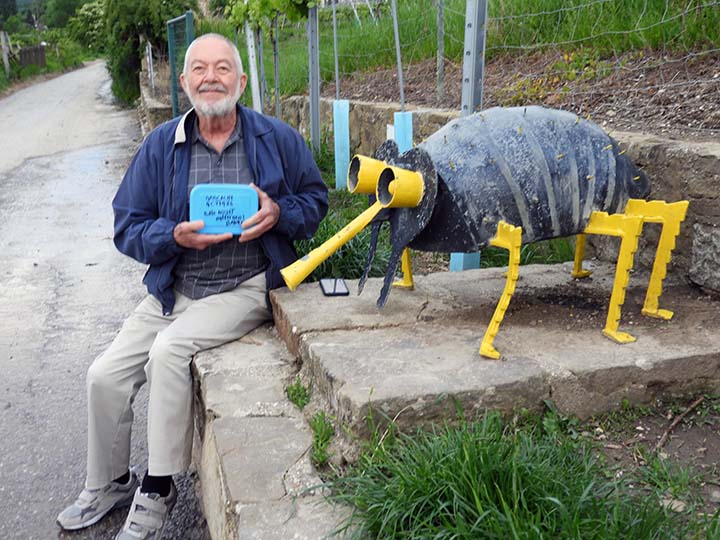 Paul had grown tired of sitting around after dinner too, and he decided to do something more productive than merely walking through the neighborhood. Ever heard of geocaching? Did you know that people hide things all over the world just so other people can use their GPS devices to find little treasures of no value merely for the pleasure of tracking them down? You can read about it here.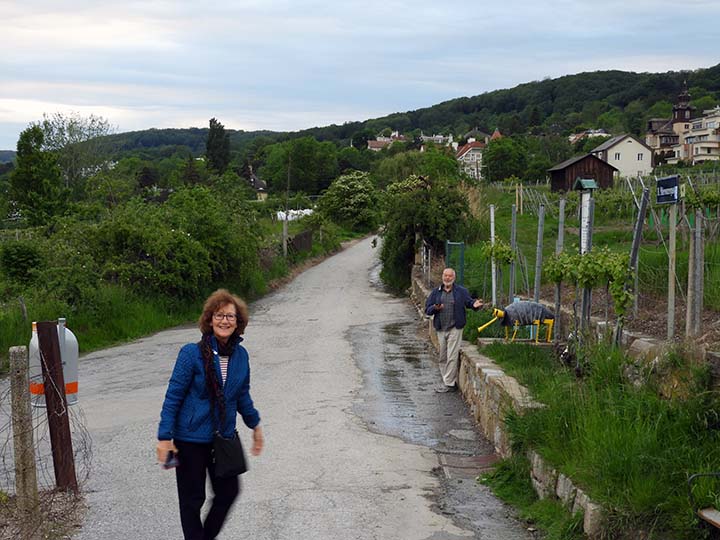 Hi Susan!