Today was a big day; lots to see and do in Vienna.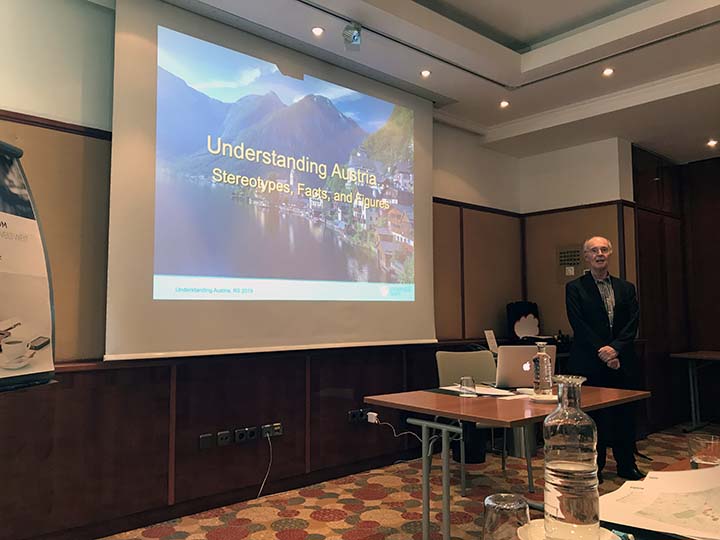 we are beginning each morning in Vienna with a lecture by a distinguished expert. This is a professor from a local university who spoke on "Understanding Austria." (It turned out later that we discovered he's Lucas's father.) It was a fascinating, serious history lesson, but it also included some interesting tidbits such as: Austrians get tired of Americans confusing their country with Australia. They have even started a tourism campaign that features the slogan, "There are no kangaroos in Austria."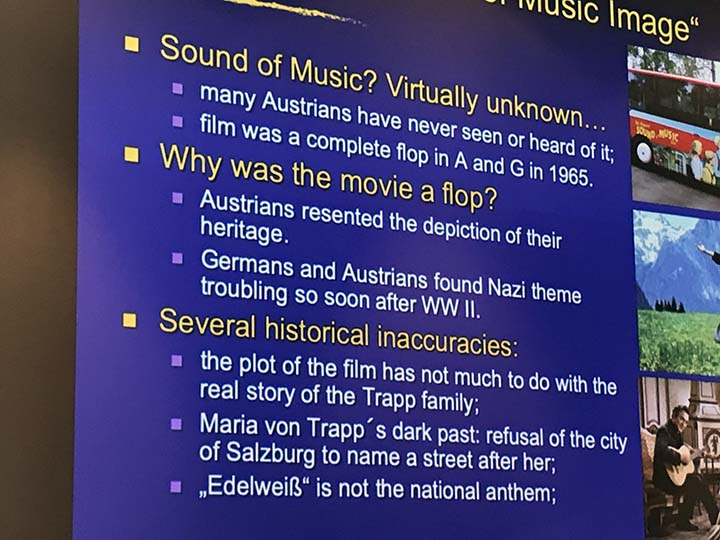 Furthermore, few Austrians have ever seen THE SOUND OF MUSIC, and those who have don't like it. Besides, Maria von Trapp beat her children and in other ways was a real jerk. Even worse, during the Reagan administration when the prime minister was visiting the USA, he was greeted with what somebody thought was the Austrian national anthem: Edelweiss. Austrians still haven't gotten over that one.
Pretty, but they're useless when it rains.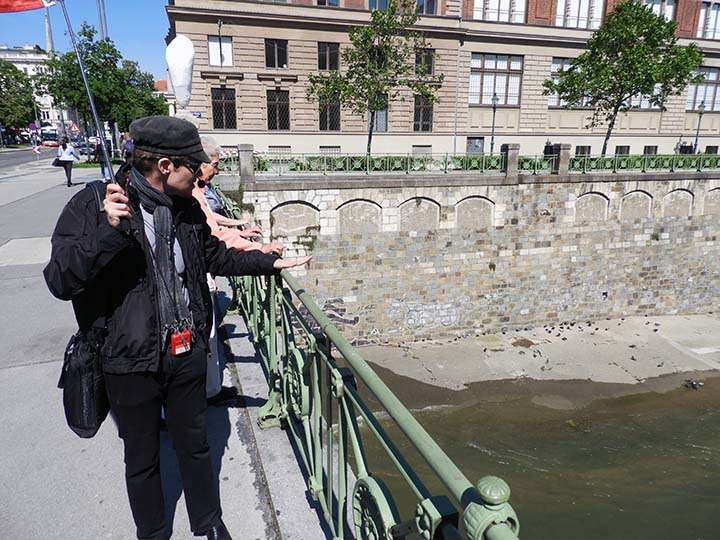 Lucas is taking us on a walking tour of the city today. He is showing us a drainage canal that normally has very little water in it, but occasionally, when there a big rains up in the mountains, this stream will suddenly rise to become a raging torrent through the city. Apparently some workers were caught by surprise and nearly drowned recently.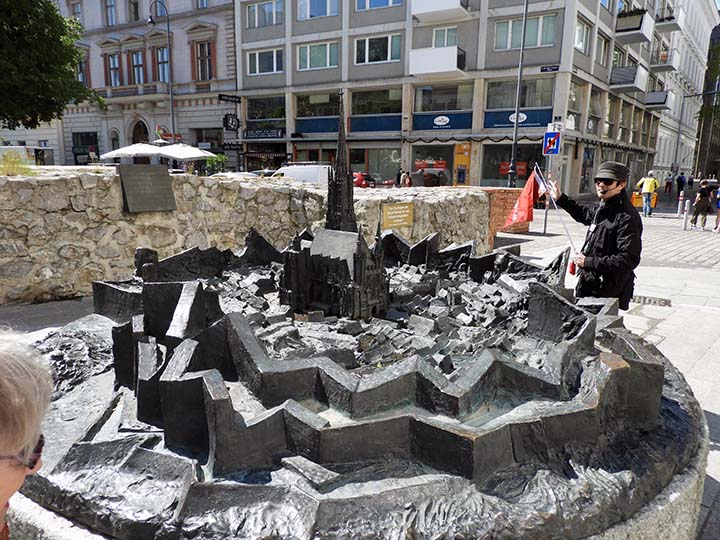 We've found a scale model of the area we're visiting this morning.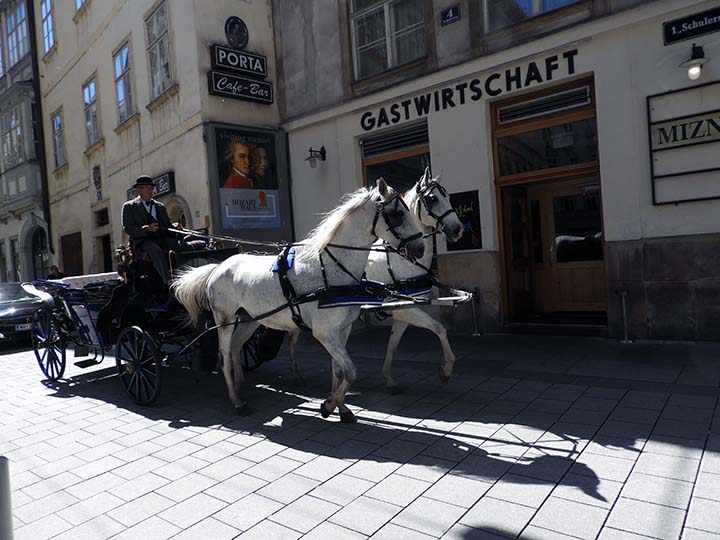 Sometimes it's just like the old days around here.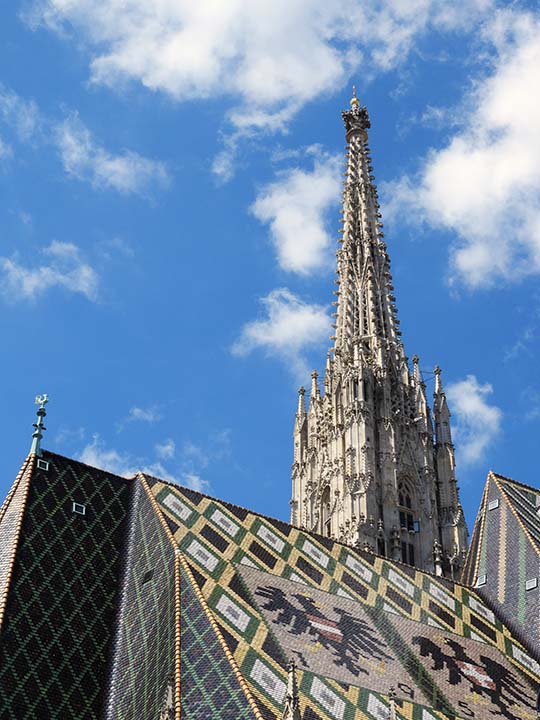 It's Vienna's version of a Saint Stephen's Cathedral. It's a fine place and all, but Budapest's Saint Stephen's has the guy's mummified hand, so how great can Vienna's be? I mean, really?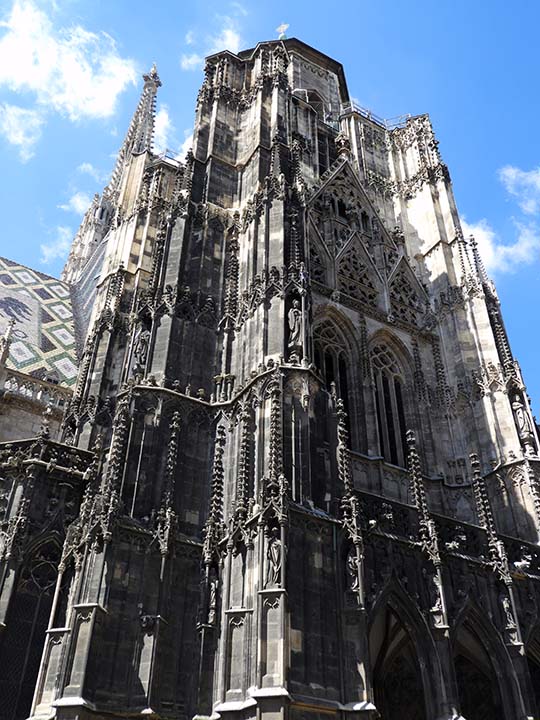 St. Stephen's Cathedral (more commonly known by its German title: Stephansdom) is the mother church of the Roman Catholic Archdiocese of Vienna and the seat of the Archbishop of Vienna, Christoph Cardinal Schönborn, OP. The current Romanesque and Gothic form of the cathedral, seen today in the Stephansplatz, was largely initiated by Duke Rudolf IV (1339–1365) and stands on the ruins of two earlier churches, the first a parish church consecrated in 1147. The most important religious building in Vienna, St. Stephen's Cathedral has borne witness to many important events in Habsburg and Austrian history and has, with its multi-colored tile roof, become one of the city's most recognizable symbols.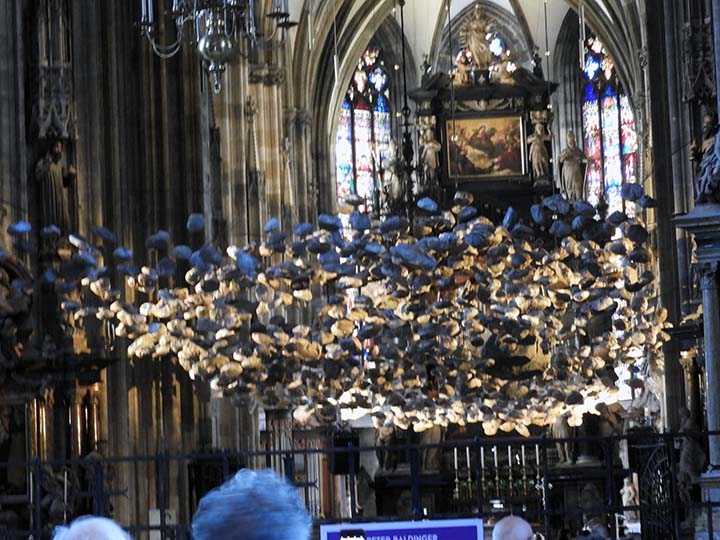 After a while it just seems to me that even though they are big and impressive and undeniably beautiful, when you've seen one European cathedral you've seen them all. But wait, there's something new. What are those things hanging from the ceiling?

They look like a flock of levitating cow pies, but actually they are supposed to represent rocks because Saint Stephen was stoned to death. It's a temporary art installation. How about that?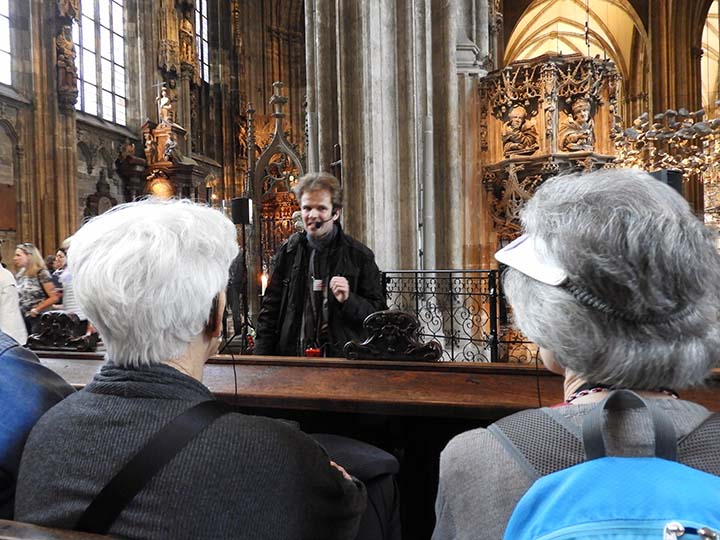 Lucas tells us all about it.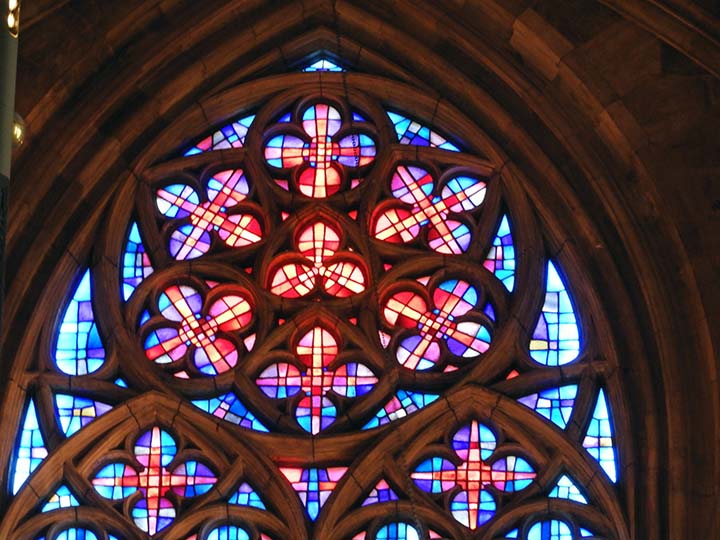 Nice stained glass, as usual in these places.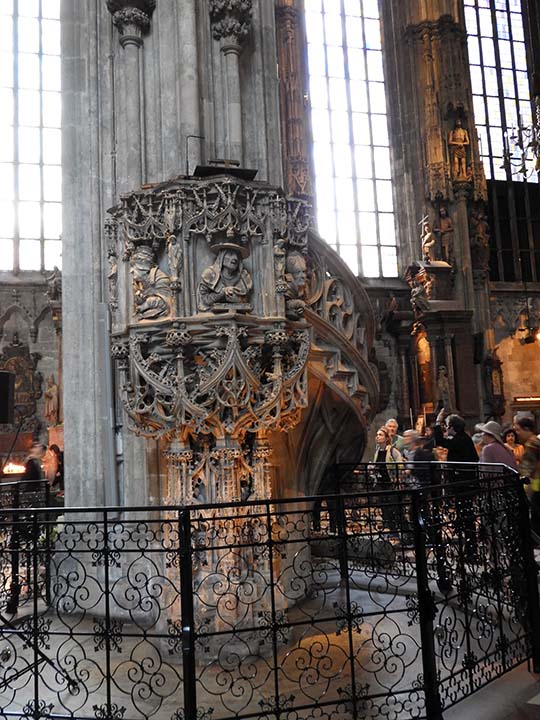 This pulpit was carved by the architect Anton Pilgram. According to Wikipedia, Anton Pilgram (around 1460, Brno (?) – 1516, Vienna) was a late medieval Austrian (German) architect and sculptor active in the area of today's Czech Republic (Moravia), Austria and western (Germany). Pilgram is known as the sculptor of the portal of Old City Hall in Brno and craftsman of the pulpit in St. Stephen's Cathedral, Vienna.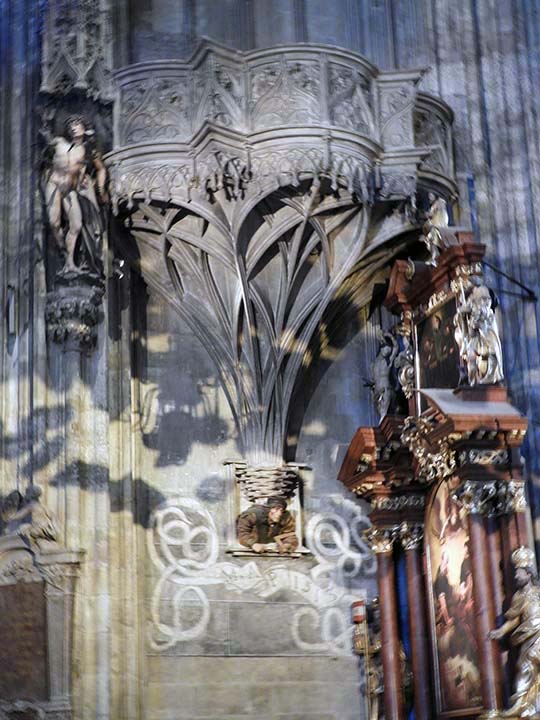 Fancy. The sculptor did a nice job. In fact, he still peeking out from below.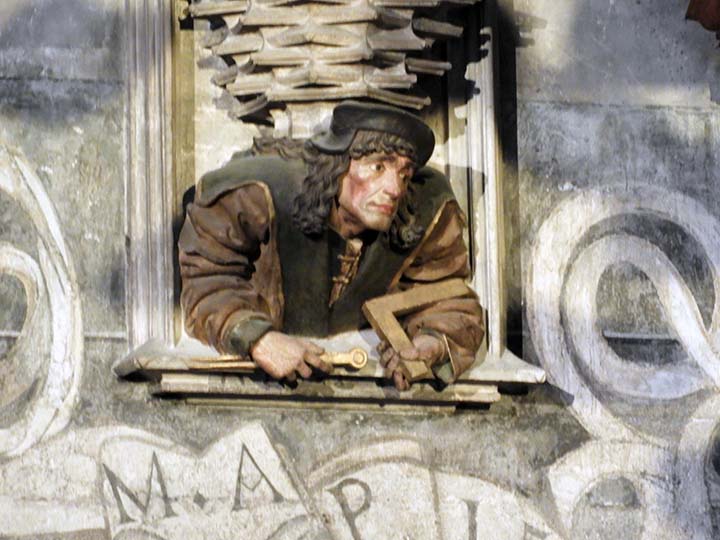 There he is.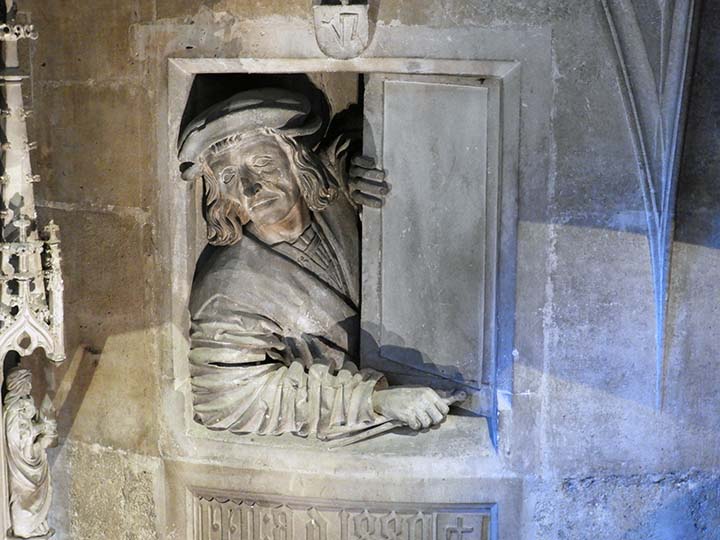 And there he is again. Showoff.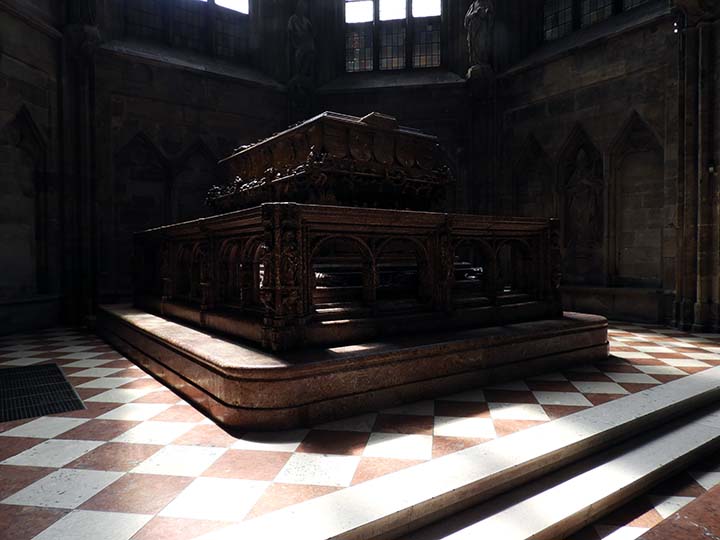 If you are really important, they will bury you in the basement. And if you are really, really important, they will put a fake tomb up top where everybody can see it even though they all know you're really buried in the basement. So who is it who is not really in that tomb? Actually, this one has a body. They drilled a hole and stuck a camera with a light inside and spotted Frederick III, Holy Roman Emperor, b. 1413, d. 1493.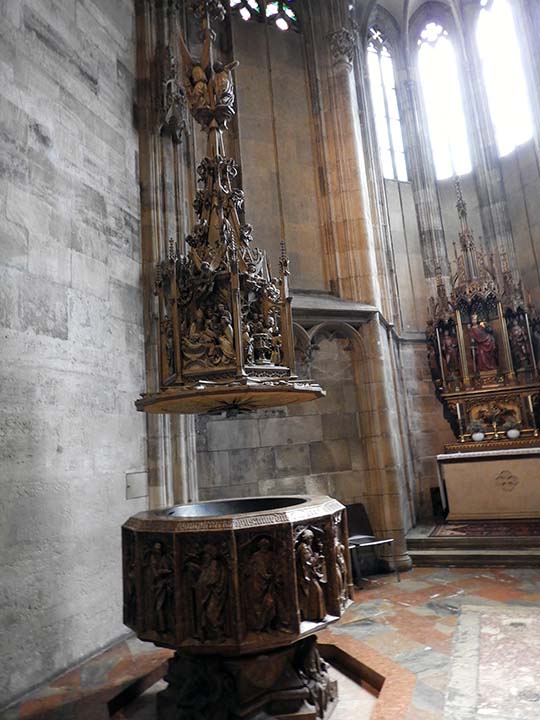 This is the chapel where Mozart was married.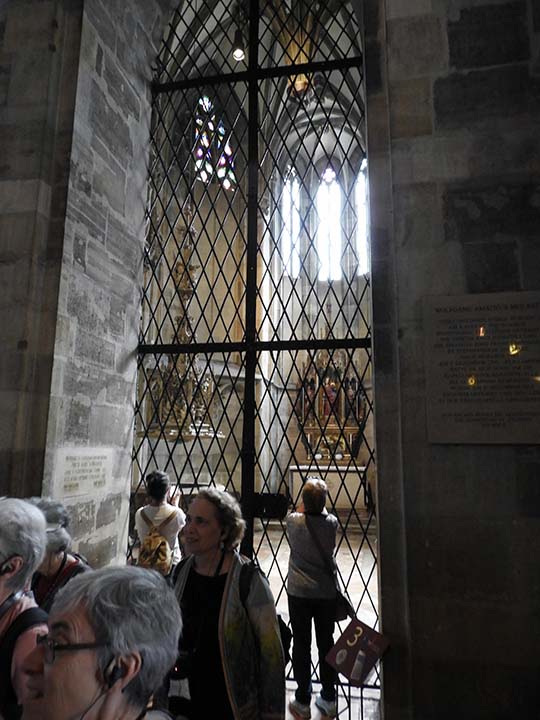 I doubt there was a fence to keep people out in Mozart's day.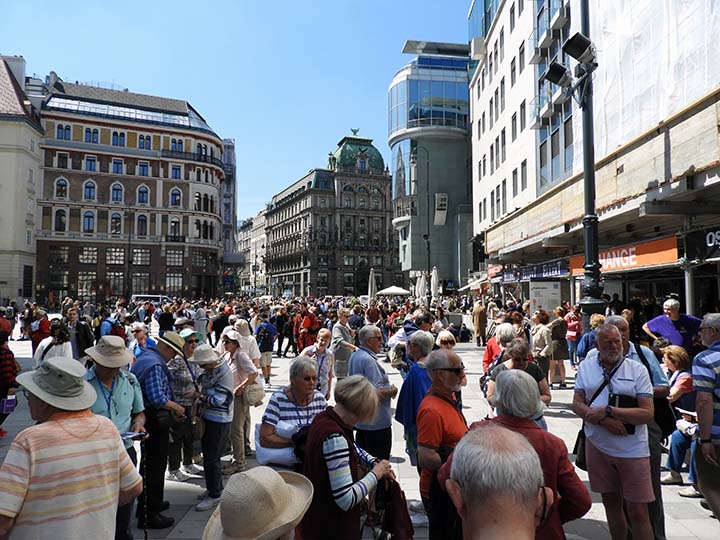 There are too many people here. Buncha tourists!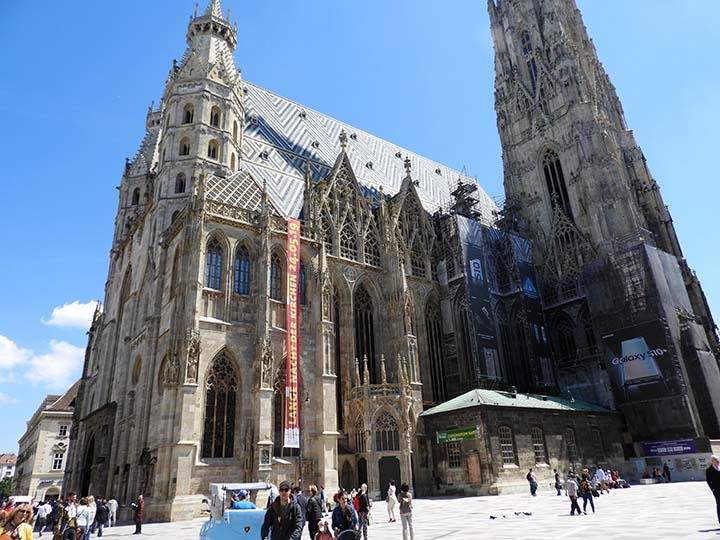 It's kind of sad that in order to pay for restoration they have to get private donors who will give money only if they're allowed to hang advertisements on the outside of the building.
Zsuzsa told an interesting story about this building but I can't remember what it was. I have researched on the internet and I've found it's the Palais Bartolotti-Partenfeld and it's an old mansion that used to be a pharmacy and now sells fancy shirts. But why did I take a picture of it? No idea.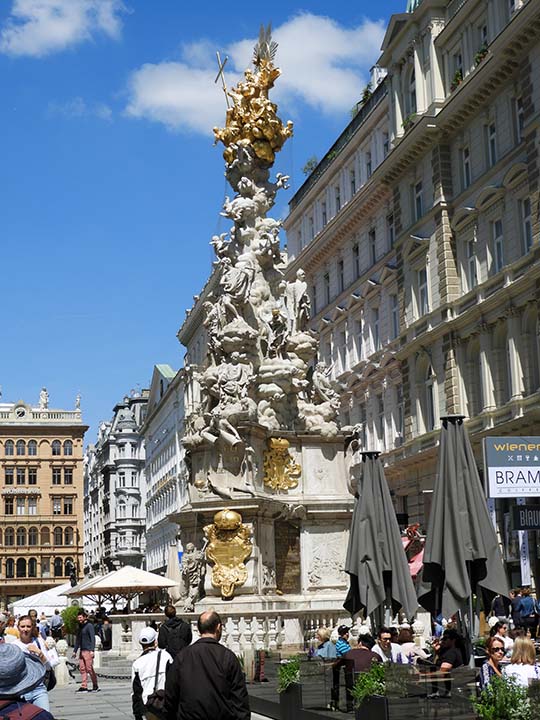 This is a monument celebrating the end of the plague. The Father, the Son, and the Holy Ghost are up top.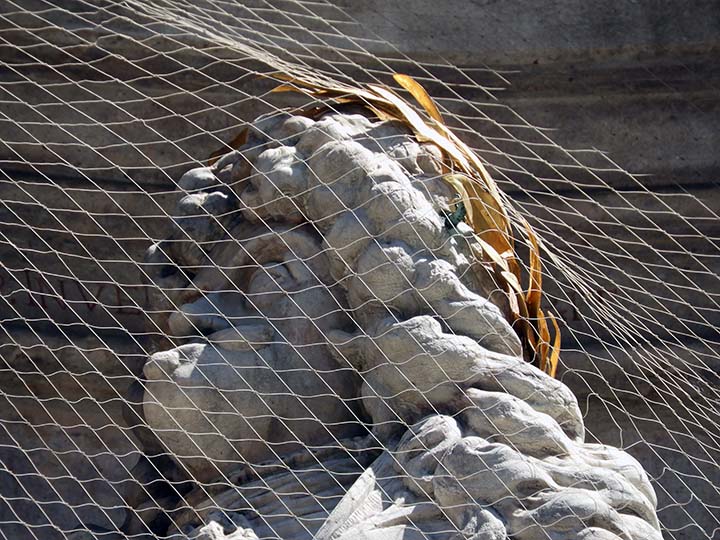 But along the side is one of the Habsburg emperors. Just look at that guy's jaw! Artists back in the day usually Photoshopped the Habsburgs, making their faces artificially attractive because the real faces were ugly due to family inbreeding. This time the sculptor showed the truth.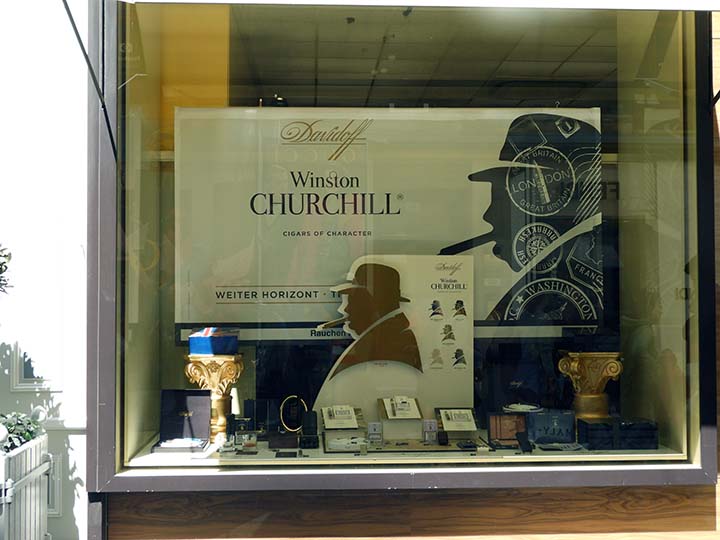 Cigar shop.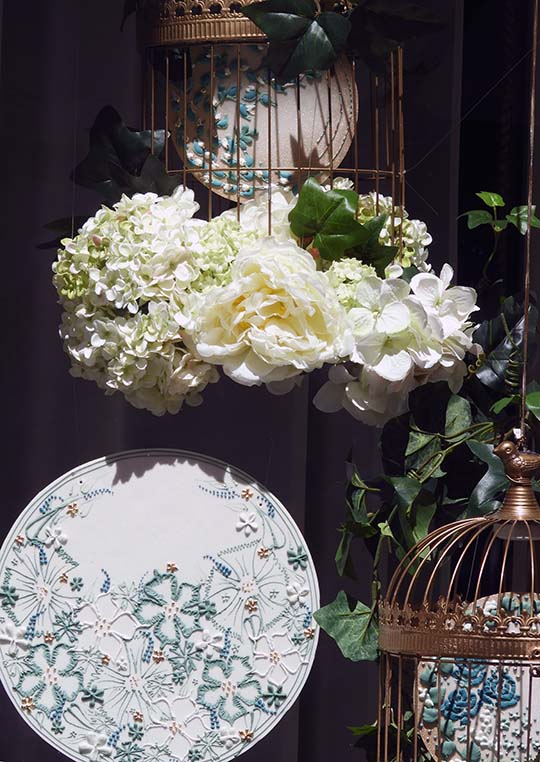 This is a fancy display in the window of a high-end candy shop. Everything you see is edible.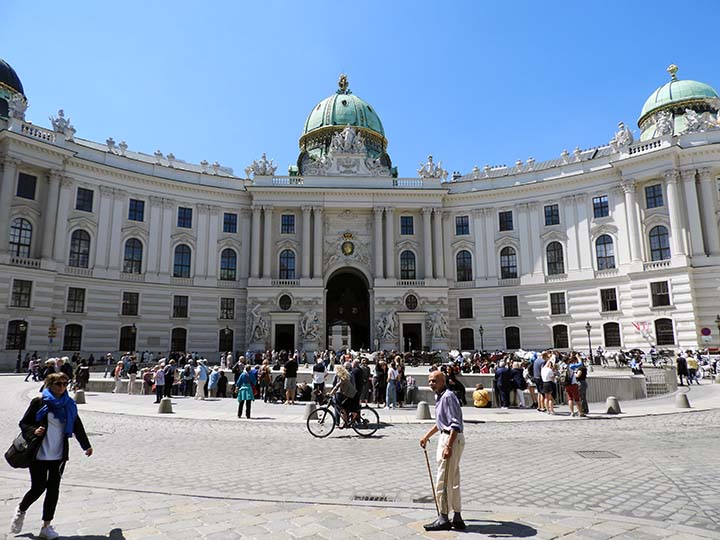 This is the Spanish riding school, home of the famous Lipizzaner horses.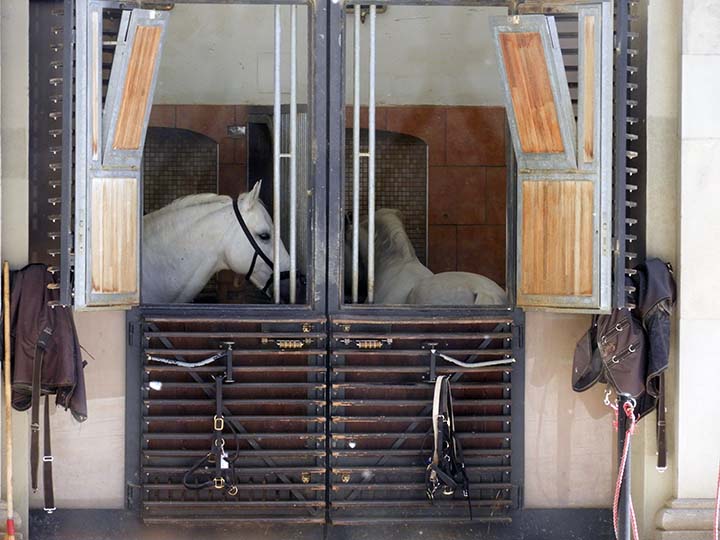 There's a couple now.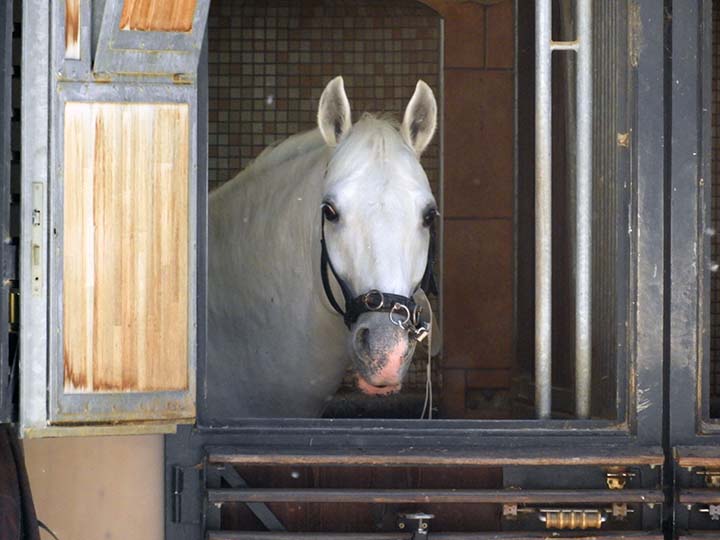 Nice. The elite of the horse world.
I think he works here.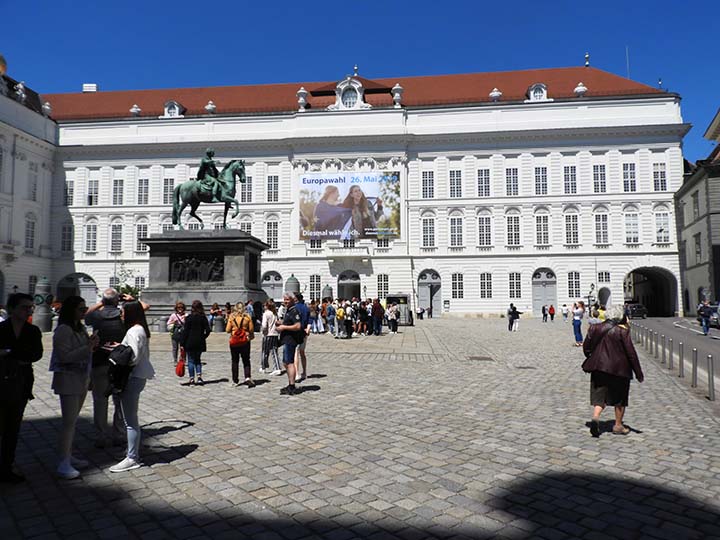 Even the Spanish Riding School displays ads on its wall.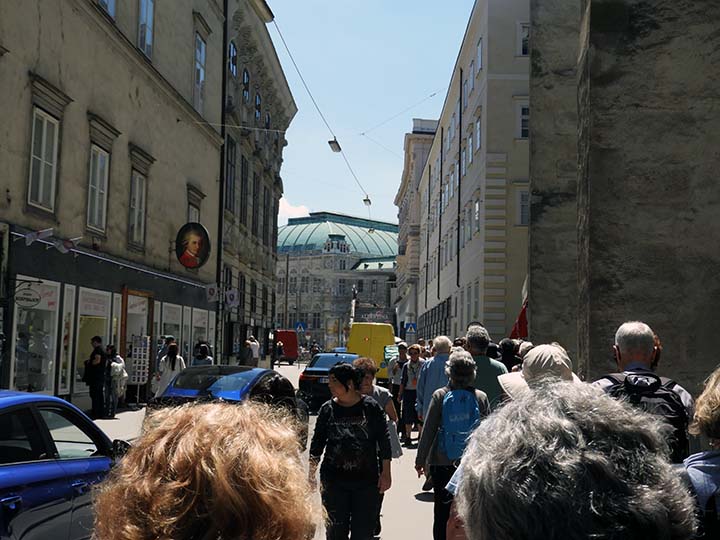 Let's keep walking.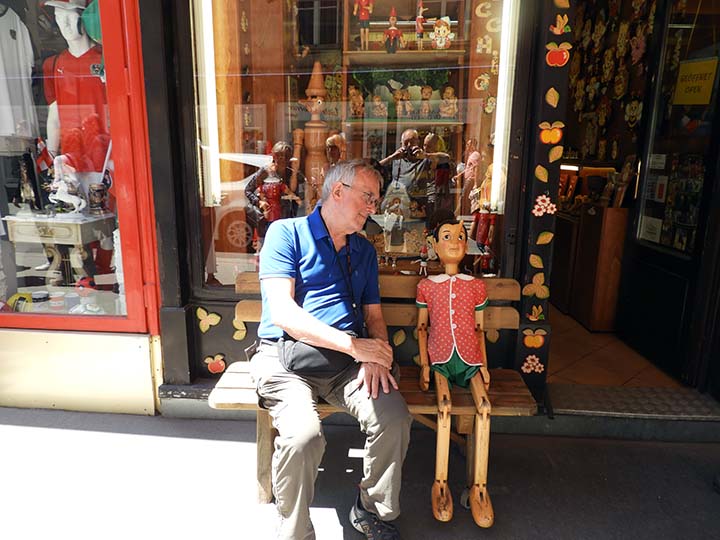 Bill chats with some poor kid afflicted with a long nose.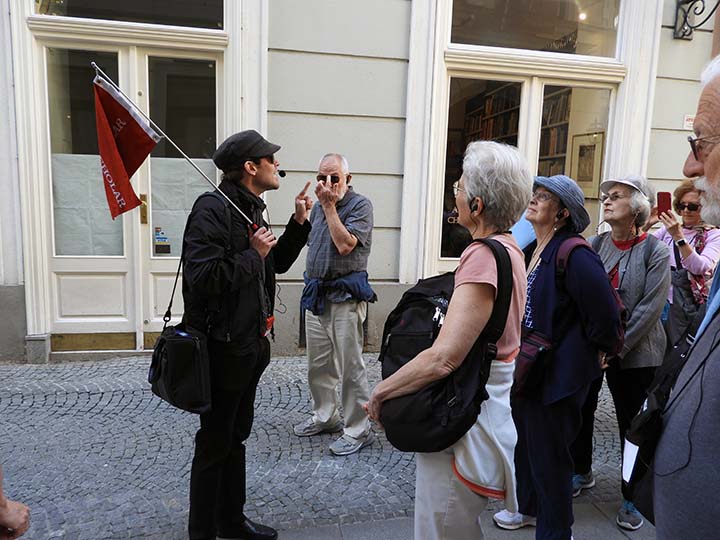 Come on Lucas, it's time for lunch.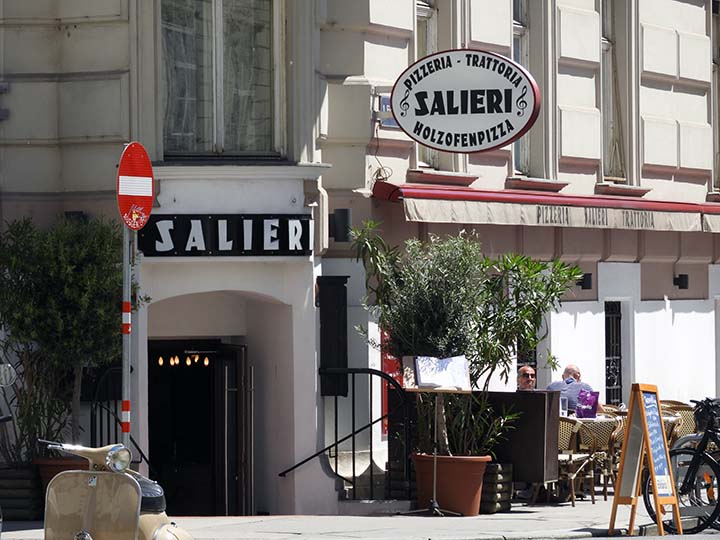 Remember Salieri from the movie AMADEUS? Looks like he's opened a restaurant.
You never know when you'll run into culture while walking down a Vienna city sidewalk. In Memphis we lean toward old men with saxophones playing the blues.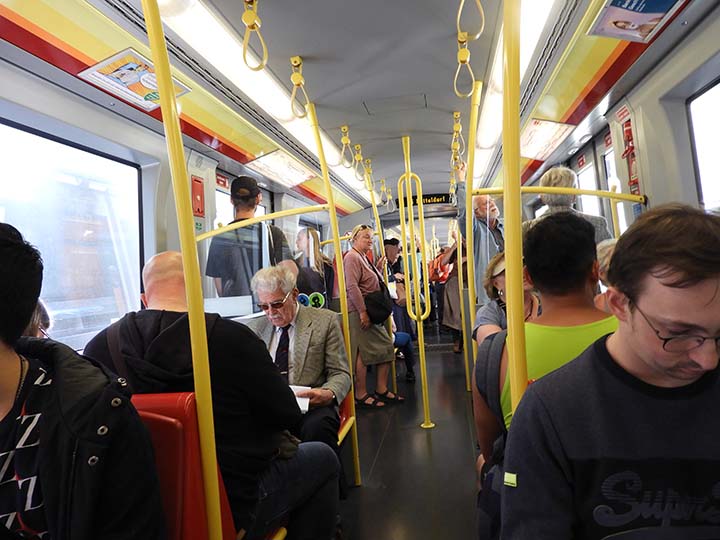 After lunch we took the subway to Schönbrunn Palace, home of the Habsburg dynasty.
Subway stop.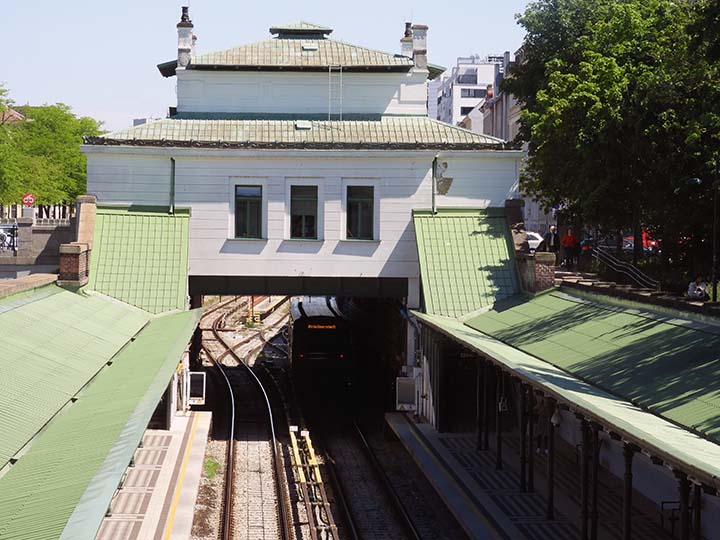 It's a fancy subway stop.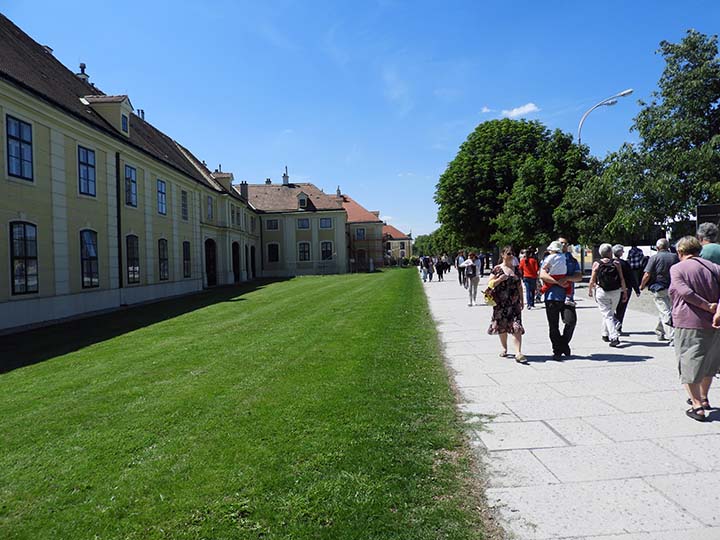 Schönbrunn Palace was the main summer residence of the Habsburg rulers, located in Hietzing, Vienna. The 1,441-room Baroque palace is one of the most important architectural, cultural, and historical monuments in the country. Since the mid-1950s it has been a major tourist attraction. The history of the palace and its vast gardens spans over 300 years, reflecting the changing tastes, interests, and aspirations of successive Habsburg monarchs.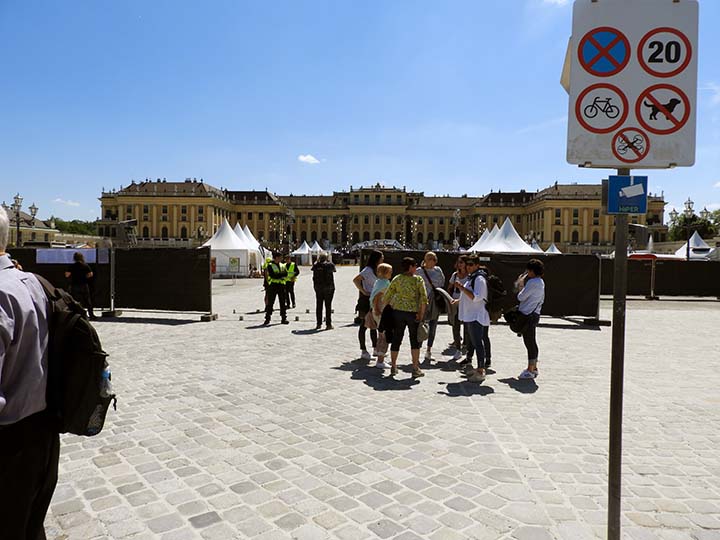 It's really big. And apparently something's going on over there.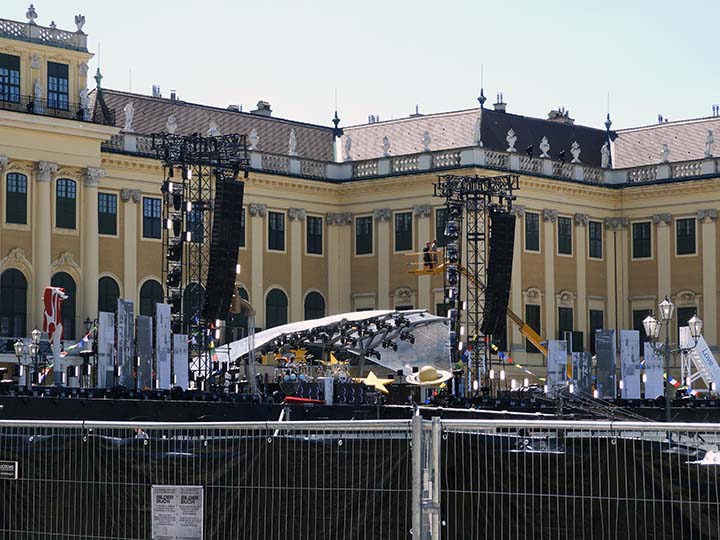 A stage has been set up for a performance by a German rock band that according to Lucas really isn't very good. Rock 'n' roll is blocking our view.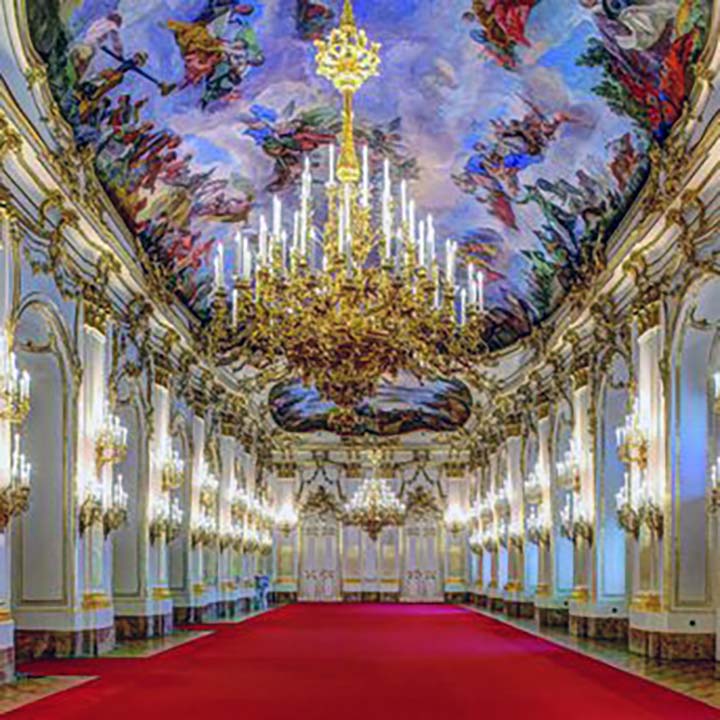 And furthermore they won't let tourists take pictures inside. So here are a few images I have downloaded from the Internet. Impressive, don't you think? Yes, I walked through this room. And yes, my eyes popped.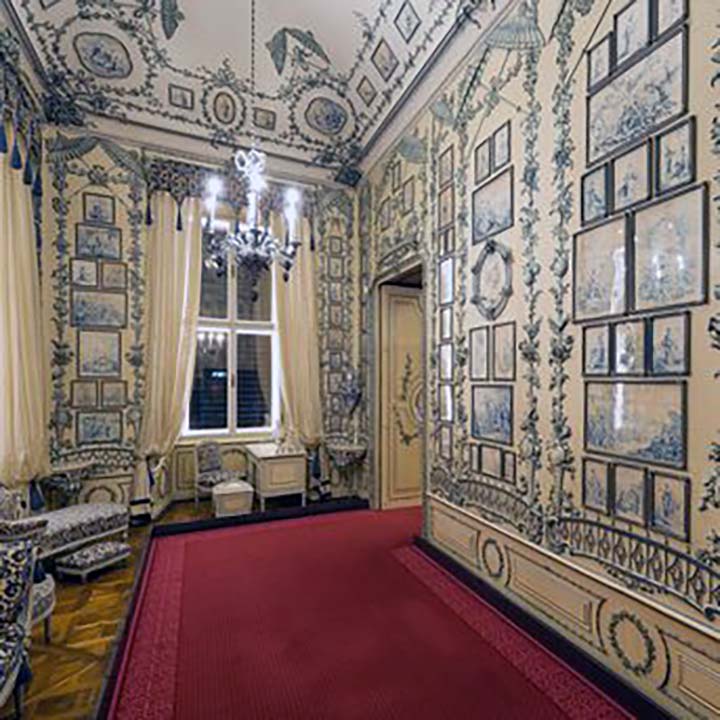 The Habsburgs knew how to live.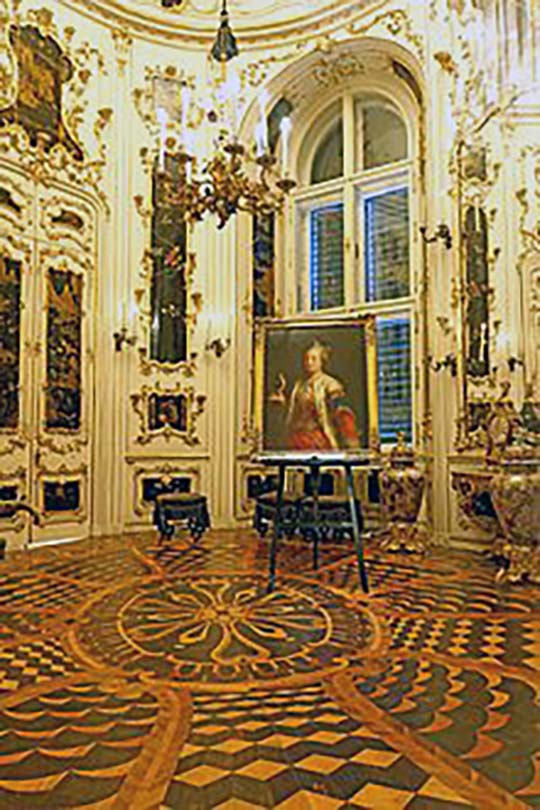 You can't get too fancy for a Habsburg. That's a portrait of Maria Teresa, I think maybe.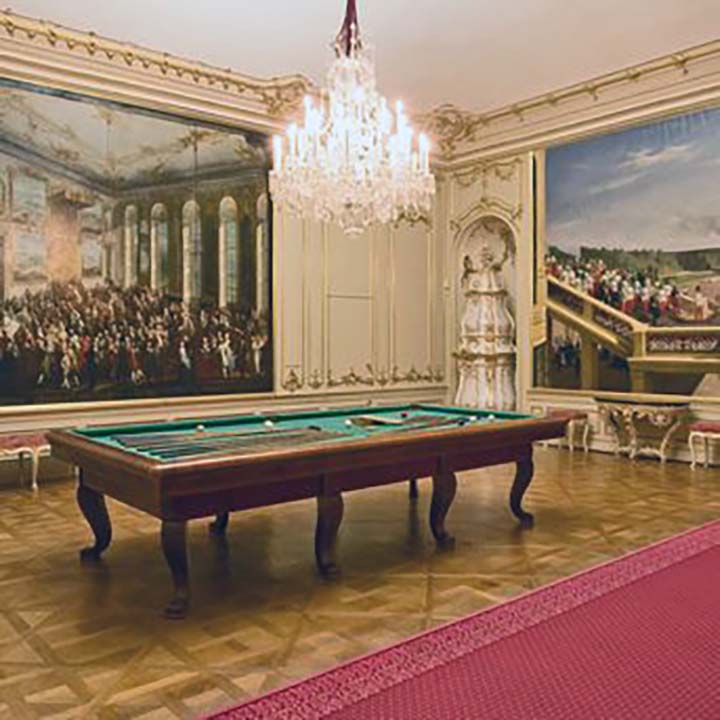 You can get an appointment to see the emperor, but you shouldn't really expect him to see you on time. So here's a bigger room where you can have fun while you wait.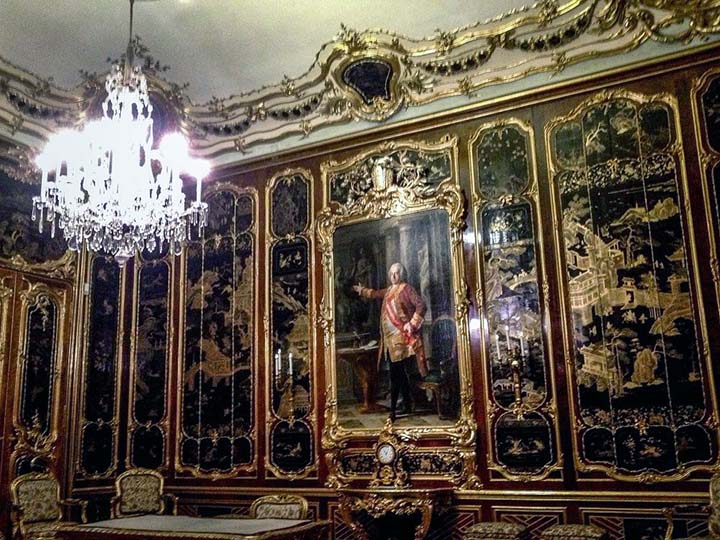 The decorations in this room reflect Chinese art.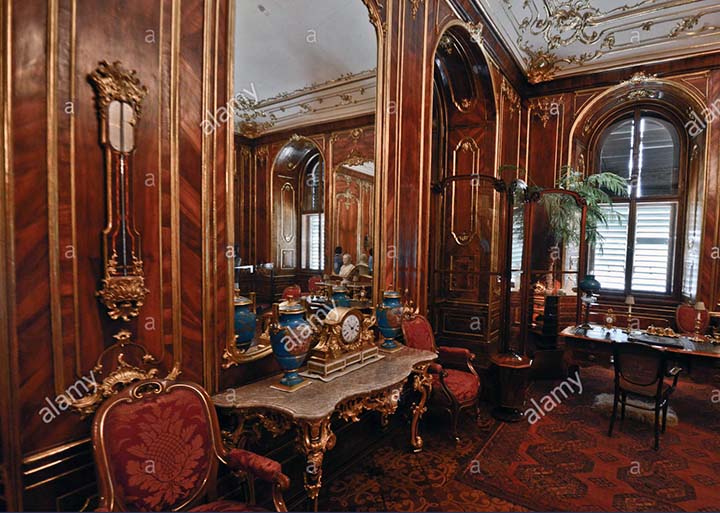 Fancy, fancy.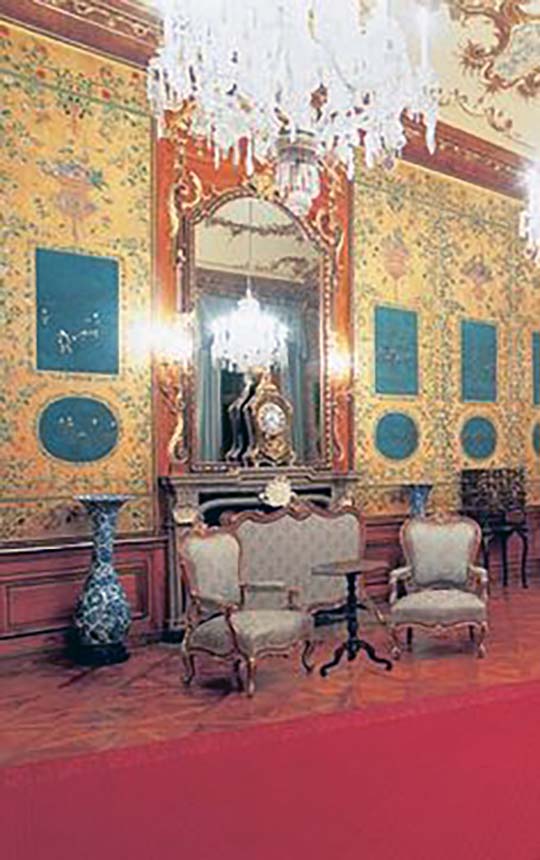 It seemed to me the colors on the wall decorations had faded in this room. Have the accents always been that putrid shade of blue-green?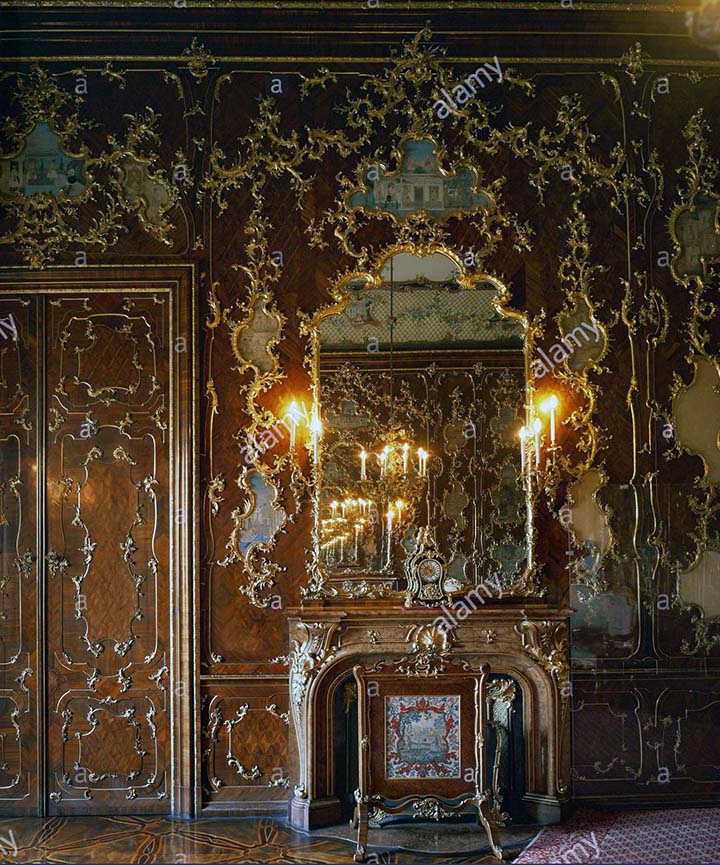 Nothing faded here.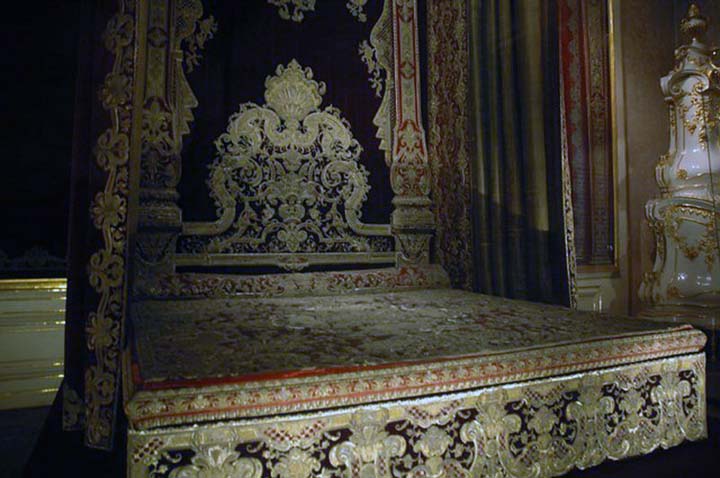 That's what's known as a ceremonial bed. You wouldn't really want to sleep in it.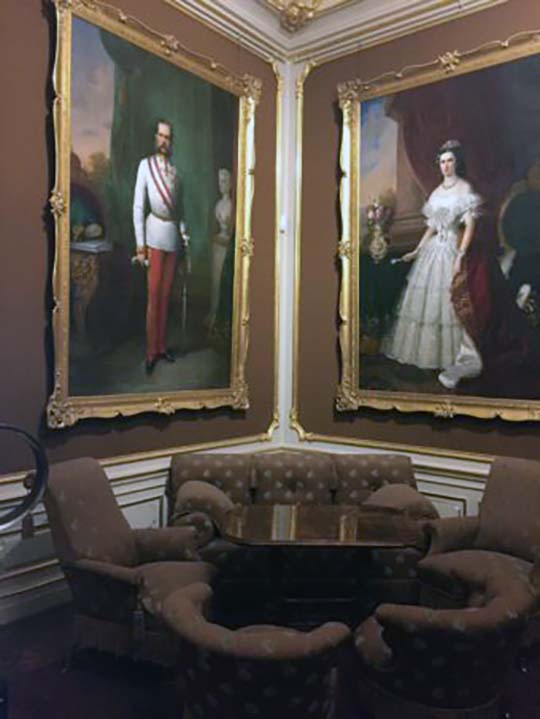 Emperor Franz Joseph and his wife Sisi.
Franz Joseph I or Francis Joseph I (18 August 1830 – 21 November 1916) was Emperor of Austria, King of Hungary, King of Bohemia, and monarch of many other states of the Austro-Hungarian Empire, from 2 December 1848 to his death. From 1 May 1850 to 24 August 1866 he was also President of the German Confederation. He was the longest-reigning Emperor of Austria and King of Hungary, as well as the third-longest-reigning monarch of any country in European history, after Louis XIV of France and Johann II of Liechtenstein.
In December 1848, Emperor Ferdinand abdicated the throne at Olomouc, as part of Minister President Felix zu Schwarzenberg's plan to end the Revolutions of 1848 in Hungary. This allowed Ferdinand's nephew Franz Joseph to accede to the throne. Largely considered to be a reactionary, Franz Joseph spent his early reign resisting constitutionalism in his domains. The Austrian Empire was forced to cede its influence over Tuscany and most of its claim to Lombardy–Venetia to the Kingdom of Piedmont-Sardinia, following the Second Italian War of Independence in 1859 and the Third Italian War of Independence in 1866. Although Franz Joseph ceded no territory to the Kingdom of Prussia after the Austrian defeat in the Austro-Prussian War, the Peace of Prague (23 August 1866) settled the German Question in favour of Prussia, which prevented the Unification of Germany from occurring under the House of Habsburg.
Franz Joseph was troubled by nationalism during his entire reign. He concluded the Austro-Hungarian Compromise of 1867, which granted greater autonomy to Hungary and transformed the Austrian Empire into the Dual Monarchy of Austria-Hungary. He ruled peacefully for the next 45 years, but personally suffered the tragedies of the execution of his brother, the Emperor Maximilian of Mexico in 1867, the suicide of his only son and heir-apparent, Crown Prince Rudolf, in 1889, the assassination of his wife, Empress Elisabeth, in 1898, and the assassination of his nephew and heir-presumptive, the Archduke Franz Ferdinand, in 1914.
After the Austro-Prussian War, Austria-Hungary turned its attention to the Balkans, which was a hotspot of international tension because of conflicting interests with the Russian Empire. The Bosnian Crisis was a result of Franz Joseph's annexation of Bosnia and Herzegovina in 1908, which had been occupied by his troops since the Congress of Berlin (1878).
On 28 June 1914, the assassination of his nephew and heir-presumptive, Archduke Franz Ferdinand, in Sarajevo resulted in Austria-Hungary's declaration of war against the Kingdom of Serbia, which was Russia's ally. That activated a system of alliances which resulted in World War I.
Franz Joseph died on 21 November 1916, after ruling his domains for almost 68 years as one of the longest-reigning monarchs in modern history. He was succeeded by his grandnephew Charles.
It was generally felt in the court that the Emperor should marry and produce heirs as soon as possible. Various potential brides were considered: Princess Elisabeth of Modena, Princess Anna of Prussia and Princess Sidonia of Saxony. Although in public life Franz Joseph was the unquestioned director of affairs, in his private life his formidable mother still wielded crucial influence. Sophie wanted to strengthen the relationship between the Houses of Habsburg and Wittelsbach—descending from the latter house herself—and hoped to match Franz Joseph with her sister Ludovika's eldest daughter, Helene ("Néné"), who was four years the Emperor's junior.
However, Franz Joseph fell deeply in love with Néné's younger sister Elisabeth ("Sisi"), a beautiful girl of fifteen, and insisted on marrying her instead. Sophie acquiesced, despite her misgivings about Sisi's appropriateness as an imperial consort, and the young couple were married on 24 April 1854 in St. Augustine's Church, Vienna.
Their marriage would prove to be an unhappy one; though Franz Joseph was passionately in love with his wife, as the feeling was not mutual. Sisi never truly acclimatized to life at court, and was frequently in conflict with the imperial family. Their first daughter Sophie died as an infant, and their only son Rudolf died by suicide in 1889 in the infamous Mayerling Incident.
In 1885 Franz Joseph met Katharina Schratt, a leading actress of the Vienna stage, and she became his friend and confidante. This relationship lasted the rest of his life, and was—to a certain degree—tolerated by Sisi. Franz Joseph built Villa Schratt in Bad Ischl for her, and also provided her with a small palace in Vienna. Though their relationship lasted for thirty-four years, it remained platonic.[38]
The Empress was an inveterate traveller, horsewoman, and fashion maven who was rarely seen in Vienna. Sisi was obsessed about preserving her beauty, carrying out many bizarre routines and strenuous exercise, and as a result suffered from ill health. She was stabbed to death by an Italian anarchist in 1898 while on a visit to Geneva. A few days after the funeral, Robert of Parma wrote in a letter to his friend Tirso de Olazábal that "It was pitiful to look at the Emperor, he showed a great deal of energy in his immense pain, but at times one could see all the immensity of his grief."[39] Franz Joseph never fully recovered from the loss. According to the future empress Zita of Bourbon-Parma he told his relatives: "You'll never know how important she was to me" or, according to some sources, "You will never know how much I loved this woman."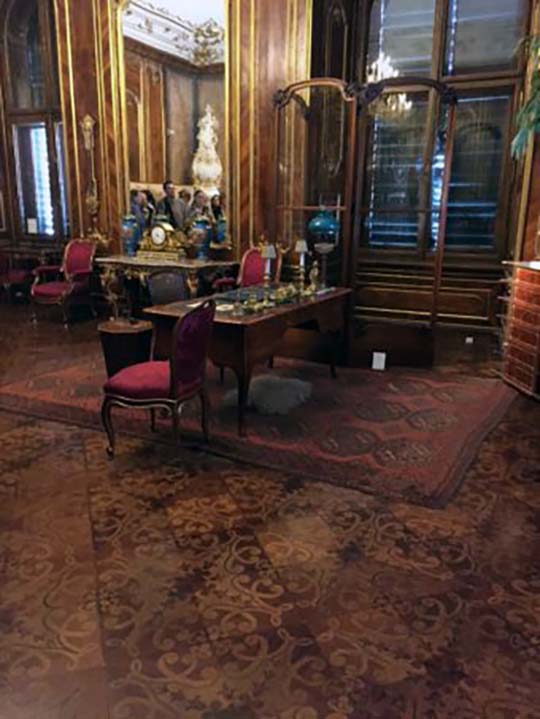 Here is Emperor Franz Joseph's office where he received visitors. This is how it looked when he died in 1916.
The back yard.
It's a nice place.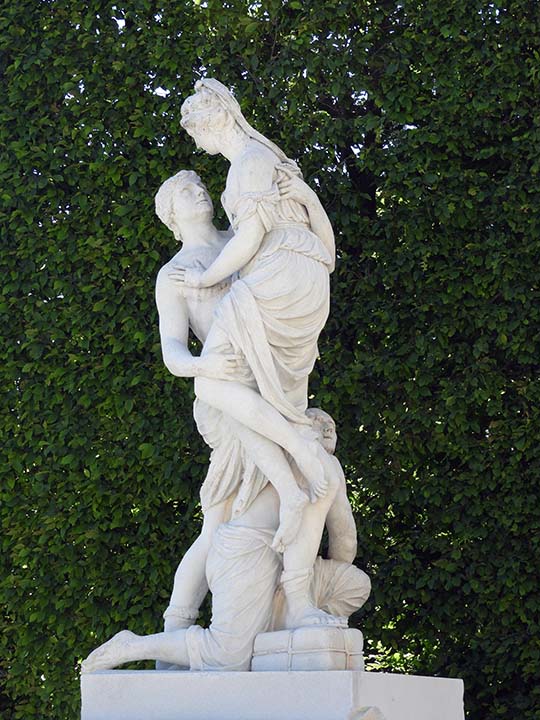 There are sculptures.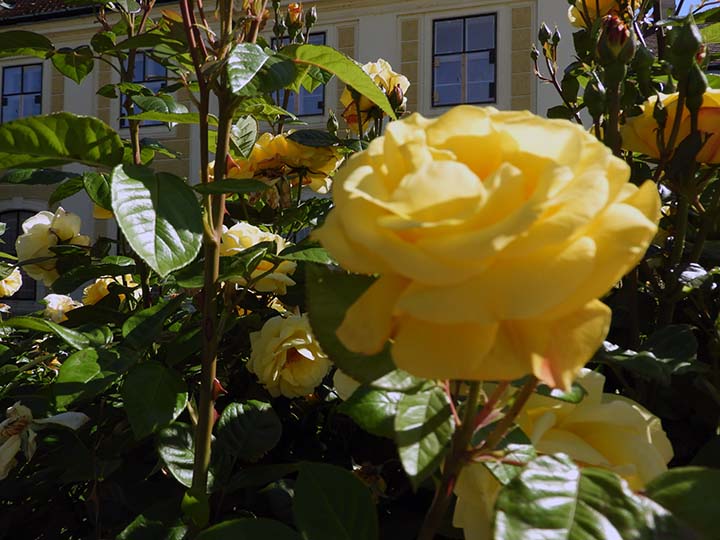 And roses.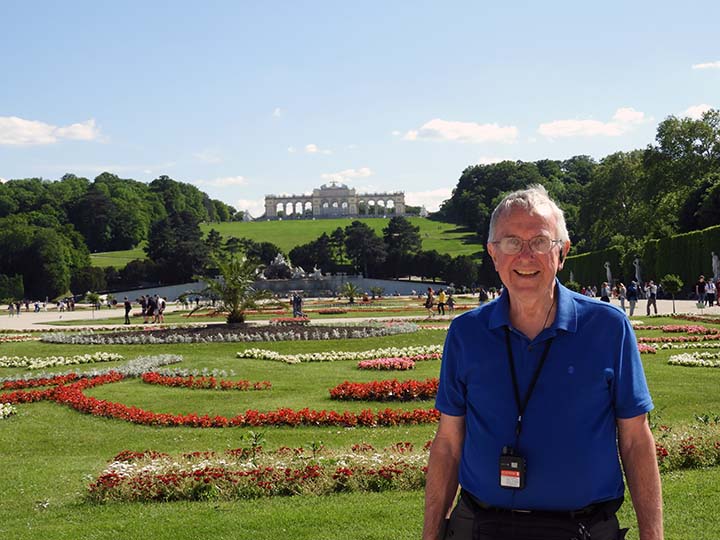 Bill certainly seems impressed.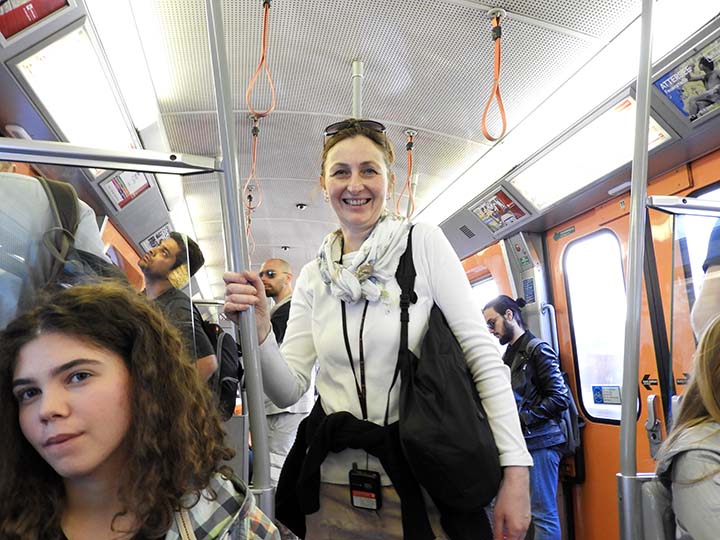 That's enough of the Habsburgs. Let's head back to the hotel and get ready for dinner and a concert.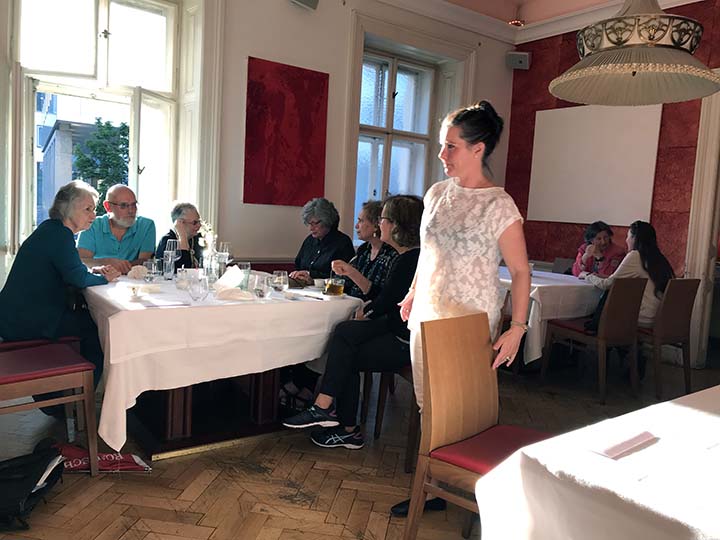 Dinner was fine, as usual. And the dining room was located only a short distance from this evening's concert hall.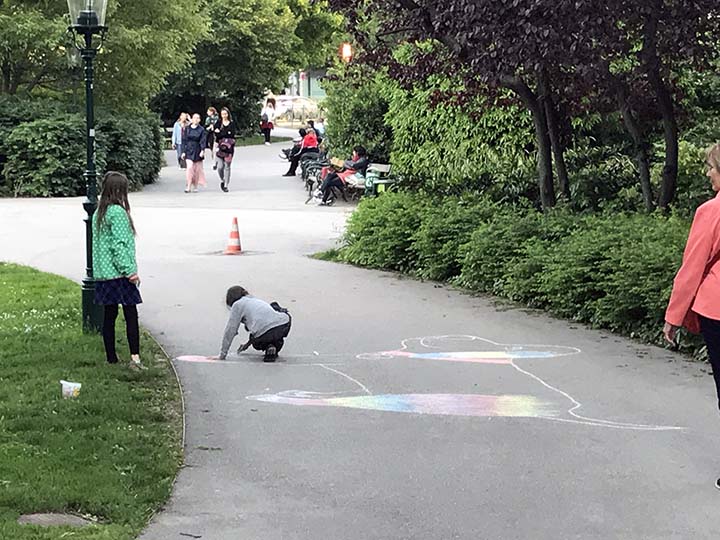 So we walked through the lovely grounds of nearby Stadtpark.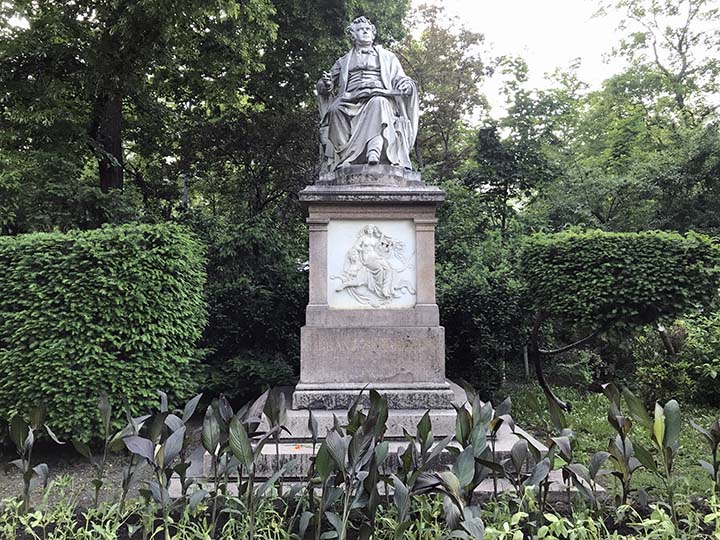 It was a great evening for a stroll. This is the park's Franz Schubert statue.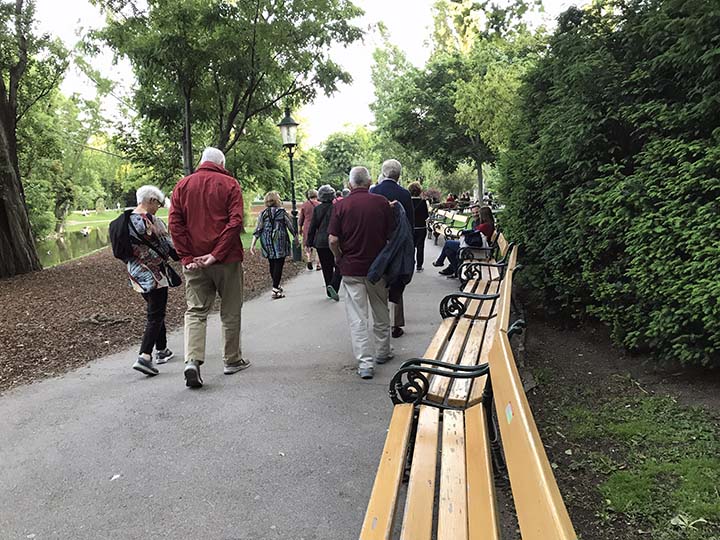 And on we went.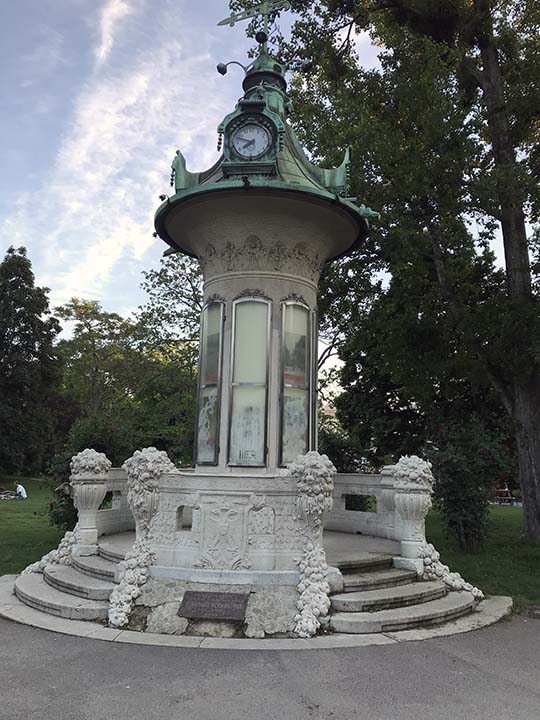 Pretty monuments.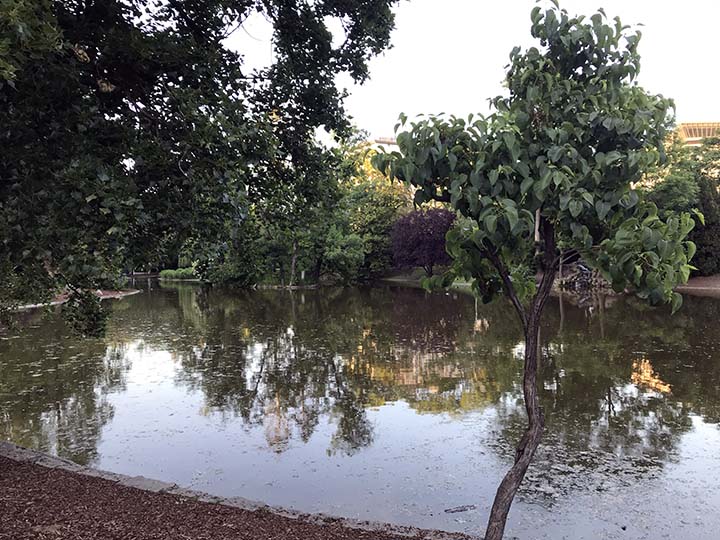 Pretty lake.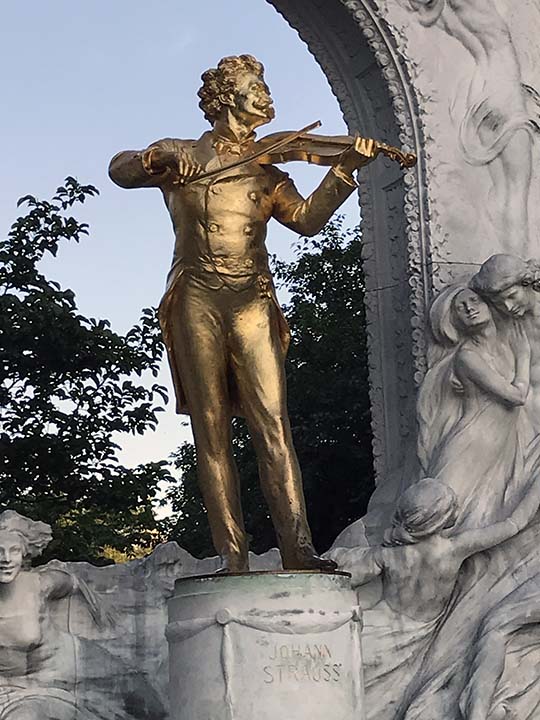 And a classic gold-painted statue of Johann Strauss, composer of Viennese waltzes like the Beautiful Blue Danube.
Have a listen.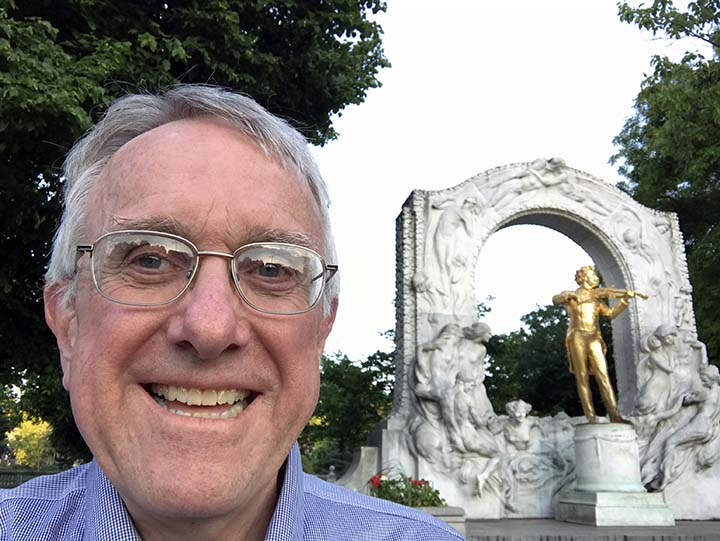 Bill says, "Hey, I could do that!"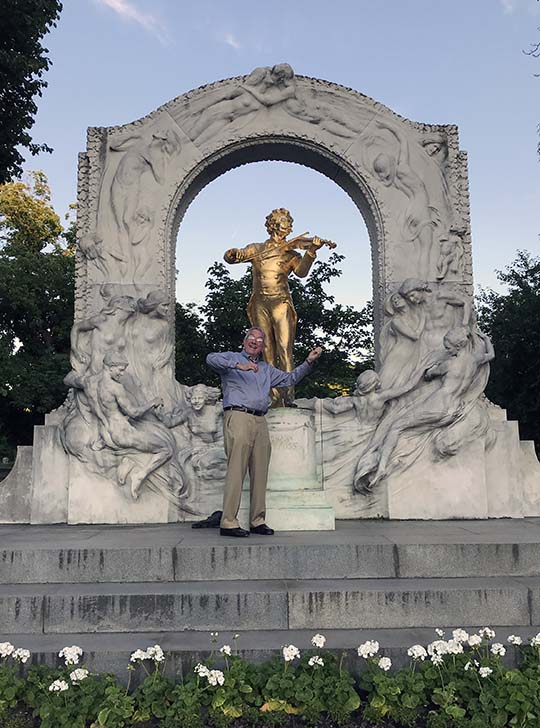 And so he did.
Poster advertising the concert we're about to see.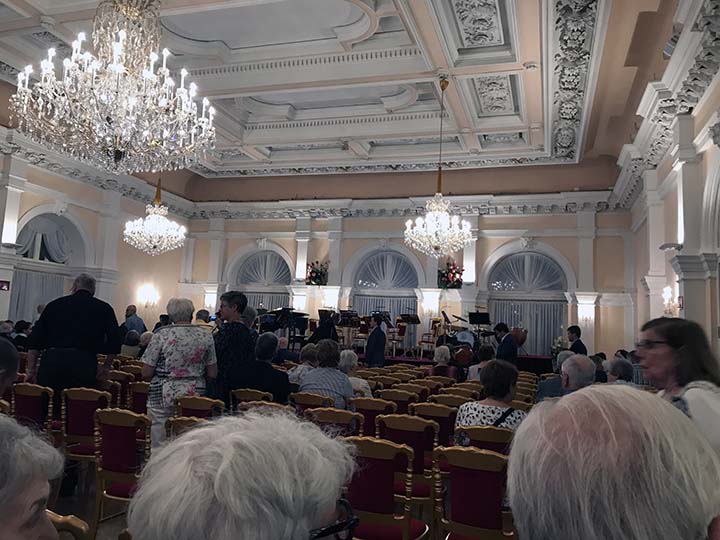 This is the concert hall, and while the place got stuffy and the seats were crowded together and uncomfortable, the show was delightful. But photos? Video? Audio? Sorry, verboten.
Wait a minute! Don't give up! This is basically what we saw! Yay YouTube!