We sure did a lot of driving yesterday, so how about today we don't stray so far from Peterborough? Besides, those books Bill bought before the trip, the ones the lay out long driving tours, don't look quite so interesting anymore. I'll bet they involve lots of roundabouts. So let's check the map ... Cambridge isn't very far from here, and we've visited Oxford so it seems only fair...but what would we do?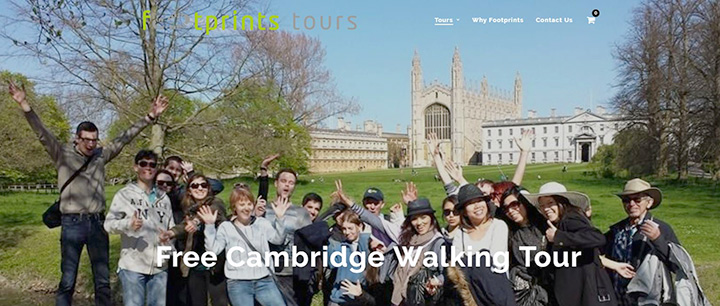 "Our free Cambridge walking tour is the perfect way to see the city centre on foot. Our friendly local guides will tell you all about the University, the town and the famous individuals who have called Cambridge home. This city has been a centre of education for nearly 1,000 years – we'll pack the whole story into a two-hour trip!"
Google can solve any problem. Let's go!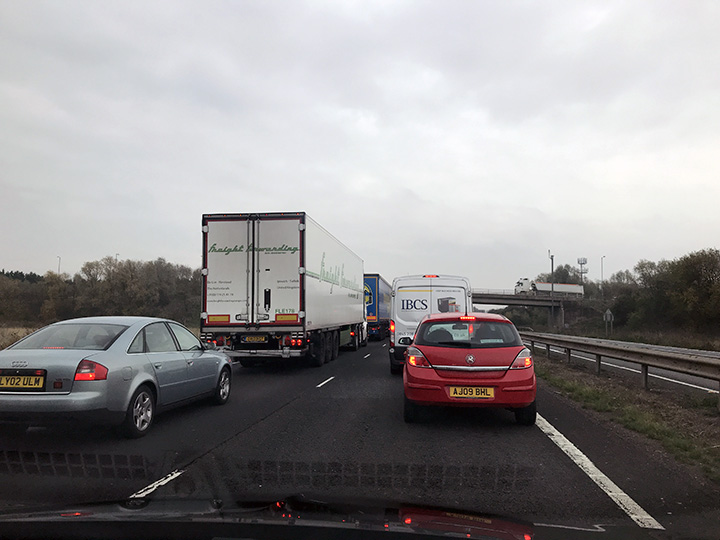 On the road again where traffic is backed up at yet another congested roundabout or construction zone somewhere up ahead. Traffic on the British highway system is turning out to be the only un-fun part of the trip.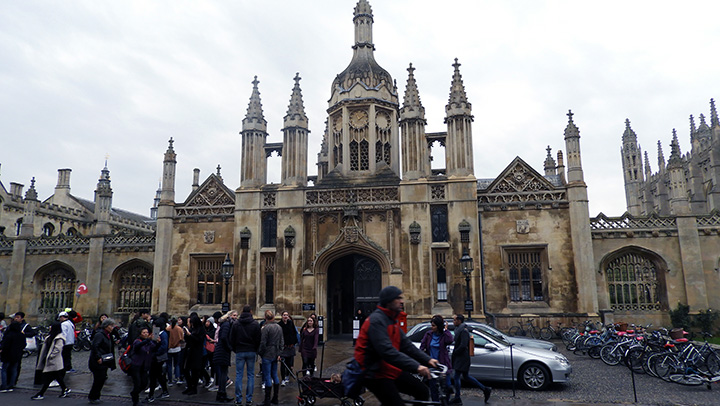 Patience, Bill. Now we're in Cambridge.
And there's our free local student guide, Yan, a graduate student at Girton College which, she said, is one of 31 colleges forming Cambridge University. But this website says there are 29. I think I believe Yan.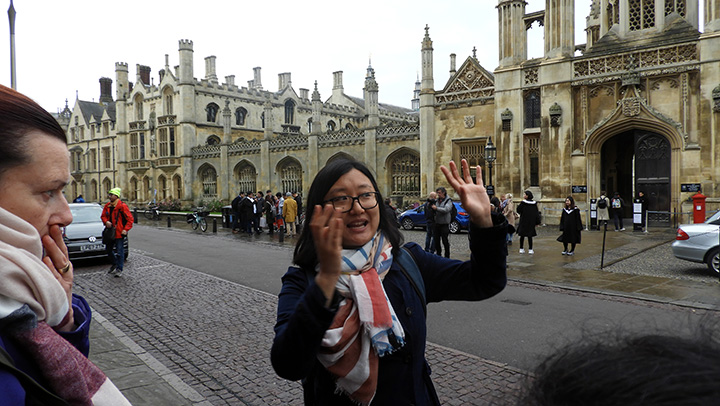 Now we are about to walk around and see a few of the colleges — from the outside. Maybe we should have found a tour more expensive than "free" so we could go inside some of these places? Whatever, Yan has a great tourguide speaking voice, strong enough for everyone to hear, she's enthusiastic, she knows her stuff...this will be good.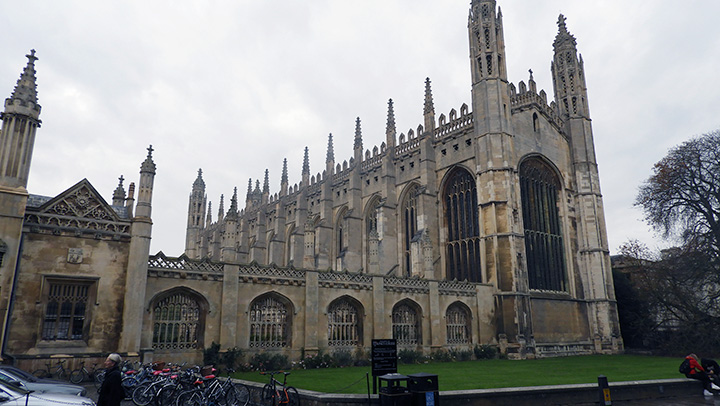 That's King's College Chapel. We'll see it around from the other side in a little while. Yan has explained that we should think of all the colleges at Cambridge the way we think of the four houses in the Harry Potter stories --Gryffindor, Slytherin, etc. But...we won't be seeing the inside of any of them on this tour. You get what you pay for, I guess.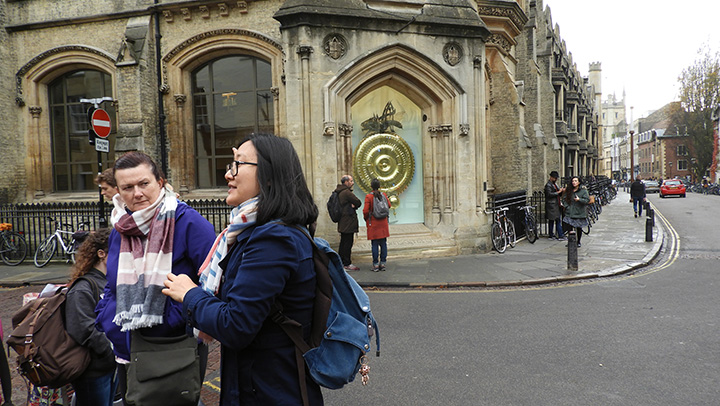 What's that odd disk back there?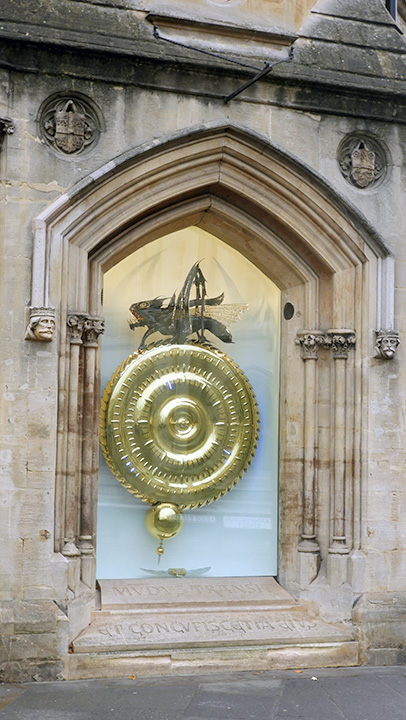 It's the Corpus Clock and it sits at street level on the outside of the Taylor Library at Corpus Christi College at the junction of Bene't Street and Trumpington Street, looking out over King's Parade. It was conceived and funded by John C. Taylor, an old member of the college who made a fortune by inventing the electric tea kettle. Yes, really. The clock was officially unveiled to the public on 19 September 2008 by Cambridge physicist Stephen Hawking. The clock was named one of Time's Best Inventions of 2008.
The clock's face is a rippling 24-carat gold-plated stainless steel disc, about 1.5 metres (4.9 ft) in diameter. It has no hands or numerals, but displays the time by opening individual slits in the clock face backlit with blue LEDs; these slits are arranged in three concentric rings displaying hours, minutes, and seconds. The dominating visual feature of the clock is a grim-looking metal sculpture of an insectoid creature similar to a grasshopper or locust. The sculpture is actually the clock's escapement (see below). Taylor calls this beast the Chronophage (literally "time eater", from the Greek χρόνος [chronos] time, and εφάγον [ephagon] I ate). It moves its mouth, appearing to "eat up" the seconds as they pass, and occasionally it "blinks" in seeming satisfaction. The creature's constant motion produces an eerie grinding sound that suits its task. The hour is tolled by the sound of a chain clanking into a small wooden coffin hidden in the back of the clock.

The Chronophage is affectionately known by students variously as "Rosalind", a name coined by the college's Prælector, or "Hopsy". Below the clock is an inscription from the Vulgate 1 John 2:17: mundus transit et concupiscentia eius ("the world passeth away, and the lust thereof"). The clock is entirely accurate only once every five minutes. The rest of the time, the pendulum may seem to catch or stop, and the lights may lag or, then, race to get ahead. According to Taylor, this erratic motion reflects life's "irregularity". Conceived as a work of public art, the Chronophage reminds viewers in a dramatic way of the inevitable passing of time. Taylor deliberately designed it to be "terrifying": "Basically I view time as not on your side. He'll eat up every minute of your life, and as soon as one has gone he's salivating for the next." Others have described it as "hypnotically beautiful and deeply disturbing."
See? It's eating up time.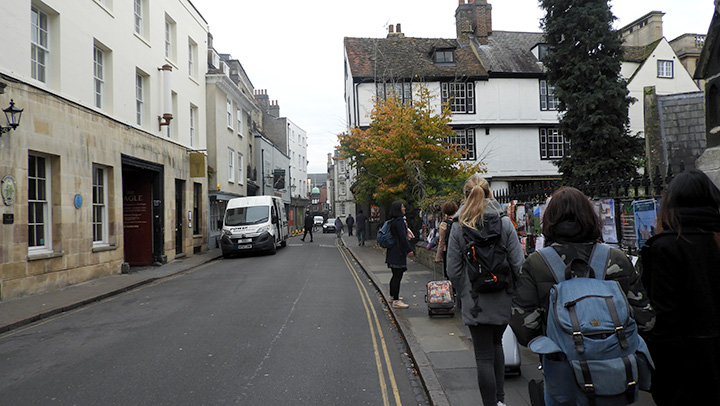 Let's go have a look around.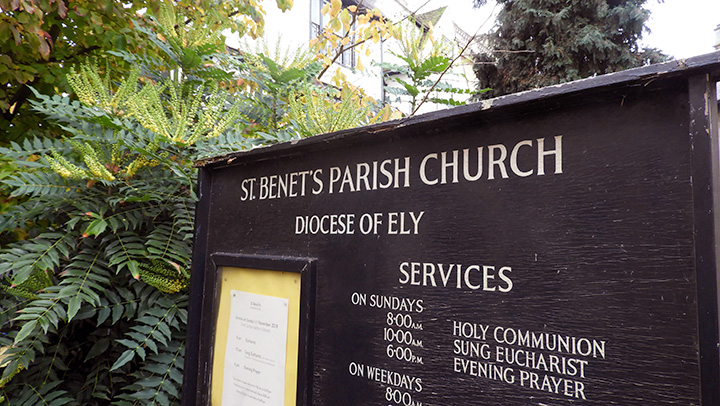 The sign clearly states this is "St. Benet's Parish Church," but that's not exactly how it's spelled on the internet.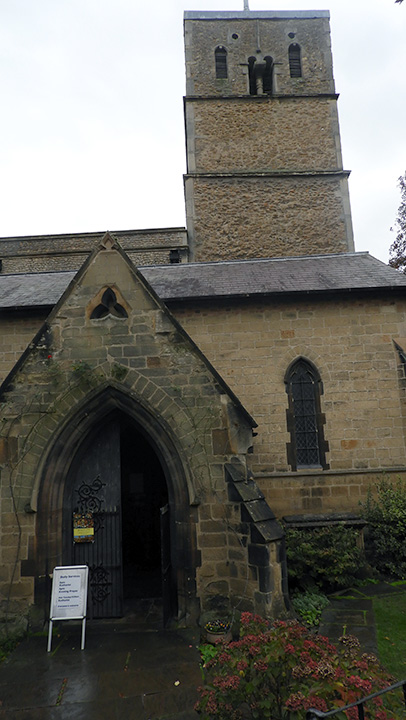 St Bene't's Church is a Church of England parish church in central Cambridge, England. Parts of the church, most notably the tower, are Anglo-Saxon, and it is the oldest church in Cambridgeshire as well as the oldest building in Cambridge. "Bene't" is an attempt to reconcile the Anglo-Norman name Benet with the Latin (and modern English) form of the saint's name Benedict. Latin documents from the thirteenth and fourteenth century refer to "ecclesie sancti Benedicti" while a contract (in English) of 6 June 1452 for a new roof referred to the "cherche of seynt Bennettys". Lyne's map of Cambridge of 1574 shows "Benett Ch" while Loggan's map of 1688 shows "St Bennetts Church". In the nineteenth century the church was variously referred to as being of "St Benedict", "St Benet" or "St Bene't". Modern usage is either "St Benet" or "St Bene't".
This is Cavendish Laboratory, which is the Department of Physics at the University of Cambridge, and is part of the School of Physical Sciences. The laboratory was opened in 1874 on the New Museums Site as a laboratory for experimental physics. The laboratory moved to its present site in West Cambridge in 1974. As of 2011, 29 Cavendish researchers have won Nobel Prizes. In fact, it was right inside here where Watson and Crick discovered the structure of DNA.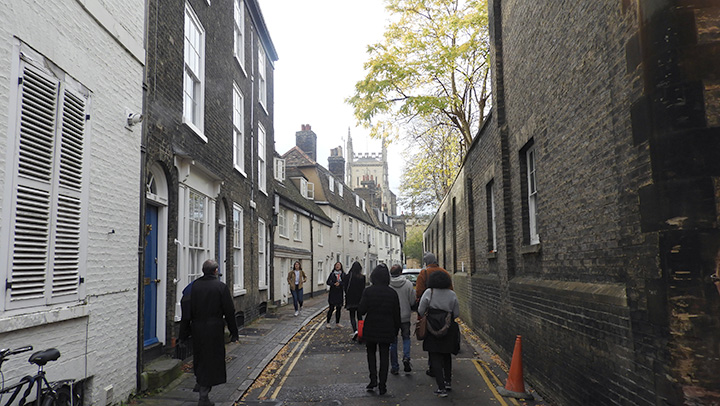 Keep moving; there's more to see.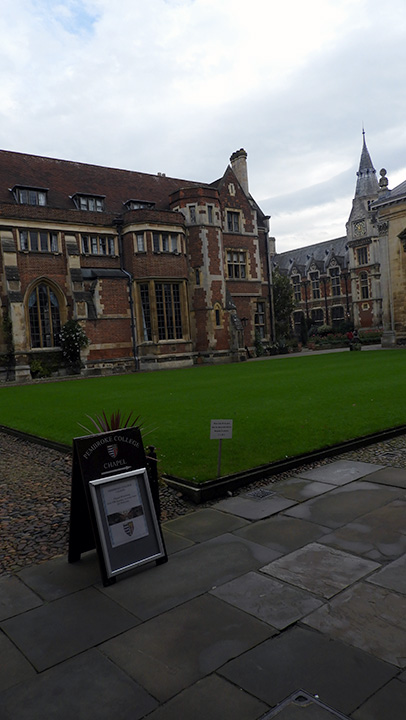 Pembroke College is the third-oldest college of the university and has over seven hundred students and fellows. Physically, it is one of the university's larger colleges, with buildings from almost every century since its founding, as well as extensive gardens. Pembroke is home to the first chapel designed by Sir Christopher Wren and is one of the six Cambridge colleges to have educated a British prime minister, in Pembroke's case William Pitt the Younger. The college library, with a Victorian neo-gothic clock tower, is endowed with an original copy of the first encyclopedia to contain printed diagrams. Impressive, right?

Only upperclassmen can walk on the grass. Well, that's what Yan said.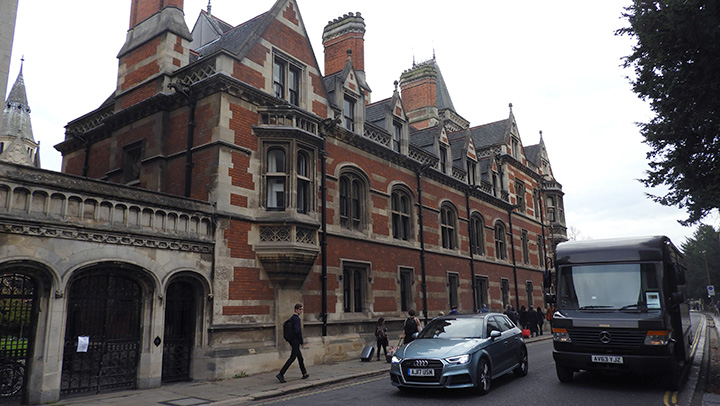 C'mon, more to see.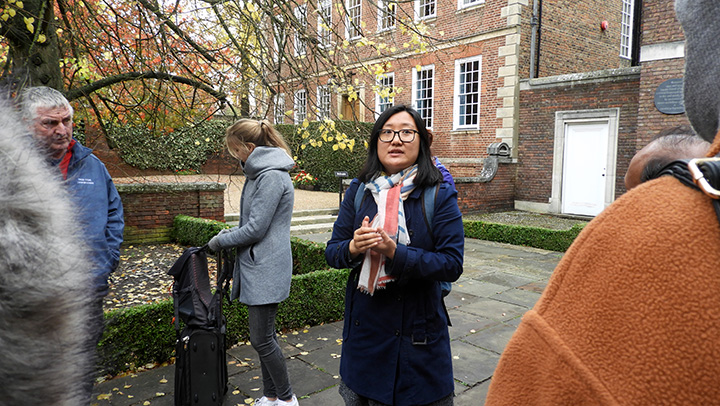 Yan is a very good tour guide, but as a student at Cambridge herself, her comments seem more geared to the student way of life than to plain old facts about the University. For instance, she was very excited that Pembroke College was the first in Cambridge to offer sushi in the dining hall.
I enjoyed her presentation no matter what odd story she was telling.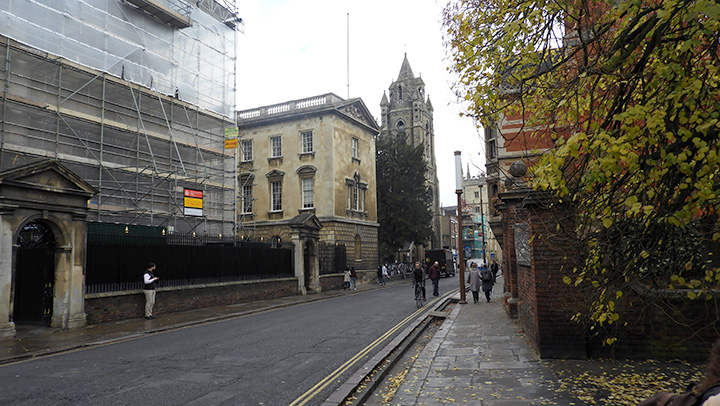 This picture is included to remind me of a problem I had when I was putting this website together. I was going crazy while using Google Maps Street View to try to re-trace our tour. No matter where I looked I couldn't find the spot where I took this picture, where Yan had stopped to tell us stories. Well, it turns out this is a pedestrian street which is not shown in Google Maps Street View. The best Google Maps can offer is one 360 degree photo taken from near this spot. Look here. See? It's the same area, but you can't navigate away from it using the street view arrows. It took me entirely too long to figure this out...but I finally found my way and now I've got this paragraph to remind me of the effort. Yay. <pats self on back>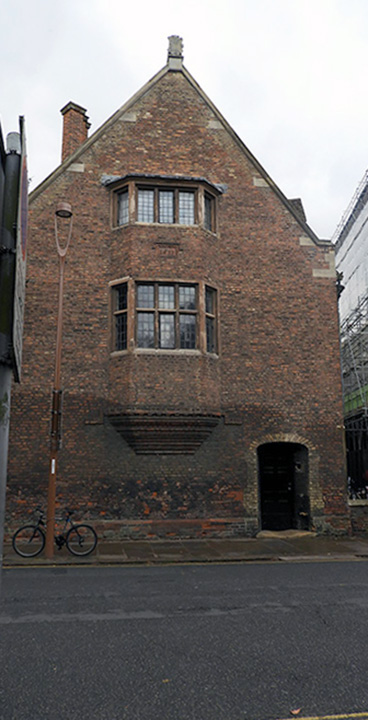 Yan explained that this old building across the street is part of a very old, very posh college called Peterhouse. What we're seeing is a small part of a much larger building that dates back to the 13th century. Yan told several tales about how snobbish the place is, like how if the police want to talk to a student member, they have to ask permission before they can go inside.
Peterhouse is one of the wealthiest colleges in Cambridge, with assets exceeding £320 million. It is considered one of the most traditional Cambridge colleges and is one of the few colleges that still seeks to insist that its members attend communal dinners, known as "Hall". Hall takes place in two sittings, with the second known as "Formal Hall", which consists of a three-course candlelit meal and which must be attended wearing gowns. At Formal Hall, the students rise as the fellows proceed in, a gong is rung, and two Latin graces are read.
She even told of how they perform exorcisms there. I dunno about Peterhouse.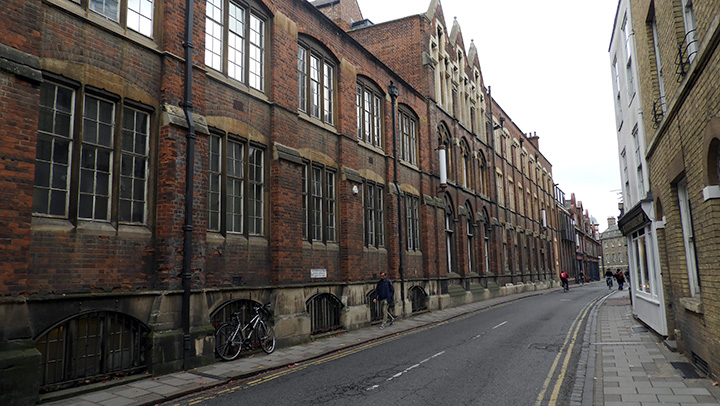 Keep moving.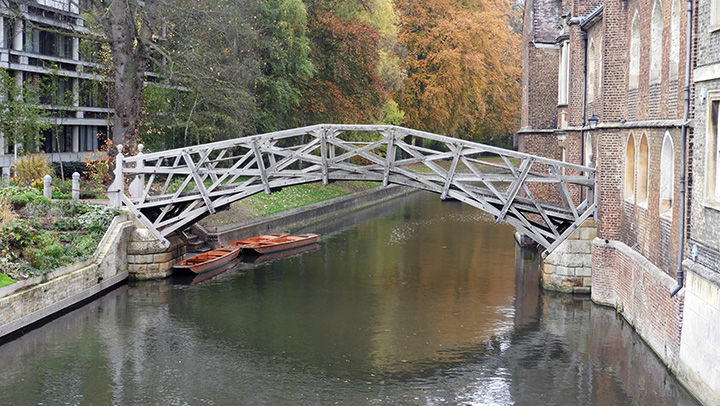 That's the Mathematical Bridge. Legend has it that it was built by Sir Isaac Newton when he was a lecturer at Cambridge. He wanted to show that he could devise an arched bridge across the River Cam from building materials that had only straight lines. So he put this thing together perfectly, using no nails, and it held. Then some unnamed students decided to show how smart they were, and they disassembled the bridge. But they were unable to put it back together again as Newton had done. So in the dead of night, they rebuilt it using nails, and there it stands today.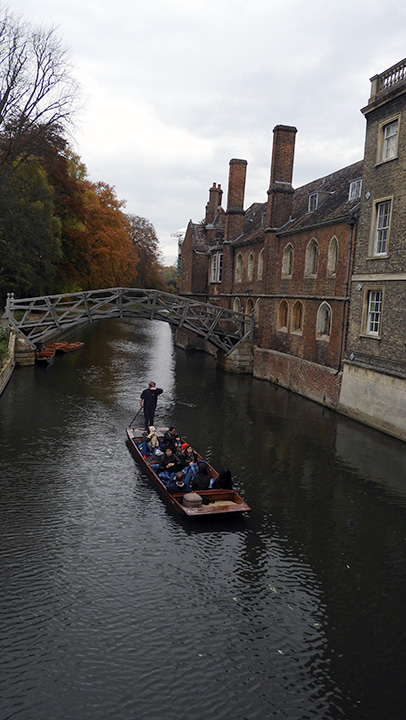 Some people say that's just a tall tale made up by a punter, which is likely the case because Newton wasn't even here when the bridge was built. Good story, though.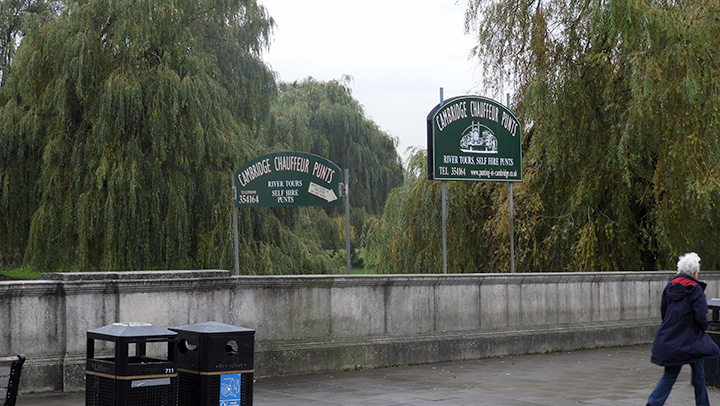 Speaking of punters, Yan kept using the term and I finally had to ask her what she meant by it because I was aware of at least two definitions -- one that's derogatory and the other that simply means a boatman. Turns out she was talking about boatmen.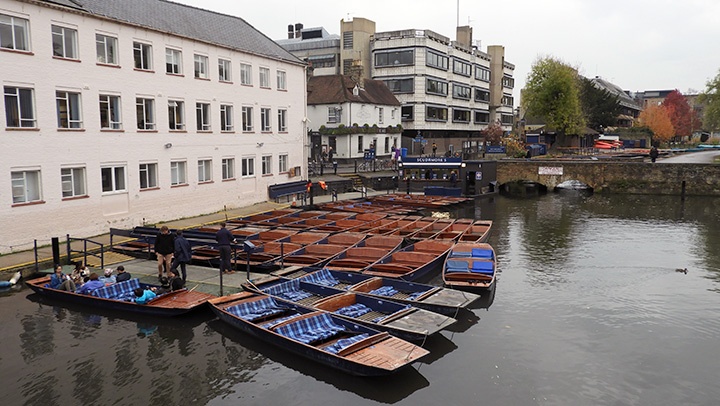 Apparently getting a punter to pole you around town is a big deal in Cambridge.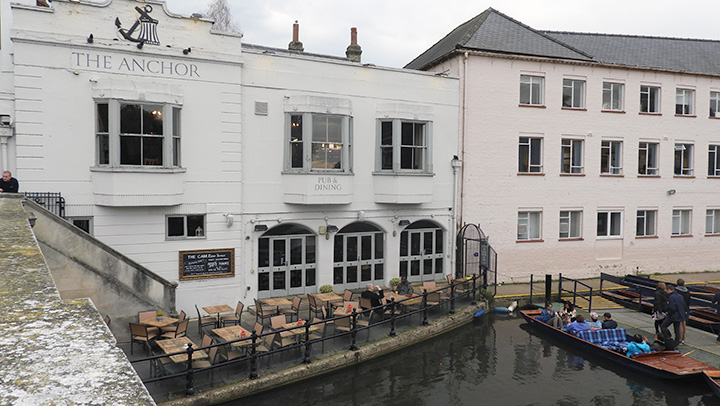 See? Tourists in boats all around.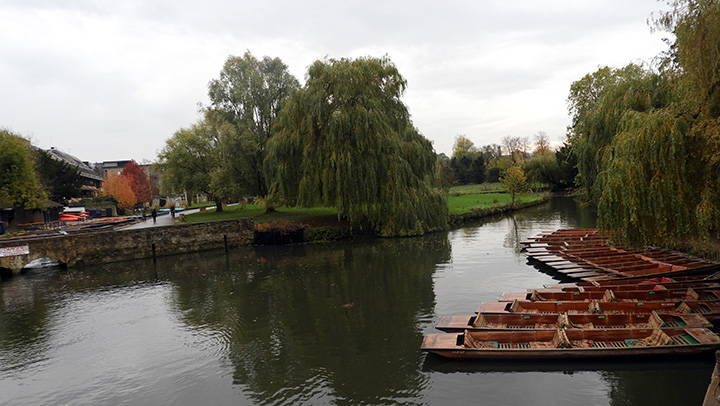 Though maybe not so many in November as there are in the summer.
Yan had a major point to make about Queens' College: if you're going to write about it -- or especially if you're going to apply for admission -- you'd better put the apostrophe in the right place. See, Queens' College was founded in 1448 by Margaret of Anjou and refounded in 1465 by the rival queen Elizabeth Woodville. This dual foundation is reflected in its orthography: Queens', not Queen's, although the full name is "The Queen's College of St Margaret and St Bernard, commonly called Queens' College, in the University of Cambridge".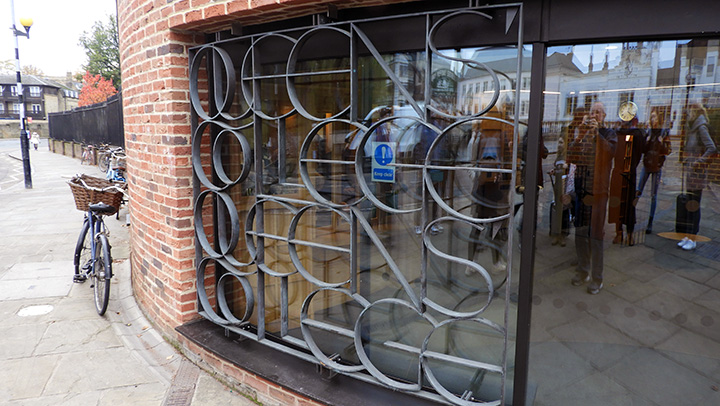 Queens' is one of the oldest and the largest colleges of the university, and has some of the most recognizable buildings in Cambridge. The college spans both sides of the river Cam, colloquially referred to as the "light side" and the "dark side", with the Mathematical Bridge connecting the two.
I like the fancy ironwork sign. And look: that's a reflection of me taking this picture!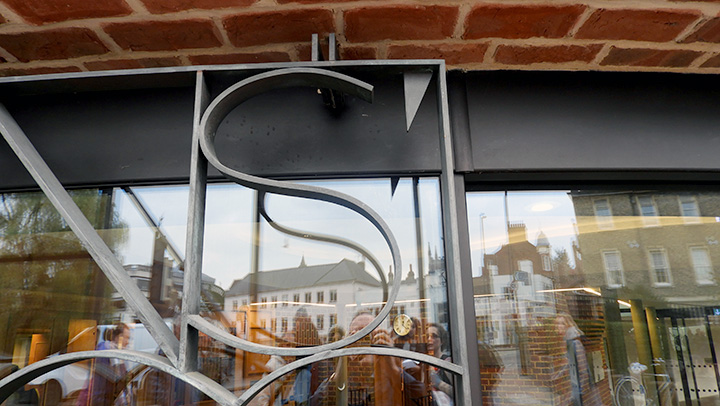 I wanted to show the apostrophe is in the right place.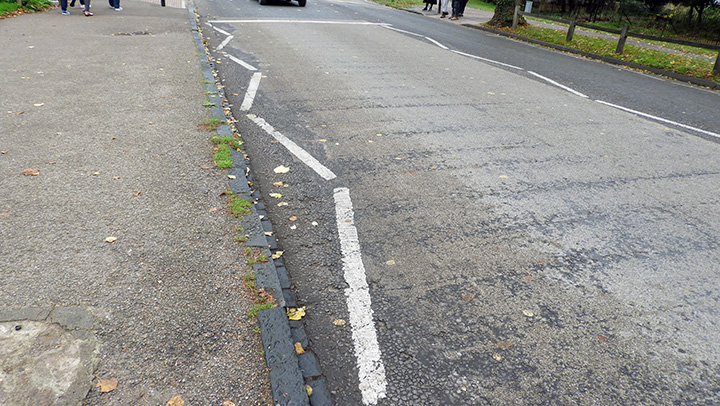 I know two American tourists who were puzzled by the broken/crooked lines on the road they kept seeing everywhere they went. So right about now...standing beside the Queens' College sign...Bill asked Yan about them. Guess what? She didn't know either.
So I Googled and learned they mean "no parking." Google knows everything.
Do you remember when we started today's tour I said we'd see King's College Chapel again from the back side? Well, there it is again. From over here it's hard to imagine the other end faces a city street.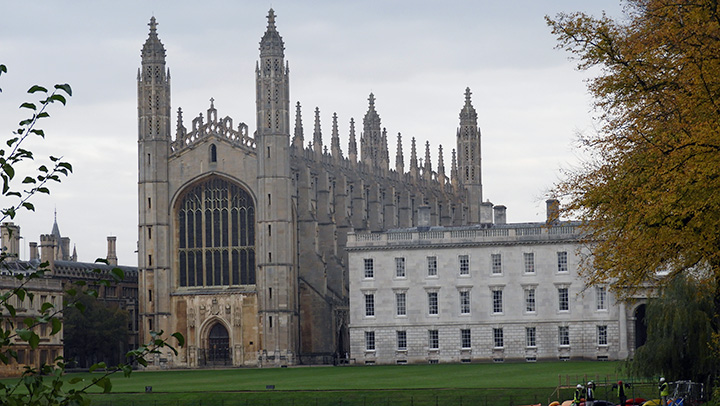 King's College was founded in 1441 by Henry VI, soon after he had founded its sister college in Eton. However, the King's plans for the college were disrupted by the Wars of the Roses and resultant scarcity of funds, and his eventual deposition. Little progress was made on the project until in 1508 Henry VII began to take an interest in the college, most likely as a political move to legitimise his new position. The building of the college's chapel, begun in 1446, was finally finished in 1544 during the reign of Henry VIII.

King's College Chapel, Cambridge is regarded as one of the greatest examples of late Gothic English architecture. It has the world's largest fan vault, and the chapel's stained-glass windows and wooden chancel screen are considered some of the finest from their era. The building is seen as emblematic of Cambridge. The chapel's choir, composed of male students at King's and choristers from the nearby King's College School, is one of the most accomplished and renowned in the world. Every year on Christmas Eve the Festival of Nine Lessons and Carols (a service devised specifically for King's by college dean Eric Milner-White) is broadcast from the chapel to millions of listeners worldwide.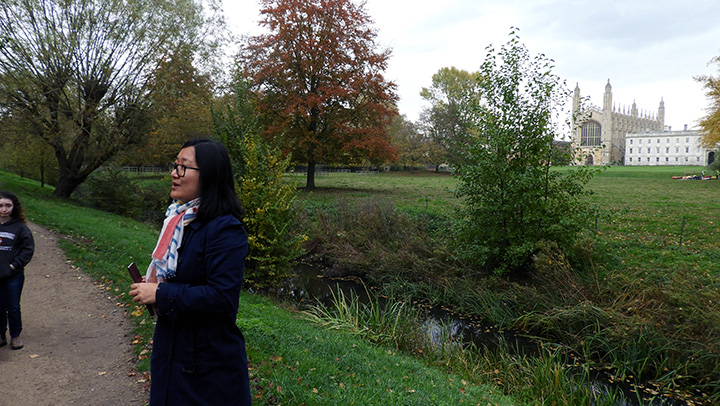 Yan tells us all about it.
It's a pretty impressive structure. Sure wish we'd had time to see inside.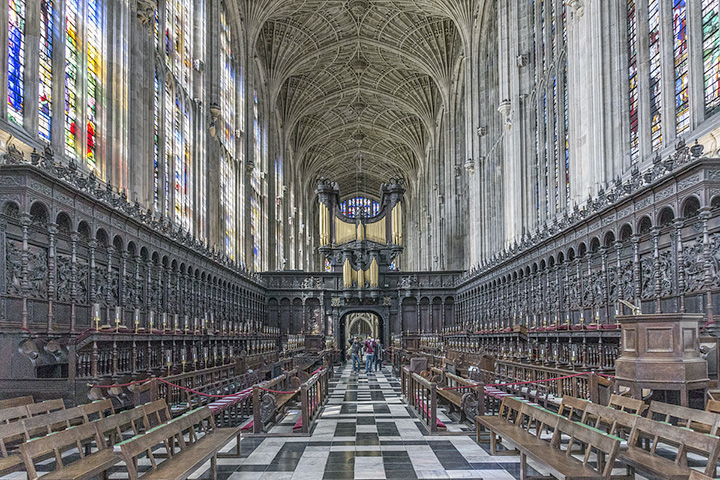 Because this is what we would have seen if we'd paid to enter, which we didn't, so I had to grab this picture off the internet. Maybe we should have taken a tour that wasn't free.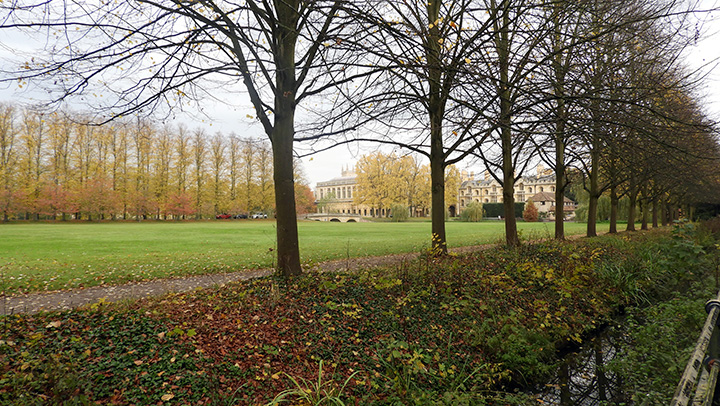 Whatever, the outside view is nice.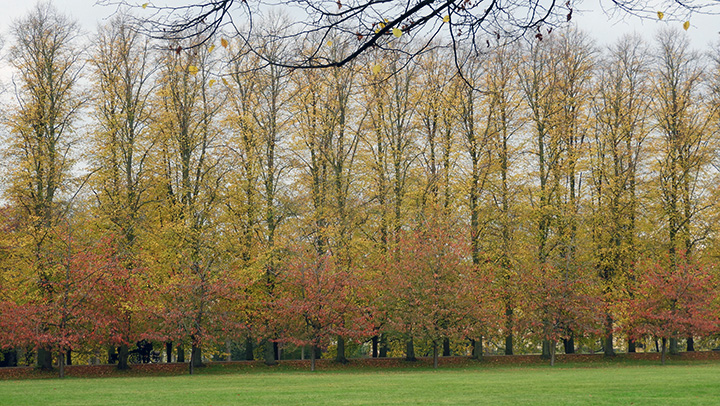 With plenty of fall colors, who cares about stained glass and vaulted ceilings? Who?
Keep walking.
Hey look, it's a punter! They say the trick is not to get your pole stuck in the mud. They also say it's important not to fall in. Apparently the River Cam is not exactly clean and when undergraduates unwisely decide to take a plunge they often end up in the infirmary the following day.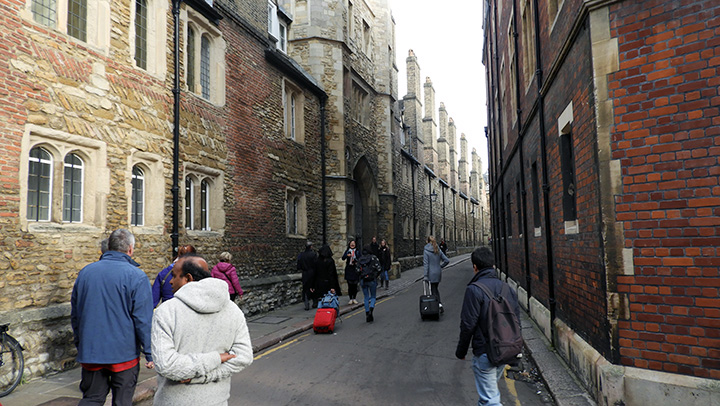 Keep moving, everybody.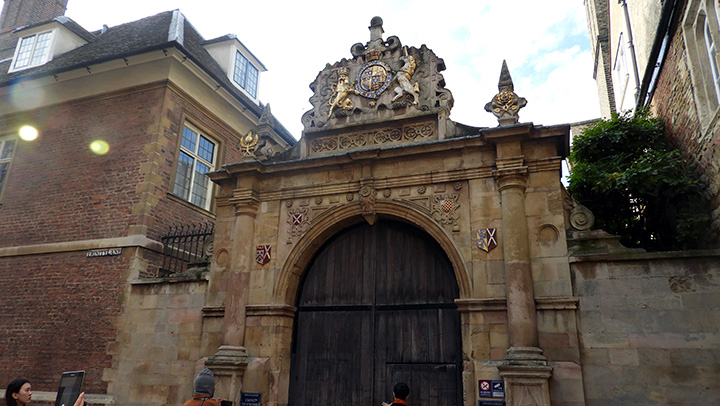 Now we've arrived at Trinity College. With around 600 undergraduates, 300 graduates, and over 180 fellows, it is the largest college in either of the Oxbridge universities by number of undergraduates. In terms of total student numbers, it is second only to Homerton College, Cambridge. Members of Trinity have won 33 Nobel Prizes -- out of the 116 won by members of Cambridge University, the highest number of any college at either Oxford or Cambridge. Five Fields Medals in mathematics were won by members of the college (of the six awarded to members of British universities) and one Abel Prize was won. Trinity alumni include six British prime ministers (all Tory or Whig/Liberal), physicists Isaac Newton, James Clerk Maxwell, Ernest Rutherford and Niels Bohr, mathematician Srinivasa Ramanujan, the poet Lord Byron, philosophers Ludwig Wittgenstein and Bertrand Russell (whom it expelled before reaccepting), and Soviet spies Kim Philby, Guy Burgess, and Anthony Blunt.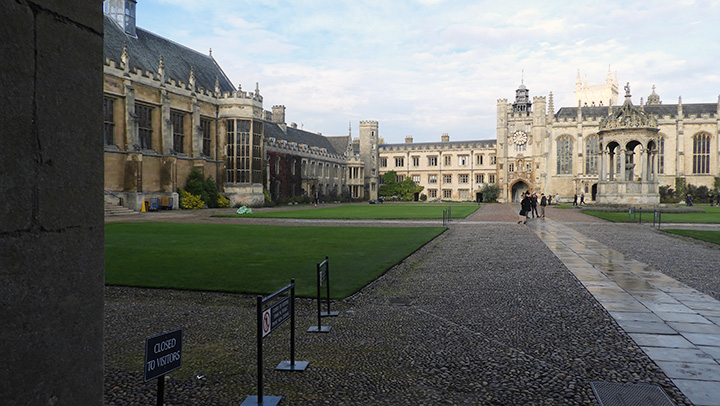 We couldn't go in for free, but we did hang around outside one of the gates and take pictures while Yan talked.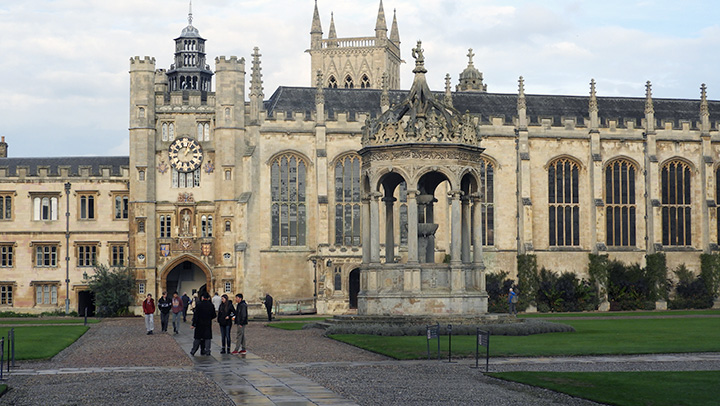 Yan said that class — meaning one's station in life — is still very important at Cambridge. Some students even have their own servants to take care of them. And apparently everybody looks down their noses at everybody else. I probably wouldn't fit in here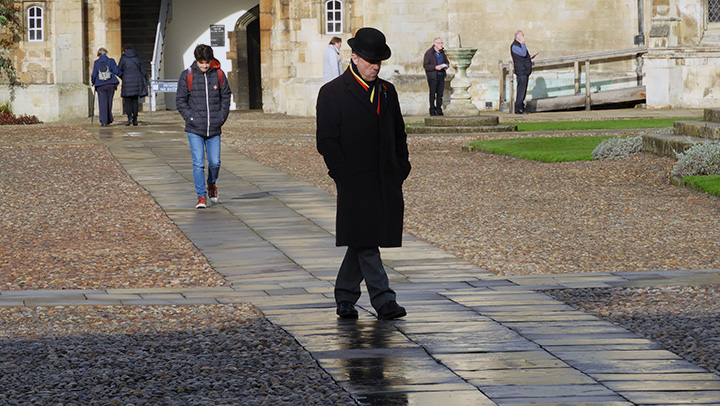 This guy was patrolling the grounds. Nobody was walking on the grass.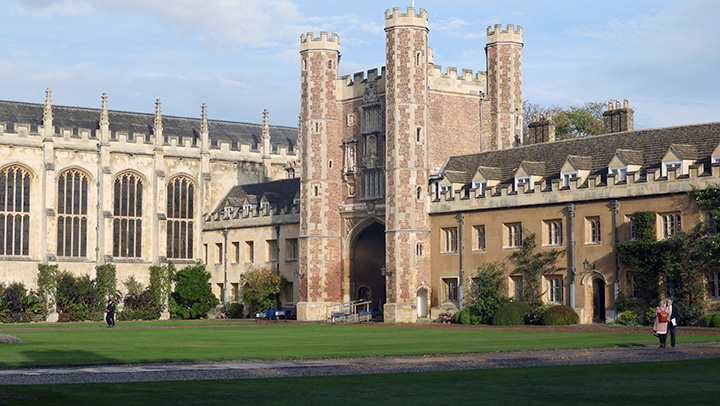 It's a pretty impressive school.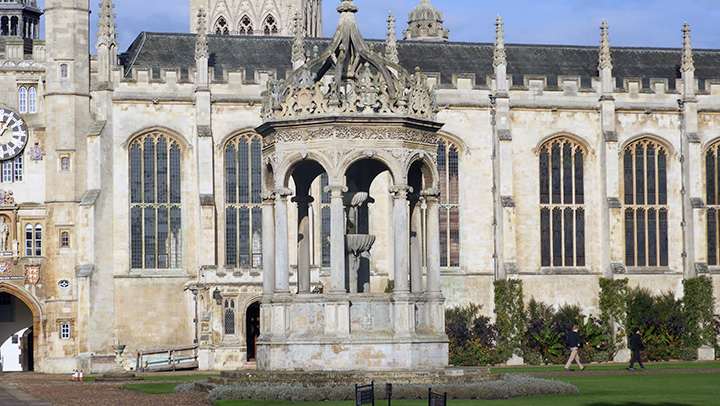 Kinda what you picture when you think of Cambridge, England.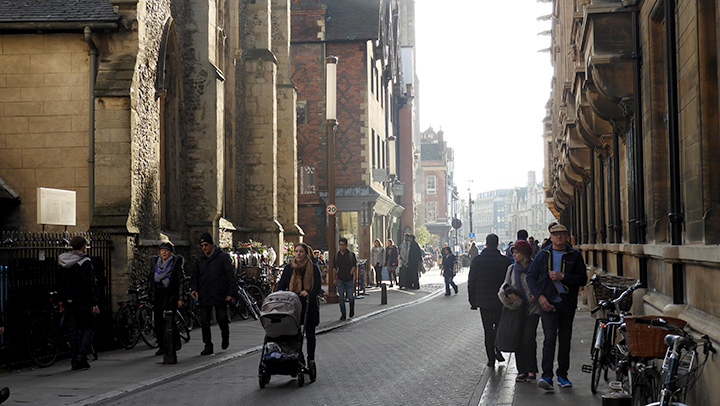 C'mon everybody, seriously, keep moving.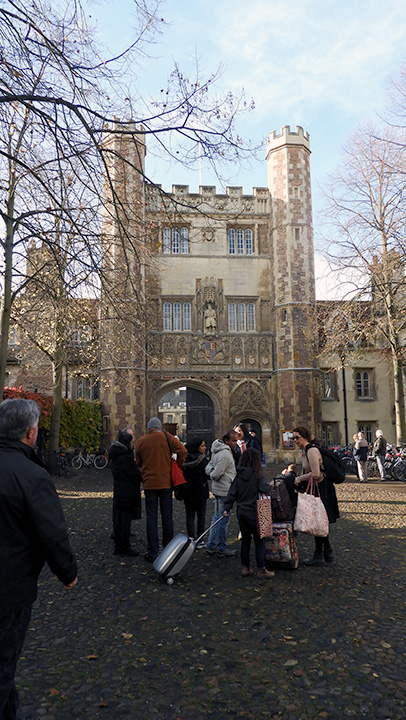 The Trinity College Great Gate is the main entrance to the college, leading to the Great Court. A statue of the college founder, Henry VIII, stands in a niche above the doorway. (Yan kept calling him Harry the 8th.) In his right hand he holds a chair leg instead of the original sword and myths abound as to how the switch was carried out and by whom. In 1704, the University's first astronomical observatory was built on top of the gatehouse. Beneath the founder's statue are the coats of arms of Edward III, the founder of King's Hall, and those of his five sons who survived to maturity, as well as William of Hatfield, whose shield is blank as he died as an infant, before being granted arms.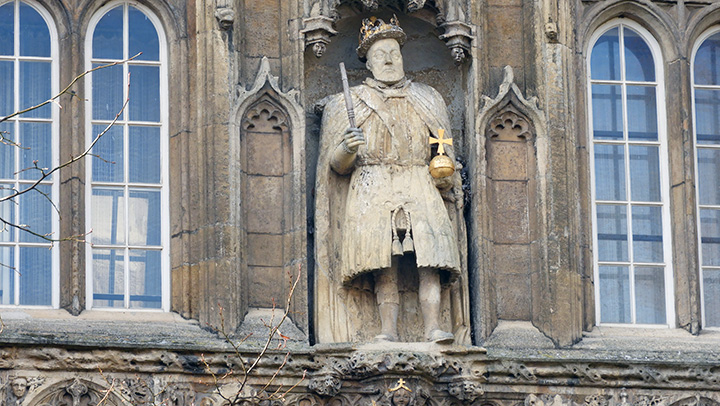 Wikipedia says "myths abound" about how Harry is holding the leg of a chair. No they don't. Yan gave us the inside true story, which is also easy to find on the internet.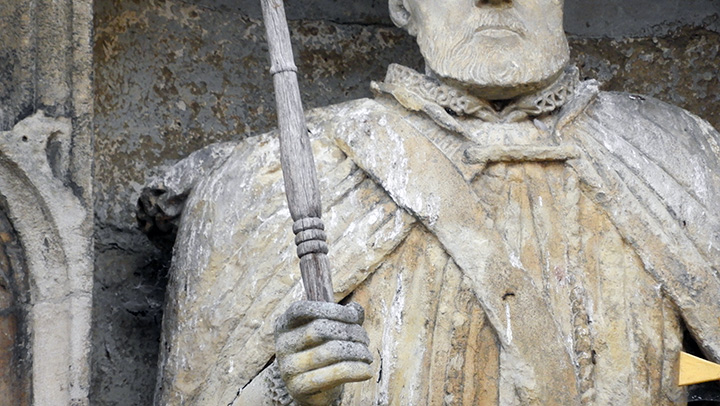 From Varsity in 2010:
Peter Binge, a retired employee of the Chesterton Window Cleaning Company, explained that he had been cleaning the windows of the Great Gate thirty or so years ago when he noticed that the statue of was missing something in its hand. He thought that the Cambridge Night Climbers, a shadowy group of students known for scrabbling up the University's buildings, must have removed whatever the statue had been holding many years earlier. He recalls, "So, just for a laugh, I said to my friend [who was holding the ladder]: 'hold on a minute, I'm going to go inside.'"
Mr Binge was a familiar face in College at the time and was friendly with the porters. "I went up the staircase and found an old broken chair which the bedders had put out on the landing. So, I took a leg off and leaned out the window with my friend holding onto me and plonked it in the hand. "I thought to myself: 'that looks a treat,' but I didn't think anything more about it," he remembers. Mr. Binge's role in the plant has never been a particularly well-kept secret. He was profiled in a 1988 edition of the Cambridge Daily News and and likes retelling his story to friends and curious tourists as he passes Trinity.

He finds it "quite funny" that the leg hasn't been removed.
"I guess it was my famous five minutes," he says.

"Varsity is the independent student newspaper for the University of Cambridge."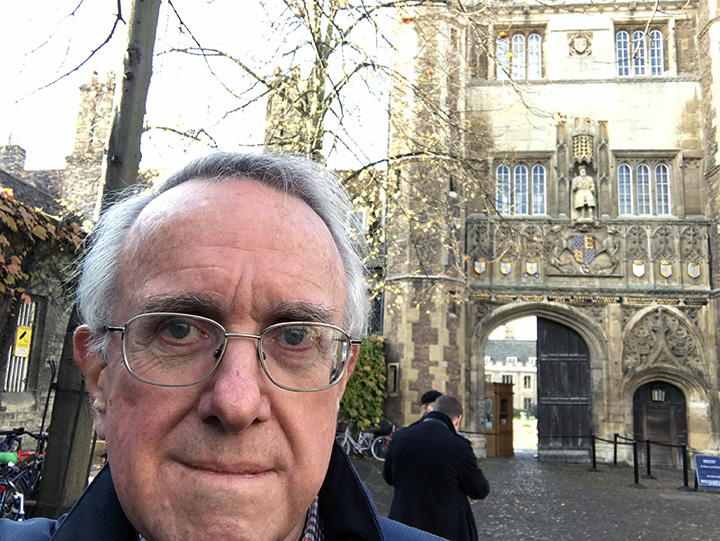 Bill agreed the whole thing was funny. And this was the end of the free tour. We gave Yan a nice tip.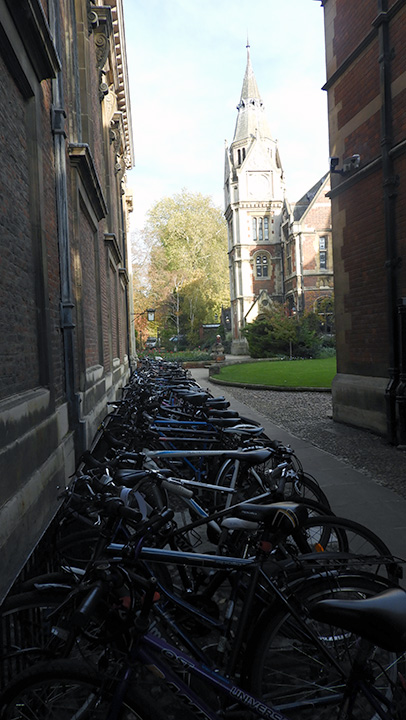 Lotsa bicycles in Cambridge. Go on, you try not running into some bicyclist while you're driving on the wrong side of the road. They're everywhere and you're never sure which direction they're coming from. You're gonna kill somebody, I just know it!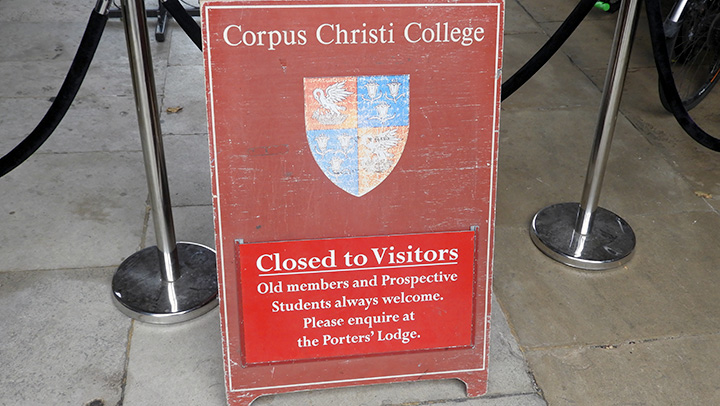 We're on our own now, and ... oh, look, another college.
We peeked through the gate at Corpus Christi College but we didn't tarry.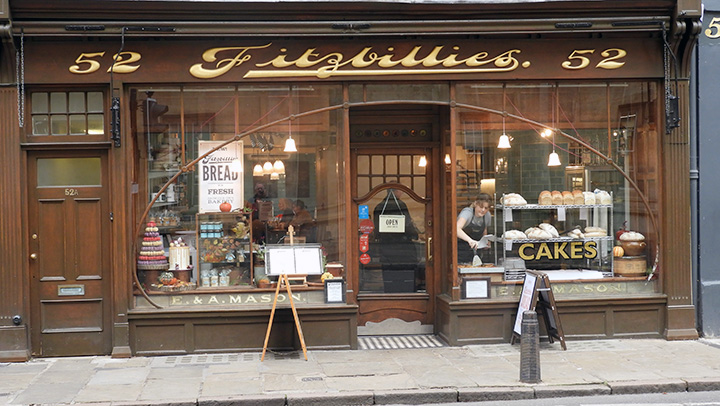 At this point, Fitzbillies looked more interesting.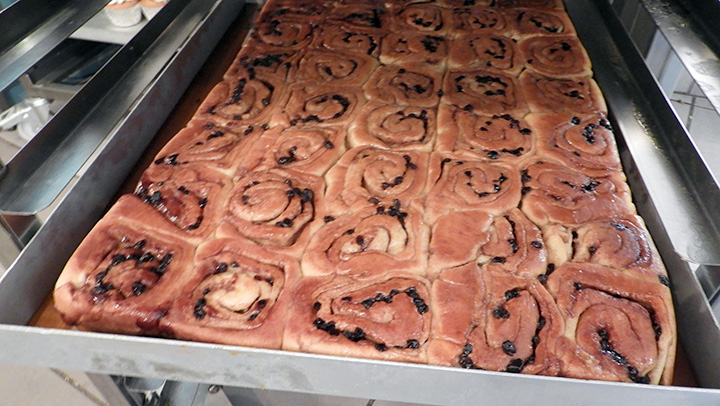 One of our guide books this morning had mentioned Fitzbillies, and it included a photo just like this one. We stocked up on cinnamon rolls for upcoming breakfasts. They were just as yummy as they look.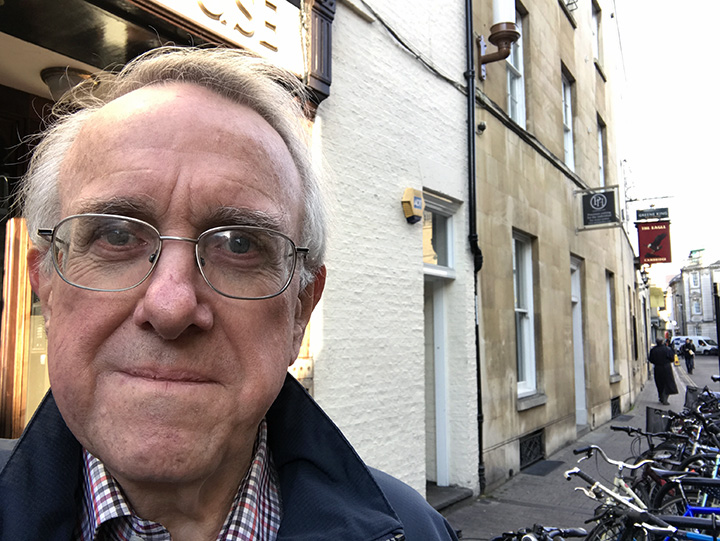 Now I'm hungry.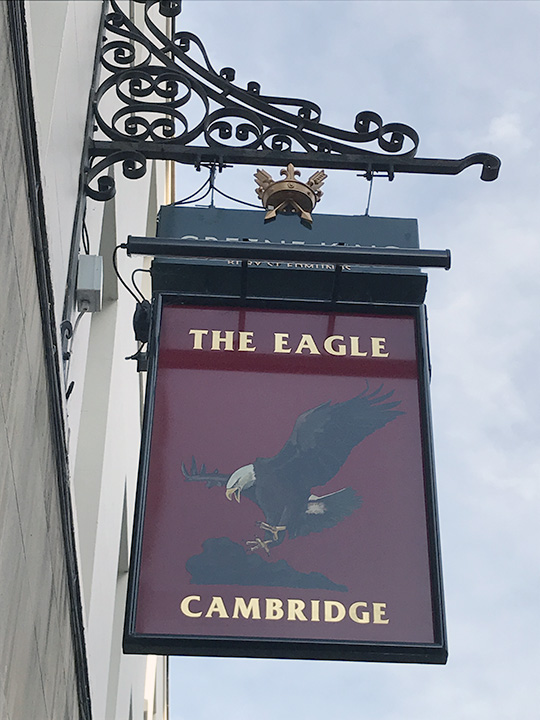 The Eagle is actually a famous pub in Cambridge.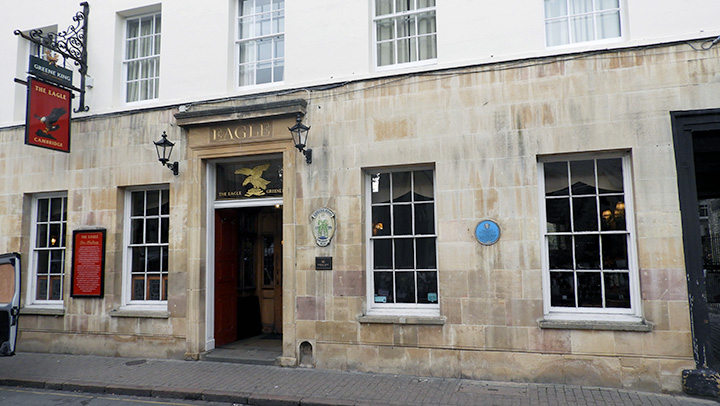 Doesn't look like much from the street.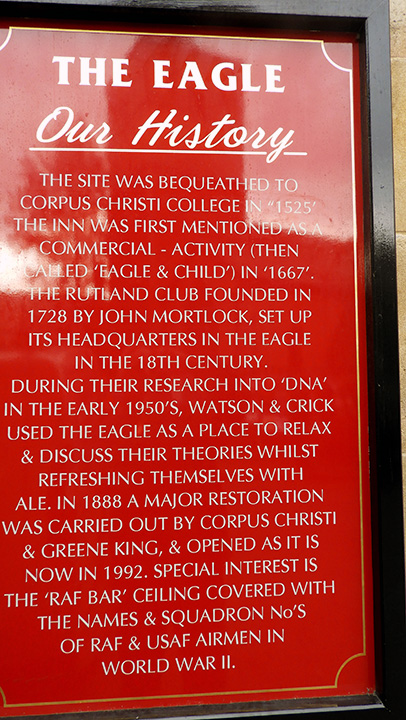 But it does have an interesting sign. In addition to the info on Watson and Crick and the WWII airmen, it says the place underwent a major restoration in 1888. Surely that should be 1988, right? Well, after a bit of Googling I have to say no...that in Cambridge renovations made in the 19th century are still contemporary.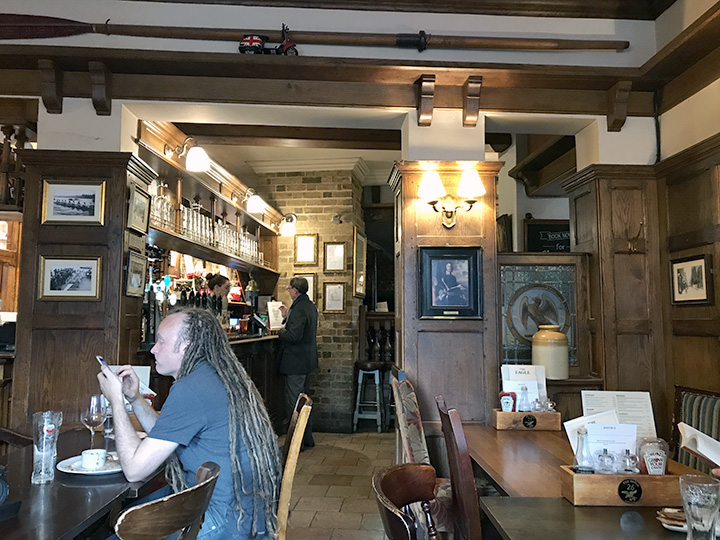 Whatever, it's nice inside. Don's over there ordering his lunch.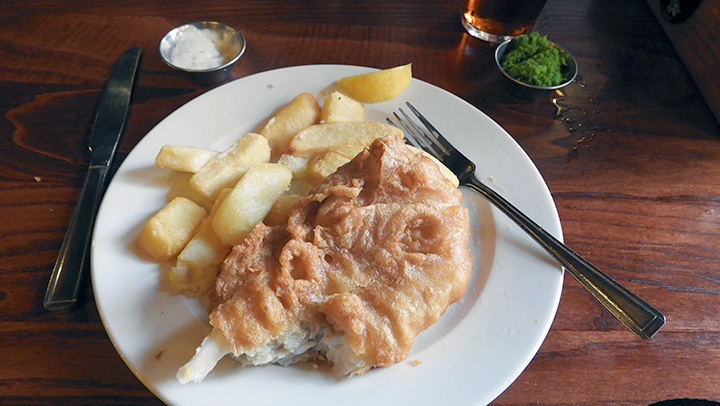 My lunch: fish and chips with tartar sauce and mashed up peas in little cups. Very British, apparently. The fish and chips were terrific. The peas were pretty much what you'd expect.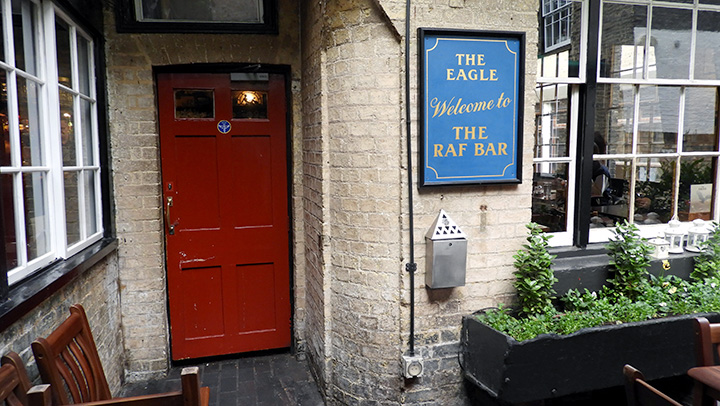 But to see the really interesting part of the pub you have to walk way back here in the back.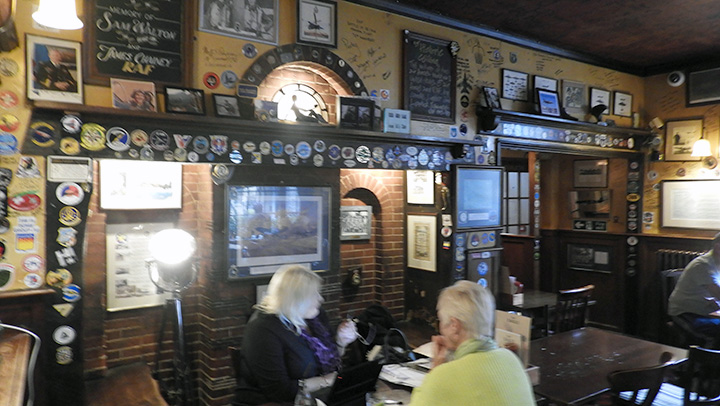 There's an old air base nearby, and the Eagle is where British and American airmen congregated after missions during WWII.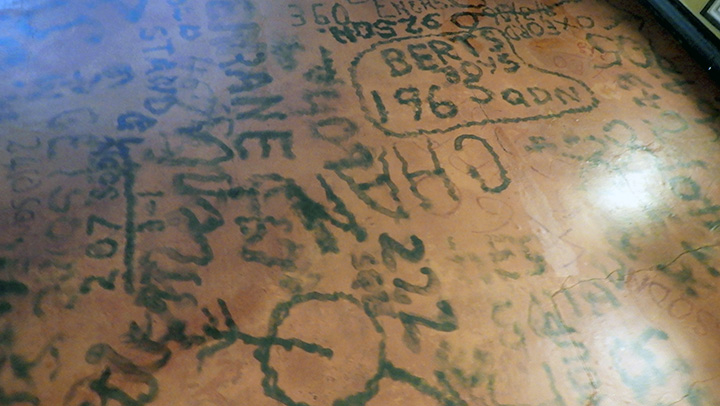 It seems that after a few pints the pilots and crewmen would climb onto each other's shoulders and -- using their Zippo lighters -- burn their names and details of their missions into the pub's ceiling.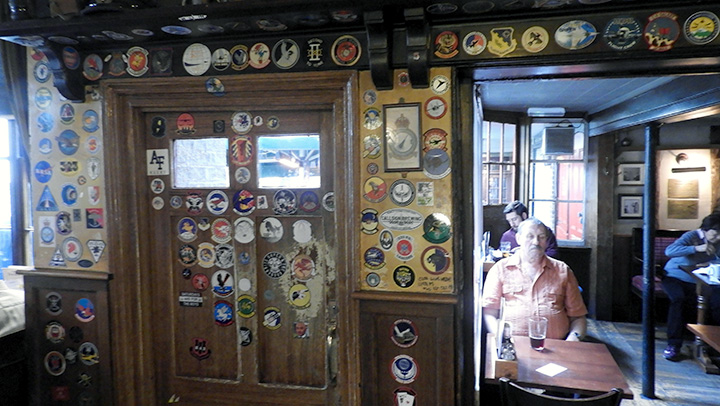 The pub and its ceiling have been famous ever since.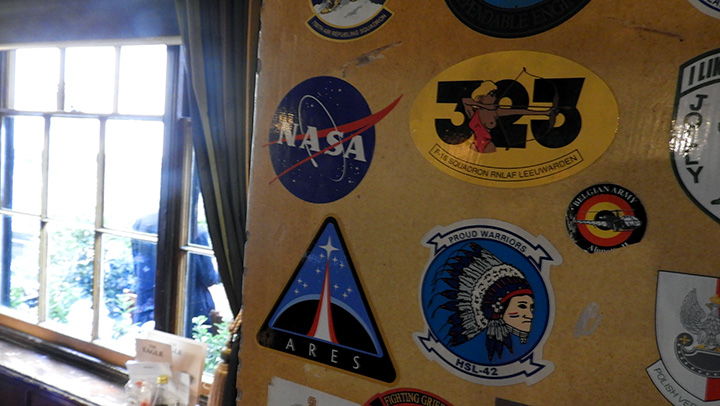 NASA!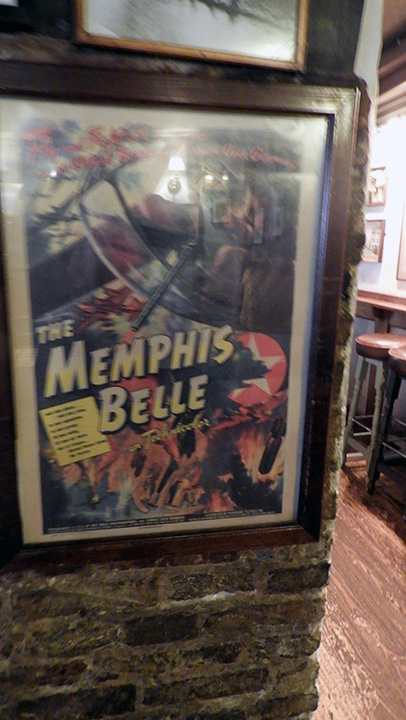 And Memphis!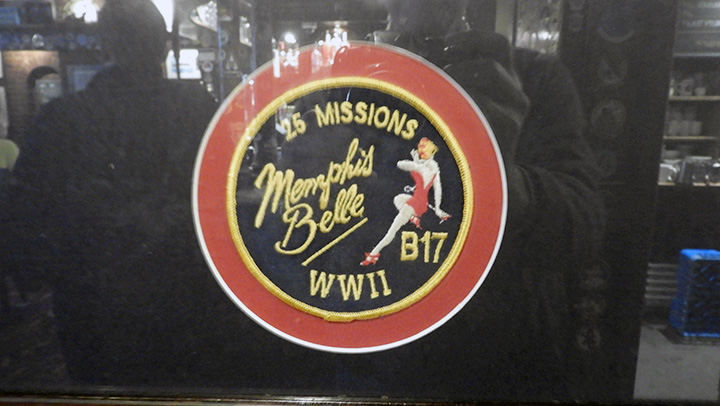 Yep, the crew of the Memphis Belle were here.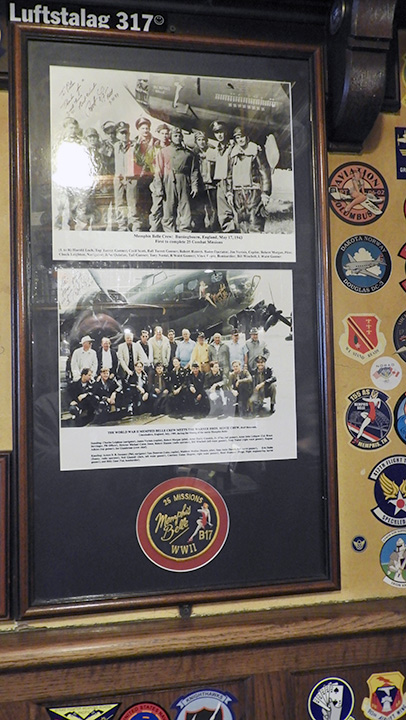 They even came back later.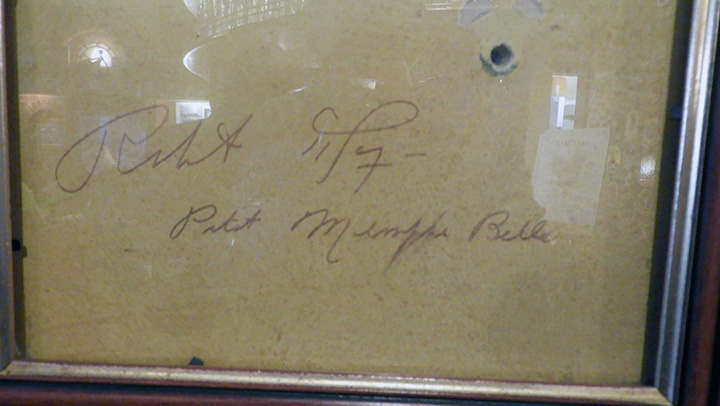 And signed their names.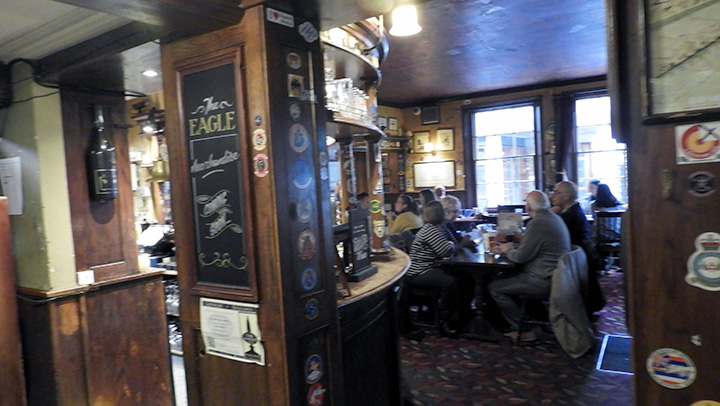 Good food, good times. Now let's go get cultured.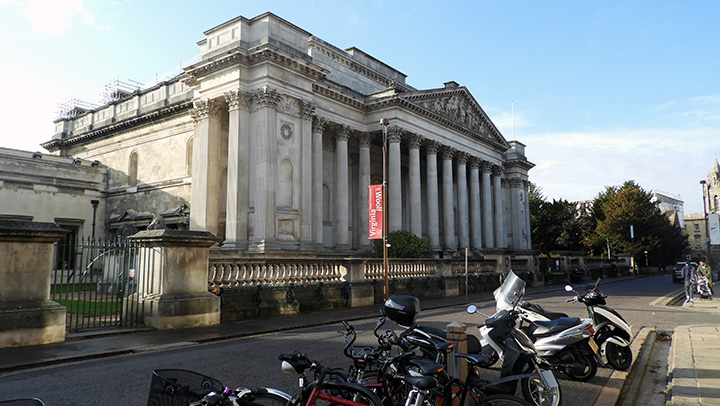 That's the Fitzwilliam Museum. Oh, I get it...Fitzbillies!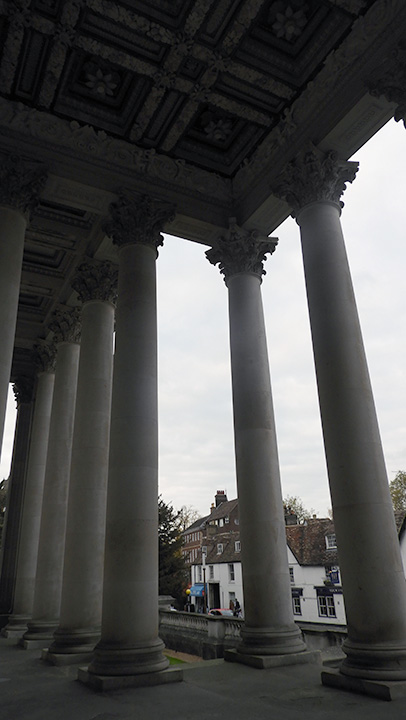 The museum was founded in 1816 with the legacy of the library and art collection of Richard FitzWilliam, 7th Viscount FitzWilliam. The bequest also included £100,000 "to cause to be erected a good substantial museum repository". The "Founder's Building" was designed by George Basevi, completed by C. R. Cockerell and opened in 1848; the entrance hall is by Edward Middleton Barry and was completed in 1875. The first stone of the new building was laid by Gilbert Ainslie in 1837. A further large bequest was made to the University in 1912 by Charles Brinsley Marlay, including a sum of £80,000 and a collection of 84 pictures. A two-storey extension, paid for partly by the Courtauld family, was added in 1931.
Nice ceiling in the entranceway.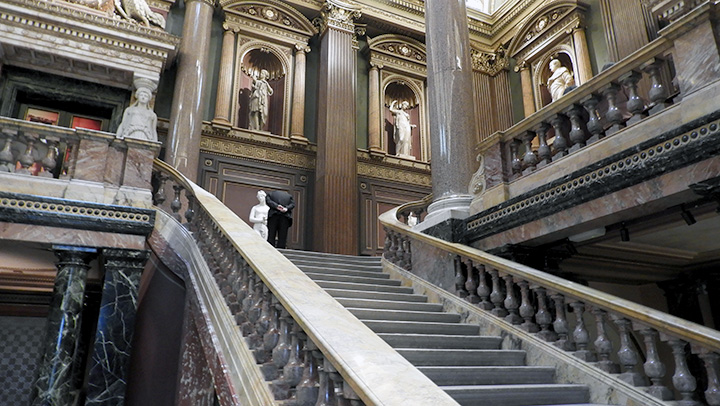 And a VERY nice foyer.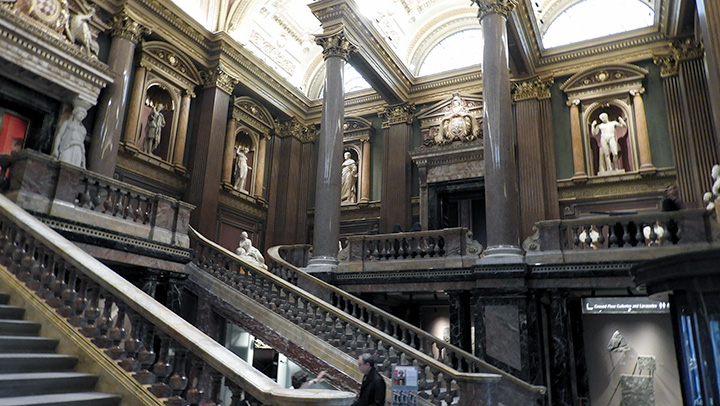 They did it up right.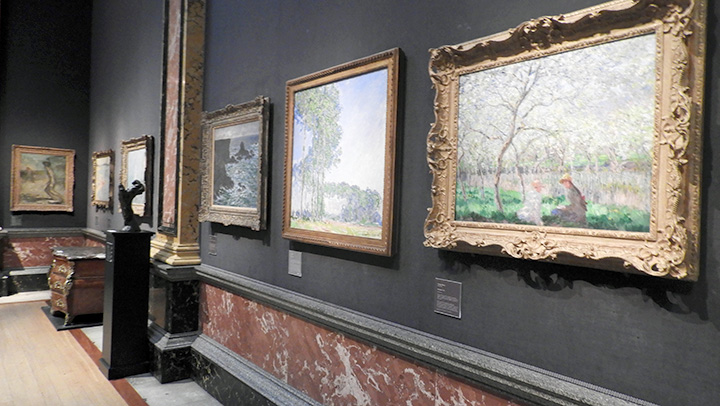 Impressionists! Everybody likes French impressionists.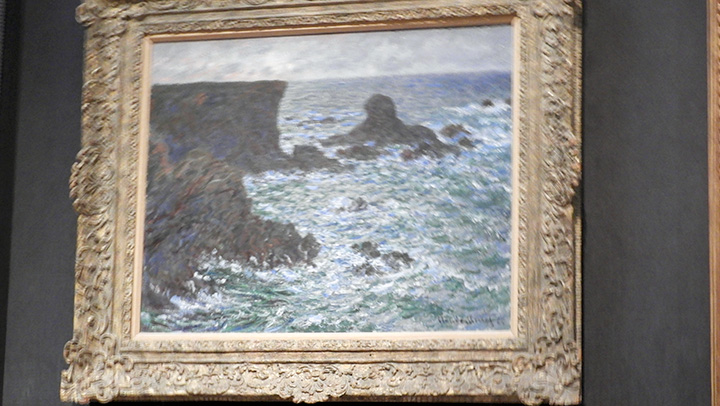 But I'd say not so much this particular piece by Claude Monet. To me, the way the horizon line joins with the flat surface of the cliff just makes it all look like a mistake, like somebody peeled all the paint off the top of the painting or something. If only M. Monet had had me around to offer criticism he might have made something of himself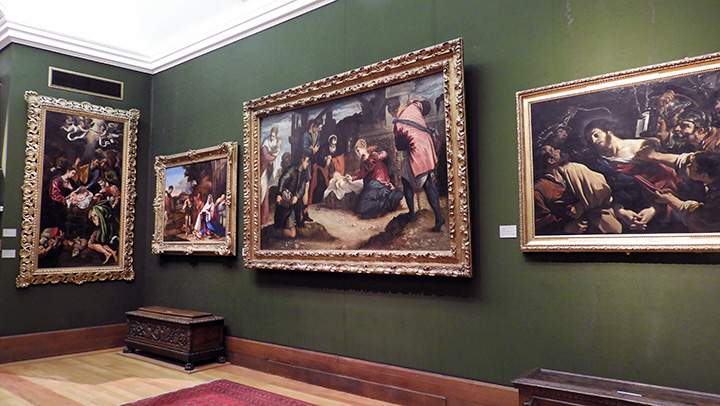 Religious art is not my favorite genre. But this is nice.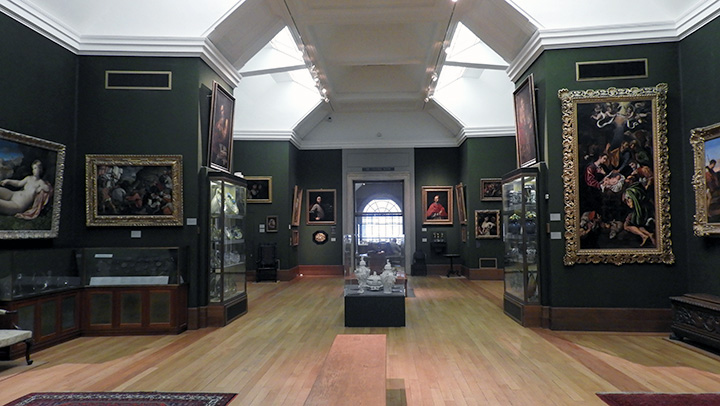 There's certainly lots of it.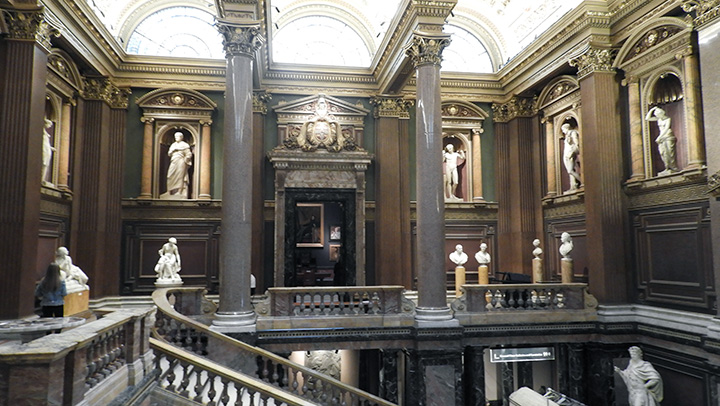 The building itself is more impressive.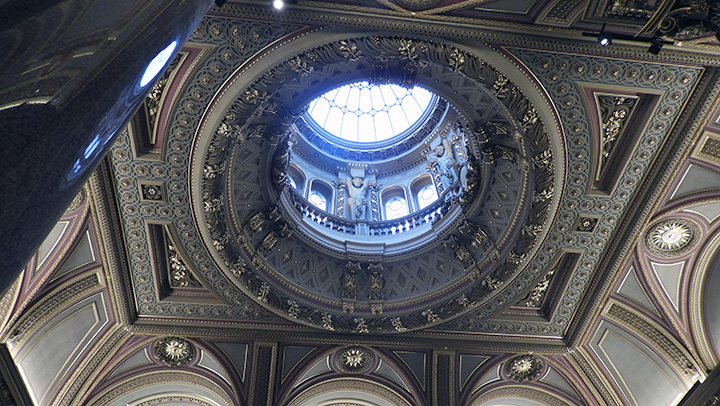 It even has a dome.
And an Egyptian coffin!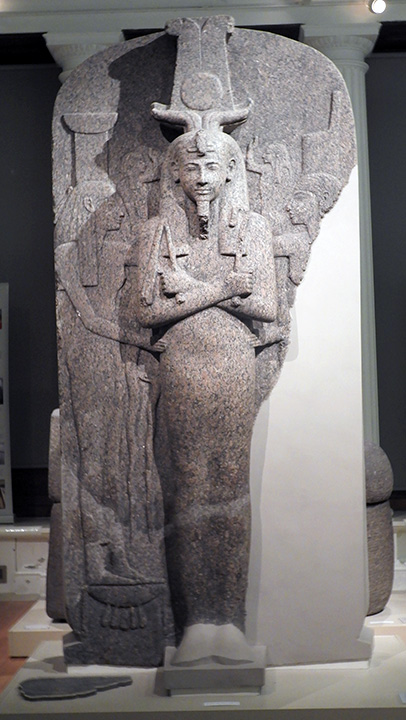 Lots of Egyptian art, in fact.
Greek, too.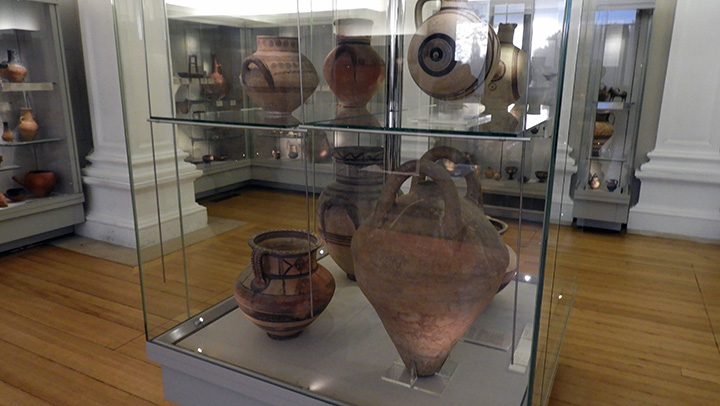 Pots, even.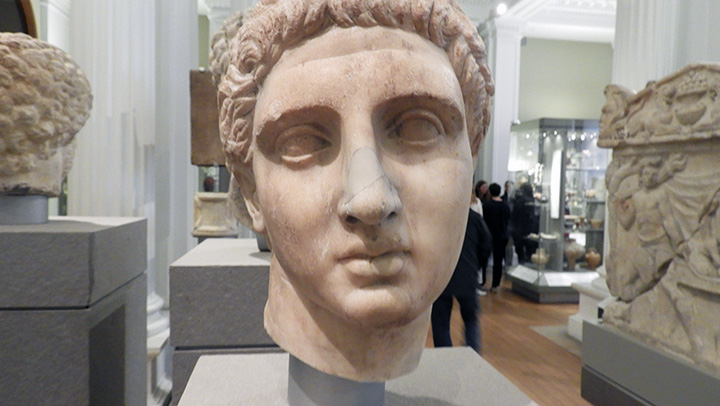 Nice face, bud. But that's about enough of Fitzwilliams...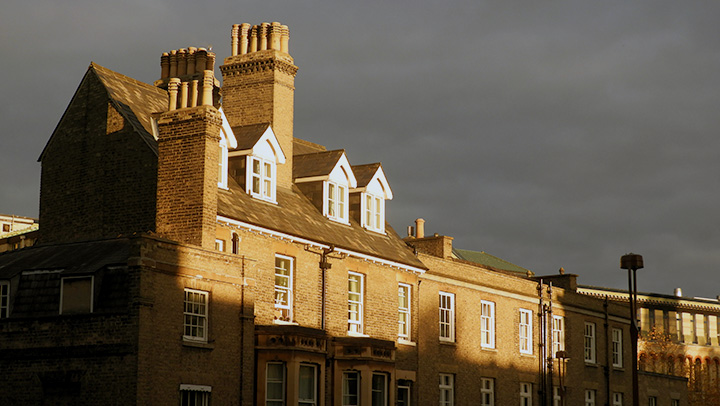 The sun is going down. Time to head back to Old Sulehay Cottages.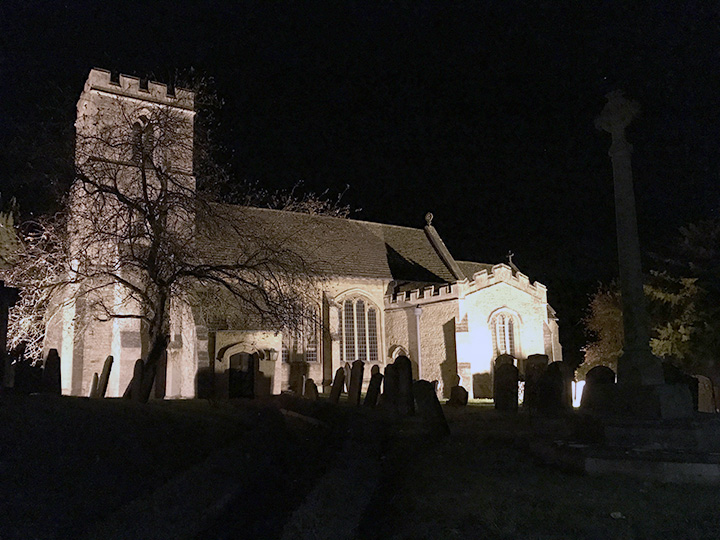 One last picture. Google Maps did a fantastic job of getting us around in England when we had no idea whatsoever where we were or what direction we should be going. We'd just do what the iPhone said to do and eventually we'd end up where we wanted to go. But every once in a while Google Maps would send us off on some less-traveled roads. And so it happened that on our way home tonight the nice lady in the iPhone led us through a small town that had a small church that was lit by bright lights and was simply stunning in the darkness. So we stopped and took a picture. And then we went home and that was that.