The weather forecast for today is rain, followed by more rain. So let's not stray too far from Peterborough. One of the guidebooks indicates there are sights of interest in the town of Stamford and it's not too far away, so let's have a look.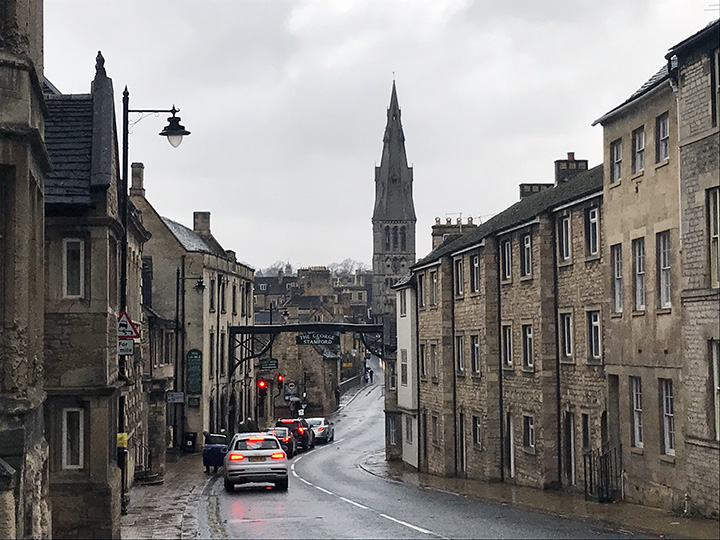 Stamford is an old settlement with a rich history. This was our view as we first drove into town. You could tell right away that this would be interesting.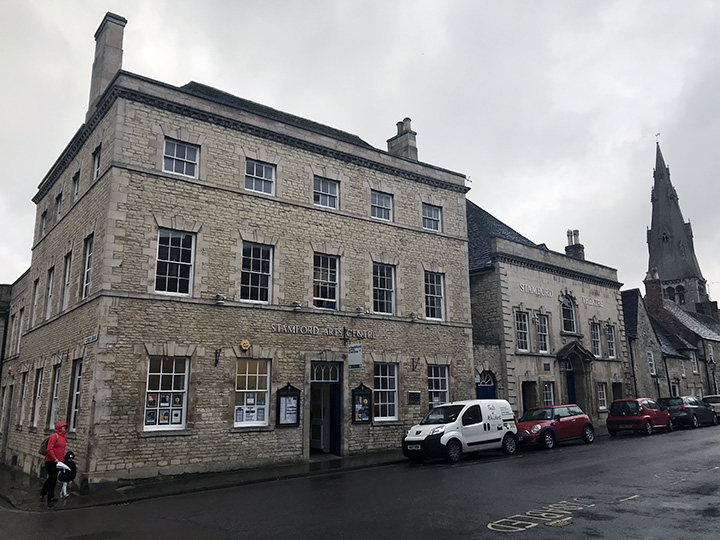 Our first stop was the town's visitors center, where a nice young man briefed us on Stamford's history dating back over a thousand years, when Danes ruled the area. He gave us a map and suggested places we might visit when the rain stopped, if it would ever stop. Which it did. Occasionally throughout the day.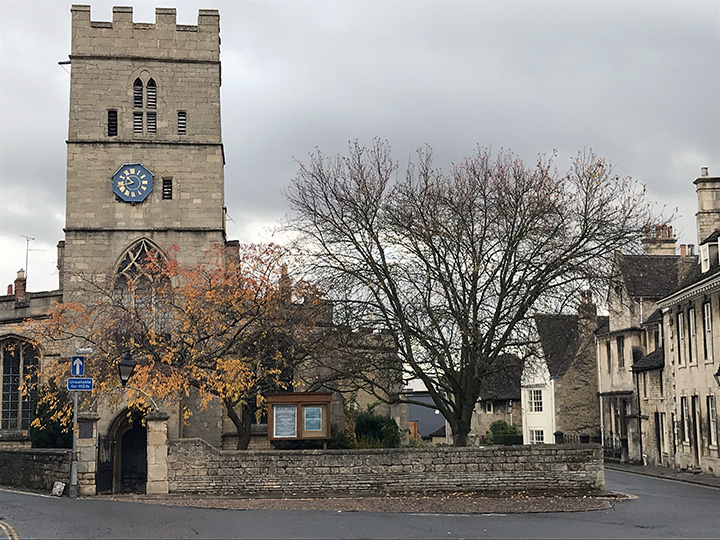 You've heard of a "picturesque village?"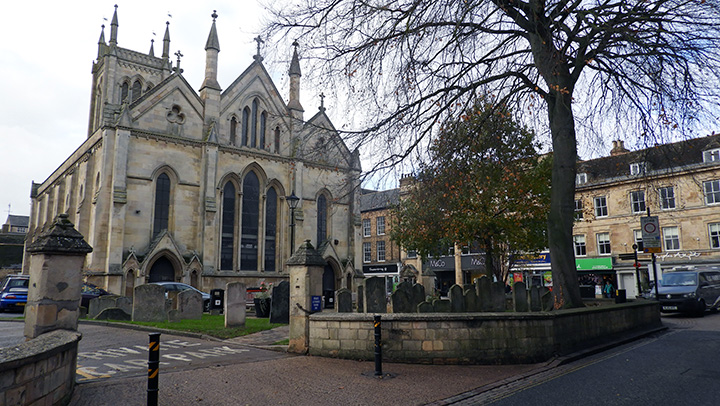 Well this is it. There seem to be churches everywhere.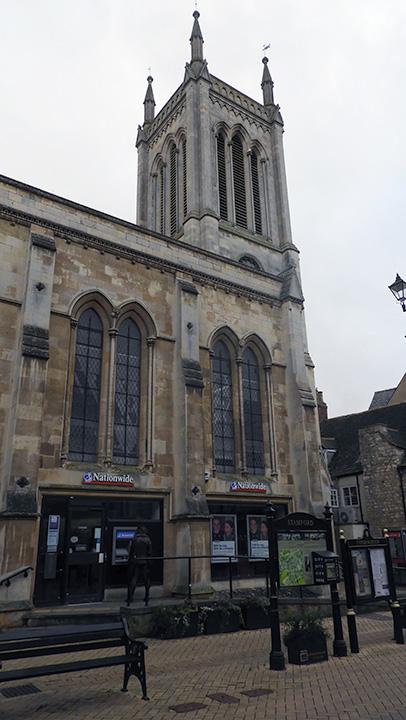 This one remains picturesque, even though it's been turned into shops.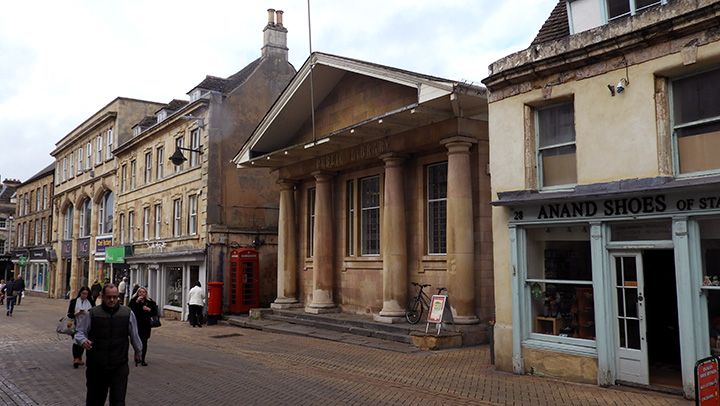 That's the town library over there. It looks out of place to me, incongrously Greek.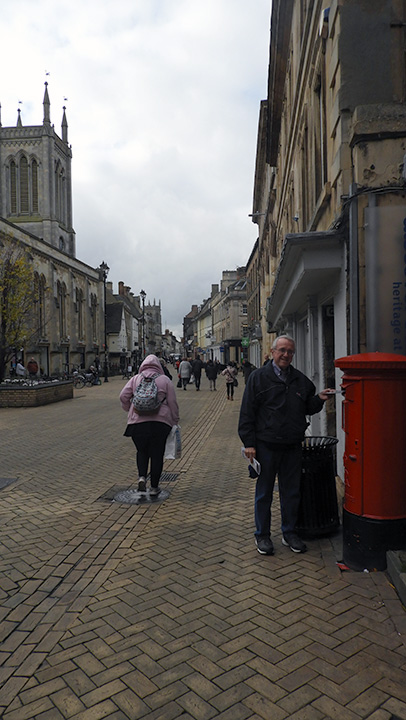 It's where the nice young man at the visitors center directed me to a mailbox. If you're under 13 or over 91 you stand a chance of getting a postcard.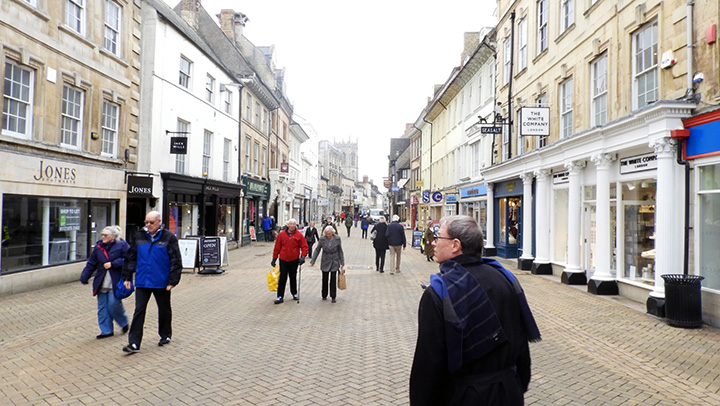 Don admires the main shopping area -- Stamford Town Center.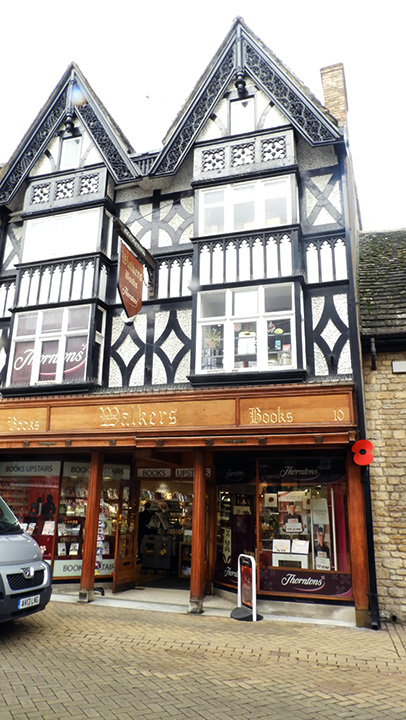 When a bookstore looks this classically Tudor, you just have to pay a visit.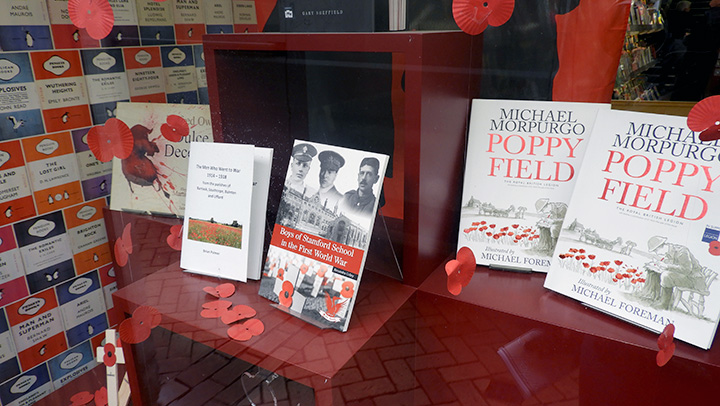 World War One ended at 11am on the eleventh day of the eleventh month, in 1918. That will be exactly 100 years, just four days from now. Were you aware of that? Well the British are aware of that. Everywhere we have gone we have seen people wearing red paper poppies in their lapels in commemoration. It was the war to end all wars, or so everybody thought a long time ago. Some time ask me to recite "In Flanders Fields" for you. It's a good one.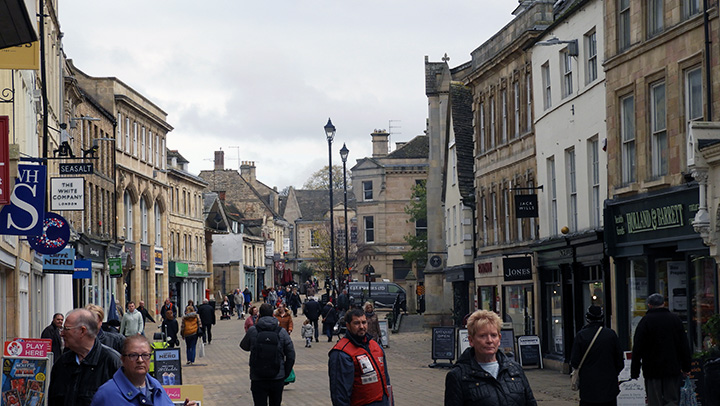 More Town Center. Wait...Centre.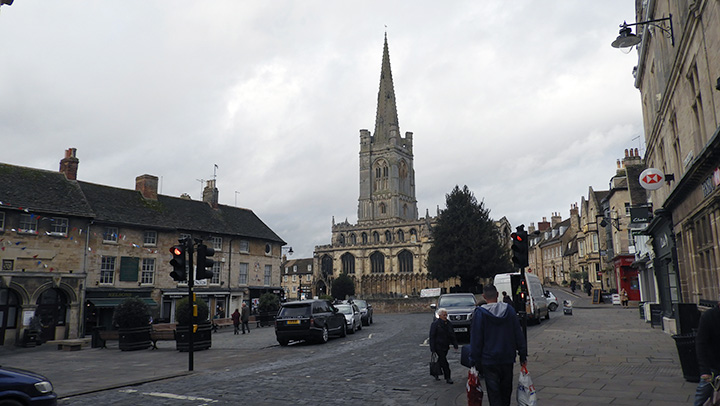 That's a fine looking church down the street there.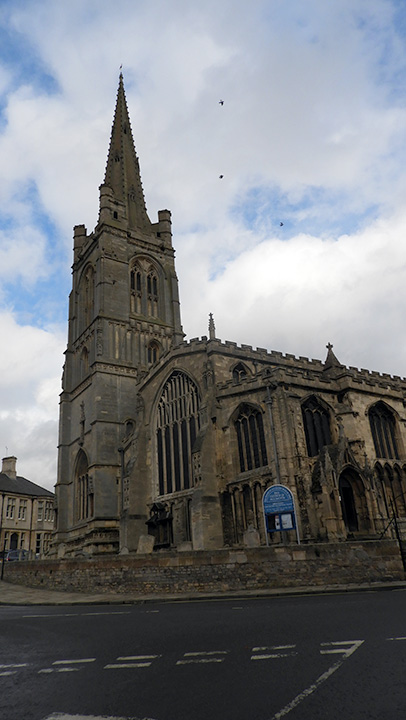 We'll take a look. Be careful crossing the street, though. The cars are coming from the wrong direction.
Not just one saint -- this place has them all covered.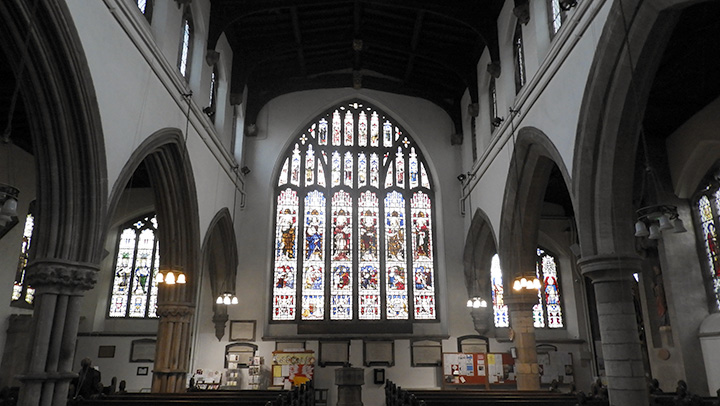 It's lovely inside.
The organist is practicing today.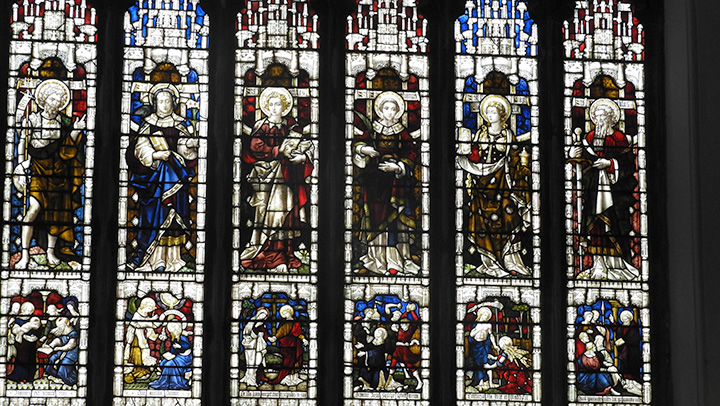 I guess I'll always be a sucker for taking pictures of beautiful stained glass windows.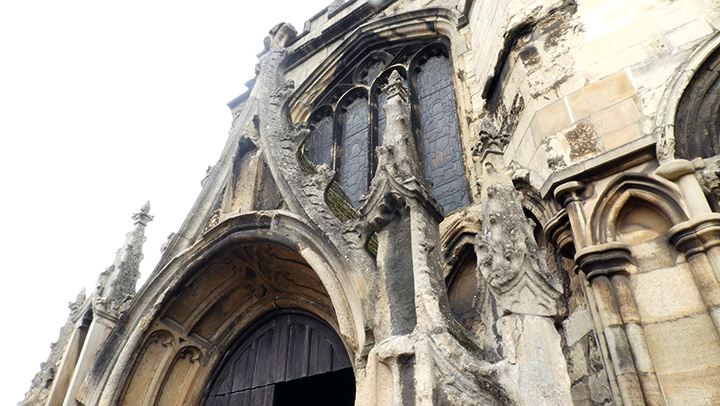 Time is taking its toll on the masonry.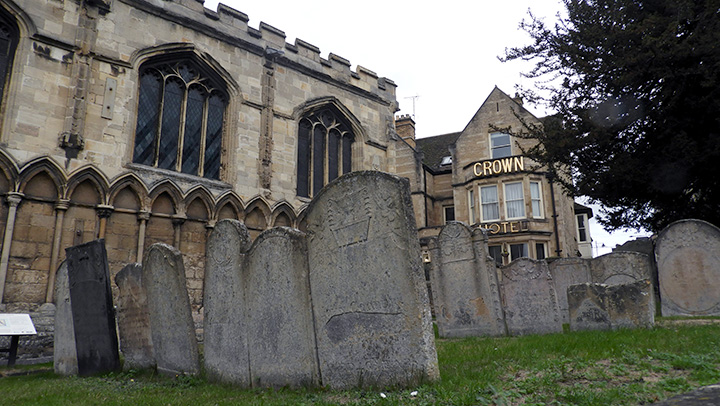 The headstones, too. Some are completely illegible, but they do add to the ambience.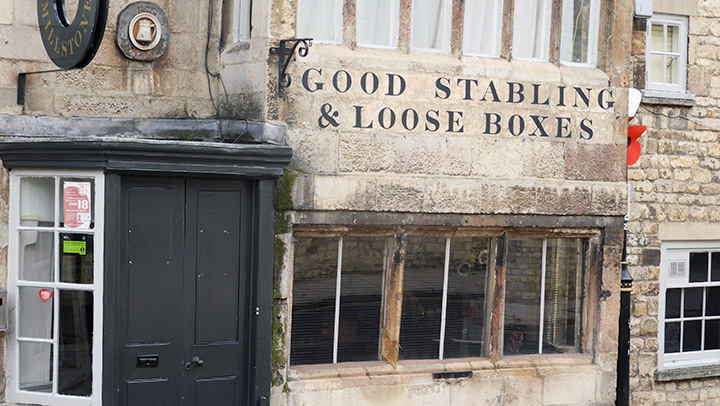 Loose boxes? What? Help, Google.
In most stables, each horse is kept in a box or stall of its own, and these are of two principal types: 1) Boxes allowing freedom of movement - horses are able to turn around, choose which way to face and lie down if they wish. These can also be known as a loose box, a stable, a stall, or box stall. 2) Stalls restricting movement - These are known as a stall or a tie stall. The horse is restricted in movement, can normally only face in one direction, and may or may not be able to lie down, depending on width and if or how tightly the animal is tied.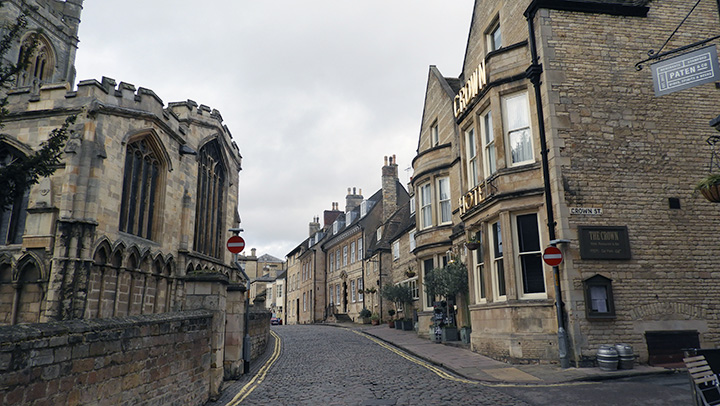 The town of Stamford would make a fine movie set, don't you think?
There are graveyards everywhere you look.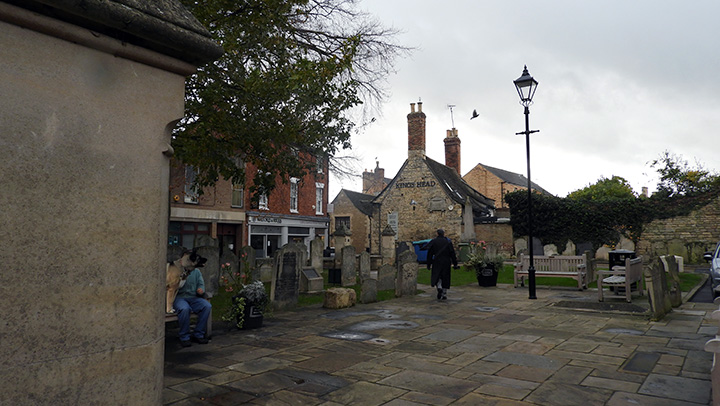 Don's looking for lunch.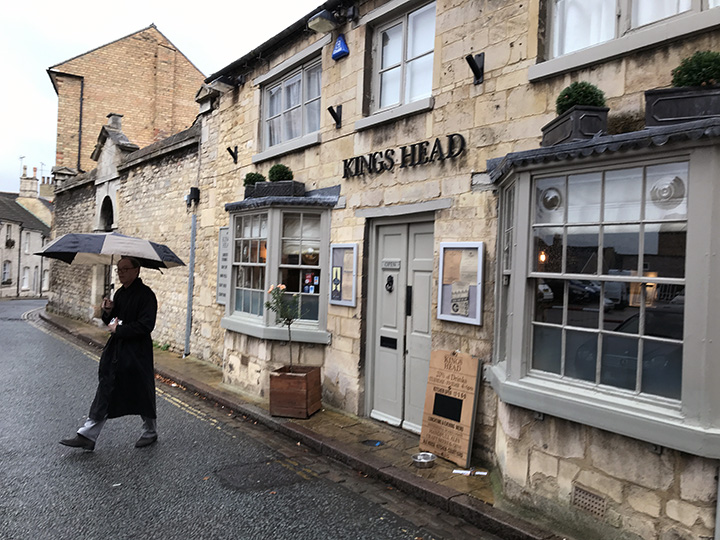 He reports the King's Head will open in about five minutes. C'mon, Don, maybe they'll let us in early. It's raining out here.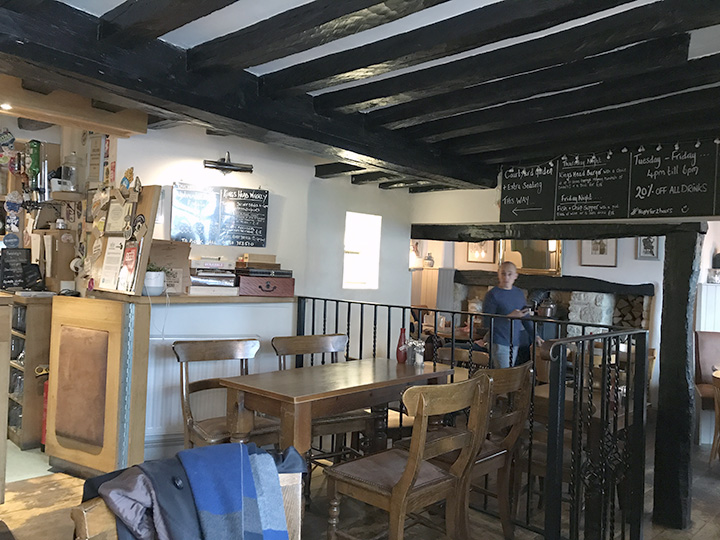 Nice guy did let us in.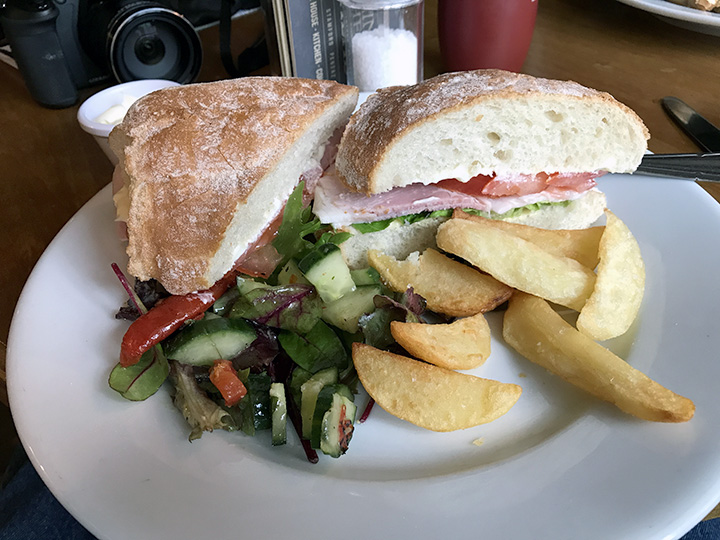 And lunch was great. You are looking, my friends, at what the English call a "ham salad sandwich." I have to admit, when I ordered ham salad I thought I was going to get ham salad, not a ham sandwich with salad on it. Whatever...I was cold and wet and this really hit the spot.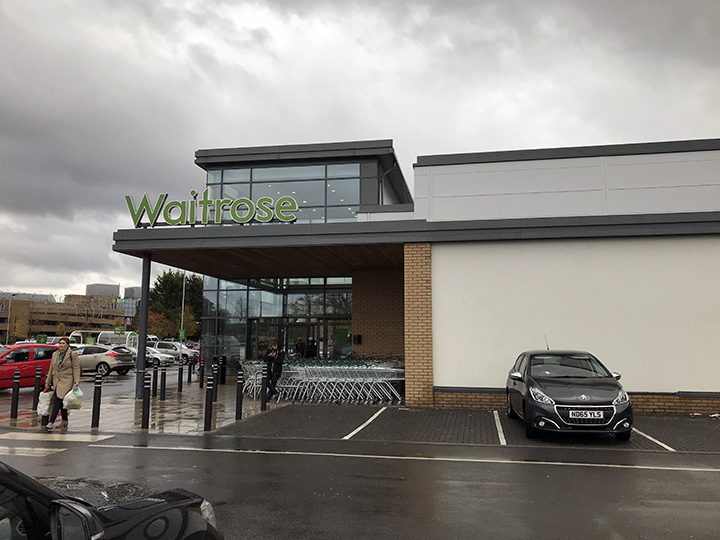 With lunch in our bellies we drove back to Peterborough to visit the town's museum, but the only place to park we could find was blocks away in this grocery store parking lot near the train station, and there was a one-hour limit on parking even there. Against our better judgment we bundled up and raised our umbrellas and began trying to get Google maps to give us decent walking directions and we walked this way and we turned around and walked that way and the wind was blowing and it was cold and we were getting wet and we talked it over and decided we really didn't want to see another museum anyway. So we went inside what turned out to be a first-class supermarket and bought some good food and headed back to ....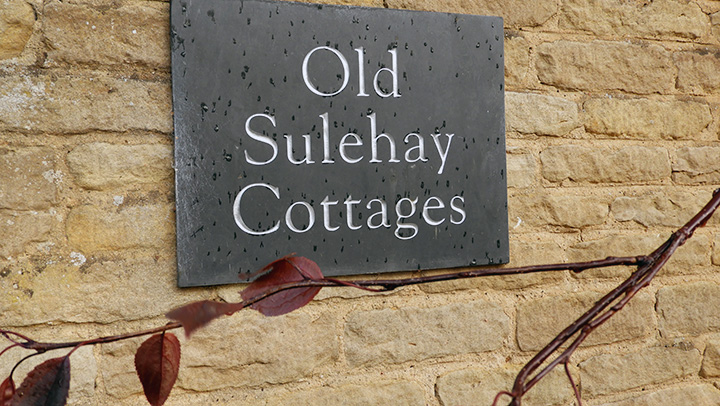 Home. Ahhhhh....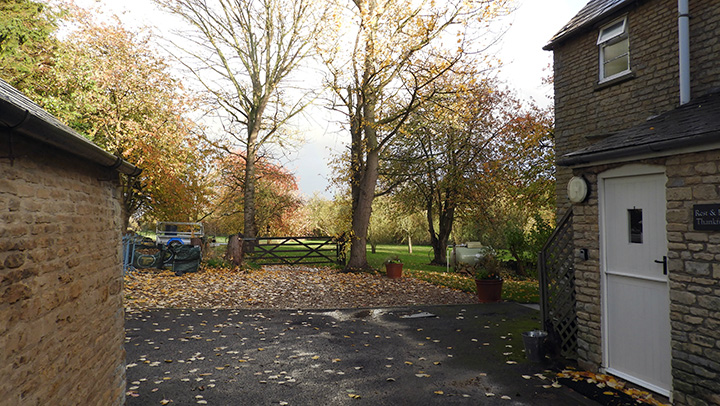 And look! What's that through the trees?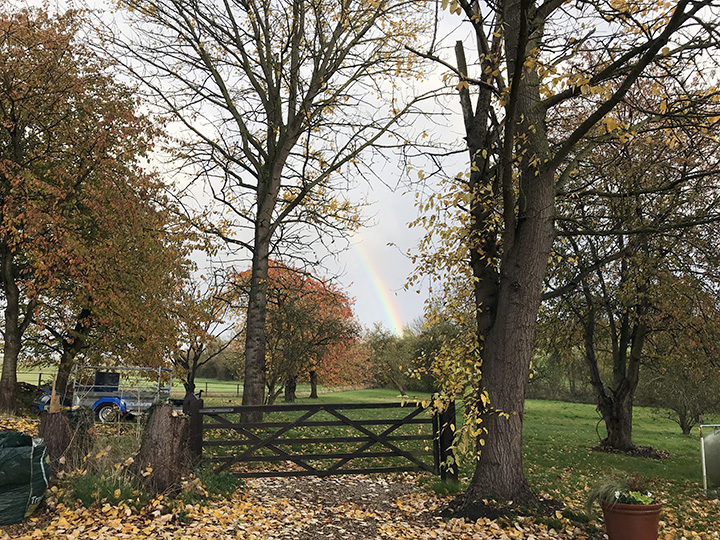 A rainbow!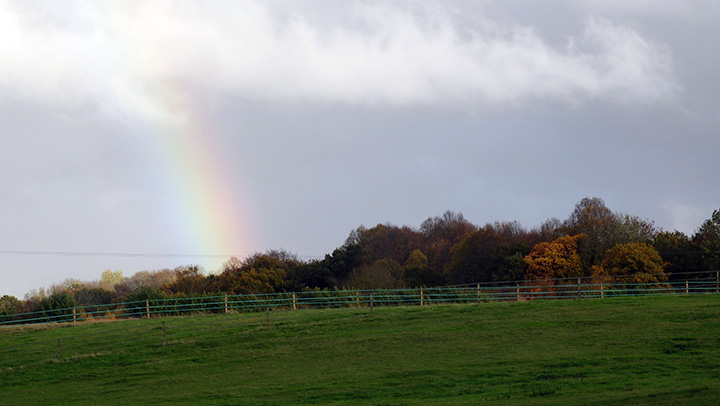 Clearly we've done the right thing by cutting our day short. It's a sign.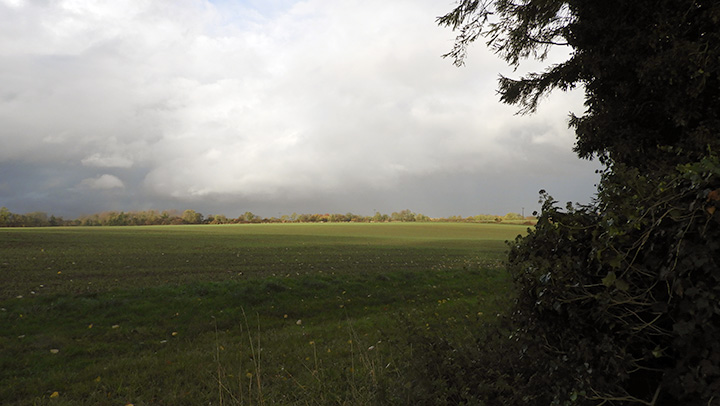 And just look around at the farm. Beautiful!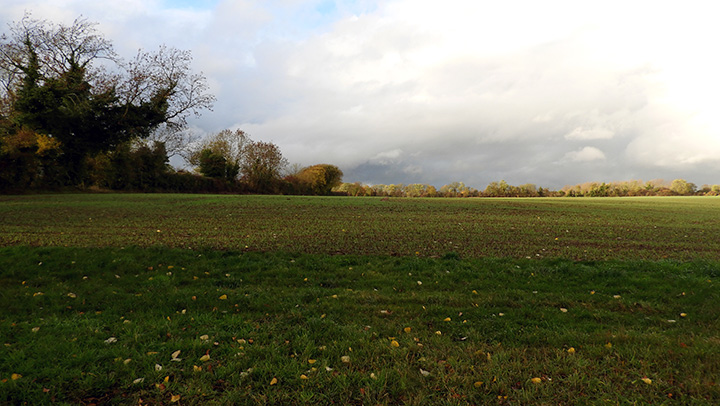 No wonder they like it way out here.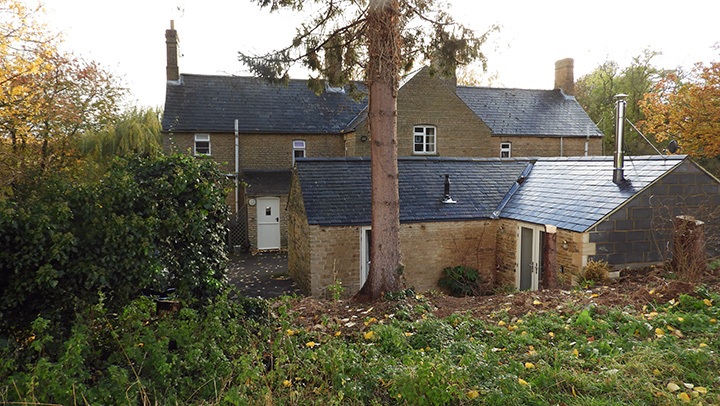 If you live in the big city and you want to get away from it all for the weekend or longer, I don't see how you can get much further away from it all than this place.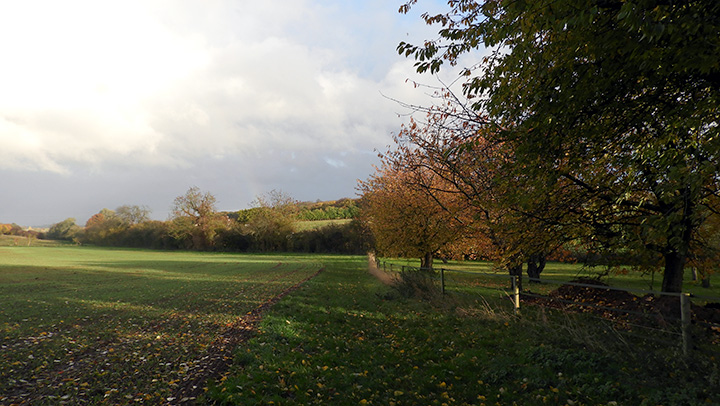 Nice views.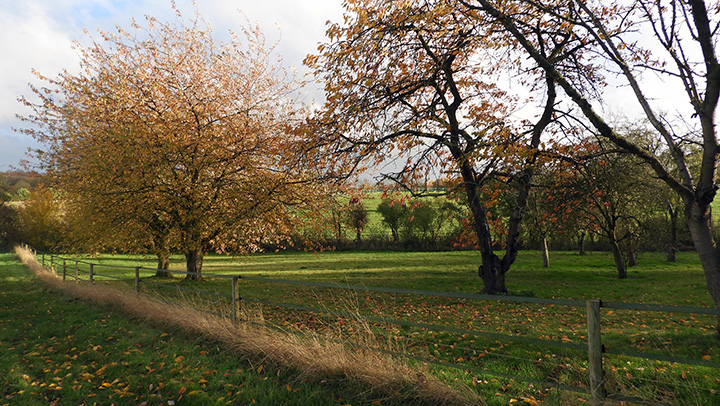 Lovely pastures.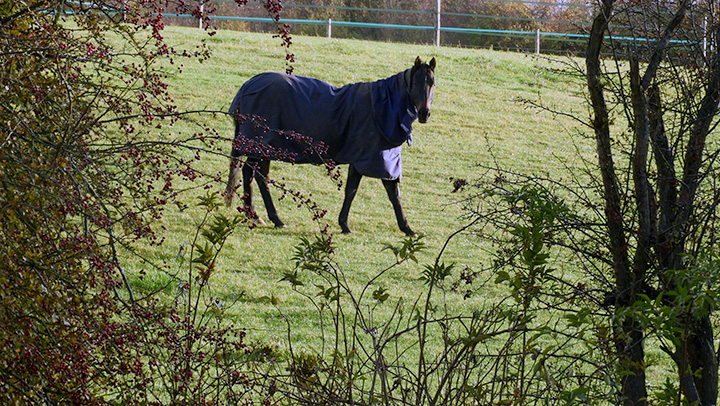 A horse in a blanket.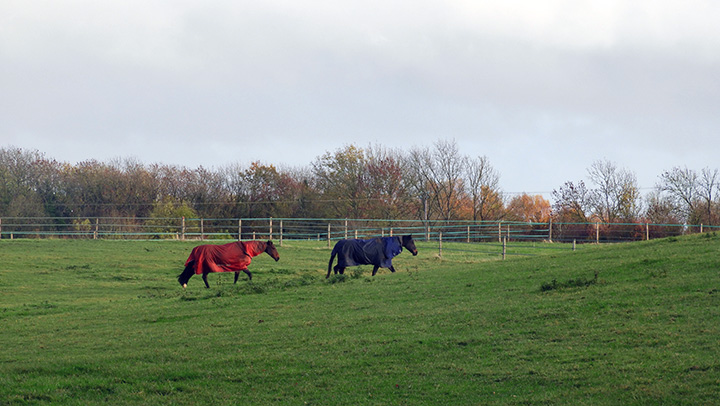 Two horses in blankets!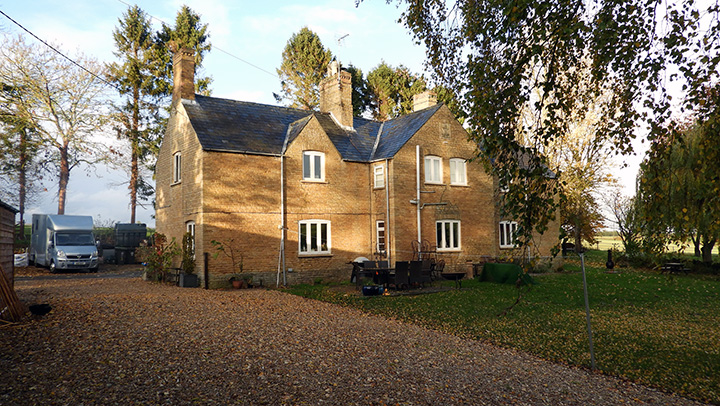 Nice and cozy.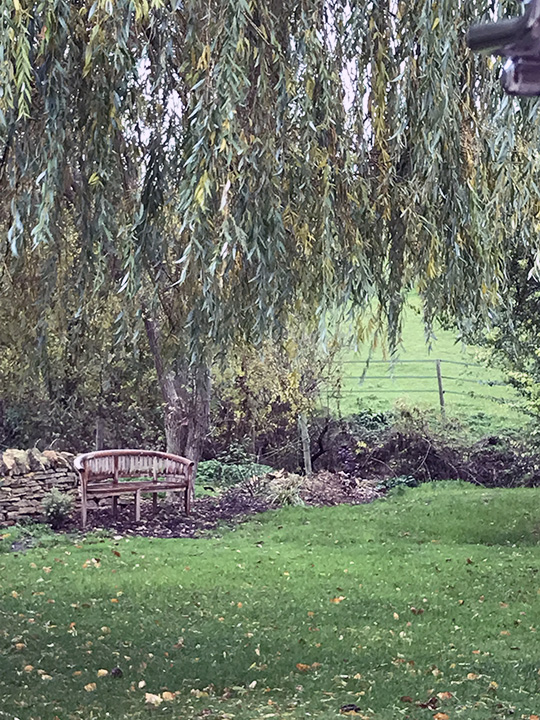 I could get used to this.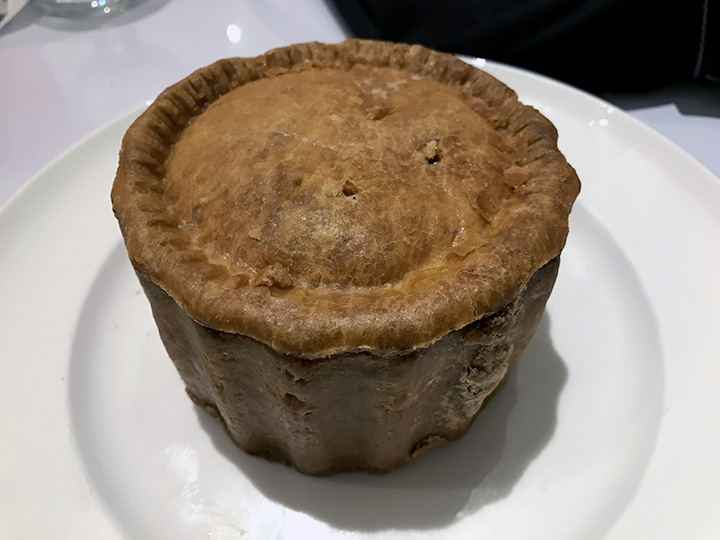 Now let's see what we've brought from the grocery store...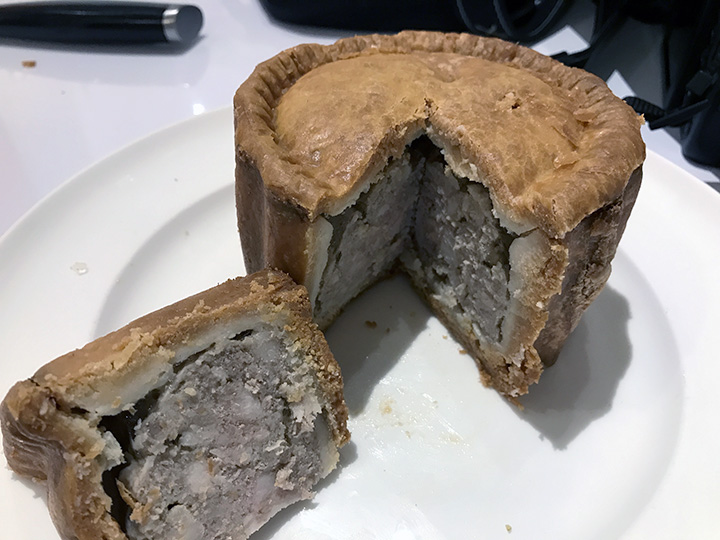 A pork pie. It was so good...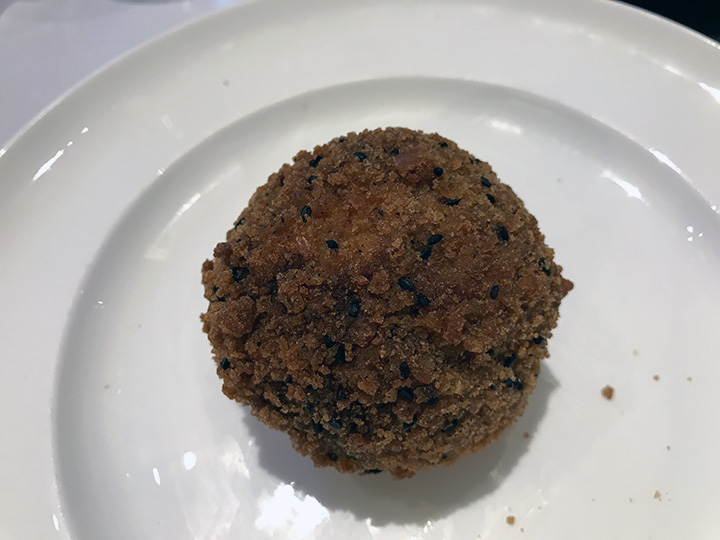 A Scotch egg.
I have attempted to make these at home but I've had little success. Apparently if you want a Scotch egg done right you have to come to England. A boiled egg wrapped in sausage and bread crumbs and spices and deep fried and served cold. Mmmmmm. Great way to end a fine day.