Today we're going to travel west along the northern coastline of Crete to the town of Chania, which is pronounced HON-ya. We'll also visit Rethymnon.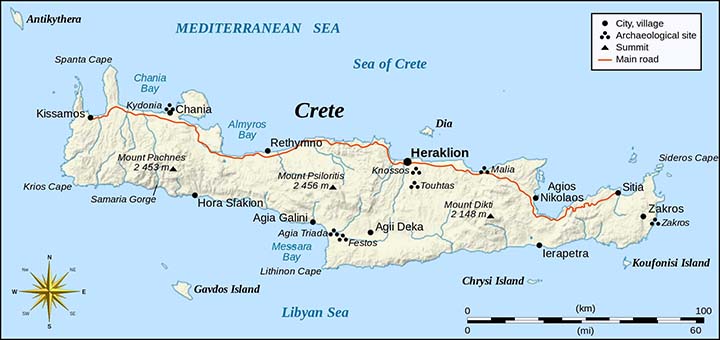 Here's a map. See where we're going? Heraklion to Chania.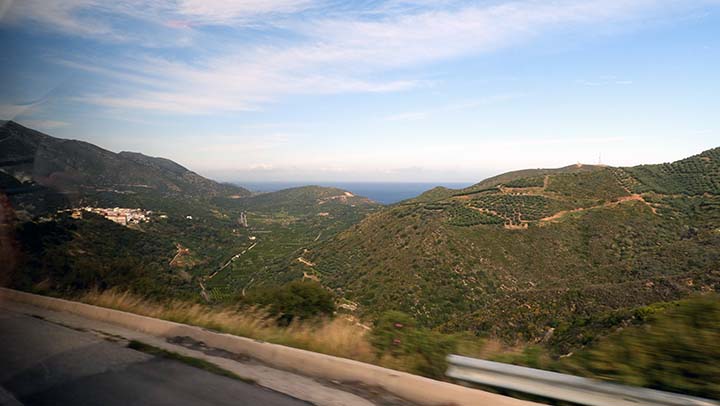 The coastline and the Mediterranean make for some nice scenery.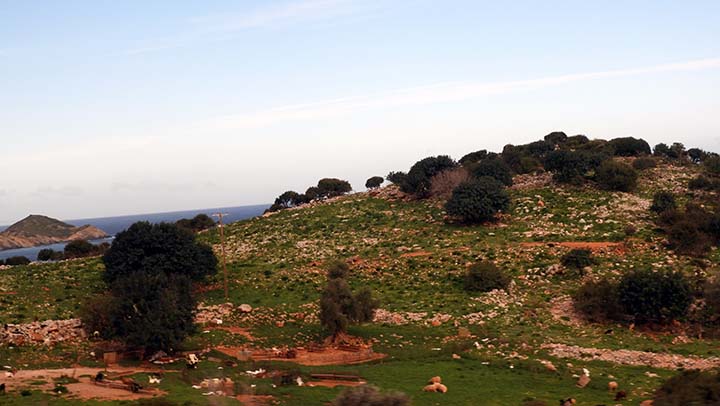 Kinda rugged.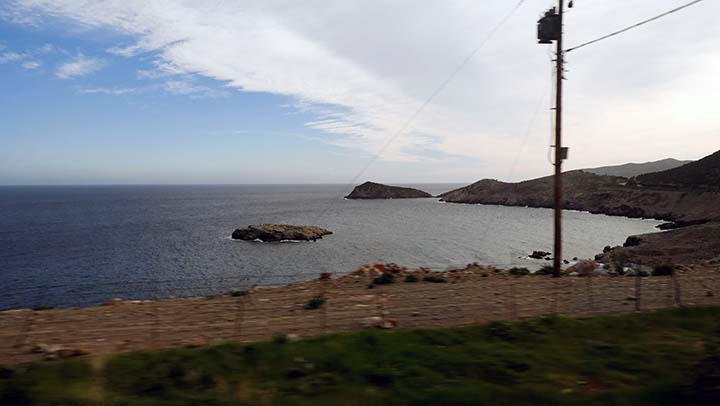 But lovely.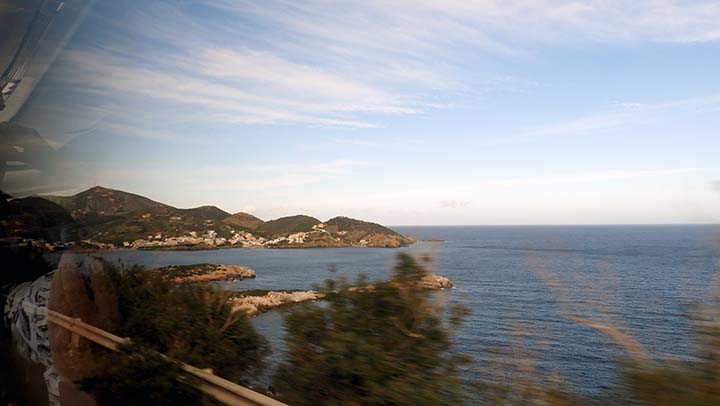 This goes on and on.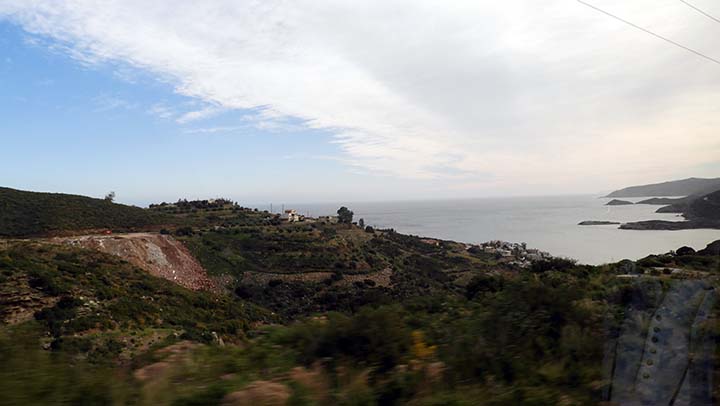 And you don't get tired of it.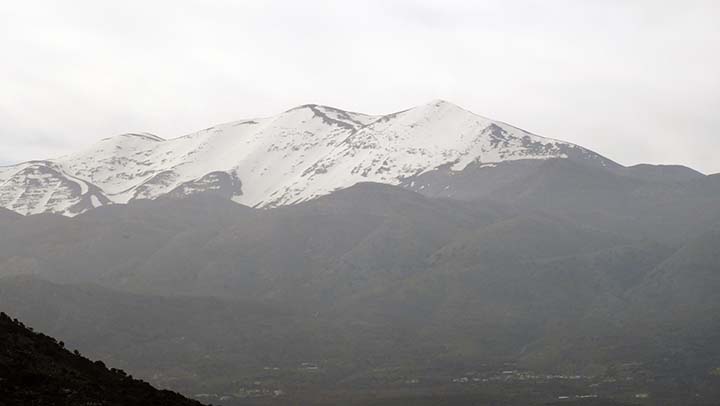 These are the Lefka Ori, or "White Mountains."
And this is the harbor at Rethymnon.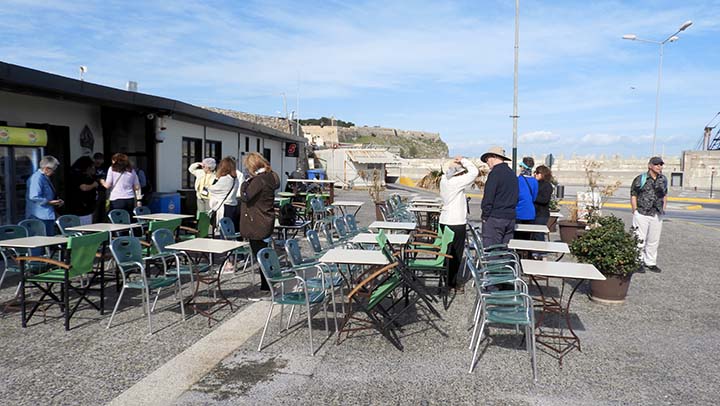 Let's take a little comfort break before we explore the town.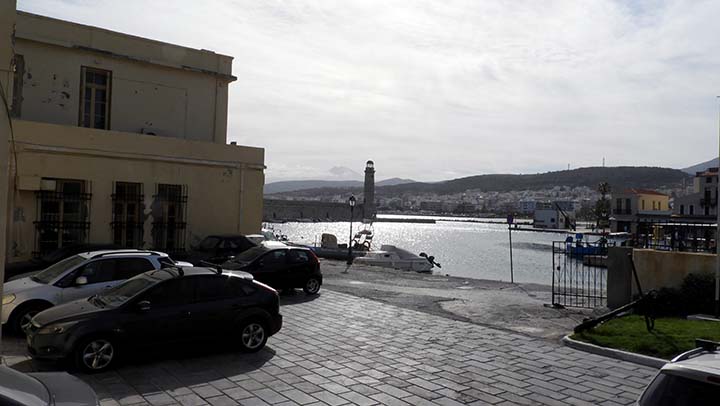 Rethymno (also Rethimno, Rethymnon, Réthymnon, and Rhíthymnos) is a city of approximately 40,000 people in Greece, the capital of Rethymno regional unit on the island of Crete.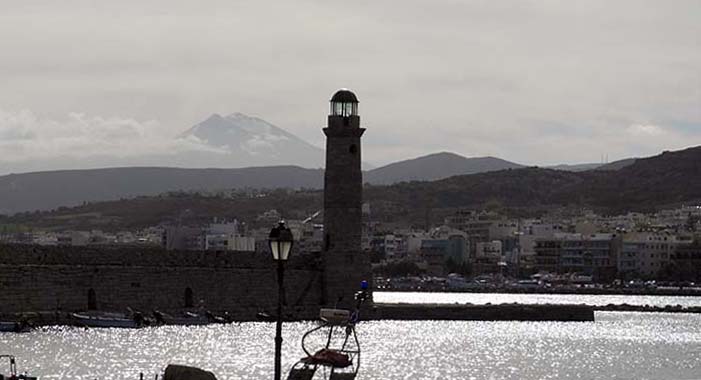 There's a lighthouse here.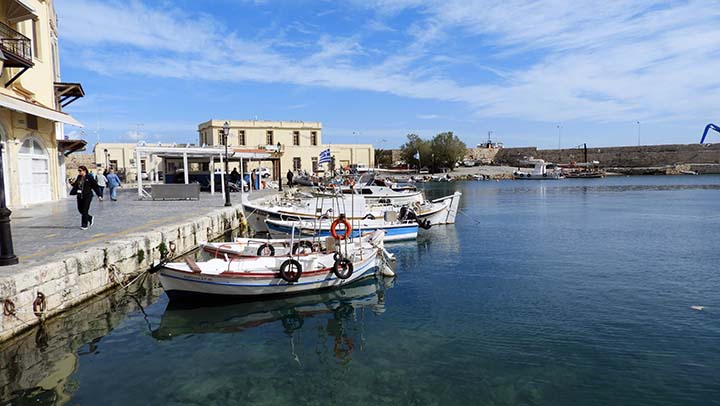 Rethymnon was originally built during the Minoan civilization (ancient Rhithymna and Arsinoe). The city was prominent enough to mint its own coins and maintain urban growth. One of these coins is today depicted as the crest of the town: two dolphins in a circle.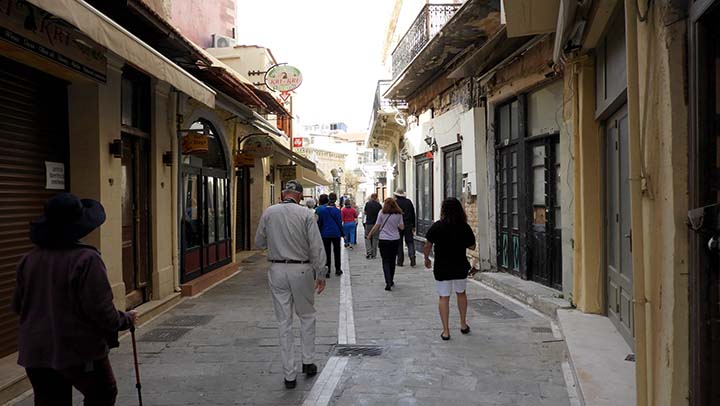 And there are narrow streets lined with shops.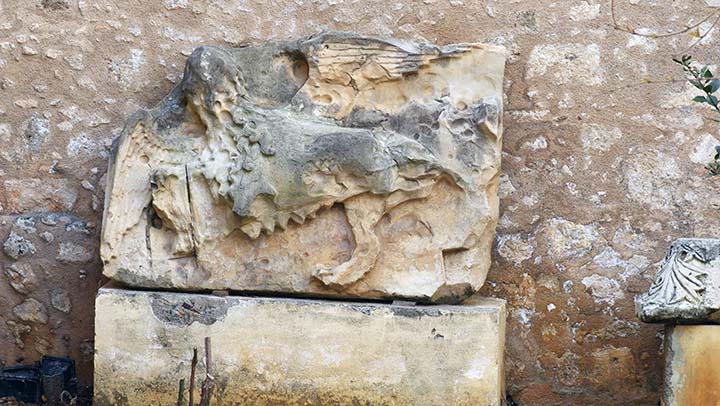 And there's evidence the Venetians once ran the place.
There's even old Venetian apartments.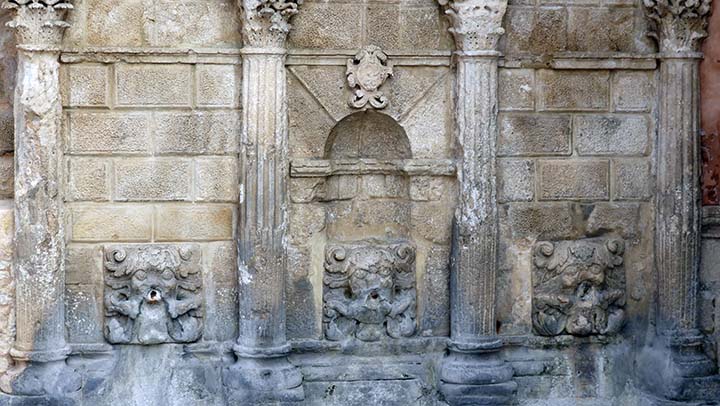 And a Venetian fountain.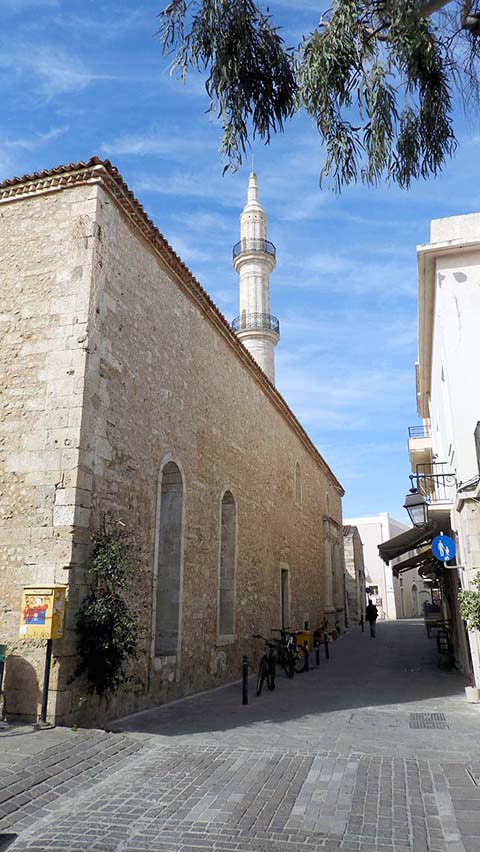 The Muslim Ottomans have run the place too, back in the day.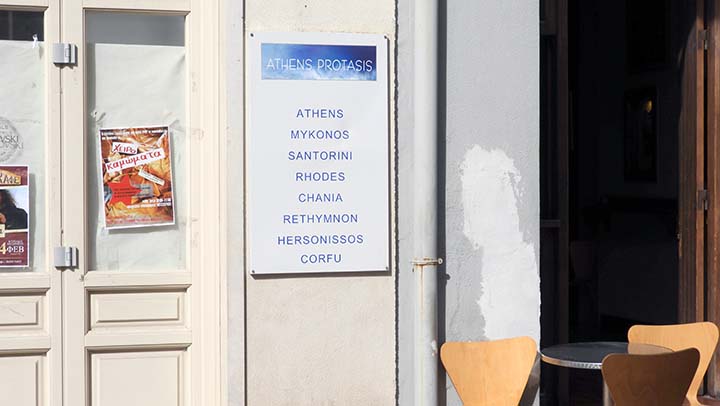 You know why I took this picture? So I could remember how to spell "Rethymnon" when I got home. That's the only reason.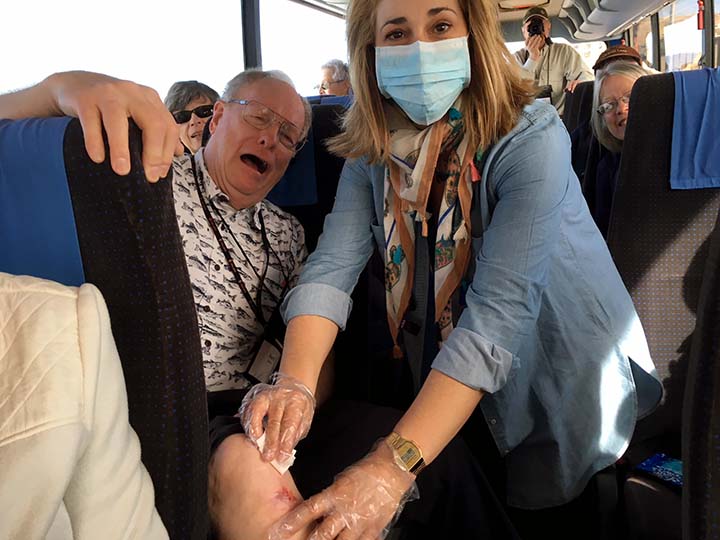 We've had an accident! Paul tripped on the sidewalk and skinned his knee! But not to worry, Dr. Efi came to the rescue. She performed major surgery right there on the bus and was even prepared to administer mouth-to-mouth but Paul's wife Ellie intervened.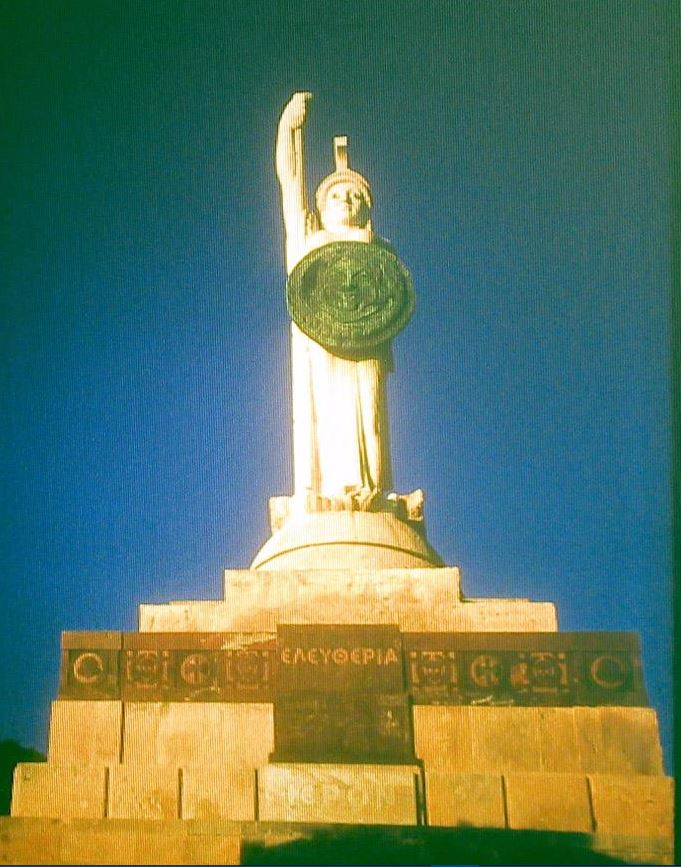 And while we're on the subject of Paul, I suppose this is as good a place as any to insert the story of how Paul visited Crete in 1962 as a 17-year-old and saw, among other things, a marvelous statue that he tried to describe to Eleni, but she had no idea what he could be talking about. We looked for "Paul's statue" all over Crete, but it never turned up. Well, Paul vowed to find a picture of it when he returned home, and he said he'd send it to everybody to prove he wasn't making things up. And sure enough, here it is. And now that we're all back home, a little internet sleuthing has turned up the sad fate of this statue of Eleftheria (Greek for freedom). It was constructed in 1937 near Chania where it stood proudly at the graves of Eleftherios Venizelos (1864-1936) and his son Sophocles Venizelos (1994-1964), both Prime Ministers of Greece in the 20th Century. But in 1970 the Greek Tourism Bureau wanted to move it, and oops, they dropped it.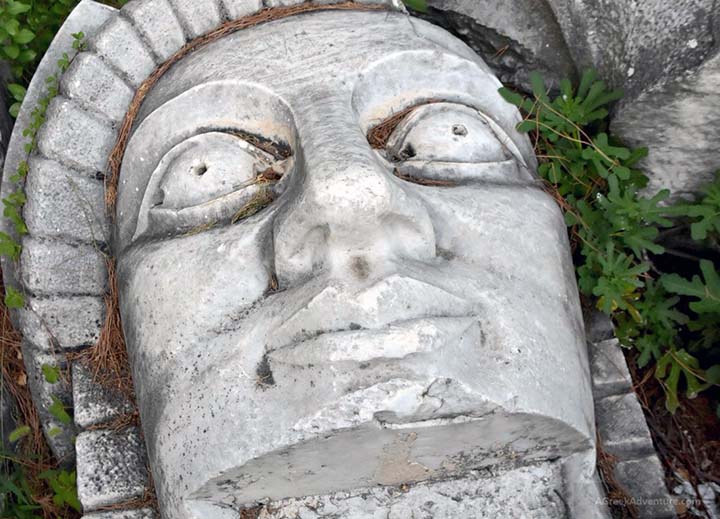 And now this once proud symbol of Greek freedom lies in pieces on the ground near the graves, gazing sadly at the sky. The mystery is solved, but sorry, Paul, she's a goner.
If you want to see more, look here.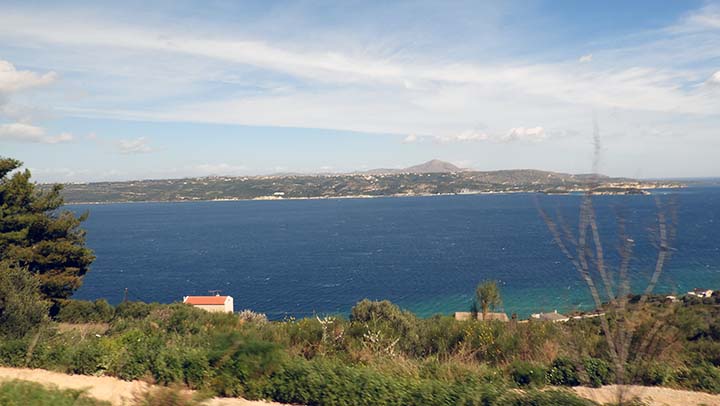 Moving on from Rethymnon, we're headed further along the coast to Chania.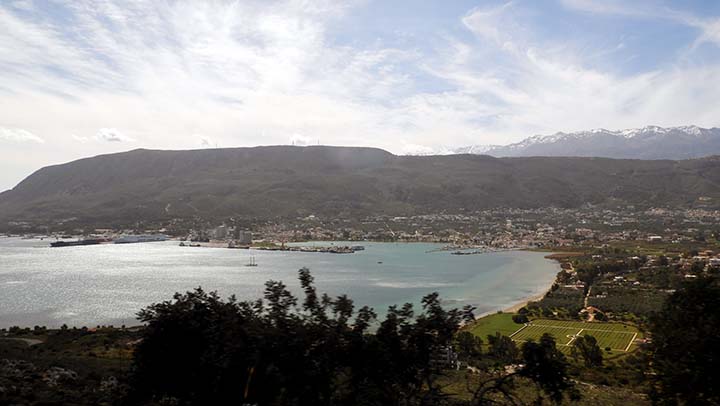 The coast is still pretty.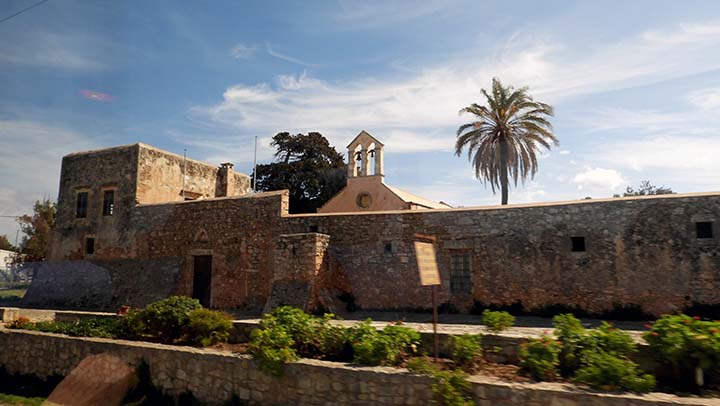 But Before we get into town, let's stop by the Agia Triada Monastery (Holy Trinity). It's a Greek Orthodox monastery in the Akrotiri peninsula in the Chania regional unit. It also contains a museum.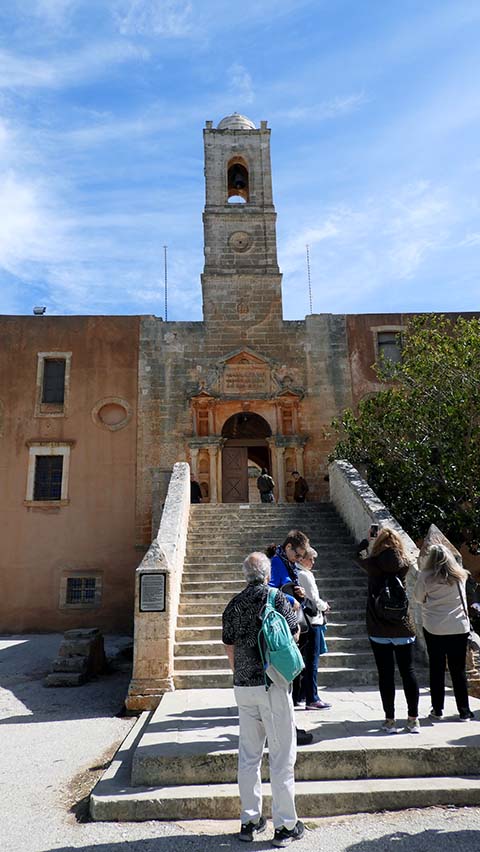 It was built in the 17th century by two brothers of the Venetian Zangaroli family on the site of a pre-existing church. The monks produce and sell wine and olive oil on the premises.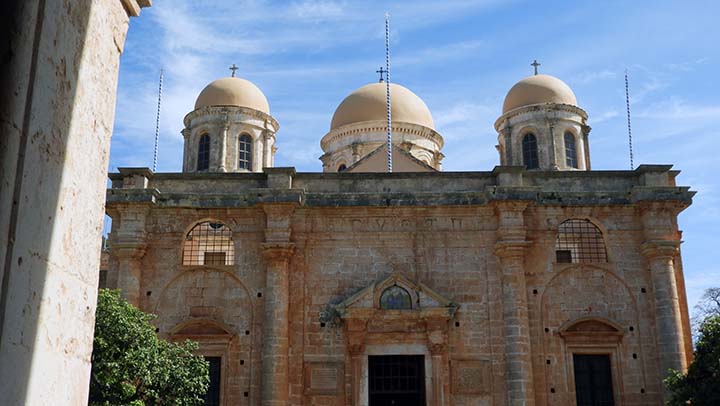 The church is built in the Byzantine architectural cruciform style with three domes. The main church is flanked by two smaller domed chapels, one of which is dedicated to the Life-Giving Spring (Zoodochos Pigi) and the other to Saint John the Theologian.The main church is dedicated to the Holy Trinity and the church has a narthex at the front set at right angles to the main aisle. There are two large Doric-style columns and one smaller, Corinthian-style column on either side of the main entrance. The facade of the church has double columns of Ionian and Corinthian style and bears an inscription in Greek, which is dated to 1631. The monastery's cellar door is dated to 1613. In the 19th century the monastery was established as an important theological school from 1833, and the belfry is dated to 1864. The monastery was later extensively damaged during conflicts with the Turks and in 1892, a seminary was established.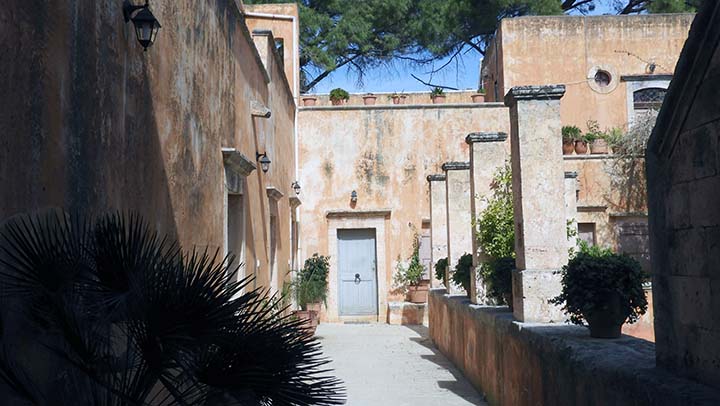 In the Venetian style.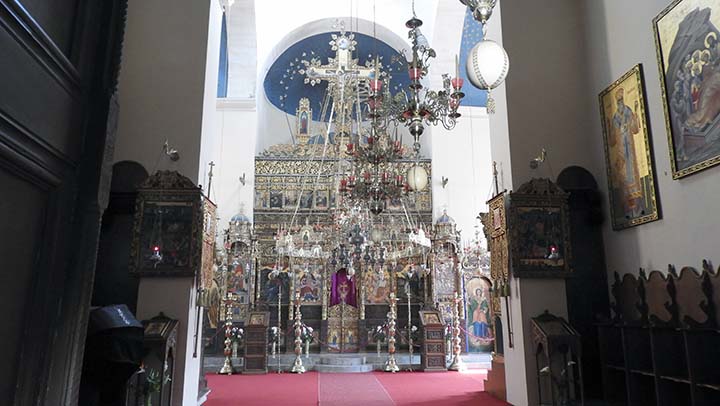 The interior is magnificent and elaborate in the Greek Orthodox tradition.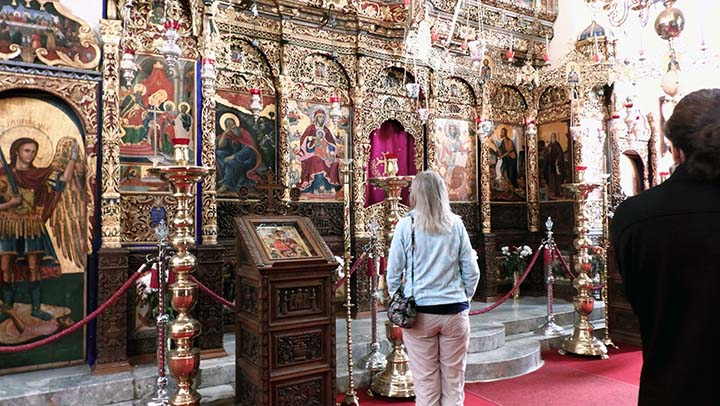 There's just so much to see.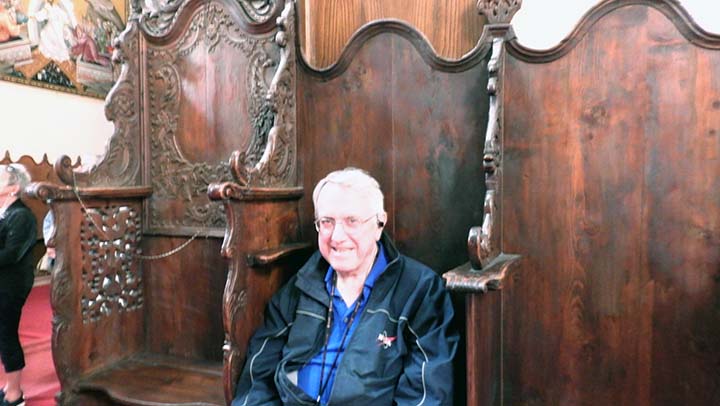 But some people need a moment's rest.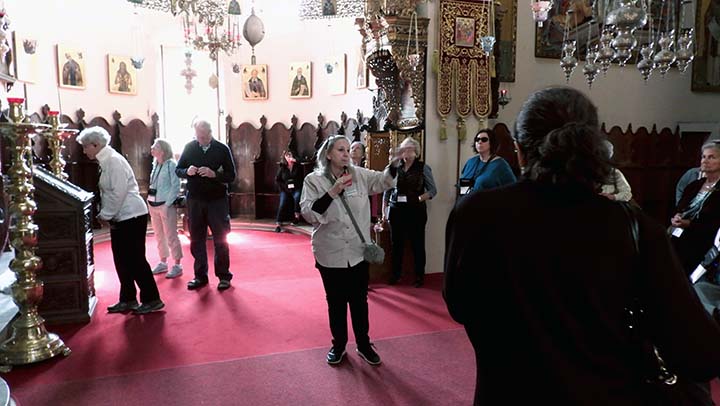 Eleni explains it all.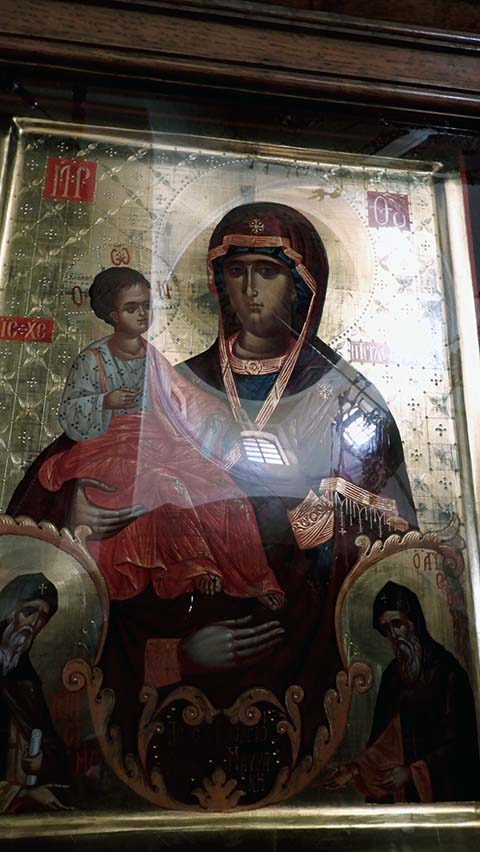 Soon someone noticed this icon depicting the Virgin Mary and called the rest of us over. Wait, what are we seeing?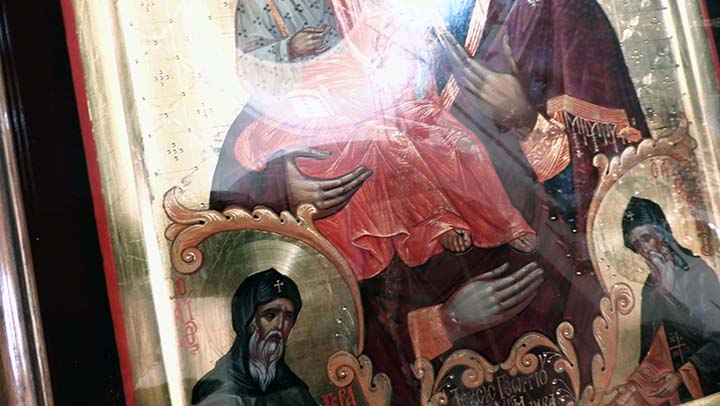 She has three hands? Whaaaaaat???
You can read all about it here.
Chania is the second largest city of Crete and the capital of the Chania regional unit. It lies along the north coast of the island, about 70 km (43 mi) west of Rethymno and 145 km (90 mi) west of Heraklion. The official population of the municipal unit (the former municipality) is 53,910, while the municipality has 108,642 inhabitants (2011).
You can read more here.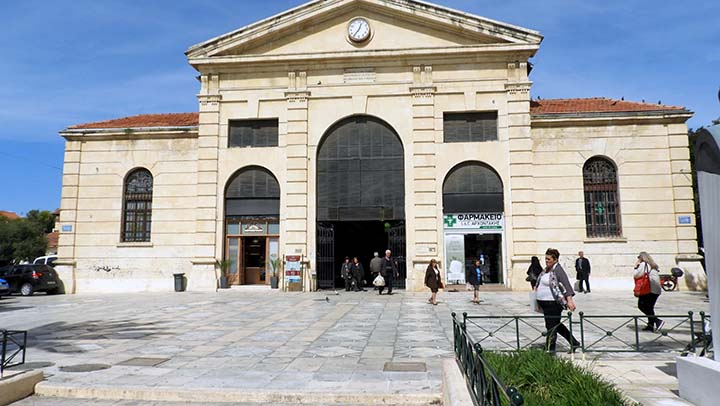 And here's the big Municipal Market of Chania, commonly known as the "Agora". It was built between 1909 and 1913 and modeled on the covered market of Marseilles. It has a cruciform shape and space inside for a large number of shops. It was built on the site of a bastion of the Venetian fortification wall. This was dismantled to fill in the moat and created a space to build the market on. It is still an active market and houses shops selling vegetables, fish, meat, herbs and spices, Cretan products such as cheeses, olives, raki and more. In the summer months many shops also sell tourist souvenirs. There are also a few good workmen's cafés offering local food.
Bill did most of his souvenir shopping in this market.
Because there's lots of souvenir stuff inside.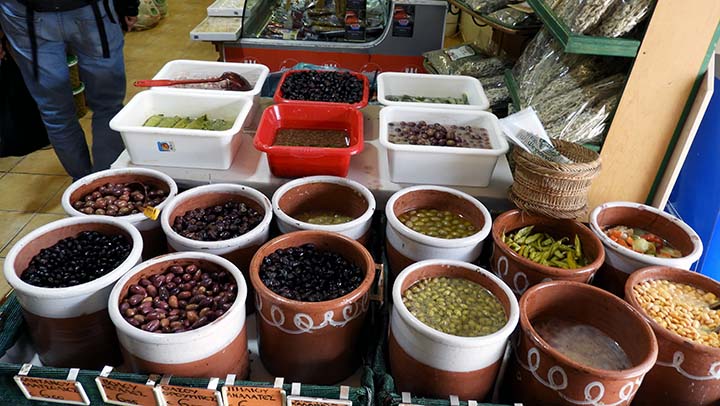 Along with food, some of which looks delicious...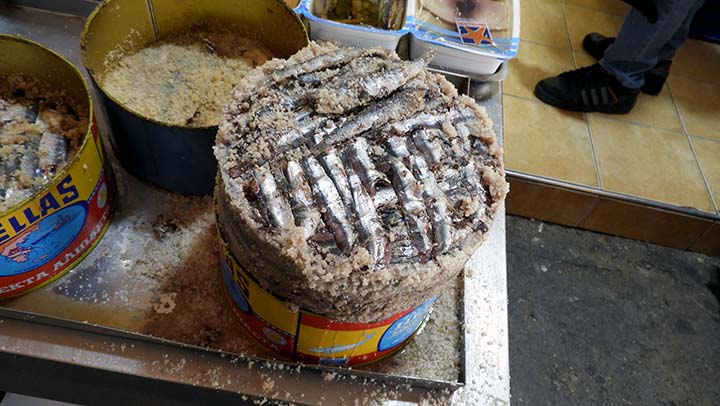 And some of which not so very.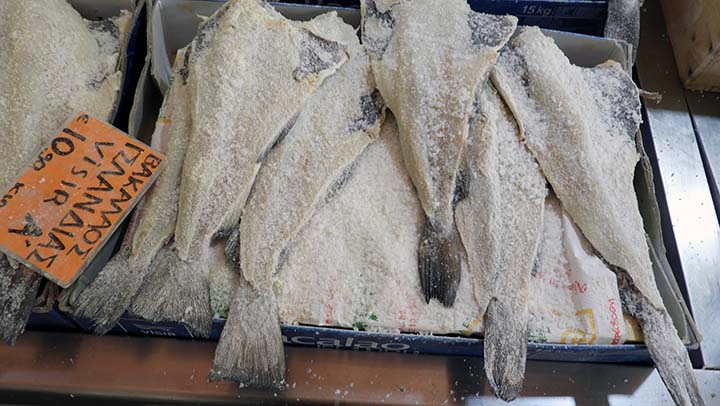 No, I don't think so.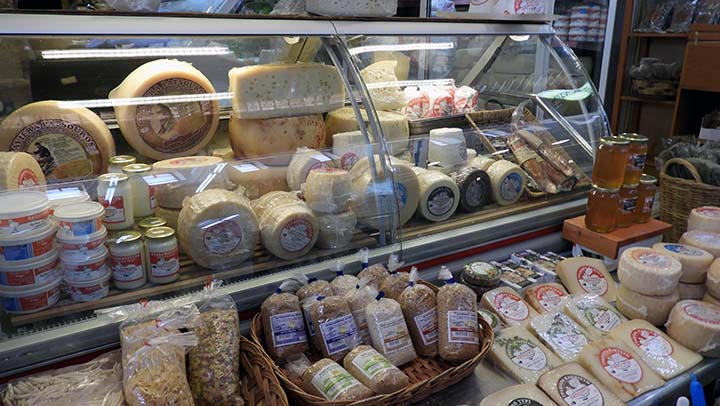 OK, now we're talking. Eleni bought about five pounds of cheese to take home to Athens. Bill would have loved to do the same, but he has learned from experience to beware those pesky customs inspectors so he stuck to buying things like Chania olive oil, soap made from donkey milk and honey made by bees that pollinate thyme blossoms. (See the jars over there?) And maybe just an itty bitty bottle of souvenir tsikoudia. And as it turned out, US Customs did inspect Bill's bag upon his return to the US, and they unwrapped the honey, but they didn't confiscate it. Whew.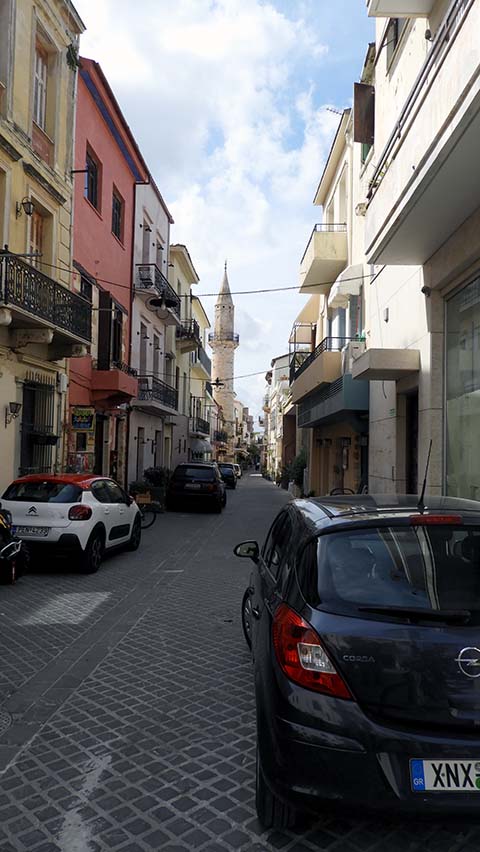 I see evidence of the Ottomans down there.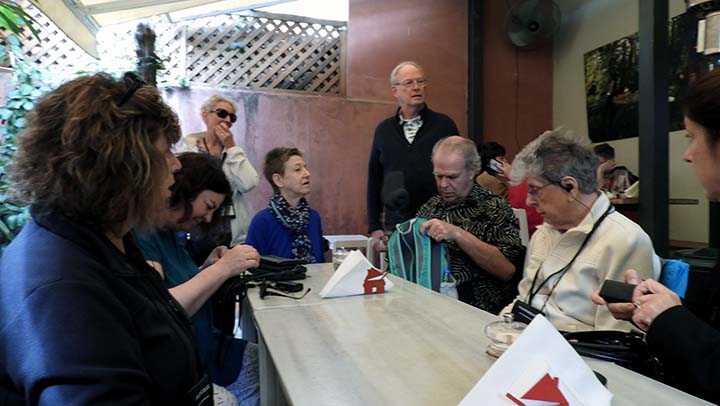 Oh goody, time to eat again.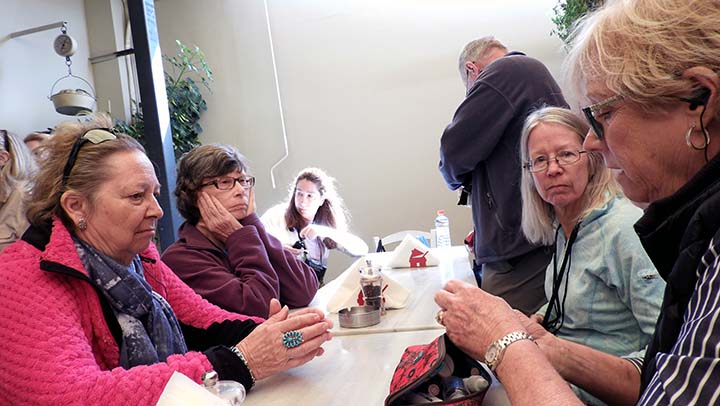 Doesn't everybody look hungry.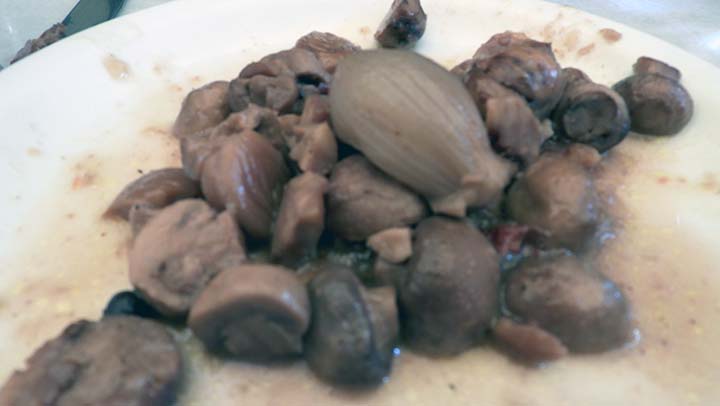 Here's out appetizer -- chestnuts cooked with mushrooms and onions. It actually wasn't bad.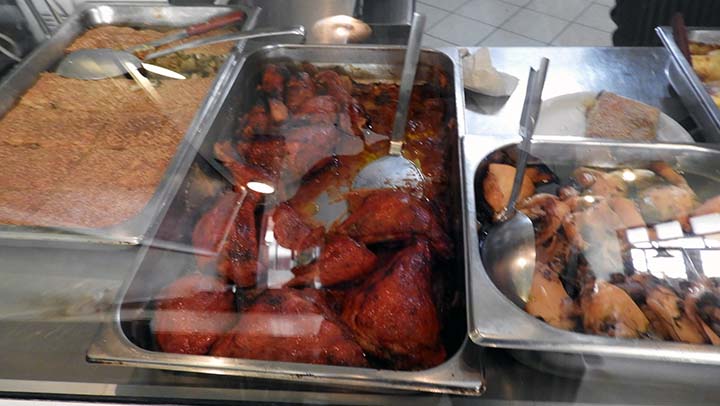 Then in groups of four we left the table and went back into the kitchen and pointed to what we wanted to eat. How about some barbecued chicken?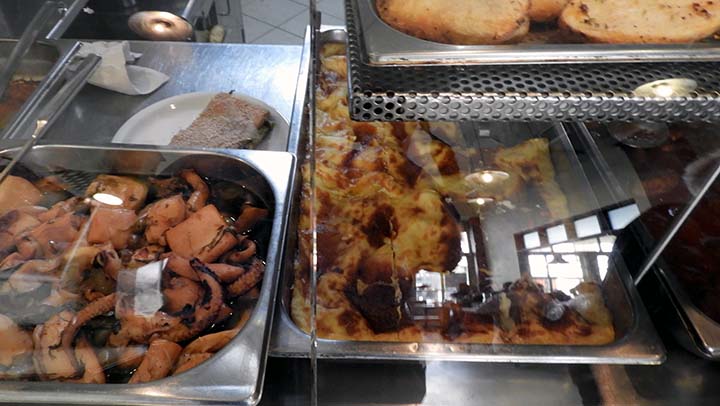 Octopus tentacles, anyone? How about some moussaka?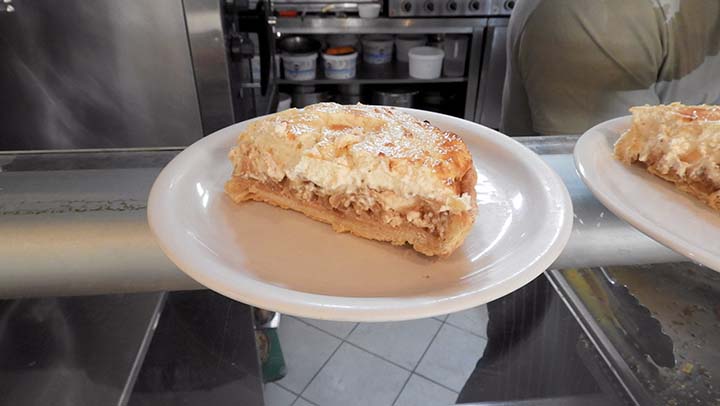 Or this dish with lots of cream cheese and meat in some sort of pie crust?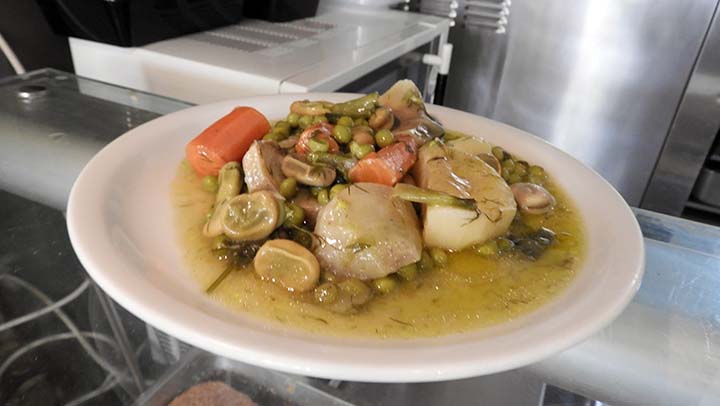 Bill opted for the artichokes and other cooked vegetables. Bill remembers this dish very well.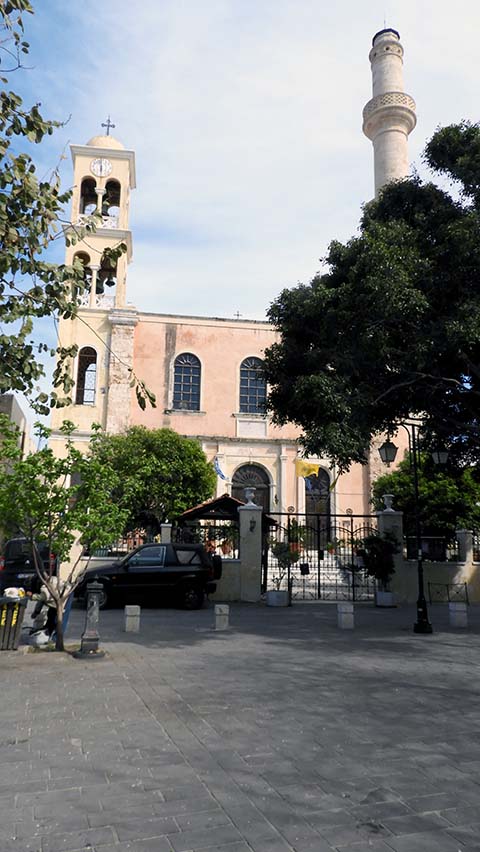 Now let's walk around Chania.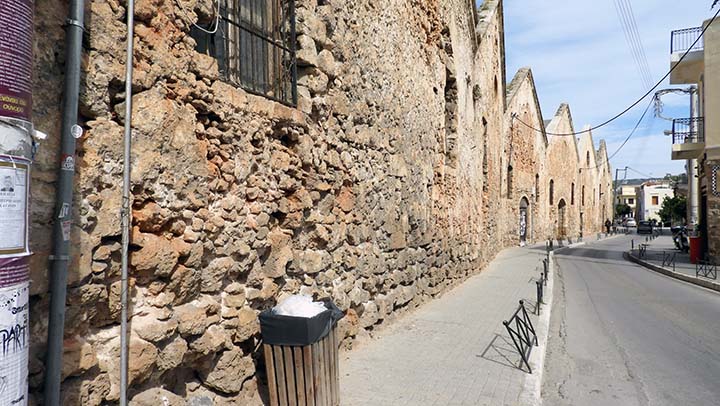 And admire the Venetian architecture.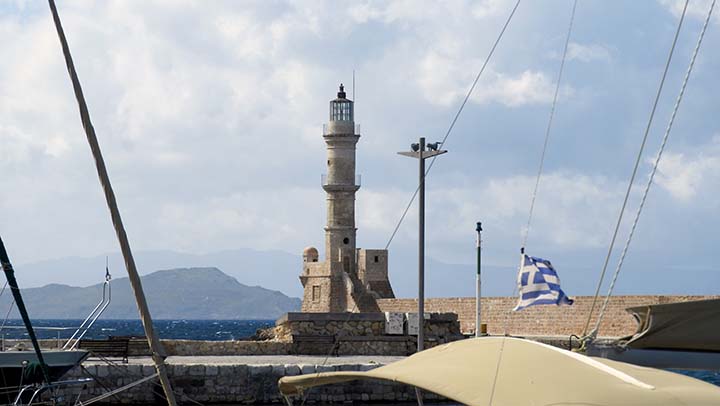 And the lighthouse.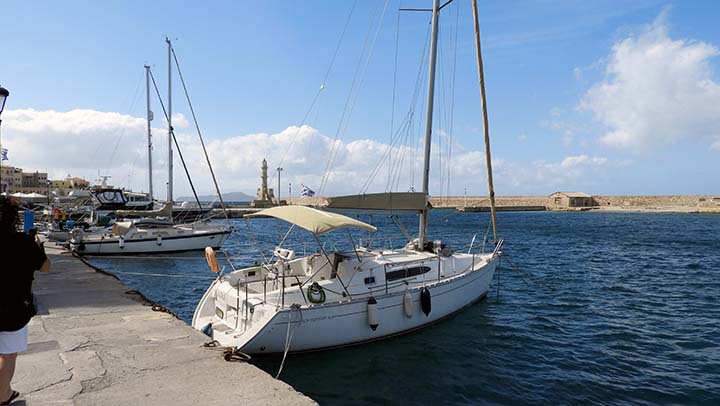 And the boats.
And the city skyline.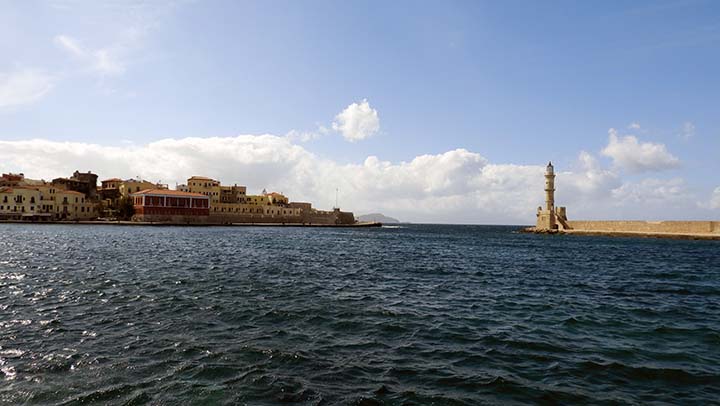 And the harbor.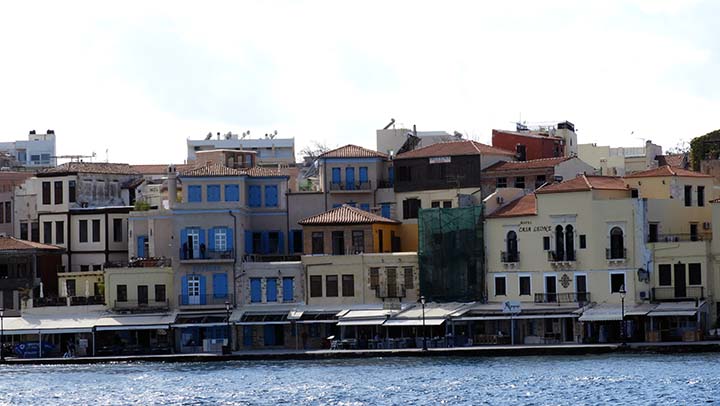 Picturesque, no?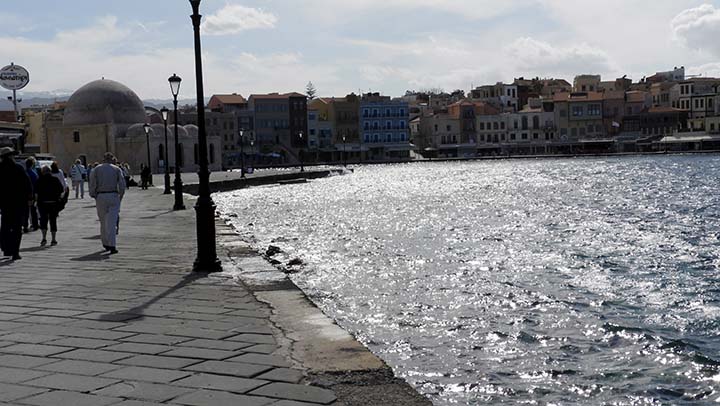 C'mon, let's go further into the old part of town.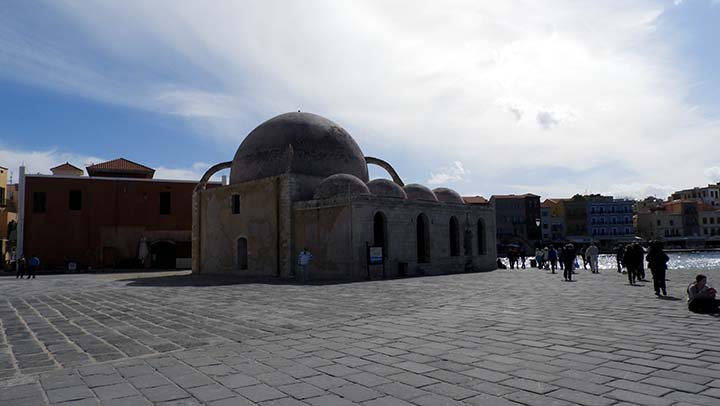 That church looks like it belongs on Tattooine.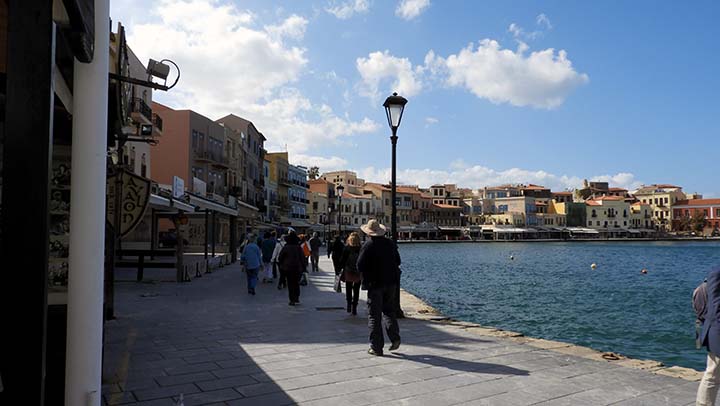 There are shops and eateries around here.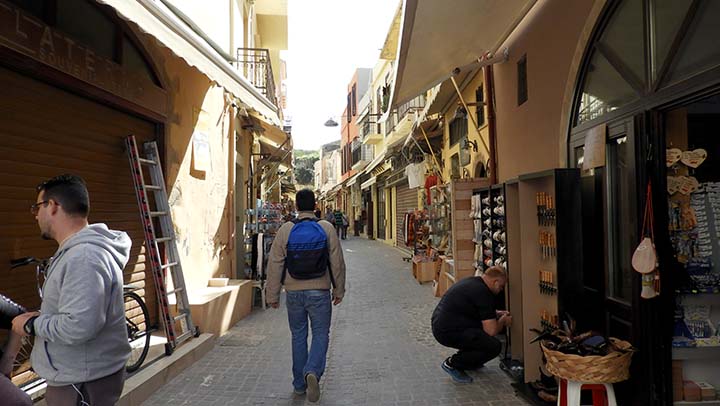 All so very old-town Greek.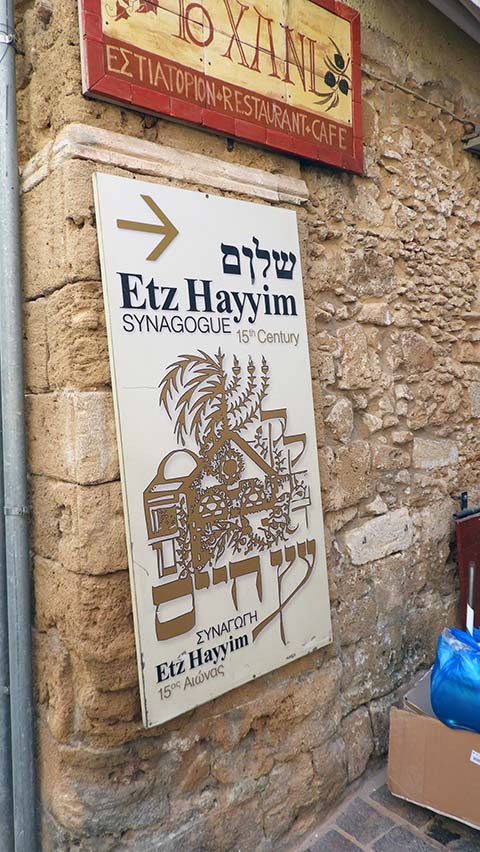 The Etz Hayyim Synagogue is the only surviving remnant of the once Romaniote Jewish community on the Greek isle of Crete. After being restored, the synagogue (with its Mikveh) has become a tourist destination and has attracted visits from foreign dignitaries like Queen Sofía of Spain, the sister of the former King Constantine II of Greece, who made a sudden and unannounced visit to the site on March 6, 2006.
Today the community is a symbol of a good living together. The community life has revived while almost all congregants are Non-Jews. Occasionally a Rabbi or (at the Jewish holidays) someone who is able to blow the shofar visits the community. An International team takes care of the congregation work. Christians and Muslims are invited to visit the meetings and in opposition to other Jewish Congregations in Europe, the visitors have not to show their passport at the entrance.
Despite of the community's romaniote past, the congregation today uses primarily the sefardic custom of Greece and has developed its own Haggadah text.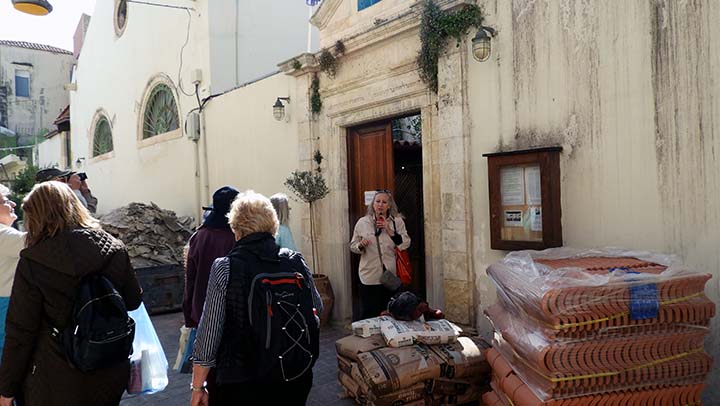 Eleni has arranged a presentation and tour for us.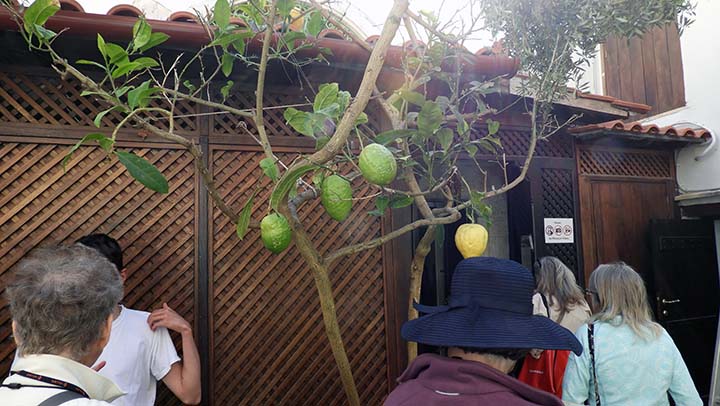 Fruit trees are common in European synagogue gardens. This is a citron tree.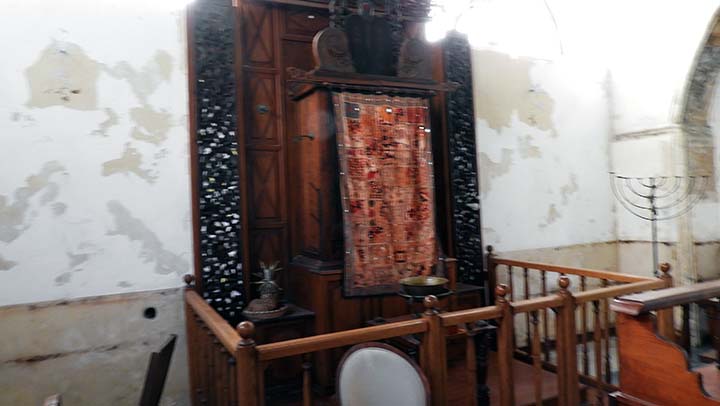 My guess is that there are Torah scrolls behind that curtain.
This nice lady talked and talked about the synagogue, but with her accent and her habit of keeping her head turned away from my direction and her low volume, I hardly understood a word she was saying. Too bad, because the people who sat closer, right down front, seemed to be hanging onto every word.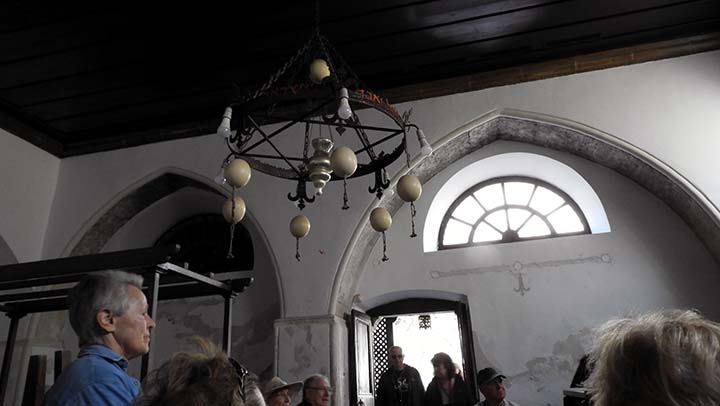 So I just gazed around and took things in.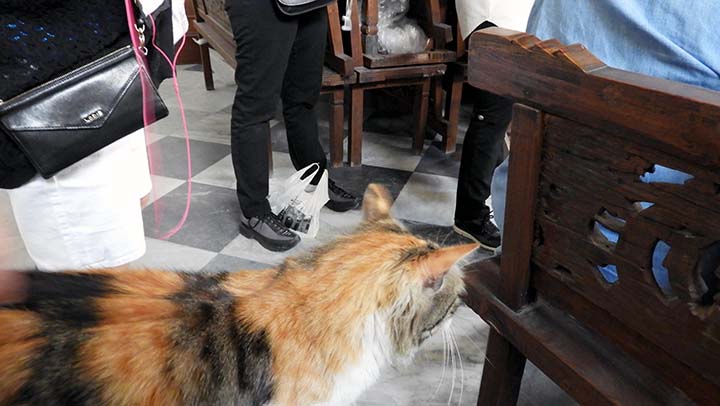 And then a cat crawled up in my lap. Why do cats do this to me? Can they tell their fur makes my eyes itch and my nose run? I think they can tell as soon as they see me. Cats are evil.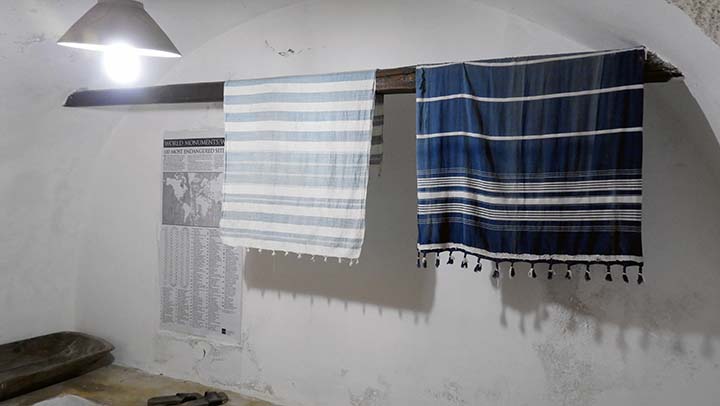 Now we're in the mikveh, used for ritual bathing.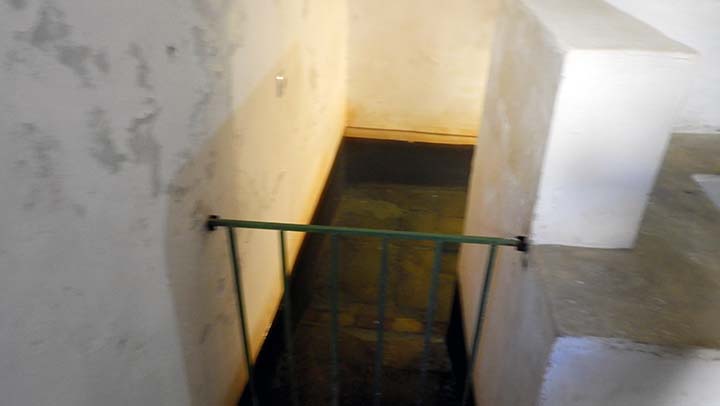 Even though we were assured the water flows in and out as is required of a mikveh, I'm not so sure I'd want to go in there. But it's women only, so I guess I'll never have to worry about that one.
Then we rode the bus back to Heraklion and Bill took no more pictures. He wasn't feeling too well and he skipped the "dinner on your own." And remember that plate of cooked vegetables at lunch? Well, say no more. But he'll be ready to go again tomorrow.