Can this really be the last full day of the Road Scholar tour? Bill's last day with Eleni and Efi? He'll have to take charge of his own life again tomorrow? Oh no! Well, let's make the most of this day.
Before we leave the hotel, let's have a look at Bill's breakfast. That's a nice piece of bacon on top of a couple of tasty little savory pies called kaltsouni, some cooked vegetables, and a dollop of sheep's milk yogurt. All very good. But the reason for the picture was that Bill had tasted a breakfast treat on his first morning at the hotel and he'd kept describing it to Eleni and Efi, asking what it might have been, and they had no idea what he was talking about. "It was a rectangular slab of brown stuff." <puzzled looks>. So now he had a picture, and Eleni looked at it and told him it was halvas. And Bill was satisfied right up until he was typing this and consulted his notes of Eleni's comment and realized...HALVAS!? That's the gooey semolina stuff he doesn't like, while this sugary slab is crunchy. Does Bill actually like halvas after all? Greek food is too complicated.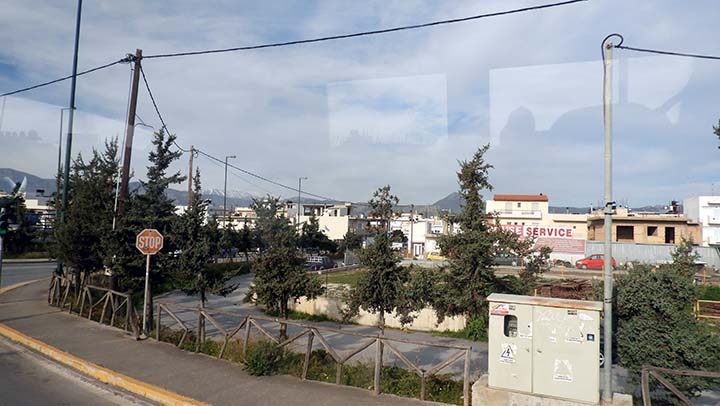 So let's hit the road. We're headed back west along the northern coast of Crete in the direction of Chania.
And the countryside remains as picturesque as ever.
Nice to look at, but we've seen this before
Not to worry -- Efi regales us with information about olive trees on Crete. We learn that the wild olive tree first appeared in the eastern Mediterranean but it was in Greece that it was first cultivated. Since then, the presence of the olive tree in the Greek region has been uninterrupted and closely connected with the traditions and the culture of the Greek people. Olive oil production held a prominent position in the Cretan Minoan and the Mycenaean society and economy as is shown by excavations and findings (earthenware jars, recordings on tablets, remains of oil mills). During the Minoan Period, olives were treated and oil was produced which in turn was stored in earthenware jars and amphorae. Quite often it was exported to the Aegean islands and mainland Greece. Apart from the financial gains, though, the olive tree was worshipped as sacred and its oil, besides being offered to the Gods and the dead, was also used in the production of perfumes, medicine and in daily life as a basic product in diet, lighting and heating.
We also learn how olive oil is made, how olives are crushed and put in bags and stacked high so the oil can seep out and it's all flushed with hot water (for commercial uses) or cold water (if the oil is to be consumed as food) and how there are different grades and how the olive oil produced around Chania is just the best ever and boy, Efi sure knew her olive trees. Her presentation was very interesting and just look, Efi, if you're reading this -- you were smiling beautifully when I snapped that picture. Nothing to worry about. See? Told you.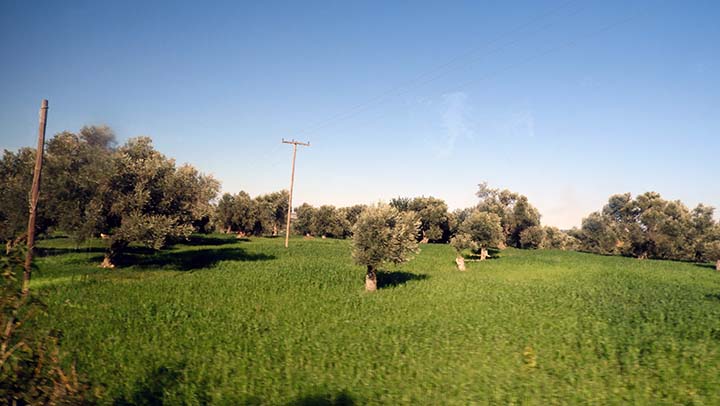 Olive trees were everywhere on Crete.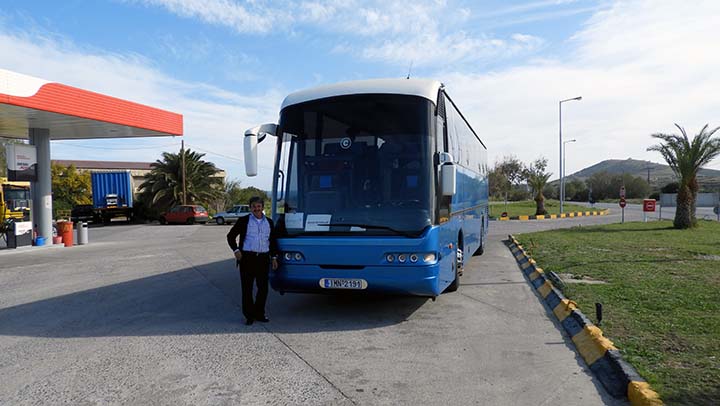 Our bus driver was Zacharias, but he told us we could call him Zack. He was an excellent driver; sometimes when he was navigating tight turns in narrow streets we'd give him a round of applause.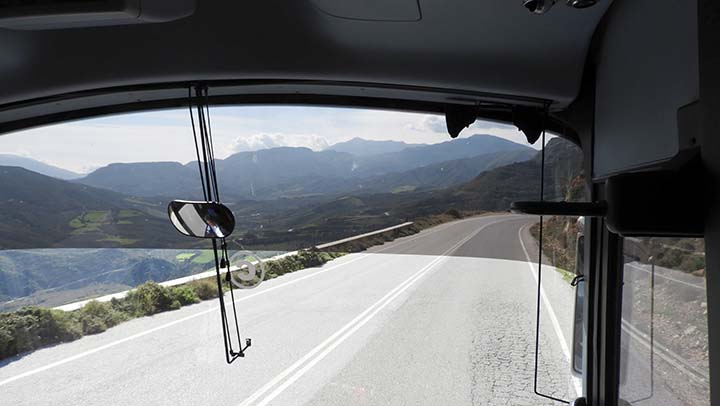 As I said, we traveled the road to Chania for a while, but then we turned south and up into the mountains.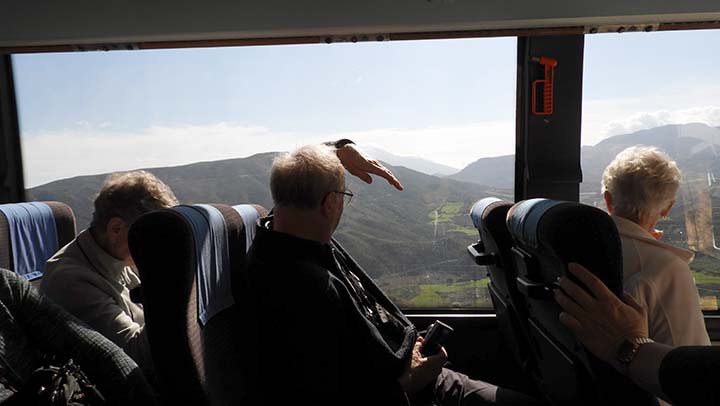 Big mountains; quite a view.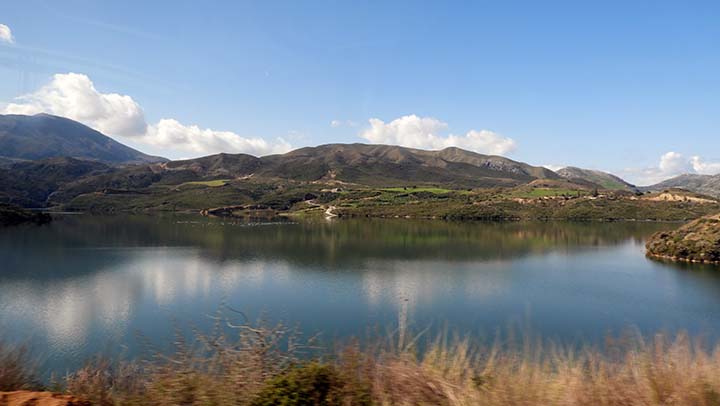 With pretty lakes.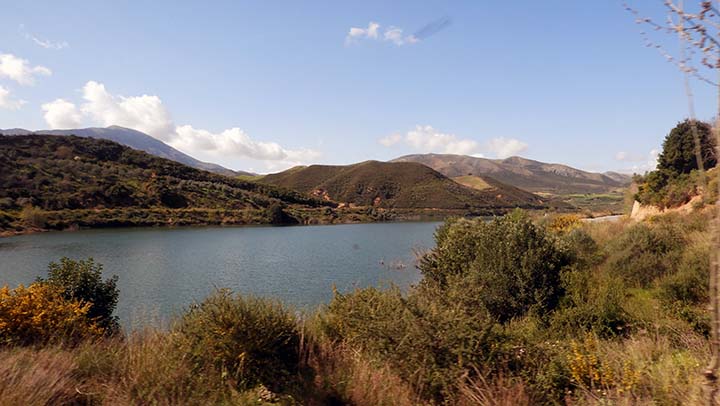 And fluffy clouds.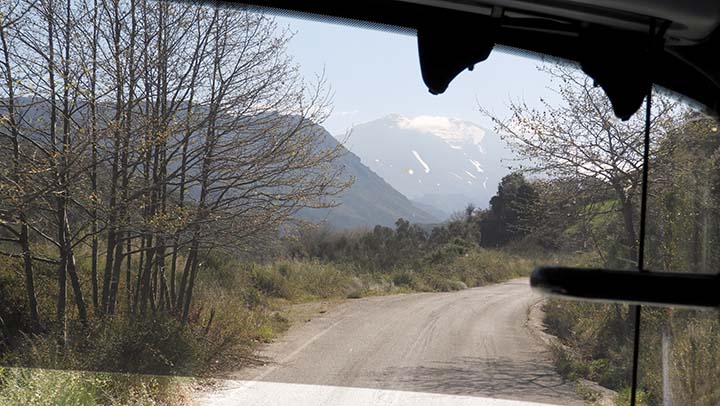 And narrow roads with steep drops over the side and no guard rails. I think, though I don't claim to be absolutely sure, that I saw white knuckles on one or two Road Scholars. But Zack is a terrific driver, folks. Nothing to worry about!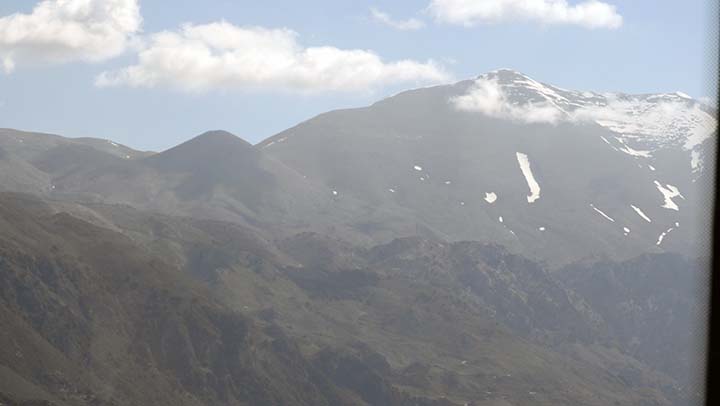 Just look at the pretty mountains.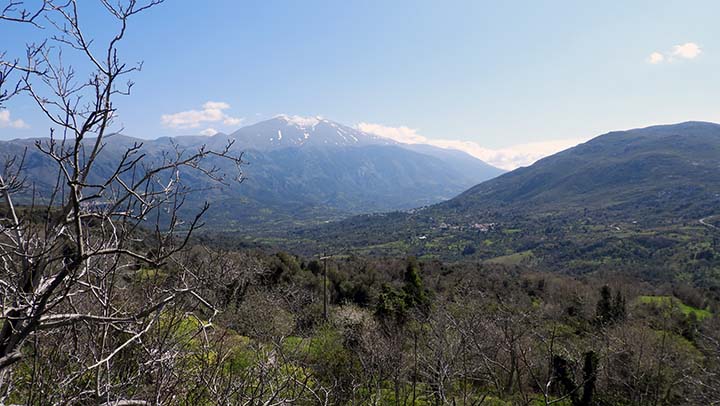 Focus on the scenery.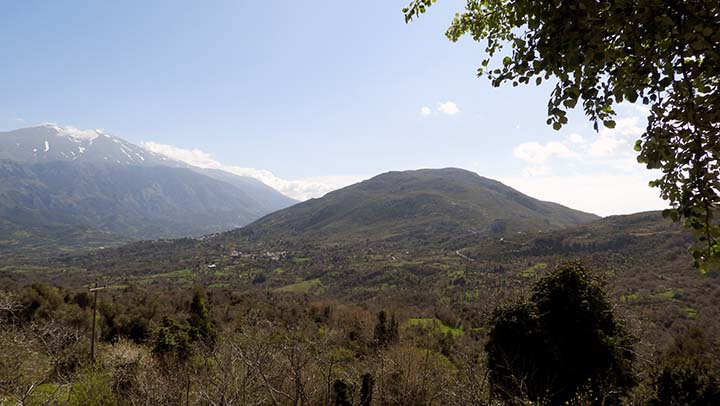 You'll be fine.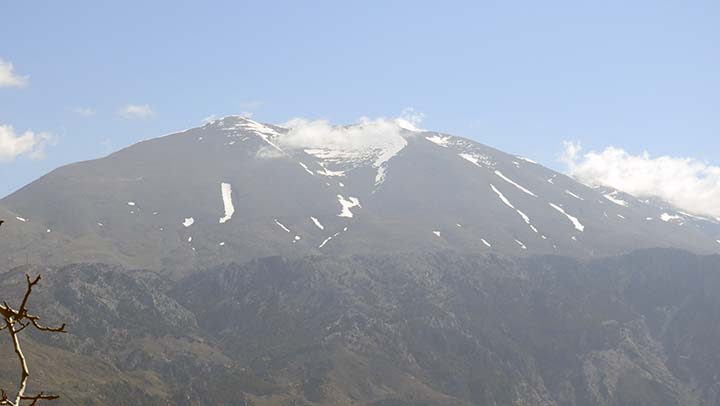 Gorgeous, right?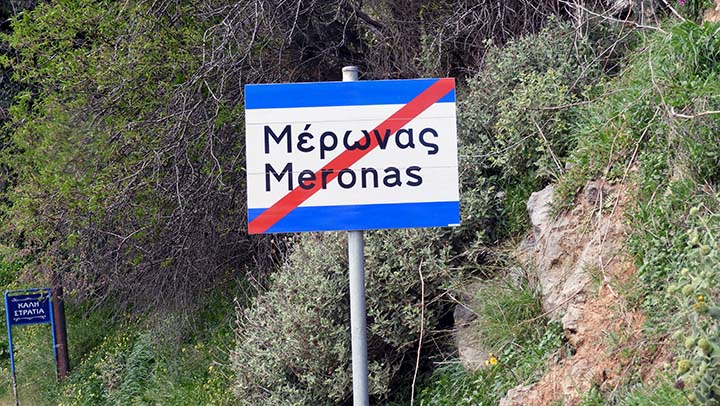 And now, here we are -- no problem you sillies.
We've been met in the village of Meronas by Eleni's friend, George, a warm, erudite native of the region who owns and operates a rustic lodge and camp nearby. We'll visit it in a little while.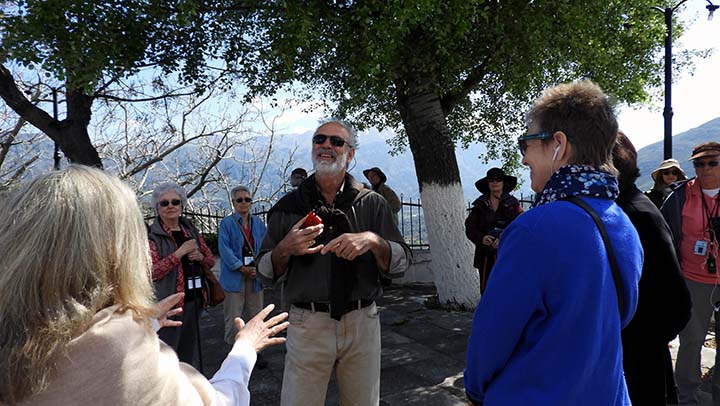 But right now George regales us with information about Meronas and the surrounding area.
Why is Meronas located right here? Because there's a spring, that's why.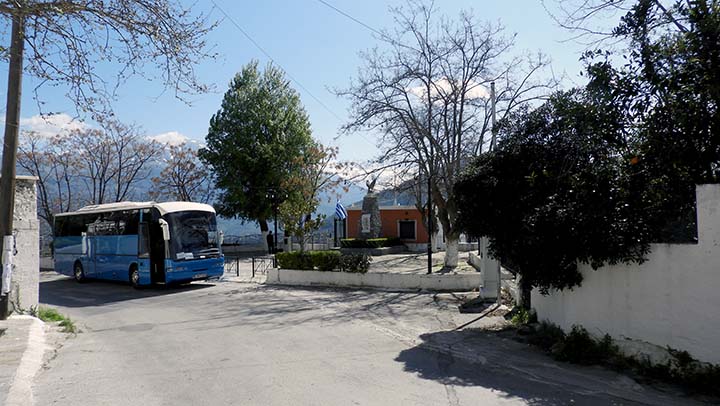 Now let's go for a little walk and leave our bus behind down there. Our path is uphill, of course.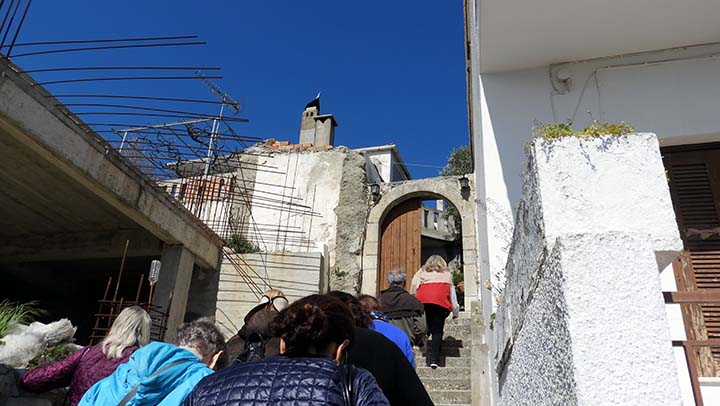 We've been invited into the home of a friend of Eleni and George, a recently-widowed lady named Popi.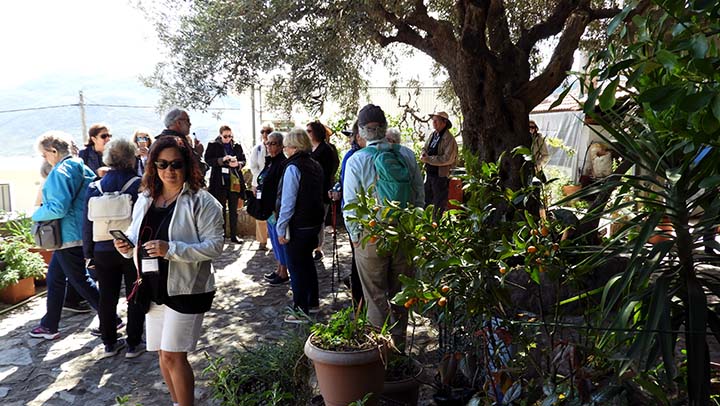 Popi's home has a very nice courtyard.
Some of the herbs Popi raises in her garden are found only in this region of Crete.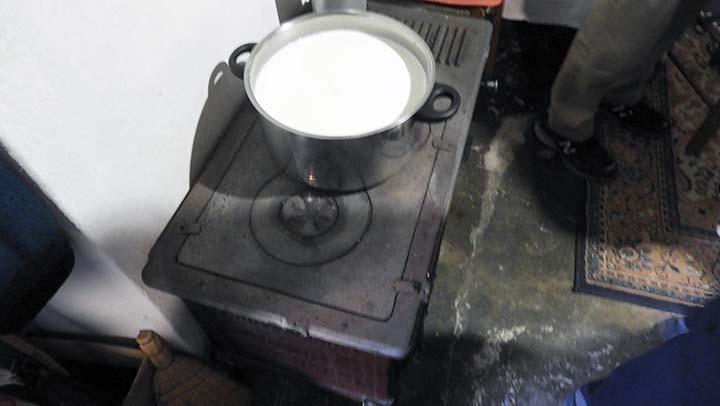 Just inside the door Bill was warned not to bump up against this hot stove where sheep's milk was heating up in preparation for making cheese.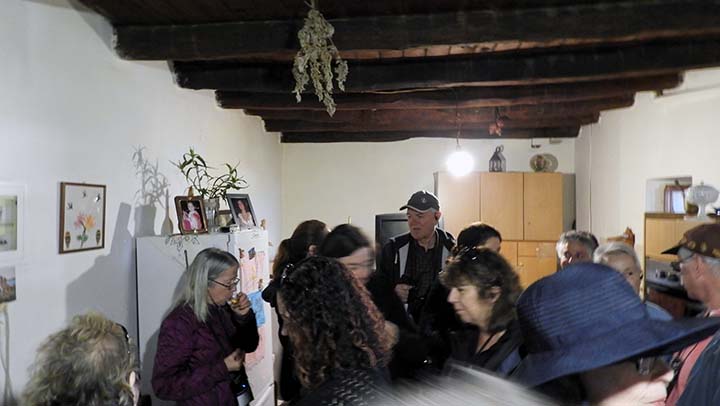 With all the Road Scholars crowded into this small home, it would be easy to bump into a pot of hot sheep's milk. Careful, everybody.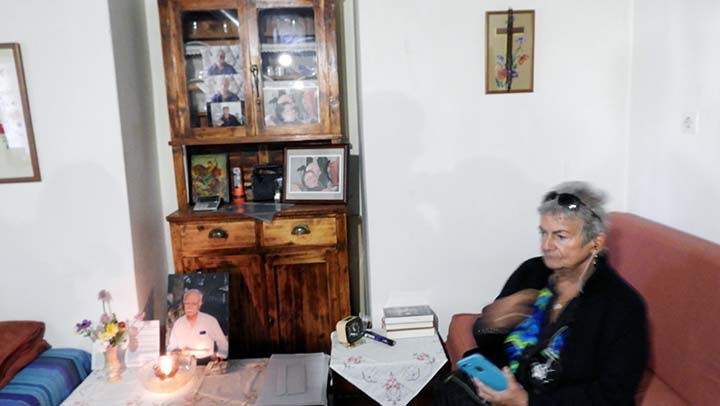 That's Popi's late husband in the pictures on the cabinet.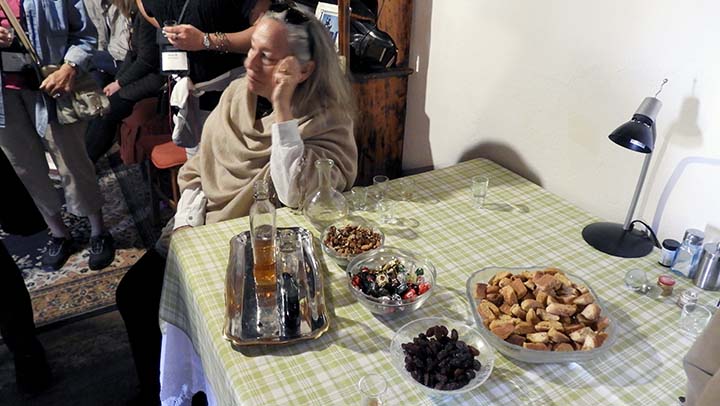 I think Eleni is enjoying this at least as much as the Road Scholars. Look at the treats Popi has prepared for us. That silver tray holds some special liqueurs from the region. Nice.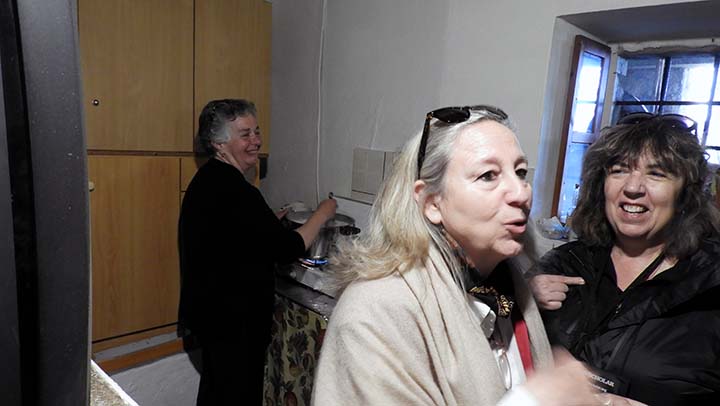 Popi seems actually delighted to be entertaining a horde of American tourists. I donít really understand how Road Scholar can arrange for events like this, but Iím sure glad they can. Eleni explained that she knows somebody who knows somebody. In any case, we learned this sort of event is a welcome diversion for Popi following her husband's passing. Eleni and Laurel are certainly enjoying themselves.
Let's watch how she turns sheep's milk into cheese.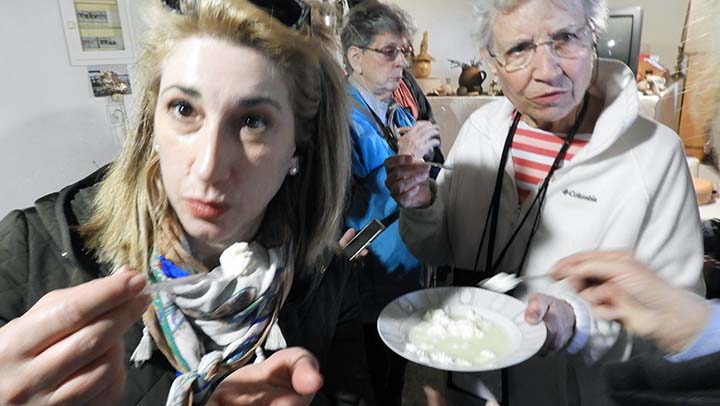 And now...mmmm...the freshest cheese you can get, still warm off the stove. It's delicious, right Efi?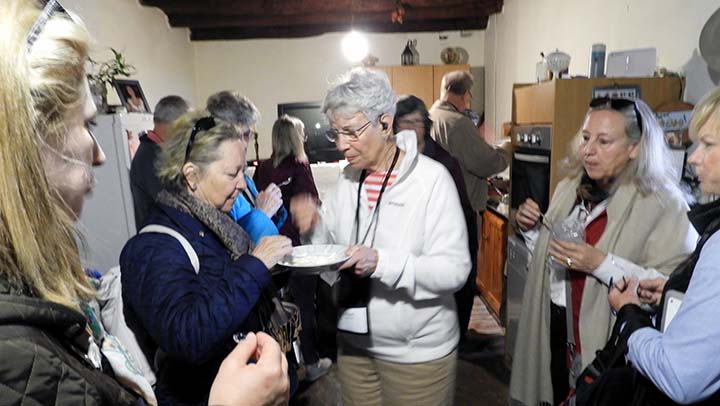 Of course all the Road Scholars want to sample the mizithra cheese in its freshest state. It was seriously good stuff.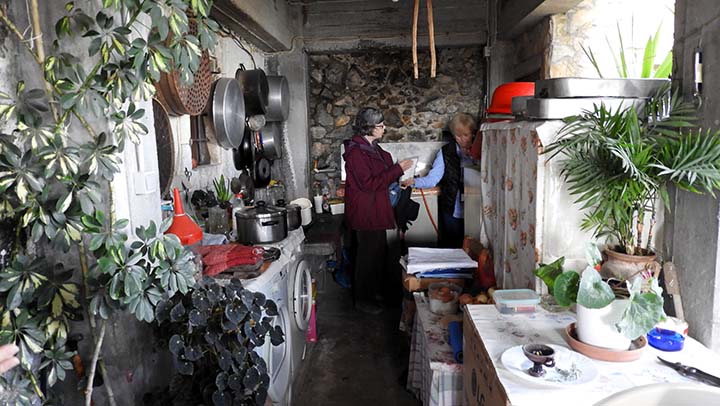 It was a lovely little house.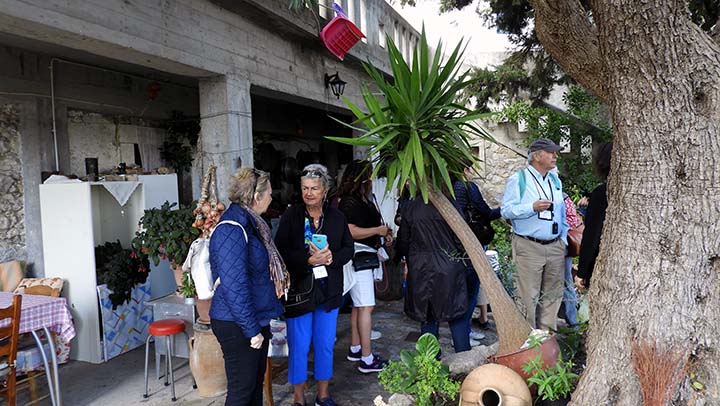 And the Road Scholars enjoyed the visit.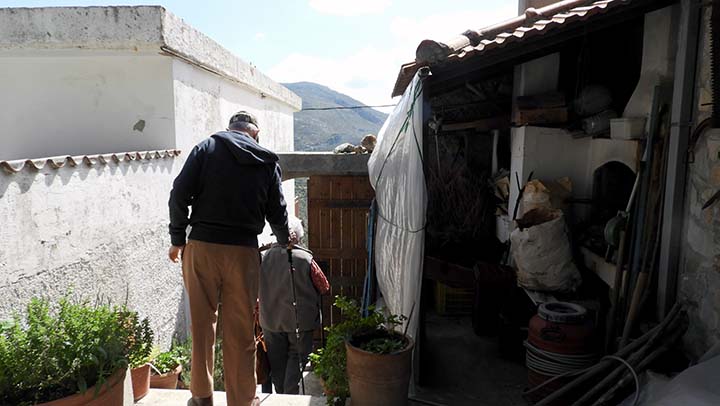 But soon we had to go.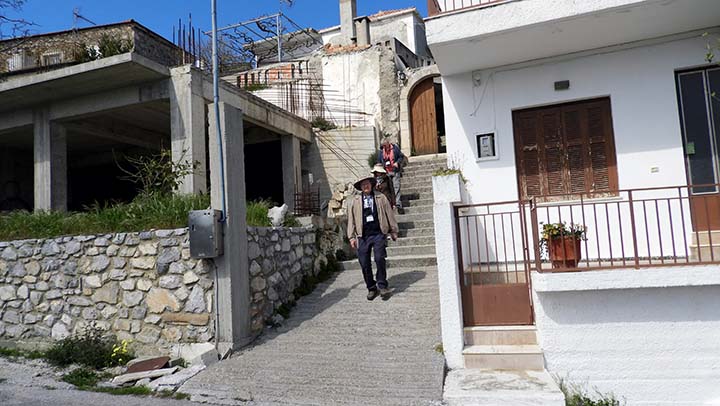 Off to the next interesting thing to see.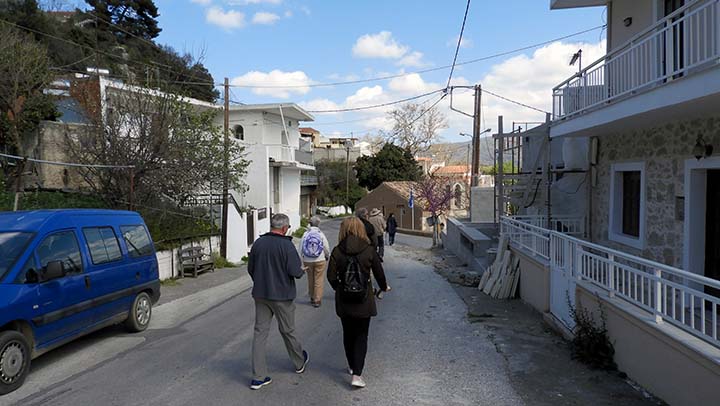 And it's...what? Back DOWN hill? This is a first.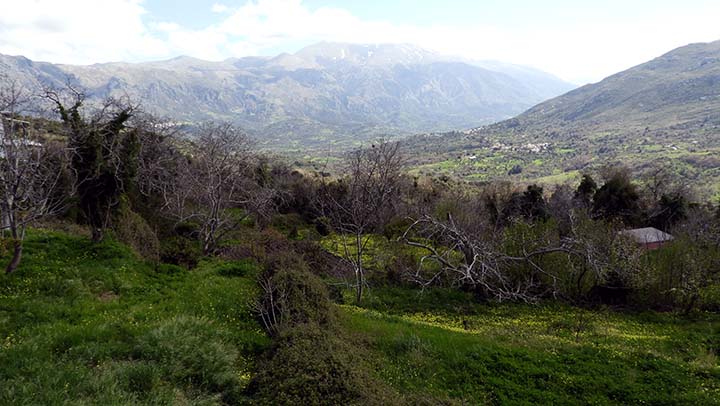 The view from Meronas is gorgeous. That is called the Amari Valley, after the little town of Amari. The valley was known as a center of resistance to the Germans during the Battle of Crete and the German occupation. After the abduction of General Heinrich Kreipe the Germans destroyed a number of villages in the area, killing many of their inhabitants.I'd read all about this in the pre-trip preparation I mentioned earlier: Abducting a General: The Kreipe Operation and SOE in Crete. After reading the book it was fascinating to see this area in person and realize how rugged the terrain really was.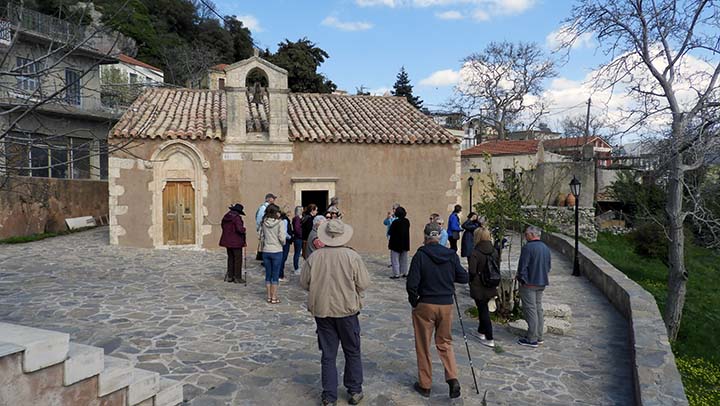 You got a small town? You got a church.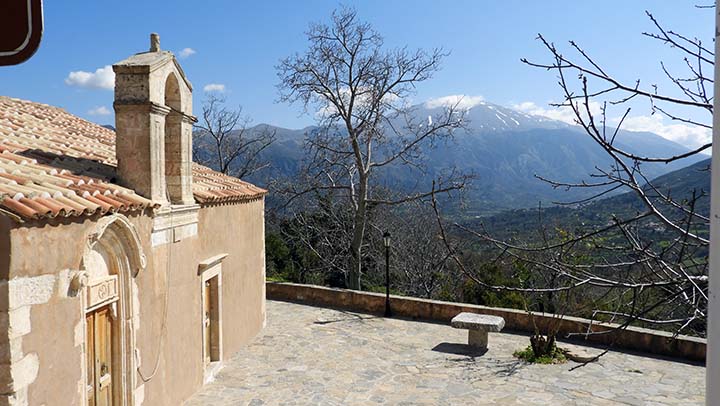 And this one has a very nice view.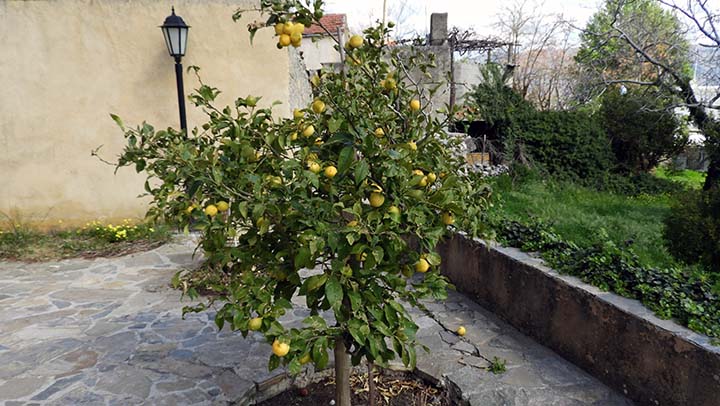 Lemon tree: very pretty.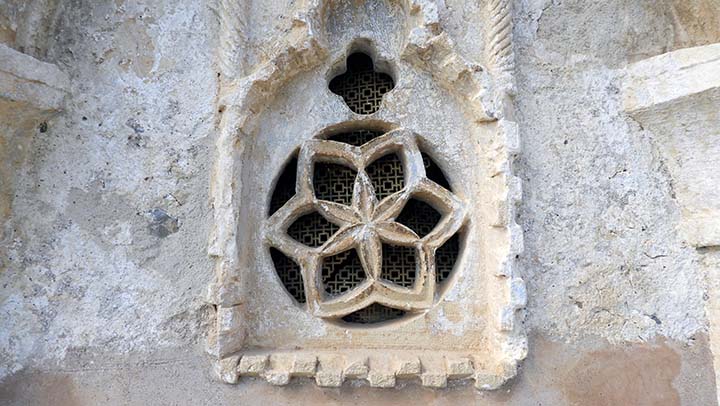 The church is pretty too.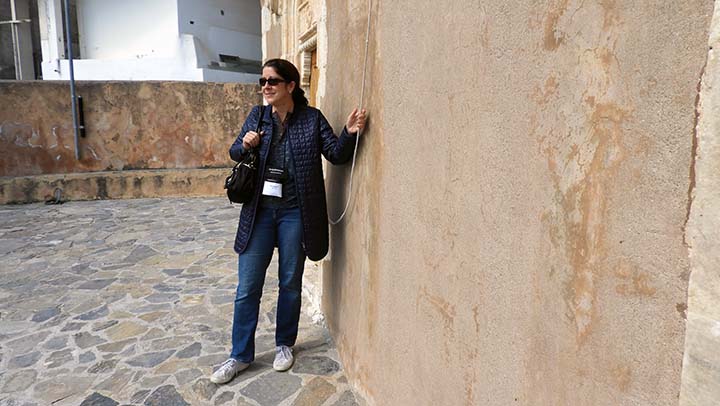 Who dares to ring the bell? Anybody? Melissa? No? What a bunch of weenies.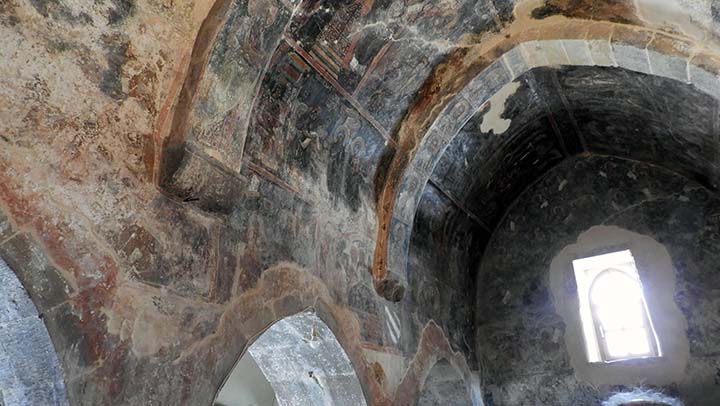 And inside the little church we have ... frescoes!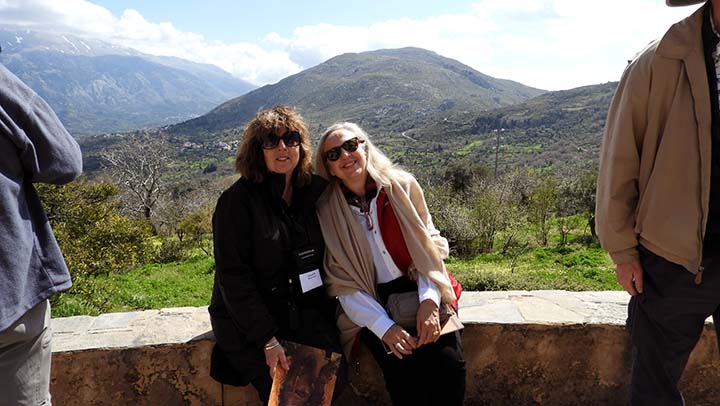 Laurel and Eleni posed for Bill.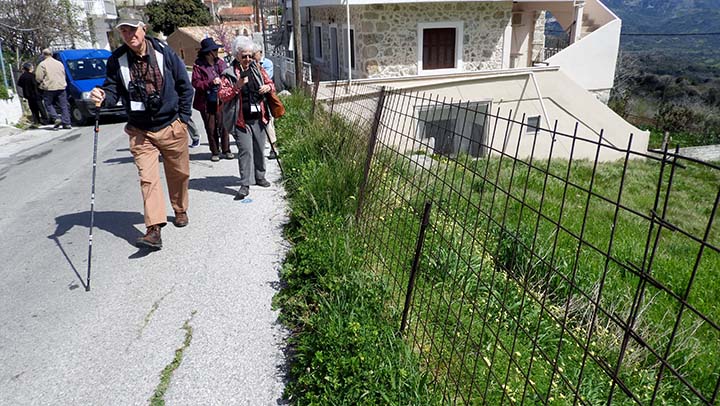 And then we went for another walk. Uphill.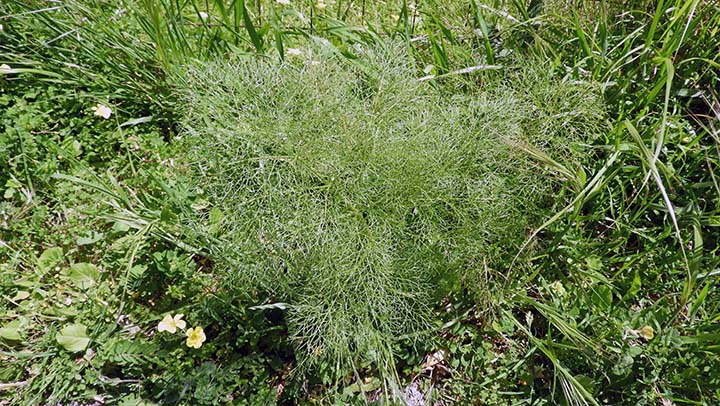 Along the way Eleni pointed out wild fennel growing by the side of the road.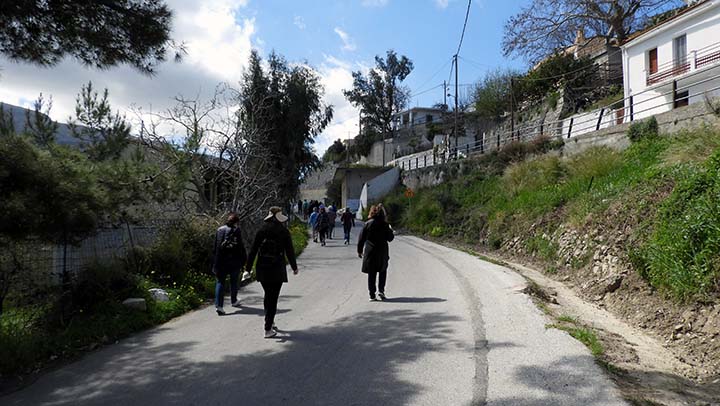 And we continued uphill.
Wait, what's this I hear? Somebody running for office? Nope, Eleni explained he's a handyman out drumming up business all over town. In Greek: "I'll fix anything!" Or something like that.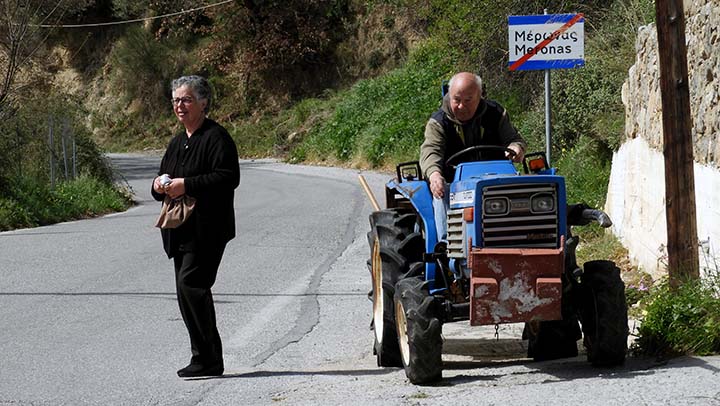 Popi has been chatting with a farmer friend.
And now we've walked far enough UPHILL to find some sort of cooperative where out back there's...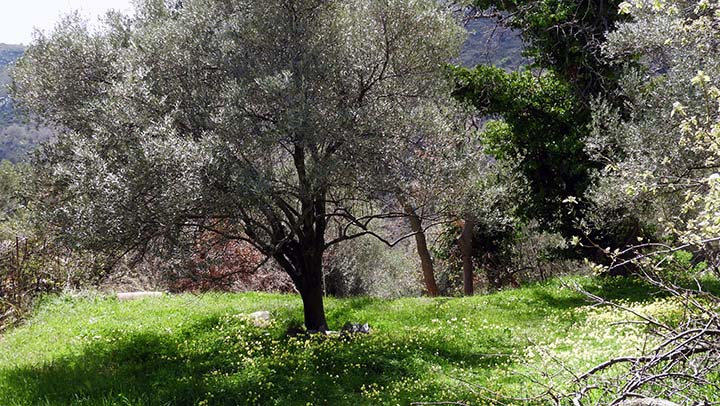 A lovely mountain meadow...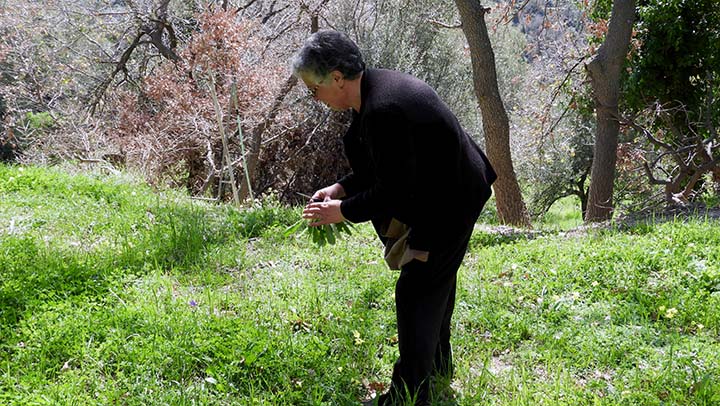 ...just filled with wild greens...
...ready to be harvested.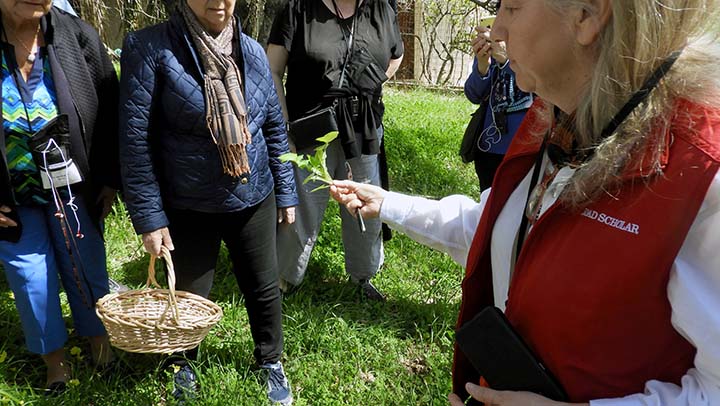 Eleni explains it all.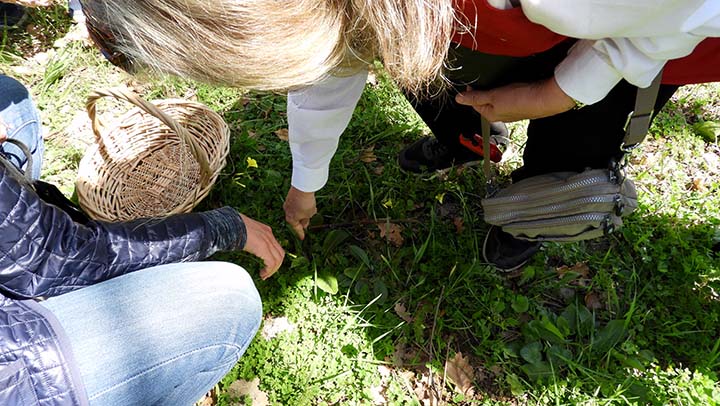 And demonstrates the proper digging technique.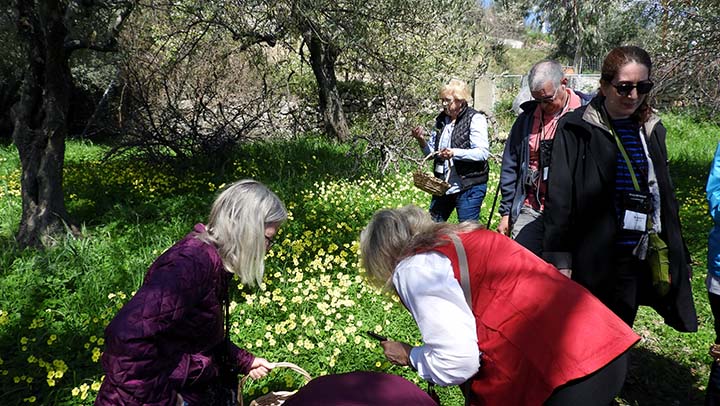 Well, we've all got to give it a try, don't we?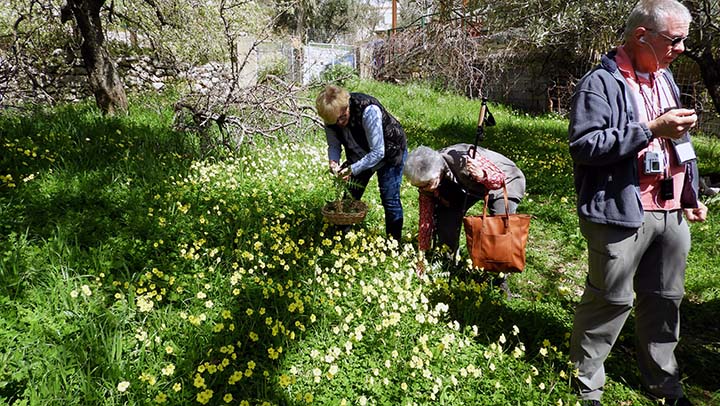 What are we looking for, anyway?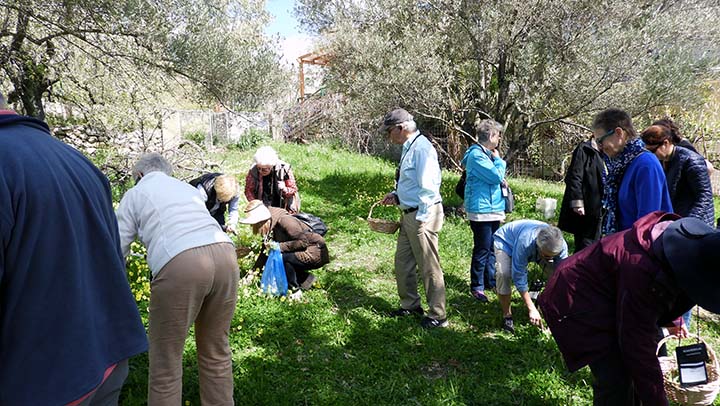 I mean, what is there out here in the grass that's actually edible? "There are more than 100 edible horta (wild greens) on Crete although even the most knowledgeable would not recognize more than a dozen." (Lonely Planet Guide to Crete, by Victoria Kyriacopoulos)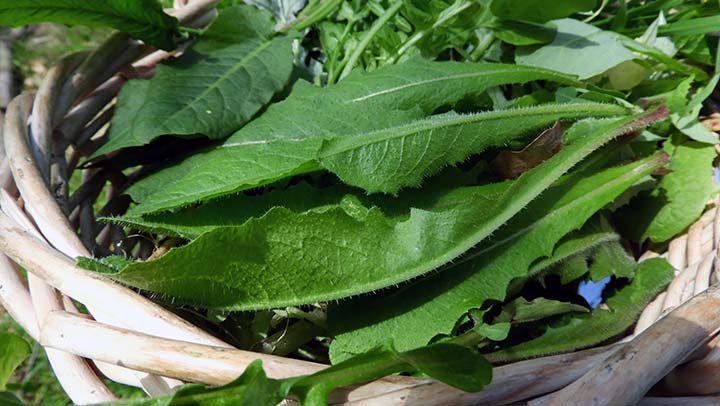 So what are we finding? Well, let's see...there's dandelions and wild spinach and thistles and wild fennel and nettles and maybe some weeds, who really knows?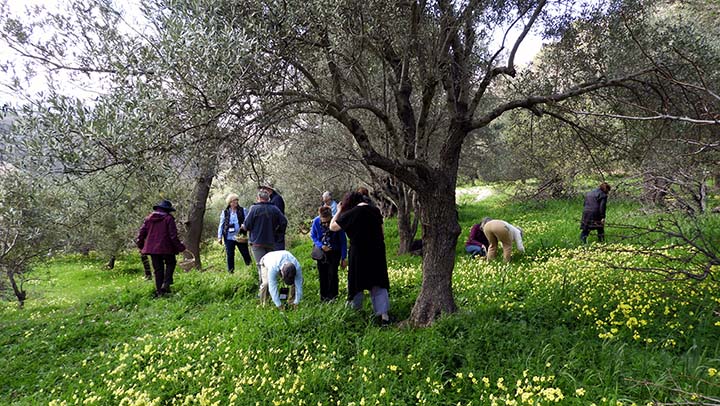 The Road Scholars are just enjoying themselves on a warm spring day in a mountain meadow. Now was this worth the trip up that winding mountain road or what?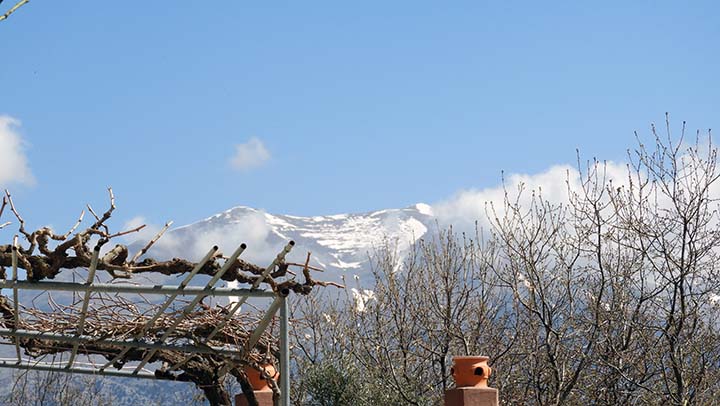 Did I mention the view is spectacular?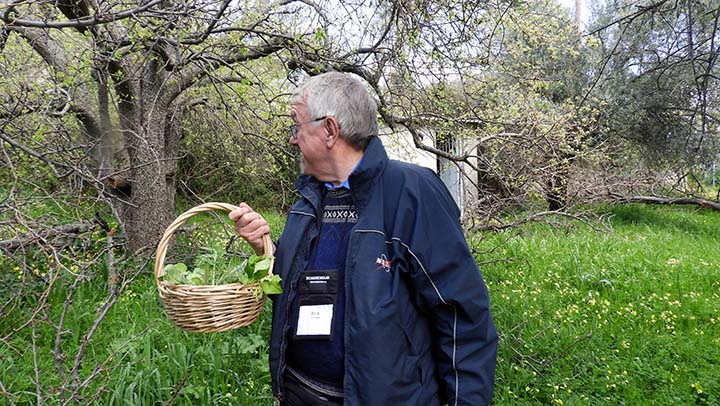 Bill! Pay attention!
He's so proud of his basket full of weeds.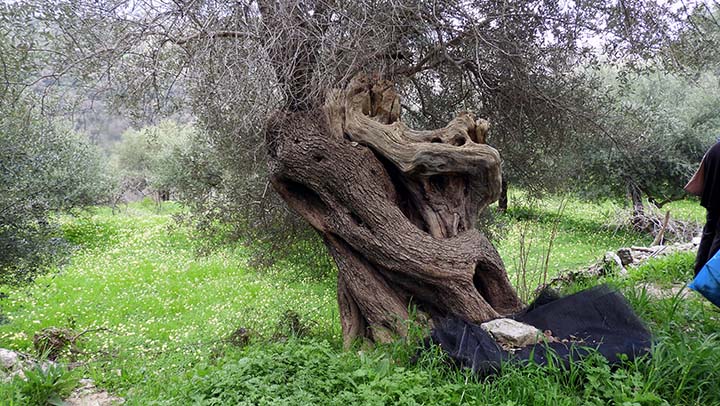 After many years of growing, olive trees can take on some interesting shapes.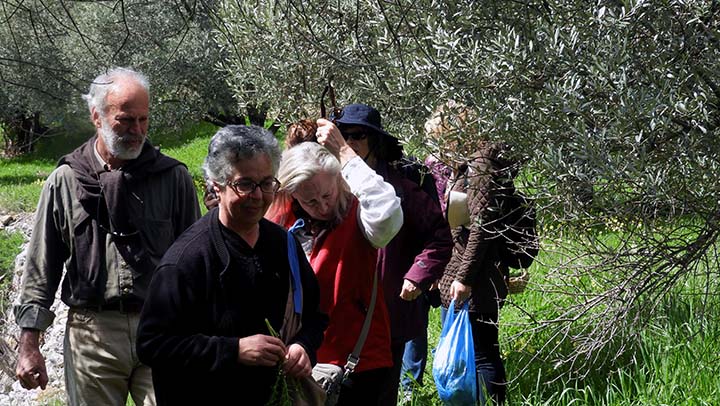 George and Popi and Eleni have been terrific guides on our foraging expedition.
So now let's walk ... uphill ... to George's lodge and campground.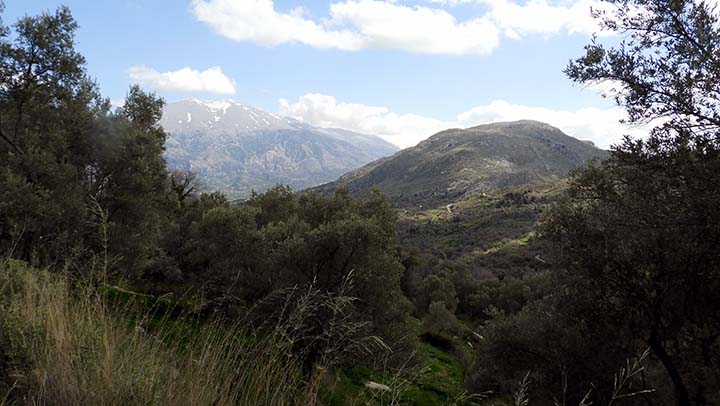 Where there are more gorgeous views.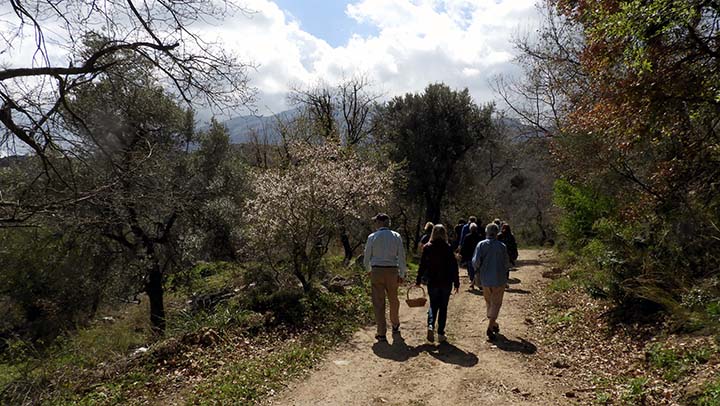 And where the lane narrows.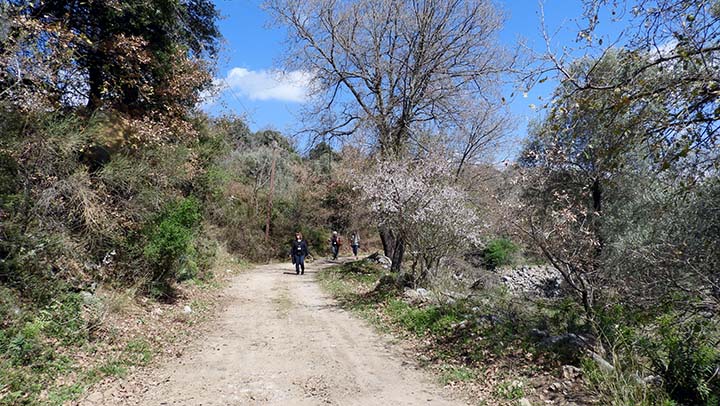 And where the trees are beginning to blossom.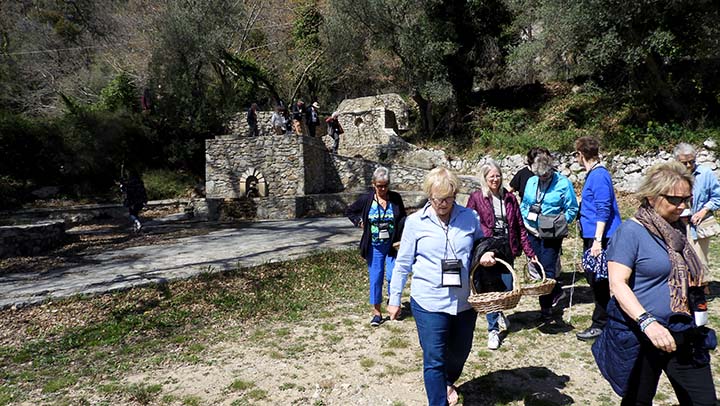 And where there's water from a spring.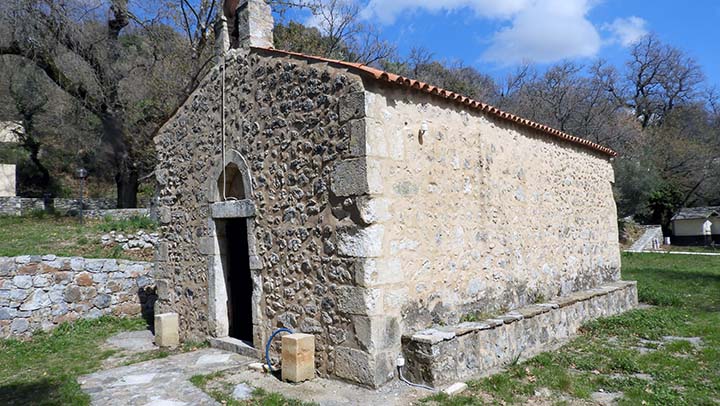 And where there's a church!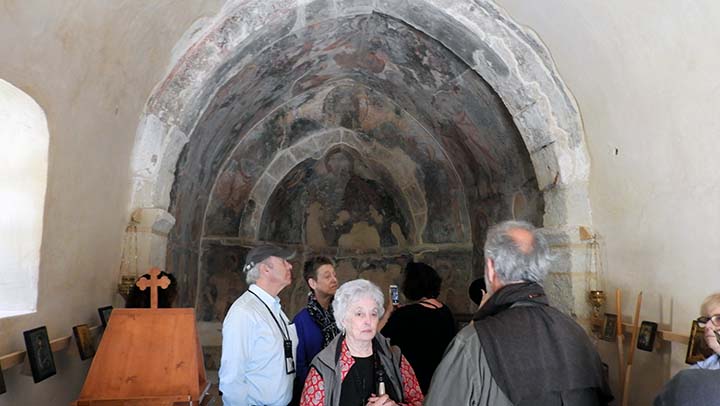 With frescoes!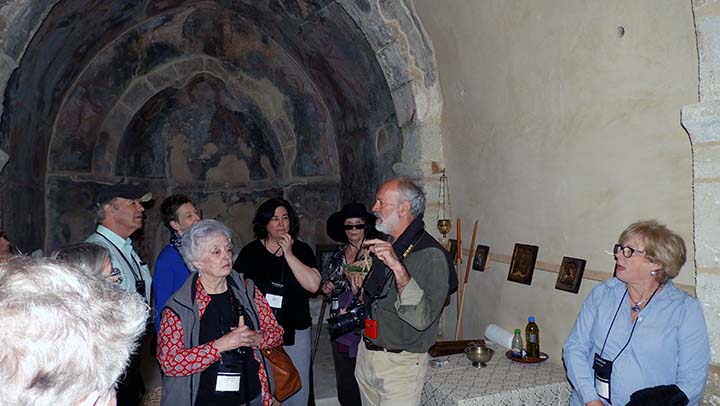 George explains it all.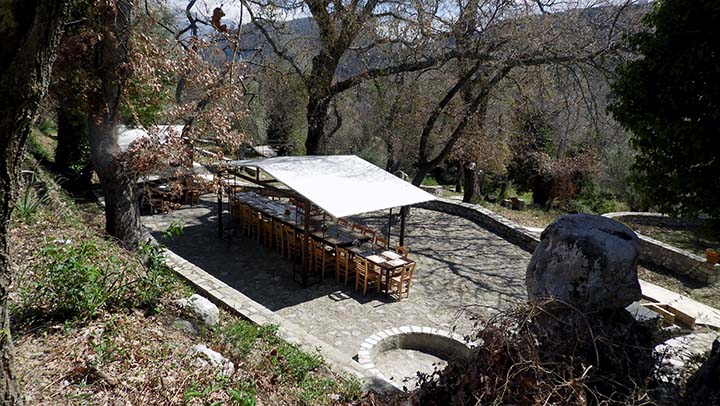 Ah...there's an al fresco feast in our future!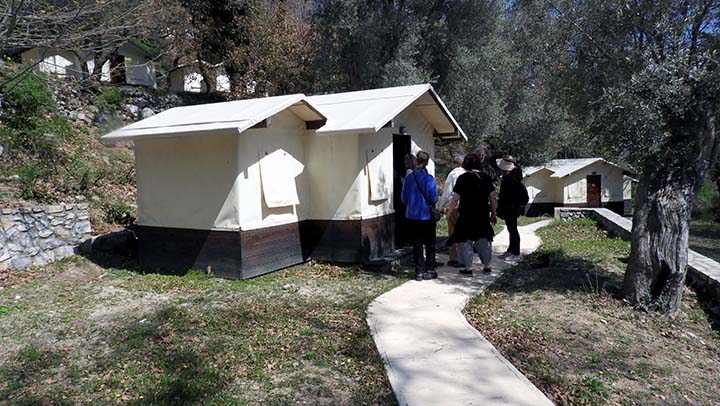 But first, let's inspect George's Wild Nature Eco Lodge Camp.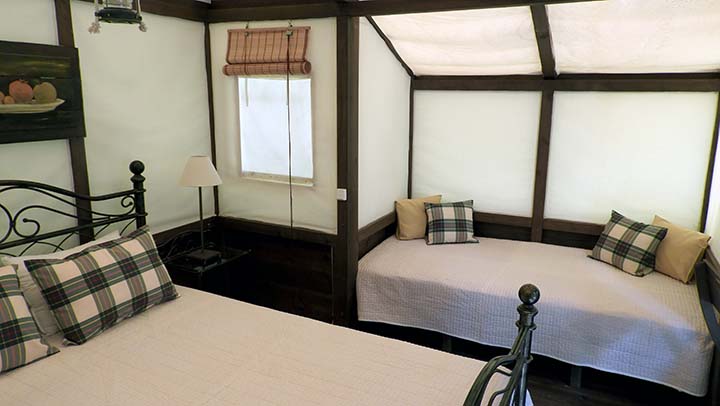 The cabins are wooden frames covered with canvas walls and roof. Very nice and plenty spacious.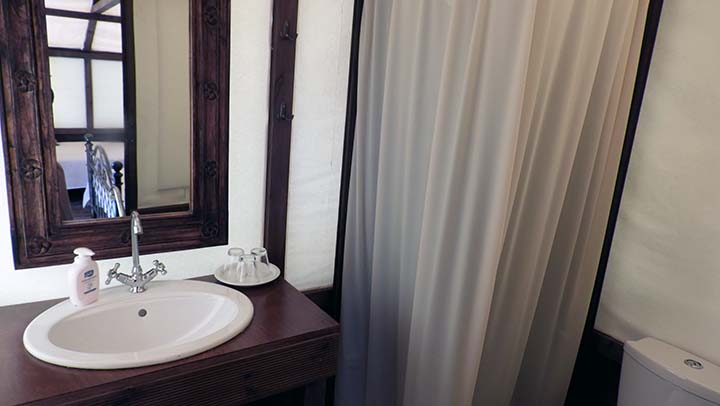 There's even indoor plumbing!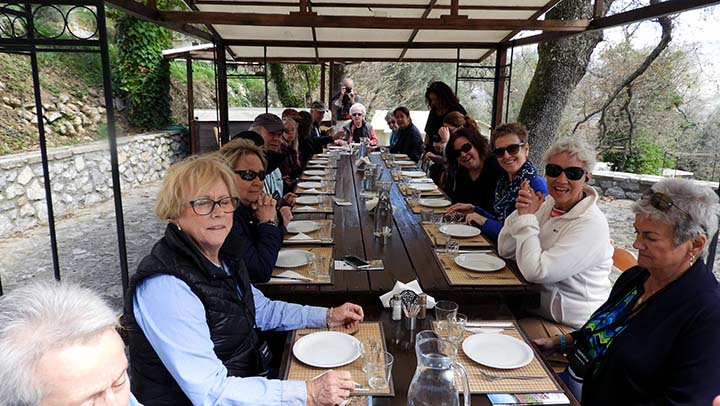 But the best part is the food.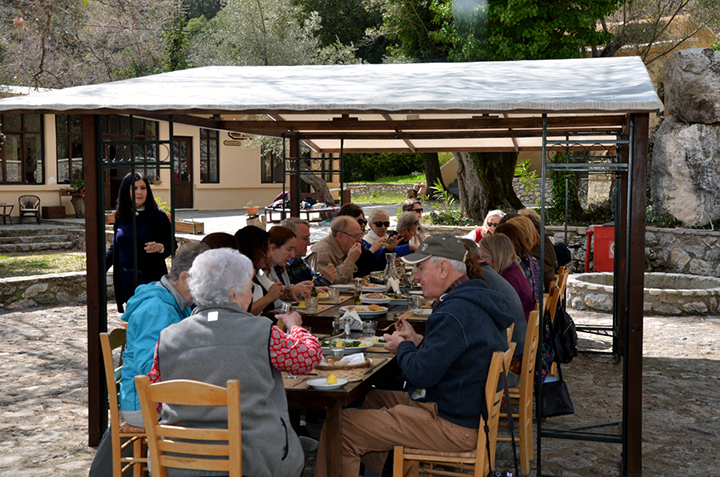 Now dig in, everyone!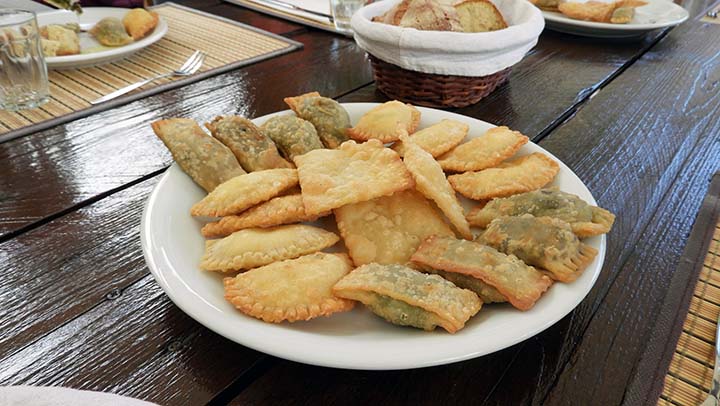 Those fried things are delicious.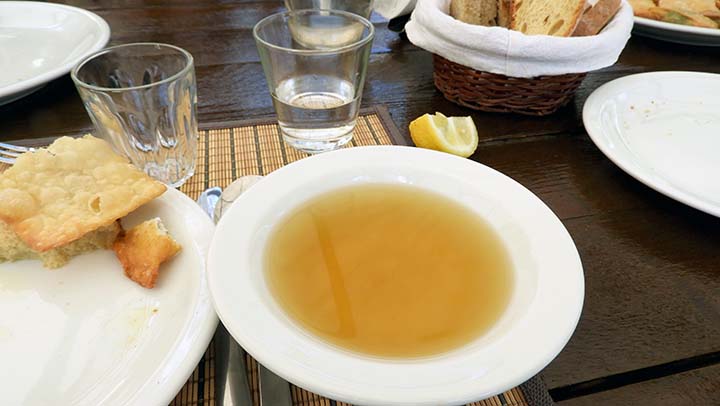 But wait, what's this? It's a bowl of hortas (wild greens) broth made from the weeds we just picked! It's a traditional Cretan tonic, they say. I told you that's what they say. Yes, seriously.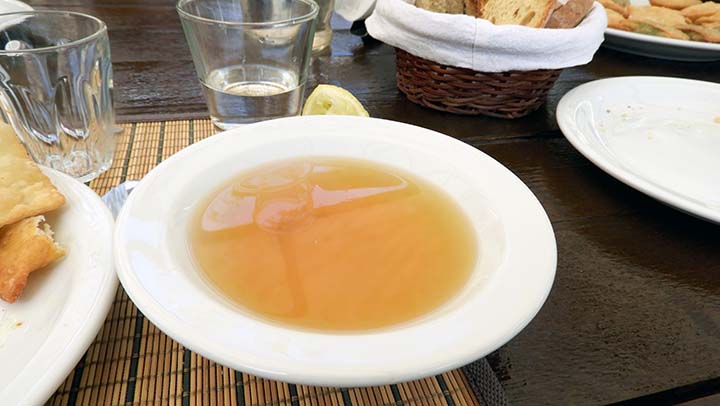 And if you squeeze a lemon into it, it turns kinda red...ish. And just taste it! Go on, you've got to taste it! See? It tastes just like weed soup. Well you didn't come all this way for a can of Campbell's tomato, did you? Now shut up and enjoy the rest of the meal.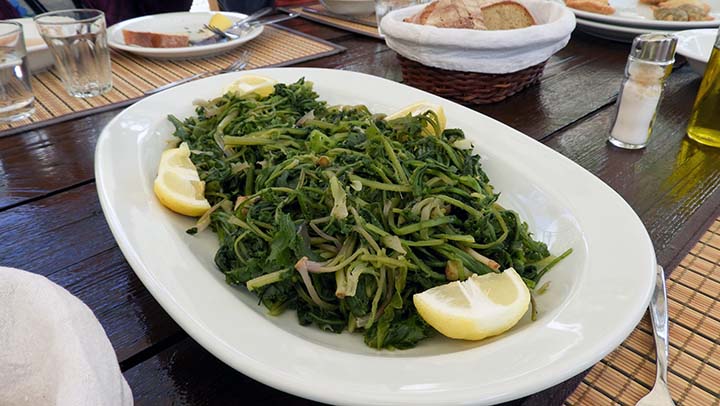 Starting with the greens we picked. They tasted better than the soup, but just imagine how much better it could have been if they'd dropped a big ham hock in the pot when this was cooked.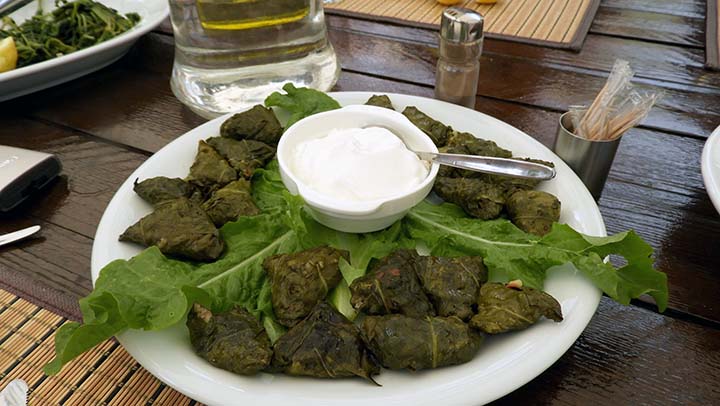 Ah...those stuffed grape leaves again with a big dollop of yogurt. Very nice.
Hey look! Entertainment!
These young guys are good! They explained that they play traditional music on their traditional instruments at venues all around the area. Now sit back and enjoy, and listen at the end as Eleni explains it all.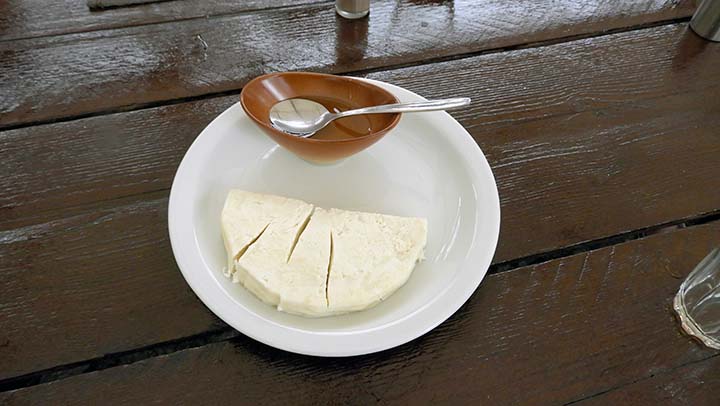 But we're not finished with the meal. Never mind that we're all stuffed to our limits, we have to try the mizithra cheese Popi made earlier, now pressed dry and shaped properly. Ahhh...completely full at last.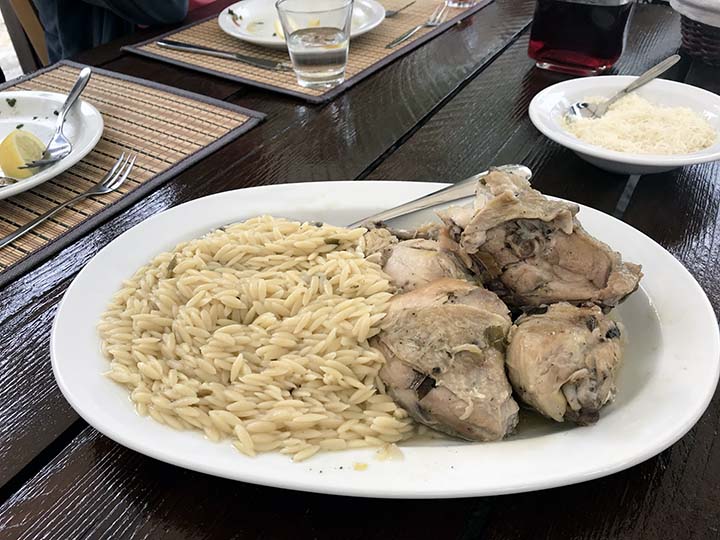 What?? MORE?? Are you kidding me? This was when Bill embarrassed himself by asking, "What's orzo, really? Some sort of rice?" No, you dummy...it's pasta. How could you not know that? You should know that.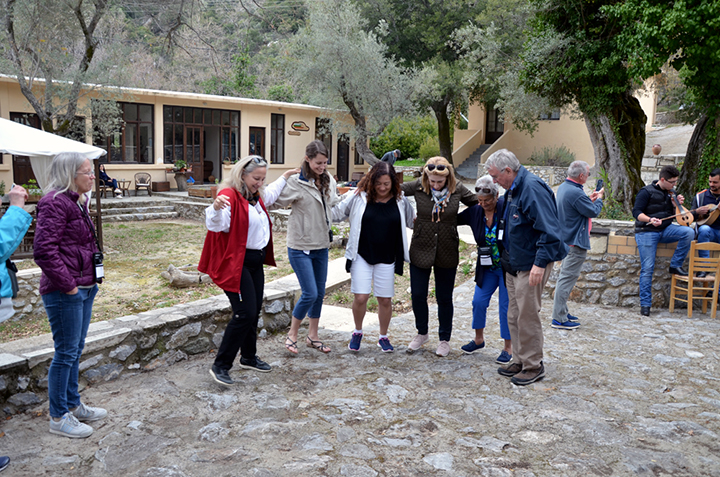 So you think that just because you've eaten so much you can't move that you aren't expected to dance? Get up there, Bill. You can do it. And thanks for this, Eleni -- it was so much fun! A highlight of the trip!

Here...you gotta see this in action.

Hey, look! Hugh plays the mandolin at home, and this instrument is almost the same thing, so.... Nice job, Hugh!

After we all returned home, I asked Hugh about the instrument he played in that clip. This was his response:

I was so impressed with the music and also with the mandolin because it had a much different sound than mine that I didn't fully examine the lyra. I wish I had. The instrument with the bow is indeed a Cretan Lyra of the common type built after 1940. I wish I had tried to play it also but it is tuned differently than any of my instruments. The instrument I was playing is a common mandolin. The one I was playing is sometimes called soprano or piccolo style. They are 8 string instruments with the strings arranged in 4 pairs. Each pair is identical and tuned to the same note, so we have (going from top to bottom) GG DD AA EE, (same notes as a fiddle or violin, but the fiddle only has 4 strings) where the Es are the highest note. It was very similar to mine. What was different was he replaced one of the Gs and one of the Ds with a thinner string tuned to a higher G and a higher D respectively. The first two pairs of hi-low gave it that unique sound that I liked. This is not totally uncommon, but I never held a mandolin tuned that way. I have been toying with doing that exact same thing to mine, and the next time I need a new set of strings, I think I will.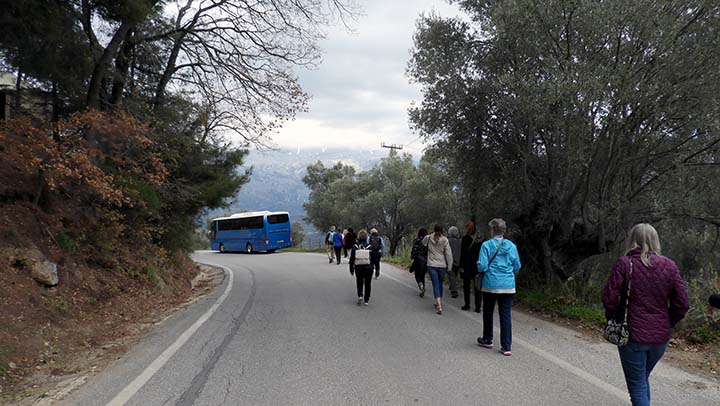 Now let's walk back to the bus. Downhill. Oh, thank you, thank you.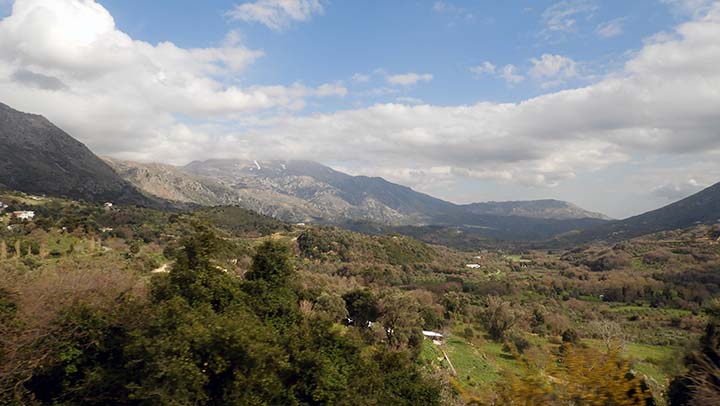 The scenery is still just as impressive as it was earlier in the day.
But this time there's sheep.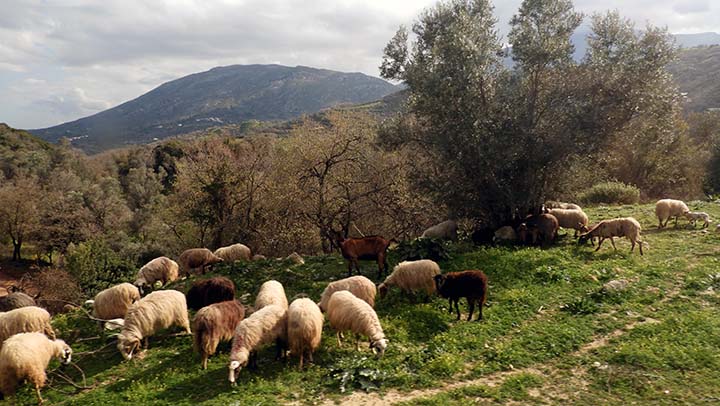 Lots of sheep.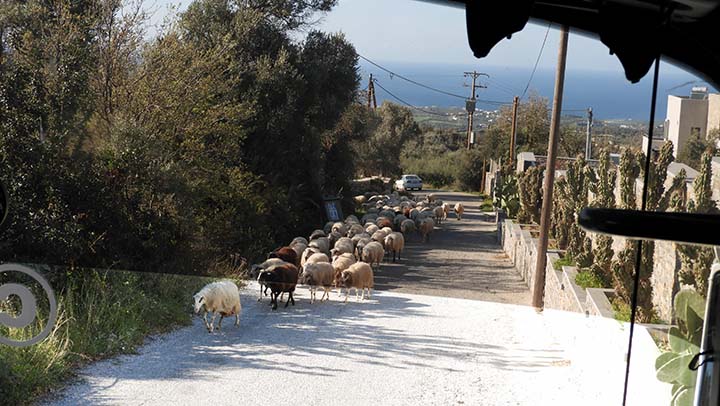 And they're in the road. I'm happy to report Zach didn't run over any woolies and soon we were on our way again. One of the poor things had a big red mark painted on its back. Guess who the shepherd is having for Easter dinner?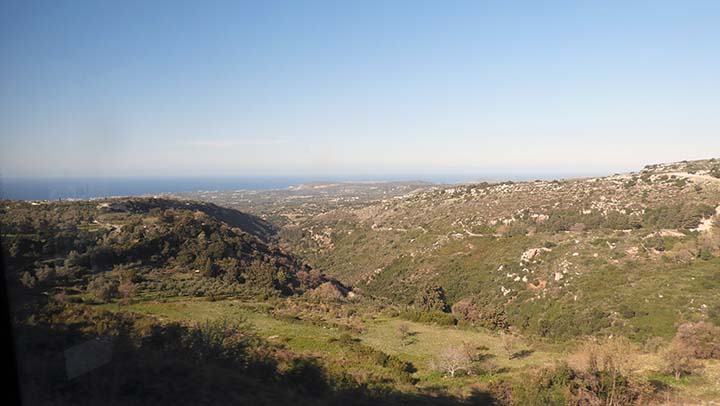 There's a Mediterranean Sea over there.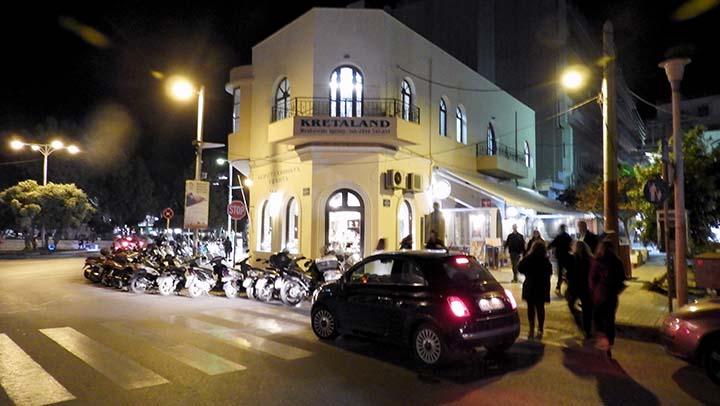 Now we're back in Heraklion and we're out for an evening stroll on our way to ... dinner? We're going to eat AGAIN? Well, anything it takes to make this a great trip, I guess. So as we're walking along we're about to pass a very nice gift shop, one which Bill visited a bit earlier.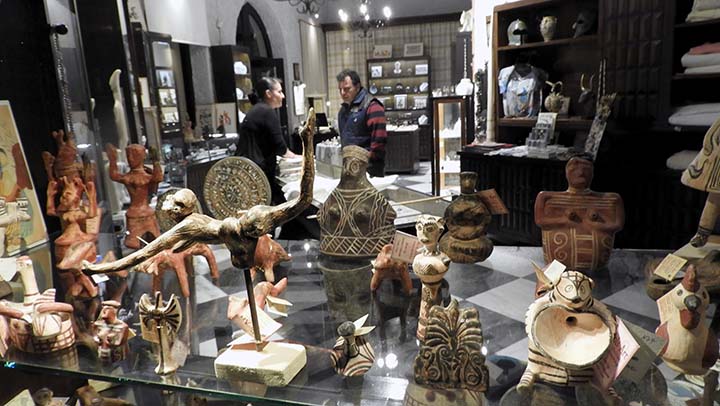 There's the proprietor, Cleo Kastrinoyanni Helidooni, on the left, talking to a man who Bill thought was never going to stop talking loudly to Ms Helidooni when he was shopping inside earlier. Man could that guy talk a mile a minute. In Greek. Loudly. But he did help figure out how much it would cost to ship a vase back home to Memphis and Bill did make the purchase. Want to see?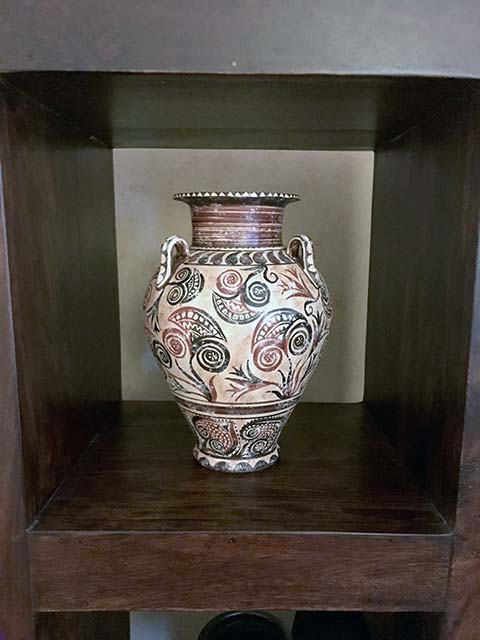 There's Bill's souvenir vase on a shelf by his fireplace back home in Memphis. The inscription on the bottom reads: "Amphoras from Knossos Palace with decoration of papuri flowers, 1750 - 1550 BC. Iraklion Museum. Exact copy. Hand made in Iraklion, Crete." Bill really likes his new vase.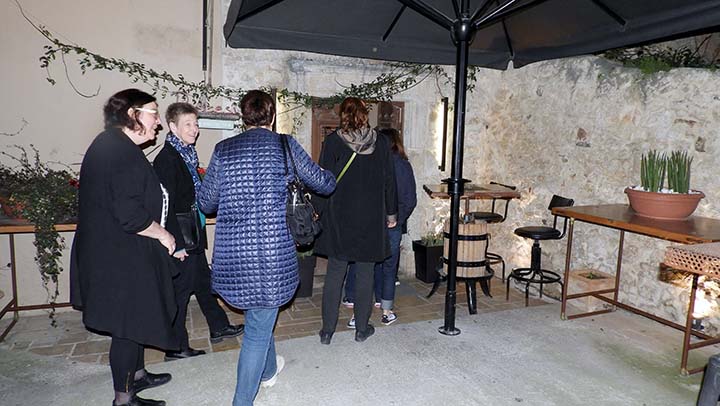 OMG we're going to eat again.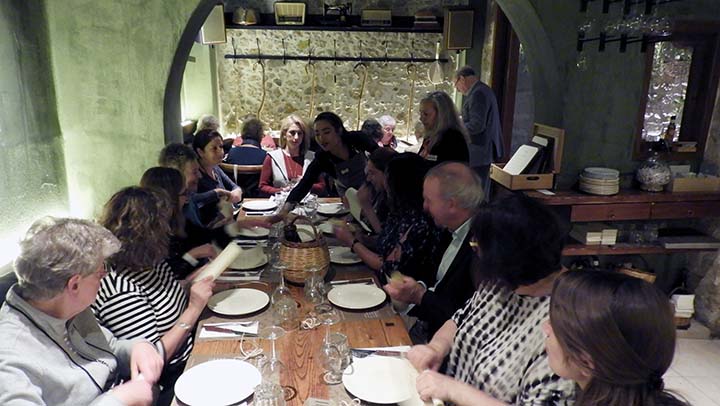 If doing this weren't so enjoyable...well, Bill would probably do it anyway because the food in Greece ranges from very good to incredibly wonderful and he wouldn't miss a bite. I mean, when's he going to pass this way again with wonderful new friends all enjoying the same wonderful experiences?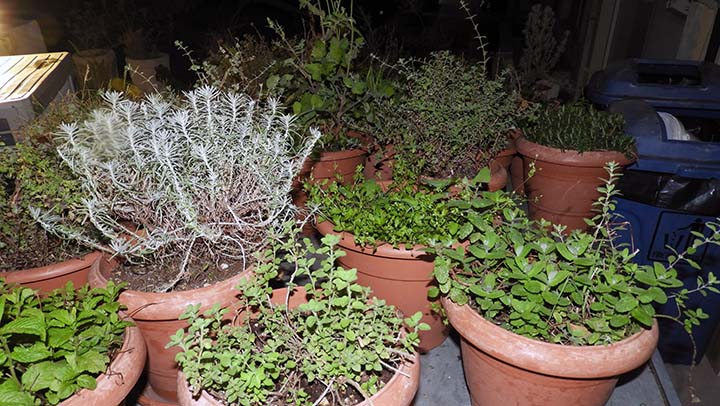 Nice restaurant. Grows its own herbs outside on a balcony by the restroom.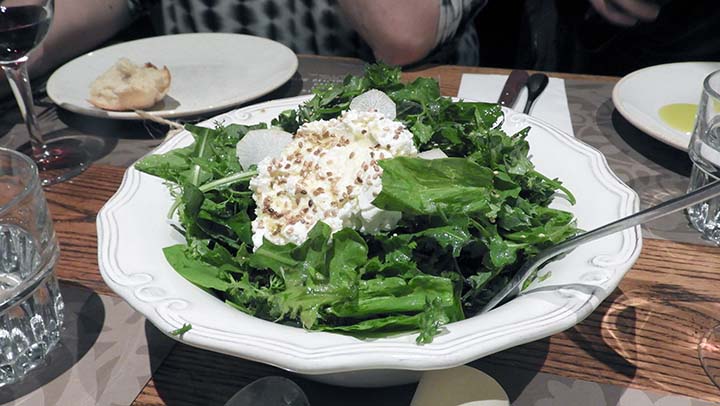 Horta again, this time with fresh yogurt.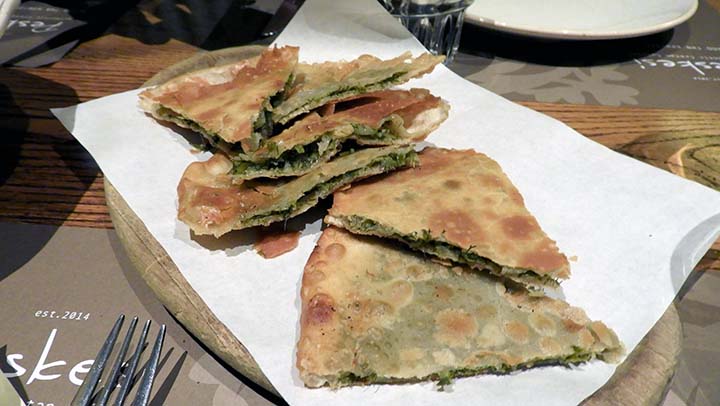 Fried things with spinach inside. Yum.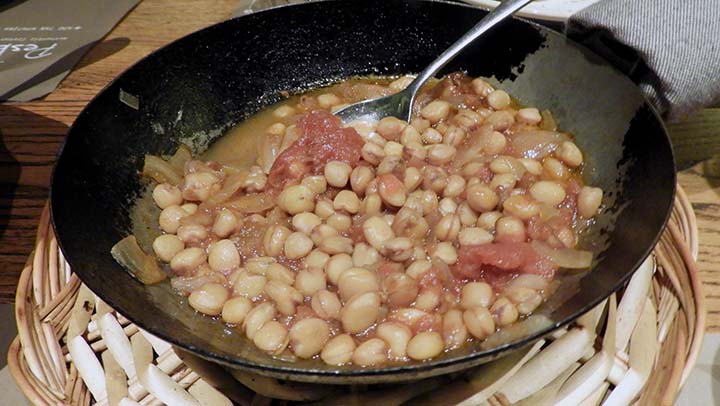 Bill was sure he'd remember what was in this dish besides beans and onions, but now he's not sure. Is that tomato in the spoon? Probably, but somehow Bill has his doubts. Seems like there was more to it than that.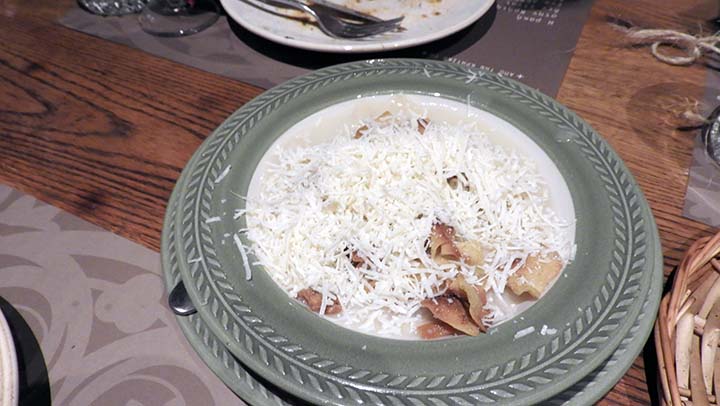 There definitely was something special about the pasta hidden under that mound of shredded cheese. Some of it was fried, and all of it was delicious.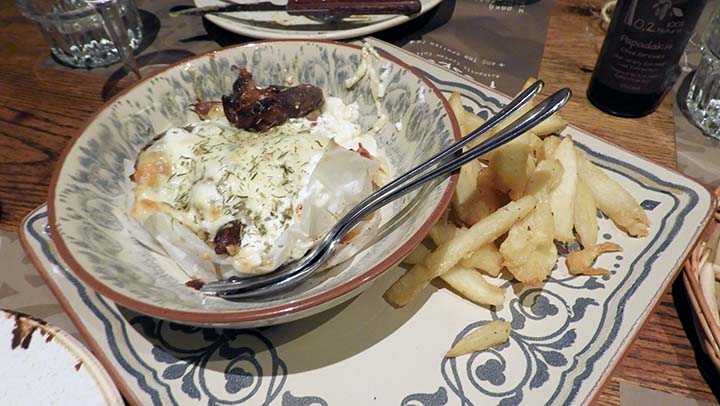 That meat in there with the creamy stuff is goat. It wasn't baaaaad.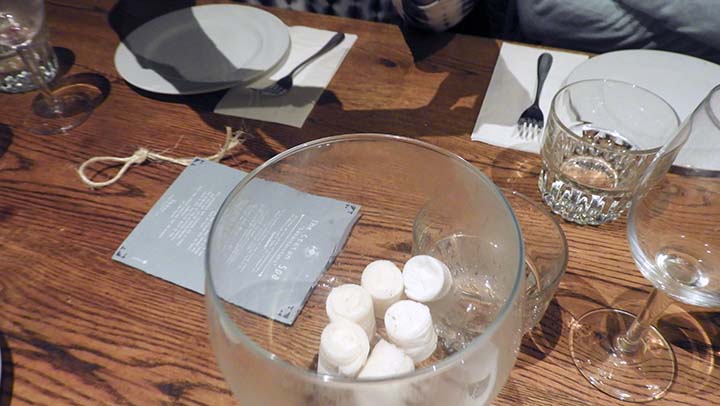 That's not even something to eat! Those are little squished hand towels that expanded when the waitress poured hot water on them.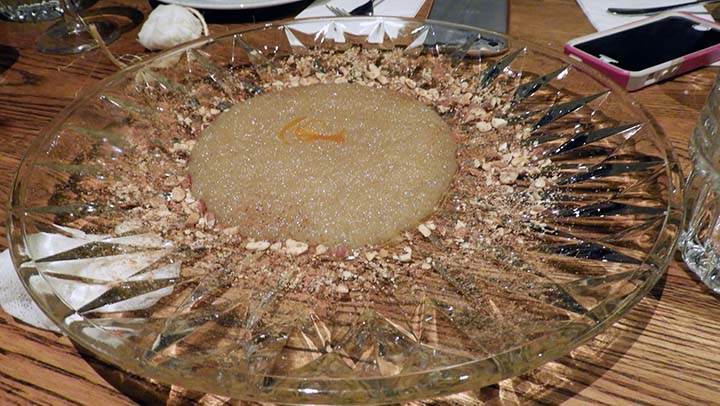 Oh boy, halvas again. It's everywhere, it's everywhere!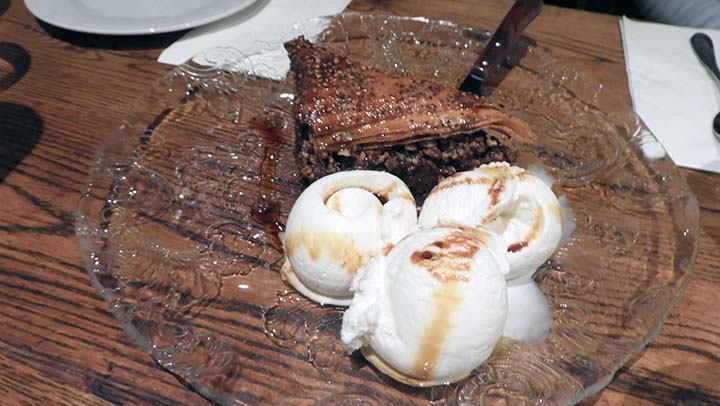 Fortunately, halvas wasn't the only dessert we were offered. Here is baklava with what Olivia declared was the best ice cream she had ever eaten in her entire life. Bill thought about that for a minute and decided she might be onto something. It was great ice cream, and a fine way to bring our last supper to a close. The Road Scholar portion of my vacation ends tomorrow. Sigh.