Even though all good things must come to an end and even though Bill has had to say goodbye to Eleni and Efi and all his new Road Scholar friends at the Athens airport this morning, his trip isn't quite finished yet.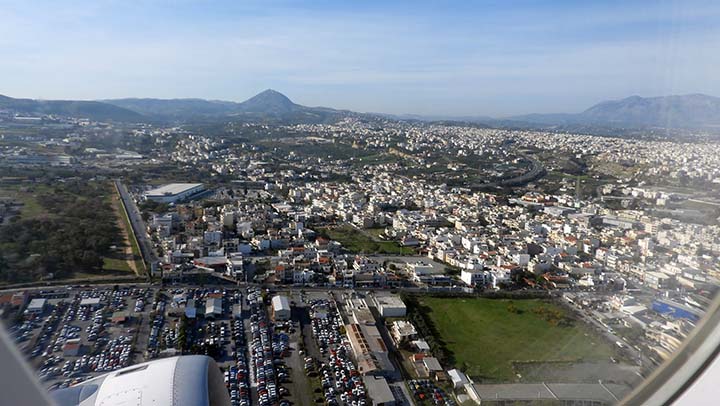 Bye Crete.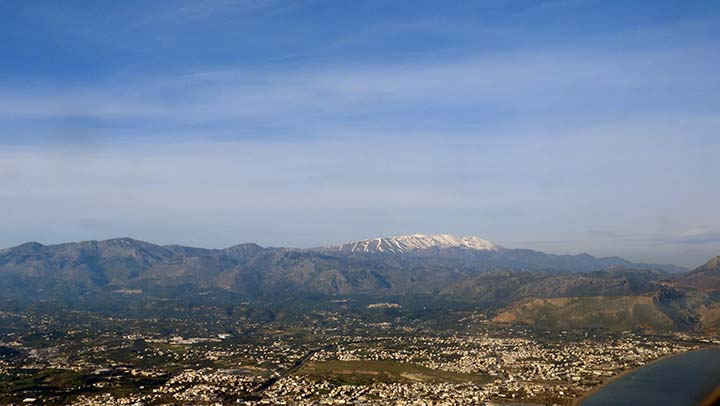 So long Mt. Idy. (It's a Charley Weaver joke. You don't get it? Never mind.)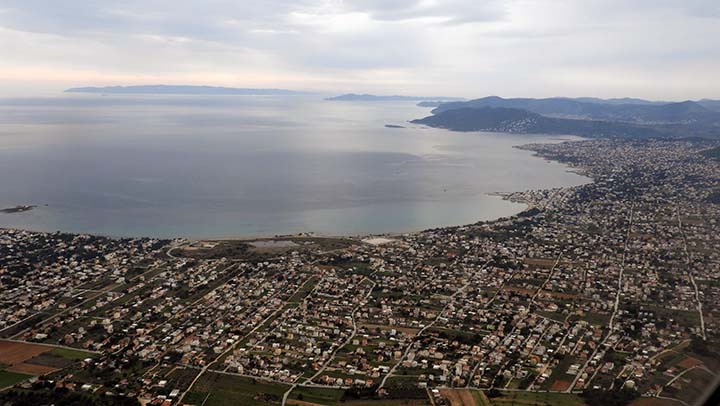 Hi, Athens! Bill had arranged for a driver to meet him at the airport and drive him to his hotel in Athens. He also arranged for a driver from the hotel back to the airport early (very early) Monday morning, and it all worked out great. Without Road Scholar to arrange things, Bill wondered if everything would come off without a hitch. But he had nothing to worry about. The drivers were quite prompt and friendly and in conversation on both rides they asked Bill where he was from. "Memphis, Tennessee, USA." "Ah...the Grizzlies! I'm a big NBA fan." Both drivers; both of them. How about that? Sure, they both knew Elvis too, but the NBA was the big topic of conversation.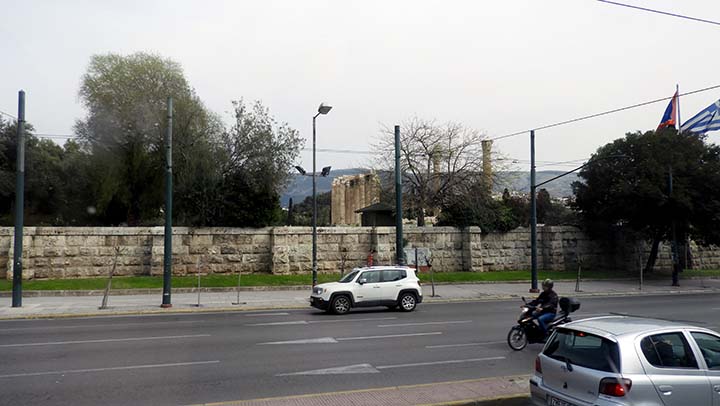 The driver pointed out the Temple of Zeus when we passed it on the way to the hotel. On various buses and even walking Bill passed by it several times, but he never saw it up close.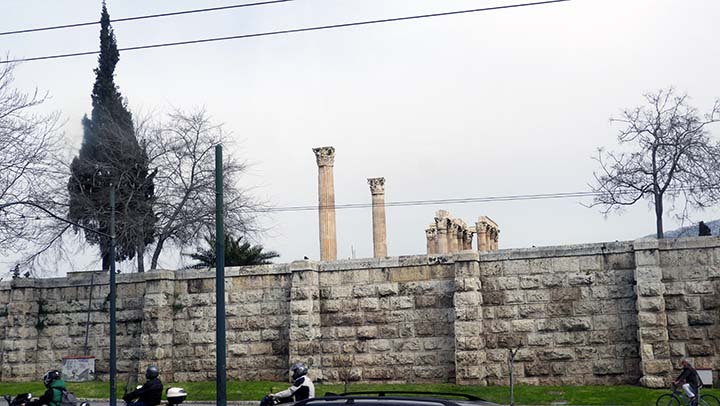 It was always behind that wall.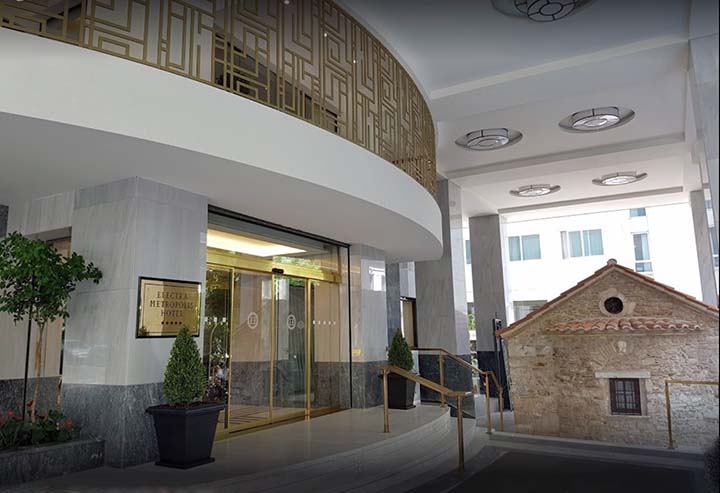 Bill stayed at the Electra Metropolis Hotel in the heart of Athens. What Bill couldn't believe was what he found right there in the hotel's entranceway.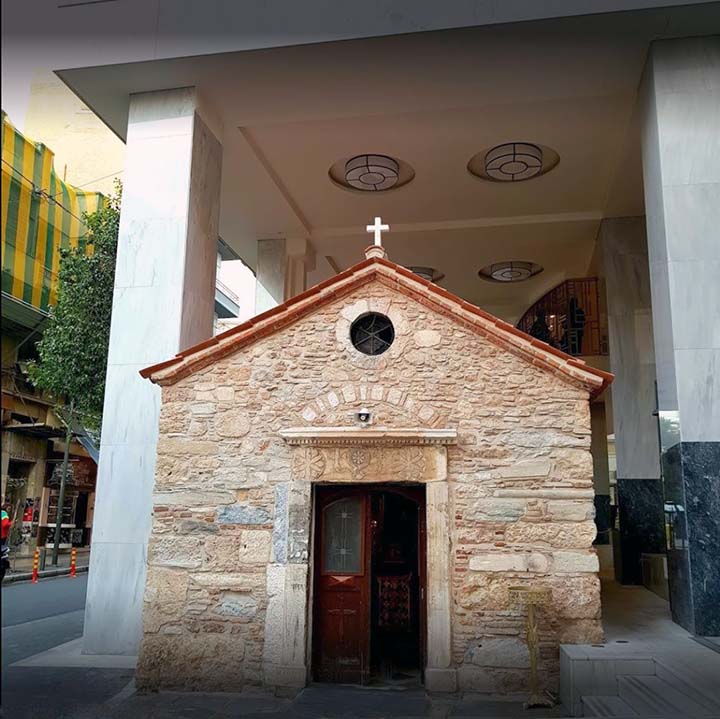 A church! They've built the hotel around a church! I wonder if there are frescoes inside?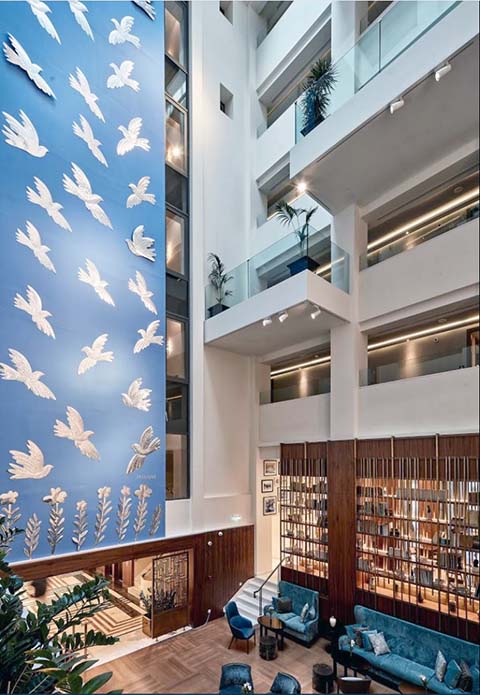 Well, the inside of the hotel is fancy enough, anyway. But Bill doesn't have time to look around here. He needs to find the downtown office of Chat Tours to be sure he's all set to tour more of the sights of Greece over the next couple of days. As it turned out, the Chat Tours office was just up the street and around the corner from the hotel, and the nice lady there was happy to help Bill rearrange the tours he'd clumsily set up on the internet a few weeks earlier. There was no need to see the Acropolis and museum again -- just drop that, go to Neptune's Temple this afternoon, and take the entire day tomorrow to visit Mycenae, which Bill hadn't planned to see at all. Then go to Delphi on Sunday as already scheduled. This is terrific. The Chat Tours staff are wonderful! Bill has fallen in love with Greece and its people.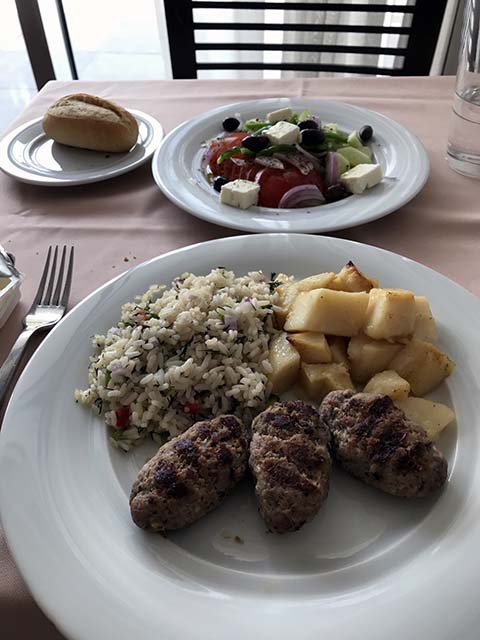 The Chat Tour even included a lunch at the Hotel Aquila before hitting the road. But I gotta tell you, this is not a Road Scholar lunch -- it's a tourist lunch. A hard roll, a salad, two starches and some lumps of ground something that probably once walked on four legs. Come back to me, Road Scholar!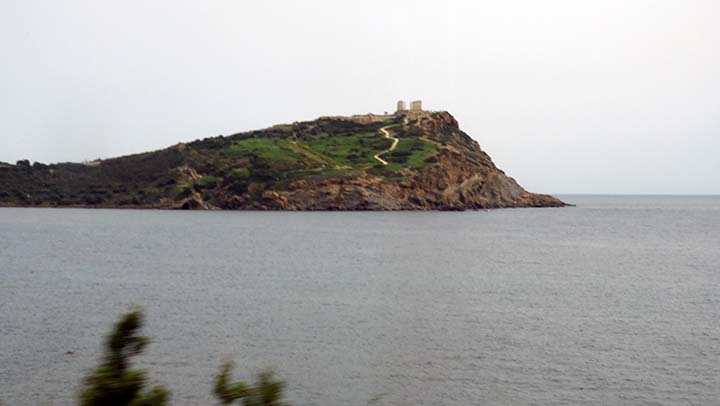 So a little later, after sniffing suspiciously at his food, Bill found himself on a bus headed to see Poseidon's Temple.
Cape Sounion is the promontory at the southernmost tip of the Attic peninsula, 8 kilometers (5.0 mi) south of the town of Lavrio (ancient Thoricus), and 70 kilometers (43 mi) southeast of Athens. It is part of Lavreotiki municipality, East Attica, Greece. Cape Sounion is noted for its Temple of Poseidon, one of the major monuments of the Golden Age of Athens. Its remains are perched on the headland, surrounded on three sides by the sea.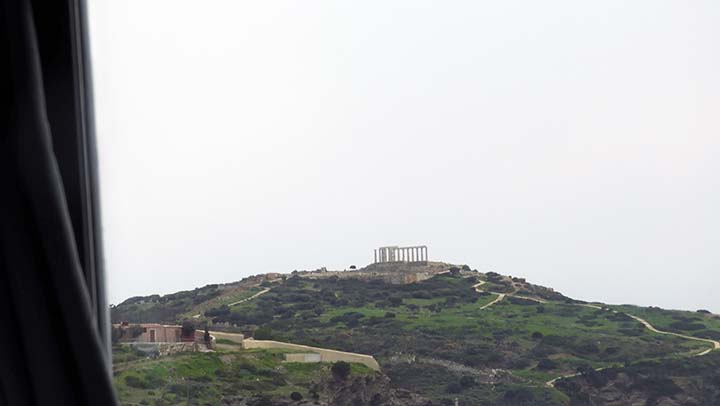 The earliest literary reference to Sounion is in Homer's Odyssey (III. 278–285). The story recounts that as the various Greek commanders sailed back from Troy, the helmsman of the ship of King Menelaus of Sparta died at his post while rounding "Holy Sounion, Cape of Athens." Menelaus landed at Sounion to give his companion full funeral honors (i.e., cremation on a funeral pyre on the beach).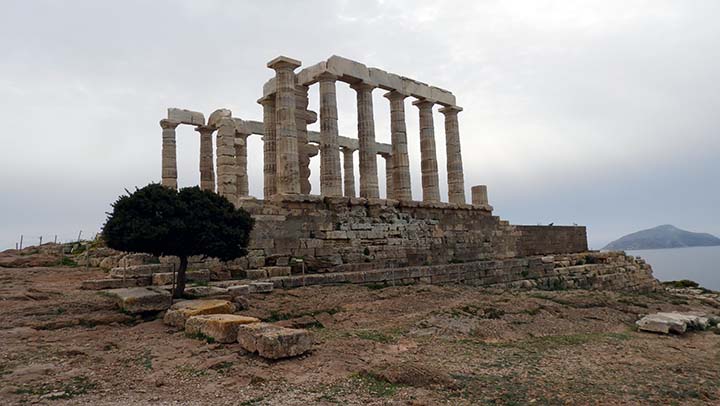 The temple of Poseidon at Sounion was constructed in 444–440 BC. This was during the ascendancy of the Athenian statesman Pericles, who also rebuilt the Parthenon in Athens. It was built on the ruins of a temple dating from the Archaic period. It is perched above the sea at a height of almost 60 meters (200 ft). The design of the temple is a typical hexastyle, i.e., it had a front portico with six columns. Only some columns of the Sounion temple stand today, but when intact it would have closely resembled the contemporary and well-preserved Temple of Hephaestus beneath the Acropolis, which may have been designed by the same architect.
As with all Greek temples, the Poseidon building was rectangular, with a colonnade on all four sides. The total number of original columns was 34: 15 columns still stand today. The columns are of the Doric Order. They were made of locally quarried white marble. They were 6.10 m (20 ft) high, with a diameter of 1 m (3.1 ft) at the base and 79 cm (31 inches) at the top.[7] At the centre of the temple colonnade would have been the hall of worship (naos), a windowless rectangular room, similar to the partly intact hall at the Temple of Hephaestus. It would have contained, at one end facing the entrance, the cult image, a colossal, ceiling-height (6 meters (20 ft)) bronze statue of Poseidon.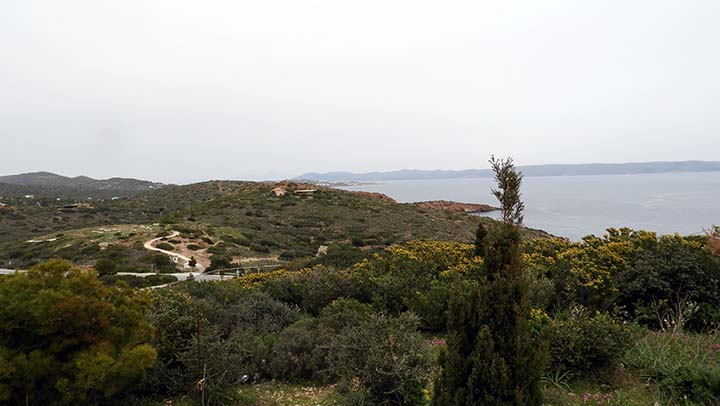 Nice view from the top.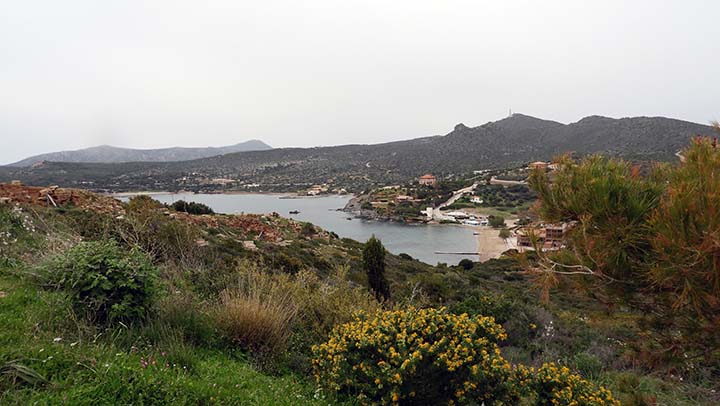 They say you're really supposed to come here at sunset because the light is spectacular. It's a gray day today, and we're not going to hang around.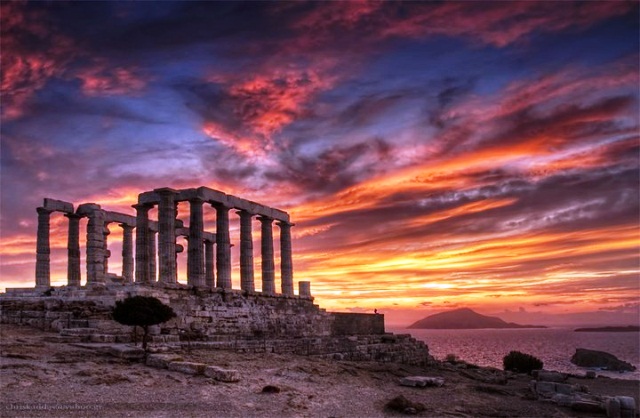 I grabbed this off the internet so I could pretend this is what I saw.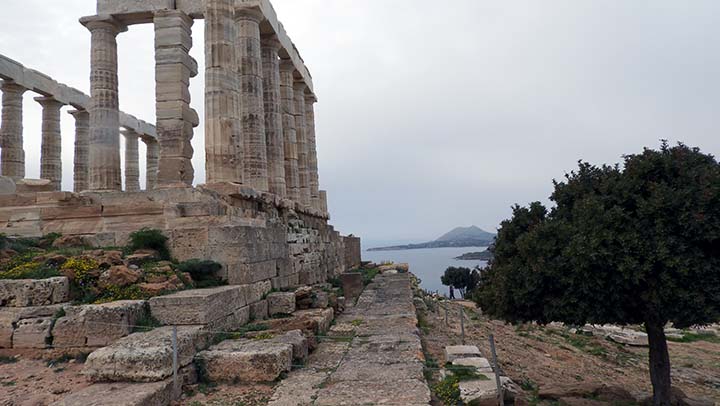 What I actually did see was very nice, I believe.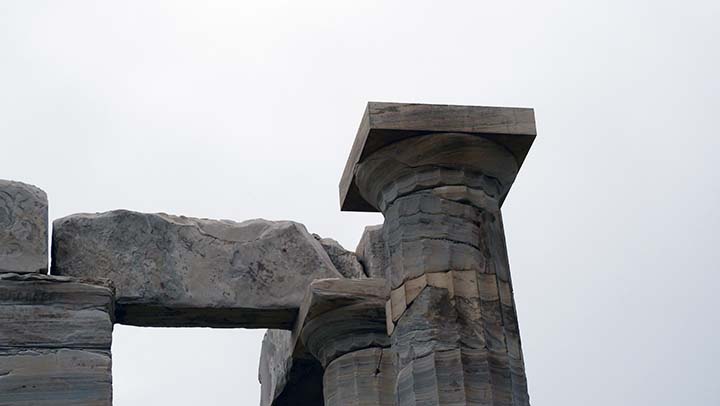 That's a Doric capital on that column.
Still impressive after all these years.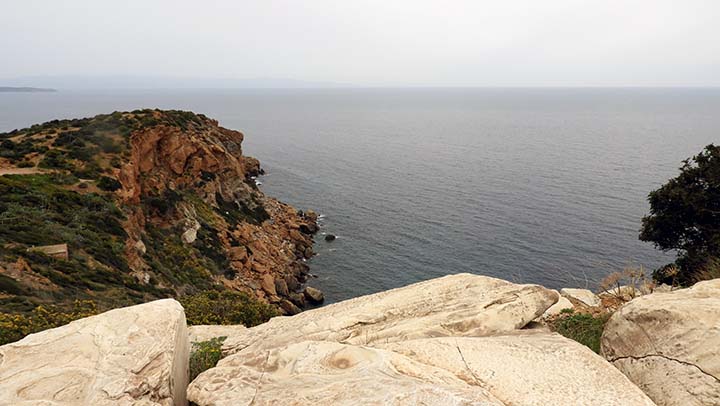 It's a dramatic location.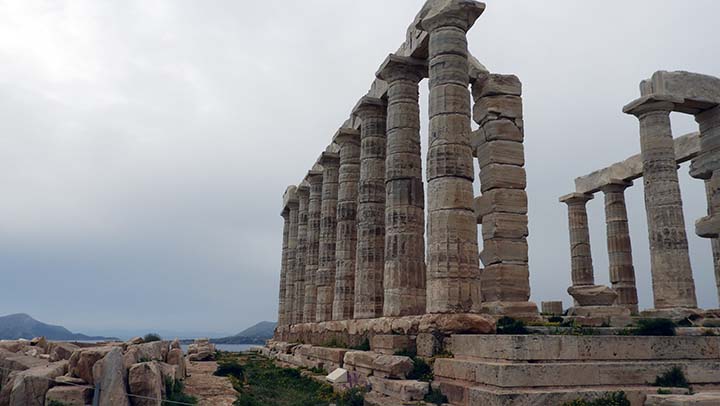 The temple looks good...
From lots of angles...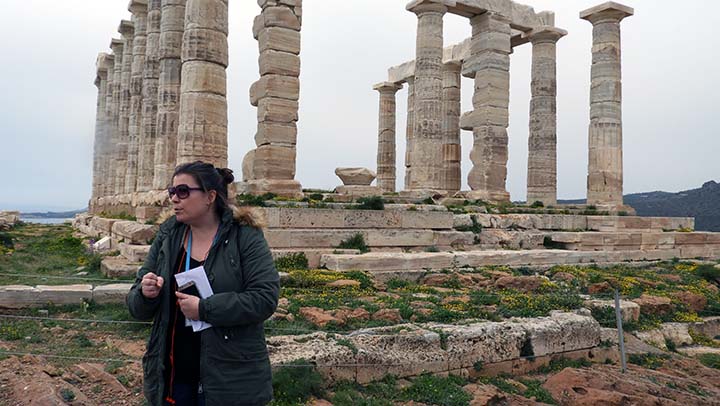 Our Chat Tours guide explains it all but she's not Eleni so it's just not the same.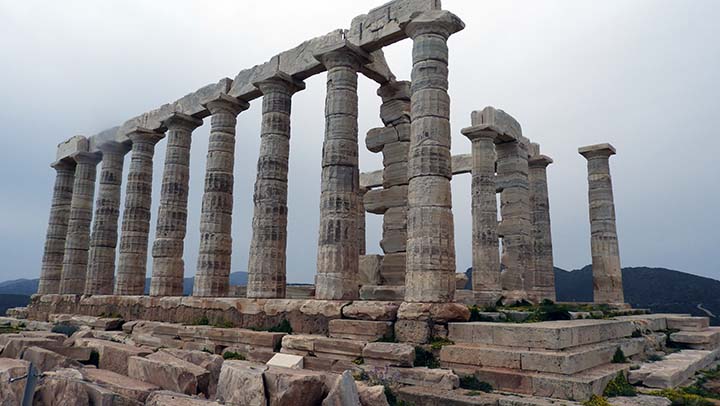 You know, there's really only one thing around here to take pictures of.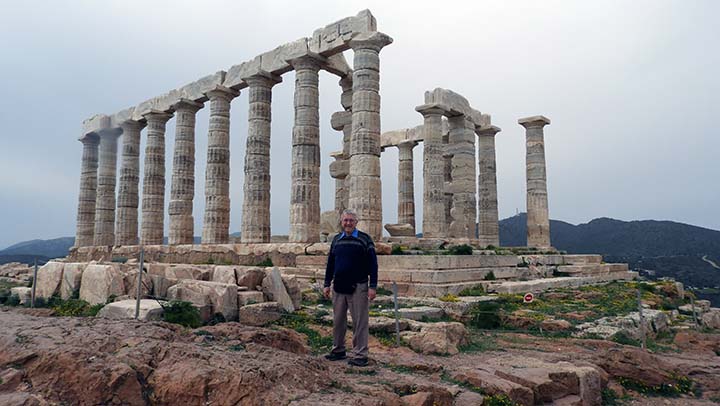 So let's put a tourist in front of it for variety.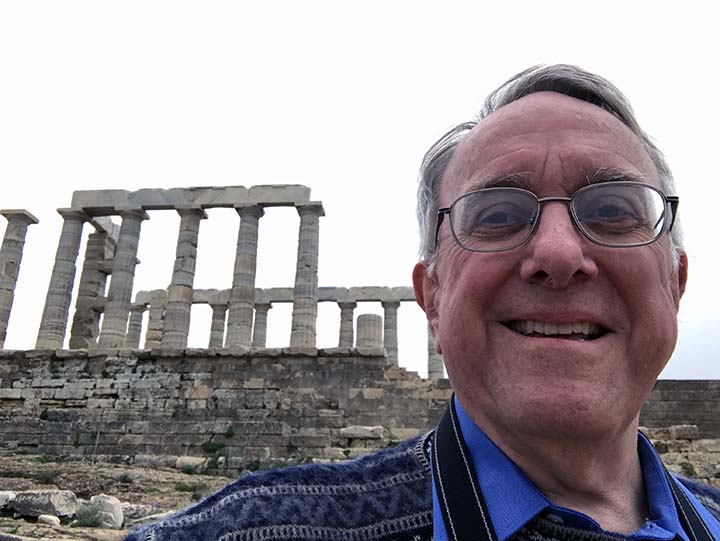 And let's take a selfie. You gotta have a selfie a day.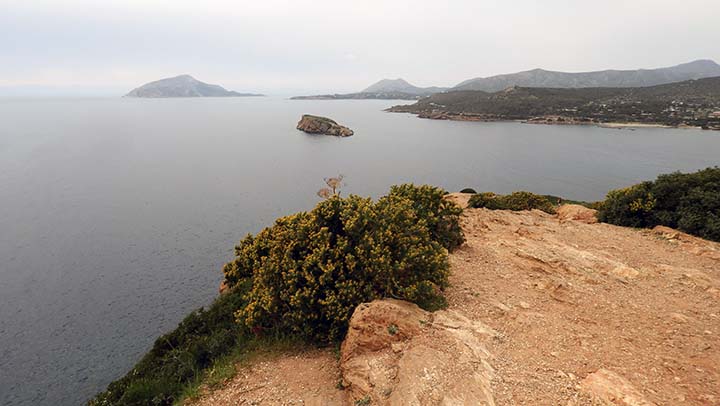 And we'll snap another scenic view.
OK, one more. This is a lovely spot, you know.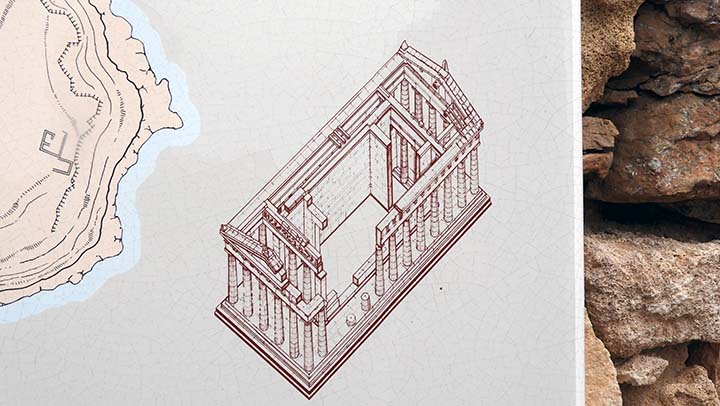 That's what the temple looked like back in the day.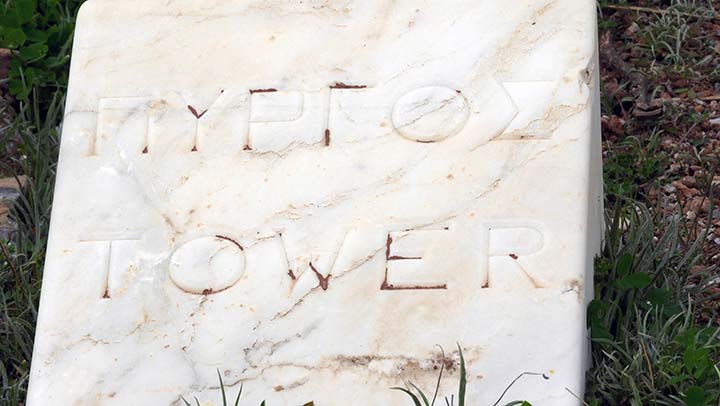 There once was a tower here.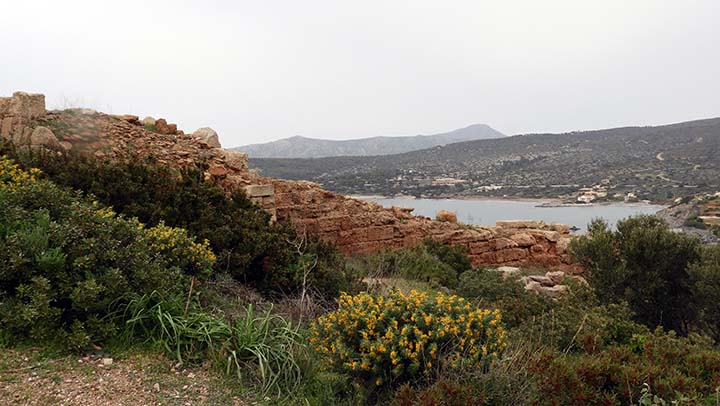 But it's gone now.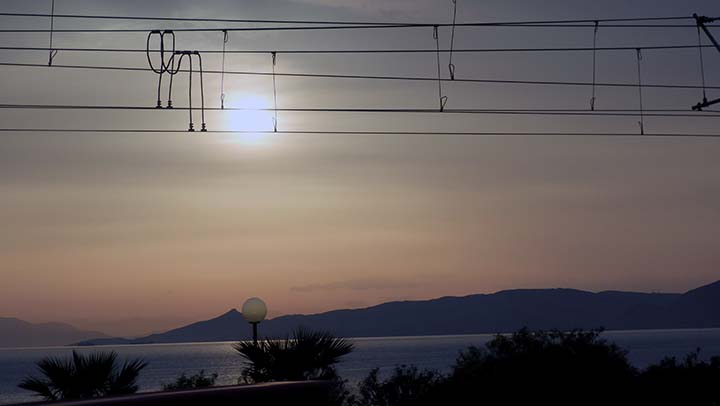 Look! The sun! Haven't seen it for most of the day.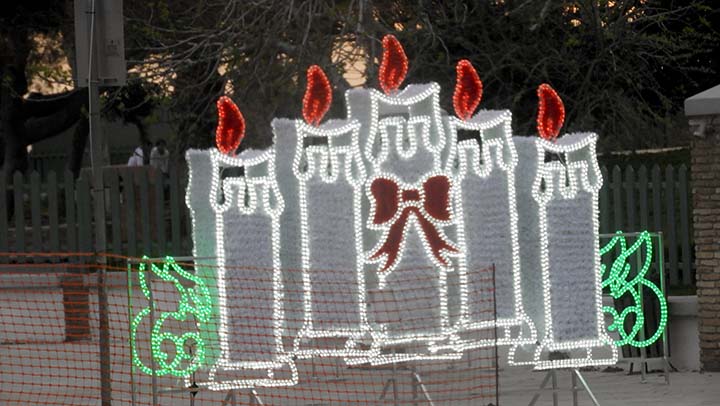 So the bus was stopped in traffic and Bill looked up and saw a park with this at the front entrance. In the middle of March. Those Greeks...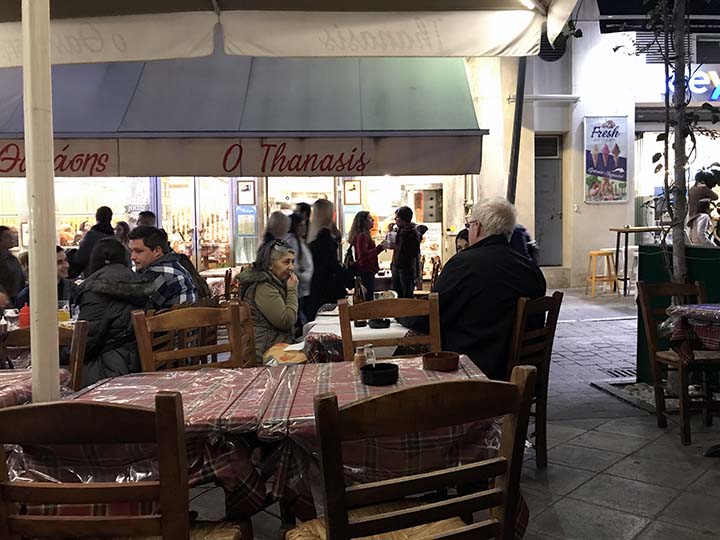 Maybe the most useful information provided to Bill by the Chat Tours guide was the name of the best place in Athens to get souvlaki. But helpful though she was, as I've already pointed out our guide for the day was no Eleni. When she named the restaurant using her charming accent, Bill asked, "Did you say Onassis?" She just laughed and laughed at that one. "No -- it's Panassis." Did you say "Panassis?" NO! it's "PANASSIS."
"T-H-A-N-A-S-I-S" -- "Panassis." Bill thanked her profusely.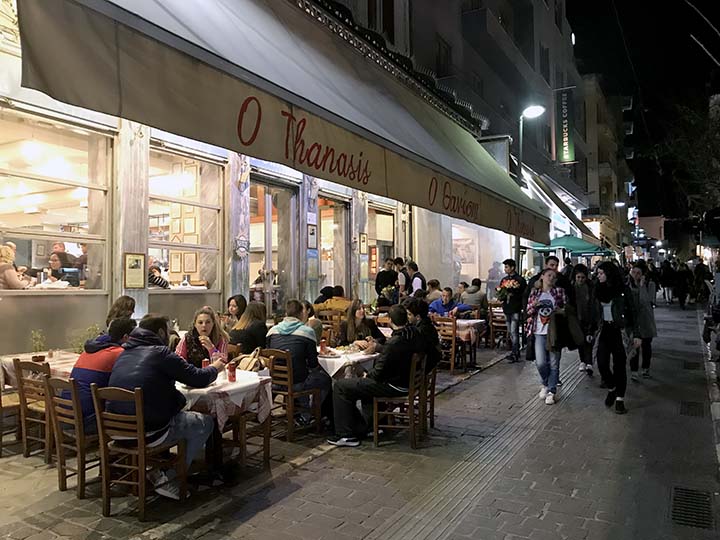 And it was just down the street from the hotel! This area is called "Plaka" and it's very popular with the locals in the evening. They come to stroll and dine and chat and generally enjoy the experience of being outside with lots of freiendly people.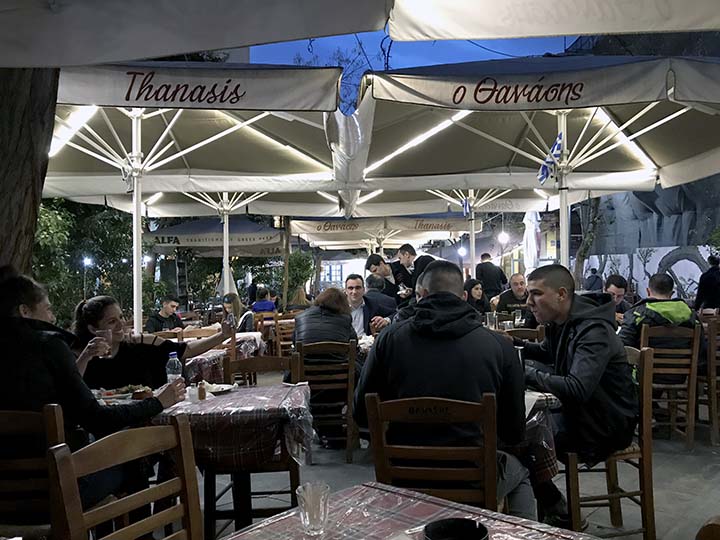 It was a popular place.
With plenty of activity, and music too!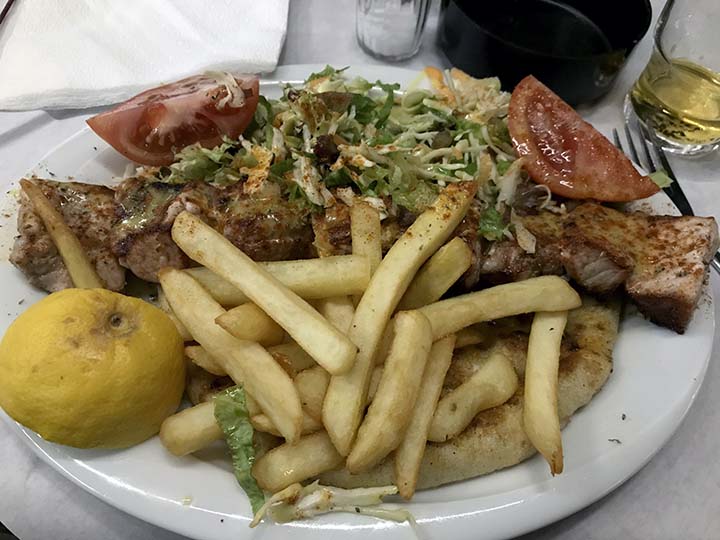 And the food was delicious, even though Bill was hoping for more of a sandwich than pita bread buried under a mountain of skewered chunks of pork, salad and fries.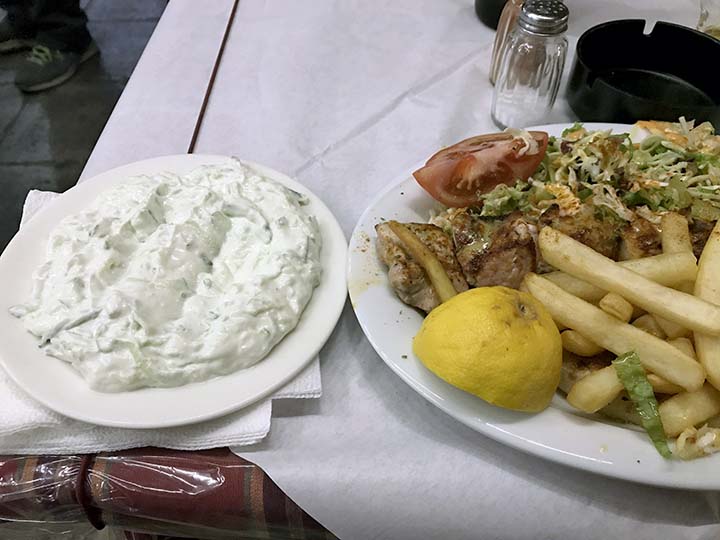 And there was lots of tzatziki if you asked for it. And paid extra.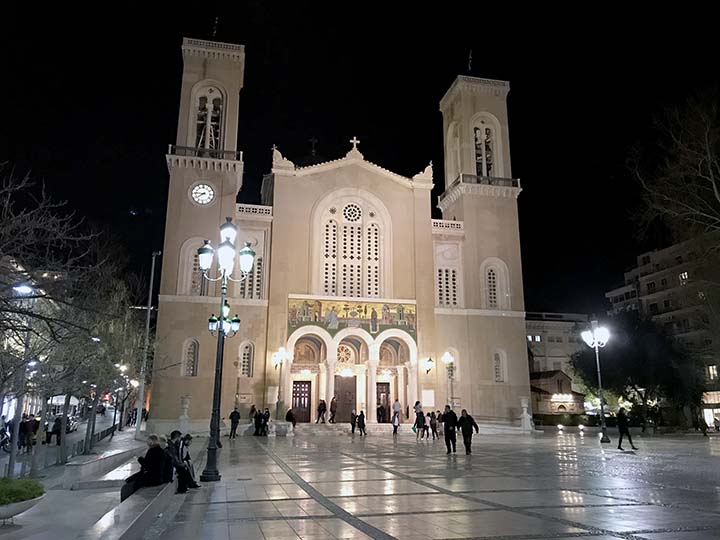 Walking back to the hotel, Bill came upon a lovely church. I'll bet there are frescoes inside.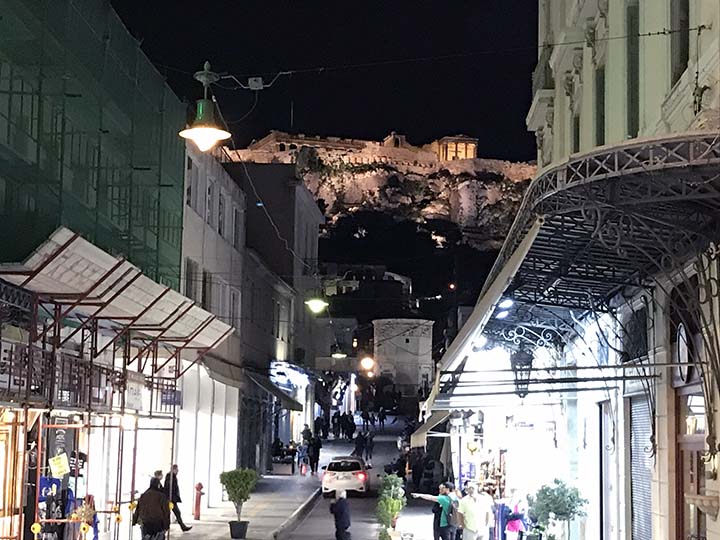 And there was a fine view of the Acropolis from the street.
And another nice view from inside the hotel's rooftop restaurant. Bill didn't go there to eat; he went just for the view.