You're probably aware that cows are considered sacred in India. Davinder told us a long story about how this situation came to be, but Wikipedia's explanation is shorter: The cow was possibly revered because Hindus relied heavily on it for dairy products and for tilling the fields, and on cow dung as a source of fuel and fertilizer. Thus, the cow's status as a 'caretaker' led to identifying it as an almost maternal figure. In the olden days, cattle being limited to select few fortunate folks, the cows enjoyed the status that gold or money enjoys today. In addition, it has been suggested that religious reverence for the cow is a result of early humankind's association of the psilocybin mushroom with it, this association having developed as a result of the discovery of delicious mushrooms in the animal's excrement.
Well why shouldn't the poopy source of psychedelic mushrooms be considered sacred?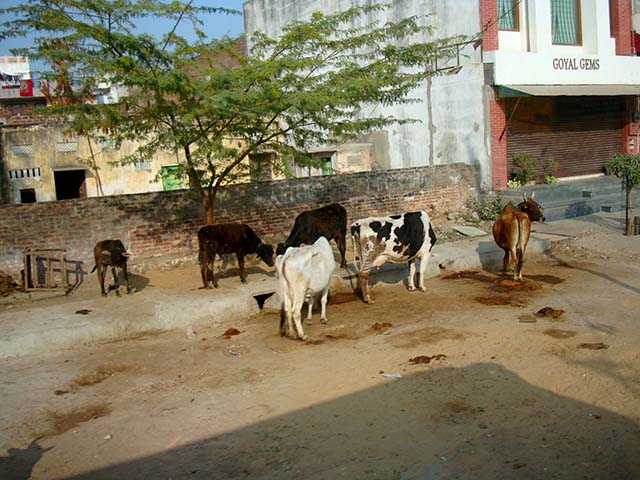 Sacred cows wander all over the place, and nobody pays them any mind.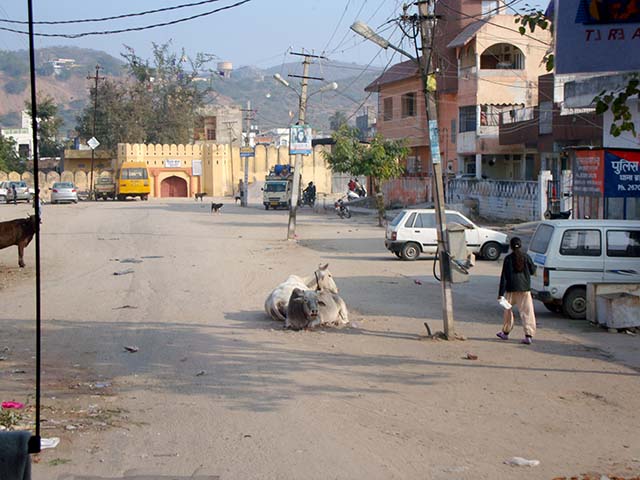 They rest in the road.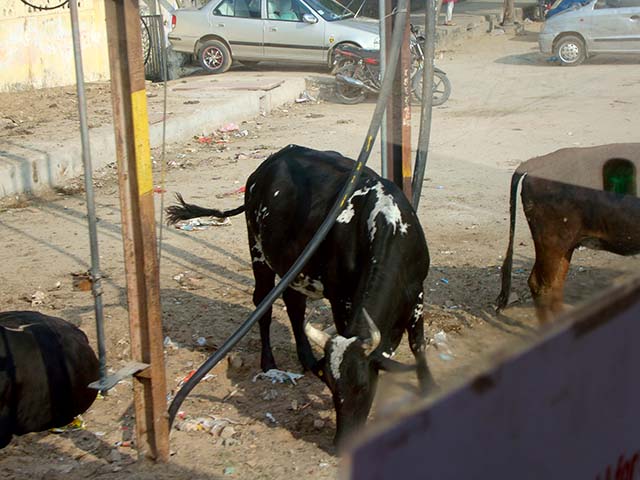 They scrounge for food in the plentiful garbage.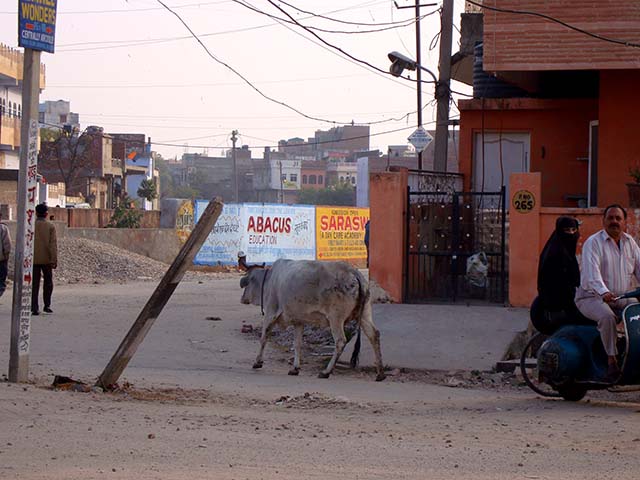 They come and they go.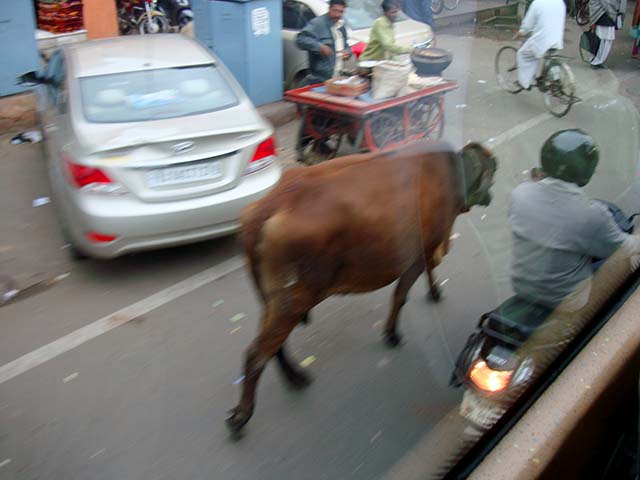 They chase our bus.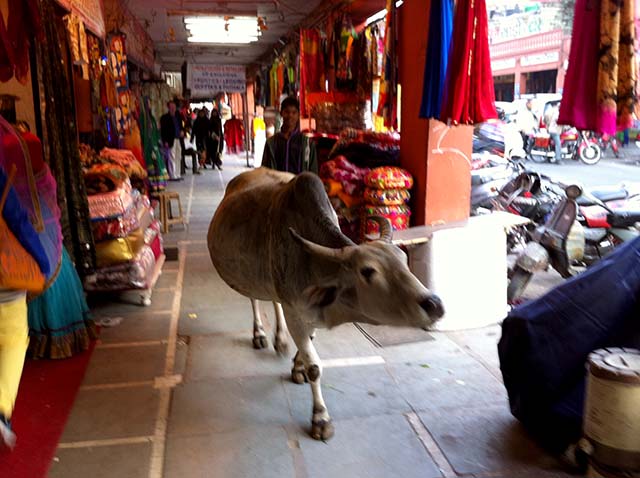 You might even run into one on the sidewalk while you're doing your shopping.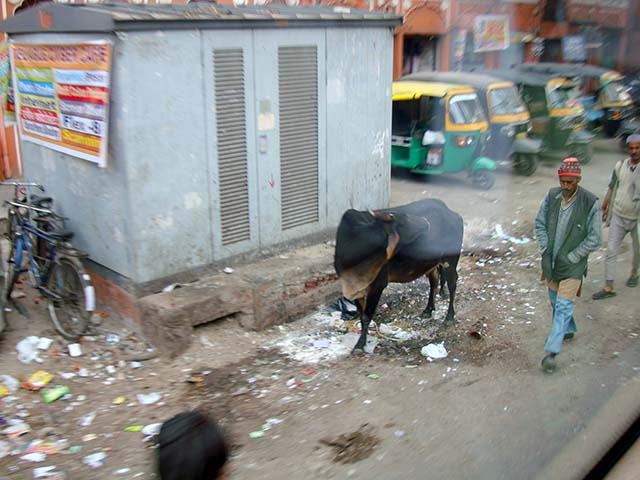 Eventually they just become part of the scenery.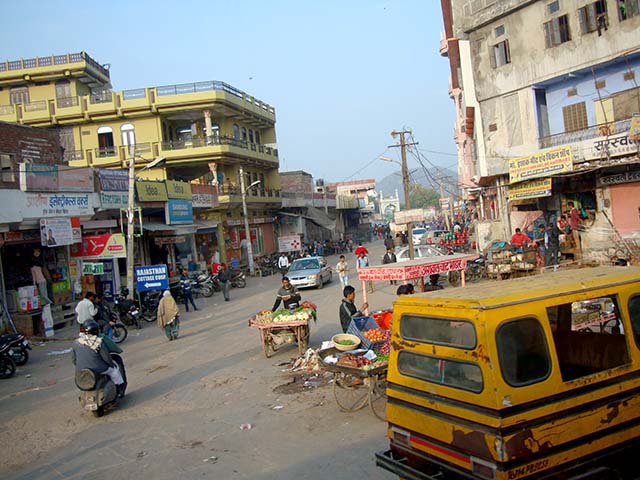 The rest of the city and county scenery seems hardly ever to change: Food carts, shops, garbage and dirt. Everywhere you look.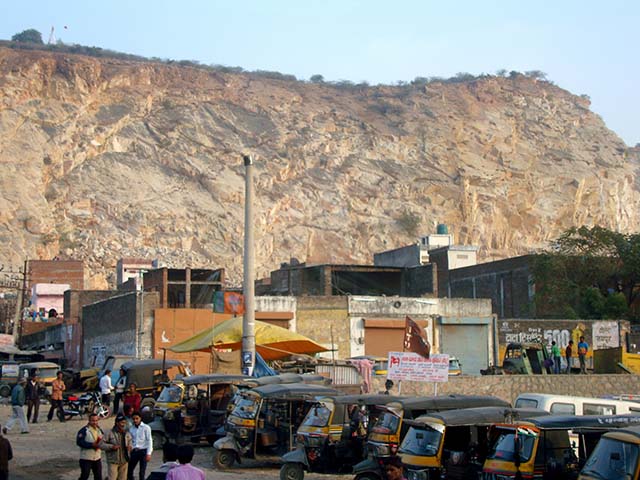 Davinder told an interesting story about that hill up there.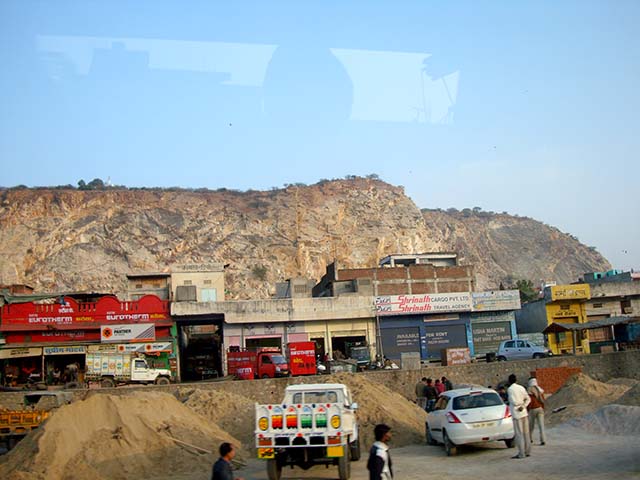 Seems immigrants moved into the area and against all regulations began to build a bunch of shacks and shops down below the hill, and then somebody discovered the cliff was made out of ... marble? granite? something valuable ... and they began quarrying and selling it. Which meant they began to make a lot of money, and the authorities didn't stop them.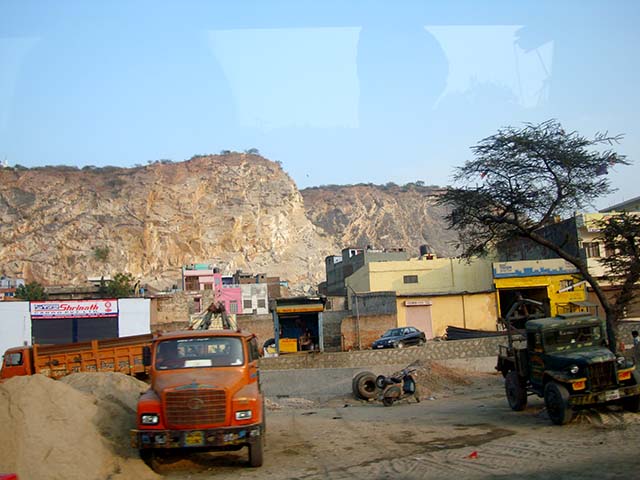 So they began building more shacks and shops, bigger and better shacks and shops. And the money kept flowing in.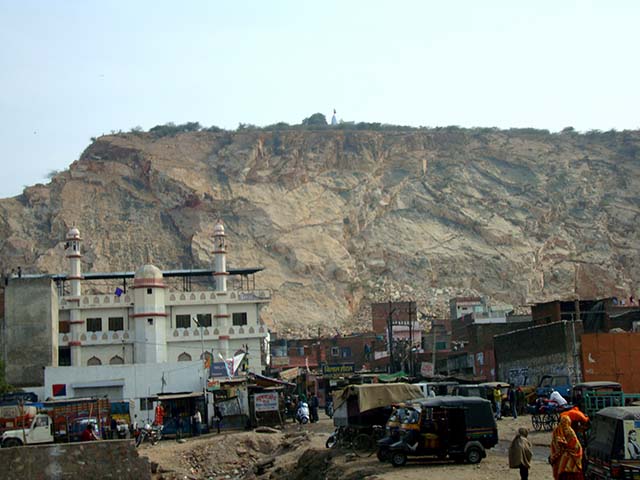 So then amidst the shacks and shops they began building mansions, which they moved out of so they could build bigger and better mansions. All illegal and very ostentatious. Davinder didn't approve.
Wow, just look at that place. Jal Mahal (Water Palace) was built by Sawai Pratap Singh in 1799 AD in the midst of the Man Sagar Lake as a pleasure spot -- actually as a duck hunting lodge. The palace and the lake around it were renovated and enlarged in the 18th century by Maharaja Jai Singh II of Amber.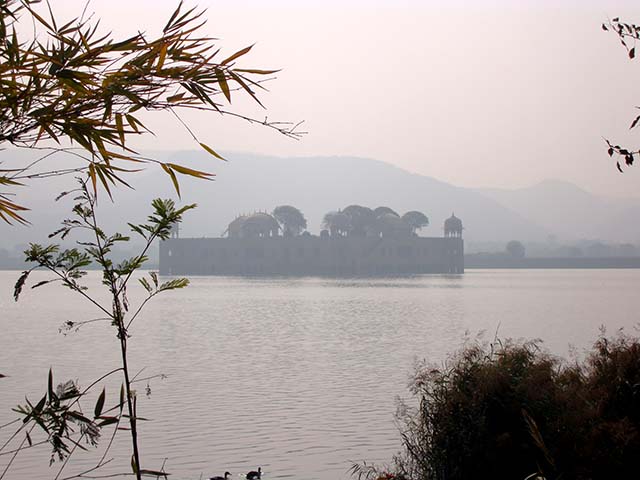 The Jal Mahal palace is considered an architectural beauty built in the Rajput and Mughal styles of architecture (common in Rajasthan) providing a picturesque view of the lake (from the Man Sagar Dam on the eastern side of the lake that acts as a vantage point for viewing the lake and the valley), and the surrounding Nahargarh (abode of the tigers) hills. The palace, built in red sandstone, is a five storied building out of which four floors remain under water when the lake is full and the top floor is exposed.
This place was even used as a set for one of the lame James Bond movies with (shudder) Roger Moore. Octopussy.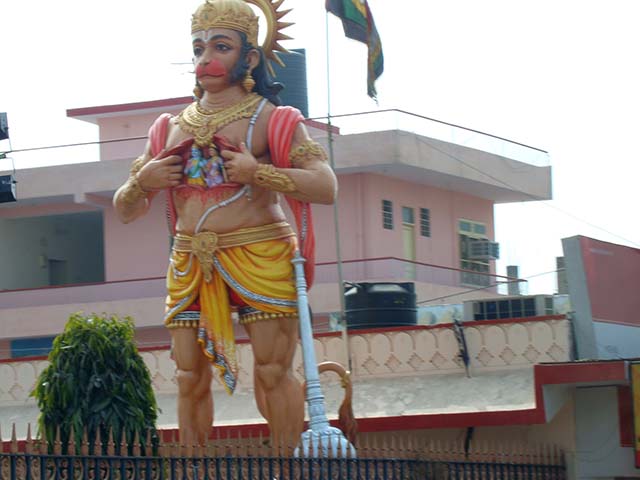 Look over there! It's Hanuman, the monkey god.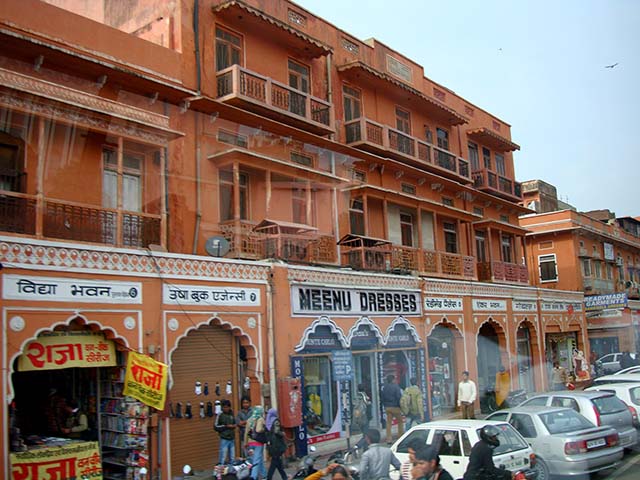 From something I found on the internet: Jaipur is the capital city of the state of Rajasthan in India. It was built in 1727 AD by Maharaja Sawai Jai Singh II. The whole city is surrounded by elevated walls and there are 7 big gates for entry and exit. In 1853, when the Prince of Wales visited Jaipur, the whole city was painted pink to welcome him during the regime of Sawai Ram Singh. Today, avenues remain painted in pink, provide a distinctive appearance to the city.
Davinder said this is supposed to be pink but it isn't really pink.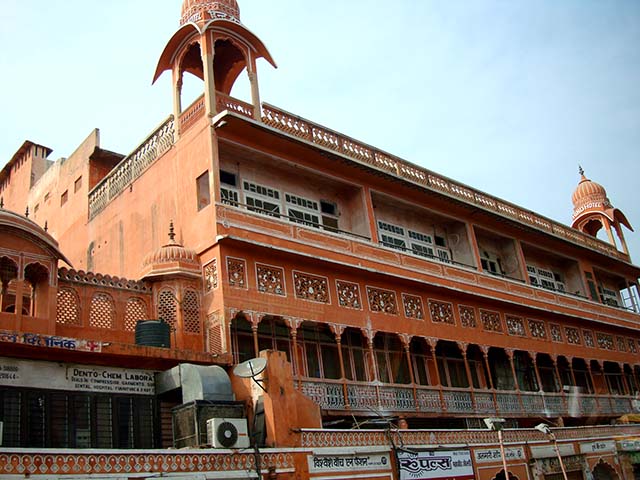 Davinder thought Jaipur really is getting the color wrong when they do touchup painting these days.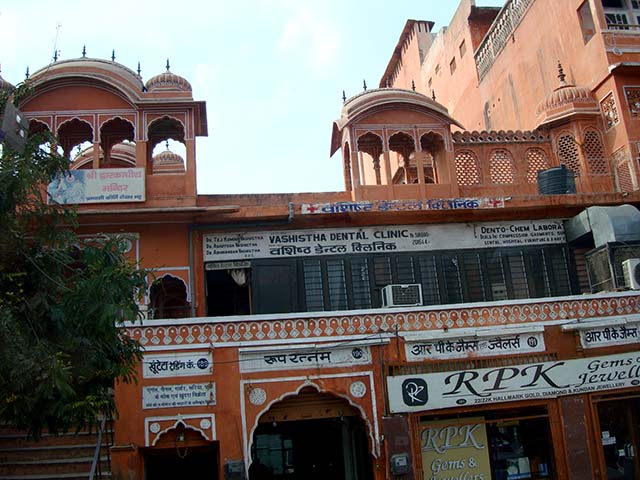 Looks nice, though.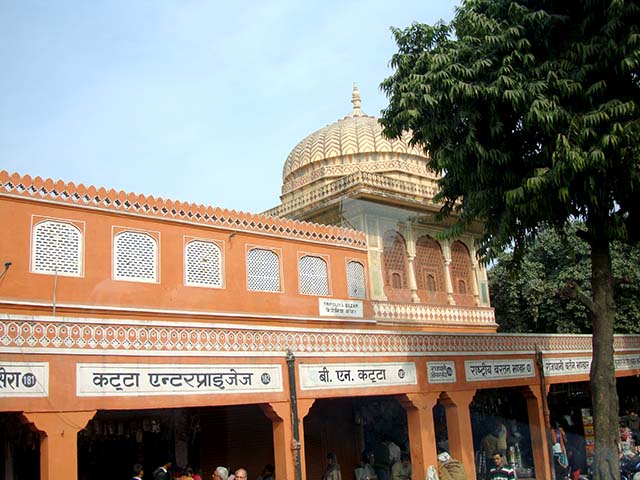 Even if a lot of it isn't really pink.
Busy place.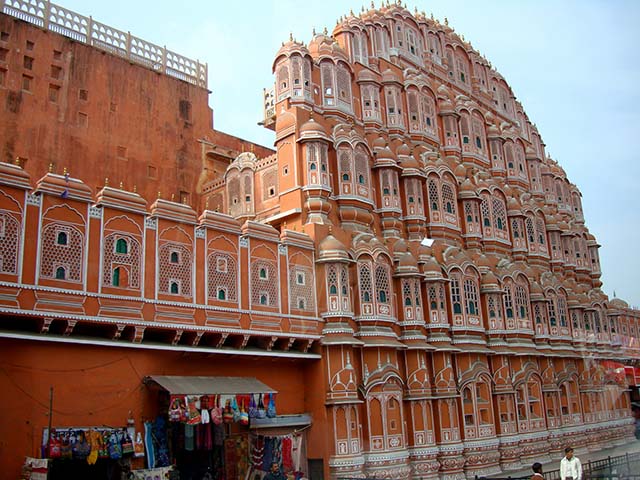 That's the Hawa Mahal, the "Palace of the Breeze."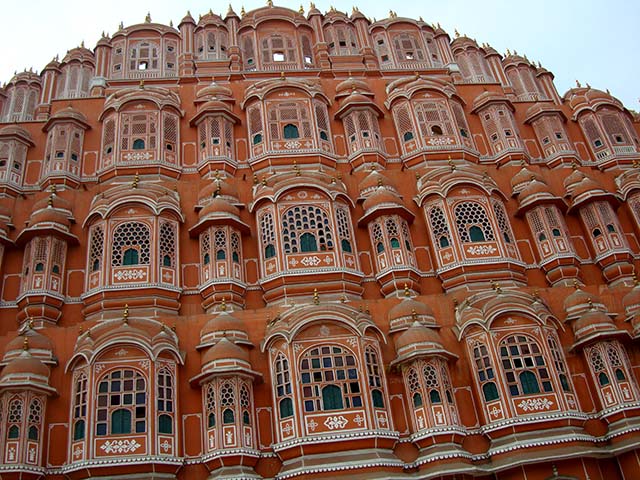 From Wikipedia: It was built in 1799 by Maharaja Sawai Pratap Singh in the form of the crown of Krishna, the Hindu god. Its unique five-story exterior is also akin to the honeycomb of the beehive with its 953 small windows called jharokhas that are decorated with intricate latticework. The original intention of the lattice was to allow royal ladies to observe everyday life in the street below without being seen, since they had to observe strict "purdah" (face cover). Besides this, the lattice also provides cool air caused by the Venturi effect (doctor breeze) through the intricate pattern and thereby air conditioning the whole area during the high temperatures in summers.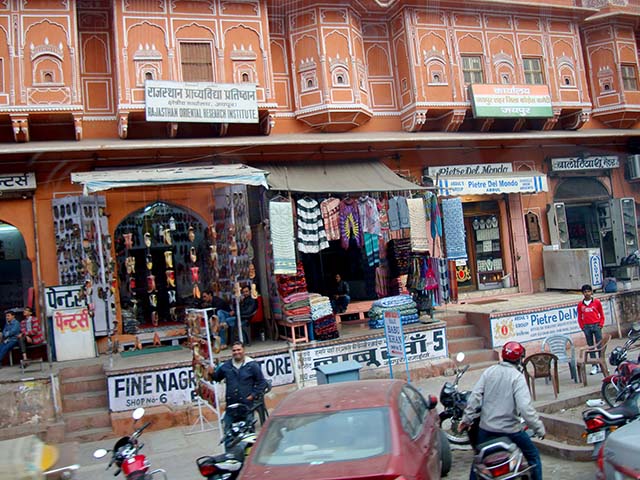 Nice place, but at street level it's now full of shops.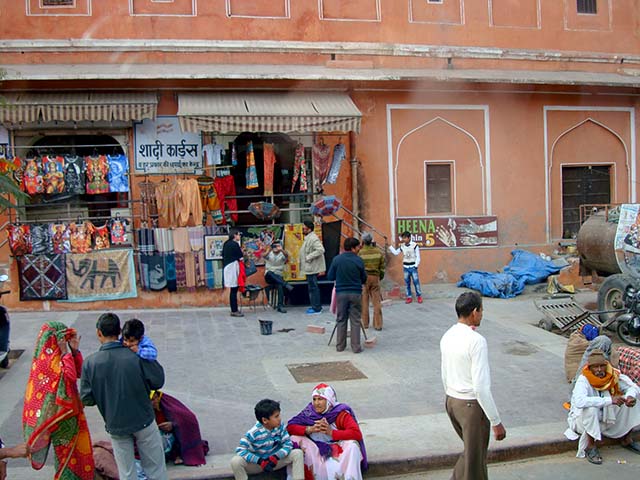 And there are plenty of customers on the street.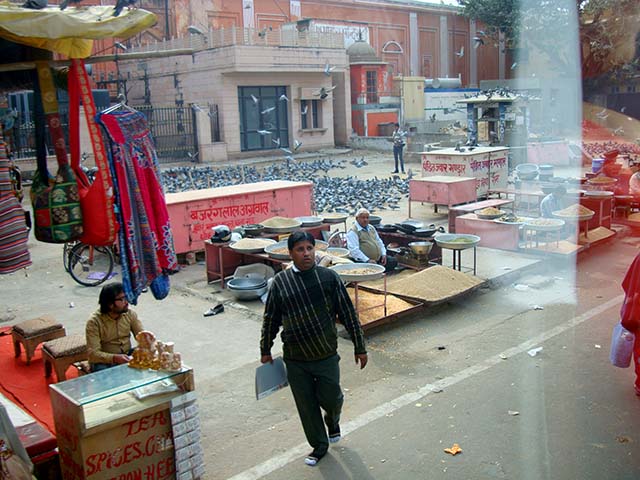 Look at all the pigeons back there. In DC we thought of them as flying rats, but in India people spread grain for pigeon feasts.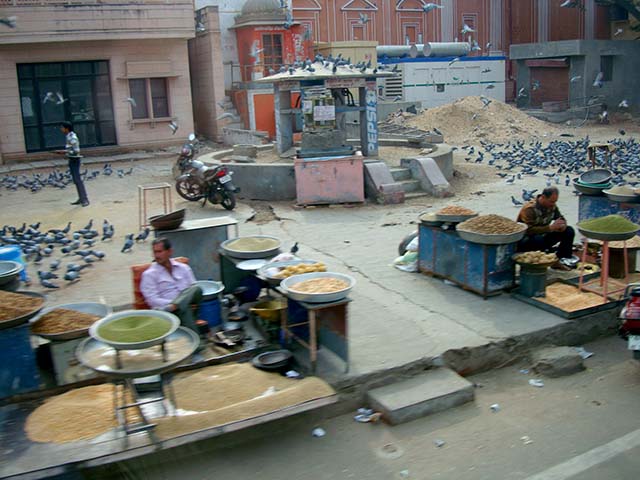 Grain for the pigeons.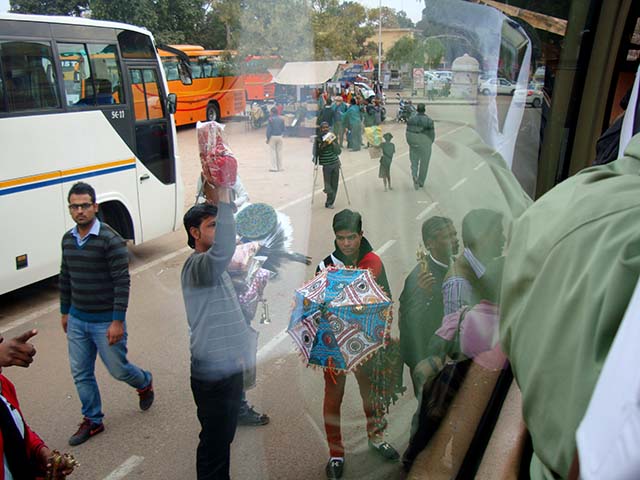 There was never a shortage of salesmen at the door of our bus. In fact, they'd follow us on their motorcycles from stop to stop around town.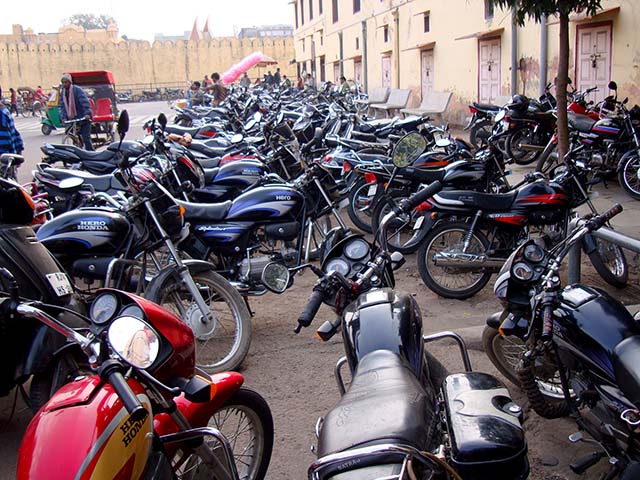 I guess eventually you become good at remembering where you parked your bike, even if parking spaces are scarce.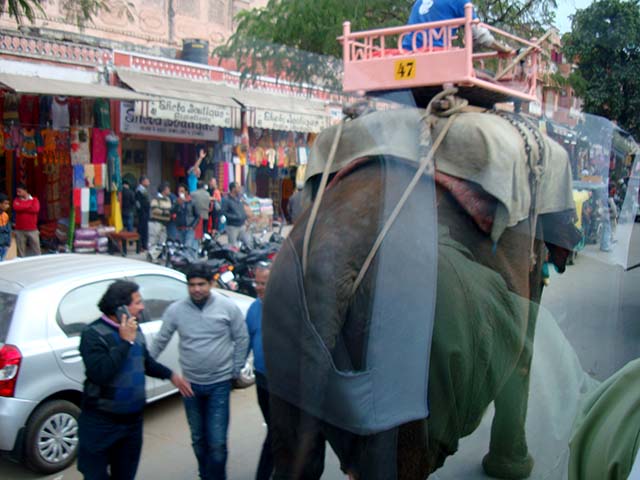 These guys, on the other hand, can park anywhere they like.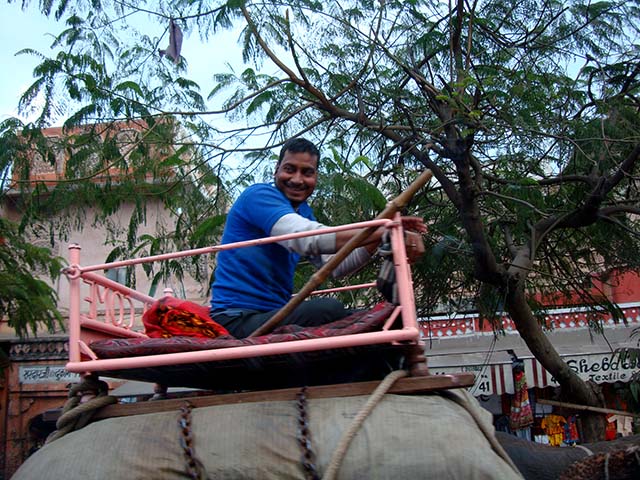 A happy mahout.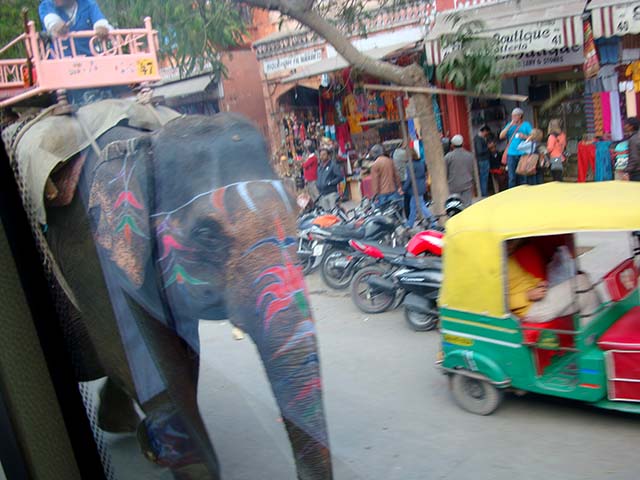 Could that be my elephant from Amer Fort? Sure looks like my elephant. I'll bet they at least have the same makeup artist.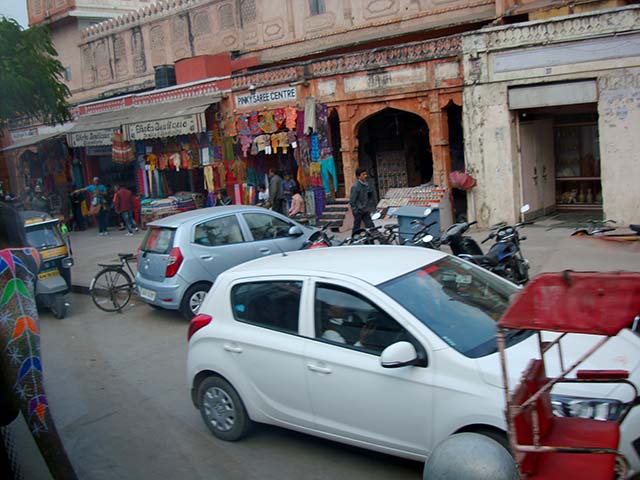 I tried to get one more picture of the pretty elephant. You can never get enough pictures of pretty elephants.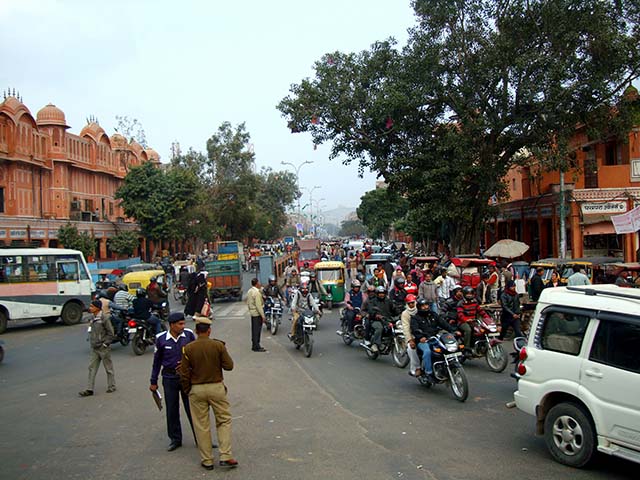 Jaipur traffic.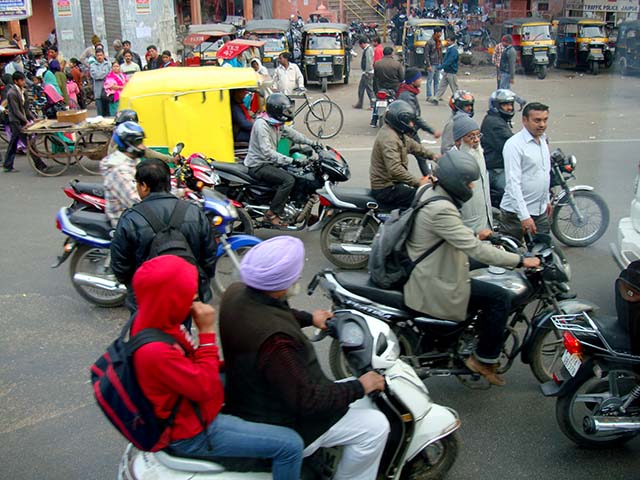 Davinder said there are motorcycle helmet laws in India. The men, who of course are the drivers, must wear helmets. But women hanging on behind the men don't need to wear helmets. I mean really, what would be the point? And of course if you're a Sikh man, you can't be expected to put a helmet over that turban, can you? That would be ridiculous.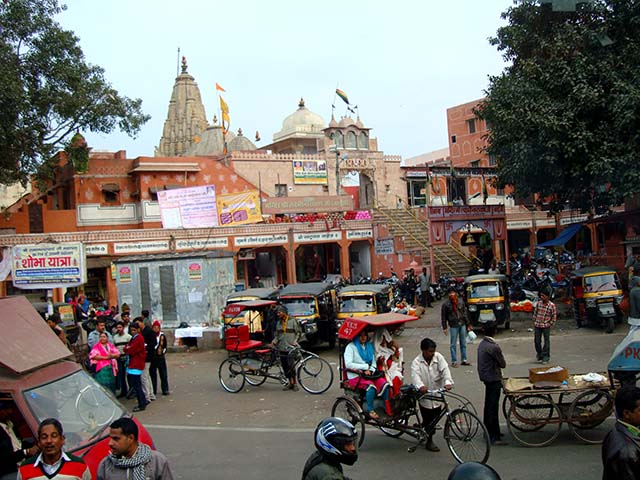 I think those pedicabs are for real people, not merely tourists.
Colors and traffic and hustle and bustle. That's India.
Did I mention traffic?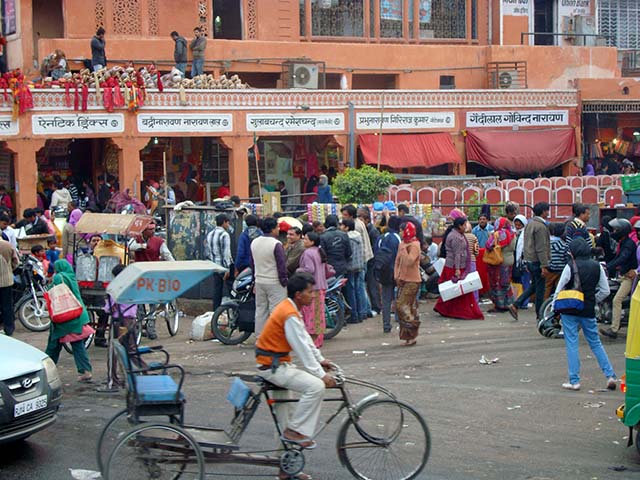 And hustle?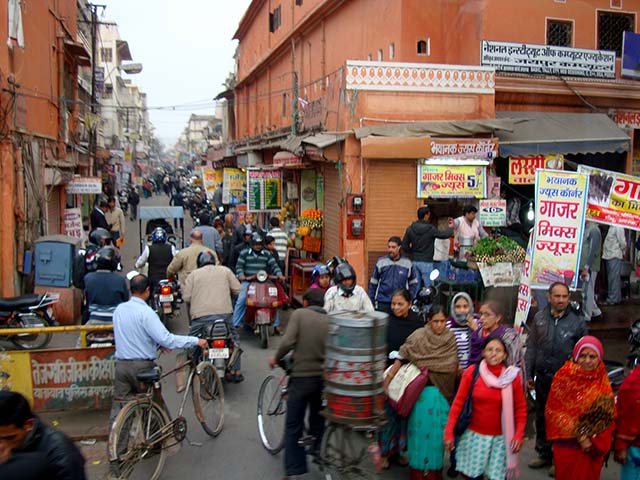 And bustle?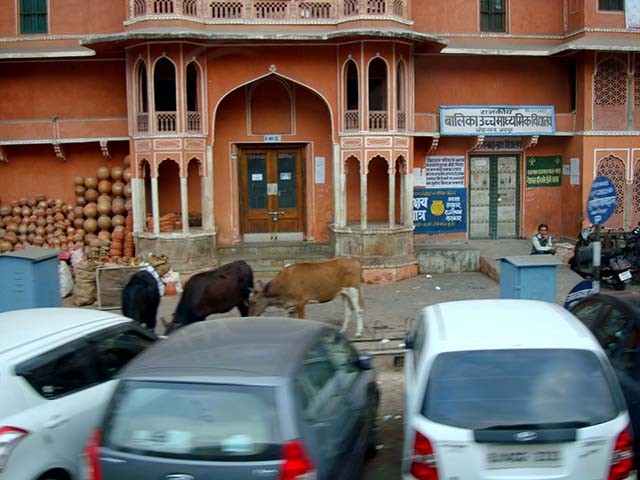 And cows?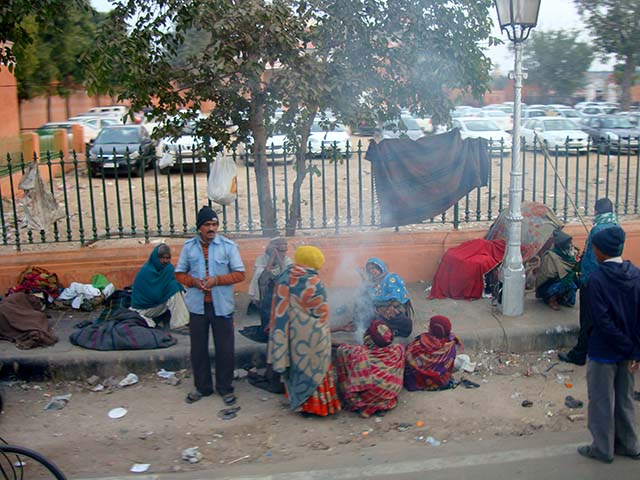 What I want to know is how come I'd get arrested back home if I build a cow pie fire by the curb just to keep warm?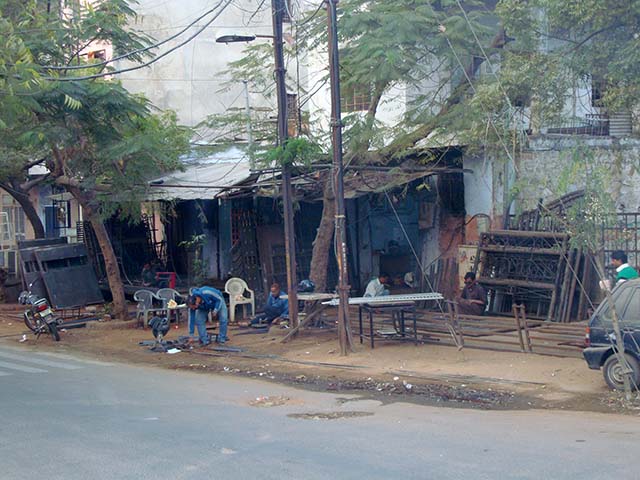 More than a few times I saw wrought iron door manufacturing shops like this. Wrought iron doors must be awfully popular in India.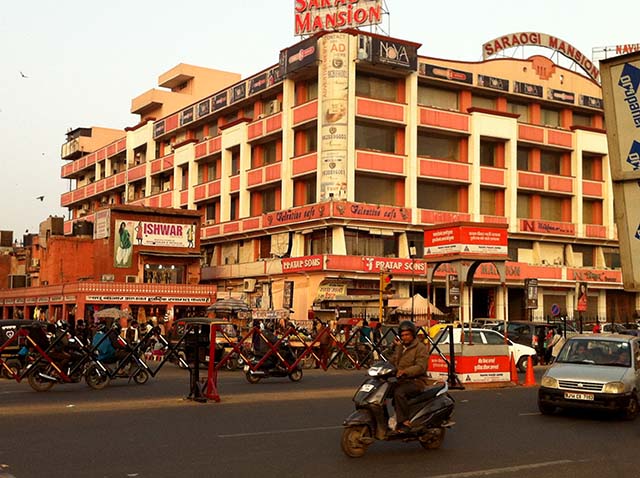 Near the end of the day Davinder took us to a shopping area to let us find some opportunities to spend our rupees.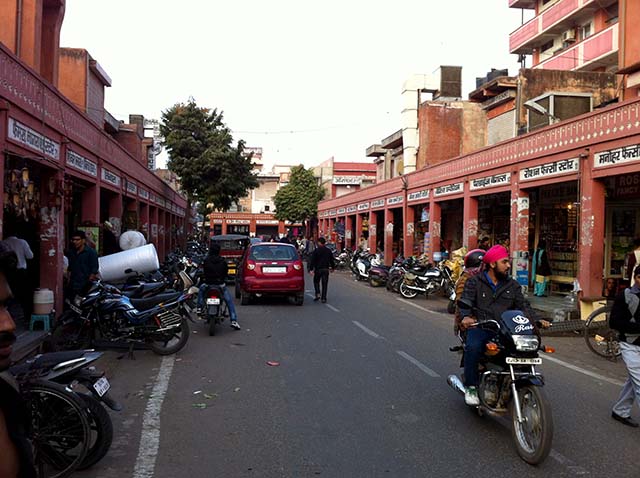 Plenty of shops.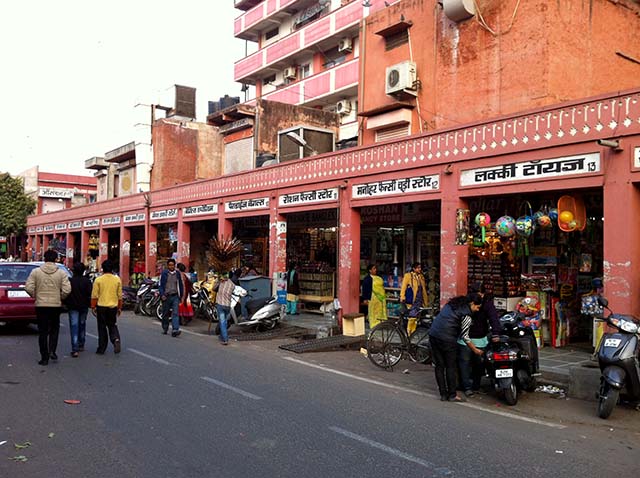 But not much I wanted to buy.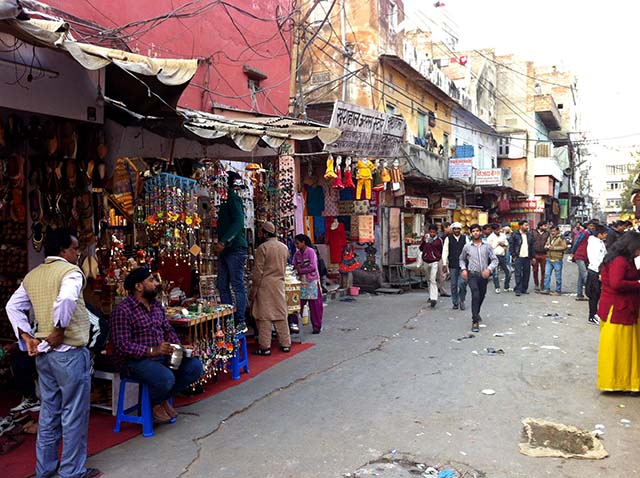 We looked but we didn't spend.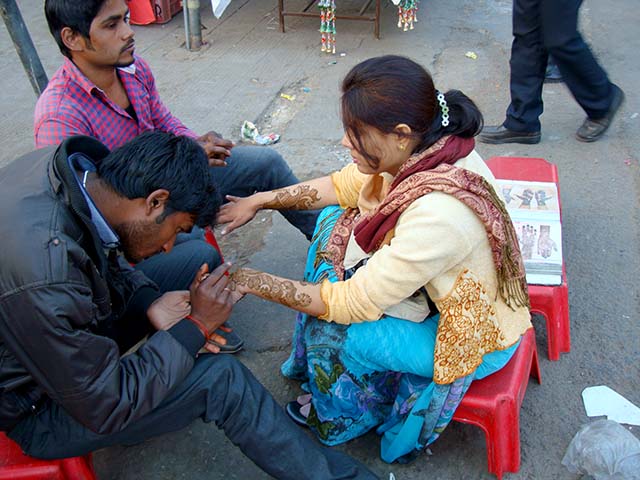 Cathy, on the other hand, spotted this and just had to get herself decorated.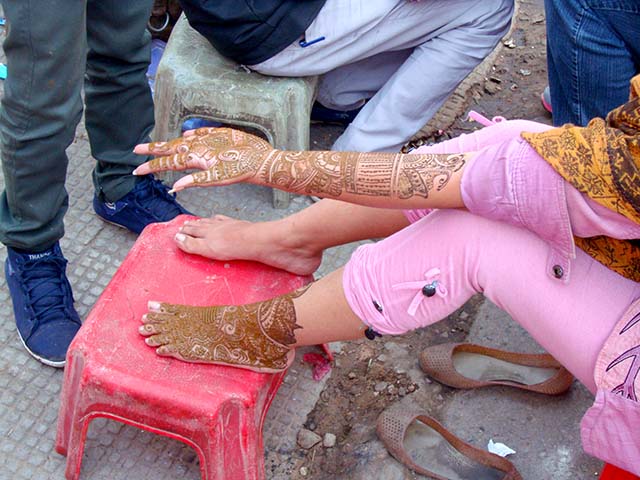 Some ladies in India like to get themselves covered in henna ink artwork.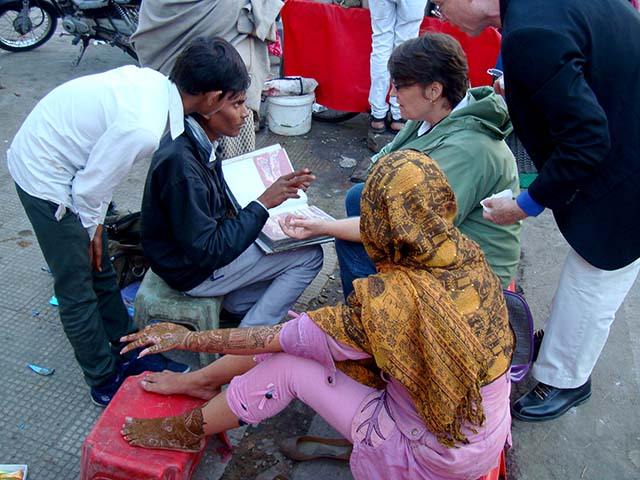 So Cathy took a seat and picked out some pretty designs.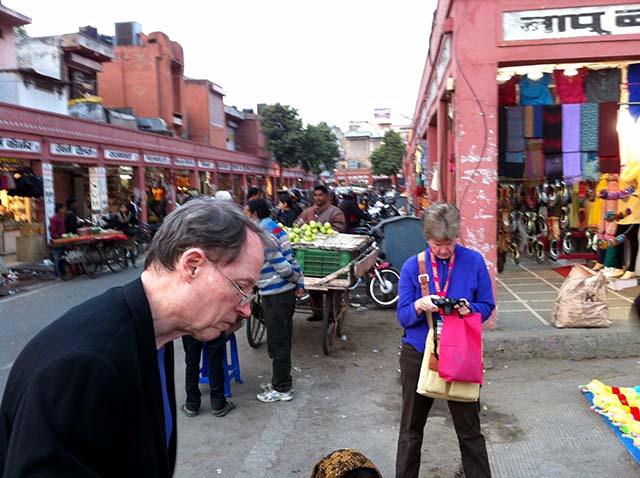 Don and Tammy watched carefully.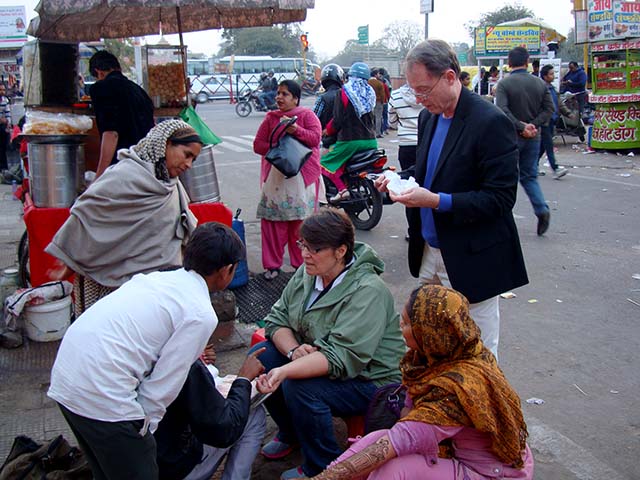 No, it's not permanent. It'll come off eventually, I promise.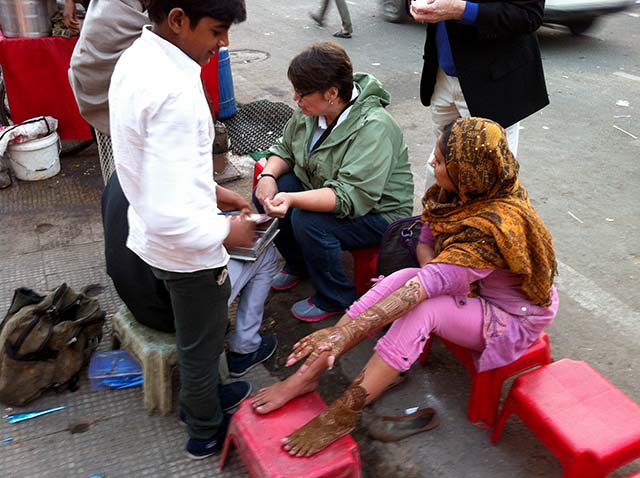 They settled on a price, and the painting commenced. The poor lady on the right seems to be wondering when the artist will get back to her.
Here's a Flash video showing the long, drawn out process as the artist...THAT'S IT????