Aside from some time spent on two-lane highways (but really, in India what difference do lanes make?) our ride back to Delhi was pretty uneventful.
Just mile after mile of all the things we've come to love about India.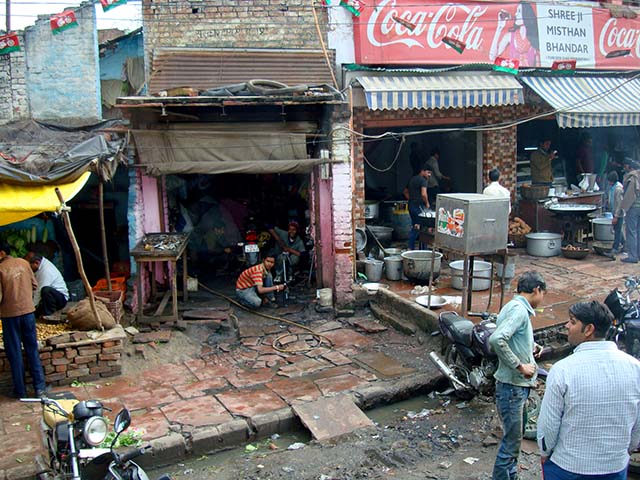 One-car-garage-sized businesses of all types...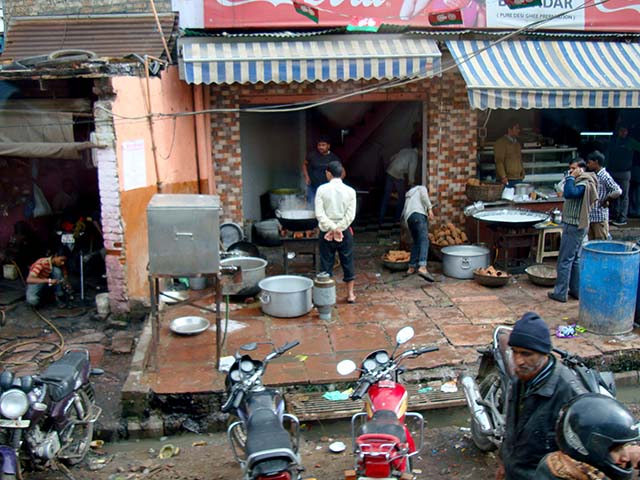 Forbidden food...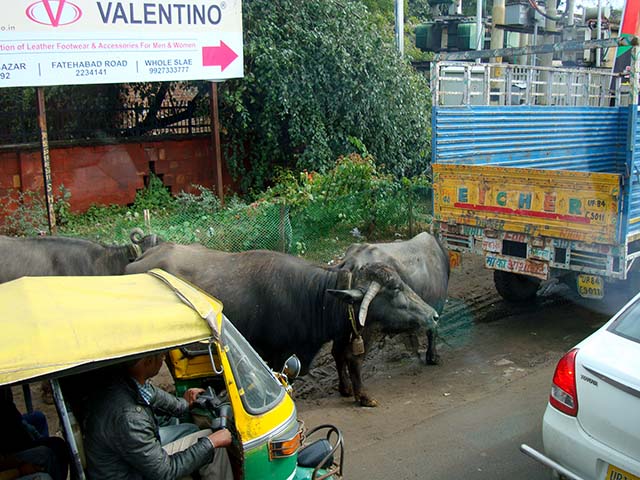 Cows and water buffalo...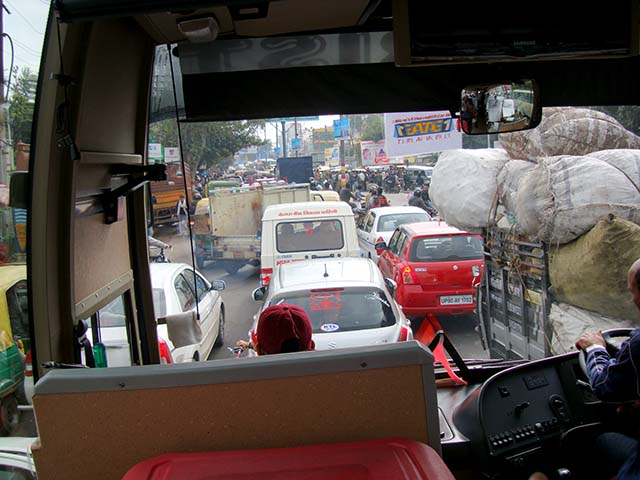 Traffic...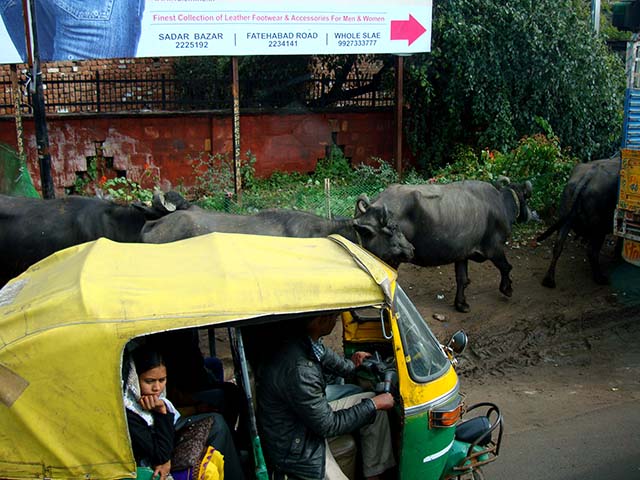 Tuk-tuks...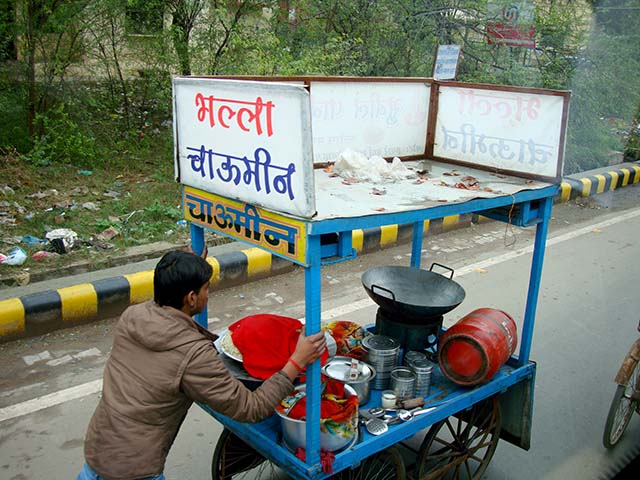 Forbidden food...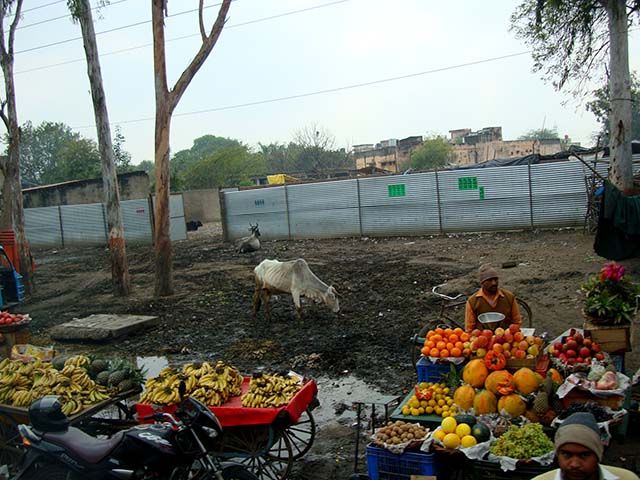 Cows grazing in garbage by forbidden food...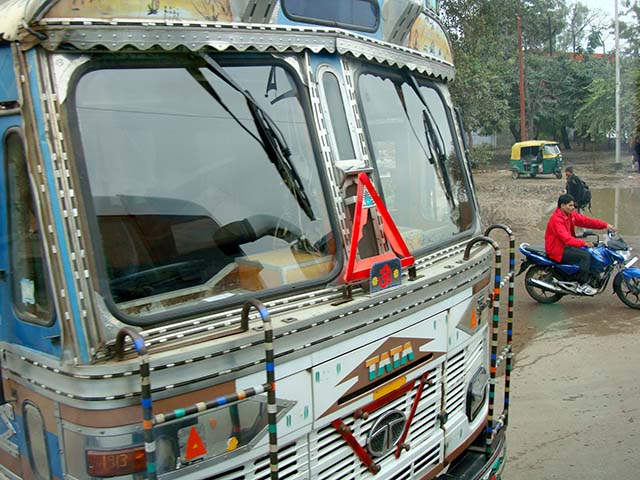 Colorful trucks...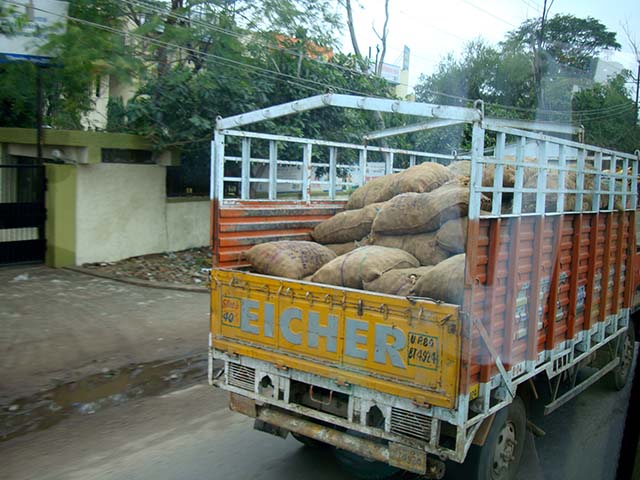 Trucks with mysterious cargo...
Cow pie manufacturing facilities...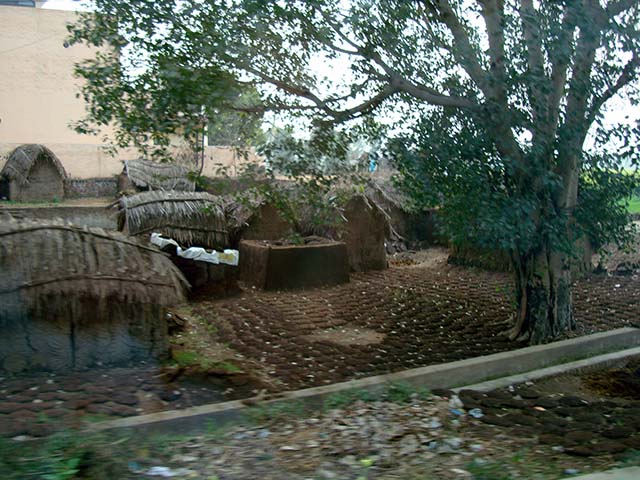 Cow pies sitting out to dry...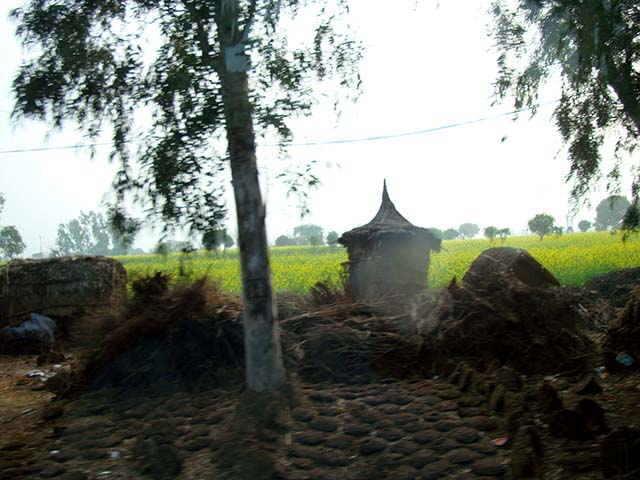 Some in their own quaint little cow pie huts...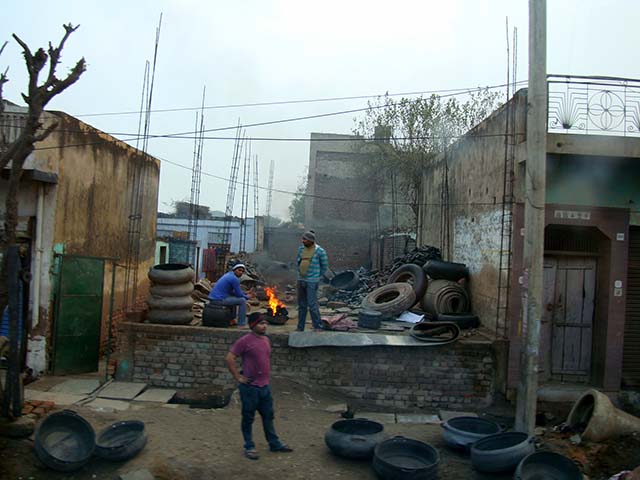 People keeping warm by cow pie fires...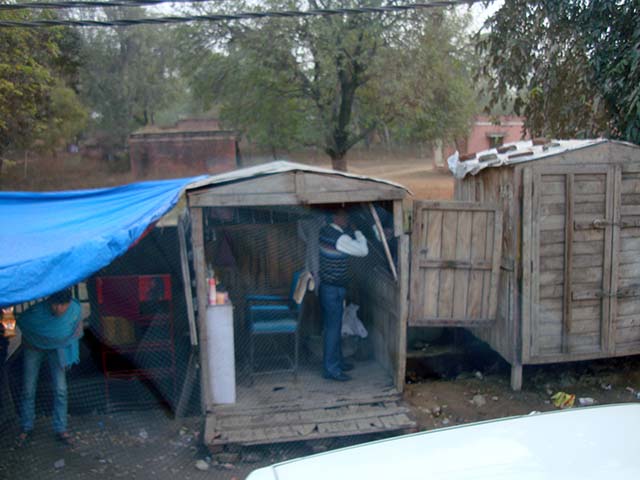 Barber shops...
Barber shops with customers...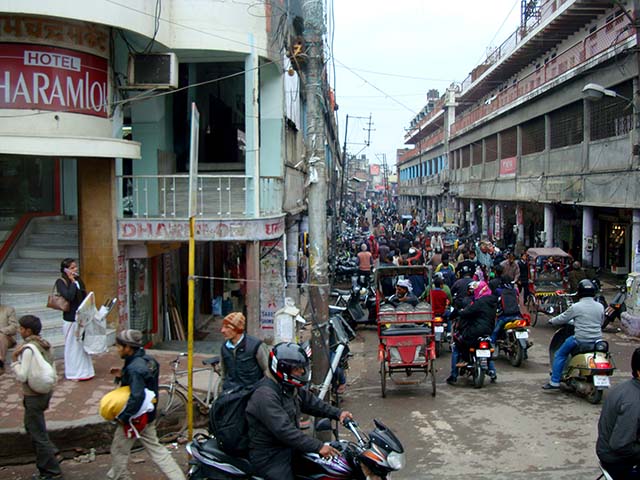 Crowds of people...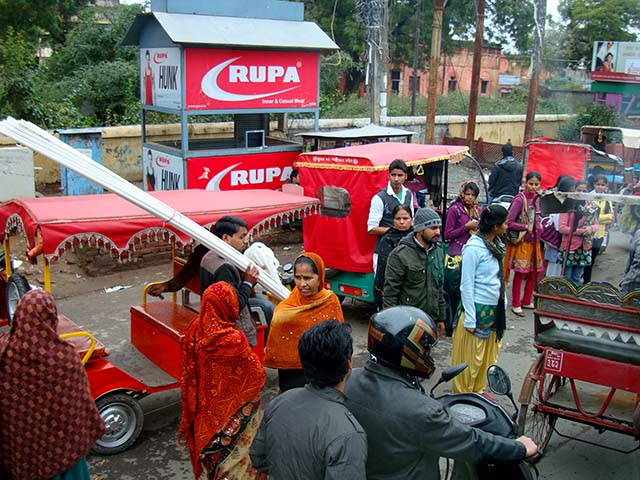 Colorfully dressed people...
Here, take a break and watch a Flash video of all this passing by.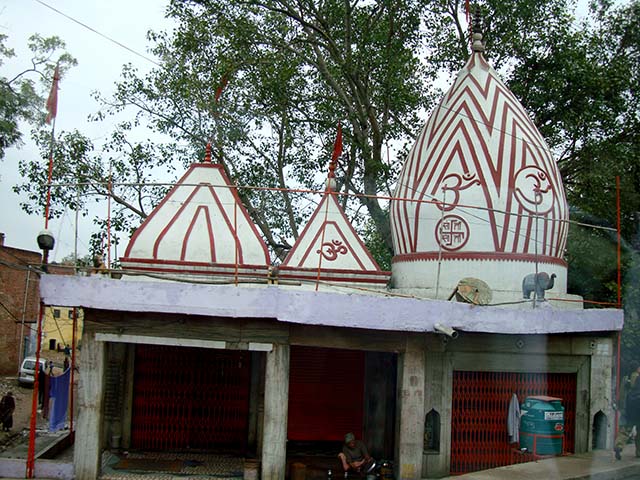 There were roadside temples...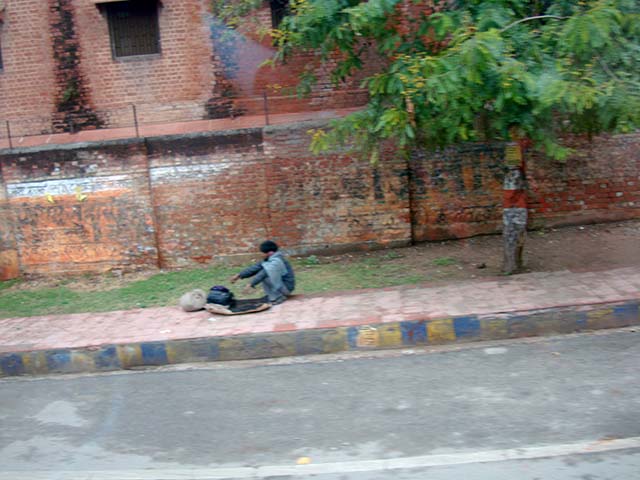 And people who at least appeared to be homeless...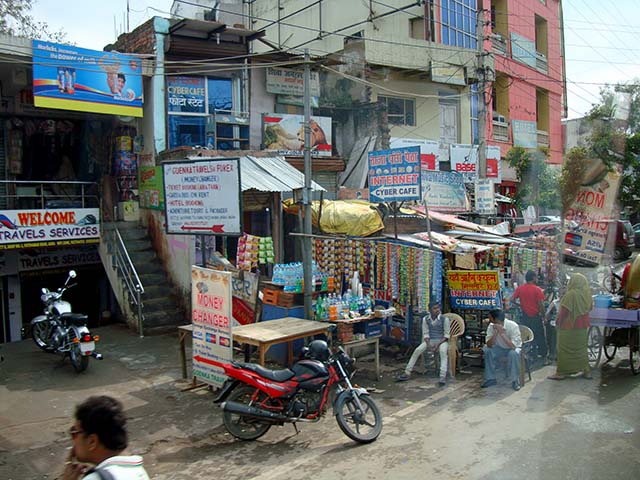 We saw gutka for sale. See those colorful packets hanging up over there?
Davinder explained what it is, and Bill found a longer explanation in Wikipedia: Gutka is a preparation of crushed areca nut (also called betel nut), tobacco, catechu, paraffin, slaked lime and sweet or savory flavorings. It is manufactured in India and exported to a few other countries. A mild stimulant, it is sold across India in small, individual-sized packets that cost between 2 and 10 rupees per packet. It is consumed much like chewing tobacco, it is considered responsible for oral cancer and other severe negative health effects. Davinder strongly disapproved and noted that it's illegal in Delhi.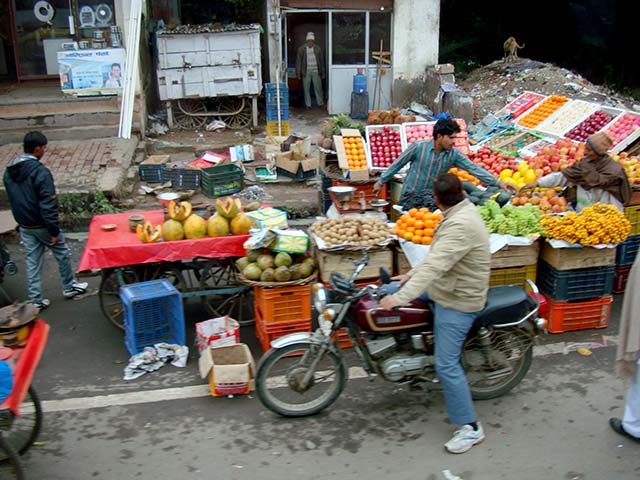 The forbidden food looked so tasty...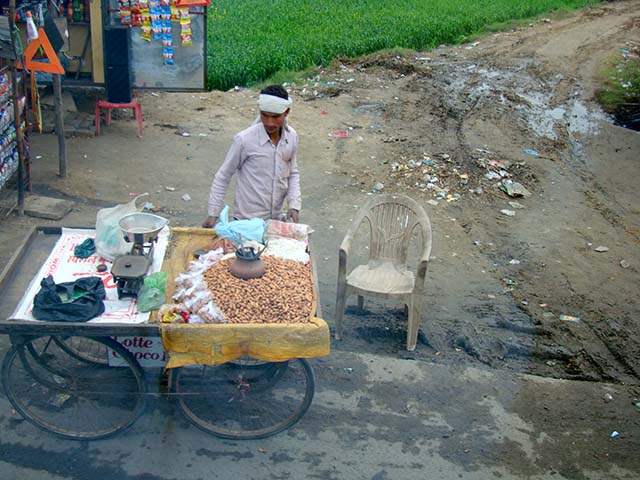 I mean, just cast your eyes on those delicious looking peanuts over there by the mud and the garbage...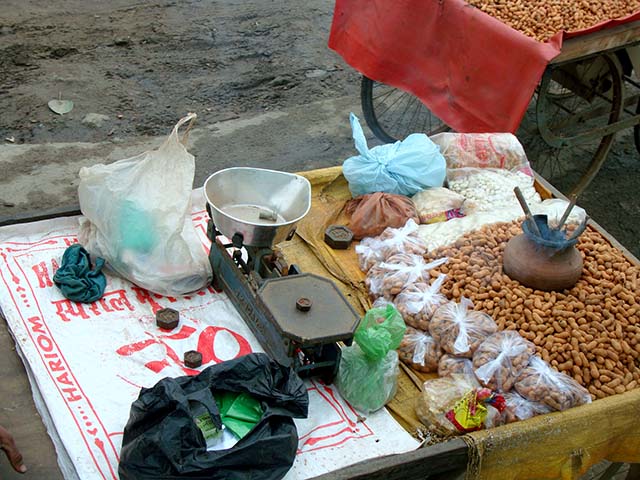 Does anything there look like it'd make you sick?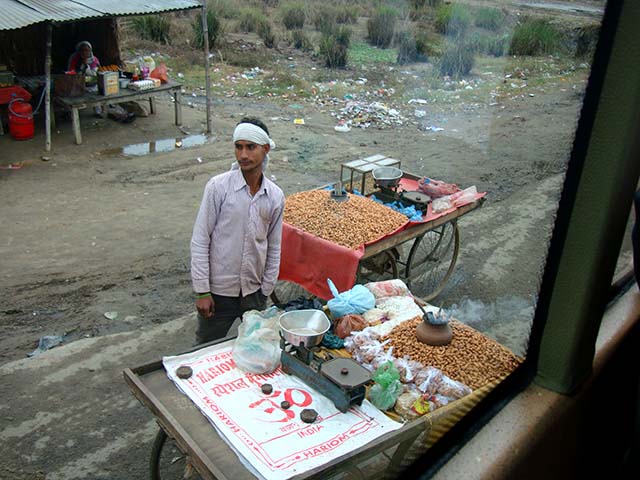 But Davinder, he looks like a nice guy. He wouldn't sell anything unwashed, would he?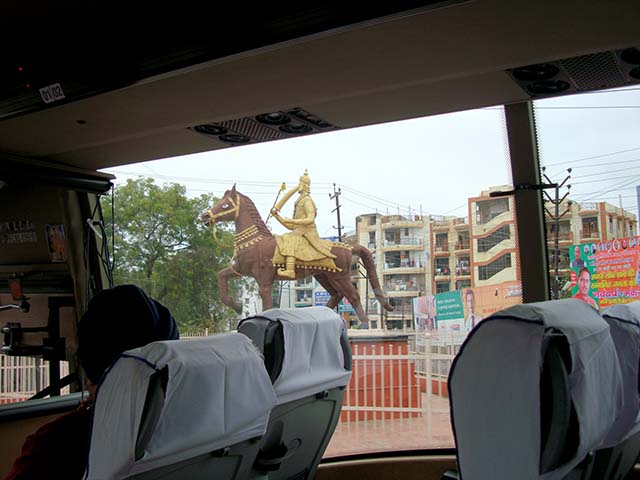 We saw statues...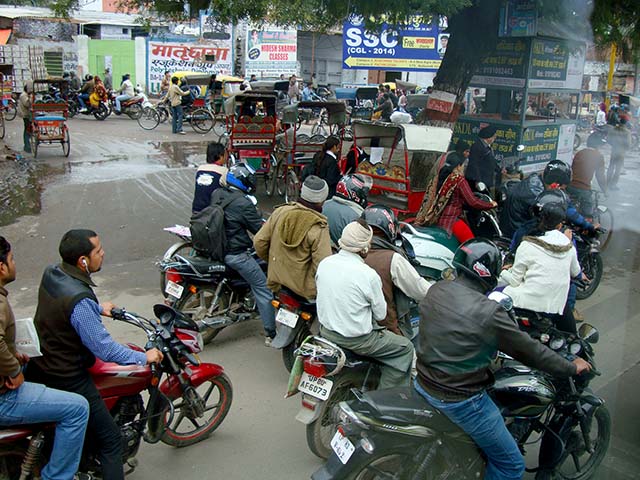 And motorcycles...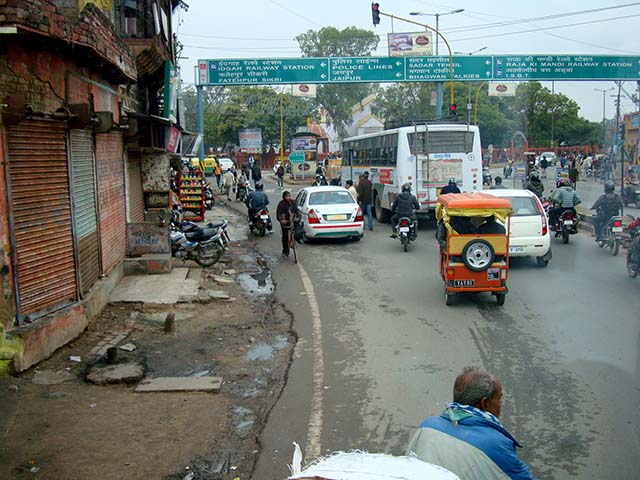 And toll booth stops...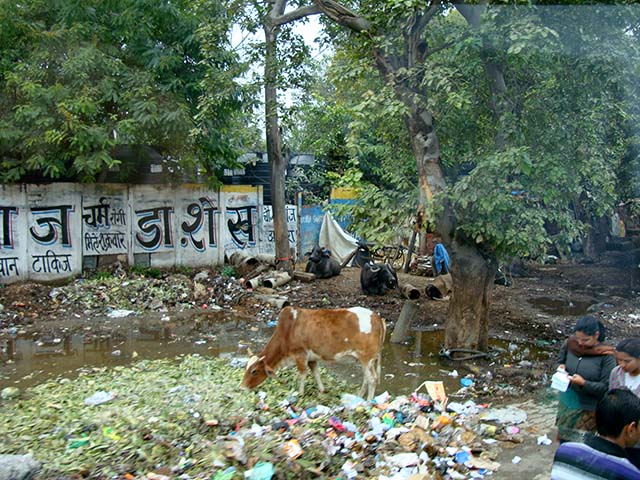 And cows FEASTING in garbage...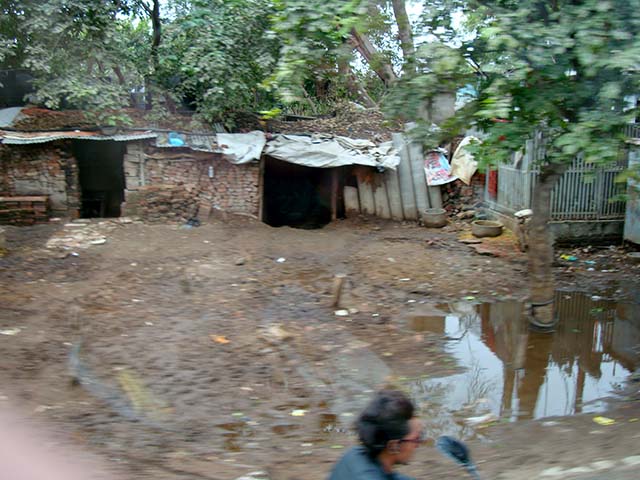 And mud...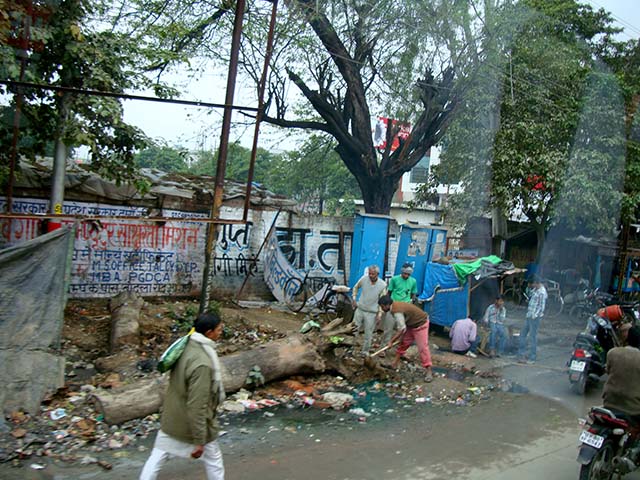 And people hard at work in the filth...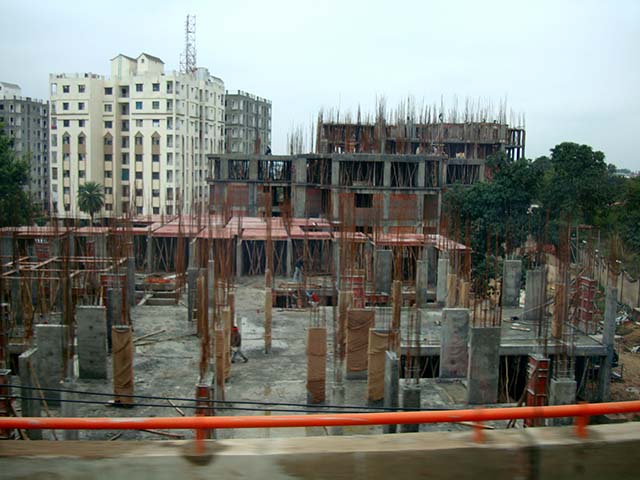 And construction...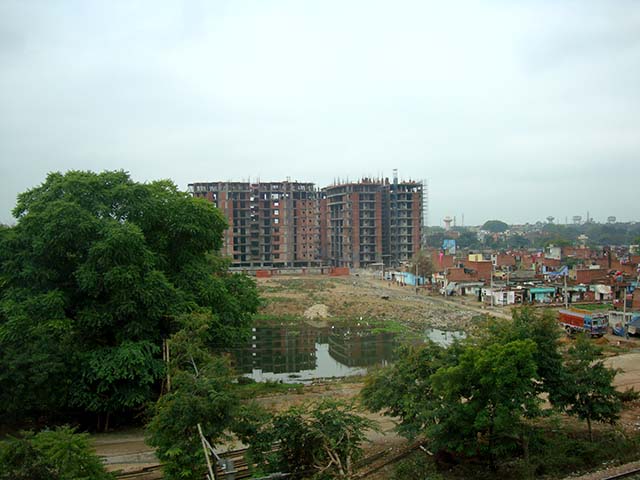 Lots of major construction...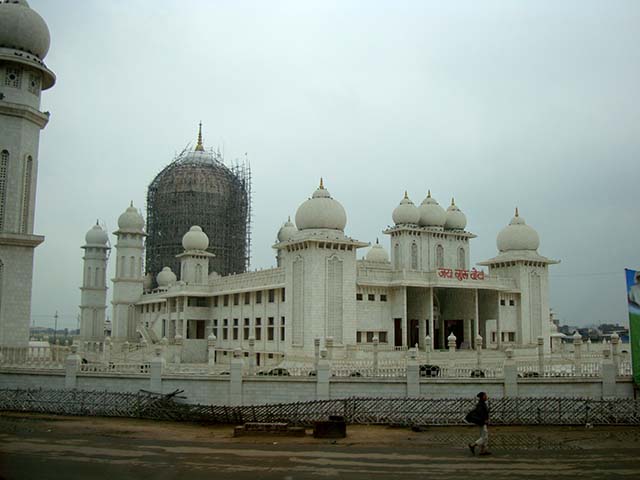 Some of it very interesting...
Interesting modes of transportation, too...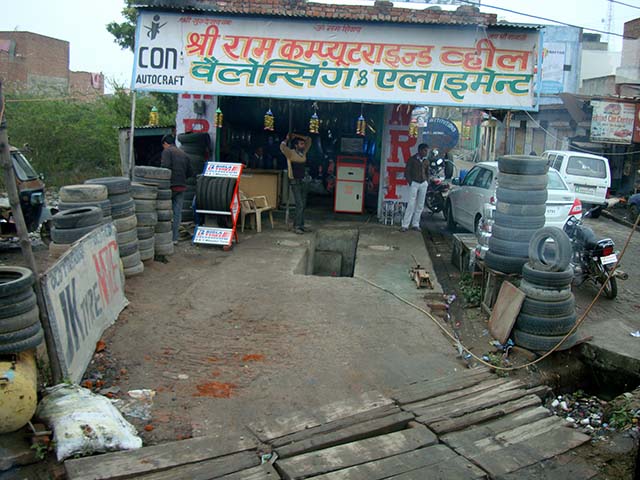 Auto shops...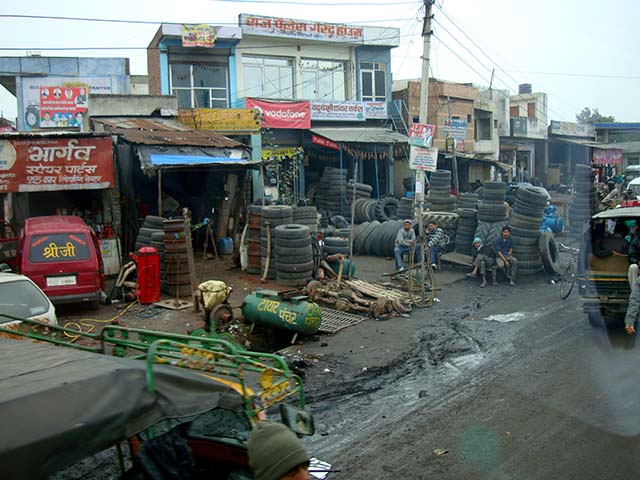 Tire repair...
Water delivery...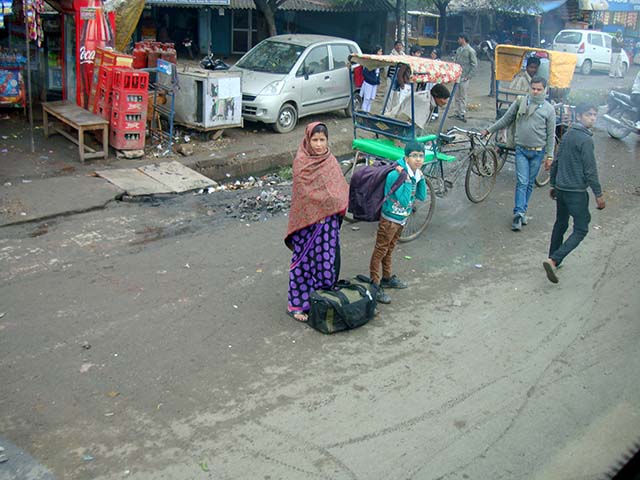 Bus stops...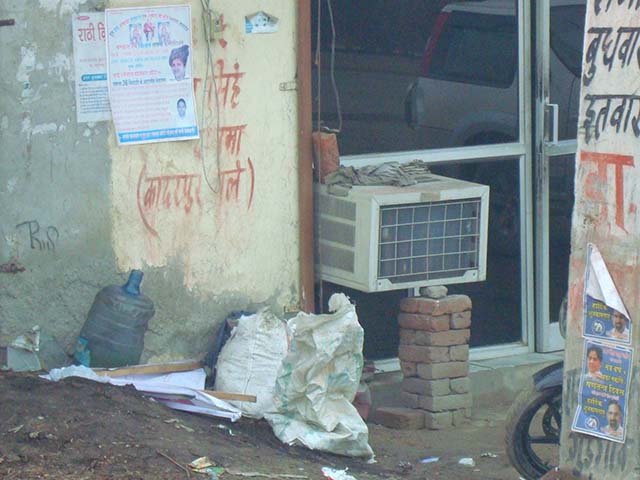 Air conditioner installation specialists...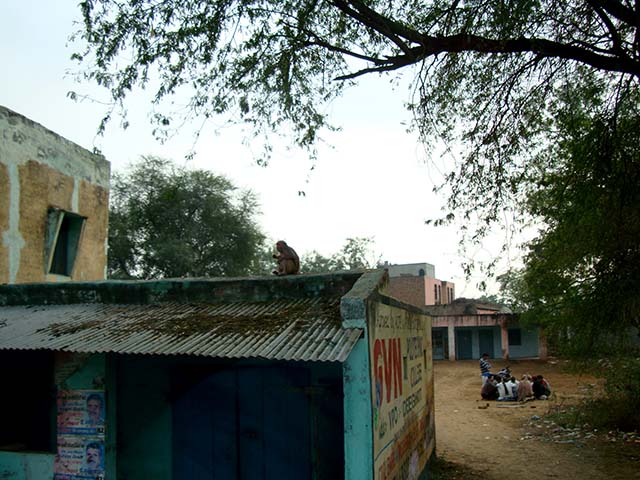 Monkeys on roofs...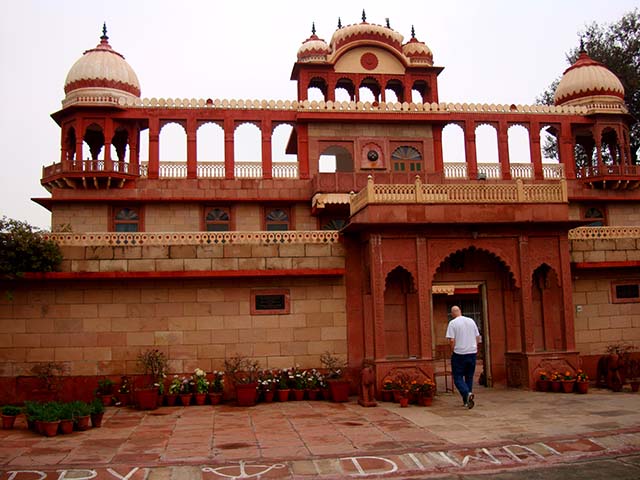 OK, time for a pit stop. This looks like a nice place for tourists.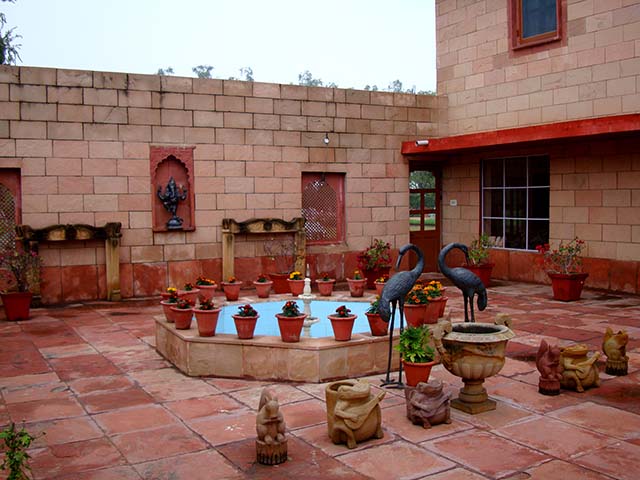 They went out of their way to make us feel comfortable.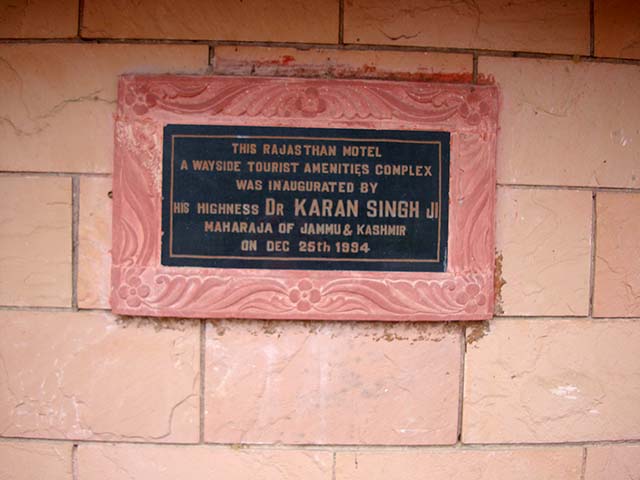 Impressive!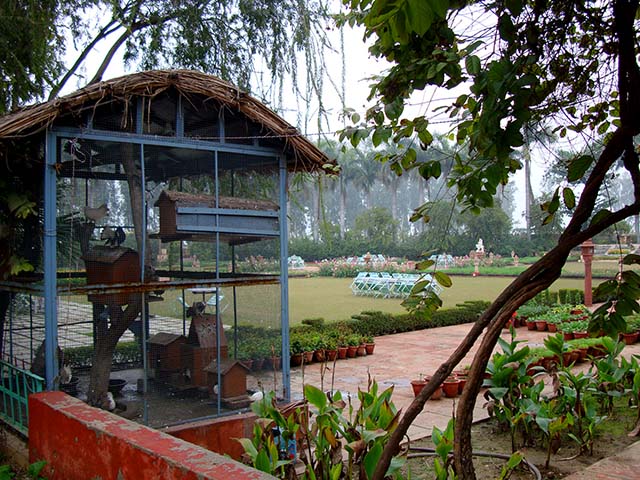 And there's a very nice garden out back.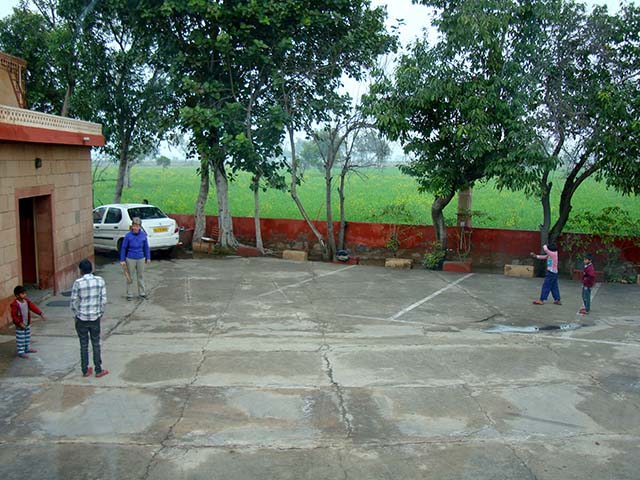 So while we wait, let's watch the local kids play some cricket.
Hey, wait a minute, who's that chasing the kids?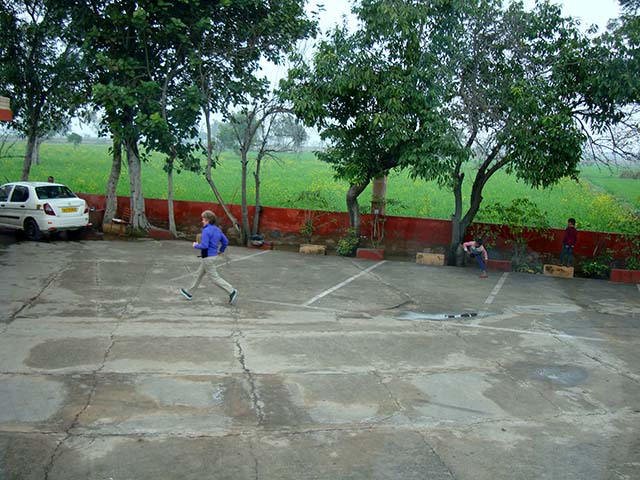 Why it's Tammy!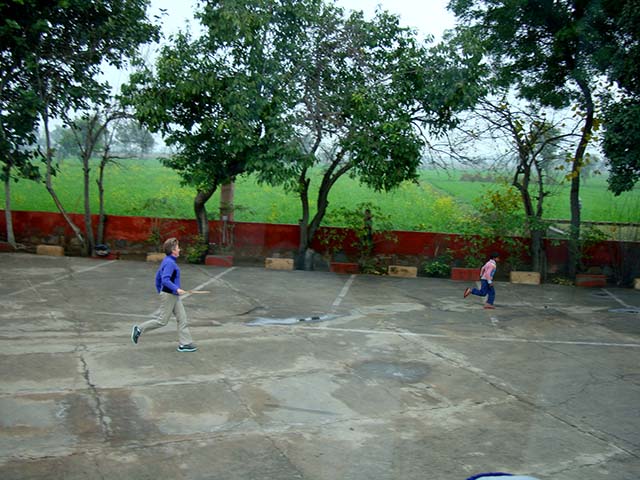 C'mon, Tammy, show those kids a thing or two. Teach 'em a curve ball and demonstrate sliding into second and show 'em how to use a real bat.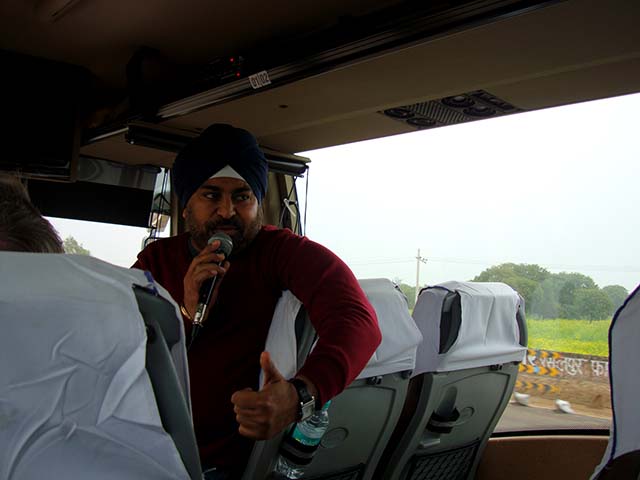 OK, back on the road with Davinder for our sprint to the finish line.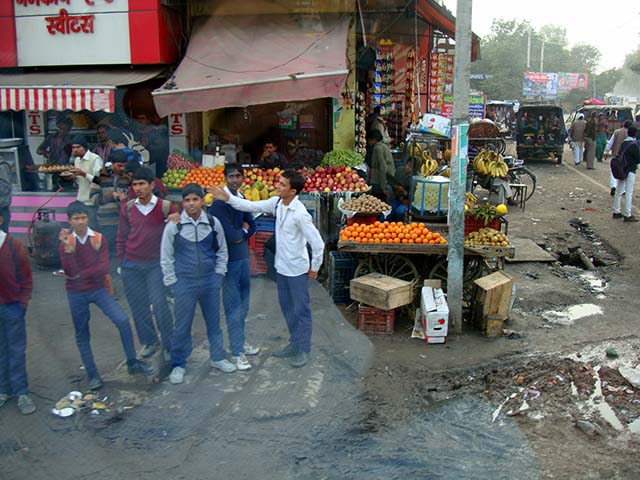 Along the way we encountered some genuinely friendly natives. These guys waved to us. What I want to know is, how come they aren't muddy?
Would one of you guys throw me a forbidden apple?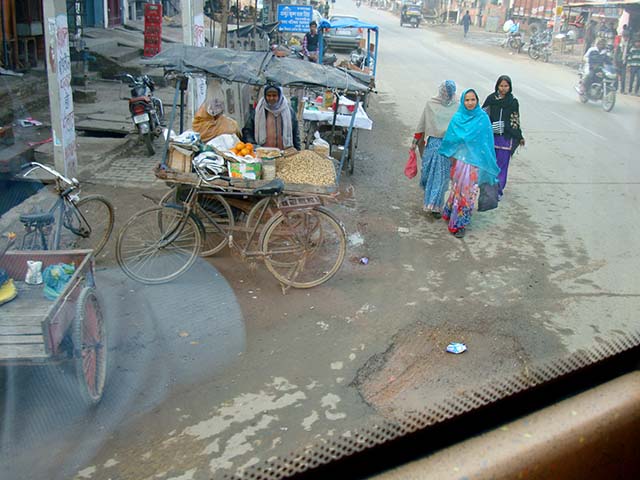 Even the women's sarees aren't muddy. Somebody explain this to me.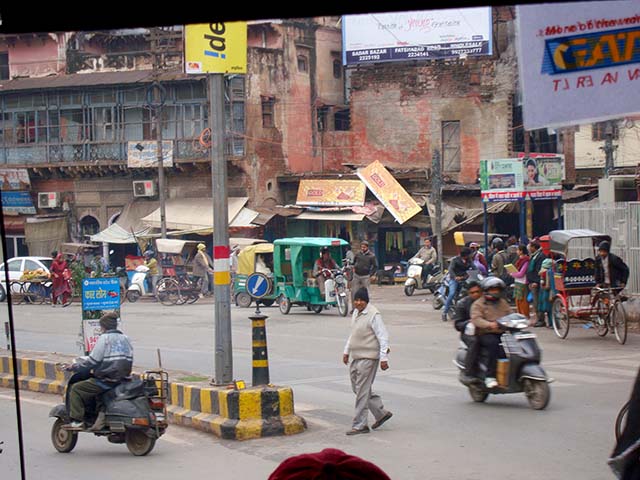 Remember the other day when we saw hustle and bustle?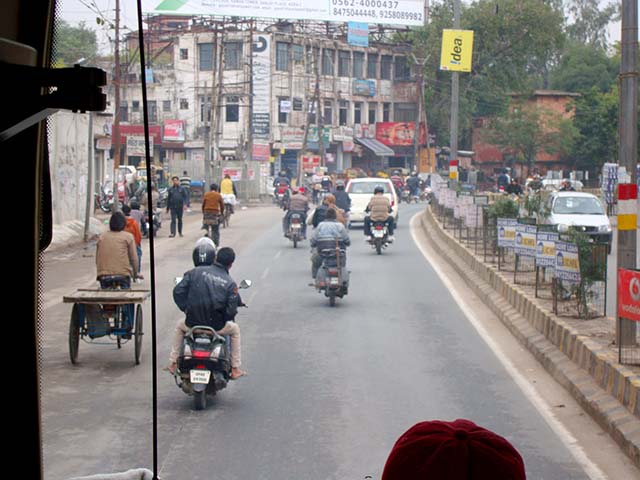 Well, they're both at it again today.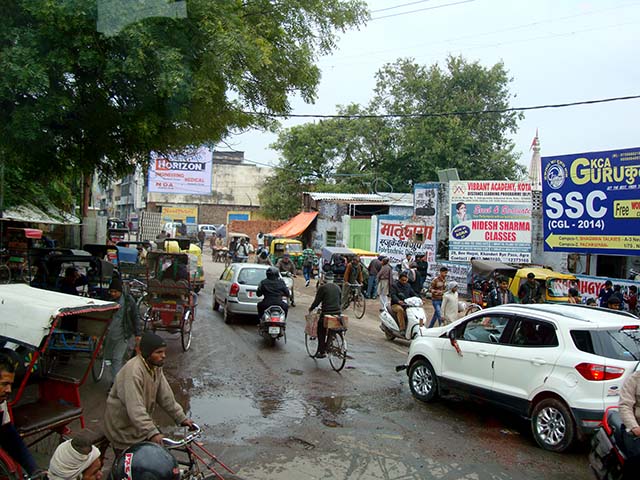 And this time they're in the mud.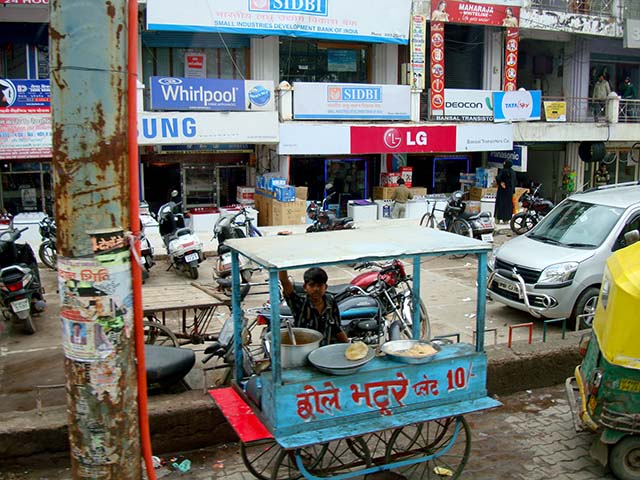 I know those forbidden fried flat bread things just have to be good. If not good for you.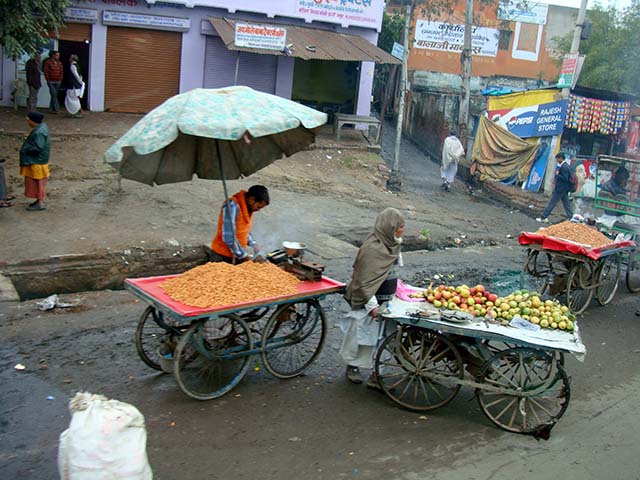 I need peanuts! And apples! But I never got any.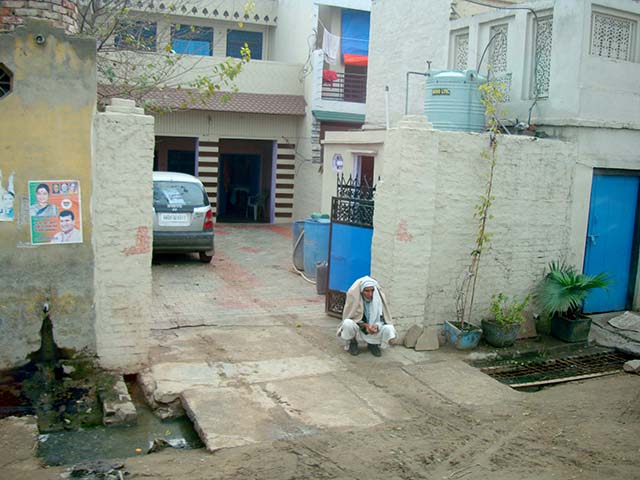 I was as forlorn as this guy.
If you haven't yet seen enough of India flashing by your eyes, here's another Flash video with more of the same.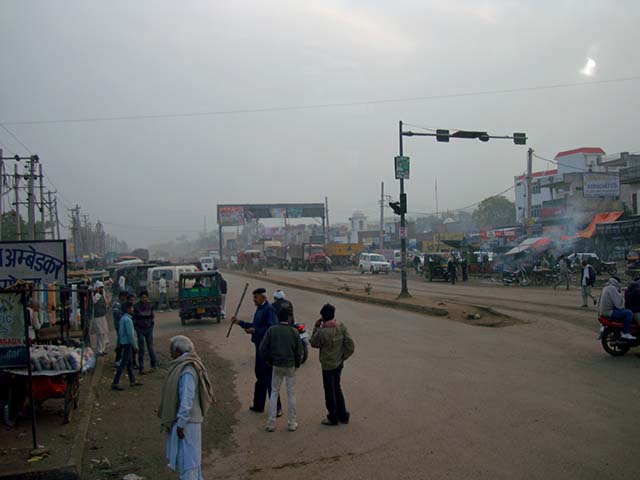 Looks like we're getting somewhere now.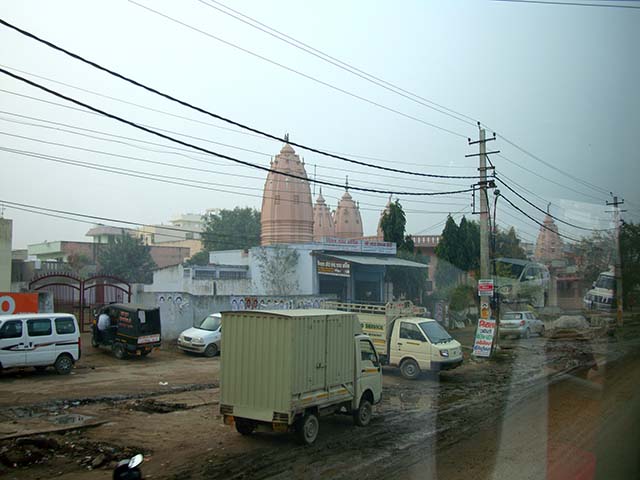 Near the end of the journey.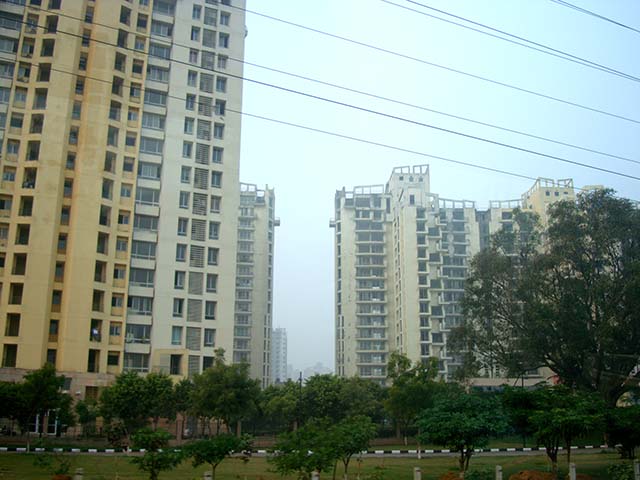 Just look at all the big buildings. What's going on here?