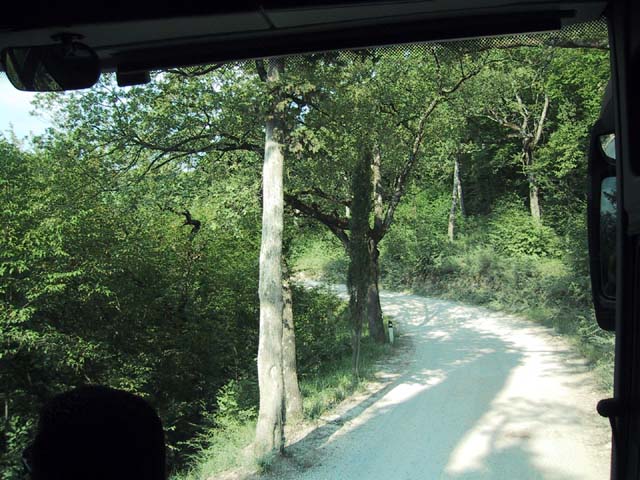 After leaving Siena, we drove out into the countryside and up, up, up into the hills of the Chianti region to the family-owned Verrazzano Winery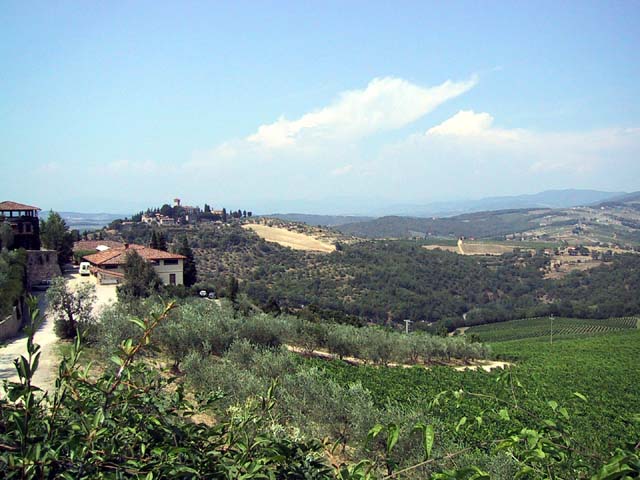 That's the Verrazzano Winery there on the left. In the distance you can see another winery, which we were warned not to mention. Seems there's an intense rivalry, and the Verrazzanos don't like to acknowledge the existence of the competition. Actually our tour guide did mention the other winery, just once. He said the only good thing about that place was that they had an outstanding view of the Verrazzano Winery.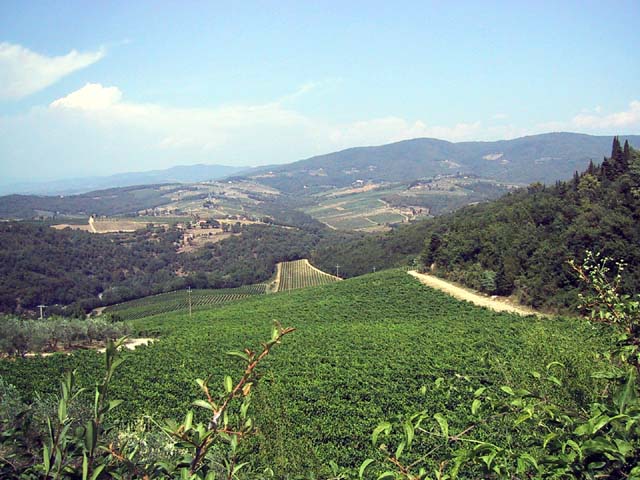 In fact, there are nice views in all directions.
They make Chianti here in Chianti.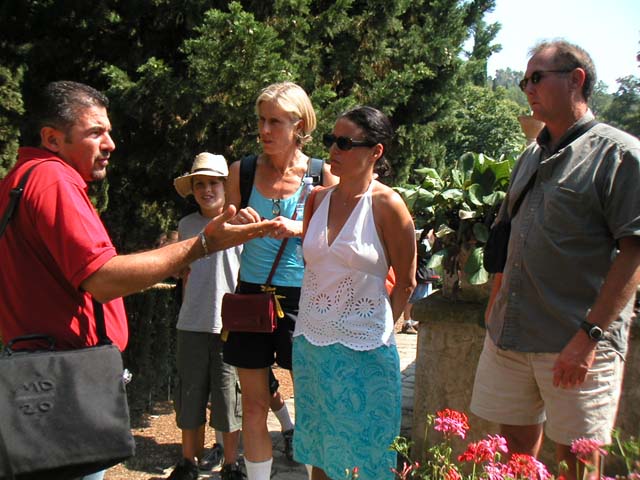 As we were filing off the bus and through the gate into the winery grounds, I noticed that blonde lady in shorts approaching us. I thought (correctly) that she was just a tourist, and I thought no more about it. But a few minutes later, one of the children in our group ran up to our Globus tour guide, Daniele, and told him that some people outside the gate were behaving very rudely. So Daniele went off to see what was up, and again I ignored what was going on. Turns out the folks raising the ruckus were television actress Julia Louis-Dreyfuss and friends. That's Julia in the blue skirt. She played Elaine on the Seinfeld show, and now she has her own show, called "Watching Ellie." Or something. Anyway, Daniele wasn't swayed by celebrity, and he very politely told them to buzz off. So there's Elaine staring daggers through poor old Daniele.
Many thanks to group member Larry for this excellent picture! Way to go, Larry! Those of us who missed the whole thing salute you!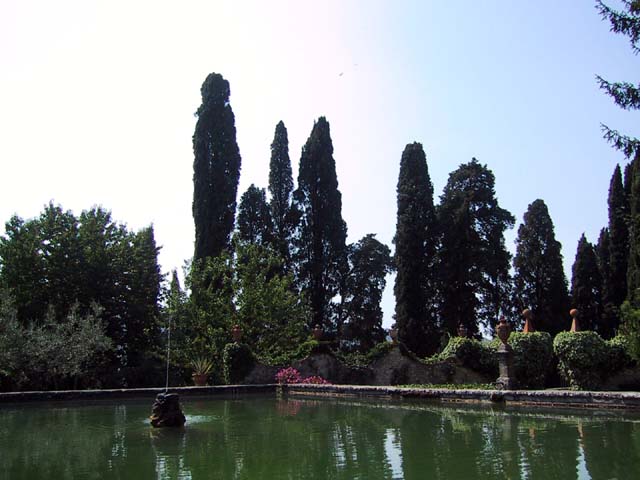 On the grounds of Castello di Verrazzano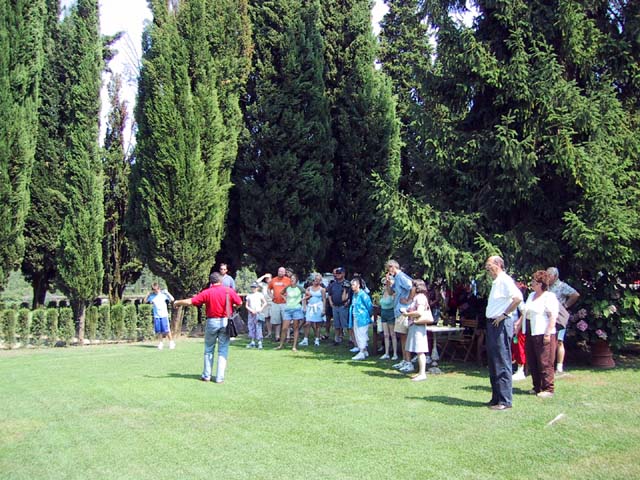 Rounding up the tourists.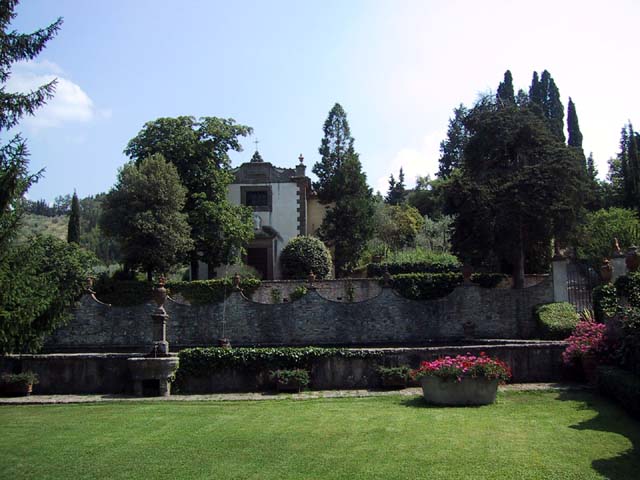 As we were driving through the countryside, every time we passed a beautiful estate, Daniele would tell us that he owned it, and he'd invite us to return for a visit some time after the trip. This, I suppose, is one of Daniele's gardens.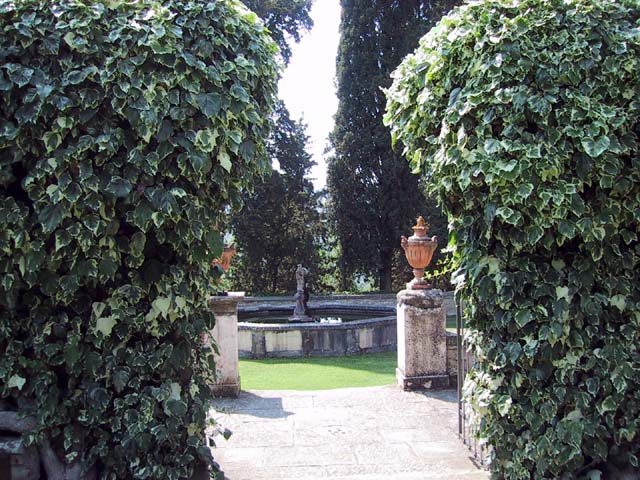 Just what you'd think an Italian garden should look like.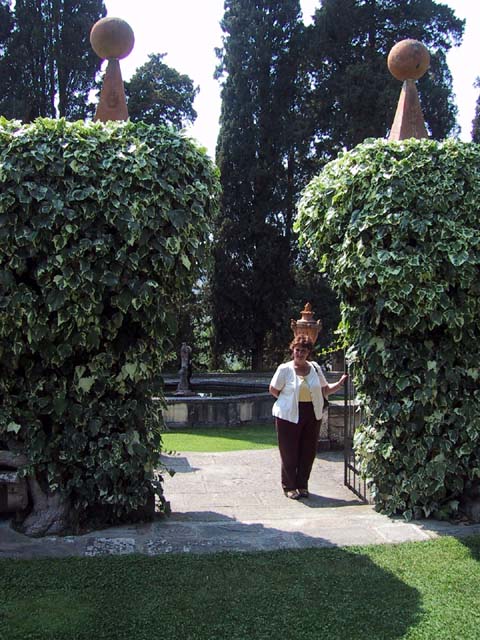 Claudia is impressed.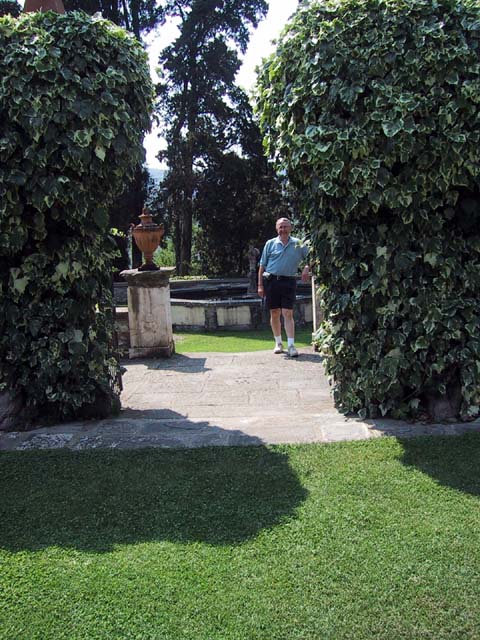 Me too.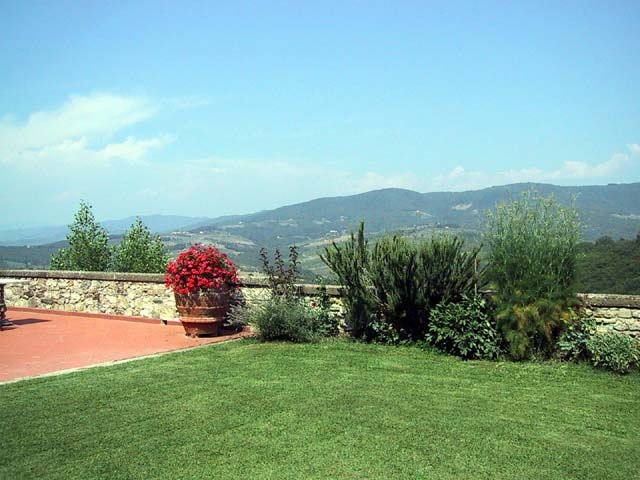 Nice.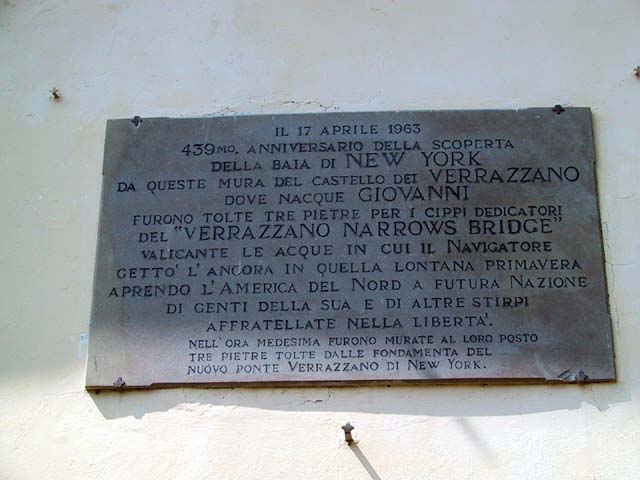 This is the same Verrazzano family that the Verrazzano Bridge in New York is named for.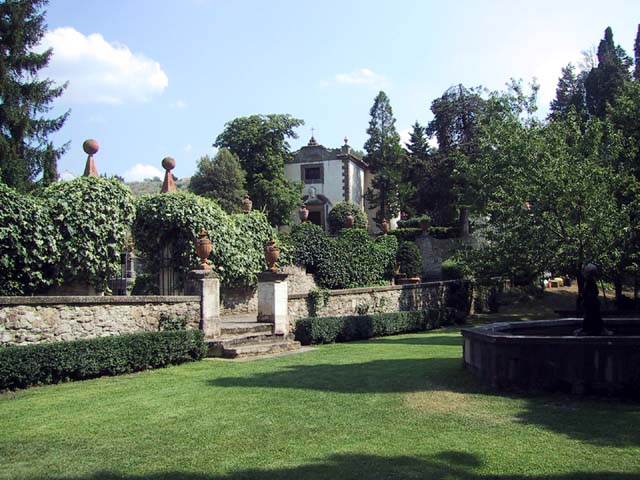 OK, Daniele, I'll return for a visit.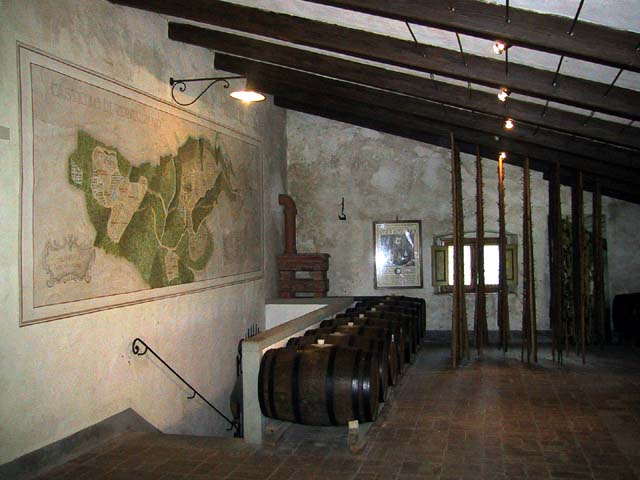 The map on the wall shows the entire winery. Those racks hanging on the right are used for drying grapes in this room.
Big aging barrels, just like in the Napa Valley.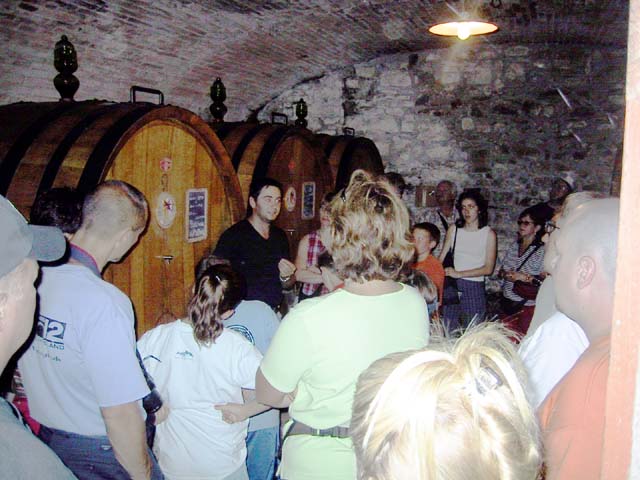 There's our tour guide. A friendly fellow, he spoke his English very slowly and semi-distinctly.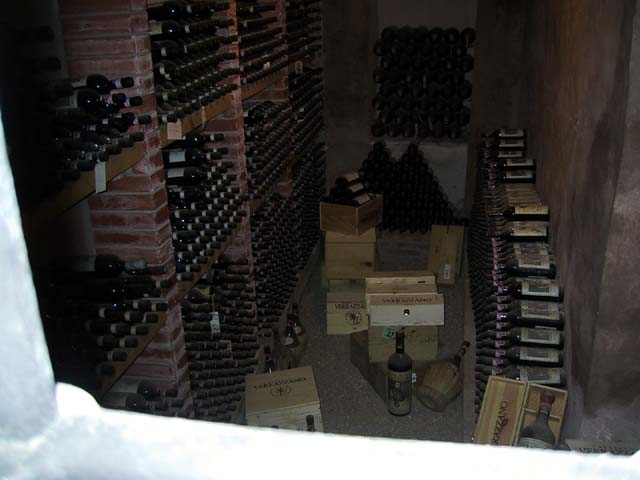 The family's wine cellar.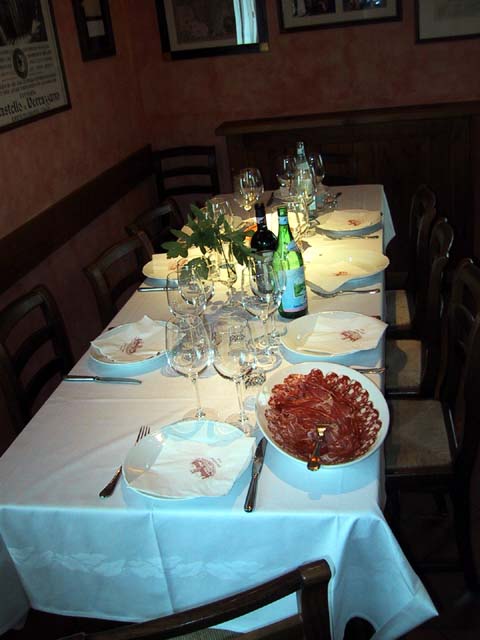 Here's our feast. Lots of fatty meats and cheese. But it was good.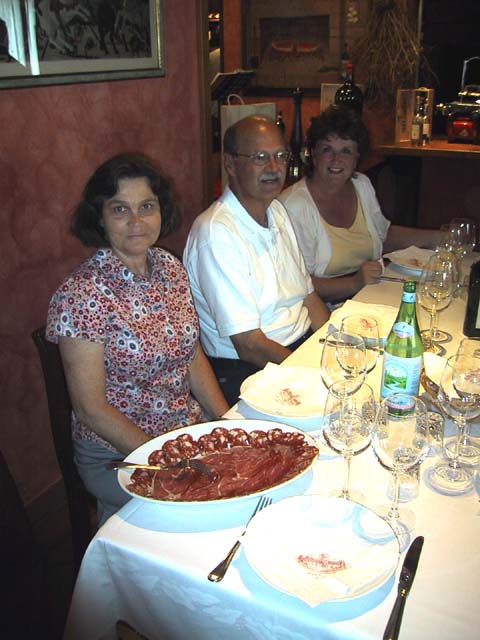 And we had a good time. Poor Julia Louis-Dreyfuss. Bet she would have enjoyed this.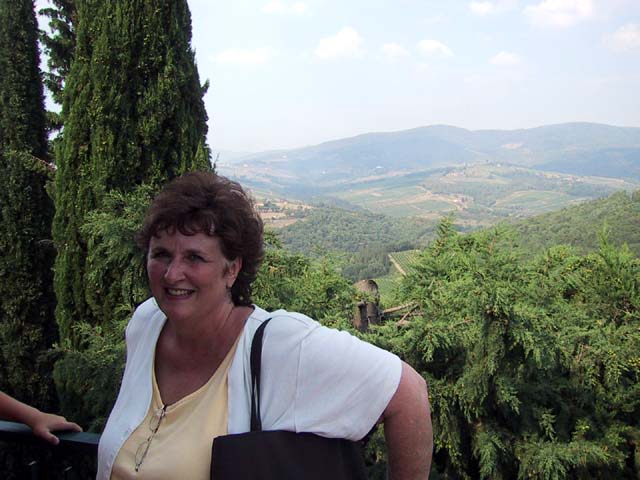 Claudia certainly did.
We all did.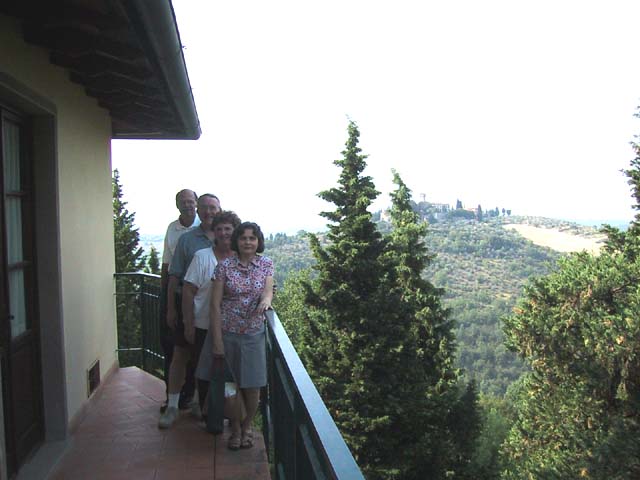 Posing before the winery-across-the-way that nobody talks about.