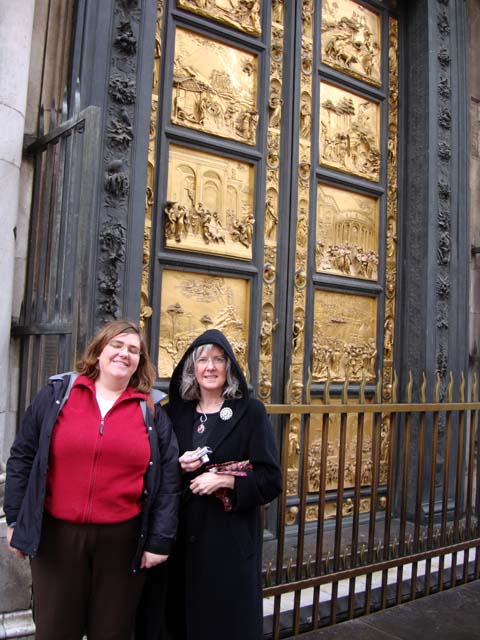 Here are two tourists posing in front of the fabulous Paradise Doors on the baptistry in front of the great cathedral smack in the middle of Florence. Well, OK, they're replicas of the fabulous Paradise Doors. But those are real tourists, I promise.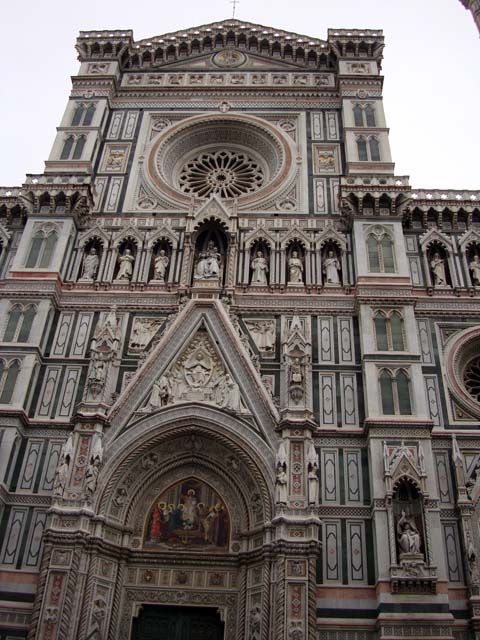 This is the fabulous Cathedral of Santa Maria del Fiore, better known as the Duomo, or house (of God). Every town in Italy has a Duomo, but few are quite so handsome as this one.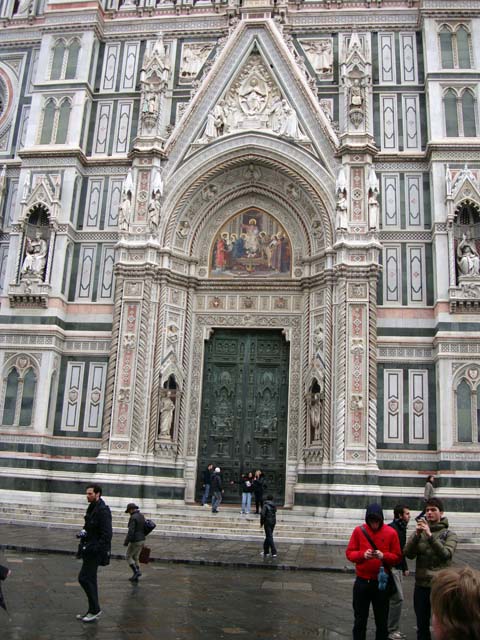 Here's the front door.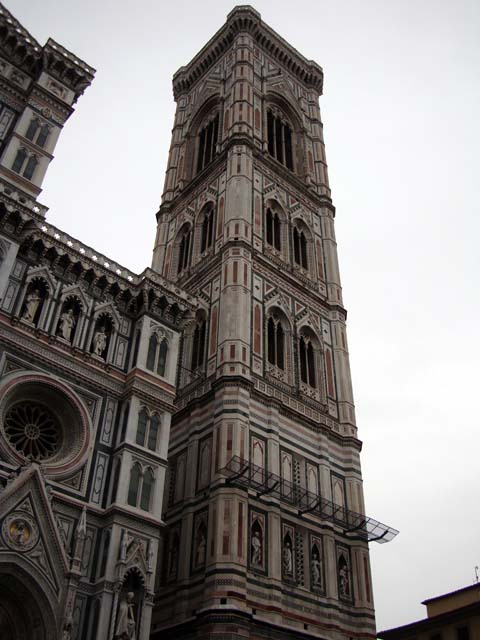 And here's a tower.
It's Vento Forte Narration Time!
Let master narrator Madeline Pruzan guide you through Florence!
That's right! Just click on the
picture of Madeline, Katie and Patty
to listen to 12-year-old Madeline Pruzan, daughter of Patty and Bill's friend Katie Pruzan, read the rest of this page to you. So dramatic! So exciting! So wonderfully over the top! On June 24, 2010, Katie and Madeline joined Bill and Patty at Bill's condo for pizza and tiramisu, so naturally we had to look at pictures of Italy. Well pretty soon Madeline got bored, so she took over the show and the rest was ... well, just click on the picture, let the audio file load, scroll down and follow along.

Click on Madeline, Katie and Patty.
Now keep scrolling.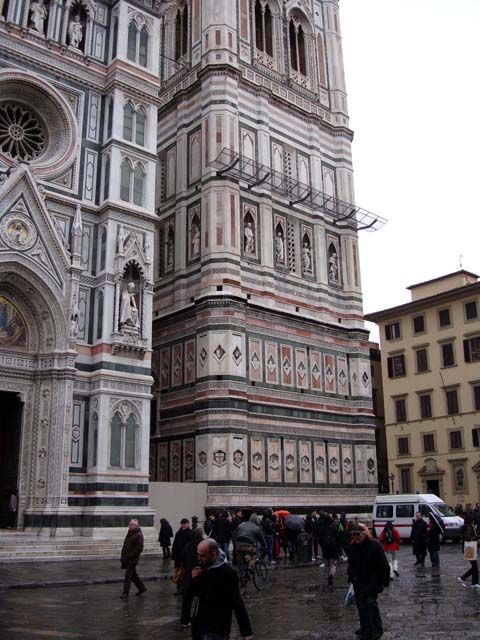 And here's the bottom of the tower.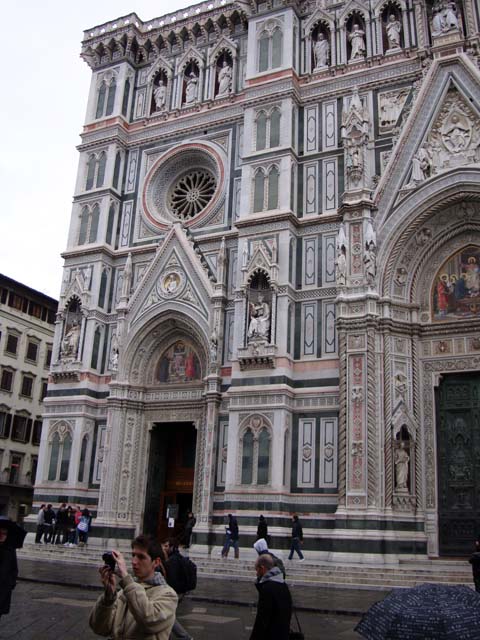 And here's the other side. See, the problem here is that you can't step back far enough from the Duomo to get the whole thing in one shot. Very annoying.
So we gave up and had a gelato. Mmmm, gelato is good even on a cold day in March.
There's a clock tower over a building with statues of naked men out front.
Oh look, over there! It's the River Arno and a bridge. But it's not the Ponte Vecchio.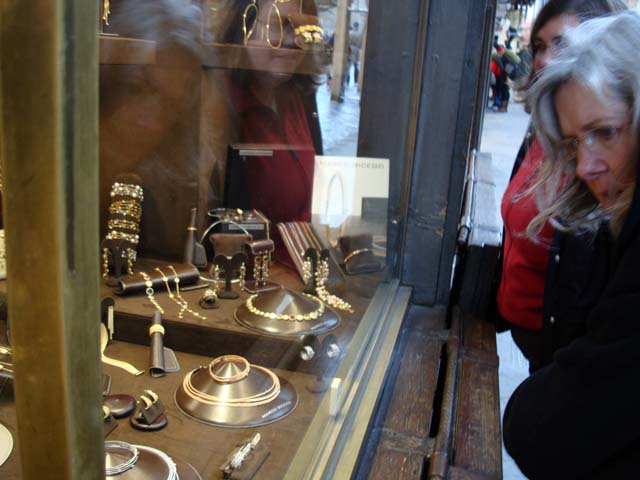 Cindy and Patty pause in Florence to do some window shopping.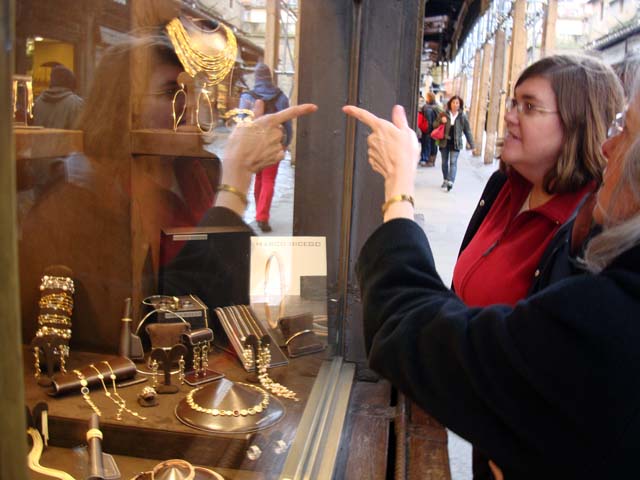 Bill had no idea at the time what this foretold. Just wait 'til they get to Venice.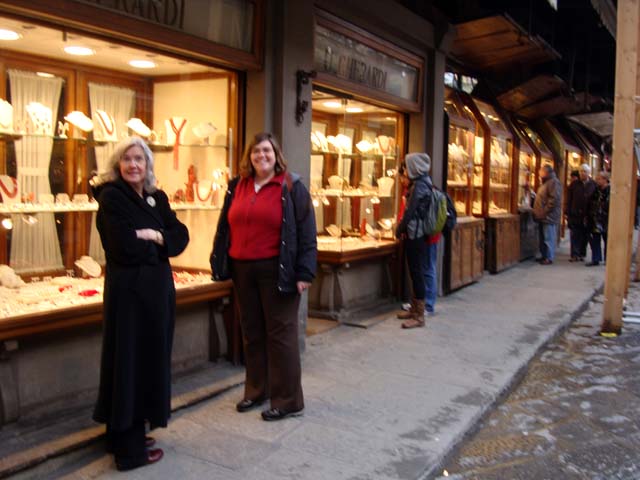 Look at them. So innocent. But they're plotting already.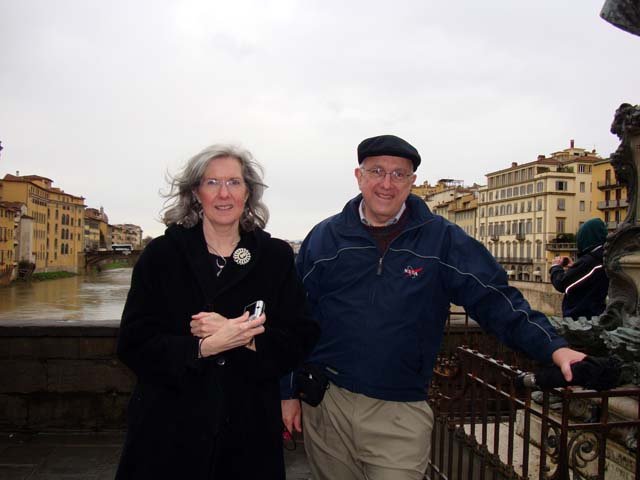 Oh boy, now we're actually standing on the famous Ponte Vecchio overlooking the River Arno.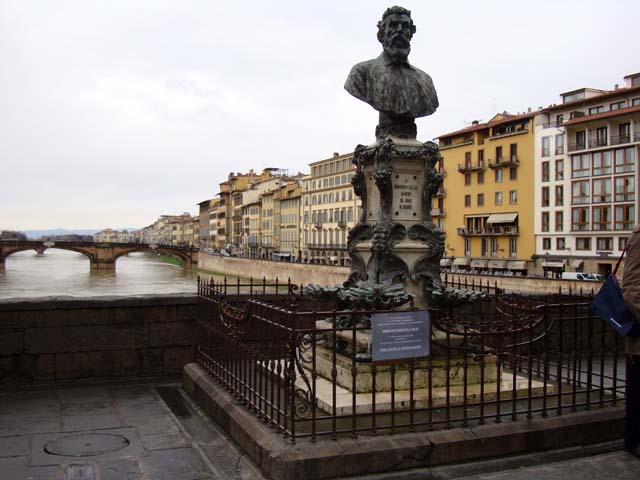 There's a tradition concerning that iron fence around the statue. See, what you do is, you bring your true love right to this spot and on bended knee you reach into your pocket and whip out not a diamond but a tempered steel padlock and snap it to the railing and romantically and oh so very dramatically toss the key over the side of the bridge and into the waters of the Arno to indicate your undying everlasting eternal devotion, or something like that.
So how come no padlocks?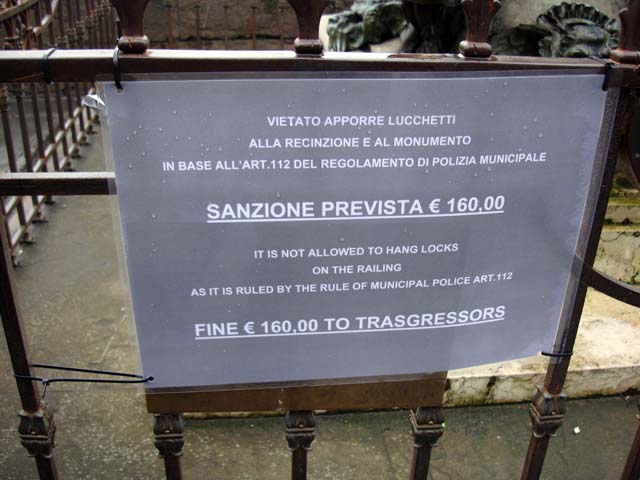 Oh.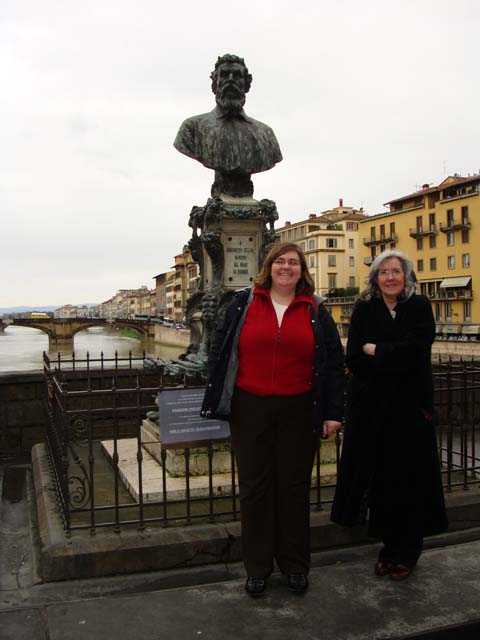 Sorry ladies.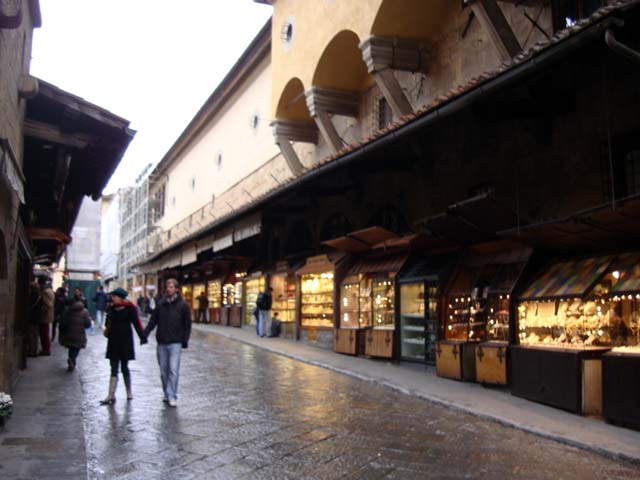 The Ponte Vecchio (old bridge) is full of jewelry and leather shops. It used to be full of butcher shops but when the Medicis would walk across the bridge via their private hallway (that's it above the row of shops) they were offended by the smells and banned the butchers. Since then it's been shiny gold and soft leather.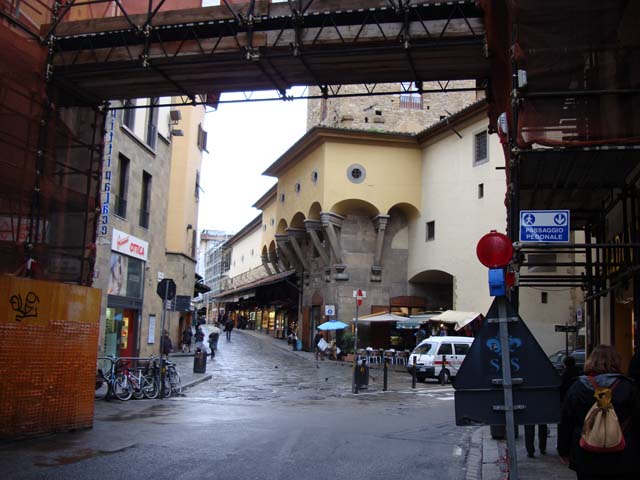 That's the old bridge over there.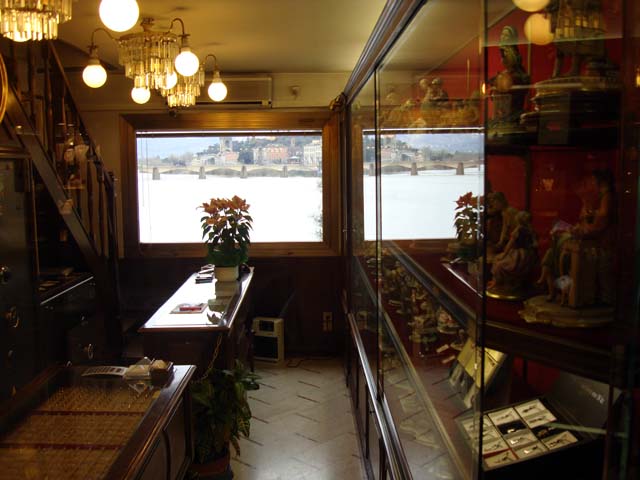 Some of the jewelry stores have a room with a view.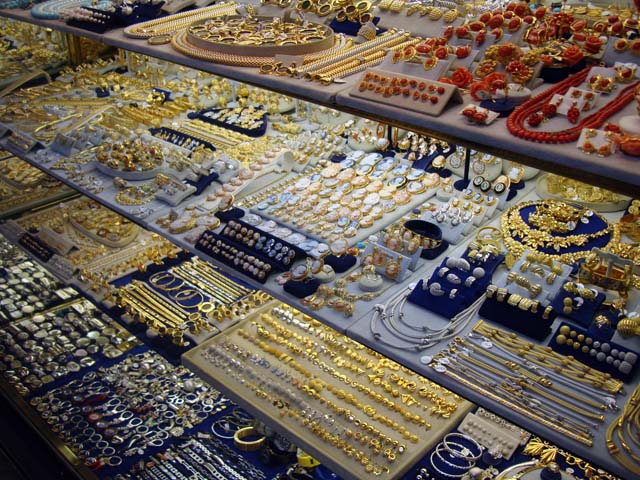 One could spend some serious money in Florence.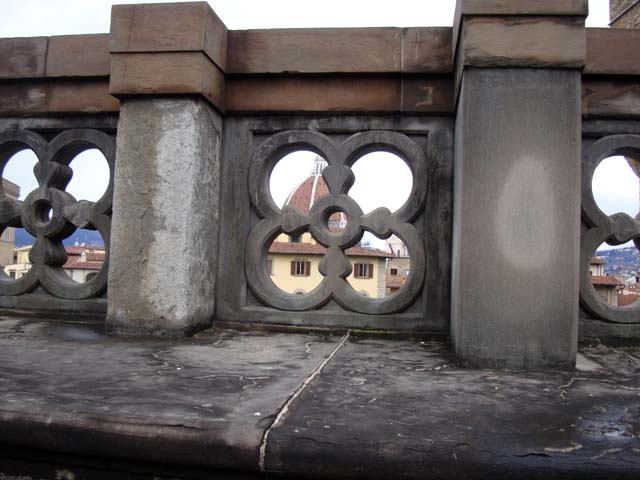 Cindy and Bill visited the Uffizi Gallery to see the famous art. They wouldn't let the tourists take pictures inside, but here are some pictures they took from a veranda on the roof. You can almost see the dome of the Duomo over there.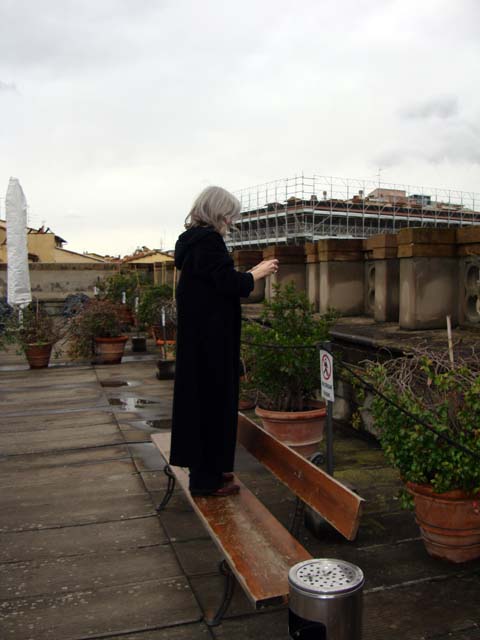 Cindy kept trying to get a better view.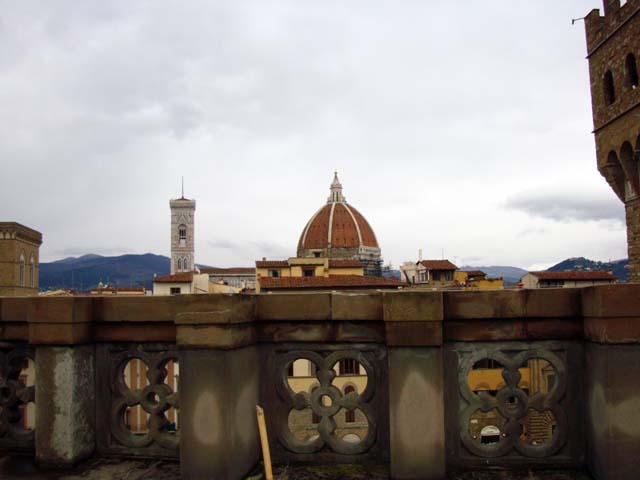 If you stand on the bench and hold the camera over your head, this is the picture you'll get.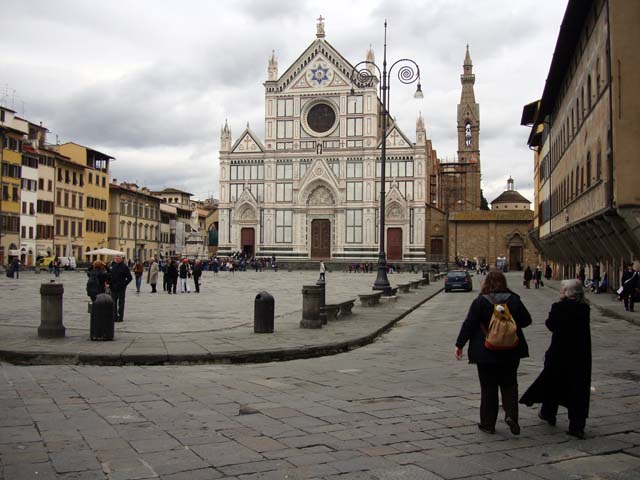 One big church wasn't quite enough, so we strolled off to Santa Croce. During the Renaissance the square out front was used for preaching and jousting and even bonfires of the vanities (Wiki it).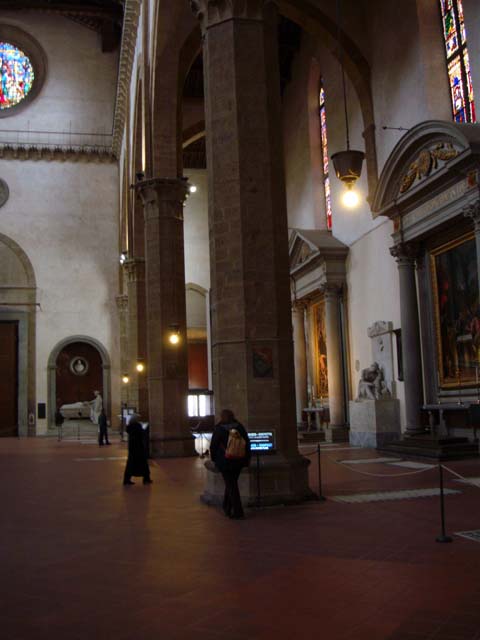 Inside, the place is chock full of celebrity graves.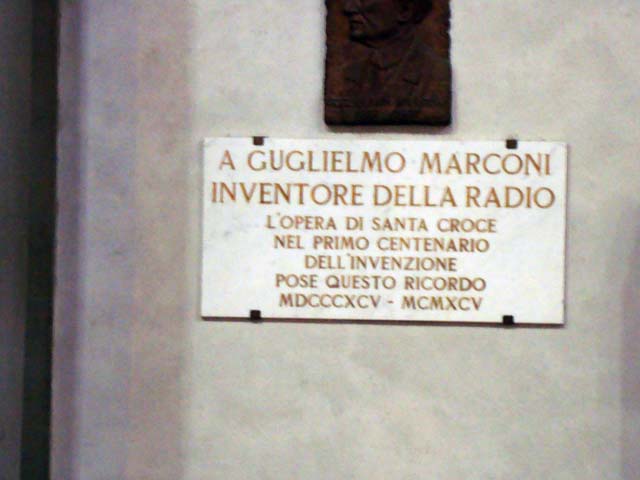 Look! It's Marconi, inventor of the radio!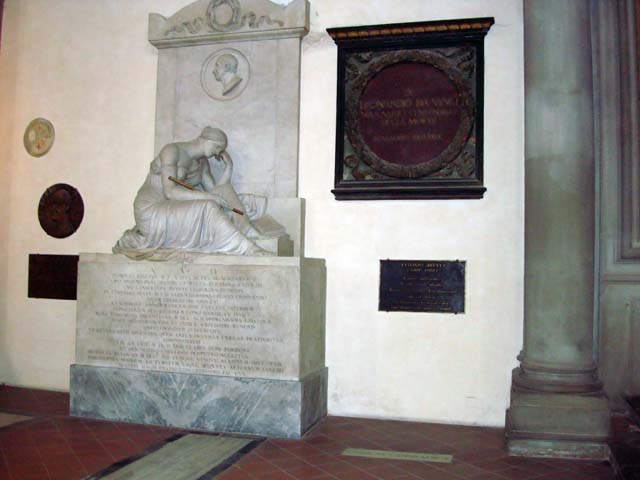 And over there? Hey, it's Leonardo da Vinci!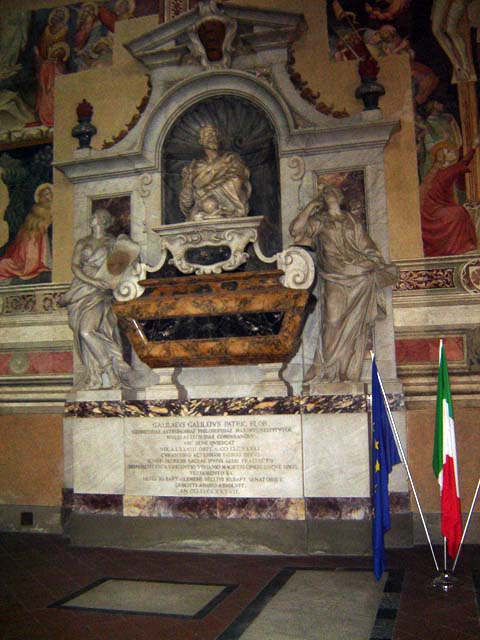 Well as I live and breathe (and he doesn't), it's Galileo!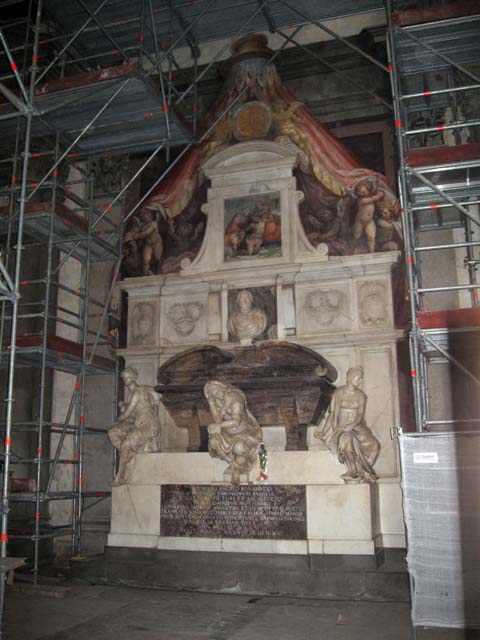 And over there in the corner in what would be a prominent spot if it weren't for all the scaffolding? It's Michelangelo! No kidding about the prominent spot. He said he wanted to be buried in Santa Croce in such a way that when judgment day arrives and the dead arise from their tombs, the first thing he wants to see is the beautiful doors of Santa Croce springing open.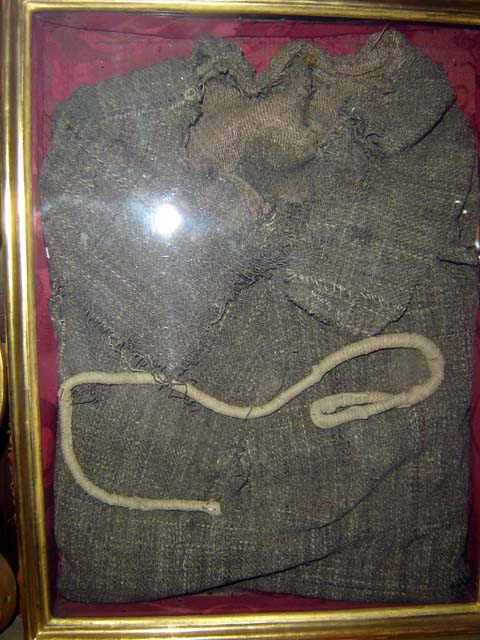 Patty snapped a picture of St. Francis of Assissi's robe. Snazzy outfit.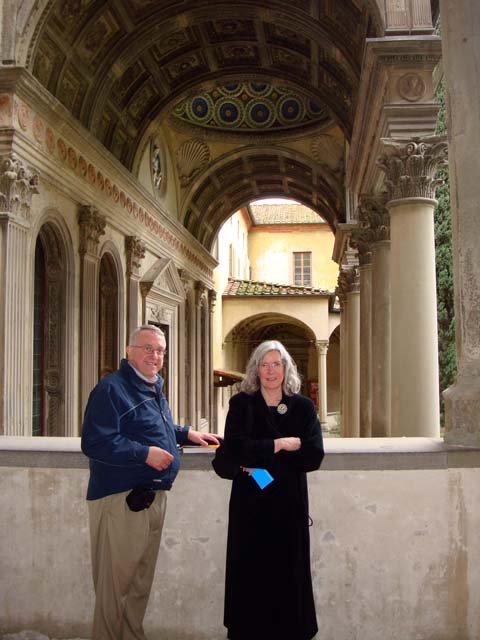 Bill and Cindy are suitably impressed.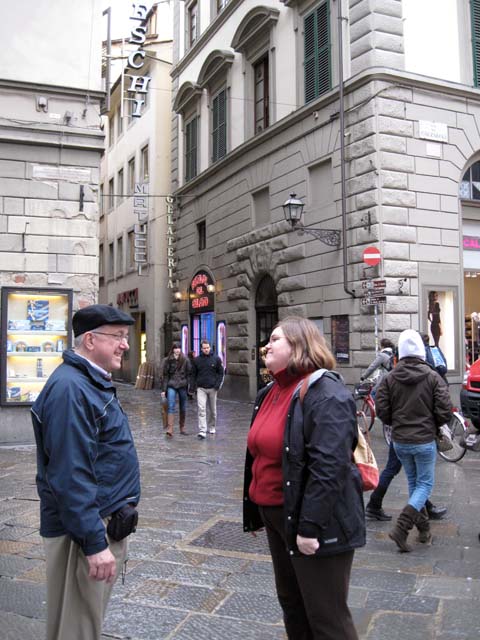 Hey Patty, I think I'd like to do some shopping myself.
Really? Gold? Leather?
No, we just passed a Foot Locker and I want some sneakers.
Bill, you are so boring.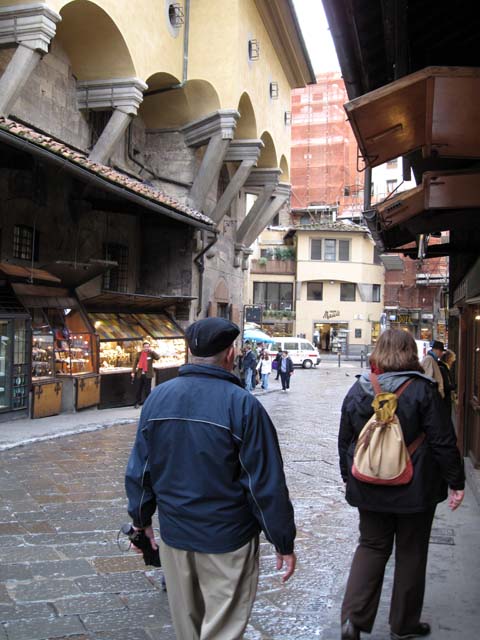 No, wait, come back, seriously, it's all these cobblestones ... my feet are killing me.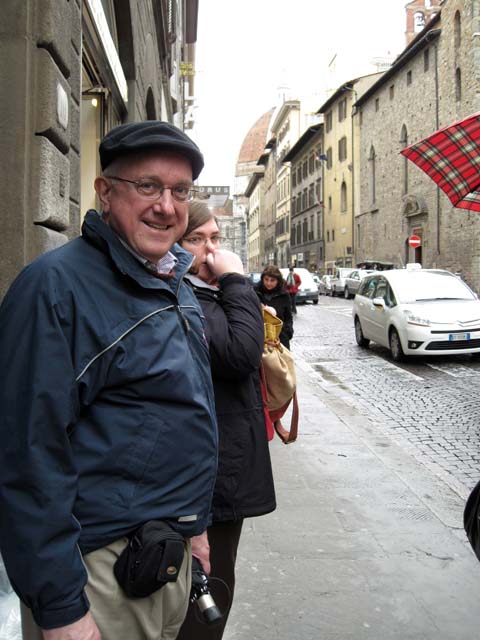 Ahh...Bill has been to Foot Locker and has happy feet now. Patty doesn't want to think about Bill's feet anymore.