Oh Boy! We're going to visit the Kang!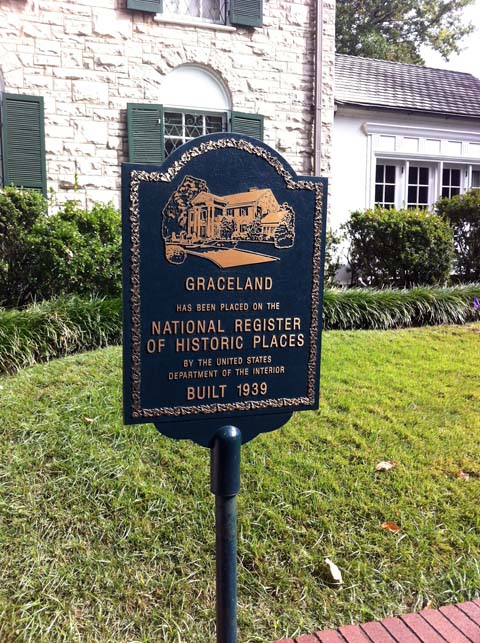 Graceland has its own hysterical marker.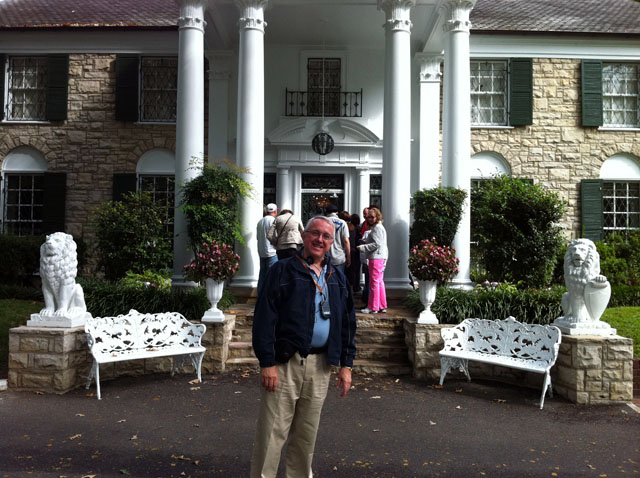 Welcome, everyone. Step right this way.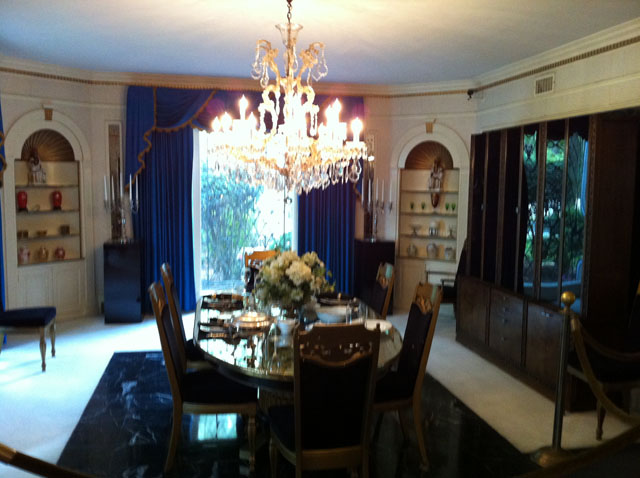 Elvis's tastefully decorated dining room.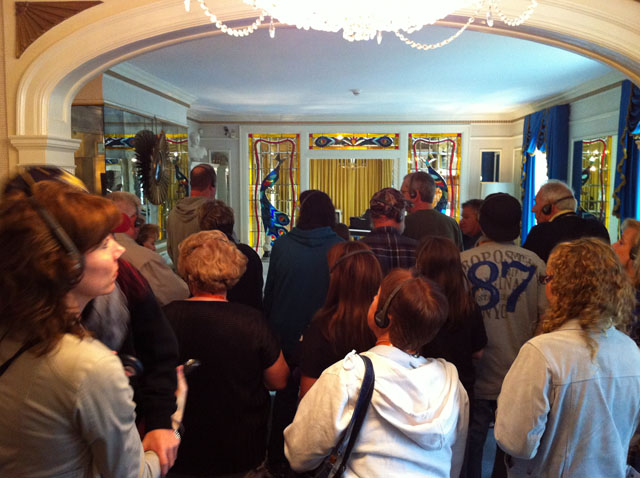 And what's that over there?
Ah, it's Elvis's understated but elegant living room.
Elvis liked to stretch out on the couch.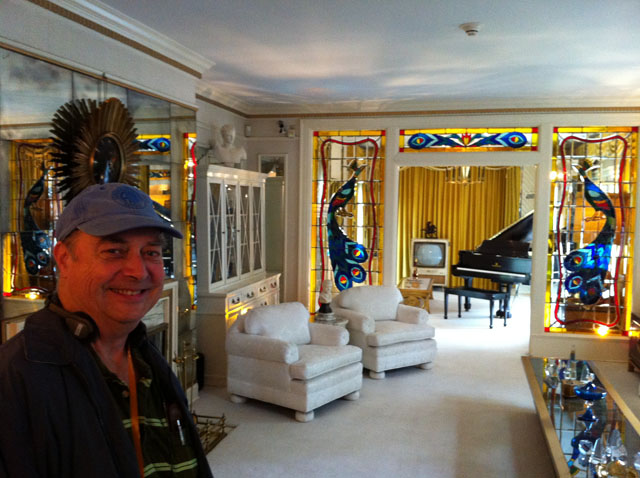 Doug is impressed.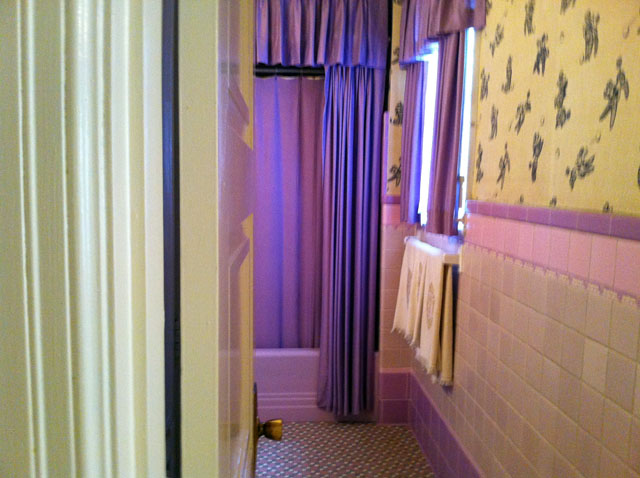 Oh look! It's Elvis's purple potty. I wonder if this is the john where he passed away? (Hee hee, I said "passed.")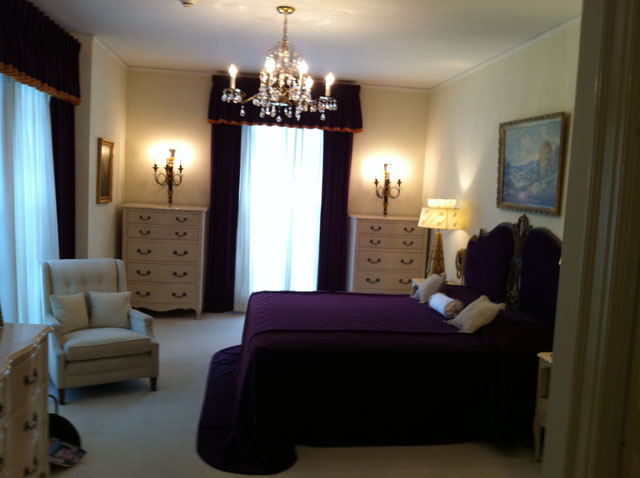 There's a tastefully decorated bedroom.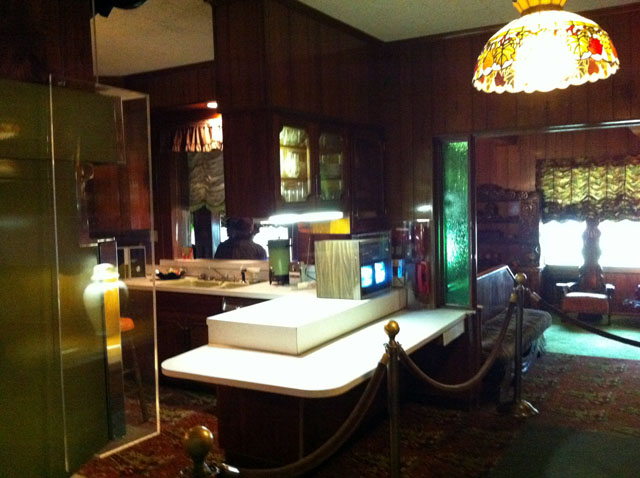 And oh look! It's Elvis's kitchen.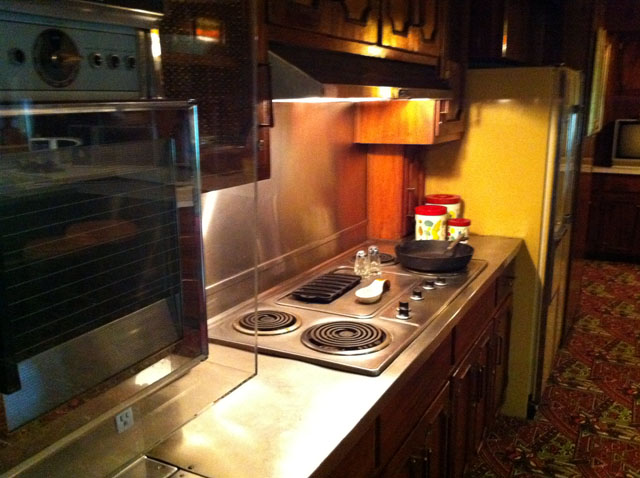 It was right there on that griddle that Elvis's chef created the Kang's favorite meal: peanut butter and banana sandwiches fried in butter on Wonder Bread with mayonnaise. Yum.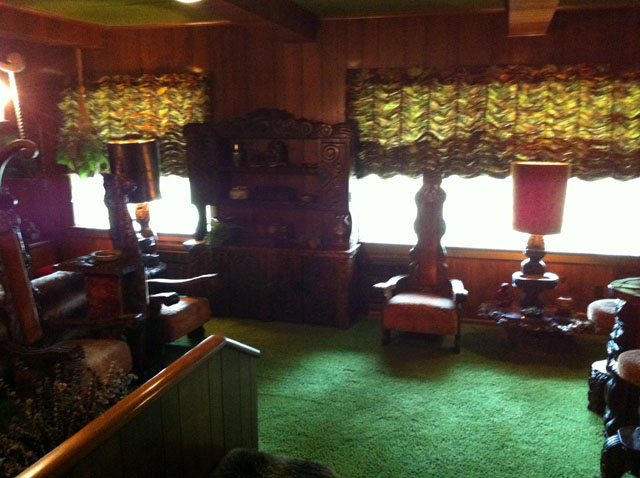 It's Elvis's den, the Jungle Room.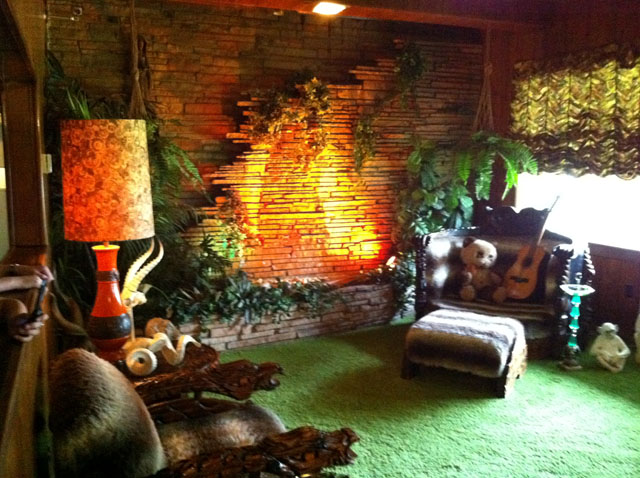 Every bit as tasteful and understated as Elvis's living room.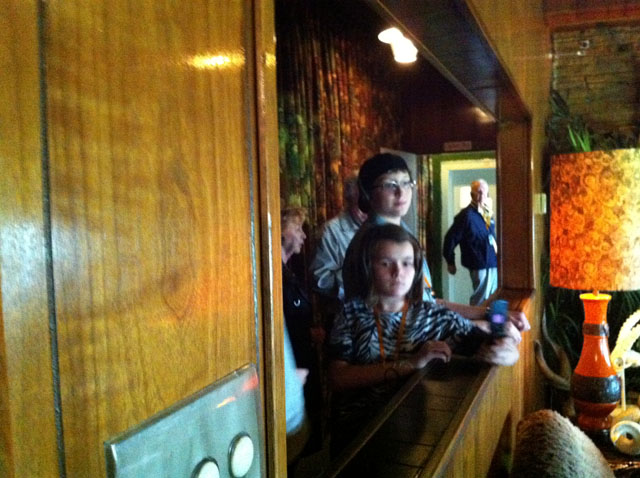 Garrett is thinking this is what he wants his man cave to look like.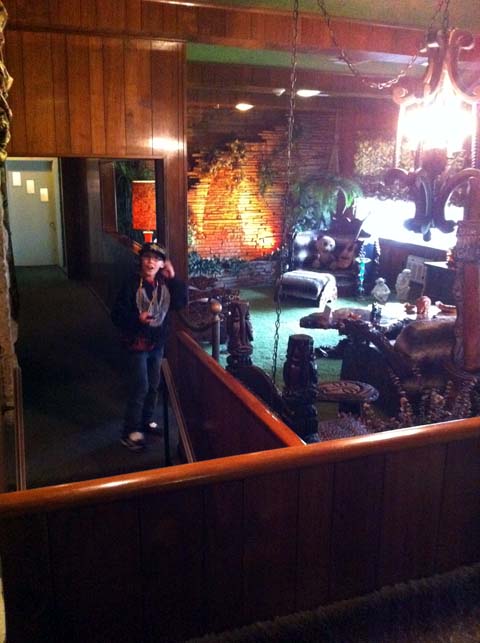 Gavin isn't so sure.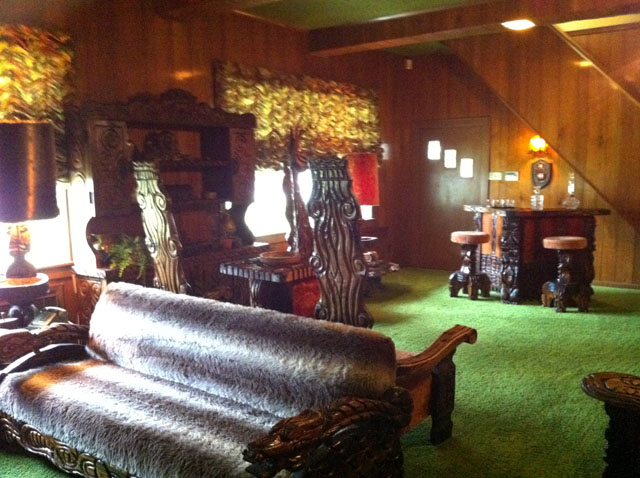 The hairy sofa is tastefully complemented by the delicately carved high backed chairs and the green shag carpet on both floor and ceiling. Oh yeah.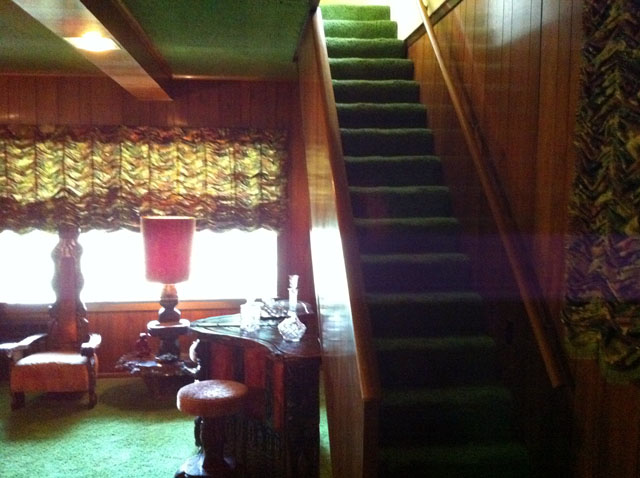 And up those narrow stairs are Elvis's personal, private family quarters, still off limits to grubby tourists like us.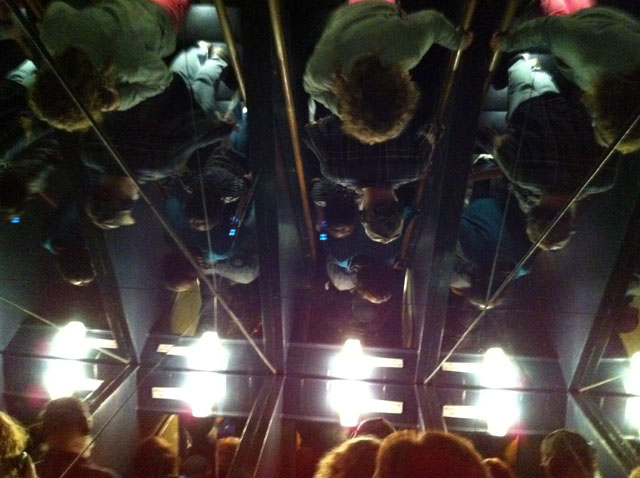 But we can go downstairs. Would you just look at those mirrors on the ceiling of the stairs leading to the basement TV room? If this isn't classy, I don't know what is.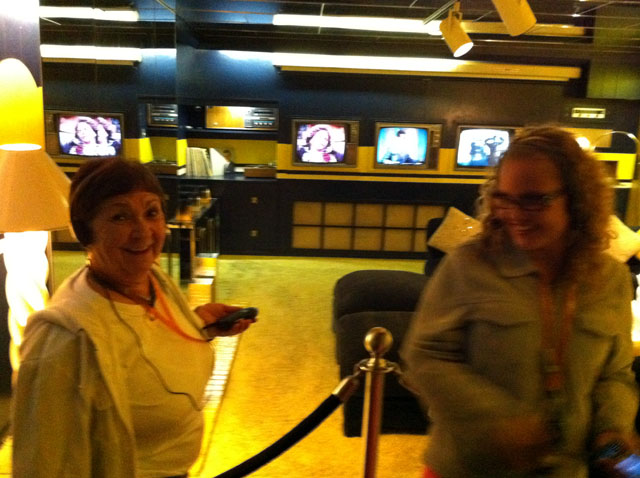 And here it is -- the parlor where Elvis could watch three TV shows at once. Nothing was too good for the Kang.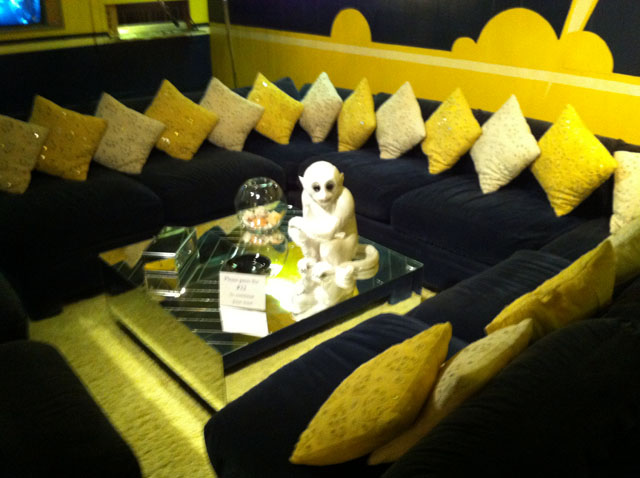 Creepy. Shudder.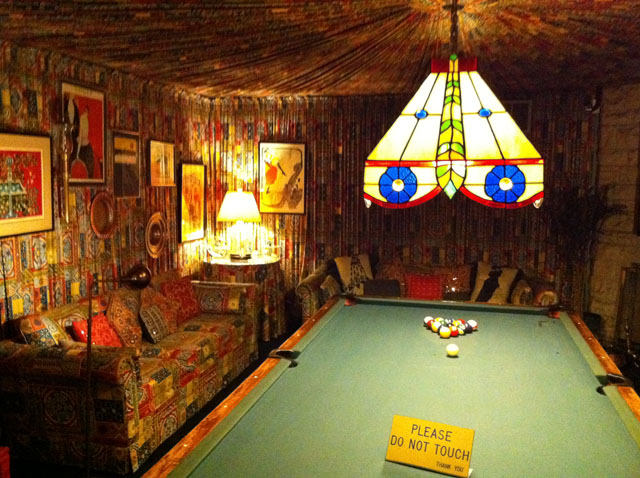 The pool room. There's enough cloth on the walls and ceiling of this little room to make uniforms for an army.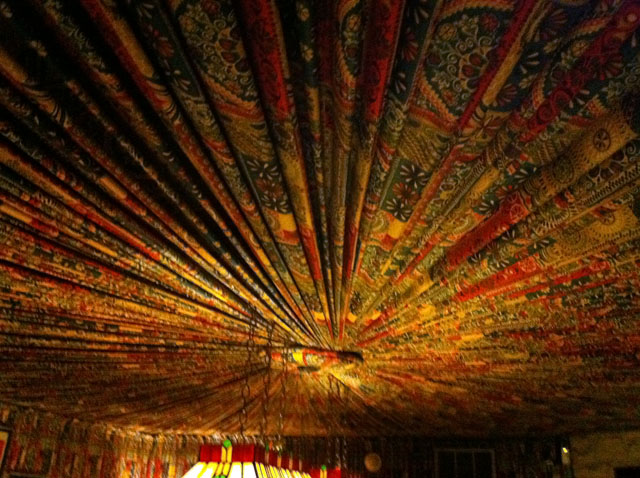 Hilarious uniforms with pleats.
Whew. I'm glad we got out of there. Now where are the horses?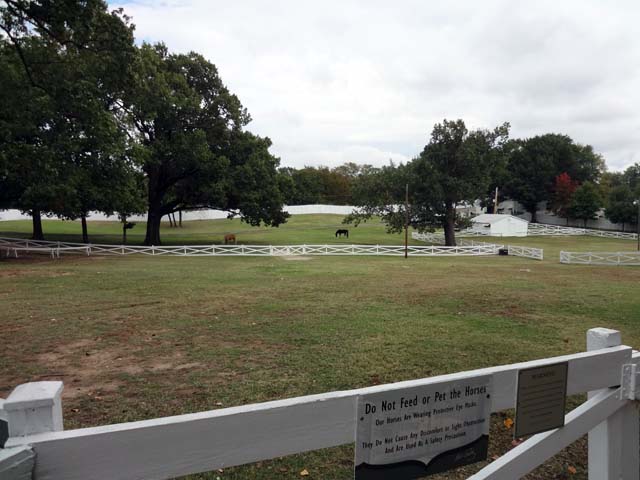 Ah. Horses. Very pastoral.
Since there's a "Do Not Touch" sign on the swings, Heather decides to visit Elvis's business office.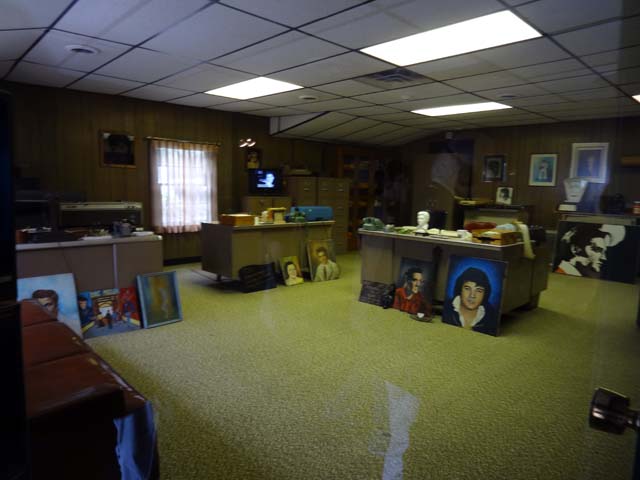 There it is: Mission Control for the Kangdom.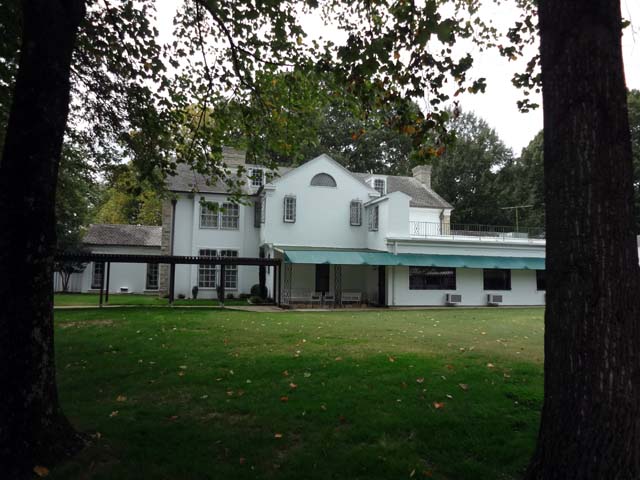 Graceland's back porch.
If there's anything about Graceland that's truly amazing, besides the tackiness I mean, it's the collection of Elvis Presley gold records. It's easy to make fun of fat Elvis, but once upon a time Elvis Presley swept through American popular culture like a force of nature. And if you don't believe it, just look around these rooms with all the awards on the walls.
Garrett seems impressed.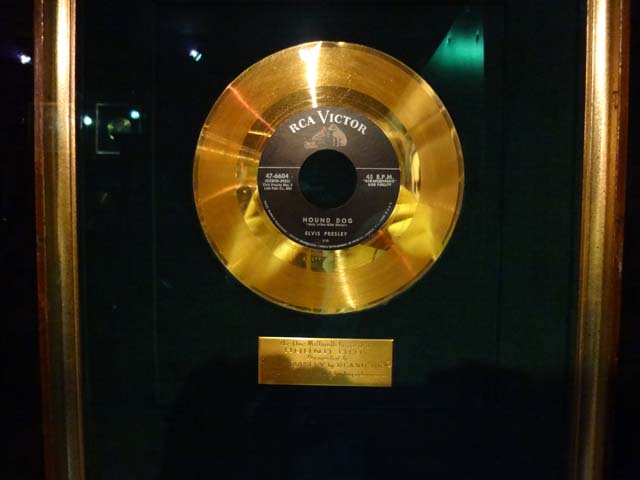 You ain't nothin' but a hound dog, just a cryin' all the time.
You ain't nothin' but a hound dog, just a cryin' all the time.
You ain't never caught a rabbit and you ain't no friend of mine.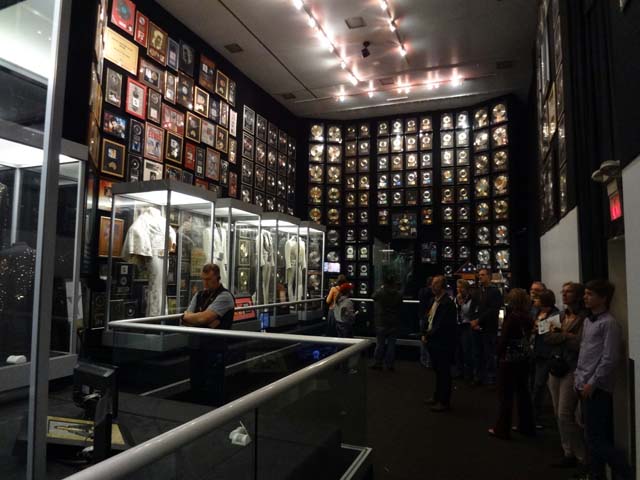 More gold records. And platinum too. Everywhere you look.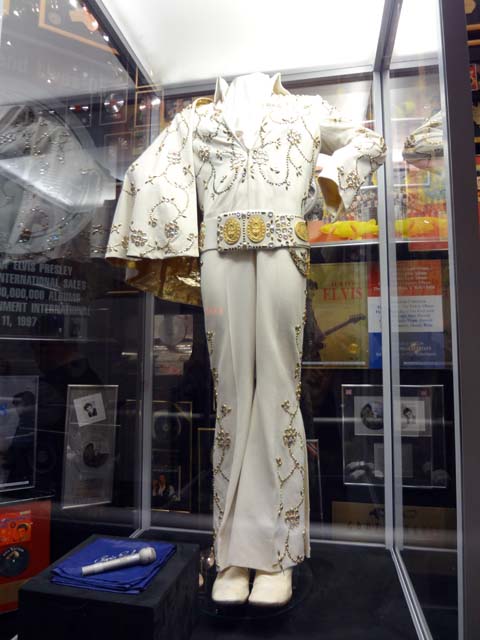 So tell me, which is Elvis's most tasteful, classy outfit? You like pearly beads with sparkles of gold?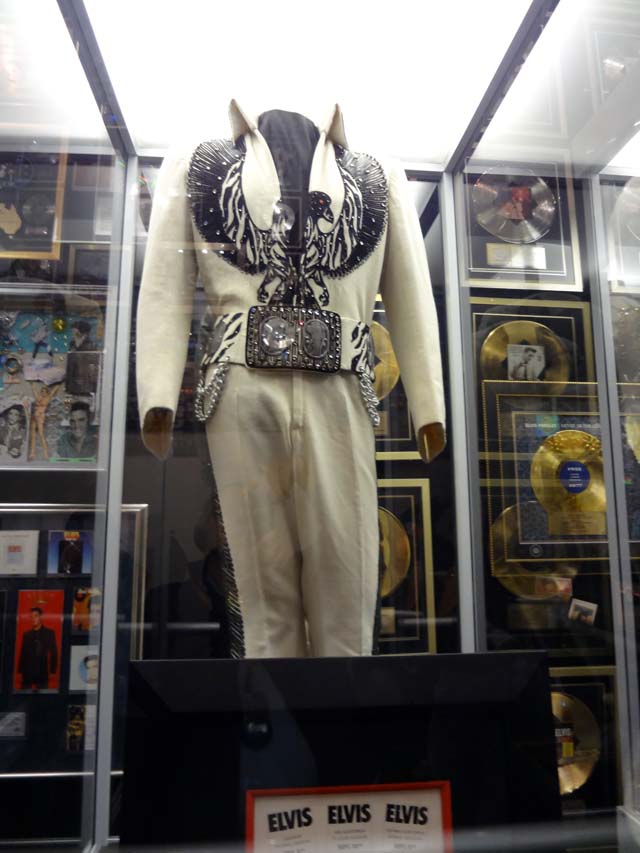 How about this creamy white number set off by understated black bird of paradise trimmed in sterling silver with a tasteful belt to complete the effect?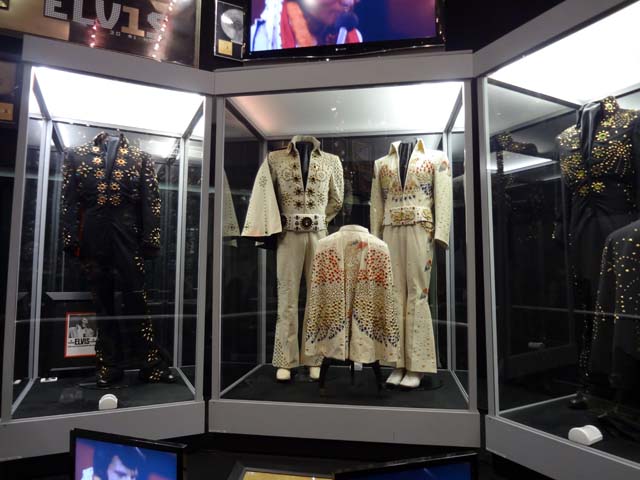 Actually I think those gold-studded black polyester jumpsuits on either side of the display are the apex of the epitome of high fashion.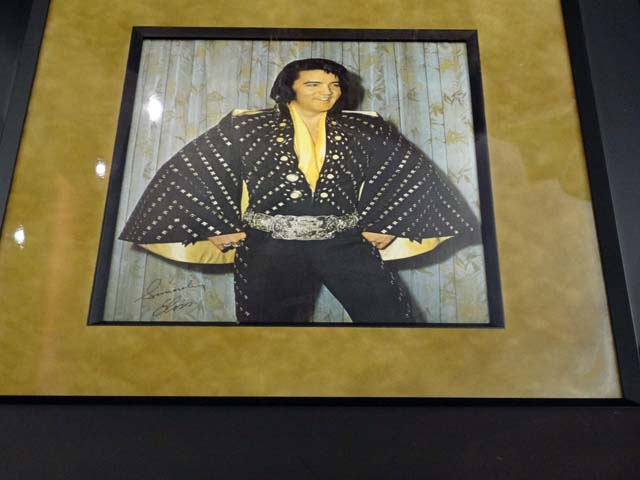 And I believe Elvis would agree.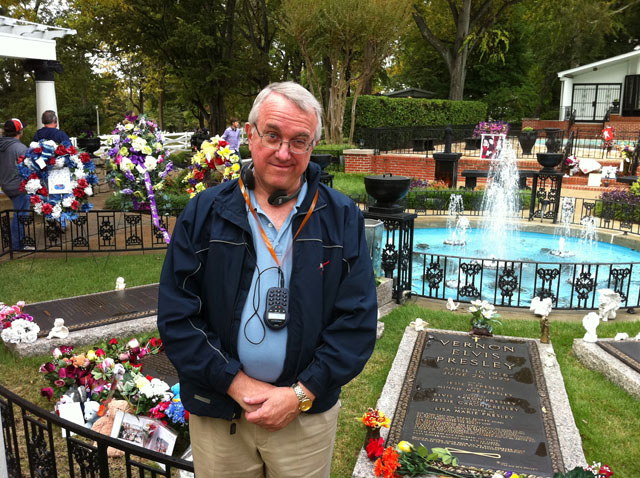 Bill meditates in the meditation garden. Just look at the sadness in his face.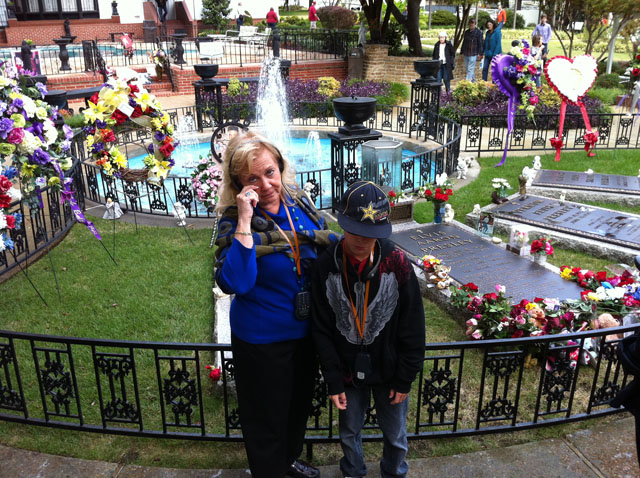 Karen and Gavin weep as well.
The Kang was cruelly stolen from us at the height of his glory. Our loss is overwhelming.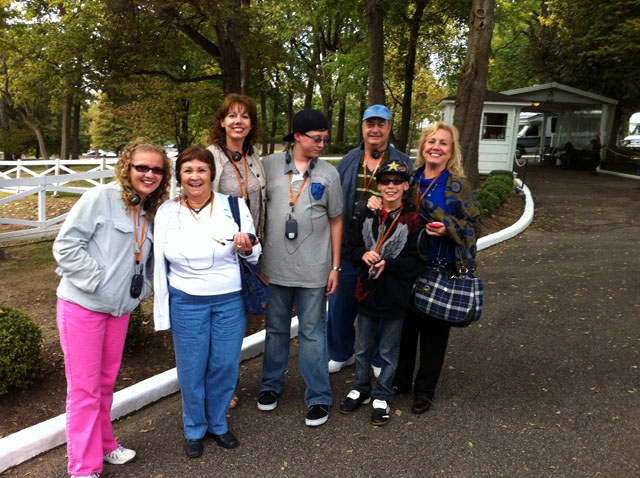 Just look how overwhelmed everybody is. C'mon, let's get back on the bus and ride across the street to the Elvis car museum.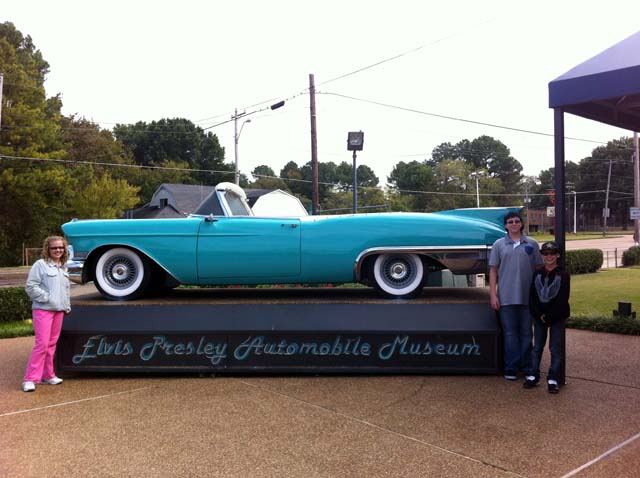 Excuse me. "Automobile Museum"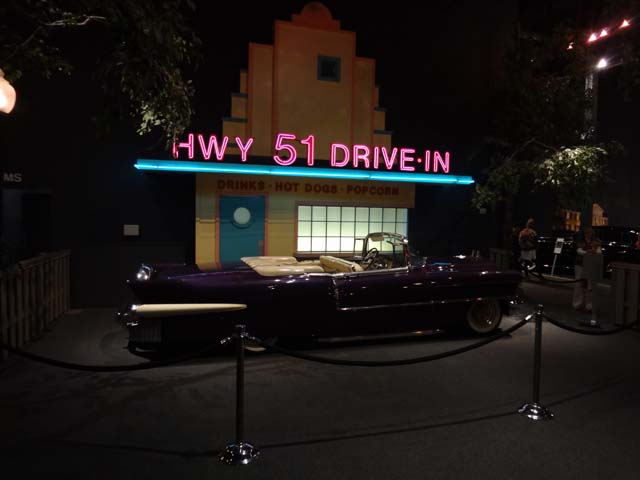 Here we go. At least Elvis had great taste in cars.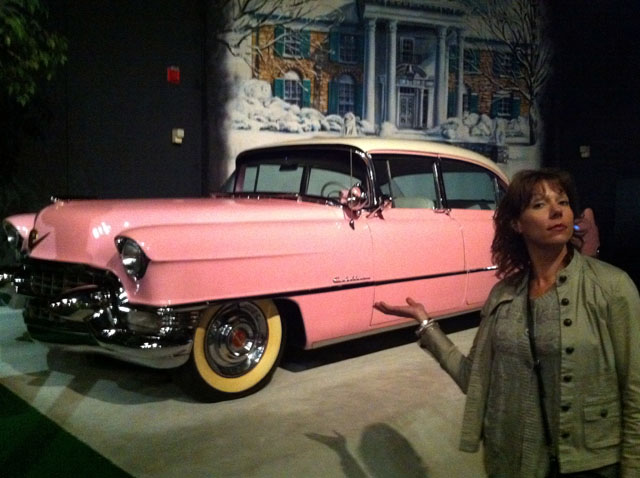 See what I mean? What could be finer than a pink Cadillac?
Garret sez:
I wipe the pipe
I pump the gas
I rub the hub
I scrub the glass
I touch the clutch
I mop the top
I poke the choke
I sell the pop
I clear the gear
I bop the knock
I jack the back
I set the clock
So join the ranks of those who know
And fill your tanks with Texaco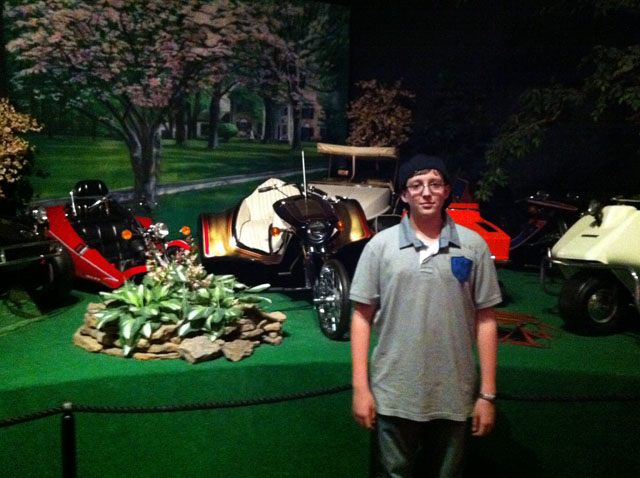 Now he's found some tasteful Elvis motorcycles.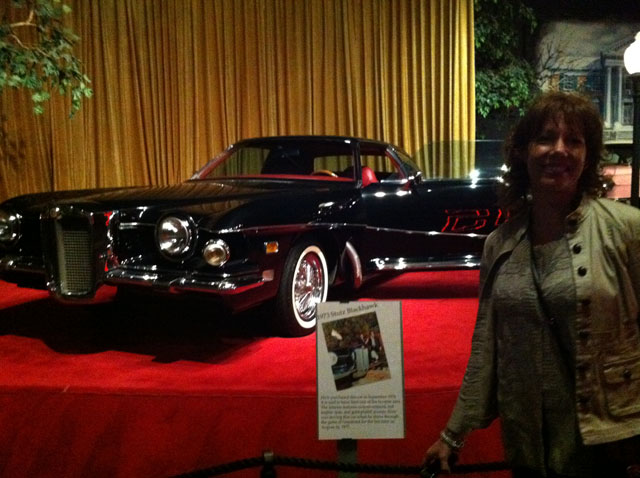 But here's the star of the show. Elvis's Stutz Blackhawk. I didn't even know there ever was a Stutz Blackhawk. Actually I think it's the Batmobile.
Elvis had two private airplanes and we're going to tour them both. Here's the Lisa Marie, a Convair 880.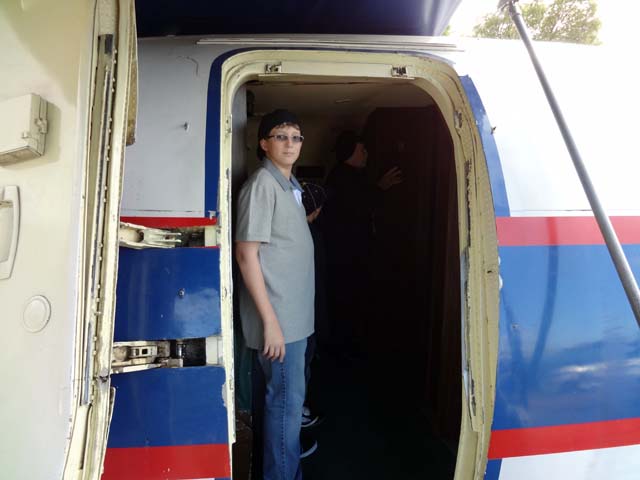 Welcome aboard...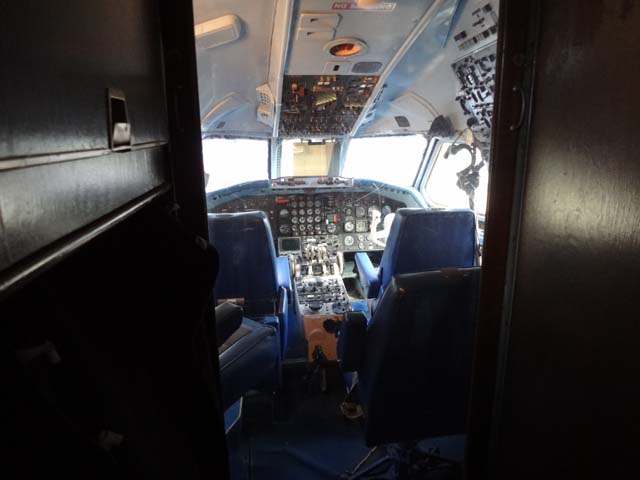 This is the cockpit. It's where the pilot and co-pilot sat.
This is an onboard potty. It's where Elvis sat.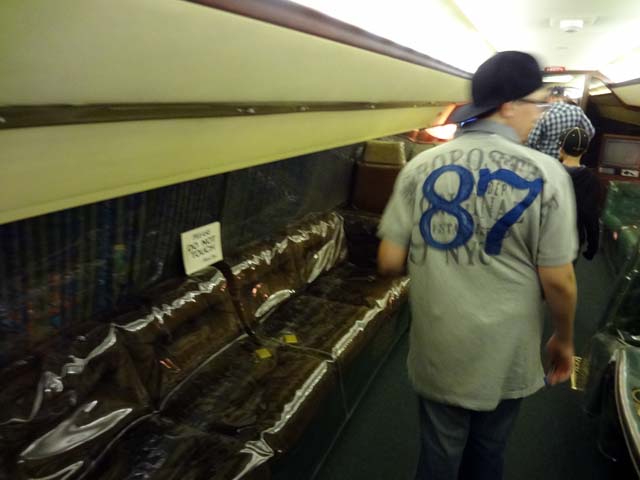 Yes, we've covered everything with polyurethane that'll last a thousand years, but still DON'T TOUCH.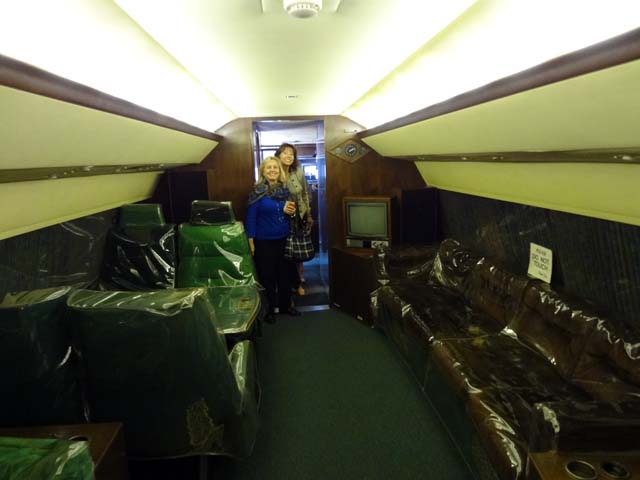 Karen and Heather are impressed by the Lisa Marie's shiny plastic furniture.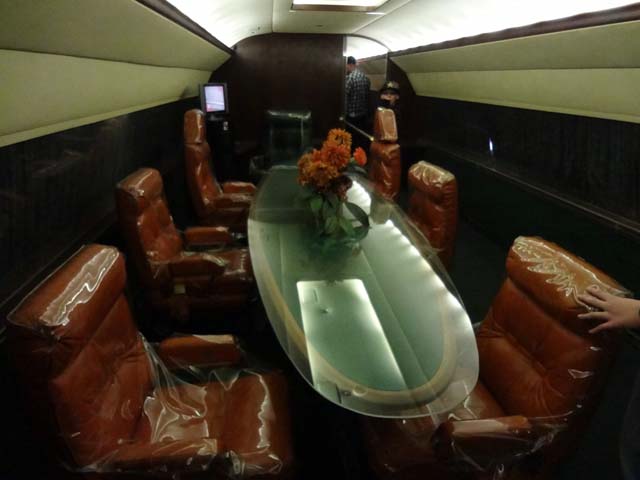 Here's a shiny plastic covered conference room. I wonder if they discussed how easy it was to slip out of those chairs and land on the floor?
Karen and Garrett and Gavin hold their own plastic conference.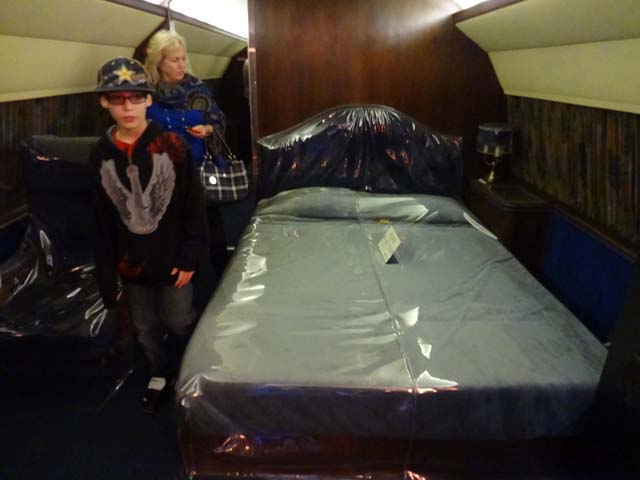 This way Elvis didn't need help sliding out of bed in the morning.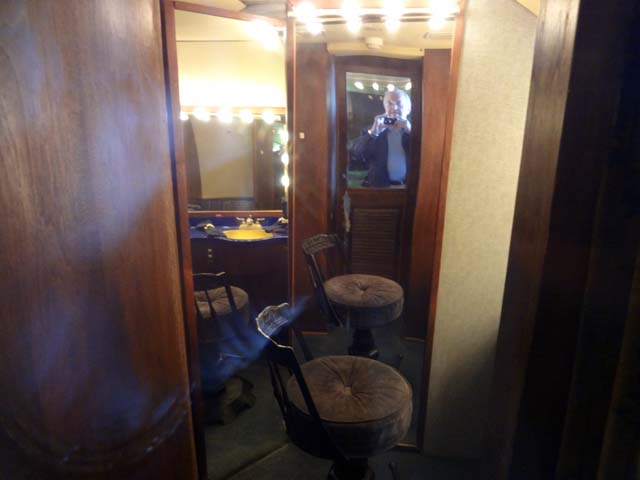 Who's that man with the camera?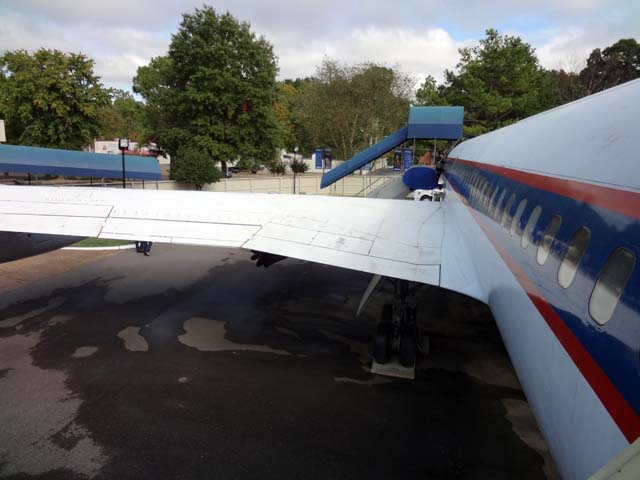 OK let's get outta here and take a tour of Elvis's other airplane, a Lockheed Jetstar.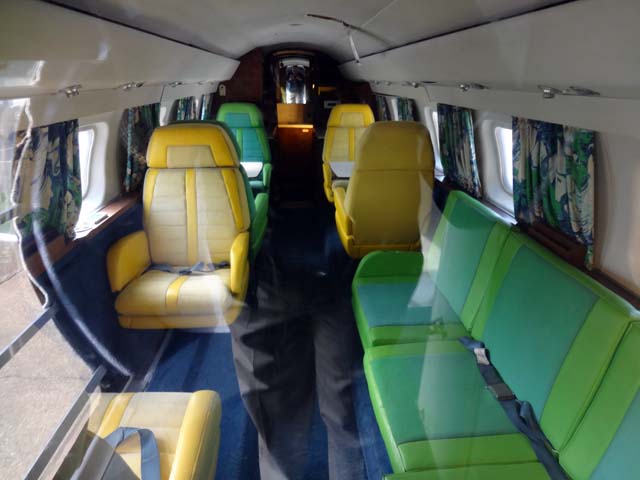 I wonder why they skimped on the plastic seat covers?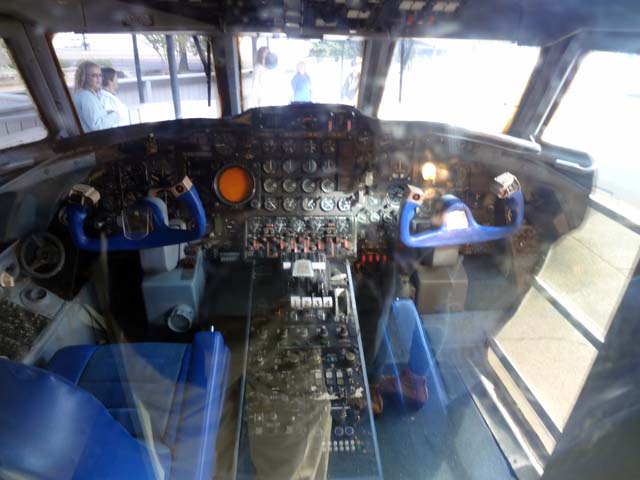 Oh good, there's a place for the pilots to sit on this one too.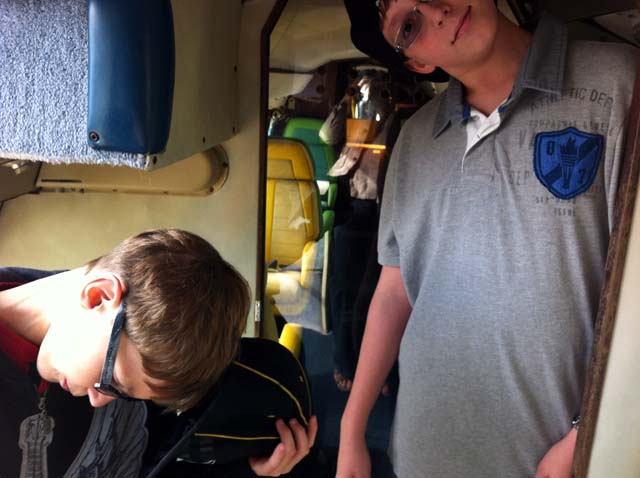 Garrett thinks the Jetstar is a little on the small side.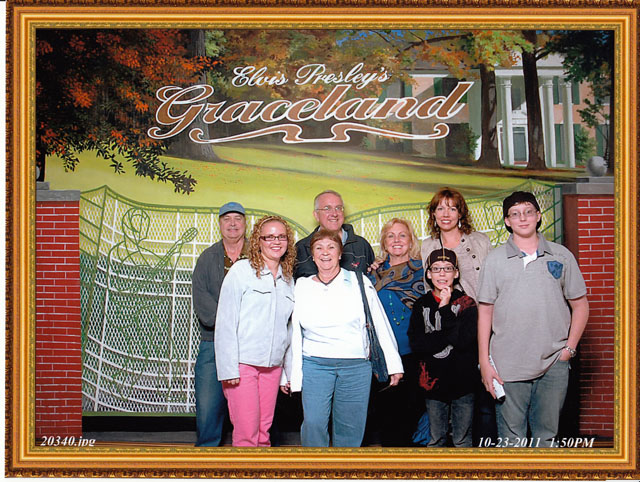 Here we are, the whole Graceland group. That's Doug and Katia and Bonnie and Bill and Karen and Gavin and Heather and Garrett. Is this picture the only tacky souvenir anybody purchased? Could be. Probably not.