Yeah, there, that tram.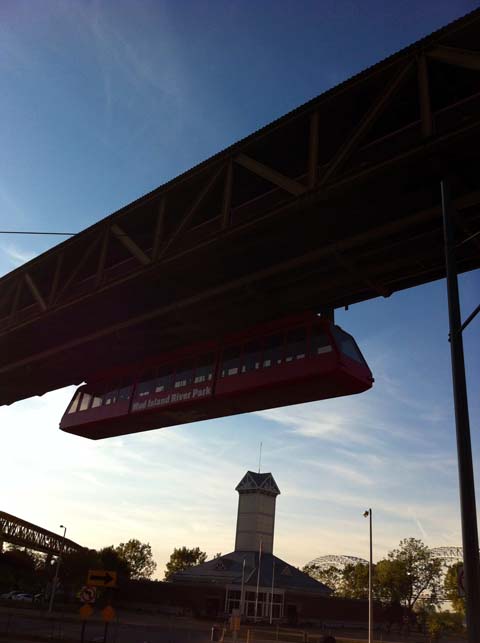 Looks like fun, doesn't it?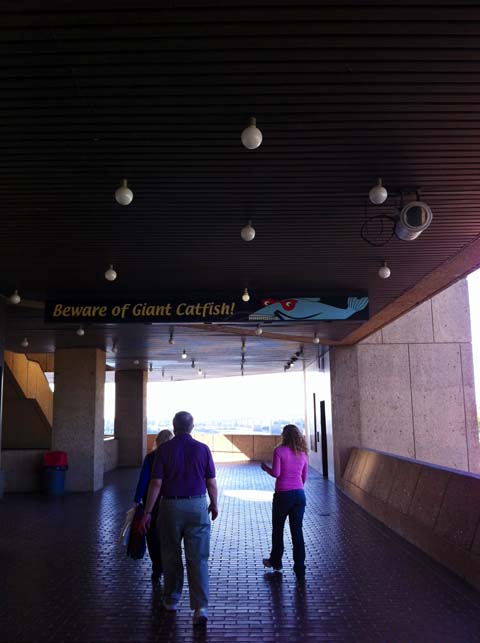 Uh, oh. Ahead there be monsters.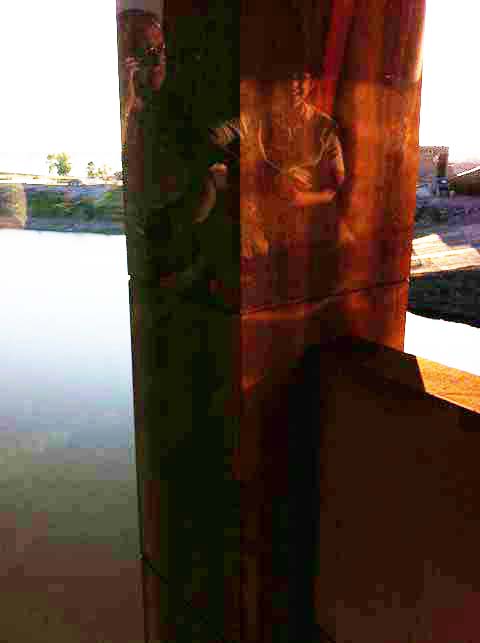 I don't know what this is -- I think Karen sent this pic. At first it looked like a black monolith, but after doing a little PhotoShop magic I do belive I see ghostly images of Bill and Gavin up there. Very strange.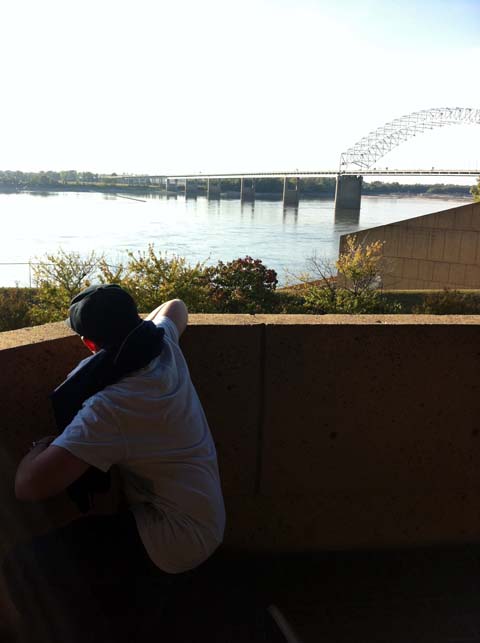 Garrett is hiding from the monster catfish.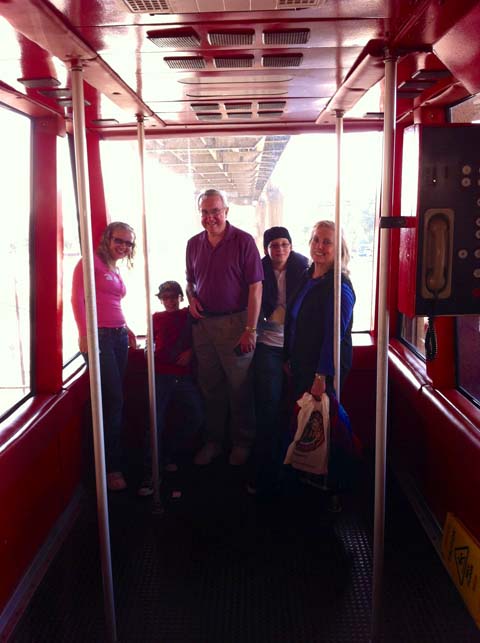 Yay, now we're on our way to the Island of Mud. Sounds fantastic, doesn't it?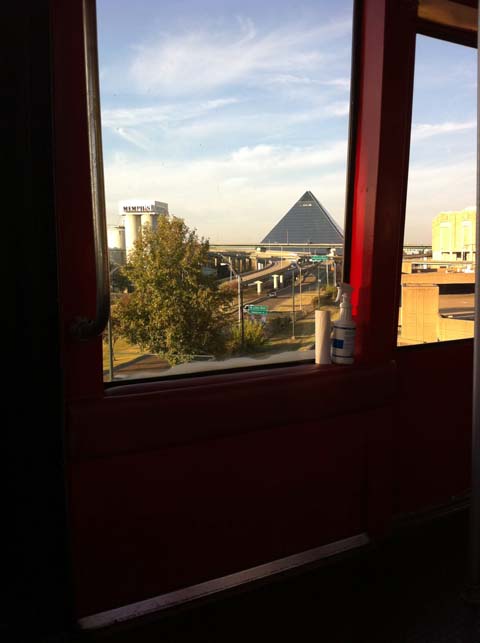 Bye bye, pyramid.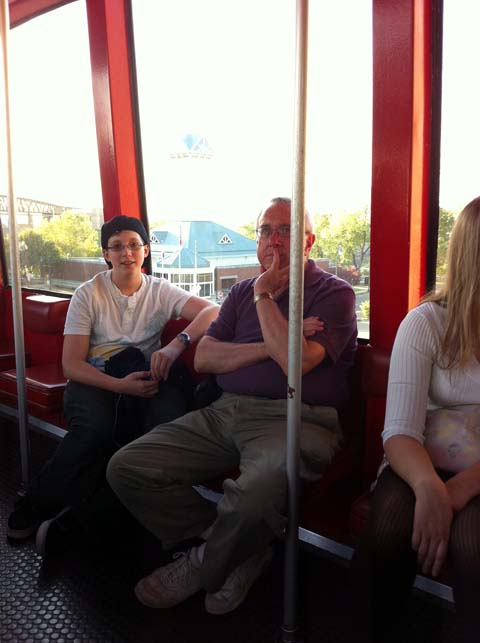 Bill seems to be wondering if this tram will ever get moving.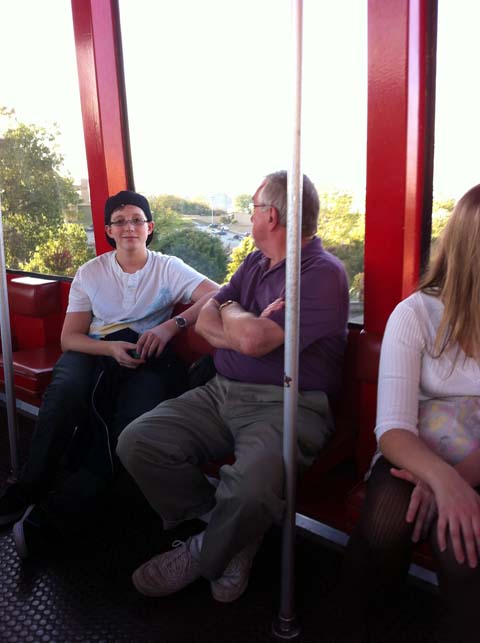 Last look at civilization before heading to the land of mud and giant catfishies.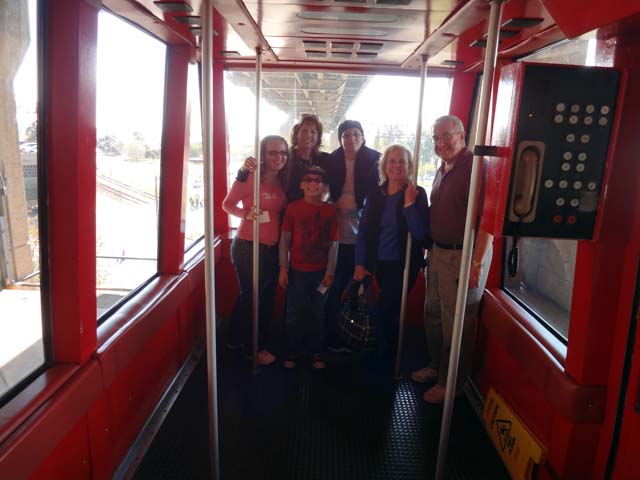 The nice tram captain took our picture! But he hasn't started the tram moving yet.
Won't this thing ever get underway? Gavin's ready to take a nap.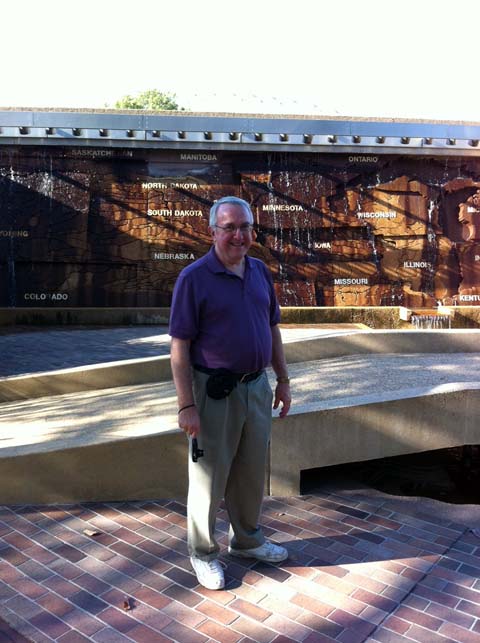 Well whaddaya know? Mud Island isn't so muddy after all. It's pretty nice, in fact. Look on the wall back there behind Bill. It's the Missouri River basin flowing down to the Mississippi River. Mud Island has a model of the entire Mississippi River and its tributaries. Very educational -- and a fun park, too.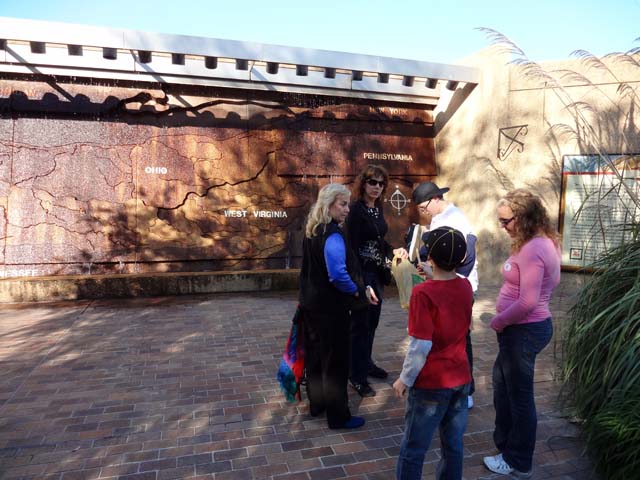 And look at that. It's the Ohio River basin flowing into the Mississippi River. No wonder the Mississippi is so mighty.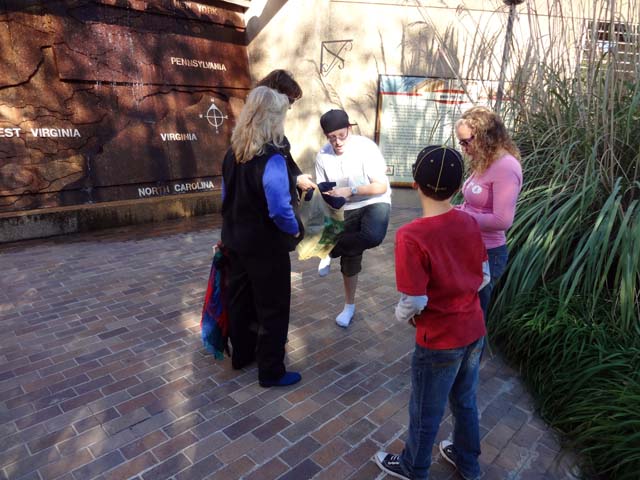 Why is Garrett removing his shoes and socks?
Ah...Garrett plans to wade from St. Louis to New Orleans.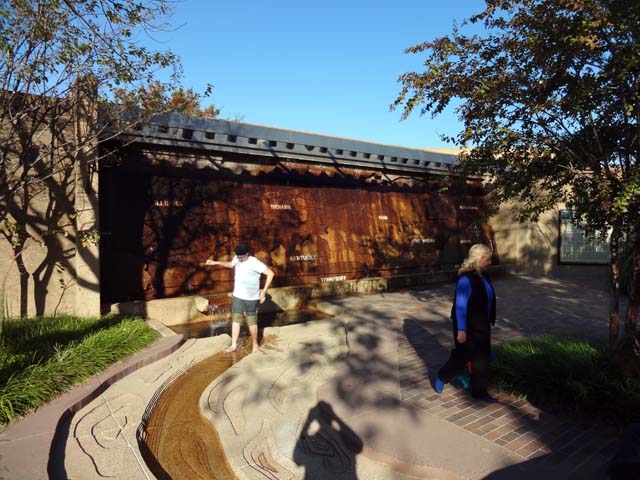 Here he goes....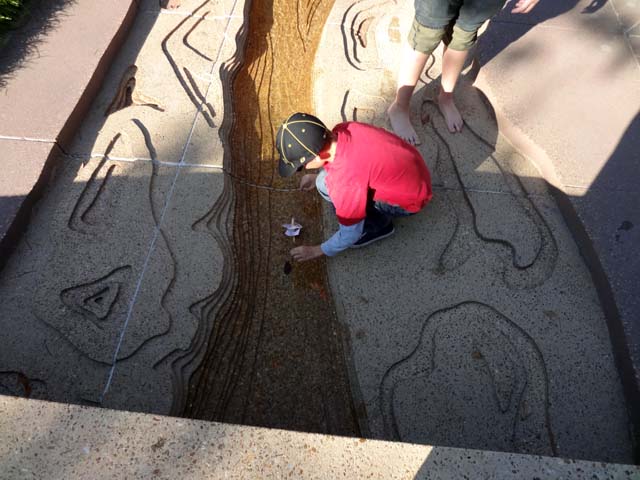 Gavin has a better idea. He's built a boat to float to New Orleans. All it took was a page ripped out of Bill's Memphis guide book and a stick.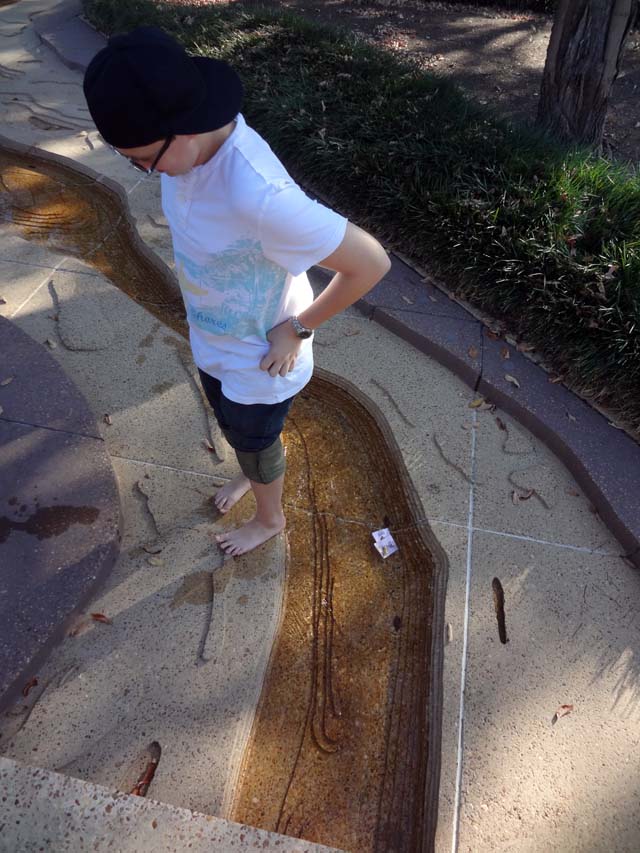 Cruising down the river....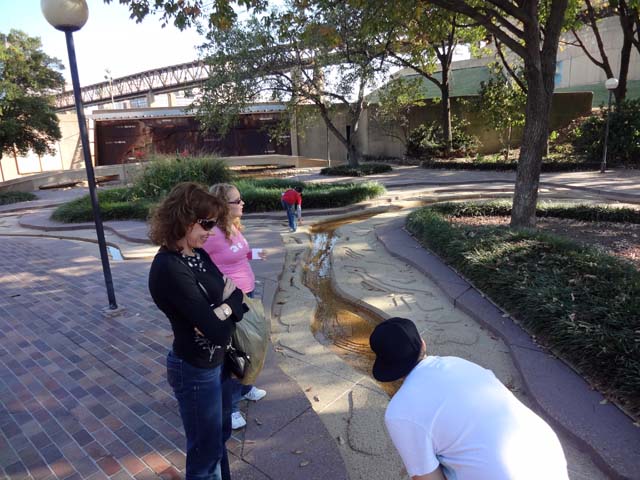 Heather and Katia are glad they don't have to wade in the water.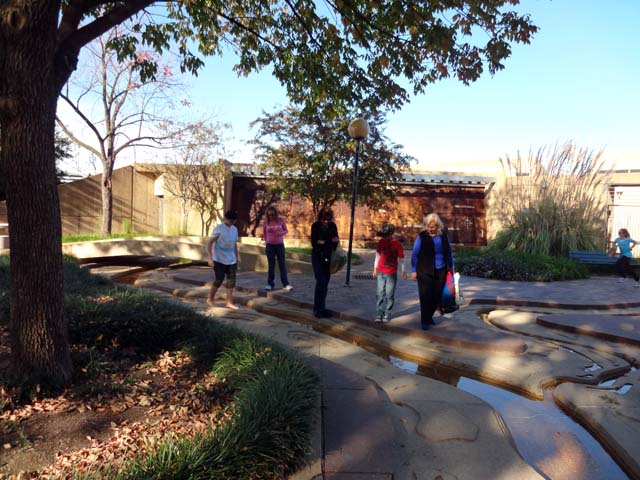 Wading and walking and watching the little boat float.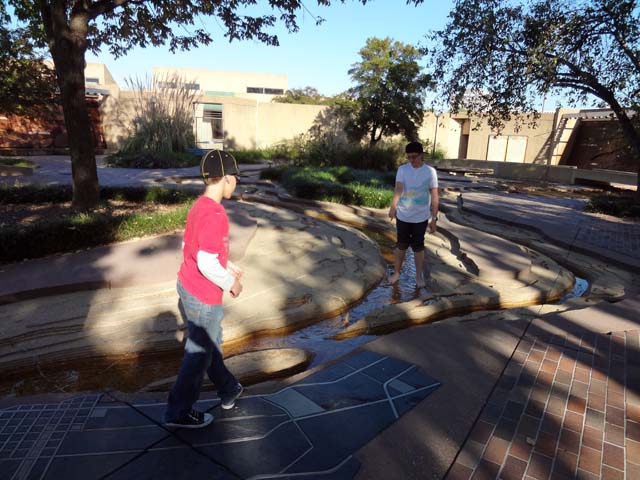 Look, we've arrived at some city. Cairo, Illinois, maybe? Is that the confluence of the Tennessee and the Mississippi? Or the Ohio?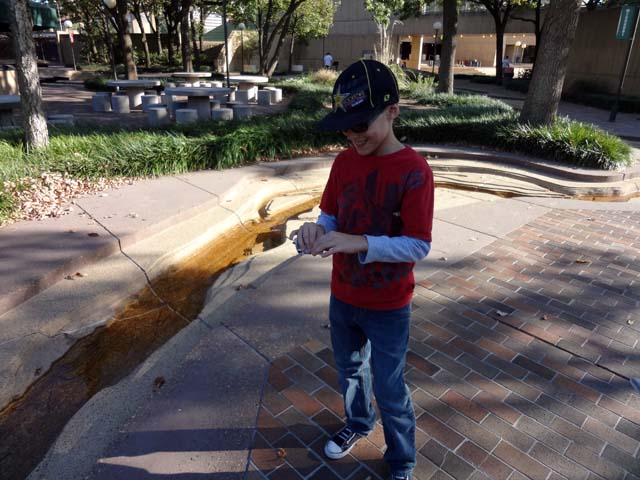 Geography, shmography, Gavin knows what floats his boat.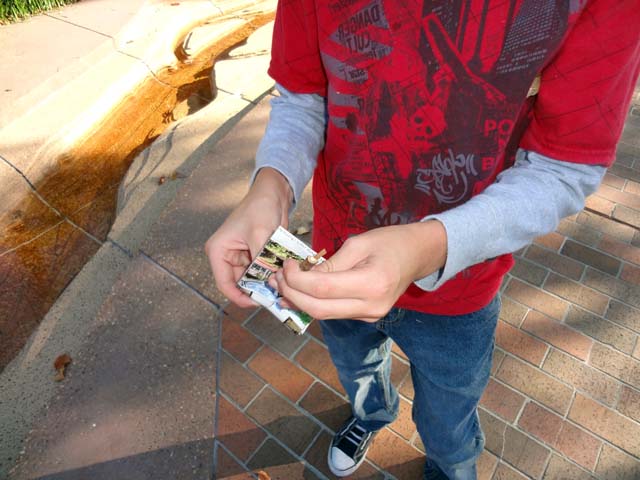 Paper and a stick. What more do you need?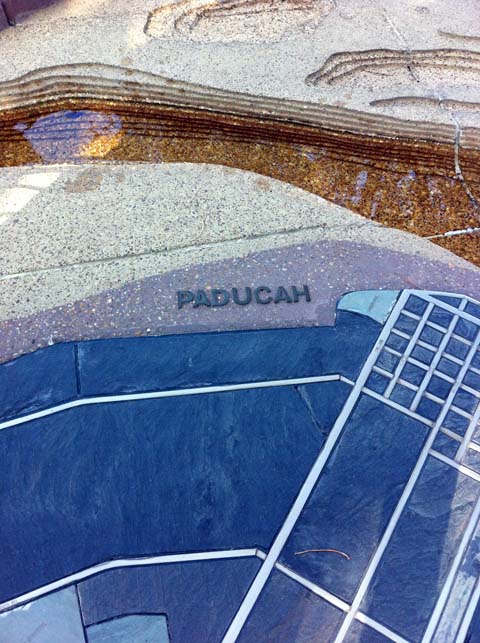 Oh, now we're in Paducah, Kentucky. Seriously, Heather, you'd never heard of Paducah?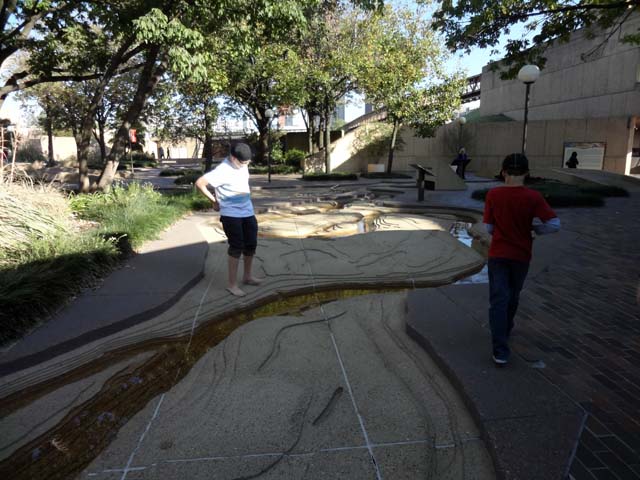 Forget Kentucky towns nobody has ever heard of. The great river race is on.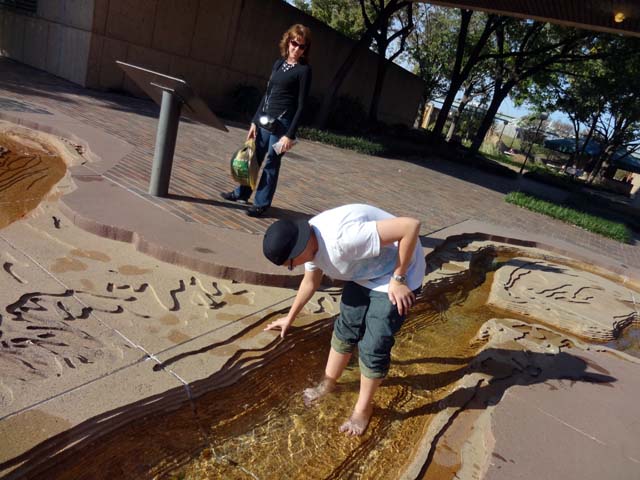 Garrett is getting cold feet.
You'll notice that somewhere in this video we graduate from sticks and paper to real gift shop frogs. Now we have a race worth watching.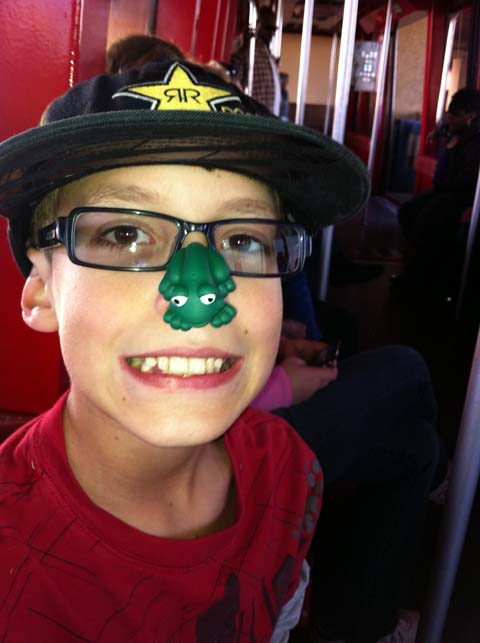 See? Frogs.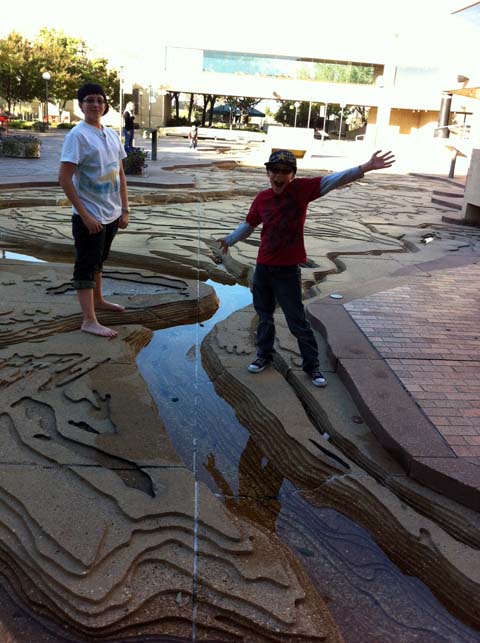 Looks like Gavin's frog is winning!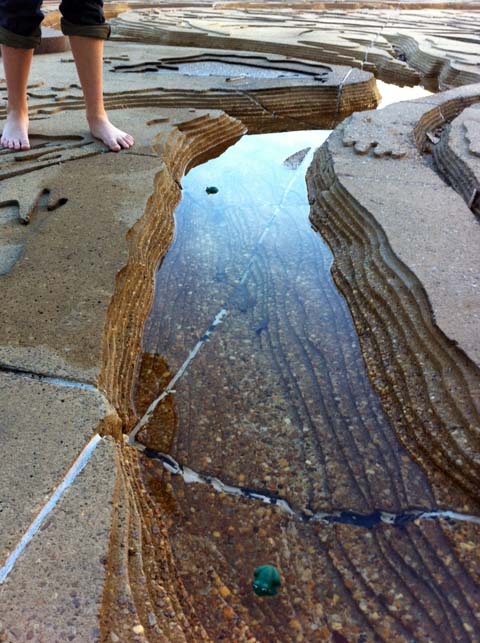 Froggy went a-floatin'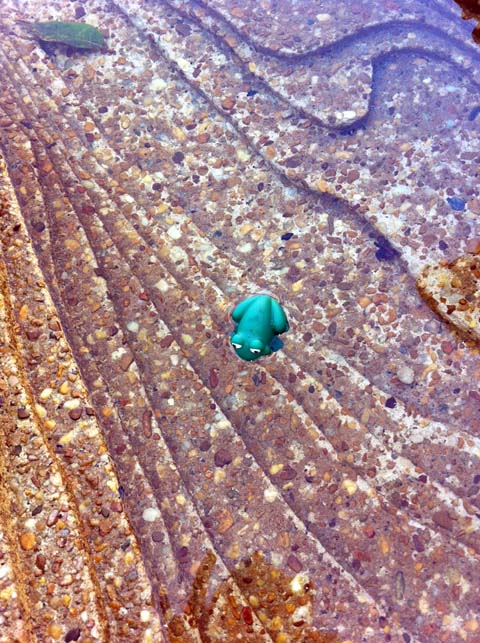 Now that is one serious racing frog.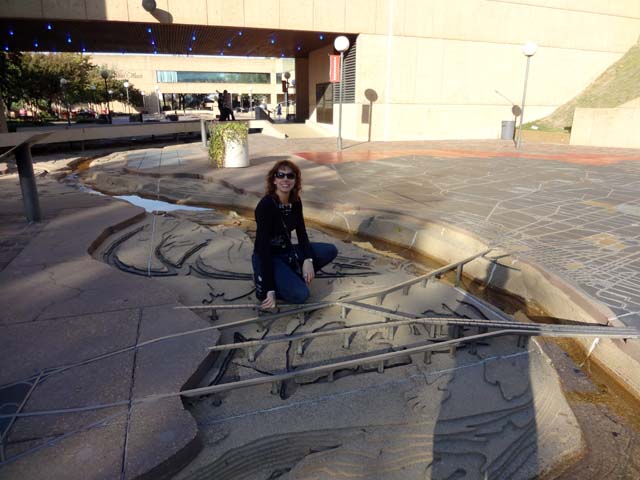 I do believe we've arrived in Memphis! Look at all those bridges.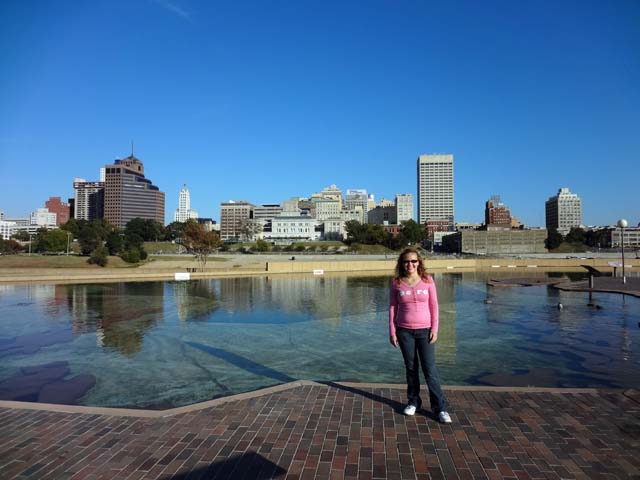 But while Heather lingers in Memphis, Katia has arrived in New Orleans, where she's standing on the banks of Lake Ponchartrain. Laissez le Bon temp rouler, Katia!
(You can Google it.)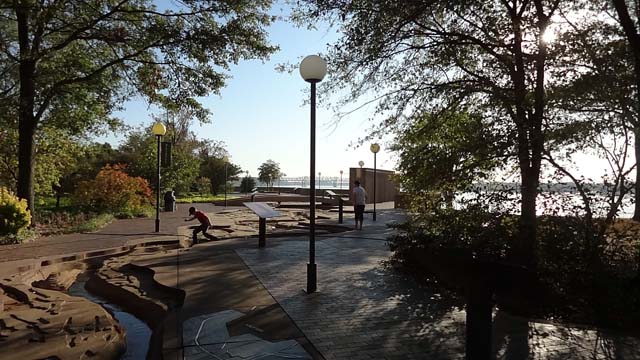 Mud Island is really a very pretty park.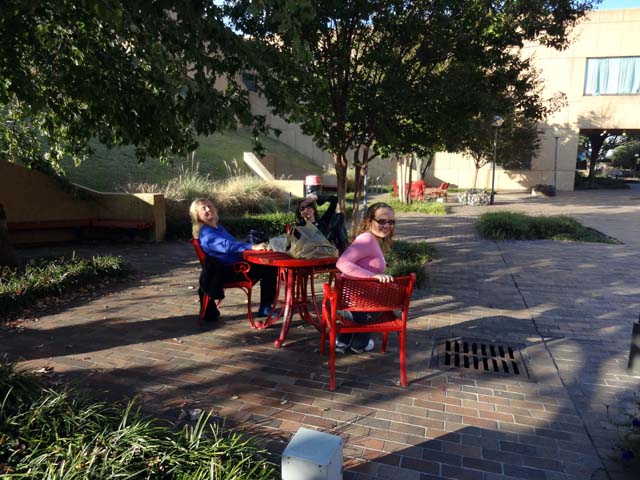 But look: After walking all over downtown Memphis all day, you really shouldn't have to walk to New Orleans if you don't want to.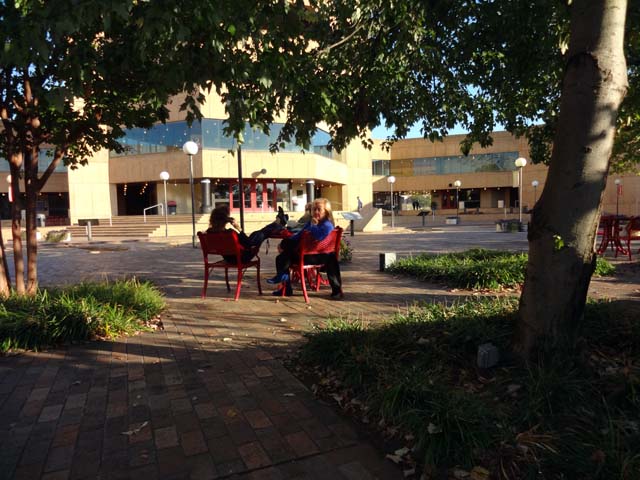 Ah, peace.
Except for Gavin. Heather is "totally" not doing his jeans.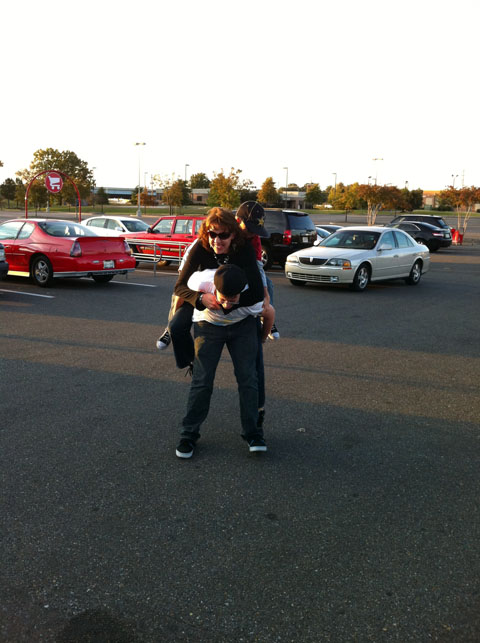 Now we've left Mud Island and we've stopped at Target to let the ladies get some hair spray and who knows what else. Garrett offers to provide transportation into the store.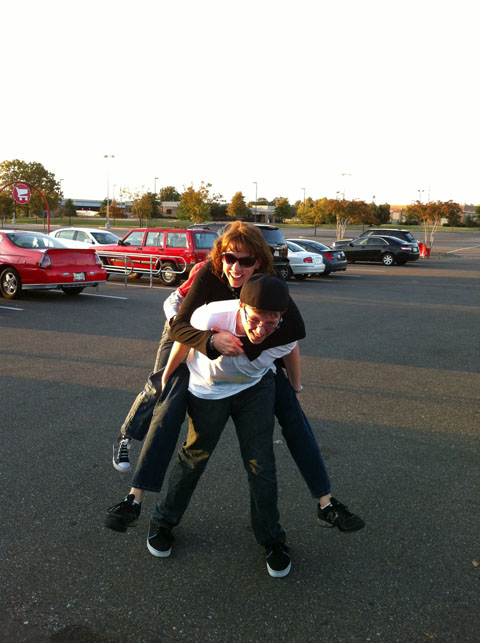 Does he drop anybody? Of course not. He's 13 years old and he wears size 13 shoes. Now that's a firm foundation.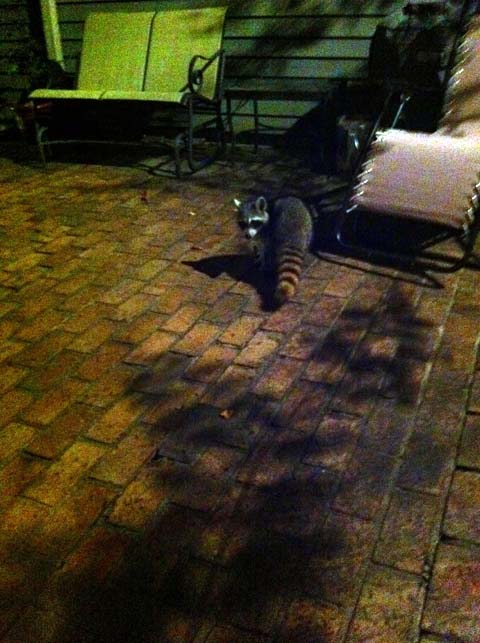 Now we've gone to Cindy's for our second meal of barbecue ribs of the day, and say, what's that out there on the patio?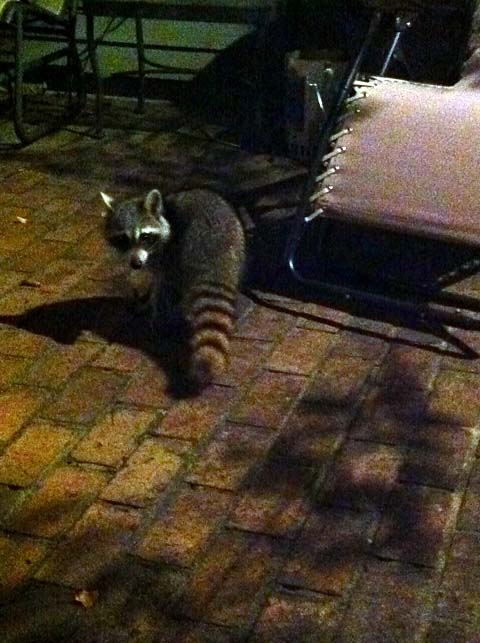 It's a raccoon!
He looks cute, but actually he only wants to be fed.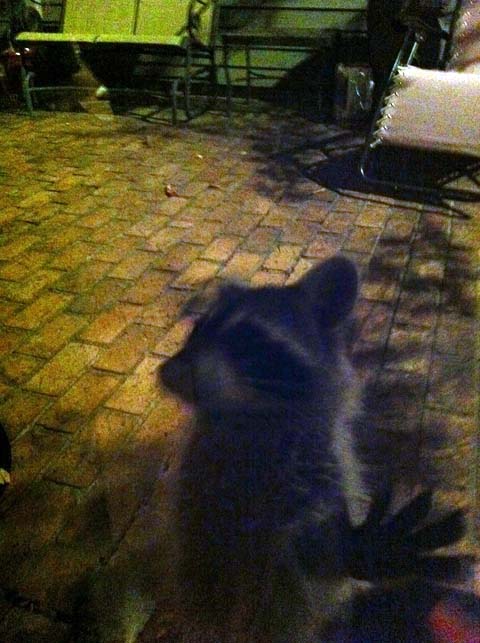 So we put out some slightly used barbecued ribs. This little guy agrees with Gavin -- those ribs are the best thing he's ever put in his mouth.