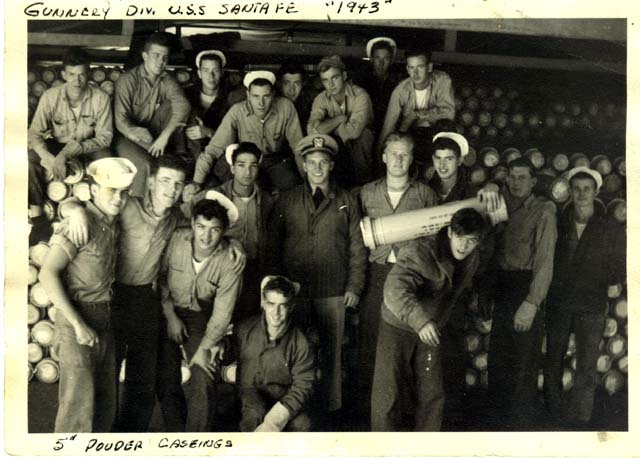 This isn't exactly a mystery picture. That's Vern Moberly, deceased, of Laramie, Wyoming, on the far right in the dark jacket. The picture was provided in July, 2003, by his son, Jim. But who are the rest of the men? Any ideas?
July 28, 2003
I received the following information just the other day:
HI BILL, BINGO I WAS JUST ABOUT TO SEND A LIST OF SOME OF THE CREWMATES
IN THAT PICTURE. THEY ARE TOP TO BOTTOM, LEFT TO RIGHT:

1 PETERS
2 <Rollin Nordeen>
3 Brink, ETM 3rd class
4 <Gilbert Brittain>
5 <William Anders>
6 BERNARD
7 MORRISON
8 FERGUSON

BOTTOM ROW:

9 MATTHEWS
10 BUCKLEY
11 LOZANO
12 CARUSO
13 ENSIGN GOLDSTEIN
14 JOHN H. MIEG (not MEADE)
15 MCKENNA
16 MAC DONNELL
17 MOBERLY
18 KNEELING MAN Circo, yeoman 3rd class
19 MAN WITH 5" POWDER CANISTER: KERNS
REGARDS, TOM MCKENNA
And here's a note I received on August 31, 2003:
I just ran across your Santa Fe website, and I can help with the identification of a couple of men. I was on the Santa Fe late in the war 1945-46. I was a radar technician, 2nd class. The "Gunnery Division Mystery Photo" was actually taken in l945. There are four radar tech gang members on the top row. Second from left is Rollin Nordeen. I can't recall the name of the third from left, but he was a tech. Fourth from left is Gilbert Brittain, fifth from left is myself. It brought back a few memories of 58 years ago.
With a follow-up later in the day:
I have just come across the exact photo in my almost forgotten files. I can now fill in: #3-Brink, ETM 3rd class, #18-Circo, yeoman 3rd class.
William S. Anders
So I suppose this is no longer a "mystery picture."
I received this note on November 16, 2006: I just saw your web site of the Santa Fe and spotted my dad in one of your mystery pictures. He is in the gunnery division, in the bottom row -- 11, Lozano. His full name is Edmond Lozano, and he died in 1998. I am his daughter Lydia Lozano Gonzalez. Thank you
And here's another note from March 29, 2015
Bill
I have my Dad here with me for the weekend and he wanted to see some of the info online concerning his ship the Santa Fe.
As we worked our way through some of the photos we came across the mystery photo section and there was my Dad in the photo titled "Gunnery Crew"
He is the blond standing behind the crewman with the charge can on his shoulder. I believe that he has been identified as a crewman named Meade from the caption.
Actually he is John H Mieg, a Santa Fe plank owner. Initially assigned to the 3rd Division and later became trained and assigned to radar.
My Dad is now in his 90th year and is not very spry any more. He has in the past attended some of the reunions but he will not attend any more I'm afraid.
I wish I could furnish you more info, or maybe identify some of the others in the photo, but Dad says he was not in that division at the time and cannot remember the names of the few he knew. He believes he was assigned to the crew that was trans-shipping the powder charges at that time because they were involving all able bodies not previously engaged with duty.
I would be glad to pass any other info on to you that I can find.
Please feel free to contact me at anytime

Steven Mieg