Ships Data Section
Office of Public Information
Navy Department
HISTORY OF USS SANTA FE (CL 60)
Six months ahead of schedule and only a year and three days after her keel laying, the 10,000-ton light cruiser SANTA FE was poised on greased ways at the New York Shipbuilding Company's Camden, New Jersey yards, on 7 June 1942. Outfitted in beige and sporting a bouquet of red roses, 14-year-old Caroline Trevelyan Chavez shared the christening platform with top Army-Navy officers, friends and relatives, yard officials, and Santa Fe's Mayor Manuel Lujan.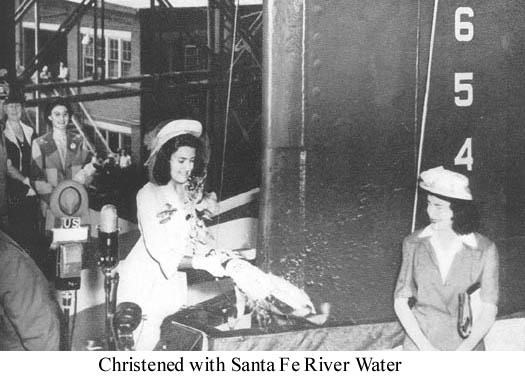 For the youthful sponsor, niece of New Mexico's Senator Dennis Chavez, and for the capital city of New Mexico (the first time a U.S. Navy ship had been named SANTA FE) it was a red-letter day. At 1203 the light cruiser began slipping down stern-first into the Delaware River and Miss Chavez working fast, crashed a bottle of Santa Fe River water against the warship's sharp prow.
Not until November 1942 was the crack CLEVELAND Class Cruiser ready for U. S. Fleet service. Bristling with a dozen 6-inch guns in her main battery, and another dozen 5-inchers in her secondary battery, equipped with the most recent radar developments, the SANTA FE was then delivered to the Philadelphia Navy Yard. When USS SANTA FE was placed in commission 24 November, 1942, Captain (now Rear Admiral) Russel S. Berkey, USN embarked as her first Commanding Officer.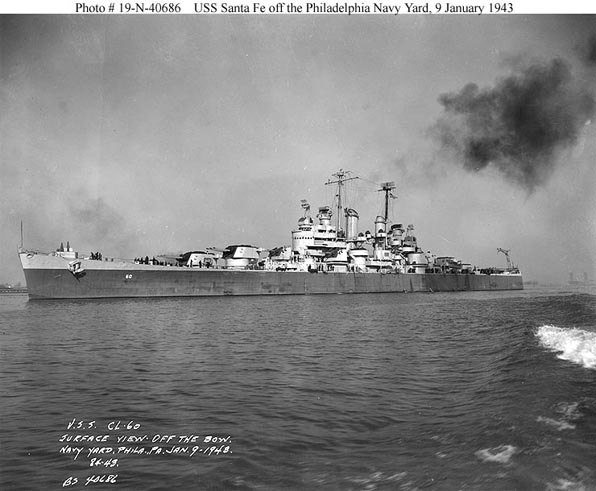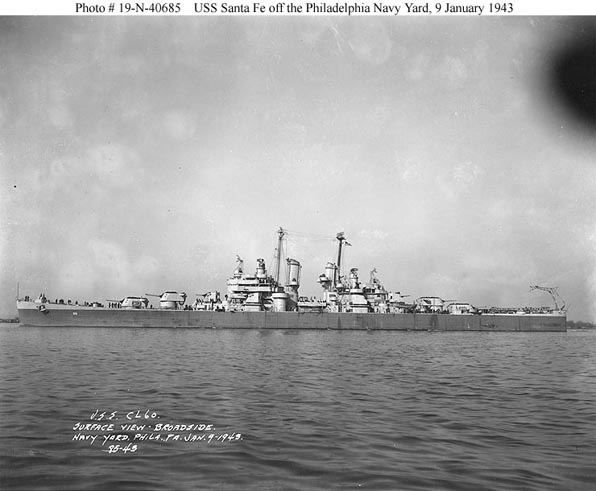 Escorted by destroyer-mine sweeper JEFFERS, the cruiser stood out of Philadelphia 11 January 1943 and moved down the coast to Norfolk. In the Norfolk area from 12 January through 15 February, with the exception of a 3-day breather at Annapolis, Skipper Berkey conned his new command through the prescribed curriculum of rigorous fitting out and shakedown training. During this period the 1200-odd sailors designated to fight the SANTA FE worked, under simulated battle conditions, to acquaint themselves with the intricacies of her engineering plant, her fire control and communication systems. By 16 February the cruiser was back in Philadelphia.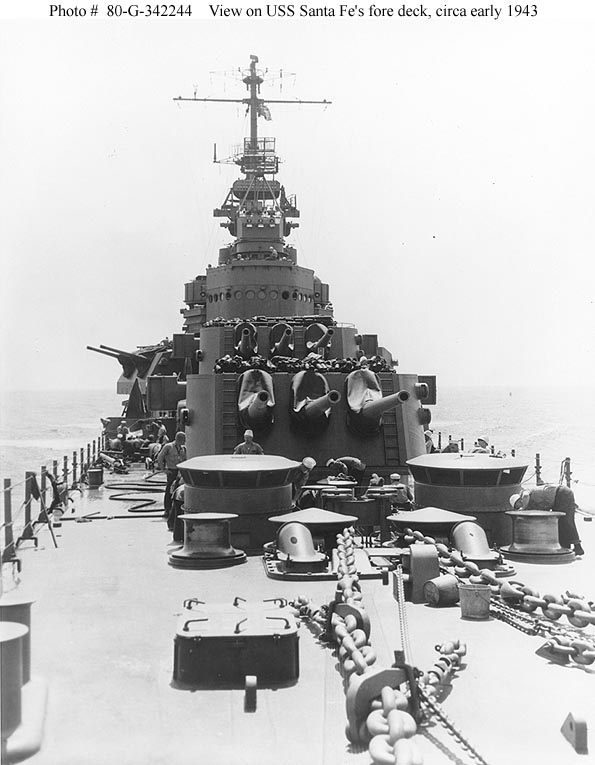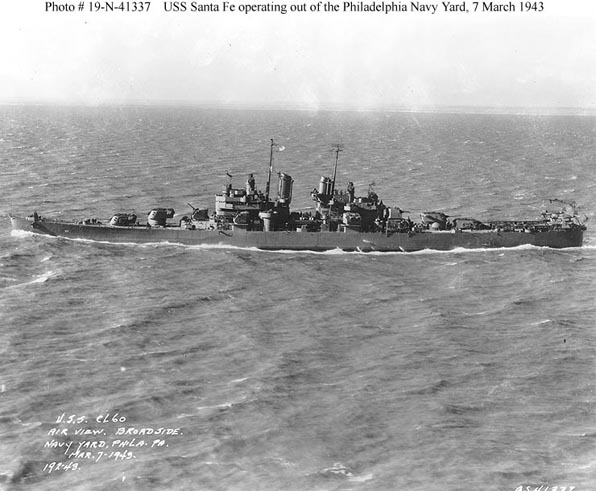 Assigned to Cruiser Division 13, USS SANTA FE left Philadelphia in her wake on the 1st of March. She nosed south in the Atlantic together with the destroyer STANLY, transitted the Panama Canal 5 March, and reached California's San Pedro Naval Base on the 13th. In view of the crucial need for more seapower in the Pacific forward areas, little time was wasted in routing the SANTA FE to Pearl Harbor; four days at San Pedro and she was underway. Gunnery exercises were conducted throughout the voyage, which ended when SANTA FE lookouts sighted Diamond Head on 23 March 1943.
Ever since the Japanese snatched Attu, Kiska and Agattu, craggy studs in the fog-swept Aleutian chain, U.S. Pacific plotters stood ready to erase this alarming threat to the Northwestern United States whenever sufficient forces became available. Spring of 1943 saw the enemy relaxing his hold on the New Guinea -- New Britain -- Solomon islands arc, warranting the allocation of enough ships, planes and troops for an all-out effort in the Northern Pacific. Designated to assist in ousting the enemy from the Aleutians, light cruiser SANTA FE completed refresher training at Pearl Harbor, fueled and provisioned, and set sail for desolate Adak Island 15 April 1943.
With its blasts that sometimes reach velocities well above 100 knots and which roll up unbelievably gigantic seas of 50 to 70 feet trough to crest, the Northern Pacific was the global war's most rugged theater from the climatic standpoint, a storm-lashed proving ground for both ships and men. Into Adak's Kuluk Bay sailed the SANTA FE on 20 April, her log slated to record four arduous months of campaigning.
USS SANTA FE sailed from Kuluk Bay on 21 April with a cruiser-destroyer detachment labeled task Group 16.6. Through howling williwaws which swooped out of the Bering Sea, the flotilla moved out to Attu, terminus of the Aleutians. Ice coated the SANTA FE from sharp bow to blunt stern as she and the others patrolled west of Attu Island without incident. Climaxing the sortie, Task Group 16.6 unleashed a long-range bombardment on Attu installations 26 April. Inaccurate return fire from ashore failed to hamper the precision shelling and SANTA FE returned to Kuluk Bay on 28 April 1943.
Task Group 16.6 topped off with fuel at Adak, went out again 29 April to resume reconnaissance of Attu's western approaches. While patrolling, the SANTA FE had contact with one enemy submarine on the 1st of May, another on the 4th. Contact on both occasions was lost before it could be acted upon. On 11 May cruiser SANTA FE closed to about 60 miles southwest of Attu to act as part of the covering force for the amphibious landings on that island.
With the lid blown off the Aleutian powder keg, the U. S. plan was obvious. Rear Admiral Francis W. Rockwell and Major General Eugene M. Landrum had teamed to take Attu, bypassing Kiska, and rendering it untenable so that it might be plucked like an overripe plum at a later date. While the SANTA FE roamed off embattled Attu to prevent enemy reinforcement, elements of the 4th and 7th Infantry Divisions slugged their way in from two points, i.e. , Holtz Bay in the north and Massacre Bay about five miles across the island to the south. Dodging mortar shells in foxholes filled with icy water, plodding through molasses-like mud, their bodies numb from cold, the U.S. butted and bayoneted their way to Chichagof Harbor.
Shadowing Attu from seaward, the SANTA FE again experienced submarine encounters on 14 and 16 May, neither of which materialized. On 24 May she terminated her 3-week patrol, returned with other units to Adak on the 26th. Back on snowy Attu, Colonel Yamazaki announced 28 may that his frost-bitten garrison would make a last desperate banzai charge. Shortly after midnight they came howling en masse up the valley from Chichagof toward the American artillery positions beyond Clevesy Pass. Those few who were not killed by the Americans chose suicide rather than surrender. On 30 May 1943, with only a few snipers remaining to be hunted down, Chichagof was occupied without opposition.
Cruisers WICHITA, SAN FRANCISCO, LOUISVILLE, , SANTA FE, and four destroyers swarmed out of Kuluk Bay 20 May and set sail westward to the patrol area. Captain Berkey's warship remained north of Kiska (centered about Lat. 54-30N, Long. 176-30E) until 17 June, returned with Task Group 16. 8 to Adak on the 18th.
June 27th saw the SANTA FE departing Adak for another sortie with the heavy cruisers, destroyers and two battleships arrayed north of Attu. She fueled 3 July and passed the next day down through Amchitka Pass. Early on the 5th SANTA FE radar picked up a submarine but the contact faded out two minutes after the cruiser cut loose with her guns. On 6 July the four cruisers moved in through soupy summer fog to rock Kiska. SANTA FE's 6-inch guns pumped shells into the silent shores, knocking out a coastal defense battery and scoring hits on anti-aircraft emplacements. Then the ship ranged south of Kiska, holding training exercises daily until the 13th of July when she went to Adak for upkeep.
Adhering to the rigorous in-and-out routine which was the lot of U.S. Naval units in the Aleutians at that time, the SANTA FE departed Adak 20 July in company with Task Group 16.7. She proceeded to the Kiska area and, on 22 July, administered a second sound drubbing at long range, using radar control. When her cannonading was over, the SANTA FE took up a patrol to the southwest in anticipation of intercepting an enemy cruiser-destroyer force reported approaching the Aleutian chain. This force failed to appear and on 31 July 1943 the SANTA FE steamed Adak-bound out of the operating area.