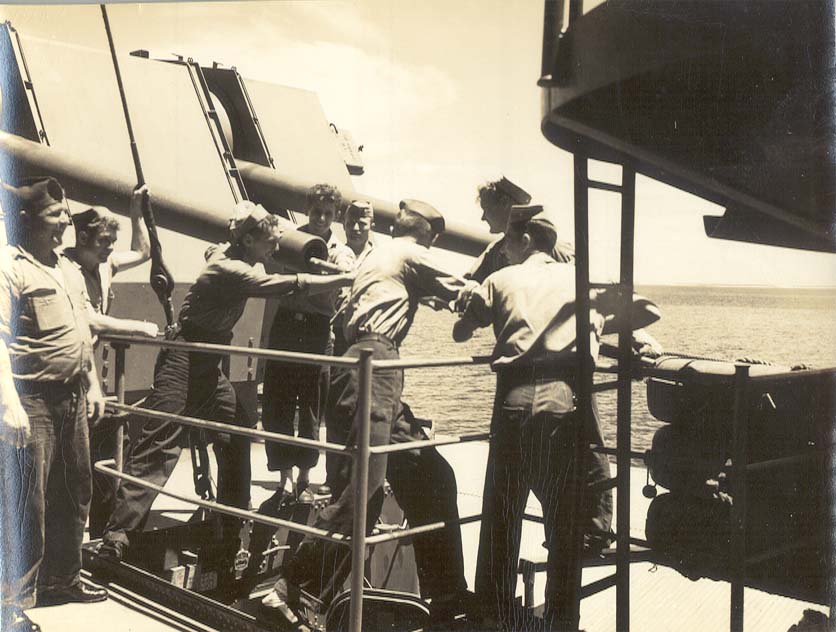 Work 1
From John Shovlin: " Men at work"---Pic 1--Lew Yore;second from left-----------
From Tim Dobbs: I recognize my father-in-law in your Men at Work photo. He is the one wearing a hat standing outside the fence and the one farthest to the right of the picture in front. His name is Jerry Martino. He was a lightweight boxer on the Santa Fe and a pretty good one from what I hear.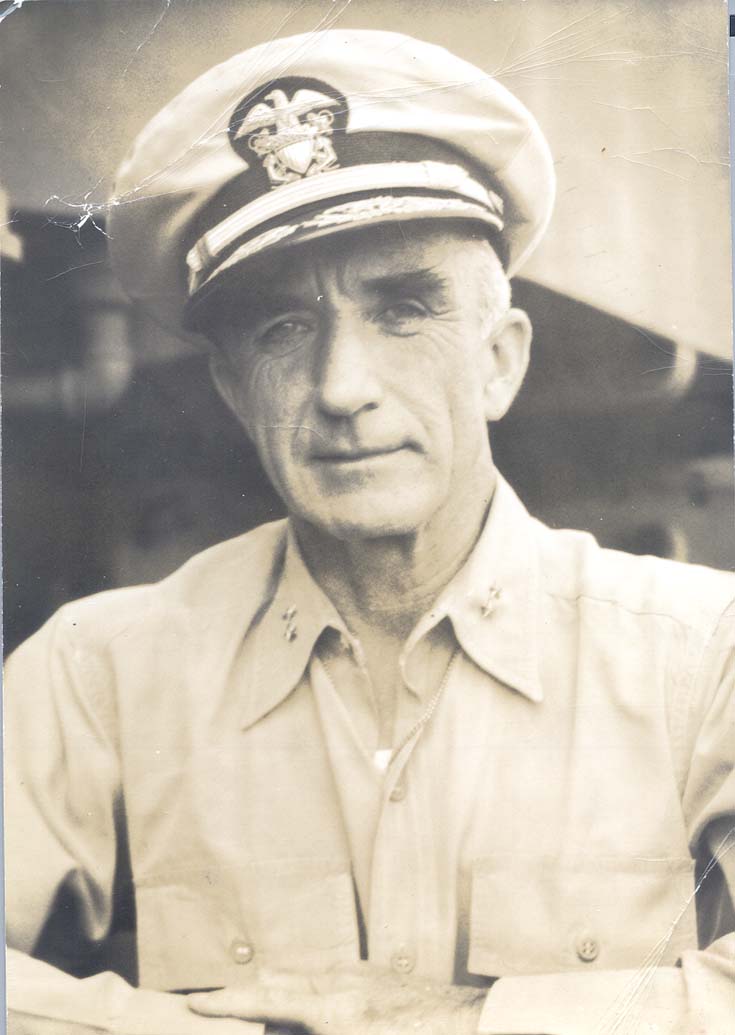 Which Captain?
According to Phil Eakins of Sasebo, Japan: The man in the photo titled "Which Captain?" is Rear Admiral Morton L. Deyo who rode the SANTA FE into Sasebo (as Commander, Task Force 55 if I recall correctly) to begin preparations for the Occupation of Sasebo.
Also, Barney Banyas identified Deyo as an Admiral. "The image which you have captioned "Which Captain?" is actually an Admiral. [Barney] believes there are two stars on his collar."
And this from Don Jackson: Men at Work: Which Captain? I am sure someone else has said that it is the Commander of Cruiser Division Thirteen which consisted of Santa Fe (Flagship) CL-60), Birmingham CL-62, Mobile Cl-63 and Biloxi. (CL-80). He is Rear Admiral Deyo (two stars on each side of his shirt collar.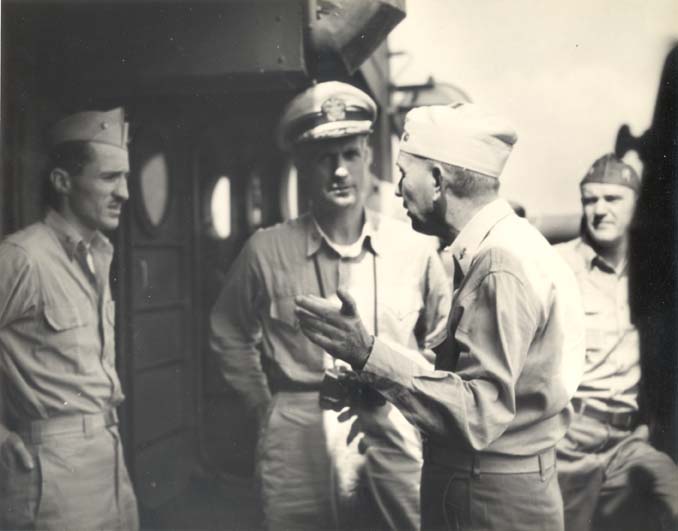 Top Level Discussion
This from Don Jackson: Top Level Discussion: Left to Right: Commander Heinz, Santa Fe Navigator; Captain Wright,
Commanding Officer; Rear Admiral Dubose, Cruiser Division Commander; Unknown in background.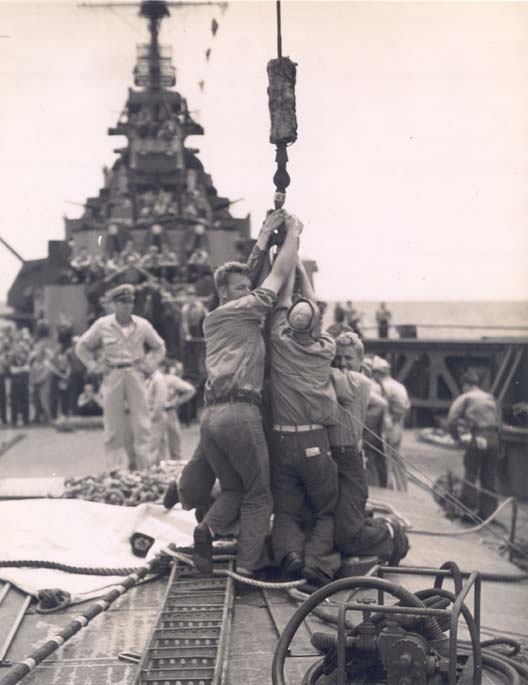 Work 2
Barney Banyas says: "Work #2 is the hangar deck, and that hoist was used to move the planes, among other things."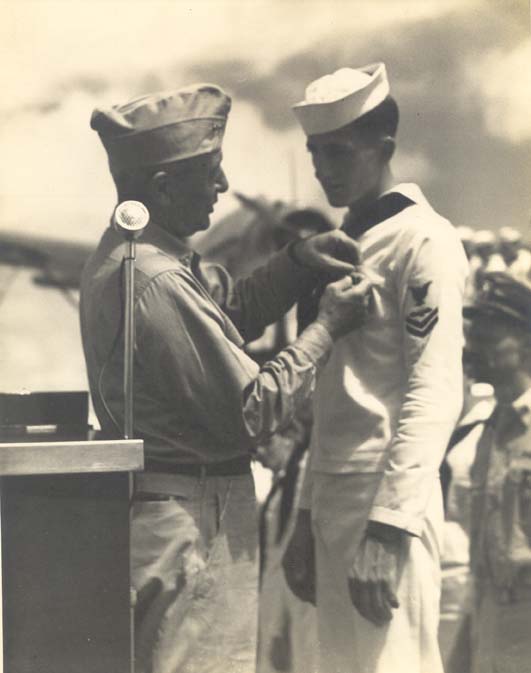 Medal
This from Don Jackson: Medal: I believe that Rear Admiral Dubose is making the presentation but don't know to who. He was the Cruiser Division Commander prior to Rear Admiral Deyo.
This from Jerry Buzanoski, Sept. 18, 2005:
Bill,
I was scanning through your Santa Fe website as I occasionally do and noticed that the sailor receiving the medal in the photo labeled "Medal" in the Men at Work section had not been identified. I'm confident that it is Art Hickman, and the date of the photo is August 12, 1944.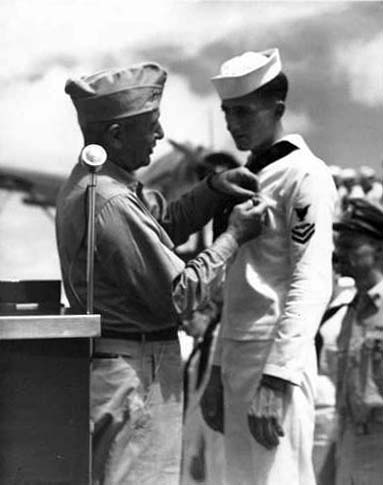 A.E. Hickman, Airman 2nd Class
The attached scan of an addendum to the Plan of the Day for that date provides a little more information about the event.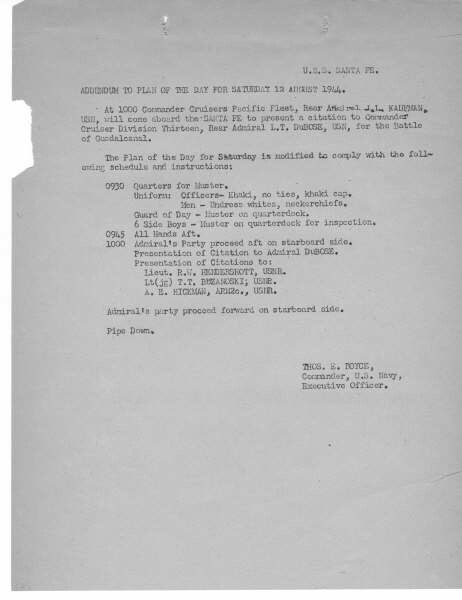 Also attached are photos of Bob Hendershott and Ted Buzanoski receiving citations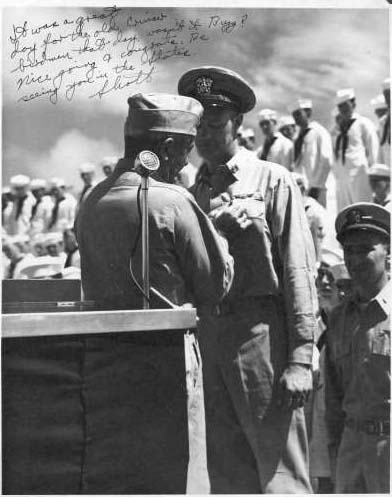 Hendershott - 1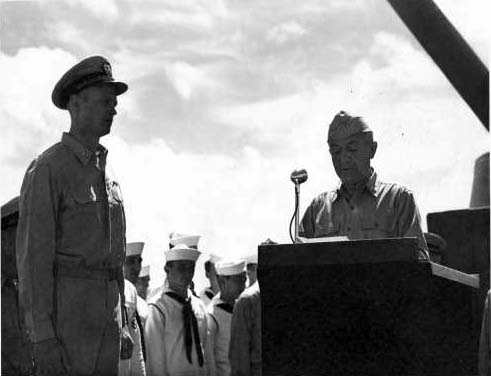 Hendershott - 2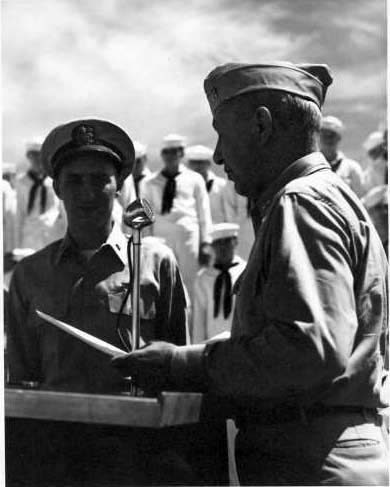 Buzanoski
And a scan of my father's citation.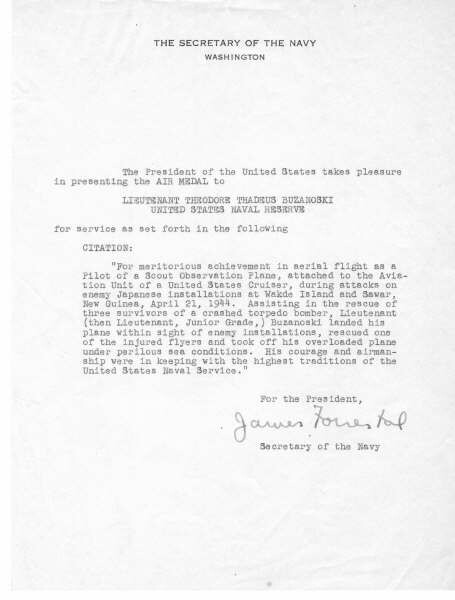 Art Hickman indicated to me last fall that his citation was for shooting down a zero on July 4, 1944 at Iwo Jima.
You will notice that the Addendum to the Plan of the Day indicates that Rear Admiral Kaufman would present a citation to Rear Admiral Dubose for the Battle of Guadalcanal. Would it follow that Rear Admiral Kaufman would also present the citations to the other men as well, and that he is the presenter in the photos? I'll try to find out definitively from Art.
Regards,
Jerry Buzanoski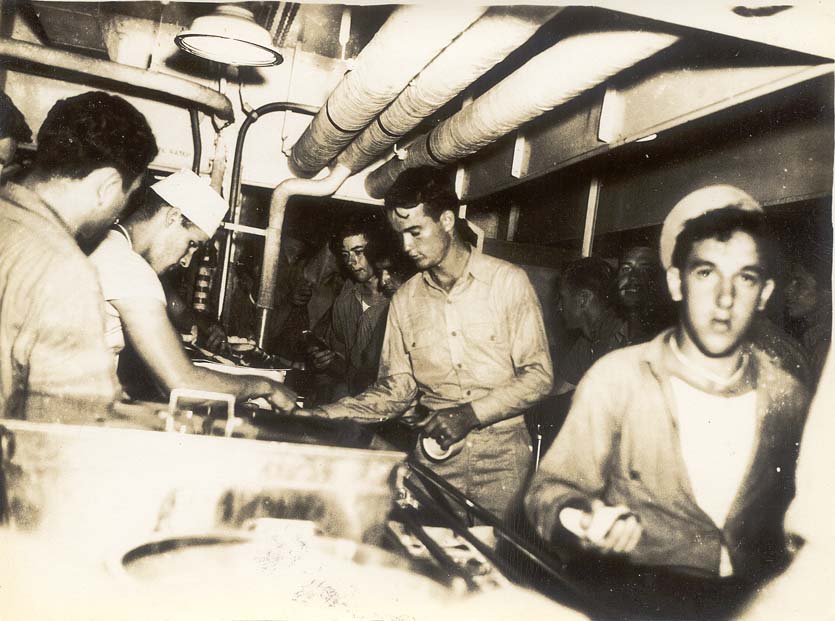 Mess
This from Ollie Biddlecome's daughter, Carla: Dad said that on the picture that is titled "mess" that is Ernie LaPorte holding the cup.
Which Ship? #1
This from Don Jackson: Which Ship: #1: Indiana Type Battleship (BB)
This from reader Peter Dion on February 5, 2008:
The ship in the picture is either the USS Alaska (CB-1), or USS Guam (CB-2).  
These ships were officially classified as Alaska Class "Large
Cruisers" but to many, they were referred to as "Battle Cruisers."  
The 

Alaska

 & 

Guam

 were the only two "CBs" completed out of an initial order for
6 units.  They were essentially ships without a mission as their reason for
being (fighting Japanese cruisers or German "Pocket Battleships") was passe
even as their keels were being laid.  A third unit, 

Hawaii

 was never
completed and like the 

Alaska

 and 

Guam

, was scrapped circa 1959.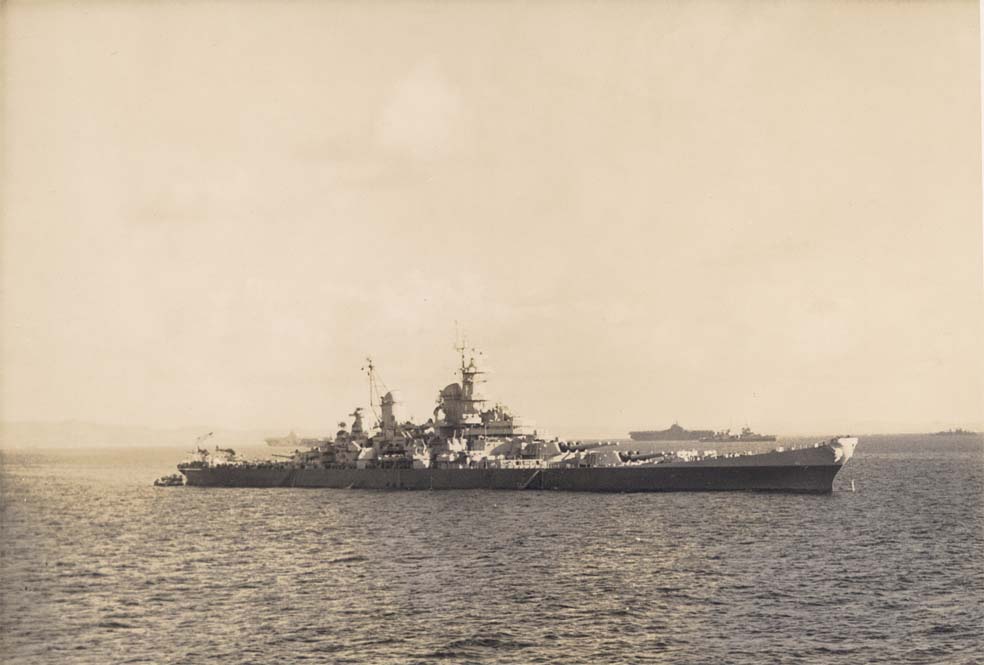 Which Ship? #2
This from Don Jackson: Which Ship #2 : Iowa Type Battleship (BB)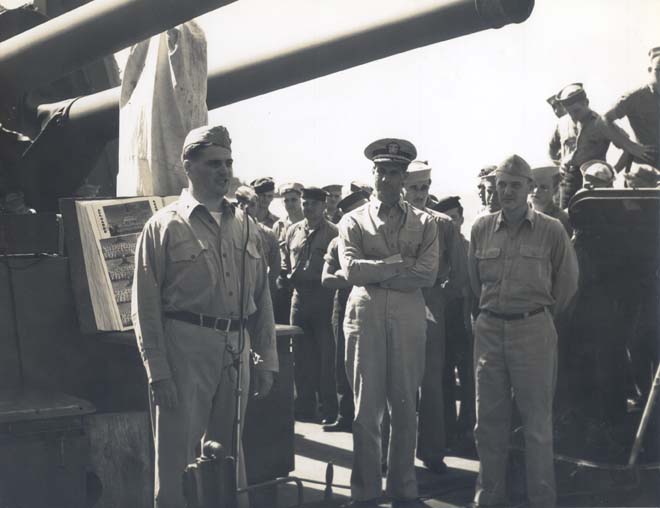 Speech
From Don Jackson: Speech: Speaker unknown; Captain Wright, Commanding Officer, Commander Boyce, Executive Officer, Santa Fe.
From John Shovlin: "Under speech"--Speaker is Lt Seth Russell (chaplain)--He is in a lot of the worship pictures also…