If you don't count the fact that I'm coming down with a sore throat and cold, today is going to be a big improvement over yesterday.
Now we're out and about, on our way to the Basilica of Saint Francis.
Across the street is where Pope John Paul II spoke to the crowds when he made a pilgrimage back home to Kraków. He stood in that window to speak.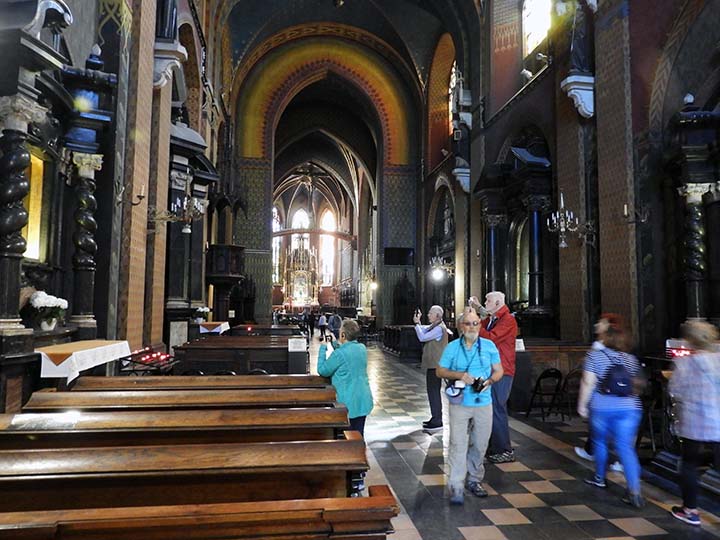 Now we are inside the Basilica of Saint Francis.
Just look at this place!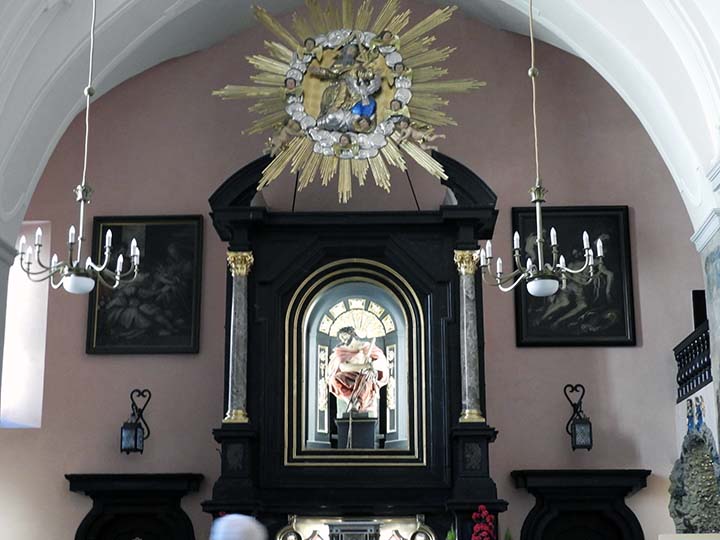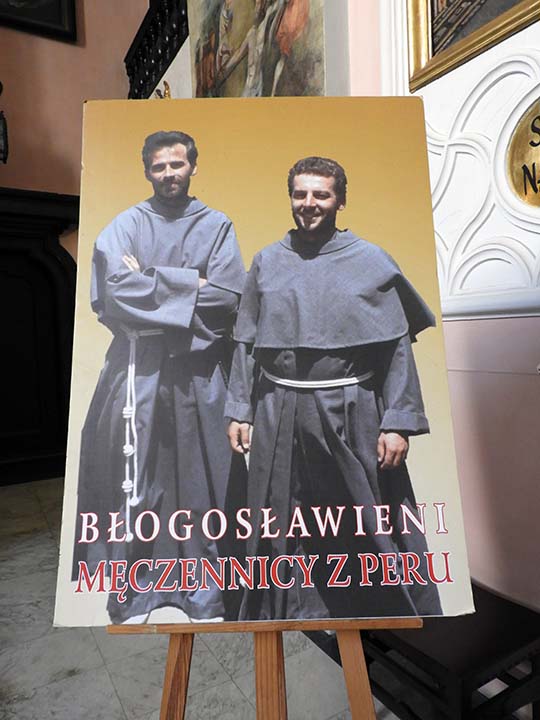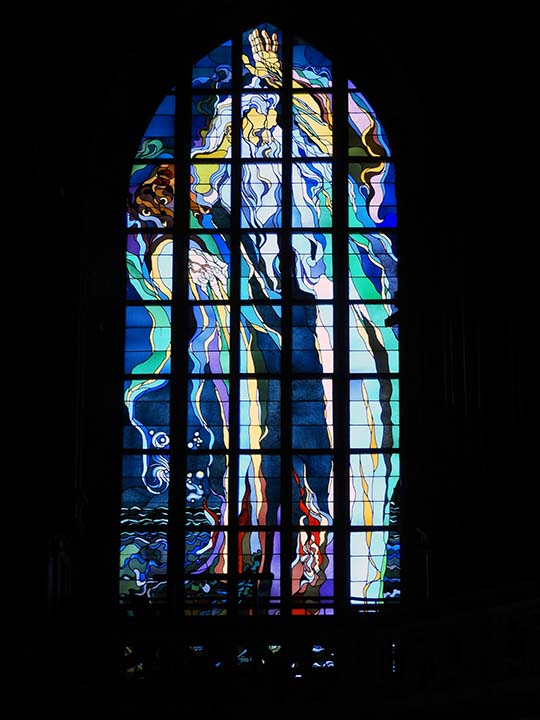 It is best known as the site of a series of stained glass windows designed by Stanisław Wyspiański, a multi-talented Polish poet, playwright, and artist. This is his most famous work, titled "God the Father: Arise." It depicts God in the act of creation.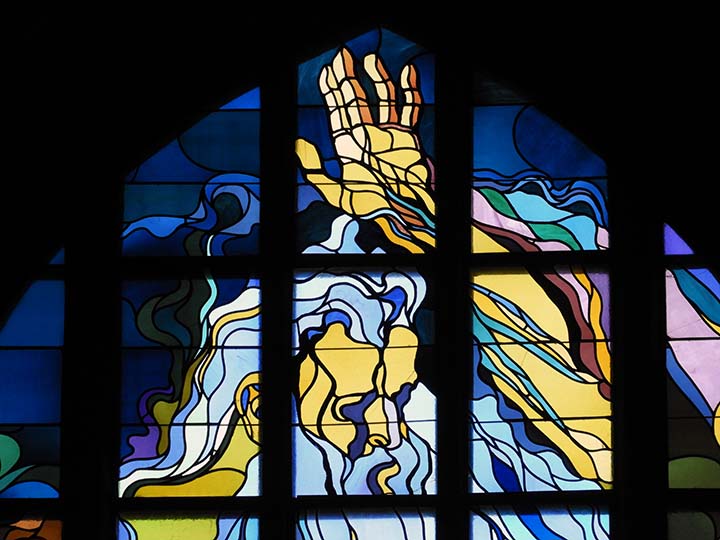 It is in the art nouveau style, and was completed in 1904.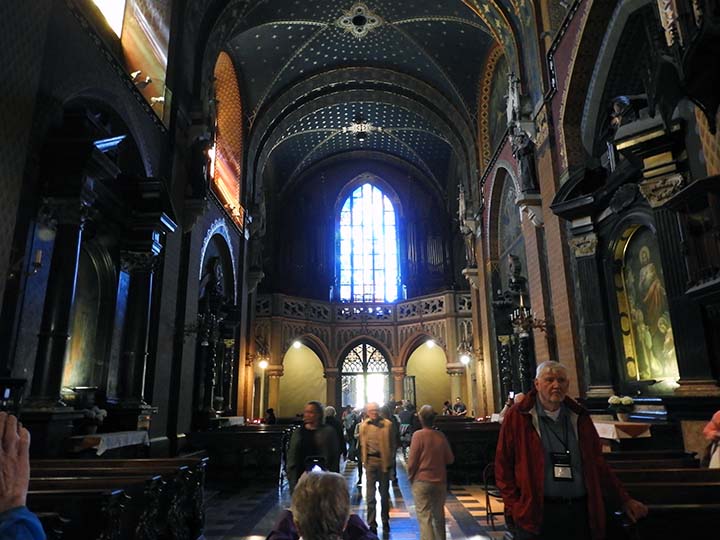 It's big.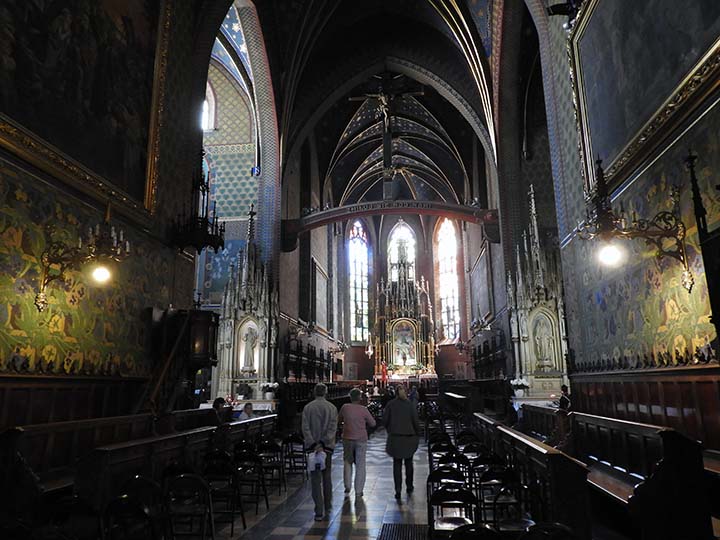 It's impressive.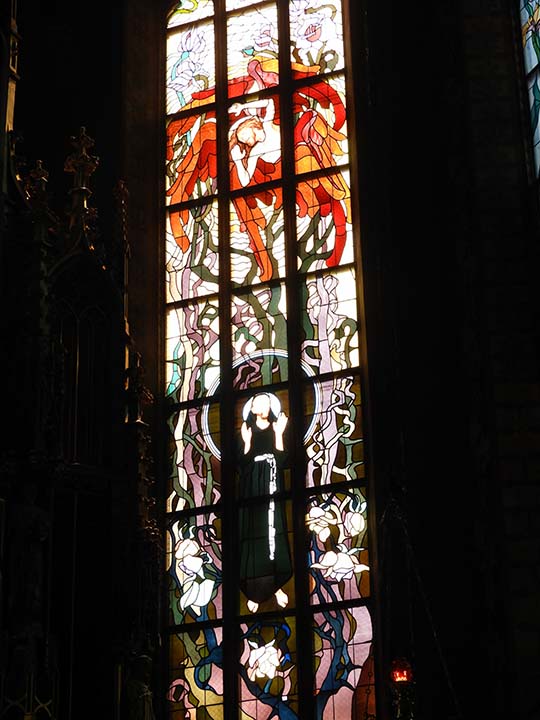 And the stained glass windows are stunning.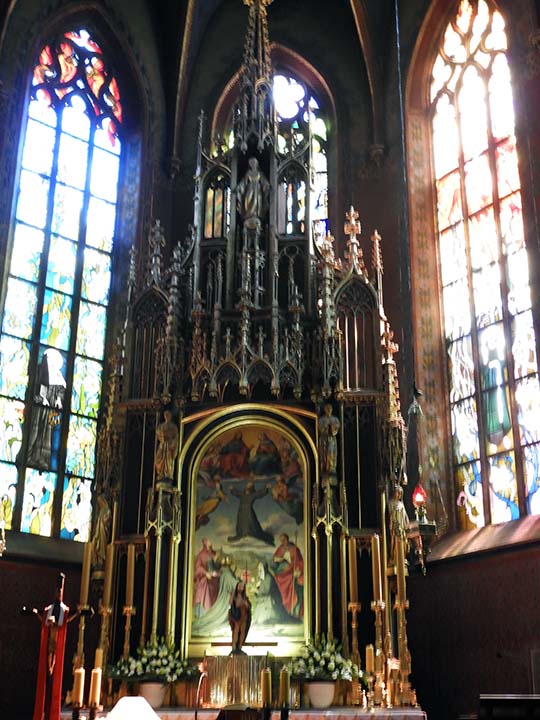 All very nice.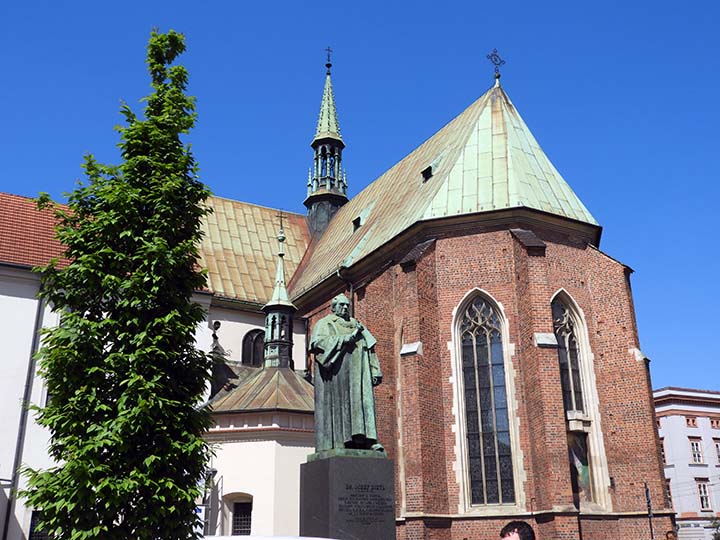 A stern old mayor of Kraków stands guard outside the church.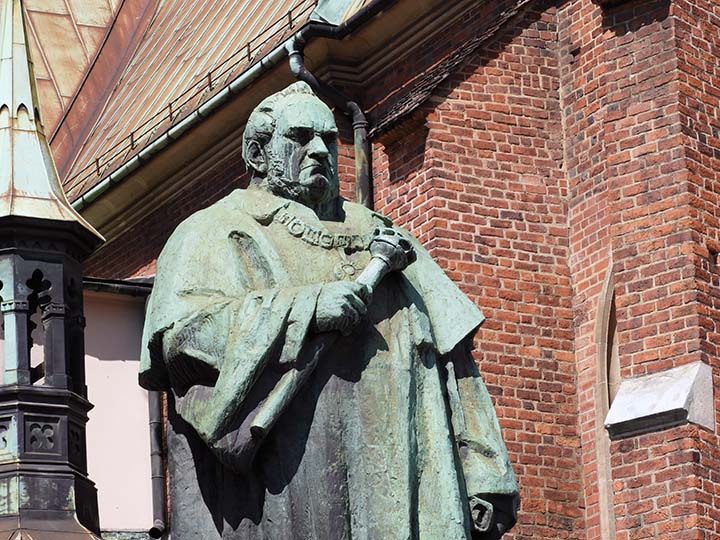 Nobody knows quite what he Is so unhappy about.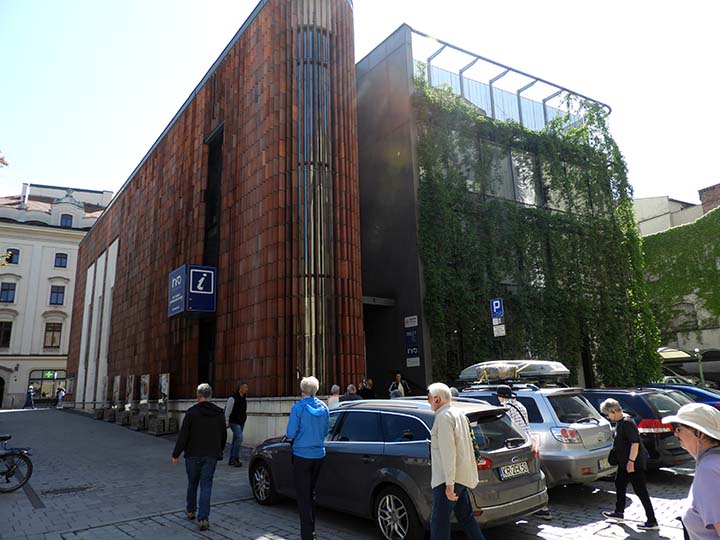 Just across from the church is a new building that houses modern art.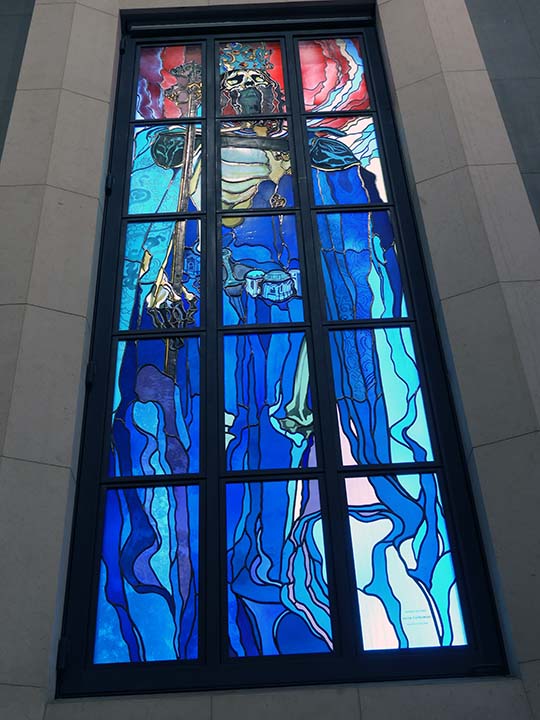 Here's another example of Polish stained glass, this in the same style but by a modern artist in 2007. It depicts the only Polish king to be designated great, Casimir the Great, who died in 1370. It seems that not so long ago it was decided to exhume the body of old Casimir and allow various people to look inside the tomb mainly to make sure he was really there. Nobody could take pictures, but artists could make drawings. That's why Casimir looks like a corpse in this pretty window.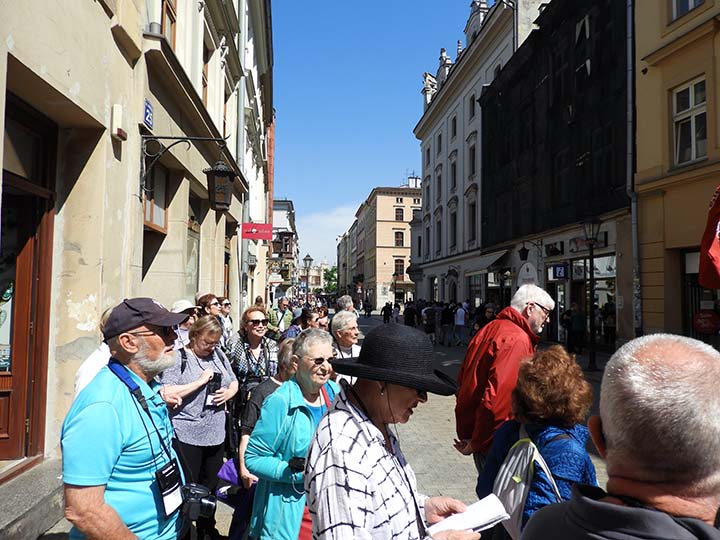 We're walking streets that have been here for hundreds of years.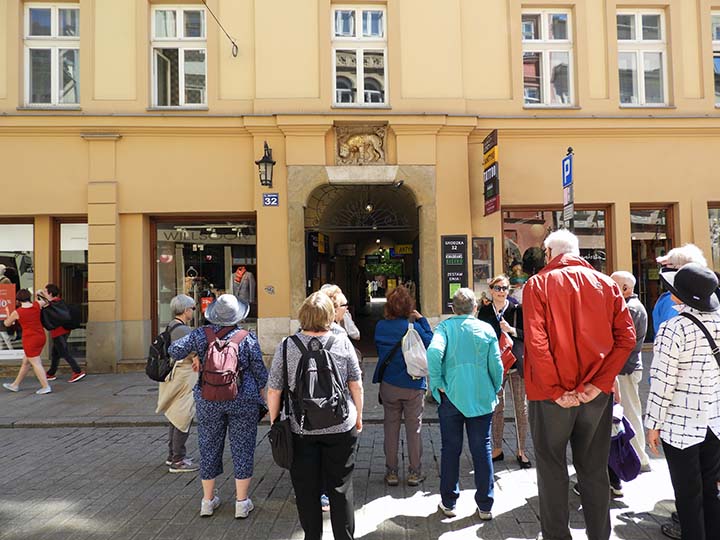 Back in medieval times when people couldn't read, if you wanted them to find your house you needed to put something distinctive above the door.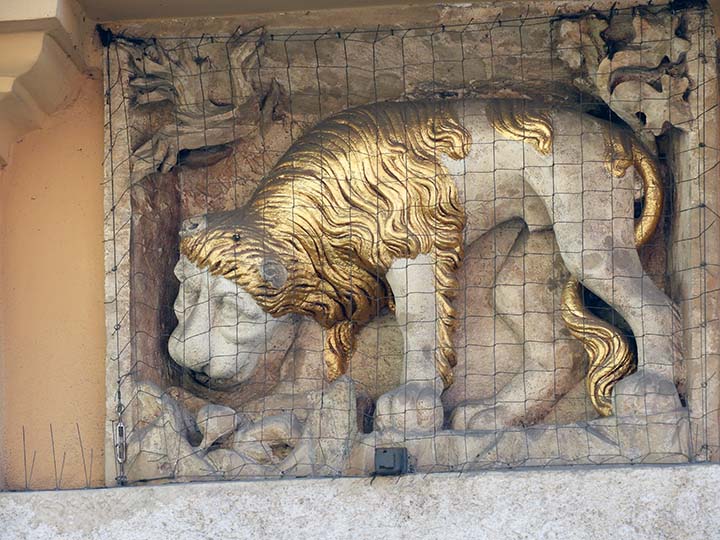 This is the house of the Golden Lion. In the middle ages few in Poland had ever seen a lion In person, so artists had to depend on verbal descriptions. This dog is what they thought a lion looked like.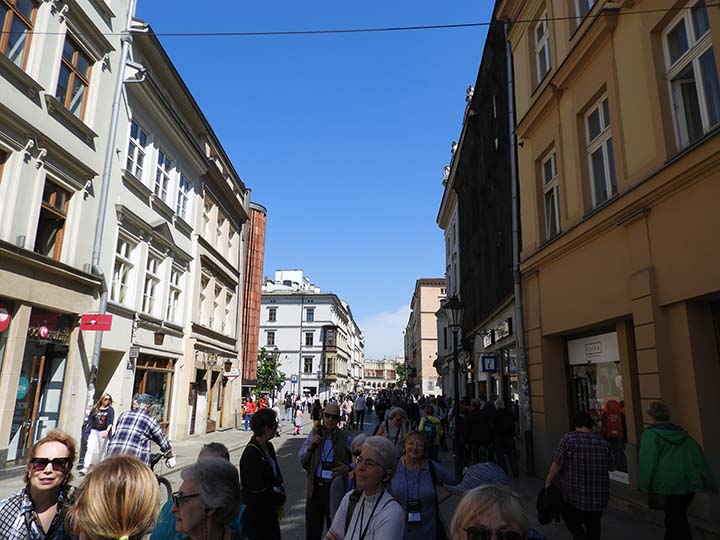 Onward we go.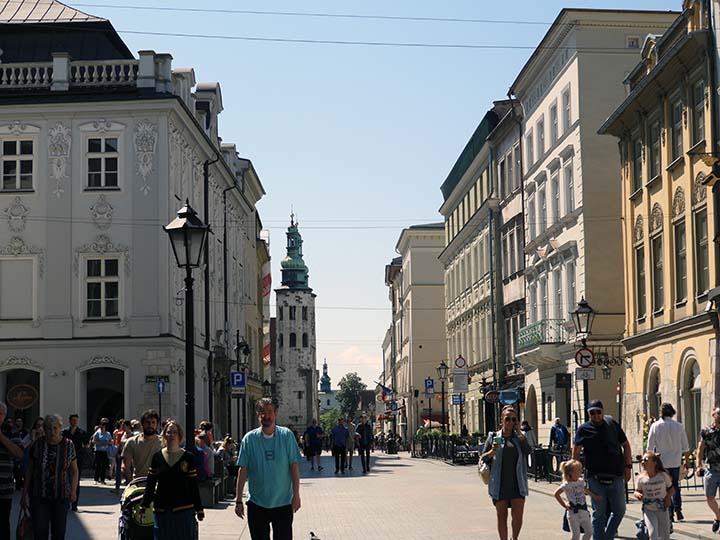 Let's have a look at Krakow's Main Square.
Krakow Square
The main square of the Old Town of Kraków, Lesser Poland, is the principal urban space located at the center of the city. It dates back to the 13th century, and 9.4 acres is one of the largest medieval town squares in Europe. The Project for Public Spaces (PPS) lists the square as the best public space in Europe due to its lively street life, and it was a major factor in the inclusion of Kraków as one of the top off-the-beaten-path destinations in the world in 2016.
The main square is a square space surrounded by historic townhouses (kamienice) and churches. The center of the square is dominated by the Cloth Hall (Sukiennice), rebuilt in 1555 in the Renaissance style, topped by a beautiful attic or Polish parapet decorated with carved masks. On one side of the cloth hall is the Town Hall Tower (Wieża ratuszowa), on the other the 10th century Church of St. Adalbert and 1898 Adam Mickiewicz Monument. Rising above the square are the Gothic towers of St. Mary's Basilica (Kościół Mariacki). Kraków Main Square does not have a town hall, because it has not survived to the present day.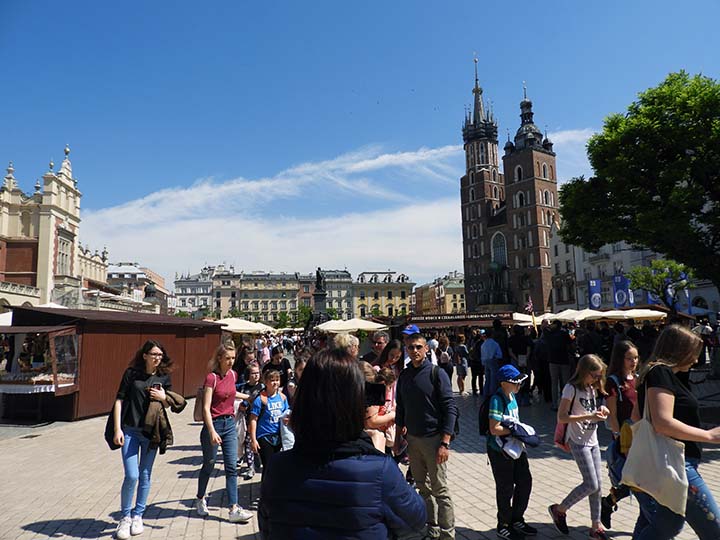 What a great day to be out here on the square.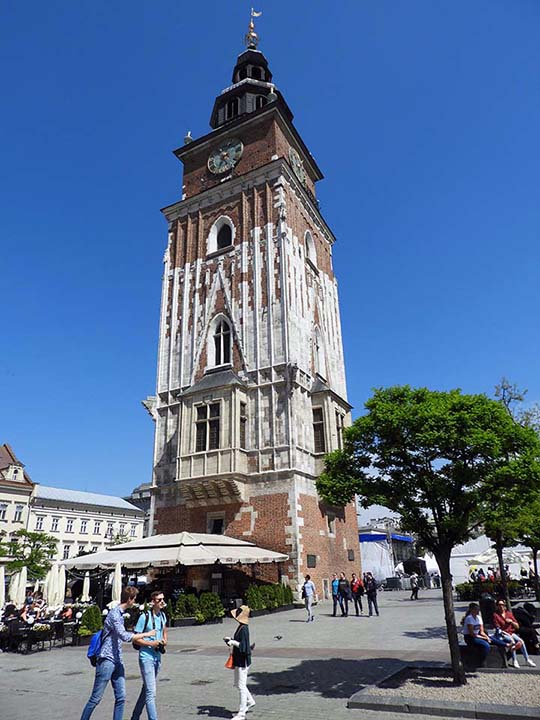 Town Hall Tower in Kraków, Poland is one of the main focal points of the Main Market Square in the Old Town district of Kraków. The Tower is the only remaining part of the old Kraków Town Hall (Ratusz, see painting, below) demolished in 1820 as part of the city plan to open up the Main Square. Its cellars once housed a city prison with a Medieval torture chamber. In 1967, after a complex conservation which underlined its gothic ancestry, object was given to the Historical Museum in Cracow for management of it.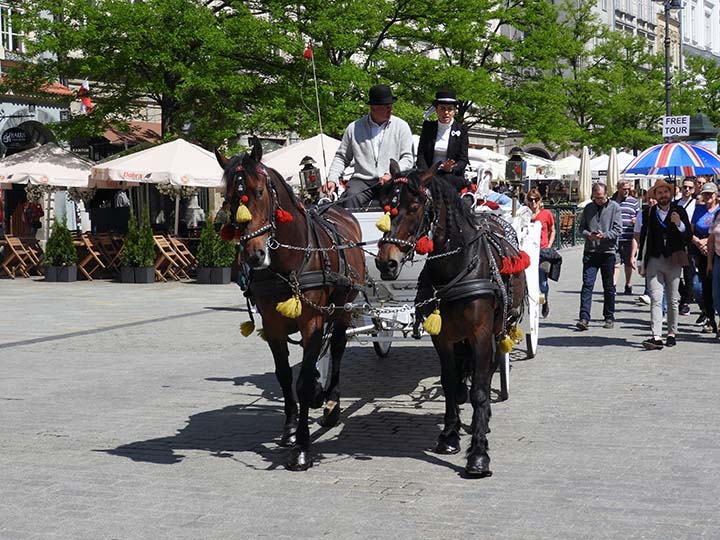 Put down the camera and get out of the way, Bill.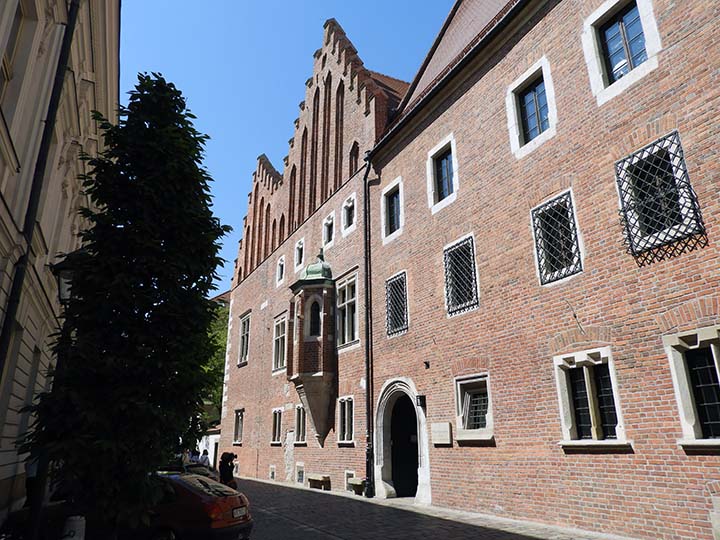 Some in our group were content to hang around the square, visiting shops and snacking. Others, including me, decided to take a side excursion to the local Jagiellonian University's Collegium Maius. It's the university's oldest building,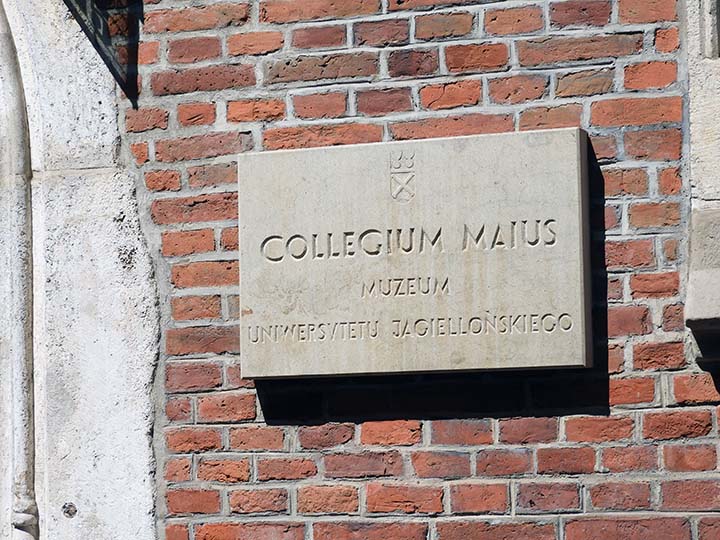 It's the location of the Collegium Maius Museum, which features lecture rooms, communal halls, professors' quarters, a library and a treasury containing rectors' Gothic maces and the Jagiellonian globe. Exhibits also include medieval scientific instruments, globes, paintings, collectibles, furniture, coins and medals. We've been told that since we haven't arranged a tour, we'll be able to see all this only from the courtyard.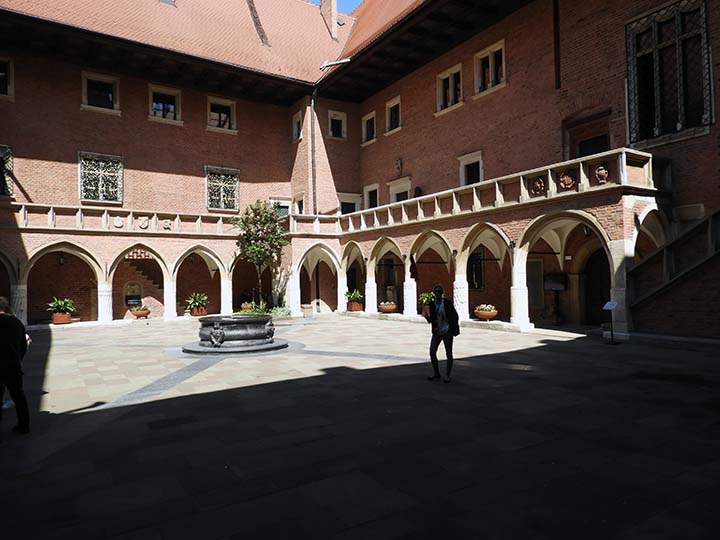 It's actually a very nice, very old courtyard.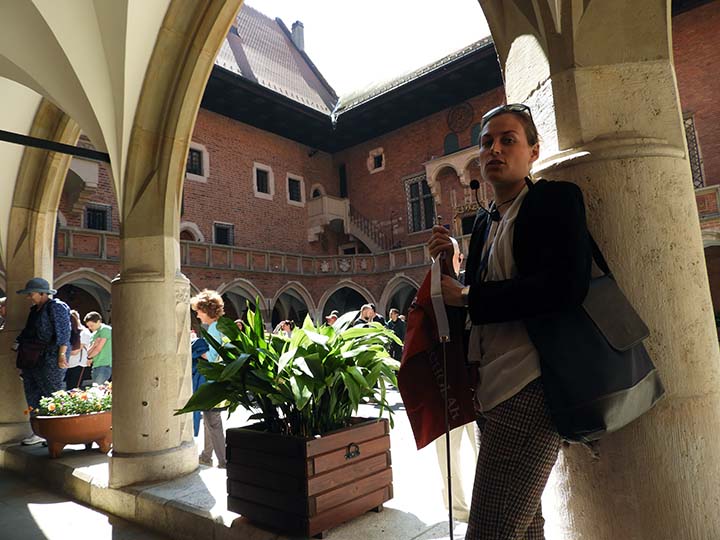 Lanina explains all about it.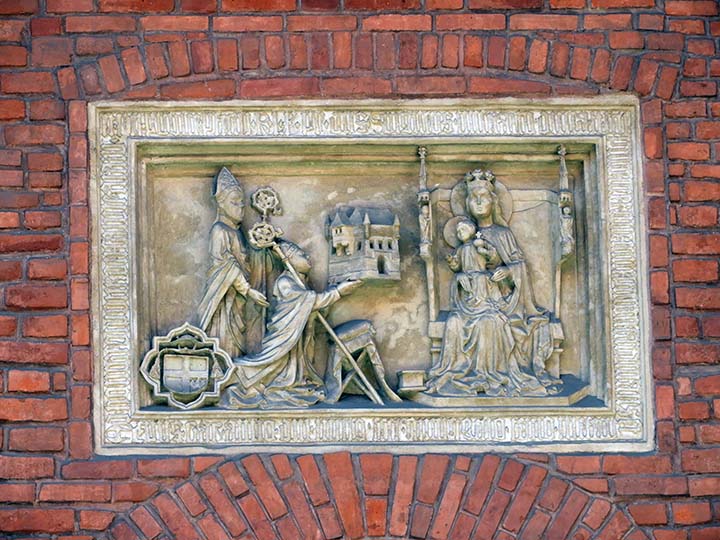 Sure wish we could go inside. I mean, this frieze is nice, but just imagine what else is inside.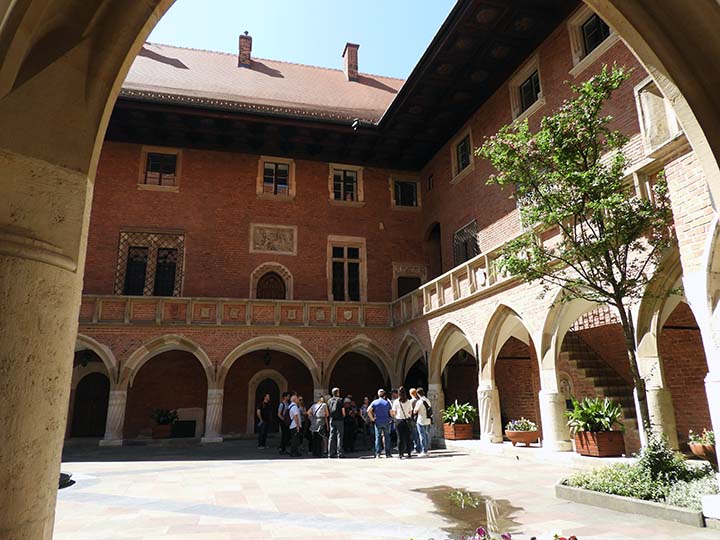 Wait, what's this? They're allowing everybody inside today? Free? Seriously?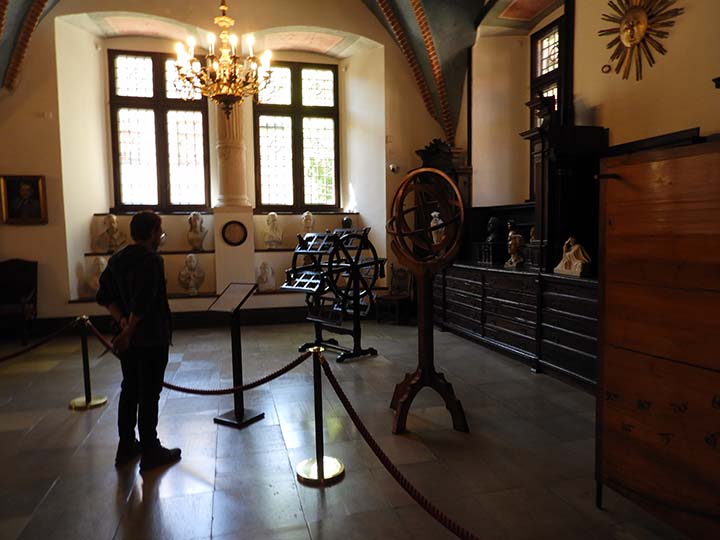 Oh boy!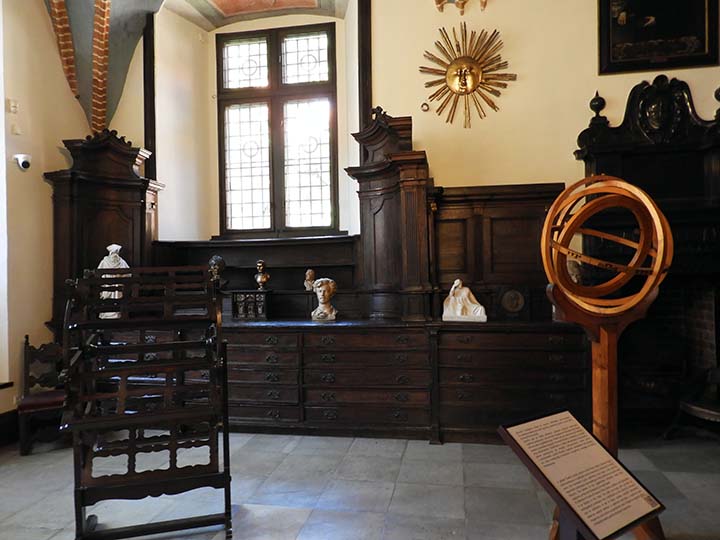 Copernicus walked these halls.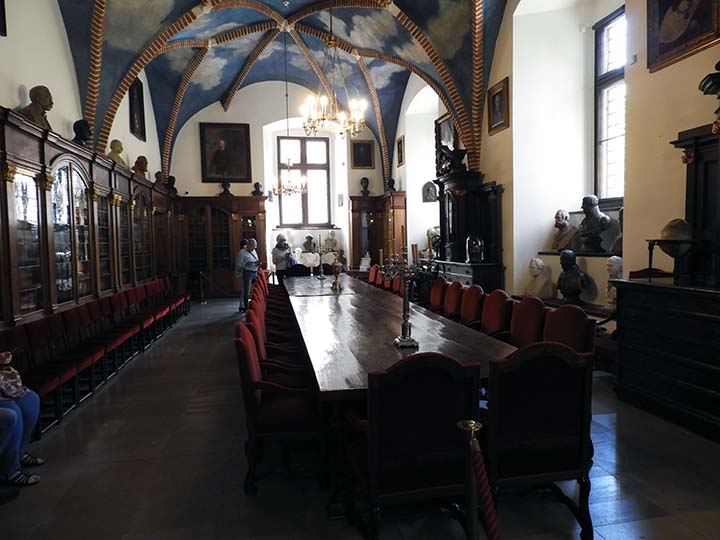 And probably sat at that table.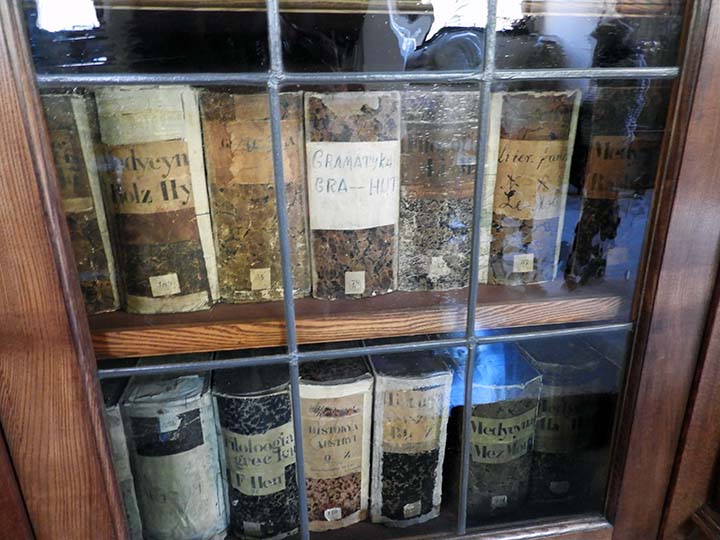 And held those books.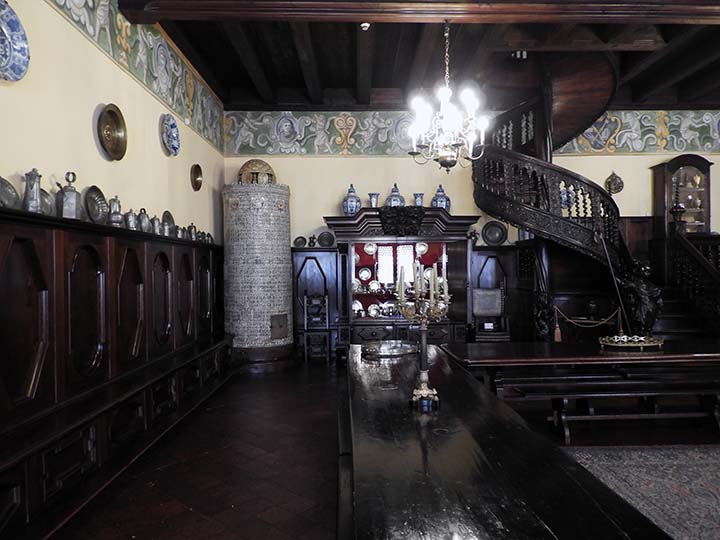 I bet he even climbed that spiral staircase.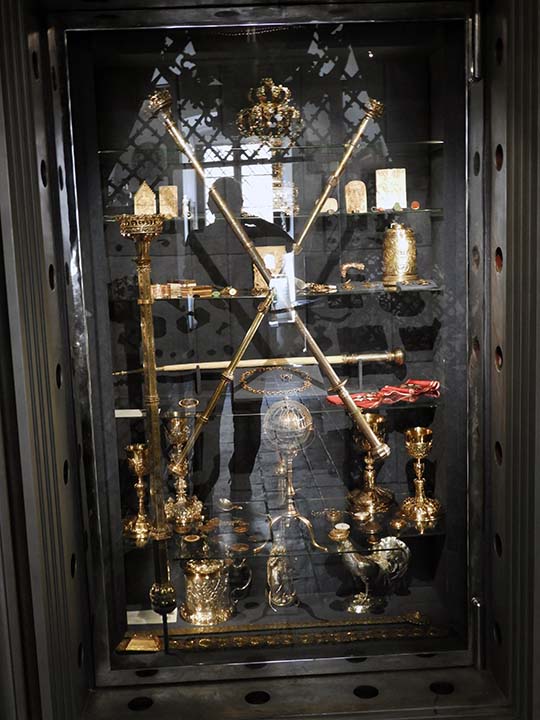 When I took this picture of a glass-walled safe I didn't realize the significance of that little globe on legs there in the middle.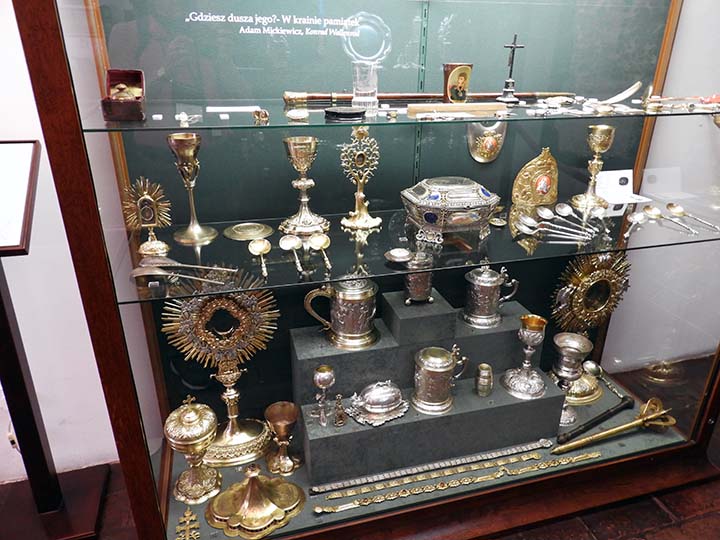 I just snapped away at all the neat treasures I could find.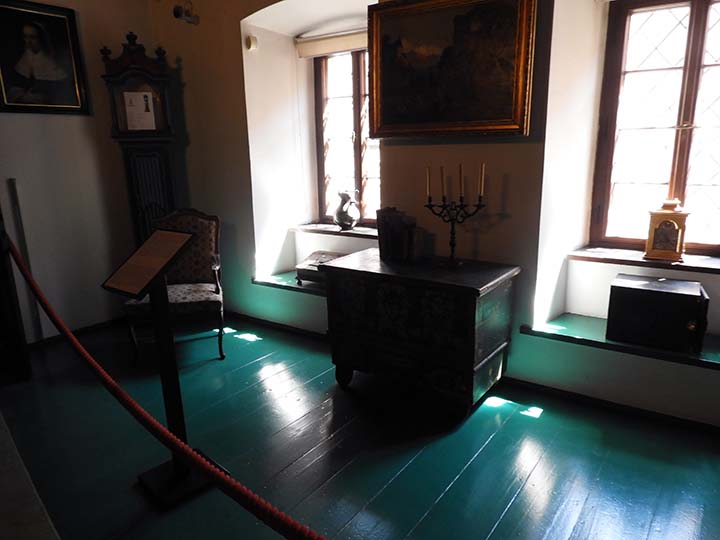 And wondered if Copernicus sat over there.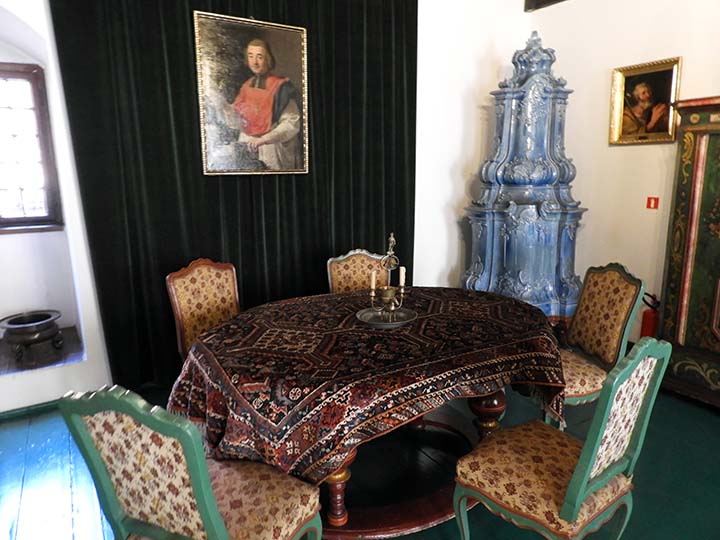 And ate over here.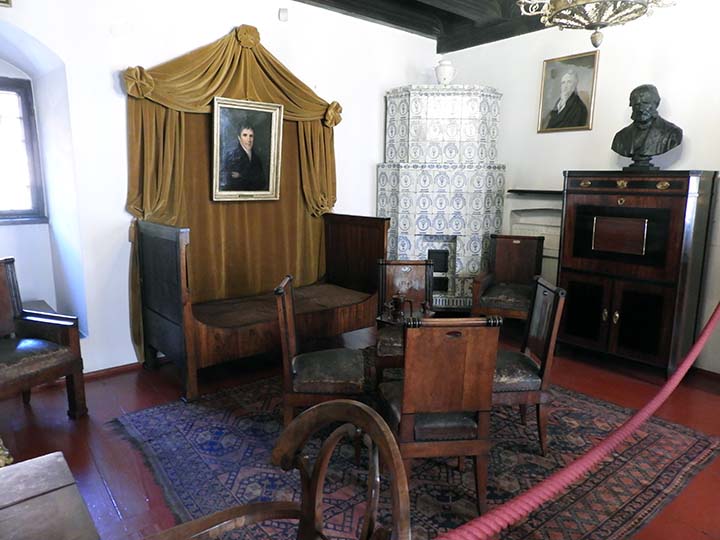 And slept over there.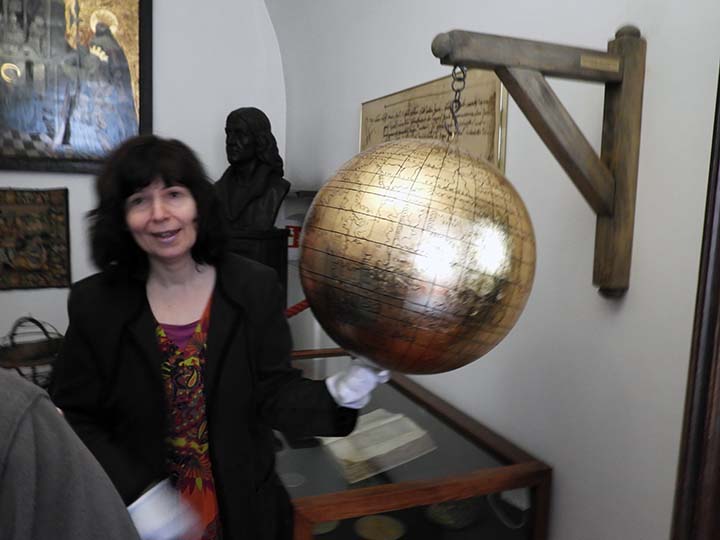 I had no idea what that globe represented until this very nice lady showed us an oversized replica of it. Turns out it's the first globe ever to mention the New World.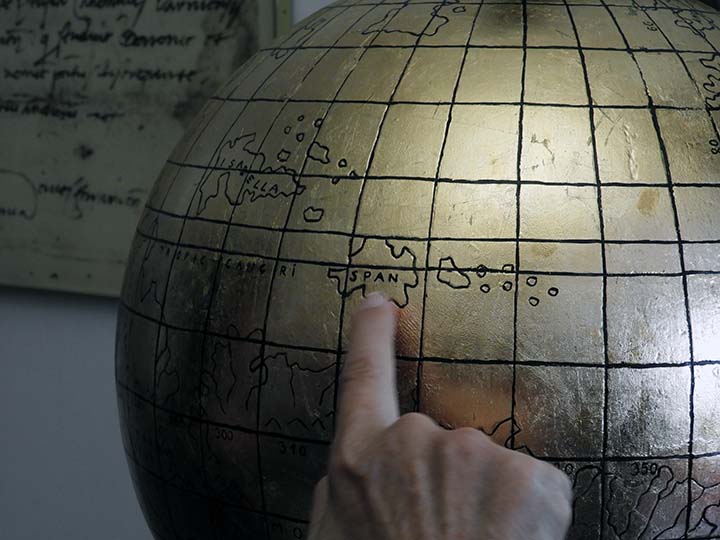 It's not exactly an accurate globe. The New World appears south of Madagascar, very near the south pole. But, hey, it's a start
I think I could do better freehand.
I guess it really was a different world back then.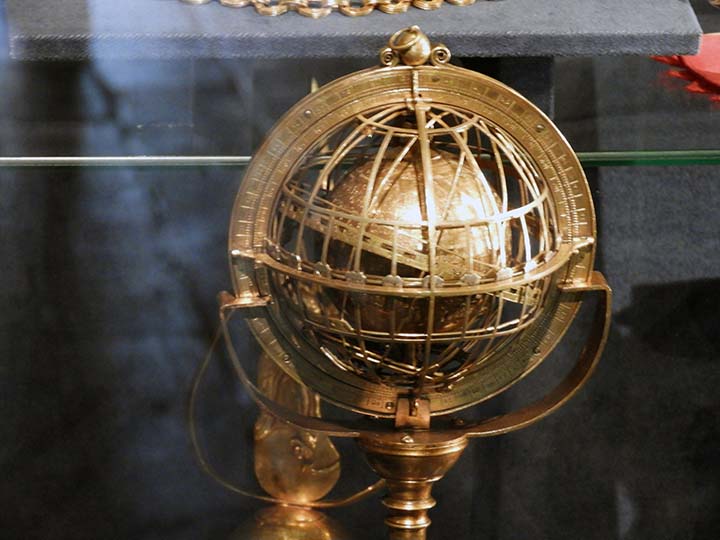 That's the real thing up close.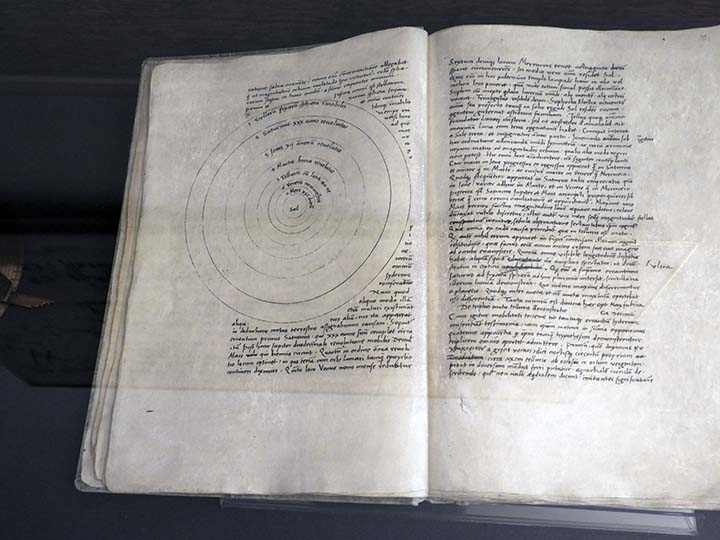 Seems Copernicus had this crazy idea that the earth and planets orbited the sun.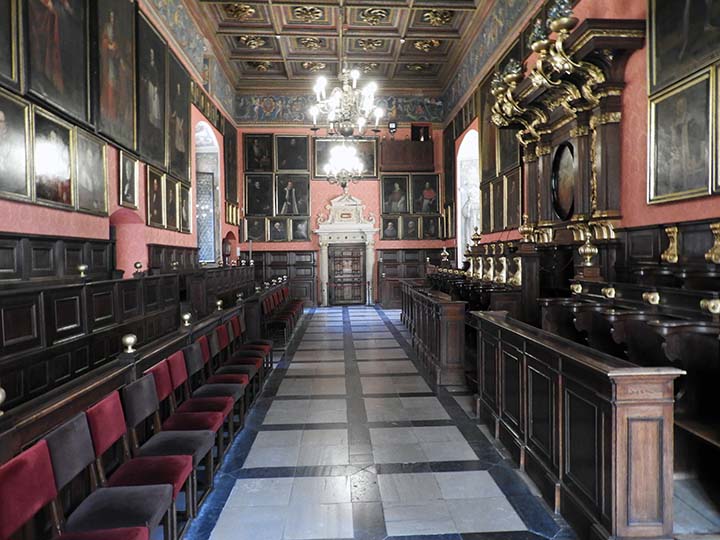 And he figured it all out right here.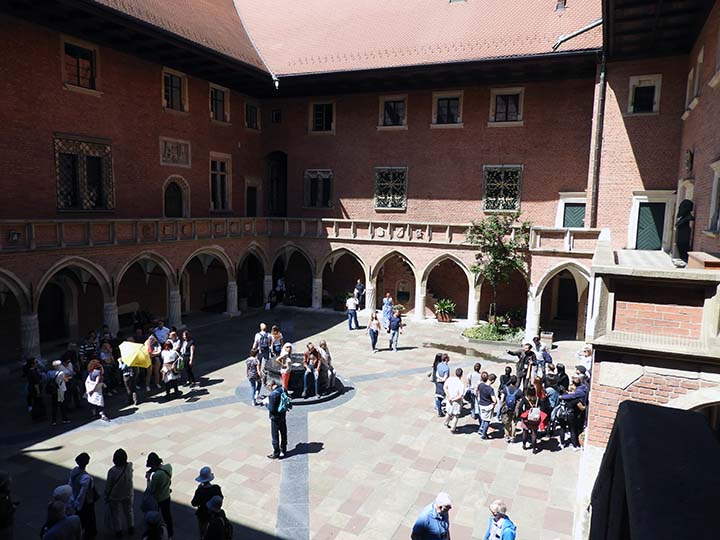 Sitting by the fountain in that old courtyard. Maybe.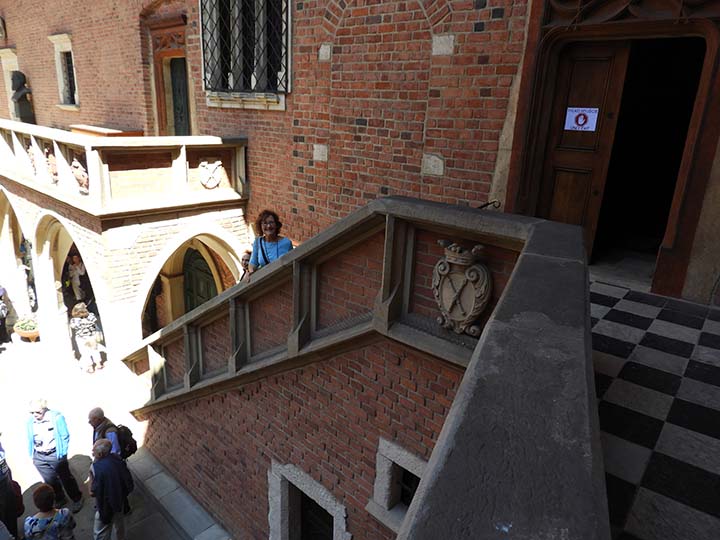 Could have been while he was walking up those stairs.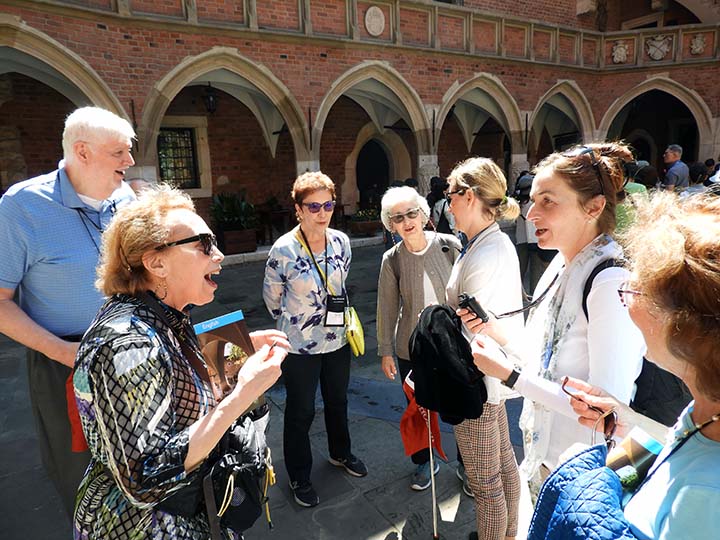 The Road Scholars who took this side excursion had a genuine treat.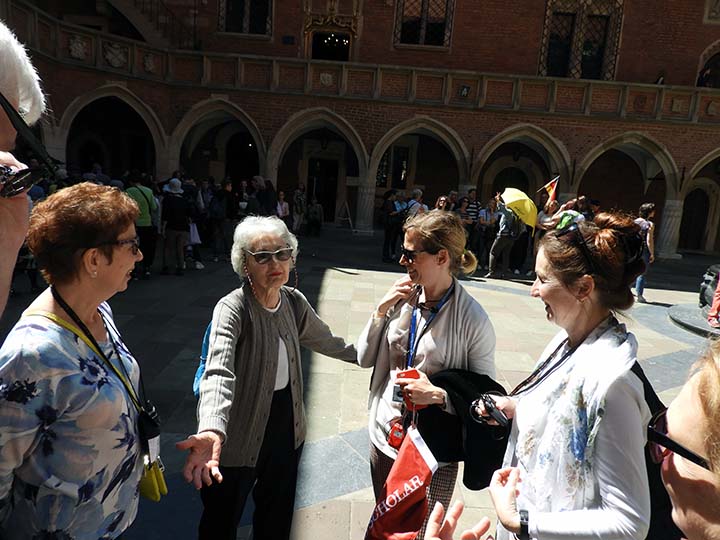 Pleased with the way the day has gone.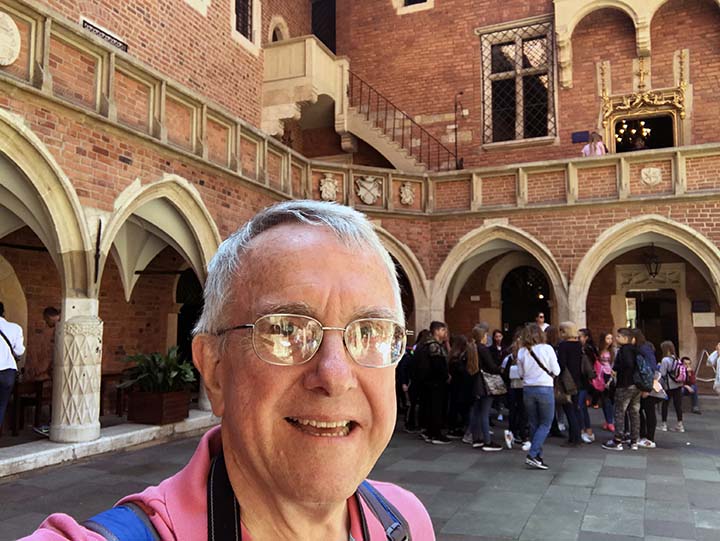 This guy, especially.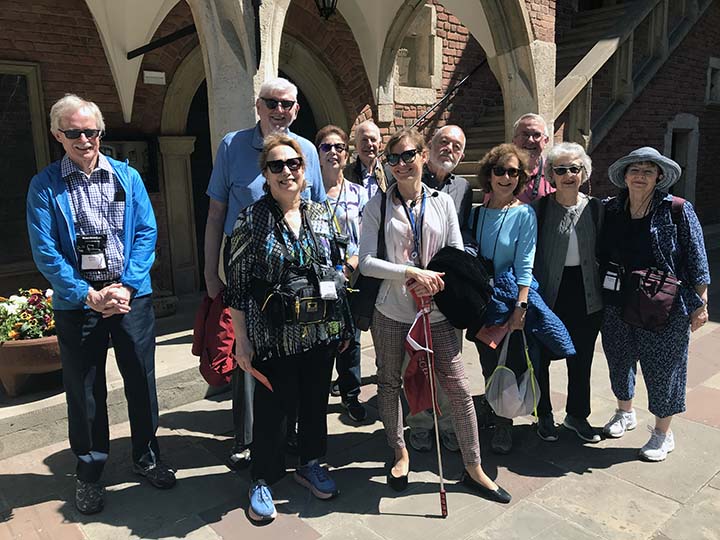 But really, all of us.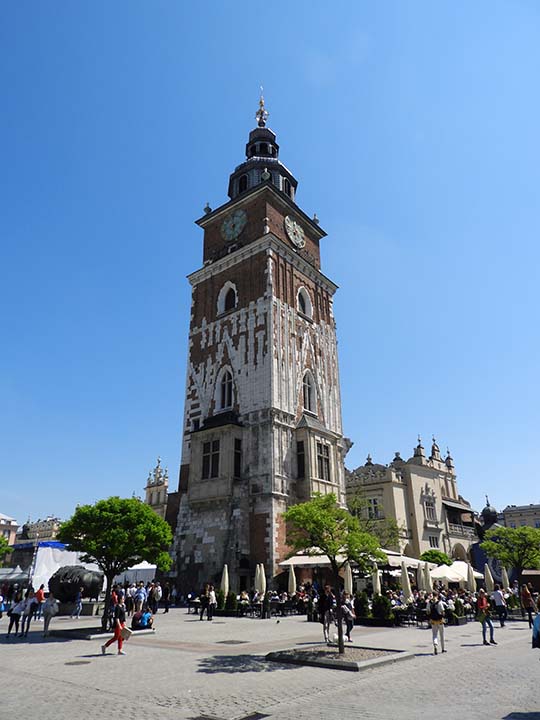 Now let's go back to the square and find everybody.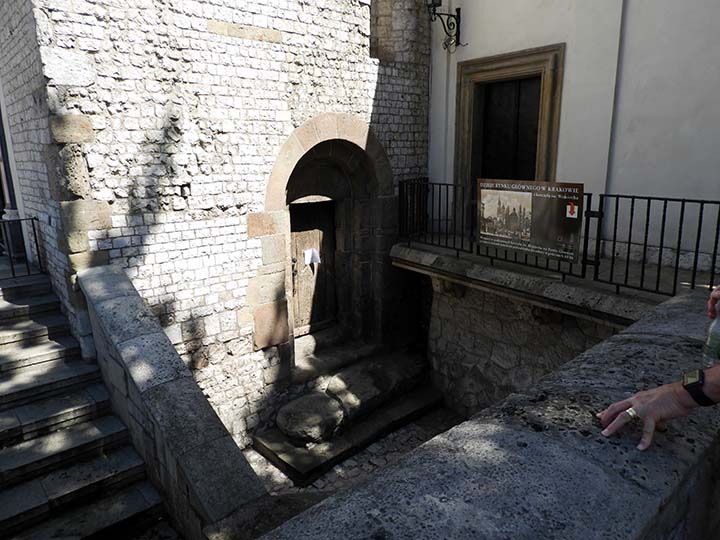 Waiting by the tower.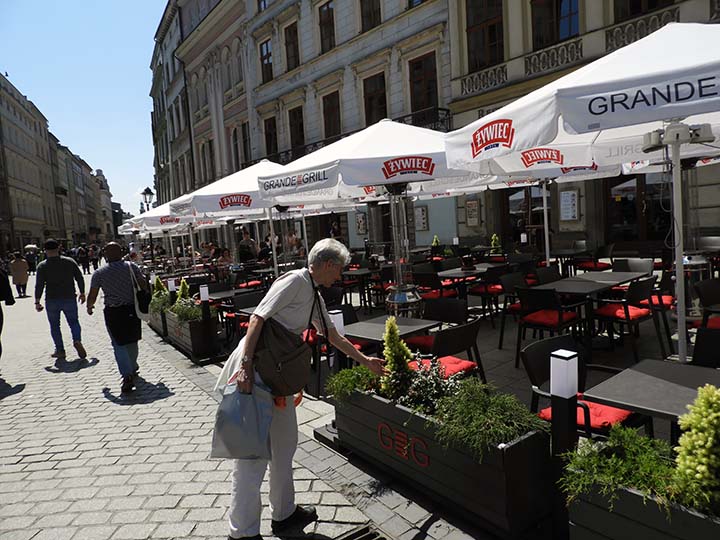 Enjoying the sun.
Strolling on the square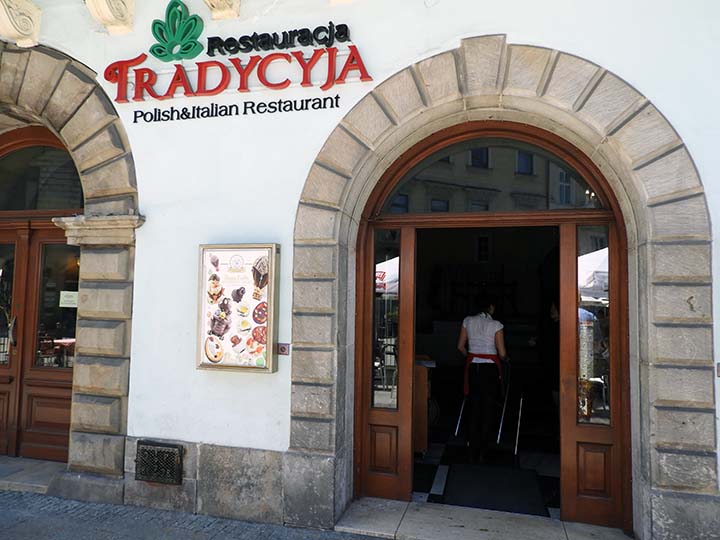 Time for lunch.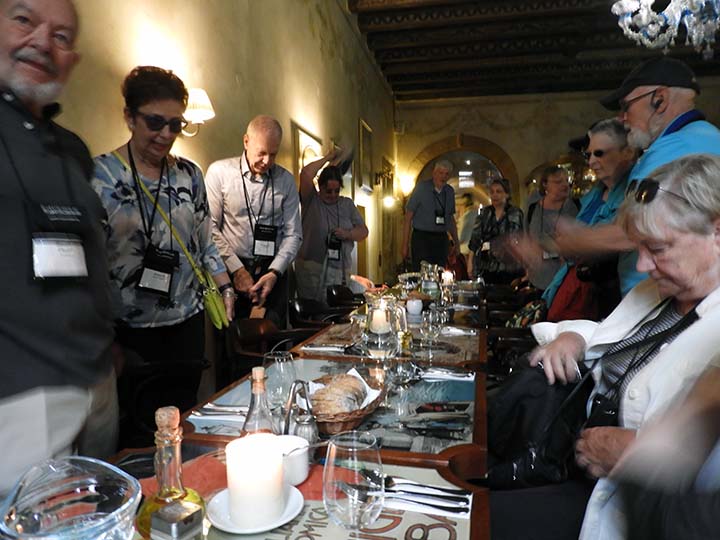 Road Scholars like to eat well.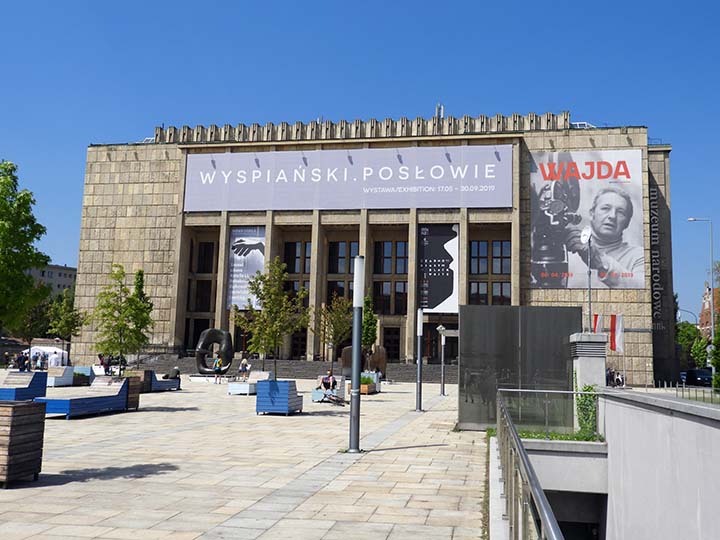 And they like culture. Let's visit the Krakow National Museum.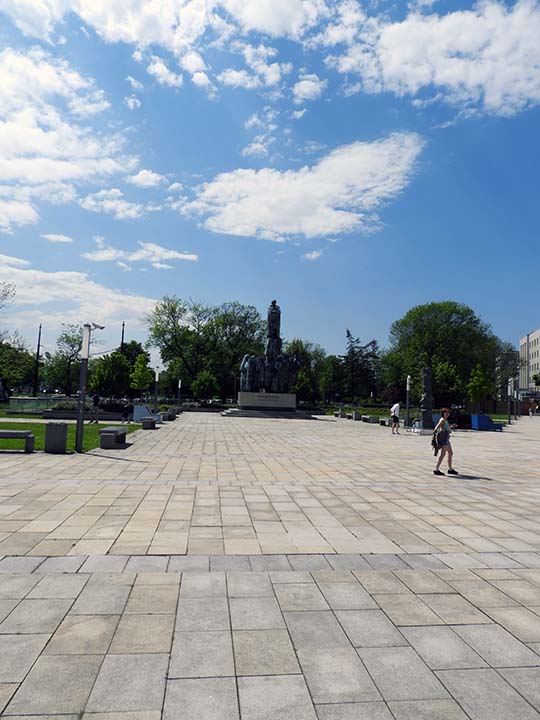 Notice how there's nobody outside on the museum's plaza as we're going in. We'll come back to this in just a little while.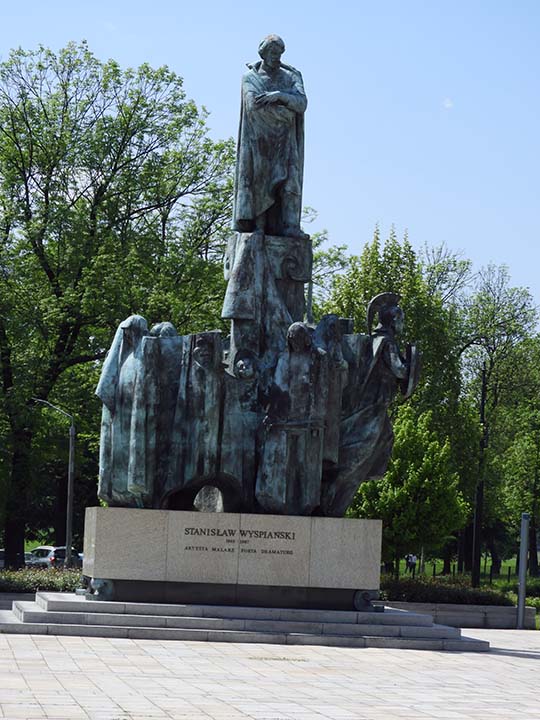 Stanisław Mateusz Ignacy Wyspiański (15 January 1869 – 28 November 1907) was a Polish playwright, painter and poet, as well as interior and furniture designer. A patriotic writer, he created a series of symbolic, national dramas within the artistic philosophy of the Young Poland Movement. Wyspiański was one of the most outstanding and multifaceted artists of his time in Poland under the foreign partitions. He successfully joined the trends of modernism with themes of the Polish folk tradition and Romantic history. Unofficially, he came to be known as the Fourth Polish Bard (in addition to the earlier Three Bards: Adam Mickiewicz, Juliusz Słowacki, and Zygmunt Krasiński).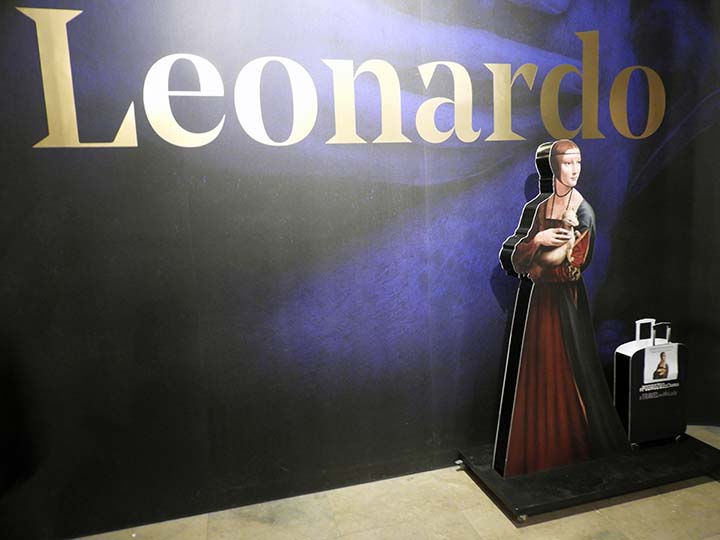 We're in luck! There's a Leonardo da Vinci painting on display!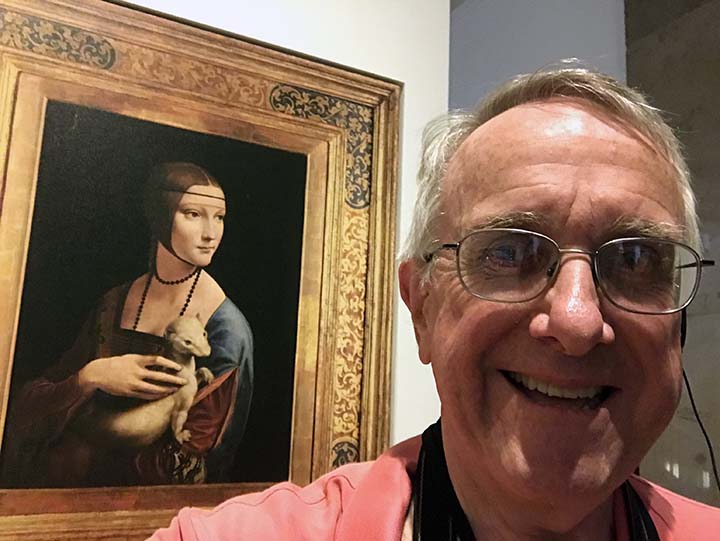 It's a Lady with an Ermine and Bill.
Lady with an Ermine is a painting by Leonardo da Vinci from around 1489–1490 and one of Poland's national treasures. The portrait's subject is Cecilia Gallerani, painted at a time when she was the mistress of Ludovico Sforza, Duke of Milan, and Leonardo was in the Duke's service. You couldn't take pictures of the real thing, so the museum had set up this copy outside the exhibition where people could take selfies. Bill never passes up a chance to take a selfie. As for the actual painting, it was very nice. That guy Leonardo wasn't half bad.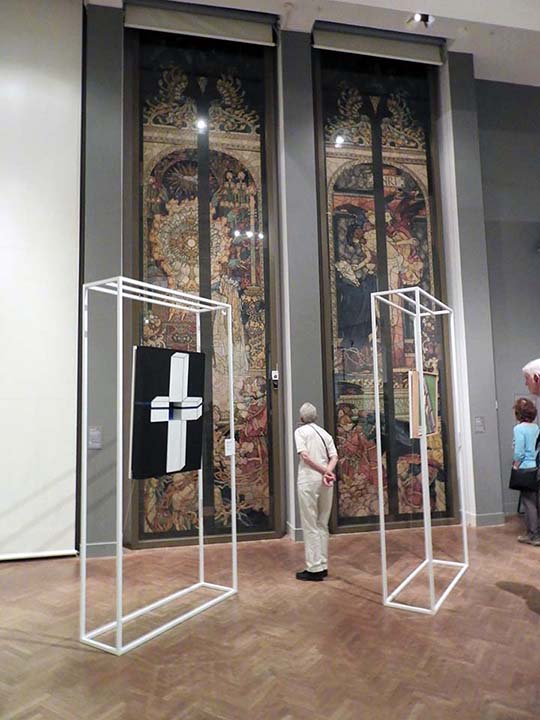 There are other things to look at here.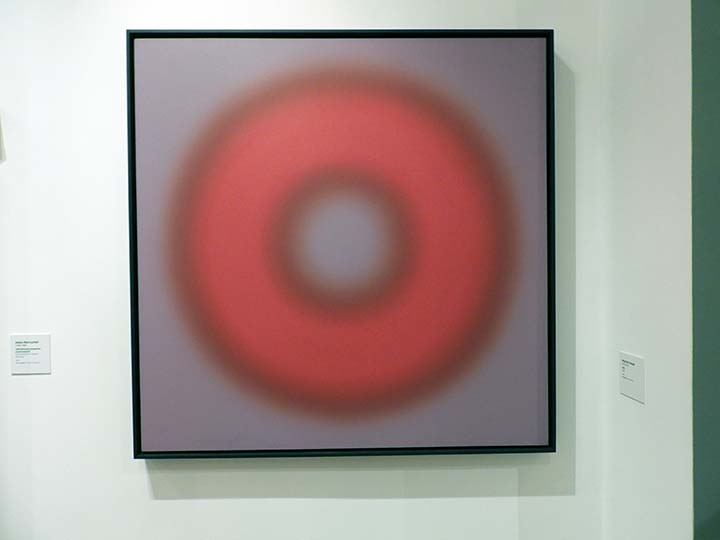 This is one of the most valuable examples of Polish modern art. Recently it sold for over $1 million. Some people laugh at it and say it reminds them of that new picture of a black hole. Enough of this, let's go back outside.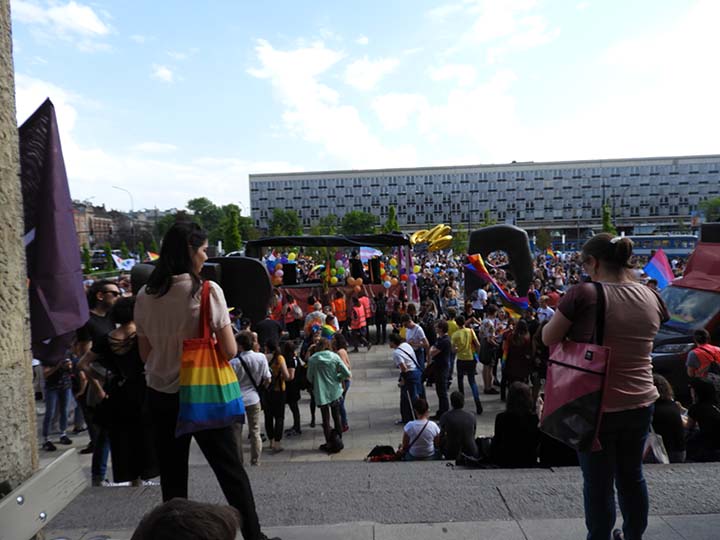 Look what's happened on the deserted plaza since we went inside!
It's a genuine Gay Pride March!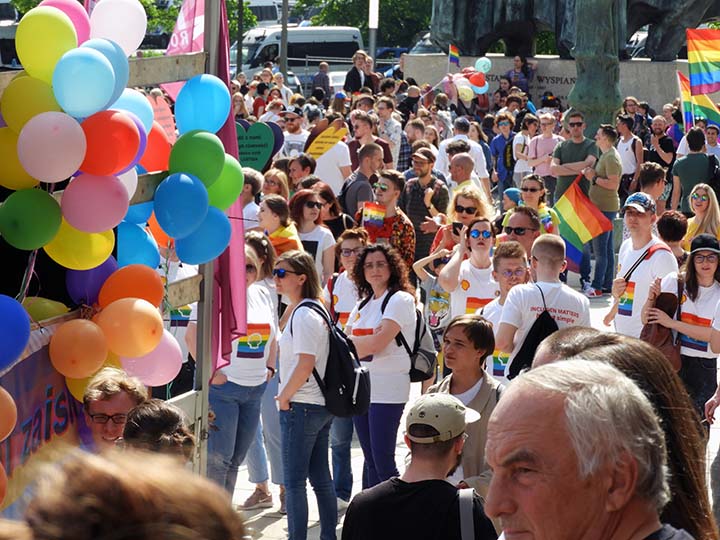 It's certainly colorful.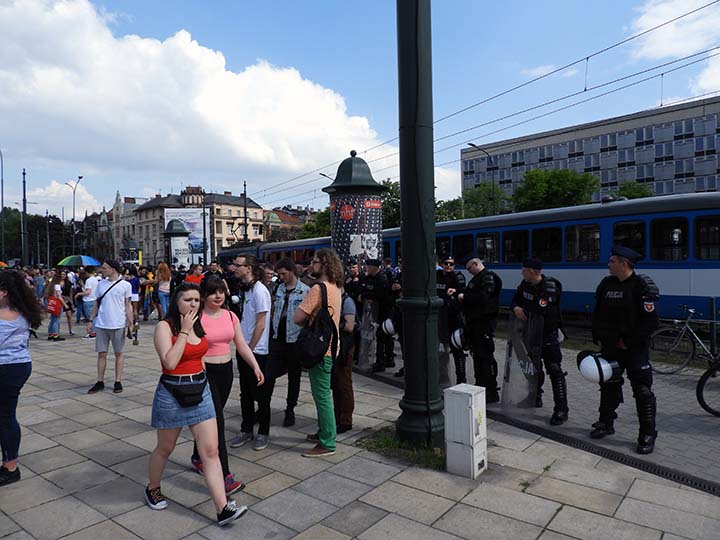 And it's attracted the attention of law enforcement.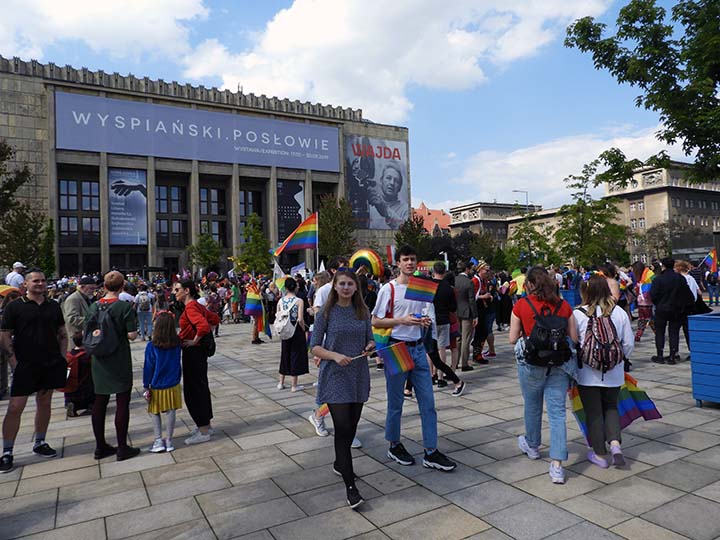 But nobody's actually, you know, breaking the law.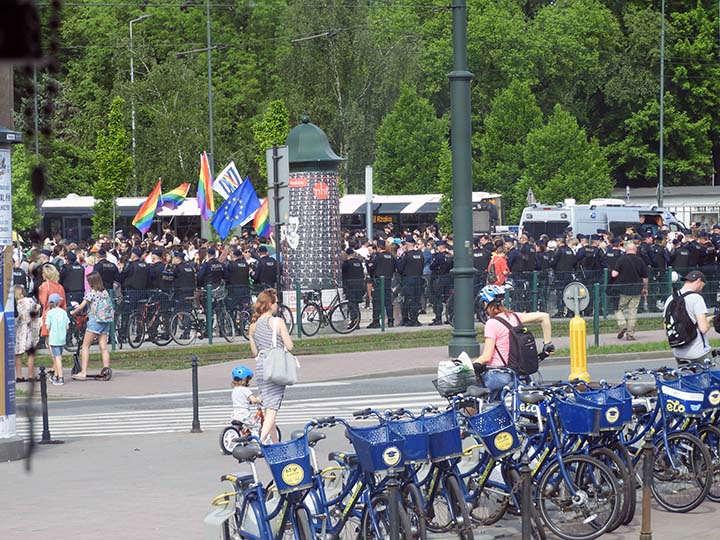 Just a few hundred marchers and a few hundred cops enjoying a pretty day.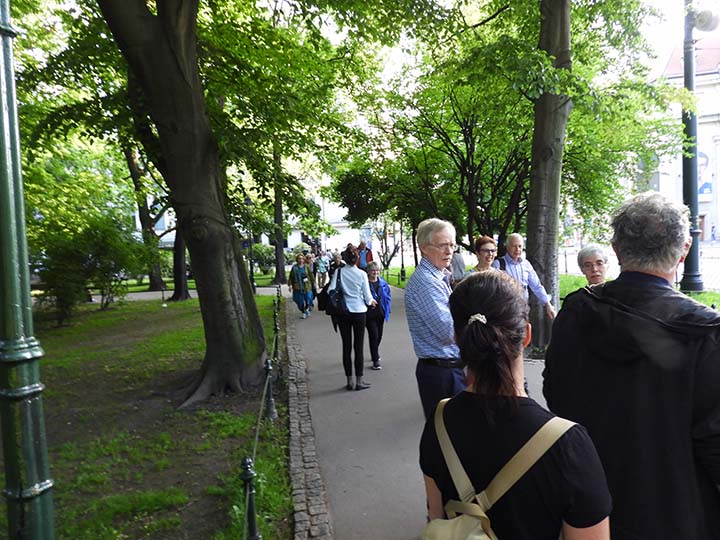 Let's go for a walk.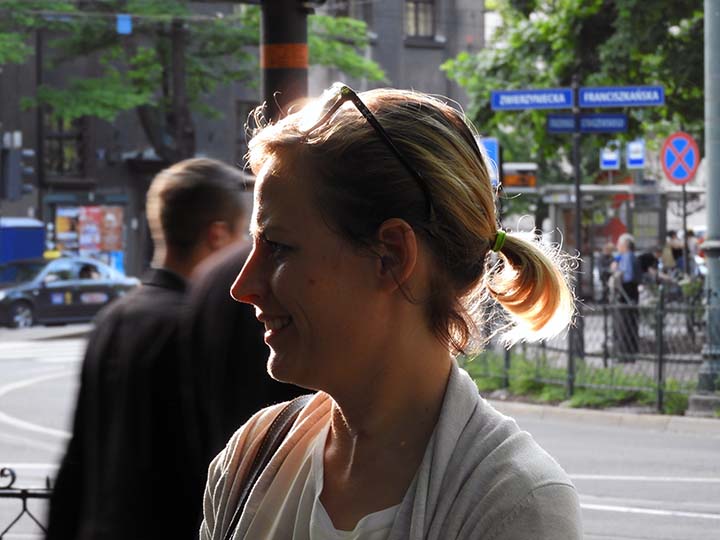 Lanina, you look marvelous.
We're going back to the square to attend a concert to be performed exclusively for us Road Scholars.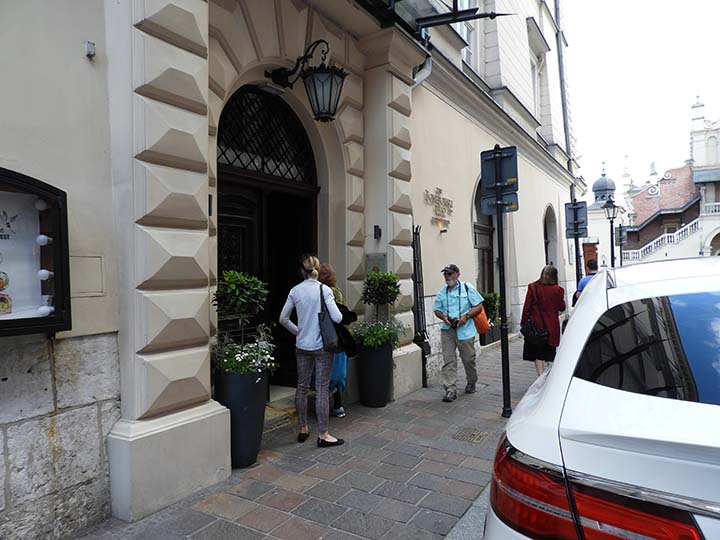 Looks like a nice place. The Bonerowski Palace.
Yep, indeed it is. We've arrived at a five-star hotel just off the main Square and we are about to be treated to a performance of music by Chopin. You do know he was Polish, don't you?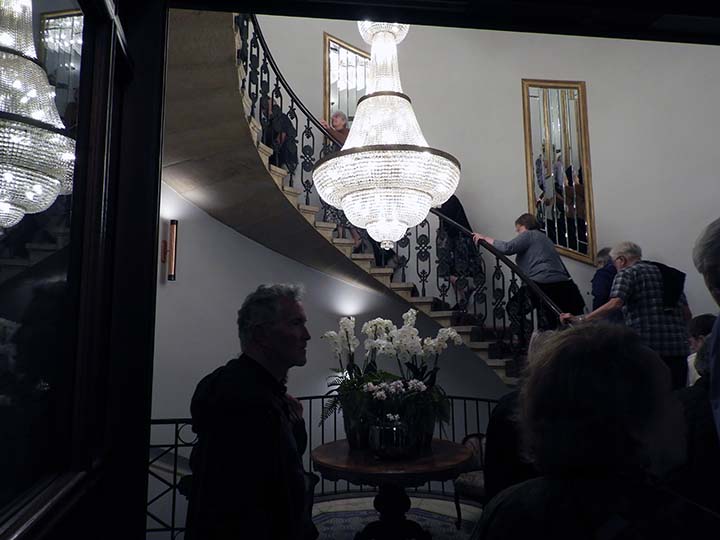 Walk this way...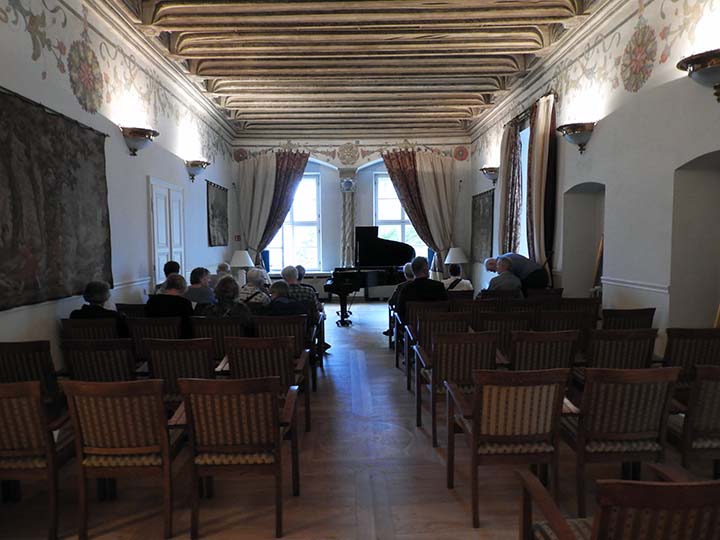 And have a seat.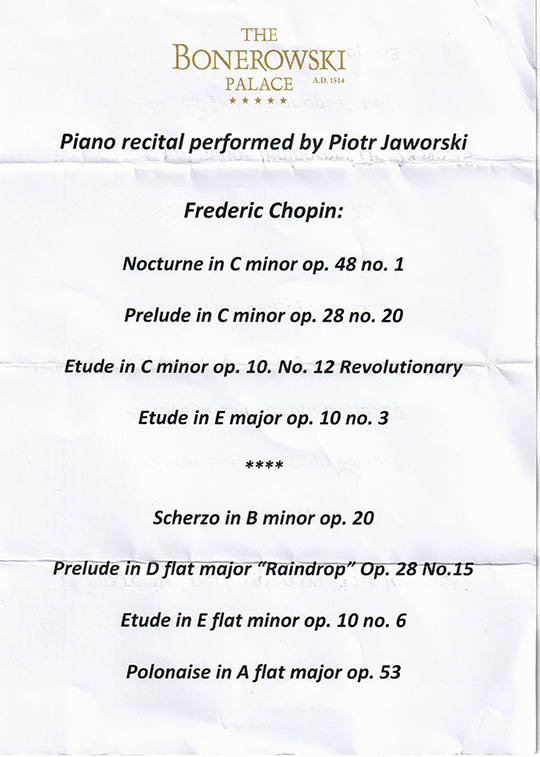 This will be the program.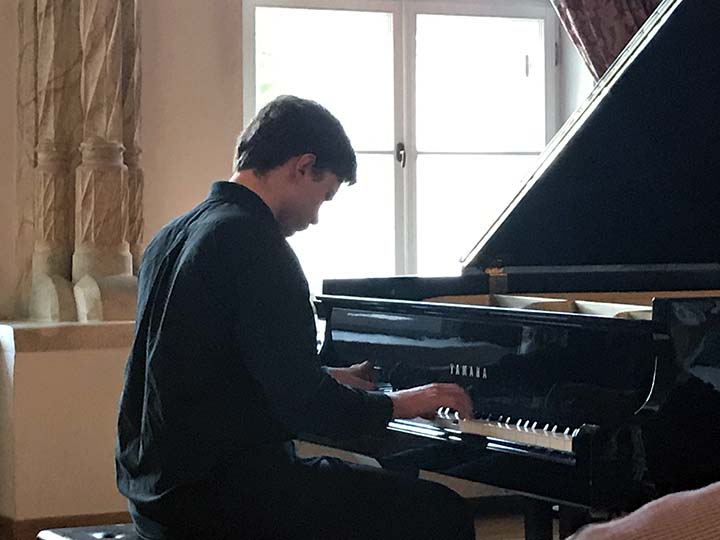 This guy was good.
See what I mean?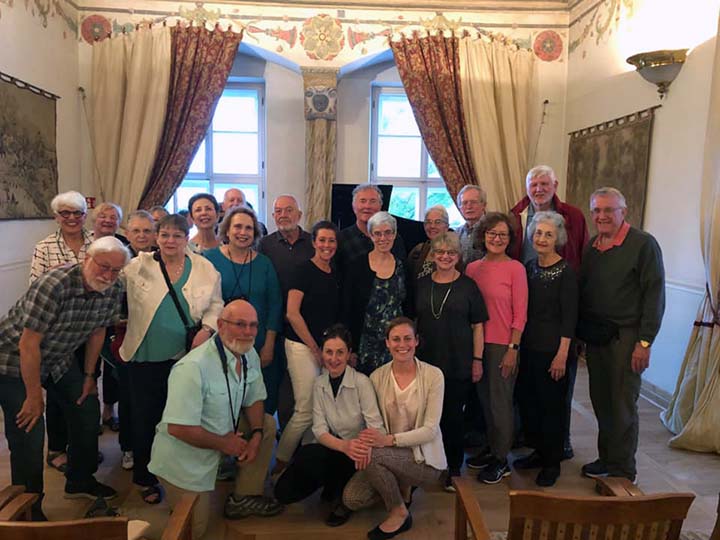 Group photo!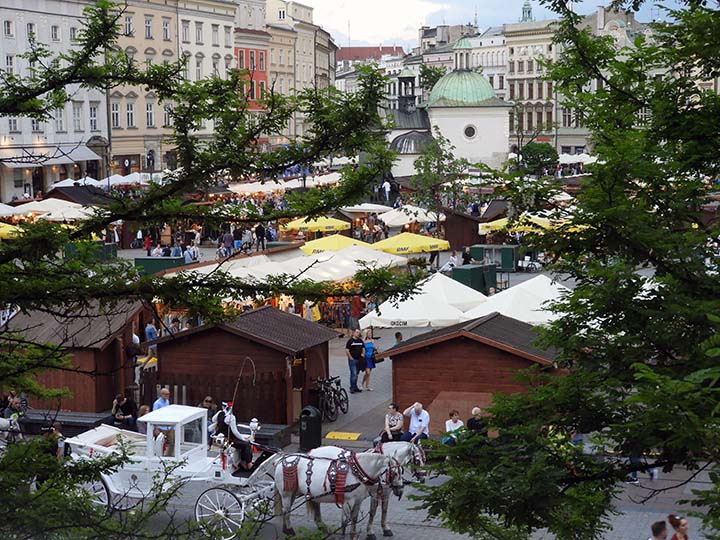 Here's what the square looked like from one of the windows in the concert room.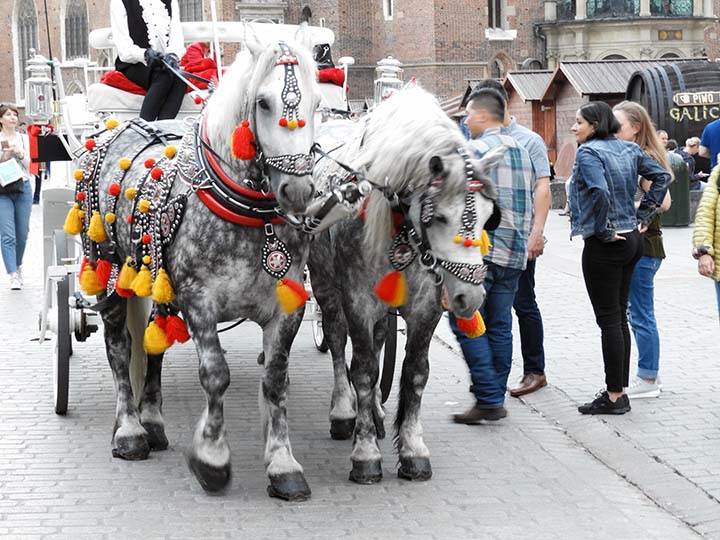 Back outside with some fancy horses.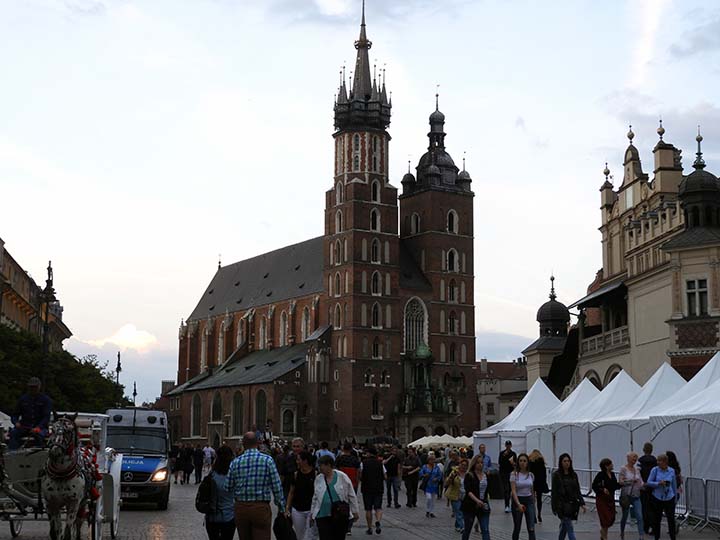 Sun's going down on the square.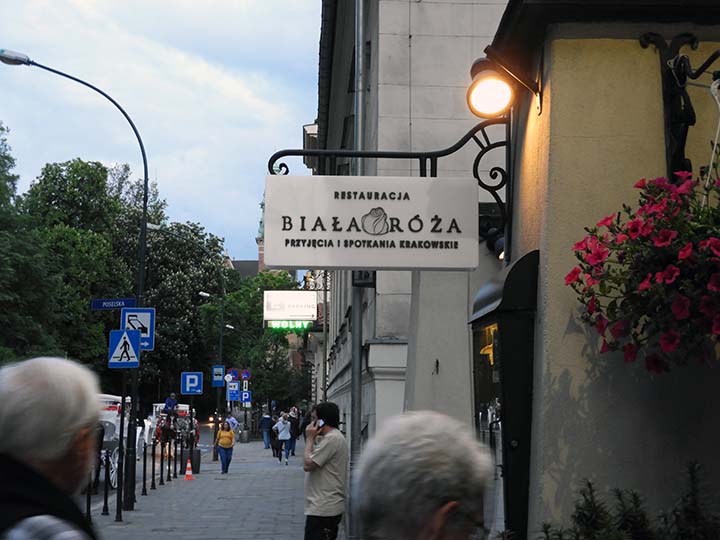 Let's have dinner and call it a day.