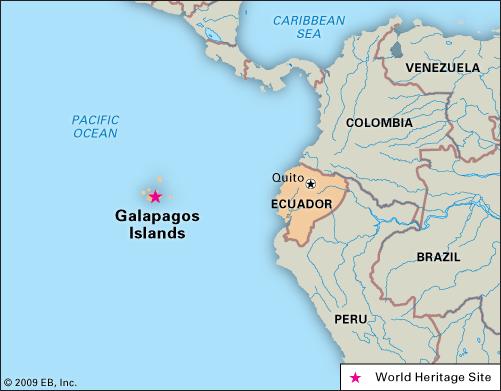 Every 10 years I like to do something special on my "scary" birthdays. Don't deny it -- the first time it happened to you the reaction was, "How can I possibly be 30 years old?" And then it's 40, then 50, then 60, then, YIKES! No, this can't be possible! For 70 I wanted to run away; take my mind off the horror, etc. etc.
The plan has worked out pretty well for me over the years. For 30 I was in Key West; for 40 I was in London; for 50 I rented an apartment in DC for a week and invited friends to visit (not realizing I'd be living two blocks from that apartment in a couple of years); for 60 a bunch of us stayed at the Waldorf Astoria in NYC and took in a Broadway show, The Barber of Seville at the Met, and lots of good food; and for (shudder) 70 I figured I'd really better leave the country. But how far away could I get? Where, exactly, are the ends of the earth, because that's where I wanted to go? Well, after a little perusing of a Road Scholar catalog, the Galapagos Islands sounded about right and I sent off my deposit. Little did I know how much more than some distant Pacific islands I was letting myself in for.
I couldn't find anybody who wanted to go with me on this escape from reality (How much did you say it costs? Does it have to be May? Galapagos, really?) so I figured since I'd be joining a small group traveling to a really strange place, whoever I'd be hanging out with would probably be people who share my interests. Turns out I was right, and here they are.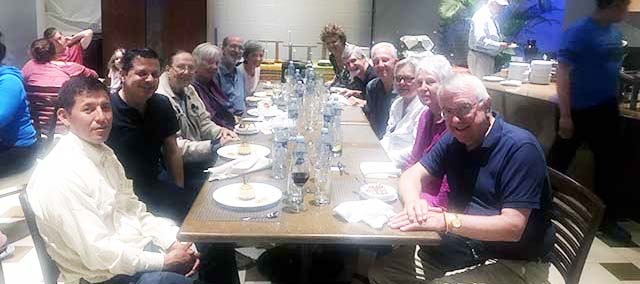 Clockwise from left we've got Marco, our safe, reliable, courteous bus driver who didn't speak a lick of English but loved to talk with us anyway; Eduardo, the finest, most knowledgeable, unendingly patient, funniest, and most patriotic guide ever anywhere bar none and that's a fact, give the man a raise; Connie, the indomitable ex-biology teacher birder from Oklahoma; Marilyn, her good friend from Georgia whose knowledge of birds is without parallel; Ken the hiking biking exploring, always-curious tour guide from Oregon; Nancy, Ken's ever so patient wife and terrific human being; CJ, the fun-loving educator and talented nature photographer from Missouri; Larry, CJ's charming and delightful ex-school superintendent husband; David, the fun, competent expert in so many areas from Detroit; Pauline, David's wife, the ex-German teacher whose sparkling wit made every day a delight; Lowell, the calm, capable, intellectual from California who survived Hurricane Camille and is Marilyn's sister, but you wouldn't notice the resemblance unless you see her in a poncho; and ... me, the newly minted 70-something. What a group! I've been missing them all ever since we said goodbye.
So, you hate that you missed it and now you wish you'd gone on the trip with us? No problem. Just click on the links up above -- I've kept it simple; they're in chronological order -- and come along on a journey from the Galapagos Islands to the Amazon jungle to the Andes mountains to the tropical coast of about the most geologically diverse nation imaginable, the one you learned about in elementary school and have ignored ever since: Ecuador.