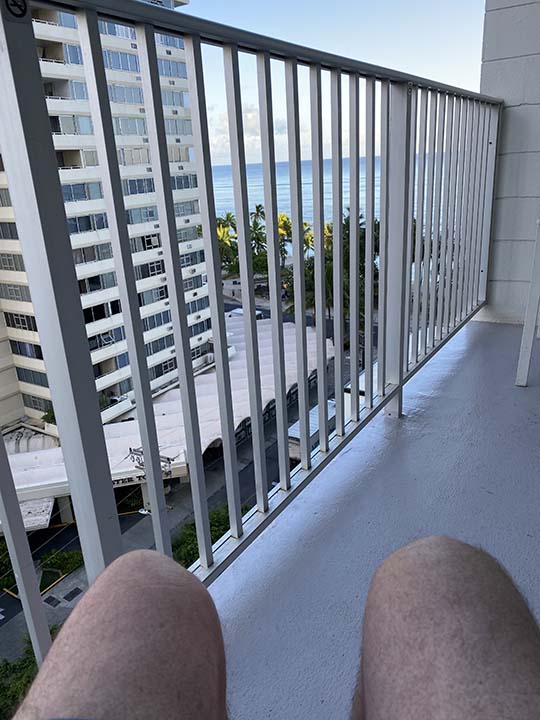 AM knee report: still improving. Still not good.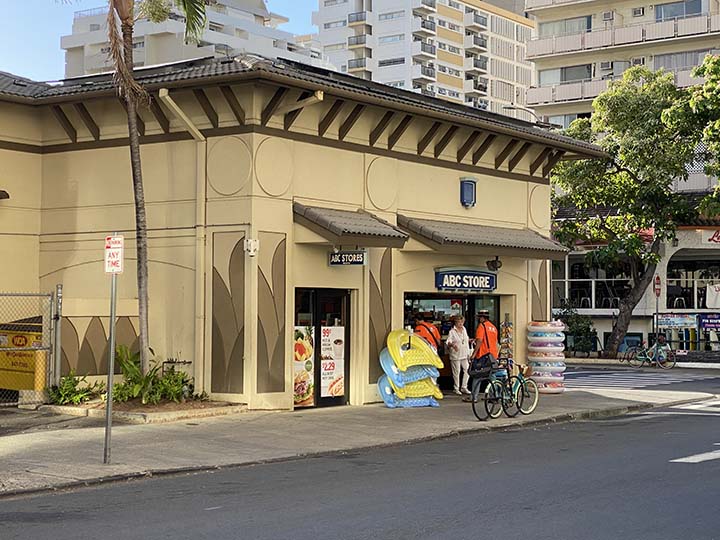 We are going on a bus tour today. It will take us to the North Shore of Oahu and we will see plenty of sights along the way. First up, buy provisions at ABC store.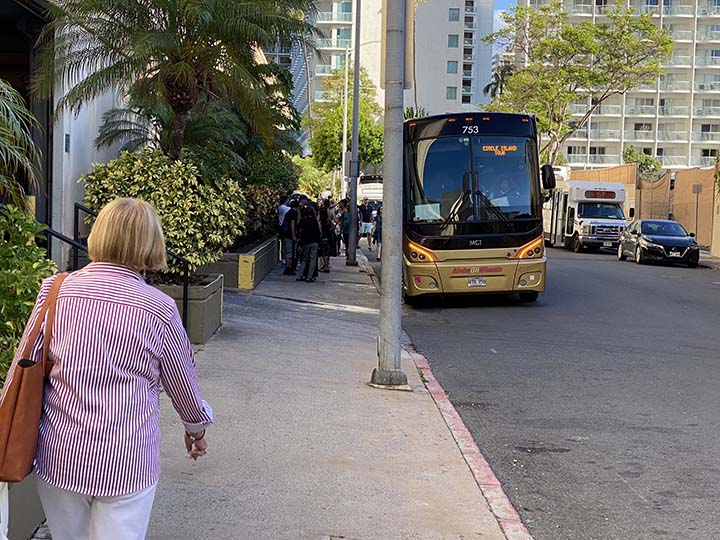 There is our bus. It's right behind the Hyatt. And it's right on time.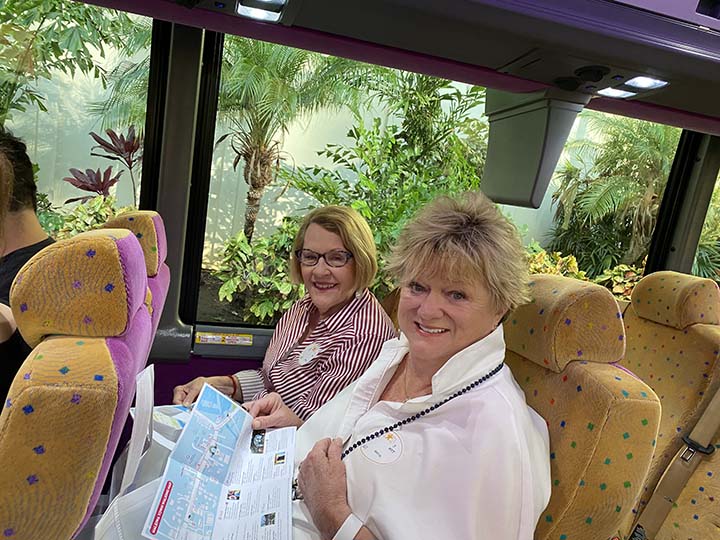 This is going to be fun.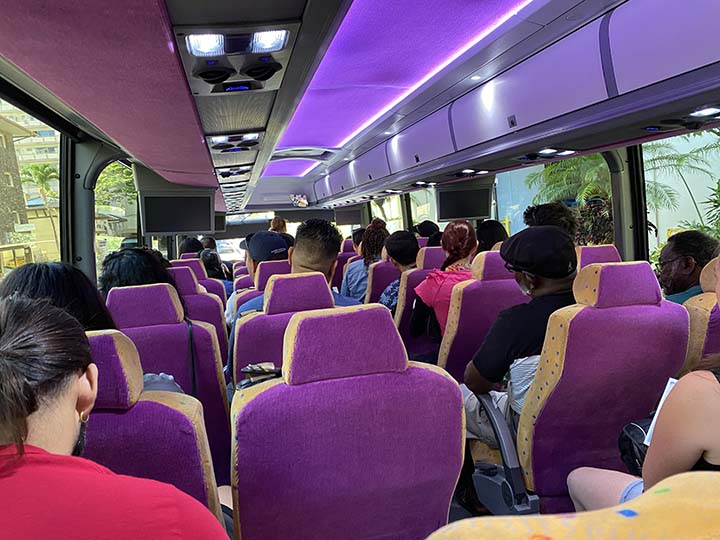 Our bus is purple.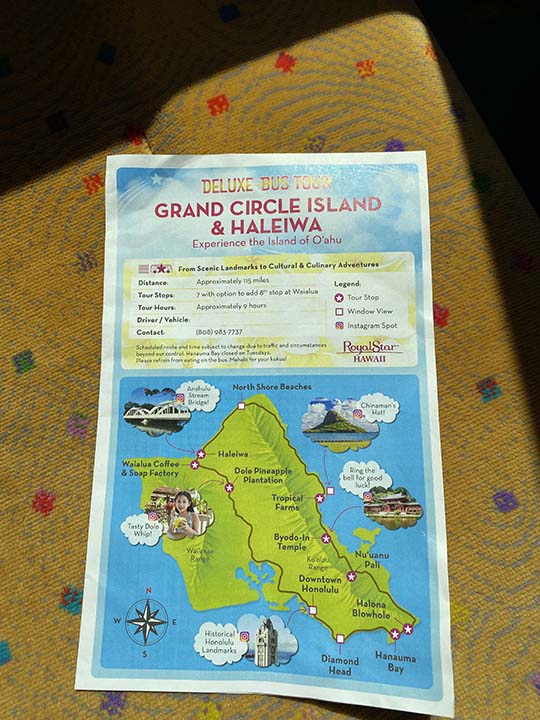 Here's the route we'll take.
Sherry is taking in all the sights.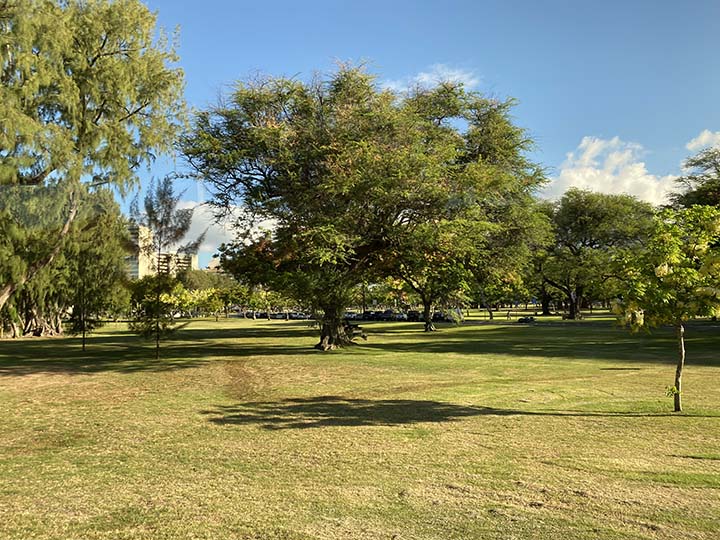 First off we drove through a ritzy part of Honolulu where famous people live.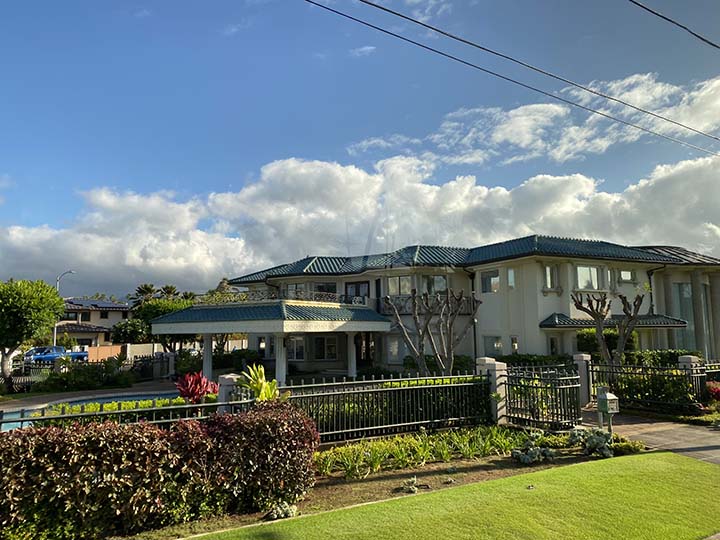 Well famous like Dwayne The Rock Johnson and Adam Sandler.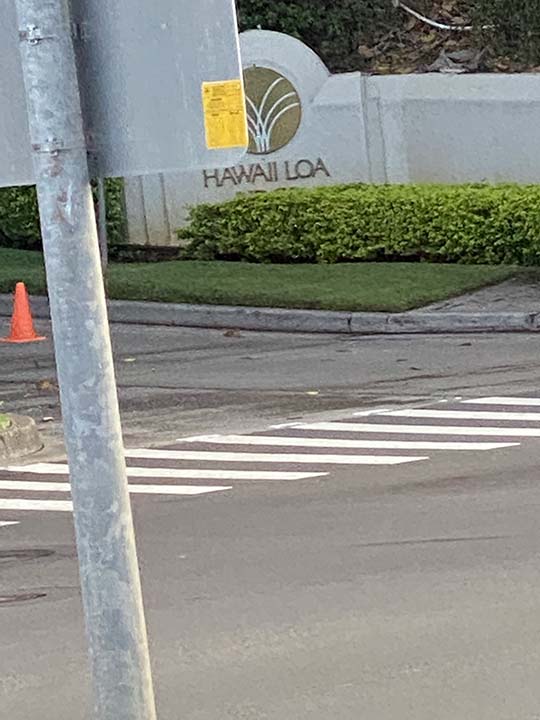 Lola, our driver/guide, pointed out this gated community and in a hushed voice told us it was the scene of a great scandal so shocking she couldn't tell us about it publicly. But if we really wanted to know what the rich people up there had done, she'd tell us in private. I didn't ask her about it, I just snapped this shot so I could remember the name of the place and then I Googled it. Some poor guy invited the wrong people to his mansion and he got murdered. His body was found in the bathtub encased in cement, which makes no sense to me, but that's what happened. The murderers were caught in California. And now you know.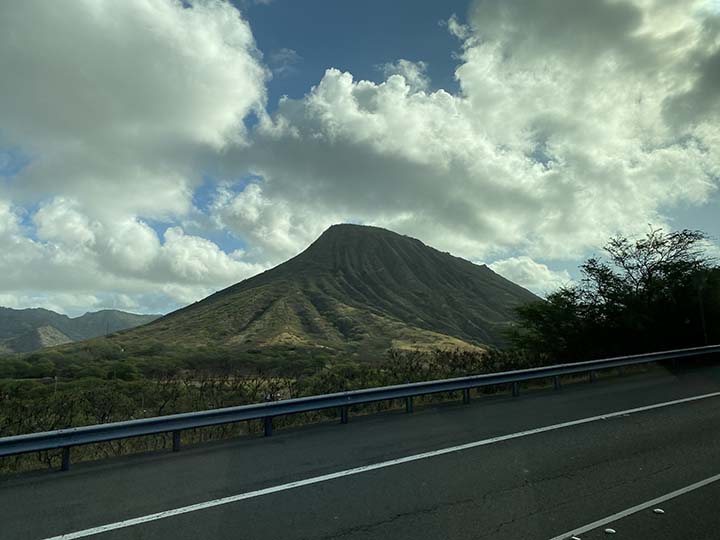 That little bump on the side of the hill meant something but I sure don't remember what.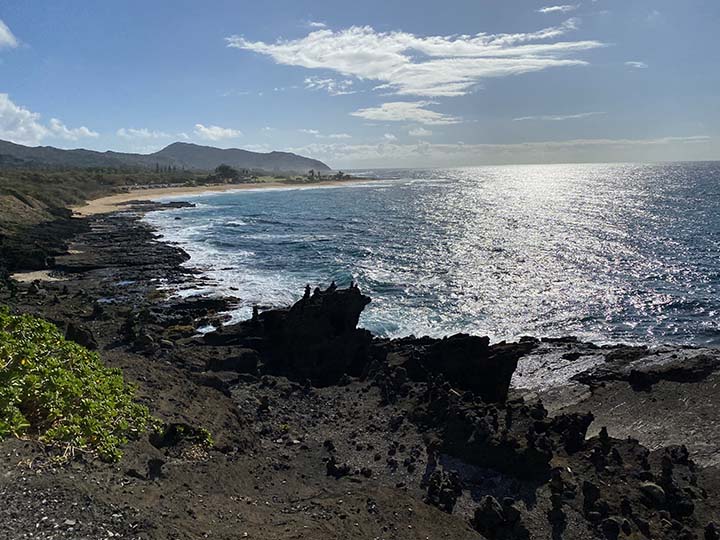 Now we're going to see the Halona blowhole.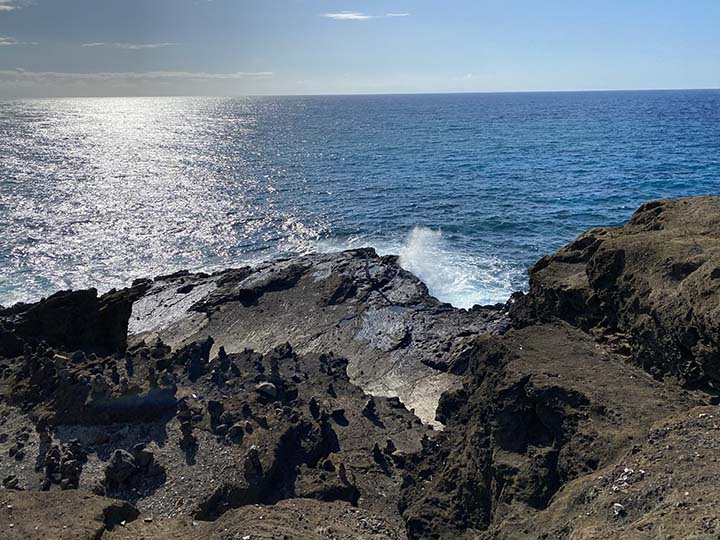 That's it down there. See the hole? Well, there really is a hole.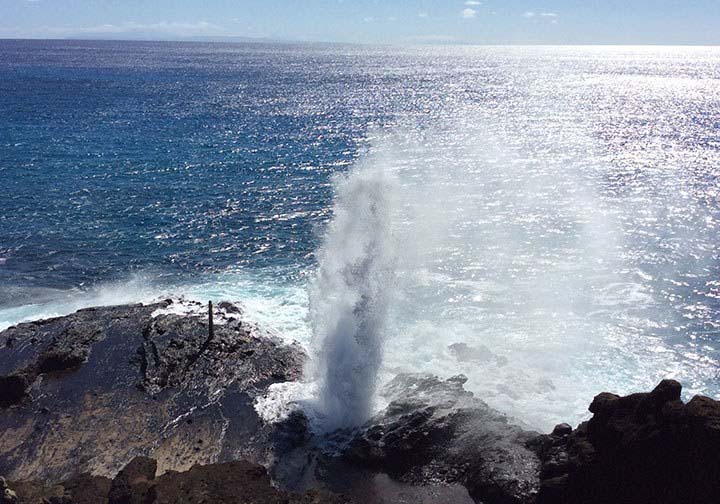 And sometimes it blows like this. I got this picture from the internet.
All we saw was this.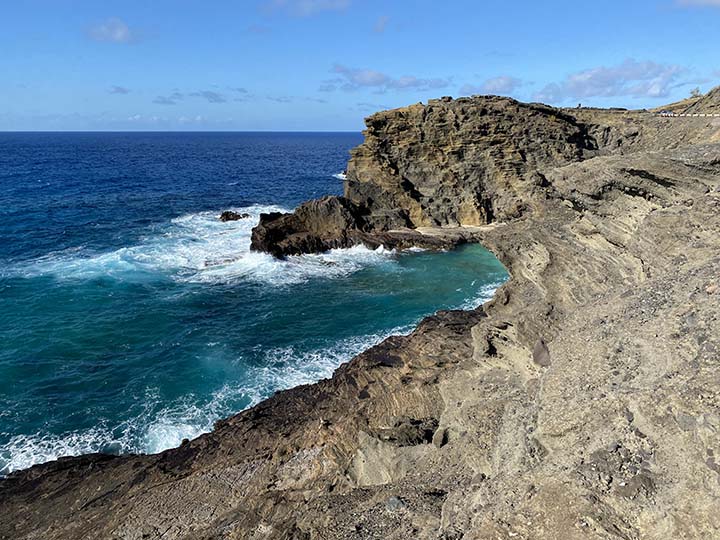 It's a pretty spot to view the ocean, though.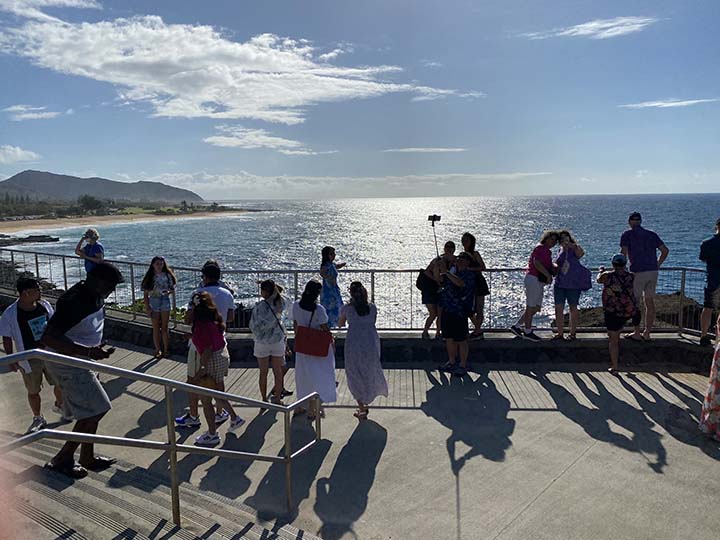 Lots of other tourists thought so too.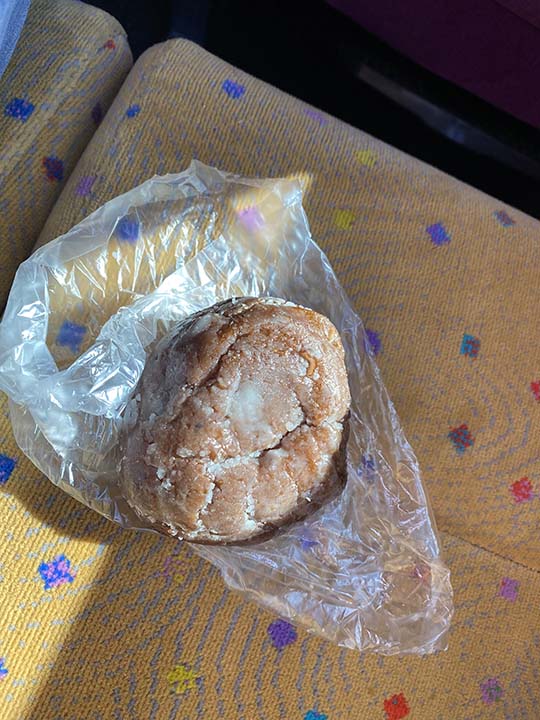 Lola our driver/guide gave us poi doughnuts. They didn't have a hole.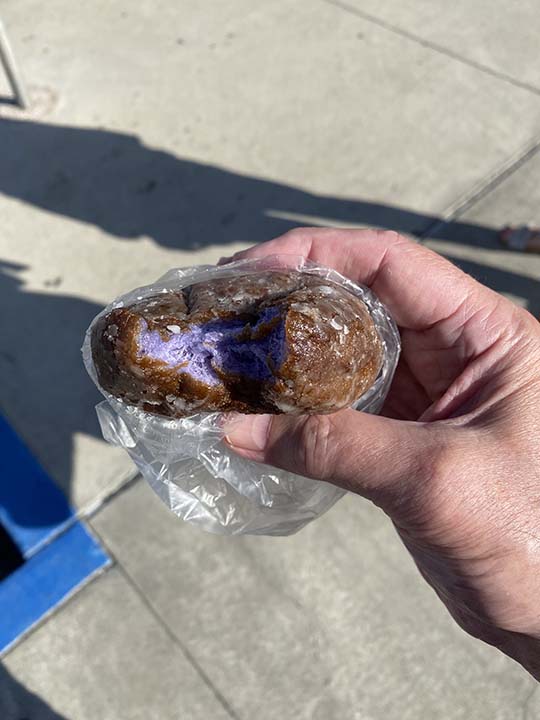 But they were purple inside! That counts for something, doesn't it? And yeah, they were good. Kinda like a very dense regular glazed doughnut.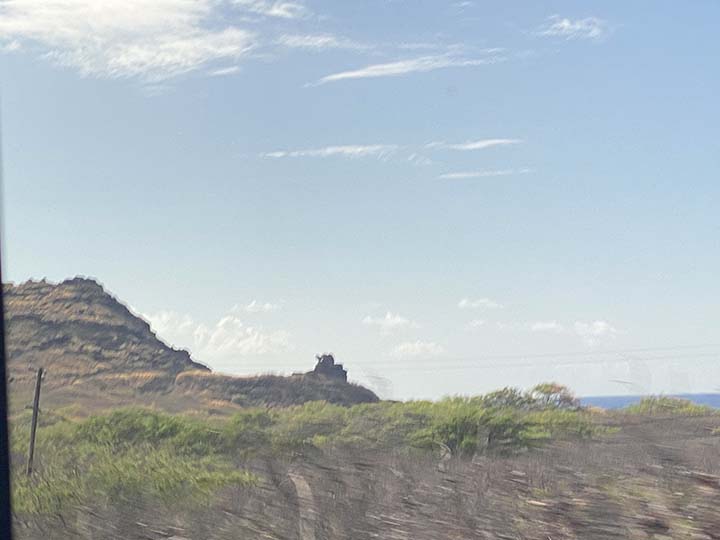 Pele is Hawaii's volcano goddess. Located on Oahu's south shore is an interesting lava rock formation that overlooks the ocean. In the old Hawaii, this rock was called Kapaliokamoa, meaning "the cliff of the chicken." When looking closely at this rock from a certain perspective, it looks a bit like a squatting chicken, hence this name. However, from another perspective it more looks like a chair and today it is commonly known as Pele's chair.
That's Rabbit Island up close with Turtle Island behind it. See how it looks like a turtle? Or maybe a snake that swallowed a turtle?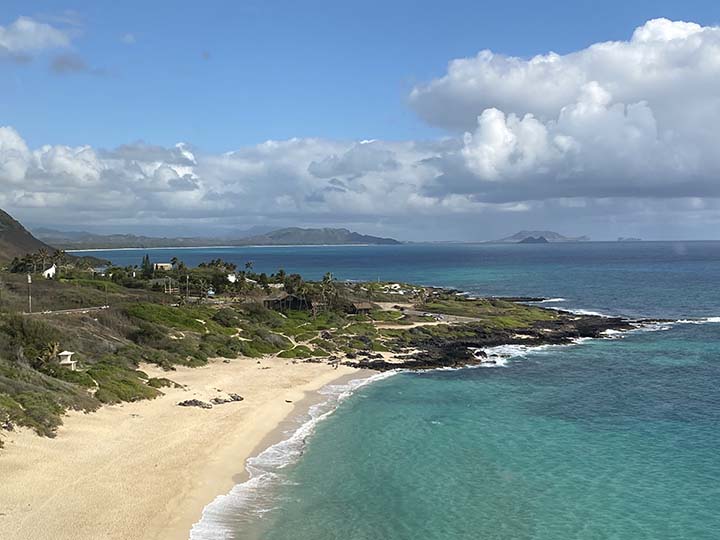 We're rounding Oahu and reaching the north shore.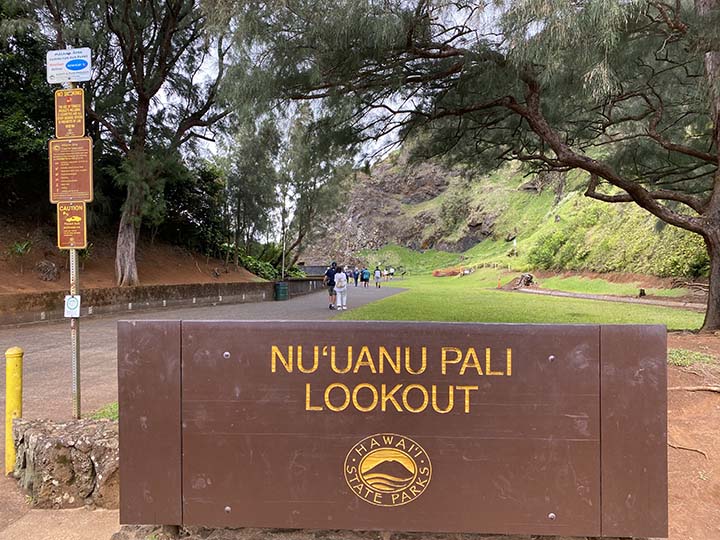 We're going to look out for pretty scenery.
And feral chickens.l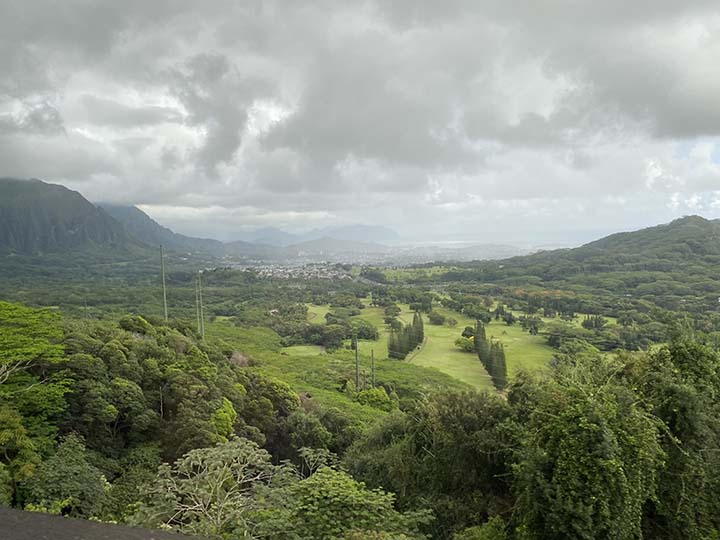 Well, it is pretty up here.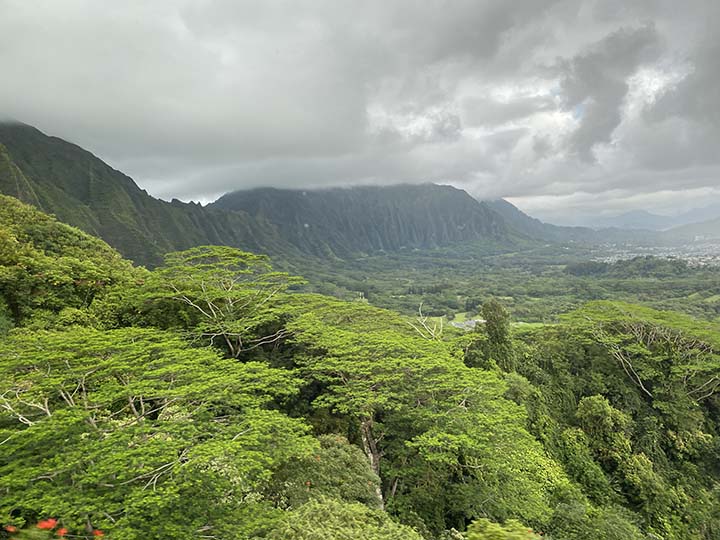 They could film a Jurassic Park movie down there. And so they did, a little bit anyway.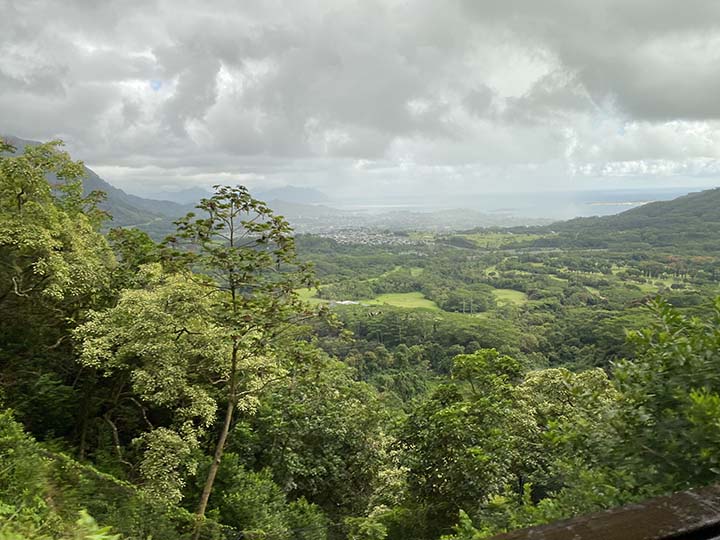 It does look a bit like paradise.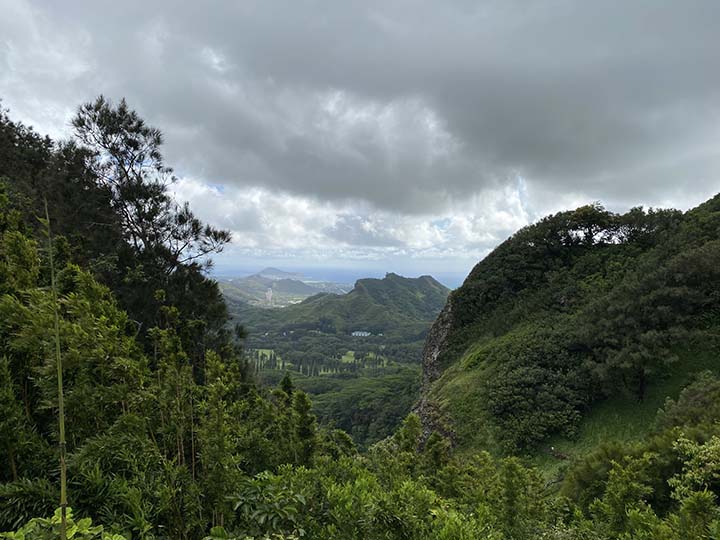 Or maybe King Kong's Skull Island.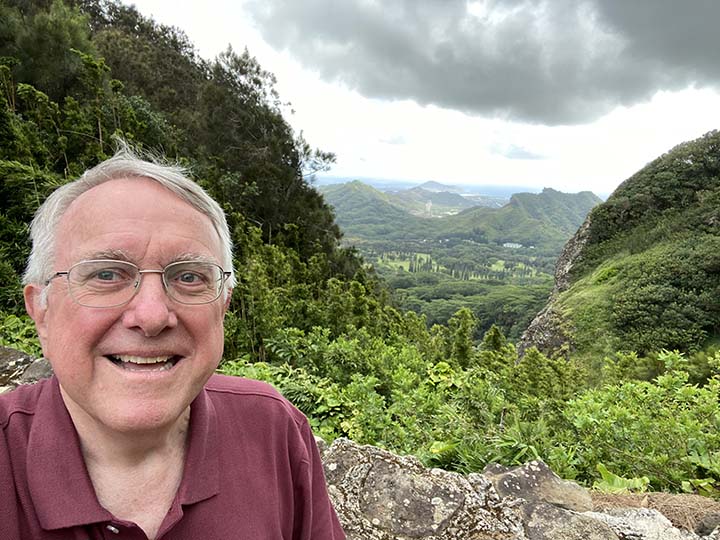 Bill is enjoying the view.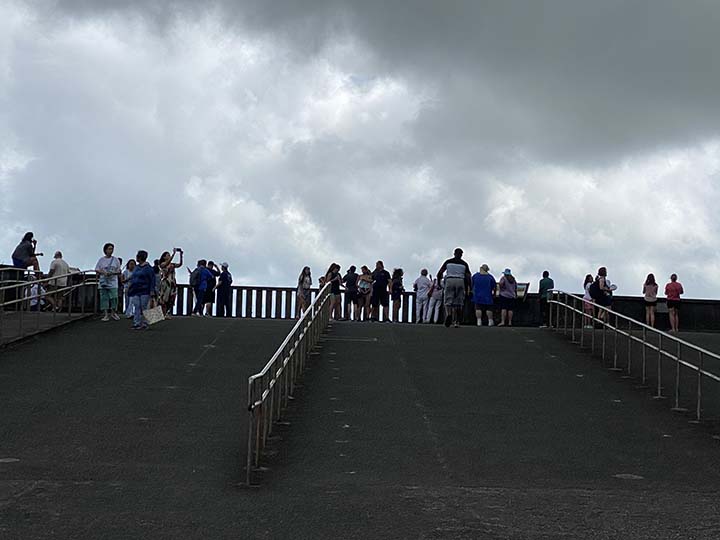 Along with a gazillion other tourists.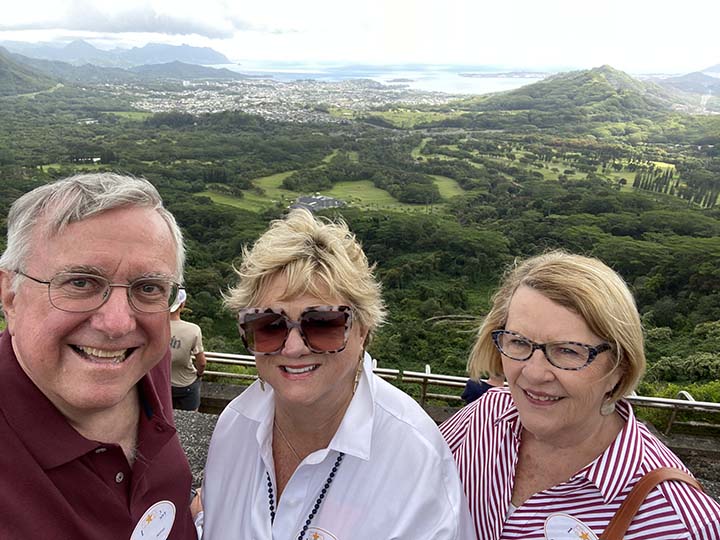 Plus two of his other favorite tourists.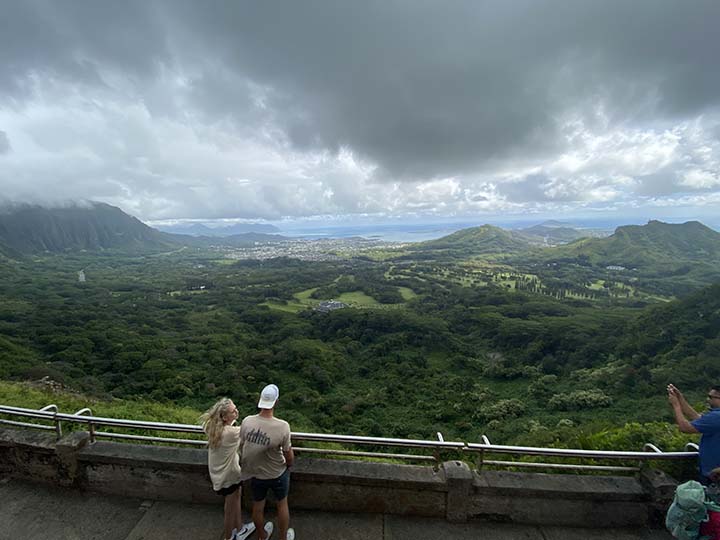 Lots of people come here.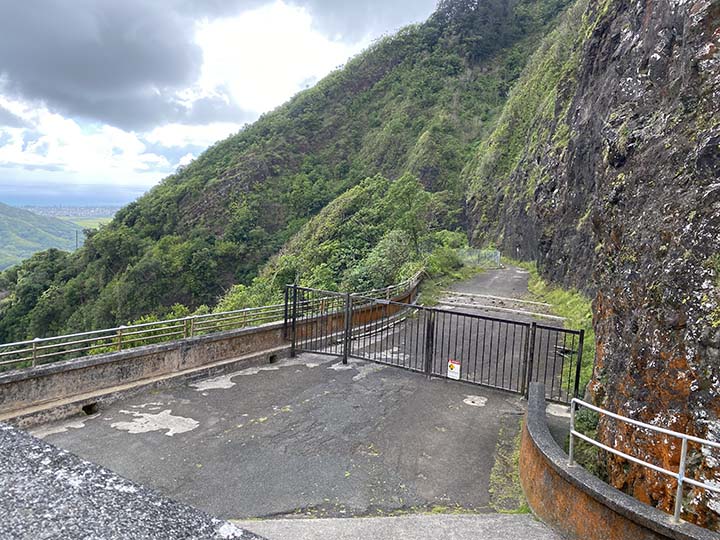 They used to come on that road, but it's abandoned now.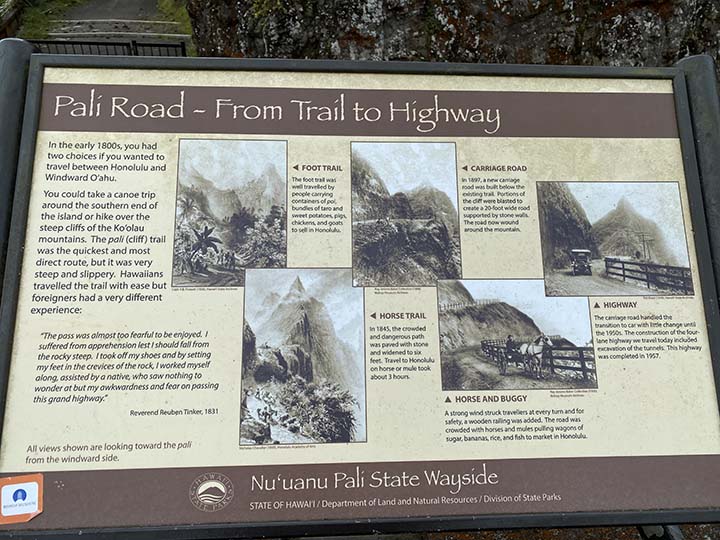 That old road has quite a history.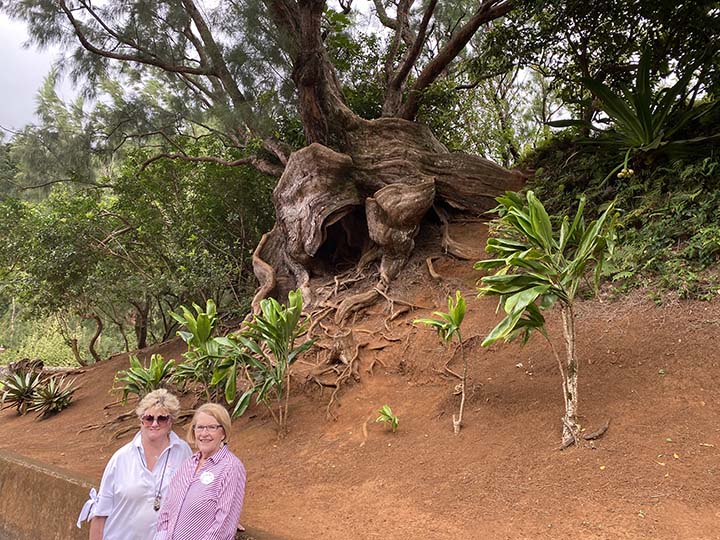 Jeanie pointed out this strange-looking tree.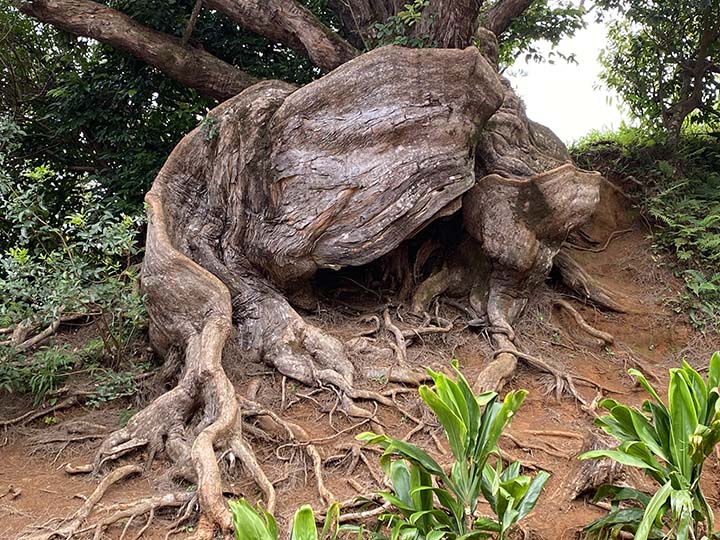 And so we took a picture.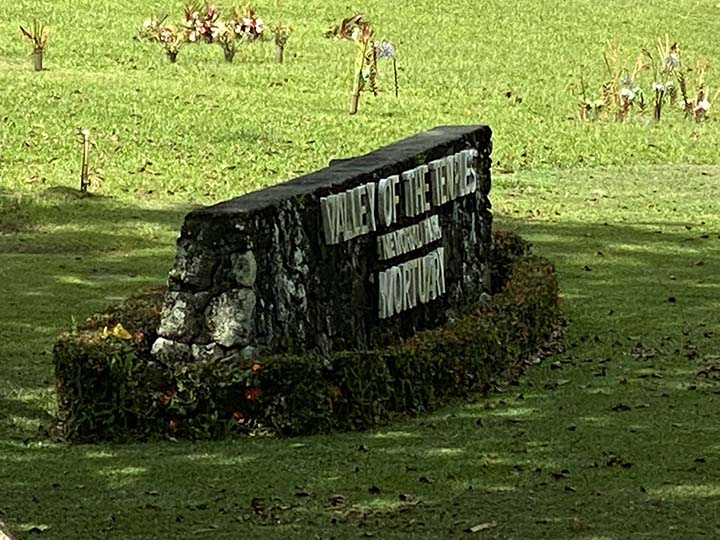 That says "Valley of the Temples." It's a big cemetery/mortuary.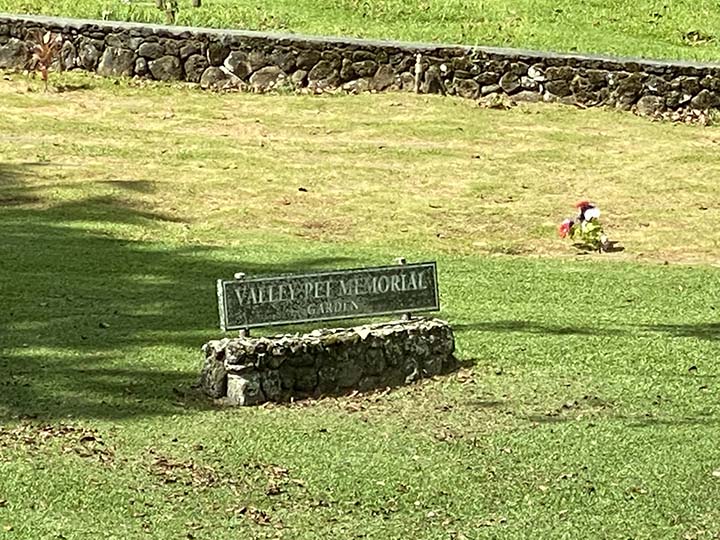 It even has a section for pets.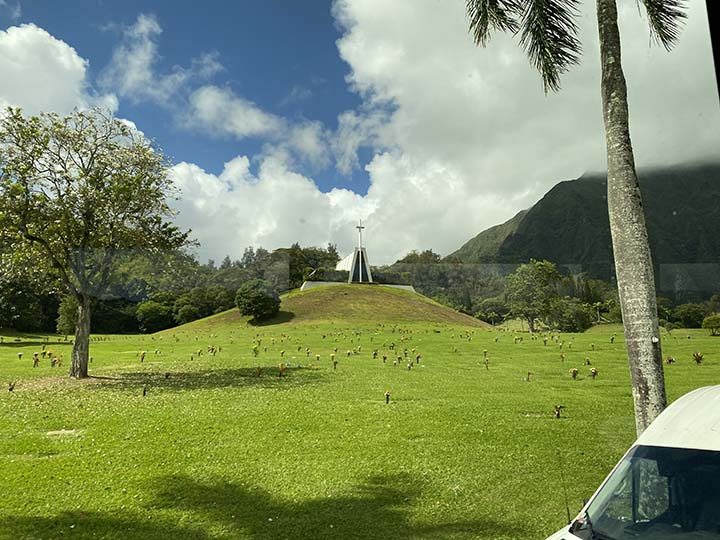 There's a Christian chapel.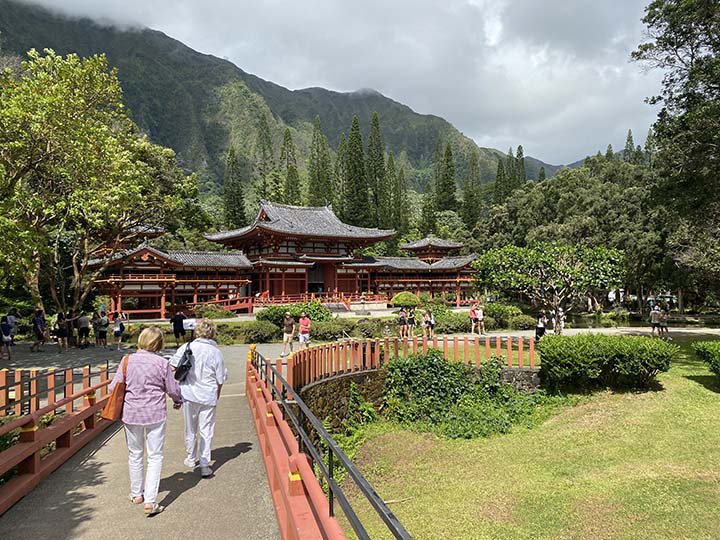 But the big tourist attraction here is the Buddhist temple. This one's called Byodo-In.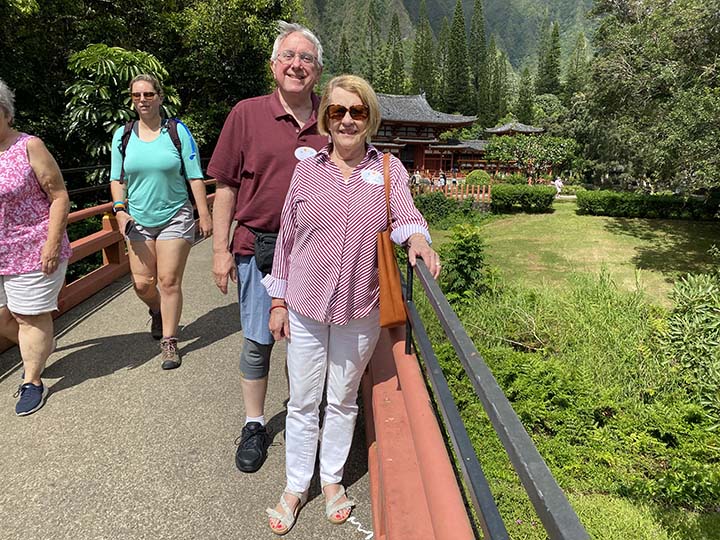 Bill and Jeanie are going to check it out.
The Bell House, called kanetsuki-do, contains a five foot high, three ton brass bell, called bon-sho (sacred bell), cast in Osaka, Japan, from a mixture of bronze and tin, by permission of the government of Japan. It closely resembles the bell hanging in an identical Bell House at the Uji Byodo-In. The original is said to be more than 900 years old and to have come from India. It is revered for its distinctive shape, and the tone of the bell sounds a message of deep calm and peace, cleansing the mind of evil and temptation.
The resonant sound of the bon-sho creates an atmosphere of tranquility for meditation that travels for some distance. A soft wooden log called the "shu-moku" is used to strike the bell.
The bell is customarily rung before one enters the temple to spread the eternal teachings of Buddha. Ringing the bell will purify the mind of evil spirits and temptation. It is said that ringing this bell will bring you happiness, blessings, and a long life. It is customarily rung before entering the temple.
So of course Bill and Sherry and Jeanie rang it.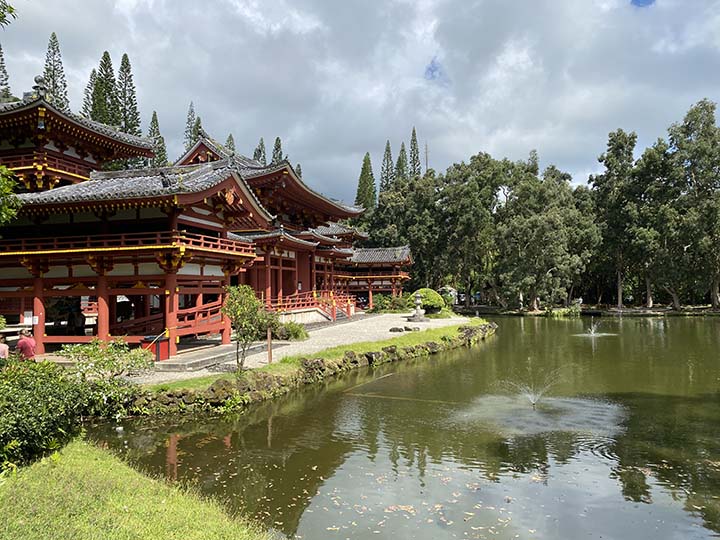 The Hall is popularly known as Hoo-do, or the Phoenix Hall, because a pair of the legendary birds of good omen and of Chinese origin is seen perched on both ends of the roof with their wings spread and ready to fly away. The hall containing two wings reflects stability as well as artistic beauty.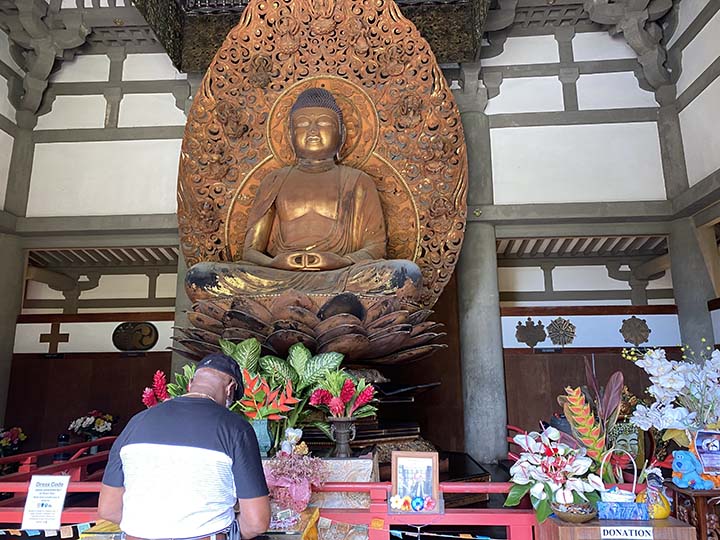 The Byodo-In Temple is home to Amida, a golden Buddha unique to the entire world.
The Buddha is thought to be the largest figure carved outside of Japan. Towering more than 9 feet, the immense figure is an original work of art carved by the famous Japanese sculptor, Masuzo Inui. When the carving was completed, it was covered with cloth and painted with three applications of gold lacquer. Gold leaf was later applied over the lacquer finish. Around the Buddha are 52 smaller sculptures depicting Boddhisattvas (enlightened beings) floating on clouds, dancing, and playing musical instruments. The hall and all the artistry it reflects are regarded as representing the essence of the culture of the Fujiwara aristocracy.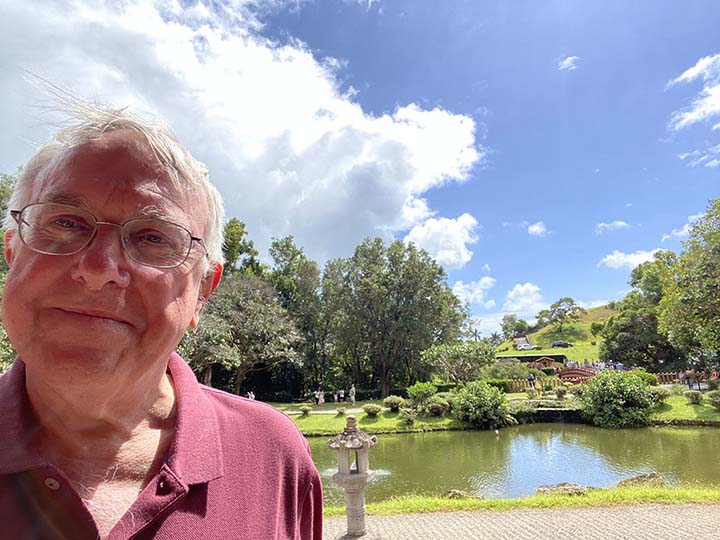 Bill is meditating happily.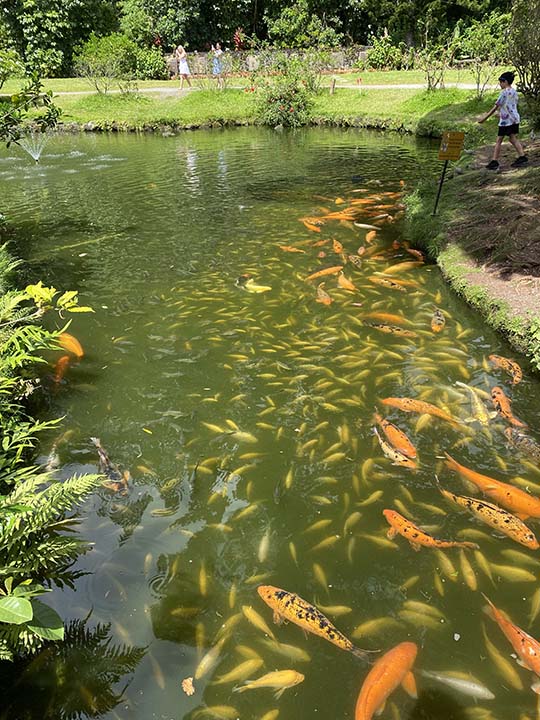 So are all the koi.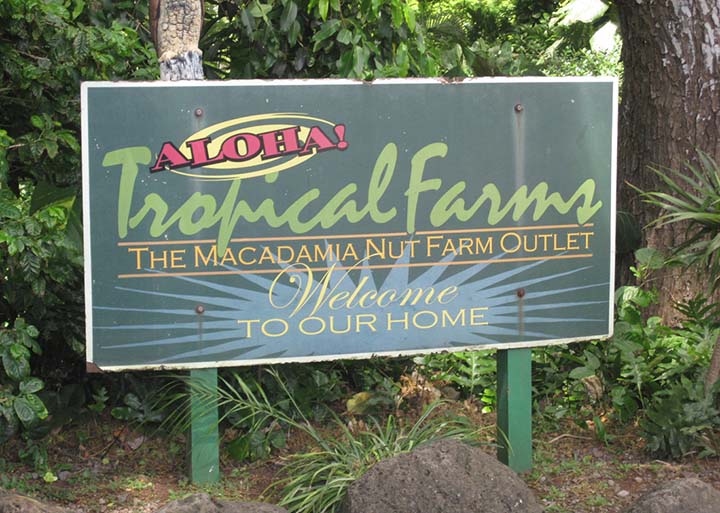 Now we are stopping at the Tropical Farms Macadamia Nut Farm Outlet Tourist Trap.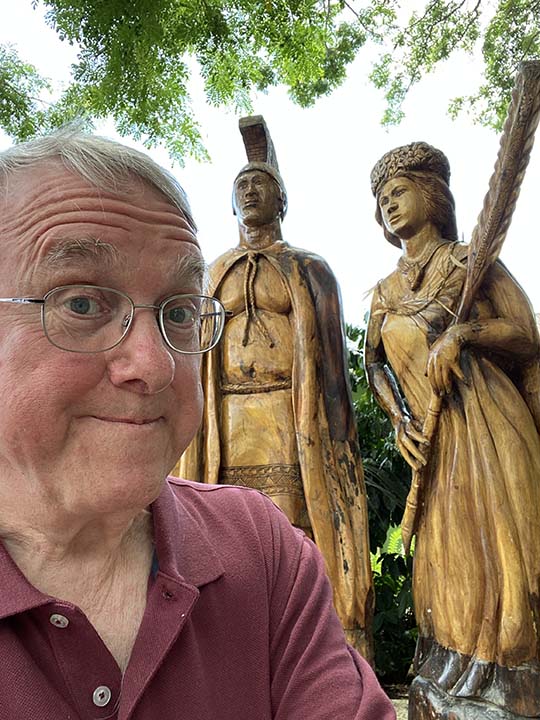 We are greeted by a couple of local dignitaries.
You can get a little cup of free macadamia nut-flavored Kona coffee
And you can even dig in to free samples of salted or unsalted macadamia nuts, plus other kinds coated in everything from honey roast to some sort of coffee-flavored stuff. The best macadamia nuts are plain macadamia nuts.
Out back Bill found a guy slicing papaya for the tourists.
He seems to have done this before.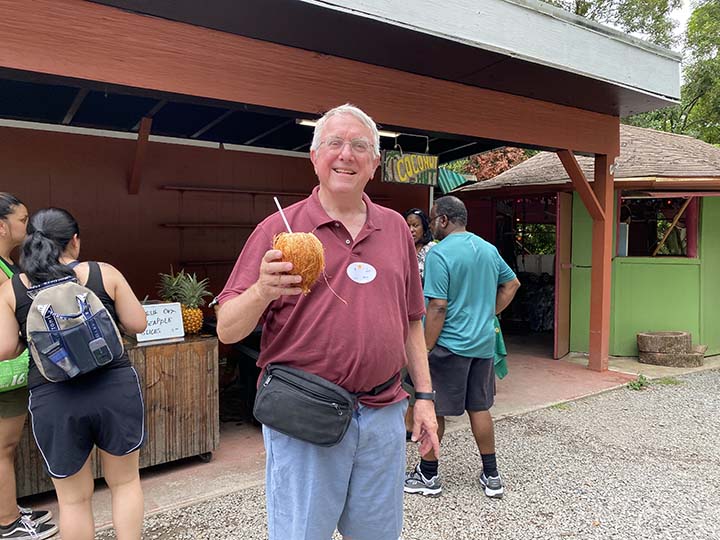 He even cut the top off a coconut for Bill. The idea was to drink the coconut water through the straw but while Bill certainly would have been grateful for this if he'd been stranded on a desert island, right here on Oahu it didn't taste very good so he threw it all in the trash.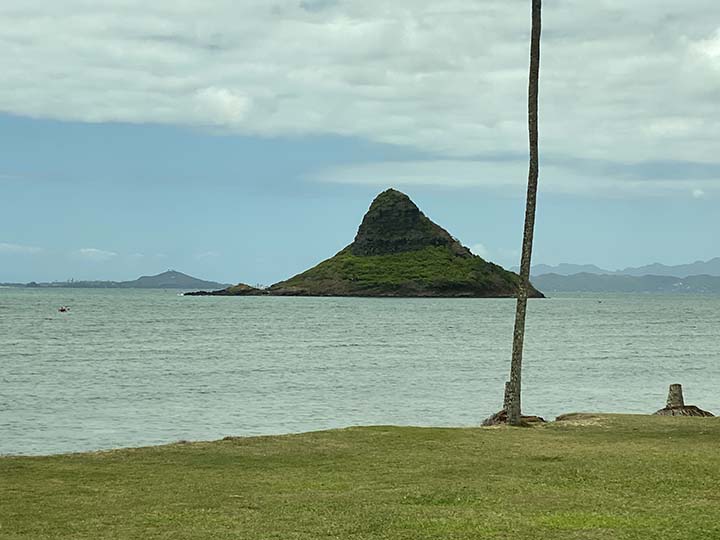 Does that look like a Chinaman's hat to you? Actually it's Mokoli'i Island. Mokoli'i means "little lizard" in Hawaiian. The island has also been referred to as "Chinaman's Hat" in the past because of its cone shape, which resembles the peasant's hat worn in rural China. Besides a few lonely palm trees and two small beaches, there isn't anything else here.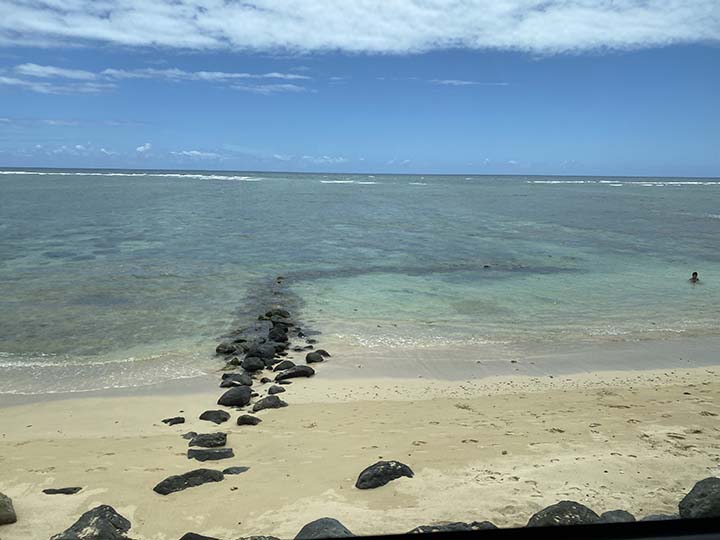 Here are the remnants of a long-abandoned fishpond.
Ancient Hawaiian fishponds were typically a flat, shallow area of reef protected by a low lava rock wall built offshore, which allowed water and small fish to enter the pond: the fish would then grow and become too large to exit the pond. Many fish thrived in the brackish water of these fishponds, and would breed, providing a constant and easy food source for the people of Hawaii. This unique and advanced aquaculture is found nowhere else in the world.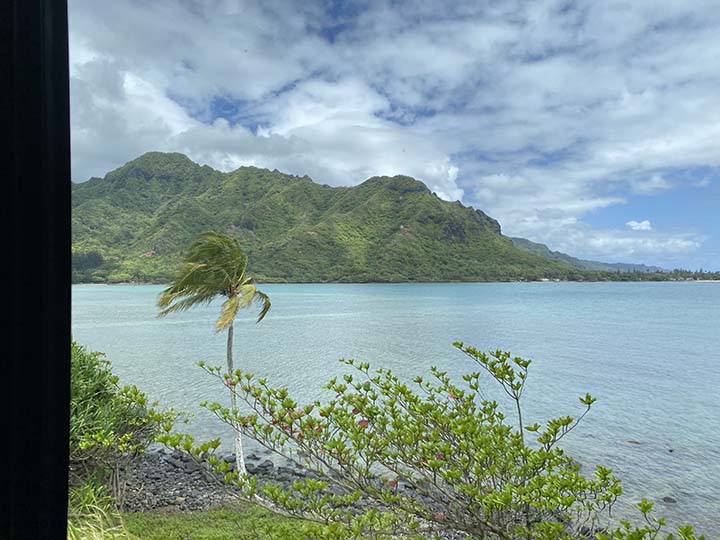 It's a beautiful day on the North Shore.
The area is know for its shrimp farms. Yes, they raise shrimp in those ponds.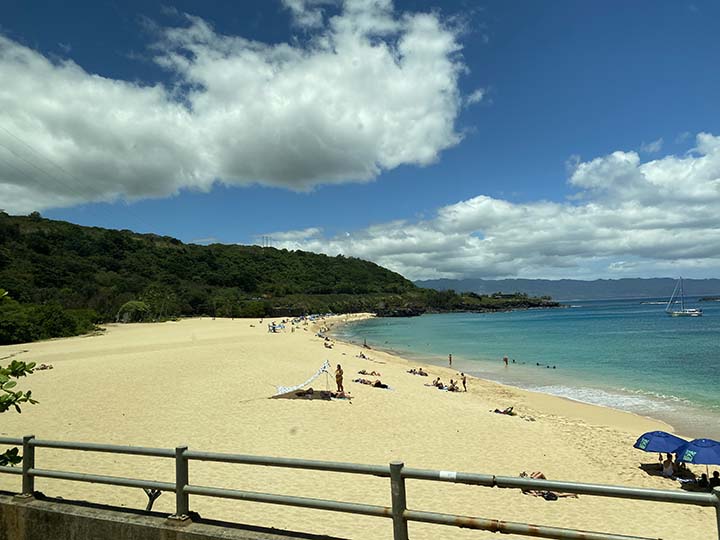 We were picturing huge waves on the North Shore, but that kind of excitement happens only in the winter months when there's a strong ocean breeze.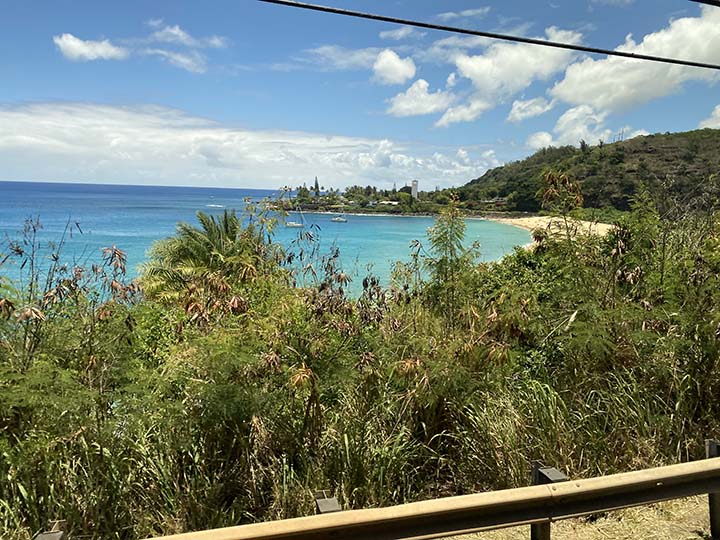 Things are calm on the North Shore today.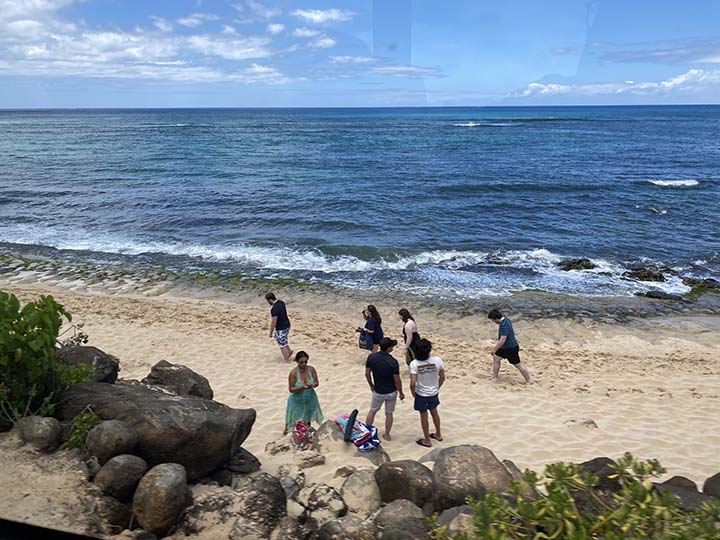 But there are tourists anyway.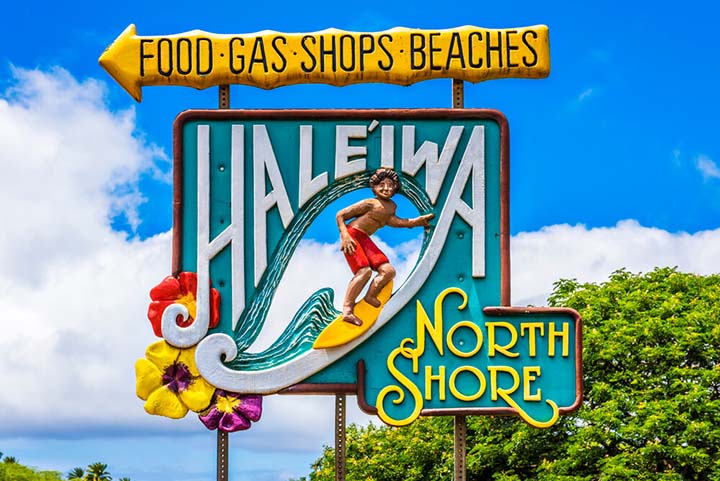 We've been promised a chance to find lunch in the little town of Hale'iwa.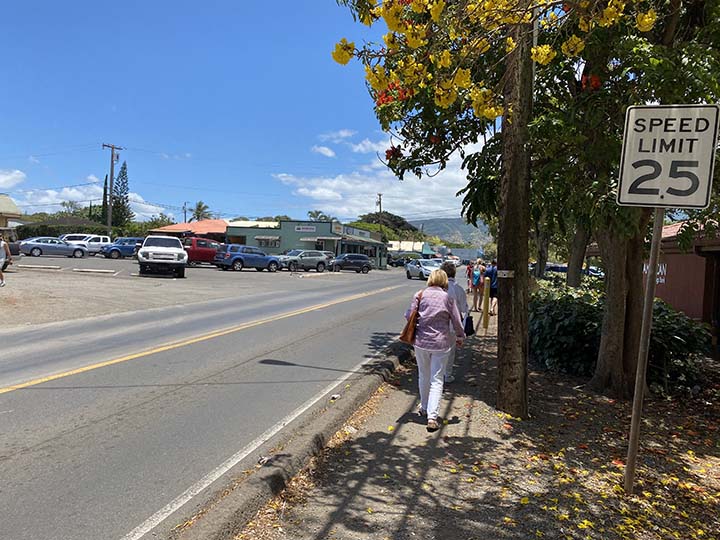 So find lunch we shall.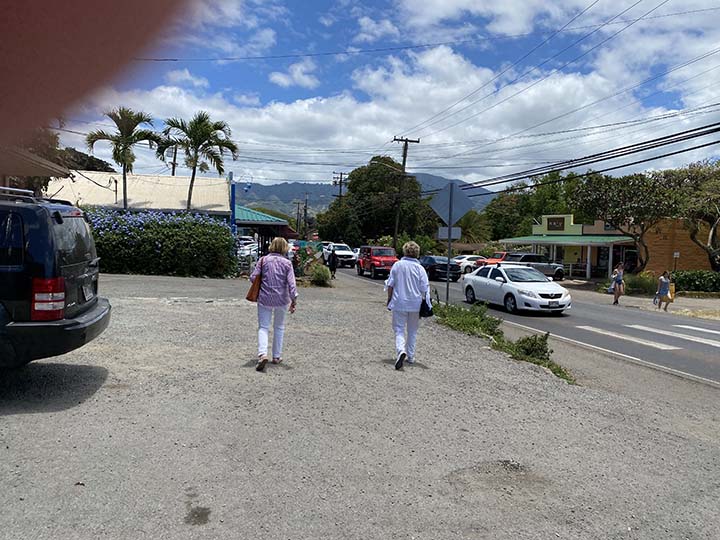 Sherry and Jeanie are looking for something upscale and air conditioned.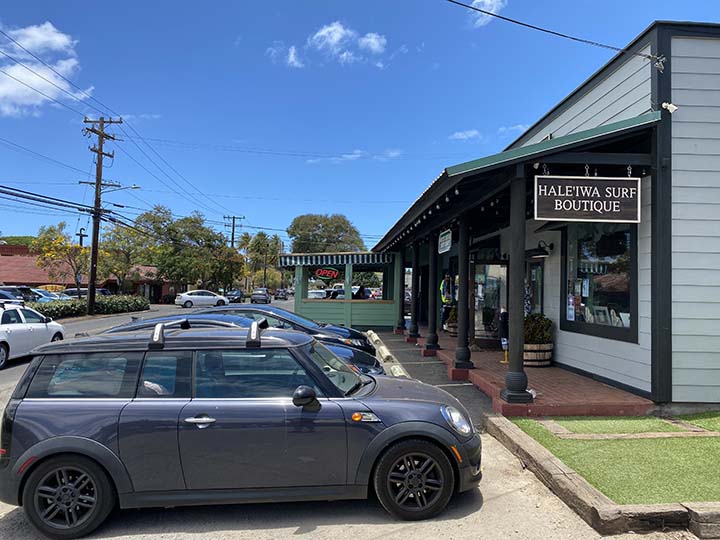 This appears not to be that.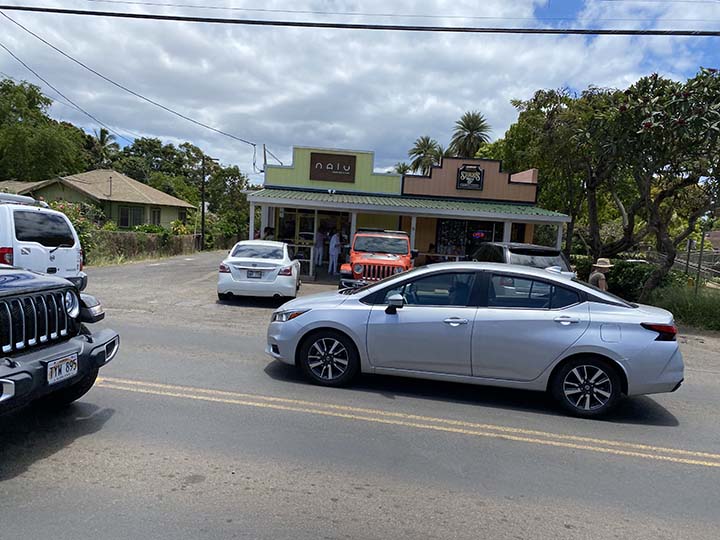 So they cross the busy road while Bill's knee waits to see what happens.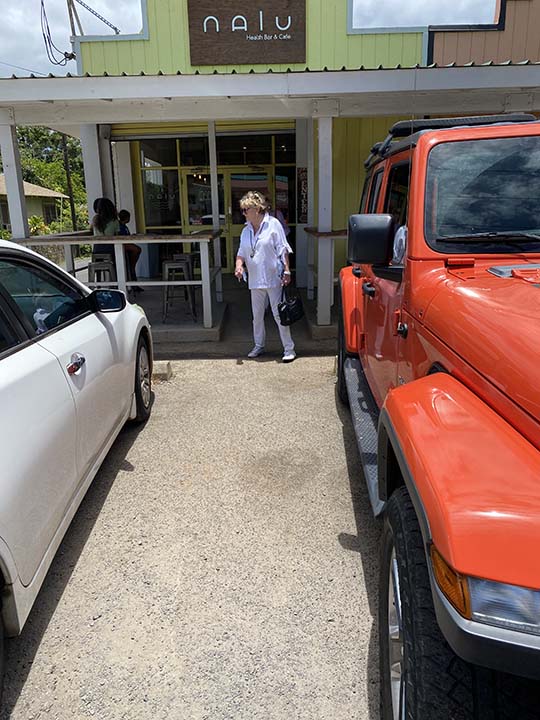 This is definitely not the place.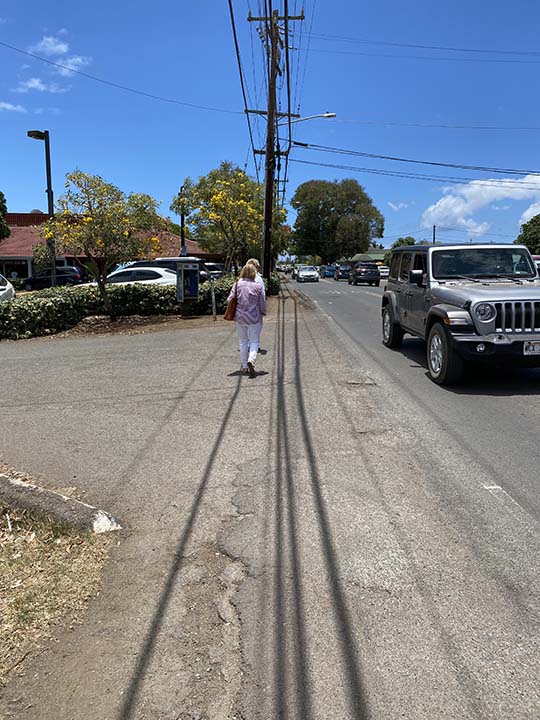 So we continue looking.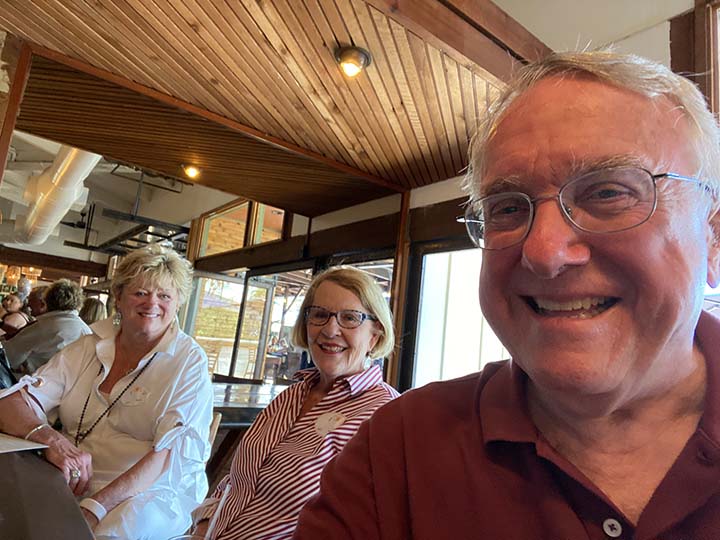 Ahhh. The place Lola, our driver/guide warned us against due to poor service, is just what we were looking for. And the service wasn't bad at all.
They are planting pineapples over there.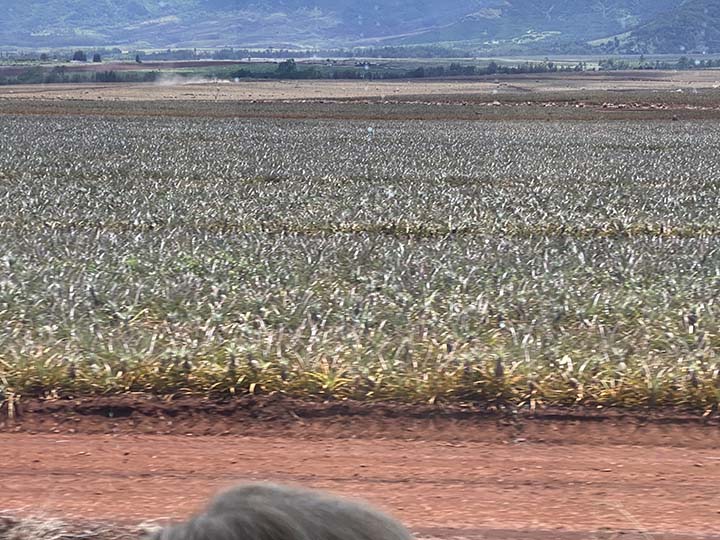 These pineapples are a year old. Did you know it takes two years to grow a pineapple?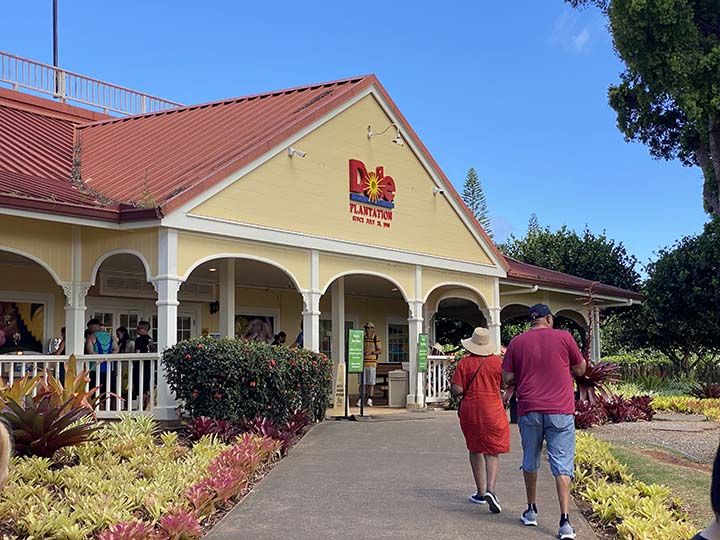 We've arrived at the Dole Pineapple Plantation. That's the gift shop.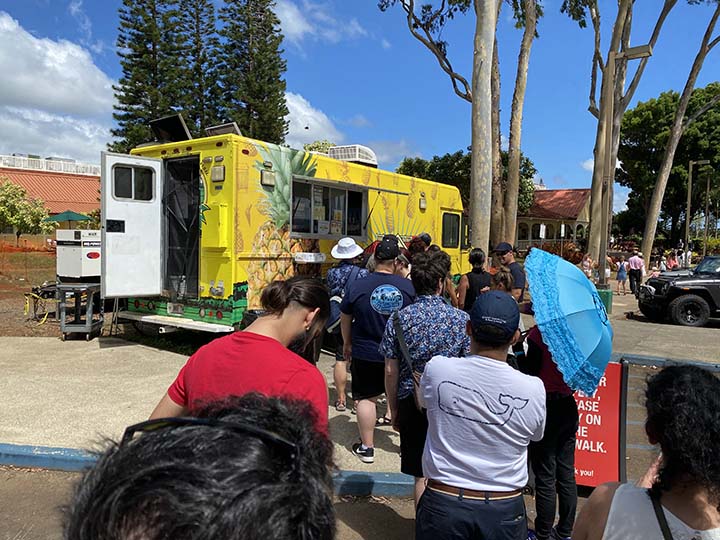 But Bill wants to check out only one thing. He's been told that the recipe for pineapple soft serve at the Pineapple Plantation is different from what he's been finding in Honolulu. Could that be true?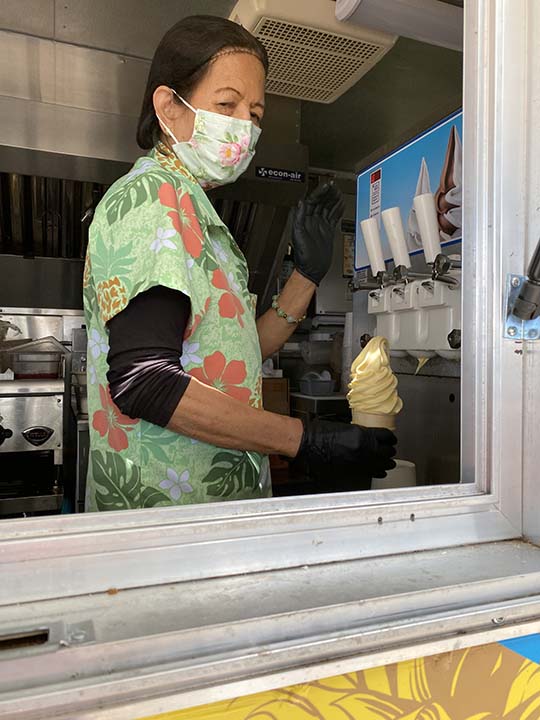 The nice lady hands Bill a cone and soon he is conducting a scientific taste test. His verdict? Yum! With a slight Lemon Pledge aftertaste.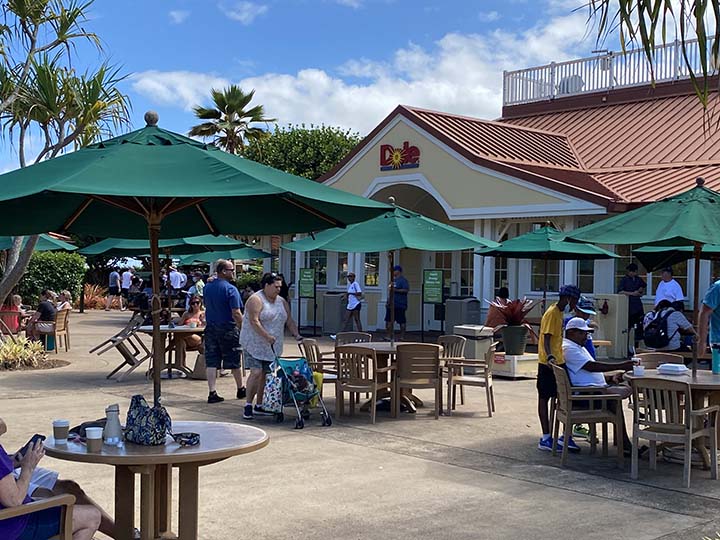 Here's the picnic area behind the Pineapple Plantation gift shop.
Let's have a look around.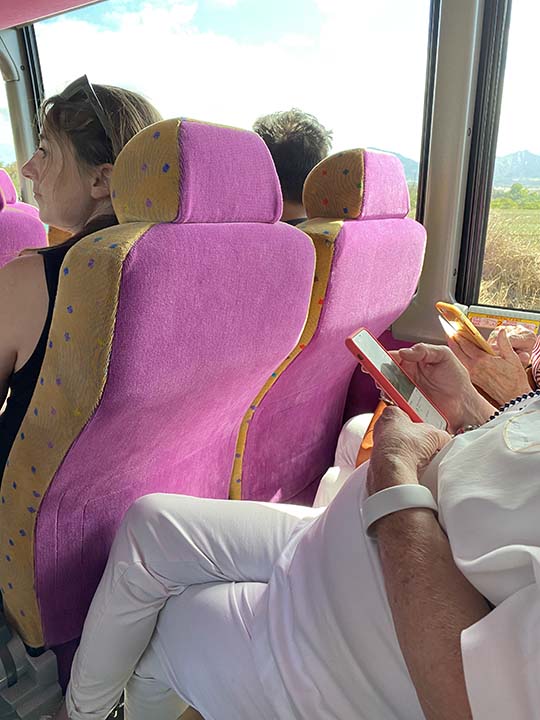 Our driver/guide Lola has asked us all to give her s superior rating on TripAdvisor, so Sherry and Jeanie are hard at work on their cell phones.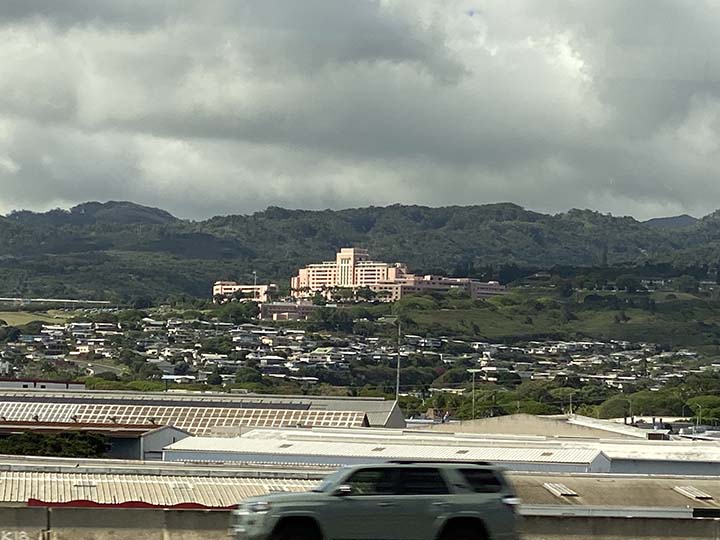 Uh-oh, looks like we're returned to civilization. That's Tripler Army Medical Center, a major United States Department of Defense medical facility administered by the United States Army. It is the tertiary care hospital in the Pacific Rim, serving local active and retired military personnel along with residents of nine U.S. jurisdictions and forces deployed in more than 40 other countries in the region. Located on the slopes of Moanalua Ridge overlooking the Honolulu neighborhoods of Moanalua and Salt Lake, Tripler Army Medical Center's massive coral pink structure can be seen from any point in the Honolulu District. It also serves as headquarters of the Regional Health Command - Pacific.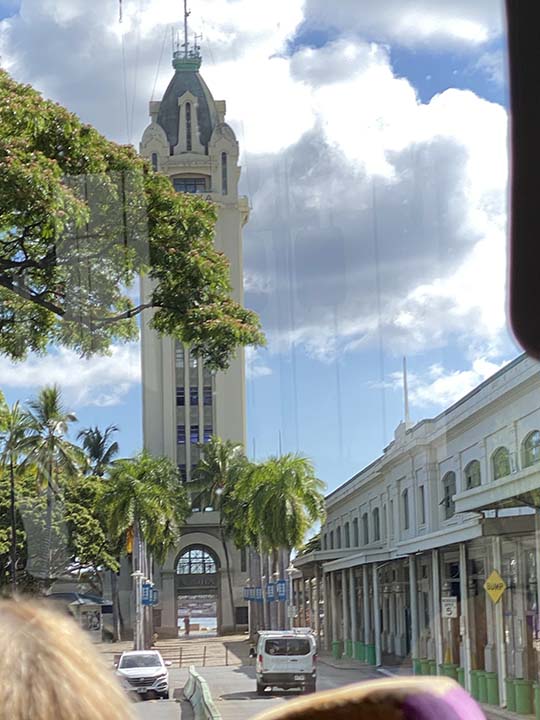 That's the Aloha Tower. Built in September of 1926, this was the tallest building in the islands for four decades and its clock was one of the largest in the United States.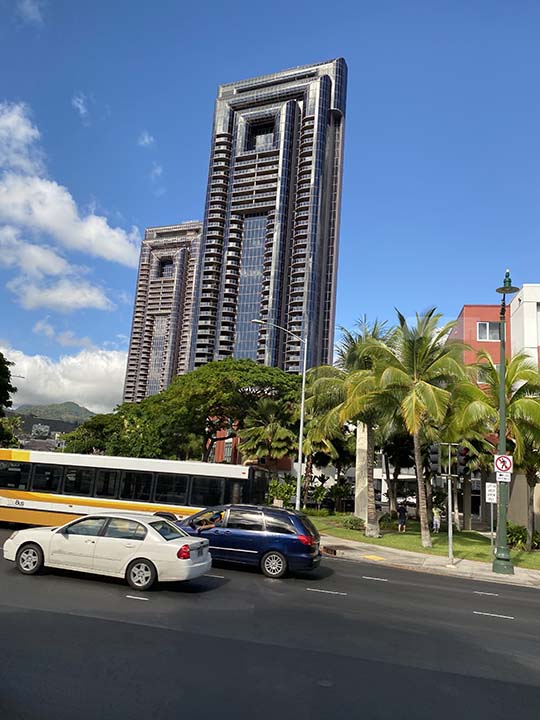 They're condos. I looked it up.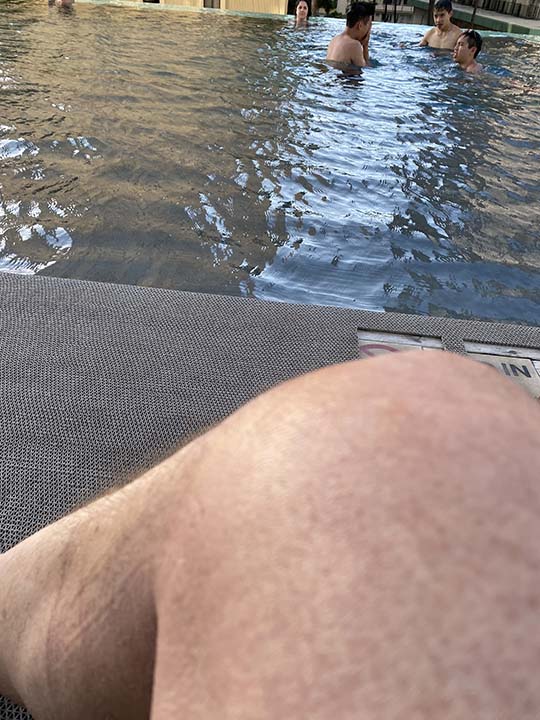 The knee has made it all the way around Oahu and now it is resting in the afternoon sun by the pool.
In fact, all of us are resting in the afternoon sun by the pool.
It's been a long day, but a good one.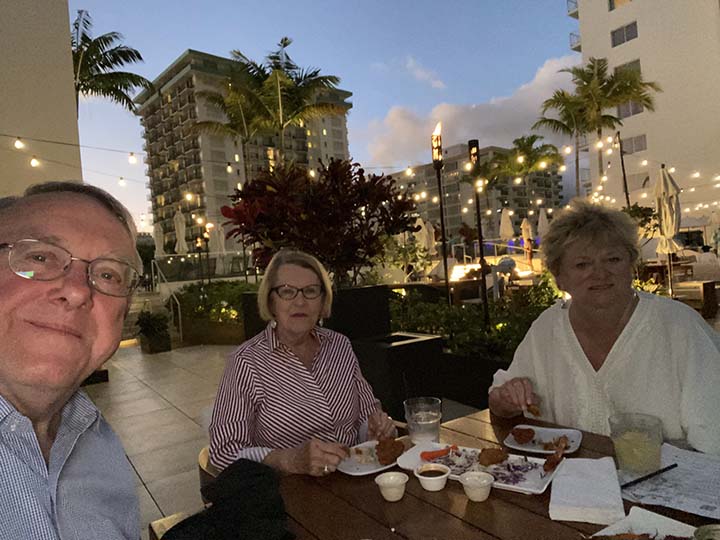 And now we are happy.