It's early in the morning and we have an afternoon flight back to DC, so we have time for some last-minute sightseeing. Tammy and Greg and Patty and Bill have taken a cab from the hotel to the downtown area, and now they're looking for a coffee shop.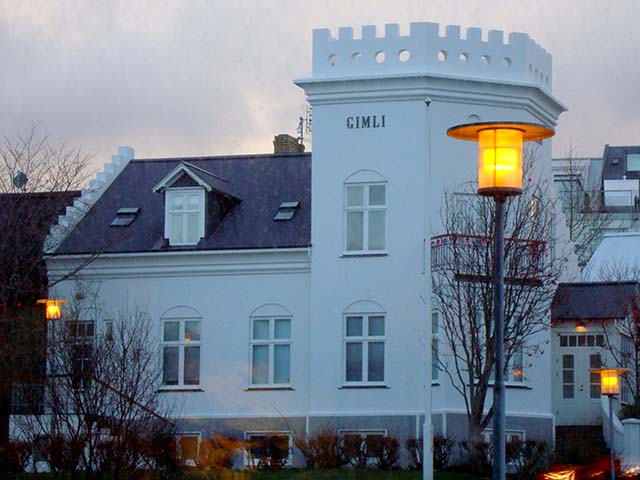 One of ReyjavÝk's old houses, built in 1905, is now the Icelandic Tourist Board. Bill took a picture because he liked the name of the house: In addition to being an old house in Reykjavik, Gimli is a dwarf in The Lord of the Rings.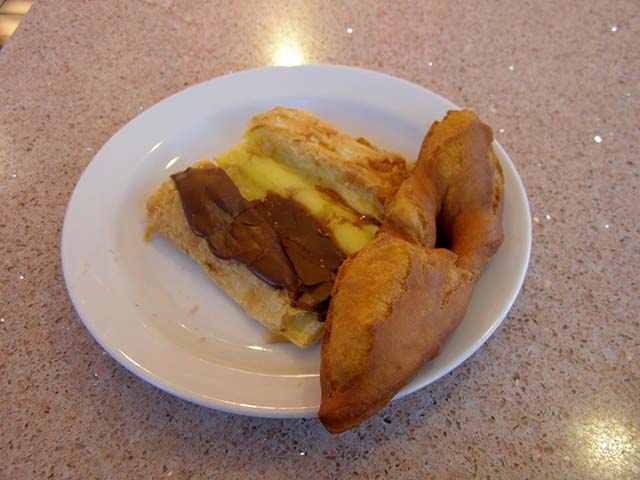 And across the street from Gimli we found pastries.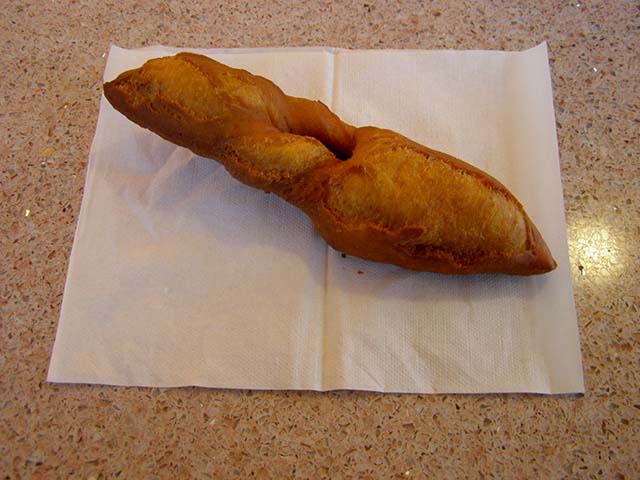 That's some sort of traditional Icelandic doughnut. Here's a description Bill found on the internet: Icelandic Kleinur - Twisted doughnuts
Kleinur is something Icelandic people love, newly fried twisted doughnuts with cold milk is something that is hard to stand.
Well, Bill could stand it, but really it wasn't that great.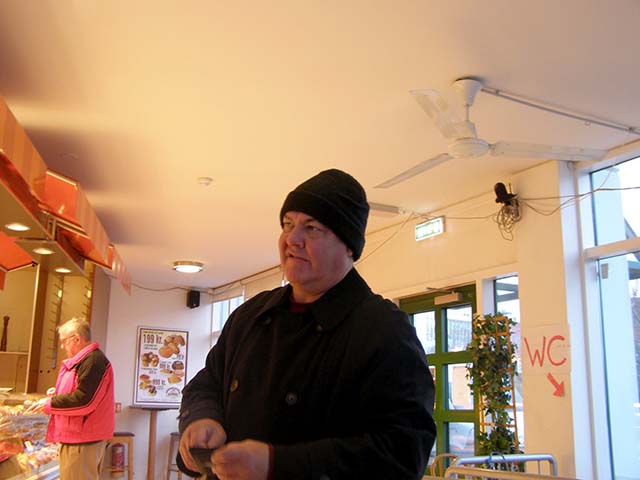 Greg searches for something he can stand.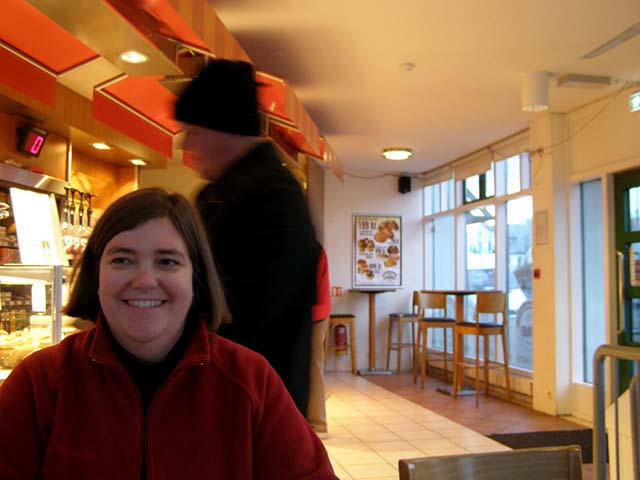 Patty seems to be standing up to it all pretty well.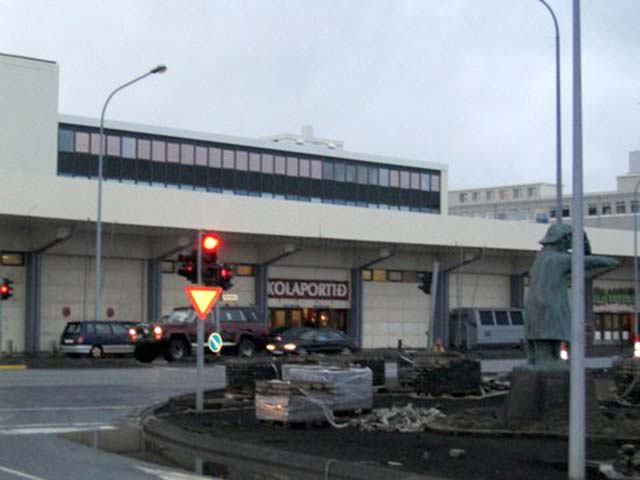 Actually, we were just killing time waiting for the downtown flea market to open. According to the guidebooks, the Kolaportid flea market in Reykjavik's Old Harbour area is the place to go at weekends to hunt out unusual finds from stalls selling vintage clothing and bric-a-brac. You can also buy yourself a decent lunch at the fish stalls.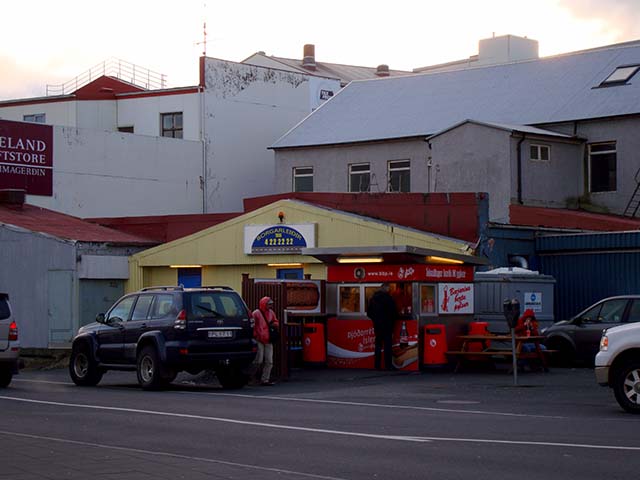 Forget fish stalls. While we were waiting outside for the doors to open, Bill decided to indulge in an Icelandic taste treat that he'd been hearing about since before the trip. Yep, right over there across the street sits the most popular restaurant in all of Iceland. Well, that's what it says in the tourist guidebooks, anyway.
It's a hot dog stand! According to Wikipedia:
BŠjarins beztu pylsur (The best hot dogs in town), often shortened to simply "BŠjarins beztu", is a popular hot dog stand in central ReykjavÝk, Iceland which has been operating since 1937. In August 2006, the British newspaper The Guardian selected BŠjarins beztu as the best hot dog stand in Europe. In addition to the famous location on Tryggvagata, there are also three other stands located around Reykjavik.
It is believed that the majority of Icelanders have eaten at BŠjarins beztu. Foreign visitors are often brought to the stand by locals to introduce them to the hot dogs there, which are often called "the Icelandic national food." Among famous people who have eaten at BŠjarins beztu are Bill Clinton, former president of the United States, and James Hetfield, vocalist of the popular heavy metal band Metallica. This hot dog stand also appeared in the first season of Anthony Bourdain's TV show No Reservations.
A hot dog costs 320 krˇnas (or about $2.50) and condiments include ketchup, sweet mustard, fried onion, raw onion and remoulade, a mayonnaise-based sauce with sweet relish. Hot dogs are often ordered with "the works," i.e., all condiments, or in Icelandic "eina me­ ÷llu".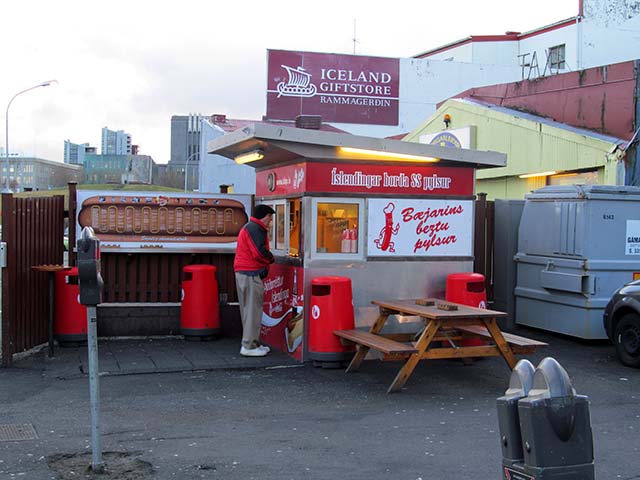 As the Dalai Lama says, "Make me one with everything."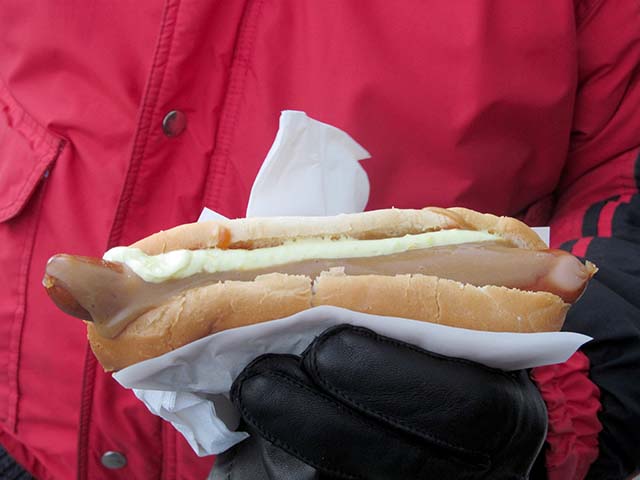 Mmmm...remoulade and mustard and more stuff hidden down in the bun. After all the anticipation, this hot dog turned out to be merely OK. Actually, with a little French's it might've been pretty good.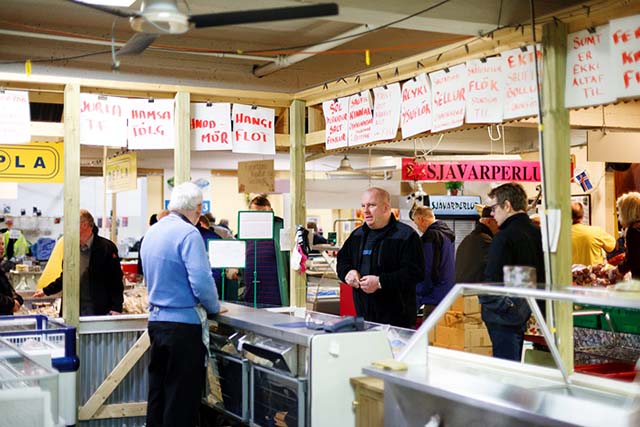 Here' the flea market fish stall the guidebook was talking about.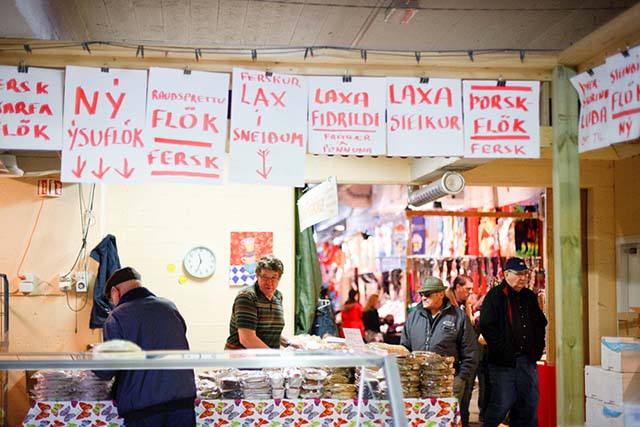 Mmmm, flok and fersk. Wonder what they are? Wonder if you take the Laxa afterward?
Mmmm, big bags of dried something.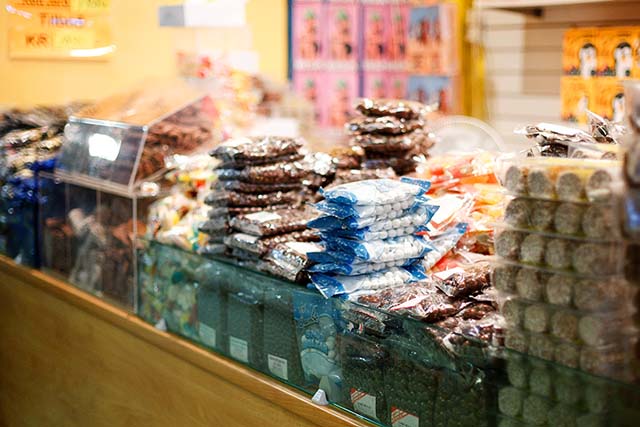 Candy. I think.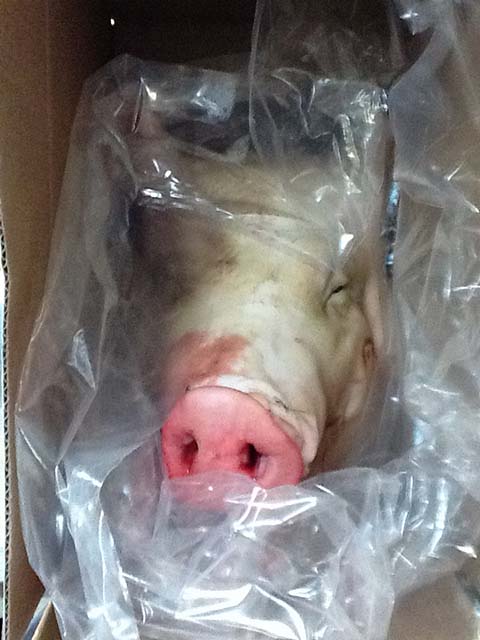 This is a dead pig. Isn't he cute?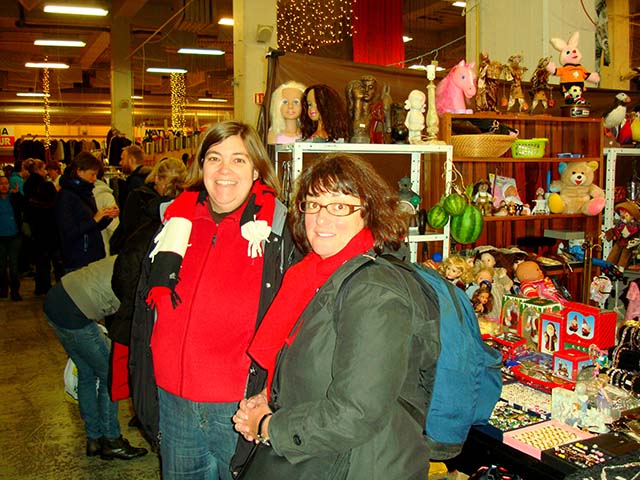 Will the master-shoppers find anything to take home tonight?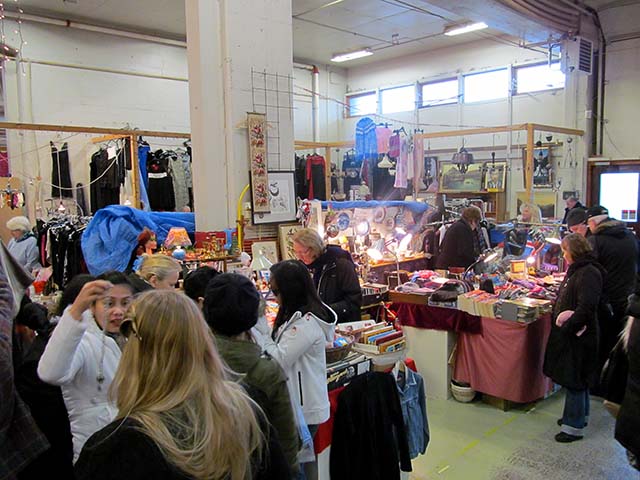 There's so much to choose from and so little time!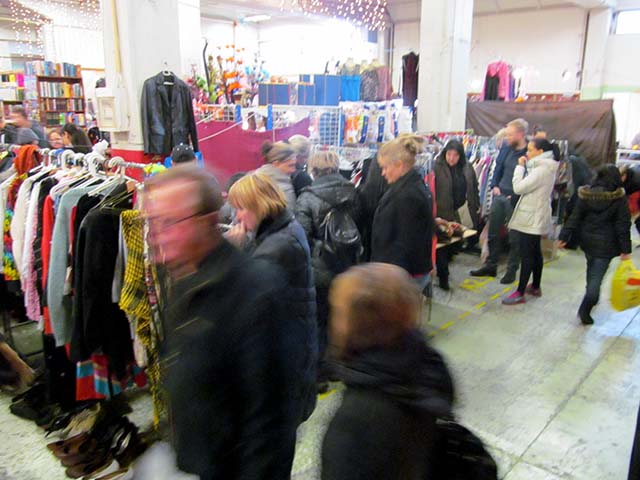 This turned out to be the only place in Iceland where we found pushy people. Apparently it doesn't matter where you're from in the world, a bargain is a bargain.
They may be smiling, but they're about to give up.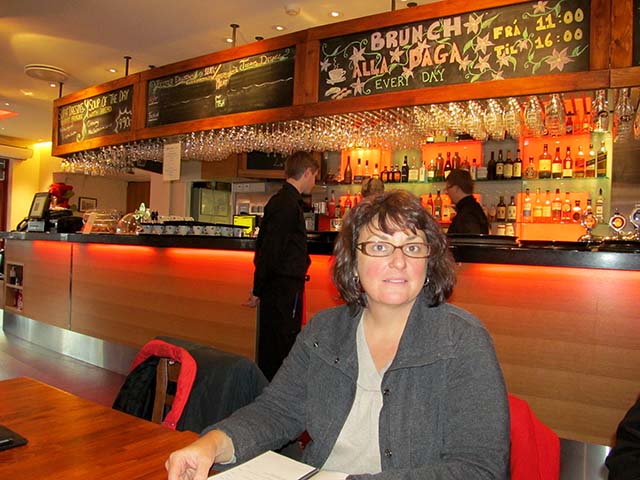 And give up we did. We'd been warned we were unlikely to find anything we wanted at the flea market and that turned out to be the case. So now we've walked down the street to Cafe Paris for a light snack.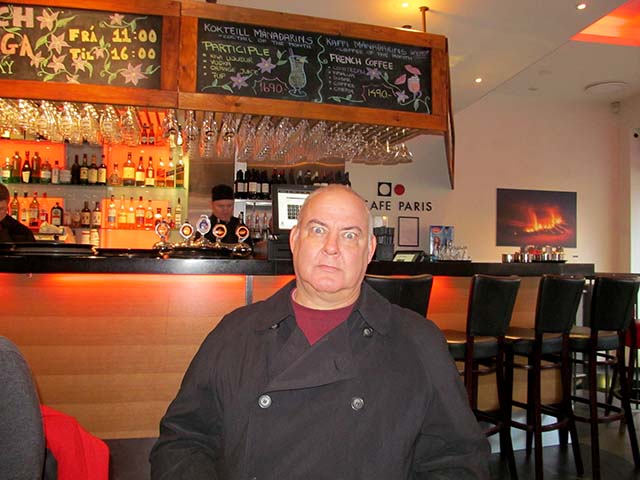 And a chance to rest. Whew.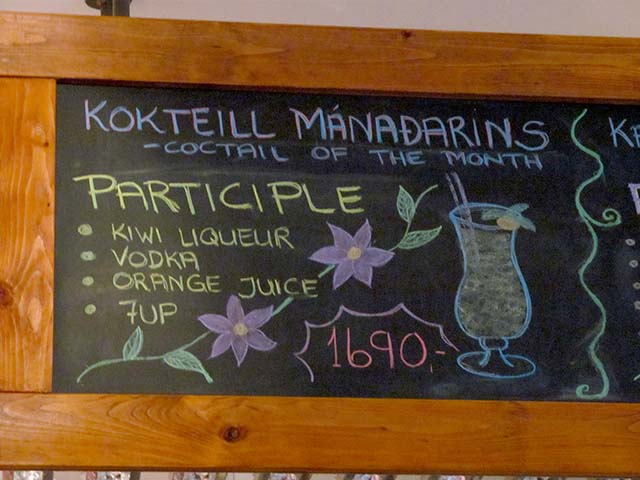 Look! Cocktails in Iceland have participles!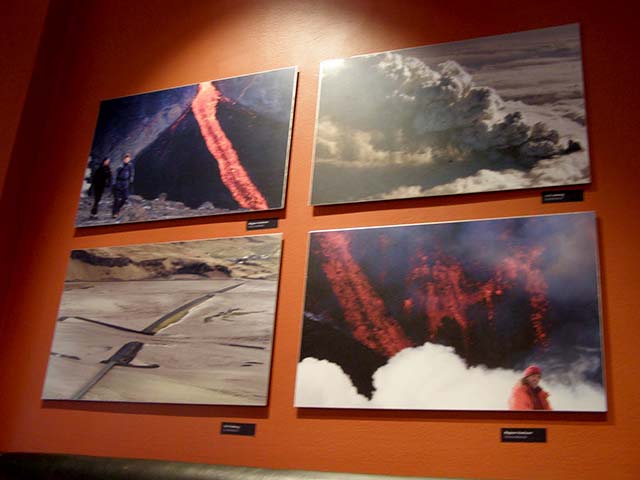 Well, at least Cafe Paris had nice wall decorations.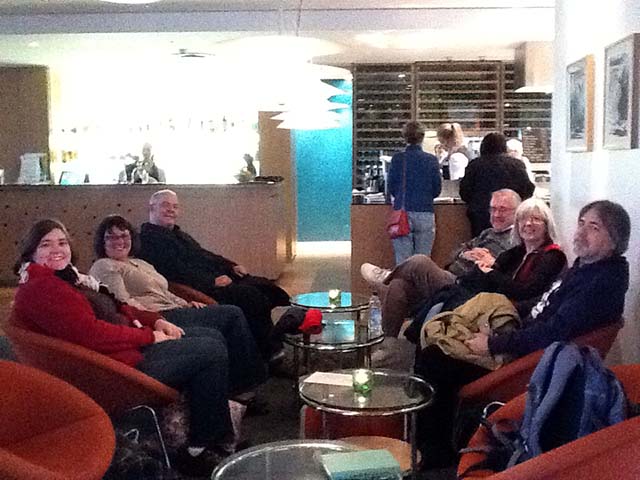 OK, folks, the good times are over. Time to gather in the Hotel Natura lobby one last time before we take our bus to the airport.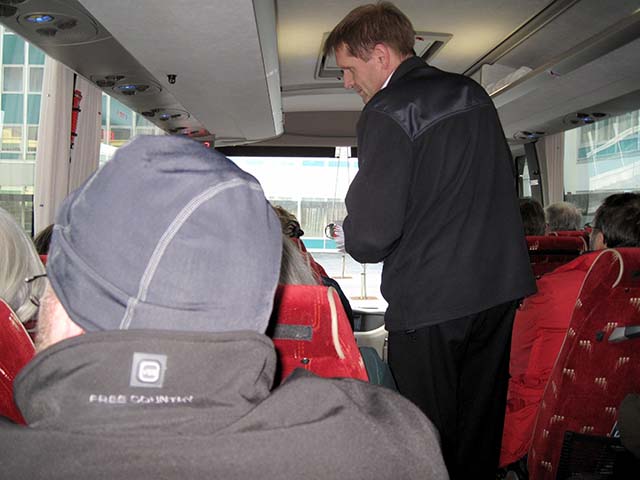 Tickets, tickets...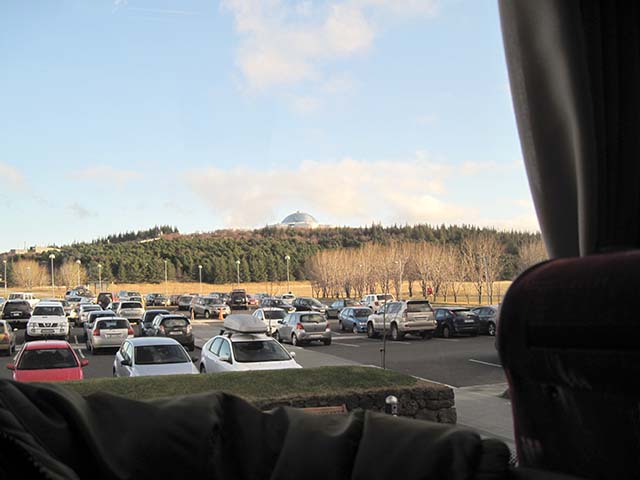 Bye bye Pearl on the hill.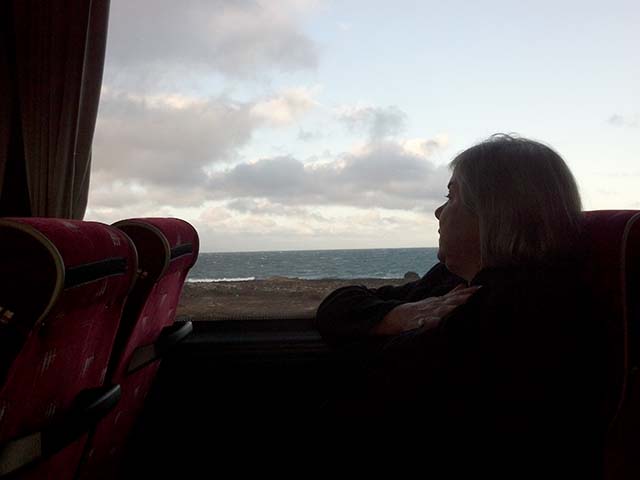 Marilyn contemplates a fun trip.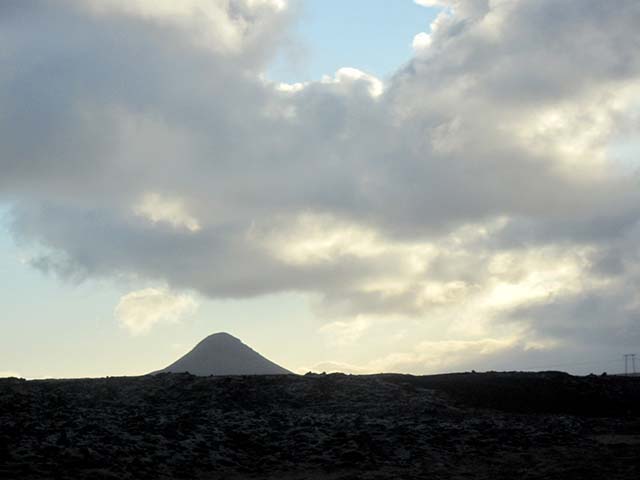 And one last volcano.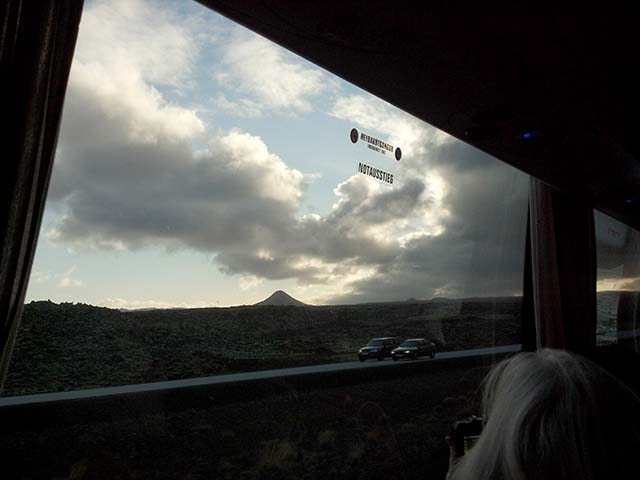 The clouds around that thing are kinda pretty.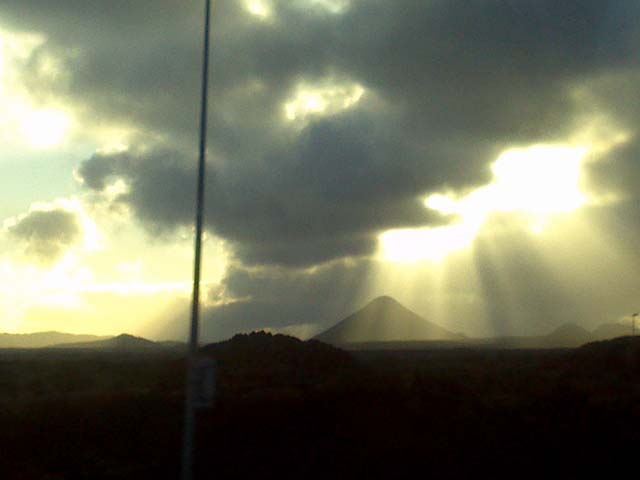 Spectacular, actually.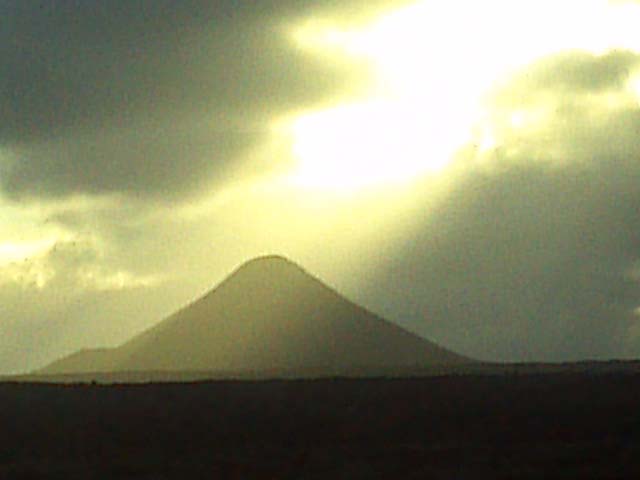 Is this a sign that tonight there'll be northern lights?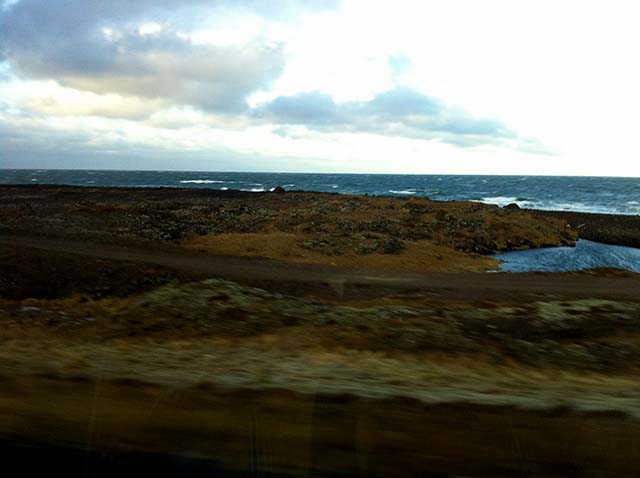 Doesn't matter. We'll just enjoy views of the North Atlantic on our way to the airport.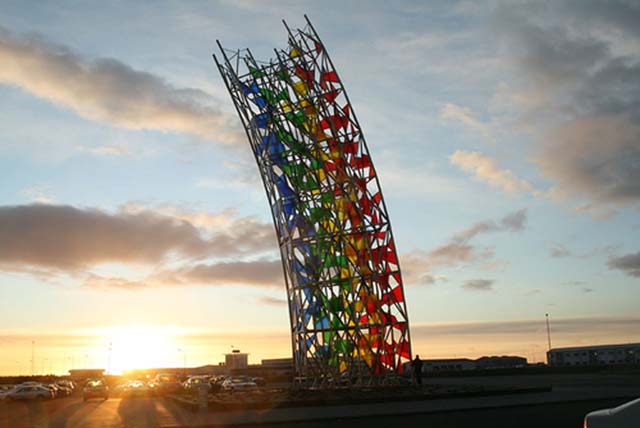 And speaking of the airport, this Keflavik place has some pretty remarkable artwork. Just look at that little piece of a rainbow.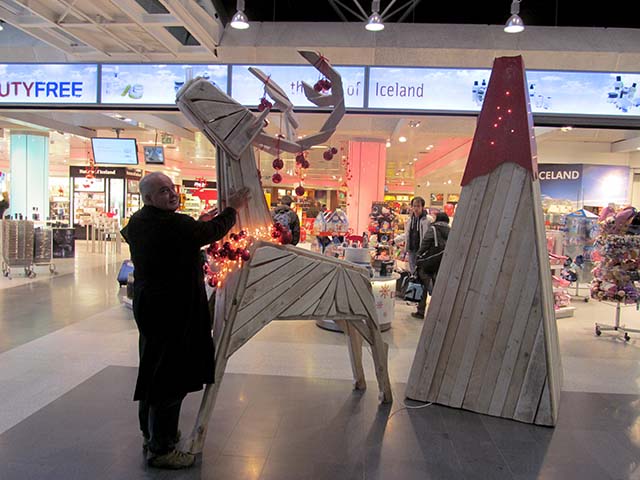 Inside the airport, Greg makes a final Icelandic friend before we catch our plane. Bye bye, wooden reindeer...we had a great time!