A few months before our trip to Iceland, Bill did some internet searching for fun things to do on our extra couple of days in Reykjavik.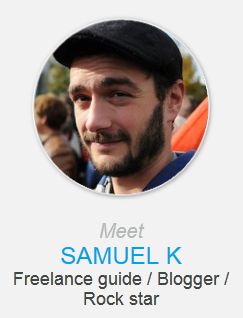 That's how he found this guy, Samuel Kohler. Click on his picture to see what Bill found online, and click here to see Sam's website.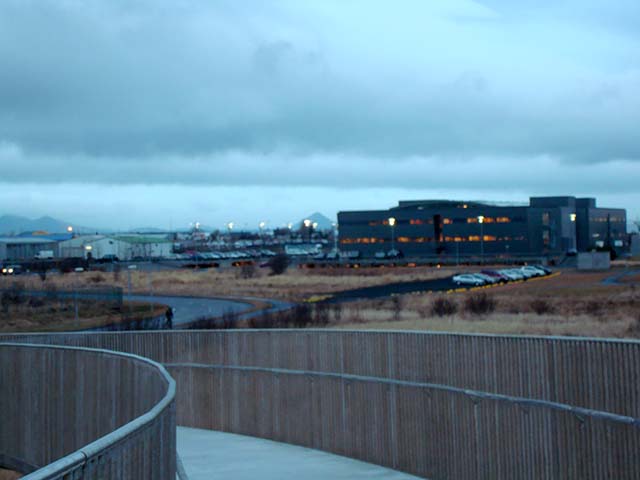 If you want to go on a walking tour of Reykjavik, Iceland, on a blustery cold November day, you'd better REALLY want to go on a walking tour. And you should wear your long underwear. Bill will never understand why he decided not to wear his long underwear.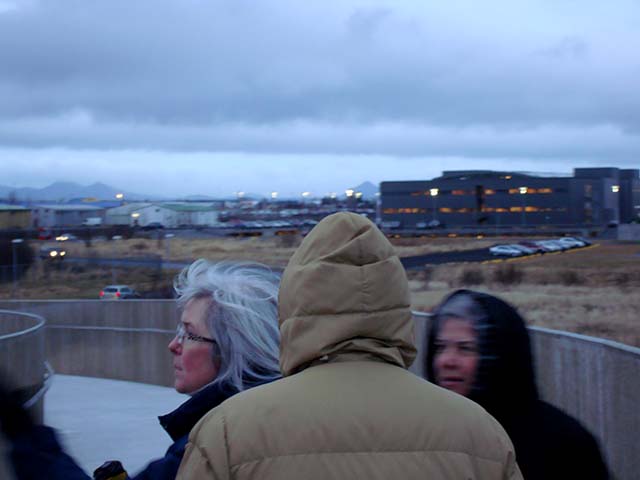 We're a hardy group, though, so off we went.

"So Sam, will we take a taxi or a bus into town?"
<quizzical look>
"We'll walk, of course!"
So here we are skirting the airport on our way to WALK into Reykjavik.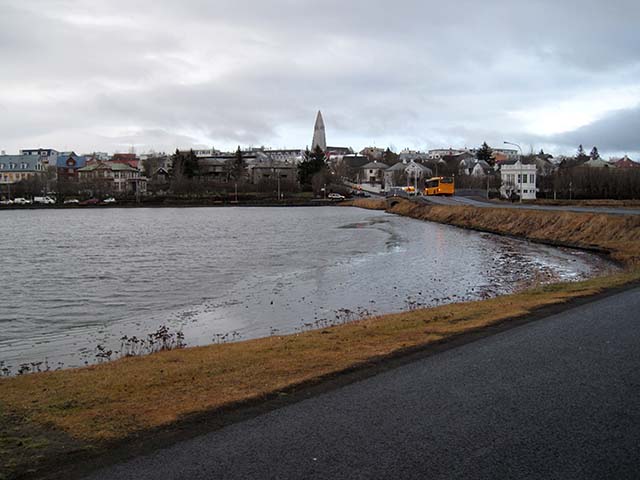 We found a big lake called Tjornin. It's not frozen over yet, but it's getting started.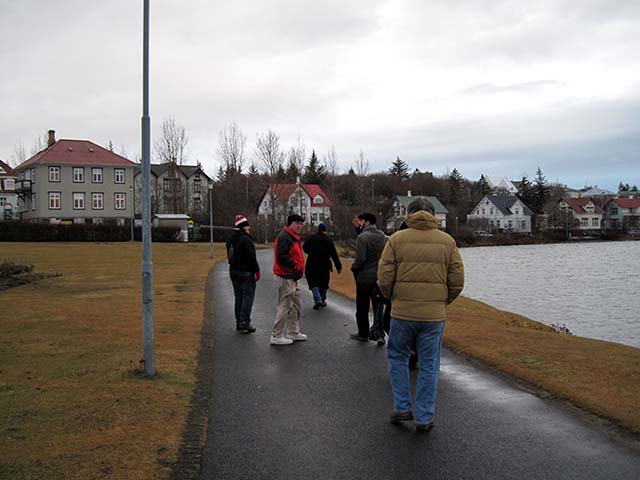 There are some very nice, very OLD homes along the shores of Lake Tjornin.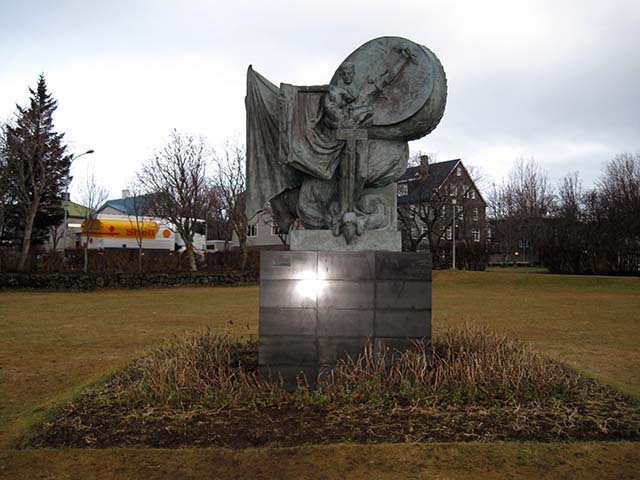 Now we're in Hljómskálagarđurinn, a public park.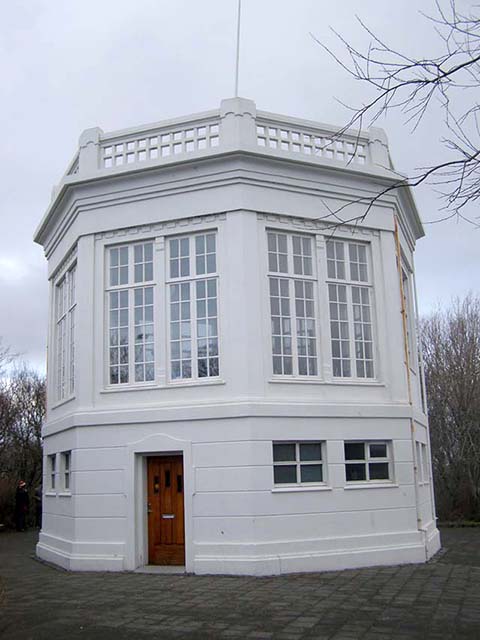 Hljómskálinn is an old concert hall built in the park in 1923. It was the first building in Iceland built primarily for musicians, and it housed the first music school in Iceland. The house was recently converted to a café. Samuel said that in the summer there are concerts here, with the musicians playing on the roof and the building surrounded by happy Icelanders. Sounds like fun.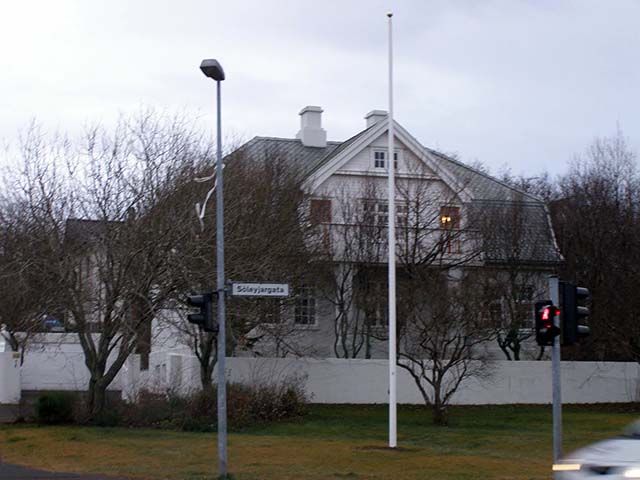 Nice architecture.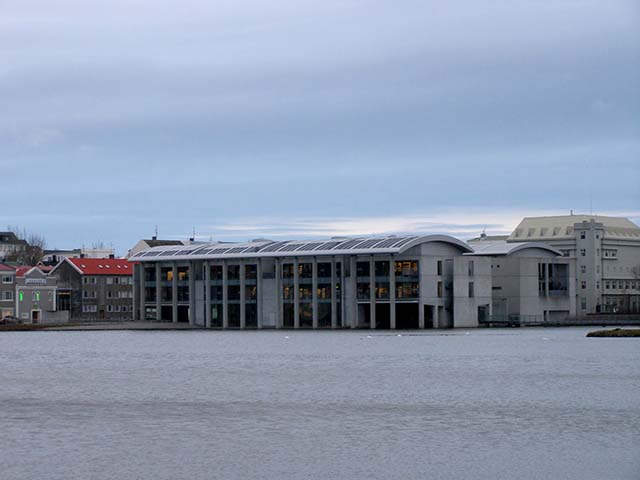 Ráđhús Reykjavíkur (English: Reykjavík's City Hall) is situated by the Tjörnin in Reykjavík. It houses the offices of the mayor of Reykjavík, a café and a large 3D map of Iceland. It is sometimes used for art exhibitions. The building was constructed in 1992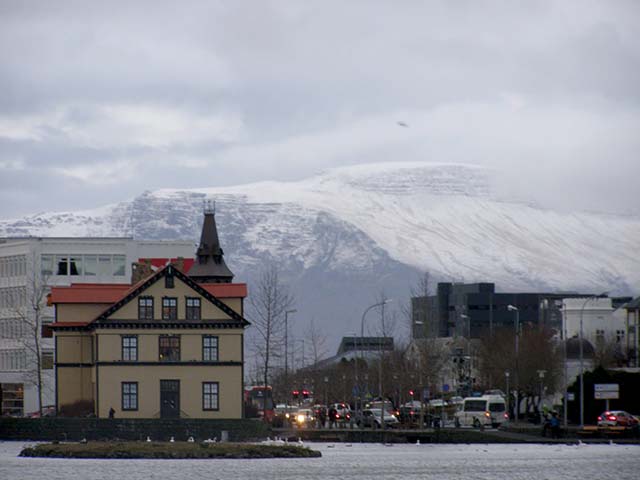 This is pretty impressive today. Can you imagine what it would look like in pretty weather?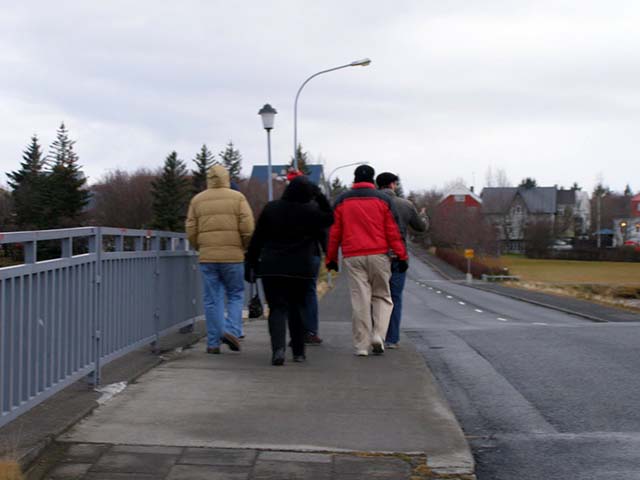 Let's go look at some old houses.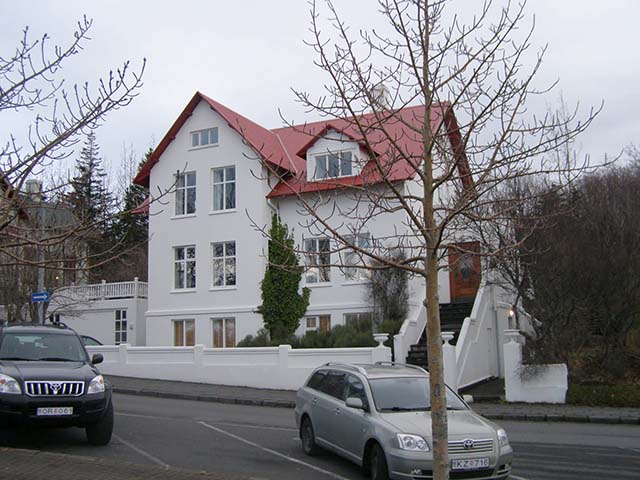 Samuel said these houses were built by some of the earliest wealthy Icelanders.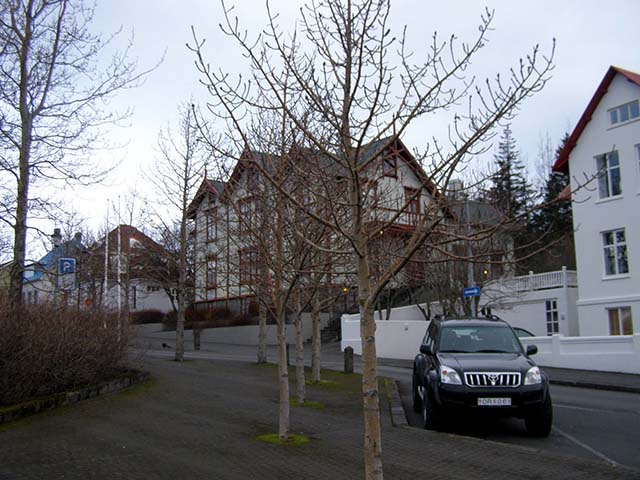 They made their money in fishing and trade. Some of these fancy homes were used as boarding houses in times of hardship.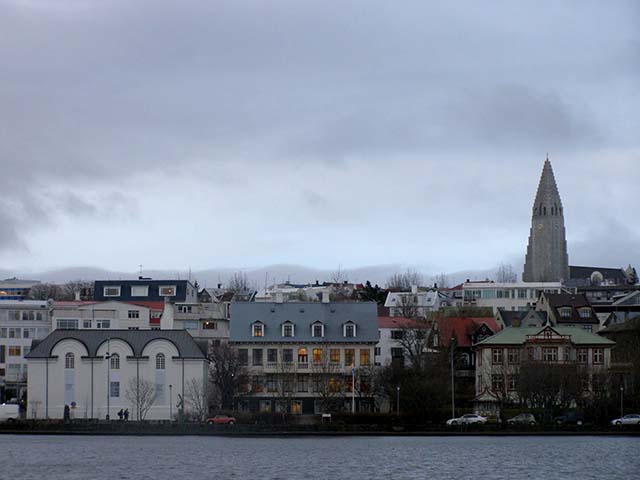 The Listasafn National Gallery (the building with the three white arches) is a national museum and the main emphasis of the collection is on 19th and 20th century Icelandic art, but international art is featured as well. The collection also includes an impressive array of works by internationally renowned artists such as, Pablo Picasso, Edward Munch, Karel Appel, Hans Hartung, Victor Vasarely, Richard Serra and Richard Tuttle.
We didn't go there. Maybe next time.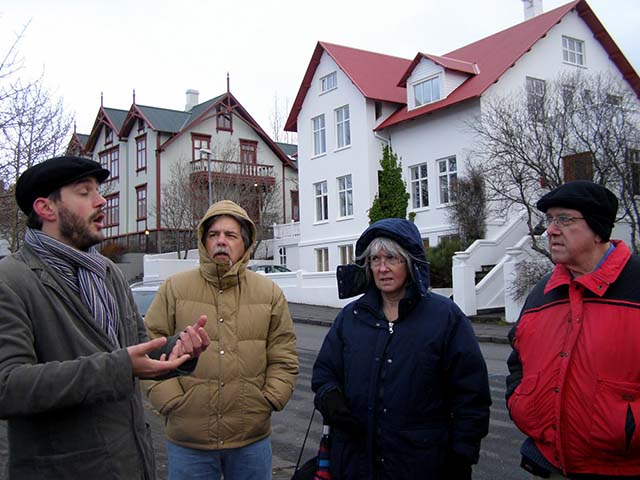 Sam explains it all.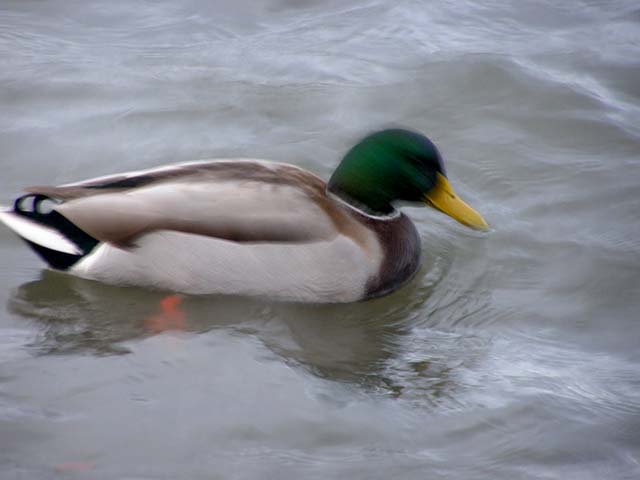 Even the ducks shiver in the cold.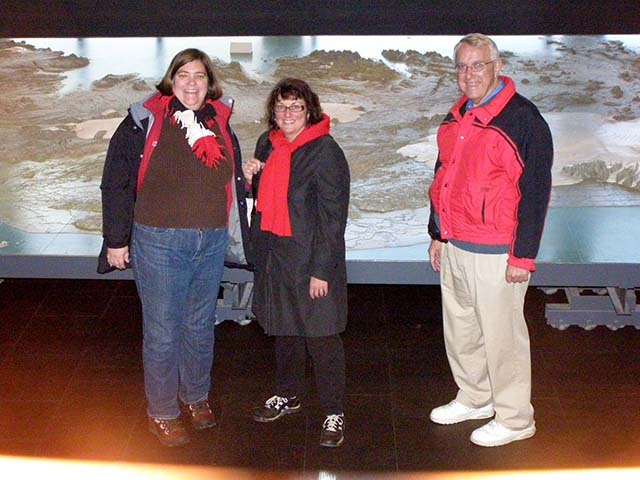 Now we're inside, where it's warm, in City Hall. What's that back there behind us?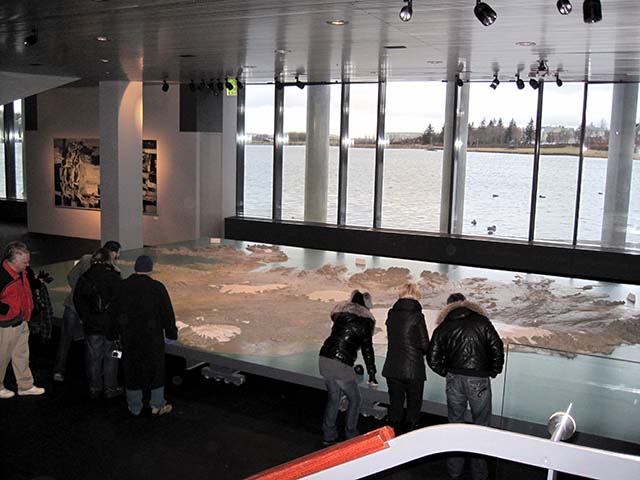 Wow, it's a large-scale model of Iceland.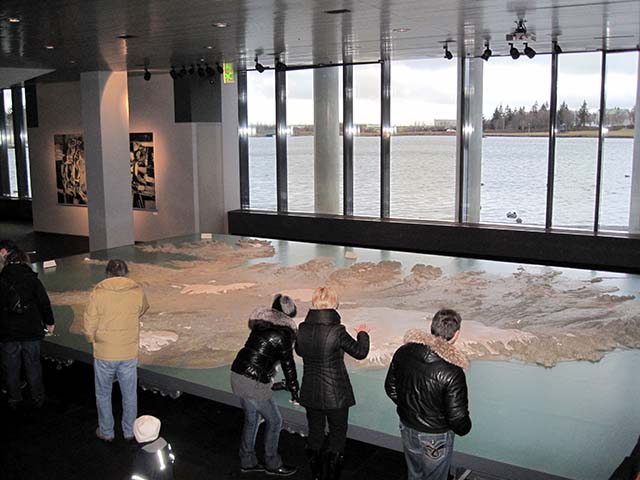 It's all there.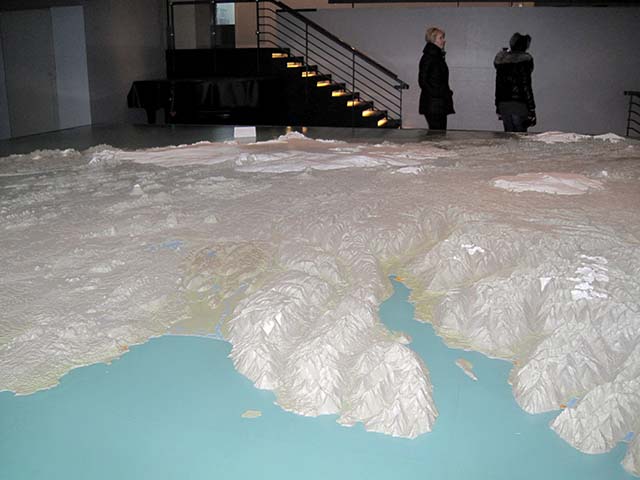 k
Every nook and cranny.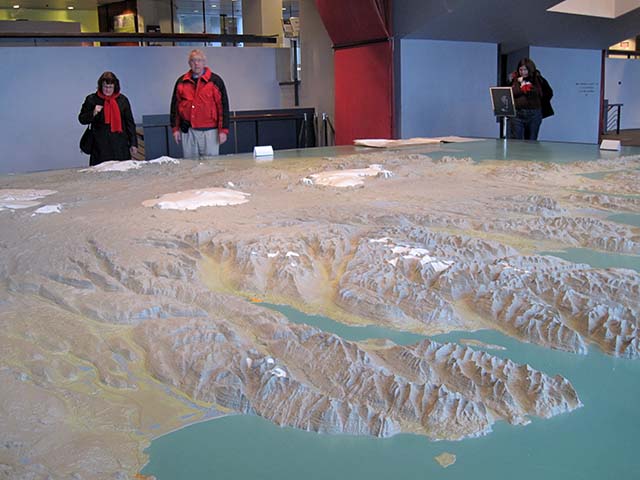 It's big. It's even bigger than Tammy, Bill and Patty.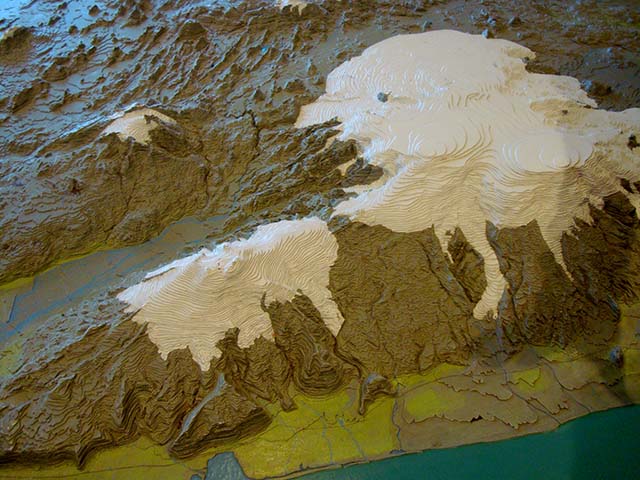 It even has glaciers. Pretty nice display!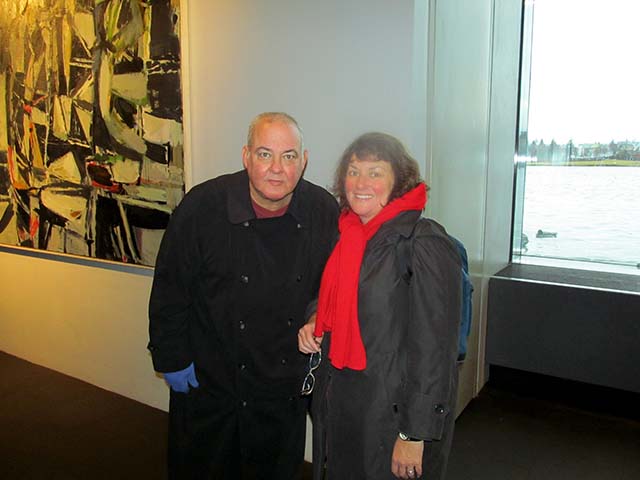 Greg and Tammy are impressed.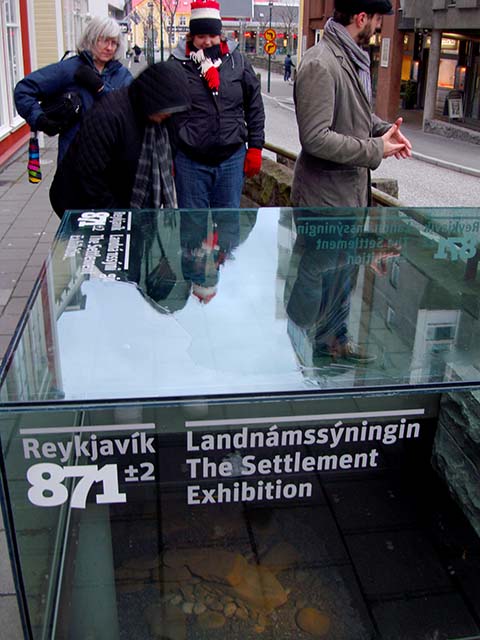 Now we're back out on the street and Sam is showing us where one of the earliest settlements in Iceland has been excavated.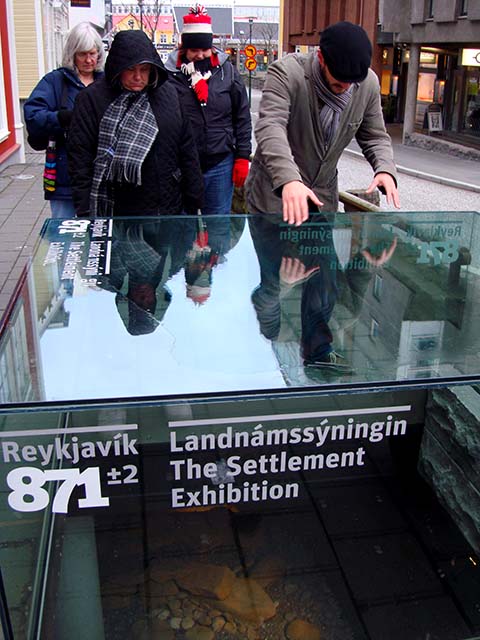 The Settlement Exhibition displays a Viking-Age longhouse dated to around 930 AD.
It was found in archaeological excavations in the centre of Reykjavík in 2001. The ruins of the longhouse and a part of a man made structure – a turf wall, have been preserved and are now on display "on site". These are the oldest archaeological findings in Reykjavik. The Settlement Exhibition is focused on the interpretation of the ruins, and by multimedia technique, guests can find out about life of the people who lived there and see a model of the long house.
Well, that's what Bill found on the internet, anyway. So what's this about 930 AD? The sign on the glass clearly says 871 AD, plus or minus a couple of years. Never trust anything you find on the internet. Maybe we'll come back here later.
Samuel explains it all.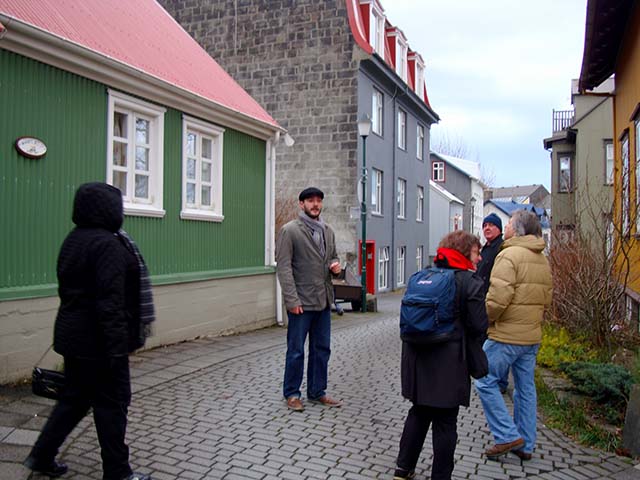 OK, on to more neighborhoods.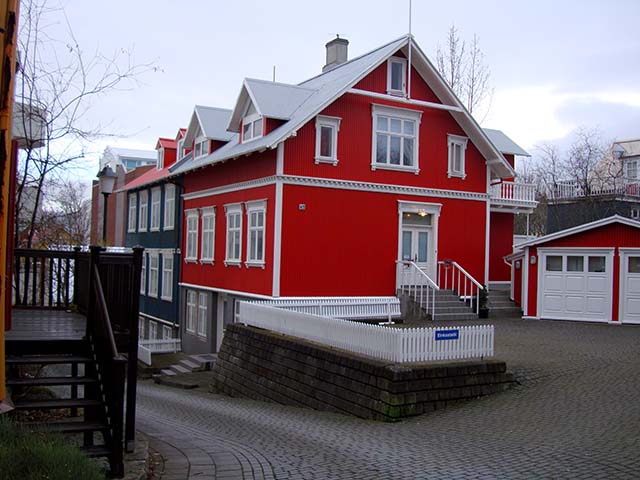 The outer skin of the houses are generally made of metal covering wood.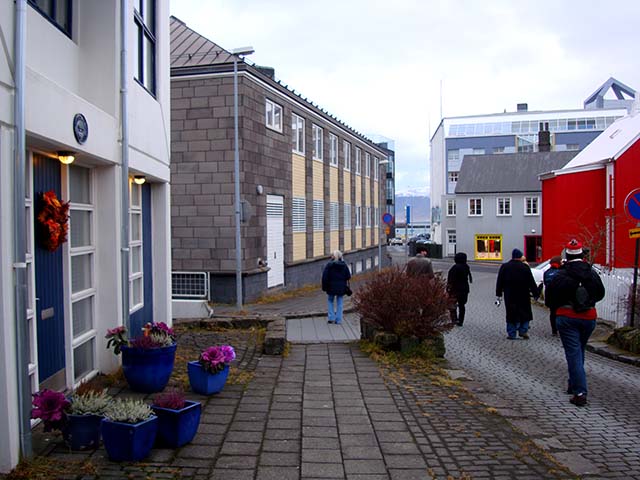 That looks like water up ahead.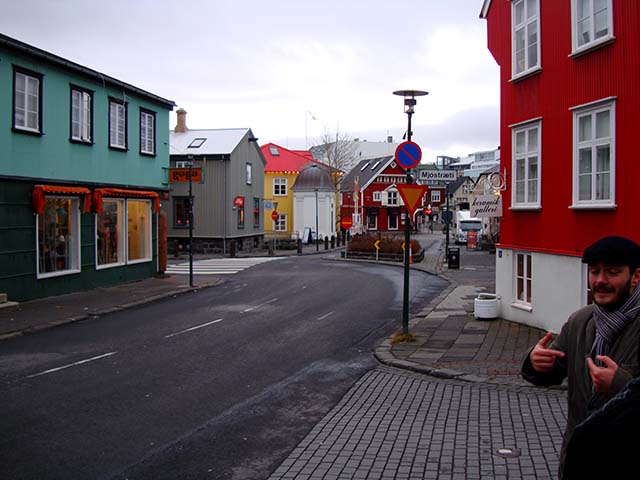 Samuel fills us in on the details of the neighborhood.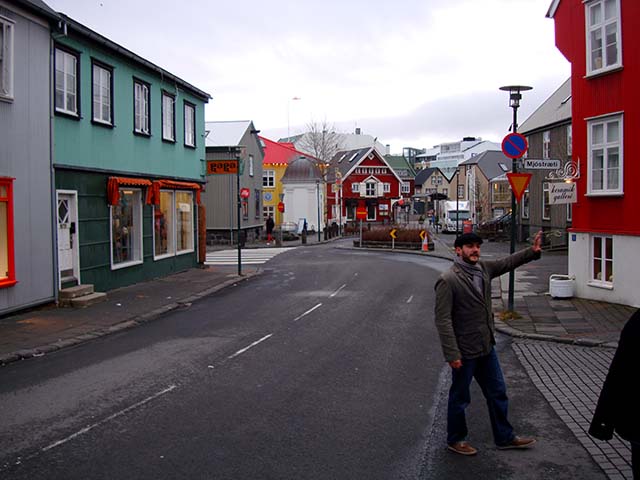 Every single thing you'd ever want to know about the neighborhood.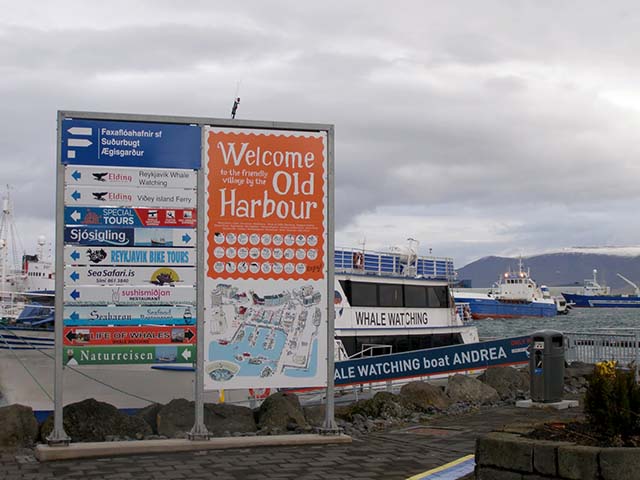 Oh boy! Boats!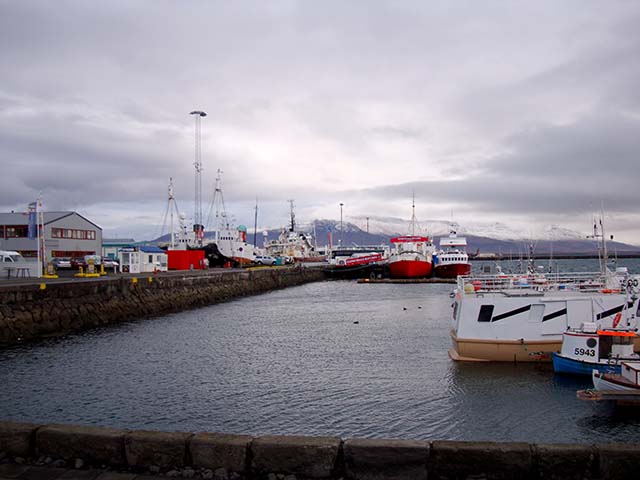 We've arrived at Reykjavik's docks.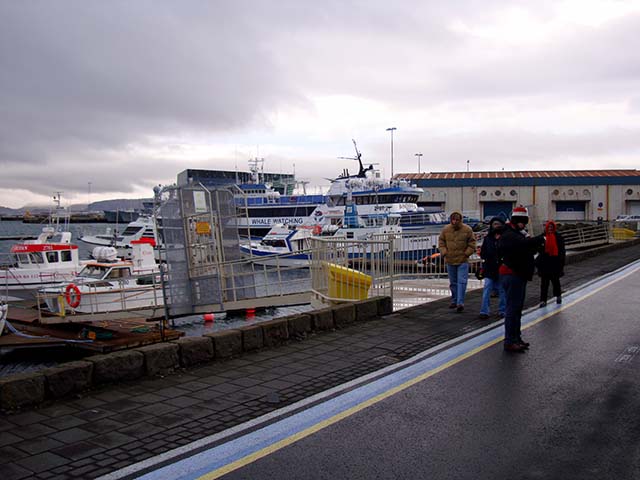 It's cold down here at the docks.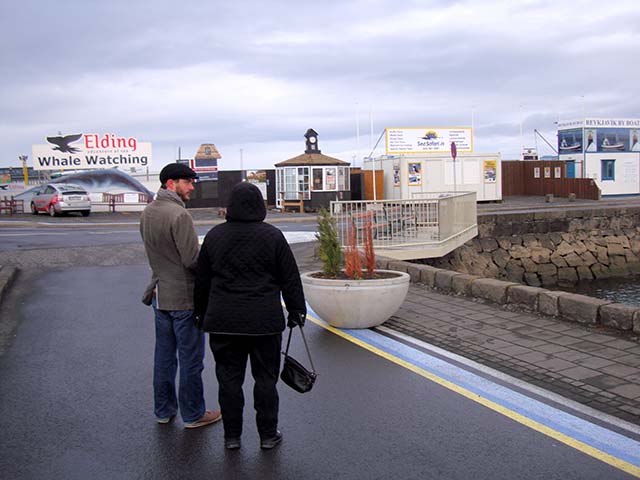 This is where the tourists come when it's a bit warmer in Reykjavik. Not many around today.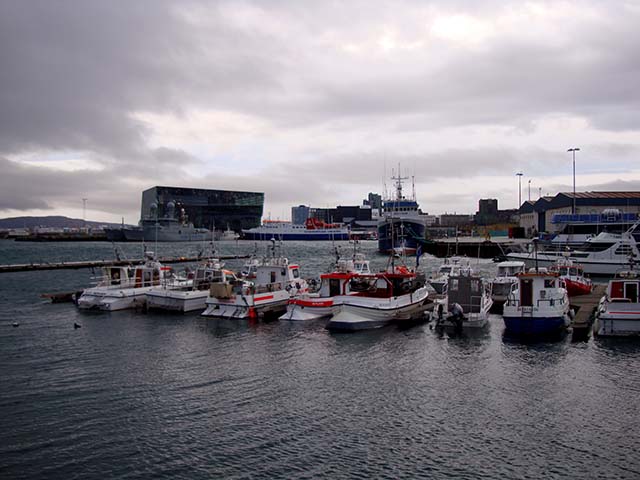 See that big dark glass thing way over there? A striking addition to the Icelandic and European cultural scene, Harpa Reykjavik Concert Hall and Conference Centre opened its doors to the public in May 2011. We didn't go there, but we sure did notice it.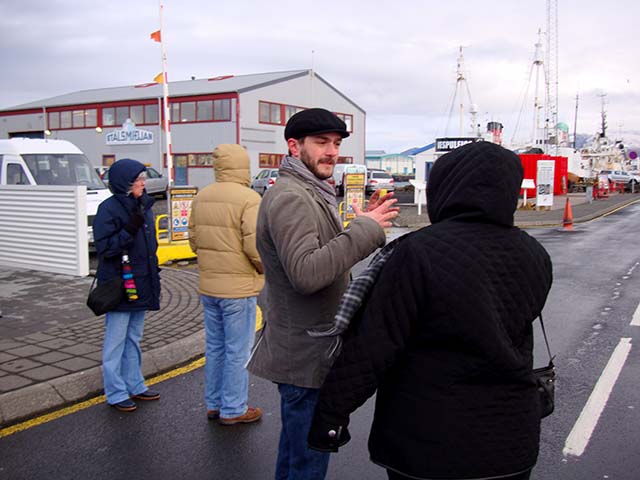 I believe Samuel wasn't impressed by the beauty of the Concert Hall.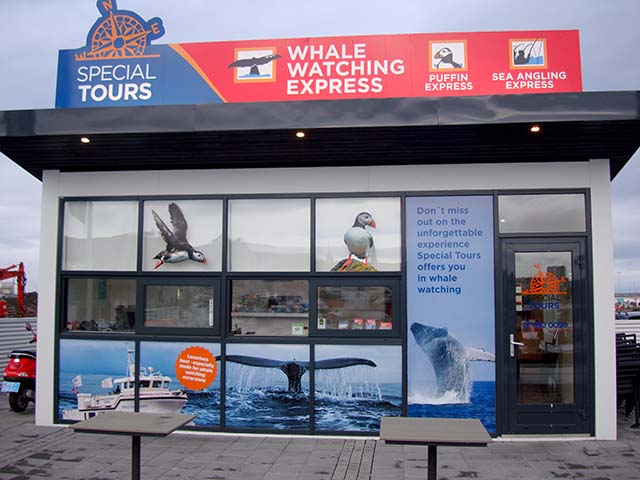 It was a chilly day. Tourists weren't beating down the doors of the Whale Watching Express office.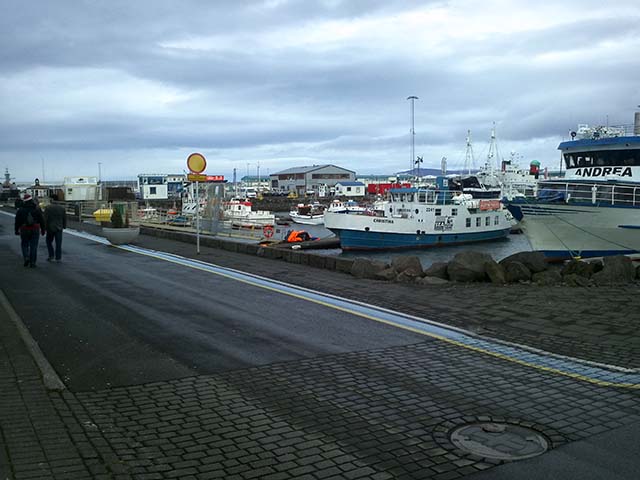 Fishing boats.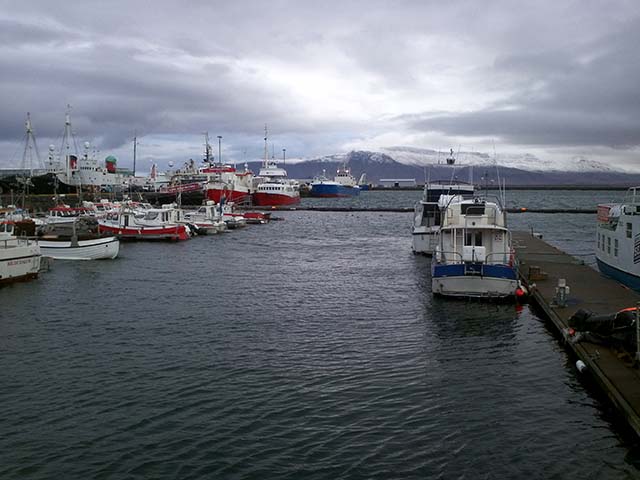 More fishing boats.
Dry dock.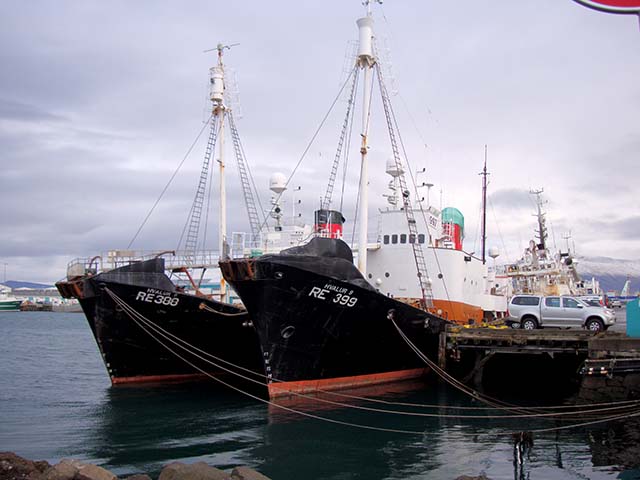 Whaling boats.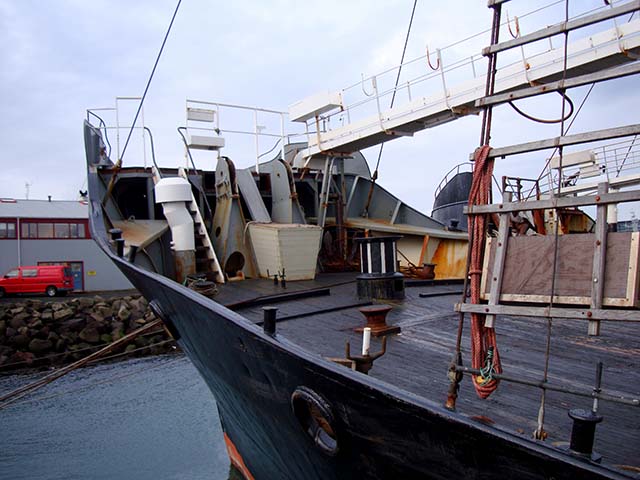 Can you picture bloody whale carcasses being gutted up there on the deck? Bill can.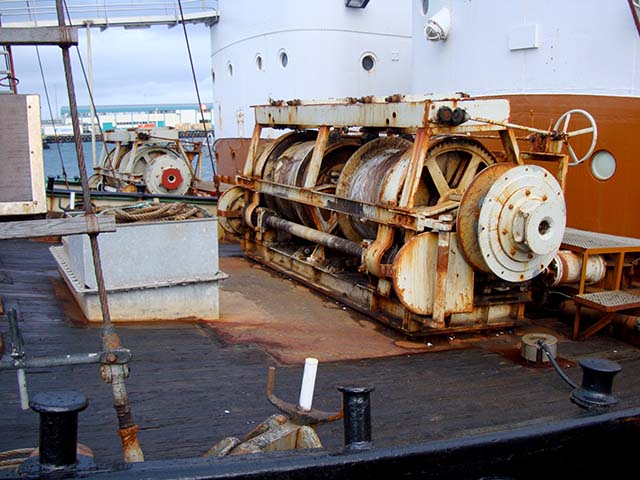 This is where they take the whales apart.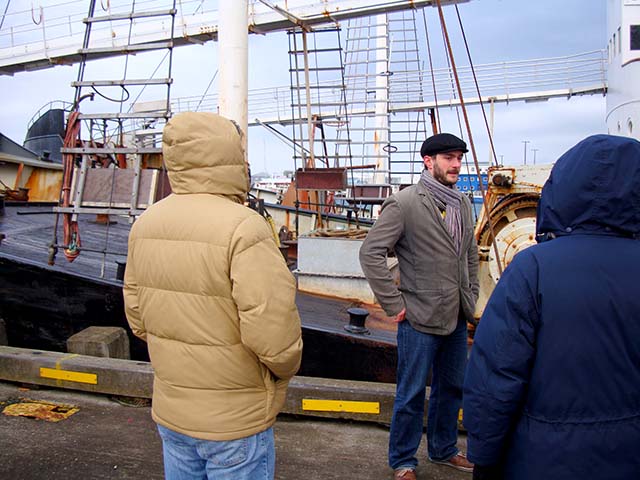 Samuel explains it all.
We're in an area designed to handle large numbers of tourists. But we're the only ones here.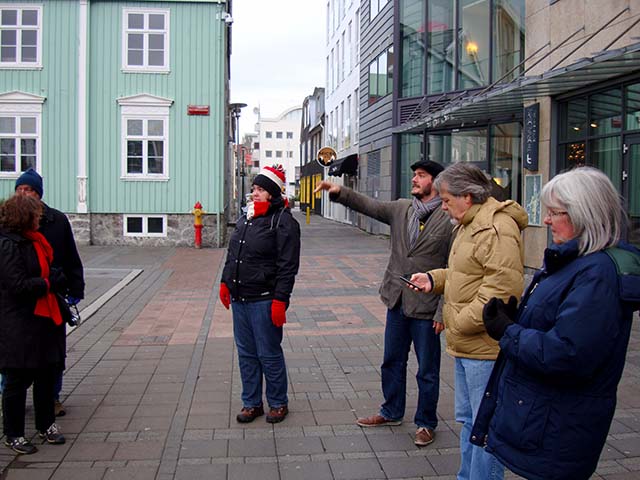 Now we've left the docks and we're a bit protected from the wind.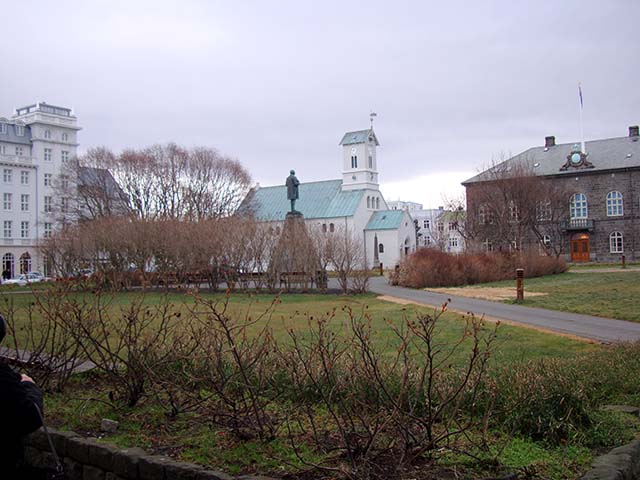 Austurvöllur is a public square in Reykjavik, Iceland. It is surrounded by the Parliament of Iceland Building, the city\'s oldest church, Dómkirkjan. On hot summer days Austurvöllur is a very popular place to go among Reykjavíks young people.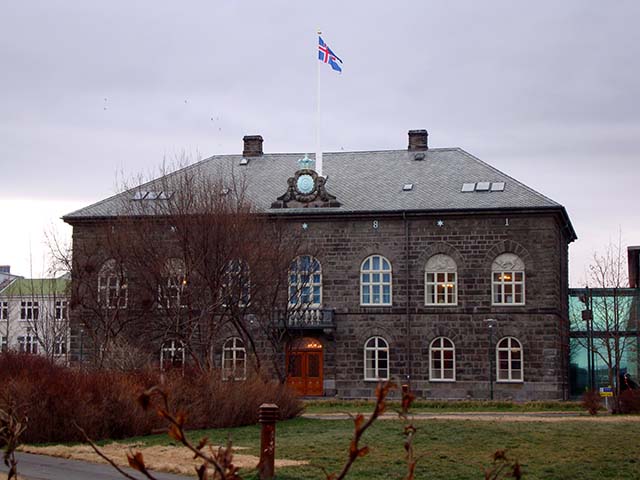 The Alţingi, Anglicised variously as Althing or Althingi, is the national parliament, (general assembly) of Iceland. The Althingi is the oldest parliamentary institution in the world still extant. It was founded in 930 at Ţingvellir. It was restored in 1844 and moved to Reykjavík, where it has resided ever since. Alţingishúsiđ (The Parliament house) was built in 1880-1881 and designed by the danish architect Meldahl. The house is one of few large masonry houses in Reykjavík, and is made out of hewn Icelandic stone.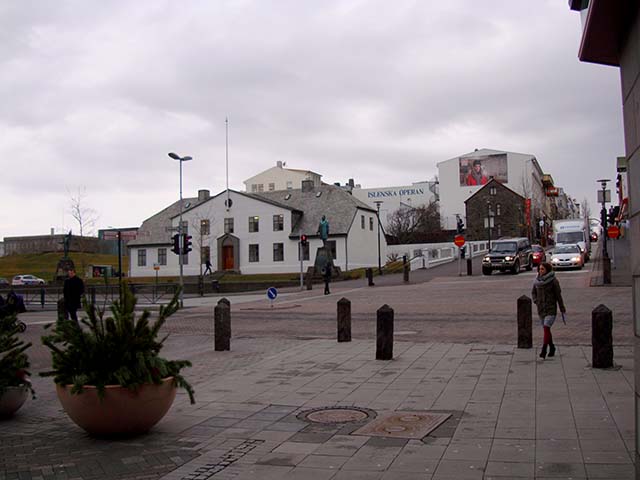 One of the oldest buildings in the city centre is Stjórnarráđshúsiđ, The Government House , built of local stone in 1764. Originally a prison, it was converted to an official residence in the 19th century.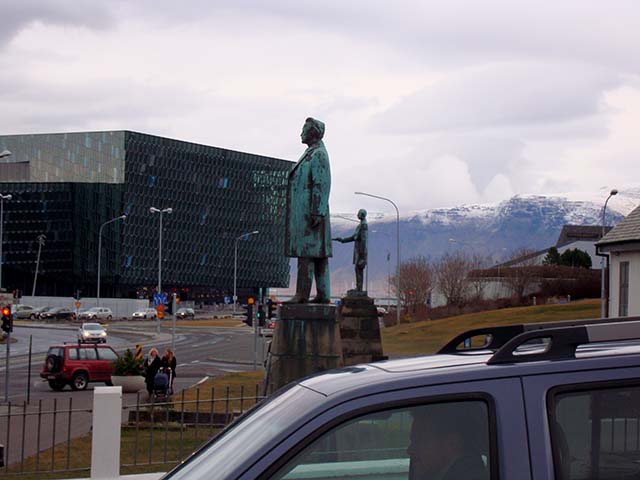 On the lawn are two statues by Einar Jónsson: one, put up in 1931, of Hannes Hafstein, the first Icelander to be Home Rule Minister, and the other, from 1915, of King Christian IX of Denmark giving Icelanders their constitution. Icelanders delight in showing visitors the perfect spot to stand where everything is angled just right to see exactly where King Christian wanted to stick that constitution.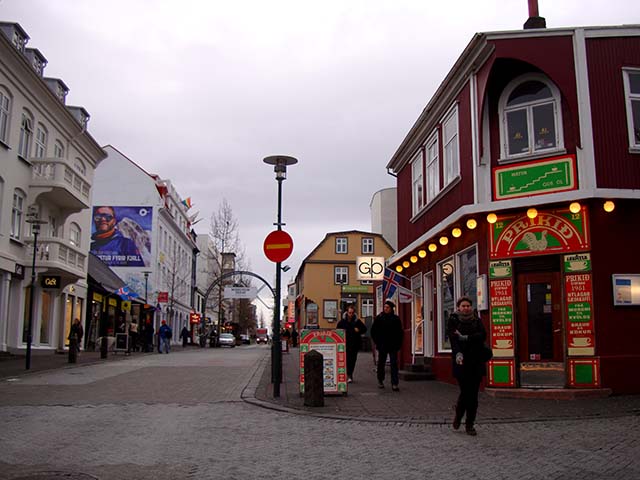 This is Laugavegur, Reykjavik's default Main Street for shopping. Under the arch, up and over that hill, is the main bus terminal where we could catch a ride back to the Hotel Natura.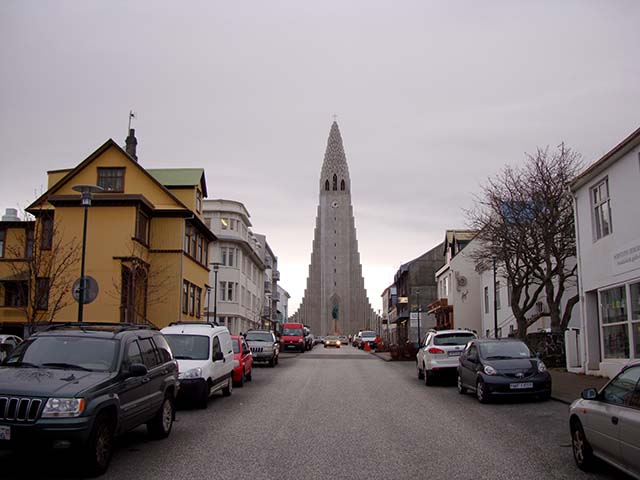 The Hallgrímskirkja (church of Hallgrímur) is a Lutheran (Church of Iceland) parish church in Reykjavík, Iceland. At 74.5 metres (244 ft), it is the largest church in Iceland and the sixth tallest architectural structure in Iceland after Longwave radio mast Hellissandur, the radio masts of US Navy at Grindavík, Eiđar longwave transmitter and Smáratorg tower. The church is named after the Icelandic poet and clergyman Hallgrímur Pétursson (1614 to 1674), author of the Passion Hymns.

State Architect Guđjón Samúelsson's design of the church was commissioned in 1937. He is said to have designed it to resemble the basalt lava flows of Iceland's landscape. It took 38 years to build the church. Construction work began in 1945 and ended in 1986, the landmark tower being completed long before the church's actual completion. The crypt beneath the choir was consecrated in 1948, the steeple and wings were completed in 1974, and the nave was consecrated in 1986. Situated in the centre of Reykjavík, it is one of the city's best-known landmarks and is visible throughout the city. It is similar in style to the expressionist architecture of Grundtvig's Church of Copenhagen, Denmark, completed in 1940.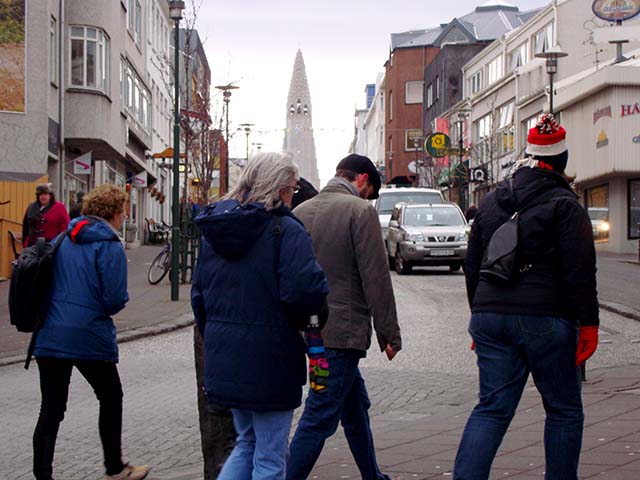 Samuel didn't take us to the church. But that was OK, as we were getting pretty pooped by this point.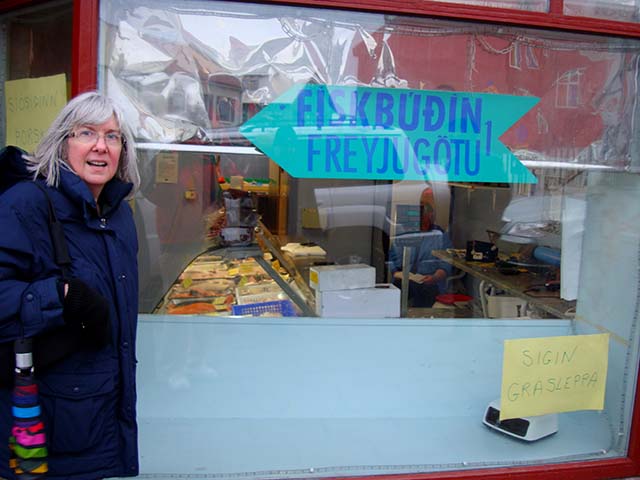 Samuel said that if ever we wanted to buy fresh fish, we should come here.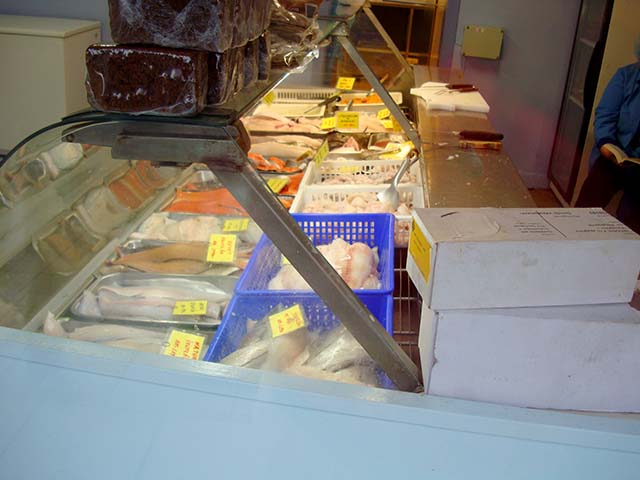 Mmmm.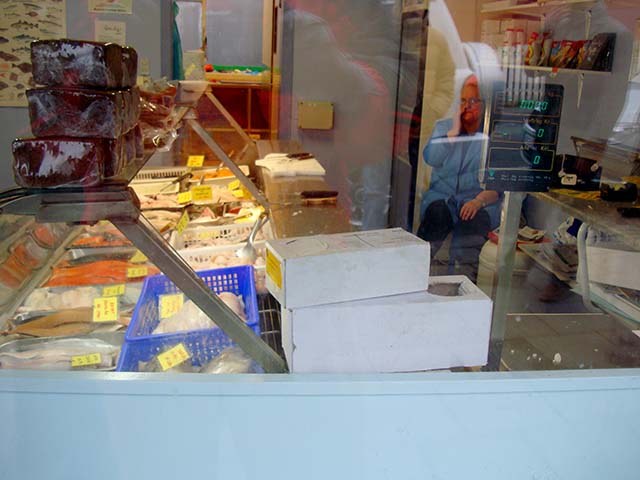 The poor lady inside thought we were going to be customers.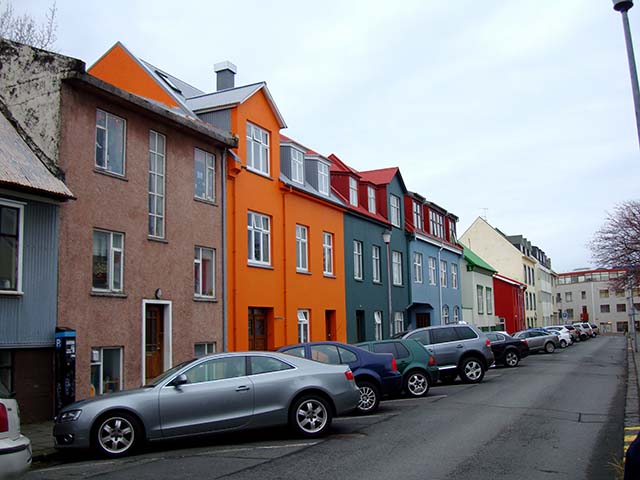 Pretty houses.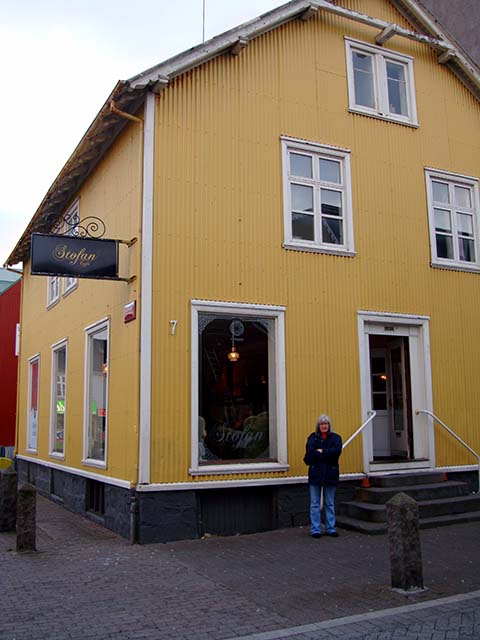 But we're tired and cold and Samuel has a great idea. Let's have some coffee! Say, what's the name of this coffee house? Stofan? Well, this requires an emergency email to NASA Headquarters so Jim Stofan can understand how much we appreciate his hospitality.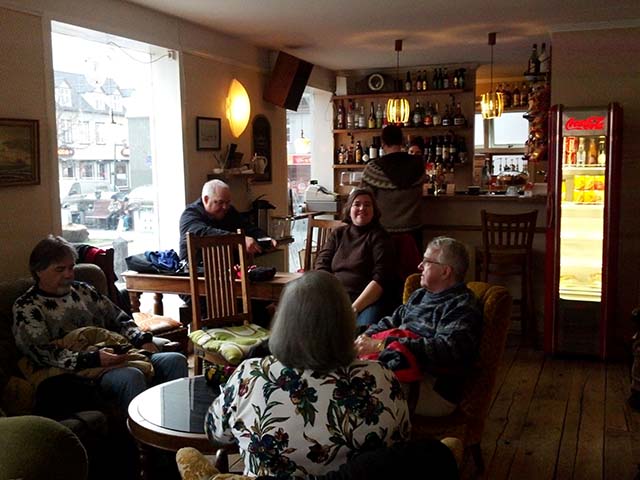 Have you ever seen a more perfect spot to escape cold winds?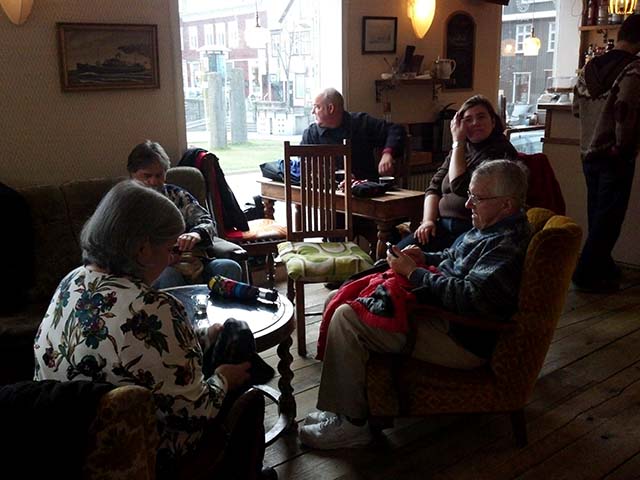 Samuel has brought us to a little piece of heaven.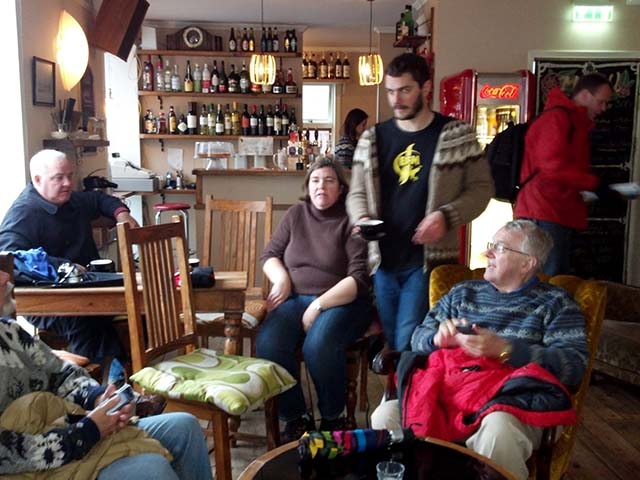 Anybody want a cup of hot cocoa?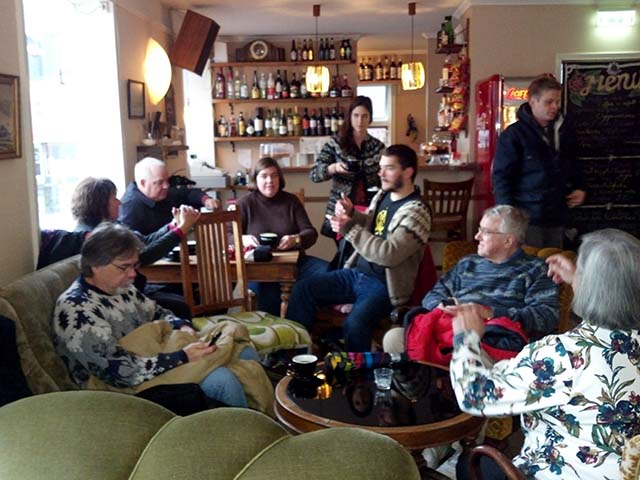 Samuel, you have no idea.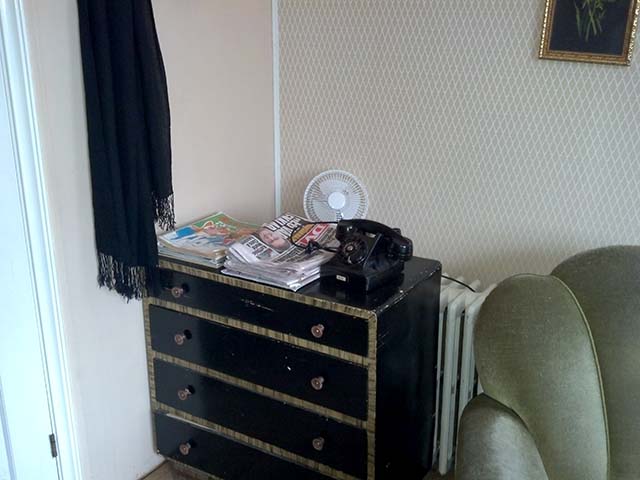 Looky! -- Some thought it was an antique telephone. Bill thought it looked like what a telephone is supposed to look like.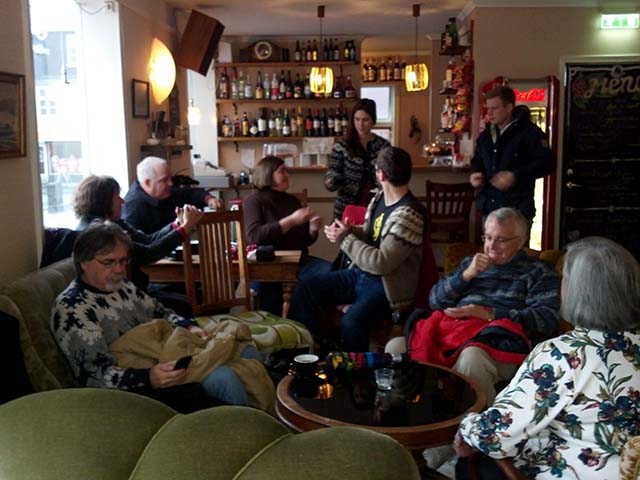 More coffee? Sure.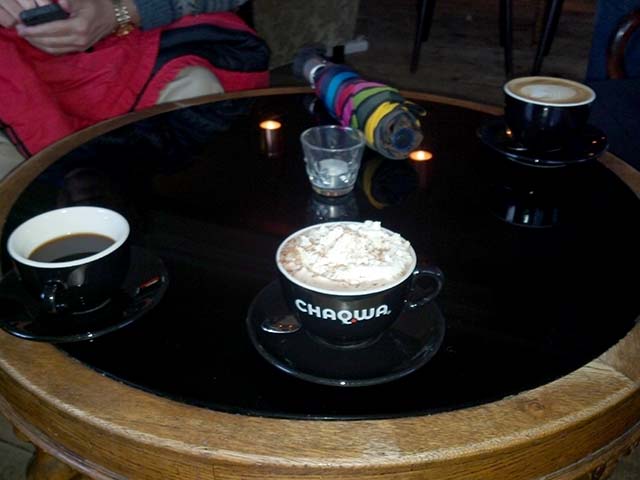 And hot chocolate. Mmmmmm.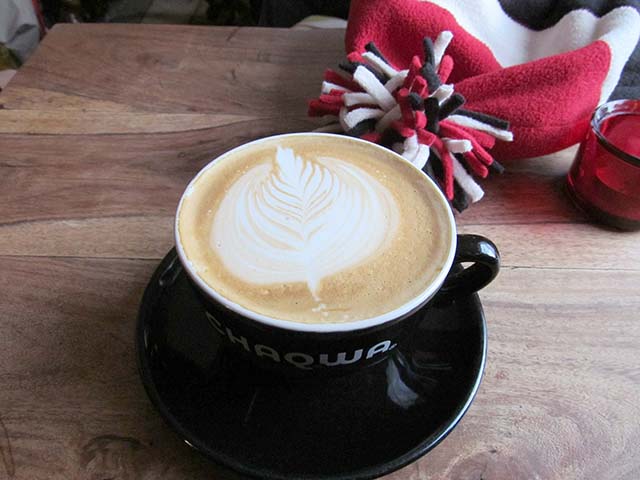 Artistic coffee too.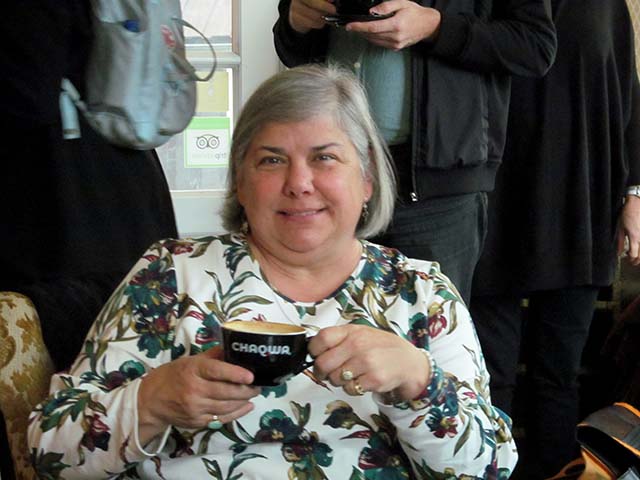 Marilyn's a fan.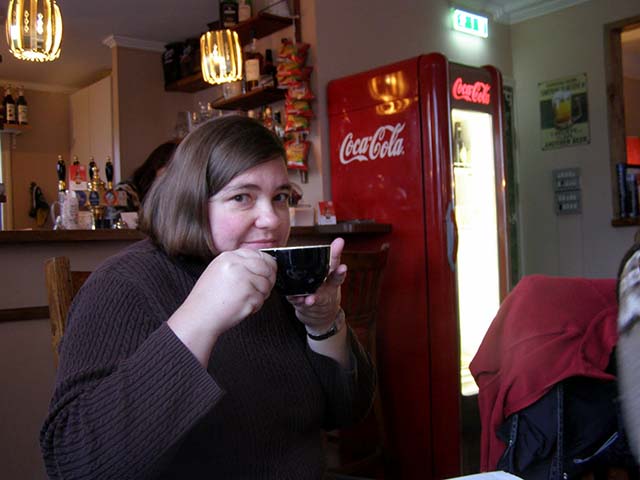 So's Patty.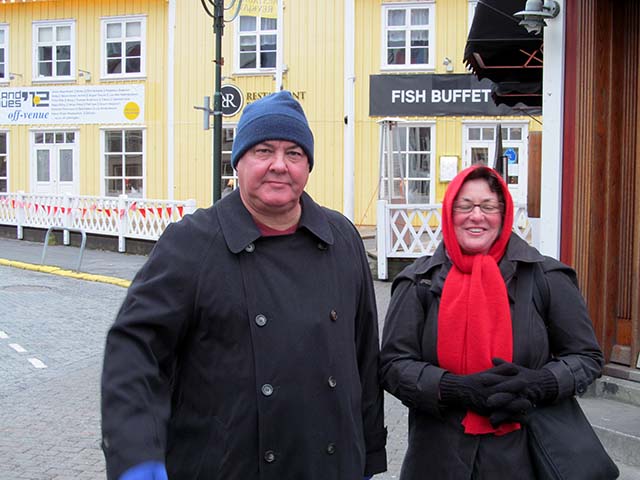 Greg's hungry.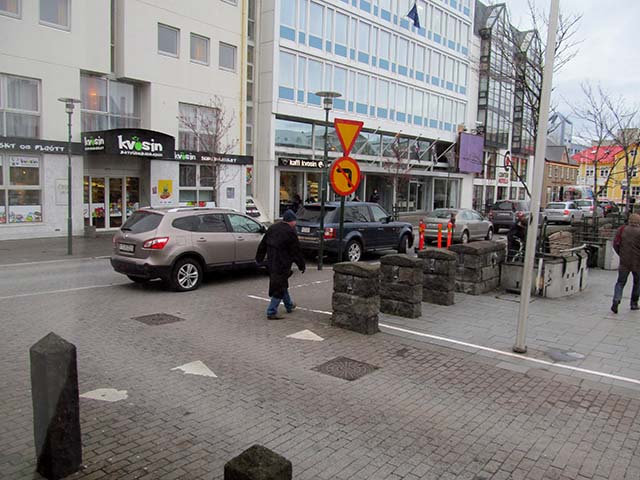 He's on a quest.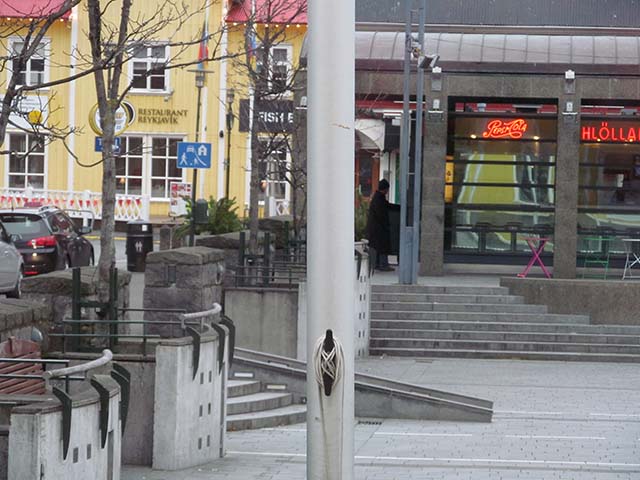 Mmm. Sandwich.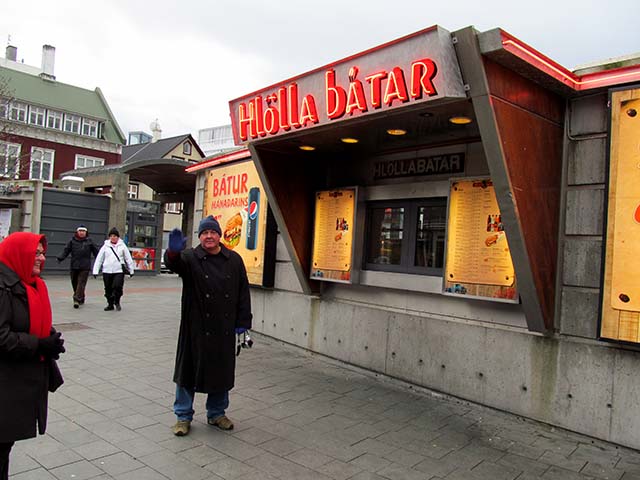 Gonna be tasty.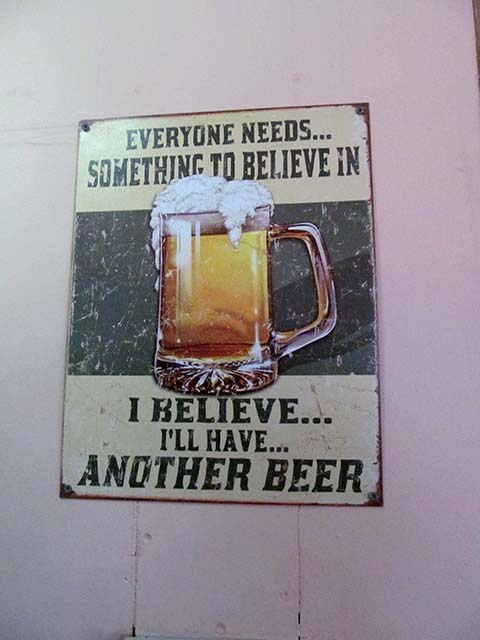 This too.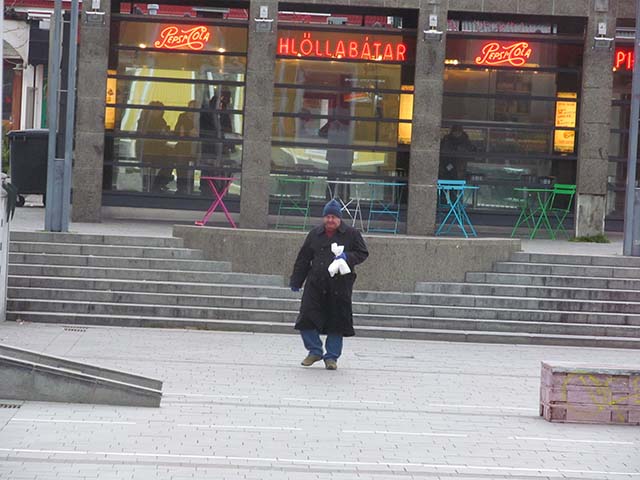 Success.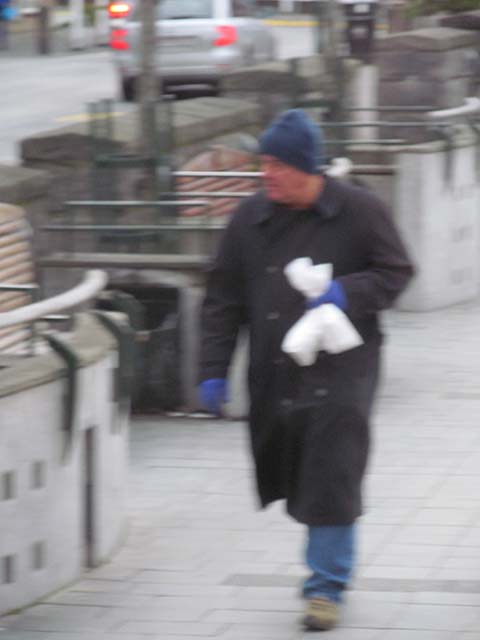 The world-famous sandwich spy is on the case.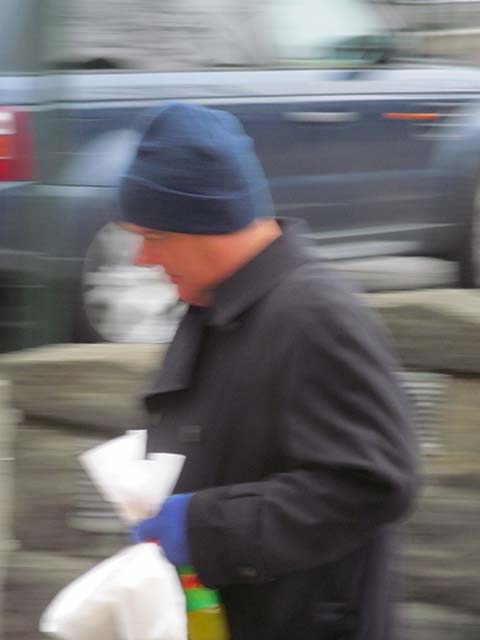 Dramatic evidence that the sandwiches are in hand. I'm hearing the James Bond theme.
Back to the Stofan Coffee Shop.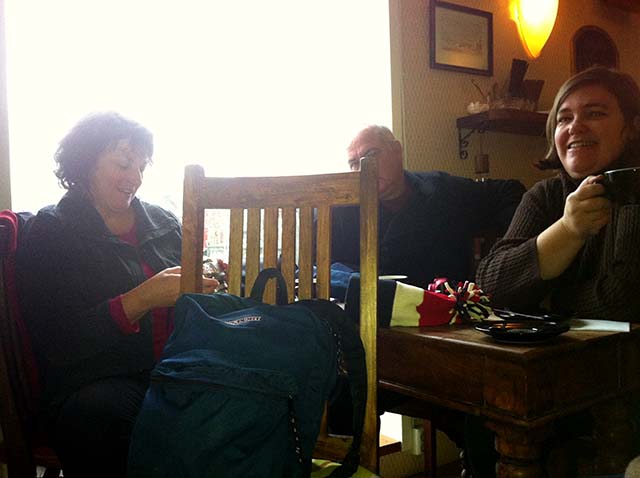 Oh no. Busted. The spicy, vinegary aroma of the sandwich filled the coffee shop and the owners determined that just wasn't appropriate for this place. Stofans really can be difficult to deal with.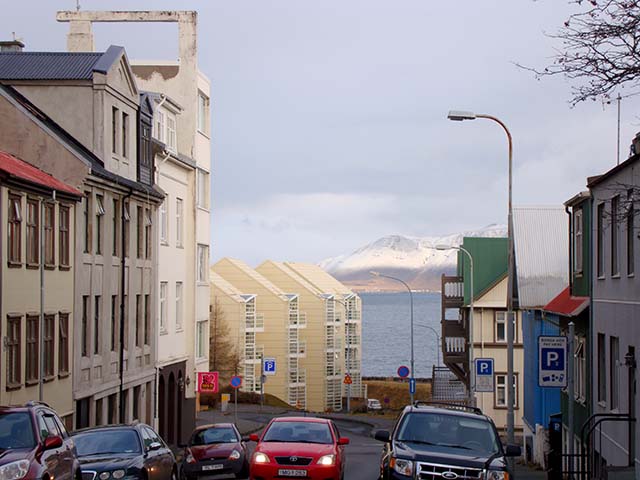 Back out on the street. Reykjavik is surrounded by dramatic vistas.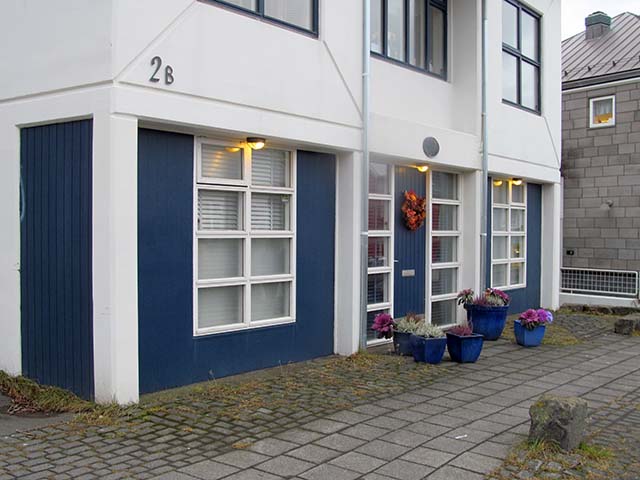 And pretty houses.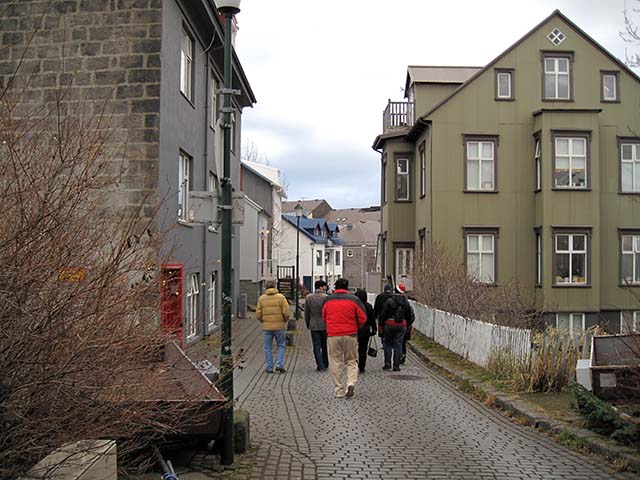 So off we go, charging back into the cold.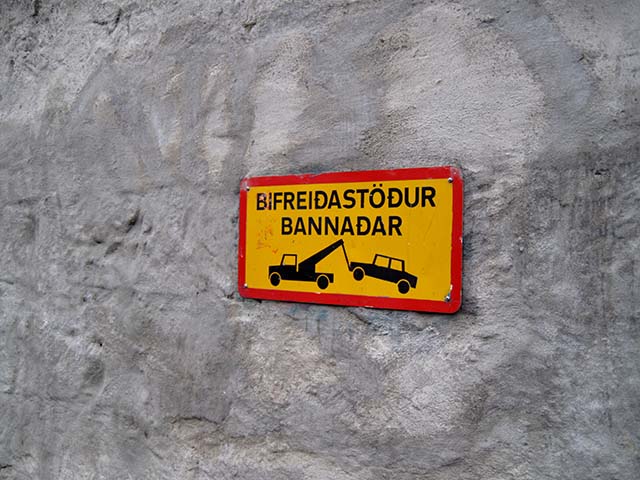 No parking.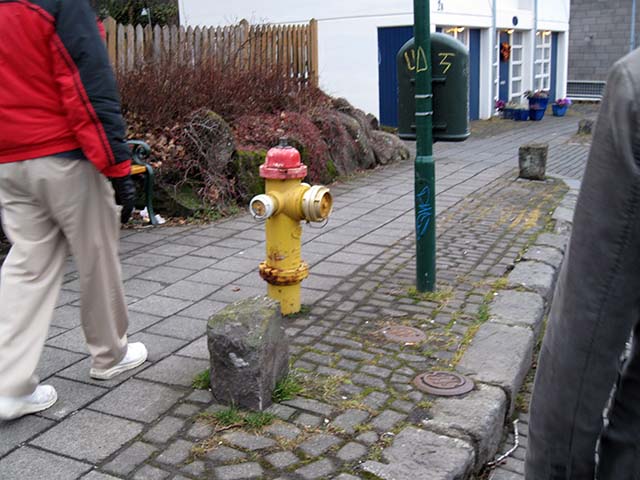 Ancient stones in a modern neighborhood.
Inn and ut burgers?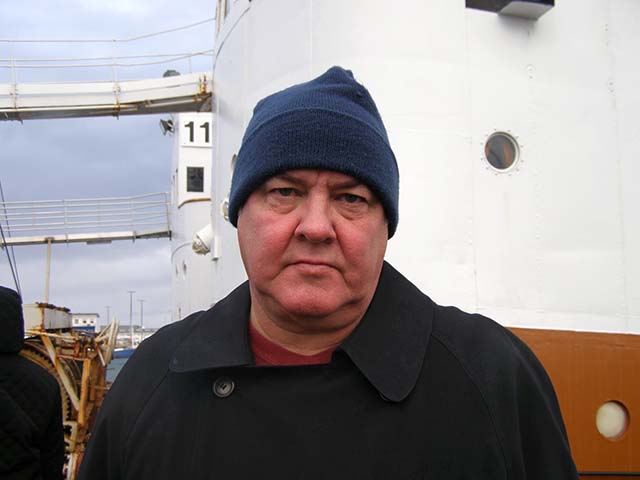 That was bad, Bill.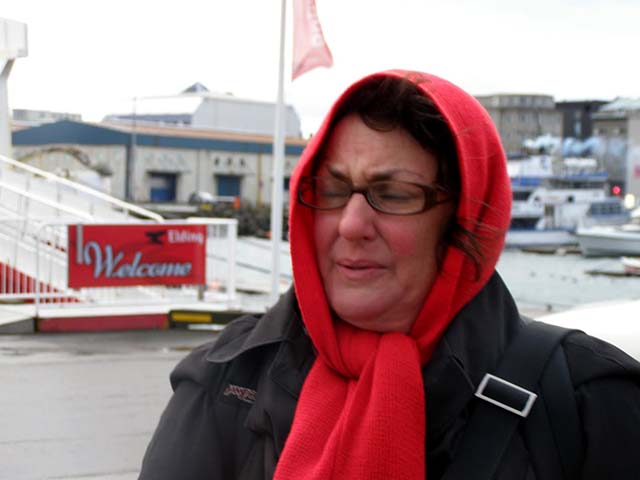 Seriously bad.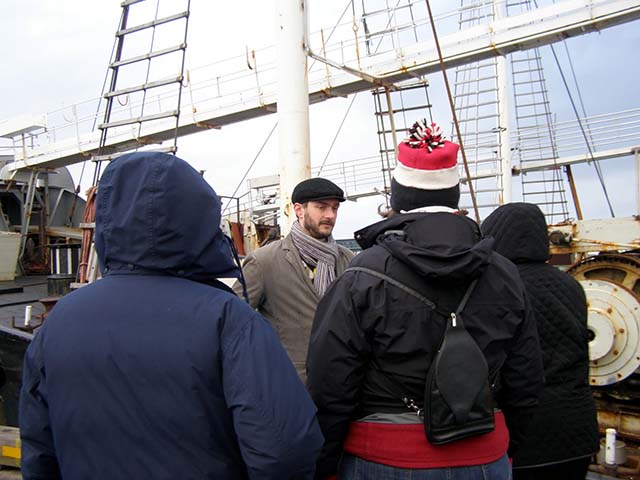 But Samuel's tour was great. Thanks, Sam!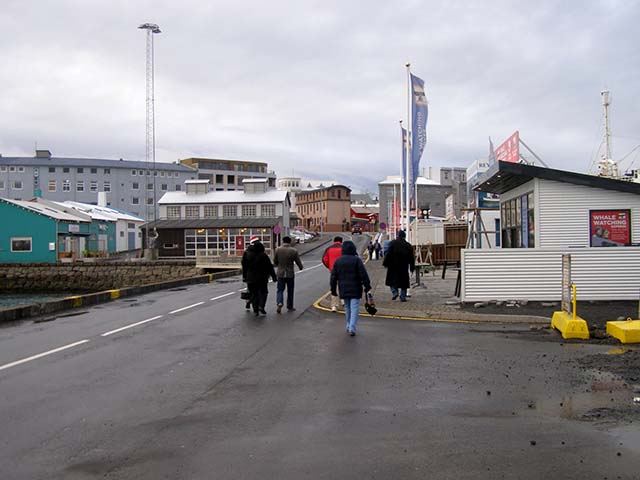 Now let's go back to the hotel where it's warm.