The highlight of the entire reunion was the bus tour of South Memphis. Cindy put the whole thing together, arranging for a very nice bus.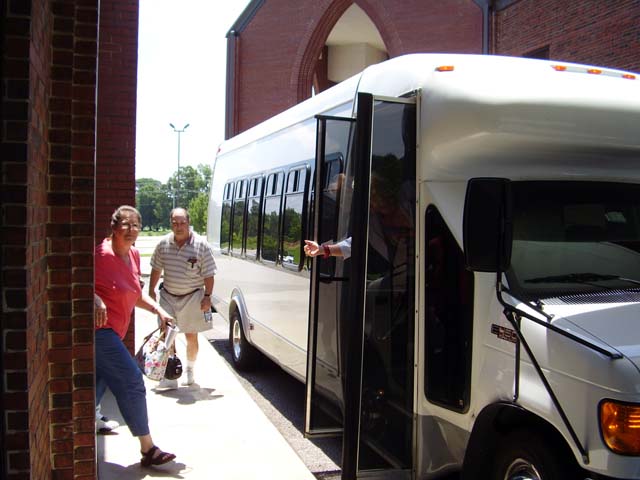 Sylvia and Doug get ready to board.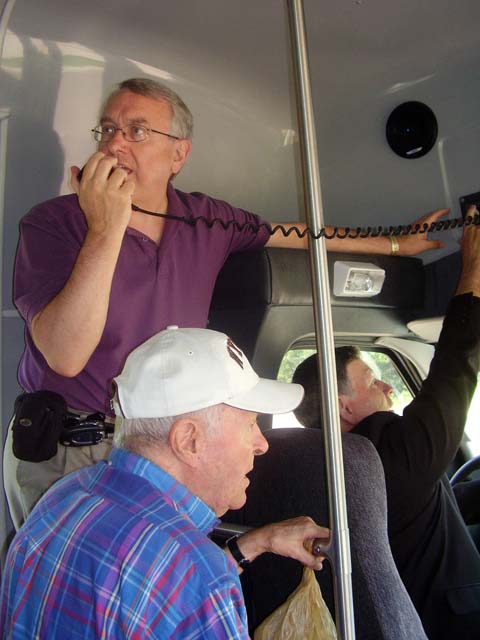 Bill couldn't figure out how to make the bus intercom work, and the bus driver (nice guy) was no help either. Cindy figured it out. Tour guide Freddie sat up front. We were headed to see his old stomping grounds.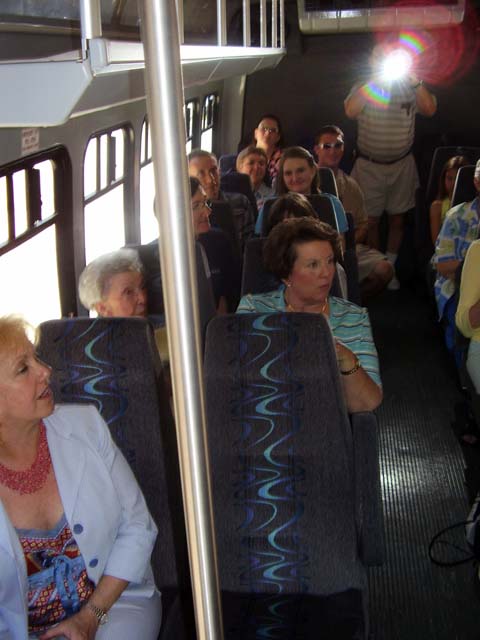 There's the right side of the bus.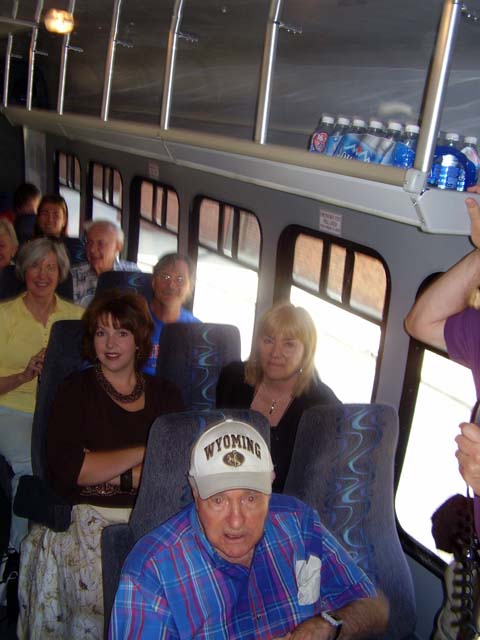 And there's the left side. We're gonna have a great time.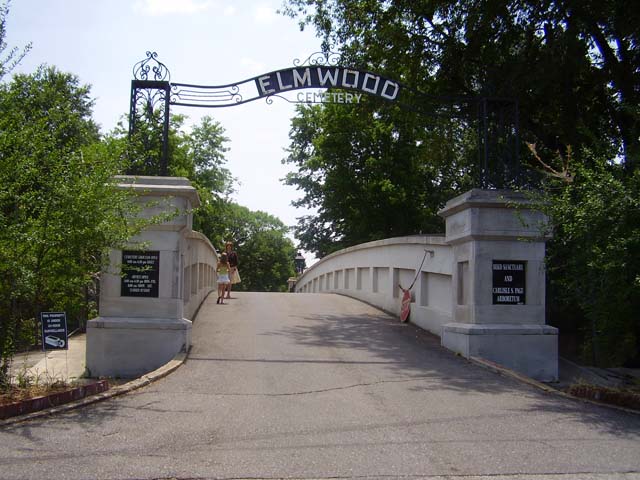 We visited Elmwood Cemetery, the oldest active cemetery in Memphis.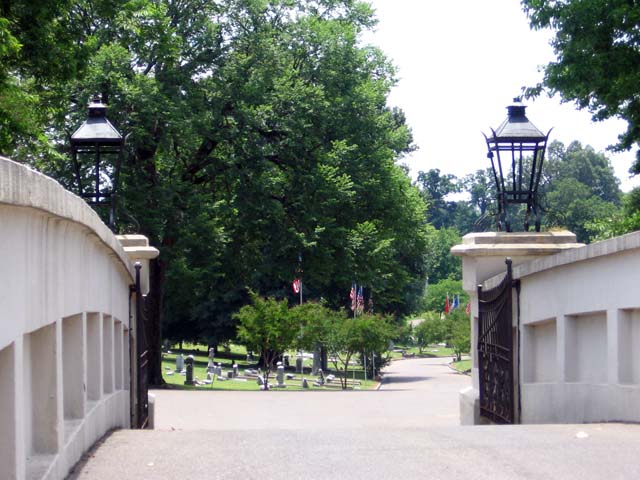 Elmwood was established as part of what became known as the "Rural Cemetery Movement" of the 1800s. It's a beautiful place, a park, actually, filled with the graves of some of the greatest names in Memphis history. Aunt Johanna is here, and so is Allie Mae.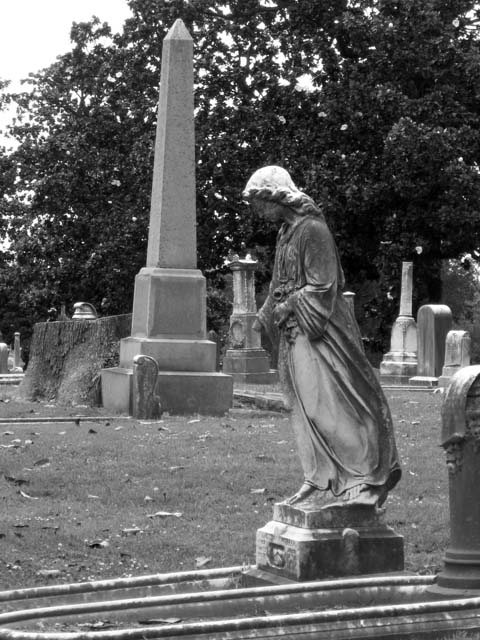 Here are some artsy black and white views of Elmwood.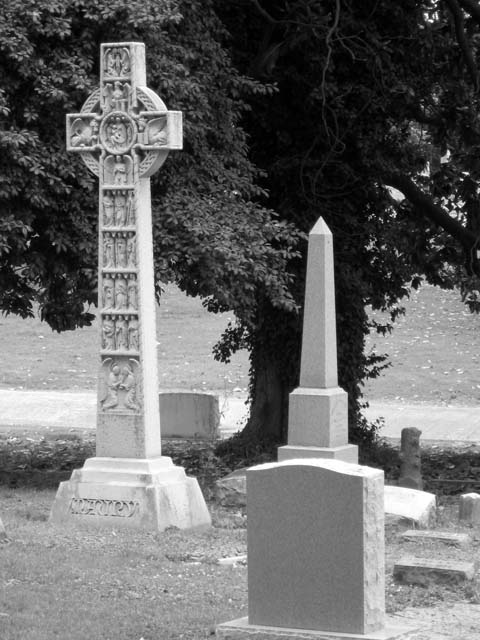 Very impressive.
Very old.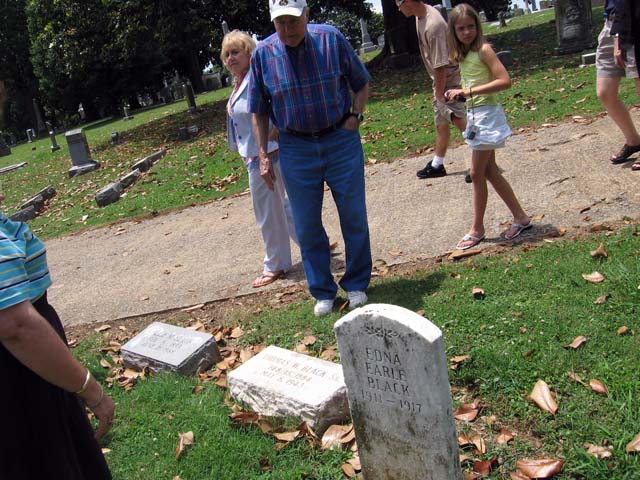 Now we've found some of our relatives.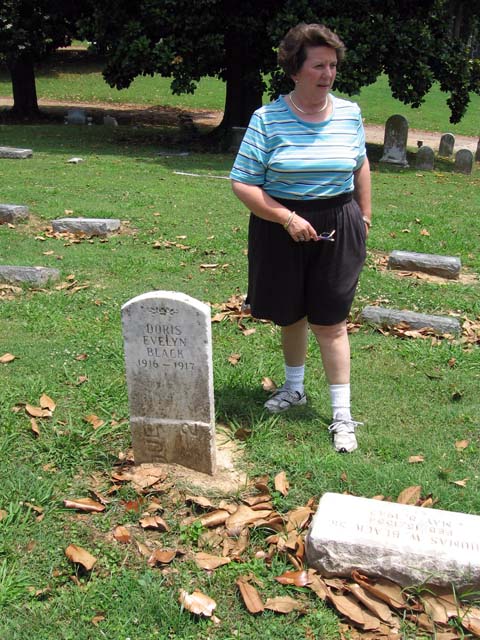 Doris Evelyn died as an infant. She was Gina's aunt.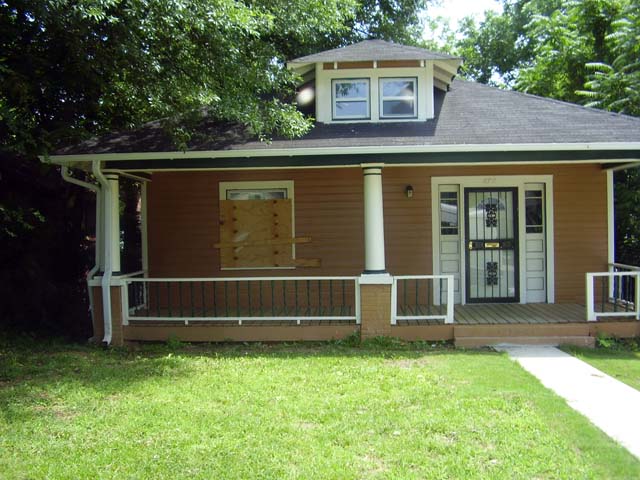 There's the house where Henry and Nettie (Hill) Lovejoy lived on Parkway, right behind Frank and Ora Anderson's house on Kerr Avenue. Looks kinda nice, actually. I think it's being prepared for sale.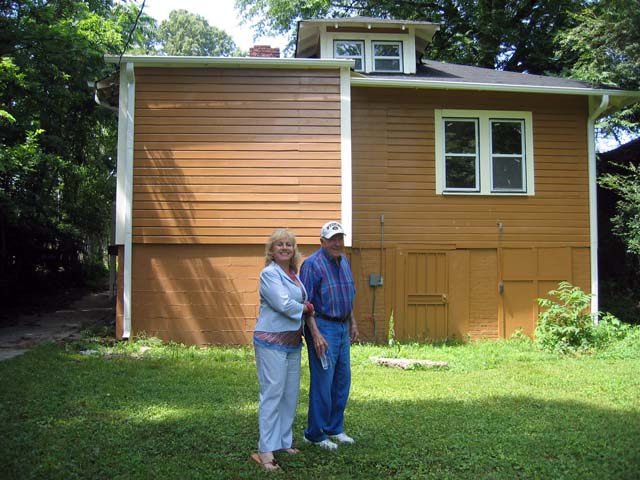 Freddie really enjoyed exploring the place.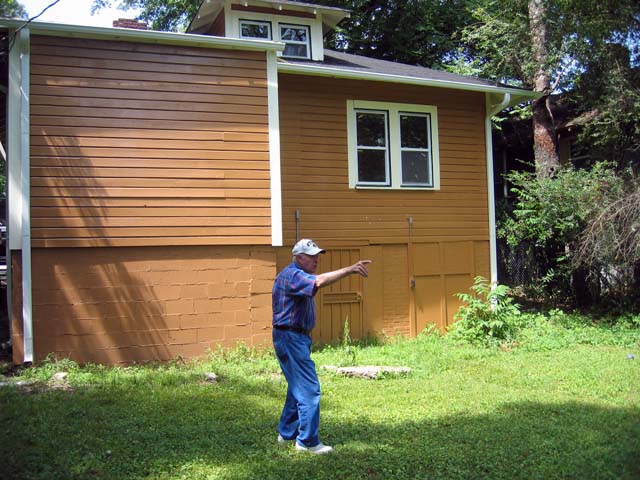 He showed Karen and Bill the yard where he'd played as a child.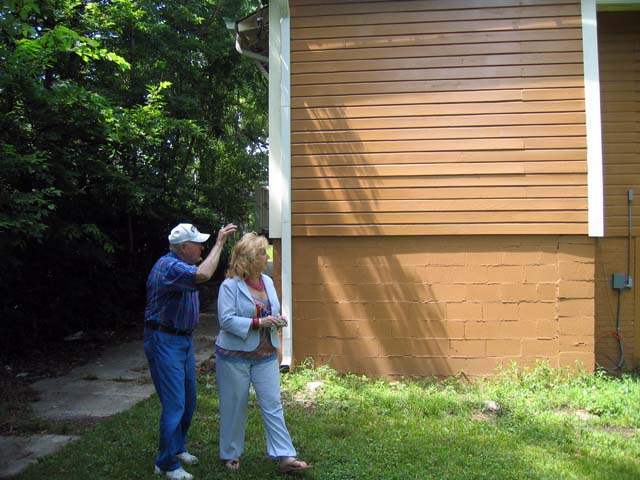 He pointed out the basement door in the house.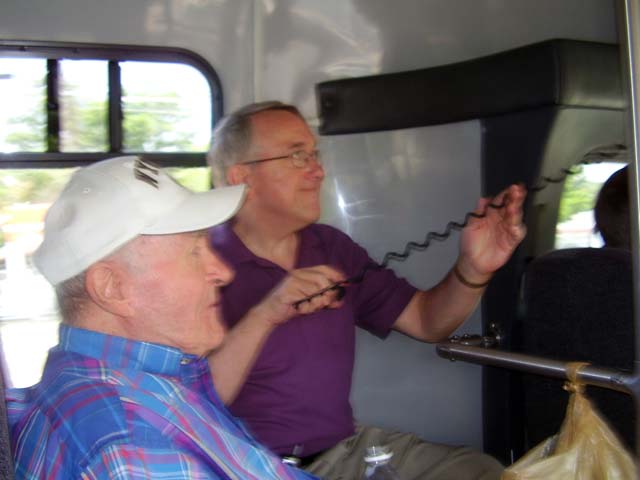 When we came back to the bus we discovered one of the locals had stopped by the door of the bus to inquire what was going on and welcome us to the neighborhood. Nice fellow.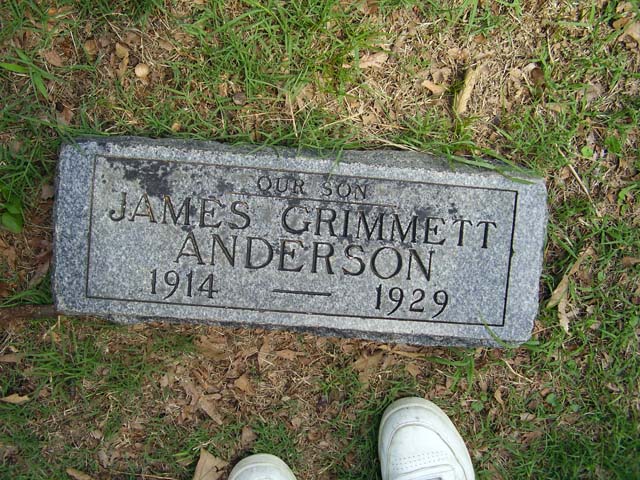 We visited Forest Hill Cemetery. There's the grave of Freddie's brother Grimmett. He suffered from epilepsy and died very young.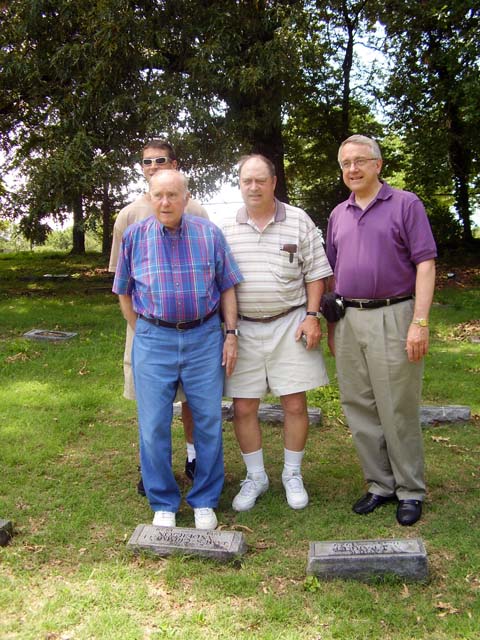 Devin, Freddie, Doug and Bill at Grimmett's grave.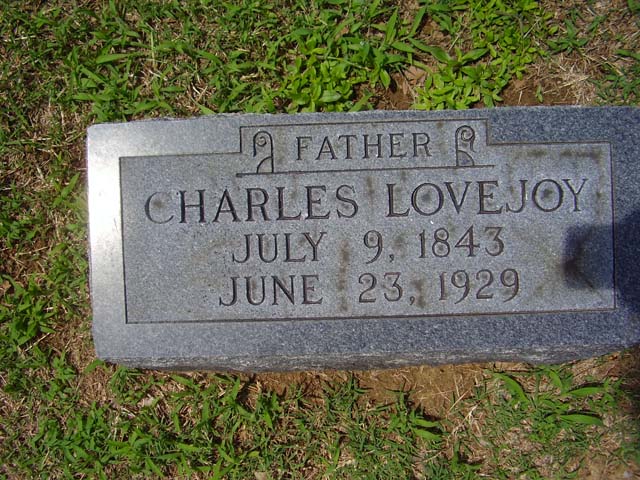 There's the grave of Karen's great grandfather.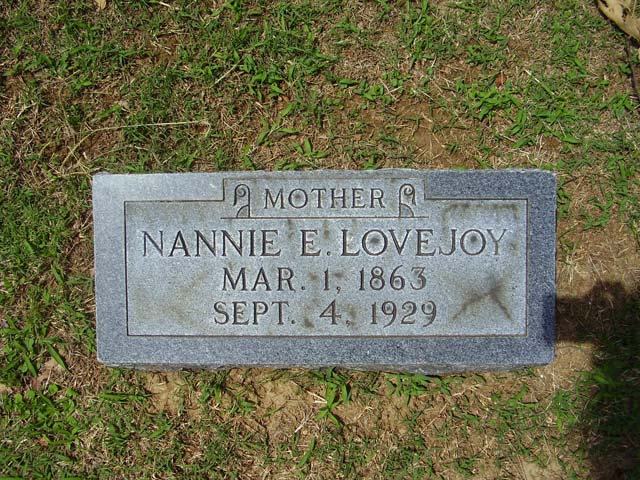 And her great grandmother. These graves are very near Grimmett's.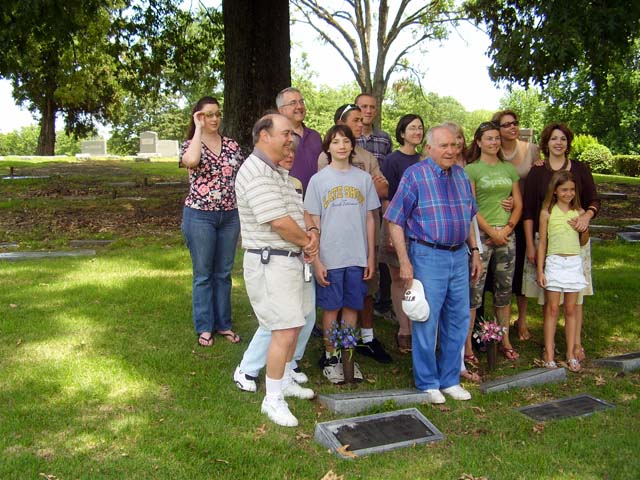 The Hill descendants are gathering around the graves of Ora and her husband Frank Anderson.
There they are. Still can't see Marla, though.
Ah, there's Marla.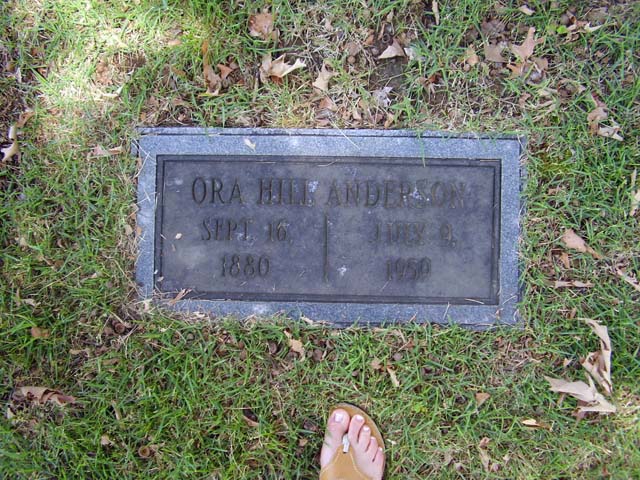 And there's Ora's headstone, along with five toes.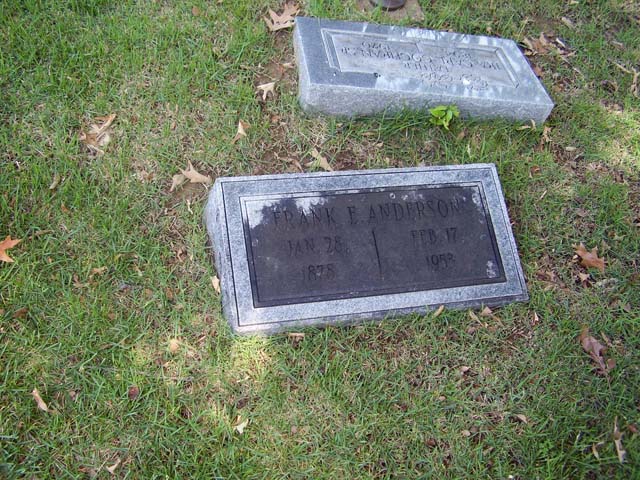 And there's Frank Anderson's headstone. Ora's husband.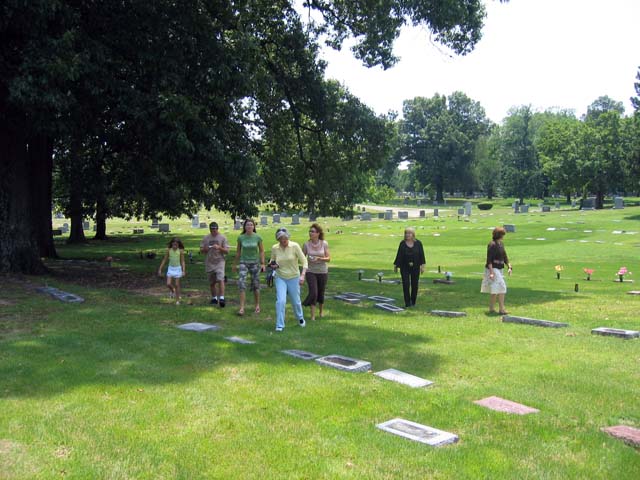 Wandering among the graves.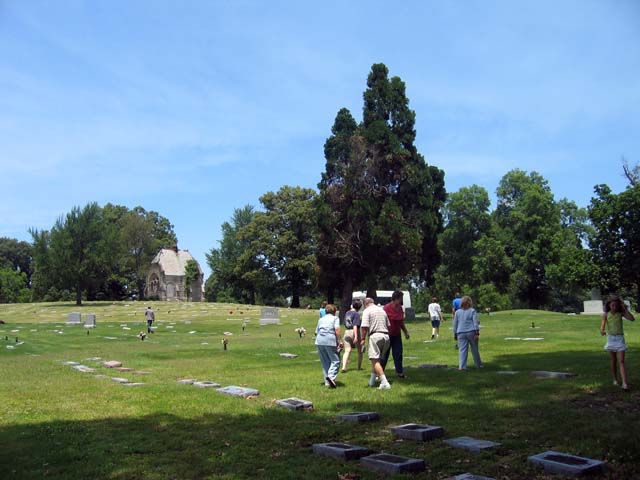 Elvis's mama was once buried in that little mausoleum up there on the hill. I think.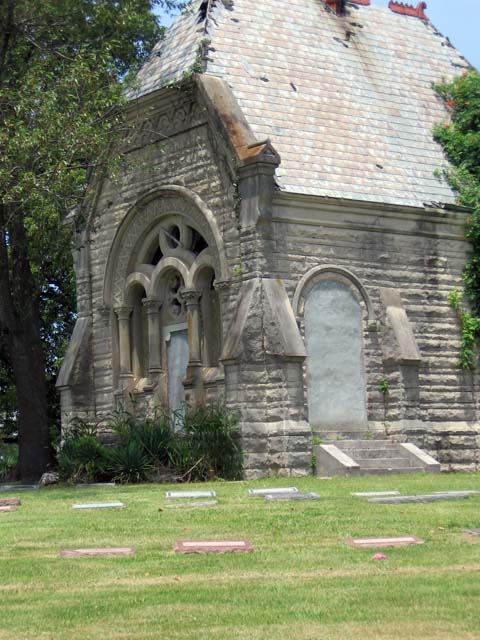 It's looking a little decrepit these days, now that she's moved out to Graceland.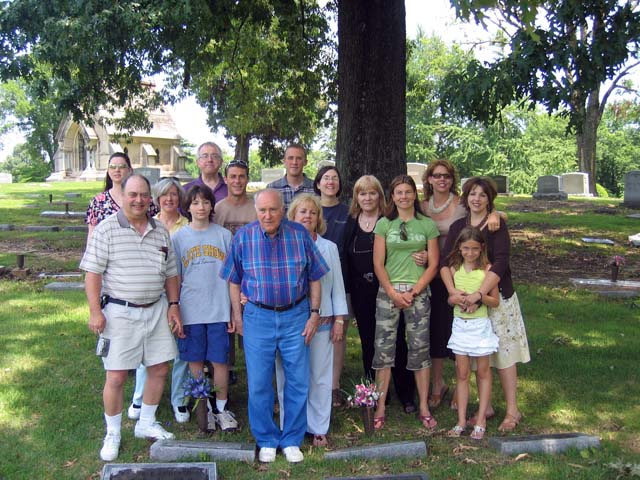 A handsome group of Hill descendants, don't you think?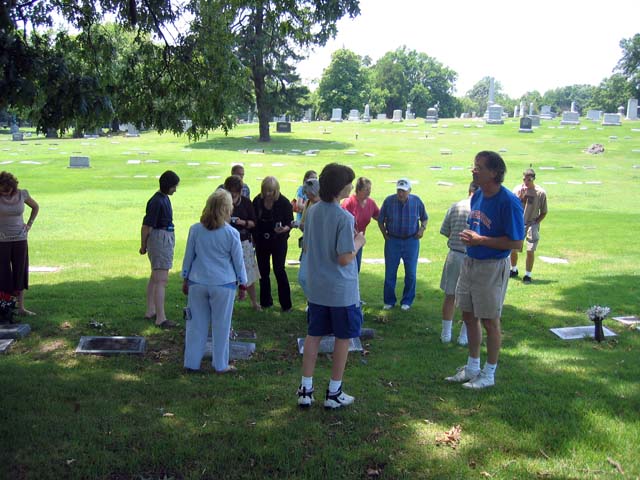 And other assorted relatives.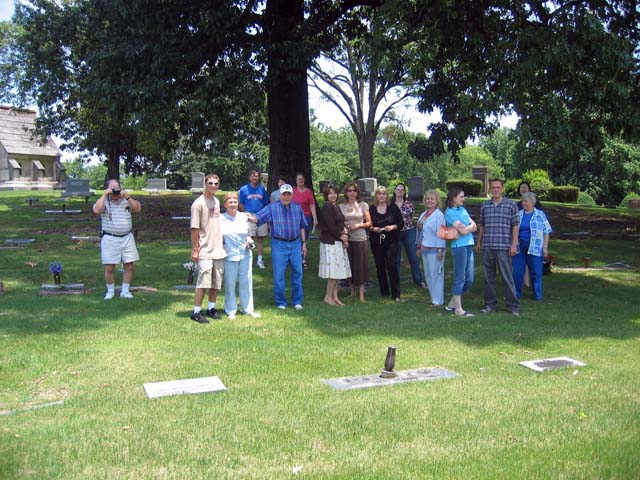 They just can't stop posing.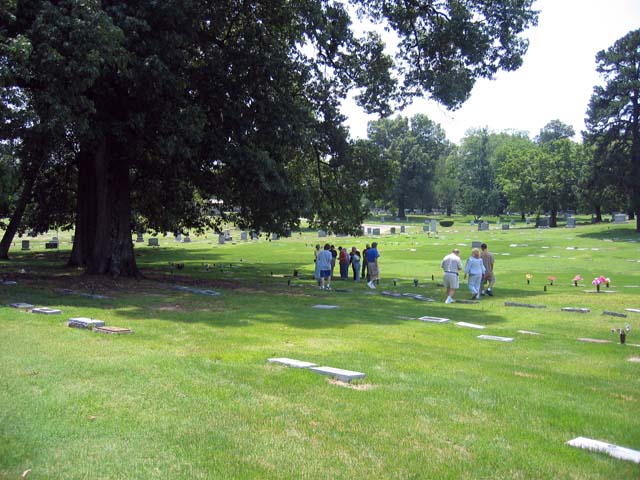 OK, time to head back to the bus. You know, we had some incredibly nice weather for this reunion.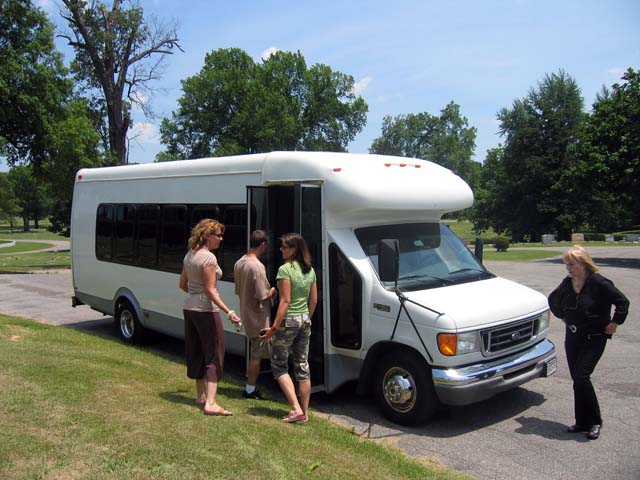 Back on the bus, everybody.
We went over to McLemore Ave. to see where Karen used to live. That's her grandparents' house.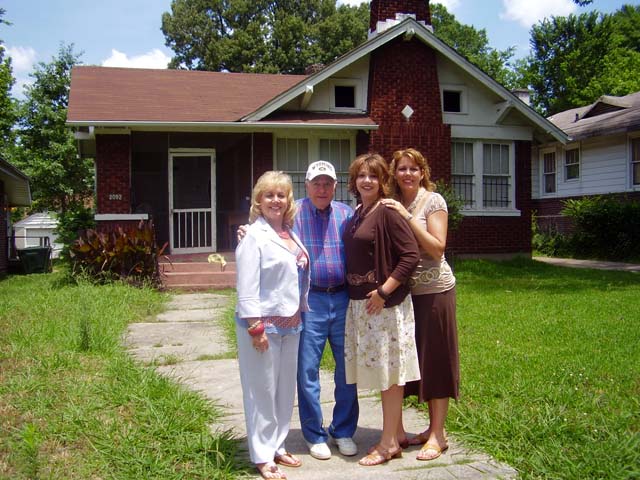 And that's where she used to live with her parents, Henry, Jr. and Norma, and her brother, Chip. See that window over there on the right? Karen says when Chip was a little guy he squirted their maid through the window with a garden hose. That Chip ... he was always getting into something. I wonder if his Dad was ever like that. Hm, Freddie?
That's Karen and Freddie, along with Lynette and Heather in front of their great-grandparents' house.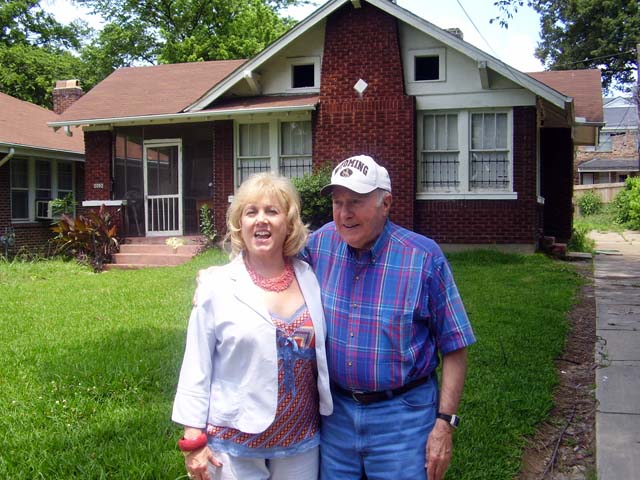 Same house. Karen and Freddie.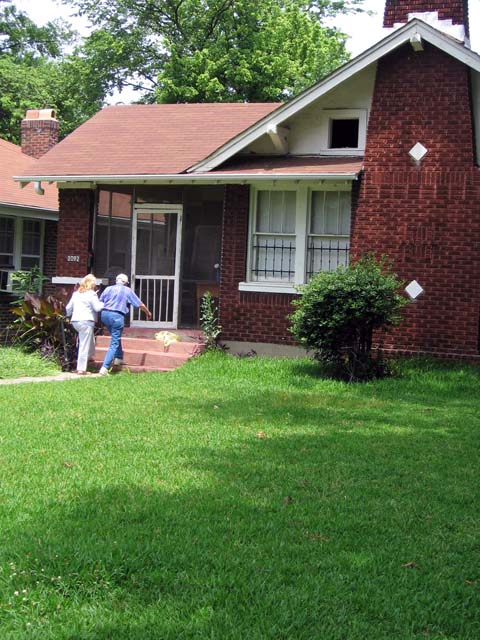 Freddie is never reluctant to go visiting. But this time nobody was home. Or whoever was there was scared to come to the door, anyway.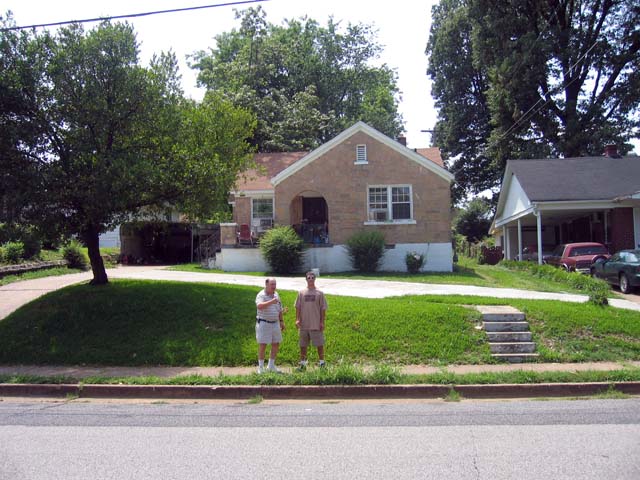 That's Doug and Devin in front of Doug's old house on Prospect. That drive on the left doesn't look too steep in this photo, does it? Well, you shoulda tried coming down it on a bike when you were 10 years old. Zoom!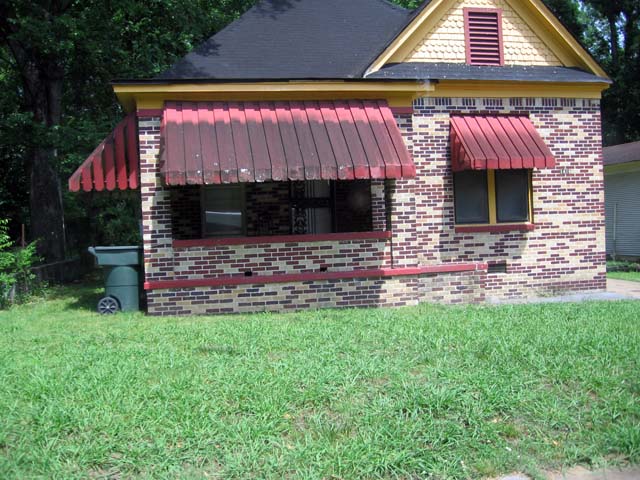 And this is where ... um ... somebody lived. I'm going to guess it's where the Lovejoys lived on ... um ... Taylor Street, when the Andersons lived across the street in a house that's gone now and a church is in its place. Right? Hm?
Here we are at Boulevard Baptist. That's where Doug went to church.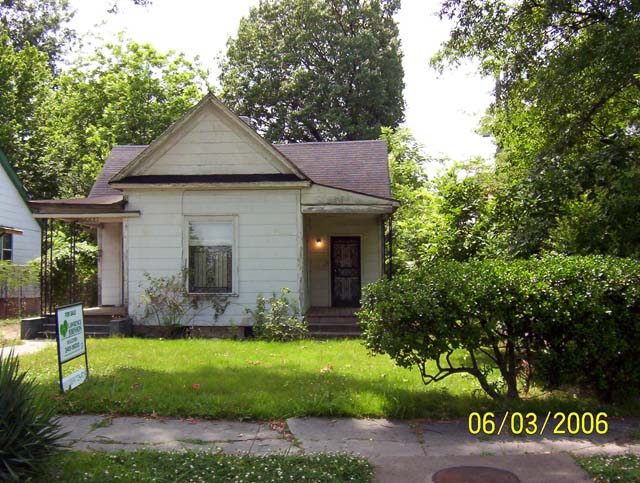 And this is where ... um ... somebody else lived. Wonder who?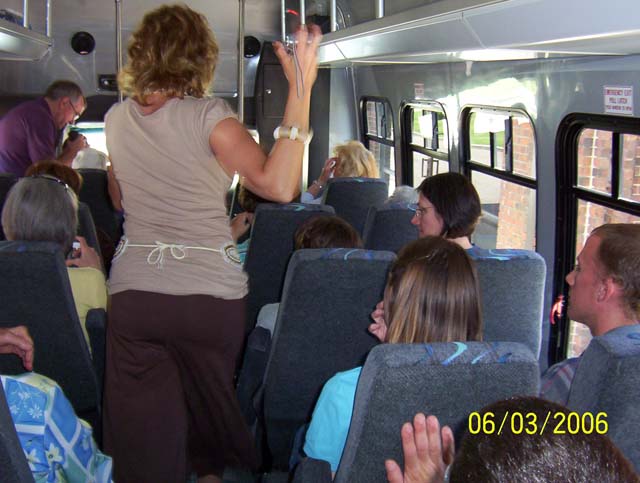 Now we've arrived at the Graceland gift shop. Not much time for browsing, though, as we have the bus for only four hours total. So Bill lays down the law: FIFTEEN MINUTES for shopping. No more. The bus leaves in 15 minutes. If you're not on the bus, we'll wave to you as we drive out of the parking lot. Got that everybody?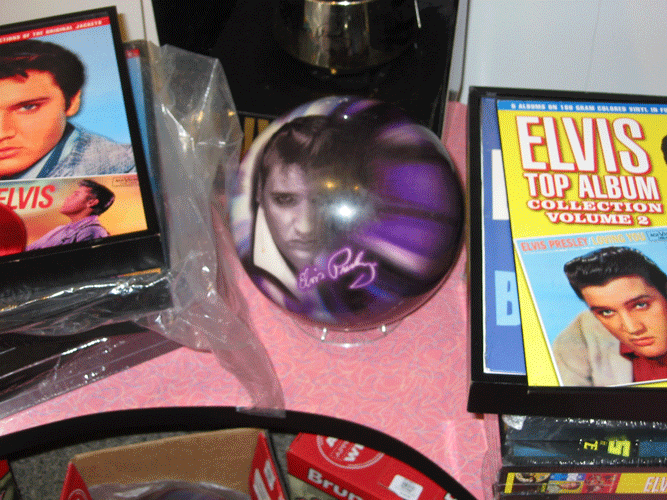 But ooooohhhh just look at all the tasteful merchandise on sale at Graceland.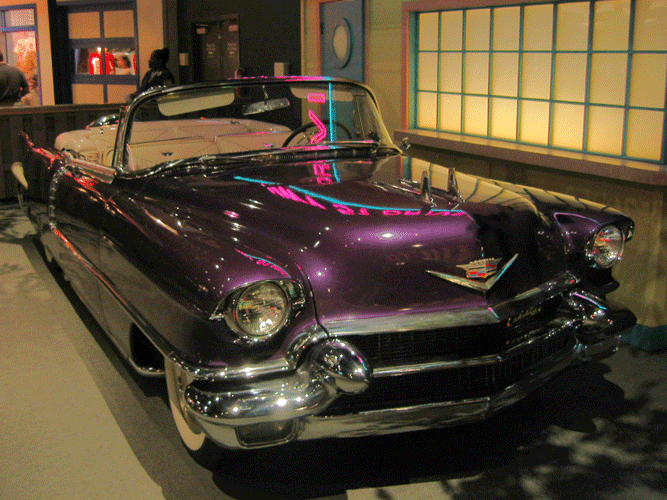 And genuine historical displays, like Elvis's first purple Cadillac.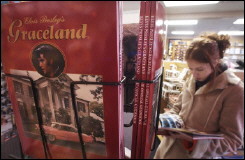 Will everyone get their shopping done on time?
Well, certainly! Bill counts noses and off we go.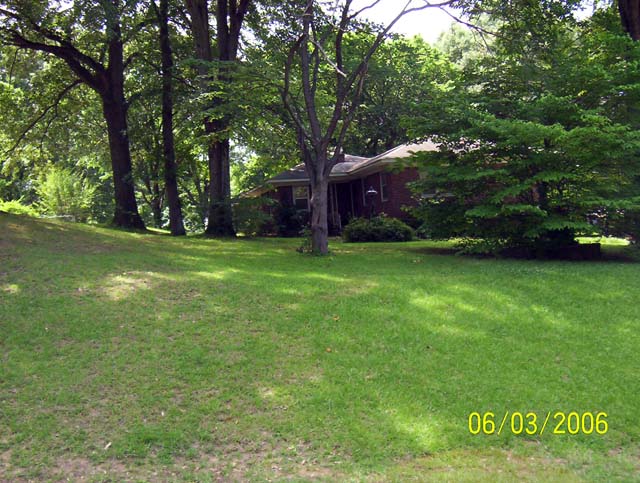 I know who lived here. Me. This is the house on Dogwood Lane that Freddie and Leta built in 1955. Looks just like home.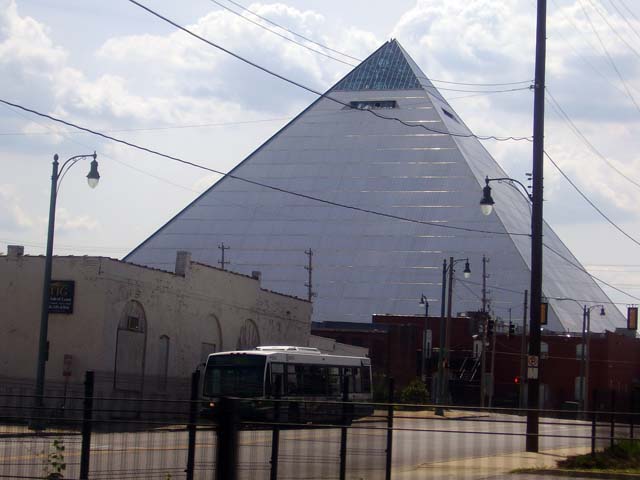 Downtown we saw the Memphis Pyramid.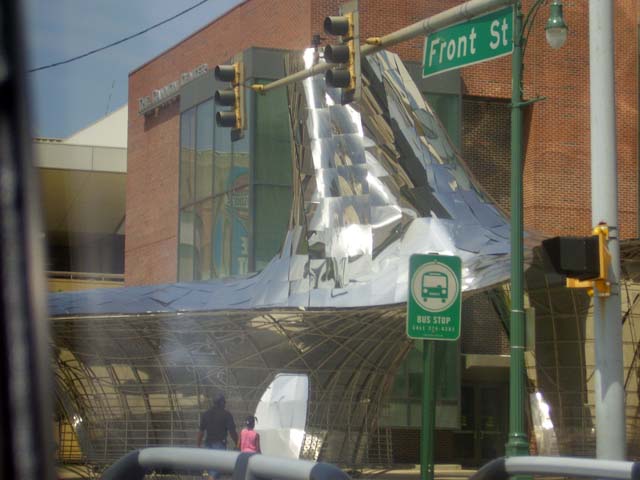 And some really weird architecture.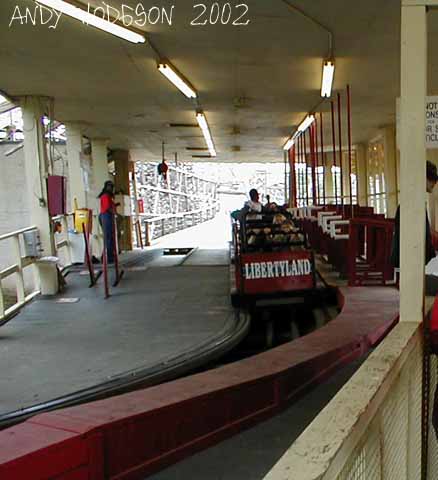 Before we ended the tour, we made a side trip to the Fairgrounds to see the Pippin. Practically everybody on the bus, except the whippersnappers, had fond memories of this amusement park ride. I copied these pictures off the internet. I have no idea who Andy Hobson is, but I certainly appreciate his pictures.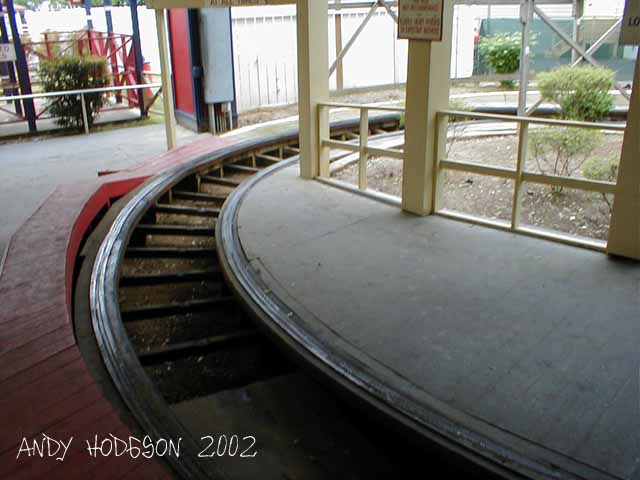 Leaving the station.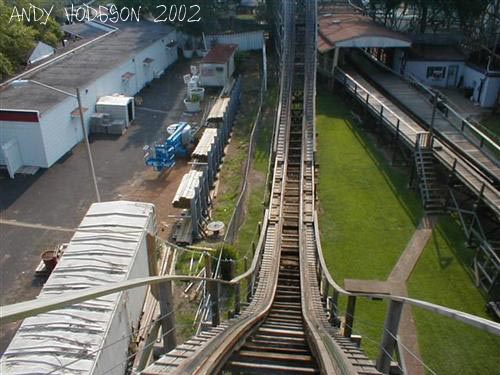 Wheeeeeeee!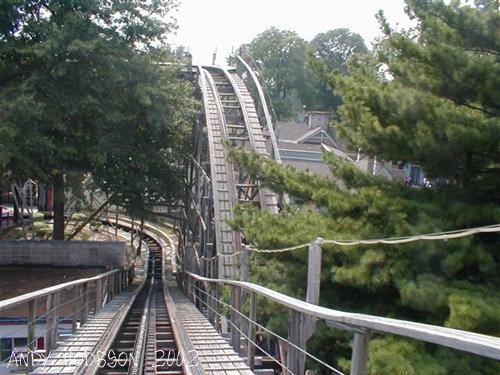 Whooooeeeee!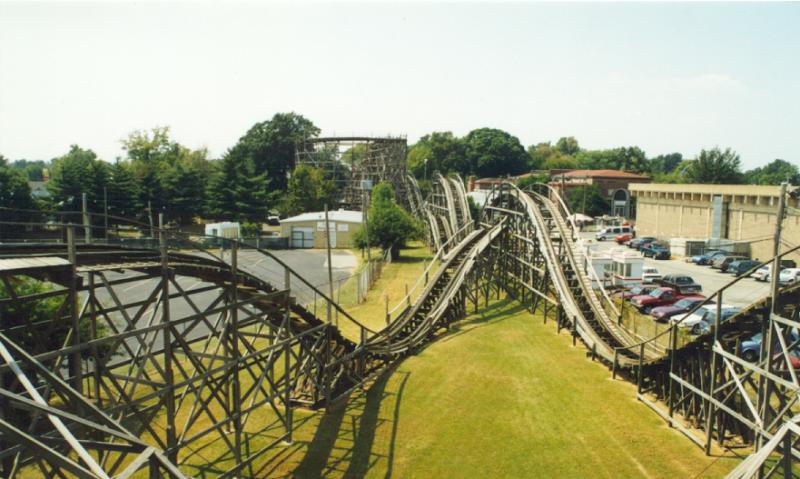 Whoa!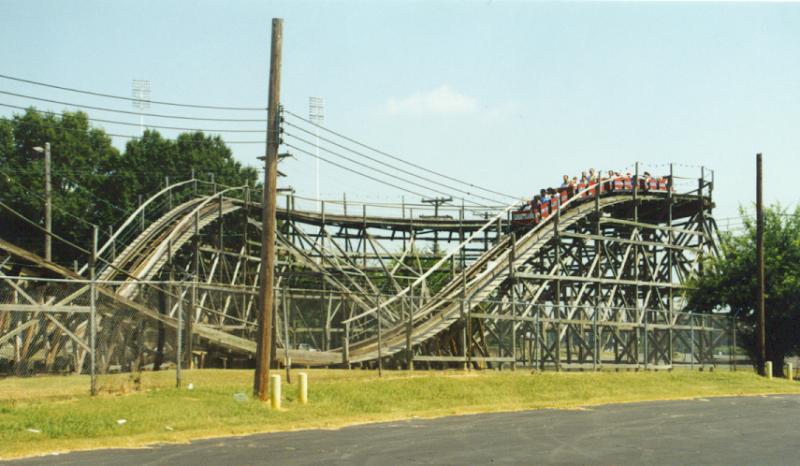 Yippeeeee!
And then we went back to the church for dinner.