In Memphis, Tennessee, June 2-4, 2006, Leta and Freddie Anderson hosted a family reunion. There were about 25 of us in all, counting spouses. See all those handsome people in that picture just below? They're all descendants of one couple: Richard Thomas Hill (1847-1912) and his wife Mary Lucinda Griffin Hill (1851-1896).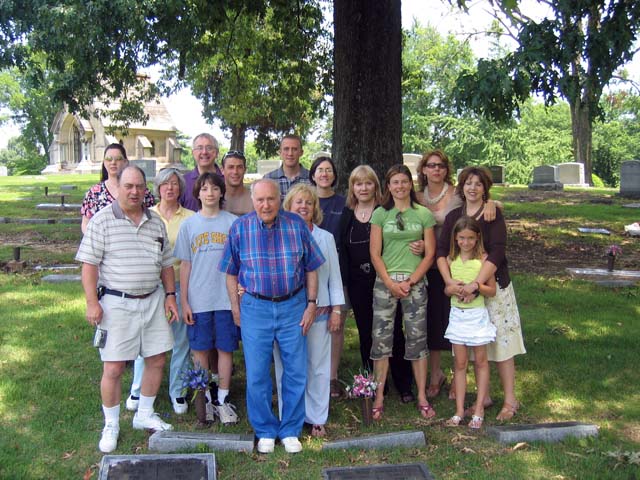 So who's in the picture? Well, reading left to right I see Marla, Doug, Cindy, Bill, Eliot, Devin, Freddie, Eric, Karen, Connie, Mariam, Shannon, Heather, Kyla, and Lynette.
Want to see a REALLY big chart that shows more family tree information than you ever thought we had? Well, first, if you don't already have the Adobe Acrobat reader on your computer, click here or on the Adobe Acrobat icon at the bottom of this page to download and install it.
Then click on the family tree icon below. The link will give you an Adobe Acrobat file that at first will look very small. You'll need to use the Acrobat software to enlarge the file to about 1600x or even 2400x before you'll be able to read anything. You'll see more McCallies than you ever thought existed, because Bill merged a bunch of McCallie information with everything he had already collected. But they are our distant cousins, so be nice, even if it looks like there are more of them than there are of us.


Click here to get our Family Tree file in Adobe Acrobat format.

Click here to get the Adobe Acrobat reader if you don't already have it on your computer.