June 1 and July 23, 2014

Hi, Bill,

I ran across your USS Santa Fe/CL-60 site while browsing the web. Thanks for putting it up there. My grandfather Edmund John ("Eddie") Zalot was part of "C" division during WWII. He passed away in 1991, but I still remember him always. I still have his cruise book. It would be great if you could mention him on the mementos page of the site. He is survived by my father, Michael Edmund, and my aunt, Nancy Dennion. Eddie lived in Burlington, NJ, as do my father and aunt. After the war, he worked for 3M until he retired. He enjoyed vacationing in West Wildwood, NJ.

********************

Sorry it's taken me this long to get back to you, but there was a lot going on at work these last few weeks. I was able to get a photo from my father and digitally restore it somewhat in Photoshop--two versions are attached.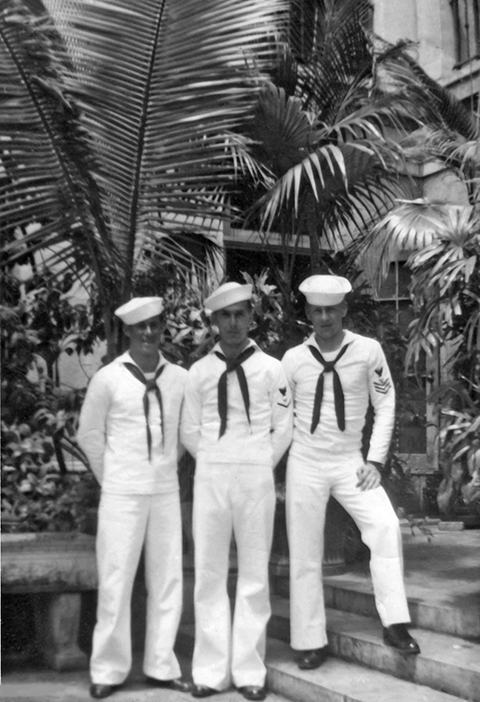 The back of the image is marked "Horsey, Lewis, Anderson. C Div, RDO I". Apparently my grandfather was called Horsey at some point; who knew? RDO I makes sense as he was a radioman.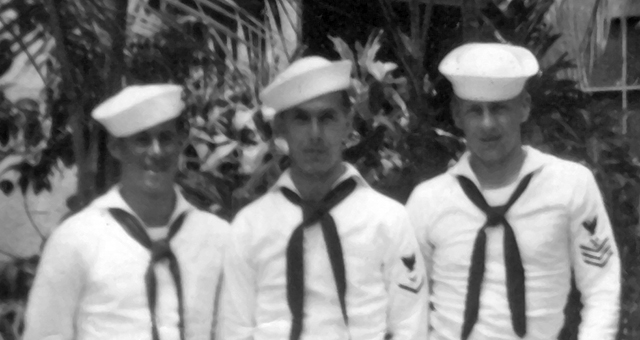 Zalot, Lewis, Anderson
C_Div_RDO
My old band ("The Grape Skeletons") put together a song about the ship and Eddie's memory, I've attached it for you. If you want to use it on the site or mail it to the list, please do. Lyrics to the song are below. Thanks again for your time in creating and maintaining the site!
Regards,
Michael C. Zalot
Asbury, NJ



(There'll be a 1-2 minute delay while the sound file downloads to your computer.)

SANTA FE
by The Grape Skeletons

The bunker still stands on the shoreline
Undercut by time and the rushing tide
I go there, and I always think of you
And all the things you said so long ago

South Seas bars and shorefront towns
The postwar dream you handed down
It was a brighter future then, you wouldn't recognize it now
But I remember...

Stories of the Santa Fe in '43
I found comfort in those hostile seas
Stories of the Santa Fe in '43
And they will always be a part of me, even now you're gone

In a world so unstable now
Your generation would find itself ill at ease
Nothing so clear cut like in your golden days
Nothing sure or winnable it seems, nothing like...