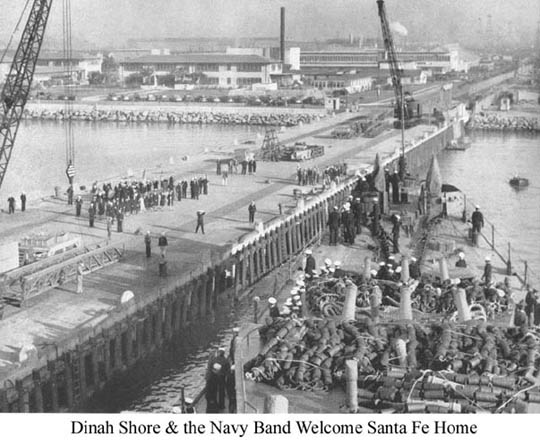 Original availability was scheduled for 47 days, but due to the volume of work necessary the period was extended to 14 July. All personnel were granted 30 days leave while their ship was completely regunned, and her boilers and machinery given a major overhaul. New radar, fire control equipment and a radio coding machine were installed as the SANTA FE was cradled in dry-dock at Terminal Island; her bow was strengthened and four 40mm mounts added. Rear Admiral Deyo returned aboard, again establishing the SANTA FE Flagship of Cruiser Division 13.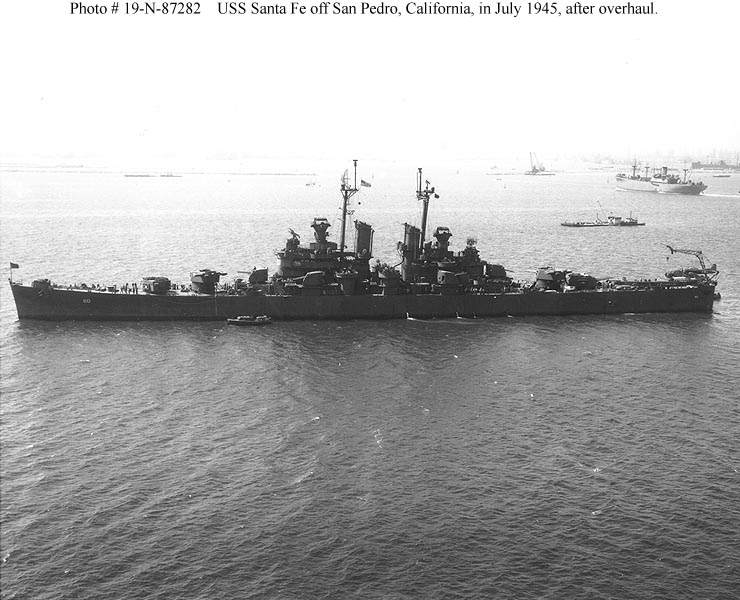 Availability terminated 14 July. After a 10-day refresher training period off San Clemente, the ship was topped off with ammunition, stores and fuel, and departed San Pedro on the 26th. Back in Pearl Harbor 1 August, the cruiser prepped for her next assignment, held anti-aircraft exercises south of Oahu 3-6 August, and sortied with cruiser-carrier Task Group 12.3 on 12 August 1945. Three days after the SANTA FE's armada sailed from Pearl Harbor with orders to raid Wake to the west, the "cease offensive operations" message was received. Ironically, Wake had been both the first and final objective in the SANTA FE's long career with the carriers.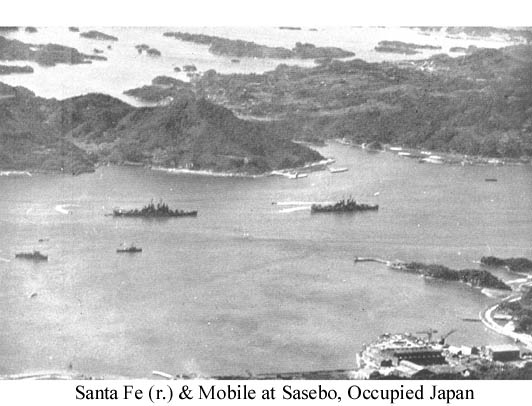 Diverted to Eniwetok Atoll, Task Group 12.3 made port 19 August. From there cruiser SANTA FE and a portion of the group proceeded northwest to Okinawa Jima, anchoring in Buckner Bay 26 August. While the surrender pact was being signed in Tokyo Bay, the light cruiser tugged peacefully at her mooring in Buckner Bay. Later she took a short voyage in Japanese waters before heading homeward in November 1945.
December 3rd 1945 saw Captain Fitz's war-weary cruiser churning beneath the Golden Gate Bridge into San Francisco Bay. Several days later, on 8 December 1945, she was off again, this time to bring back high-point Pacific veterans on the "Magic Carpet" run.
Note: Ed McCorkle has pointed out that Fitz was no longer Captain of the Santa Fe when she returned to San Francisco Bay. He had been relieved on Oct. 17th, 1945, by Capt. Freeman in Tokyo Bay.
On 9 January 1946 the light cruiser returned from Guam Island, jammed with a cargo of grateful GIs. Leaving San Francisco 22 January 1946, the SANTA FE sailed the "last mile" to Bremerton, Washington and berthed there 25 January.
In the following months her metal surfaces and machinery were coated with a thin film of rust preventive, while anti-mildew and anti-decay substances were used to preserve life jackets, cordage and other non-metal gear. Mechanical dehumidifying units were placed inside the cruiser to draw moisture out of the air and maintain an even temperature. Over her guns went net coverings which were sprayed with plastic paint, dampness within being exhausted b special devices. Weather-proofed and rust-proofed, USS SANTA FE was placed out of commission 19 October 1946 and attached to the Bremerton Group, U.S. Pacific Reserve Fleet.
Secretary of the Navy James Forrestal has awarded light cruiser SANTA FE, and the men of grit who sailed her, the Navy Unit Commendation. It reads as follows:
"For exceptionally meritorious service in support of military operations on March 19, 1945. Promptly approaching the USS FRANKLIN after that vessel had been severely damaged by enemy aircraft, the USS SANTA FE heroically fought raging fires and put aboard rescue parties into the flaming hangars despite the-serious hazards created by exploding gasoline, bombs and ammunition, in an effort to salvage the crippled carrier and save her stricken crew members. Within easy range of enemy air bases, she kept all guns manned and ready to repel any hostile attacks while lying close aboard the FRANKLIN's burning sides for a period of more than two hours to pick up isolated groups of wounded and trapped men. The valiant achievements of the SANTA FE in saving many lives and aiding in the safe withdrawal of a valuable Fleet unit attest the professional skill and fearless devotion to duty of her officers and men, and reflect the highest credit upon the United States Naval Service."