In January of 2018 I was confined to my condo by a major (for Memphis) snowstorm and I was bored and I was getting cabin fever and I wanted to get out -- go somewhere, anywhere fun and interesting and as far away as possible from the cold and the snow. And then by chance I looked over on the coffee table where I spotted the latest edition of the Road Scholar Catalog and a little light bulb began shining above my head -- seriously, a bright light floated above my head, you should have seen it -- and I began plotting my escape. I quickly decided that since I'd never been anywhere in Africa, that's where I wanted to go, on a safari, like right now, today! So I called a nice fellow at Road Scholar, my tour company of choice since my wonderful trip to the Galapagos Islands and Ecuador in 2017, to see what he could do for me.
"Africa? Certainly, Mr. Anderson, just what you're looking for -- in 2019."
"No, no, don't you have something for me right away?"
"How about somewhere else? I can set you up for a great little one-week trip to Crete, and you can go this March."
"Terrific, sign me up. But how about something else too, somewhere that's not Europe?"
"How about our trip, The Essence of Bhutan? You could go in August. Ever heard of Bhutan?"
"Sure! I met the crown prince once, sorta, back in 2008. Well, I nodded to him. Still, I bet he'll be delighted to learn that guy who nodded in DC is coming to visit. Let's do it!"
And so we did, and even though August seemed a long way off, sooner than I'd expected I found myself jetting off to an exotic land on the other side of the world, the region that's reputed to be the inspiration for Shangri-La in James Hilton's LOST HORIZON, a magical place where the citizens are required by law to be happy. No kidding; they really do measure the country's "gross national happiness." How could anybody not want to visit Bhutan? But, um, refresh my memory: where is it exactly?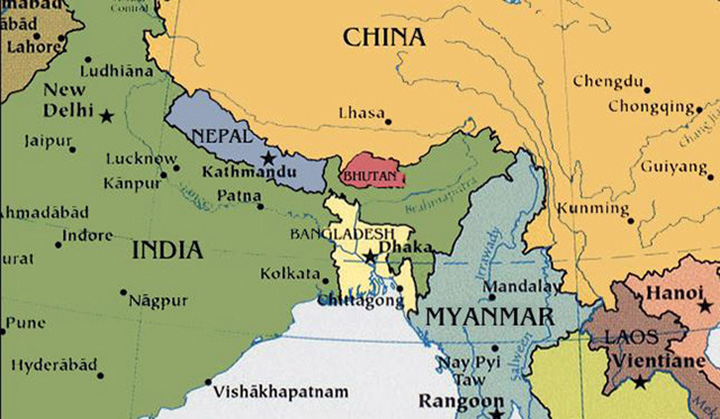 There it is, little Bhutan, nestled in the Himalayas, surrounded by India and China -- or rather the part of China that used to be Tibet. Adequately far from Memphis, I think. And what's it like there? Well, just click on that first link up above and let's go have a look.
-- Bill Anderson --