Back in August, 2011, when Bill and Heather and her kids spent the day at Universal Studios in Orlando

, they talked about having a mini-reunion with Bill's parents in Memphis some time soon. Well, Freddie and Leta have birthdays within three days of each other in October, so why not then? Excellent idea. And that's what we did.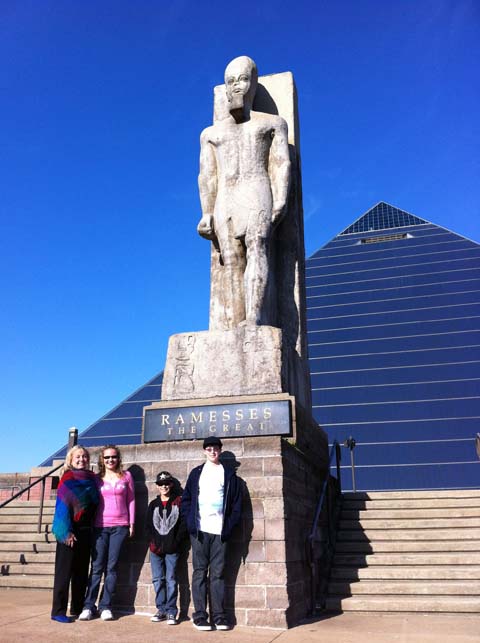 And while we were there we saw almost all the sights Memphis has to offer, and we ate our share of barbecue too! Just look at the agenda below:
The Great Memphis Tour
October 21-24, 2011
Friday, October 21
1:30 pm Bill arrives Memphis International Airport
2:02 pm Lawsons and Karen arrive Memphis International Airport
Bill has rented a 7-passenger mini-van for use through the weekend so we can all ride together. So … when everybody has shown up (with the Lawsons very conveniently arriving at a gate next to the gate Bill's flight used) we took a shuttle over to Budget and got ourselves a fancy Chrysler Town and Country with DVD movie player in the back and headed to Fred and Leta's for dinner.
5:30 pm Mmmmm…ham dinner by Chef Leta
7:00 pm Drive to Shelby Farms Corn Maze. We got to experience the HAUNTED Maze. Yay. http://www.midsouthmaze.com/
10:00 pm Drive back to motel
Saturday, October 22
8:30 am Pick up Lawsons at the motel and drive downtown.
9:00 am Drive around downtown Memphis and see the Pyramid, etc.
10:30 am Peabody lobby to see the ducks make their entrance
11:00 am Ducks on Parade
11:30 am Ribs at the Rendezvous
12:30 pm Walk around Beale St.
3:30 pm Ride the tram to Mud Island
5:00 pm Drive back to motel to freshen up
6:30 pm Barbecue ribs at Cindy's
9:00 pm Drive back to motel
Sunday, October 23
8:30 am Depart motel for zoo
9:00 am Memphis Zoo
12:00 pm Lunch at zoo
12:30 pm Drive past Karen's old house
1:00 pm See as much of Graceland as we can stand
3:30 pm Drive to Pink Palace
4:00 pm Hubble Space Telescope Imax film at Pink Palace
5:00 pm Drive to motel to freshen up
6:30 pm Doug and Bonnie bring Coletta's barbecue pizza to Leta and Freddie's for dinner.
Mmmmm.
Monday, October 24
8:30 am Drive downtown
9:00 am Explore riverfront and see Civil Rights Museum
10:30 am Drive to motel, pack up, check out
11:00 am Go to Fred and Leta's, say goodbye, etc.
12:15 pm Drive to airport in mini-van.
2:15 pm Lawsons and Karen leave
2:50 pm Bill leaves