Ever since the fall of the Berlin Wall in 1989 and the subsequent liberation of countries dominated by the Soviet Union after WWII I'd been curious about the people and culture of a large swath of Europe that had been hidden from view my entire life. In May, 2019, I joined a group of like-minded travelers on a Road Scholar tour called The Best of Central Europe: Krakow, Budapest, Vienna, Prague. The trip was an eye opener to a part of the world that has contributed tremendously to western civilization but which, despite fragmentary recollections of the Habsburgs from Coach Jack Graninger's modern history class my senior year in high school, I knew little about. It was a great trip, some of which, like the visit to the Auschwitz death camp, will remain in my memory for the rest of my life. Here's how I described it in my review for the Road Scholar website:
Five Stars! This was an outstanding tour, a fascinating revelation of a world rich in history and culture that for much of my life was hidden behind the Iron Curtain. Road Scholar has put together a terrific program that while often sobering was equal parts revelatory, entertaining and fascinating. And I must say our group leader for the entire trip, Michala Posarova, was a treasure. We couldn't possibly have been in more capable hands. In general, the presentations by local experts were highly informative and interesting. If I had to pick a favorite it would be the talk on great composers in Vienna by Eddy Kudlak, retired violinist with the Vienna Philharmonic Orchestra. What a treat that was, and what an honor to meet such an accomplished musician! While I won't say I "liked" our visit to Auschwitz, it was certainly an unforgettable, gut-wrenching experience and I am grateful to Road Scholar for taking me there. Otherwise, every day was packed with marvelous sights and encounters that will remain with me for the rest of my life. And I must say the visit to Strahov Monastery was a fine way to end the trip. If I thought there was nothing left to see in Central Europe that could amaze me further, this excursion put that notion to rest. I definitely recommend this remarkable tour to anyone interested in European culture and history. It was an eye-opener for me.
Here's a picture of our great group. Now come along and join us on our fascinating visit to Central Europe.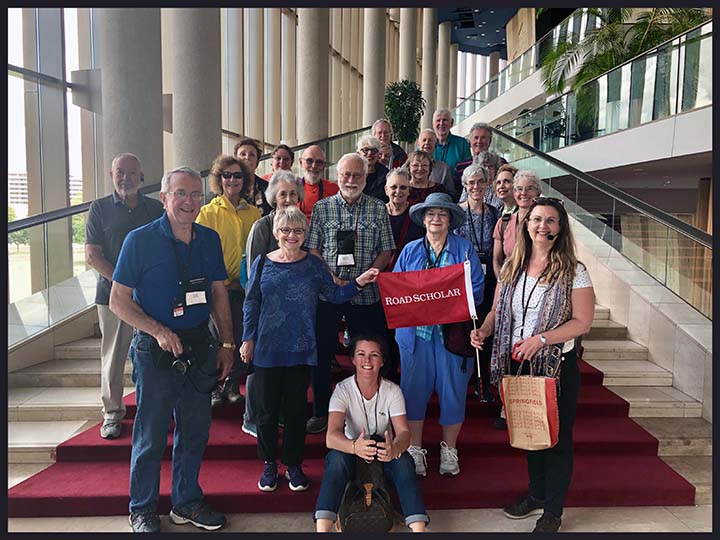 -- Bill Anderson --